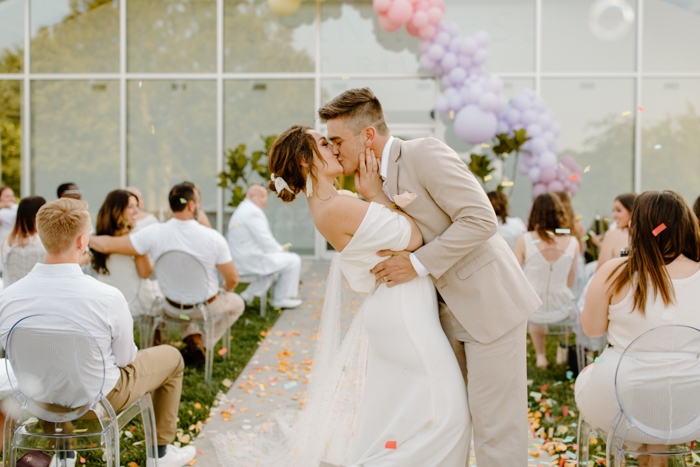 We're obsessed with the playful, fresh, and fun vibe of Madi and Kole's vibrant and pastel greenhouse wedding! The couple purposely did a hands-off, no-stress approach and completely trusted their wedding planner Grace Scott to take the reins. They encouraged their vendors to let their creativity run wild. The result—an epic and unforgettable wedding.
Guests were greeted with a colorful cascading balloon arch draped across the Greenhouse facade which also served as a jaw-dropping backdrop for their ceremony. Stunning floating floral installations adorned with garlands of orange slices and airy, delicate purple coloured plumosa ferns added a whimsical touch to the unique reception layout. The oversized flower photo wall was an eye-catching statement piece that completed the overall outdoor wedding vibe.
The fashion forward bride wore the coolest colorful studded pumps! She also made four outfit changes and looked beautiful each time. For the ceremony, she wore a classic ivory off-the-shoulder dress. Throughout the reception, she changed into a sweet blush dress with lace bodice and tulle skirt, a fun white strapless gown with colorful abstract detail, and a more relaxed blush slip dress. The groom looked effortlessly stylish, polished, and laid-back in his beige suit.
If you're considering a pastel color scheme for your outdoor wedding, scroll through these amazing photos taken by Inner Images and Shelby Chanté and get ready to be blown away.
The Couple:
Madi + Kole
The Wedding:
Greenhouse Two Rivers, Highlandville, Missouri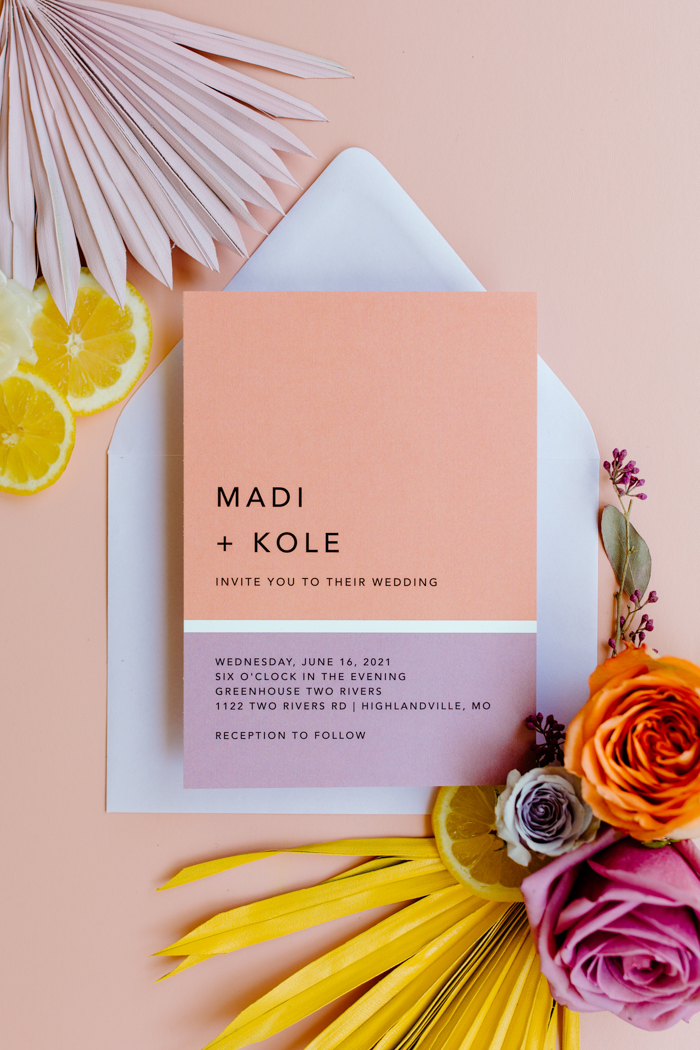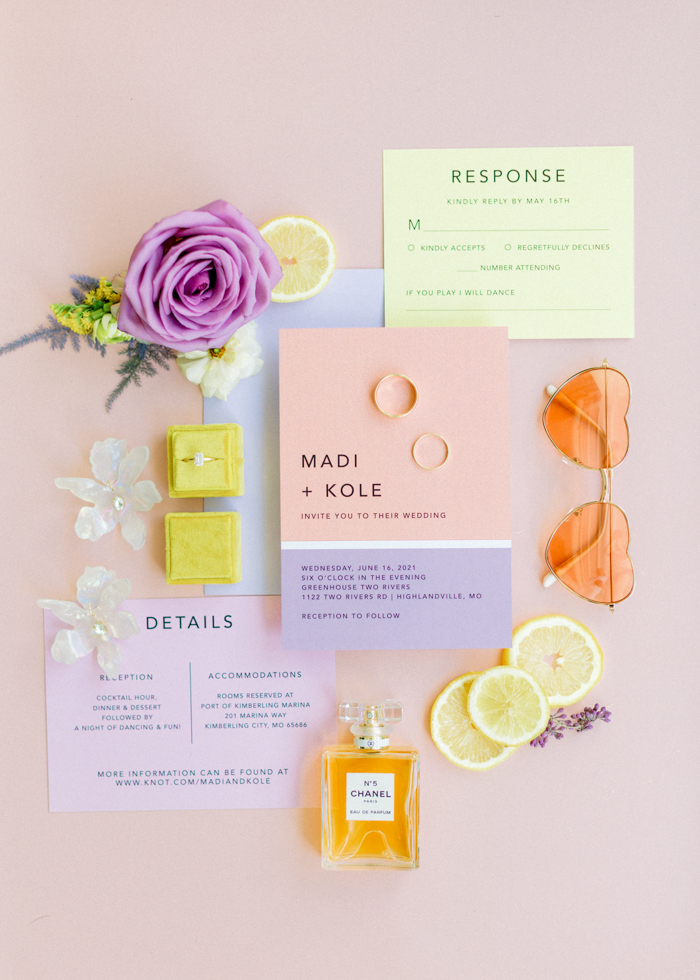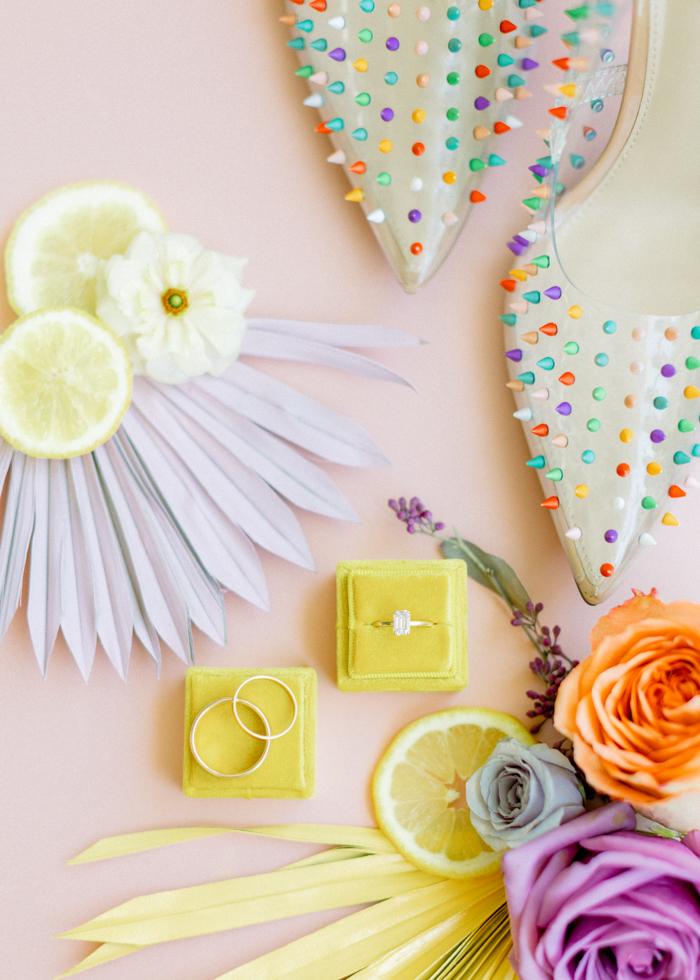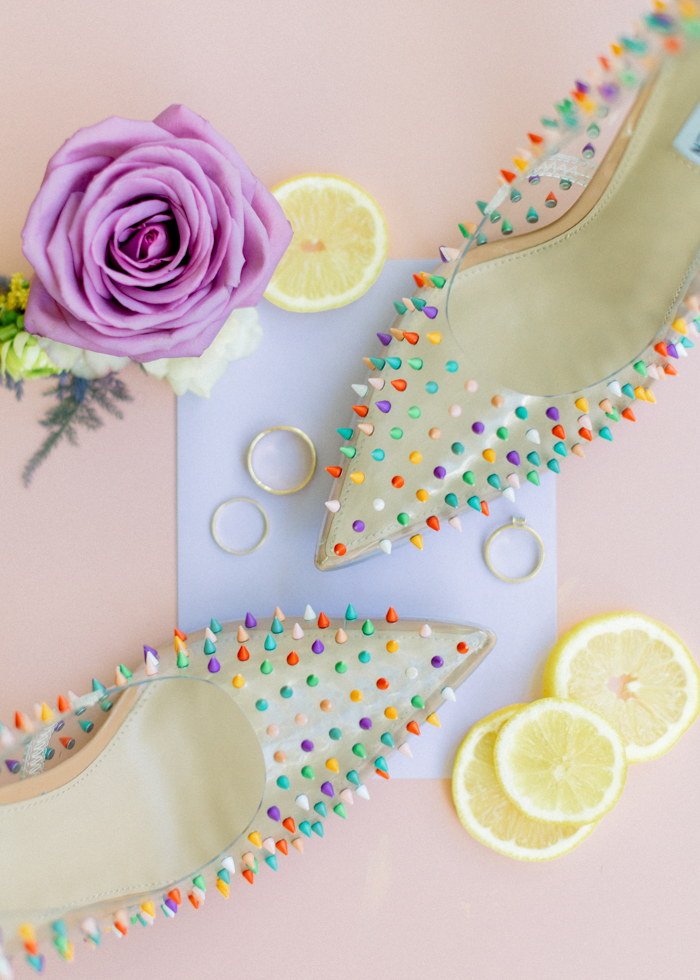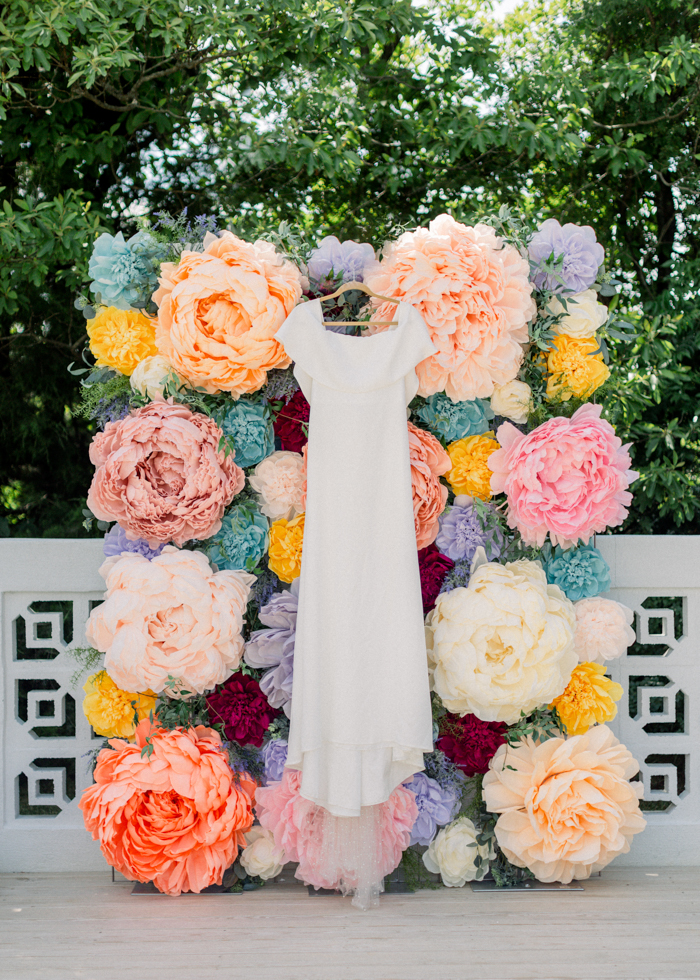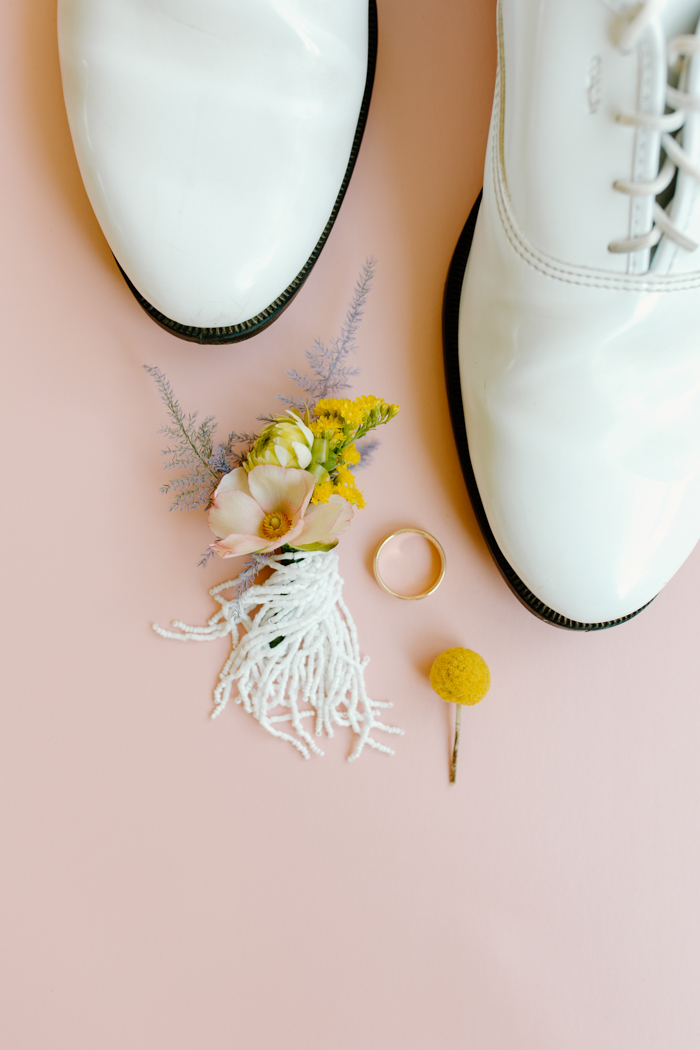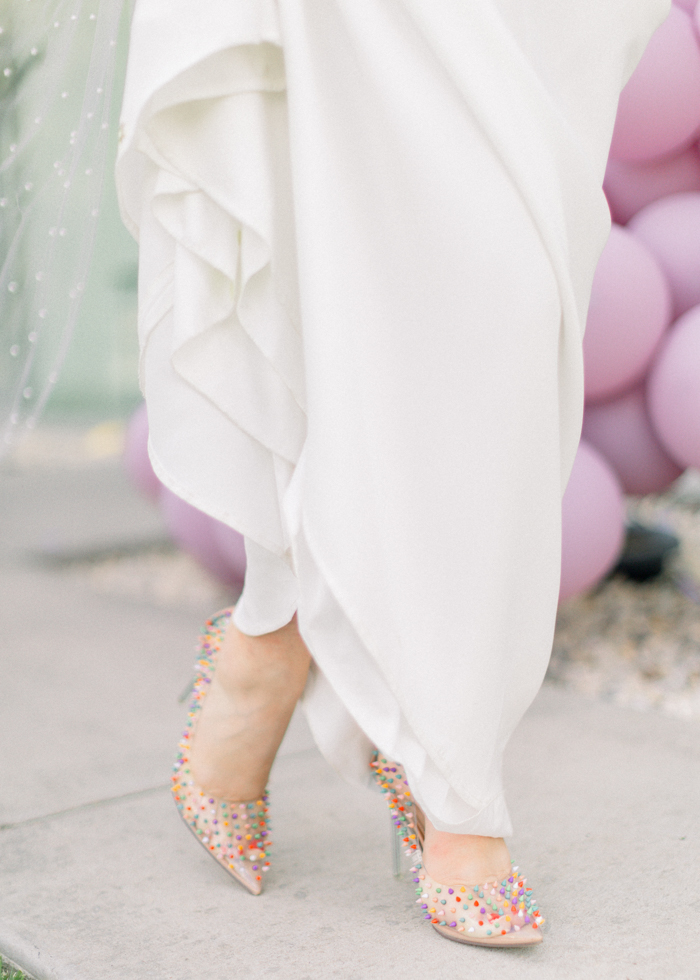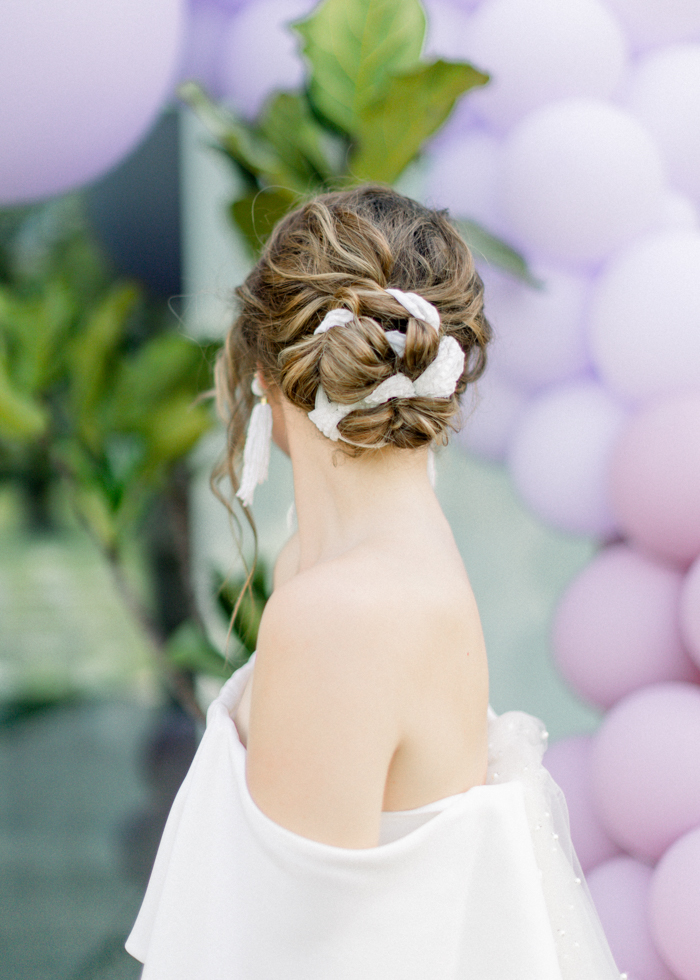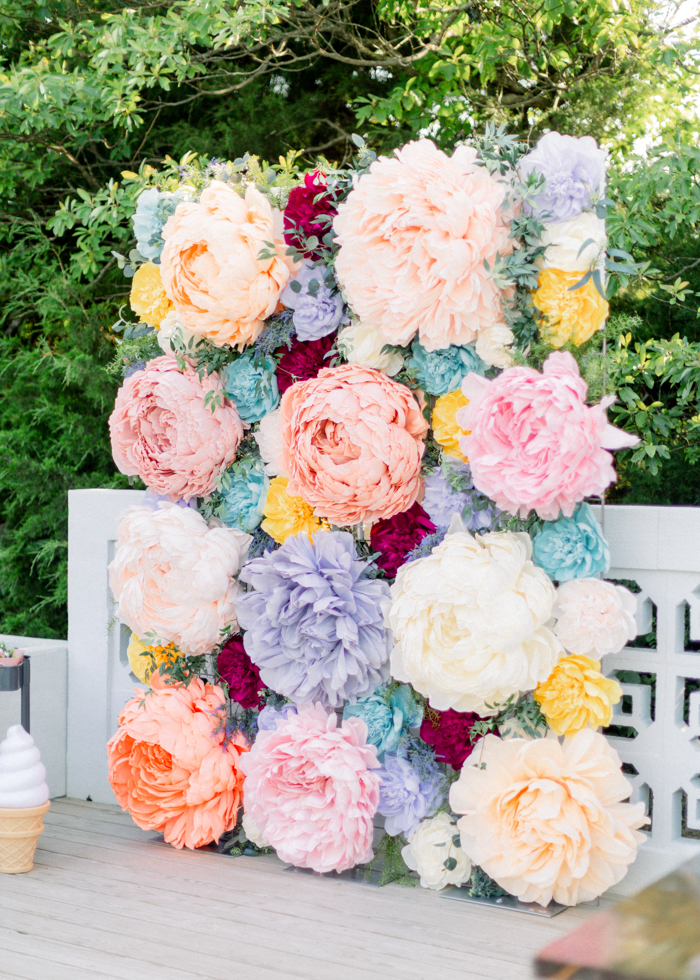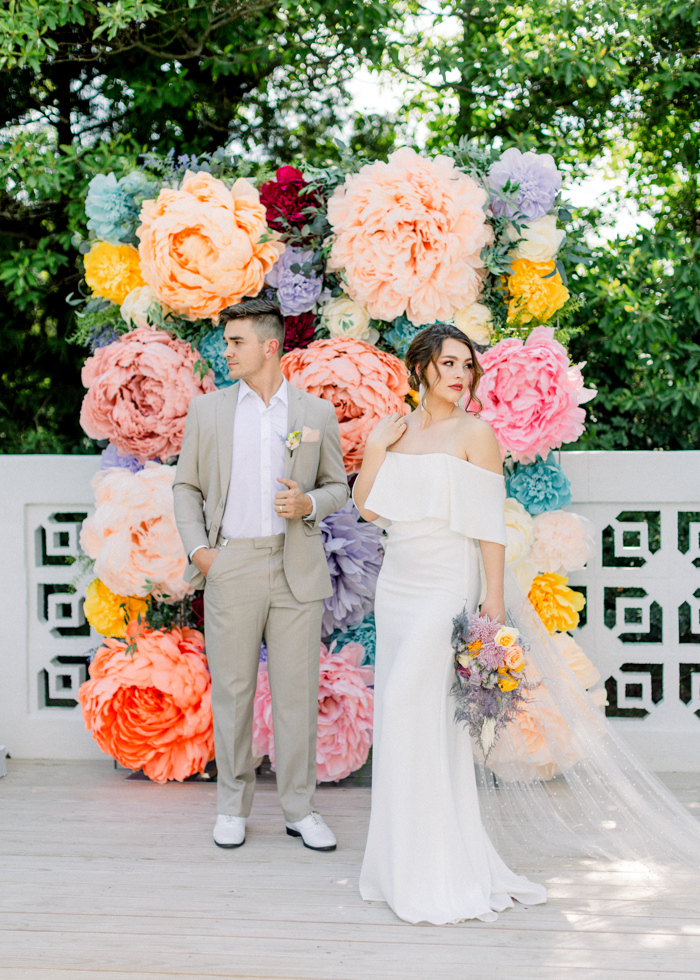 A Stress-Free Pastel Greenhouse Wedding
When you trust your vendors, they're amazing and so creative. The venue owners were so accommodating to creativity, too. They hung a balloon garland on the front of the building and a floating garden outside for us. Plus, who doesn't love a greenhouse? We let our vendors be as creative as they wanted and there wasn't one stressful moment because we weren't involved in every little detail. We just showed up and had the best day!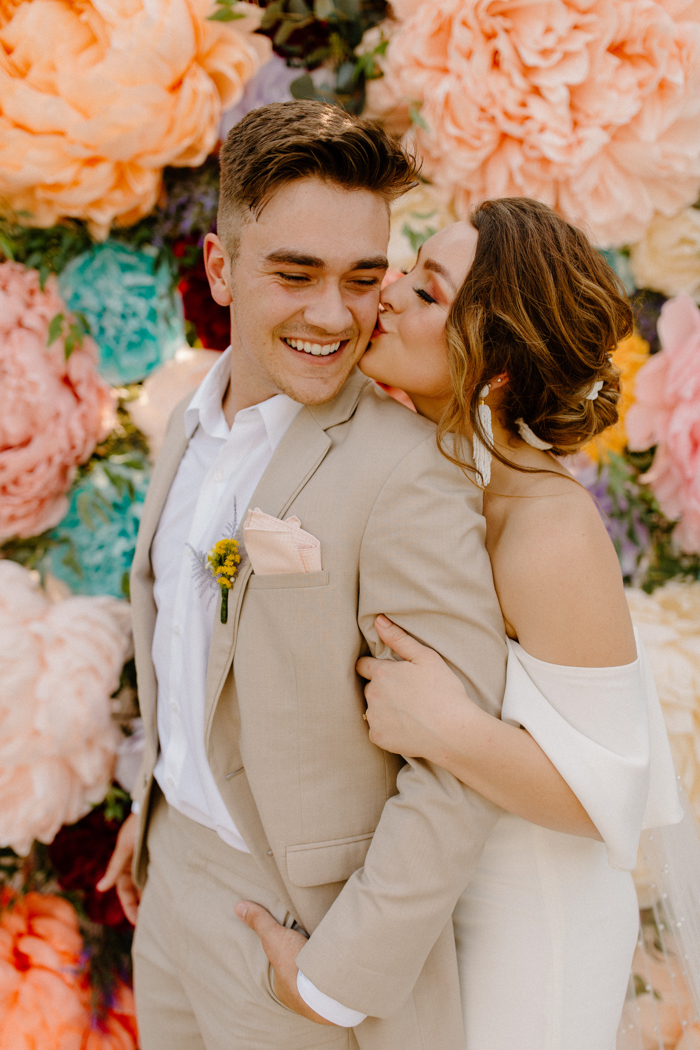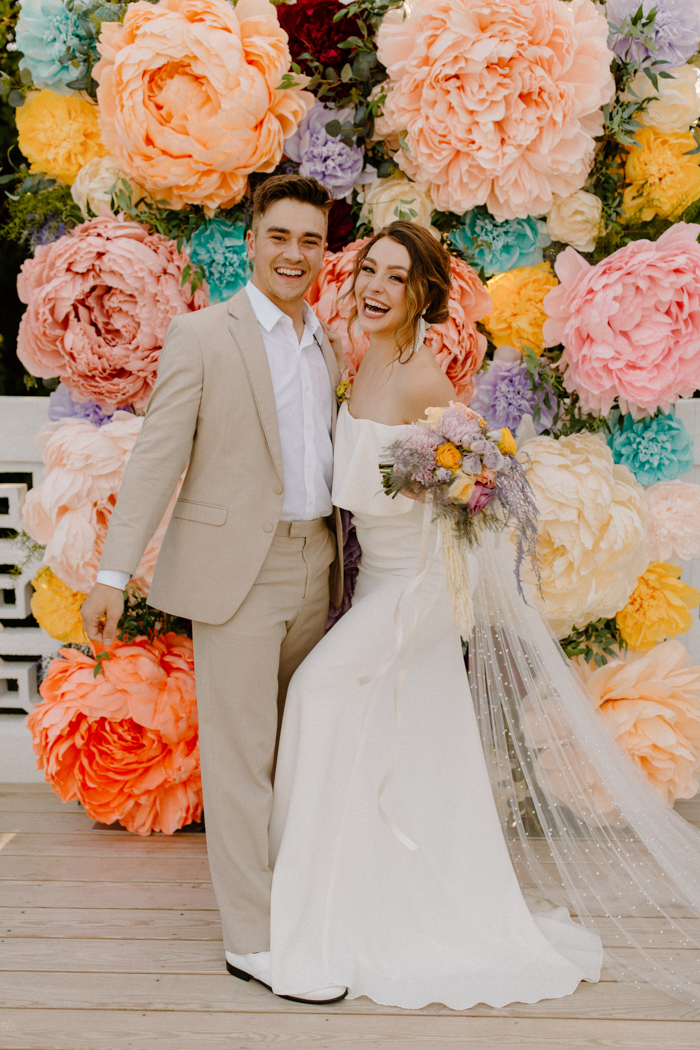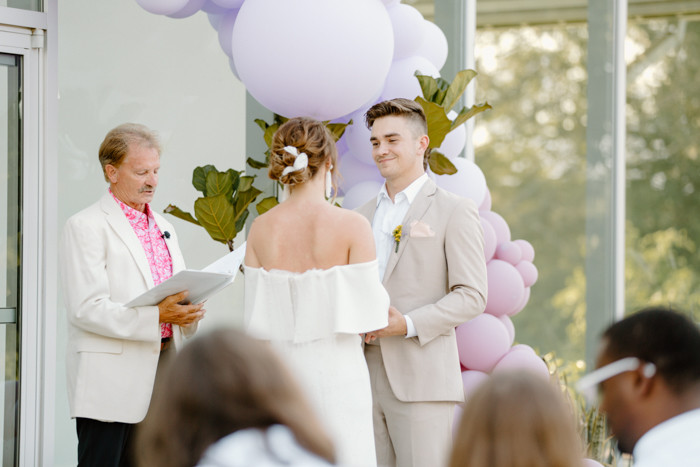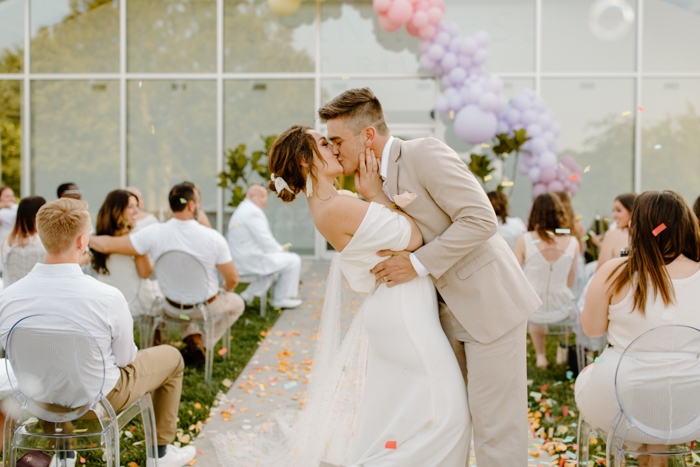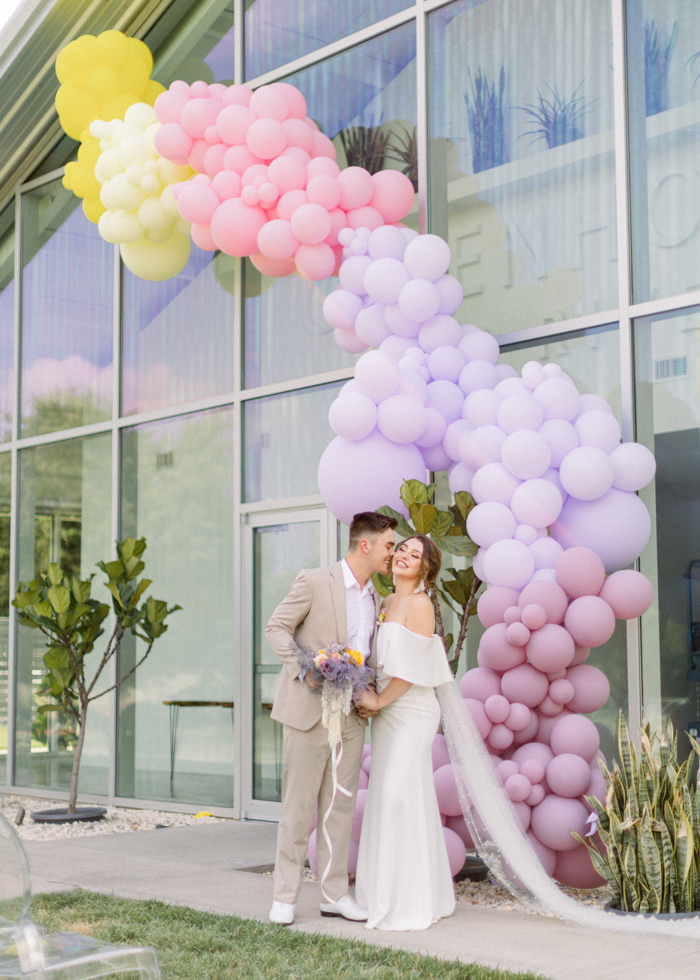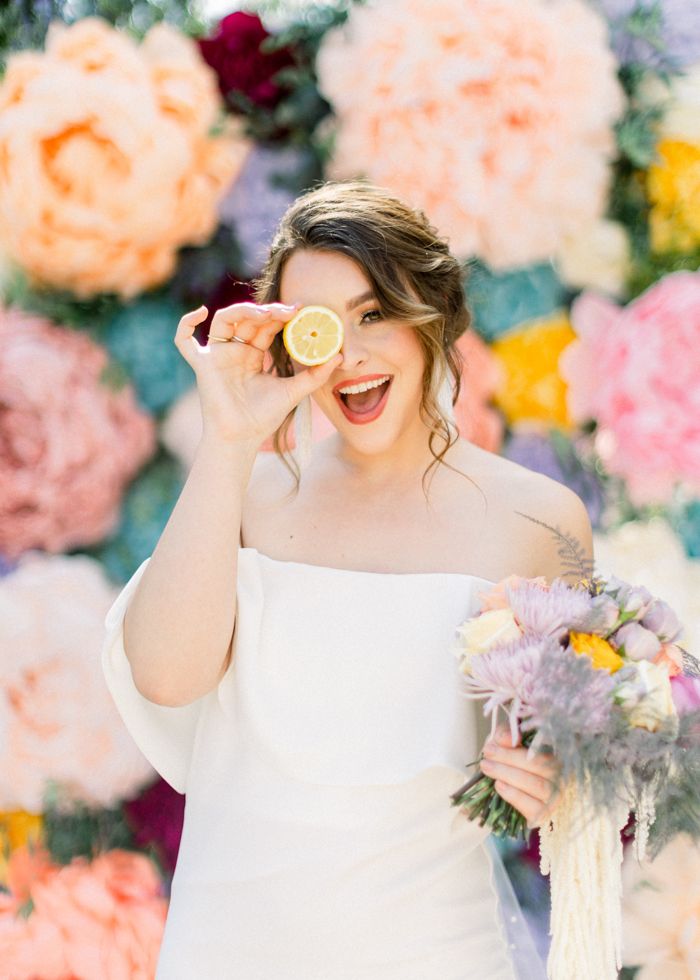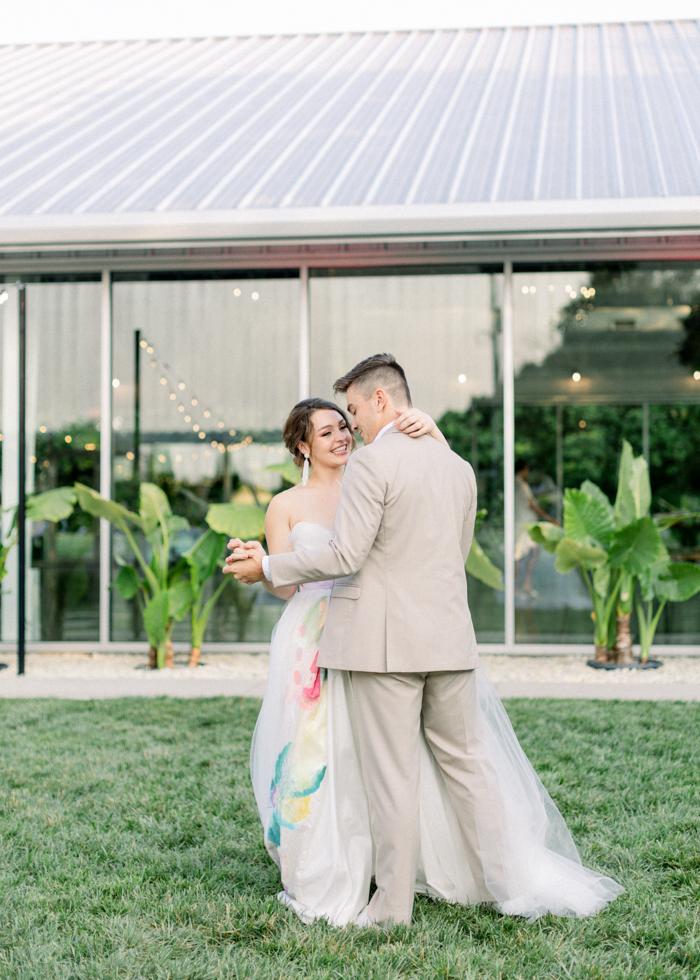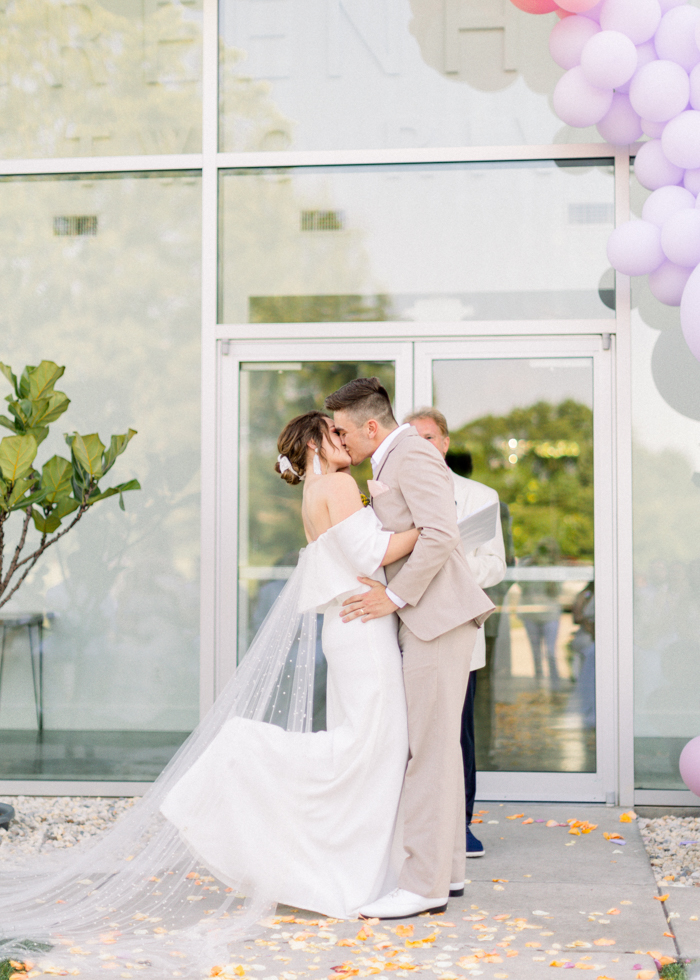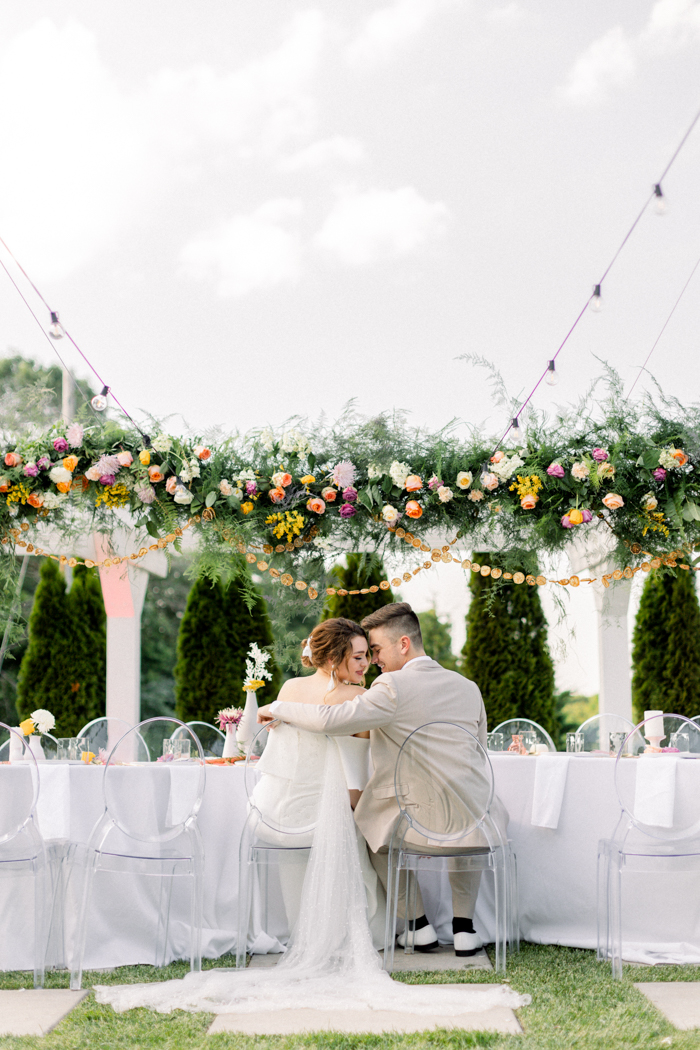 I loved how Inner Images and Shelby Chanté took control so we didn't have to stress. They let us be us and didn't force uncomfortable poses. It was perfect and so much fun.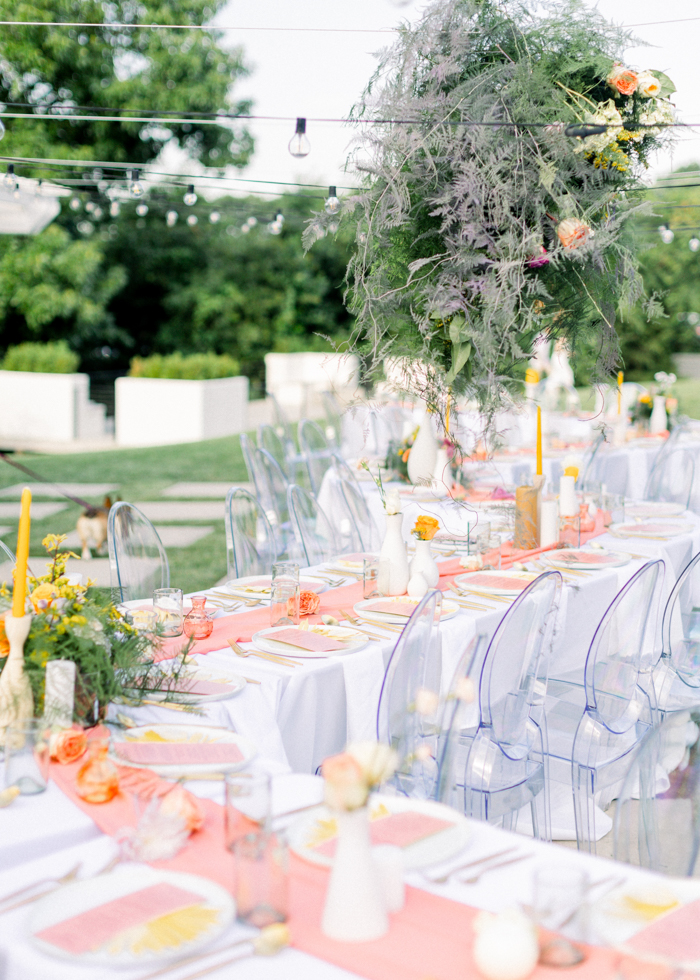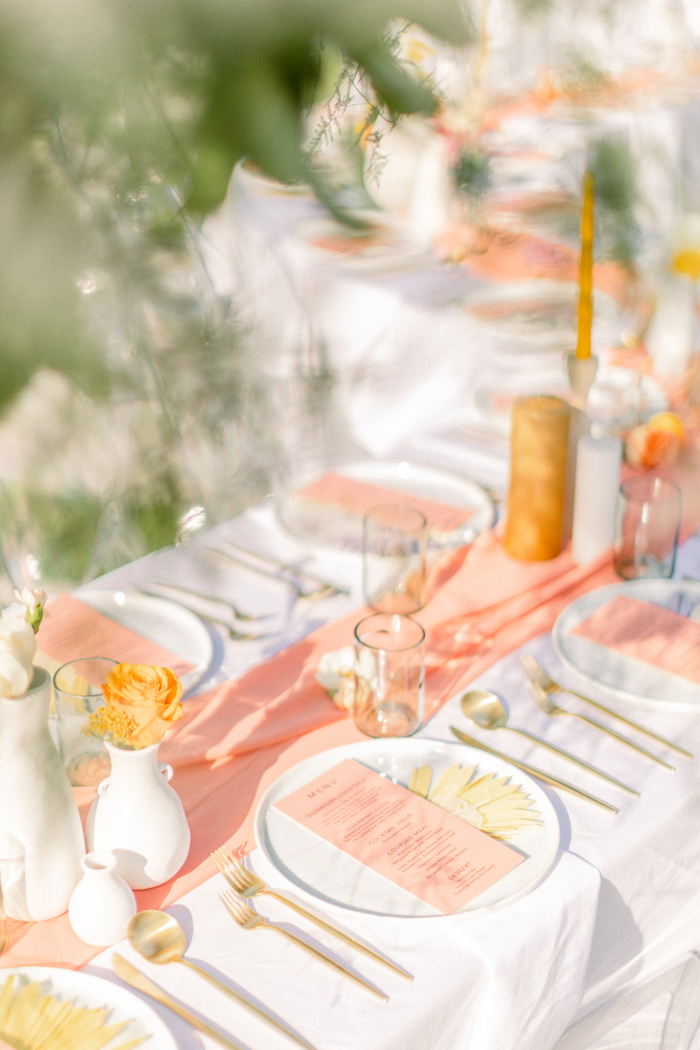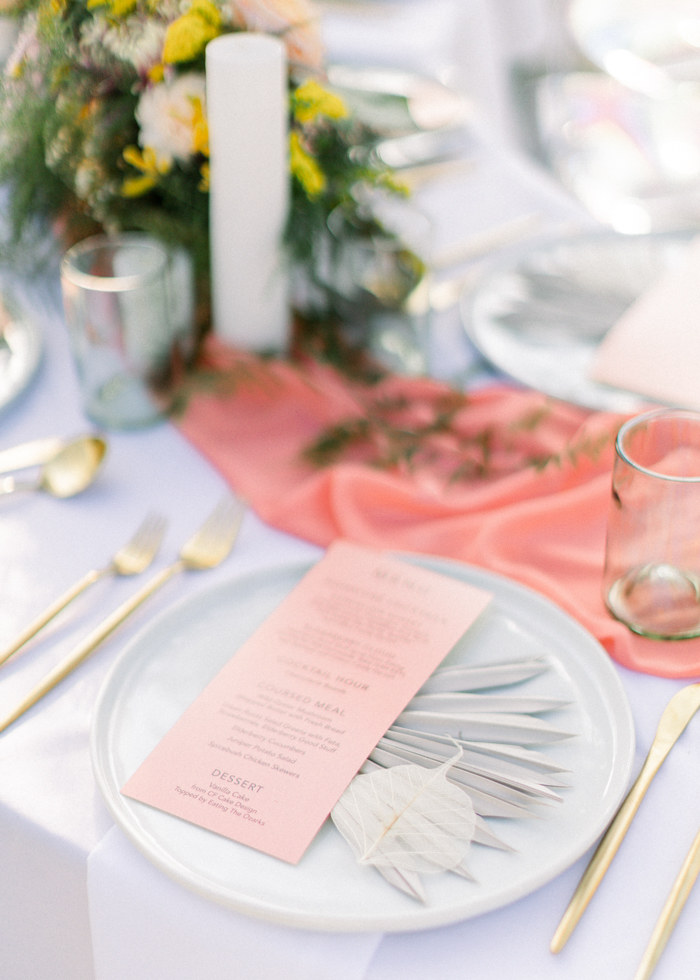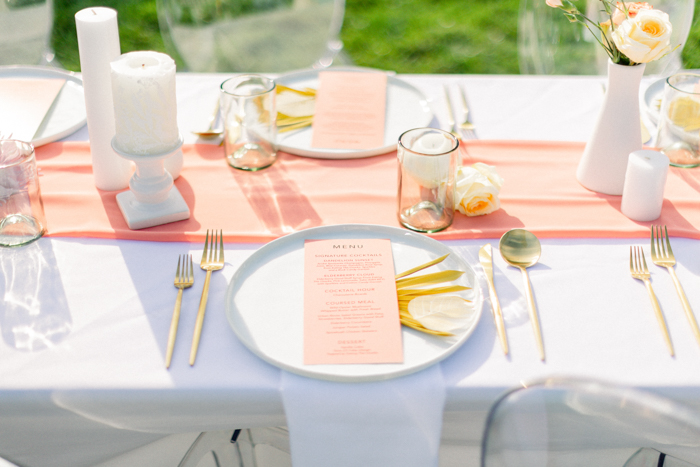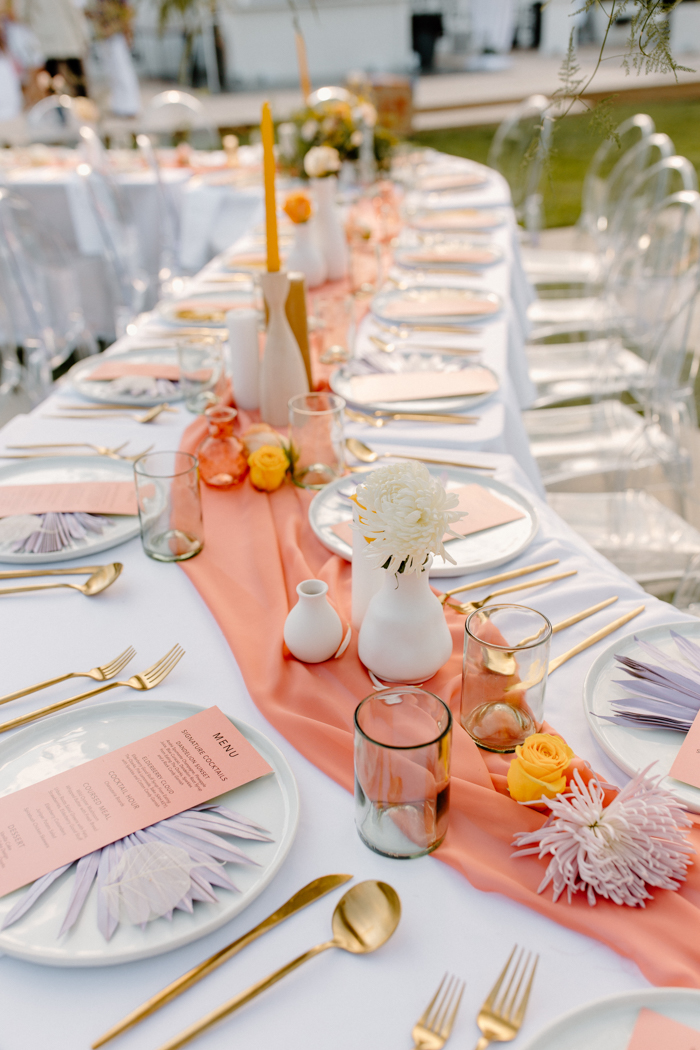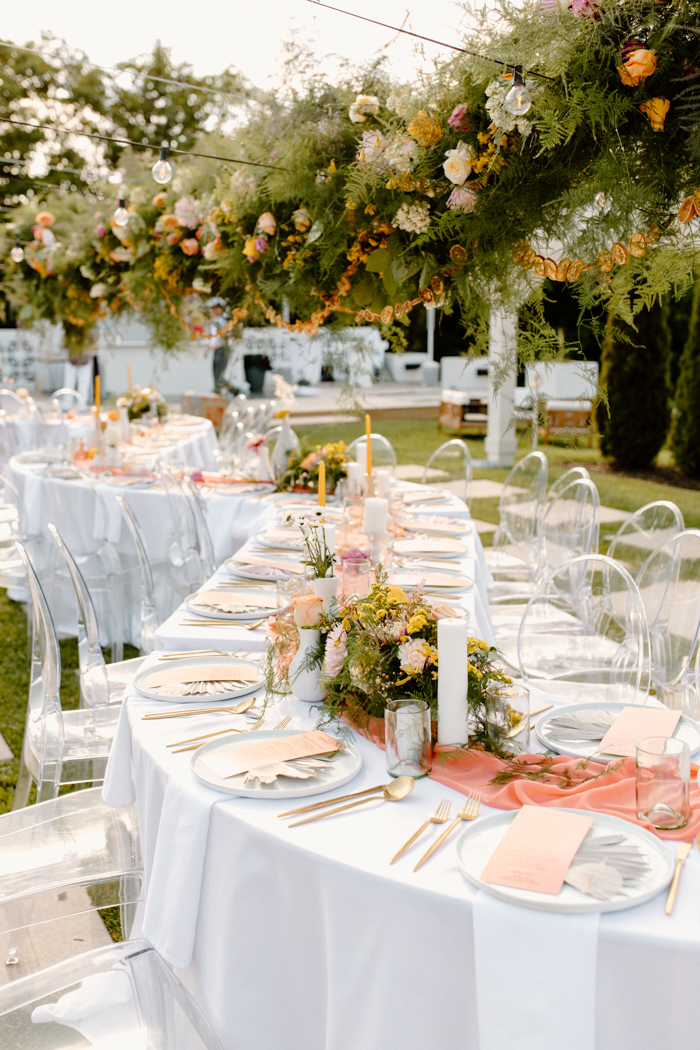 Wedding Day Surprises
Every detail was a surprise and I loved how untraditional it was. I was so amazed watching all the vendors put it all together. They worked so hard and I was blown away by all the details and surprises. I had always dreamed of having a sparkler send-off, so I was excited when the DJ announced it at the end of the night.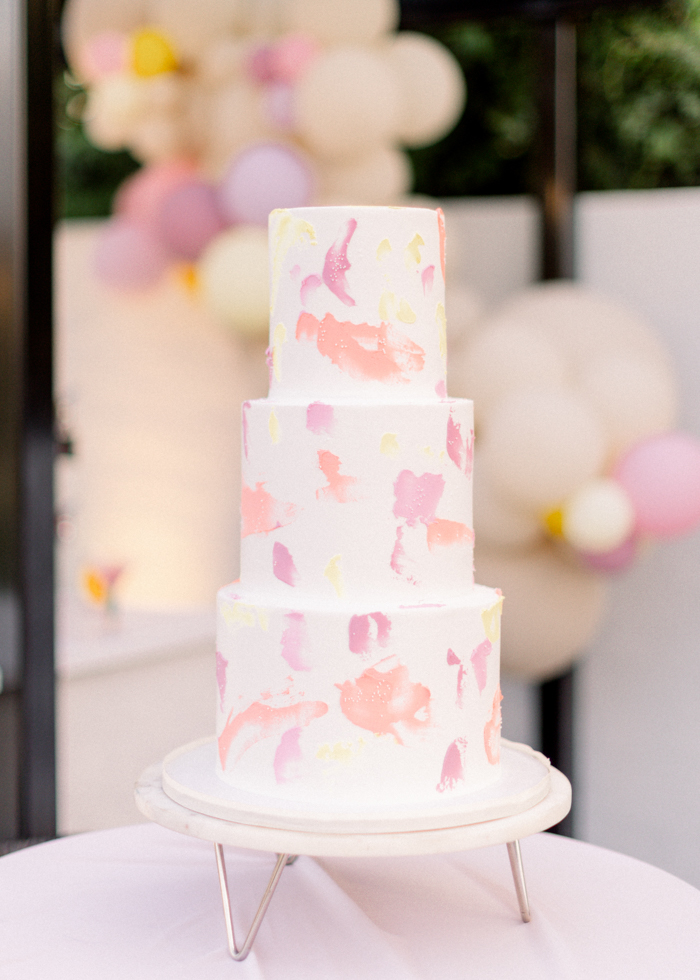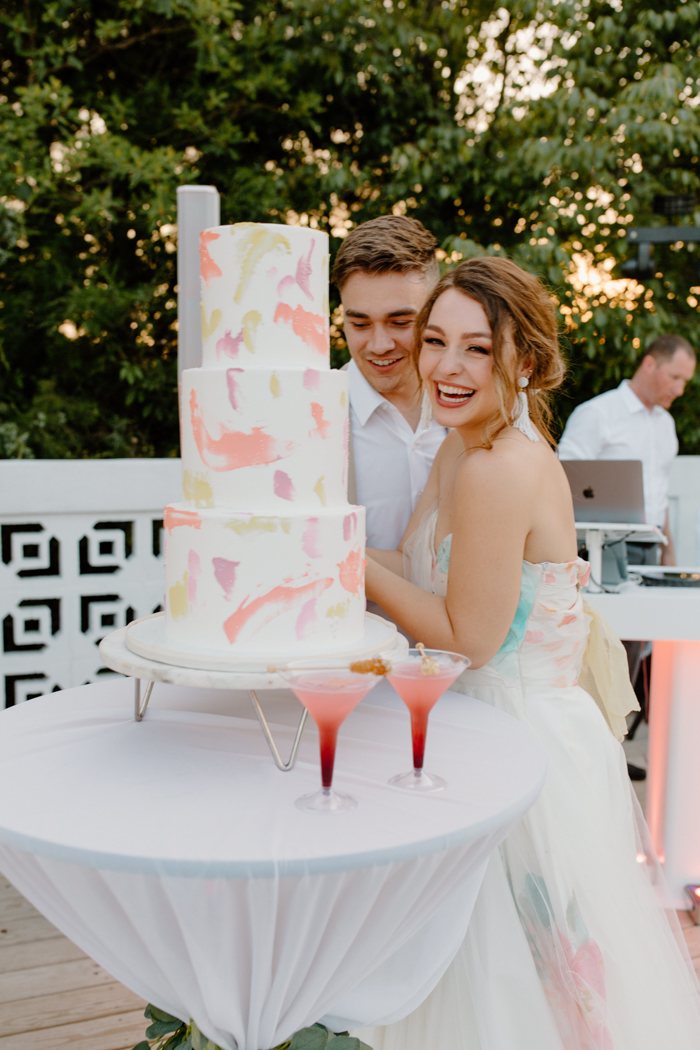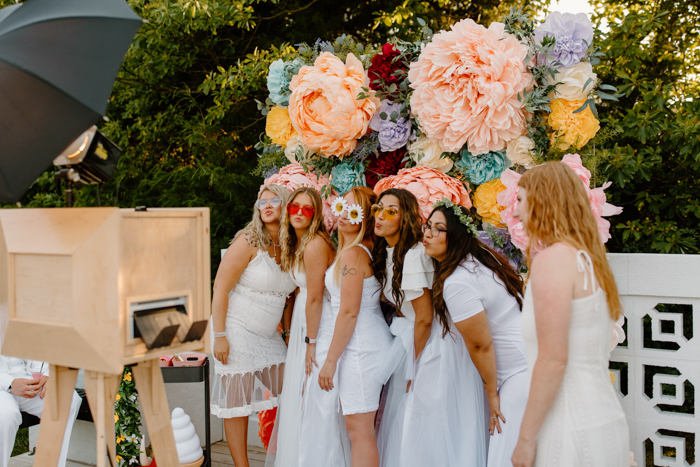 The Wedding Day Menu
Our chef foraged most of our meal from the forests of the Ozarks. Who can say that?! I love sustainability and how hard she worked for our wedding meal. She also has her own line of local syrups and they are so yummy!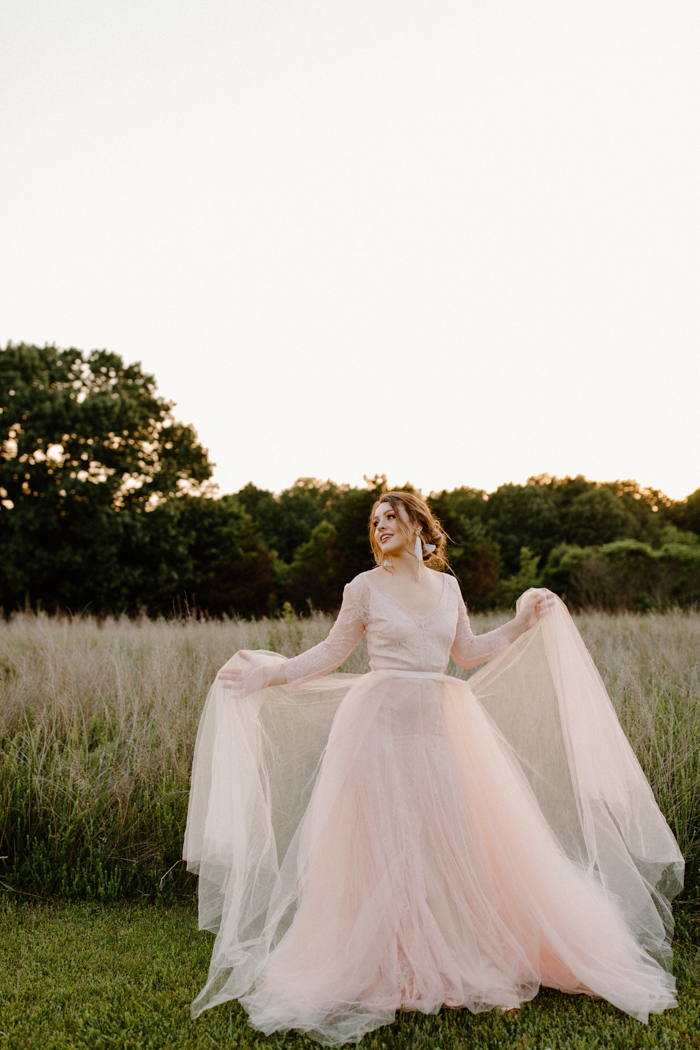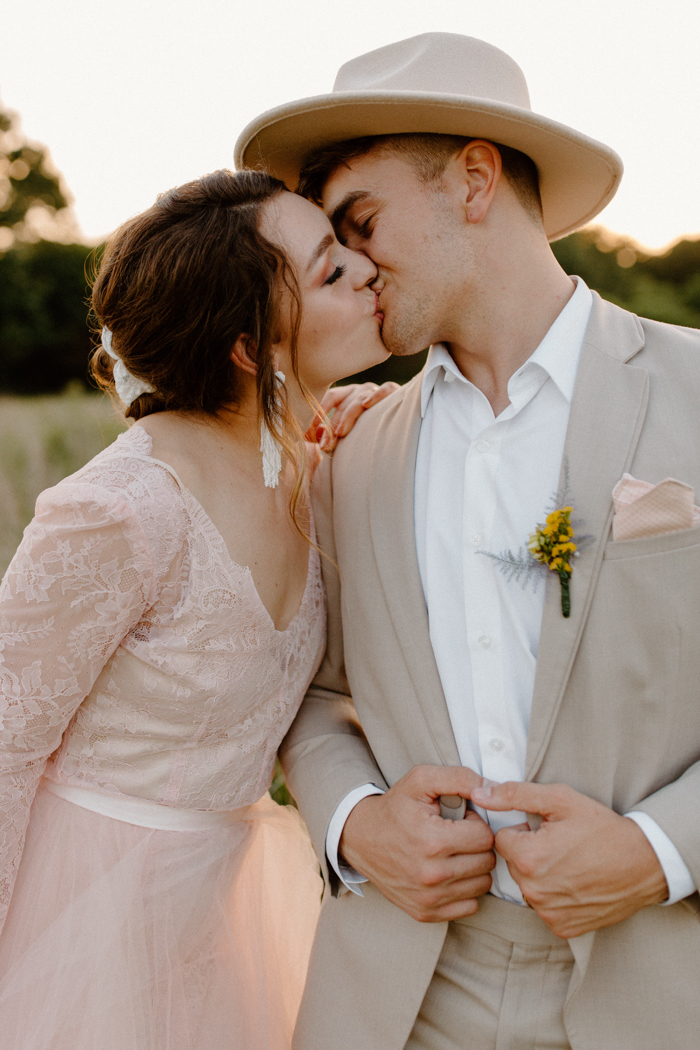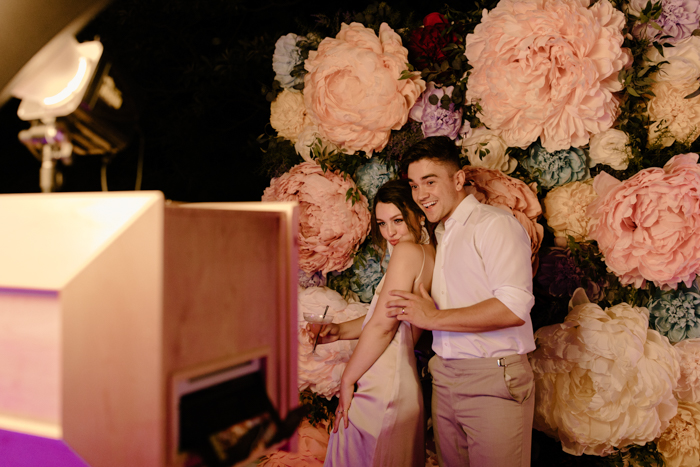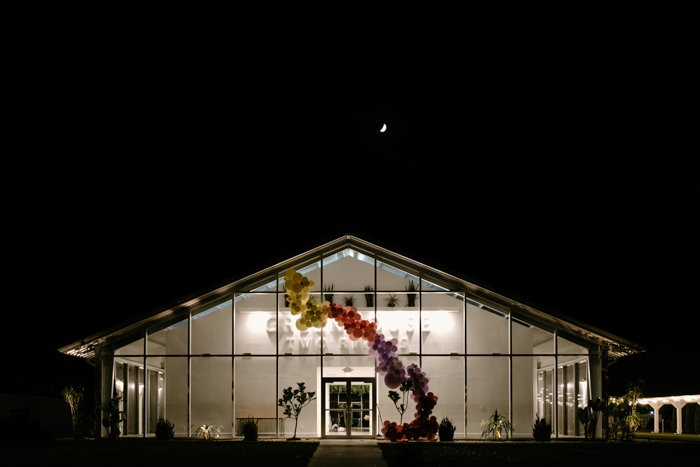 The Most Memorable Part Of The Day
My husband Kole was so memorable for me that day. He was so go-with-the-flow when he doesn't usually like to be the center of attention. I loved having all the in-between moments photographed, like when Kole put my shoes back on me or us being silly. Also, the photobooth. It made our reception a party.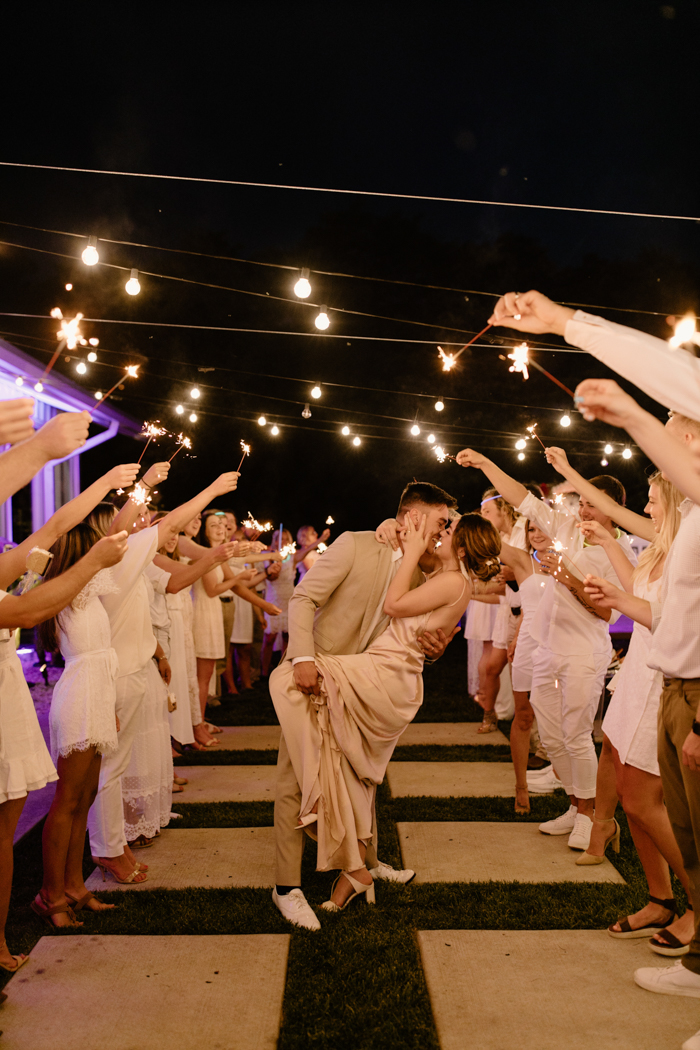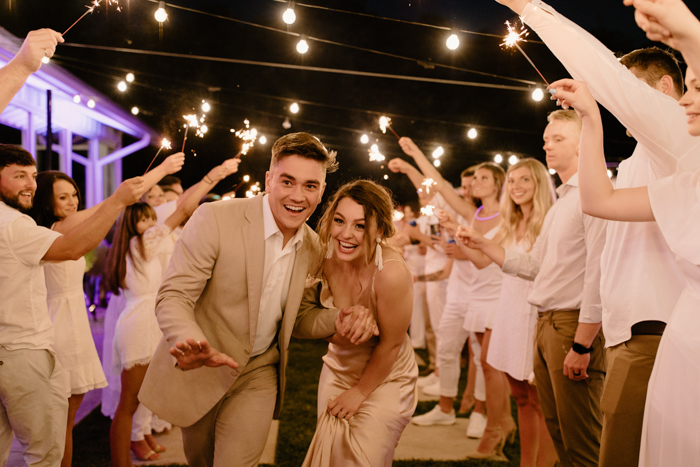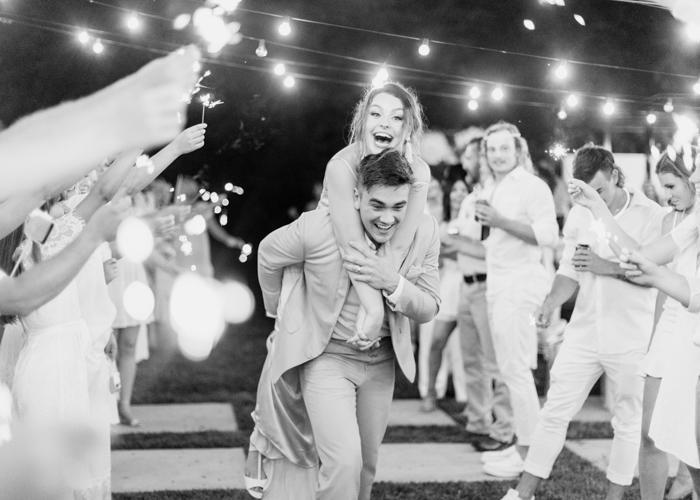 Congratulations to Madi and Kole on their vibrant and pastel greenhouse wedding. Thank you to Inner Images and Shelby Chanté for capturing all the eye-catching, unique, and fun details.
Just like their pastel looks, your color scheme will tie all the details of your wedding together like nothing else can. It creates and sets the tone, energy, and vibe. Choosing the right color scheme can be overwhelming but the right wedding team can help you navigate and bring design elements together with ease. Check out our list of trusted wedding professionals from around the world to find the team who can bring your wedding vision to life.