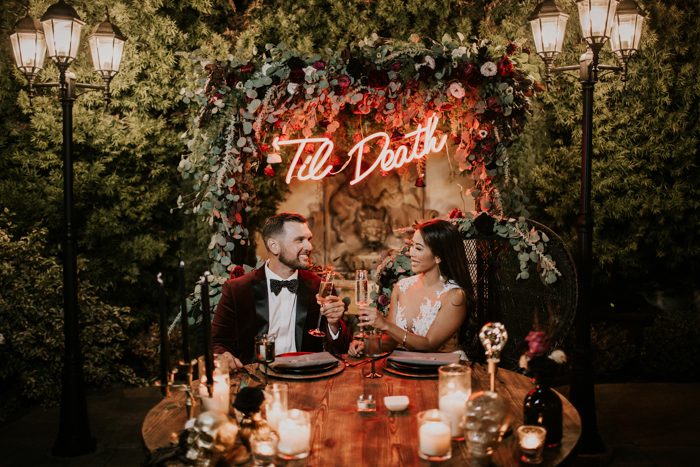 photo by Jami Laree
There are so many things that happen during a wedding reception that it can definitely feel overwhelming to fit everything into a nice, balanced flow. Well, that's where we come in! We've created the ultimate wedding reception timeline to help you visualize the overall flow of the party and plan each section by chunks of time.
This wedding reception timeline is based on a 5-hour cocktail hour + reception, but it can be easily adapted to fit any timeframe. It also includes some of the most popular reception traditions, which you can swap or remove to fit your vibe.
00:00 – 01:00
Cocktail Hour
The cocktail hour is typically the starting event of most wedding receptions and begins either immediately (if the ceremony is at the same venue) or about half an hour after the ceremony if guests need to travel. Not only is the cocktail hour the best transition from "I do" mode to party mode, but it also serves as a time killer for your guests while you're away taking photos. Despite the name, the cocktail "hour" can actually last as long as you want/need, but we do recommend it's at least an hour to give all your guests plenty of time to settle in and prepare for your big arrival.
Not sure where to start for planning your cocktail hour? Have no fear…we've got 8 tips for a killer cocktail hour!
01:00 – 01:15
Couple's Arrival + First Dance
Once you and your partner's newlywed photos have been sufficiently captured, it's time to make your grand entrance! If you want to have your entire wedding party announced, as well, have them enter before you so you can move immediately into the best tradition of the night: your first dance. Once you step on the dance floor, take a minute to soak in the applause while your DJ or wedding band transitions to your song. Then enjoy every second of that first dance as a married couple!
Still looking for that perfect first dance song? Check out our list of 80 first dance songs you haven't thought of yet or take our quiz to find out which first dance song to choose!
01:15 – 01:20
Welcome Toasts
Before dinner kicks off, take a moment as a couple to thank everyone for attending and then turn it over to the hosts to give a welcome toast. (If you're hosting, then you would give the welcome toast, as well.) Depending on your faith, the hosts or a family member could then say a blessing for the meal. Keep in mind, the welcome toast should be short and sweet. The longer, more emotional toasts will come later.
01:20 – 02:35
Dinner + Speeches
If you're having a seated dinner, your servers should be waiting with plates during the welcome toast so that they can begin serving immediately. If you're having a buffet, your DJ or emcee will be in charge of controlling the flow of traffic by announcing when it's time for each table to make their way to the food area. During dinner, have your DJ or wedding band play simple background music that fits your vibe but doesn't take away your guests' ability to have conversations.
Between courses — or about 20 minutes into dinner if you're having a buffet — it's time to start the best man, maid of honor, and father of the bride speeches. We recommend they take place back to back so you only have to get the guests' attention once. We also highly recommend you discuss a time limit for each speaker so the speeches don't run too long.
If your family/friends need some tips for writing their speech, we've got the ultimate guide to wedding speeches and toasts you should definitely pass along!
02:35 – 02:45
Parent Dances
As dinner is finishing up, it's time to transition into the dancing phase of the evening, starting with the father-daughter and/or mother-son dance. Typically, the father-daughter dance happens first, but you can do these dances in either order that you prefer. If you're looking for song ideas, here are 60 father-daughter dance songs to give you all the feels and 60 mother-son dance songs that won't leave a dry eye in the house!
02:45 – 04:00
Dancing
With all your guests focused on the dance floor for the parent dances, have your DJ or emcee transition immediately into more upbeat tunes and be the first ones back on the dance floor to get the party started! Your guests will follow your lead, especially if you're using the music on this wedding reception playlist. This would also be the time to fit in any other traditions or games you want to include.
04:00 – 04:15
Cake Cutting
The cake cutting is typically a sign that the wedding reception is almost over, so we recommend putting it no more than one hour before your grand exit. Most guests will stay until the cake is cut, so you don't want people leaving too early.
04:15 – 04:45
More Partying + Last Dance
Now that the cake is cut and all the traditional wedding to-dos are complete, it's time to party until the very end! About 15 minutes before it's time to leave, wrap up the party with an official last dance song so you and your guests have time to prepare for the grand exit.
05:00
Grand Exit
While you two are saying your final farewells, your planner should be getting your guests in place for your grand exit. If you're not into the idea of a grand exit, check out our other ideas for memorable ways to end your reception. Whatever you choose, it will be amazing and the perfect way to end an epic wedding reception!
Now that you've got your wedding reception timeline set, it's time to nail down your reception design with our wedding reception table checklist for stress-free styling!