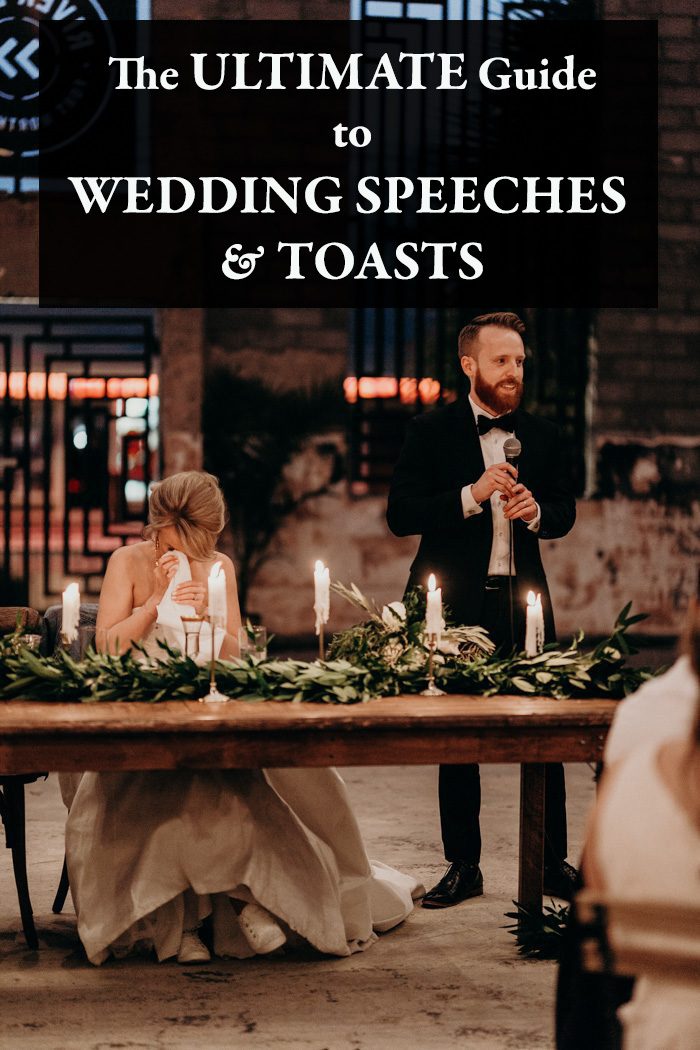 photo by Rachel L'Antigua
Wedding speeches and toasts might be the most daunting things to write and deliver, but they are some of our favorite moments of the entire wedding day! Aside from the couple's vows at the ceremony, the speeches are what everyone wants to hear. They give everyone a unique perspective on the couple, they make us laugh, they make us cry, and they fill us with a sense of community with the entire room. So, in an effort to take some of the pressure off your shoulders, here are some tried-and-true tips for writing a killer wedding speech and toast, along with some video examples to show you how it's done!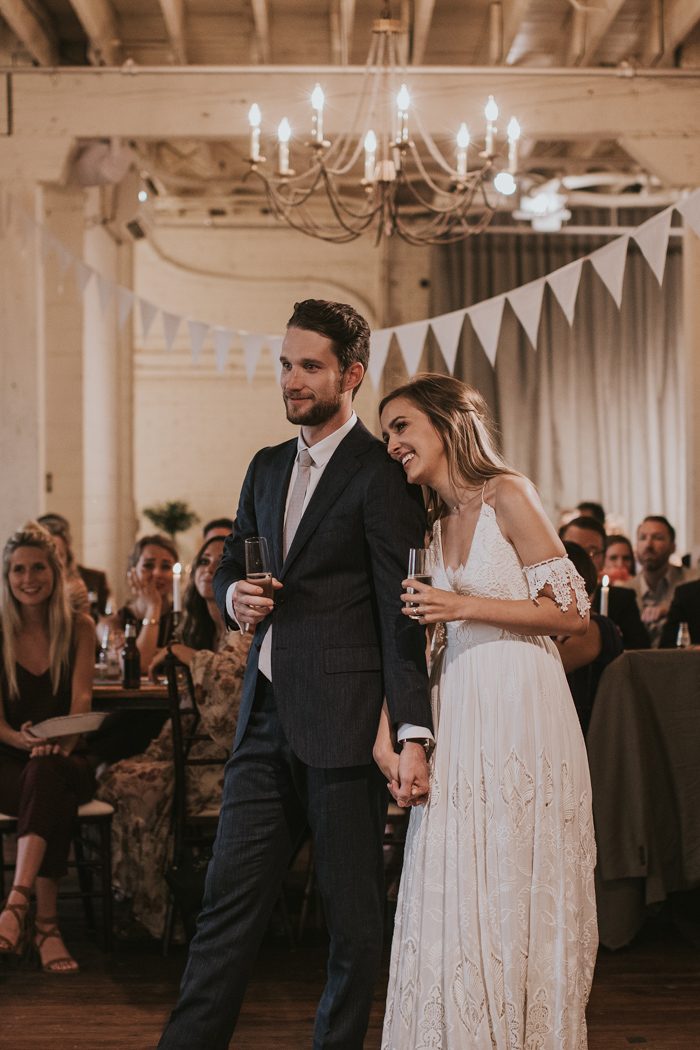 photo by Jordan Quinn Photography
Who gives speeches and toasts?
Traditionally, the best man, the maid of honor, and the hosts give wedding speeches and toasts for the couple, and the groom gives a speech on behalf of the couple. Honestly, though, it's whoever you want. We've seen brides give the newlywed speech and we've seen siblings give speeches after the MOH and Best Man. If you're going the non-traditional route, we don't recommend an open-mic situation where anyone can speak, and we don't recommend having more than 5 speeches or guests will start to get restless.
When do they give them?
Most wedding speeches and toasts are given during the wedding reception, either before or after dinner. You could also have them at the rehearsal dinner if you'd rather they be more intimate or you aren't having a traditional wedding reception.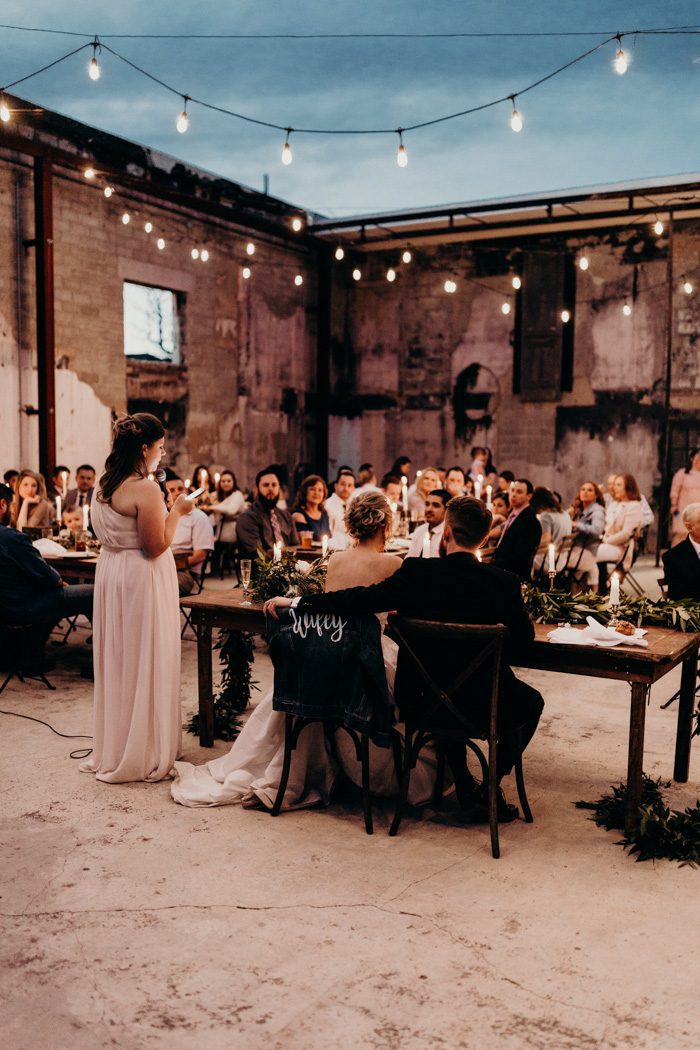 photo by Rachel L'Antigua
6 Steps For Writing a Killer Wedding Toast
The hardest part of writing a speech is knowing where to start. If you're drawing a blank or having a hard time narrowing down the stories you want to tell, start by making a list of your favorite qualities about the bride or groom. If they're the funniest person you know, center your speech around his or her sense of humor and pepper in stories of funny experiences you've had together. Chances are there are so many amazing qualities about the bride and groom, so making a list of your top 3 favorites will help you craft a focused speech about them.
When you're ready to actually start writing, use the following general outline to help create a great speech from beginning to end.
1. Start by introducing yourself
Tell everyone your name and a brief explanation of how and when you met the bride or groom, or how you're related to the bride or groom. Everyone may or may not know who you are, so a little context will go a long way.
2. Tell a relevant story
Go back to the list you created before you started writing and choose a story that reflects the qualities you love most about the bride or groom. This should be something that's relatable, endearing, and appropriate. Make sure you have a point to the story so that you can seamlessly tie it into your speech at the end.
3. Reminisce about the day you met their partner
Everyone in that room will likely have seen different pieces of the couple's love story, so tell their story from your perspective. Talk about the day you met their significant other for the first time and the moment you realized this was the person they were going to marry.
4. Talk about what you love about their partner
Although your main responsibility is to talk about either the bride or the groom, every speech should ultimately be about both of them. Tell their partner why they are the best choice for your best friend and what qualities you love most about them.
5. Talk about your hopes for their future as a couple
If you're married, this is where you insert your best piece(s) of advice for a healthy marriage. If you're not married, wish them a long, happy, and healthy life together. Make your wishes and/or your advice personal to their relationship and end on a positive, optimistic, and heartfelt vision of their future.
6. End with a toast
Ending a speech can be just as challenging as starting it, which is why we recommend ending with a toast. Ask everyone to raise their glass and toast to the wonderful couple — and, in your mind, to the killer speech you just gave!
Junebug Tip:
The Art of Etiquette's wedding guest books include ten speech sheets that will give a beautiful space for your loved ones to write the perfect speech that is short, sweet, and sentimental. We love that they've included these thoughtful speech sheets that will double as a wedding keepsake in your guest book.
Looking for an example of a perfect Maid of Honor speech? Look no further:
Tips for Folks Giving Speeches
Don't drink too much beforehand
You don't want to be slurring your words or get into a drunken ramble in front of everyone. Just a couple of sips of liquid courage will get you through those few minutes in front of the crowd, we promise!
Don't make it about you
It's okay to be relatable by telling a story, but remember that this speech is about the couple. After you've introduced yourself, move on to talking about the bride or groom specifically and then them as a couple.
Don't humiliate the couple
Don't use crude language, don't tell inappropriate stories, and don't mention any past relationships. Also, don't poke too much fun at the couple. It's okay to be funny, just don't take it too far at their expense. If there's even the slightest chance someone could feel uncomfortable about something you want to say, leave it out.
Keep it short and sweet
Chances are you, there will be at least 2 other people giving speeches before or after you, so keep your speech to 5 minutes (max). The bride and groom will thank you and every guest in the room will thank you!
Practice beforehand
Rehearse your speech with a friend or even in front of the mirror. It will get some of the nerves out and allow you to make sure it flows before the big moment.
Write your speech down
With all the excitement and nerves of the day, there is a good chance you'll blank out or forget parts of your speech. Even if you do plan to memorize it, write it down and bring it with you just in case. Nobody will fault you for holding notes — just be sure to look up and not read from your script.
Want to see a fantastic Best Man speech? We've got you covered:
photo by Shari + Mike
Tips for Parents of the Couple
Keep it short
This is our advice for every wedding speech: keep it short! Other people will be speaking and you don't want to the lose the crowd. Honestly, you do have more to cover in your speech, so the 5-minute rule doesn't apply, but you should not go much longer than 10 minutes.
Start by thanking everyone involved
Start by thanking everyone in general and specific, important people by name. Thank out-of-town guests for traveling and the entire wedding team that made this day happen. Most importantly, thank your spouse!
Don't try to be too funny
We love a good dad joke as much as the next person, but there is such a thing as trying too hard to be funny. Remember, this is about the couple, so telling one joke after another distracts from that message and makes it feel more like a comedy special.
Don't be afraid to get sentimental
Tell your child how beautiful they look. Tell the couple that you can't believe they're all grown up and married. While it's possible to have too many jokes, it's nearly impossible to be too sentimental in speech from the parents.
Welcome your new son or daughter into the family
Raise a glass to the newest member of your family and to two families becoming one. This is a momentous occasion and a heartfelt welcome will be the perfect cap to your killer speech.
Need a little Father of the Bride speech inspiration? This is what you need to see:
Tips for the Couple
Thank everyone
First, and foremost, thank your parents and your partner's parents. Then give a special shout out to the wedding party, everyone who helped put the wedding together, and your guests for celebrating with you. This is your chance to be vulnerable and tell everyone you love what they mean to you.
Focus on your spouse
After you've thanked everyone, make the rest of your speech about your wife or your husband. Tell them how much you adore them and how much this day has meant to you. Add personal details and get as specific as possible when telling them what you love about them.
Relive a few of the best parts of your relationship
Tell everyone about the night you met, how you fell in love, your engagement story, or any other important story that got you to this moment in time.
Toast to your loved ones and to your future
By this point, there will probably not be a dry eye in the house, but you still want to end with a heartfelt toast to the loved ones that surround you and to your spouse. Raise a glass to the love and support of everyone in the room, and toast to the dreams and wishes you have for your marriage.
Want to see a groom knock his wedding speech out of the park? Watch this:
Pass these tips along to everyone giving a speech and toast at your wedding, and get ready for some pretty epic and heartfelt moments! Then start thinking about how to end the party right with these memorable ways to end your wedding reception!