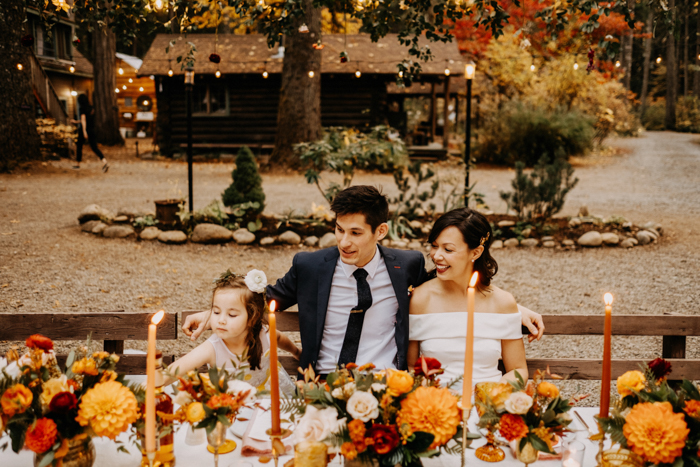 photo by Dylan M Howell Photography
As the final event before the big day, the rehearsal dinner is essentially the bridge that takes the couple, the family, and the wedding party from planning mode to wedding weekend party mode! While the general idea of the rehearsal dinner has remained the same, the execution and expectations have definitely evolved through the years. So, in order to help you plan the perfect rehearsal dinner to kick off your wedding weekend, we've put together the ultimate guide with answers to the most common questions, theme ideas, and outfit suggestions.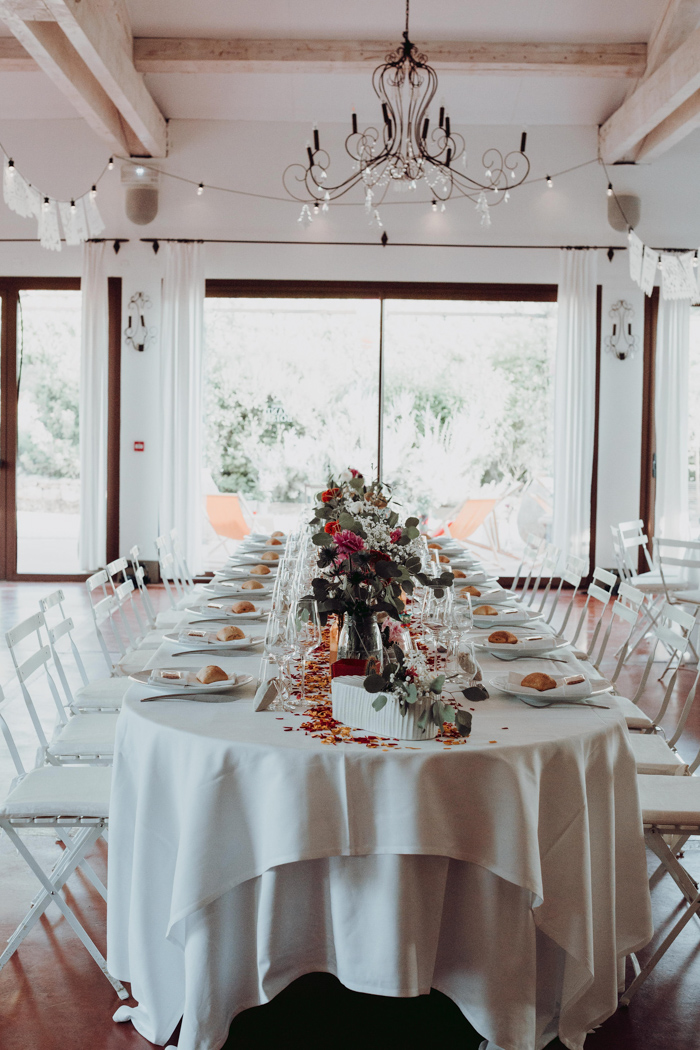 photo by Blossom&Co
Common Questions
Who pays for the rehearsal dinner?
Traditionally, one side of the family — typically the side that's not helping pay for the wedding — will pay for the rehearsal dinner. However, more and more couples today are either paying for the rehearsal dinner themselves or splitting with both sides of the family. If one partner's parents are more traditional or you're looking for ways to get the in-laws involved, this is a great opportunity to do that. It will give them a substantial role in the wedding weekend and will take one thing off your to-do list, which is a serious win-win!
Who is invited?
The guest list for your rehearsal dinner is really up to you! You can keep it small and traditional with just family, the wedding party and their plus ones. You can also open it up to all out-of-town guests — especially if you're having a destination wedding. Opening up the list to your rehearsal dinner can give you more quality time with your guests than you'll be able to get on the wedding day, and in a much more casual setting.
If you want to meet somewhere in the middle between a traditional rehearsal dinner and a more modern pre-wedding event, you could also keep the dinner small and invite other guests to an after-party at a nearby bar or a relative's home. That way you get the intimate dinner with your family and wedding party and also get to spend more time with guests before the big day.
Are invitations required?
If you're keeping the rehearsal dinner small — with just immediate family and the wedding party — invitations aren't required. Just be sure to let everyone know where they need to be and what time. If you're opening the rehearsal dinner to more guests, an invitation might be the best and easiest way to let everyone know the details and request an RSVP. If you're having a more formal wedding and want to carry that vibe through all pre-wedding events, send paper invitations. If you want to keep things more casual, send an e-vite or put the rehearsal dinner information on your wedding website. All that matters is that everyone has the information they need — don't stress too much about how it's delivered!
When should invitations be sent?
If you are sending invitations, you should send them at least 4 weeks before the rehearsal dinner. You want them to arrive after the wedding invitation but with plenty of time for guests to RSVP.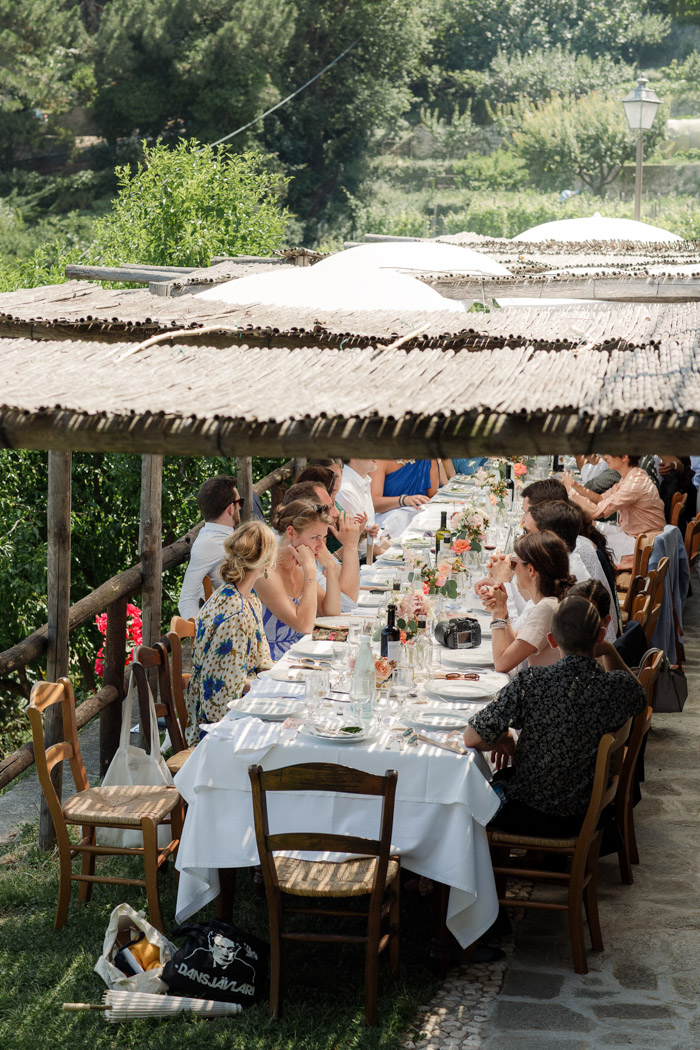 photo by Carla Penoncelli
When does the rehearsal dinner take place?
Traditionally, the rehearsal dinner takes place right after the ceremony rehearsal. Everyone who is involved in the ceremony will meet with the wedding planner and officiant to walk through the ceremony and iron out any last-minute details. Then, after the rehearsal, everyone celebrates with a meal or an activity.
What events typically happen at the rehearsal dinner?
Regardless of the format of your rehearsal dinner, there are some elements you should consider including. After the meal or during dessert, the host(s) should make a toast to the couple, welcoming them into the family. Then you should make a toast to your wedding party and family, thanking them for all they've done to help the wedding come together. During this time, you could also hand out wedding party and parent gifts. You could then open the floor for anyone to give a toast, so those who aren't speaking at the wedding reception have a chance to tell you how much they love you both!
Lastly, before the event wraps up, you should make any last-minute announcements or reminders for the wedding day, such as start times and locations or transportation details.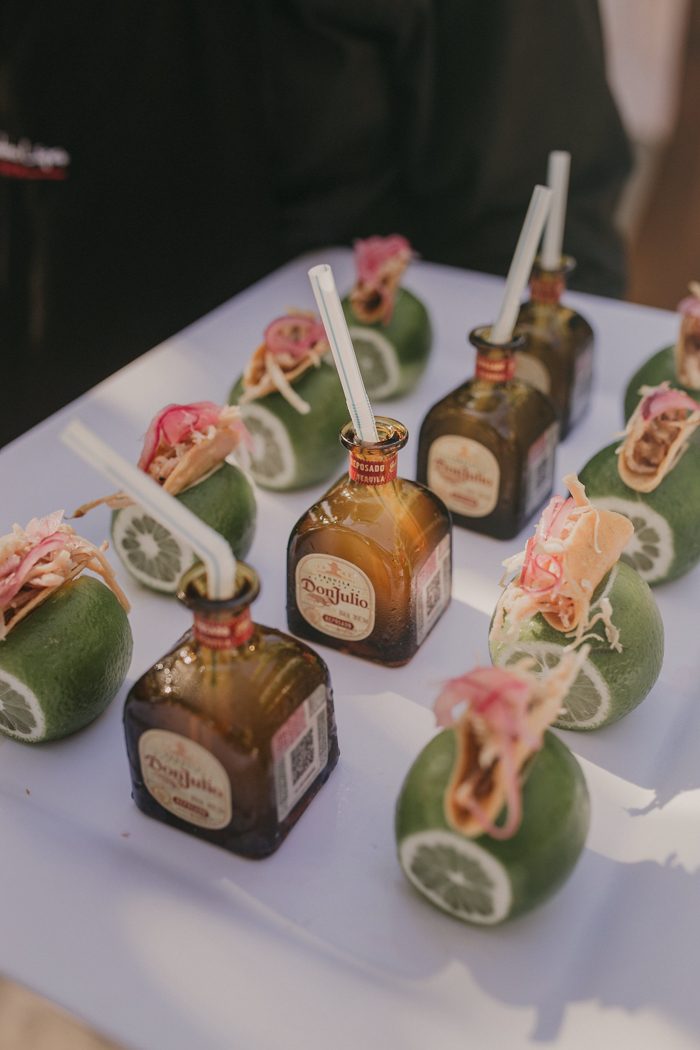 photo by Pablo Laguia
Theme & Activity Ideas
Even though the name hasn't changed, the ideas and expectations for a rehearsal dinner certainly have! Gone are the days when the family needs to host a formal, sit-down dinner right after the ceremony rehearsal. Nowadays, couples are opting for unconventional meals or even activities to kick off their wedding weekend celebrations — and we love that idea! Brunch, a game night at home, or even a winery or brewery tour are all fantastic options for a rehearsal dinner get-together if a meal just doesn't fit your vibe. We've got even more fun, unconventional ideas right here!
And, if you're having a summer wedding, we've got a list of 13 fun summer rehearsal dinner ideas specifically curated for those warm summer days!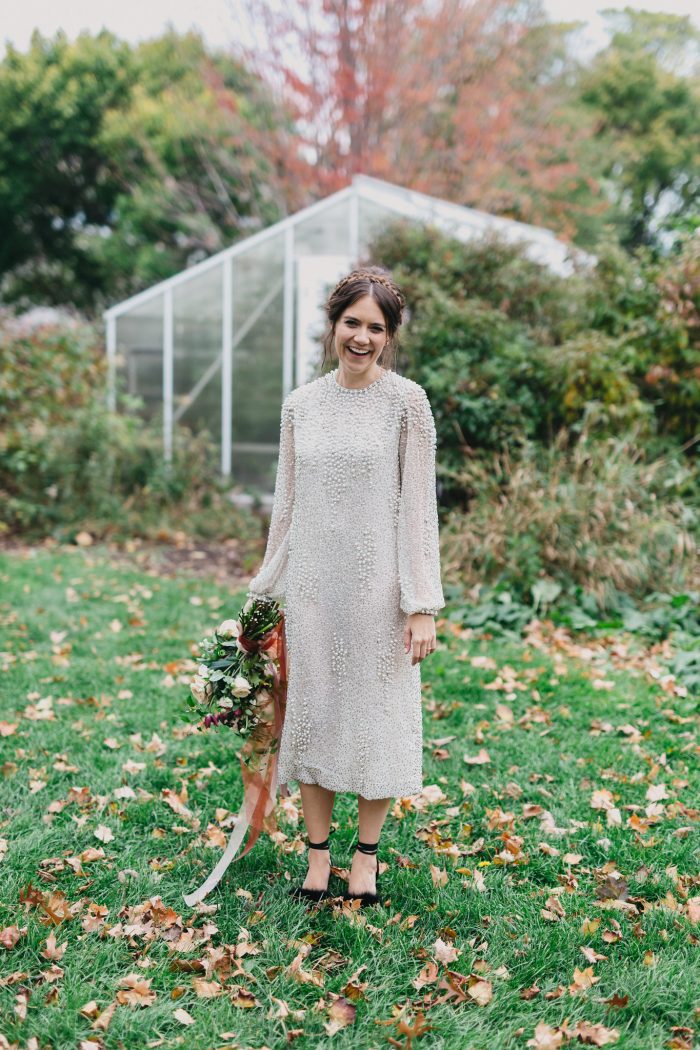 photo by Kayla Rocca Photography
What to Wear
No matter what you decide to do for your rehearsal dinner, we know you'll want to look your best! For the ladies, we recommend anything that makes you feel like a bride about to celebrate her wedding day, such as a little white dress, a cute romper, or a dressy pair of shorts and a blouse. Your outfit should match the formality of your rehearsal dinner, but don't be afraid to choose something a little dressier even for a casual event. This is your wedding weekend, after all, so wear what makes you feel the best! We've rounded up the prettiest little white dresses that would be perfect for any pre-wedding event.
For the guys, we recommend a more casual and modern look that matches the feel of the event. Even if you're choosing a super casual activity, you should choose an outfit that's one step above super casual because chances are lots of photos will be taken and it is an official wedding celebration. This is your wedding weekend, so you should feel confident and excited about whatever outfit you choose! These spring groom style trends and fall groom style trends are the perfect inspiration to find that middle ground for rehearsal dinner attire.
Looking for unique elements to incorporate into your wedding day? These 2019 wedding trends will make your day unforgettable!