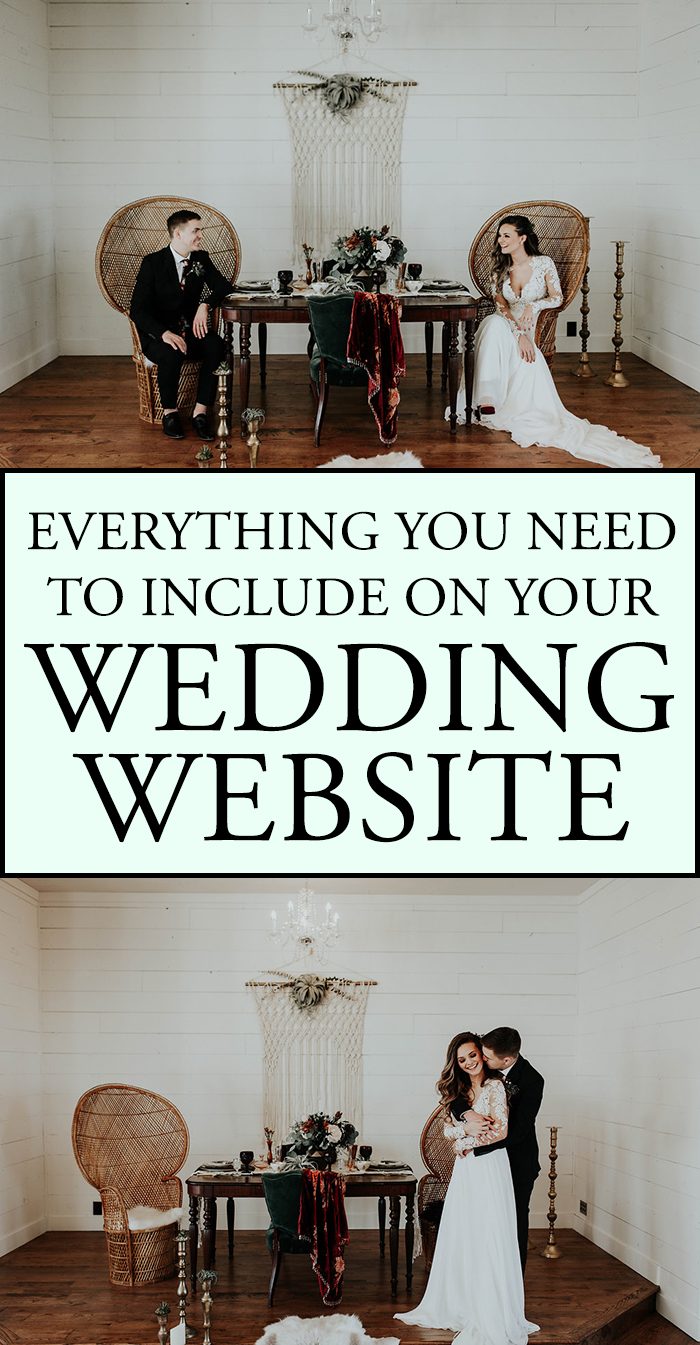 photos by Peyton Rainey Photography and Chelsea Denise Photography
If there's one part of wedding planning we don't want you to stress over, it's building your wedding website. Your wedding website not only gives your guests the information they need about when and where your wedding will be but also helps you keep up with RSVPs and answer every little question your guests may have before the big day. We've outlined everything you need to include on your wedding website to help you check every box and leave no question unanswered. To make the process even easier, we've teamed up with Joy, who we believe is the best in the wedding website business.
Joy is a free platform the allows you to create beautiful custom wedding websites. You'll learn more about their extensive list of features as you read on, but a few of our favorites include the guest management tool and digital RSVPs, the photo sharing and live slideshow capabilities, and the app which allows guests to view the schedule, get event information, and even connect with other guests right from their phones.
Ready to make an amazing wedding website?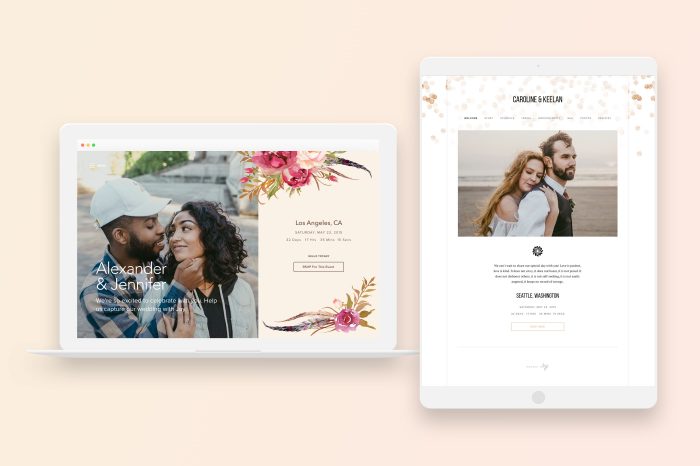 The Basics
Your Names
Your guests will write you cards and put your names on the gifts. Your side of the family may or may not know the spelling of your partner's name and vice versa, so definitely make sure names are clear and in very legible fonts!
Your Wedding Date
Your wedding date needs to be prominently displayed. This is the most important information guests are looking for on your site.
Your Wedding Time(s)
Don't forget to include the time of the wedding! It can be helpful to list a ceremony start time and a reception start time, especially if there is a break in-between. The more information you can provide, the better!
Your Wedding Location(s)
Your venue name and address should be as easy to find as your wedding date! Be sure to list both your ceremony and reception venues if they're different. It's also a good idea to highlight the city and state of your wedding for any out-of-town guests who may be looking for that info.
Wedding Countdown
Joy has a handy wedding day counter that you can include on your homepage! This is a great way to let guests know how long they have before the big day and get them excited as your wedding date nears!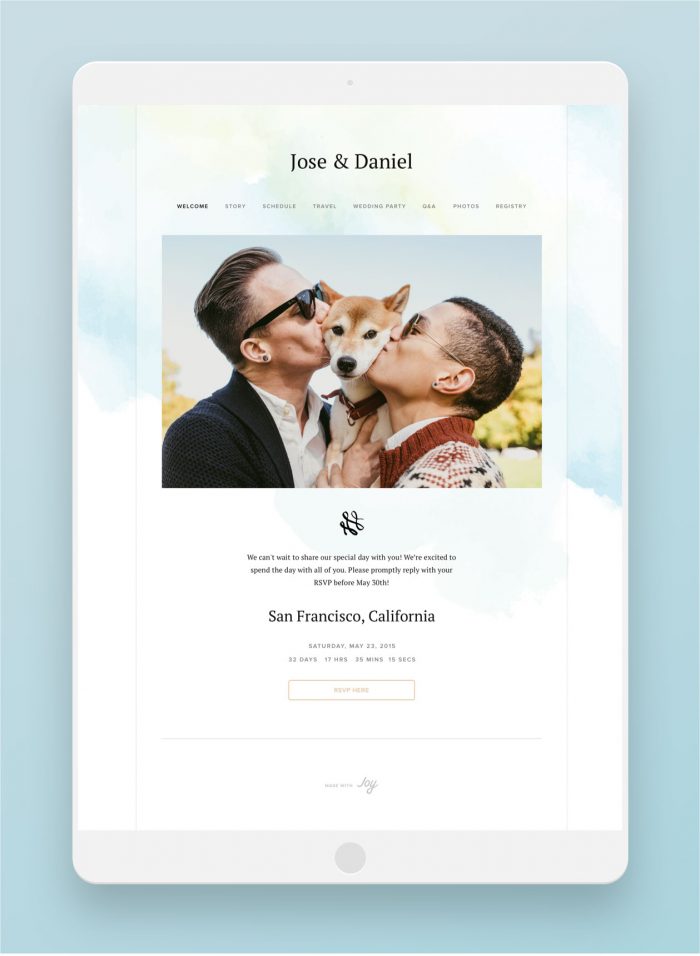 Your Story
How You Met
Extended family and coworkers who made the guest list may not have ever heard the story of how you met, so now is a great time to tell it!
When You Knew
Everyone loves a great love story, so share yours with the people you've invited to celebrate it! Did you fall in love on a trip somewhere? Was it love at first sight? Who said it first or did you both just know?
The Proposal
How did the proposal go down? Inquiring minds want to know!
A Day in the Life
What do you each do for a living? How do you spend your weekends? Don't forget to give a shout out to your pets!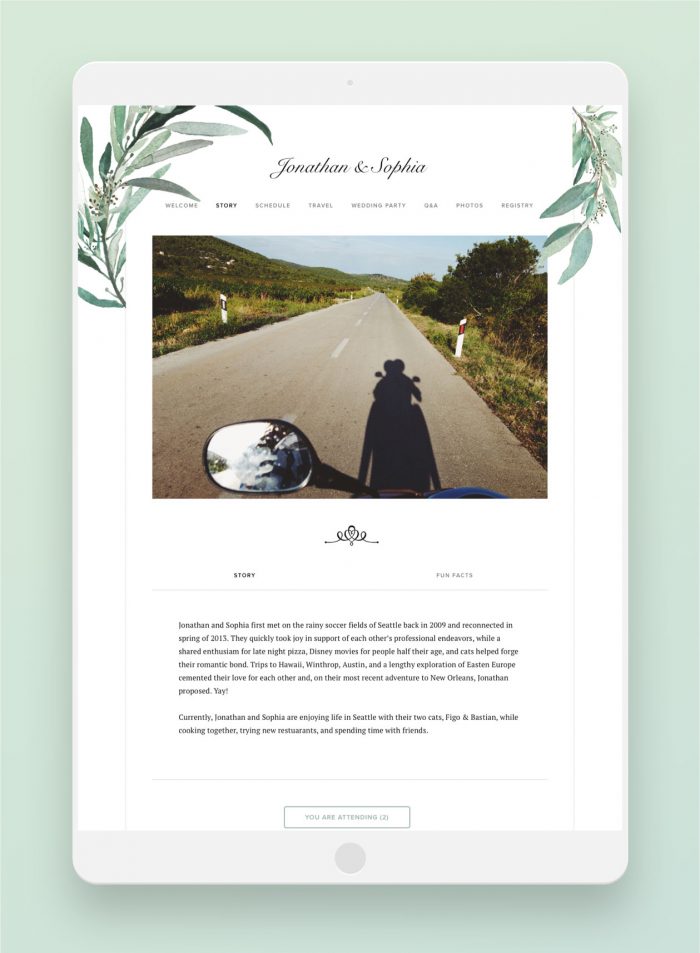 Photos
Together Through the Years
It's time to pull out all those grainy selfies and travel photos from the early days of your relationship! It's fun to go down memory lane together and probably even more fun for your loved ones to see how your relationship grew as time went on.
Engagement Photos
You know those gorgeous photos you had taken recently? Your wedding website is the perfect place to show them off! Joy makes it simple to include images on every page of your wedding website, so choose your favorites and upload them directly to your site.
Photos of the Venue
It can be helpful to provide a photo of at least the outside, if not also the inside, of your venue so that guests have an idea of the vibe of your event and what to expect when they get there. Your venue likely has photos on their website or social media you can use for this purpose!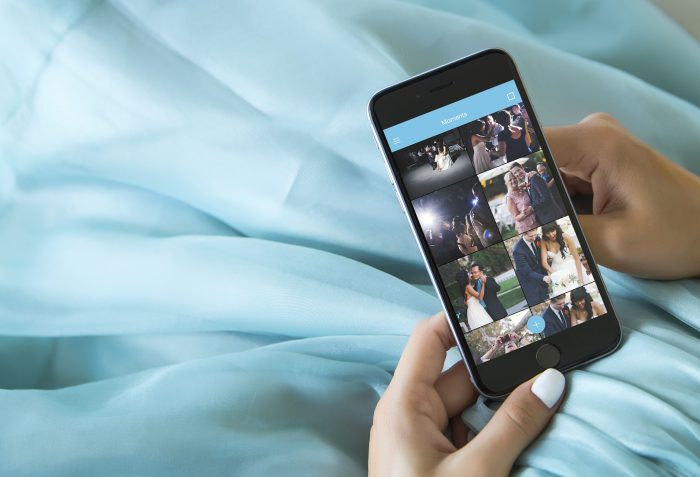 RSVP
Having a wedding website makes it easy for your guests to RSVP with just one click! Joy makes it even easier for you to collect the necessary information about each guest including whether or not they plan to attend, their mailing address (so helpful for those thank you notes!), dietary restrictions, and meal choice, as well as fun questions like their favorite song to get down to on the dance floor or their best marriage advice.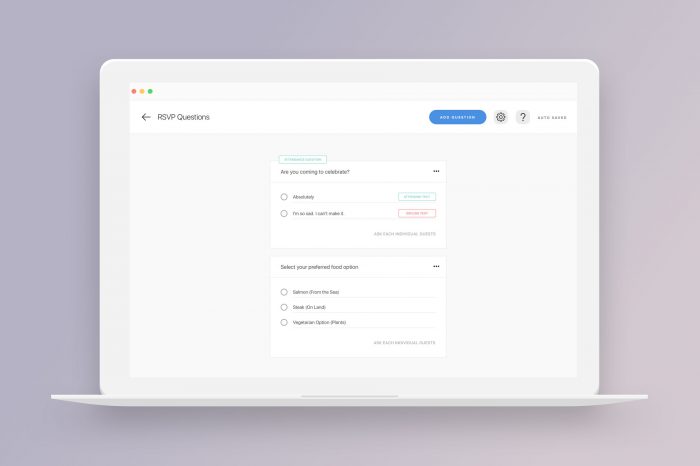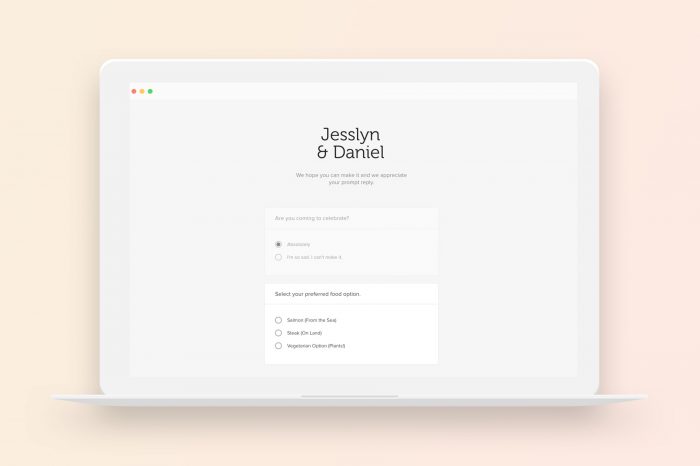 Schedule
From the days leading up to your wedding to the official send-off, let your guests know what events are scheduled! Be sure to include the start and end times, who is invited (family-only, all guests, etc.), details about the activities, the addresses, and the appropriate dress codes for each event.
Pre-Wedding
From activities and for out-of-town guests and get-togethers for reuniting friends to your rehearsal dinner, the week before you say "I do" may be filled with events your guests need to know about!
Day-Of
If you have a timeline available, we highly recommend including a schedule on your wedding website. Let guests know how early they need to arrive before the ceremony starts along with the expected times of the ceremony, cocktail hour, reception, and any other notable events or activities throughout your day. Joy makes it handy for your guests to keep up with all of the upcoming activities by allowing them to add each event to their calendar right there from your wedding site!
Post-Wedding
Will there be an after-party at your favorite bar or morning-after brunch at your new mother-in-law's house? Let guests know what to expect if your sparkler send-off isn't your last goodbye of the wedding weekend!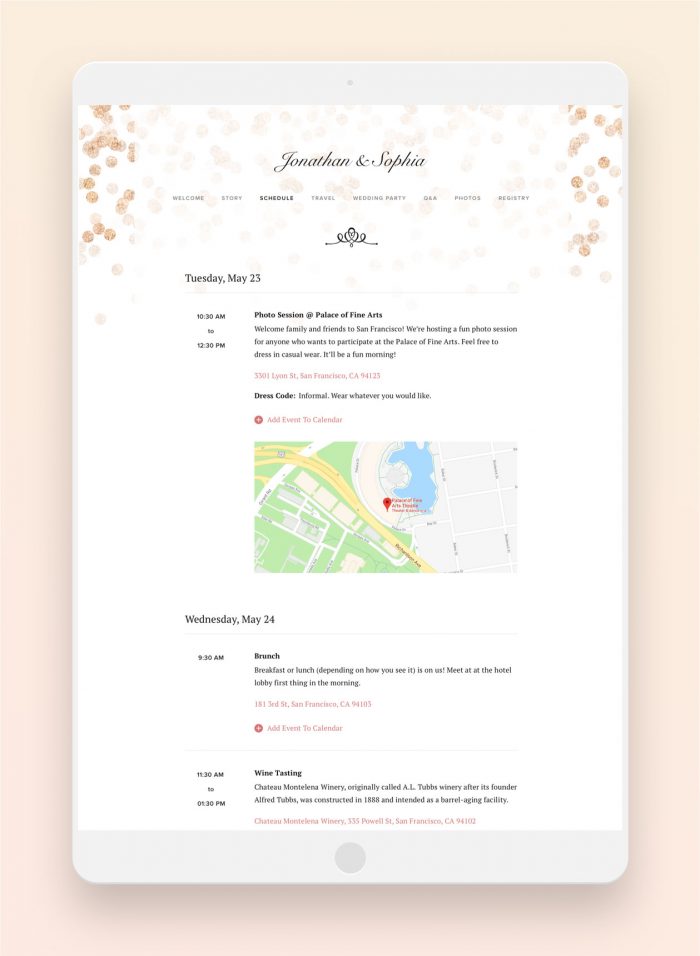 Wedding Party
Joy allows you to list and upload a photo of each member of your wedding party so your guests can get to know the special people who will be standing by your side at the altar. This can be a nice way to help guests put a face with a name before arriving at your wedding!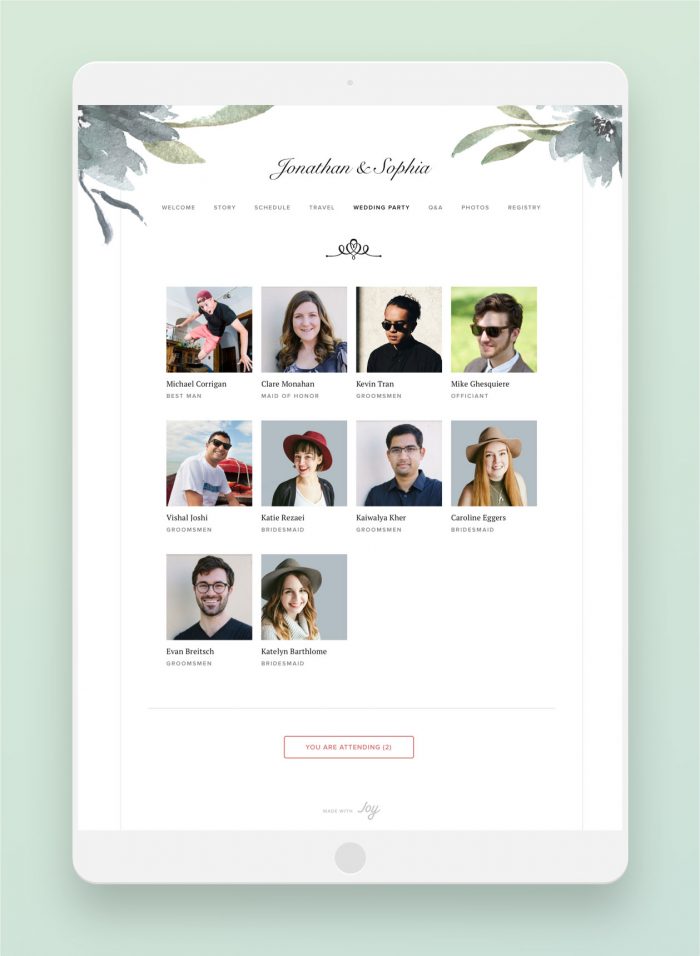 Travel Info
Airport Information
Especially if the city where you're getting married has multiple airports, be sure to let your guests know which to fly into! It can be helpful to include information about how far the airport is from your venue as well as any information about shuttles or transportation.
Where to Stay
List any nearby hotels, including where you have booked room blocks, along with the nightly rates and contact information. For Airbnb, let your guests know what neighborhoods or areas to find a place close to your venue. Does your venue have accommodations? Let your guests know there are spots available to stay on site.
How to Get Around
In case your guests aren't renting a car, provide some tips for getting around! What is the most reliable public transportation, how much does it cost, and when does it start and stop running each day? Does the city have rideshare services? Share links to the apps, your preference, or a promotional code if you have one!
What to Do in Town
Share your favorite local restaurants and must-see spots so that out-of-town guests can explore the city in the days leading up to your wedding.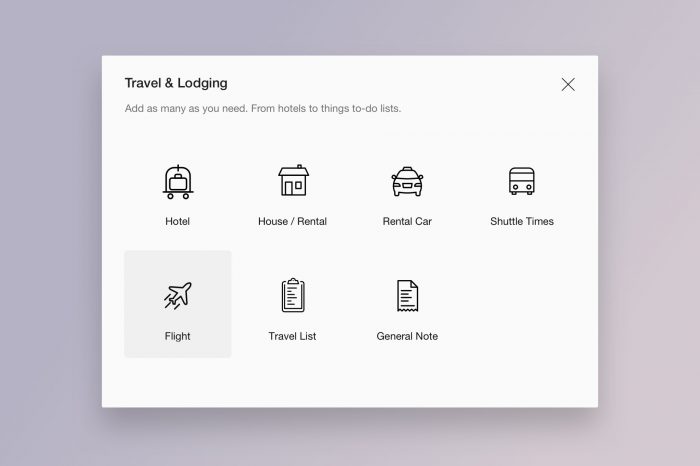 Wedding Registry
Whether you have registered at one store or four, Joy allows you to link each of your wedding registries directly onto your wedding website!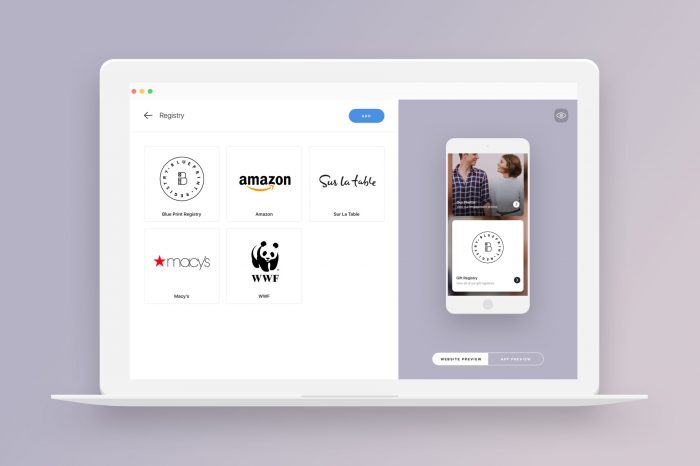 FAQ
RSVP Deadline
We recommend listing this question first since it's the most time-sensitive! Also, let your guests know if they can RSVP directly if they've forgotten to send or misplaced their physical mail card.
Plus Ones
Plus ones can be a bit sticky if not everyone gets one, so be sure to make clear what your expectations are. If the answer varies, direct your guests to their invitations for information about whether they have been allowed a date.
Children or No Children Welcome?
Are you planning a kids-free wedding or are children welcome? Would you prefer only children over a certain age? If you have specific accommodations for children, like a play area or childcare, here is a good place to mention that as well!
What to Wear
What is the dress code for your event? Be specific, as terms like "creative black tie" aren't always clear. Are there any colors your guests should avoid (hopefully white!)? If your wedding is outdoors or requires significant walking, be sure to let your guests know what shoes would be suitable.
Parking
Will there be a valet service, a parking lot, or a designated parking area? Should the allotted parking fill up, where can guests park? If there is limited parking available, be sure to recommend carpooling or using a rideshare service! If you have a preference or promotional code for a particular rideshare, include that information as well.
Indoors or Outdoors
Is your wedding indoors, outdoors, or a mix of both?
Accessibility
Is your venue wheelchair accessible? If there is a long or uneven path between the ceremony and reception spaces, will there be some sort of transportation provided?
Photos & Social Media
Do you have a hashtag for your wedding? Are you planning an unplugged ceremony or will guests be allowed to capture the moments on their phones? We recommend encouraging your guests to leave their DSLRs at home, as you've hired a professional to document the day and cameras can not only be a distraction but also get in the way of your hired photographer.
Dancing
Will there be dancing? Let your guests know if they need to bring their dancing shoes to your reception!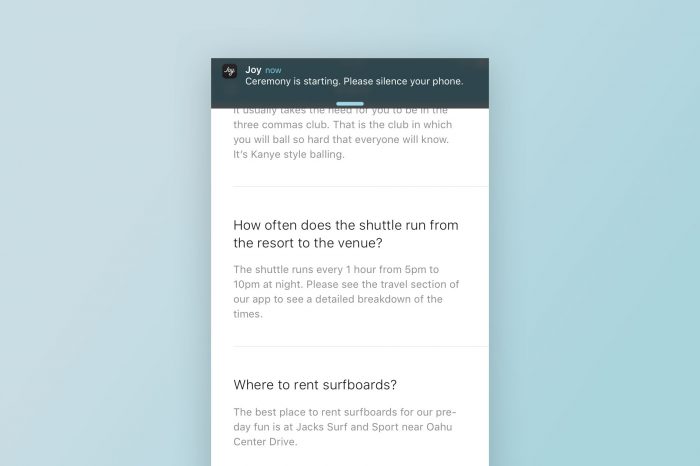 Maps
Joy makes being a wedding guest as easy as possible by having maps embedded in their site when you enter a location. This is super helpful so that no one has to type in the venue address and they can easily see the surrounding area.
Contact
Be sure to give your guests a contact email in case they have any questions. This doesn't have to be your own email address! You may want to ask a family member or someone from your wedding party to be in charge of guest questions to reduce stress leading up to your wedding day. Just be sure to make it clear who the contact information is for!
Wedding App
In addition to your wedding website, Joy's app allows guests to have all your wedding info stored on their phone with one simple download!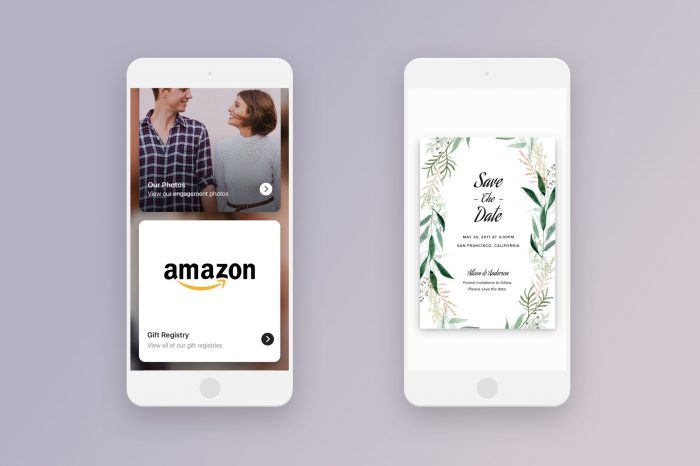 Pin This Checklist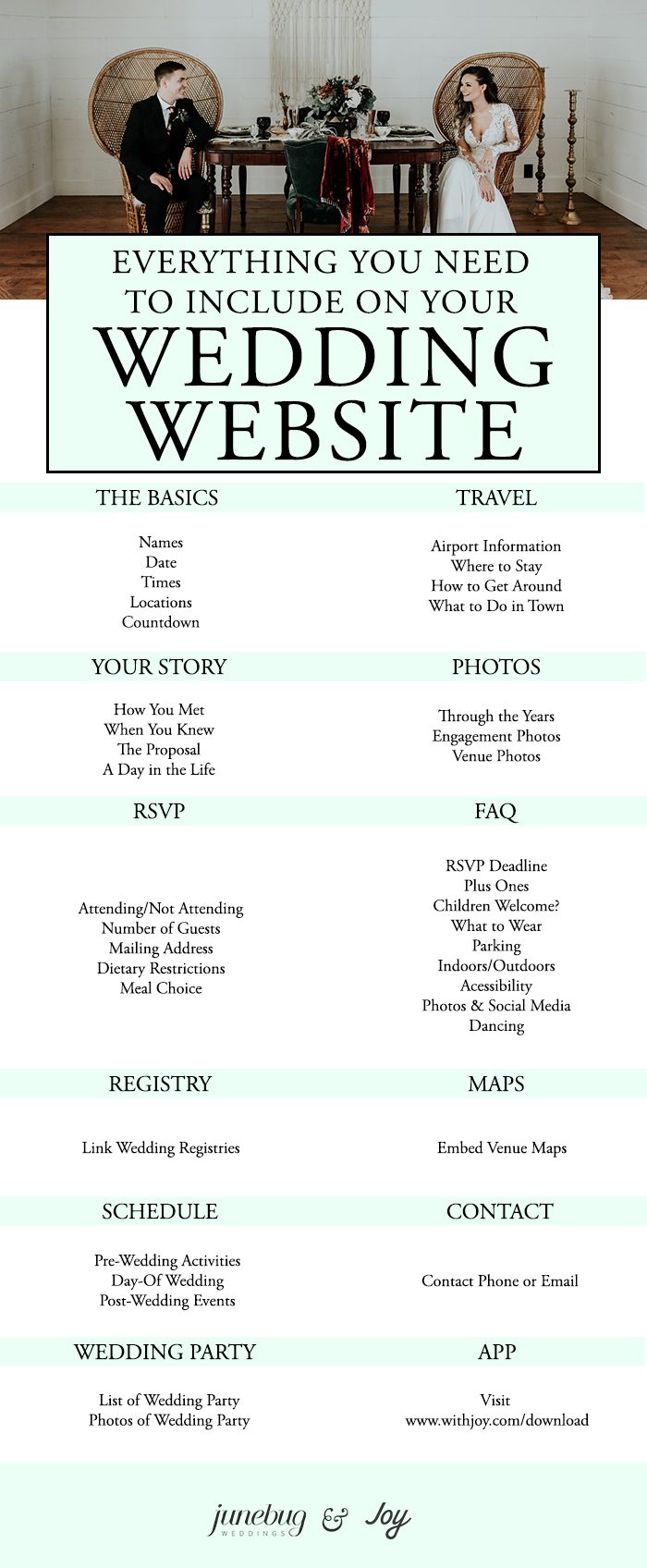 Wedding planning should be a joyful time, not a stressful one. Start building your wedding website with Joy today!

*This post is sponsored by Joy. Thanks for supporting the brands that support Junebug Weddings!