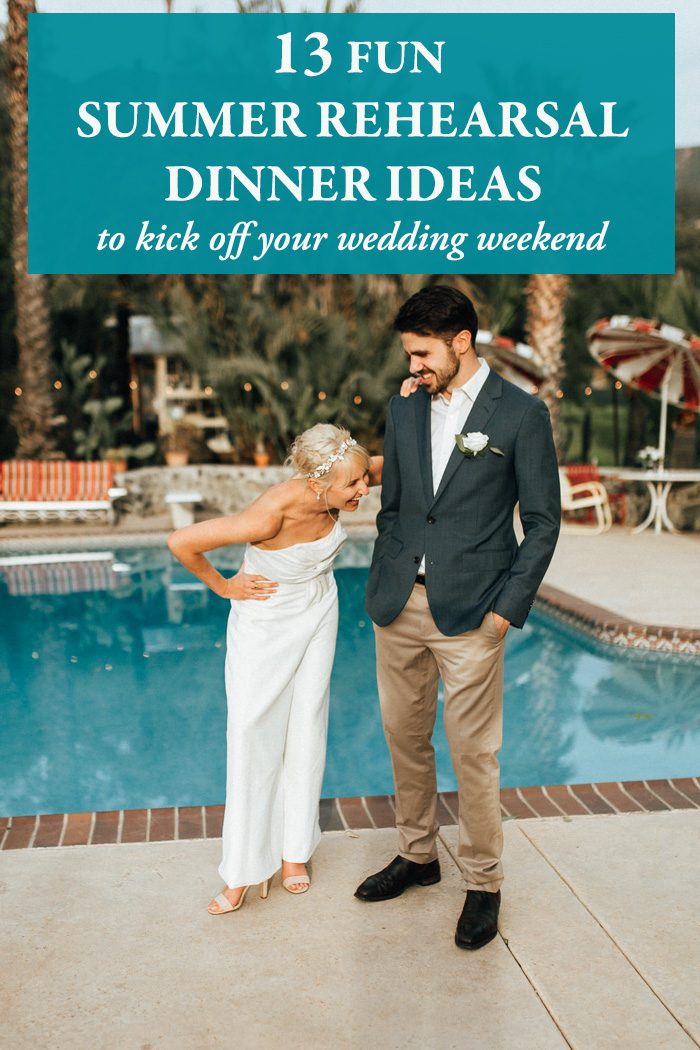 photo by Joelle Julian Photography
Your rehearsal dinner will set the tone for your wedding weekend, and choosing an unexpected activity, location, or menu is a sure way to get your guests into the celebratory spirit! For most people, summer is about getting outdoors, being active, and hanging out with friends. So, we think it's only fitting your summer rehearsal dinner have one, if not all, of those elements! There are countless ways to get your wedding weekend started, but here are 13 of our all-time favorite summer rehearsal dinner ideas that would be perfect for any style, any budget, and any size crowd!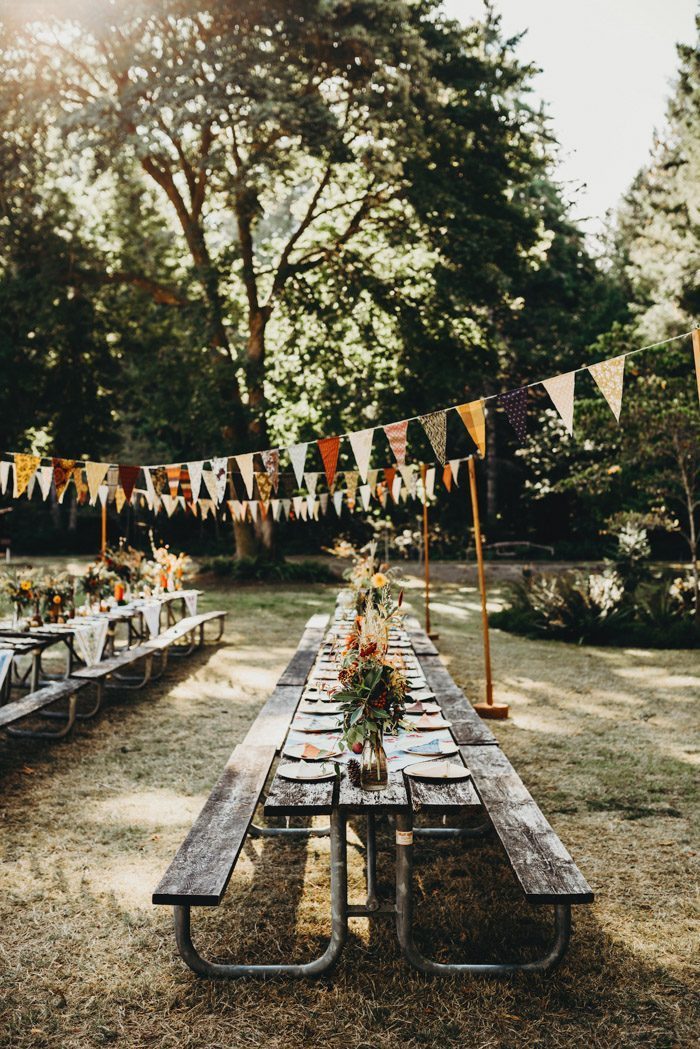 photo by Noelle Johnson Photography
Outdoor Barbeque
Is there a more classic combination than summer and barbeque? We don't think so! That's why an outdoor barbeque continues to be a favorite summer rehearsal dinner idea for low-key couples, families on a budget, or anyone who simply loves to eat BBQ. Set up some picnic tables in your backyard or in a park, add pretty centerpieces, simple place settings, and some lighting if it will be a nighttime dinner — think cafe lights strung through the trees or candles on every table. You can either cater food from your favorite BBQ joint or have someone work the grill. Add some lawn games or other activities to give your guests a reason to get up and mingle, and you're all set for a night of classic summer fun!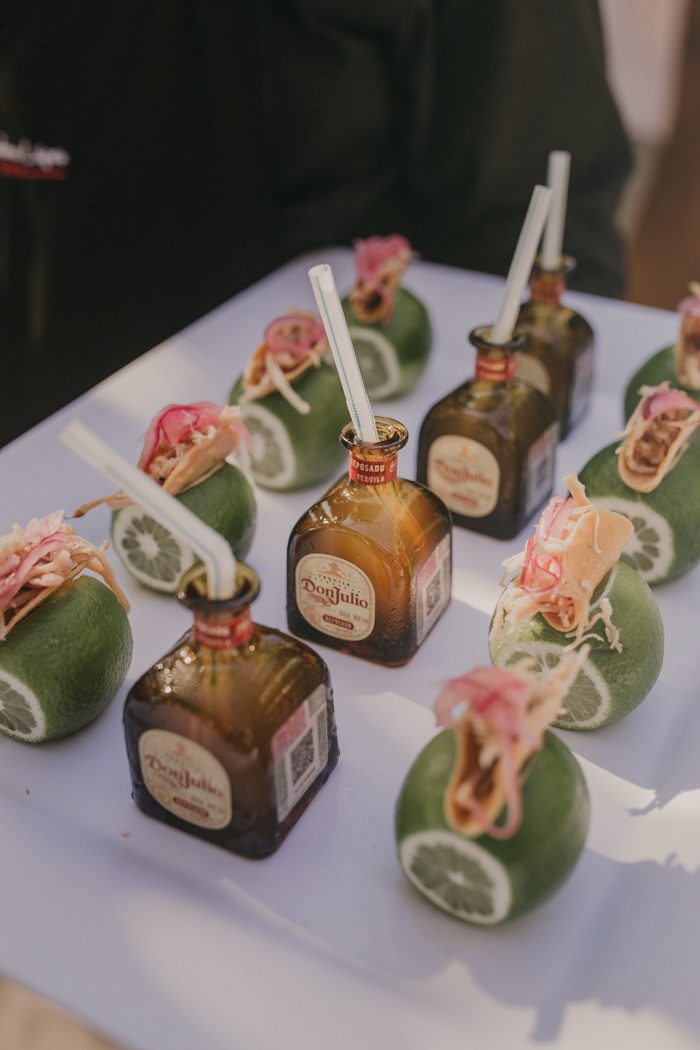 photo by Pablo Laguia
Tacos & Tequila
Maybe it's our Texas roots showing — or maybe it's just that everyone loves tacos — but if there is something that screams summer more than an outdoor barbeque, it's a fiesta with tacos and tequila! It's one of the simplest yet most delicious meals with hundreds of different variations that can satisfy even the pickiest eaters. For a rehearsal dinner with more than 15-20 people, hiring a food truck is the way to go. It gives people options without putting the burden of cooking for a large group on anyone in the group. If you're expecting a smaller crowd, though, we love the idea of a make-your-own taco buffet with all the fixing, chips, salsa, and queso. Rent a margarita machine for the night, and you've got yourself a fiesta!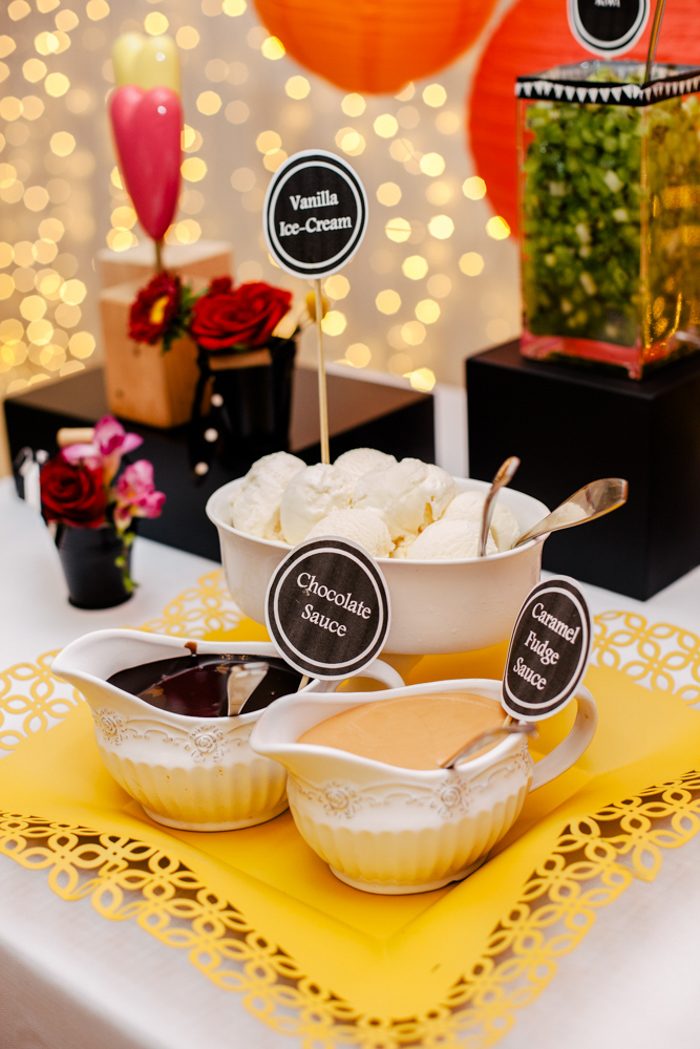 photo by Vanilla Photography
Ice Cream Social
An ice cream social has to be the sweetest (pun intended!) summer rehearsal dinner idea we've heard! Not only will it help guests beat the heat, but it's a totally unexpected treat that everyone will love. Grab a few pints of your favorite flavors, make your own ice cream at home, or hire an ice cream truck for the night! Then create a build-your-own bar with candy, sprinkles, fresh fruit, chocolate sauce, caramel, and maybe some salty items for guests who love the sweet-salty combo. If you want to take it to the next level for your adult guests, set up an adult milkshake and float station where they can add their choice of liquor.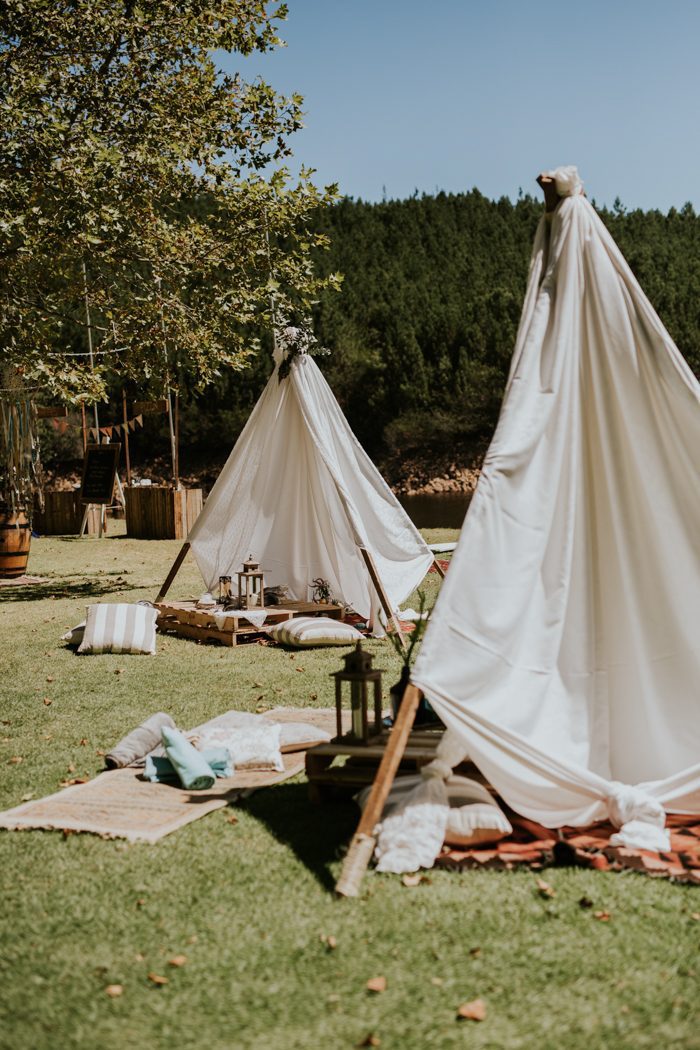 photo by Dearheart Photos
Camp-Inspired Picnic in the Park
A picnic in the park is always a fun, super casual idea, but we love the idea of adding a theme to make it extra special for a rehearsal dinner. Because it is summer, you can't go wrong with a camp theme that allows guests to feel one with nature and bring back some of those nostalgic summer camp days. Lay down blankets and pillows in the grass, set up small boho-inspired tents or umbrellas so guests can get some shade, and provide lots of cold beverages. You could even plan a few group games, like horseshoes or charades, to help guests get to know each other.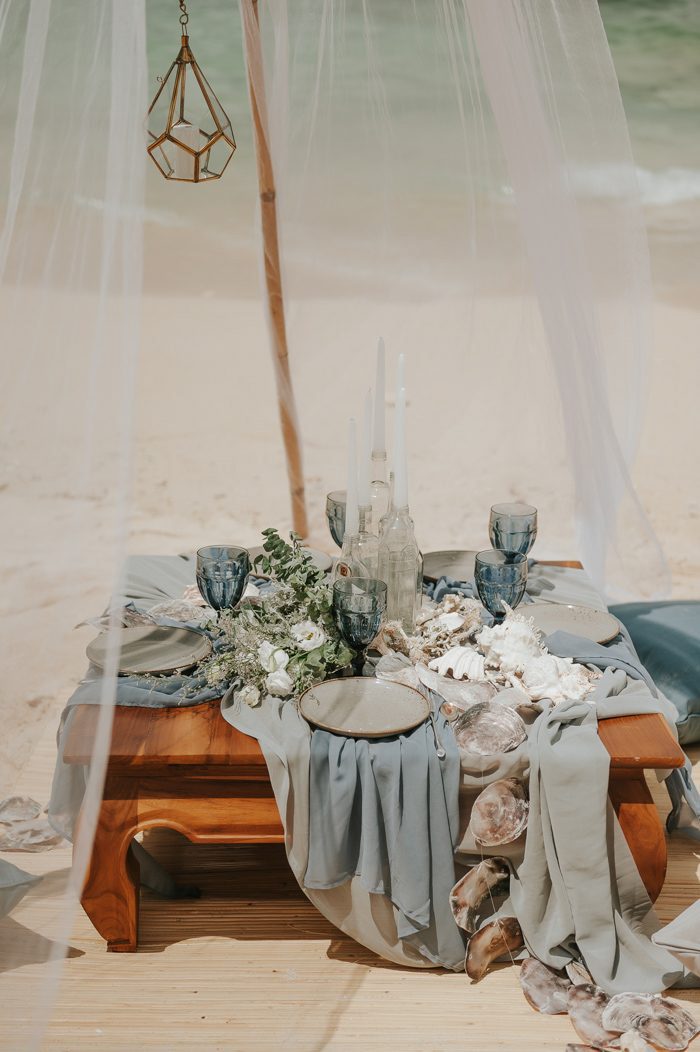 photo by Maria Shiriaeva Photography
Seafood Boil On the Beach
Shrimp, clams, sausage, potatoes, corn, sun, sand…yes to all of the above! If you live near a beach or are having a destination beach wedding, there's no better way to get your guests into the spirit than with a seafood boil. Check your area for companies who provide all-inclusive services to set up, cook, and clean up to make your life easy. Or make it a multi-hour event with friends or family who know how to boil seafood and invite the rest of your guests to join when it's time to eat. Just be sure to let them know to wear casual attire that they don't mind getting a little messy. Check the beach rules to see if you can have a bonfire and, if you can, you should definitely end the evening with s'mores.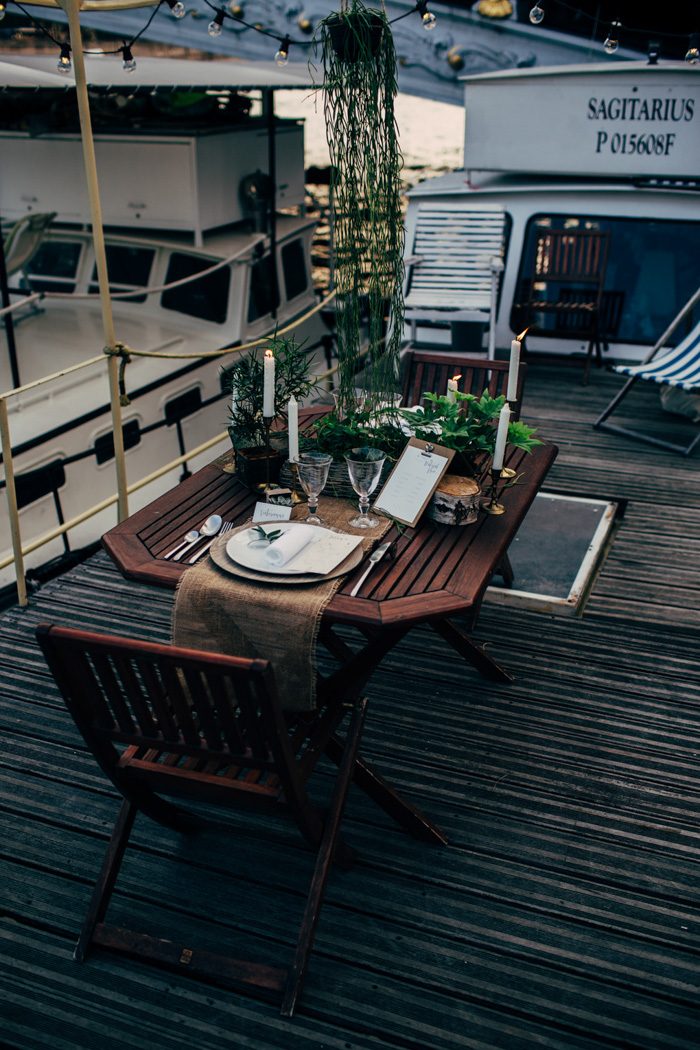 photo by Pierre Atelier Paris
Yacht Cocktail Party
If you're fortunate enough to have access to a yacht, why not make use of it for your summer rehearsal dinner? On your invitations, ask guests to dress in comfortable but nice attire and set sail a few hours before sunset. This will give you and your guests time to mingle, enjoy delicious cocktails, and watch the sunset over the water. Provide one or two signature cocktails for the evening and don't forget a few snacks, such as meat and cheese boards, mini sliders, or shrimp cocktail.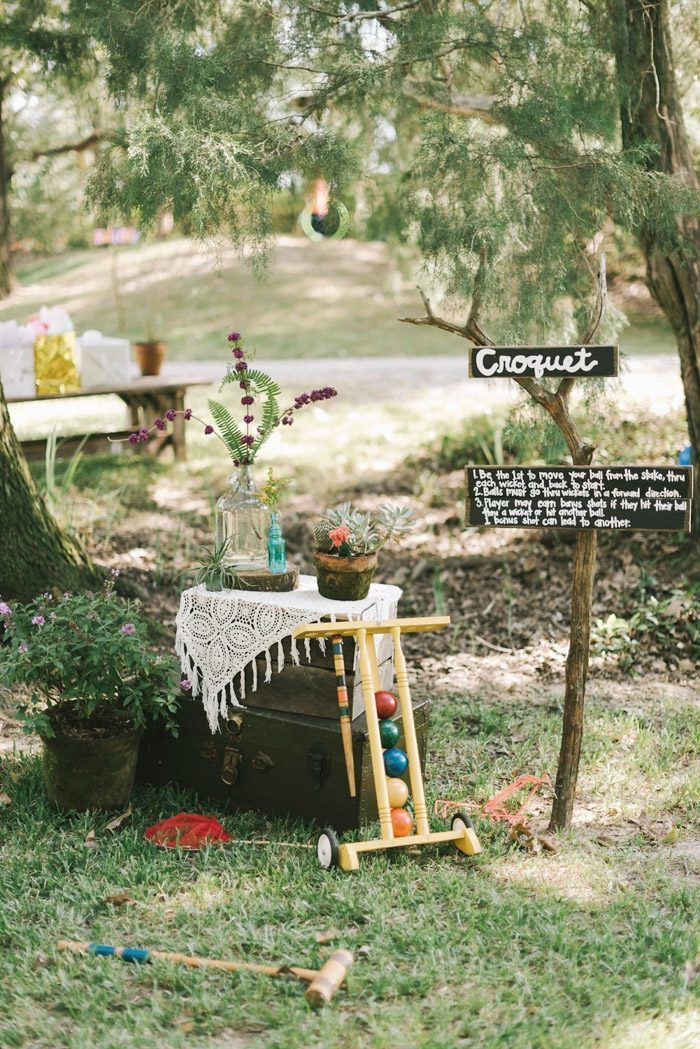 photo by Jen Menard Photography
Backyard Game Night
If you're looking for a super low-key option for your summer rehearsal dinner, a game night is great but a backyard game night is even better to enjoy that summer weather! For a large group, have a few different game stations set up — board games on the patio, lawn games in the grass — and have a plan for getting guests to rotate between them. Order pizzas, set out bowls of chips, pretzels, and veggies with dip, and buy a few cases of beer and bottles of wine. Guests won't be expecting anything fancy for an at-home game night, which means you can spend more time enjoying their company in a super low-key setting.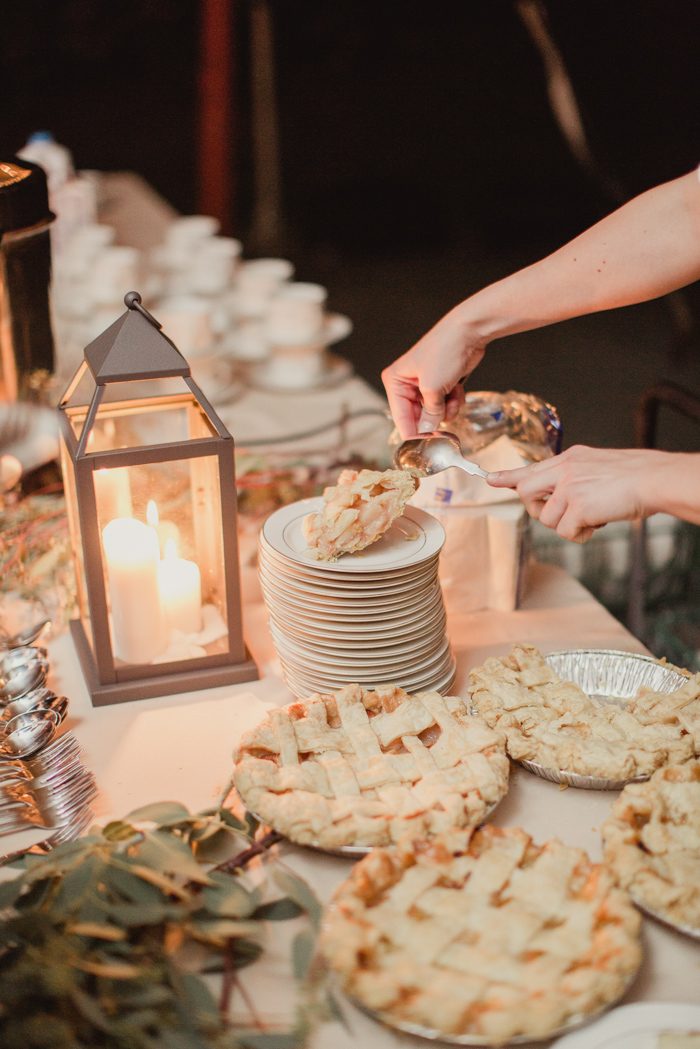 photo by Shaun Menary Photography
Late-Night Dessert Bar
There's no rule that dinner has to be part of a rehearsal dinner — it's really just the traditional name we've given the event. So, if your guests are getting in late in the evening, plan a late-night get together with a variety of desserts instead. You could set this up at a local coffee shop or even at your home. Simply provide a variety of your favorite desserts, such as brownies, cookies, pies, or chocolates, and a few non-sweet items for guests who might not have a sweet tooth.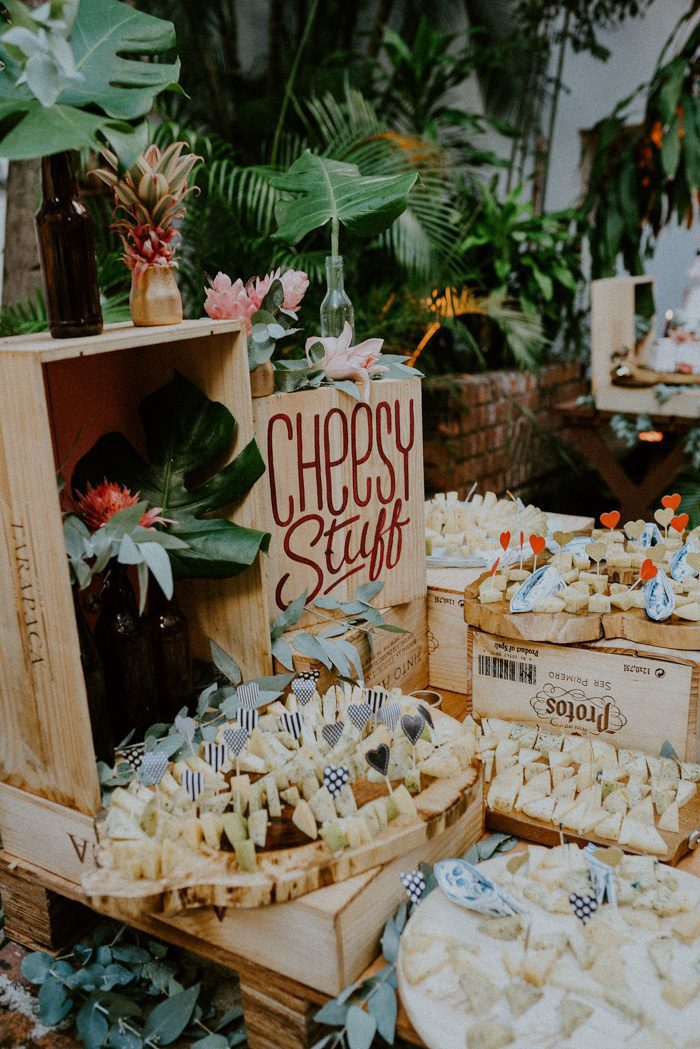 photo by Ricardo Enrique Photography
Fondue Party
Fondue parties are fun all year round but they make for a great summer rehearsal dinner idea because they can be so informal and casual. Rather than a sit-down meal, set up one or two stations with different cheeses, bread, meat, potatoes, and veggies. Provide a couple of different wines that pair with the cheeses you select, and make sure to have plenty of extra napkins and fondue skewers on hand. If you want to add dessert, bring out the chocolate fondue later in the evening, and provide berries, marshmallows, graham crackers, and bite-size brownies for guests to dip. This would also be a great time to bring out a dessert wine or nightcap to ease your guests into the rest of their evening.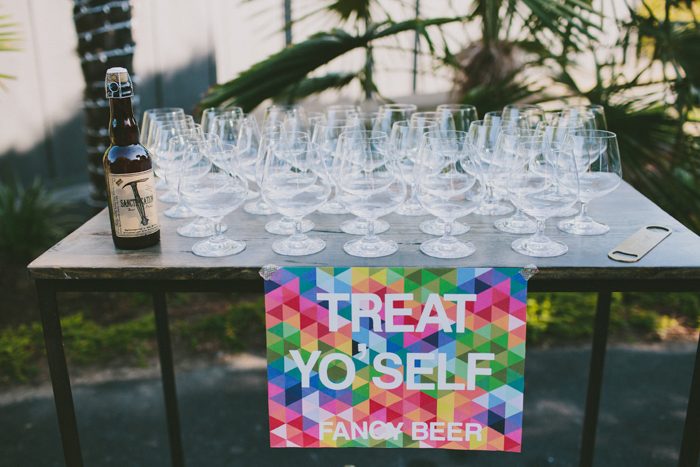 photo by Sun + Life Photography
Beer Tasting
If you and your fiance are really into beer or you have lots of craft breweries nearby, a beer tasting is a great option for a summer rehearsal dinner. Most breweries can handle large groups, but make sure you call ahead to ensure space and availability for the day you choose. If a lot of your out-of-town guests have never tried your local craft beer or are new to beer drinking, this would also be a great time to book a brewery tour for the entire group to learn the ins and outs of the process! For couples who prefer a more personal rehearsal dinner experience, have a DIY beer tasting at your home instead. Choose a variety of your favorite brews, stock up on cups, and let your guests do side-by-side tastings of all your favorites.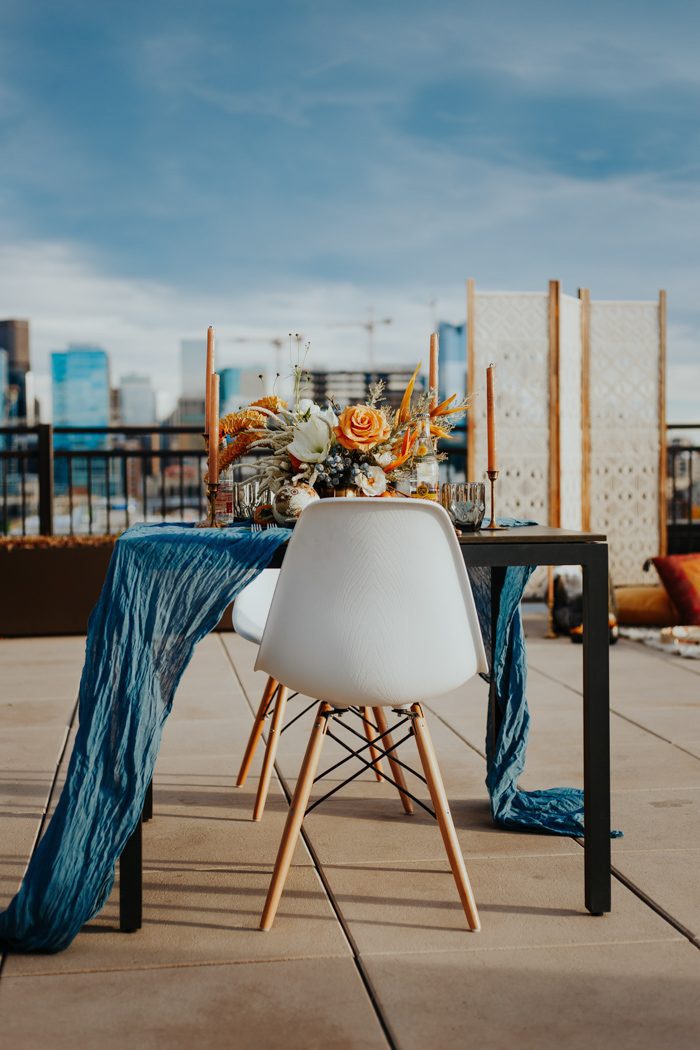 photo by Megan Blowey Photography
Rooftop Lounge Party
Downtown dwellers might not have yards or parks that can accommodate a rehearsal dinner group, but they do have what most suburban areas don't: a rooftop. If you can't take your guests out to a green space, take them up to look out over the city with a chic rooftop lounge party. Set up cocktail tables they can stand around and lounge areas where they can sit, and keep the space open so they feel free to move around and mingle. Create the mood with background music to drown out the city noise and provide the same signature cocktails and finger foods you would at a traditional cocktail party. Because rooftops evoke a swankier vibe, make sure to tell your guests to dress for the occasion and opt for elevated (but simple) details, such as well-designed floral centerpieces, gold or rose gold utensils, nice plates, and real wine glasses rather than plastic or paper.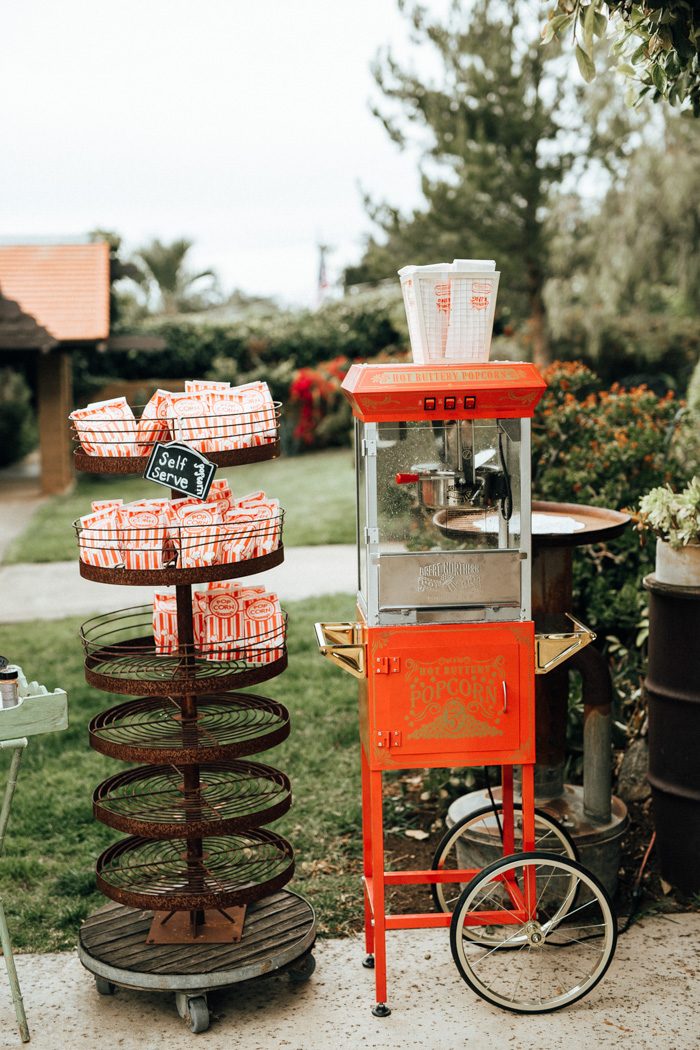 photo by Joelle Julian Photography
Outdoor Movie Night
A rehearsal dinner should speak to your personalities just as much — if not even more — than your actual wedding. So, for the movie buffs and cinephiles, we can't think of anything better than a movie night under the stars! If you have access to an inflatable screen, that's amazing. If not, simply hang a sheet between trees or on a free-standing frame or project the movie on a solid-color, unobstructed area of your house. Set up lawn chairs, bean bags, pillows, and blankets in the yard for guests to lounge on. And no movie watching party is complete without the classic foods: popcorn, candy, sodas, pickles, nachos, and pretzels. You could even take it up a notch with a top-your-own popcorn bar with various toppings, such as flavored salts, flavored olive oil, seasonings, or even candies for those sweet-n-salty fans.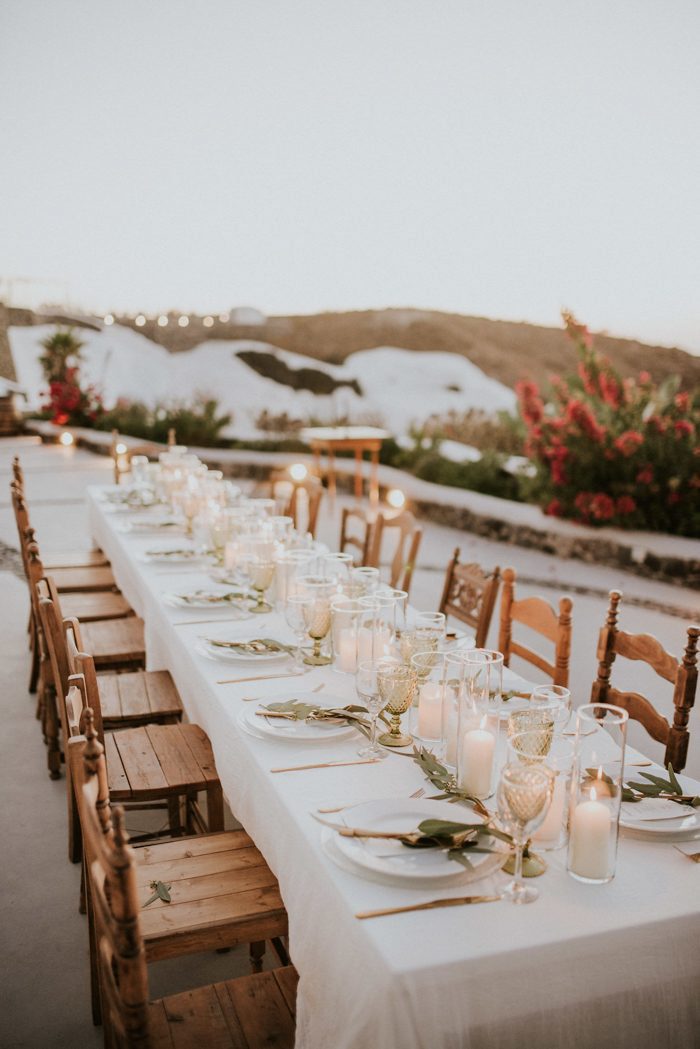 photo by PaulinaWeddings
Al Fresco Breakfast for Dinner
Last, but certainly not least, is the trusty breakfast for dinner option! For summer, you should definitely consider making it an al fresco affair. We love the idea of creating a classic, elegant dinner party setup with tea lights, floral centerpieces, nice place settings, and pretty linens to set the mood, but then serving classic breakfast favorites to keep the overall vibe casual and fun. For food, think family-style dining with egg casseroles, stacks of mini pancakes, plates of bacon, and a variety of pastries that can be easily passed and shared. For drinks, keep the theme going with customizable Bloody Mary's or mimosas. End the evening with coffee and donut holes, and you've got yourself the perfect breakfast for dinner party!
If you're looking for even more rehearsal dinner ideas for a different season, make sure to check out our list of 9 unconventional rehearsal dinner ideas! If you know exactly what type of rehearsal dinner you want now, read up on what do for your out-of-town wedding guests to make them feel welcome!