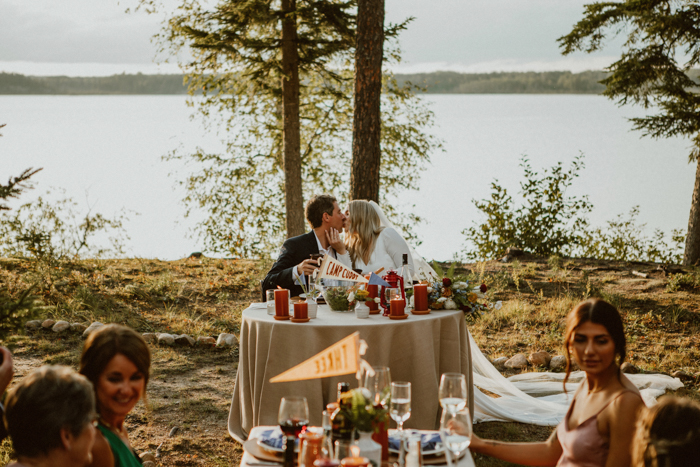 Many couples have taken a laid-back and unconventional approach to celebrating their special day. They choose instead to focus on really creating a wonderful experience for their guests, making memories beyond "I dos", and just having fun with those that matter the most. Caitlyn and Brian—along with their planner Emily of Feast & Festivities and their dream team of vendors—pulled off an adorably elegant camp wedding filled with nostalgic nods to their love story, great live music, comfort food, and unforgettable moments with their loved ones.
The couple brought so much warmth, romance, and creativity into their big day by combining the natural scenery and rustic charm of King's Camp with lush greenery, vibrant wildflowers, and lots of fun camp-themed details. We're talking camp banners, maps, lanterns, wooden picnic tables, and a fire pit!
Ready to start planning your unique summer camp nuptials? From the stunning ceremony in the woods to the epic reception under the stars—you'll surely get all the inspo you need from these beautiful images from Gina Brandt Photography.
The Couple:
Caitlyn + Brian
The Wedding:
King's Camp, Blue Lake, Ontario, Canada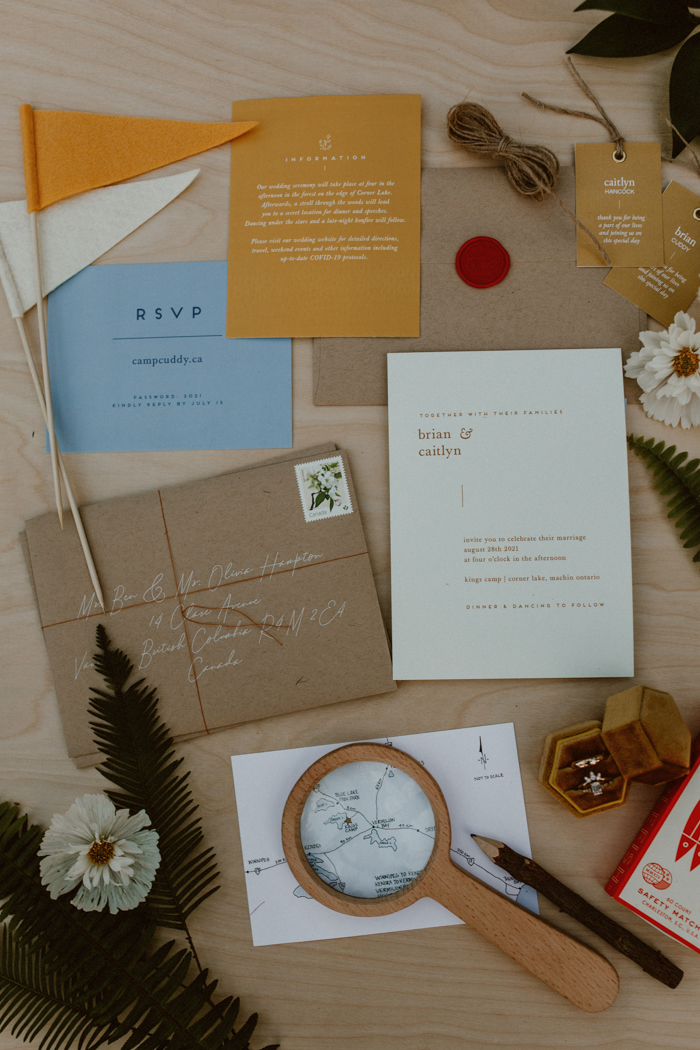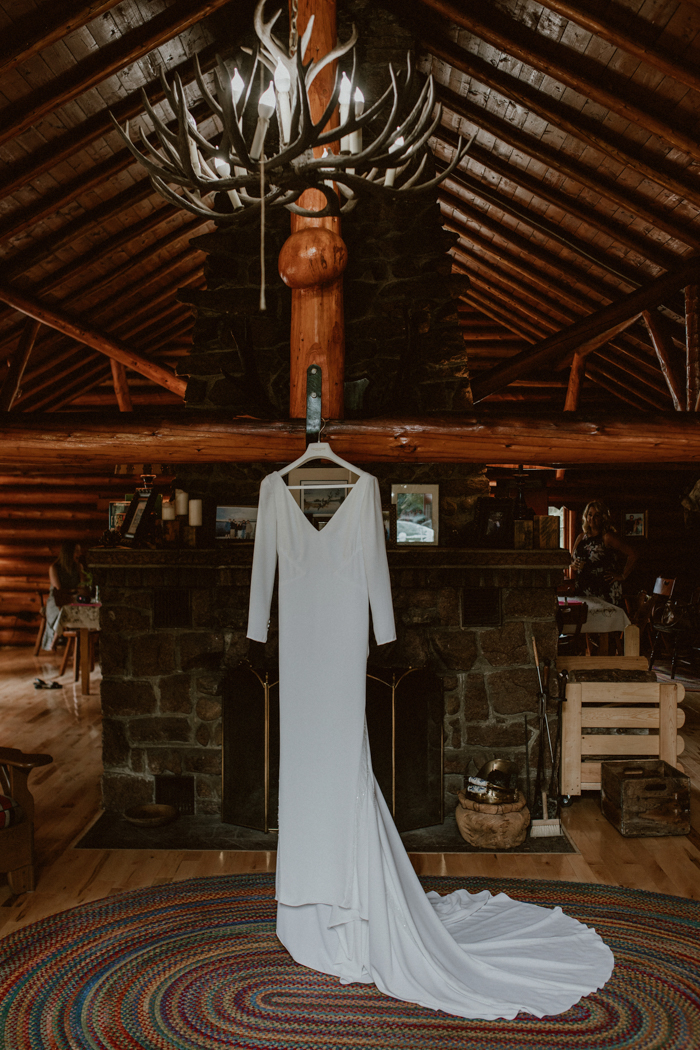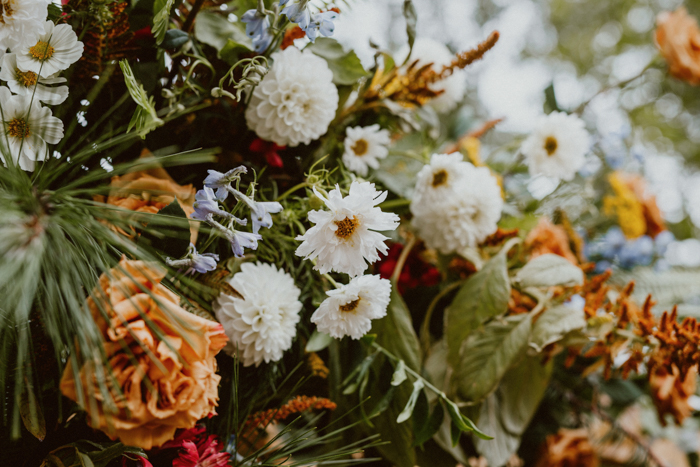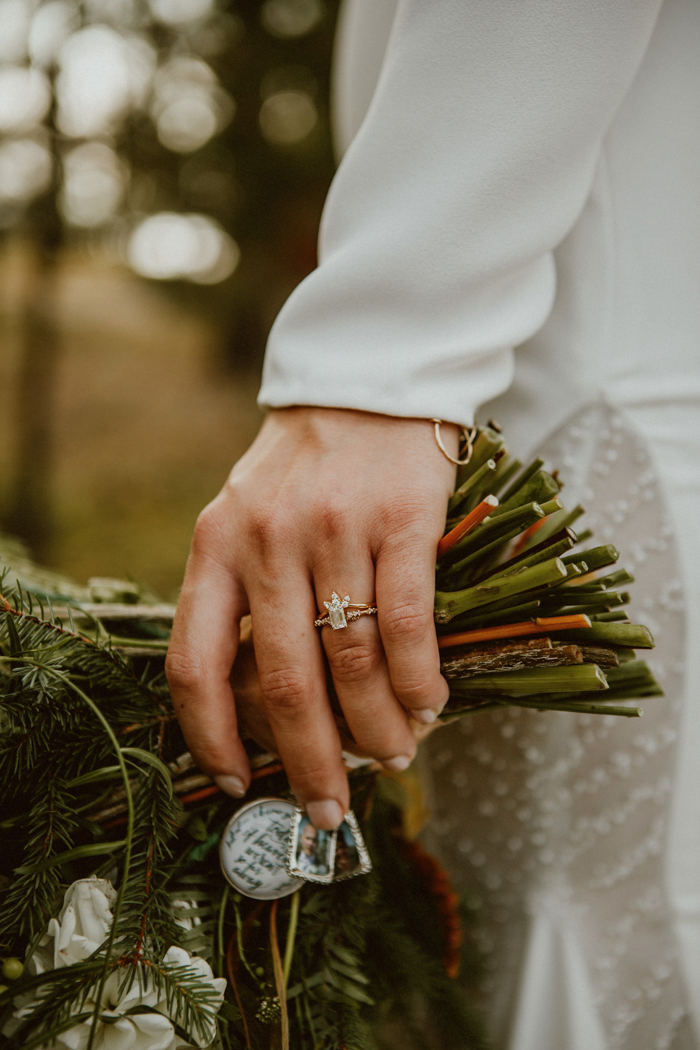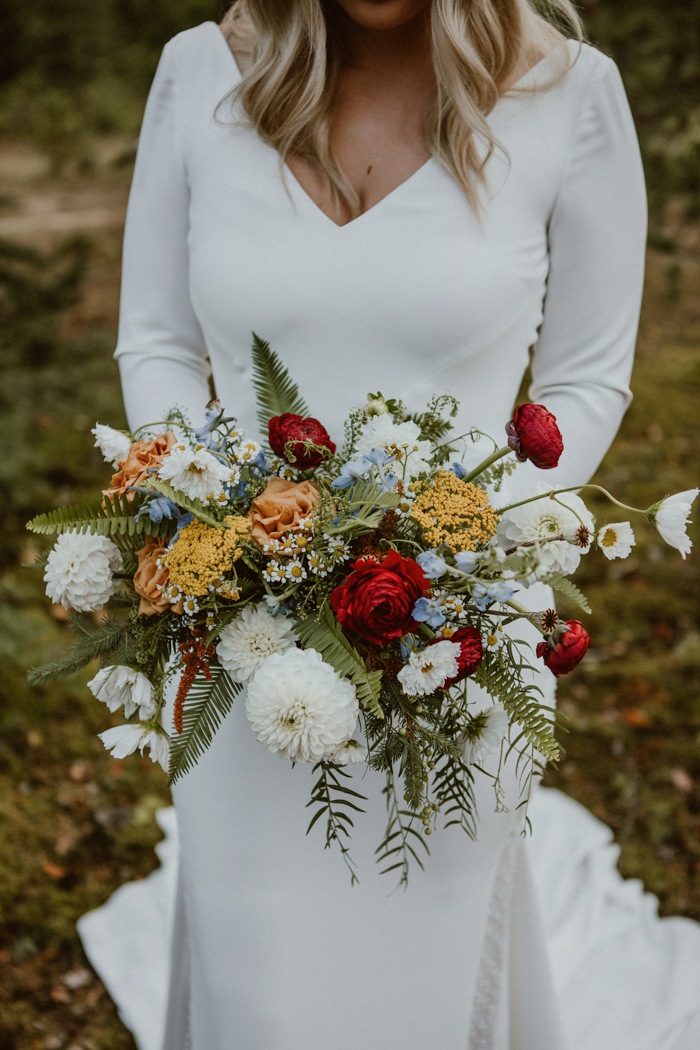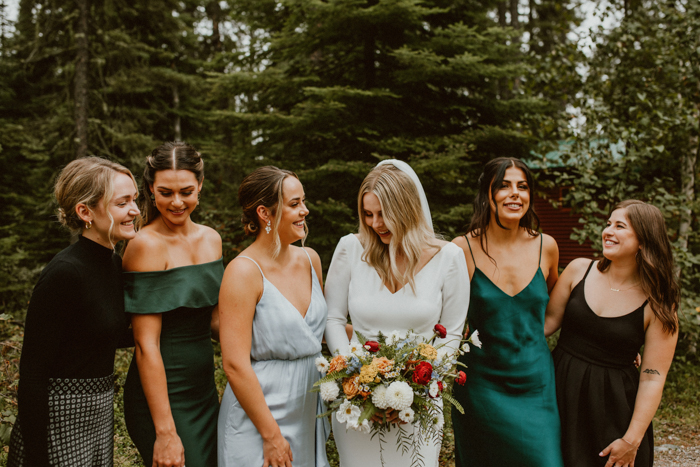 The Right Team Made Their Wedding Dreams Come True
We're so proud of our choice of vendors! Each of them contributed so much to our day and did such an amazing job. Our guests are still talking about our wedding day and how they enjoyed themselves. At the end of the day that's what it's all about! We are also so proud of how the day was timeless, authentic, and true to us. It will be something we look back on with no regrets.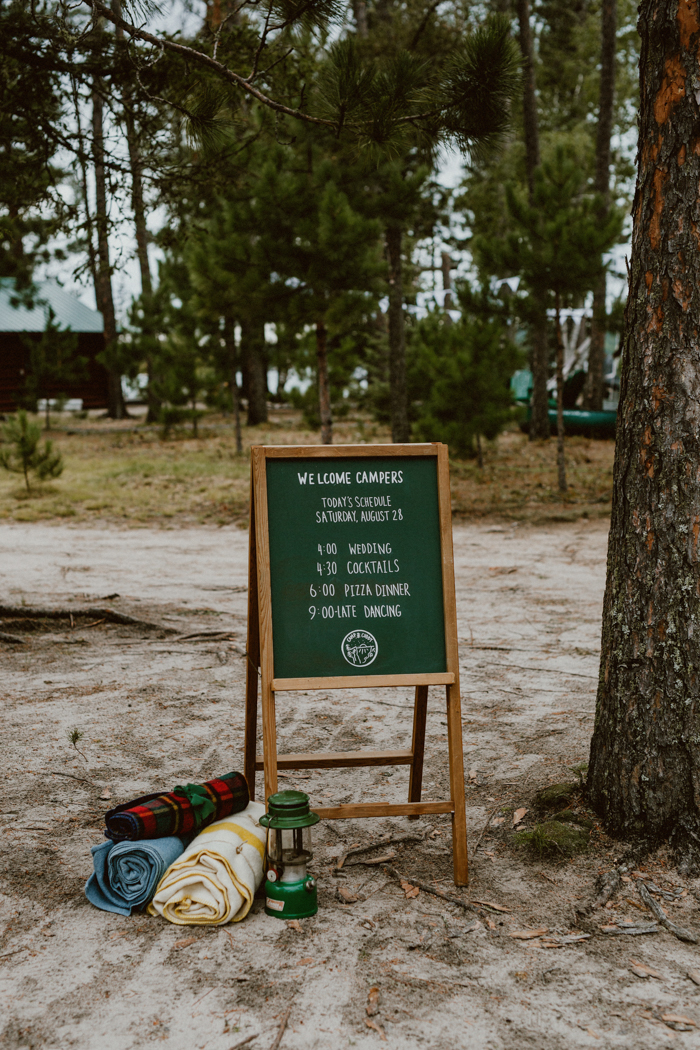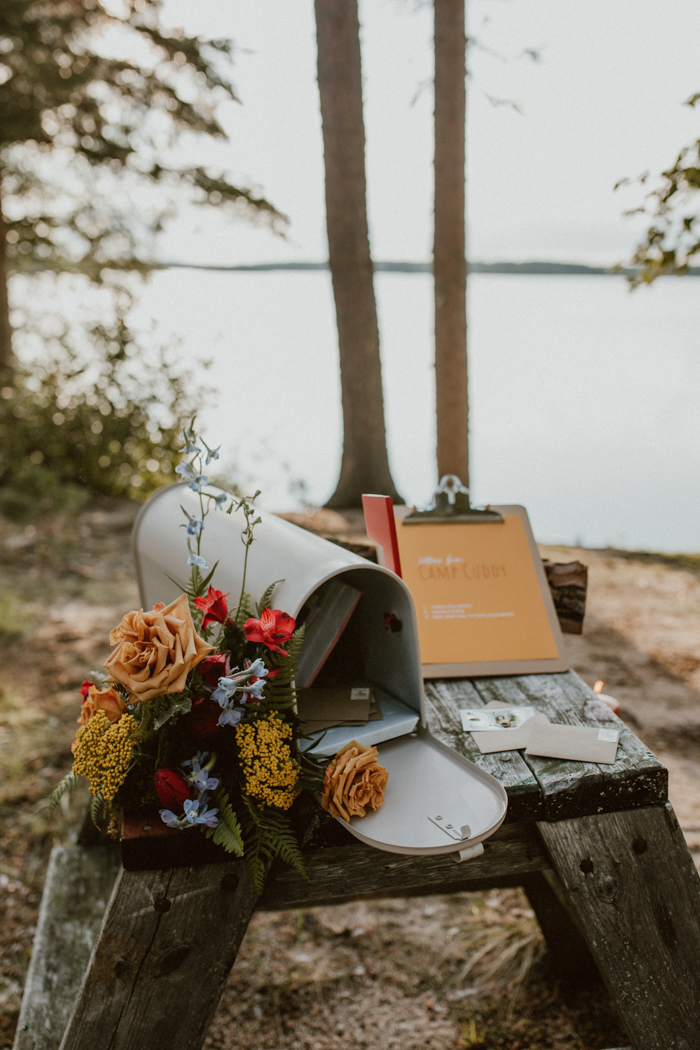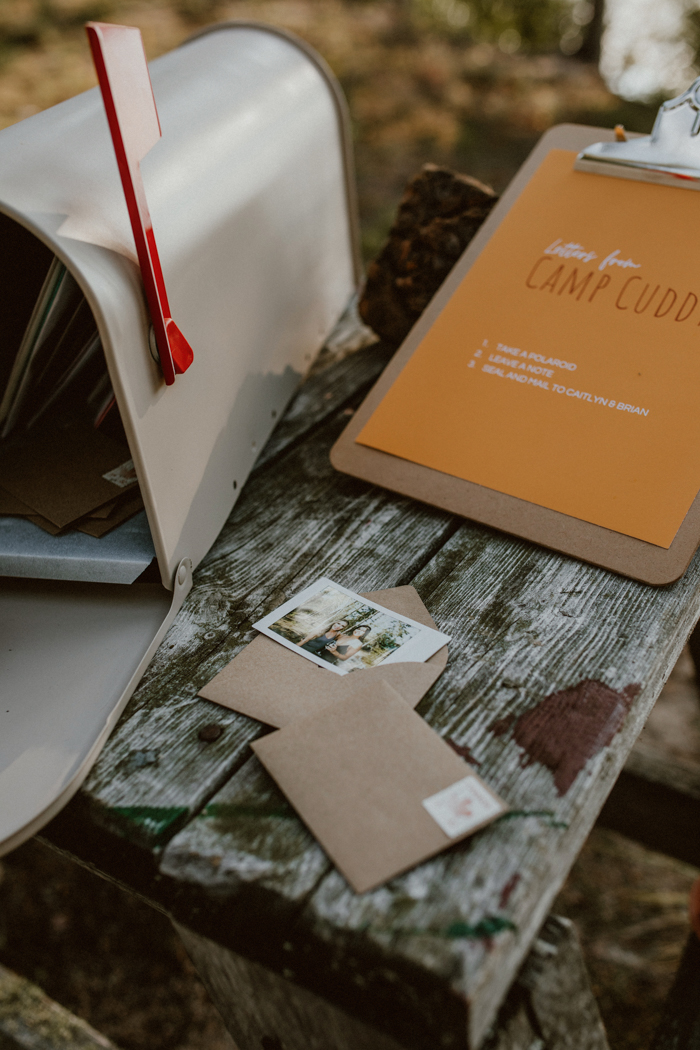 An Idyllic Setting For Their Elegant Camp Wedding
From the moment we passed through the gates of King's Camp, we knew it was our wedding venue! It's located an hour from where Caitlyn grew up near Vermilion Bay, Ontario nestled in the woods on a quiet lake. The camp, owned by the very kind and lovely King family, was previously a fishing lodge. The property includes a main lodge with the most amazing original fireplace and quaint cabins scattered around the property. We were lucky to be able to have close friends and family stay on site with us over the course of our wedding weekend. So many amazing memories were created here that we'll never forget. It was the perfect setting for our day.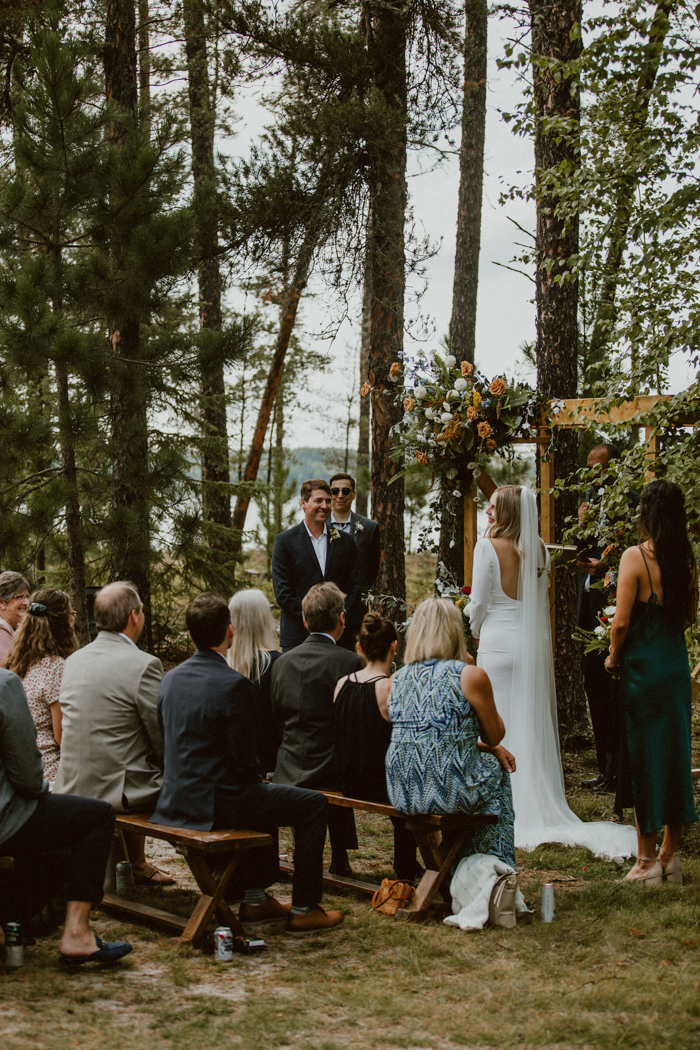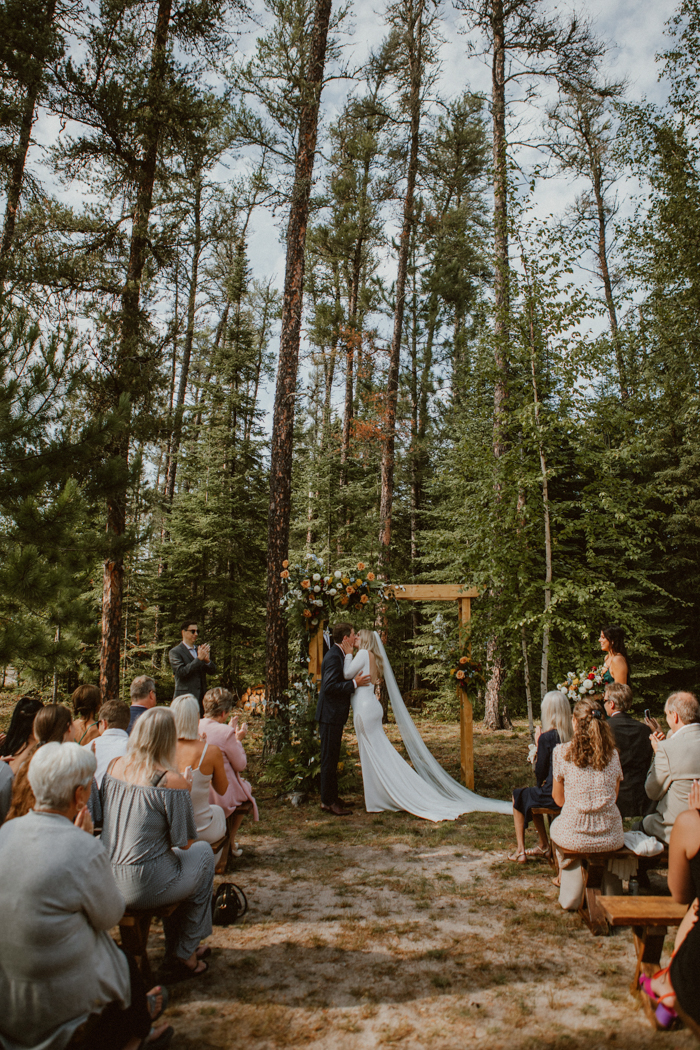 The Perfect Wedding Weather
It's so hard to choose just one of our favorite memories from the day! The morning of our wedding was very grey and rainy. The weather forecast called for an 80% chance of thunderstorms for the entire day. As if out of a movie, the sun appeared minutes before our wedding ceremony and the weather was absolutely perfect. We were able to have our dinner outside under the stars around the outdoor fireplace and it was so magical! Another memorable part was we both unknowingly shared Jonathan Richman quotes in our wedding vows to one another.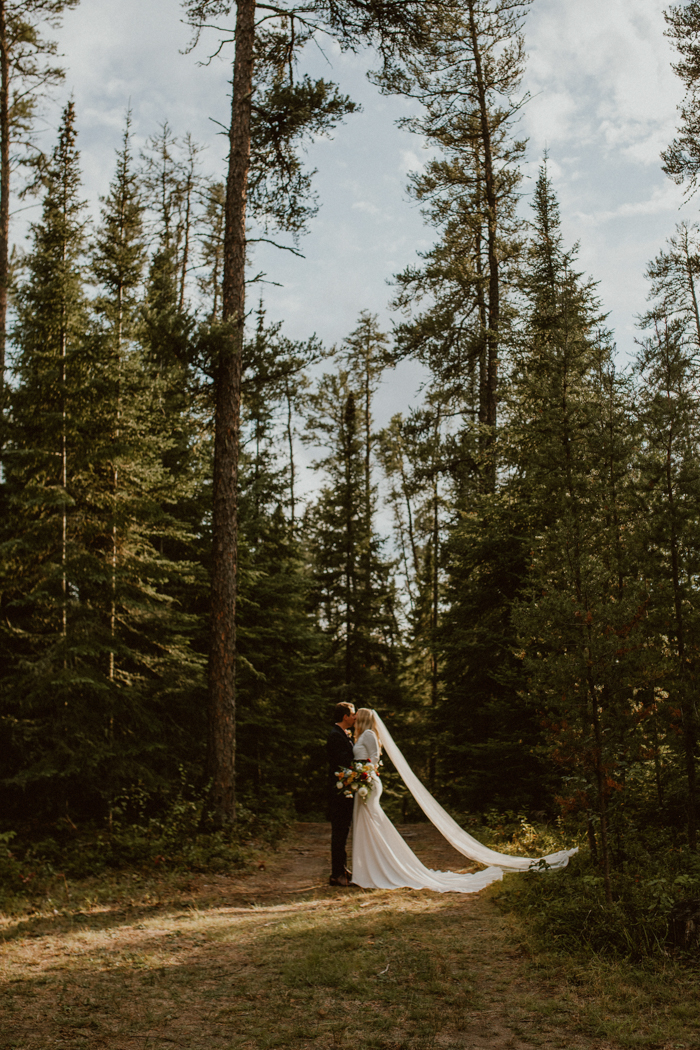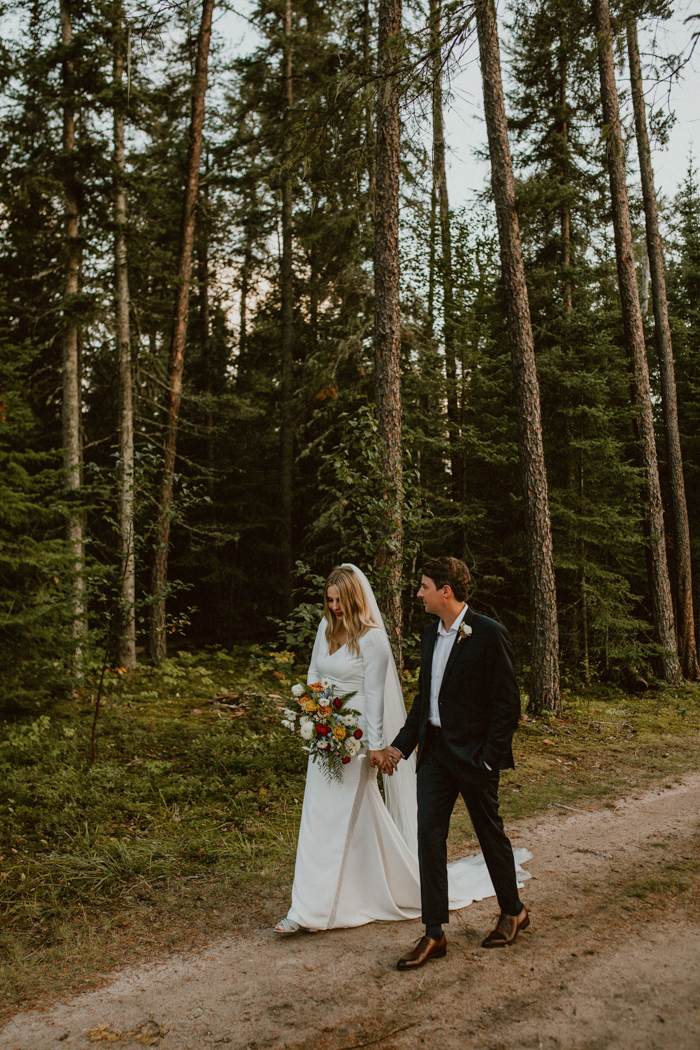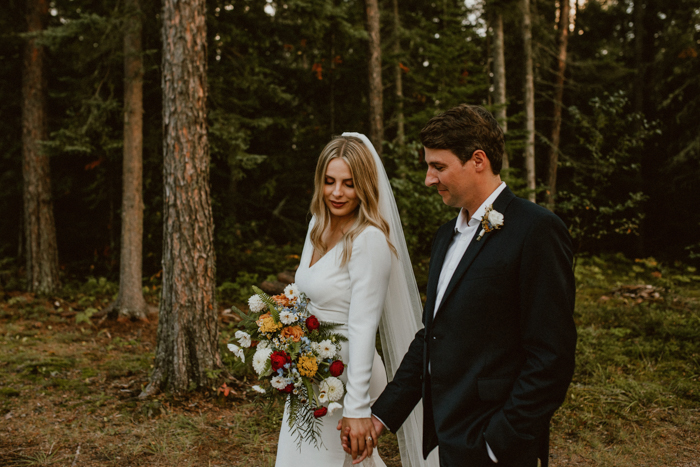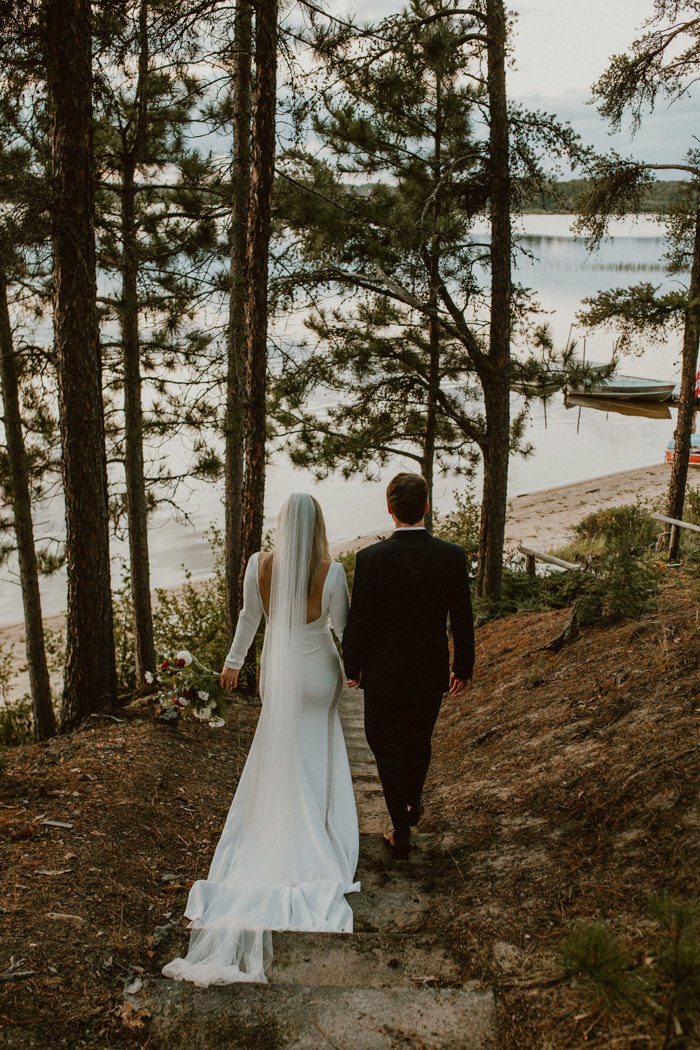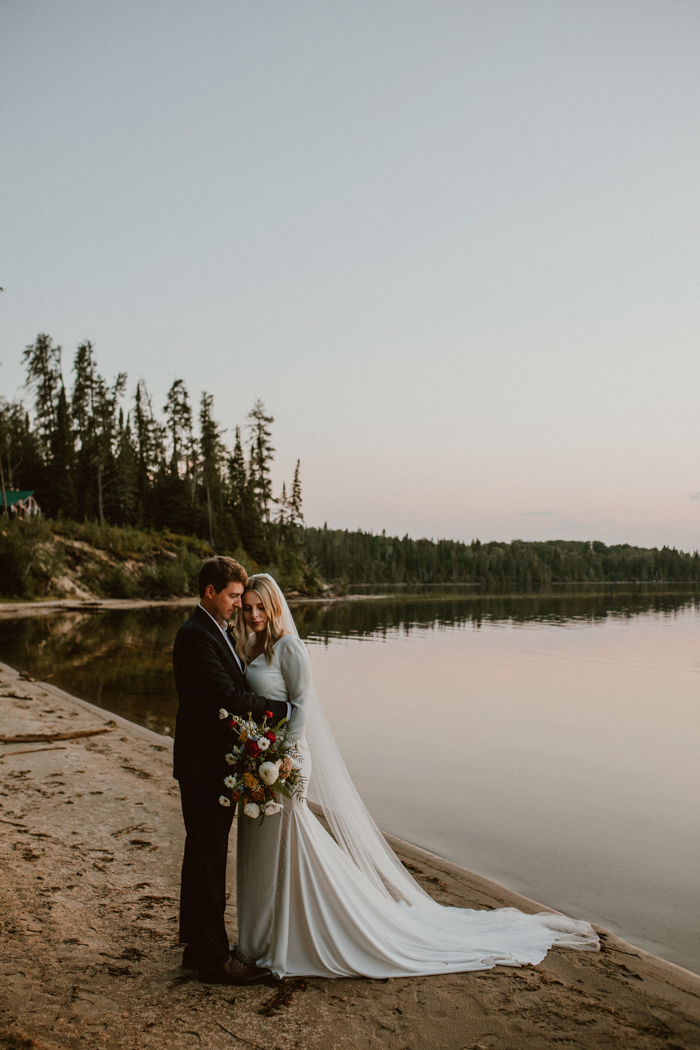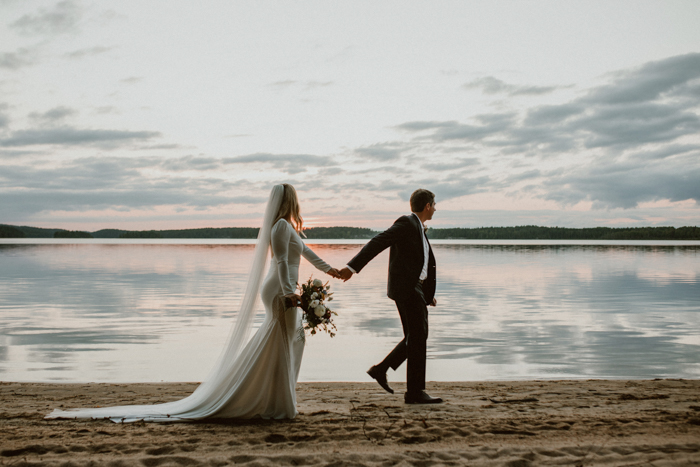 Personalizing The Ceremony Through Music
One of the main ways we personalized our wedding ceremony was with our music choices. Both of us are music lovers and it was very important that the songs we chose for each part of the day were meaningful to us. Green Arrow by Yo La Tengo was our processional. Ceremony by New Order was our recessional. Then we had our first dance to Bobby by Alex G but it was played live by our good friends. Two of our favourite artists, Leonard Cohen and Jonathan Richman, also played a part in our wedding vows.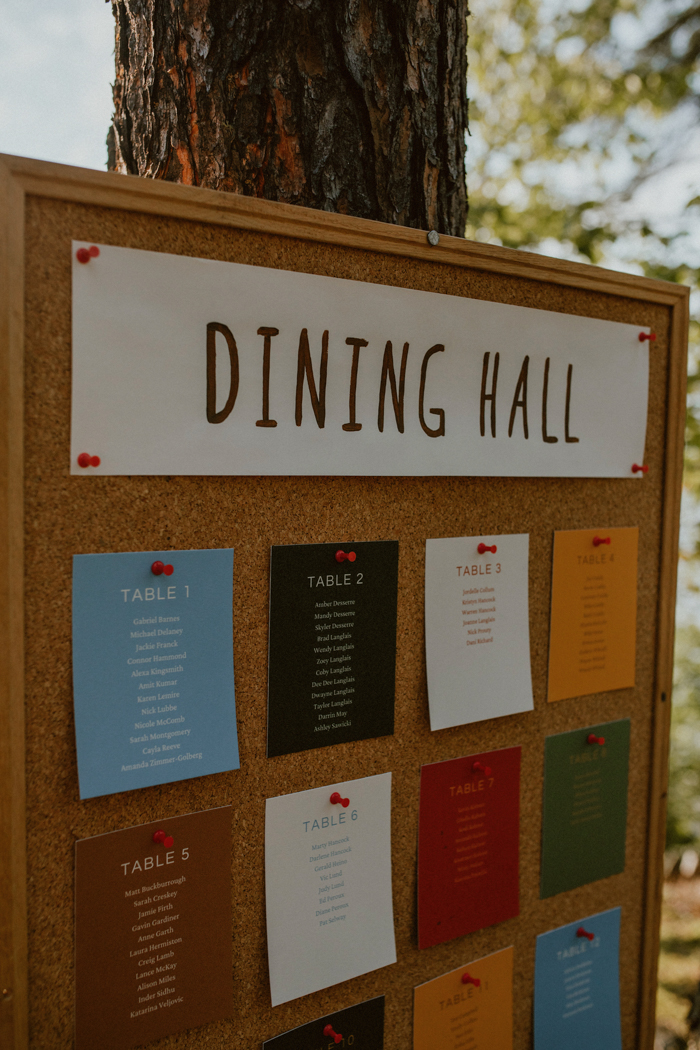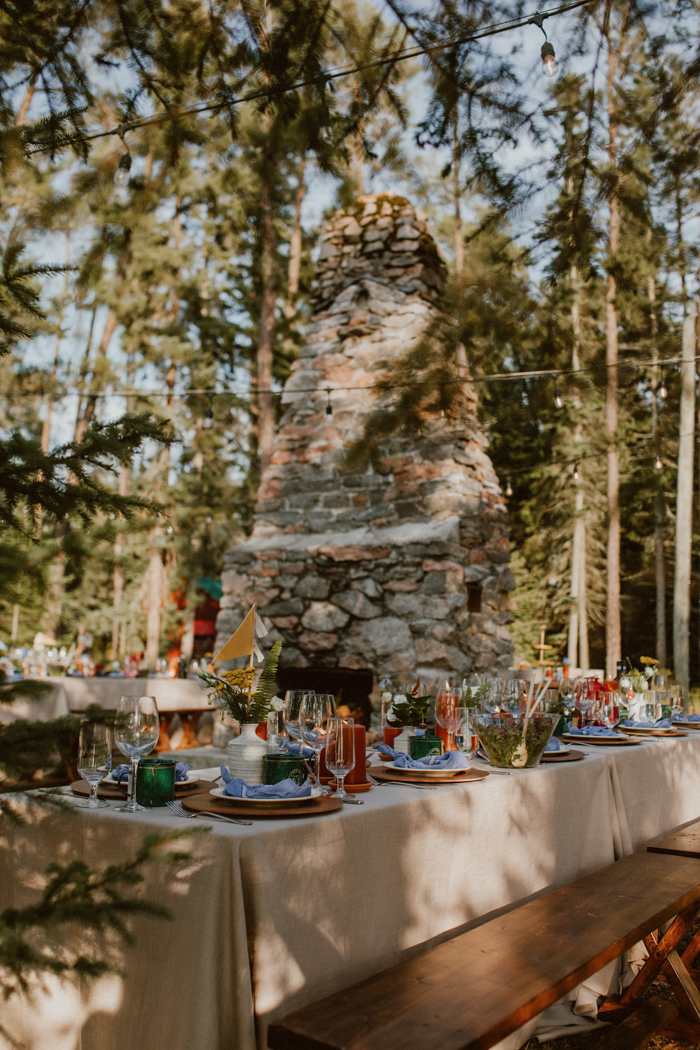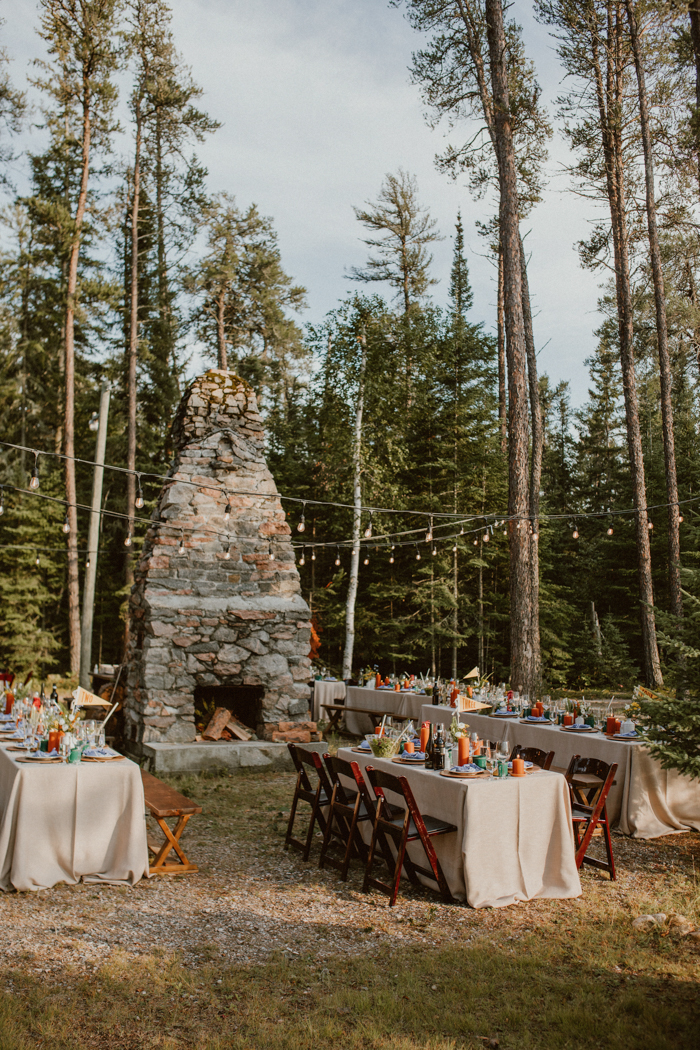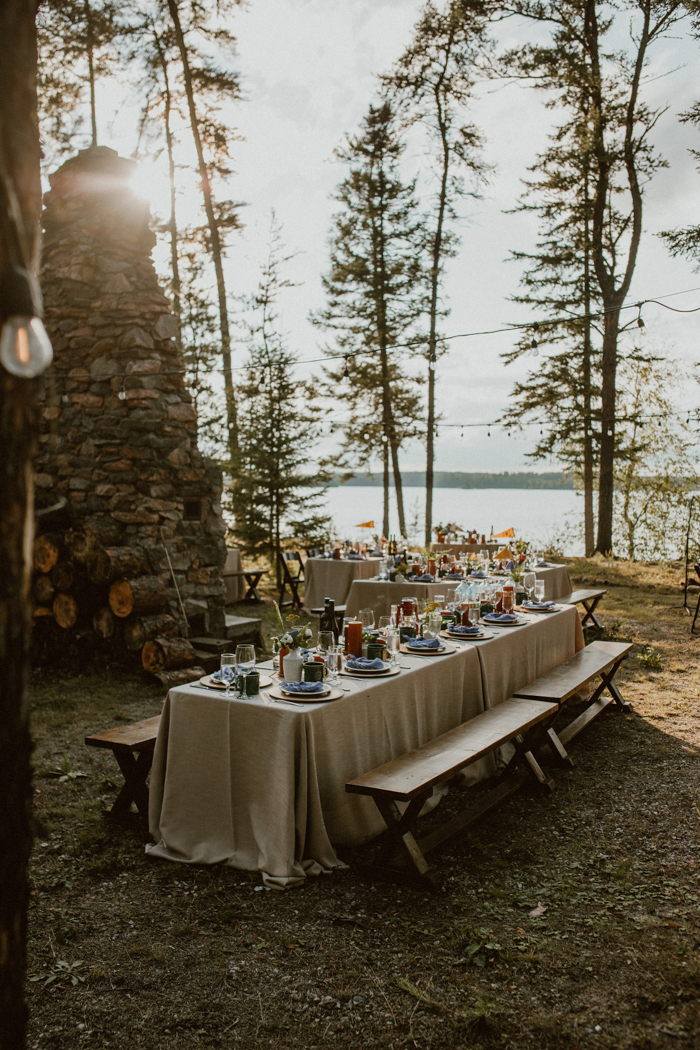 Useful Wedding Favors
We wanted unique wedding favours that our guests would be able to keep and use. It was important to us that our favours were sustainable and reusable. Our friend created a logo for our wedding day and we had it printed on forest green camp mugs to go with our summer camp themed day. The favours were purchased from a Canadian company—thanks to our amazing wedding planner for sourcing these. Our guests loved them and we were super pleased with how they turned out. It has been so much fun to see friends and family sharing photos drinking their morning coffee out of our Camp Cuddy mugs. A bonus was the mugs were also used as decor for our tablescapes!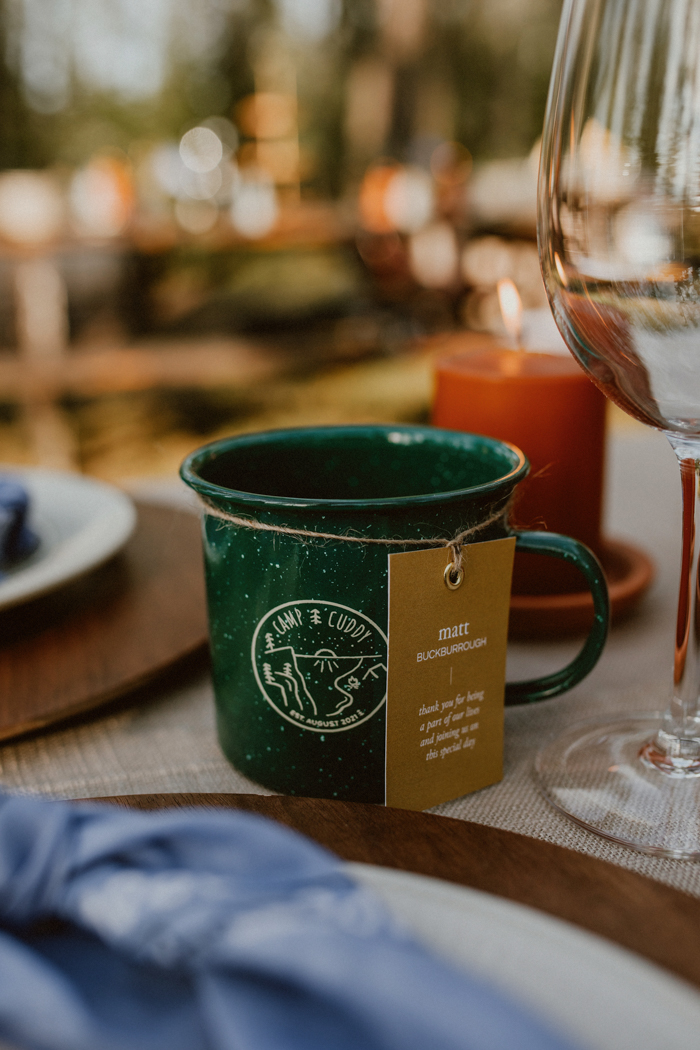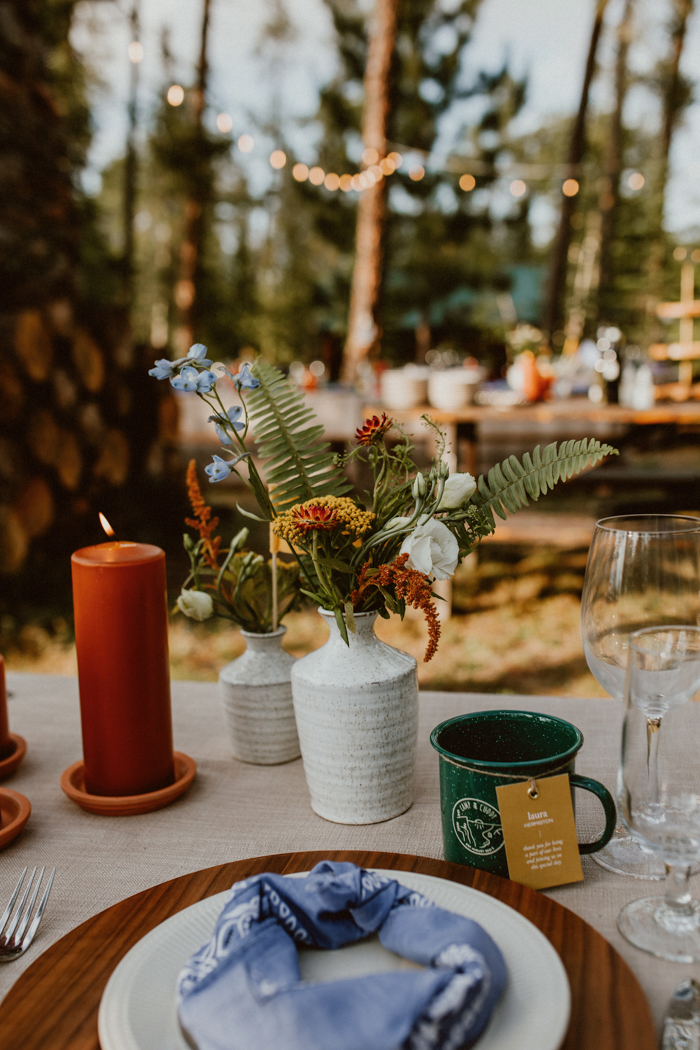 Comfort Food Favorites For The Wedding Reception
When considering options for our wedding dinner, we wanted something unique, meaningful, and memorable that would also be a crowd pleaser. As our wedding took place in a remote small town, the options were fairly limited. Luckily we came across the most amazing wood fire oven pizza truck—The Black Oven from nearby Kenora, Ontario. We had heard our local friends and family raving about their amazing pizzas and we decided this would be the perfect option. It fits with the fun summer camp theme and who doesn't love pizza and red wine? Black Oven went above and beyond with the most epic charcuterie board for our cocktail hour—honestly it was a work of art. For the dinner menu, we had a lovely green market salad and three different types of pizzas served family style.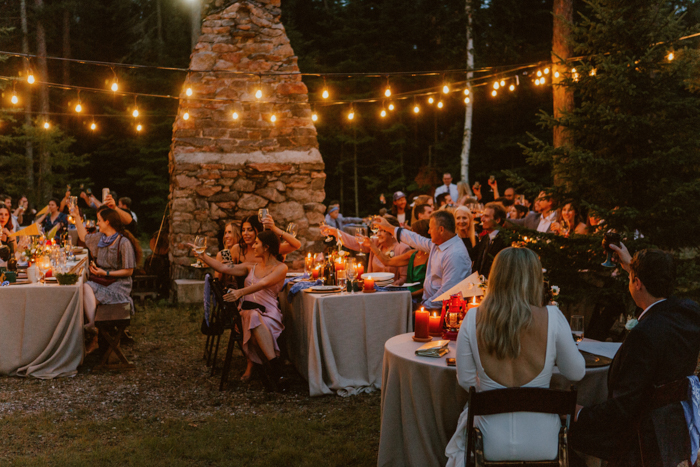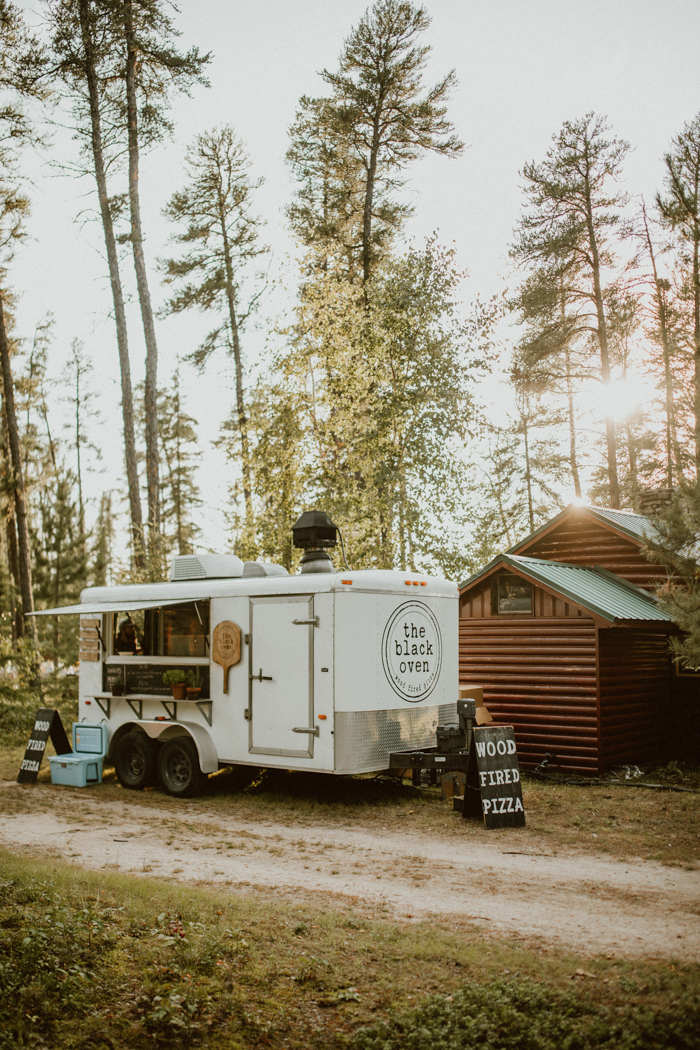 Delicious and Handcrafted Desserts
My lovely grandmother agreed to make our wedding cake, which was a wild blueberry lemon cake with buttercream icing. We had rhubarb and raspberry pies which were also baked by my grandmother, in my husband's grandmother's pie plates. In a perfect testament to the community mindset of a small town—all the blueberries, raspberries and rhubarb used for our wedding desserts were gifted to my gran from her neighbours and were all locally grown or picked. For an extra treat, we also had macarons from Enjoy by Andrea Nicole—a local baker. Our cake toppers were hand painted by our good friend and the topper now sits on our fireplace mantel.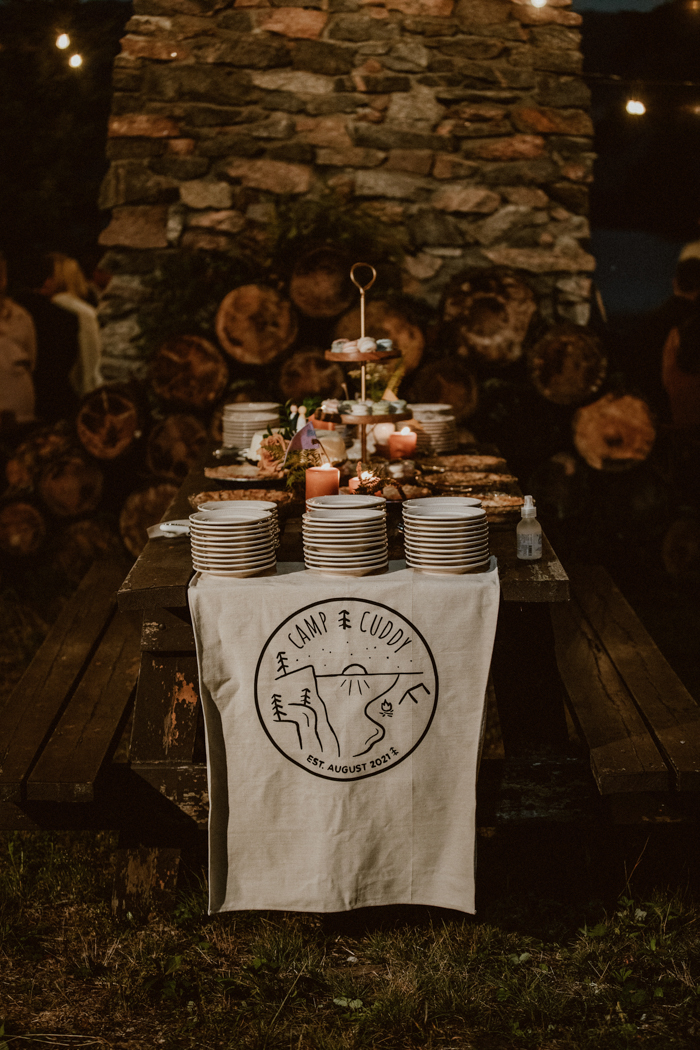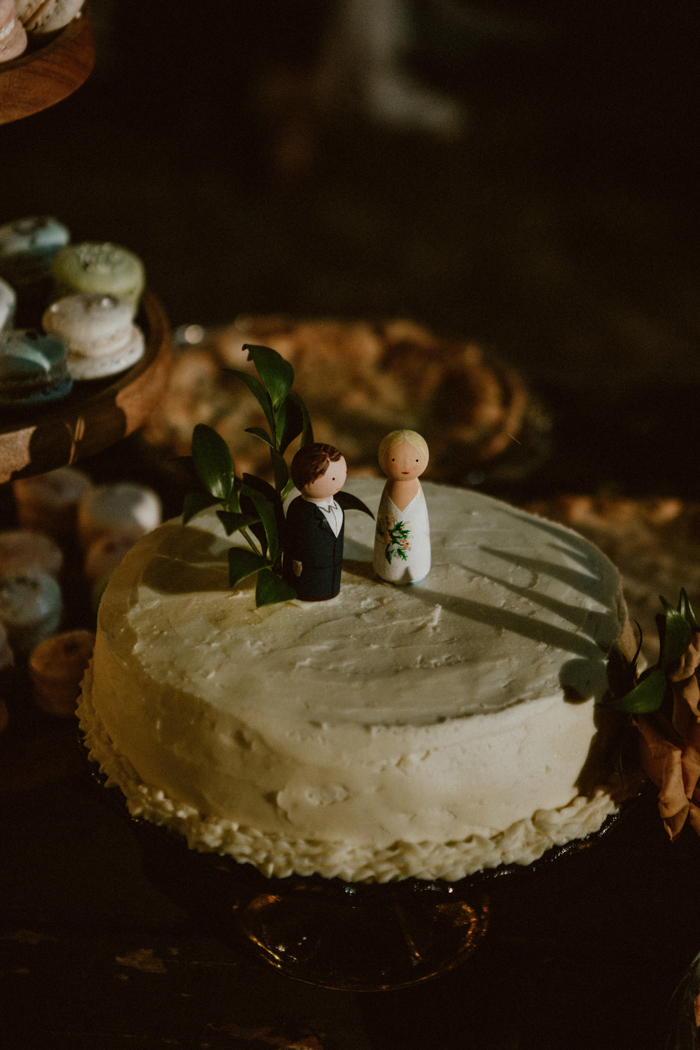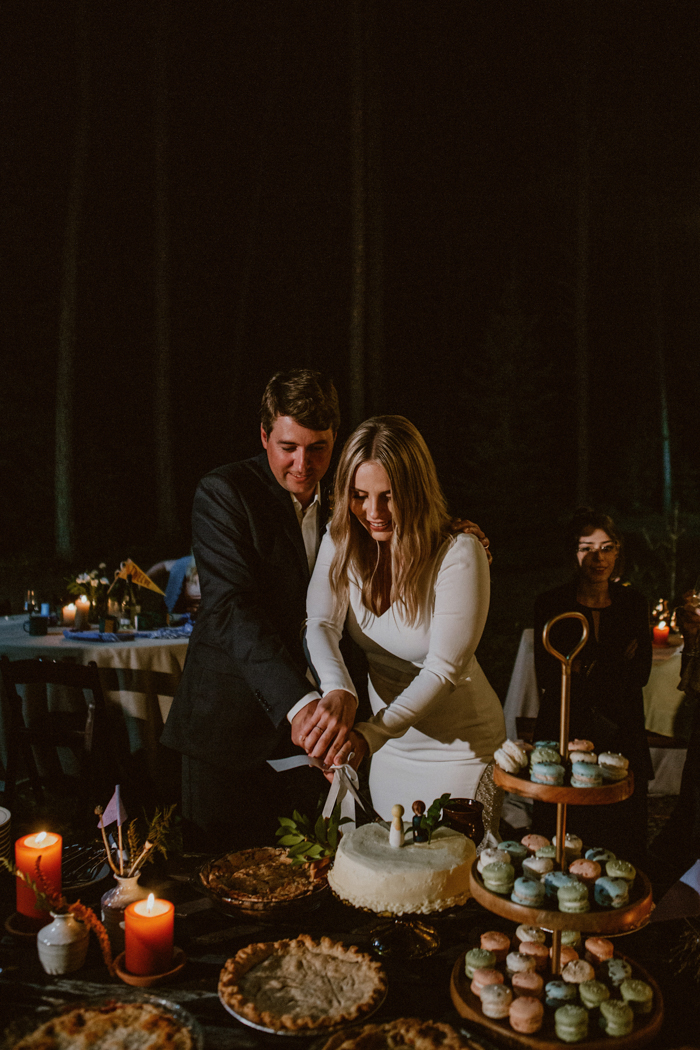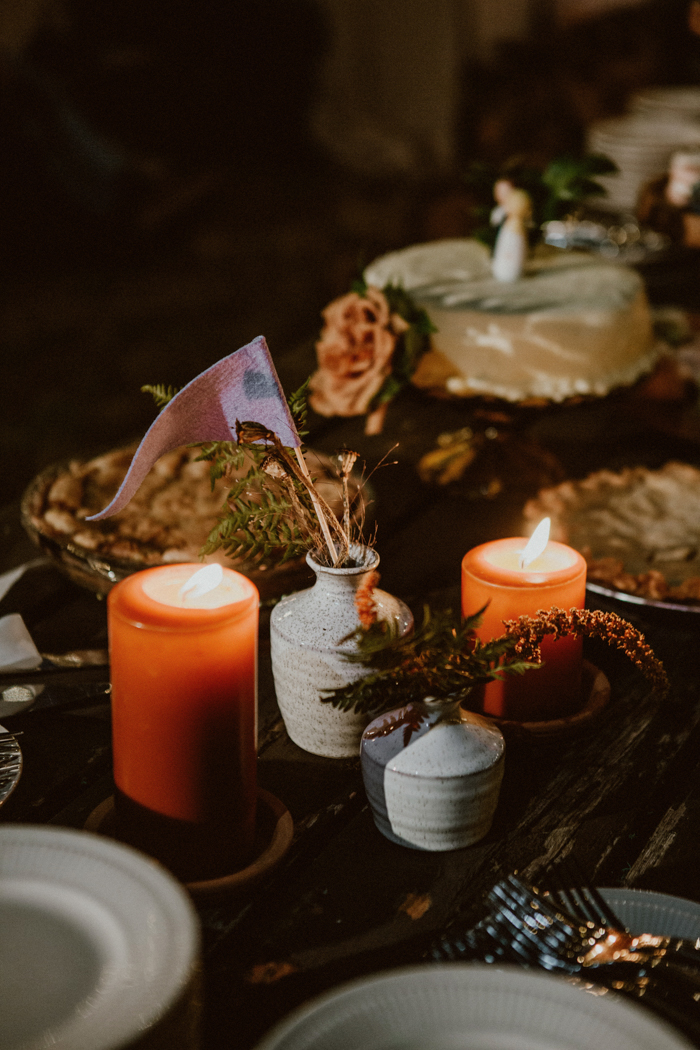 This Couple's Advice: Hire Your Dream Wedding Team
Our advice is to hire your dream team. It will be worth it. Do your research and find vendors who have similar vibes and taste—this will ensure you're pleased with how your day comes together. And definitely hire a wedding planner, it's a big bonus if they offer event design too.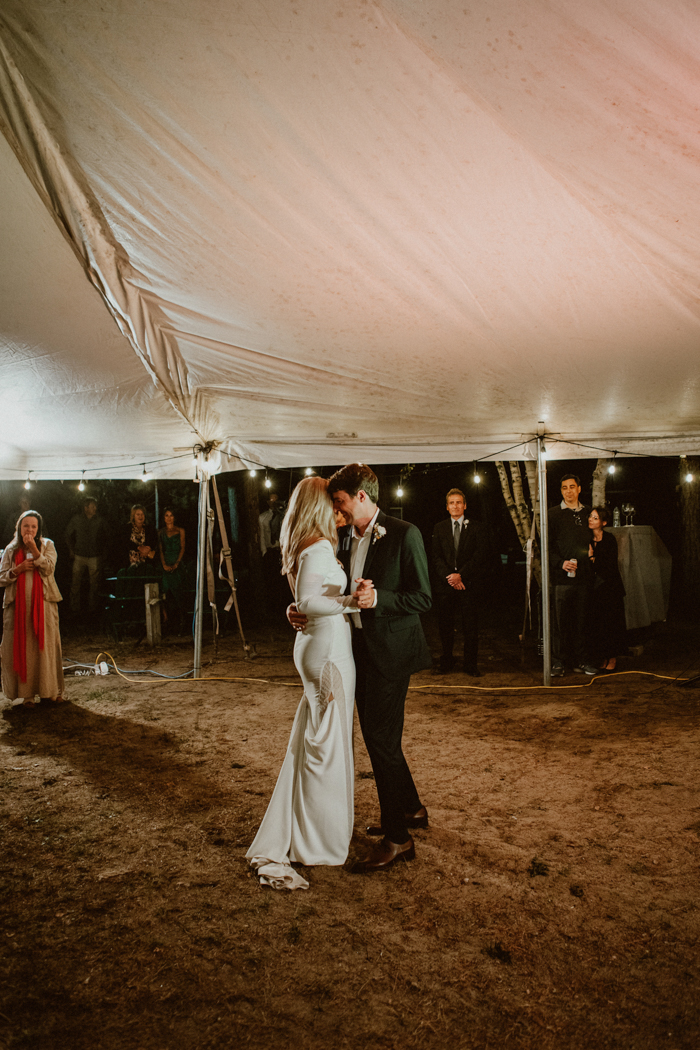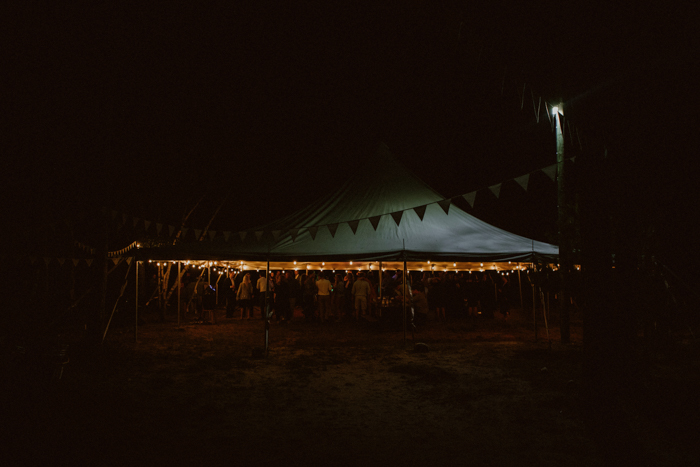 Congratulations to Caitlyn and Brian on their adorably elegant camp wedding. Massive thanks to Gina Brandt Photography for capturing the fun wedding details, the relaxed vibe, and all the moments in between!
Just like Caitilyn and Brian, a wedding at your favorite campground is a great option to have a getaway wedding without traveling too far. What's even better, you can always turn your camp wedding day into an unforgettable weekend with loved ones. Get started planning your own here.