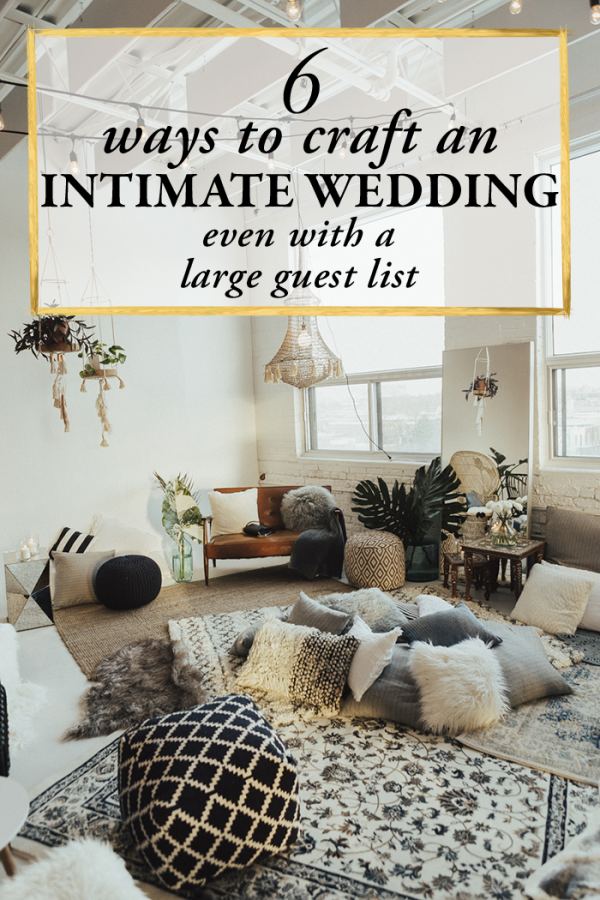 photo by Bianca Desjardins
We've been there: you're working on your wedding's guest list, and the 50-person guest list you had initially planned on quickly turns into a 250-person bonanza. You have a lot of friends and family, and that's okay! The challenge now is being able to craft an intimate wedding when you're dealing with hundreds of your loved ones in the same space at the same time. We put together 6 of our favorite ways for you to curate intimate wedding vibes, even with a large guest list!
1. Write Your Own Vows
You may have heard us say this before, but we'll say it again: writing your own vows takes your ceremony to the next level! Not only will writing your vows give your ceremony a personalized touch, but it also allows your guests to see a more intimate side of the relationship they've seen blossom into a marriage. Whether you've invited 50 guests or 450 guests to your wedding, personal vows will give each guest the impression that they've been included in one of the most sacred and special parts of your wedding.
For inspiration on how to express yourself during your ceremony, take a look at these 6 unique tips for writing your wedding vows!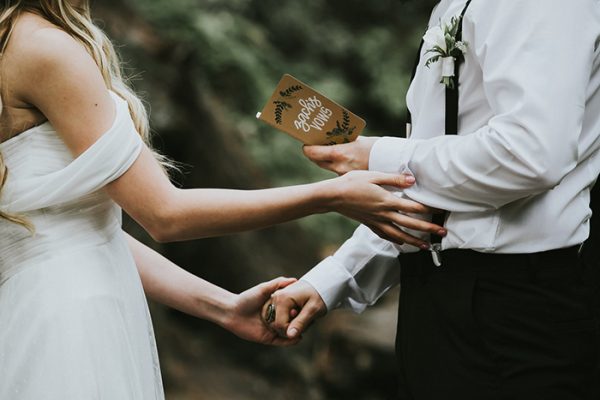 photo by Krista Ashley Photo; see more from this wedding here!
2. Create A Lounge Area
Part of what makes an intimate wedding special are informal, unexpected interactions with your fellow guests. Especially at large weddings, guests can sometimes feel like they're being shuffled around as one big unit from event to event: sitting at the ceremony, moving to the cocktail hour, then being ushered into the reception hall where they'll sit at a table or dance until the night is over. One great way you can create intimate moments at your wedding is with a lounge area! Lounge areas provide an extra space where guests can comfortably relax and mingle, which ends up supplying intimate vibes to even the biggest weddings. We also love wedding lounge areas for their versatility and ability to convey a wedding's style.
If you'd like to incorporate a lounge area in your wedding but don't know where to start, get inspired by our favorite cozy wedding reception lounge areas!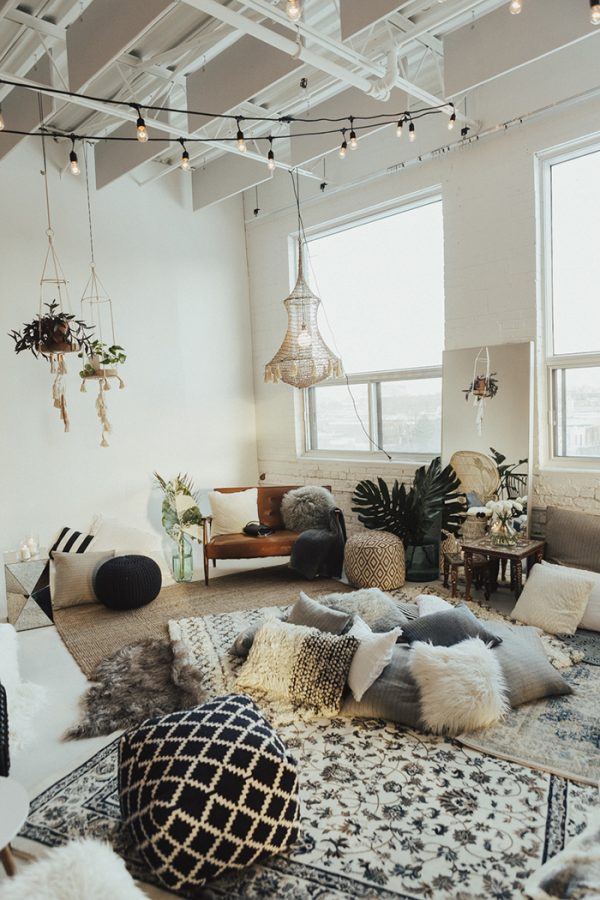 photo by Bianca Desjardins, event design by Raisonnable, rentals by Amulette, Tenue de Soirée, Sofa To Go; see more from this wedding here!
3. Involve Your Guests in the Ceremony
While writing your own vows can create intimate vibes, another impactful way to have an intimate wedding is to directly involve your guests in your ceremony! Ceremony involvement can range from unifying activities like ring-warming (when guests pass around the couple's rings to warm them with their love) and plant-watering (guests take turns walking up to water a potted plant chosen by the couple to represent their marriage), amazingly heartfelt group prayers, and ceremony speeches from loved ones. No matter your strategy, ceremony involvement will make your guests feel special, loved, and an important part of your wedding day.
Looking for ways to create an intimate ceremony? Check out these 8 ways to personalize your wedding ceremony.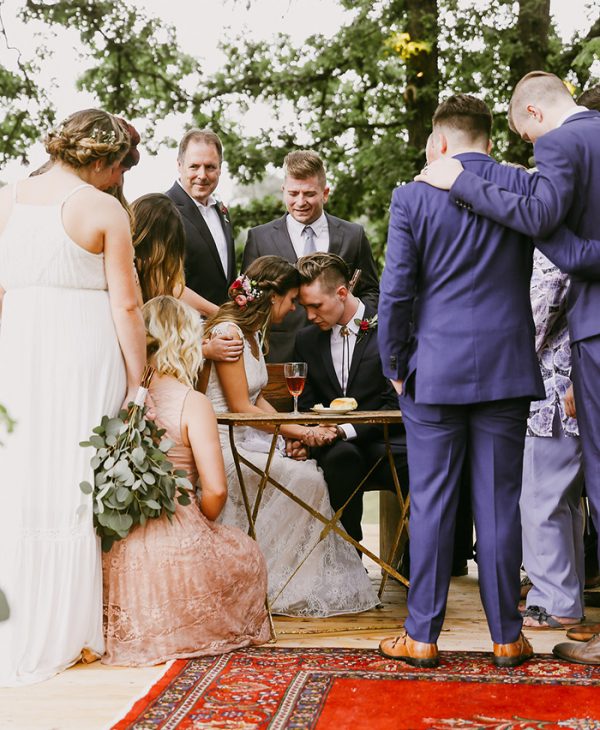 photo by Melissa Green Photography; see more from this wedding here!
4. Give Your Guests Personal Favors
A big wedding guest list can mean that you don't get to connect with each of your guests on an intimate level during your wedding day, so plan ahead of time to provide your guests with personal favors! Some of our favorite wedding favors have been personalized, from handwritten letters placed on each guest's dinner setting to vintage china plates selected based on each guest's preferences and personality. This extra step might seem daunting when you're faced with the craziness of planning a wedding, but it goes a long way!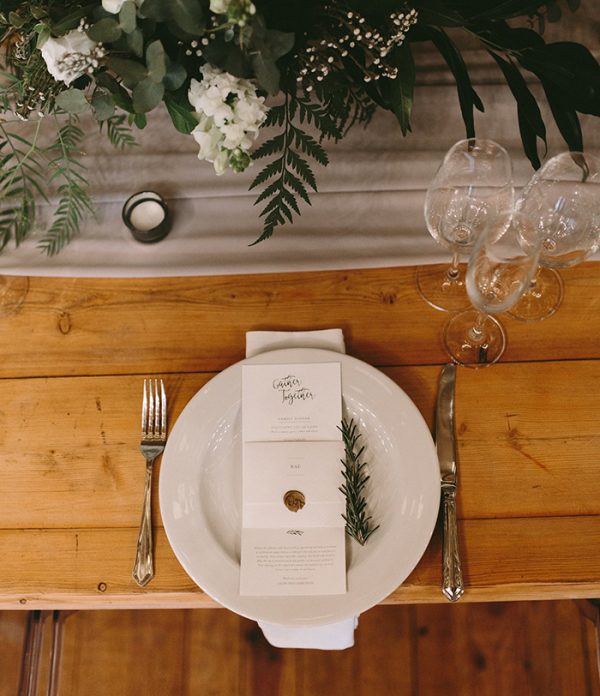 photo by Illuminate Photography, venue: Langkloof Roses, floral design: Wildeflower; see more from this wedding here!
5. Have a Cocktail-Style Reception
An intimate reception style that's been picking up a lot of steam lately is the cocktail-style reception, and for good reason! This alternative reception trend replaces traditional seating layout (chairs, tables, and a dance floor) with more varied seating options and encouragement to stand and mingle with fellow guests. Couples can achieve cocktail-style receptions by offering beautiful displays of buffet-style finger foods instead of a seated dinner, standing cocktail tables instead of rows of tables and chairs, and multiple lounge areas with mixed seating to increase movement and relaxed conversation.
For cocktail-style reception decor inspiration, take a look at this eclectic and elegant Smogshoppe wedding that totally nailed the trend!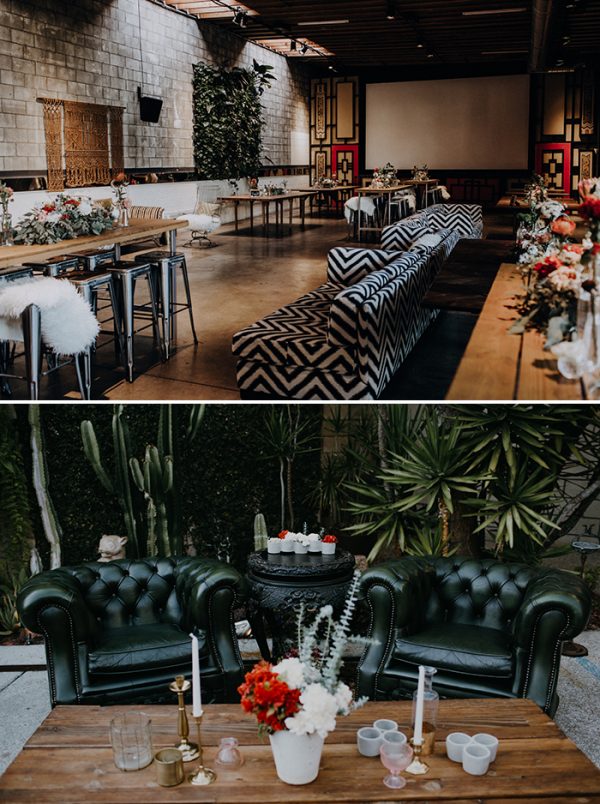 photo by The Montoya Collective, venue: SmogShoppe, floral design: Salted Blooms; see more from this wedding here!
6. Have Someone You Know Officiate
When it comes down to it, you can tell a hired officiant your life's story and they can expertly weave it into a tale fit for your ceremony, but no one knows you quite as intimately as a good friend or family member. After all, they've been around for the full extent of your relationship and have a unique take on the story of your marriage! Even if a majority of your guests aren't familiar with the officiant you've chosen, the fact that the guests are hearing your story from the mouth of someone who really knows you is invaluable. Your guests will walk away from the ceremony feeling like they've learned about a unique perspective of your marriage, which is one of the keys to crafting an intimate wedding.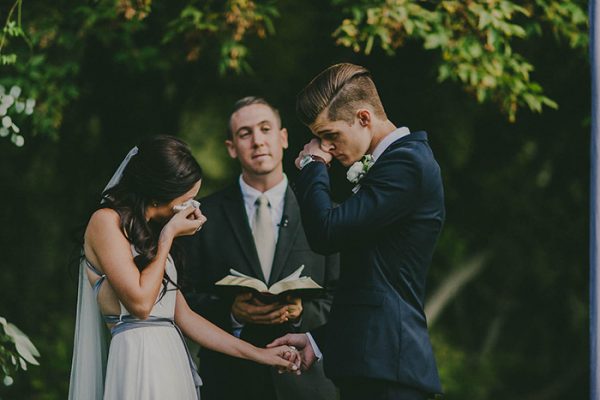 photo by This Rad Love, venue: Tonto Creek Camp; see more from this wedding here!
Now that you've learned all about how to craft intimate vibes at your wedding, it's time for you to choose a rental company to help you pick out the perfect lounge area! Take a look at our list of 4 major benefits of hiring a rental company for your wedding to get inspired.