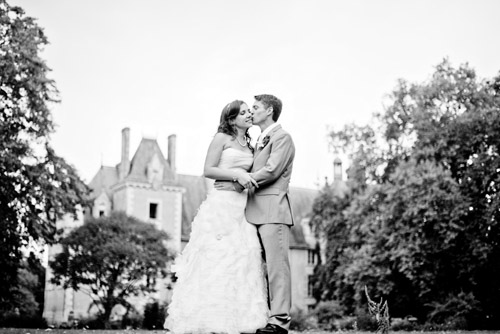 Elizabeth and Sean's September wedding, shot by top photographer Ivan Franchet at the private Chateau St. Julien, was a fairytale wedding done in the French-style. Weve been head-over-heels in love with this magical place for six years, ever since we spent a week there photographing the wedding of our own dear friend and Art Director, Kim Bamberg, and her husband, Adam. This weekend Kim is taking off to the chateau again to participate in what is sure to be an truly amazing photography workshop hosted by the lovely and talented Elizabeth Messina, so the timing was simply perfect for us to feature a wedding that recently took place there. We hope youll love Elizabeth and Sean's beautiful French wedding at this memorable location as much as we do.

The goals: Elizabeth and Sean only had a few of requirements for their special day. One, they wanted to keep everything simple and beautiful. Two, once they got to France they wanted to free themselves from any worries about their wedding and focus on spending quality time with a group of friends and family who they deeply love, and finally, they wanted an impressive venue with ample room for all of their guests to stay with them. With the help of their wedding planner they found the chateau and its stunning grounds, and Elizabeth and Sean were well on their way to making their wedding dreams come true.
The Look: Elizabeth looked lovely in a strapless gown with layers of tulle from Rivini Turquoise, highlighted with a sparkling head piece from The White Dress By The Shore. Her bridesmaids wore long gowns from Jim Hjelm in a rich shade of fuschia, while the men were stylishly put together in gray three pieces suits from Men's Warehouse with bright purple ties, adding a bit of pizazz.

The Design: Always having loved the color purple, Elizabeth chose a palette that ranged from bright fushcia to deep purple, which she incorporated into her flowers and the attire of her wedding party. Elizabeth recalls that, "the shades of purple looked beautiful under the light from the candelabras and votives on the dinner tables".
The Details: When it came to invitations, Elizabeth found a set that she loved and ended by printing her own and decorating them with a fleur de lis. She and Sean also designed three different kinds of postcards as RSVP notes featuring historical images of France. Elizabeth says, "Getting the postcards back in the mail from our friends when we returned was so much fun". As favors for their guests, the bride and groom provided bottles of French wine from Le Bateau Ivre and wine covers embroidered with a mathcing fleur de lis symbol.

The Moments: Elizabeth and Sean savored each and every moment of their day together, taking romantic time alone before their guests arrived and walking hand in hand around the grounds together after the they were pronounced husband and wife. Their intimate outdoor ceremony was held on the chateau's sprawling lawn, and then the wedding moved indoors for dinner, where the bride's younger brother gave a beautifully heartfelt, unrehearsed toast that perfectly captured Elizabeth's relationship with him and his love for her and her husband as a couple.
From these pictures, it seems clear that Sean and Elizabeth got just the wedding they had hoped for – full of family, laughter and adventure.

The Pros: To learn about all of the wedding professionals that helped to make this wedding a reality, please visit our Real Weddings section.
Thank you so much for sharing your sweet wedding with us Elizabeth and Sean!
If you're planning a wedding in Seattle or Southern California, don't miss our trusted Plan Your Wedding Hotlist!