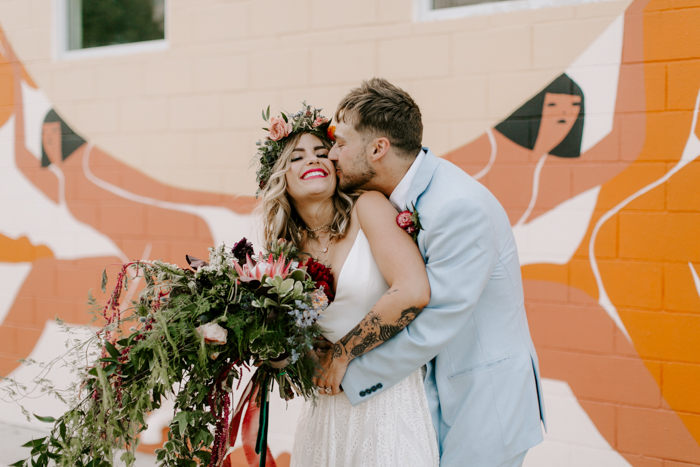 In our experience, Palm Springs brings out the creative side of couples, and Rachel and Michael's wedding at Ace Hotel Palm Springs is yet another fun example! The crafty couple DIY-ed every element of their decor and then transported it in a U-Haul truck from Colorado to their venue in California. They created three separate lounge areas with Moroccan rugs, couches, and lanterns, set up a mini paper burning altar for their ceremony, and designed tablescapes that were full of texture and color. The goal was to create a look that was multidimensional and personal, and then use all of their decor in their own home after the big day! We can't get enough of Rachel's two wedding dresses — one new and one vintage — and we are in love with how photographer Jaicee Morgan captured every unique element and moment of this California wedding with such ease and attention to detail.
The Couple:
Rachel and Michael
The Wedding:
Ace Hotel Palm Springs, California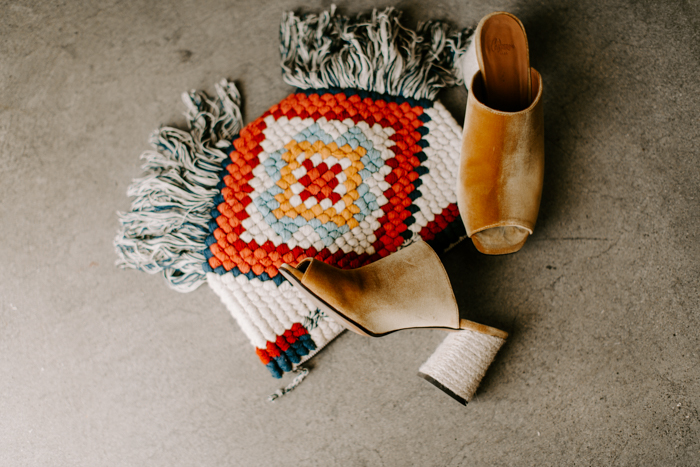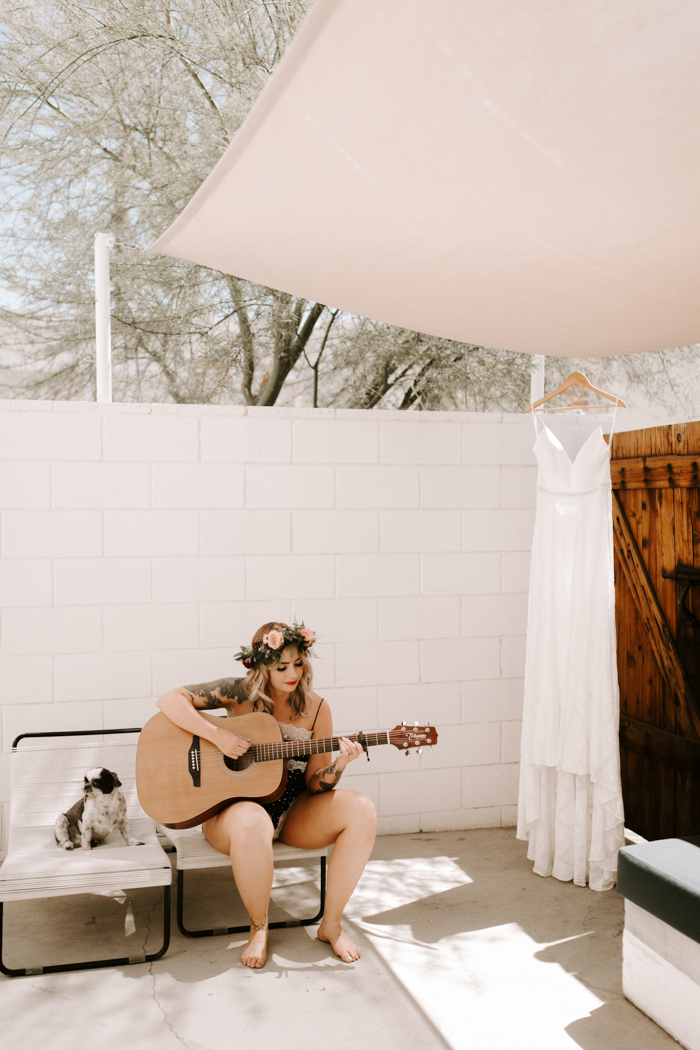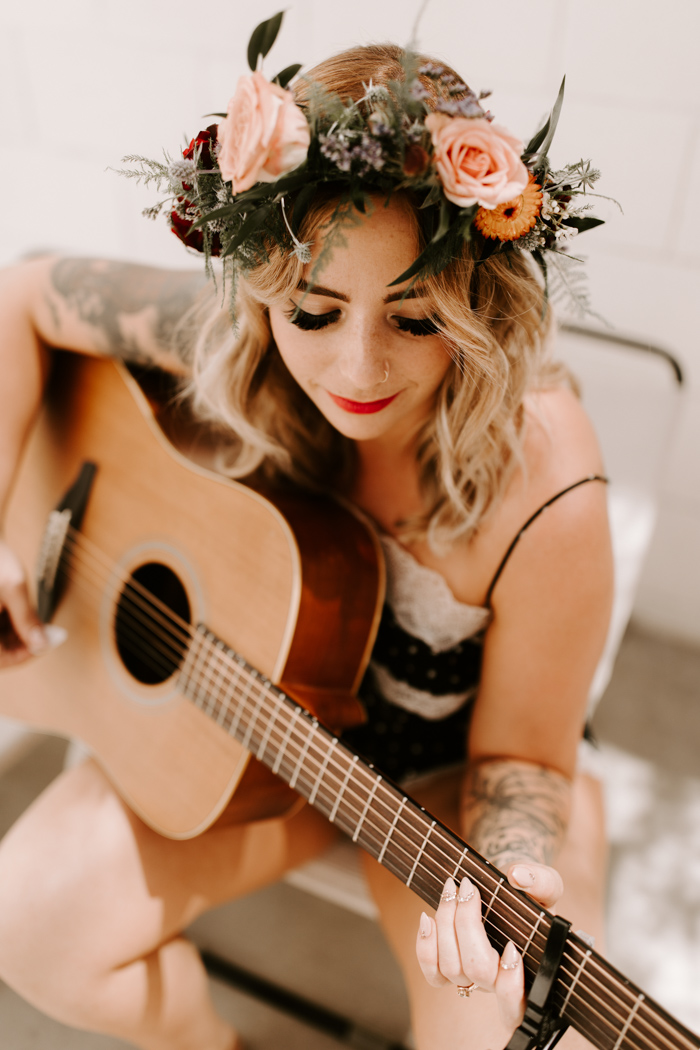 We really wanted our wedding to last more than a few hours. Michael has family from all over the US and many of our friends would be traveling to see us, so we knew we needed a venue that would keep everyone together and let us stay up late. We chose the Ace Hotel Palm Springs so that everyone could make a fun vacation out of our wedding weekend and they let us have our venue from the morning until 2 AM the next day.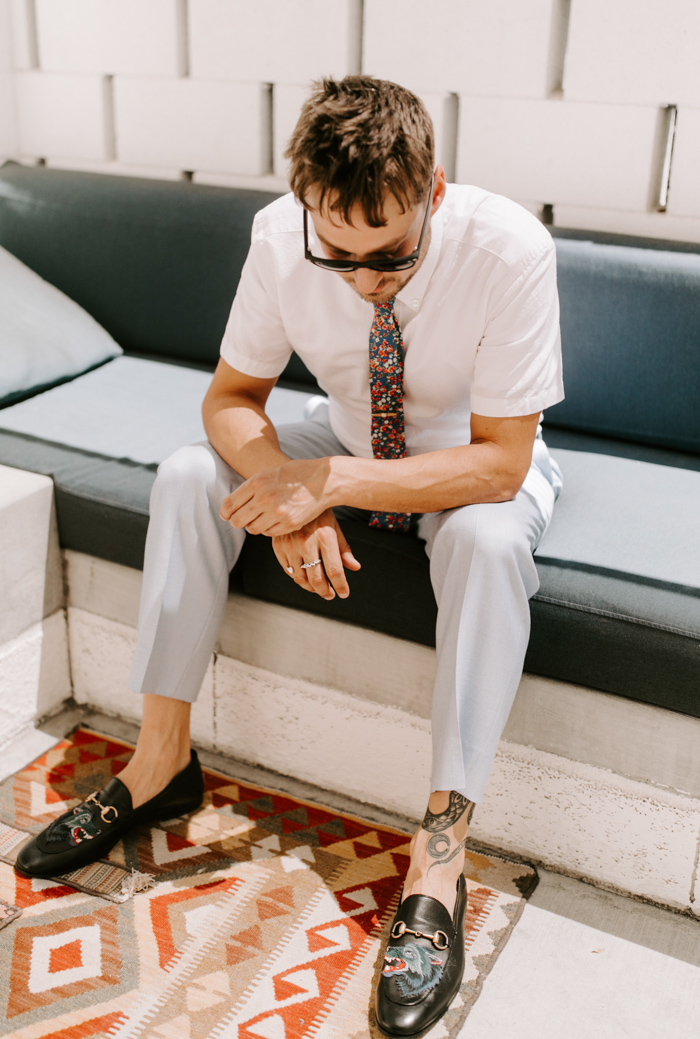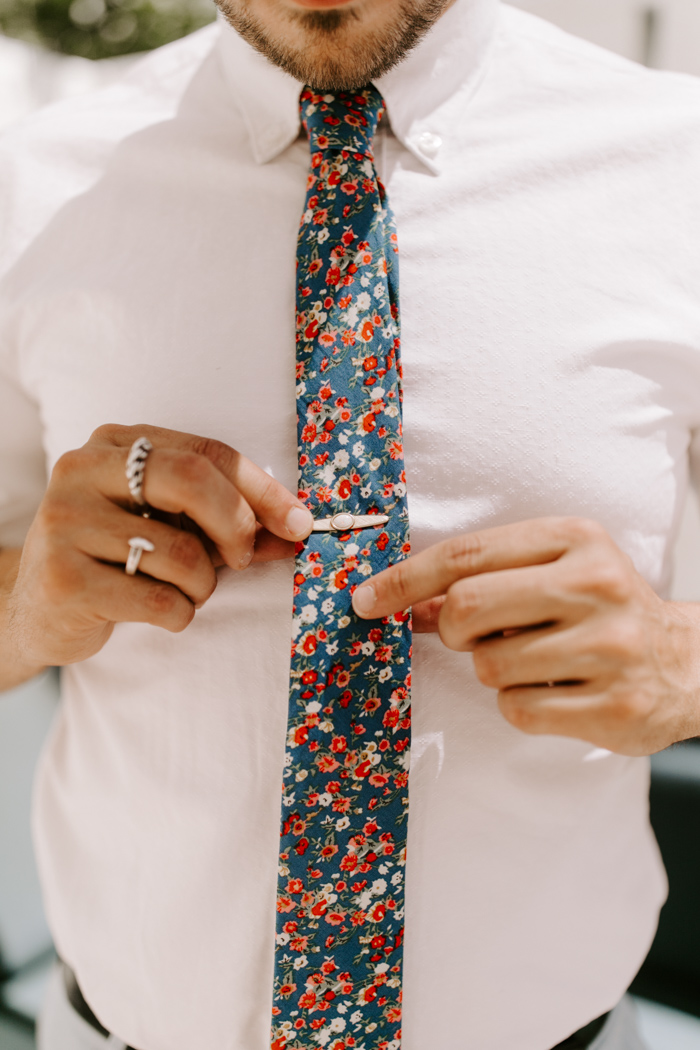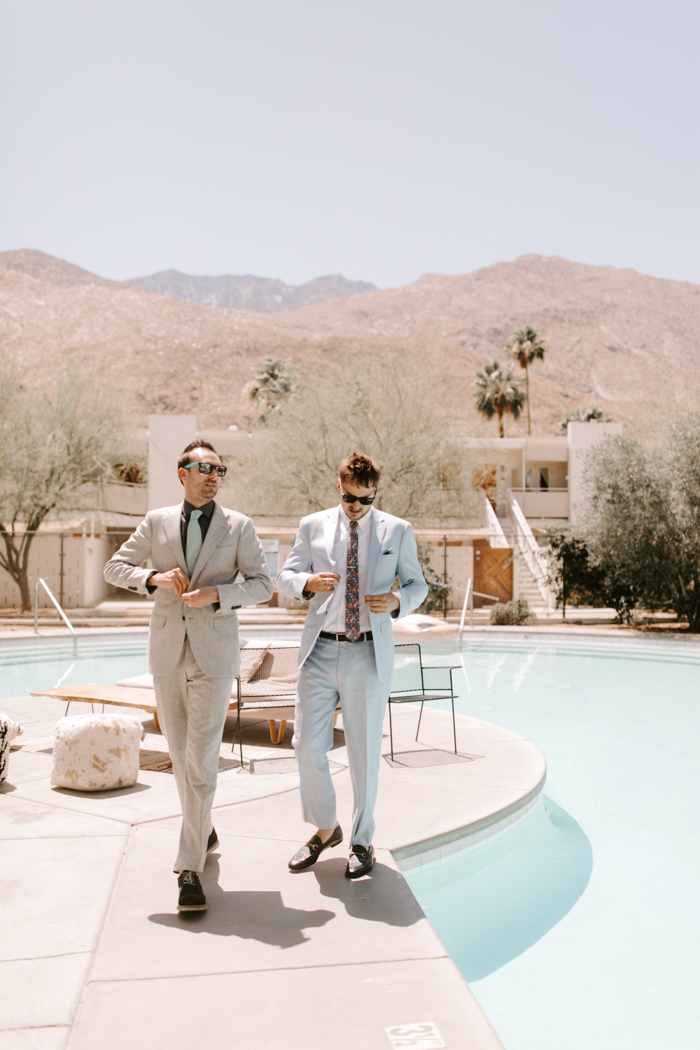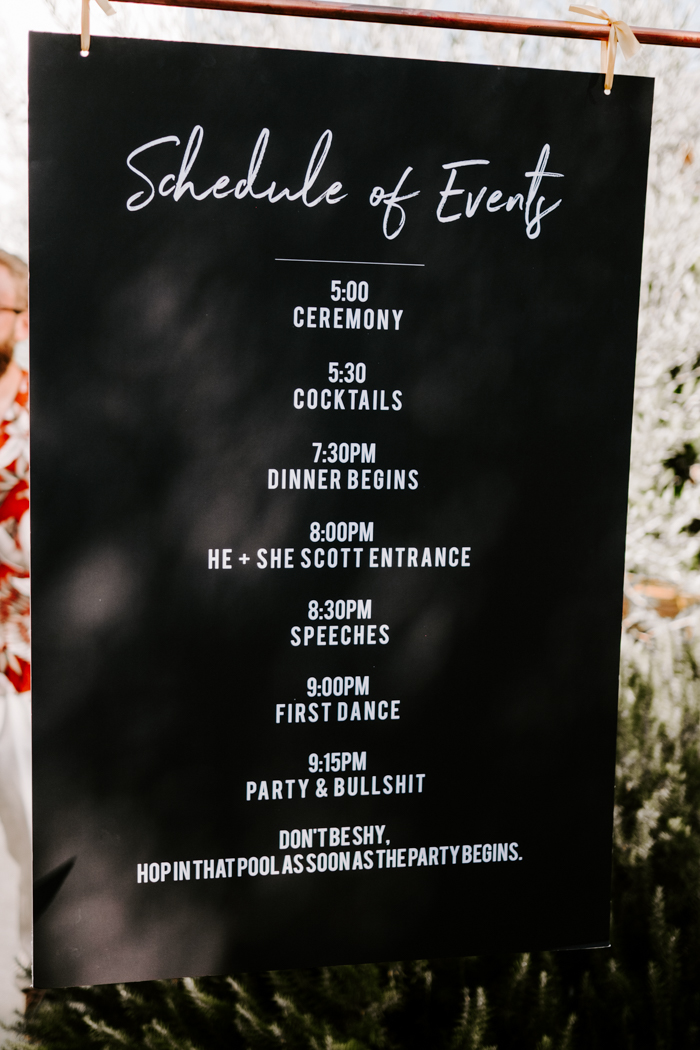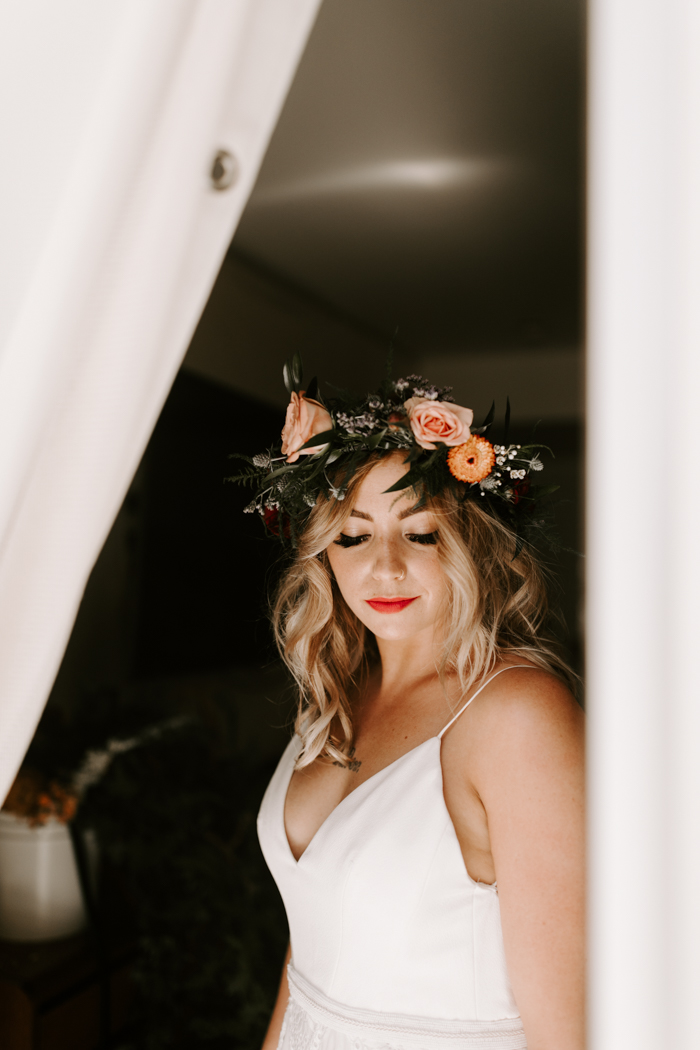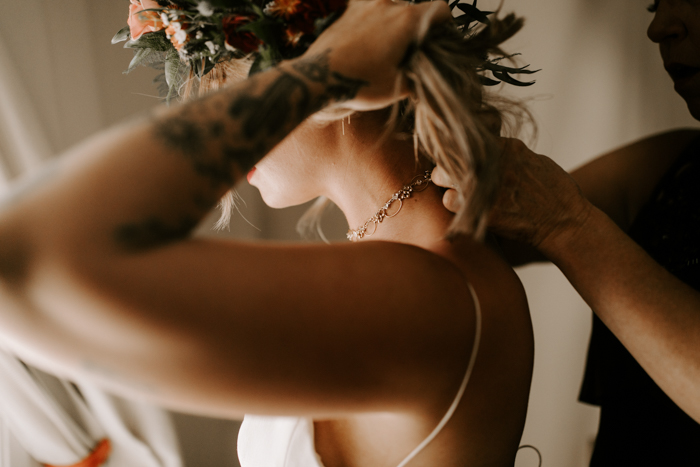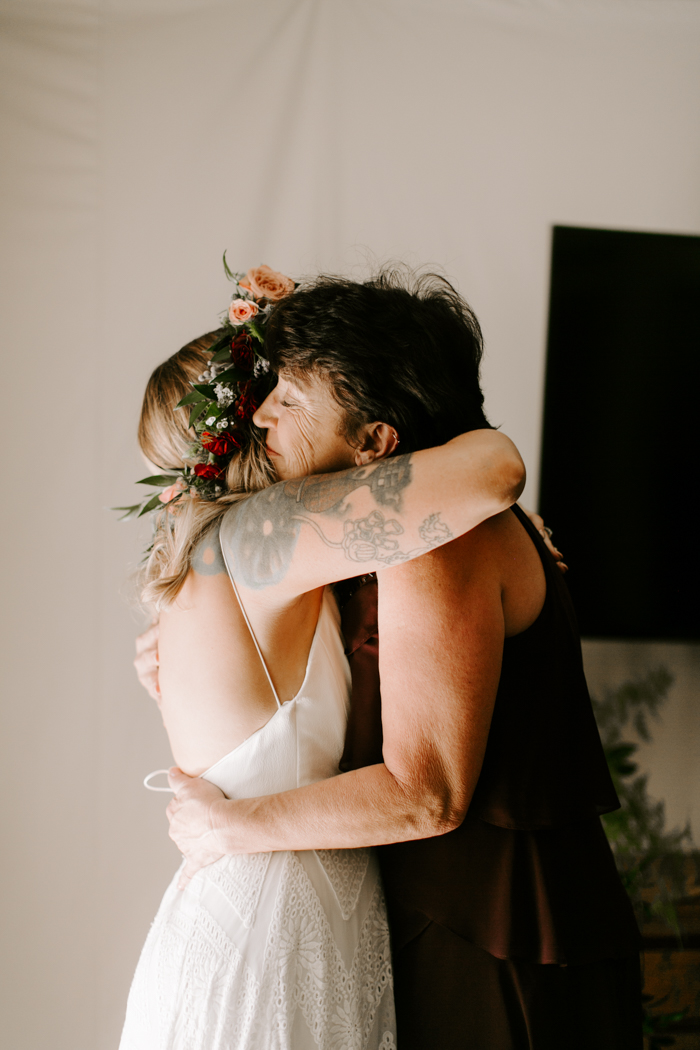 The most memorable part of the day for us was our first look. I had secretly taken guitar and vocal lessons in the two months leading up to the wedding, despite hating my voice and never having played guitar before. We did our first look in the Moorten Botanical Gardens, tucked among the cacti. Michael walked up to see me sitting and playing "Right Down the Line" by Gerry Rafferty for him. He couldn't hold it together and cried a ton! I had been so nervous until that point so, after I was done with the song, I was finally able to relax and have fun.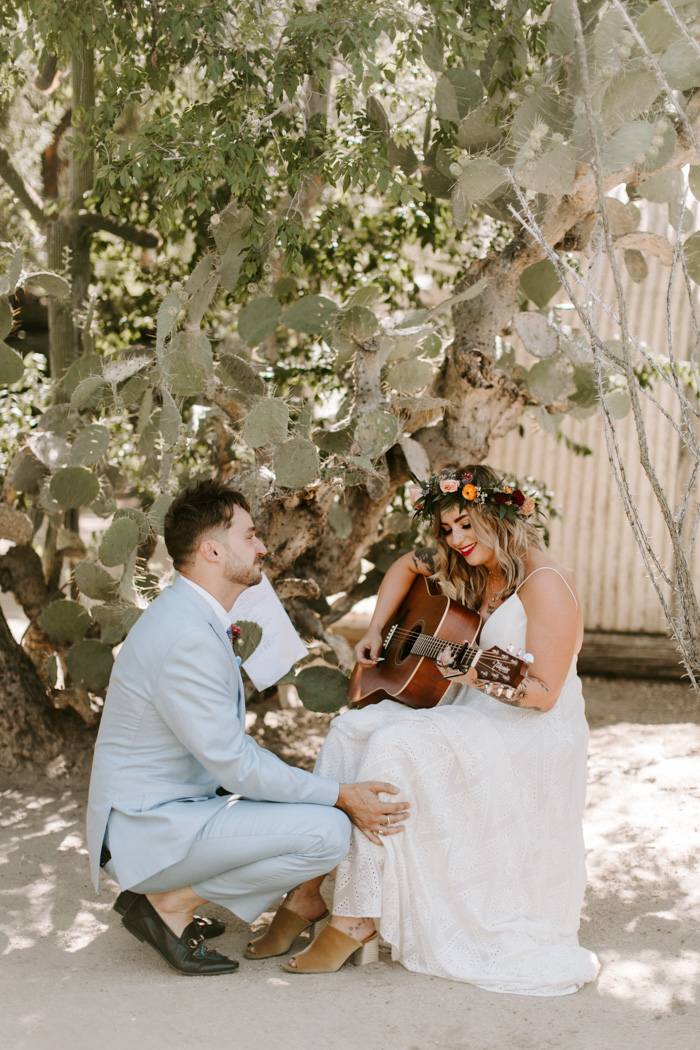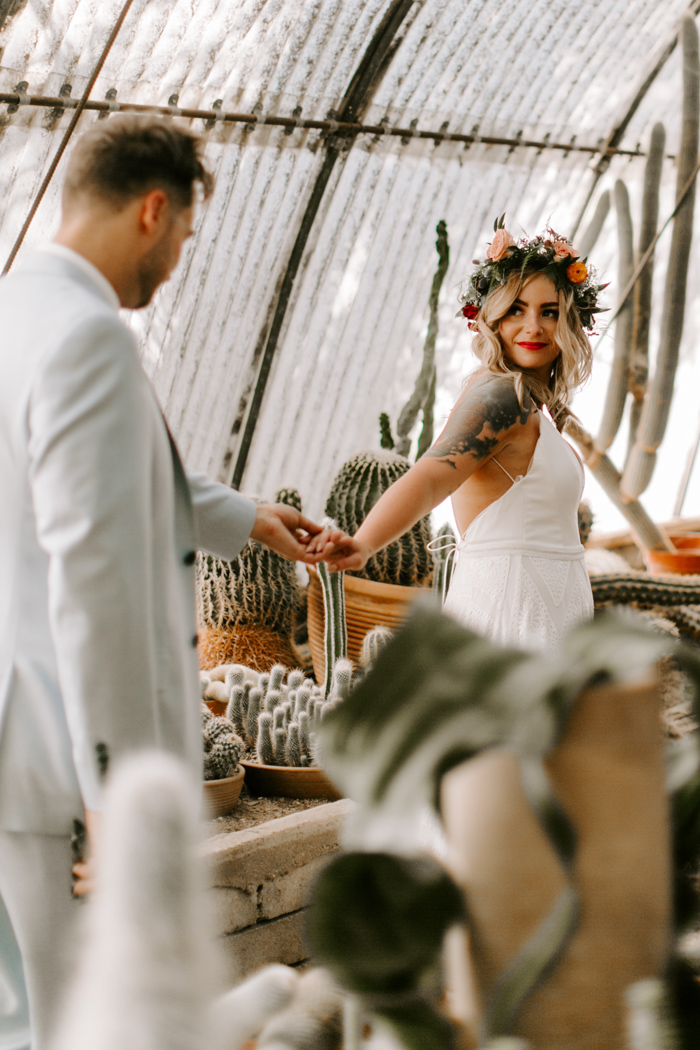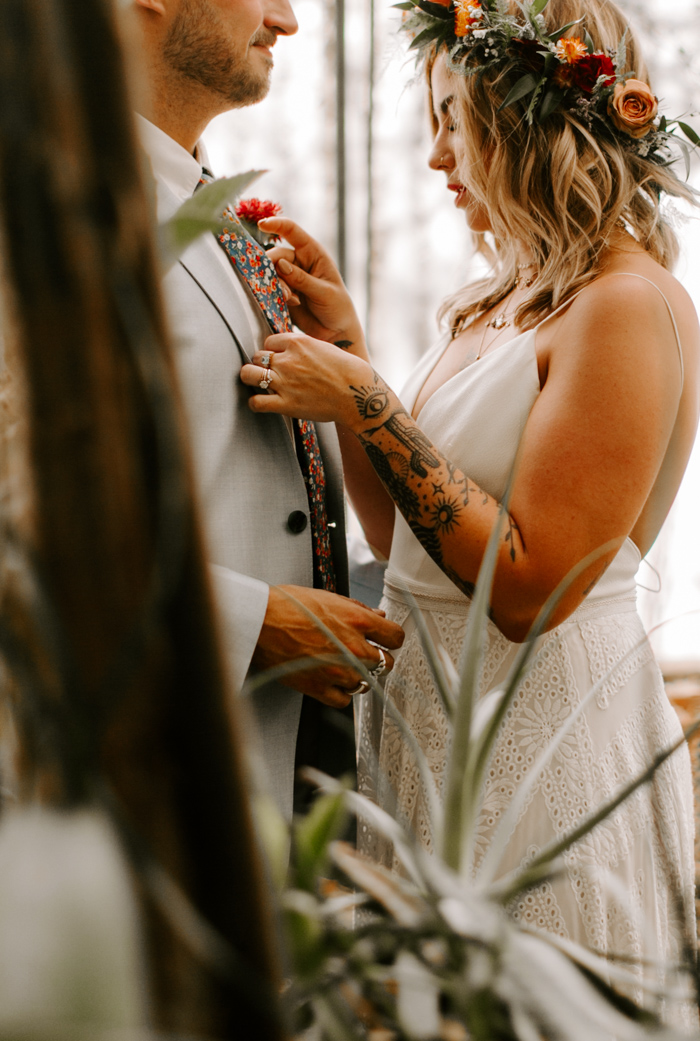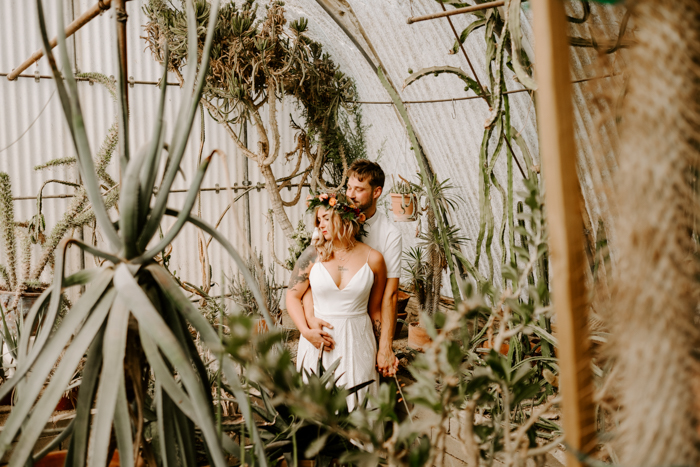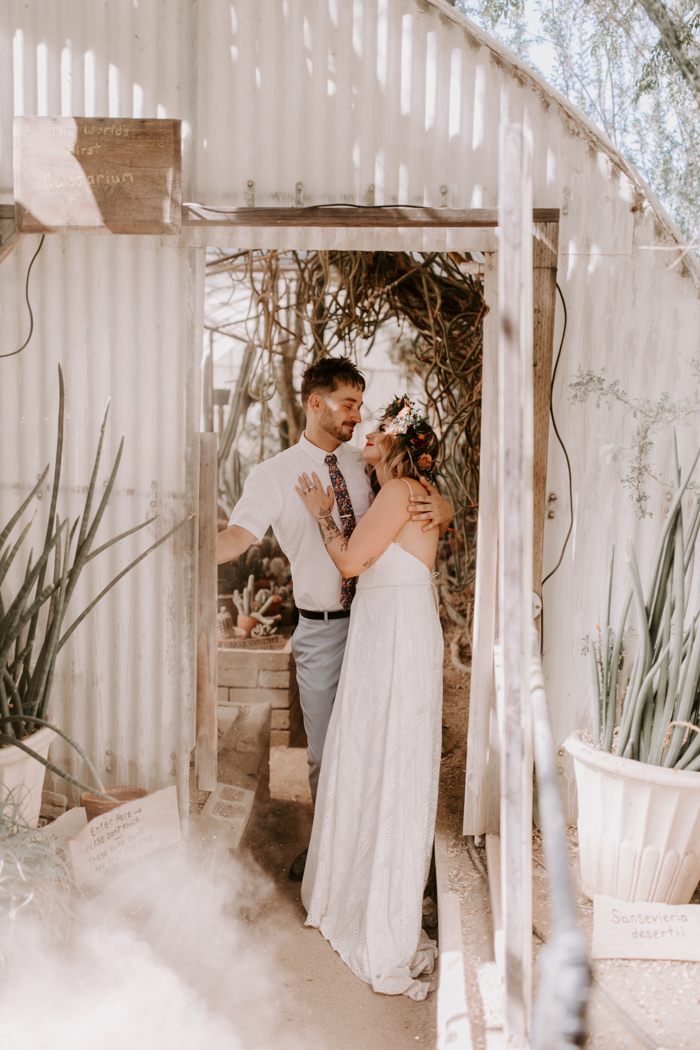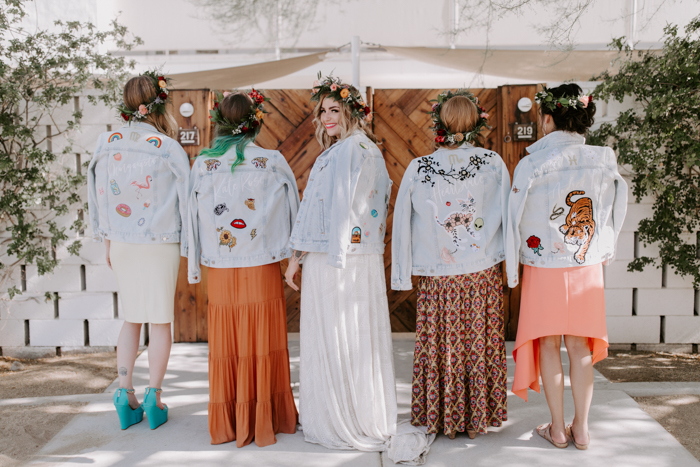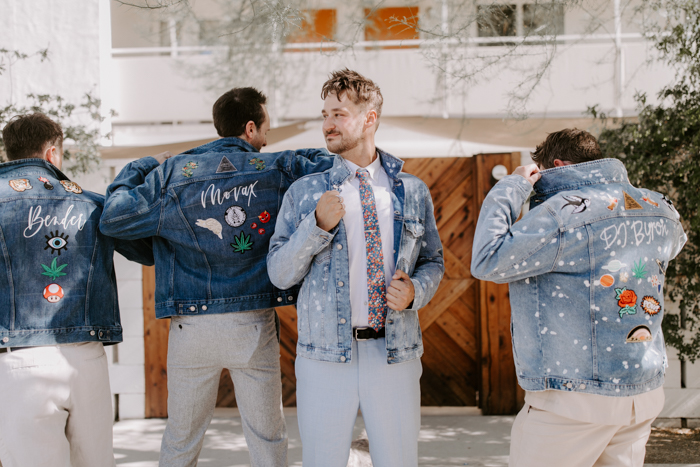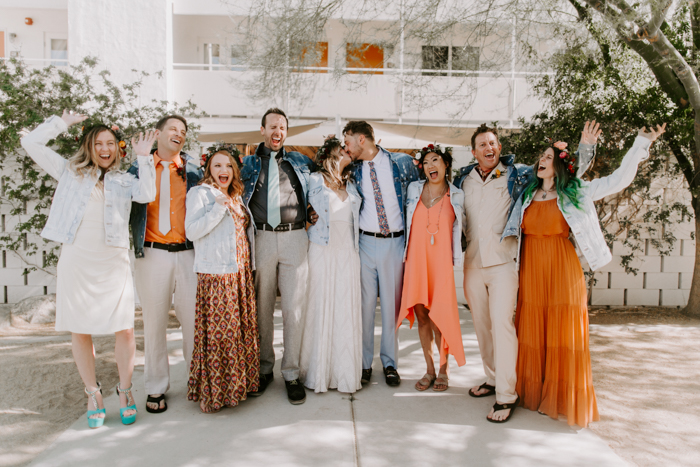 When you get engaged, you'll likely have an idea of how you'd like your wedding to be. Along the way, you will get feedback from nearly everyone you talk to about what they think your wedding should be like. Gracefully thank them for their opinion, but don't make decisions based on what is convenient or comfortable for them. You will end up balancing 100 conflicting ideas and making stress that you don't need. Those who can come will come. Those who can't will be missed. Stay true to you and your own dreams, budget, and vision.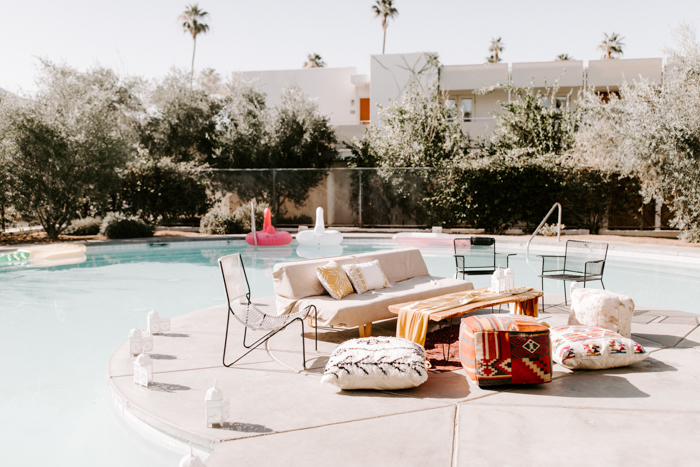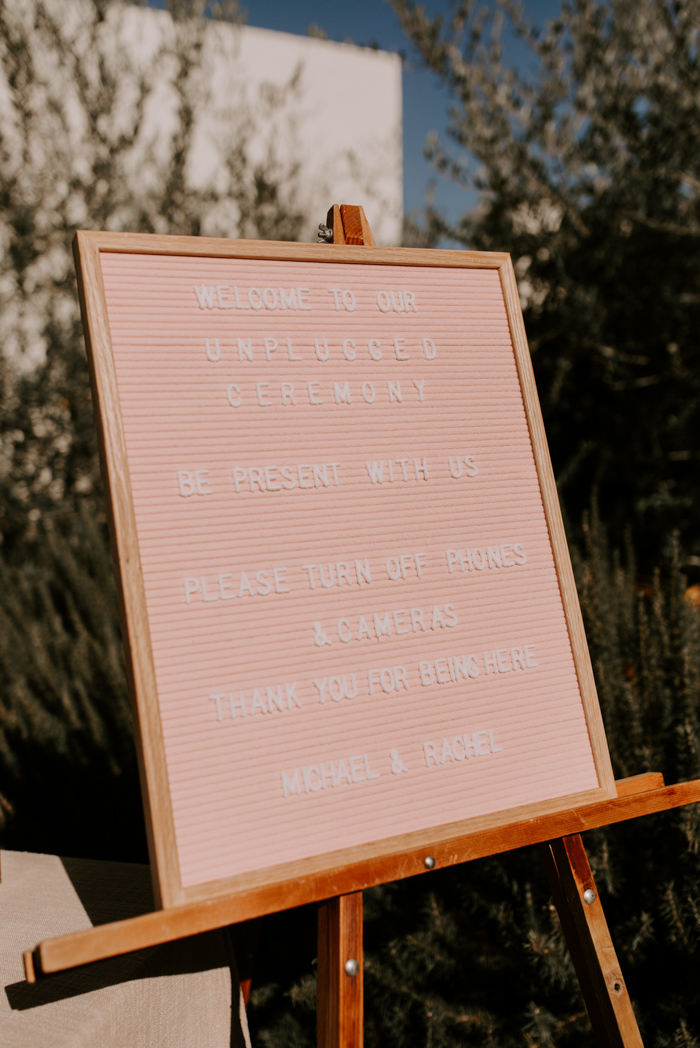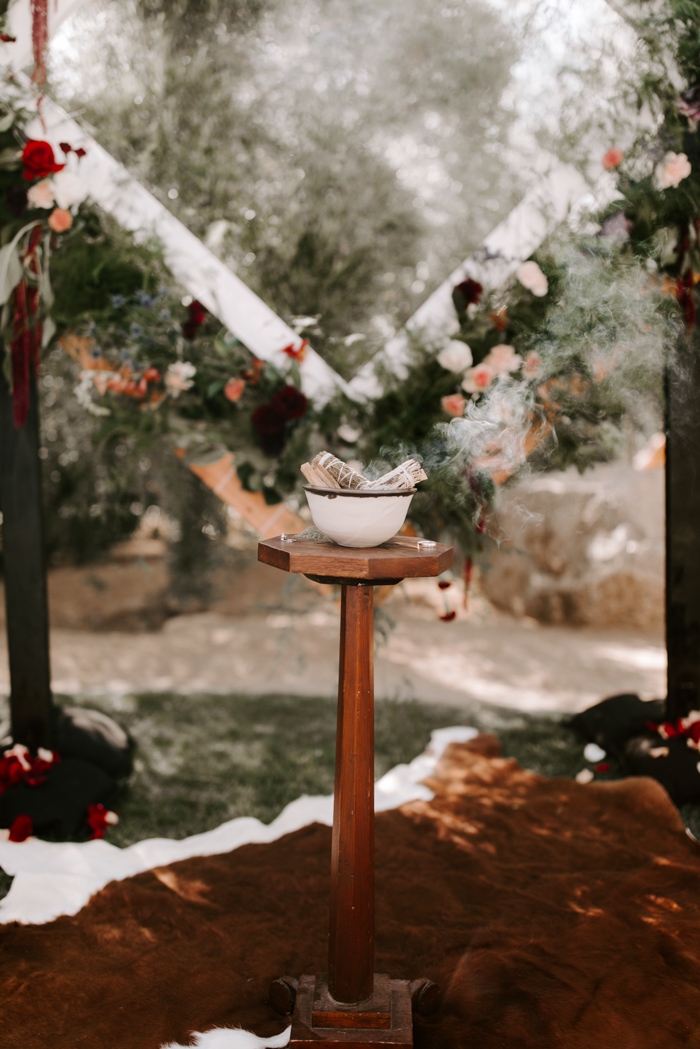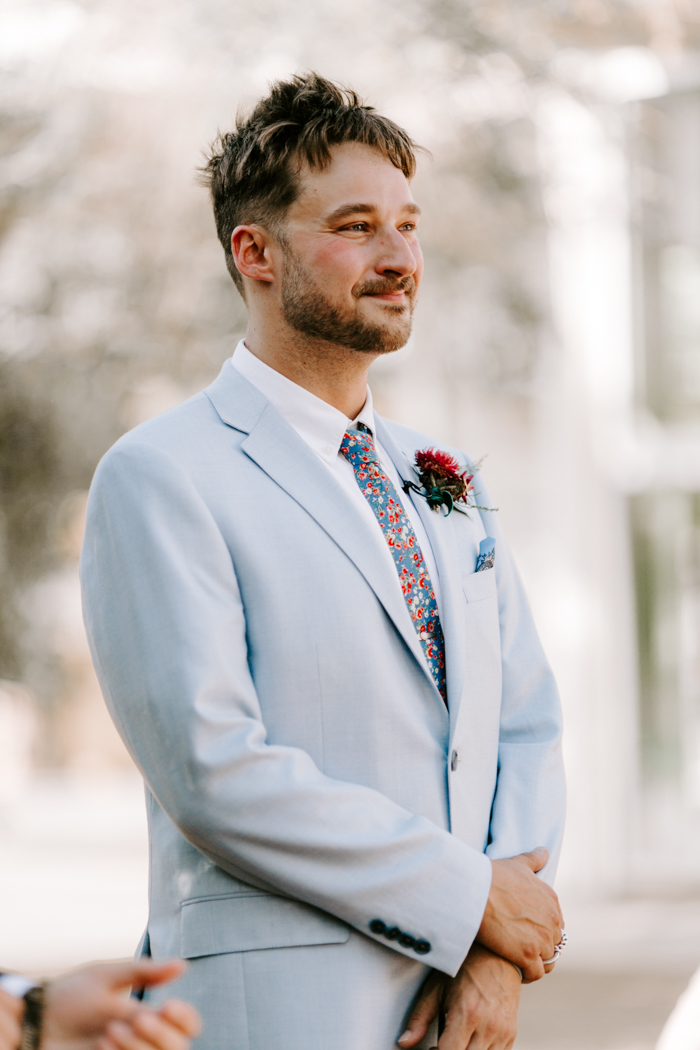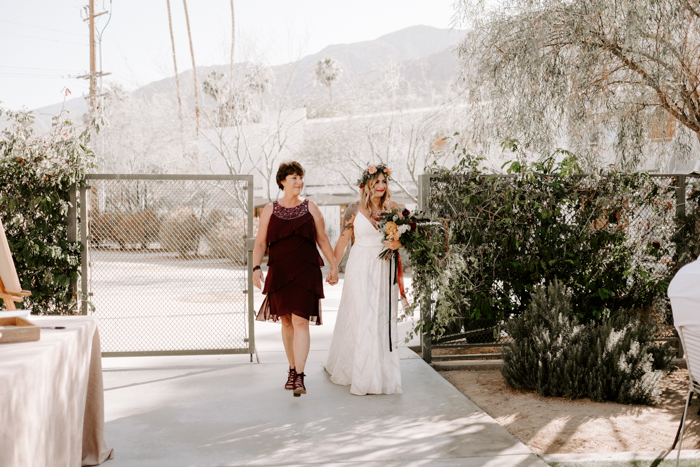 We did a few things to personalize our ceremony! First, I am a photographer and I wanted a photo we took during our engagement session to match one from our wedding. So, I stopped the ceremony, had my friend hand me the camera, and took a photo of Michael during our ceremony. I also wrote a poem about meeting Michael as a part of my vows. We also burned little scraps of paper with the things we are leaving behind out of our relationship on an altar. And our officiant burned Juniper as people arrived to set the tone. We also had our dogs with flower collars walk down the aisle with our best man and maid of honor. Lastly, nobody but our officiant stood up with us.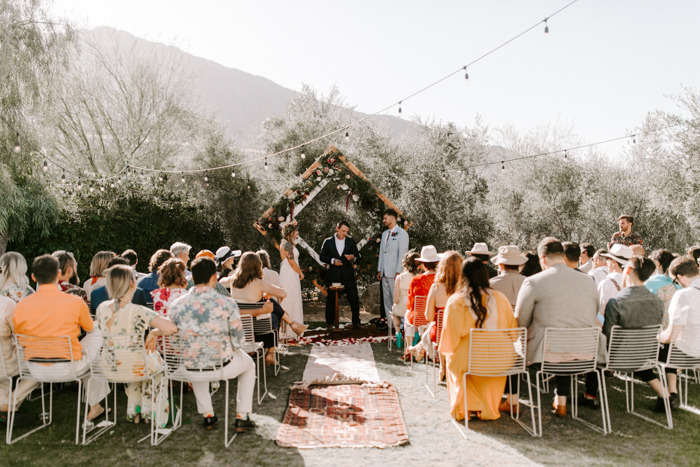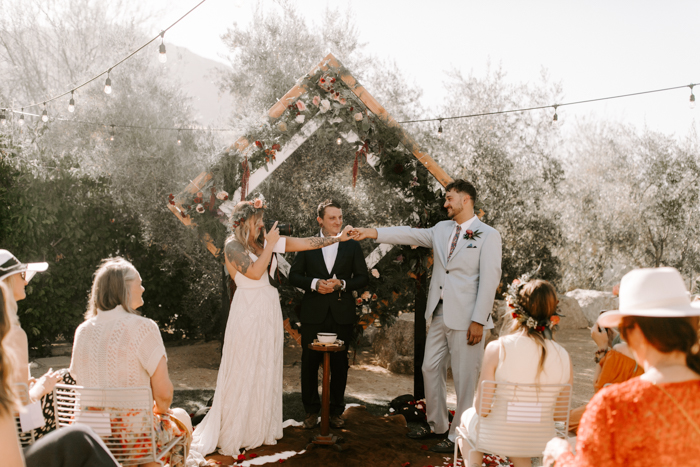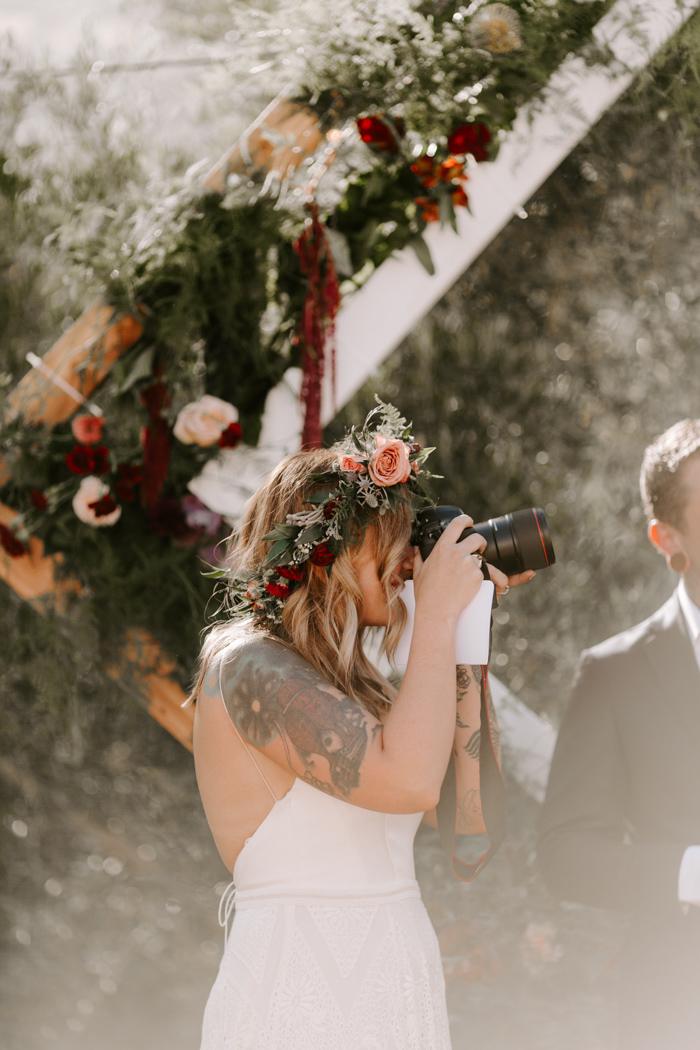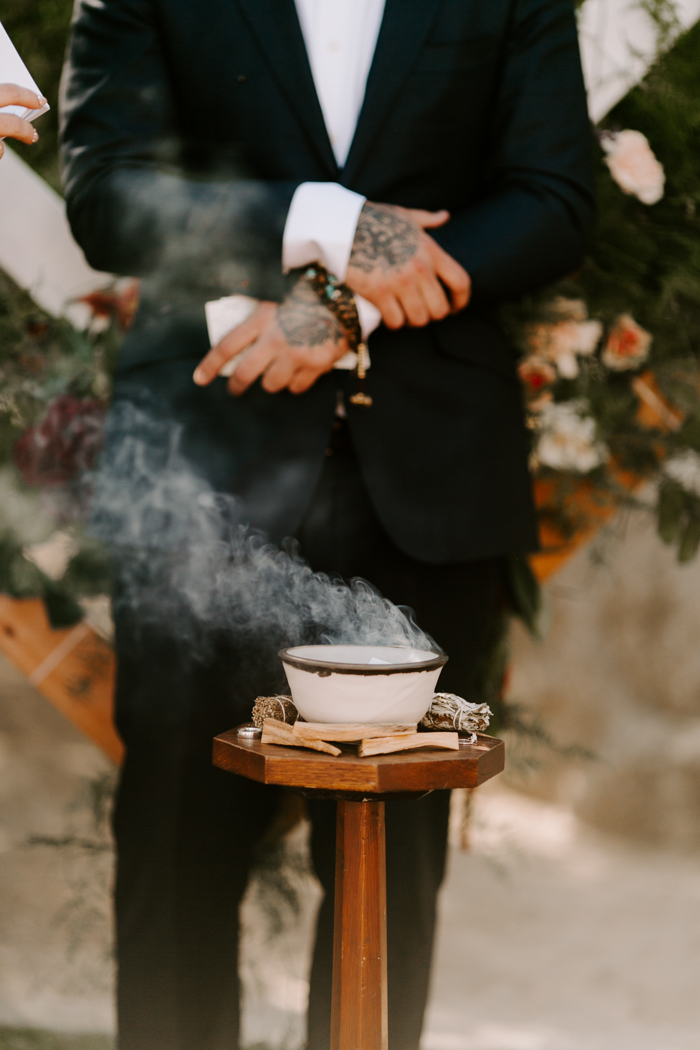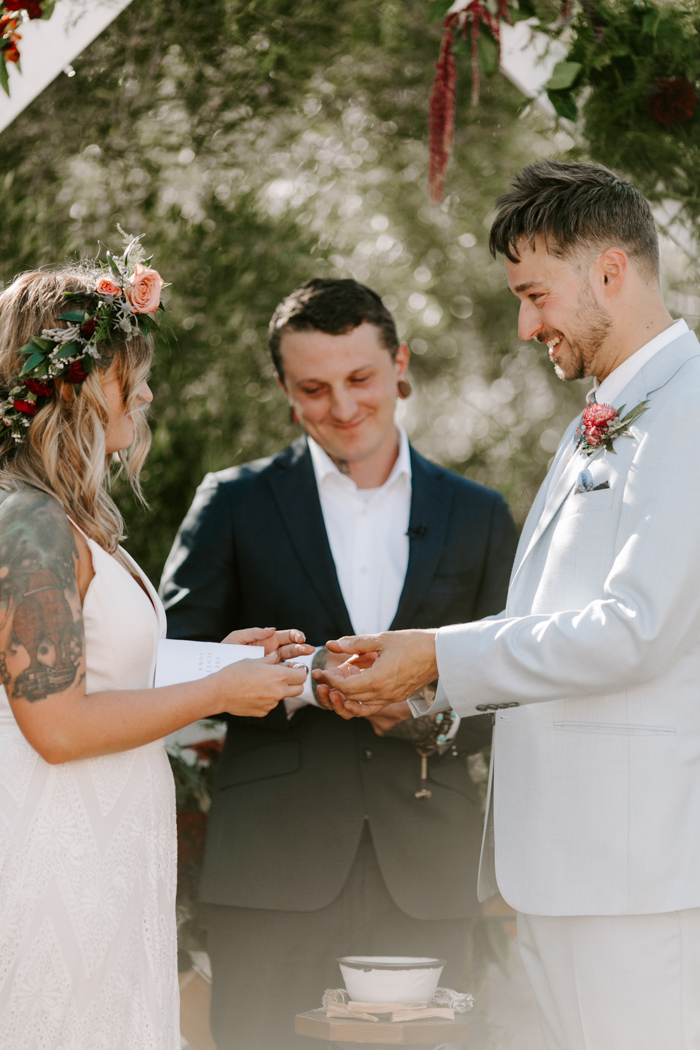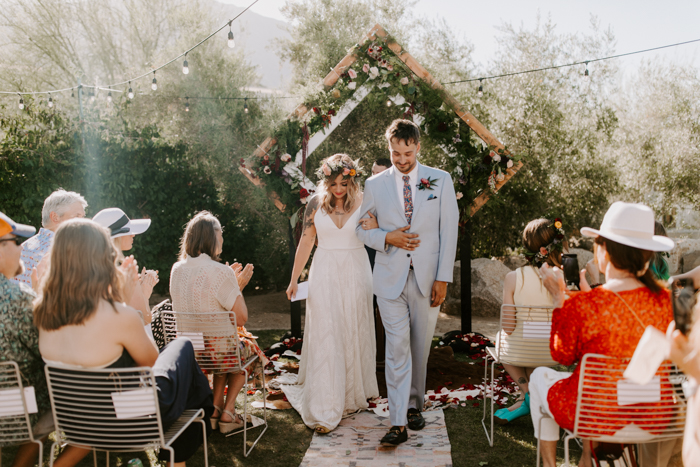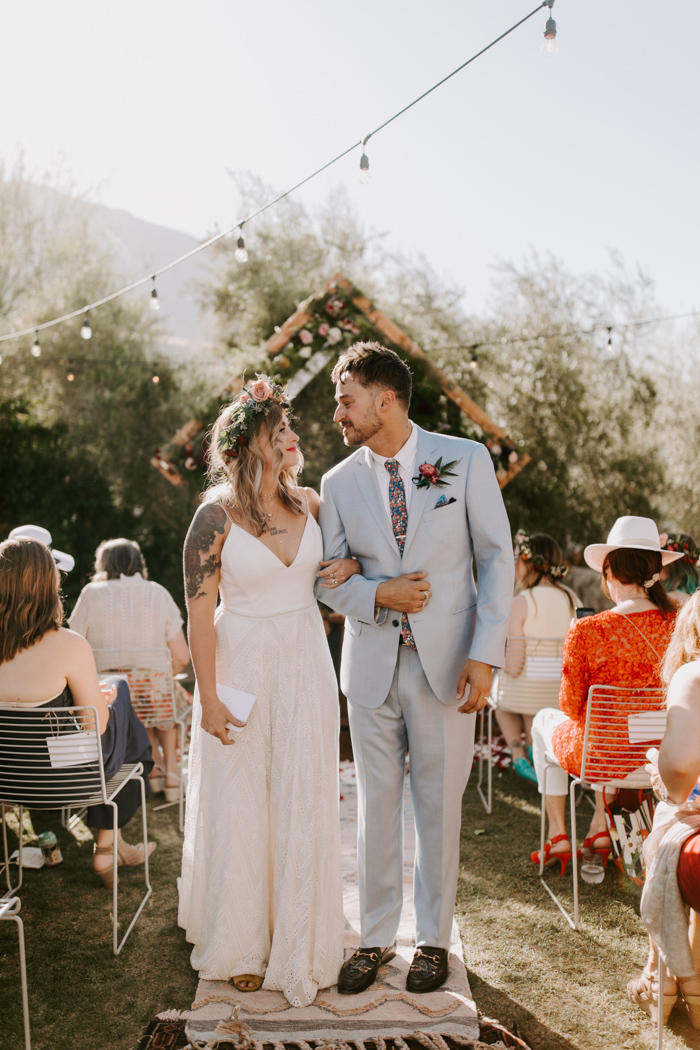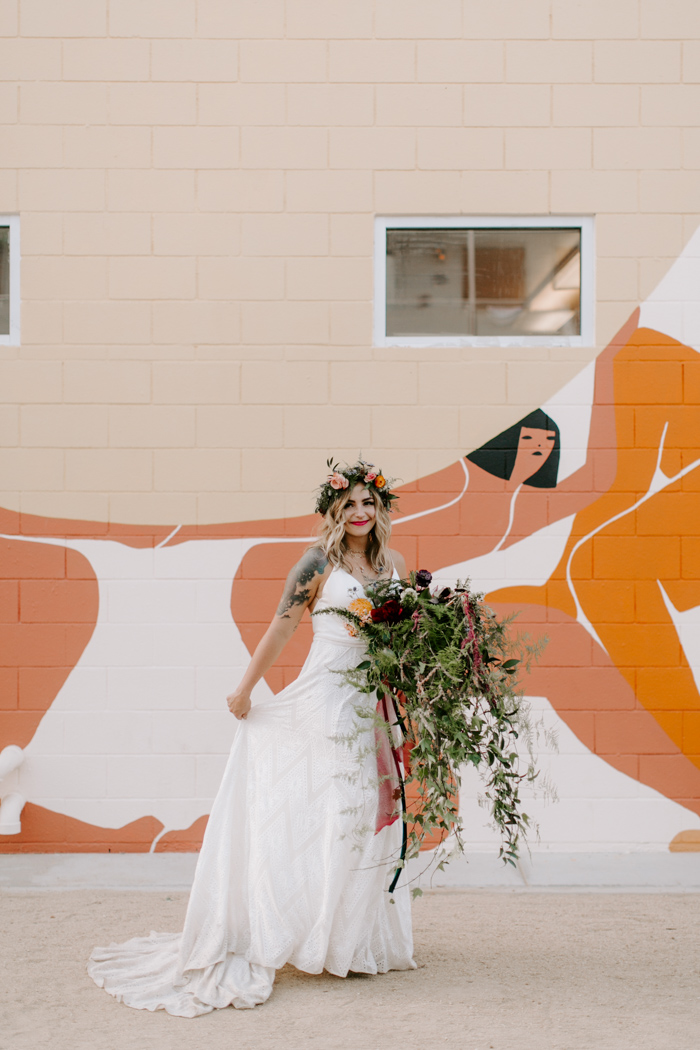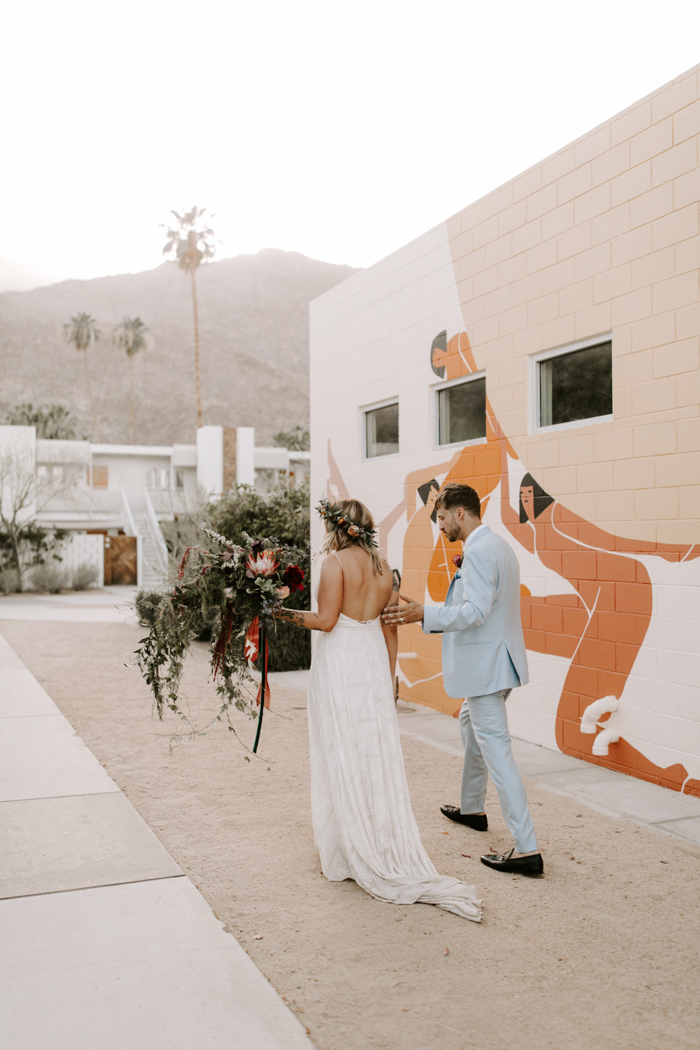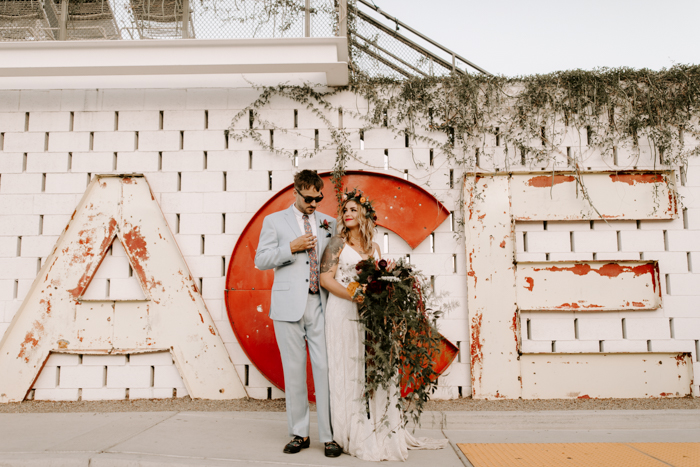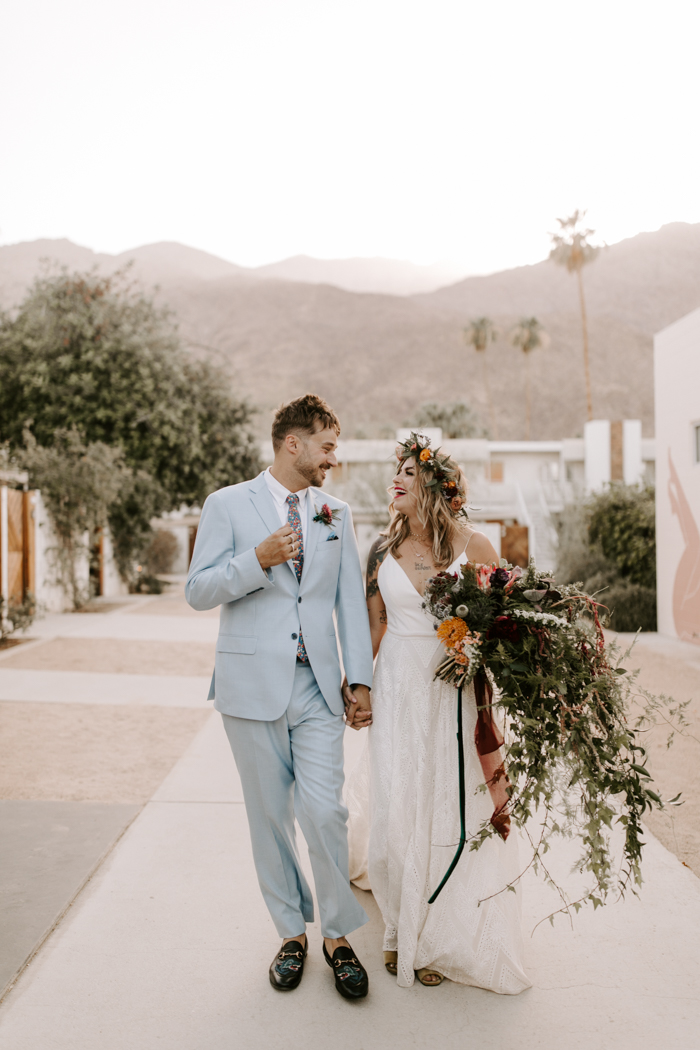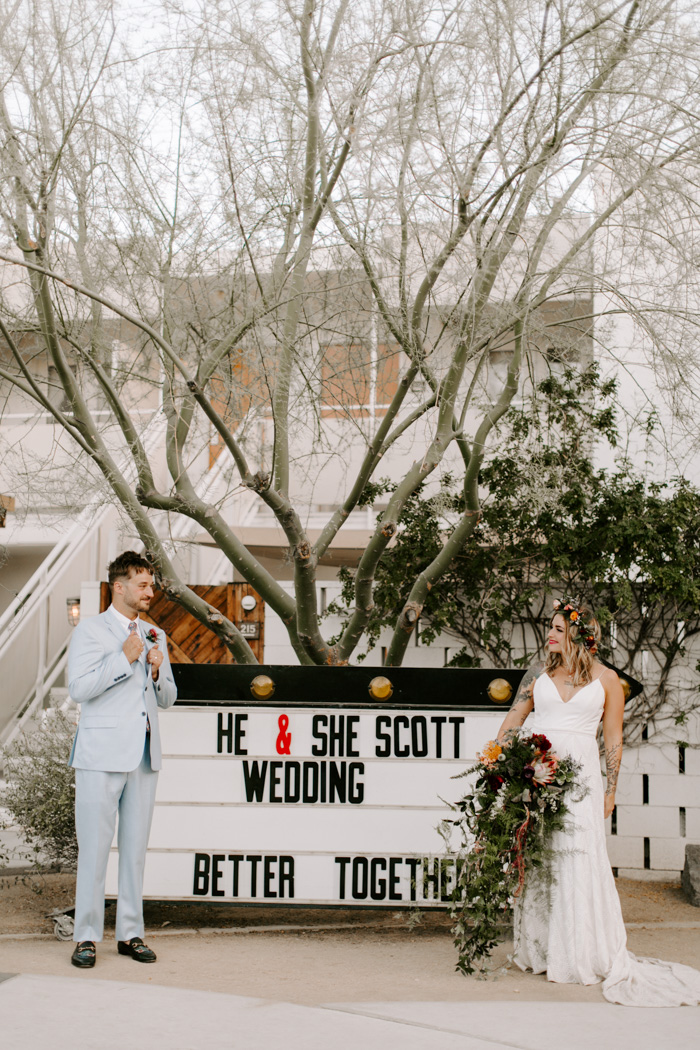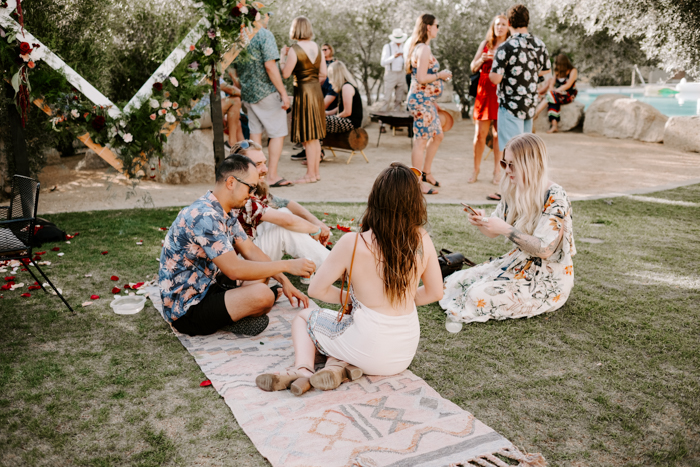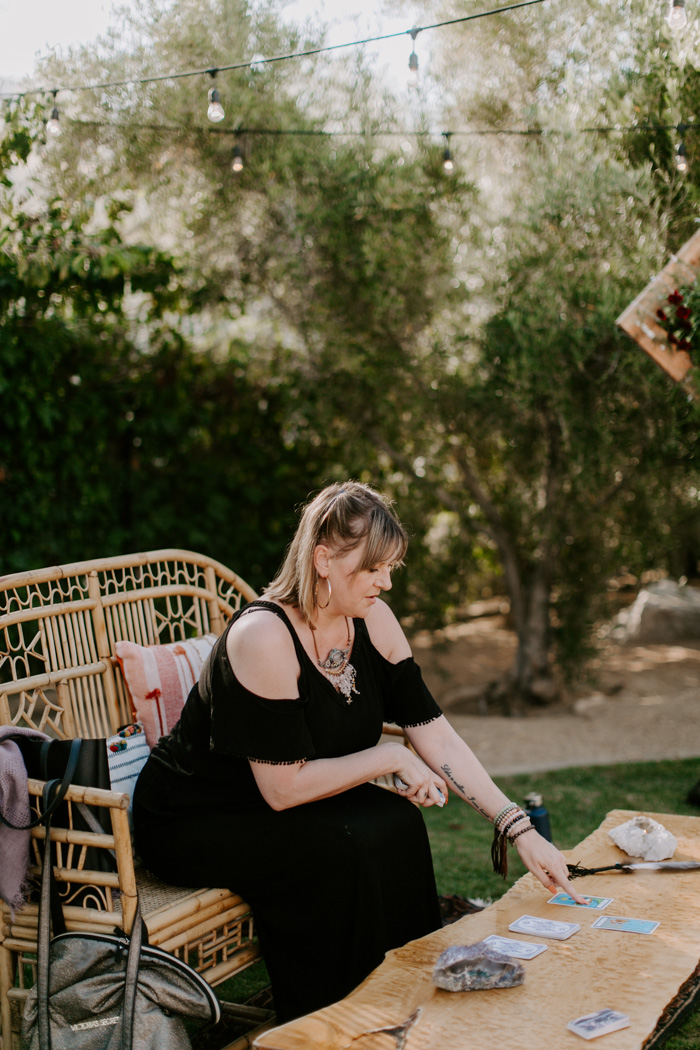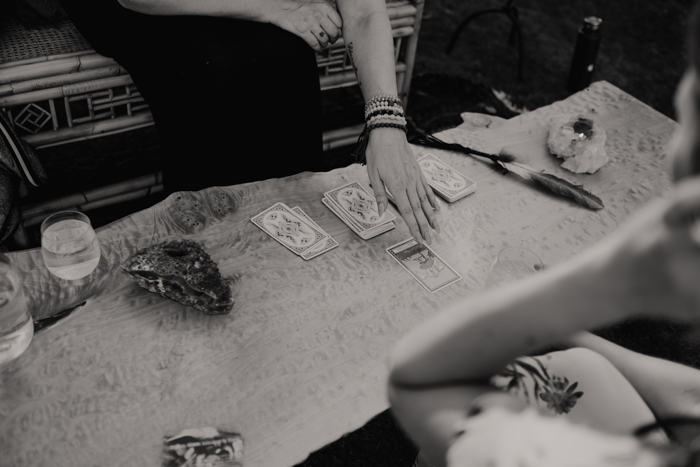 We DIY'd nearly everything! From our altar to little flags that had our ceremony program to the denim jackets to the table runners (thanks mom!) to our three separate lounge areas. We had a day-of wedding planner but no decor help. We drove from Colorado to California with a U-Haul full of couches, pool floaties, sheepskins, a neon sign that I had designed, and nearly everything we needed for our wedding. We wanted to repurpose it in our home after our wedding! Now our living room has a gorgeous cowhide rug that was in our hookah lounge, and we have Moroccan lanterns in our yard.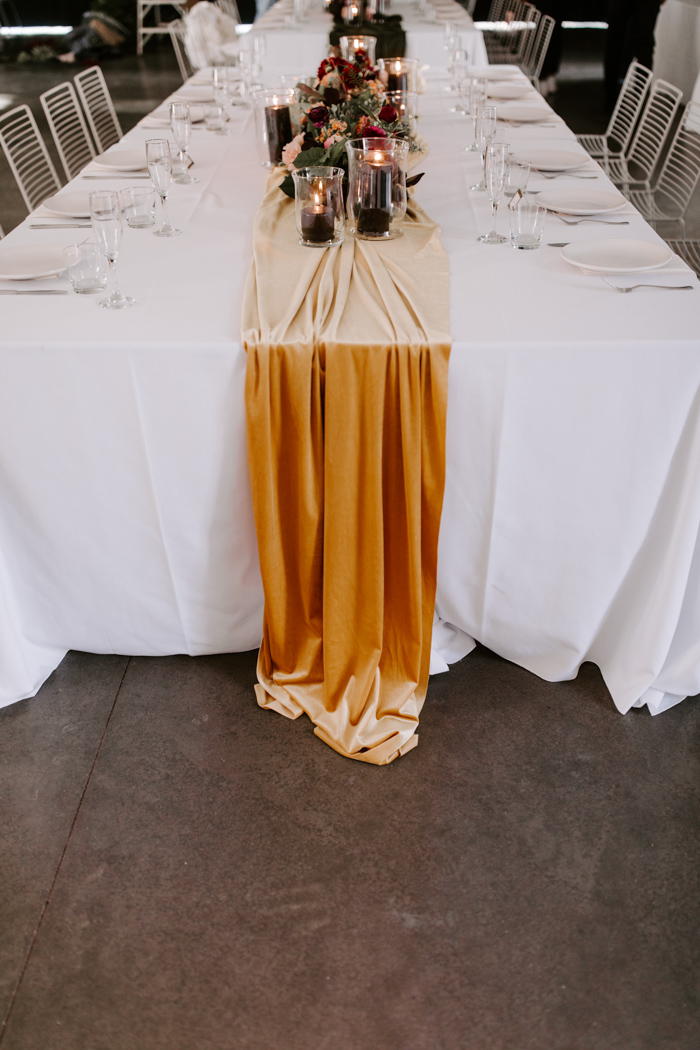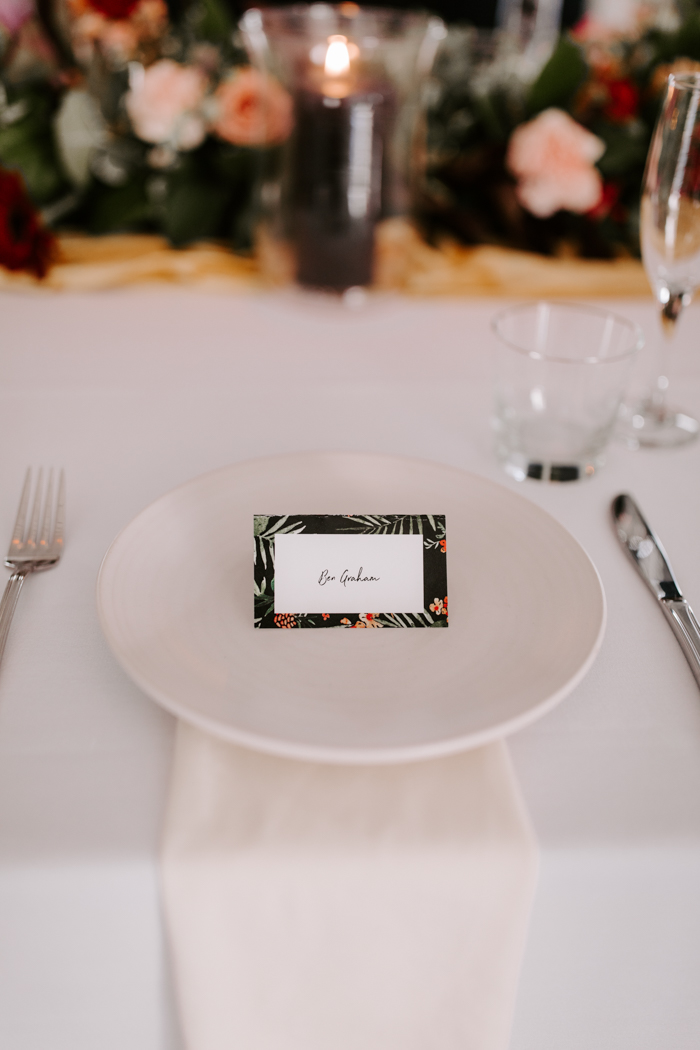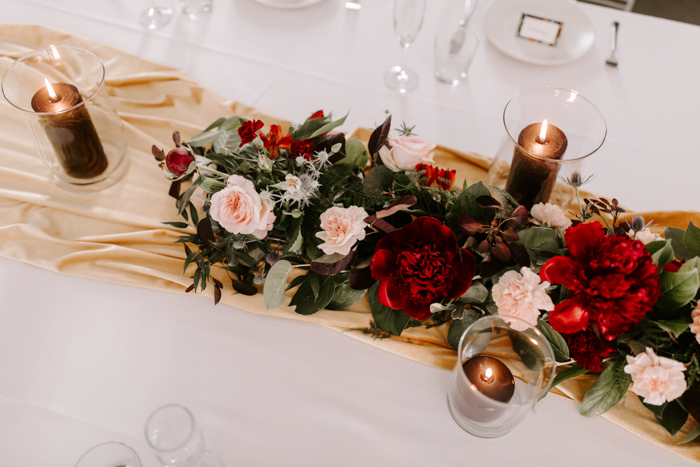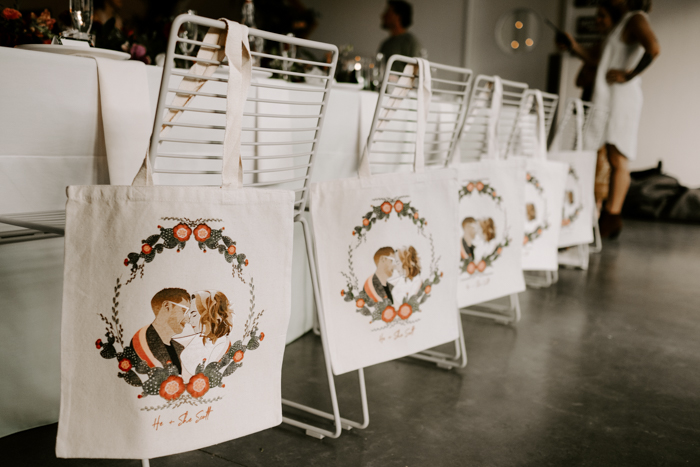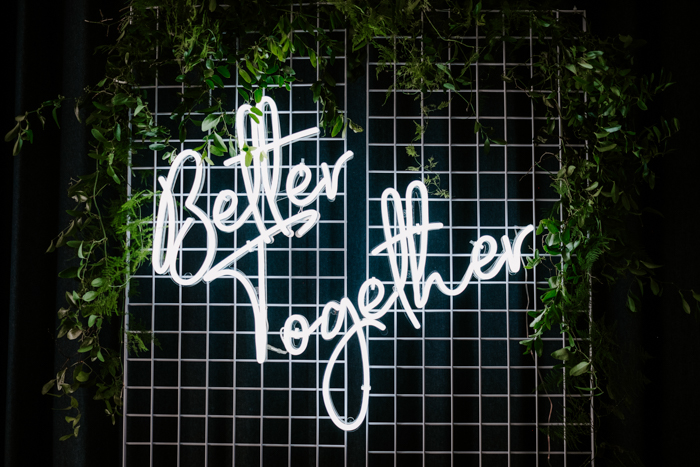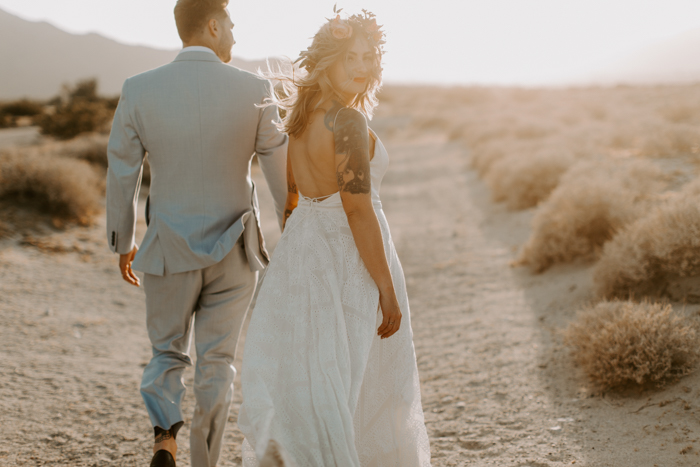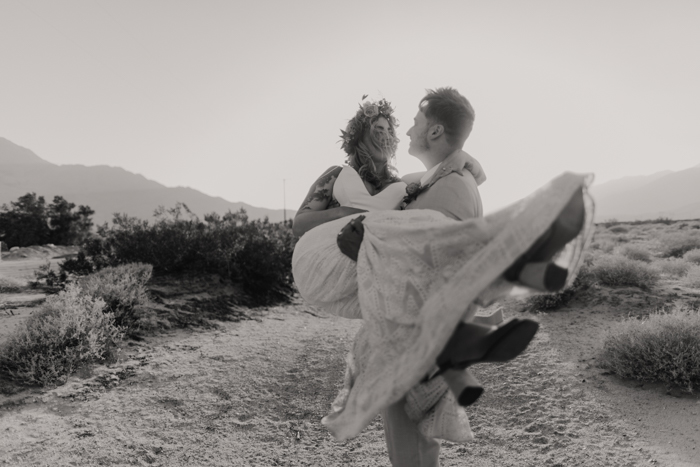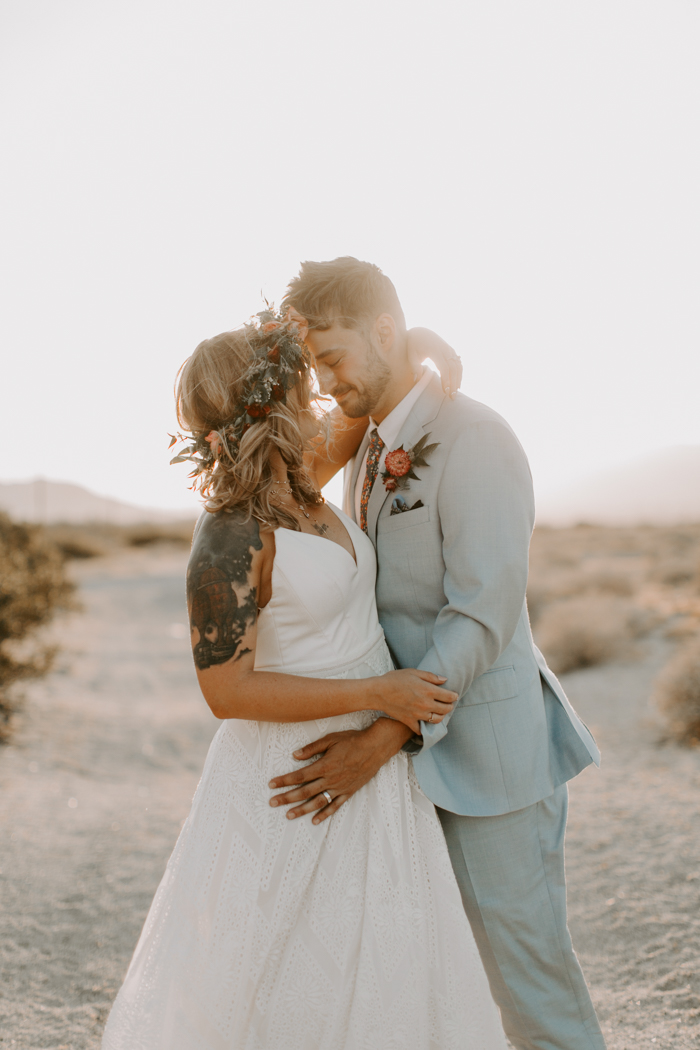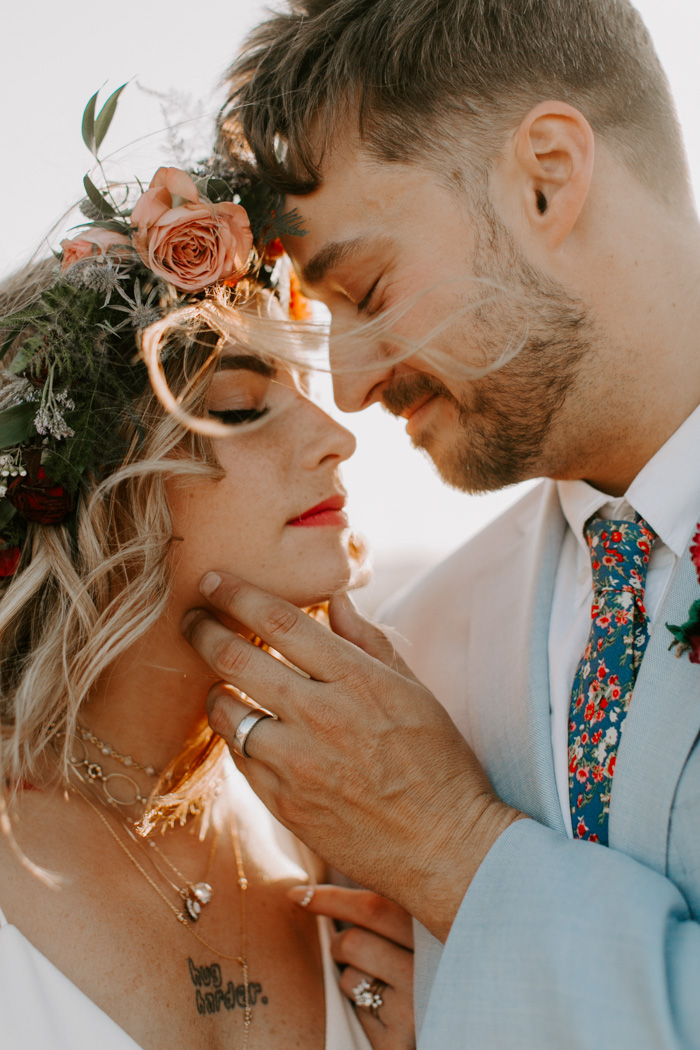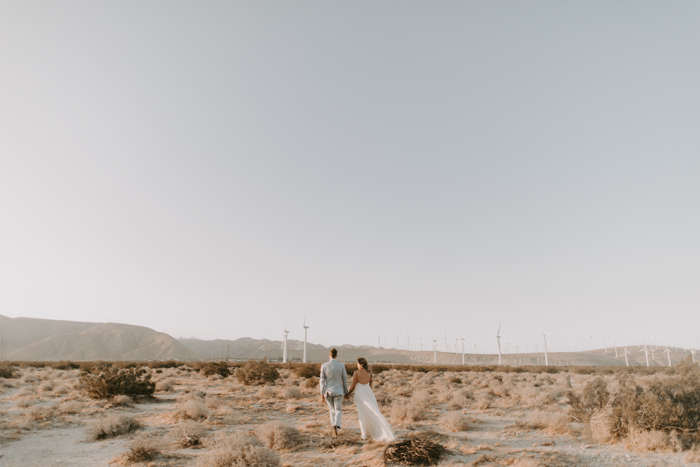 I wore two dresses: one was a Rue De Seine dress and the other was my mother's dress, which was altered to become a more modernized two-piece. I also wore layered necklaces from Child of Wild and a custom ring stack from Anna Sheffield. I wanted to just be myself, a woman of many layers: classy, quirky, bohemian, minimalistic. The flower crown was created by the florist and I didn't see it until the morning of the wedding.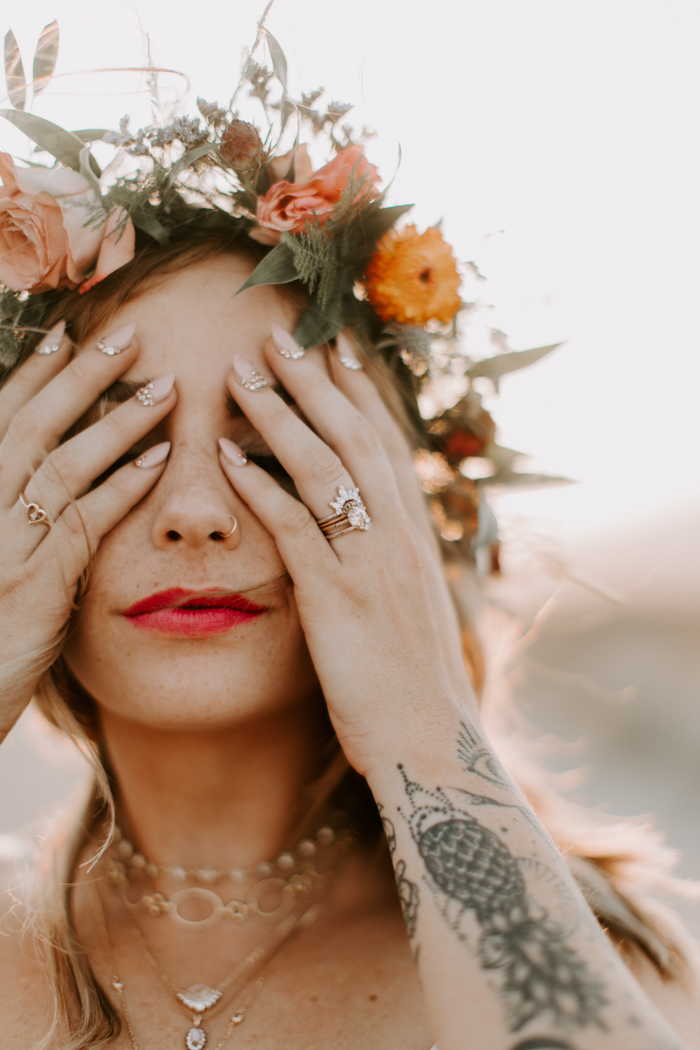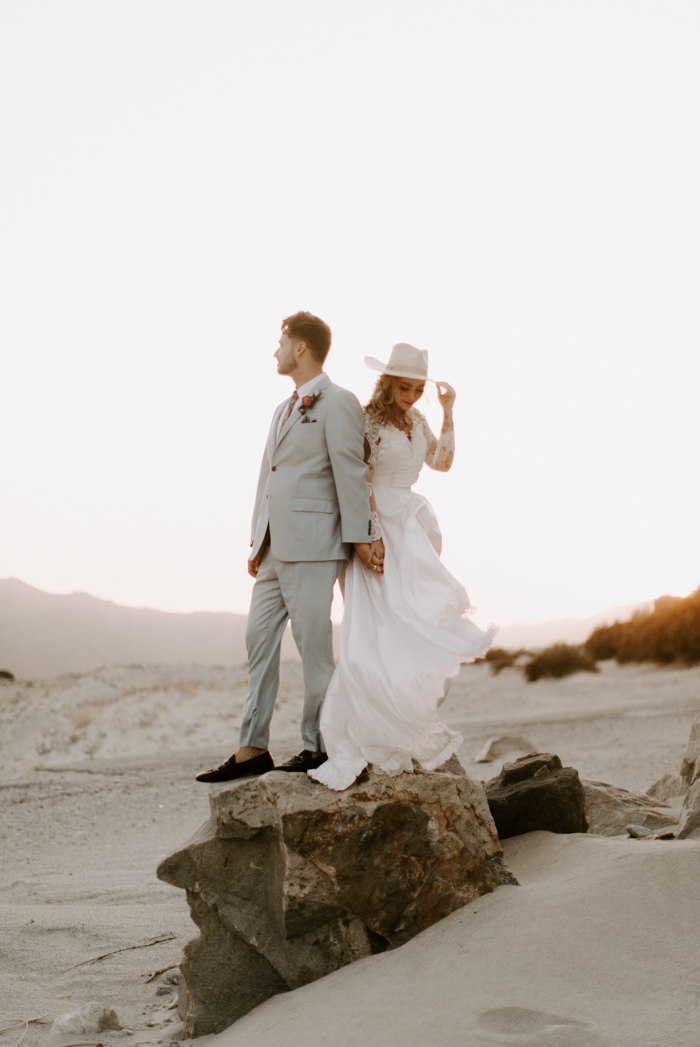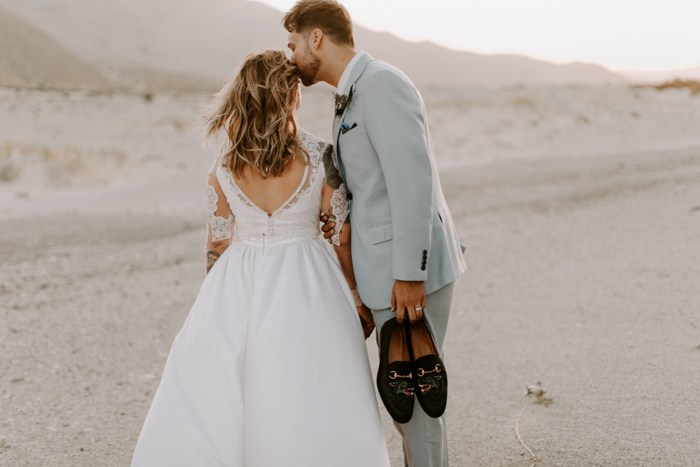 I also surprised Michael by having nail decals of his face made. I thought it would be creepy/funny to have him looking down at his own face as he slipped the ring on my finger during their ceremony. All of my girlfriends and family sported Michael face decals on their nails for the day. Needless to say, it created a ton of laughter and scared Michael a bit!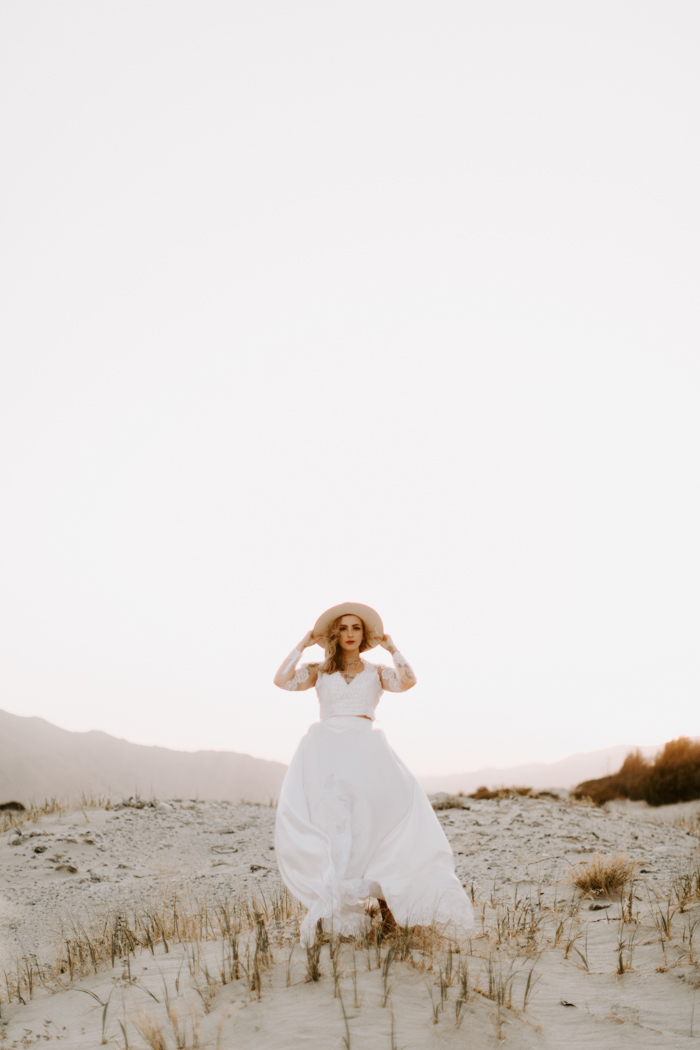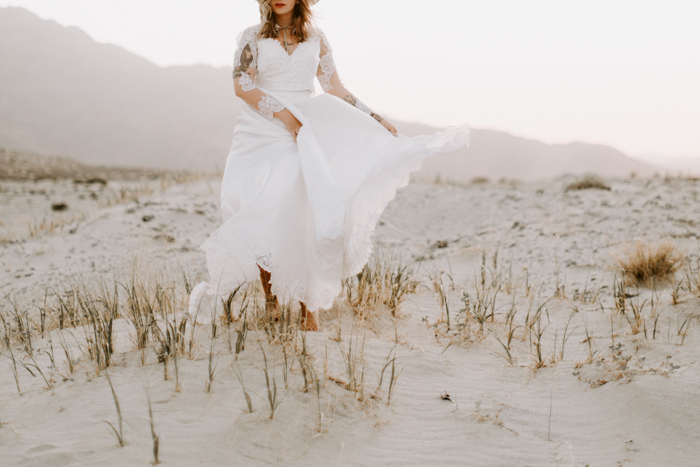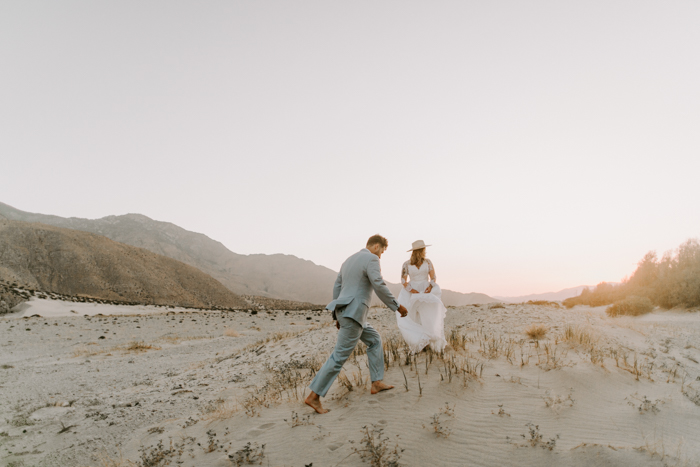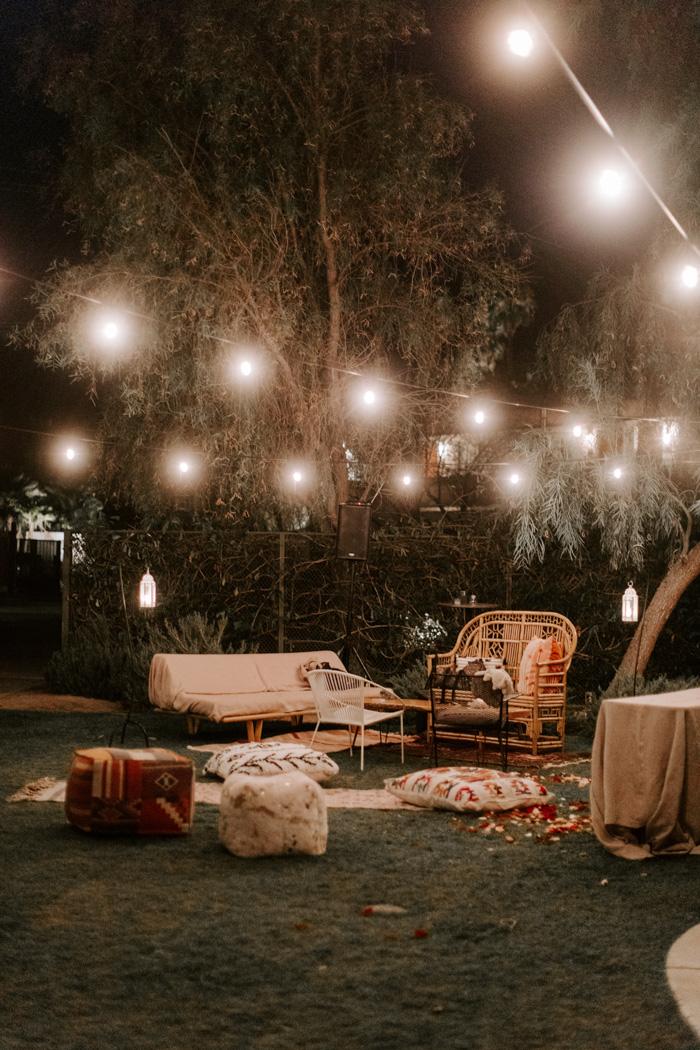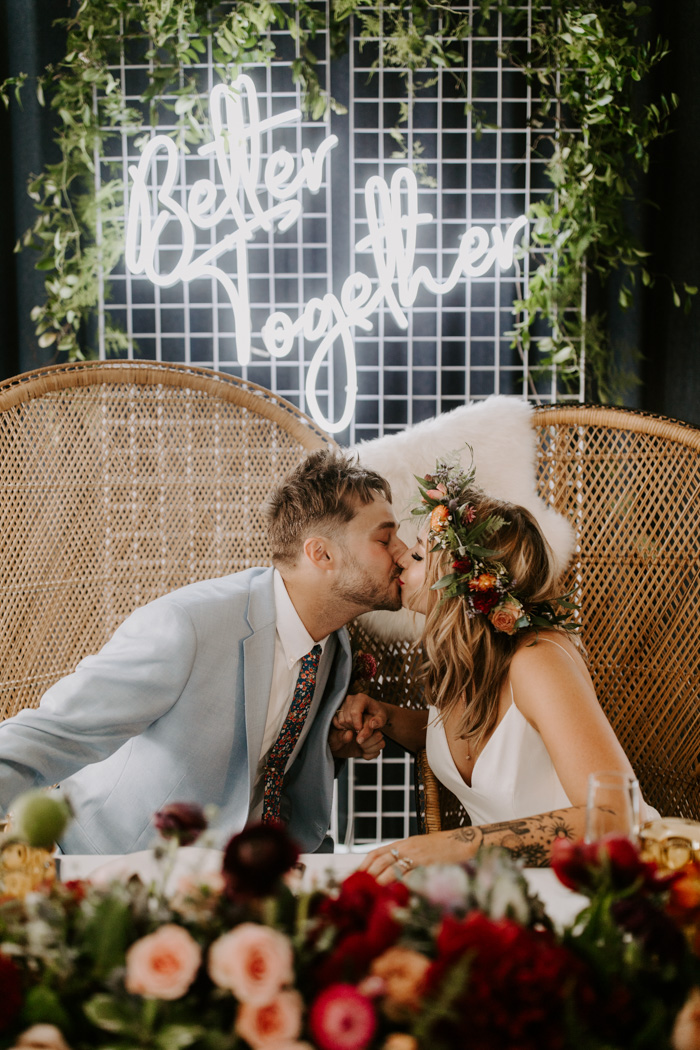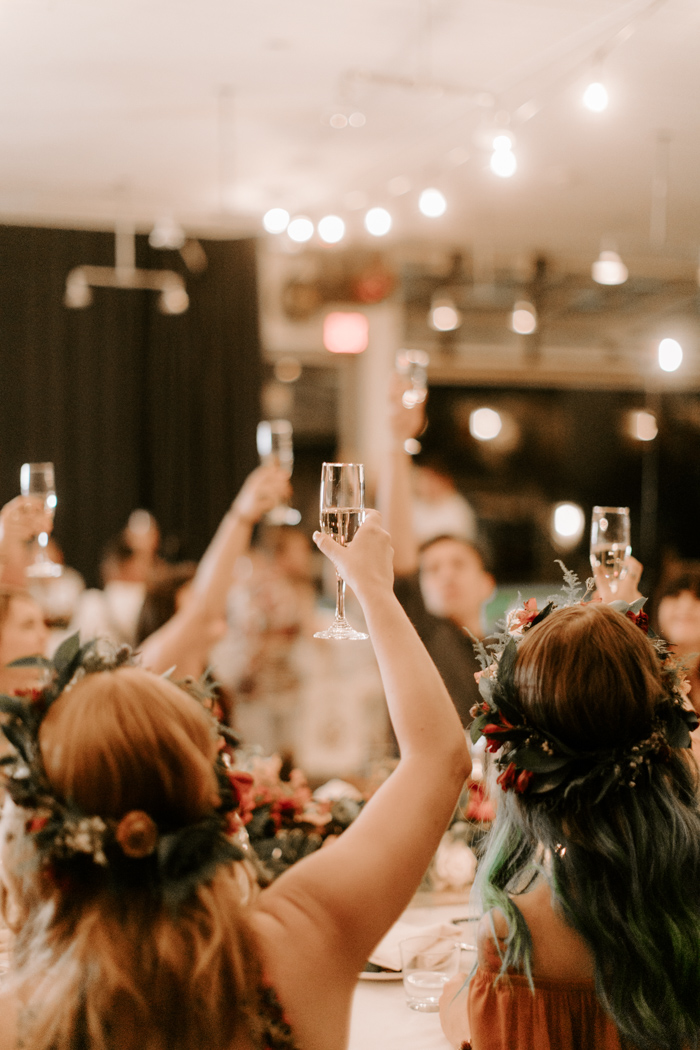 Processional – "Everywhere" by Fleetwood Mac
Recessional – "Love" by Kendrick Lamar
First Dance – "Better Together" by Jack Johnson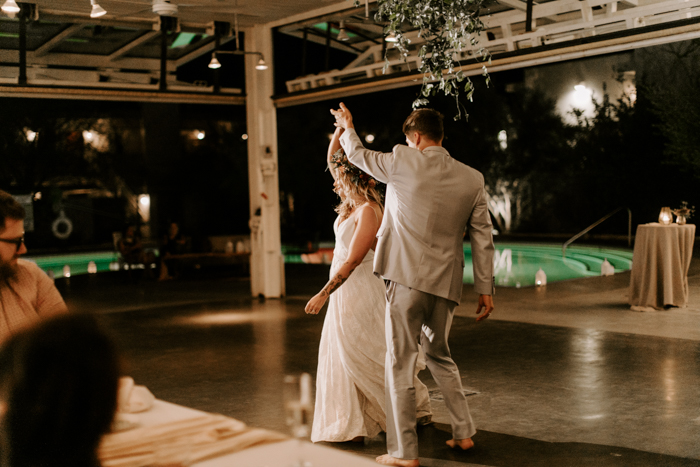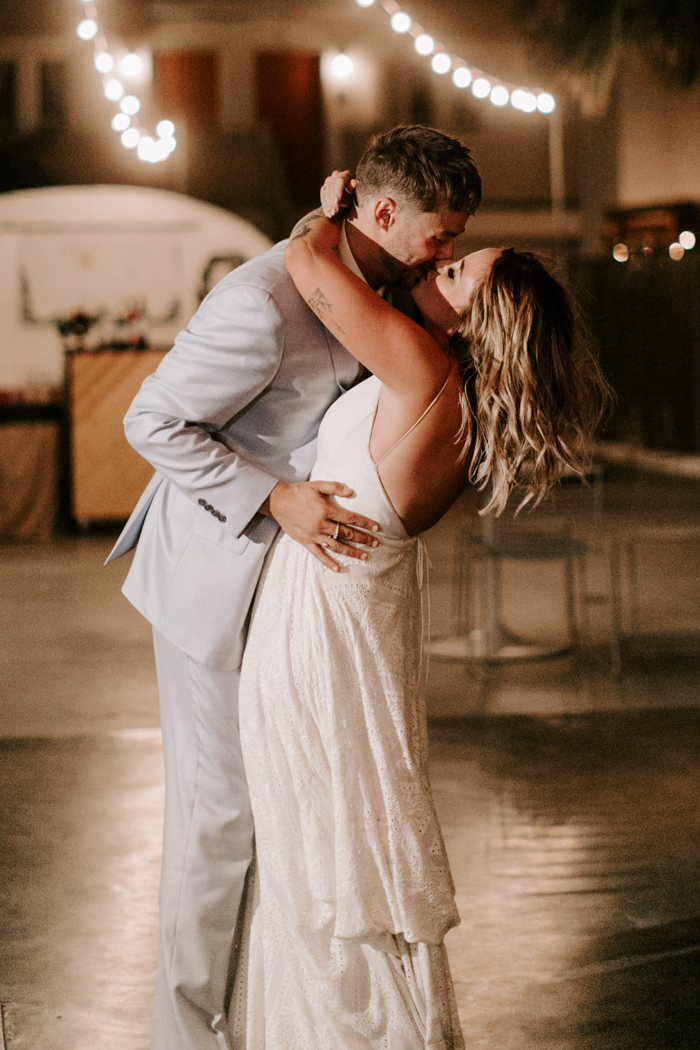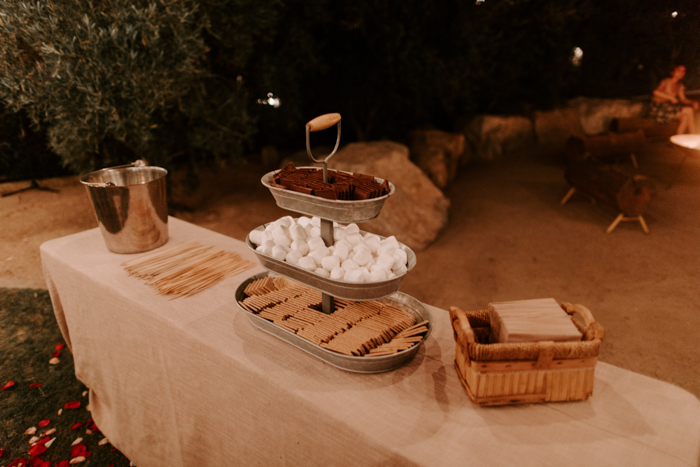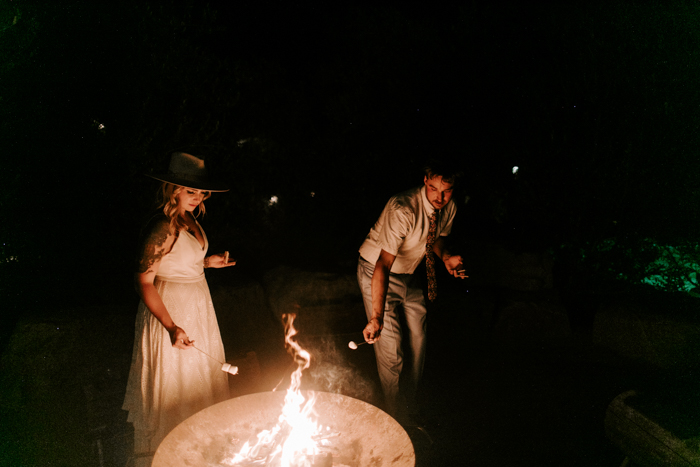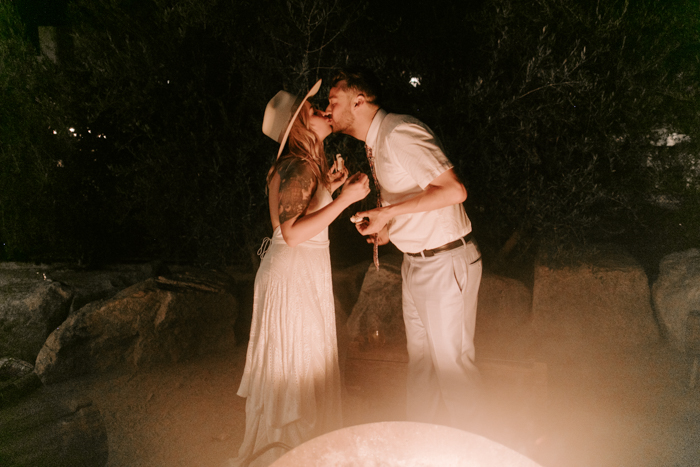 Congratulations to Rachel and Michael, and a huge thanks to Jaicee Morgan for sharing this beautiful Ace Hotel Palm Springs wedding with Junebug! Interested in doing some DIY project for your own wedding? Get inspired by 9 couples who nailed their DIY weddings!