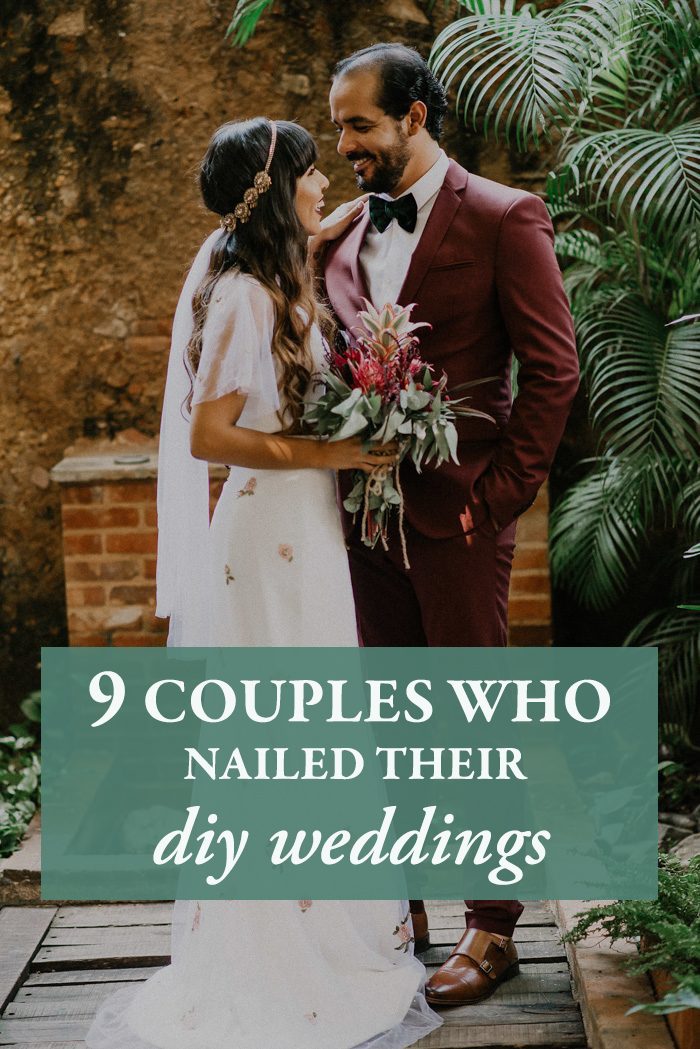 photo by Ricardo Enrique Photography
There are few things we love more than brilliantly crafted and meticulously curated DIY weddings! Junebug couples continue to find new, creative, and seriously impressive ways to personalize their big days, which is why we decided to do a round-up of some of our all-time favorite DIY weddings. Below you'll find collages of the details the couple (or their friends and family) made, as well as explanations of what they did and/or how they did it. If you're feeling particularly inspired or just want to learn a new crafty skill, we also included video tutorials to help you recreate some of the projects.
ANGELA & COLIN
Angela and Colin's DIY wedding was a bohemian-inspired dream come true! The bride created macrame and tapestry hangings, freeform bouquets and centerpieces, hand-painted signs, a gift teepee, and a copper "taco bout a party" board to display their llama keychain favors. As if that wasn't enough, she even learned the shibori fabric dying technique to create custom indigo napkins for each guest! If you're interested in the shibori dying technique, check out the video below. Then, don't forget to check out the rest of Angela and Colin's wedding right here!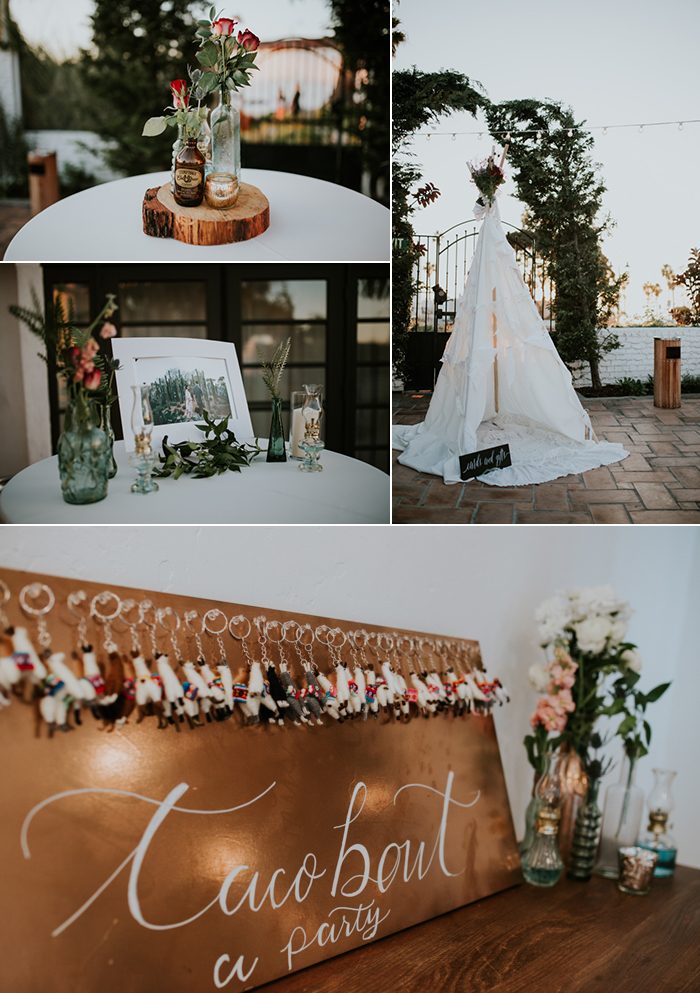 Shibori was something I was wanted to explore with for some time, I wanted our vibe to be simple, but also bohemian. Shibori was a staple look that I could work with whether I wanted to make it classy or rustic, once I knew I could play around with look in whatever circumstance I was sure this was the best choice. Each guest received a napkin hand dyed shibori, I bought muslin fabric to really get that deep blue indigo look. I made all my own macrame and tapestry hangings, some were made out of the macrame cord, my biggest one I made, was made out of piping cord, a thicker cotton rope. I mainly just searched basics on Pinterest and made my own designs based on what I learned.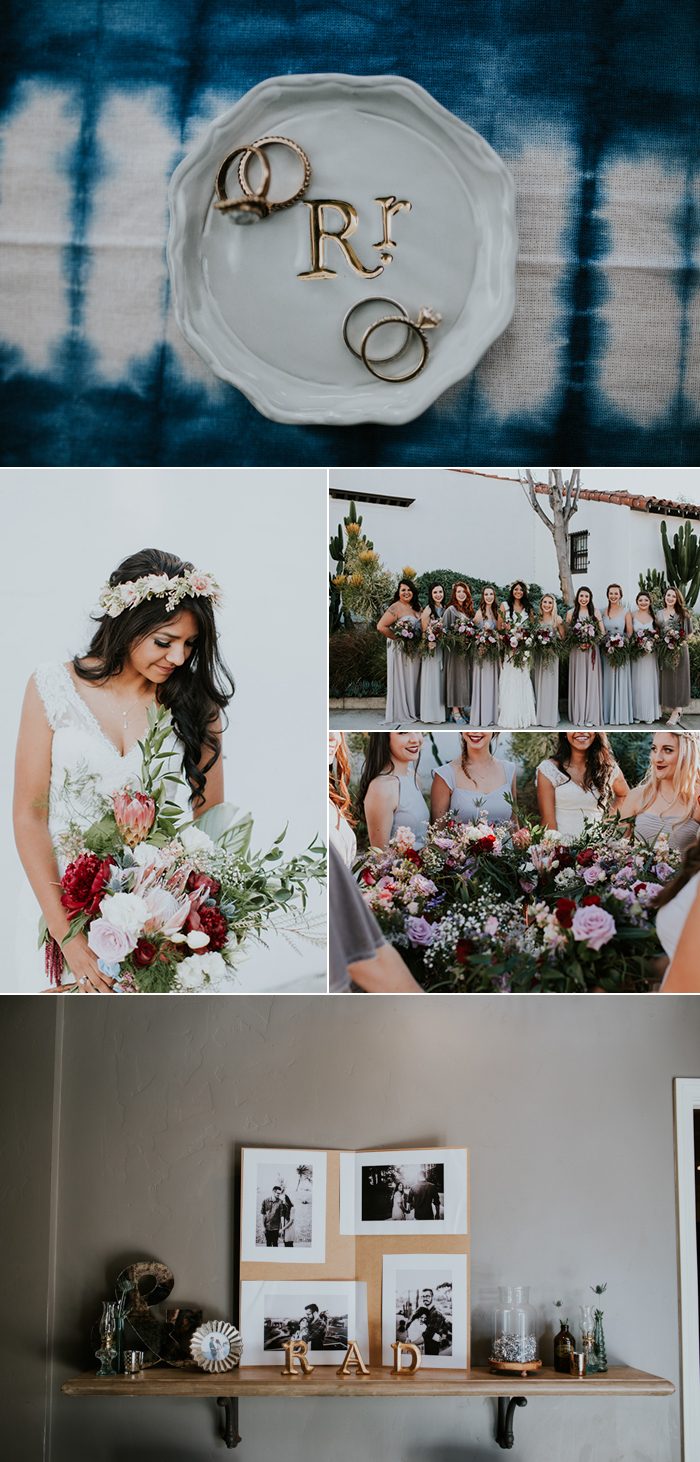 I did all my florals for my wedding day including installations, centerpieces, but of course, I had a few helping hands, but I created all the bridesmaids' bouquets, along with my own. I studied bouquets and color themes and then created what bouquets I liked. Most of my signage was handmade as well, I bought plexiglass and collected mirrors around my room, and did calligraphy on all of them. This was just something I learned through friends, Pinterest, practice. Our guests take home gifts were tiny llama keychains, that were a little representation of my husband and I. I built a hanging board for them, just painted it metallic copper, and nailed in some push pins, and wrote in calligraphy. Lastly, I made the gift teepee, I had lace fabric, and four poles of wood that I propped up with rope, there were plenty of tutorials to build an intricate teepee, I settled for a simpler set up.
LEARN THE SHIBORI DYE TECHNIQUE

See Angela and Colin's full wedding feature here!
MEGHAN & KASH
The cozy and industrial vibes in Meghan and Kash's downtown Seattle wedding were taken to a whole new level with all the DIY projects they completed! To keep the integrity of the iconic red brick venue, the couple kept their palette clean with whites/creams, greys, greens, and subtle pops of mixed metallics and relied on candlelight to set a romantic mood. They DIY-ed nearly every detail, from the centerpieces to the signage to the Irish Blessing guestbook, and the overall look was as charming as could be. If you're interested in learning how to make floral centerpieces like the ones Meghan and Kash created, we found an expert to teach you how below. And, if you can't get enough of their beautiful wedding, you can see the rest of their special day here!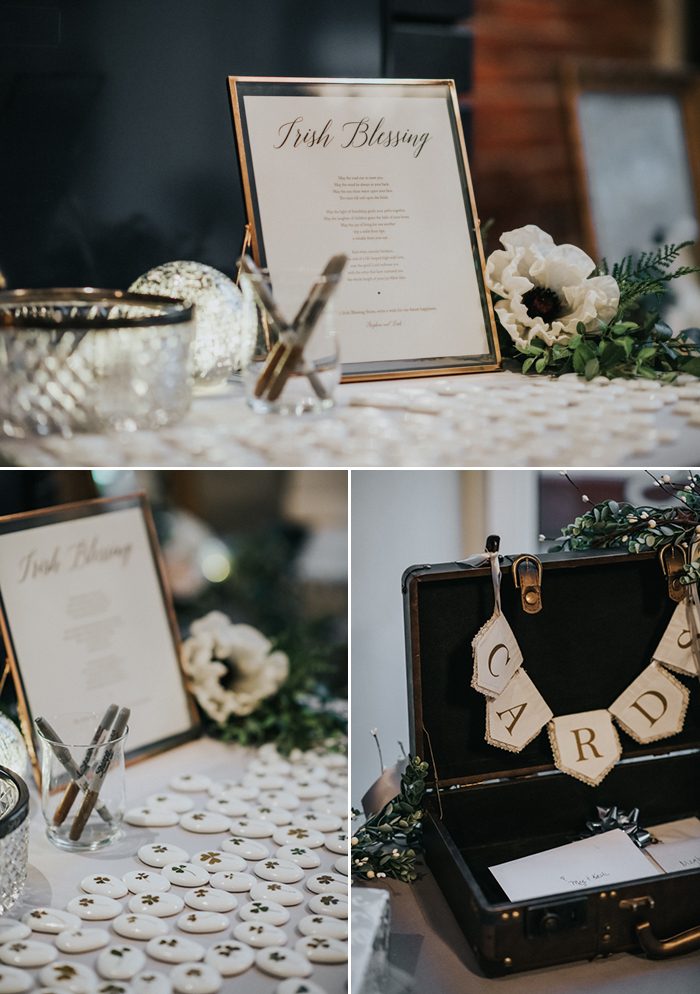 Around 90% of our wedding was DIY. The mother of the bride created a portion of the floral displays using fake flowers for different decorative arrangements. The signage, programs, favors, blessing stones (guest book), and dessert bar were all DIY.

Small details went a long way. The best part about small details is they can be very inexpensive. So, our advice is to pay attention to the little things. Alone they may seem insignificant, but added up they truly contribute to the whole atmosphere. Since our wedding was in January, we wanted a cozy, intimate vibe. We accomplished that by pairing candles and whites/creams with the raw brick. The flowers, lace, and calligraphy added a romantic feel. It was simple and worked really well together.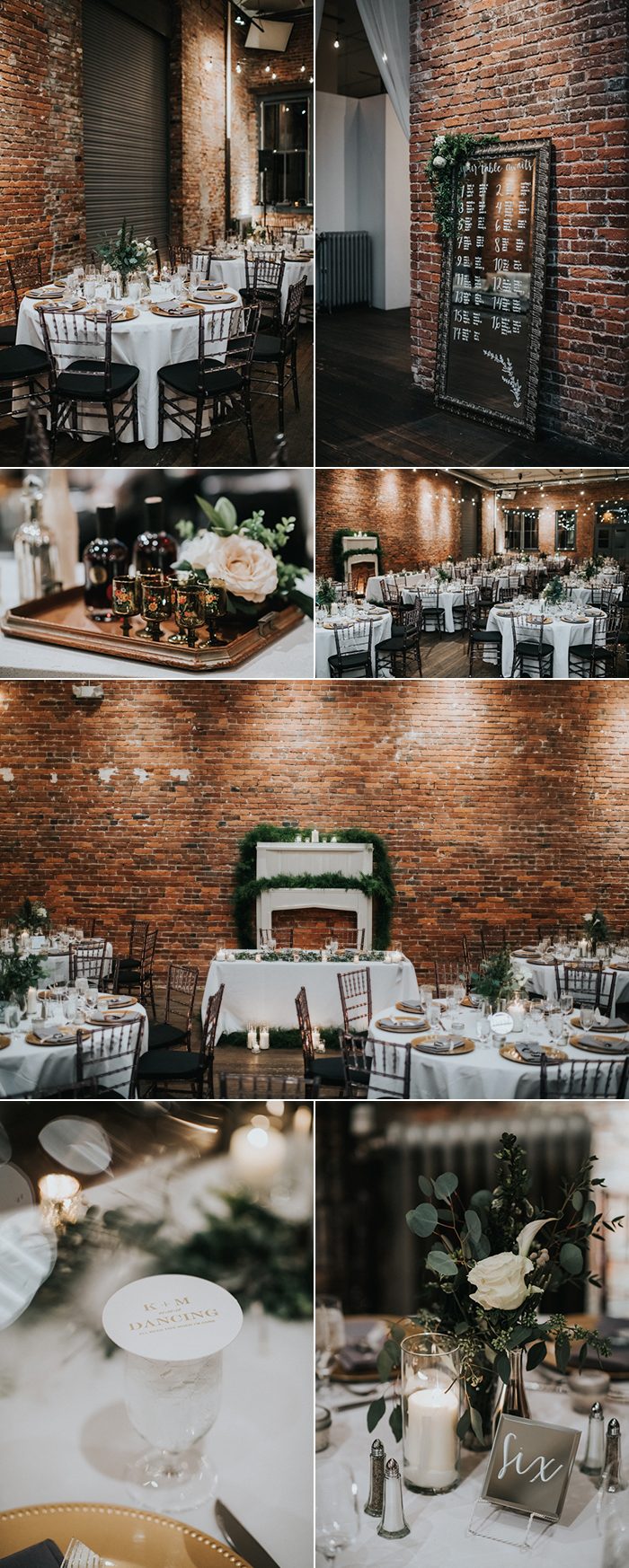 LEARN HOW TO ARRANGE FLOWERS LIKE A PRO

See Meghan and Kash's full wedding feature here!
EMILY & ALEX
When the bride and groom own a home goods store and are committed to making every detail of their wedding, you know it's going to be magical! Emily and Alex's Kansas City wedding took place at an upscale bistro, which matched the couple's modern aesthetic perfectly. They created wood planters, gold geometric table accents, wood signs, and upcycled candle holders. To round out their DIY decor, they also tasked two of their business-owning friends to create the floral arrangements and the most stunning fabric banner we've ever seen! Trust us, you'll want to pin every detail of this crafty wedding, and maybe even learn to make a fabric banner of your own with the tutorial below!
We DIY-ed everything. We run a small business making home goods (complete with fully-stocked woodshop and studio) and are blessed to have a talented group of amazing friends. We couldn't justify buying anything we could make! We crafted all the centerpieces and favors and tapped friends to do the flowers and reception decor.
LEARN HOW TO MAKE A FABRIC BANNER

See Emily and Alex's full wedding feature here!
JESSIE & ZAC
Nearly every detail of Jessie and Zac's lovely camp-inspired wedding was either handmade by the creative duo (professionally known as The Sturgeons) or by their equally talented family and friends. Their woodsy camp venue offered the perfect rustic backdrop for their relaxed design and allowed the handmade macrame hangings, the flower arrangements, the hand-sewn pillows, the hand-lettered signage, and the homemade desserts to take center stage. No detail was left untouched, which is why you should check out Jessie and Zac's full wedding feature here! If you're curious how to recreate their green and white floral table garlands, see the tutorial below.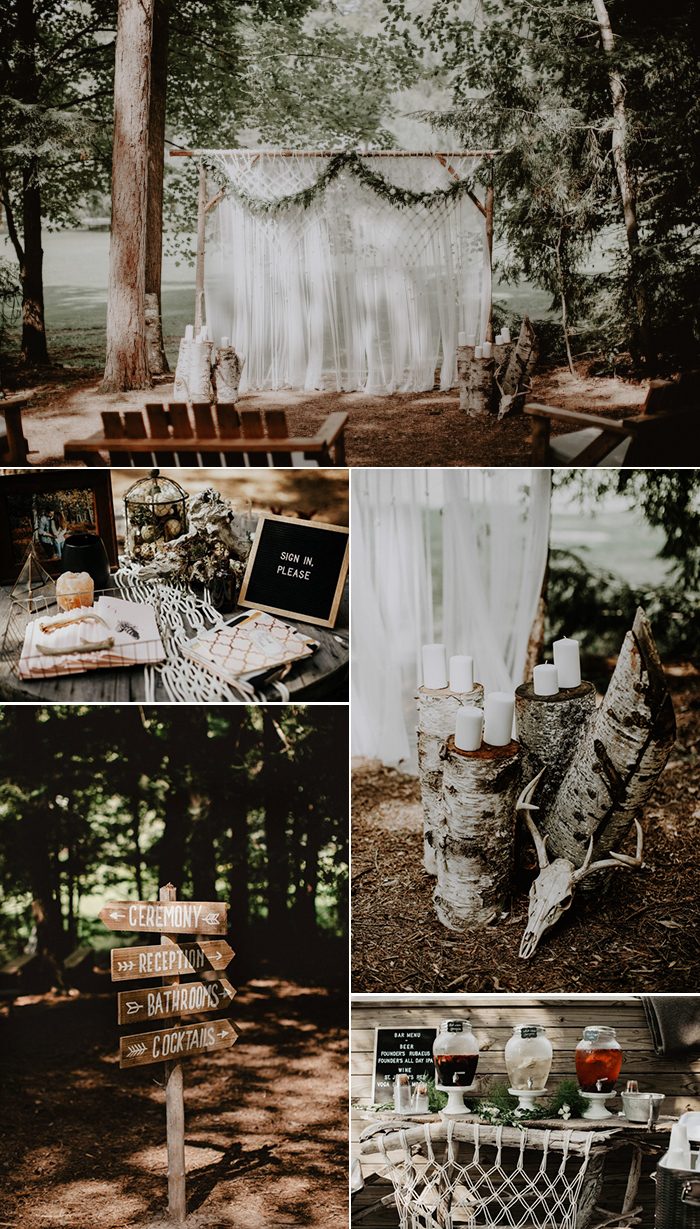 If we didn't make something ourselves, someone else close to us did! The entire day was crafted by us or our loved ones. It was amazing how many helping hands and creative people we are so lucky to be surrounded by. Everyone poured their talents into our wedding. Jessie's sister made the bouquets, Jessie's mom made a handmade book for us to keep memories from the wedding in, and Jessie's dad made the ceremony arch to hang the macrame Jessie made on. Zac's grandma sewed pillows and cushions for our benches.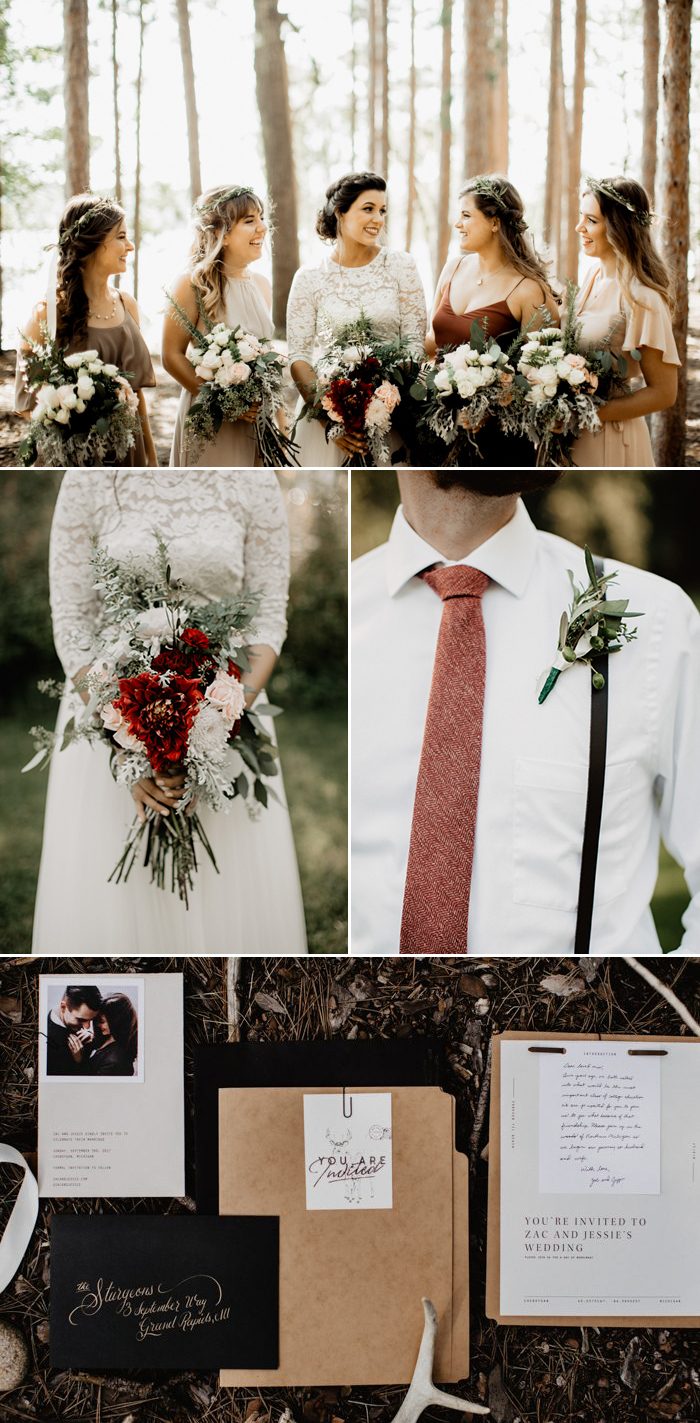 Zac's mom baked pies for those with dietary restrictions. Zac hand-lettered all the invitations and name cards and both of us made and printed our own save the dates and invitations. Zac's best friend, Spencer, illustrated our portraits and other pieces for our invitations, and a classmate from school screen printed our gifts to our guests. There was a lot of love poured into our wedding, and we are eternally grateful!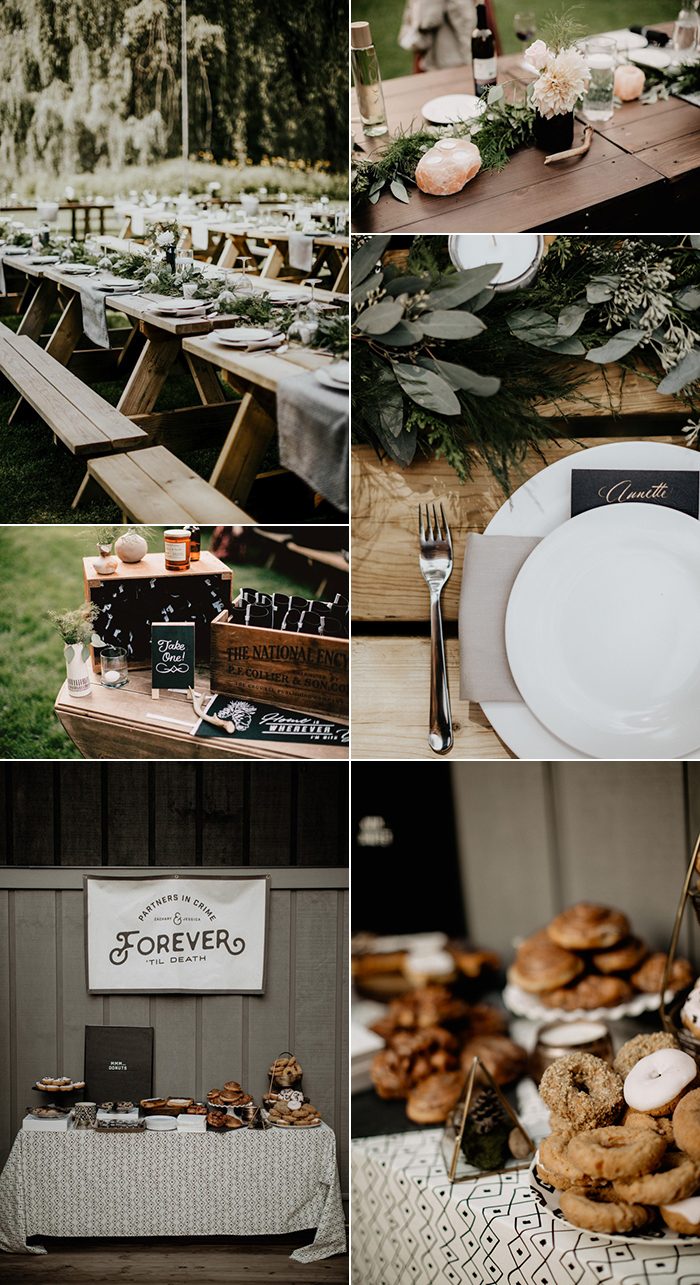 LEARN HOW TO MAKE A FLORAL TABLE RUNNER

See Jessie and Zac's full wedding feature here!
GINA & FERNANDO
We have a huge soft spot for couples that DIY their entire wedding, and this Zona Colonial wedding in the Dominican Republic is proof positive why! Gina, who owns the Los Plebeyos design studio, made literally every detail of this wedding with her work partner and Fernando, the groom. While Fernando took care of all the woodwork details, Gina painted signs, designed floral arrangements, crafted paper goods, personalized two leather jackets, and turned the Spanish-style patio venue into a tropical haven. She even embellished her '70s-inspired gown with pink flowers to match the color palette. This DIY wedding, which you can see here, was goals from beginning to end! We were even inspired to learn how some hand-lettering techniques like the ones shown below so we can create some gorgeous signage, as well!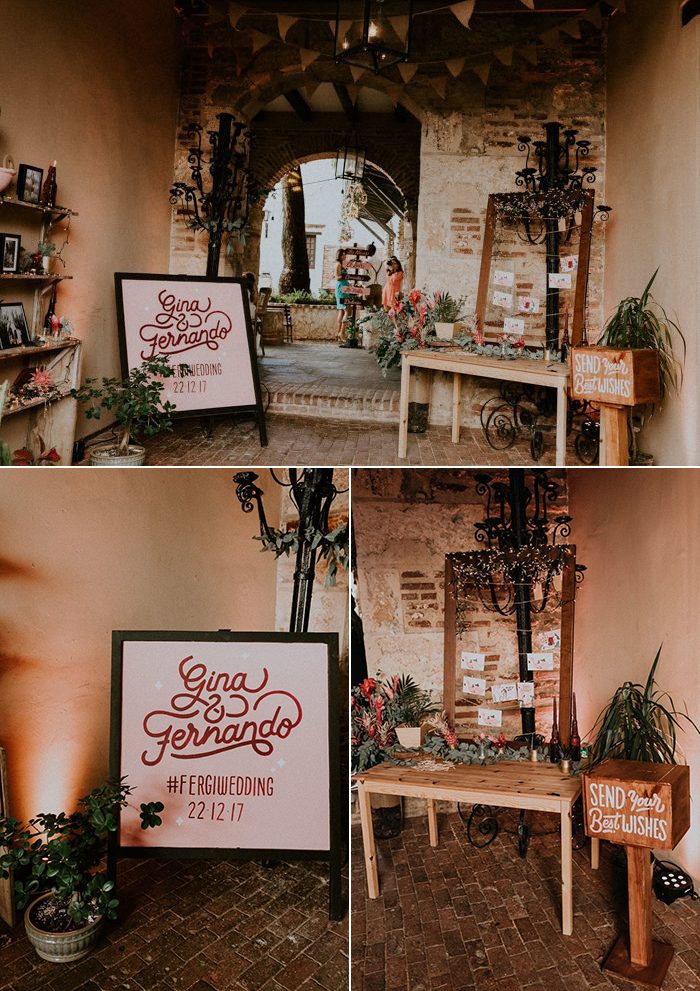 We had 9 months of planning and DIY workshops so we could make it just as we imagined and the result was even better! We are very proud that we made everything ourselves because that's what made it so special for us. We enjoyed every single day until the day we saw everything set. For my bridal look, I wanted something that reflected my personality, so I added some pink embroidered flowers to my dress. A friend also made a custom hairpiece with crystals and a gold chain.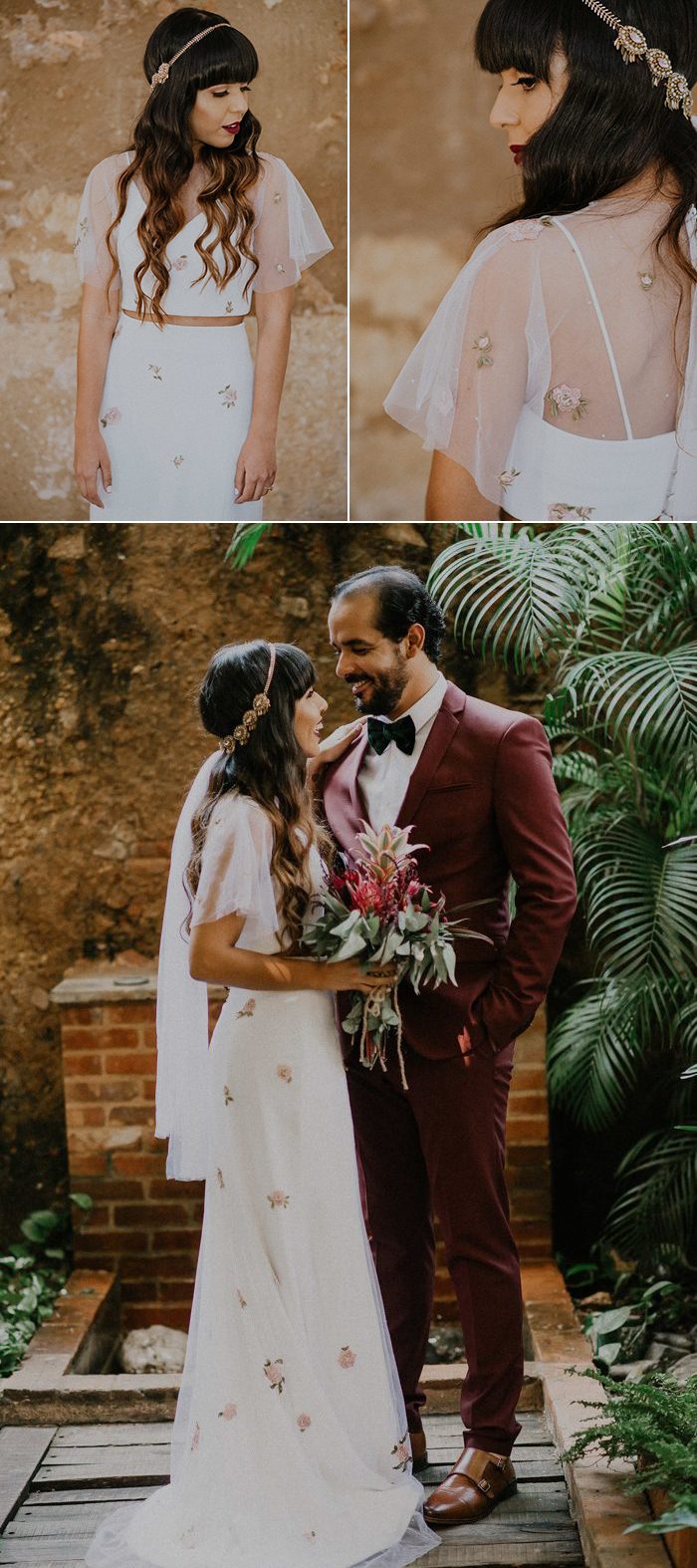 My design studio did all the graphics and illustration of the invitations, painted the back panels and reception signs, and illustrated two leather jackets. We even designed the neon sign and painted the fireworks box. The groom made everything related to wood, including the bar sign, wood figures, and boxes. We even made the pennants, confetti cones, and the " cheesy stuff" cheese bar sign.

LEARN HAND LETTERING TECHNIQUES

See Gina and Ricardo's full wedding feature here!
ADRIANA & GABE
The pristine shores of Tulum, Mexico were made for DIY weddings, and wedding designer Adriana of The Creative's Loft and her fiancé Gabe took full advantage! The secluded beach offered the perfect haven for their intimate ceremony and featured a stunning macrame backdrop the couple has since repurposed into home decor and DIY wands with bells for the dance-party style exit to the cocktail hour. Adriana styled every inch of the reception, channeling a beautiful beachy vibe with the bohemian decor, rustic signage and food/drink bars, and vintage photo displays. Check out all of the quintessentially beachy details right here, and get ready to make all your macrame dreams come true with the DIY tutorial below!

One of our favorite parts of wedding planning was all the DIY projects we got to do! We designed the following items: wedding wands with bells and "Happy Tears" kits for the ceremony; sparkler DIY kits for the first dance; menus and place cards; table chargers using various Mexican tile patterns; mini bottles of spicy Mexican sauce; mini cans of tea; dance floor props; and customized tattoos with our wedding hashtag (#contigoalquintopino).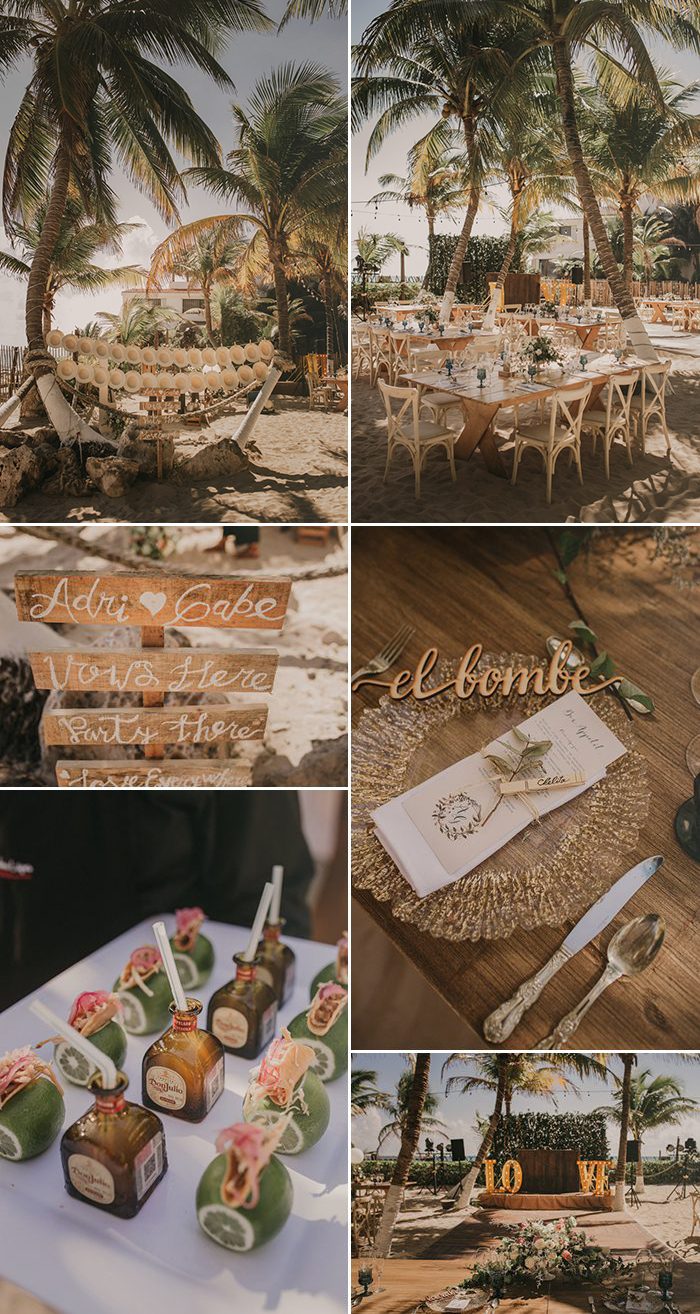 As a wedding planner and a bride, my strongest and most personal advice for other couples is to customize your wedding according to your values and what you like the most! This is crucial to ensure you enjoy the whole process of designing your wedding! In addition, make it personal!!! Create some time to design DIY ideas and details for the day…this makes everything! Is how your wedding stands out from the typical wedding. In addition, analyze in advance where do you envision getting married (in your city, a destination wedding…a private property, secluded beach). This decision makes the difference!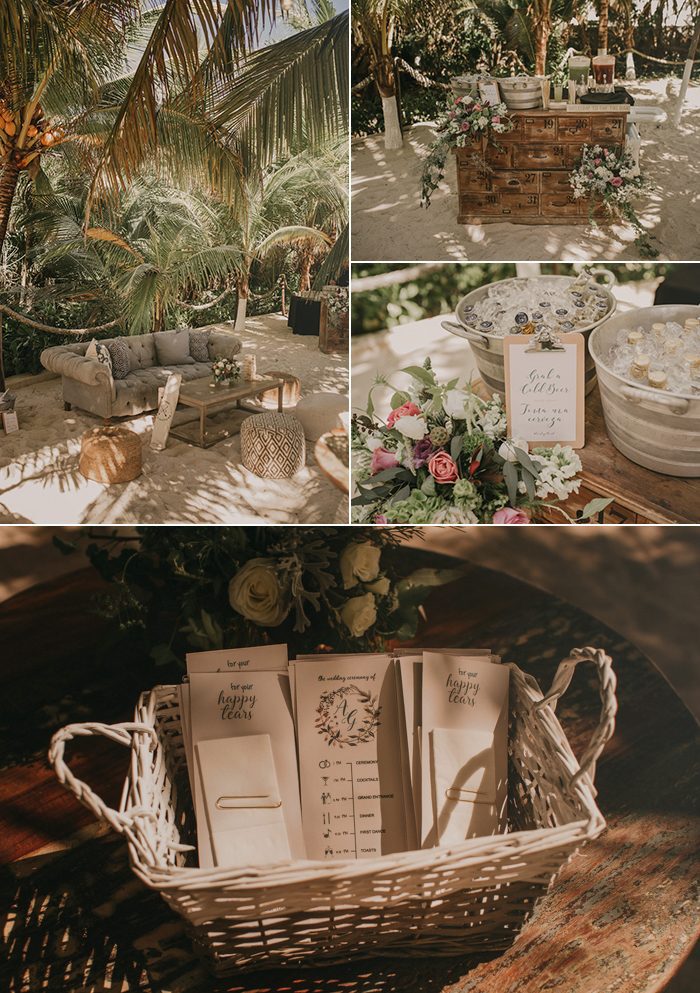 LEARN HOW TO MAKE A MACRAME BACKDROP

See Adriana and Gabe's full wedding feature here!
MISTY & JOHNNY
We must admit, our 12-year-old hearts are so in love with the nostalgic summer camp vibes in Misty and Johnny's camp wedding! This sweet couple traded in a traditional, buttoned-up wedding for a fun and free-spirited weekend celebrating love and life with their friends and family in the woods. Their reception was a DIY dream come true, complete with screen-printed flags, personalized pins, hand-painted signs, and fabulous greenery arranged in the bride's personal collection of vintage thermoses. Misty even asked one of her oh-so-talented friends to arrange the greenery bouquets for her and the bridesmaids, and the result was simply stunning! Our favorite details were the screen-printed flags, which can easily be done at home with the tutorial below. Check out the couple's full wedding feature and let us know what your favorite detail was!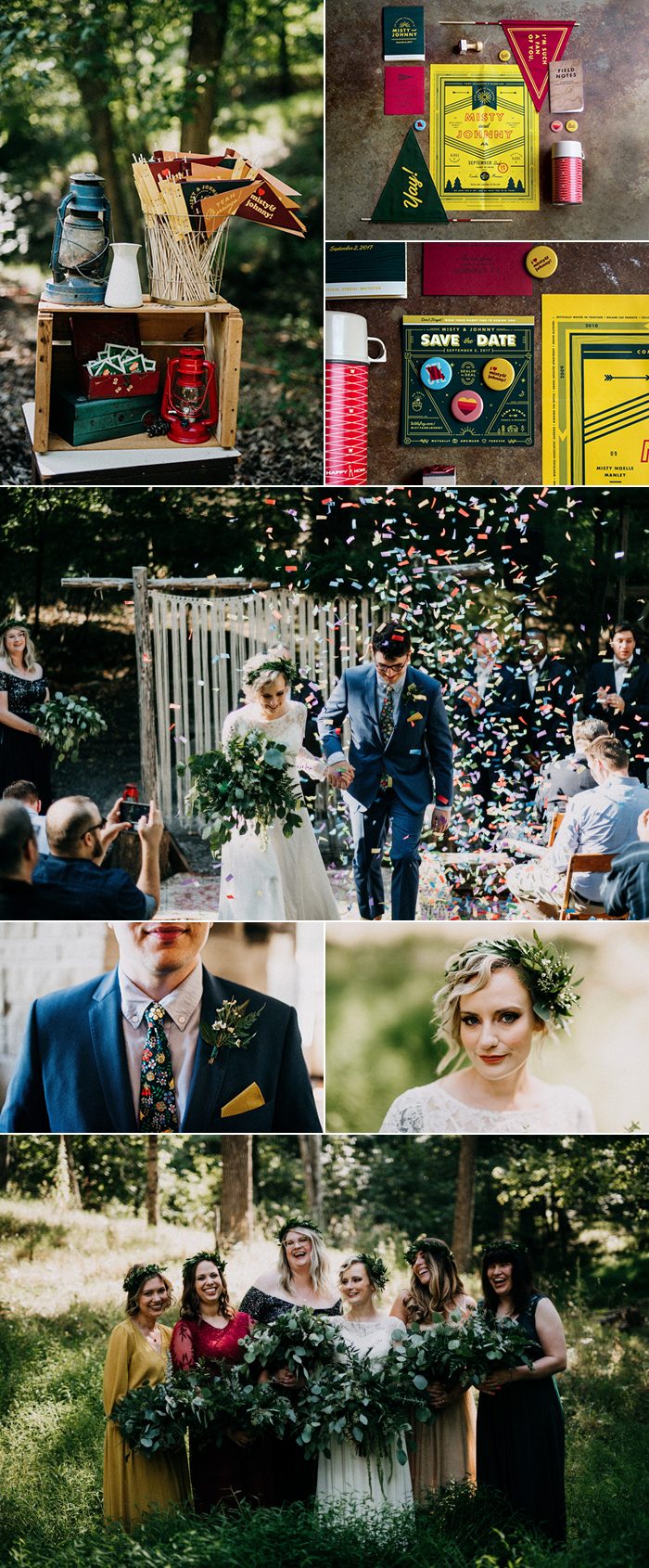 A friend arranged our beautiful greenery bouquets and arrangements and did an outstanding job. My career is in graphic design, so I couldn't wait to have fun with every single detail! I designed our entire collection of wedding collateral, from the save the dates with buttons and our invites to the screen printed pennants we used for centerpieces, hand painting the signs, and using my own curated collection of vintage thermoses for decor. I poured my heart into every detail! My friends were also amazing the weekend-of, helping to make all those DIY ideas come to life. Couldn't have done it without them!

LEARN HOW TO SCREEN PRINT

See Misty and Johnny's full wedding feature here!
JOSH & RYAN
Josh and Ryan's eclectic DIY Knoxville wedding proves that #southernbeausdoitbetter! With the support of Josh's mom and aunts, who all own a vintage rental and wedding staging company, the couple was able to fill the industrial venue with handmade, one-of-a-kind details that added a vintage twist to their eclectic style. The completely blank canvas allowed them to add everything from Eddison string lights to a fireplace, and everything in between. For their favors, they potted succulents in hand-picked jars, which is one of the cutest and easiest DIY wedding favor ideas we've seen! (If you're like us and do not have a green thumb, we found some beginner tips to help you get started below.) Seriously, you won't want to miss a single moment of this eclectic, vintage wedding!
Our whole wedding was DIY! We did everything with the support of Sisters' Vintage Rentals. We even built 16 8' farmhouse tables for the reception, as we wanted a family feel. We stained telephone wire spools that housed all the food. The Wednesday before the wedding we loaded at 20' U-Haul truck along with a trailer and carloads full of supplies included 13 antique doors, window frames, a ladder with Edison light bulbs, two couches, 6 large chairs, pews, a fireplace, coffee tables, 28 centerpieces, greenery, and a bar. We had a blank canvas with our venue and it was like we were moving into our home. Ryan even made the bouquets and boutonnieres for our nephews and nieces in the wedding!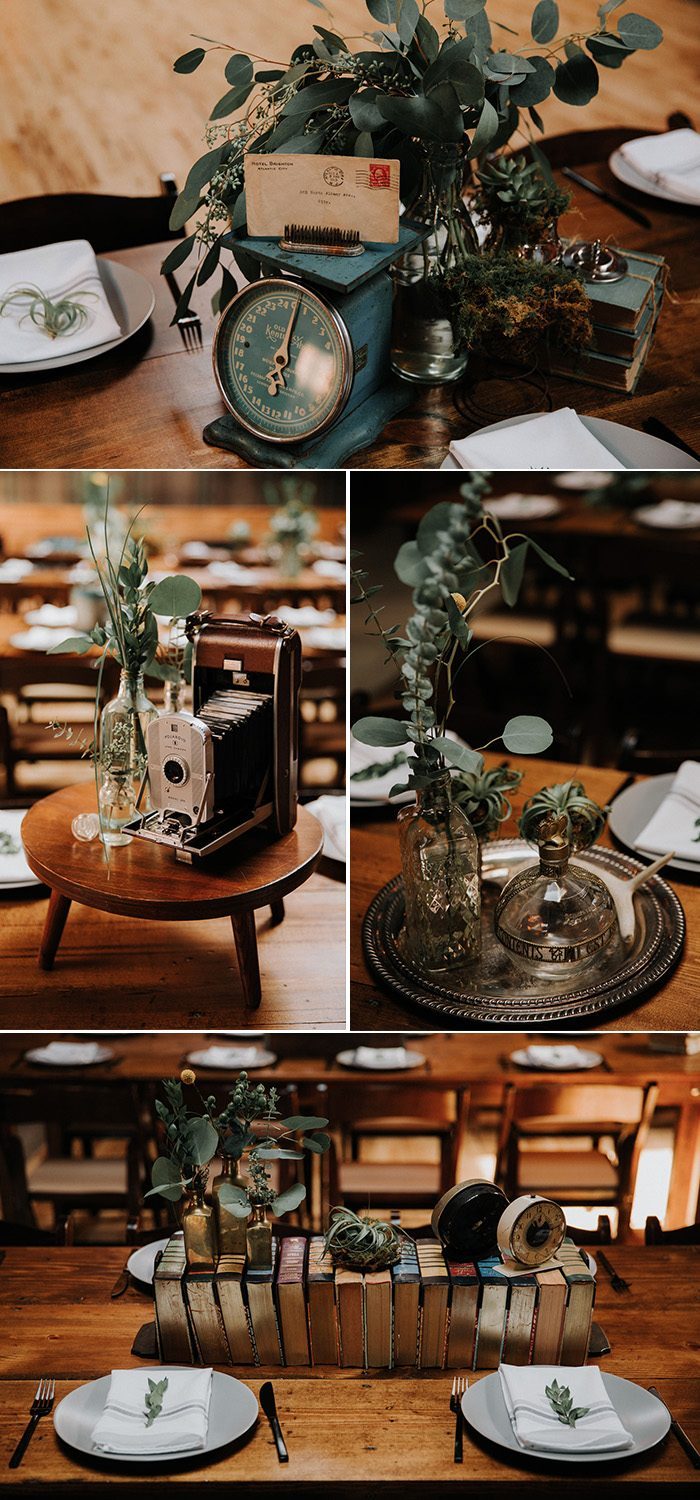 Our wedding favors were succulents that our guests could take with them so they could remember to let love grow. We collected little containers from all over Kentucky and Tennessee for over a year so that each succulent was planted in its own unique container. We displayed them on a cart with crates, ladders, books, and an antique door to create a focal point to draw our guests into the ceremony space. We chose succulents because they fit our style and overall look of our greenery, as we did not want to use any flowers. Succulents are also something you can find in our NYC apartment, which helped add to our theme of creating a welcoming and homey feel for our wedding.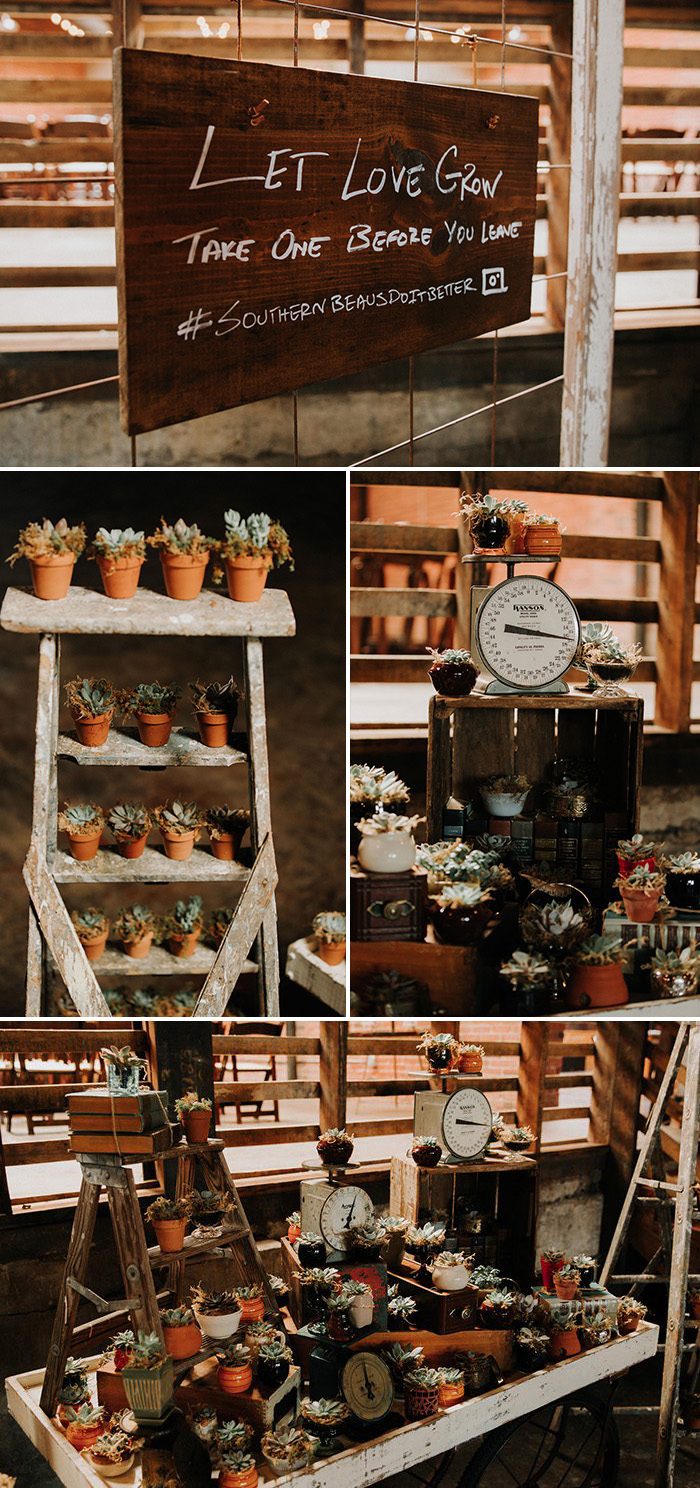 LEARN HOW TO POT SUCCULENTS

See Josh and Ryan's full wedding feature here!
KATIE & TODD
Floral hoops, agate slice table numbers, and watercolor prints are just a few of the spectacular details Katie and Todd made for their backyard wedding at the bride's family home! Oh, and we can't forget the 30 farmhouse tables that the couple built themselves! Katie and Todd even got their family involved by having Katie's dad build the ceremony backdrop. This outdoor wedding was bursting with color and inspiration for crafty couples who are looking for DIY ideas to fill out an open space, such as a backyard. We love that they used floral hoops, which are easy and inexpensive to make following the tutorial below, to fill the vertical space of their tent. If you want a closer look at every gorgeous detail, check out Katie and Todd's full wedding here!

In the months leading up to the wedding, Todd and I made all 30 of our beautiful farm tables that our guests dined on. My dad built our ceremony arch and the barn that we used for our bar. We designed our invites, menus and made the hoops that hung from the tent, vases for the centerpieces and the rest of the decorations. It was a lot of work but thankfully we had a lot of help from our awesome friends and family.

LEARN HOW TO MAKE FLORAL HOOPS

See Katie and Todd's full wedding feature here!
Now that you've been inspired by these real DIY weddings, it's time to get started planning your own! Just make sure to bookmark our best wedding planning tools for a stress-free engagement so that you'll know exactly what to do at every step!