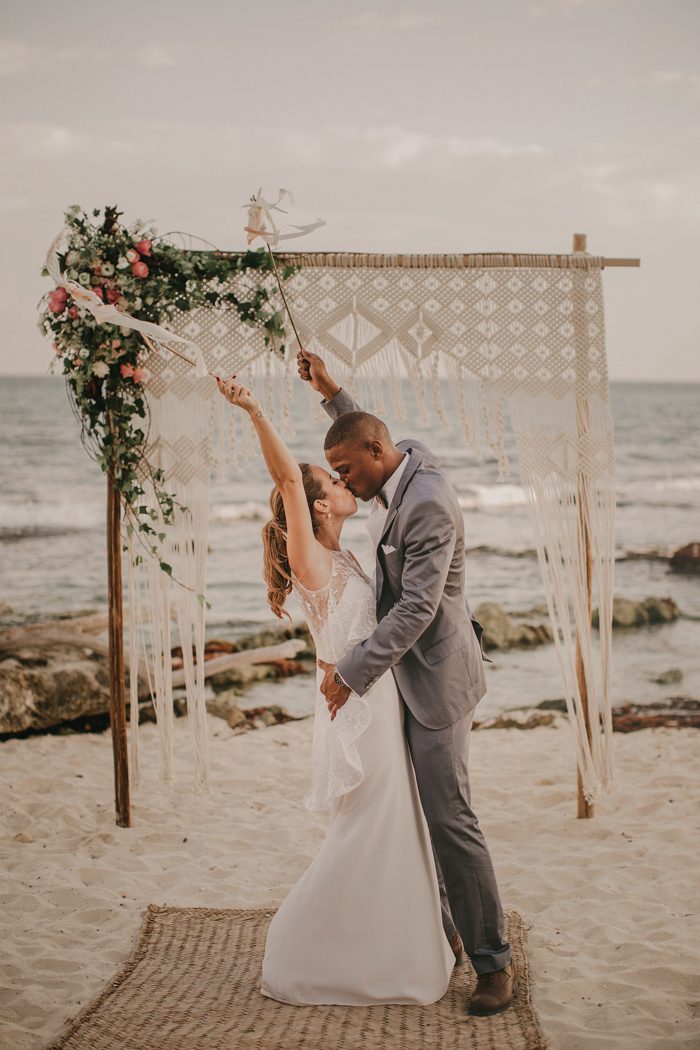 When it was time for wedding designer Adriana of The Creative's Loft to plan her own wedding, she and her fiancé, Gabe, opted for a wildly romantic Tulum beach wedding on the pristine shores of Mexico. The secluded beach offered the perfect haven for their intimate ceremony, which featured a stunning macrame backdrop the couple has since repurposed into home decor and DIY wands with bells for the dance-party style exit to the cocktail hour. As you can imagine, Adriana styled every inch of the reception, channeling a beautiful beachy vibe with bohemian decor, rustic signage and food/drink bars, vintage photo displays, and elegant floral arrangements. The bride also brought all those same vibes into her bridal look with a flowing Elie Saab gown, lace cape, and minimalist gold and pearl jewelry and hairpiece. Photographer Pablo Laguia didn't miss a minute and caught so many sweet moments of the couple getting ready together, busting random dance moves, and snuggling among the palm trees and on the beach.
The Couple:
Adriana and Gabe
The Wedding:
Secluded Beach, Tulum, Mexico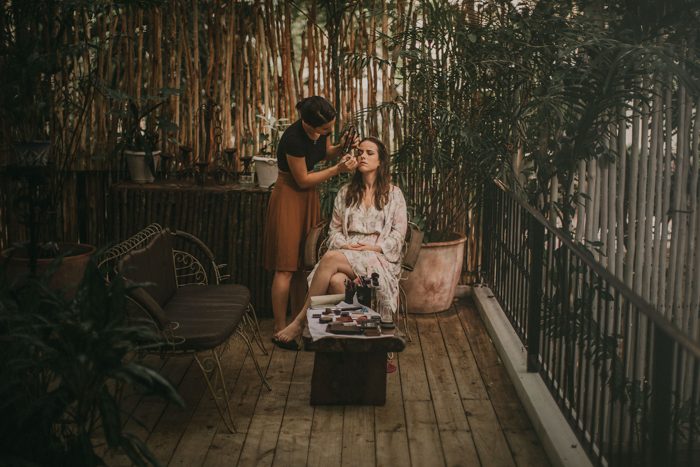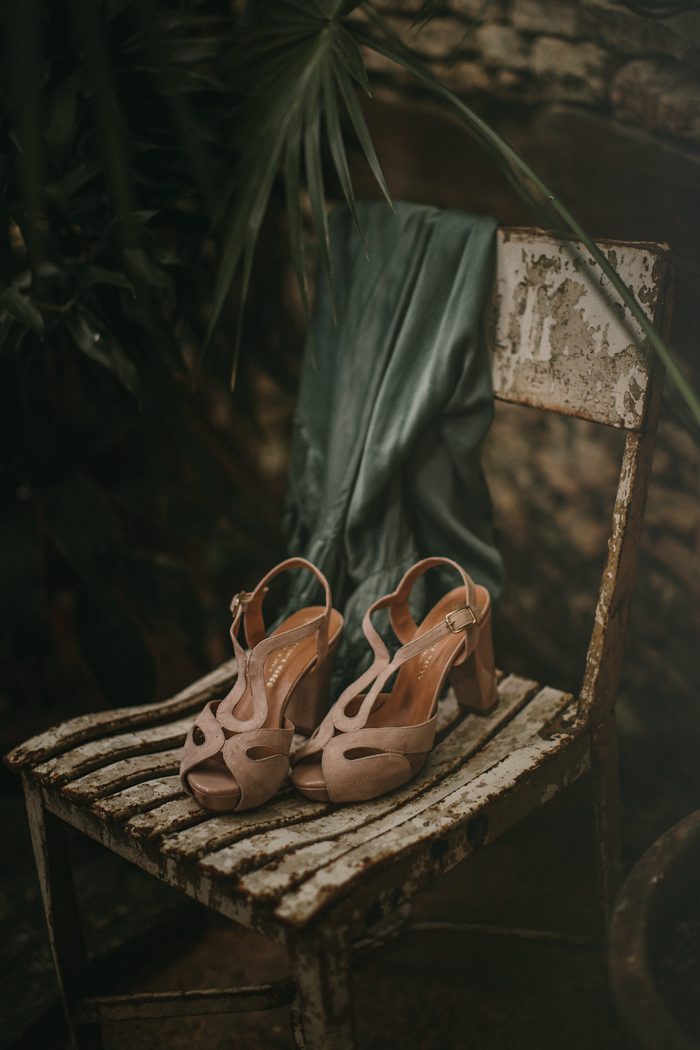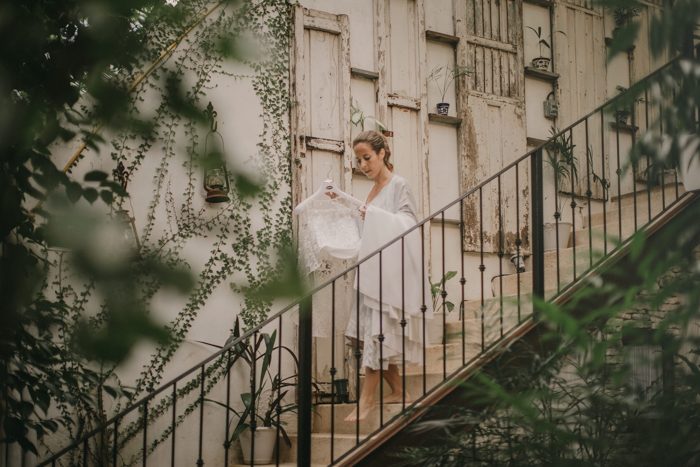 As a wedding planner and a bride, my strongest and most personal advice for other couples is to customized your wedding according to your values and what you like the most! This is crucial to ensure you enjoy the whole process of designing your wedding! In addition, make it personal!!! Create some time to design DIY ideas and details for the day…this makes everything! Is how your wedding stands out from the typical wedding. In addition, analyze in advance where do you envision getting married (in your city, a destination wedding…a private property, secluded beach). This decision makes the difference! Also…decide where your money goes! For us the 3 most important aspects of the day where: photography + video / Overall Decor and Vibe + Venue / Food and Drinks!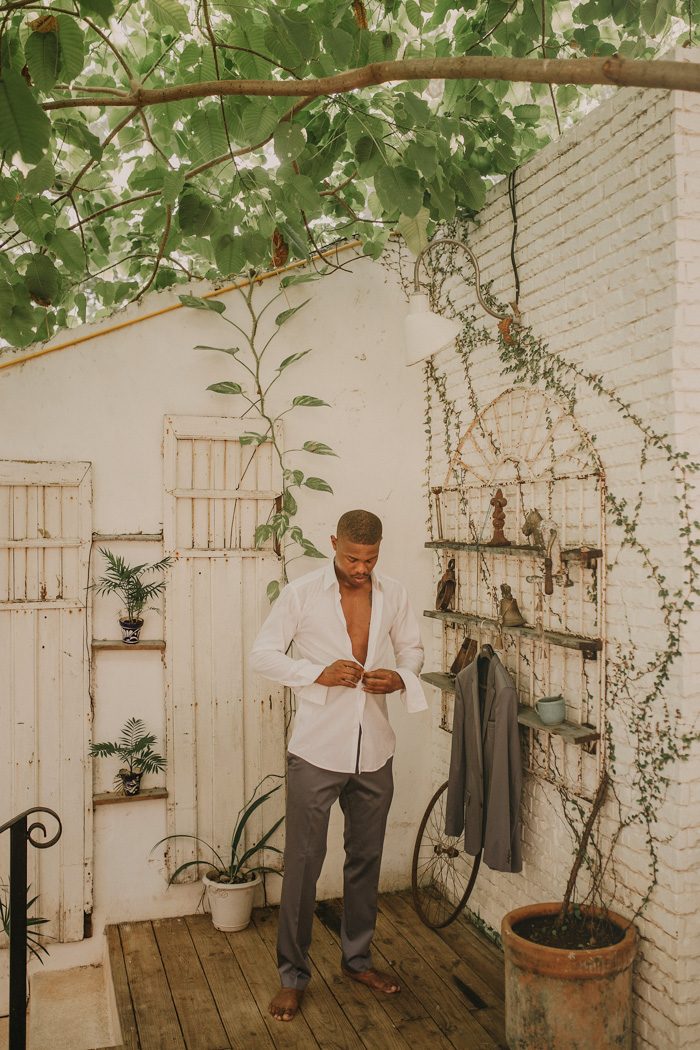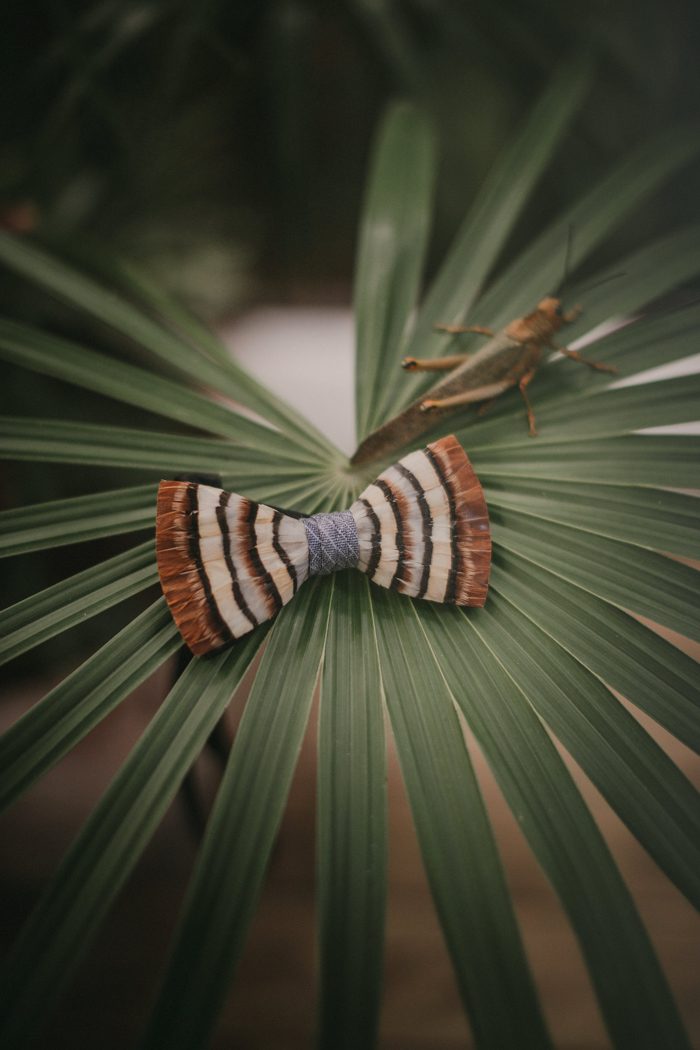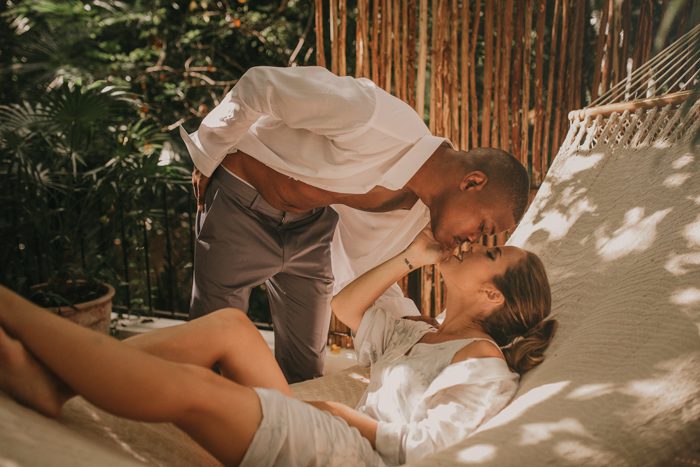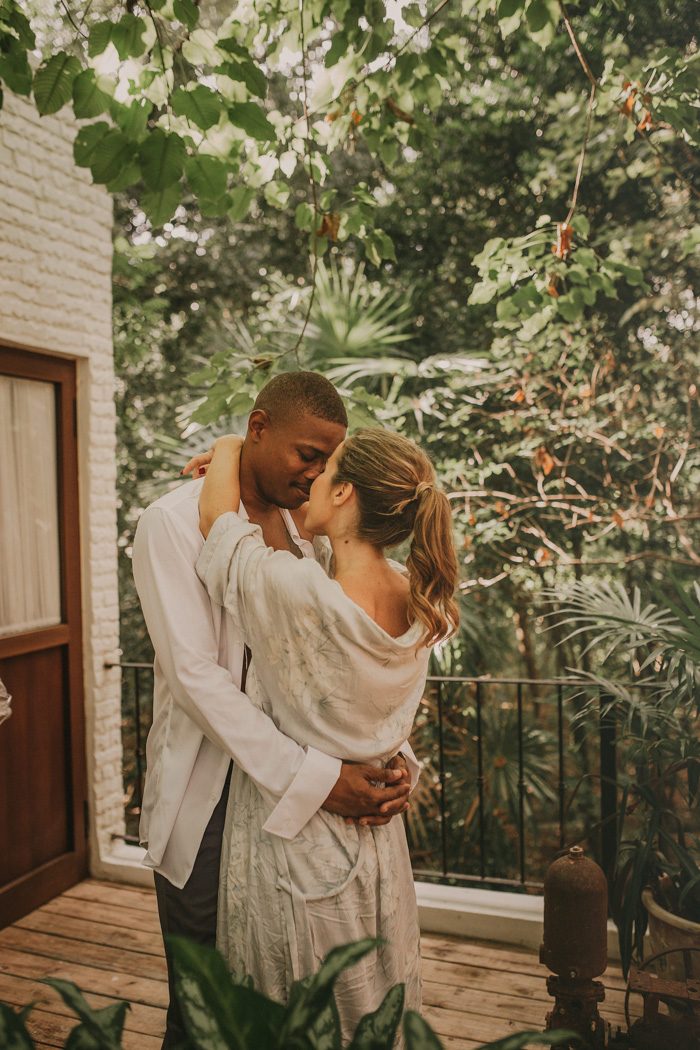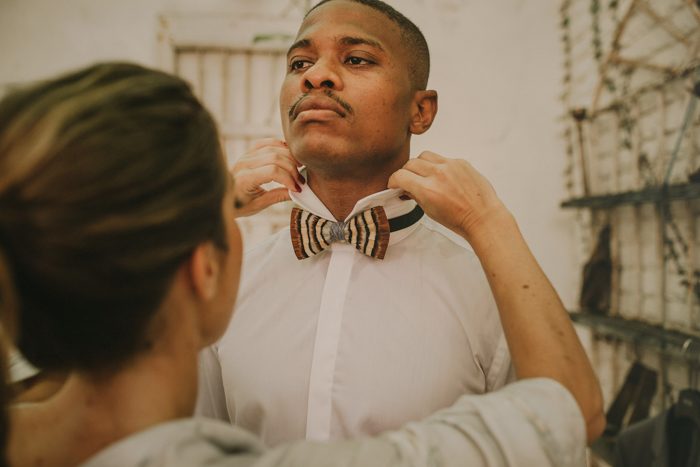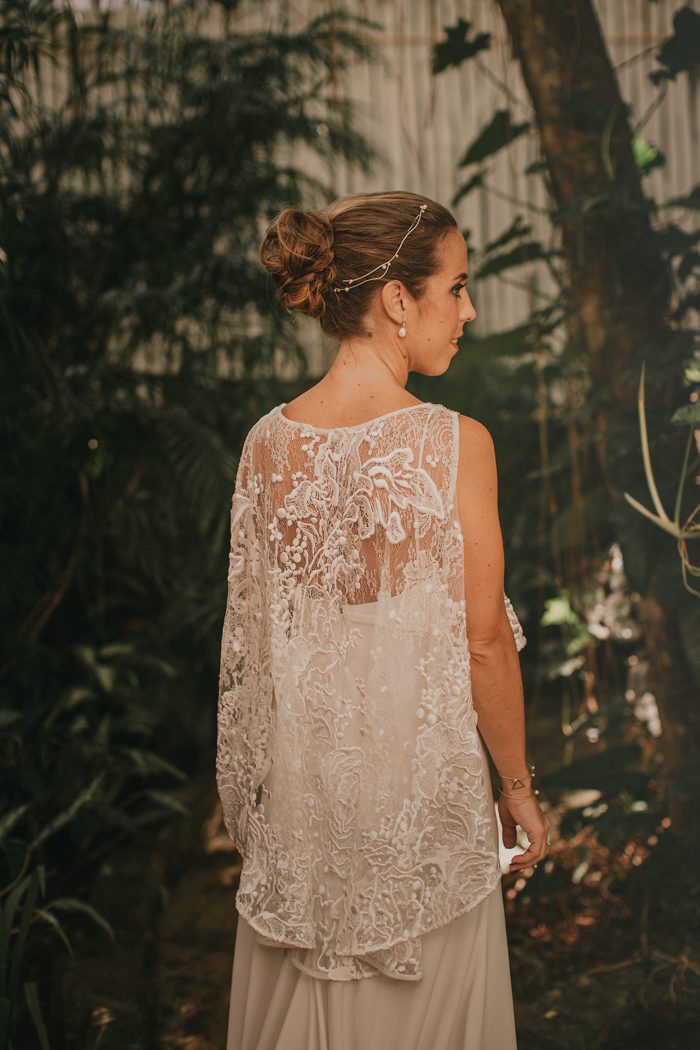 I wanted my bridal look to be unique and creative, so I found a dress that combined beach/boho style and still had an elegant touch. It's a dress from Elie Saab, composed of 2 pieces (a cape and a heart shape simple dress below). The cape was everything! I am a Cape-Lover and could not imagine my day without it! I added some special complements to the dress; a special handmade collection composed by different rings, bracelets and a headpiece from Lia Terni. Earrings a special gift from my mom, from Tous. Shoes by my sister, from one of my favorite shoe designer from my city; Estefania Marco.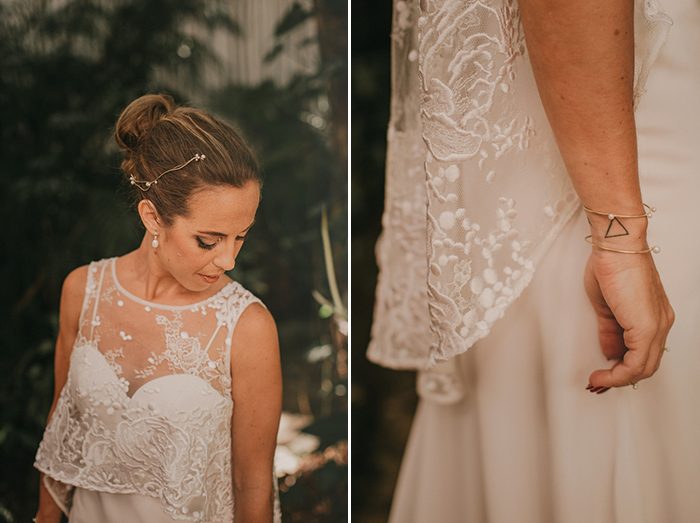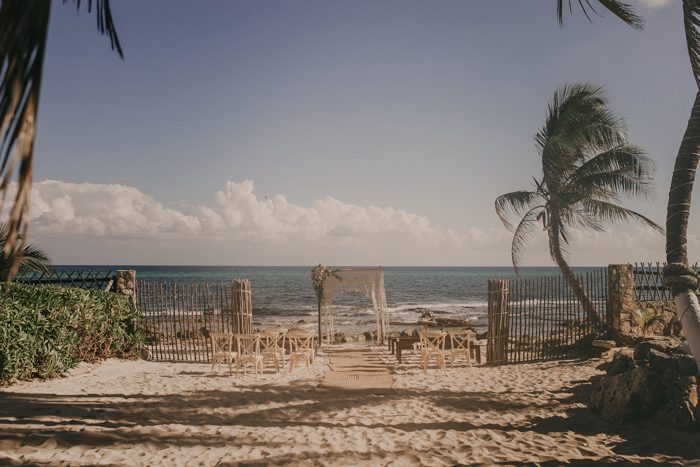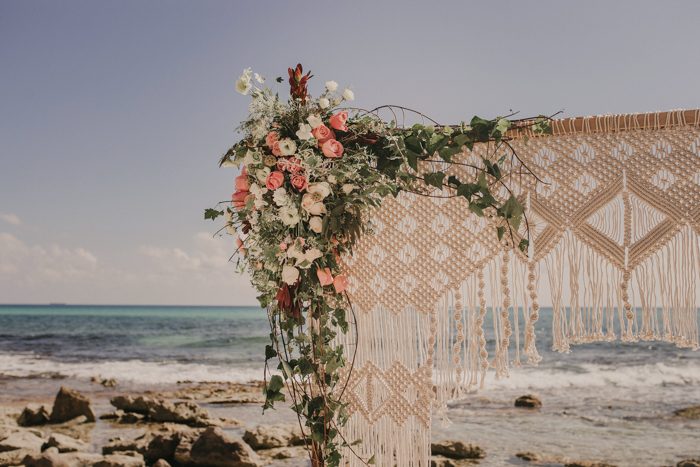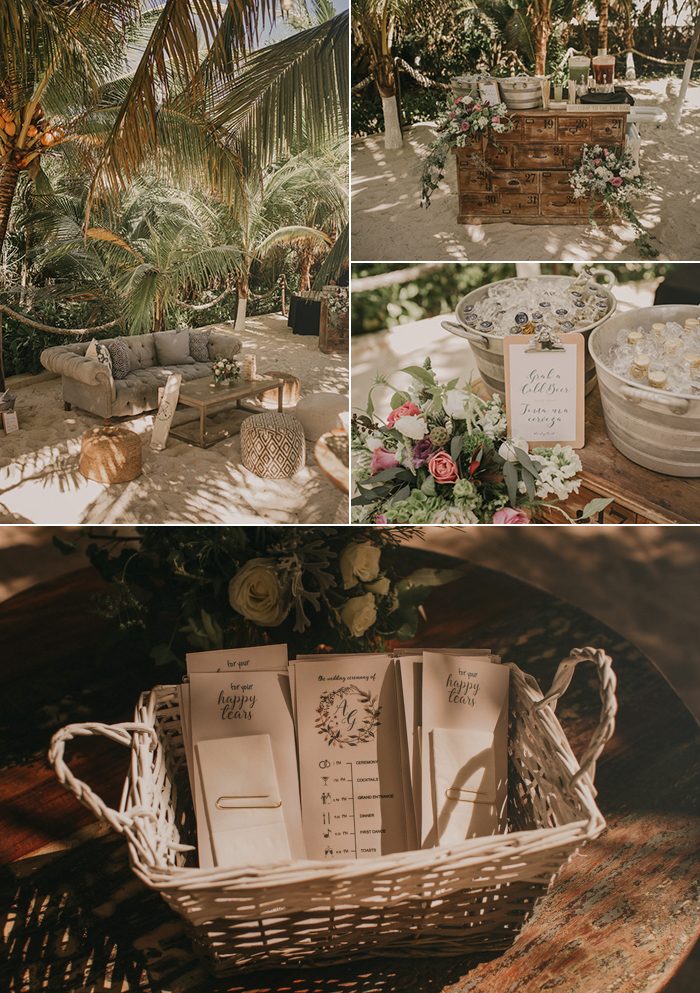 Gabe chose to walk the aisle with "Viva la Vida" Version Salsa, from COLD PLAY.
I chose "Color Esperanza" from DIEGO TORRES, as a message to my husband…it means a lot for us what this song states! The Recessional Song we envisioned and wanted to walk the aisle as a married couple with all our beloved ones following us! So we chose GUANTANAMERA…it was PERFECT for that moment. Everyone took the Wedding Wands and started dancing after us! Dope Moment!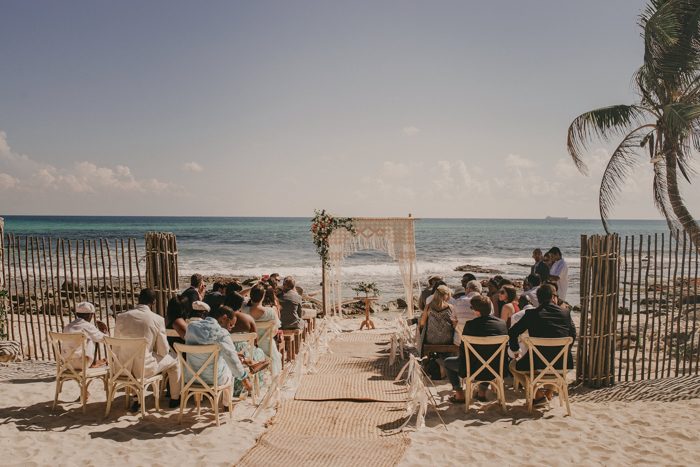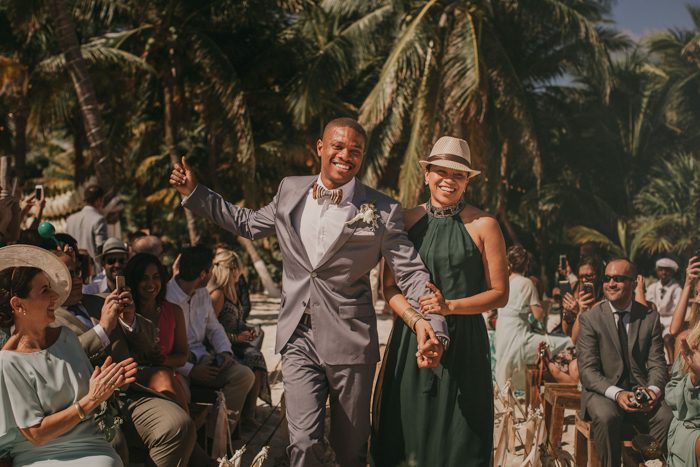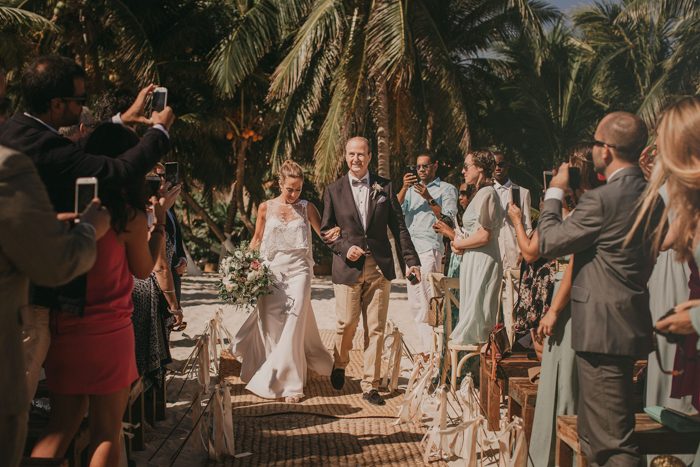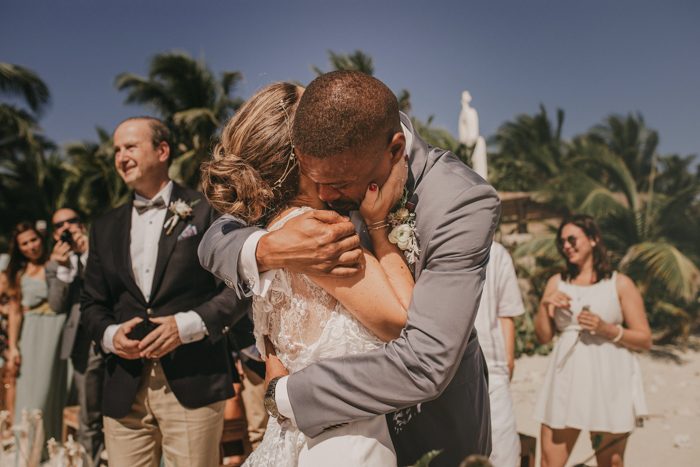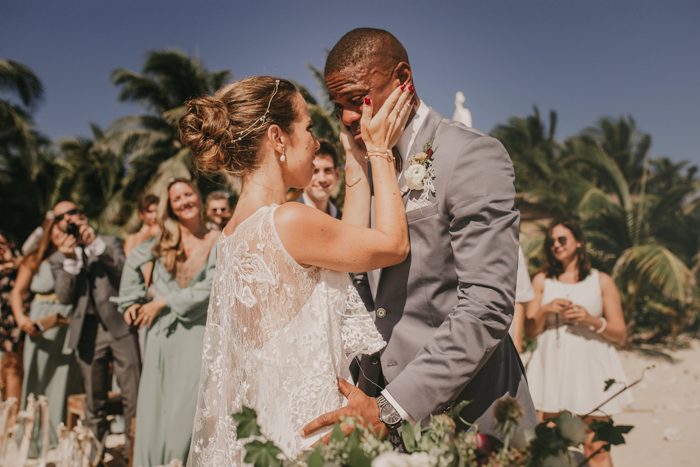 We had always envisioned getting married in a secluded spot, in one of our favorite countries. We checked all over the place and finally decided that Mexico is one of the countries we both like the most because of its culture, vibe and beaches. We went a couple of times previously and fell in love with some secluded beaches…we found the one!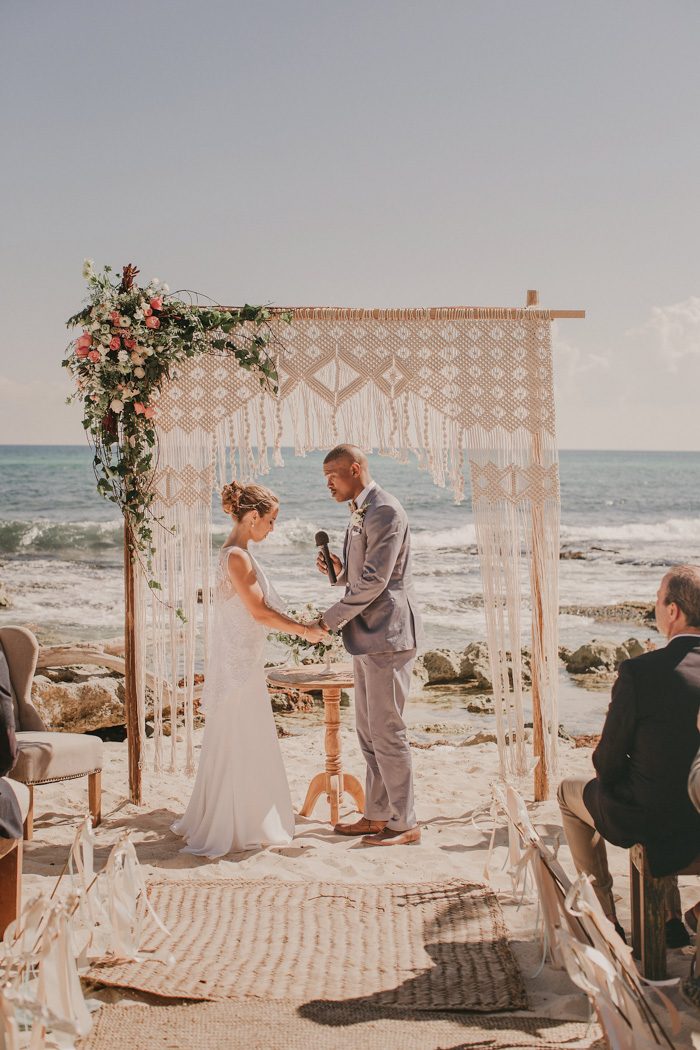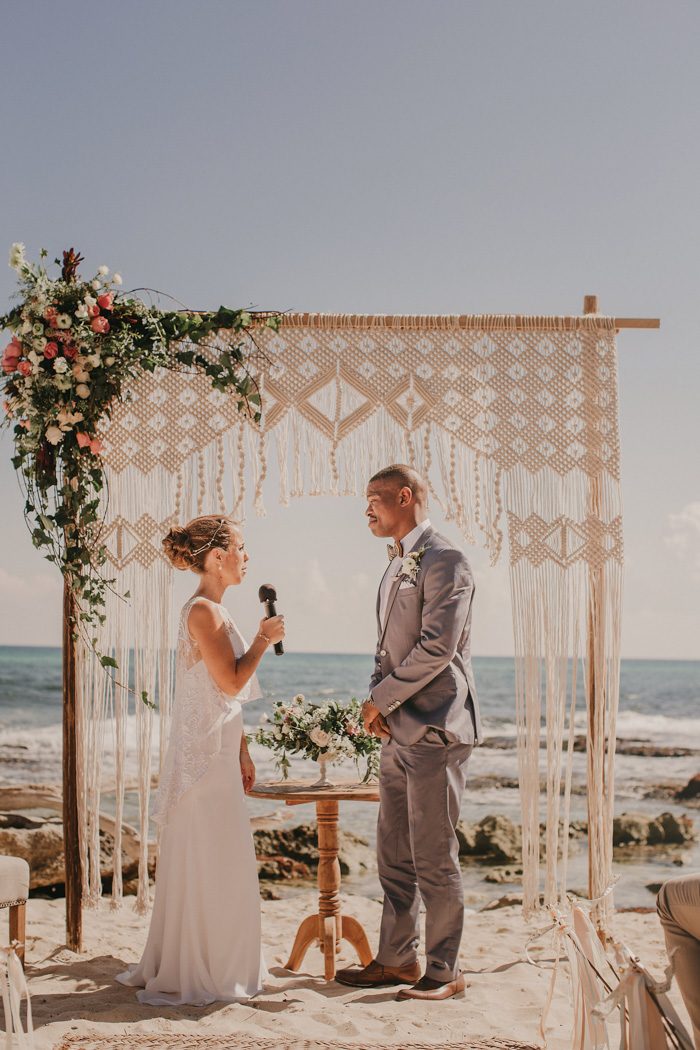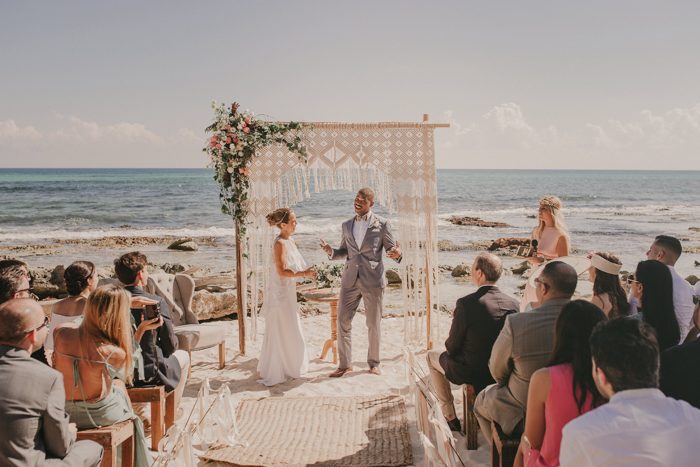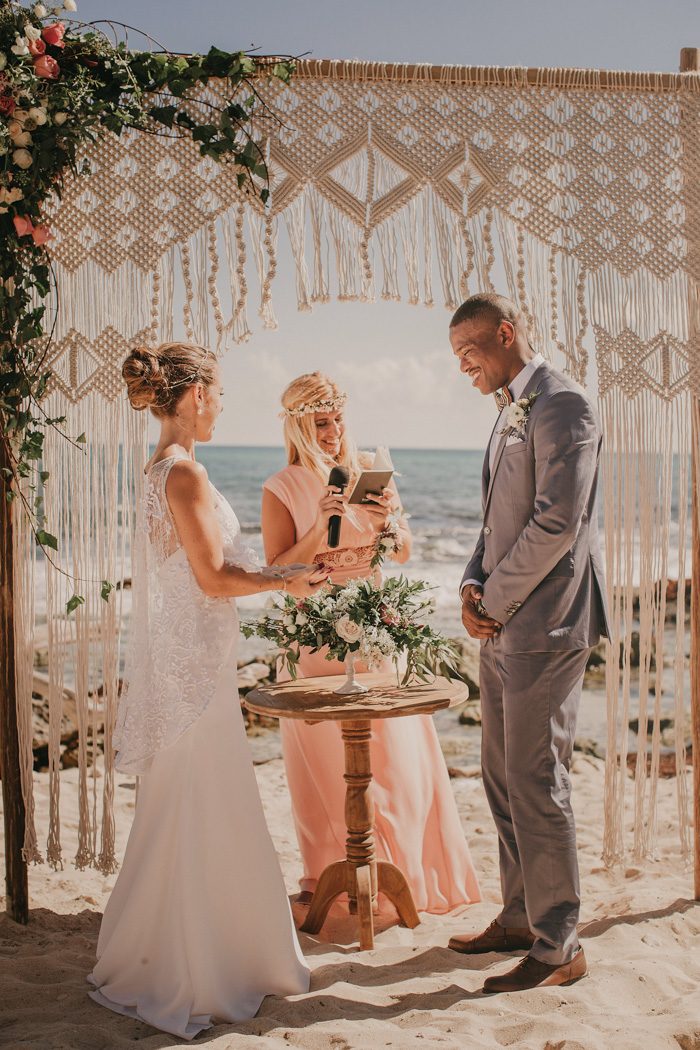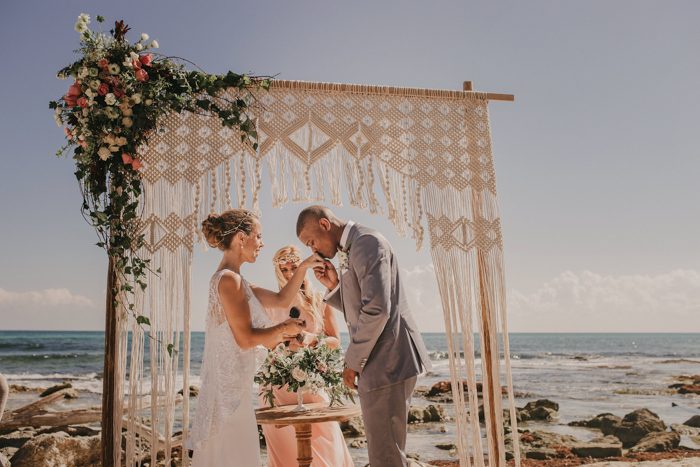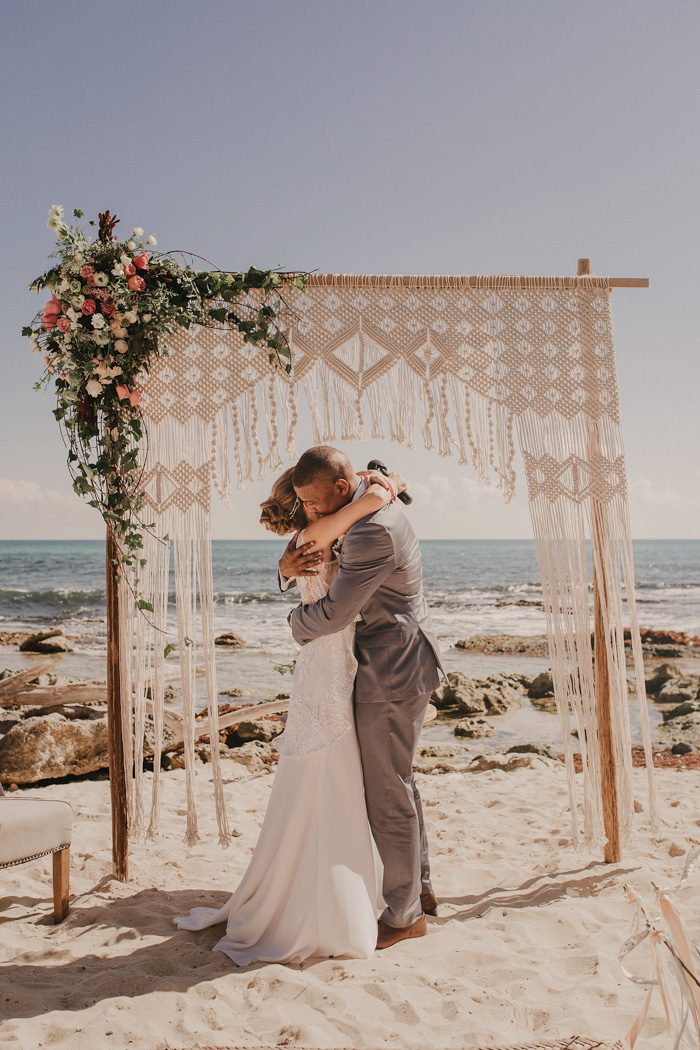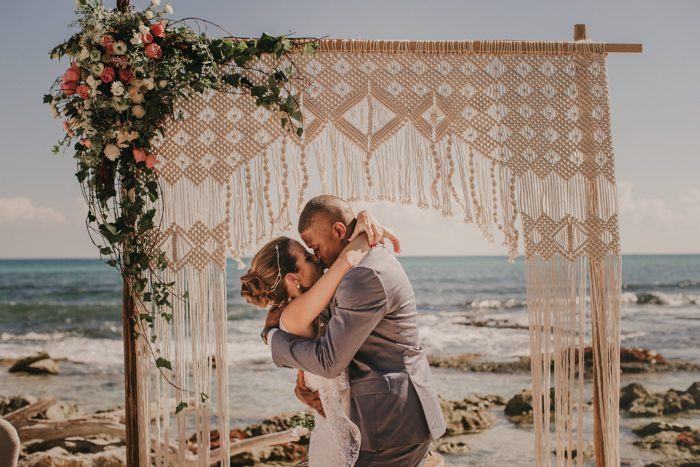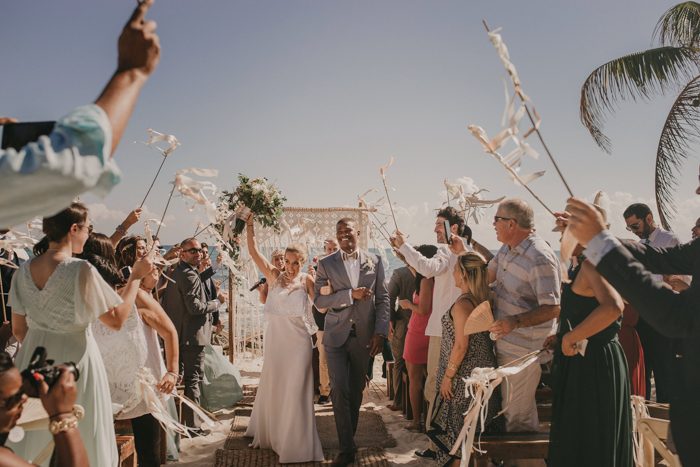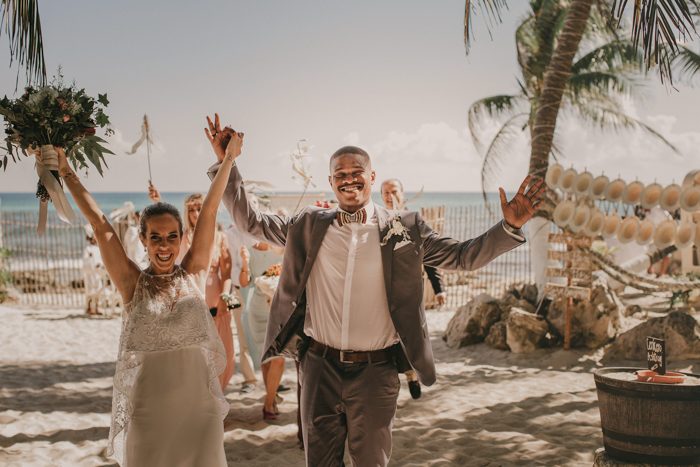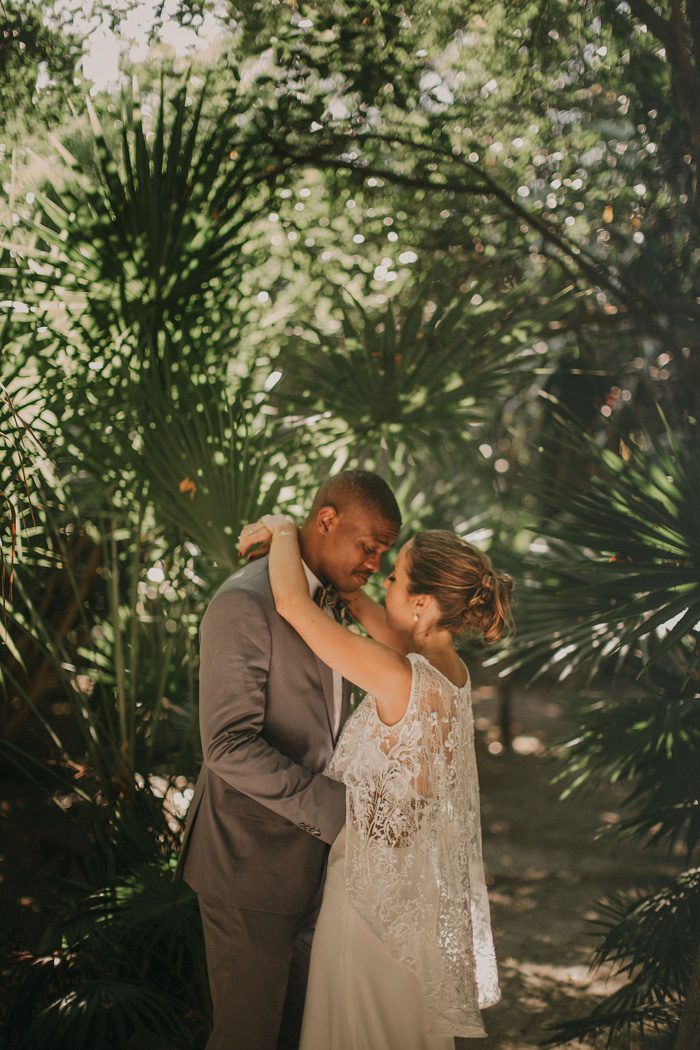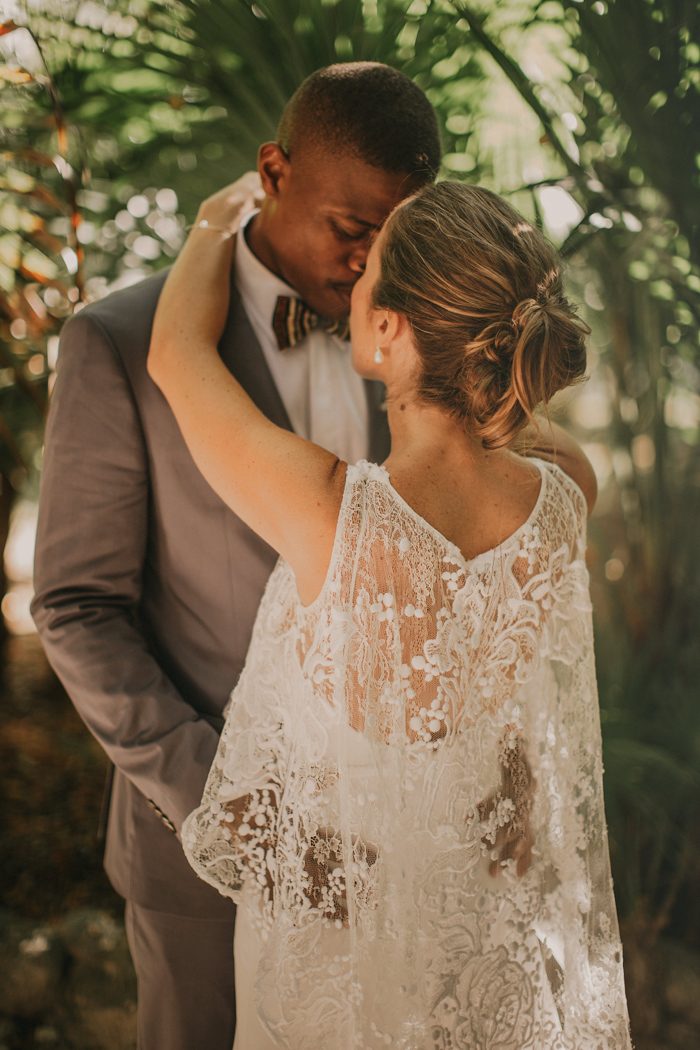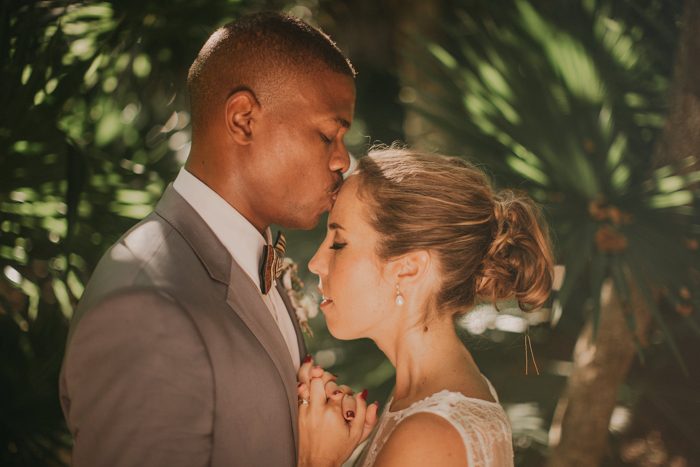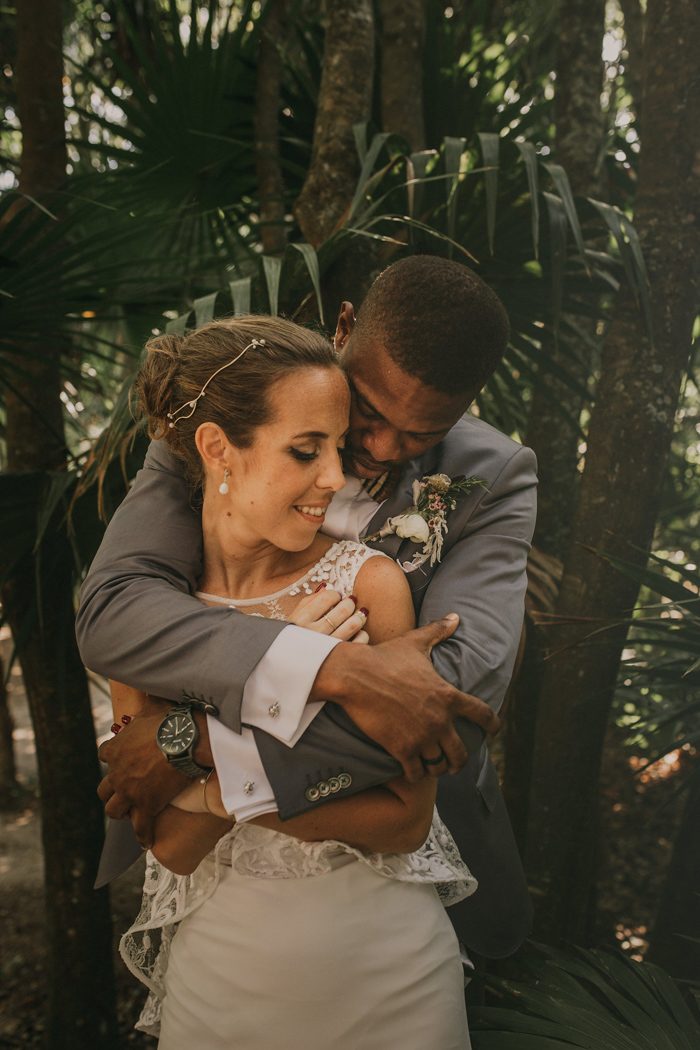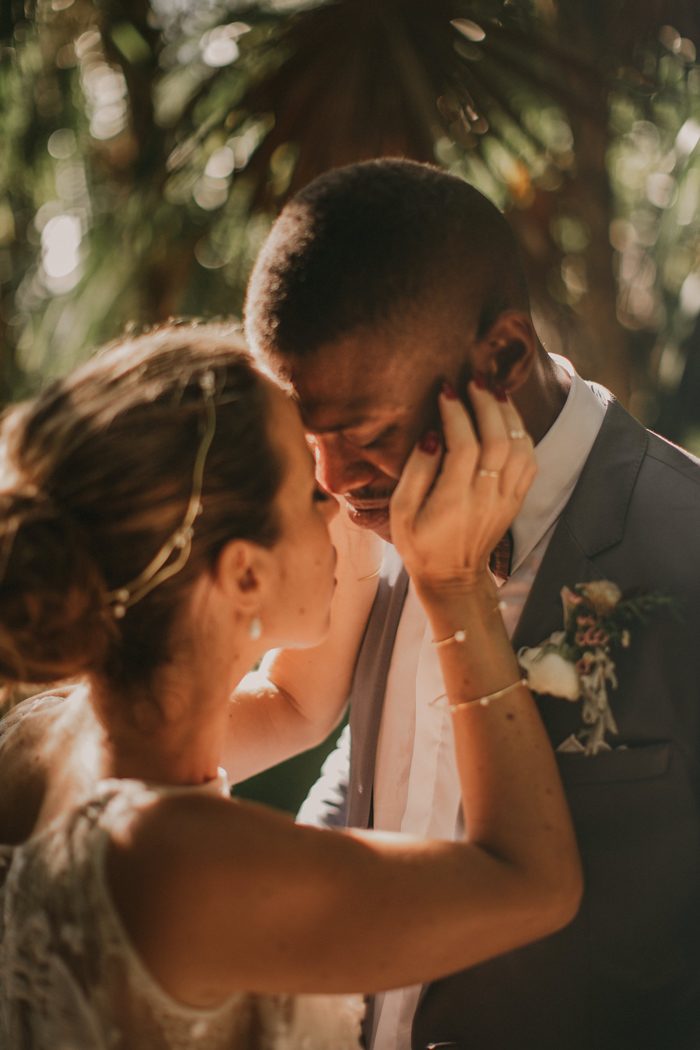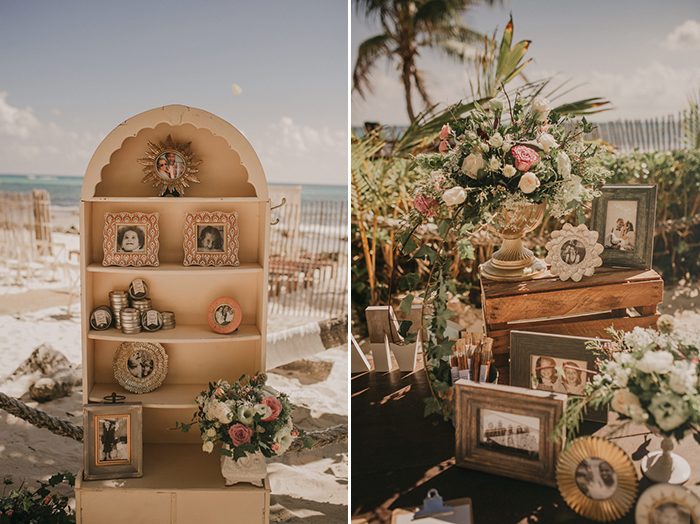 One of our favorite parts of planning was all the DIY projects we put together! We designed the following items: wedding wands with bells for the ceremony; happy tears kits; sparkler kits for first dance; menus and place cards; table chargers with various Mexican tile patterns; mini bottles of spicy Mexican sauce; mini can of tea; props for the dance floor; and customized tattoos with our wedding hashtag (#contigoalquintopino).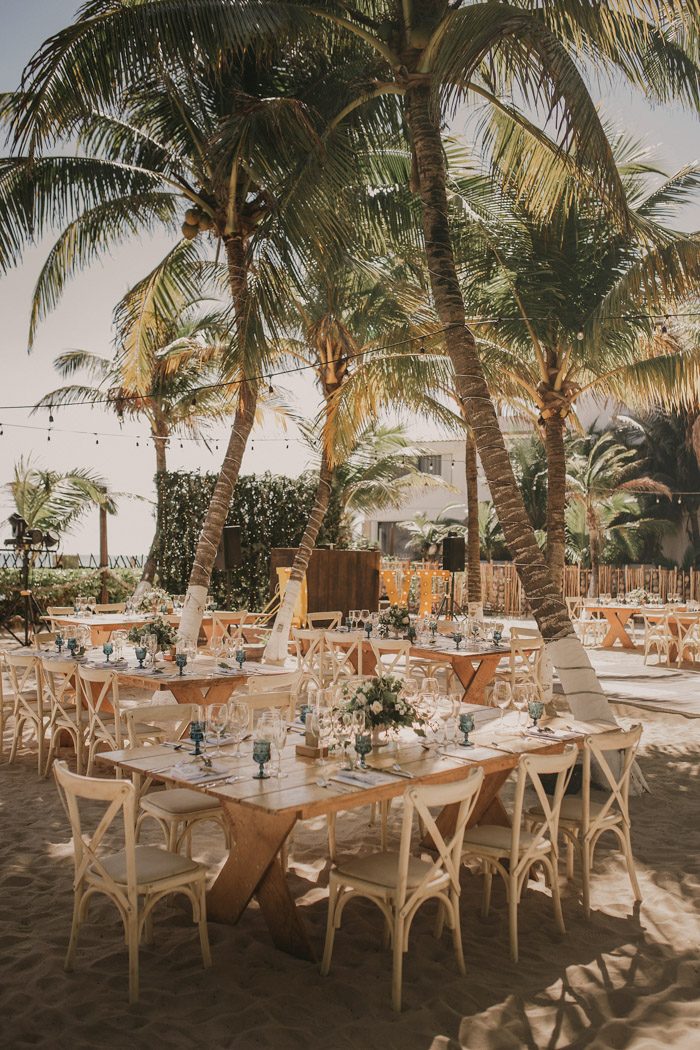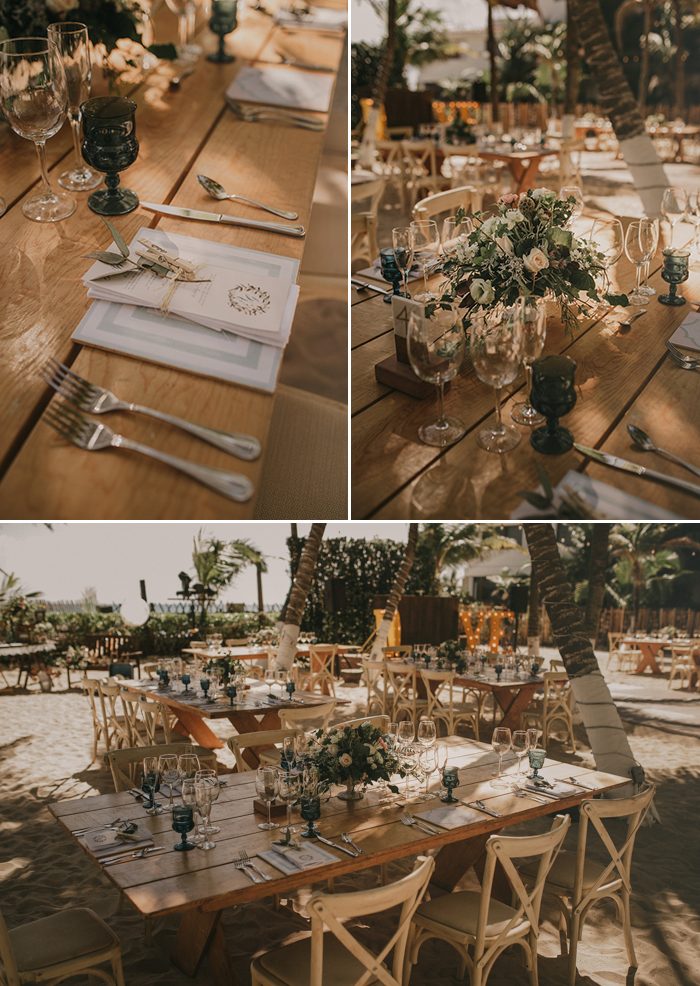 We had a very creative cocktail hour. We came up with the idea of serving mini tacos combined with mini margaritas "El Patrón". Capresse Salads in cute cones rather than in a stick, black ceviche mini spoon, etc. We also added some Paletas Mexicanas (popsicles) with super dope flavors; mojito popsicle, piña colada popsicle, perla negra (redbull and jaggermeister), mango with spicy powder, yogurt with fruits, etc. This was a mini cart that we put during the party time! They all loved it!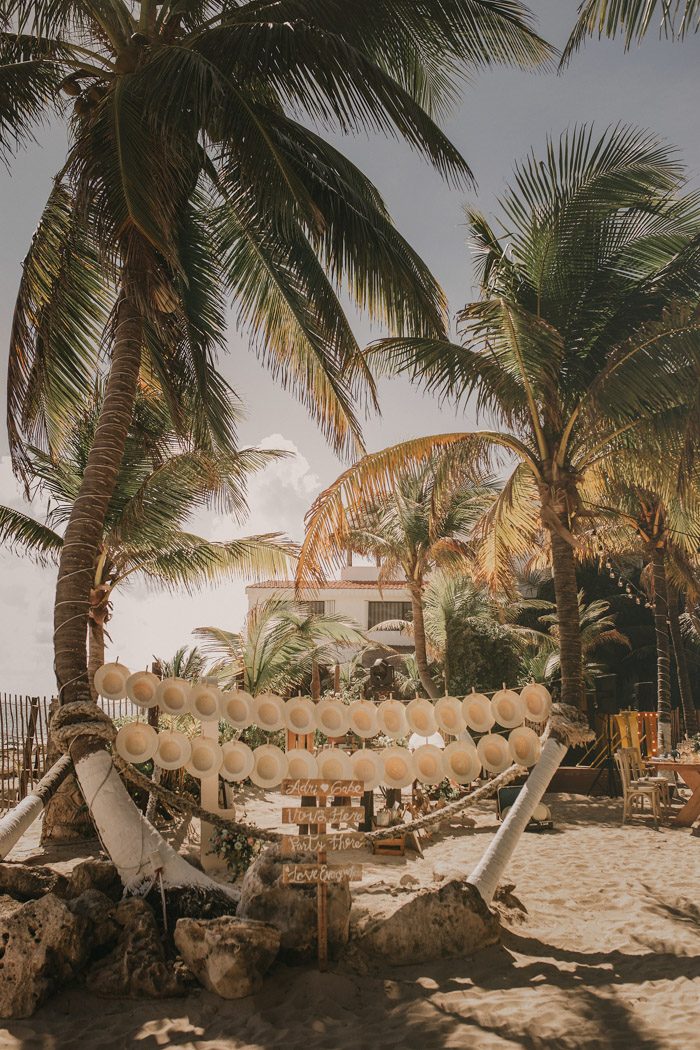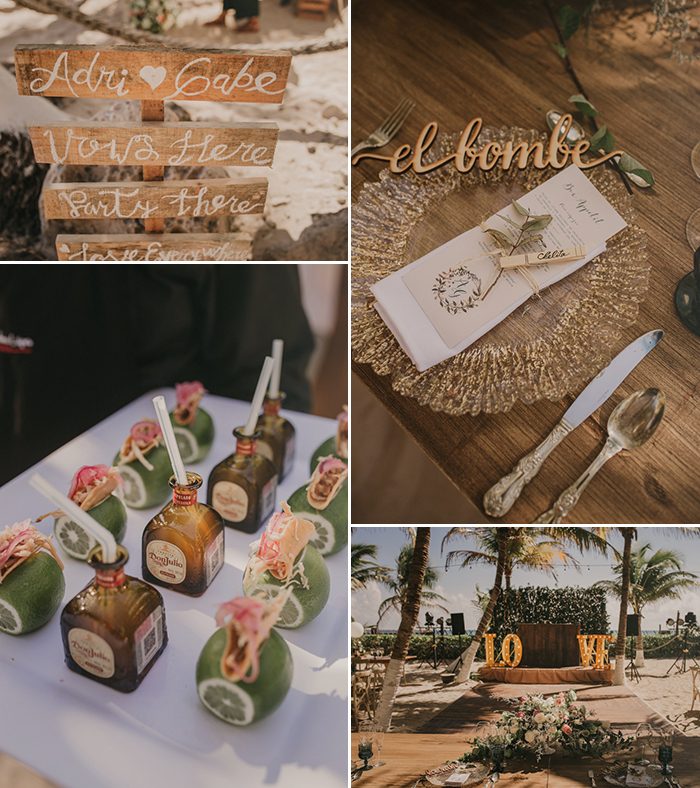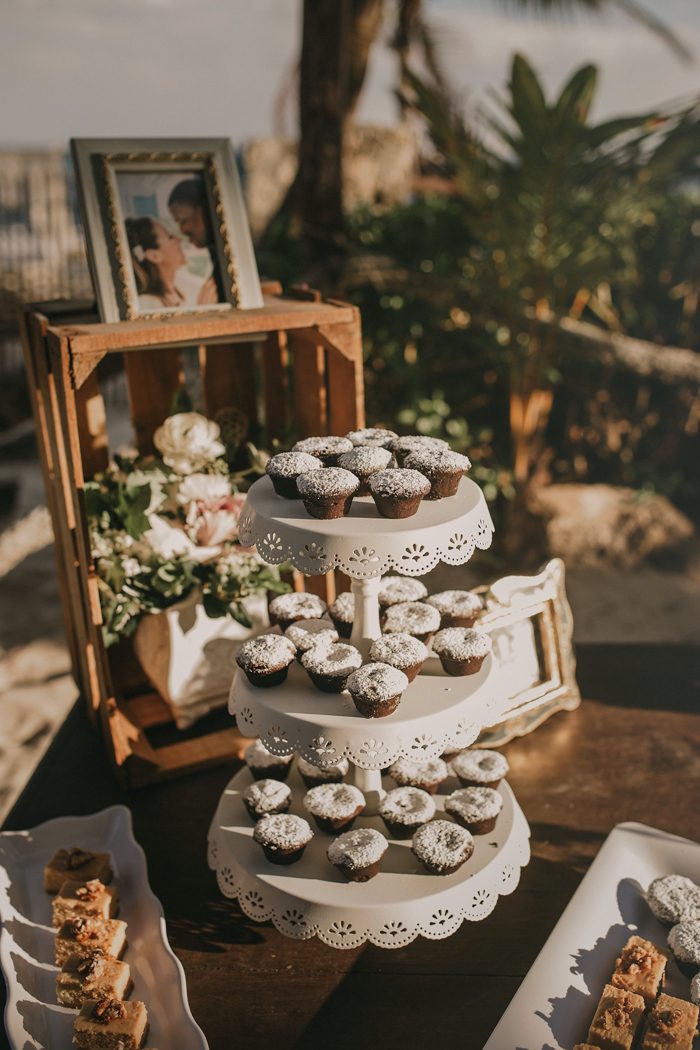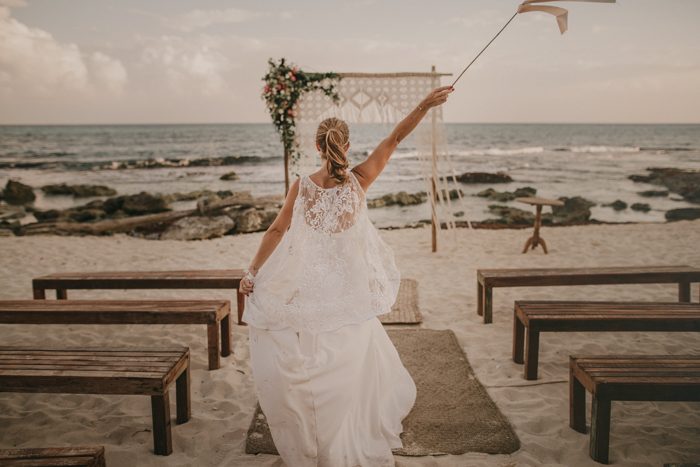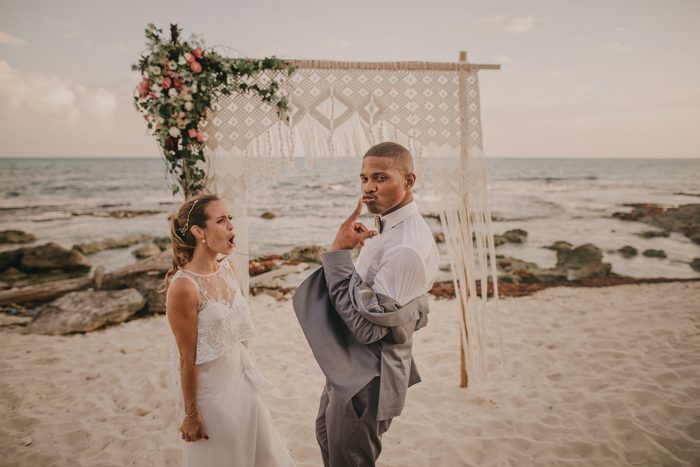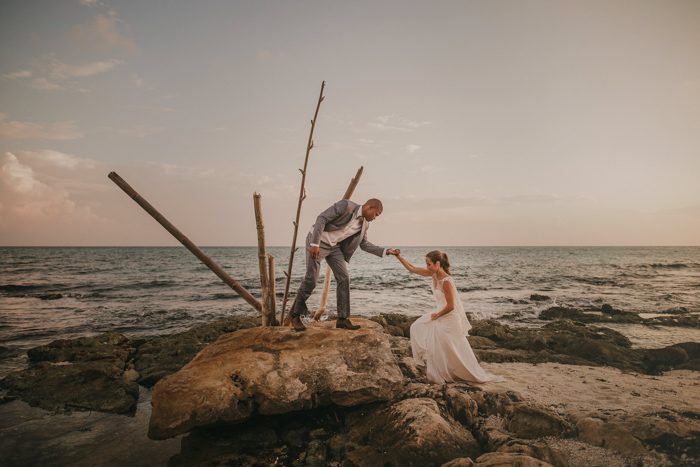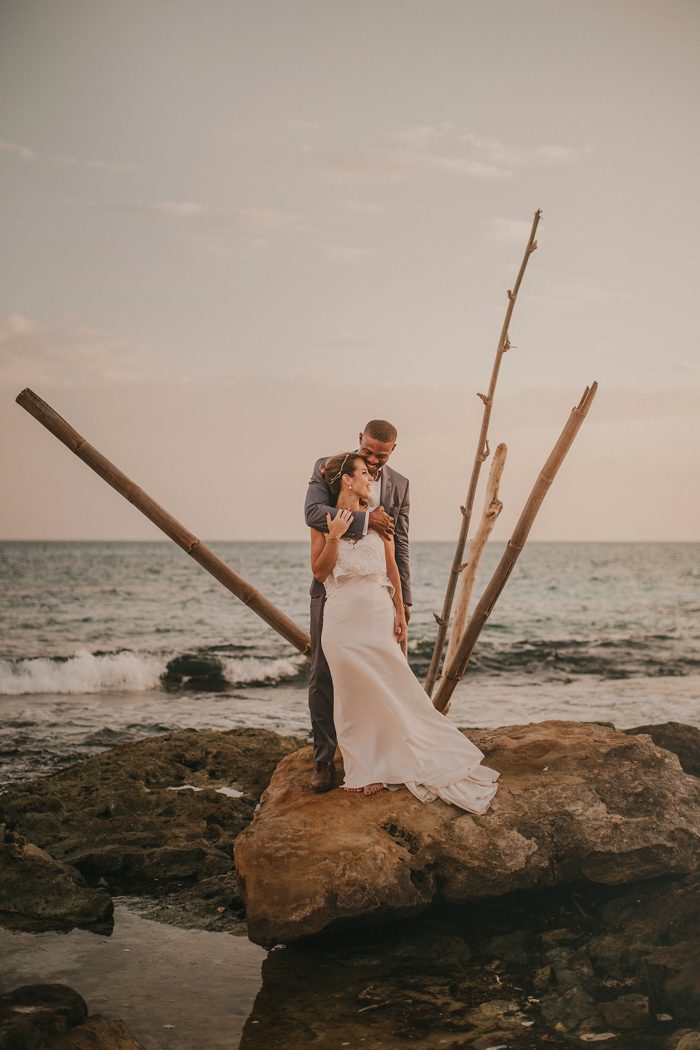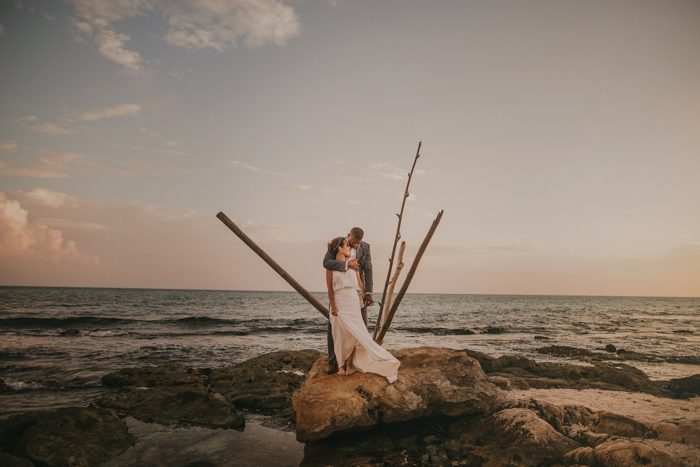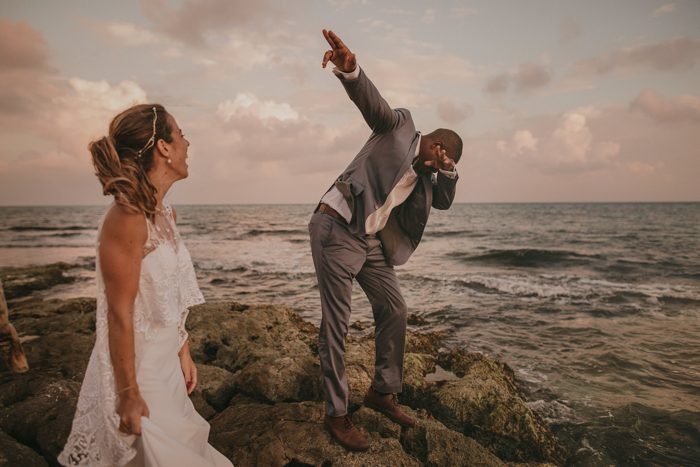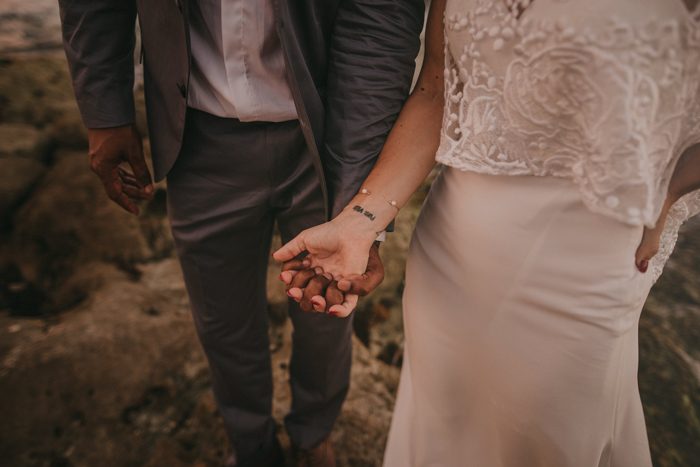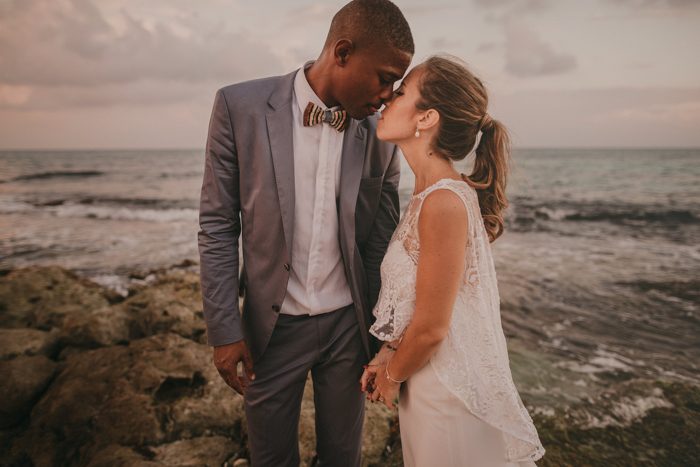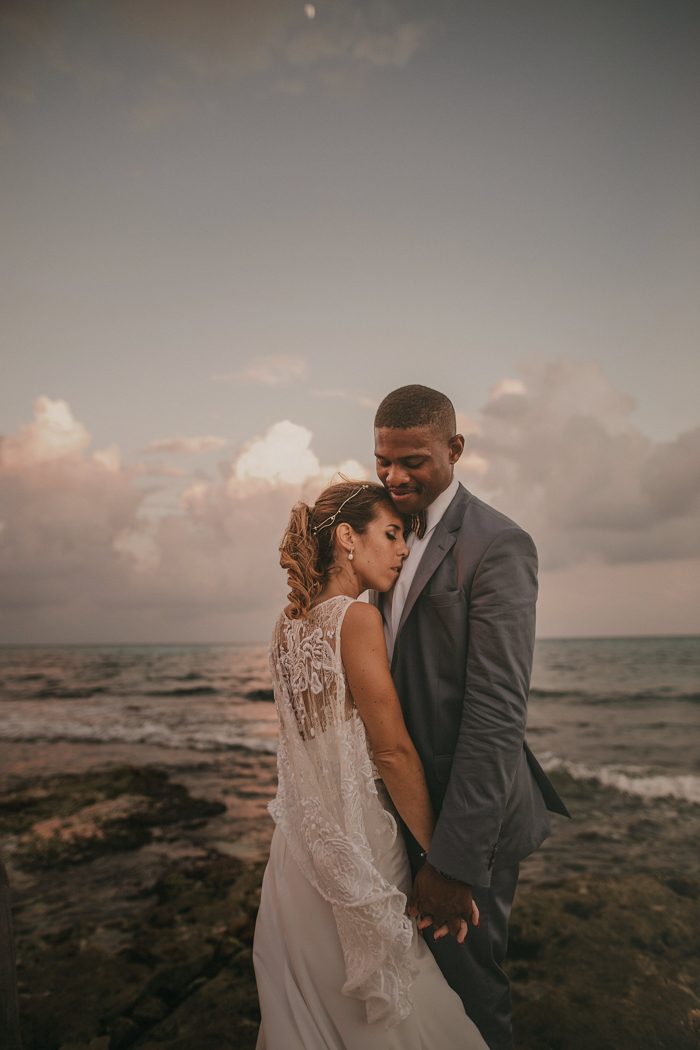 An extra special thanks to Junebug member (and bride) Adriana of The Creative's Loft Junebug member for sharing her and Gabe's wedding with us, and a huge congratulations to them on the beginning of their forever! Want to see more beach wedding magic? We've got just what you're looking for in Lien and Felix's secluded beach wedding at Villa Seven in Rhodes, Greece!