photo by Kaoverii Silva
When it comes to the rehearsal dinner, so many people assume it has to be a sit-down dinner the night before the wedding with just their family and wedding party. Well, we're here to tell you that's not the only option you have! Your rehearsal dinner is the last chance to get everyone together and chill before the rush of the wedding day. So why not mix it up and make it yet another night to remember? Think outside the formal ballroom and explore other group-friendly settings where you can serve your favorite foods, talk to all of your guests, and simply relax. As for the guest list, feel free to open it up to anyone you want — whether that's just the traditional family and wedding party, or all of your out-of-town guests. Here are a few unconventional rehearsal dinner ideas to help you get the party started before your wedding day.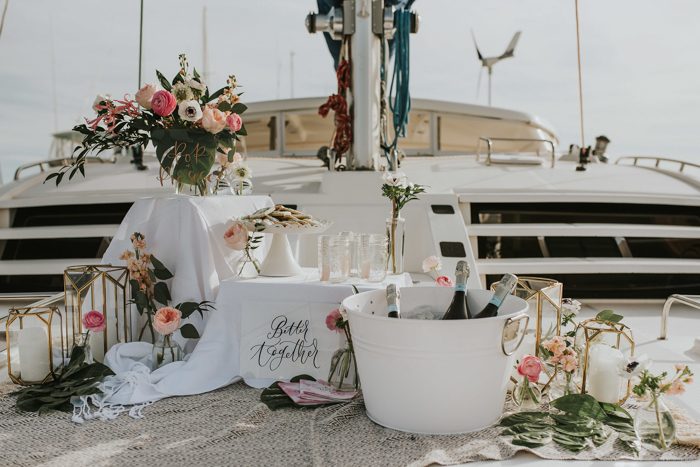 photo by Moving Mountains Photography
Boat Cruise
We can't think of anything dreamier than setting sail with your favorite people, enjoying dinner on the open water, and toasting your nearest and dearest as the sun sets over the horizon. This is a great way to get your guests out of their normal environment and into a truly relaxing space for the night. If you live near a large river, lake, or right on the ocean, chances are you will be able to find a boat cruise company that will allow you to rent a private vessel. As with any rehearsal dinner, let your guests know the plan ahead of time so they can dress appropriately and bring along any personal essentials. (This is especially true for a boat cruise in case some guests need to plan ahead for potential motion sickness.)
Restaurant Crawl
Why visit just one restaurant when you could visit a few? Think bar crawl but with food! We recommend having a plan before you set out and consider making reservations at each place so you don't have to wait when you get there. You can either break it up by dinner course or you can decide to do just drinks and small bites at each place. If you want to split it up by course, pick one spot for everyone to meet for drinks and appetizers. This would be a good time to let your guests in on the details if haven't already. Then move on to the second spot to enjoy the main dinner, distribute any wedding party or parent gifts, and call for any toasts. Once everyone has had their fill, end the night at a cozy café for dessert. This gives you a chance to share a few of your favorite restaurants with your favorite people and keeps the energy high all night long!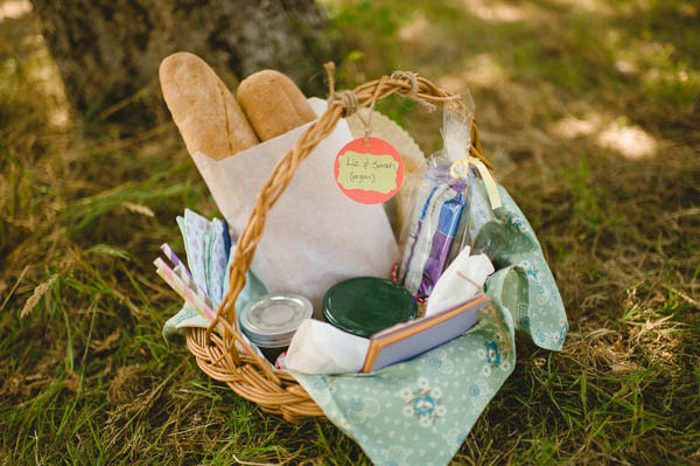 photo by Nordica Photography
Picnic
Your rehearsal dinner doesn't need to be fancy to be memorable, and a picnic is a perfect option for laid-back couples who want an equally laid-back celebration. First, decide whether you want guests to sit on the ground, traditional picnic style, or set up casual tables around the open space. Then put together a menu of simple finger foods, lemonades, flavored teas, and mini desserts and display them either buffet style or in picnic baskets. Tie it all together with a few simple floral arrangments, and you're set. Whether you have it in your backyard or a city park, your guests are such to love the relaxed feel and appreciate the chance to chill with you in an informal setting.
Theme Party
If you wanted a theme for your wedding but couldn't quite make it fit, make that dream come alive with a themed rehearsal dinner party instead. We've seen couples base their themes on a particular region, food, style, hobby, or interest. Some fun ideas include a Mexican-inspired fiesta, a crawfish boil, a casino night, or even a wedding-themed murder mystery party. This is your chance to go a little more whimsical and carefree than you might for your wedding and offer your guests a totally unique experience. It also makes for a perfect icebreaker for family members who might not have yet met or out-of-town guests who are meeting everyone for the first time.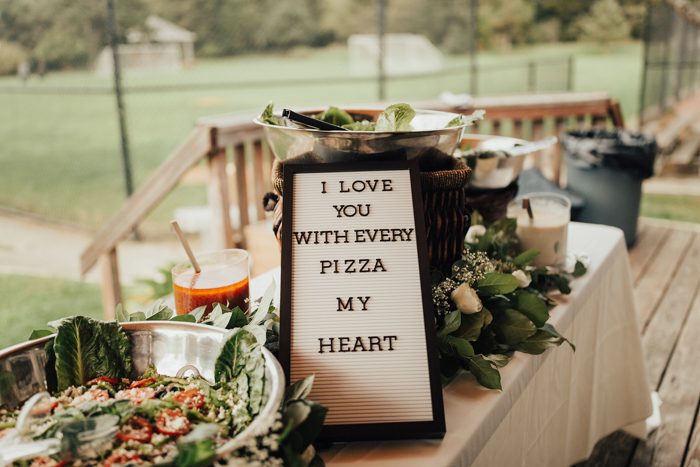 photo by Kylie Morgan Photography
Pizza Night
You know we're in favor of more pizza parties in general, so of course, we have to recommend it for your rehearsal dinner! This can be super casual with a buffet in someone's house and informal seating areas, or this can be a little more structured with a dinner-party style setup and personal pizzas for each guest. Of, if you're feeling really creative and have a small group, you could even go for a make-your-own pizza party! Whichever setup you choose, consider offering fun cocktails in addition to beer and/or wine to add a personal twist. Think uniquely flavored margaritas, spiked teas and lemonades, or fancy martinis. We guarantee you can't go wrong with a classic pizza party, so don't be afraid to spice it up and make it your own.
Brewery, Distillery, or Winery Tour
If you're looking for a day-time post-rehearsal celebration, a tour of a local brewery, distillery, or winery is a great option. Depending on the size of your group, you might be able to book a private tour, or you might have to go with other walk-ins. So, if having a private tour is important, make sure to call around to find a place that can accommodate your group. You also want to check whether children are available so you can let guests know ahead of time whether their little ones can attend. A lot of breweries, distilleries, and wineries have begun to offer food, as well, so you can make a day of it all in one place.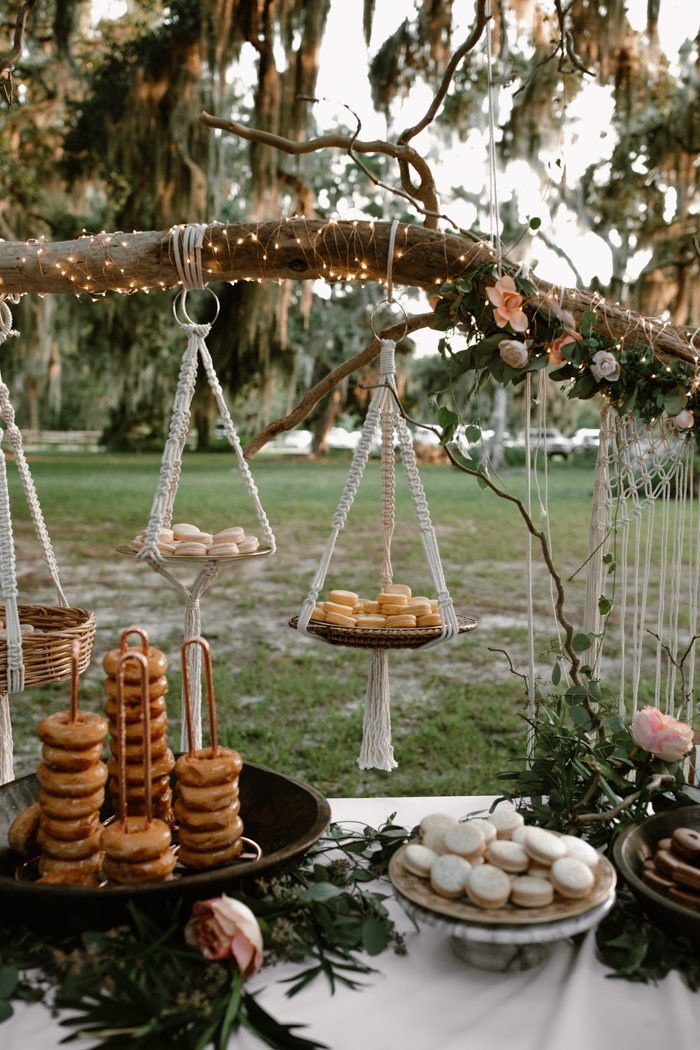 photo by Yellow Bird Visuals
Brunch
Is it just us or is brunch a good option for just about any celebration? Nothing brings people together quite like a waffle bar, mimosas, and a tower of donuts! You can throw a brunch rehearsal meal right before or the day after the actual wedding rehearsal. Keep it simple and sweet with interactive food stations, bright decor, and peppy background music. And make sure to specify on your invitations what you want your guests to where because brunch can go either super casual or a little bit dressy. If you're looking for inspiration, take a peek at some of these brunch wedding ideas that you can easily incorporate into your rehearsal celebration.
Game Night
There's nothing like a little friendly competition to raise everyone's spirits and make all your guests feel part of the group. We absolutely love the idea of a game night rehearsal dinner with good food, wine, and board games. You could even up the ante by making it tournament style and giving small prizes to the nights' winners! Consider catering your favorite foods so nobody has to worry about cooking or clean-up. And, if the group is big and you need to set up several gaming stations, pick games in different genres so everyone can find something they love. Just be sure you and your fiancé rotate to different tables throughout the night so you get a chance to play with everyone.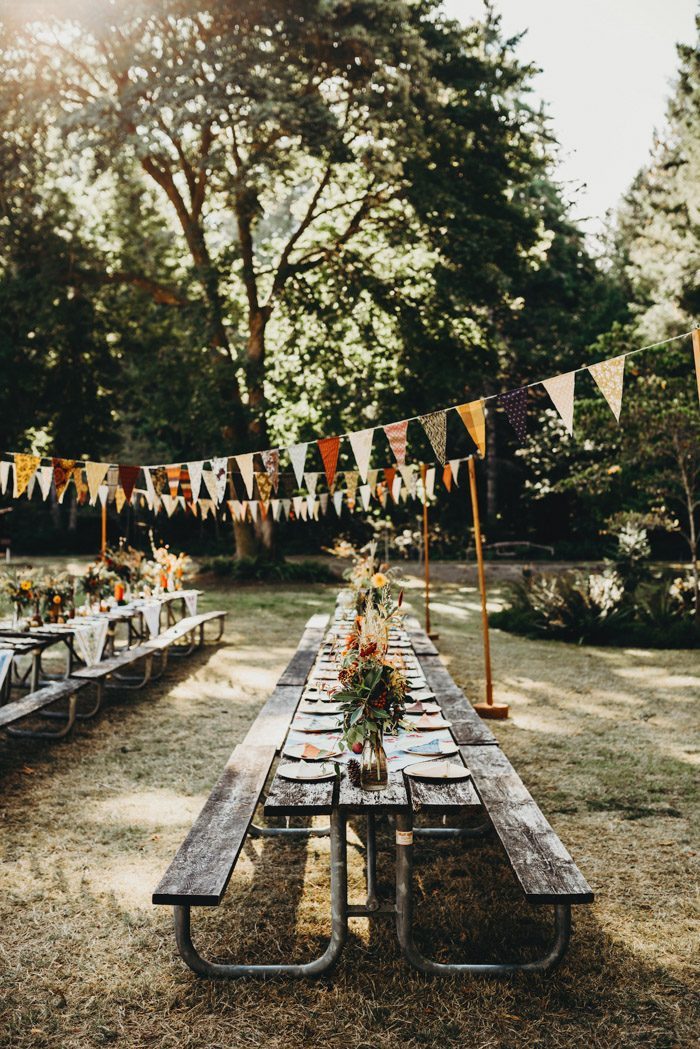 photo by Noelle Johnson Photography
Backyard Barbecue
This is an oldie but a goodie for low-key couples, families on a budget, or anyone who loves BBQ. All you need are some picnic tables, pretty centerpieces, simple place settings, and some lighting if it will be a nighttime dinner — think cafe lights strung through the trees or candles on every table. Then you just need to decide whether you want to cater food from your favorite BBQ joint or have someone work the grill. Just be sure to keep the menu simple and provide other activities, such as lawn games, to give your guests a reason to get up and mingle.
Now that you have the perfect rehearsal dinner plan, you'll need to find the perfect dress to wear! Shop these little white dresses for your pre-wedding events!