Family, friends, and even vendors—there are so many people involved in bringing your dream wedding to life. By the time your big day comes to an end, you'll want to show your appreciation for those that played an important role.
At Junebug Weddings our job is to make your wedding planning process smooth at every stage—wedding gifts included. That's why we've created the ultimate gift guide for everyone participating in your wedding. Here are the top gifts that'll show your gratitude without breaking the bank.
Gifts For Your Wedding Party
Your wedding party is filled with some of your dearest family and friends. And now that your wedding day has come to an end you'll want to thank the people that stood by your side through it all. Because they're a key component of your wedding journey, it's important to show them just how much you appreciate them.
Bridesmaids Gifts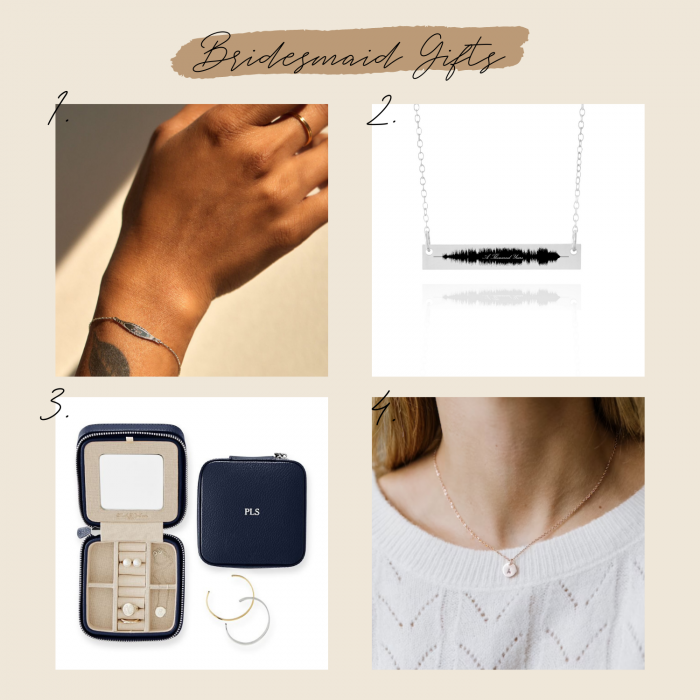 1. Cygnet Bracelet ($) 2. A Thousand Year – Custom Soundwave Necklace ($) 3. Small Travel Jewelry Case ($) 4. Rose Gold Initial Necklace ($)
Groomsmen Gifts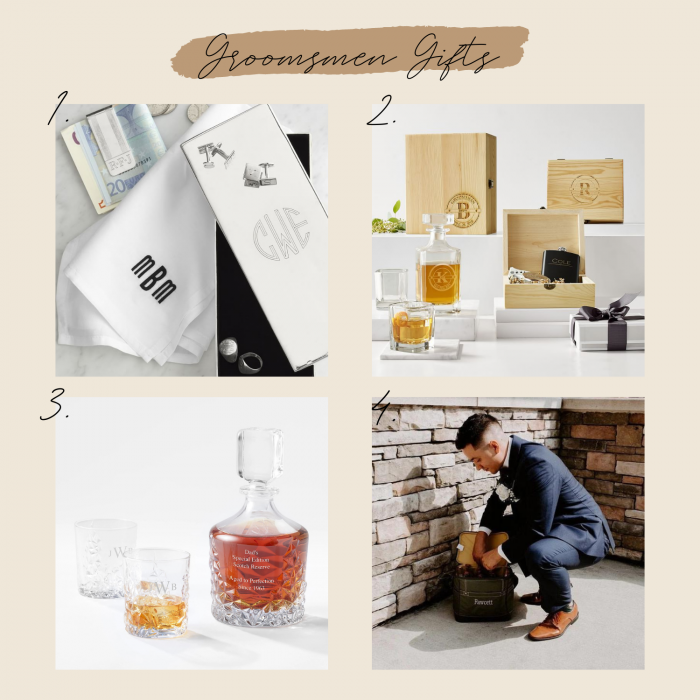 1. Gentlemen's Handkerchiefs ($) 2. Wooden Decanter And Glasses Gift Set ($) 3. Crystal Sculpture Decanter Set ($) 4. Groomsmen Cooler ($)
Show Your Love For Your Parents
How do you even begin to show your love and appreciation for your parents? After all, they're the people that have shown you unconditional love and support throughout your wedding planning process. It can be difficult to hunt down a meaningful gift that represents your gratitude, but we're here to help. Here are a few gift ideas to show a token of your appreciation for your parents.
Gifts for Moms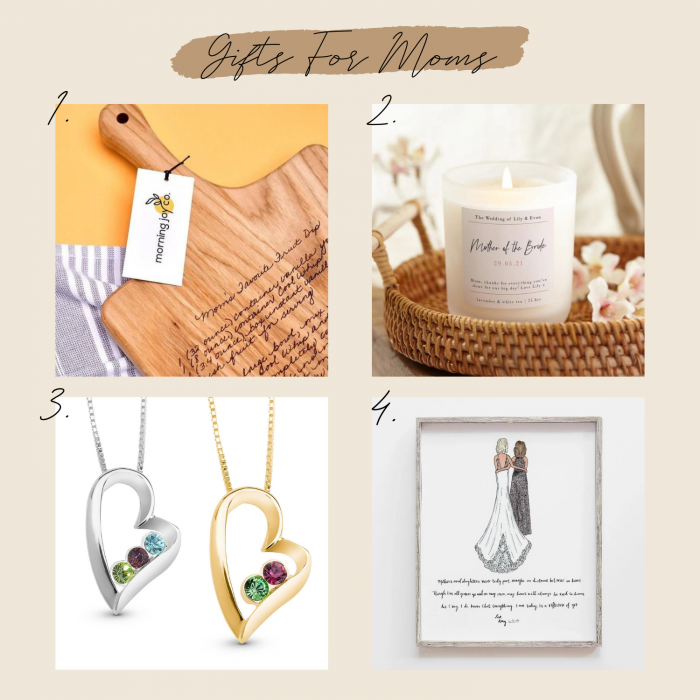 1. Recipe Cutting Board ($69) 2. Mother of the Bride Thank You Gift Candle ($23.79) 3. Sterling Silver Heart Birthstone Necklaces ($59.99-$70.00) 4. Custom Mother of Bride or Groom Drawing ($119.00)
Gifts for Dads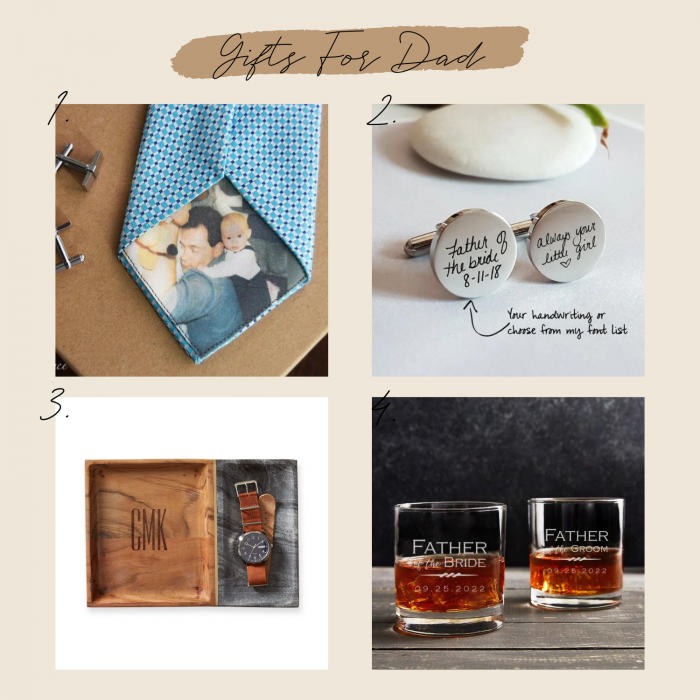 1. Custom Photo Tie Patch ($21) 2. Personalized Cufflinks ($29.98) 3. Wood And Marble Valet, Charcoal Marble ($69) 4. Engraved Personalized Father of the Bride or Groom Whiskey Glass ($14.99)
Flower Girls And Ring Bearers
Whatever you do, don't forget about the little ones. Picking out the perfect gift for your flower girl and ring bearer is a great way to thank them for being part of your celebration. From stuffed animals to jean jackets, here are the top gifts to show your love to them.
Flower Girl—or Boy gifts
1. Birth Flower Pendant Necklace ($80) 2. Flower Girl Box Gifts ($14.84) 3. Embroidered Flower Girl Jean Jacket ($60) 4. LEGO Helicopter Chase Set ($40)
Ring Bearer Gifts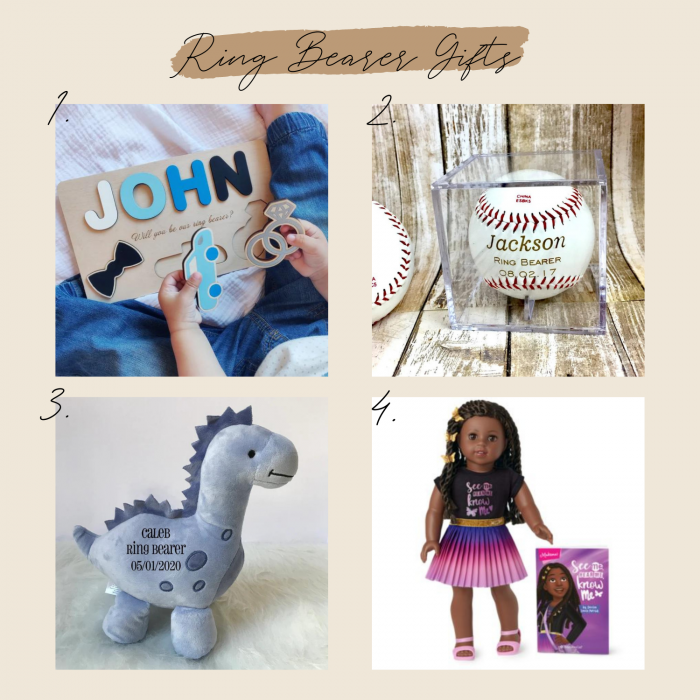 1. Ring Bearer Personalized Wood Puzzle ($25) 2. Ring Bearer Personalized Laser Engraved Baseball ($13.19) 3. Ring Bearer Dinosaur Plush ($27.50) 4. American Girl Doll ($145)
Ways To Thank Your Wedding Vendors
There are a lot of important people involved in your wedding planning process including the talented wedding vendors working behind-the-scenes to bring your dream day to life. Sure, it's always a great idea to tip your vendors. But, if you're looking to go above and beyond to show your appreciation, these meaningful gift ideas are sure to say thanks.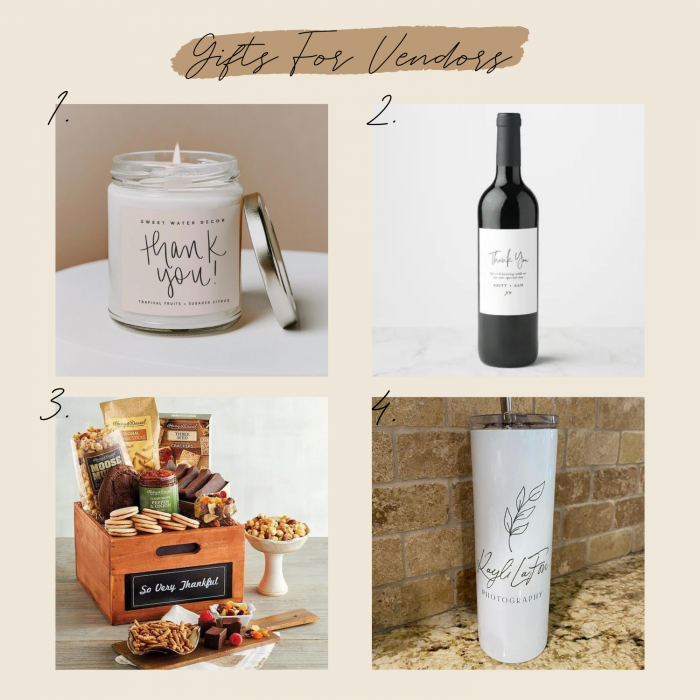 1. Thank You! Soy Candle ($20) 2. Minimalist Wedding Thank You Handwritten Script Wine Label ($5.32) 3. "So Very Thankful" Gift Basket ($69.99) 4. Custom Logo Tumbler Cup ($20)
Junebug Tip:
If you're opting for the logo tumbler cup, use your vendor's own logo to make it extra special and personalized.
We also recommend writing thank you notes, shouting them out on social media, and even leaving a positive review online. These gifts aren't tangible but will show your appreciation and help grow their business—the most valuable gift you can give your vendors.
Your wedding day has come to an end, you've shown your appreciation for key players, now it's time for thank you notes. If you're wanting to say thank you in style, we're here to help. Check out this round-up of our favorite Etsy wedding thank you cards that'll show all your guests how much you appreciate them.