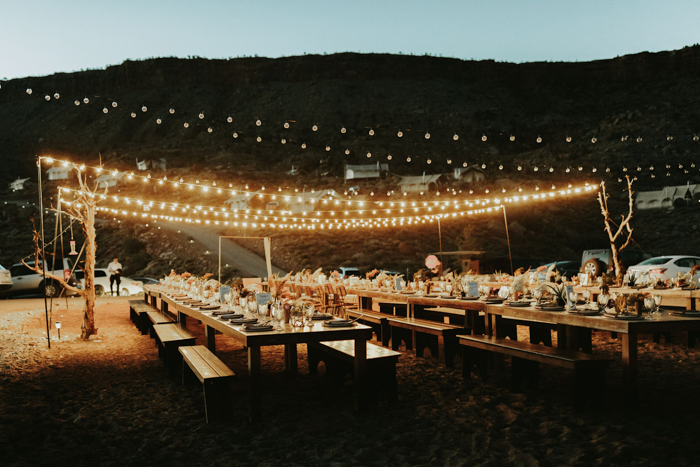 photo by Lauren Mihae Photography; see this real Junebug wedding here.
Intimate and micro weddings are a perfect opportunity to include the classic design elements of a traditional wedding—with a much smaller guest count. These small scale events feel naturally cozy, but take your intimate wedding reception to the next level with a few simple additions that will leave guests impressed with your thoughtful eye.
How to Create a Cozy Wedding Reception:
Lounge Seating
Coffee, Tea, or Hot Cocoa Bar
Candles and/or Twinkle Lights
Mixed Table and Floor Seating
Family-Style Dining
Layered Rugs
Lush Greenery
Pie for Dessert
Throw Blankets
Late-Night S'Mores
Once you set your hearts on a few of these ideas, be sure to coordinate with your planning team to incorporate them into your wedding reception decor.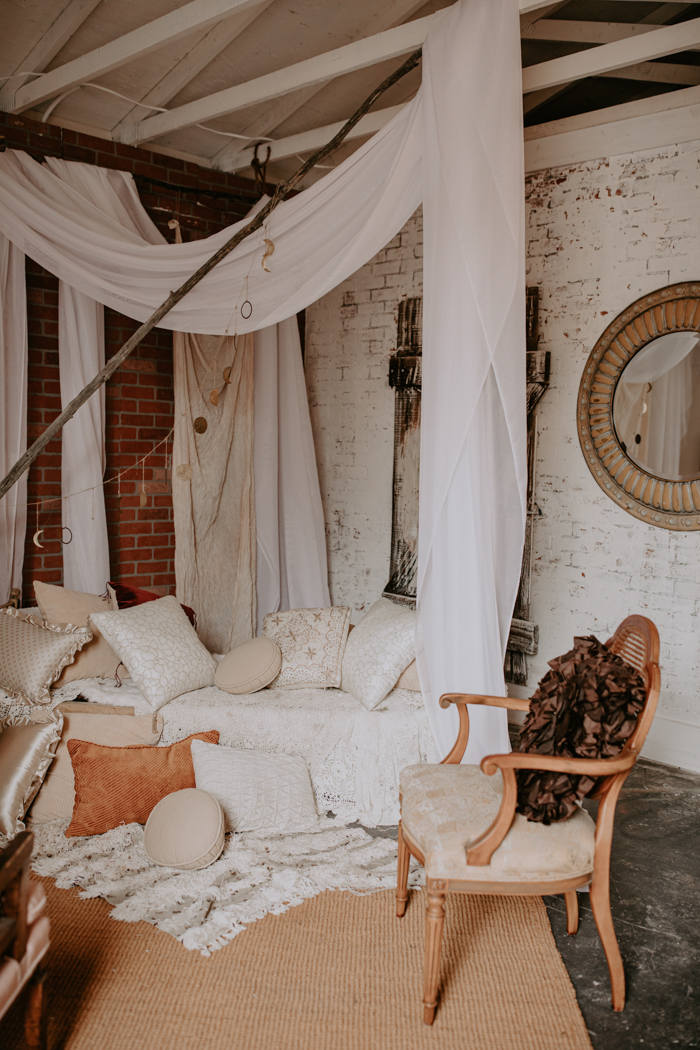 photo by May Iosotaluno Photography; see more of this real wedding here.
Lounge Seating
Adding a lounge area to your reception space makes it easier for guests to converse away from the dance floor and music. Ask your photographer to capture a few portraits on the cute furniture for unique photos you'll cherish.
Coffee, Tea, or Hot Cocoa Bar
Hosting a fall or winter wedding? Really love coffee? Warm up guests' bellies and hearts with warm beverages. Junebug tip: You can support a small business by asking local coffee shops about their event pop-up offerings like this real couple did.
Shop Coffee Mugs to Keep for Your Home:
Candles and/or Twinkle Lights
The ambient light from candles and twinkle lights adds a touch of romance (okay, okay maybe it's more than just a touch) and endless cozy vibes to any reception. Plus, you can totally reuse them after the big day.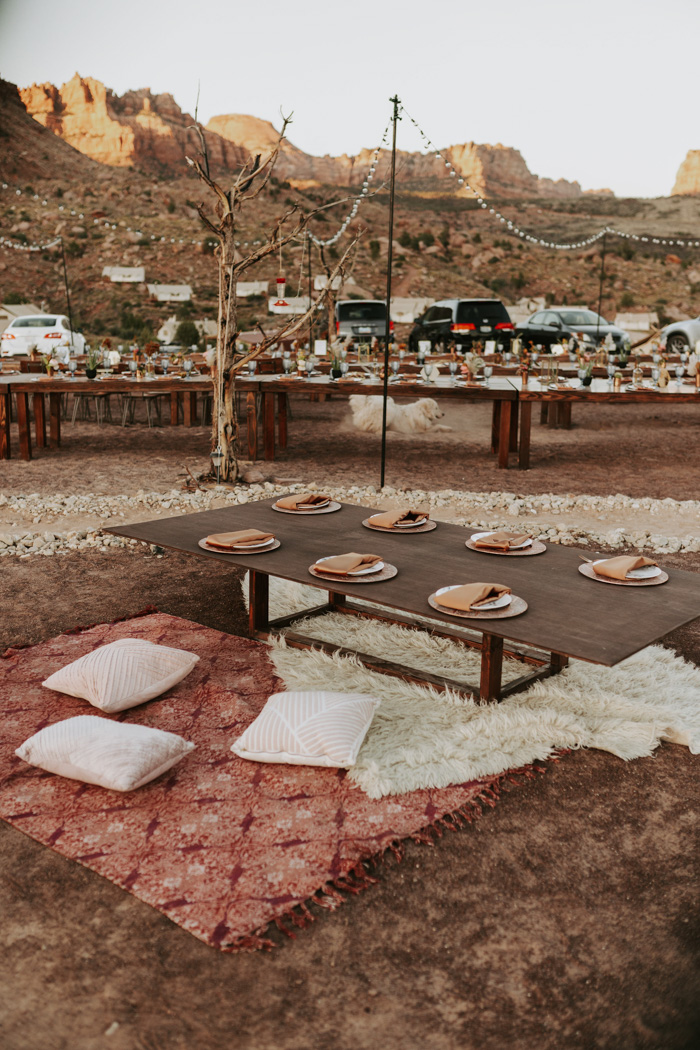 photo by Lauren Mihae Photography; see this real Junebug wedding here.
Mixed Table and Floor Seating
If you're planning to host a backyard wedding, consider mixed table and floor seating. Your guests will enjoy the opportunity to spread out and get comfortable. Make sure to provide plenty of floor pillows!
Family-Style Dining
Micro and intimate wedding receptions are the perfect opportunity to gather around a long, farm-style table and enjoy a delicious meal with your favorite people. Consider purchasing a dining set you love and can keep after the big day.
Shop Dining Sets to Keep for Your Home:
Layered Rugs
Layered rugs are a lovely way to warm up any reception space. This decoration technique might seem a bit overwhelming—to get just the right mix of patterns and layers—but hiring an expert planner can help you pull it off with ease!
Lush Greenery
Consider this cozy wedding reception idea when hunting for your venue. If you choose a space that's already lush in landscape, you won't have to add a thing!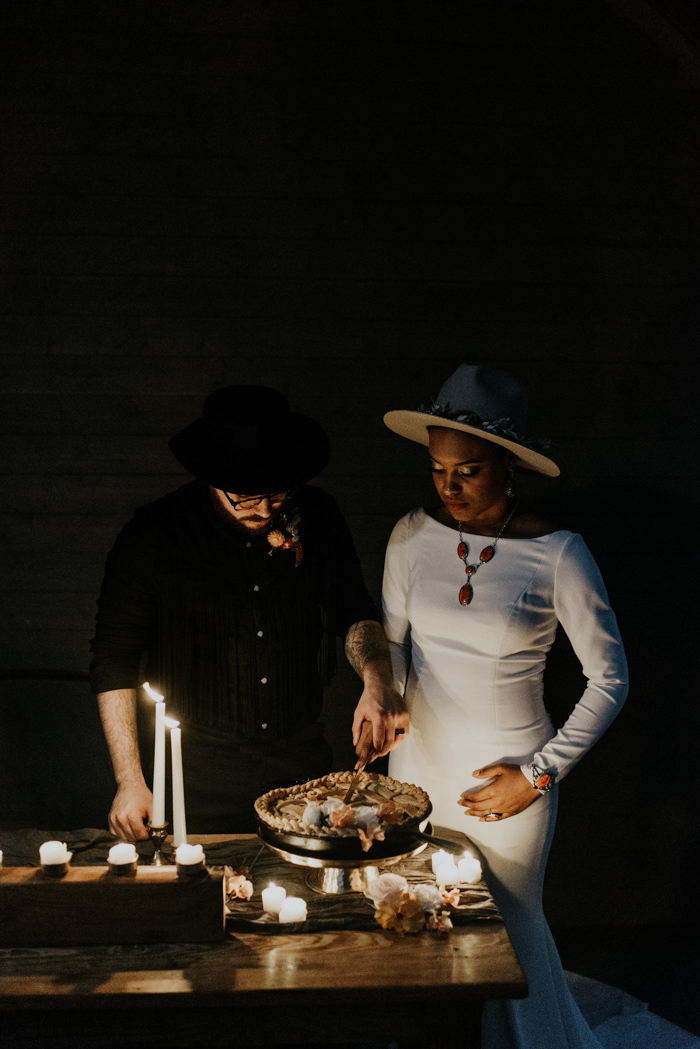 photo by Map + Compass Photography; see more of this styled wedding shoot here.
Pie for Dessert
Our mouths are watering at the thought of freshly baked pie. Adding pie to your dessert menu can provide a perfect opportunity to pull out old family cookbooks and search for a recipe. A touch of sentimental value will make your day extra special.
Throw Blankets
There's truly nothing sweeter than snuggling in a blanket with the one you love. Use chilly weather as an opportunity to cue snuggles. Include a throw blanket on each guest's ceremony seat. Bonus: They make an awesome, purposeful favor to take home!
Shop Cozy Throw Blankets for Your Guests:
Late-Night S'Mores
If you have access to a campfire or fireplace at your venue, a s'mores bar can be the perfect last-night snack. You can even stock the bar with gluten free graham crackers and dairy free chocolate to accommodate any guests with food allergies.
We can't wait to see how you incorporate these cozy wedding reception ideas into your big day. We're here to help you plan your entire wedding, from the style of your sweetheart table to the ultimate wedding reception timeline. If you're looking for even more inspiration for your wedding, check out how Junebug brides implemented these ideas—and more—on their special days.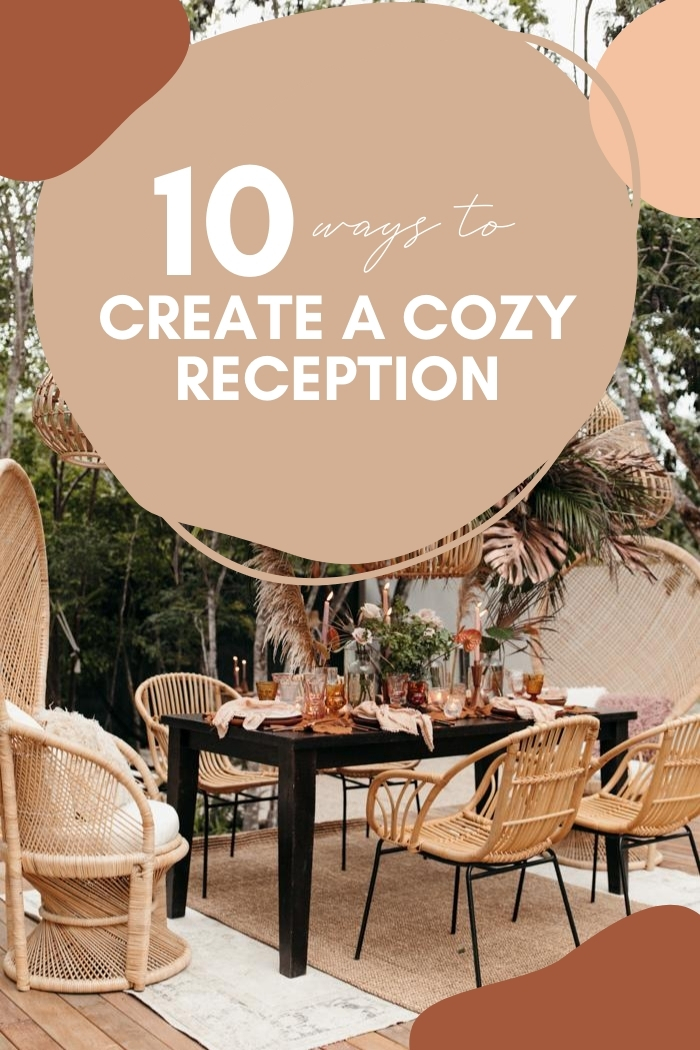 photo by Melissa Marshall