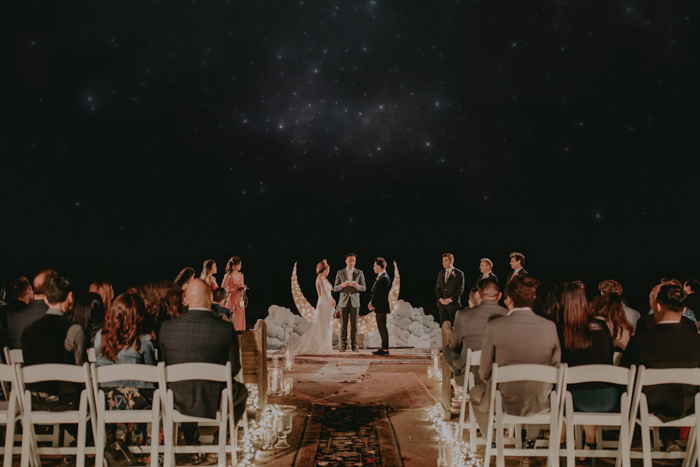 Give us all the moonlight ceremonies, please! Irene and Cem's moody, nighttime Wolf Feather Honey Farm wedding in Temecula, California was everything but traditional. When the couple was planning their day, it was important to get married under a new moon—the most opportune time to set new life intentions together. So they decided to forgo the traditional wedding itinerary and say "I do" under the stars! Pre-ceremony the couple hosted their family and friends in a most adorable reception set-up with boho Thrifted Sisters Vintage rentals, eats from C&L Catering, and an adorable LA Union Coffee truck. If you've ever dreamed of a totally unique wedding at every turn, you are going to swoon over every fabulous photo May Iosotaluno Photography captured of Irene and Cem's romantic day.
The Couple:
Irene & Cem
The Wedding:
Wolf Feather Honey Farm, Temecula, California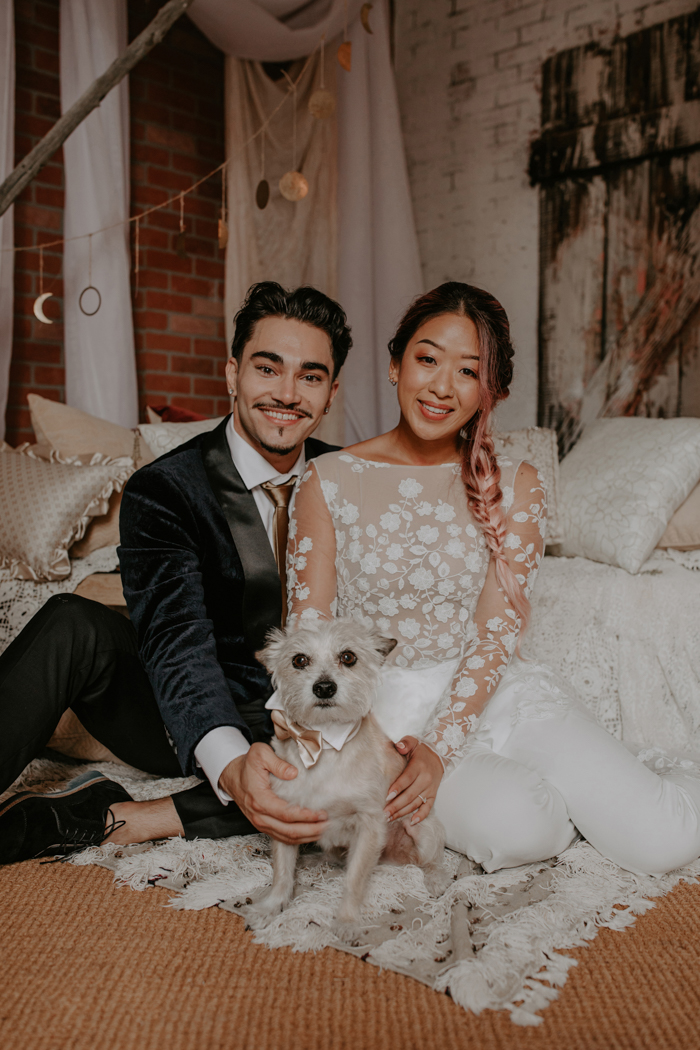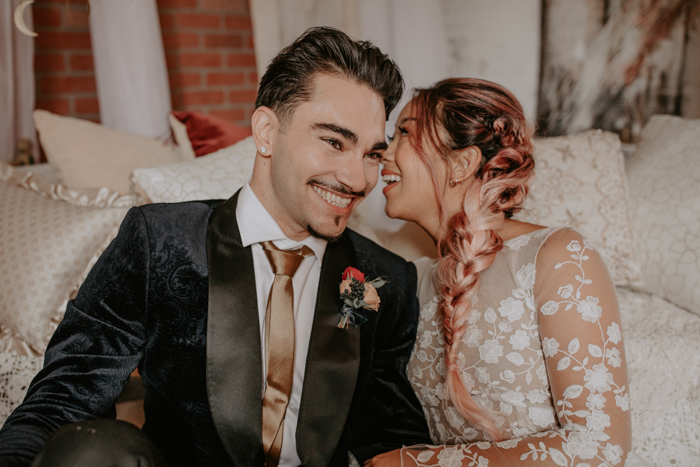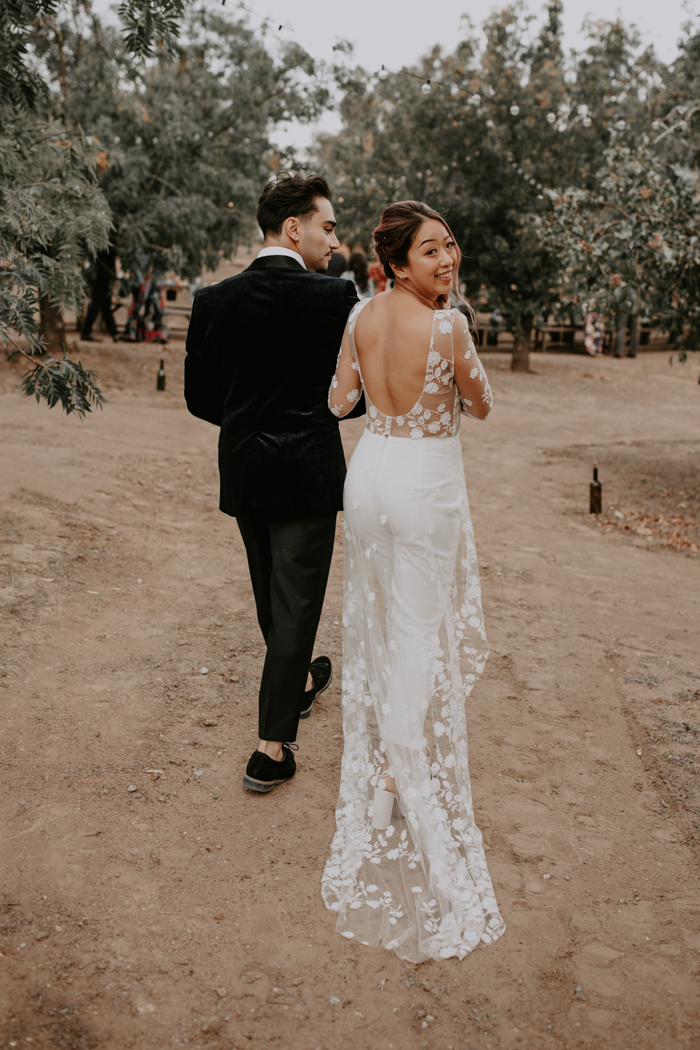 I didn't want to wear my gown before walking the aisle – I wanted it to be a surprise for Cem. So I ended up getting a second bridal outfit, the Patsy Jumper by RIme Arodaky, which I wore for all the pre-wedding festivities. I thought it was super elegant, but wouldn't upstage by ceremony gown. Since it has trousers, I was also super comfy.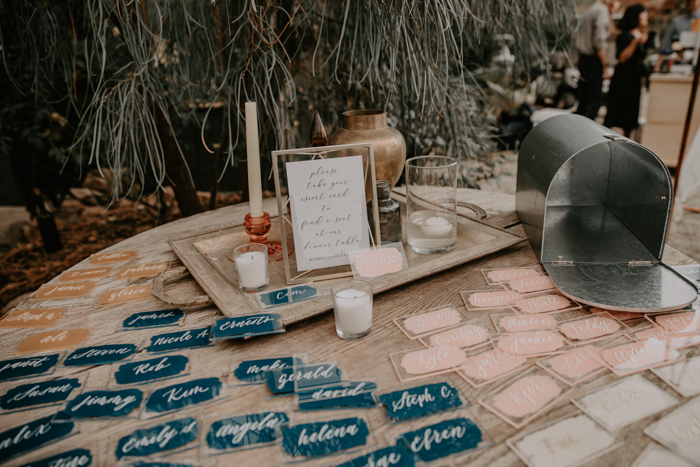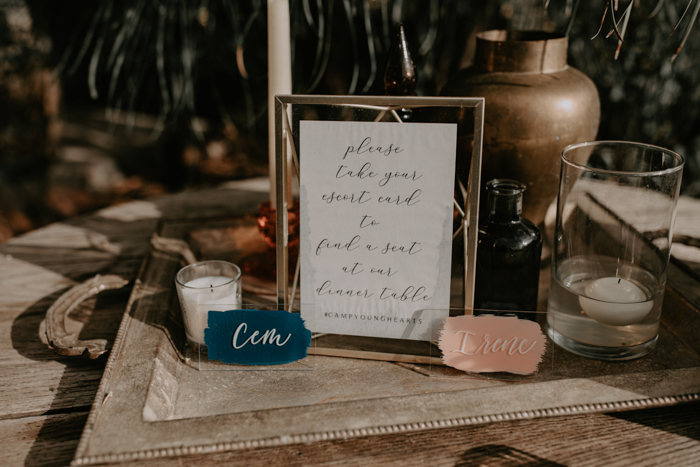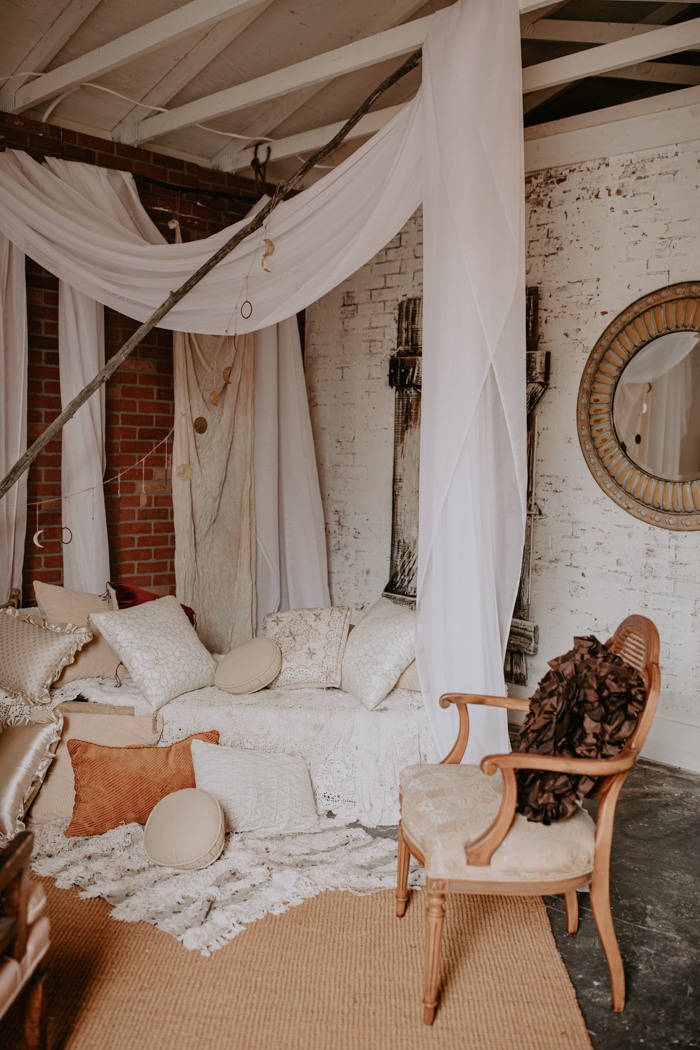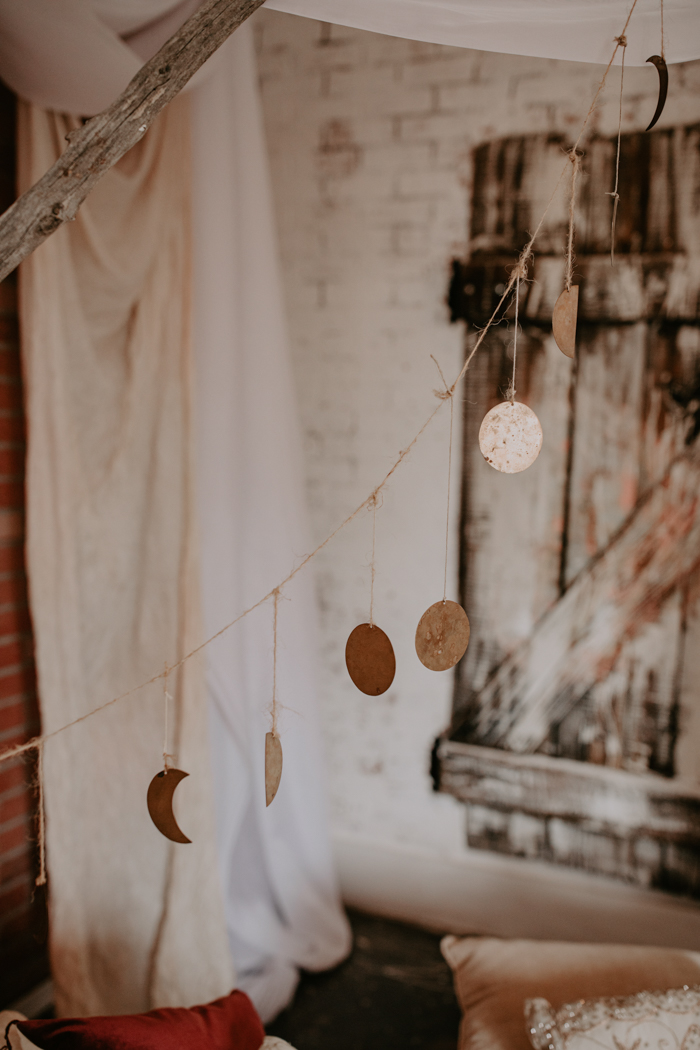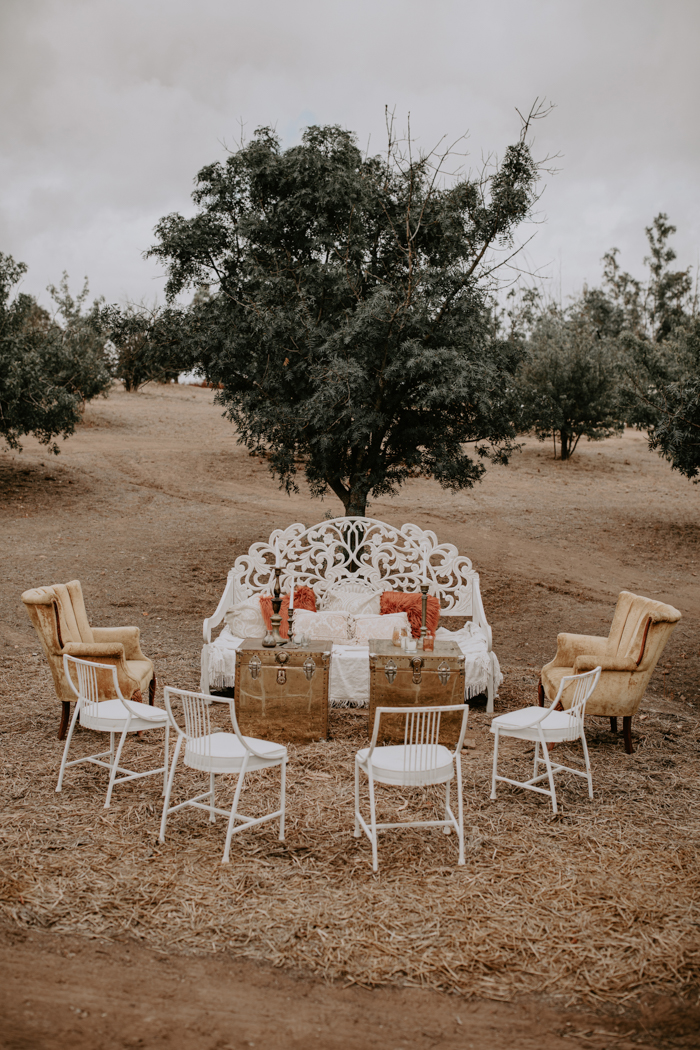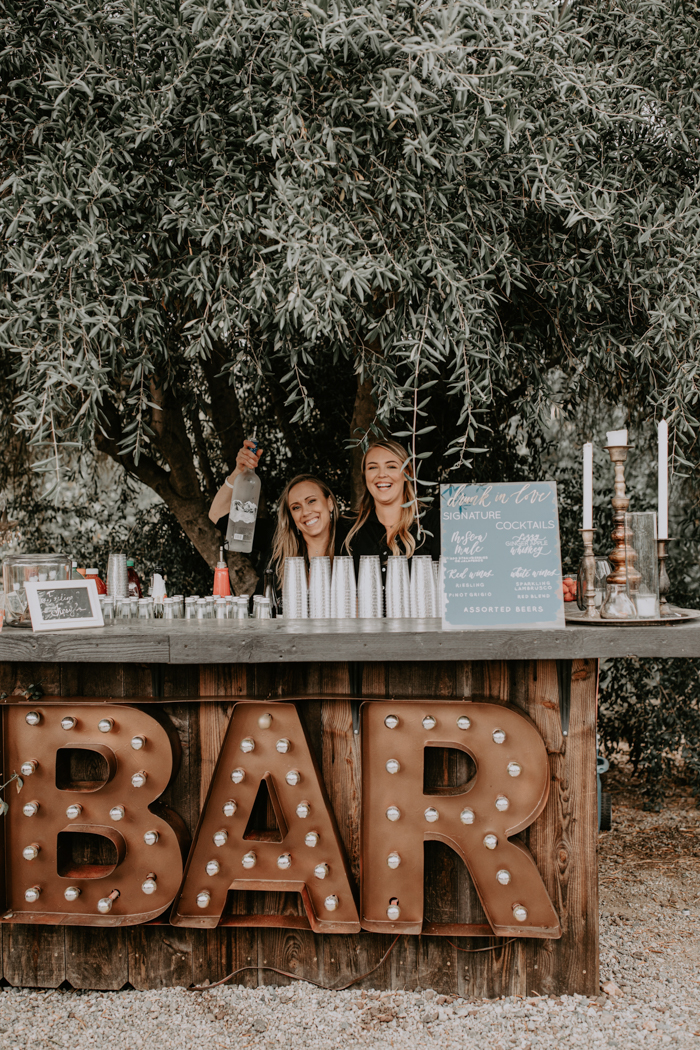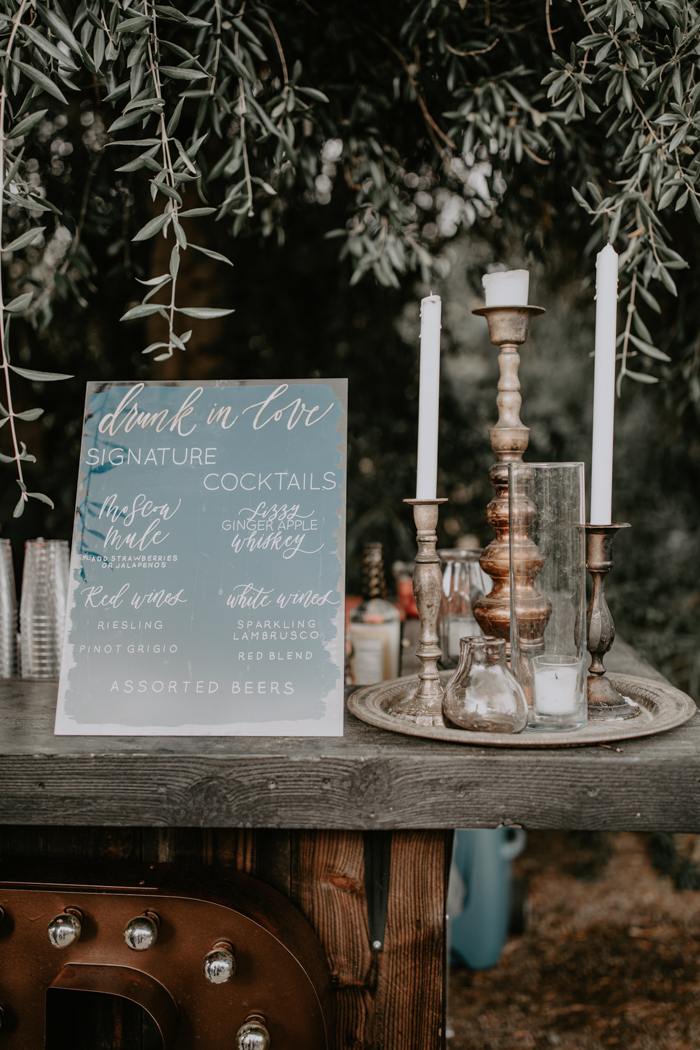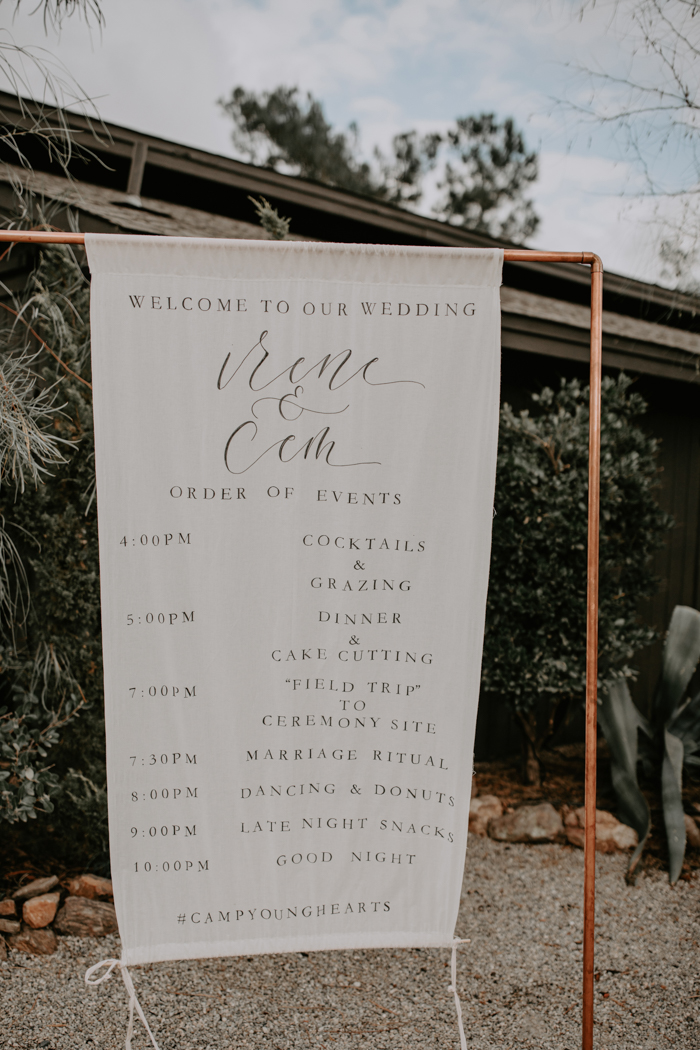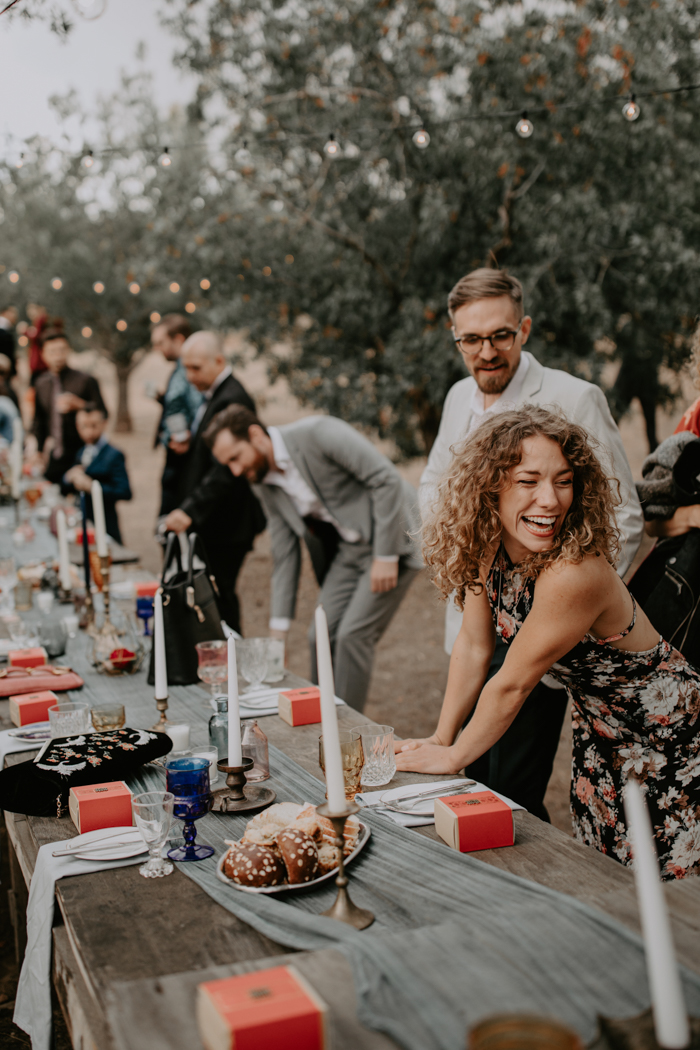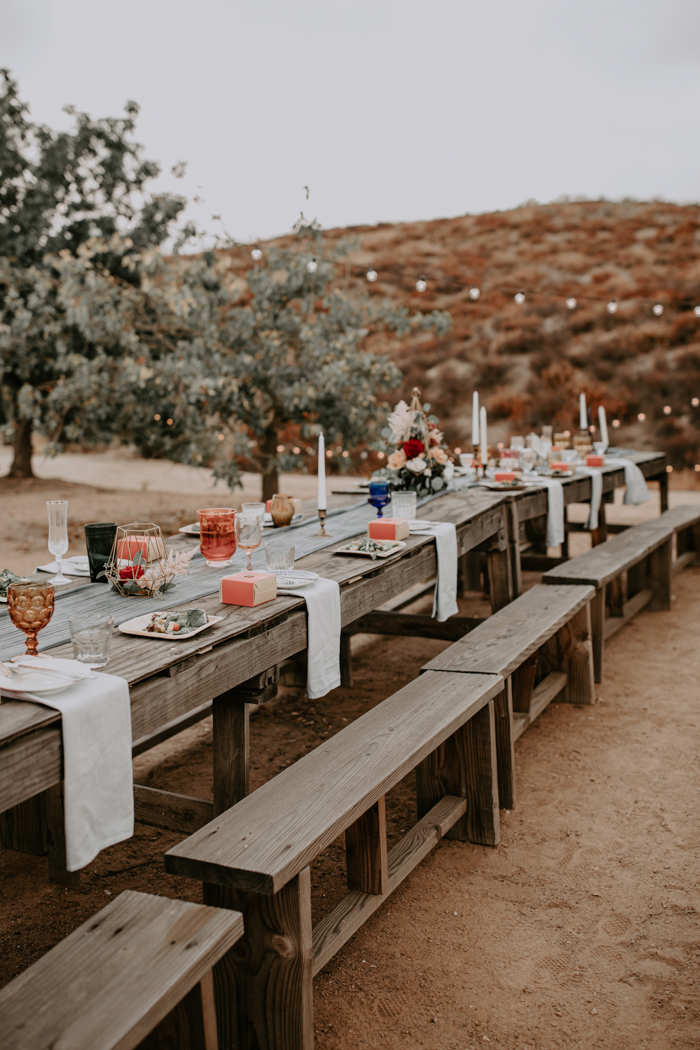 Logistically, because we wanted to get married at night, and the sun did not set until 7pm that night, it forced us to rethink our whole wedding schedule. We ended up doing cocktail hour and dinner first, before the ceremony, followed by reception/dance party. It actually worked out great, because nobody was sitting around hungry and people were well on their way to "party-land" by the time the actual reception rolled around.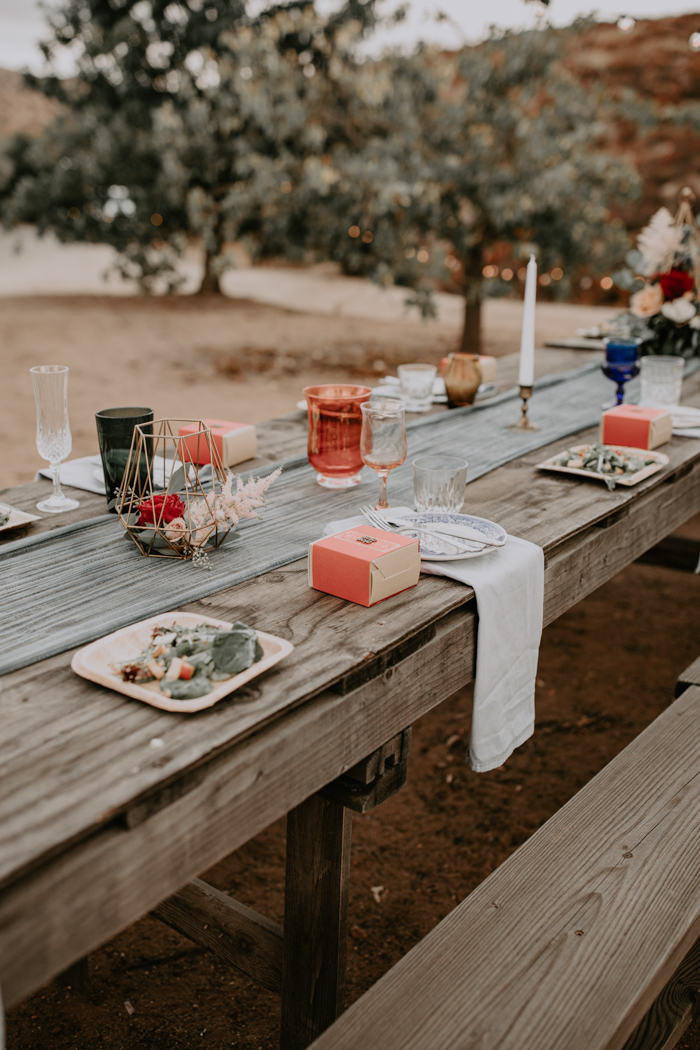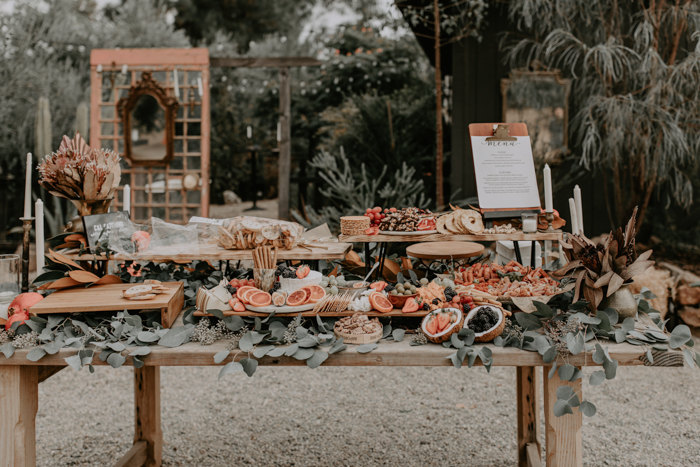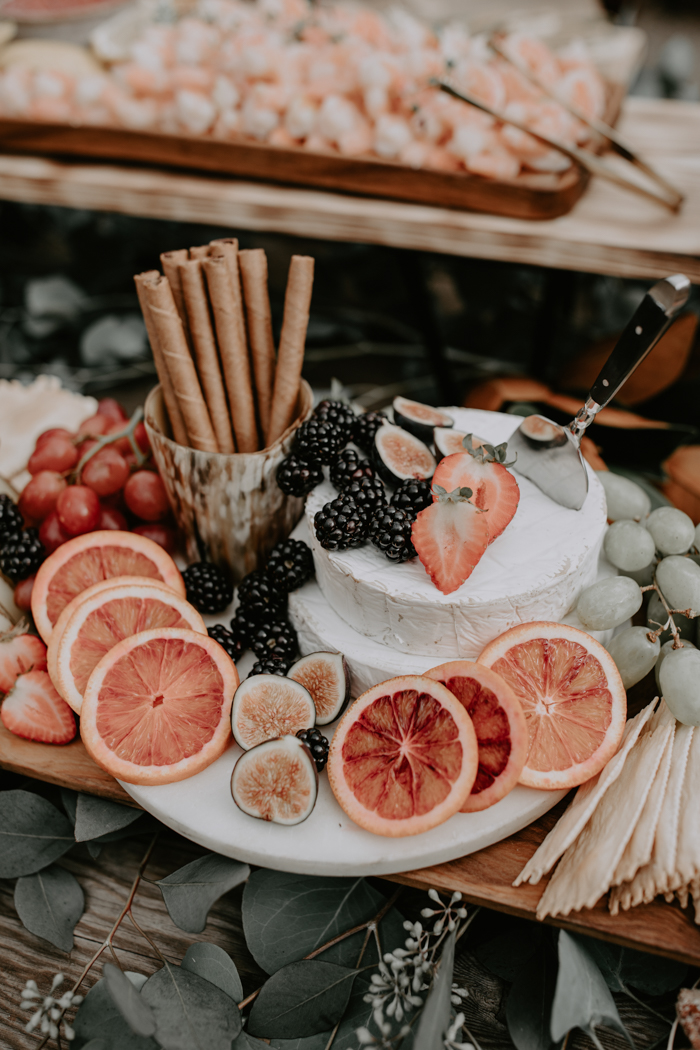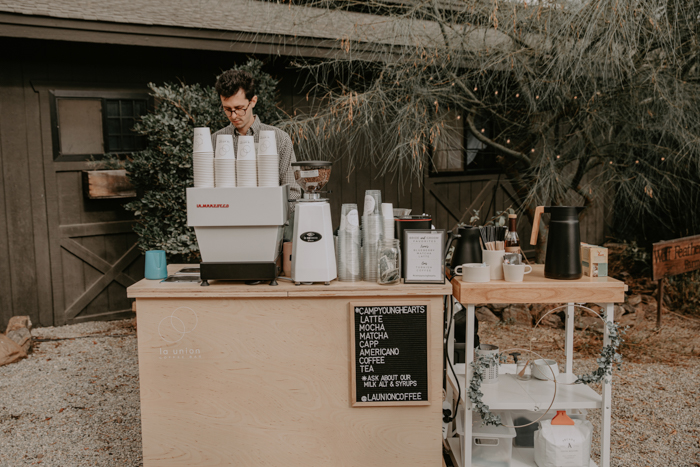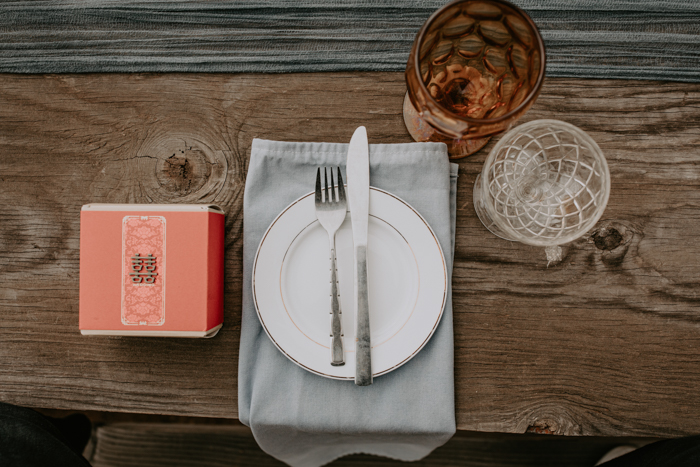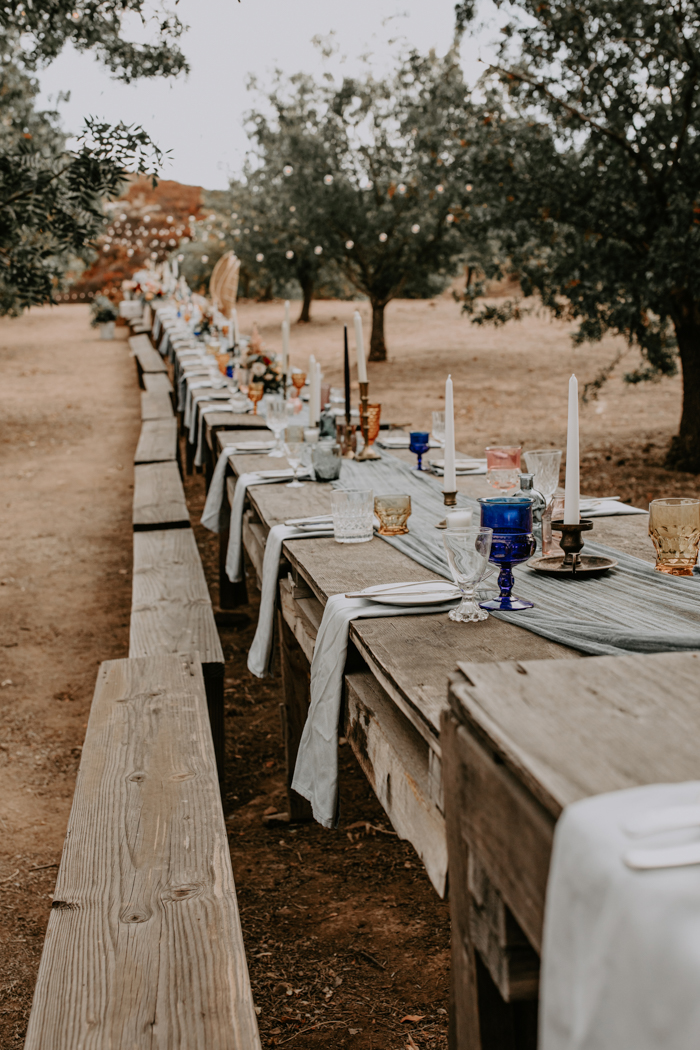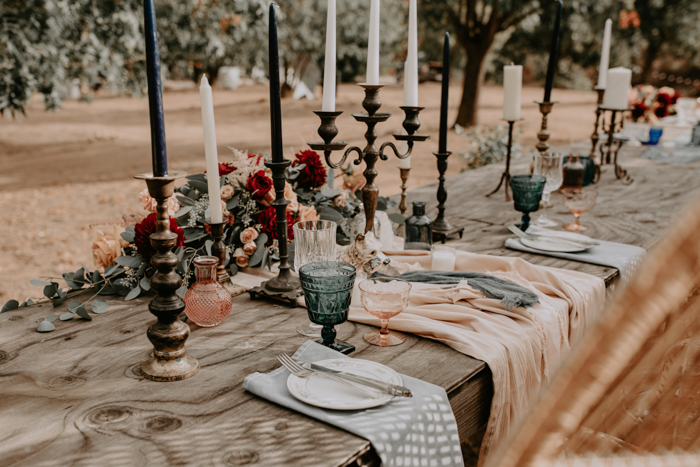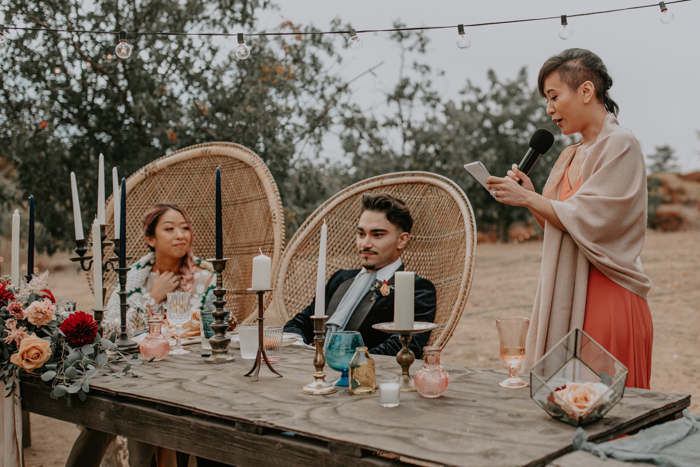 We were especially impressed with our Caterer, C&L Catering and Decor, which is headed by lovely husband and wife team, Curtis and Liana. The owner of our venue had recommended them to us, as a caterer who had done smaller events there, but wanted to venture into larger parties and weddings. We actually met with 6 different caterers in the vetting process. Every other Caterer had more experience than C&L, but the reason we ultimately chose C&L was because they seemed genuinely excited for our wedding. They were eager to make our wedding special, and come up with food that we really liked – from the hors d'oeuvres to the grazing boards to the entree to the late-night snacks . The menu evolved and changed many times leading up to the wedding, simply because they would get a new idea and email us saying, "Hey, we made something new. What do you think of this?" We really appreciated their creativity and attentiveness. Honestly, they just made the other Caterers seem a bit "cookie-cutter" to us. We eventually decided to have them cater our rehearsal dinner the night before as well. Can't recommend them enough!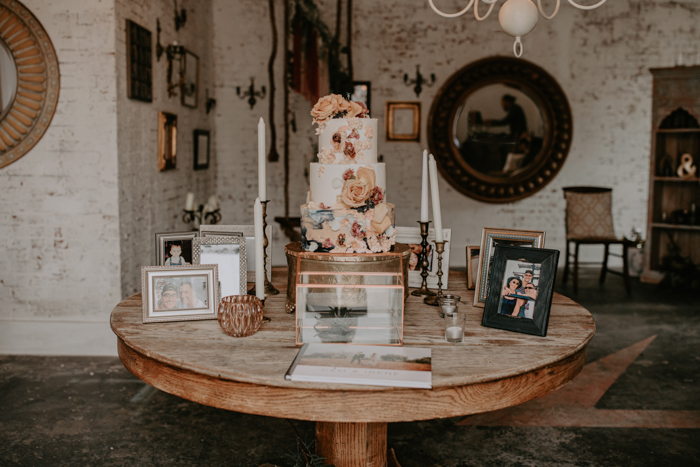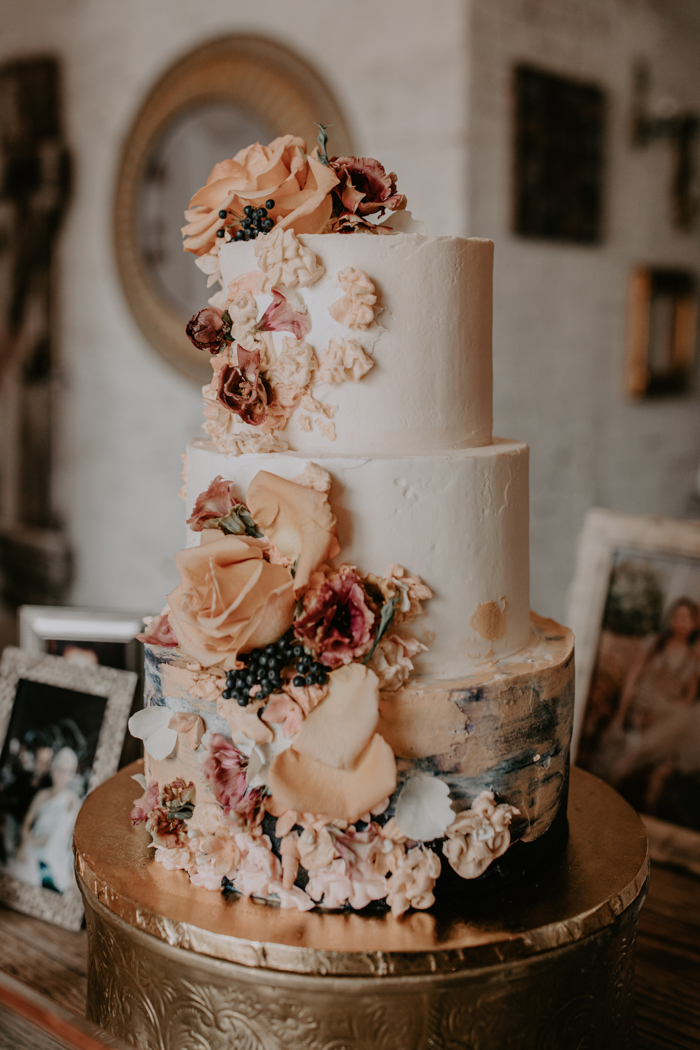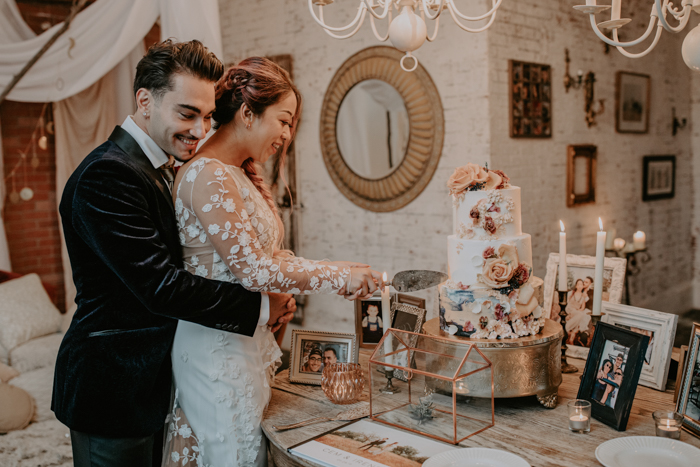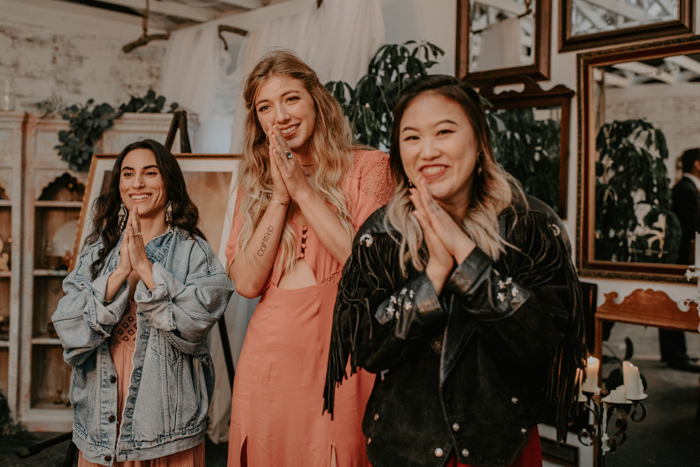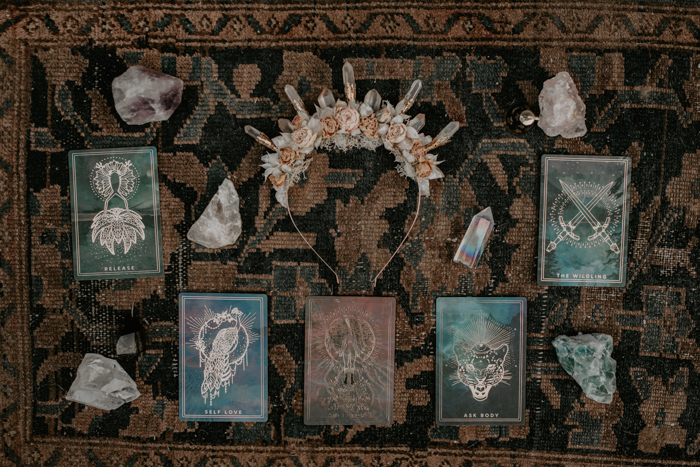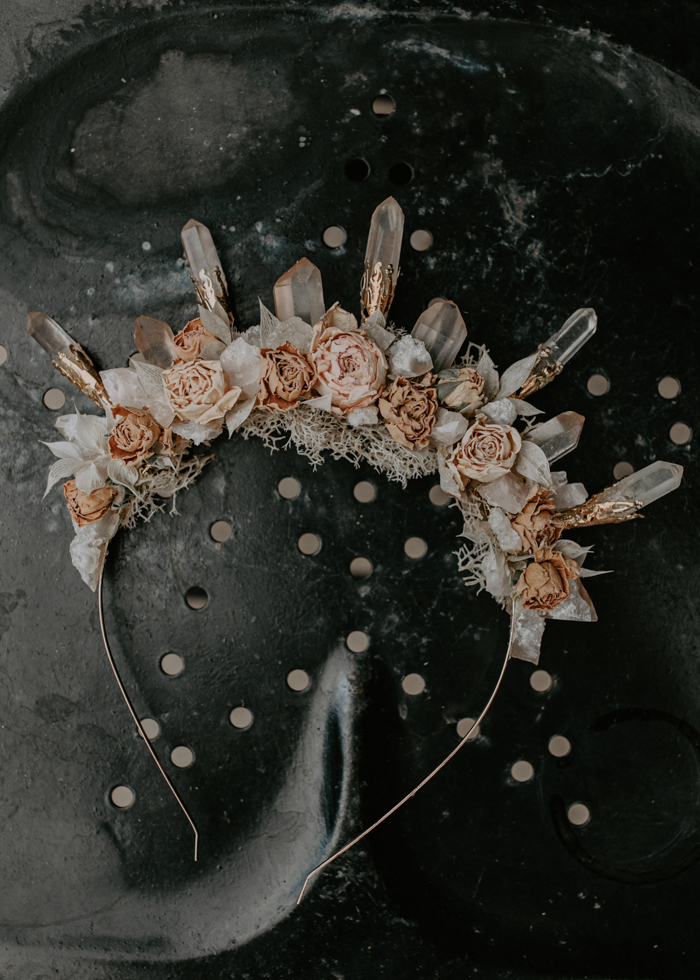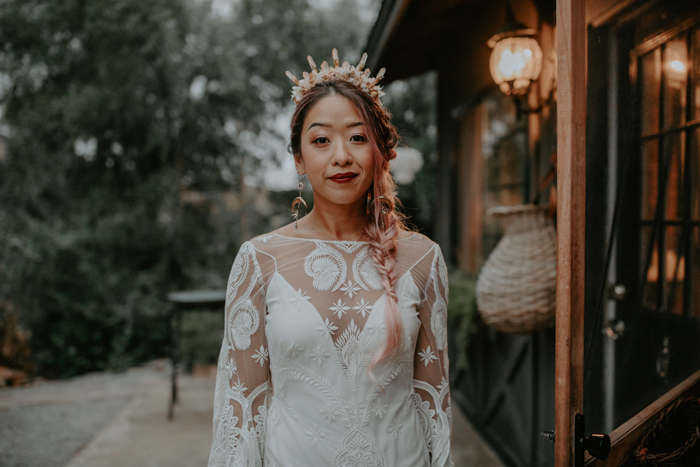 RECOMMENDED READING: 23 Bridal Crowns Fit for a Queen (Because You Are One)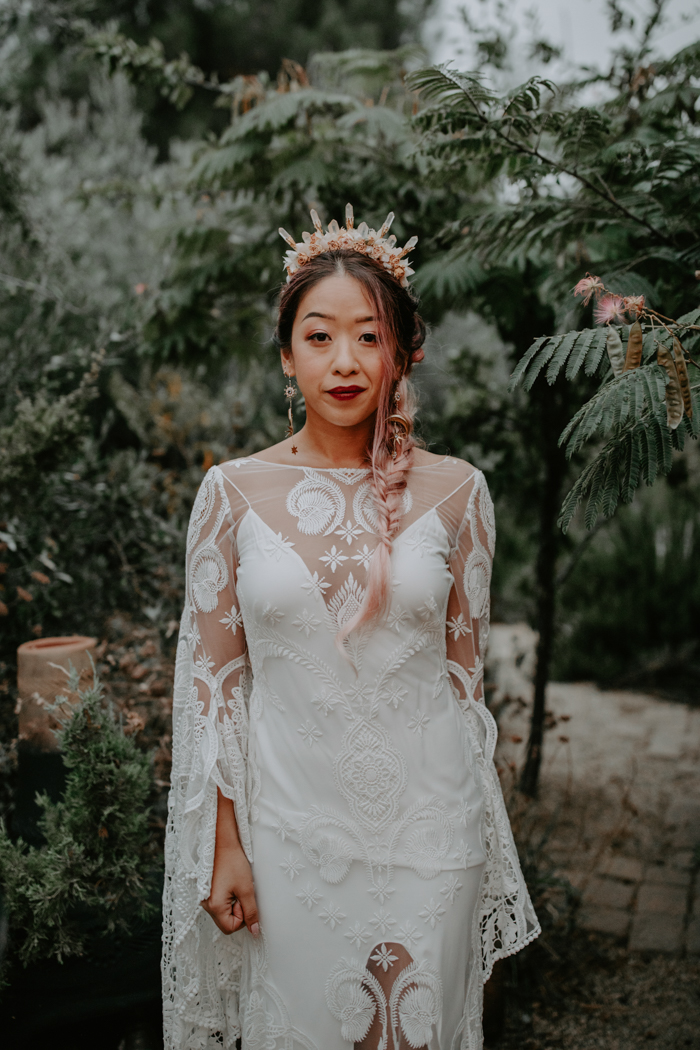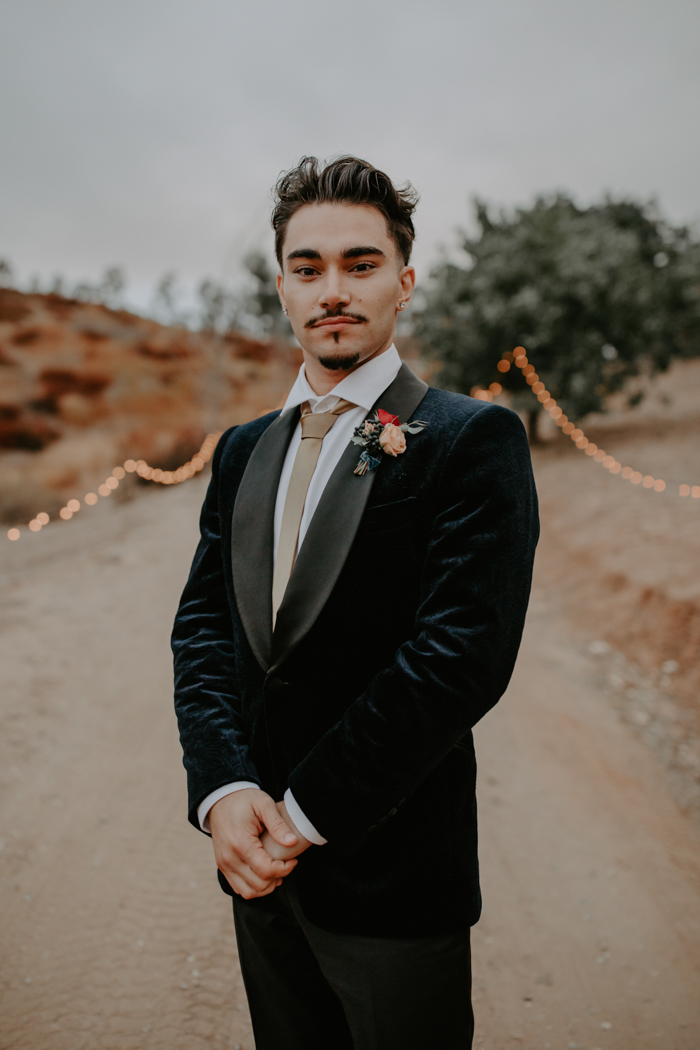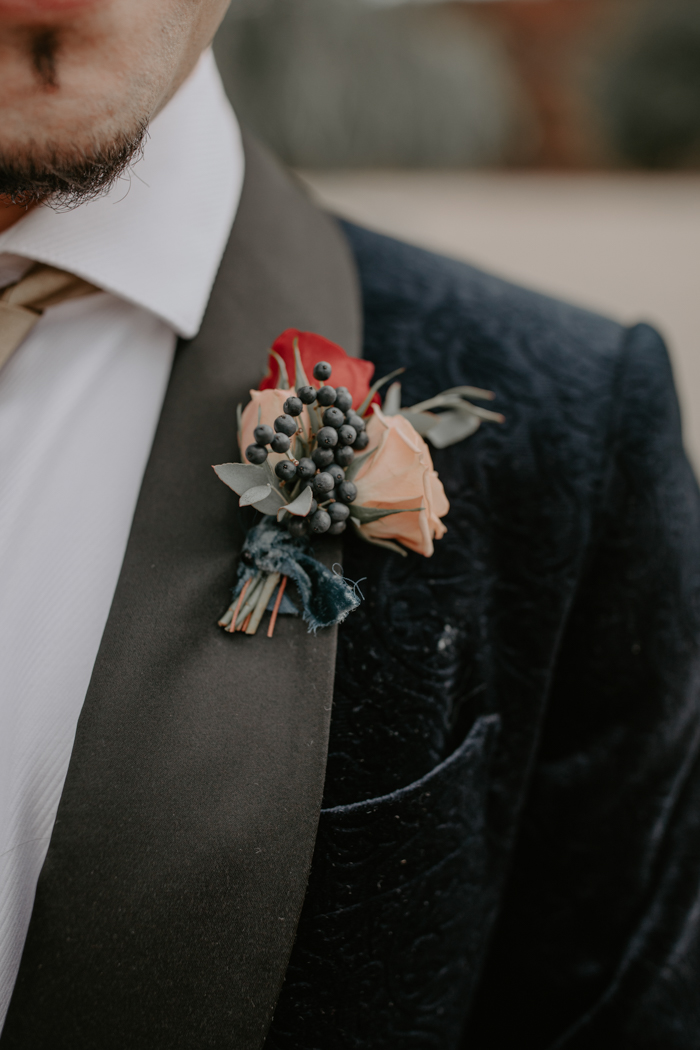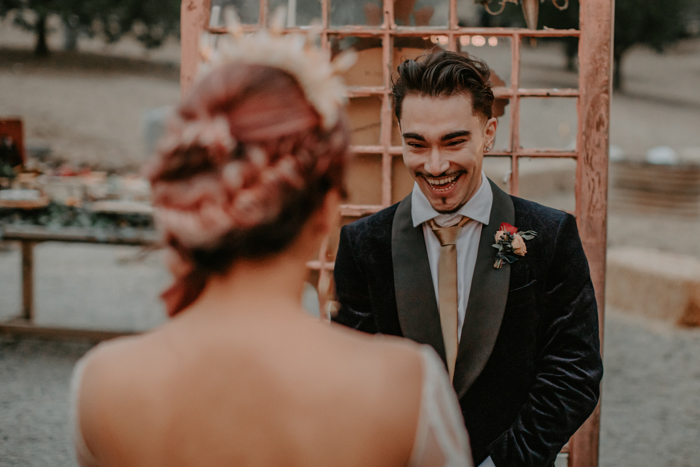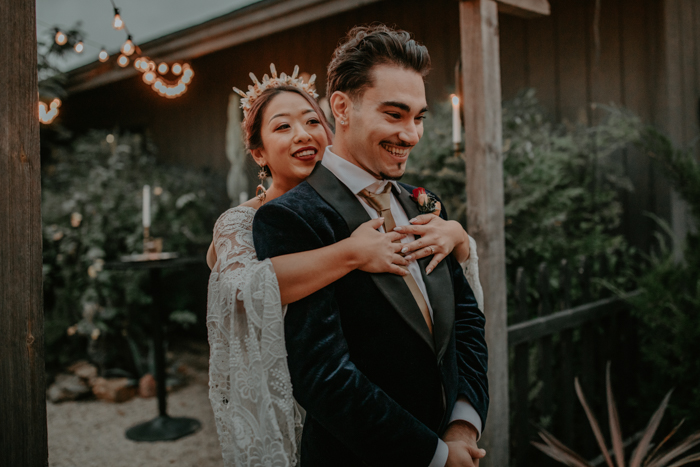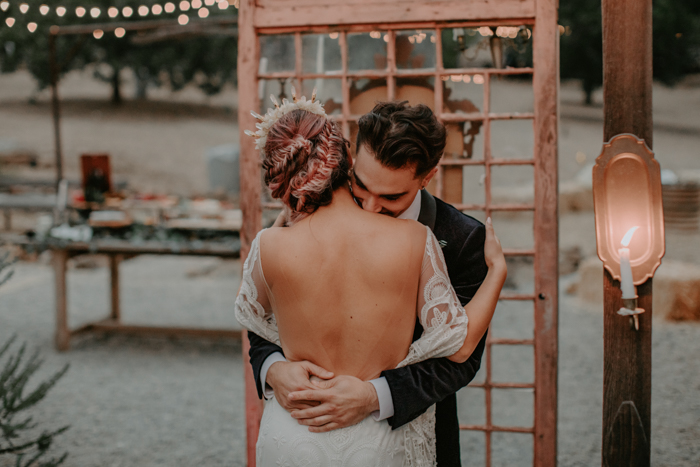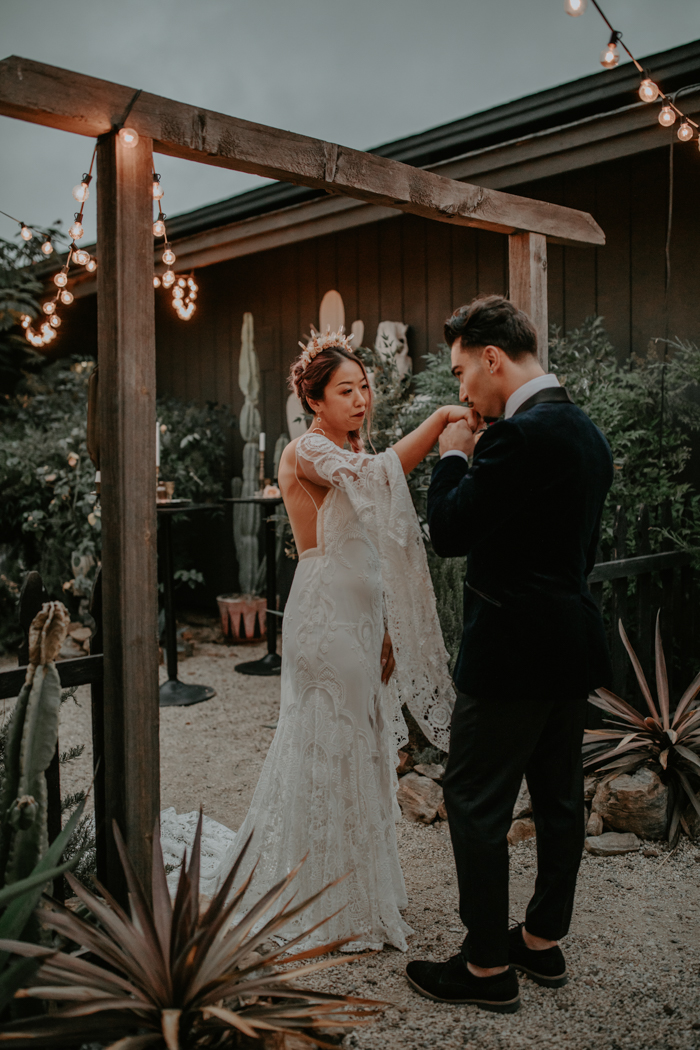 I knew I wanted a moody, bohemian, outdoor wedding, so naturally, Cem and I began looking for venues that already had that vibe. We are so grateful that we found Wolf Feather Honey Farm, a pistachio farm nestled deep in Temecula's Wine Country. We knew it was the venue for us the minute we arrived for our tour. However it wasn't until later, when we were admiring the panoramic view of their hilltop Ceremony Site, that the idea to have a moon wedding first hit me. "What if we had a Night Wedding?" I asked aloud, "We could get married under the stars! It would be so romantic." Chari Davis, the owner of the venue, loved the idea and gave us the go-ahead, even though nobody had ever attempted a night wedding there before. From there, the vision started coming together, and over time, it evolved into the celestial, witchy, new moon ritual that was "Camp Young Hearts."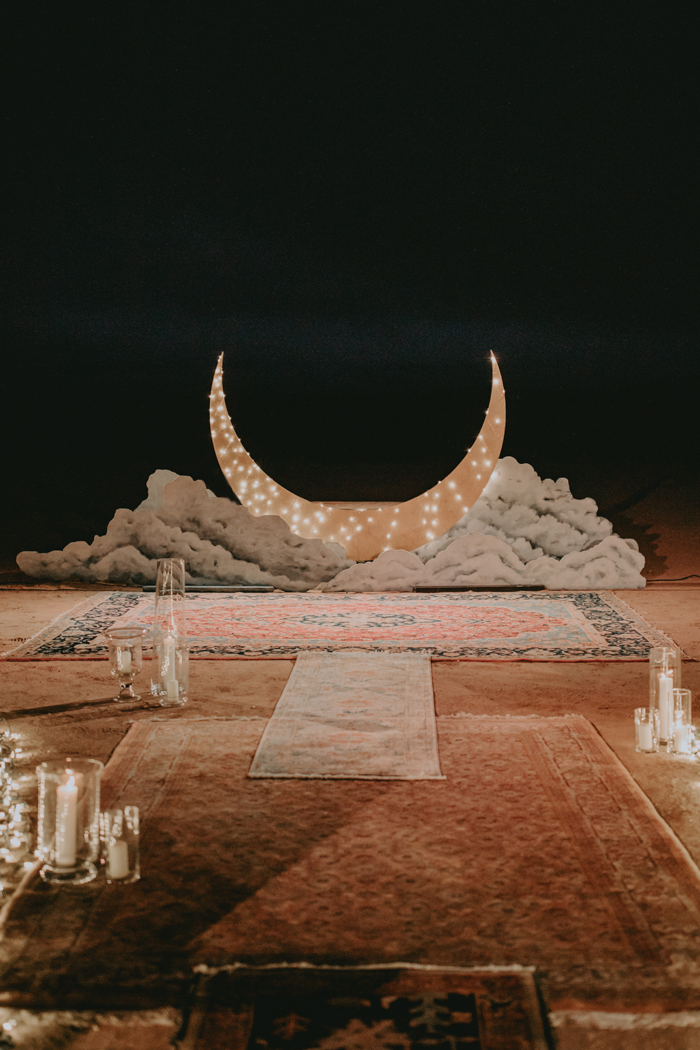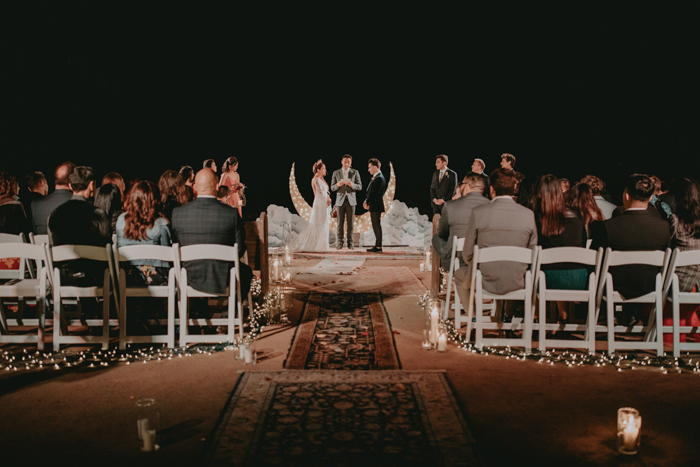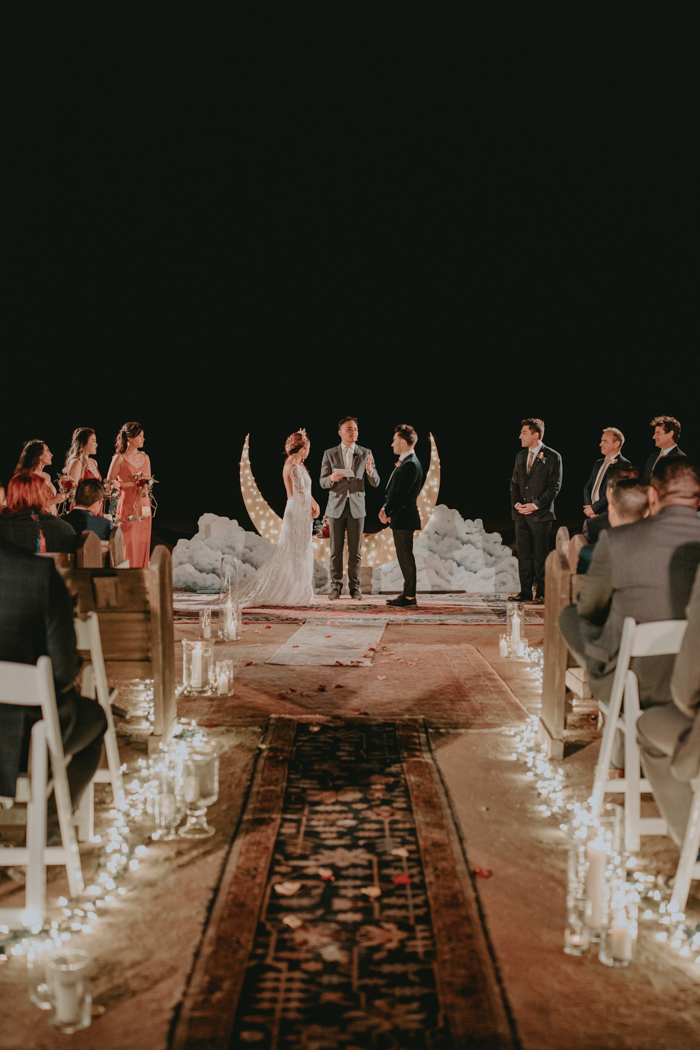 I loved how our Ceremony Site came together. We hired a lighting team to make the whole place twinkle, and also rented a horned crescent moon and clouds from a vintage-themed photo booth company to serve as our altar. Our lighting team wrapped the moon in faerie lights, which added an extra bit of magick. The venue provided beautiful vintage rugs for the aisle-way and supplemented the lighting with lots and lots of candles in glass vases.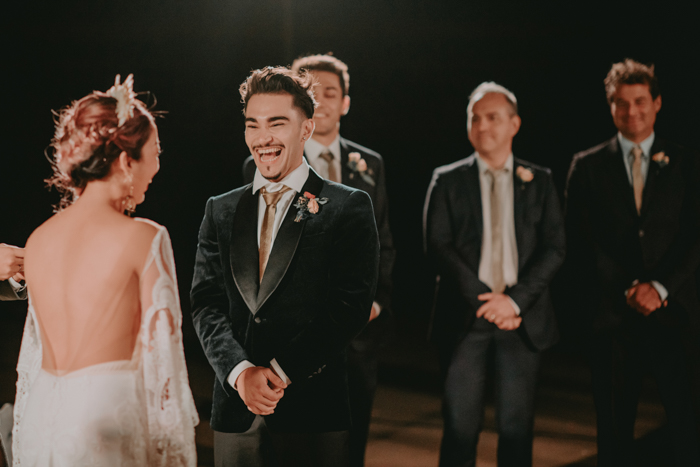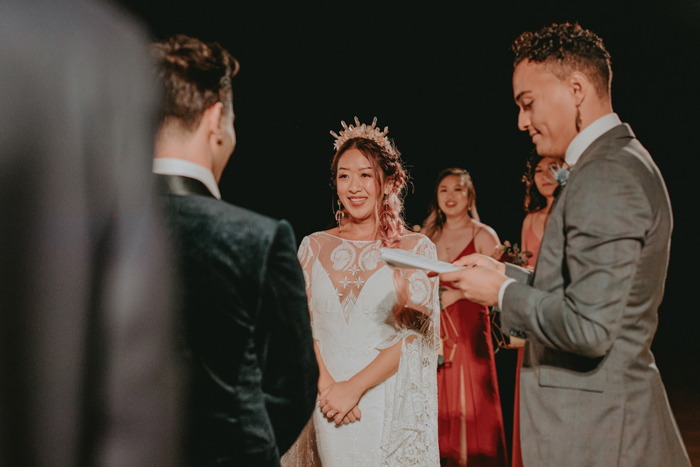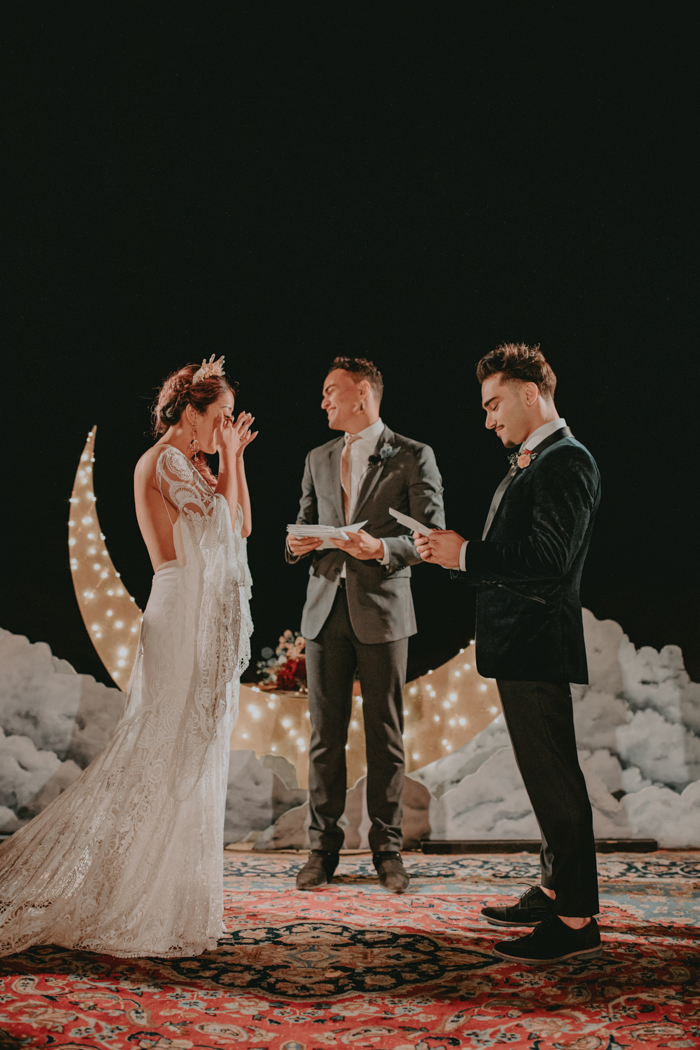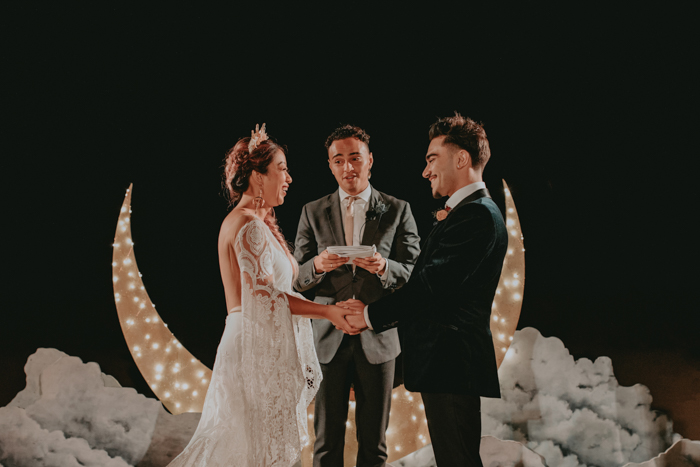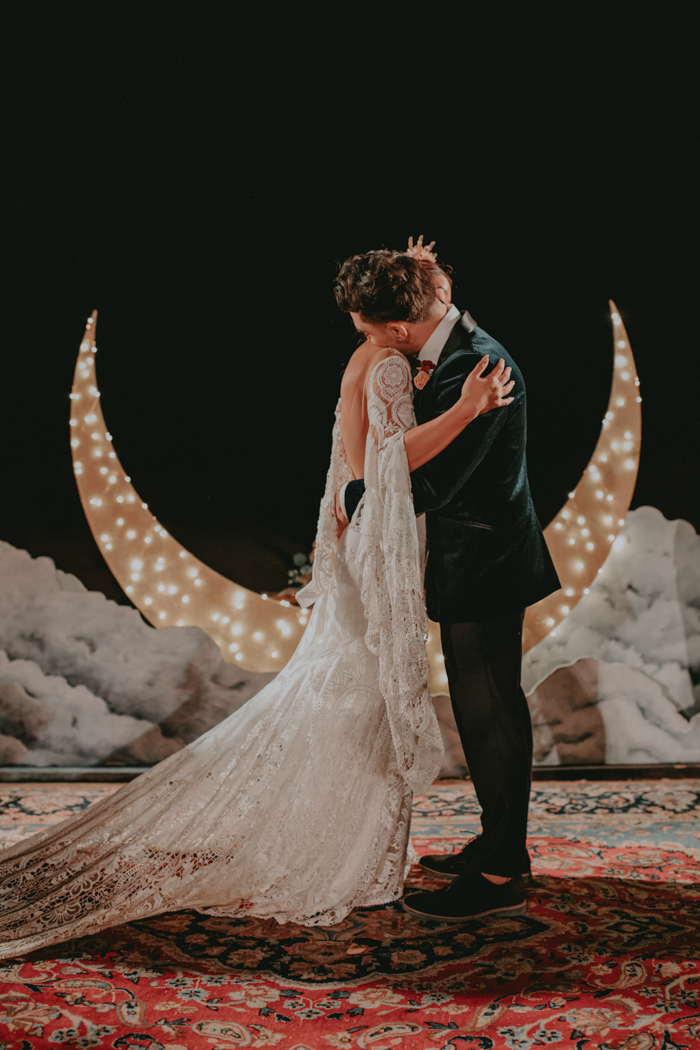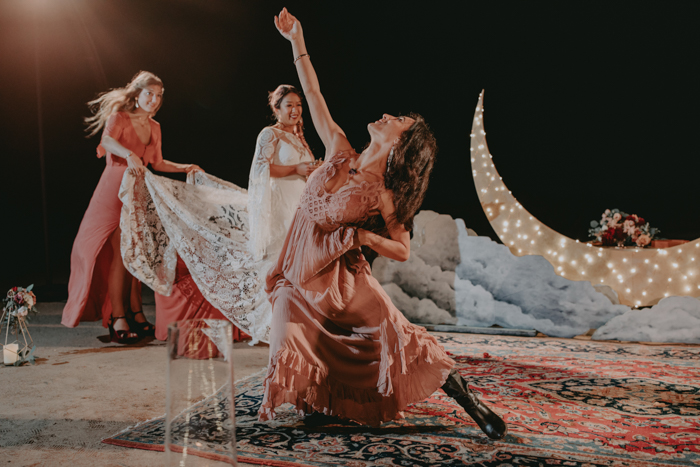 Cem and I met at a Contemporary dance class which one of my best friends was teaching (she stood as bridesmaid in the wedding as well). We knew we wanted to choreograph something together that would infuse both of our styles and we chose a really romantic song, "La Vie en Rose," (the Louis Armstrong version). We also decided that we would do something special: instead of waiting until the reception, we would take our First Dance at the Ceremony Site, immediately after "I now pronounce you Husband and Wife." We thought it might be a special surprise to our friends and family, who were still seated and could not have expected it. We had a large vintage rug as our dance floor, the night sky above us, and the sparkling paper moon and clouds as our backdrop. "Give your heart and soul to me, and life will always be…la vie en rose…"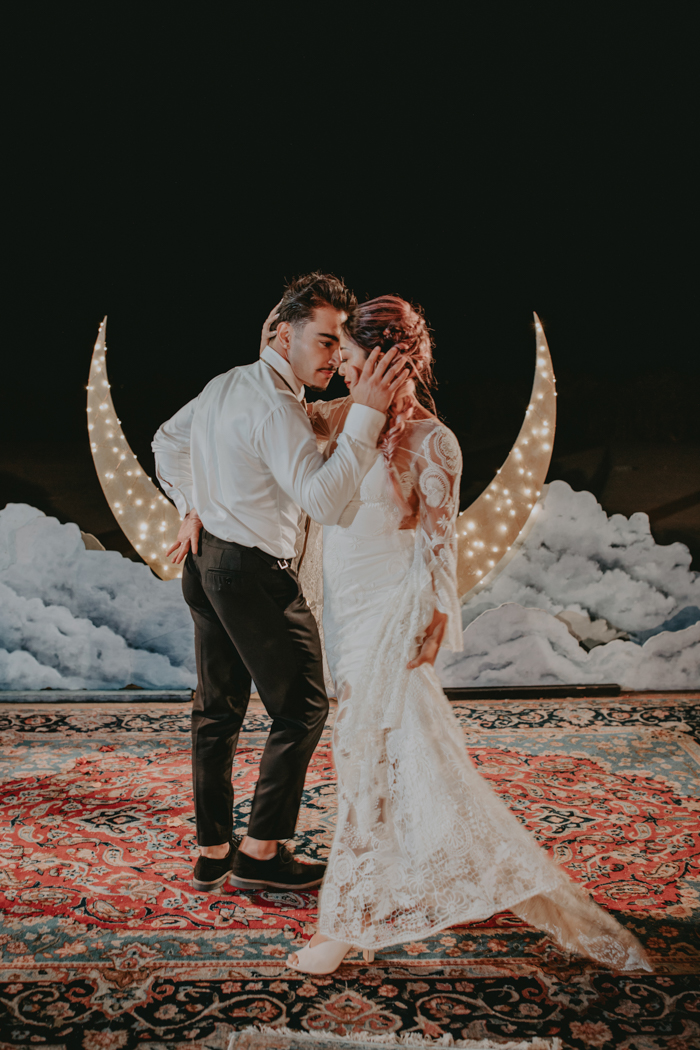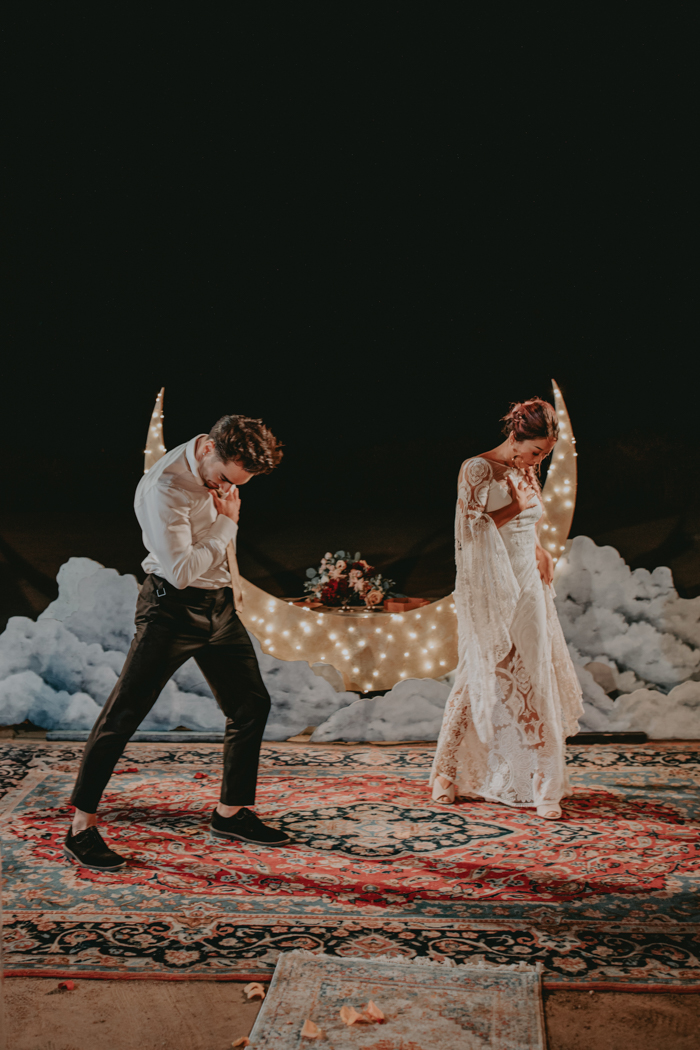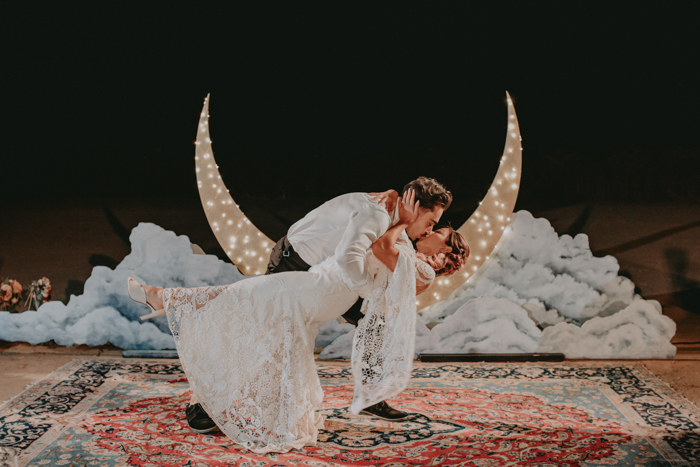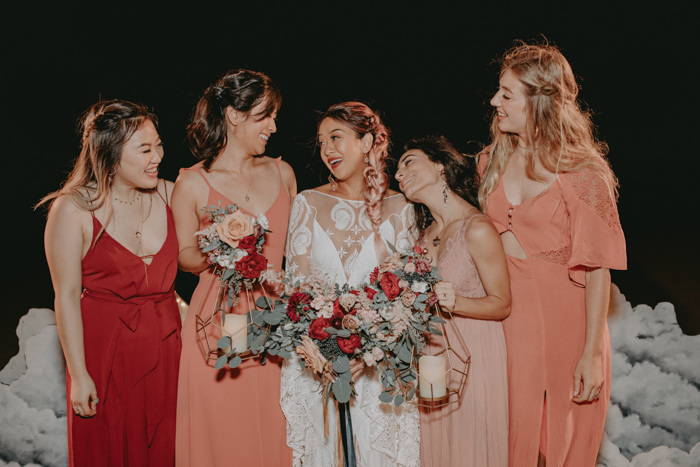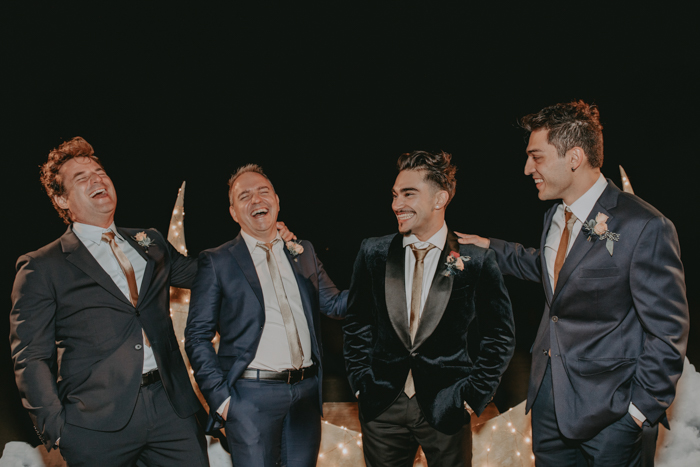 May Iosotaluno was truly amazing. She was more than a photographer, she was the coordinator I didn't know I needed! She was extremely on top of everything, connecting with the other vendors and going over important scheduling, even weeks before the wedding. I felt like I could rely on her for anything that day. She really took care to capture the moments she knew we would want, without being invasive or getting in the way of others. We are so thrilled with how the photos came out.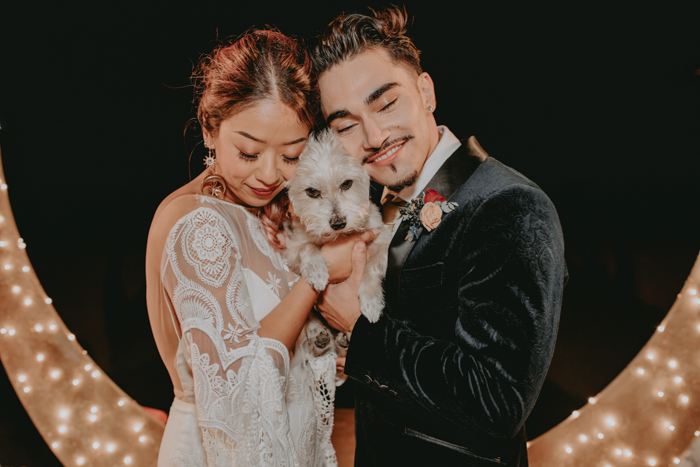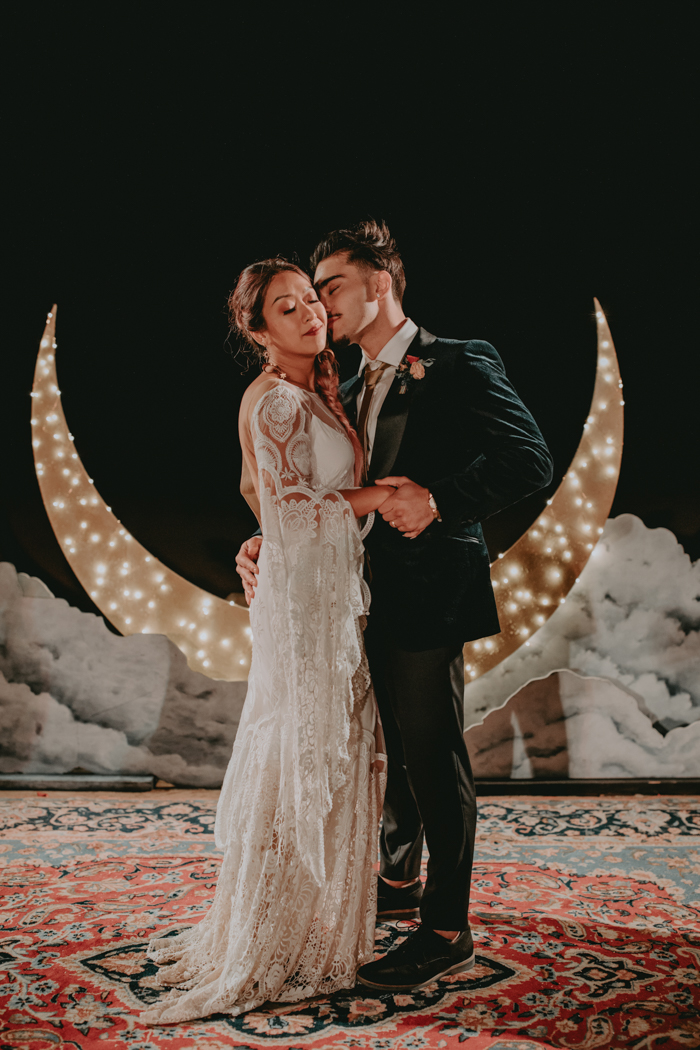 As someone who planned their own wedding, my advice would be: Take the time to find the vendors who really understand your vibe and your aesthetic. You want people on your team who are excited and inspired by your vision, because those are the people who are going to elevate it further. Ask them for their recommendations for other vendors, because chances are, they run with awesome, like-minded people. Also, don't be afraid to give people who are newer to the industry a chance. They are usually the ones who are eager to do a great job.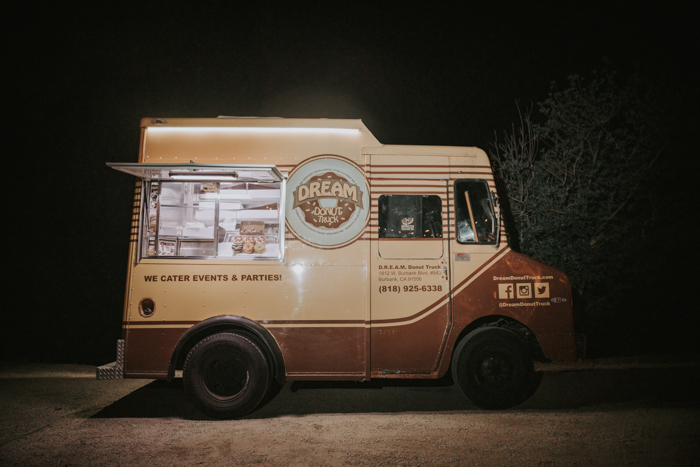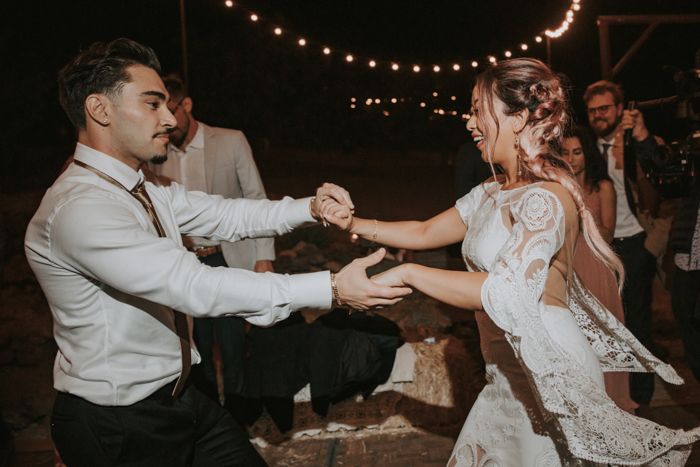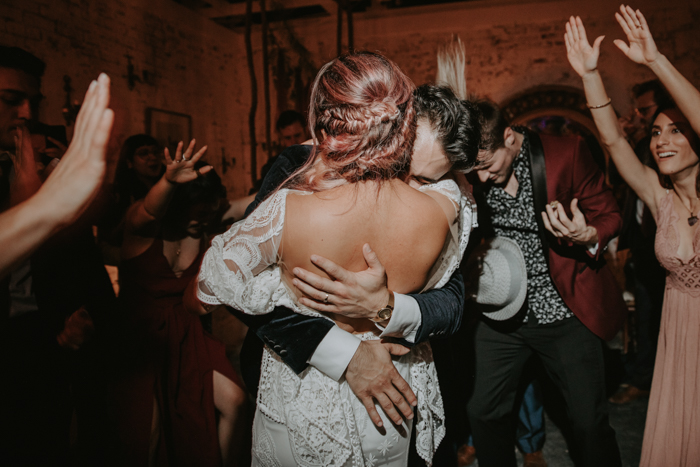 Congratulations, Irene and Cem, and many thanks to May Iosotaluno Photography for sharing their Wolf Feather Honey Farm wedding with Junebug! Into all these celestial vibes?
RECOMMENDED READING: 7 Celestial Wedding Ideas to Leave Your Guests Starry-Eyed