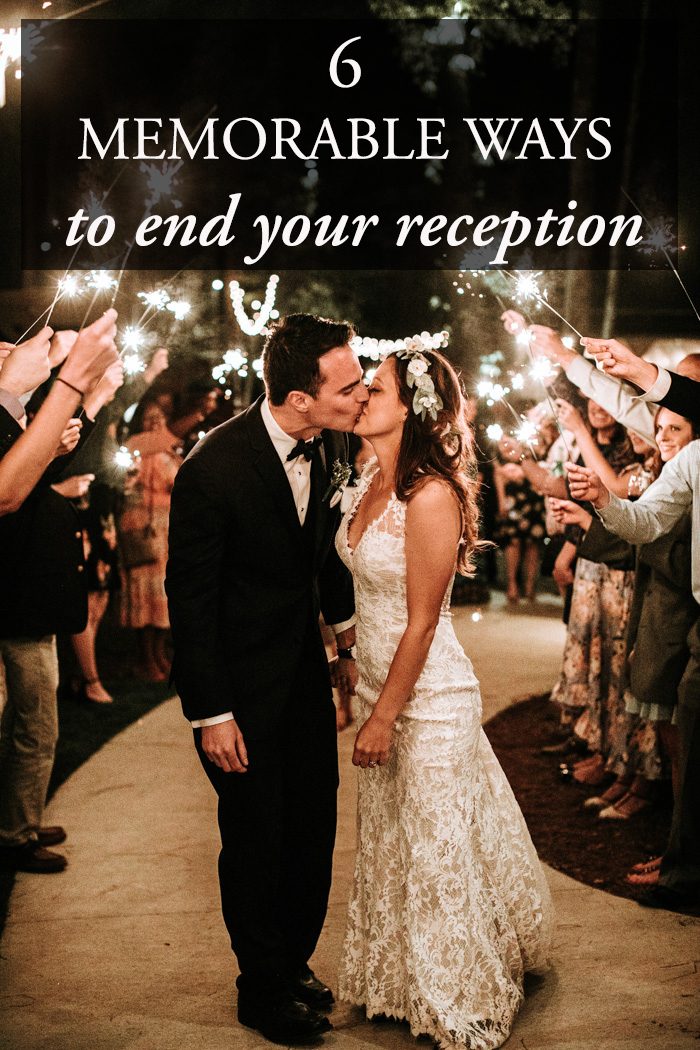 photo by Nicole Veldman Photography + Video
When it comes to planning the end of your wedding reception, you have to find that perfect balance of getting all your guests out of the venue on time without killing the party vibe. This will be your final memorable moment and also a definitive cue for your guests to leave, so you want to make it count! We've seen a lot of great ways to end your reception over the years, but these are our all-time favorite ideas. Some are traditional, some involve surprises, and some are totally unique — and all of them are sure to be unforgettable! Just remember that, as you're planning your wedding timeline, you should leave at least one hour from the time you leave to the time your contract is up to give your crew plenty of time to get the venue back in order.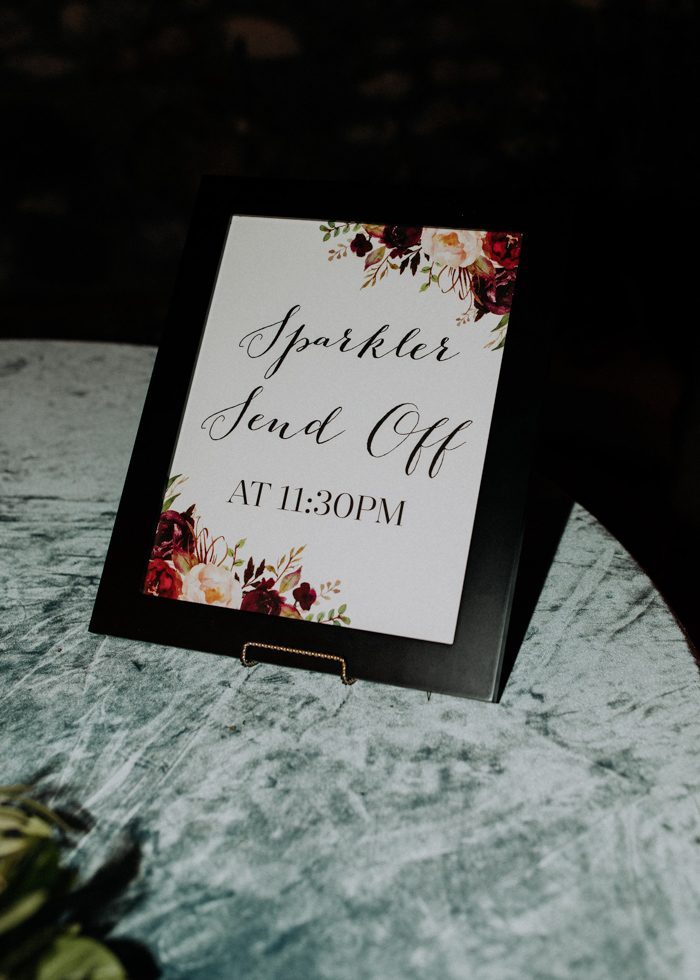 photo by Jordy B Photo
Grand Exit
The grand exit is one of the most classic ways to end your reception, and for good reason. After everyone has danced their hearts out, all your guests line up outside to create a pathway for you and your new spouse to walk (or run) through as you say your final goodbye. Most couples supply sparklers for guests to light up the pathway, but you could also use glow sticks if your grand exit will be at night. We've even seen couples double up on glowsticks and bubbles so they get a hint of light along with an adorable photo op. If you're having a day-time reception, you don't have to limit yourself to props that light up. You could also use confetti, glitter, paper airplanes, or flower petals. Whatever you choose, this will be one of the most joyful moments of the entire day and the perfect way for all your guests to shower you with love one final time before you start your new life together.
For logistics purposes, ask your wedding coordinator to line everyone up, distribute the props, and collect used sparklers or extra items after you've left. If you don't have a coordinator (but we highly recommend you do!), ask your bridesmaids or trusted family members to handle this part so you can truly make a grand exit. You can also add a sign at the reception at a high-traffic area, such as the guest book table, letting guests know what time your grand exit will take place.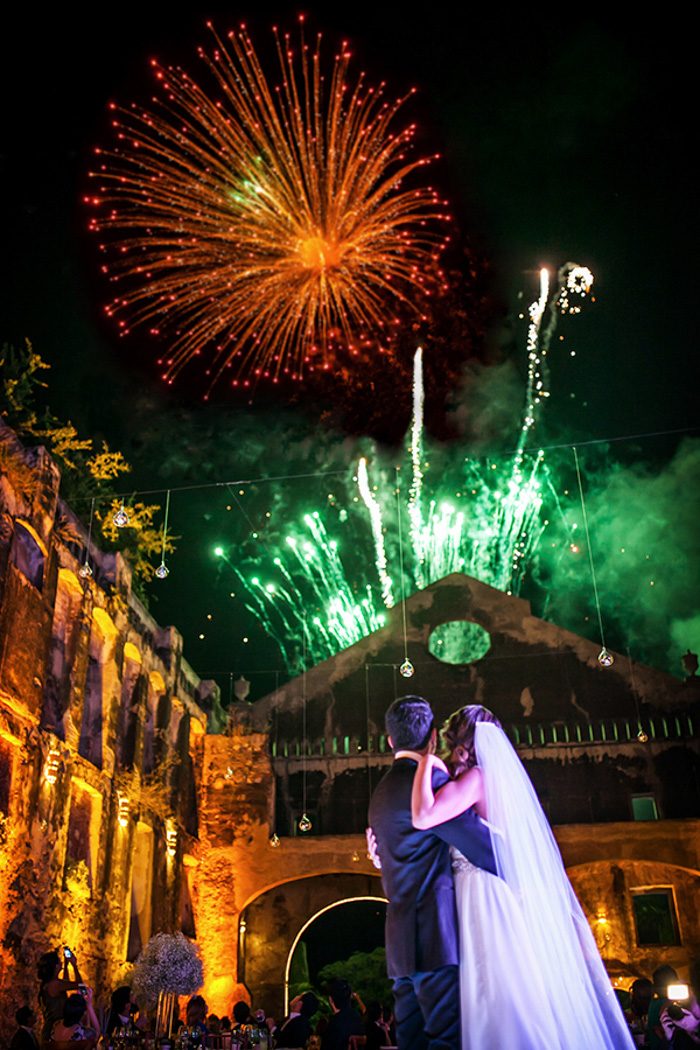 photo by Jorge Kick Photography
Surprise Fireworks Display
If you want to take your reception end to the next level, a fireworks display is the way to go! And keeping it a surprise will make it feel even more romantic and special. This is a great way to get everyone outside and gives you the perfect opportunity to say goodbye and head immediately to your getaway car. Keep in mind, there are extra safety precautions to consider for using fireworks. Before you do anything else, check with your venue to confirm they allow fireworks on their property. As it gets closer to the wedding day, keep an eye on the weather and check for any burn bans that might prohibit you. If you get the green light, make sure your photographer knows the plan and simply enjoy that magical final moment of your day!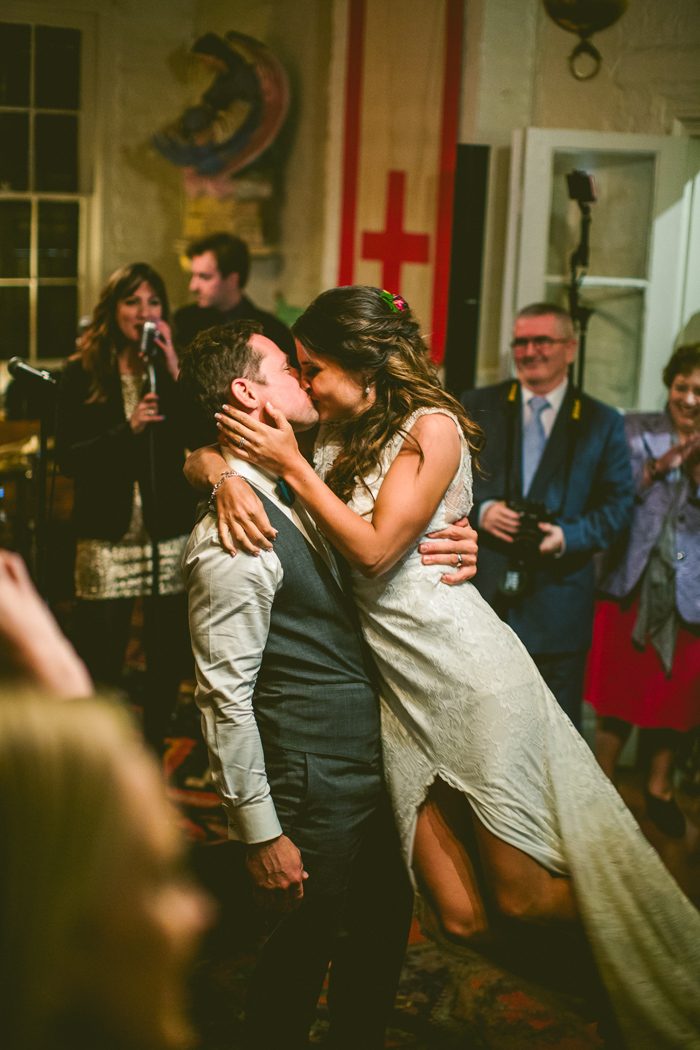 photo by Carolyn Scott Photography
Last Dance
If the idea of a formal exit doesn't appeal to you, end your night with all your guests on the dance floor instead! Pick a song that matches the tone you want your guests to remember. Some couples opt for a slow dance to end the night on a sweet and sentimental note while others choose to end on a party high with an upbeat crowd favorite. You can't go wrong either way! When the DJ invites everyone onto the dance floor for the last song, ask her/him to also announce that there will be no formal exit so that guests know to stay on or near the dance floor to say goodbye.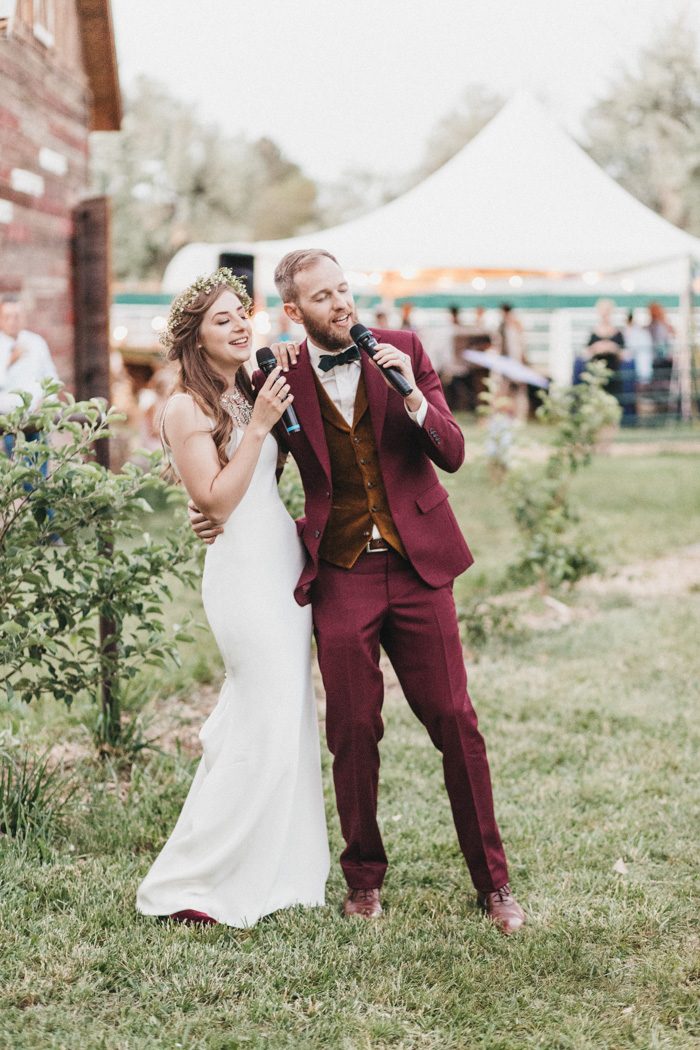 photo by Jason Lucas Photography
Performance by the Bride & Groom
If you're one of those couples with a unique talent — or who just love the spotlight — is there a better way to end your reception than with a special performance? We don't think so! Grab the mic and sing your heart out to your favorite song or perform a choreographed dance your guests will never forget. This is guaranteed to be the show-stopping moment of the night and the most unique way to end the party on a high note. If possible, keep it a surprise and give a short toast before you begin so you can say a blanket thank you to all of your guests. And make sure your videographer is there to capture your moment and the pure excitement in your guests' reaction!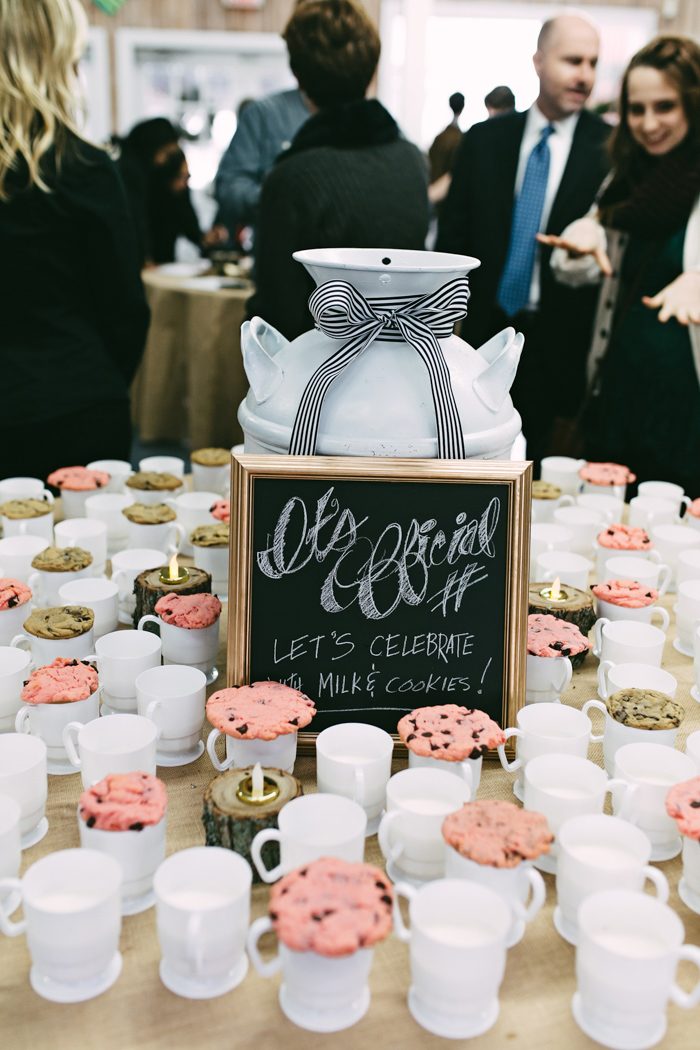 photo by Kelly Ginn Photography
Late Night Snack Delivery
With all that dancing and drinking, your guests are bound to be hungry by the end of the night — even after a full dinner! So curb those late-night munchies with a special snack delivery before the party ends. Think pizza delivery, cookies and milk and/or coffee, or a station with mini sliders. You could even hire your favorite food truck to park at the venue to provide guests with more diverse options! This is one of those extra special treats that will take your wedding above and beyond, and something your guests will truly appreciate — especially if they're planning to continue the party after the reception. To limit the amount of food left over at the end of the night, provide small to-go boxes so guests can take either enjoy the snacks at the reception or on the ride home.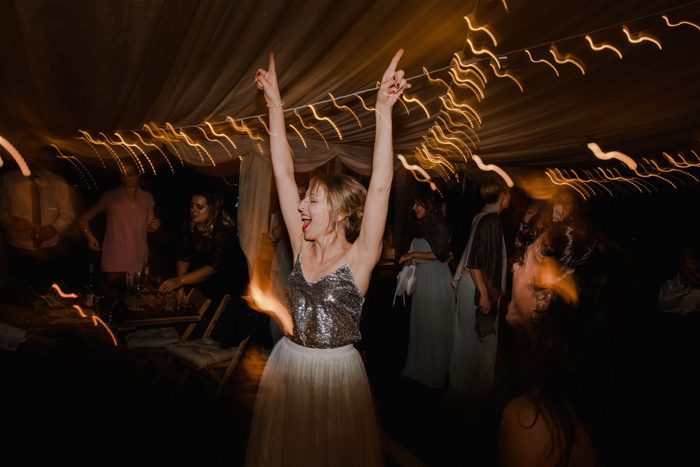 photo by Zoë Alexandra Photography
After-Party at a Bar
There's no reason the party has to end with your reception! In fact, a lot of modern couples think the reception just isn't enough time to talk to all their guests, which is why after-parties have become such a trend in wedding planning. Even couples that don't want to join in the after-party offer this as a suggestion to those party animal guests who won't be ready to call it quits. On your wedding website, let everyone know where the after-party will be — your favorite bar is always a good option, but you could also coordinate with a generous family member or friend to have it at their home. This will allow guests who are ready for bed to leave, give the party animals a place to go so the clean-up process can start, and allow you and your spouse some time to breathe and relax. Just remember, it's completely okay if you decide you'd rather start your honeymoon early or just get some well-deserved sleep!
We would also like to remind you that the only way not to end your reception is with you and your spouse helping to clean up! Even if you technically hosted the wedding yourselves, this is the exception to the rule that the hosts should be the last ones at the party. Once you say your goodbyes, it's time to start the honeymoon and let your crew take care of getting the venue back in order.
Now that you know how to end your reception, it's time to put together your perfect reception look! Here are 40 show-stopping reception dresses and wedding reception shoes to dance the night away in style + comfort!