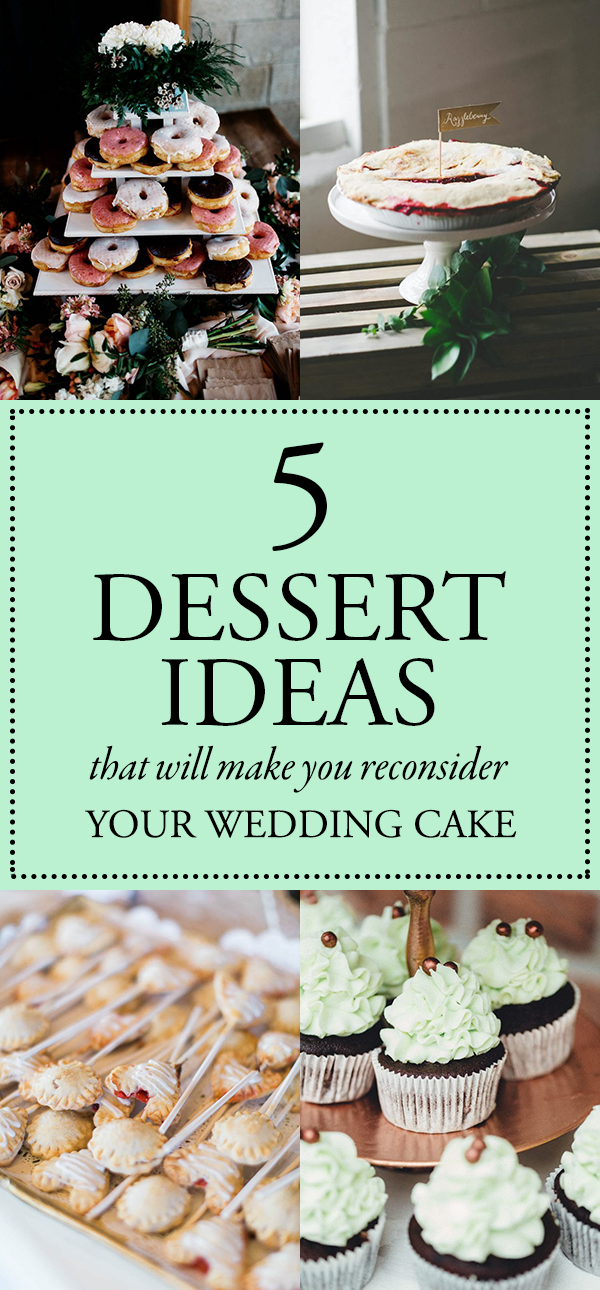 We're all about breaking tradition here at Junebug. While a wedding cake is a must-have for many, it's definitely not a requirement for tying the knot. Cake may not be your cup of tea, or you may want to provide a variety of options for your guests to snack on when they take a break from the dance floor. These dessert ideas are just another way to personalize your big day. Maybe it's tradition for you as a couple to get donuts to celebrate special occasions. Maybe there's a pie recipe that has been passed down in your family that you want to share with your wedding guests. Maybe you just really love cupcakes! Get inspired to do something a little different, but still totally sweet, with these five dessert ideas for your wedding.
Donuts on Display

photos by (clockwise from top): Matt & Tish Photography, The Shalom Imaginative, Studio-29 Photography + Design, Olivia Strohm Photography, Jamie Jones Photography
Pies of All Sizes

photos by: Athena Grace, Addison Jones Photography, Rose Street Studio, The Schultzes, Mallory + Justin, Helena and Laurent
Cupcakes That Don't Quit

photos by: Amanda Basteen, Hanna Witte, Richard Israel, Sarah Maren Photography, Ulmer Studios Photography, Kreativ Wedding
Cake & Pie Pops You Won't Drop While Dancing

photos by: 432 Photography, Studio Uma, Jamie Jones Photography, J&J Photography, Rachel Solomon
Cannolis & Churros to Have and to Hold

photos by: Daring Tales of Darling Bones, Betsi Ewing, Mireia Cordomi, Leo And Kat, Jane in the Woods
Don't have a sweet tooth? These Gorgeous Cheese Cakes are for You!

photos by: Page & Holmes Photography, Kreativ Wedding, Thanasis Kaiafas, Steve Gerrard
Looking for ways to arrange all your beautiful dessert ideas? Check out these 19 super sweet wedding dessert displays!