Happy Friday! We're loving today's ultra-mod and ultra-stylish Real Wedding photographed by Bradley Hanson. It's the perfect inspiration to start off a beautiful summer weekend!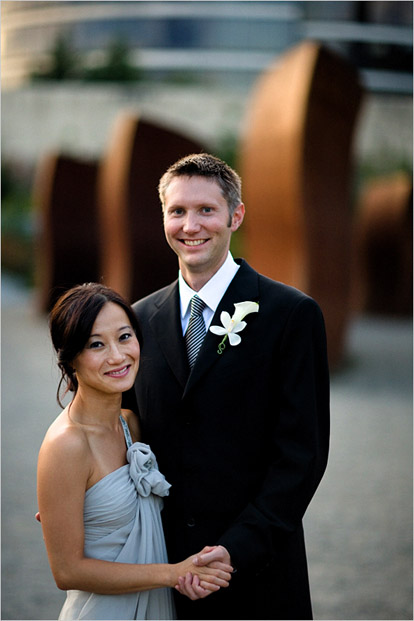 Quynh and Charlie wanted a wedding that felt like a party instead of a traditional event, so they chose to hold their celebration at the scenic Olympic Sculpture Park in Downtown Seattle. Quynh's dear friend from childhood happens to be Heather van Breda, the owner of Real Card Studio, so together they worked on creating simple yet stunning save-the-dates and wedding invitations that incorporated the wedding's green and brown color palette. Another personal touch, and perhaps the most impressive of the day, is that Quynh herself is a fashion designer and she designed her own amazing one-of-a-kind wedding dress! This silk charmeuse and silk chiffon creation is such a beautiful silver color, and the back, oh my goodness the back! Could she have looked any more perfect in it?

Their ceremony was simple, but still brought out the tears from Quynh. "When I heard Charlie saying his vows, I suddenly had the urge to cry, and I did when I said my vows… I dont cry at stuff like that!" When the sun went down the party moved indoors and guests enjoyed the gorgeous flowers from Fleurish and the organic food and French style Croquembouche wedding cake from TASTE Events. Yum!

Thank you for sharing your wedding with us Quynh and Charlie! To learn more about their talented wedding team, please visit our Real Weddings section!