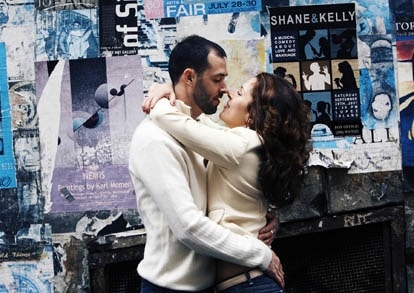 Hearing from Junebug readers always makes my day, and Monday I received a fabulous e-mail from Seattle area bride Kelly who said "I love your website! Junebug Weddings has been my best source for ideas and vendors. It's been my experience that all of the professionals I've contracted with demonstrate amazing customer service, great business ethics and have incredible talent." Hooray! Thanks Kelly!
She also sent me a copy of her fantastic save the date postcard, photographed and photoshopped by the talented John Hong of John and Joseph Photography. Kelly and her fiancé Shane were having engagement pictures taken in the Pike Place Market when the wall of posters behind them sparked an idea. John manipulated the poster to their right (look closely) to advertise "A Musical Comedy About Love and Marriage" that includes all their save the date info. They made the photo into a simple postcard with a link to their wedding website on the back and dropped them in the mail. All the guests loved it, and so do I!
What creative ideas did you come up with for your save the dates? I know there are some great ones out there, send them in and share your brilliance!