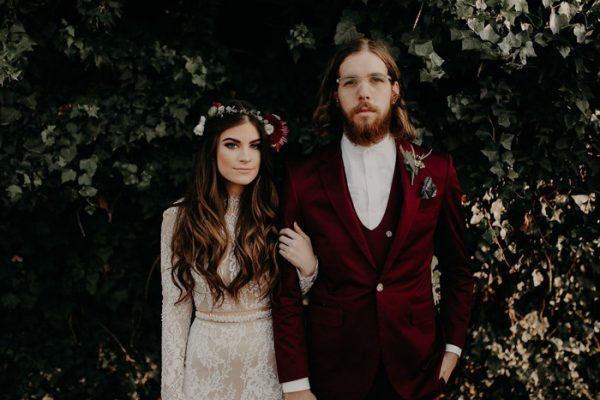 Jayne and Nate's Modesto wedding is about to make all of your burgundy-inspired dreams come true! The bride loves everything floral, so the couple's wedding was decked out in gorgeous burgundy flowers, tons of greenery, and a touch of pine foliage to reflect their wedding's winter vibes. From Jayne's flower crown and lace Calla Blanche gown to Nate's custom burgundy Indochino suit, we can't get enough of this couple's eclectic take on burgundy boho attire. The talented Greg Petersen photographed every moment of Jayne and Nate's wedding beautifully, including their breathtakingly sweet first look!
The Couple:
Jayne and Nate
The Wedding:
The Century, Modesto, California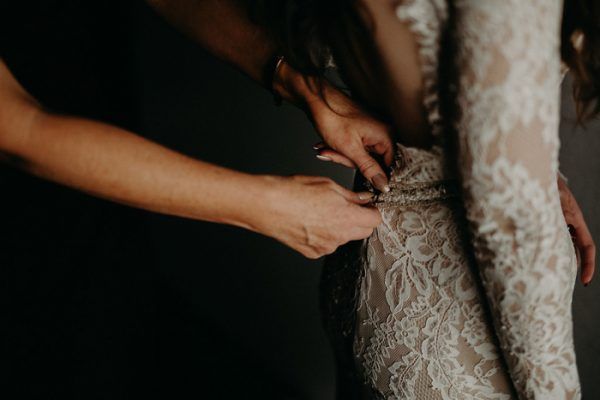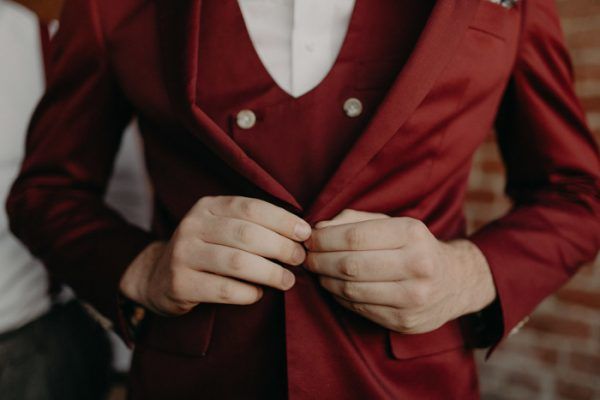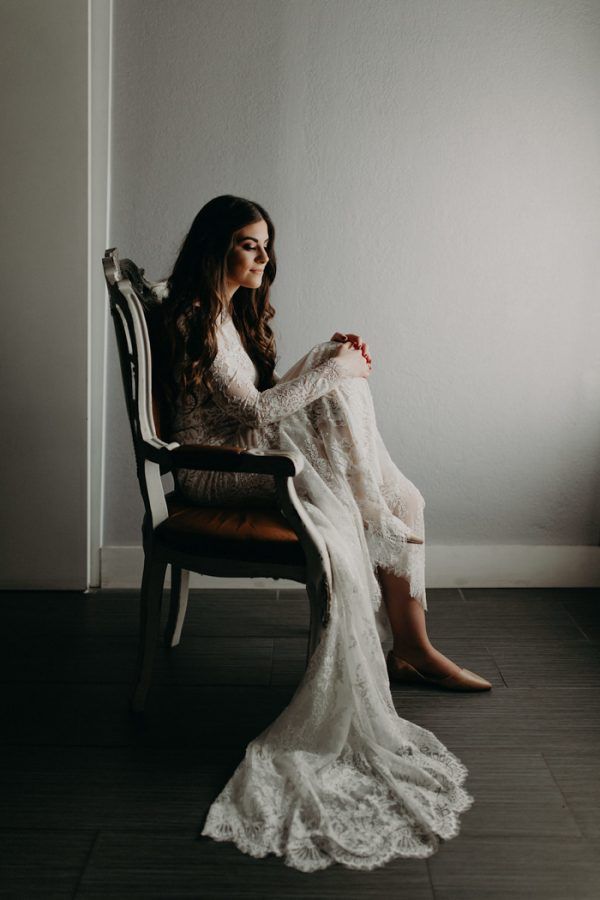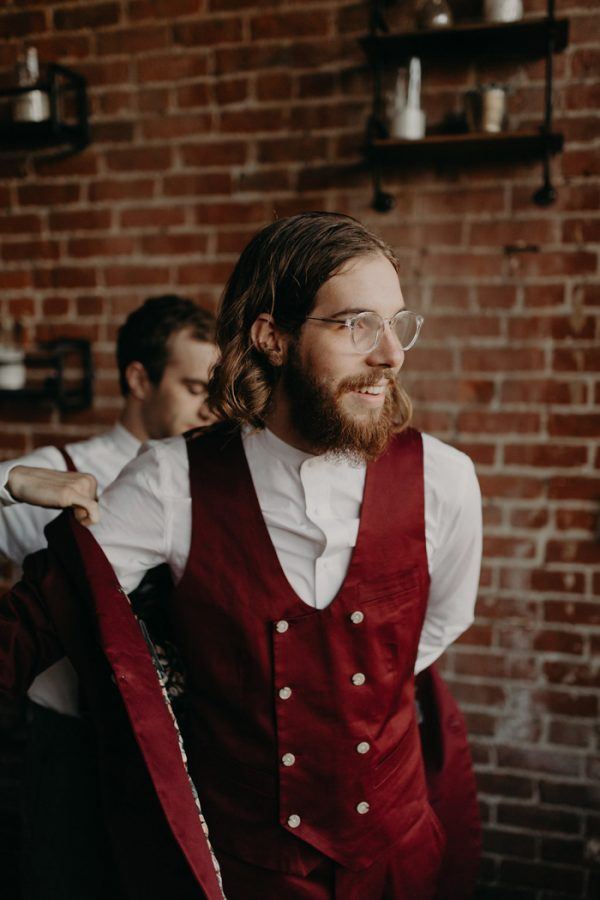 I'm a person that loves flowers, plants, and foliage. You could say I take the saying "stop and smell the roses" a little too literally. Flowers and plants make me happy! So that being said I really wanted A LOT of them in my wedding, all over in fact. So while planning I made it a priority to make sure flowers were going to be everywhere in my venue. My flowers were my favorite part about the decorations of my wedding.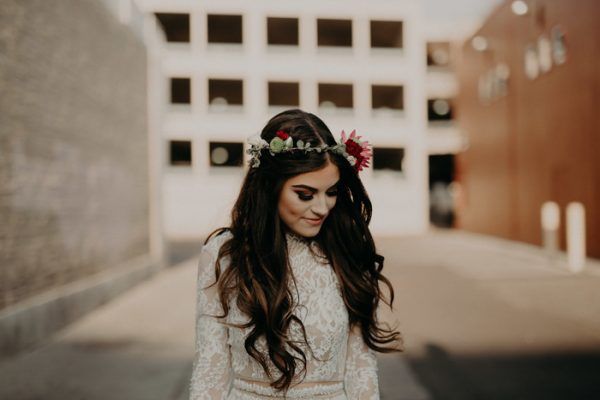 I didn't really wear any accessories other than my wedding ring and a flower crown. I wanted a simple yet elegant look and really wanted my dress to speak for itself. My dress was unique, vintage, and elegant. I loved the open back and that it had lace everywhere, I felt like a fairy the whole day! I wore my hair down with light wavy curls and a fishtail braid. My makeup was done by the amazing Jocelyn McKay, she incorporate our accent color (cranberry) into my eyeshadow, made my eyes pop and look very bold.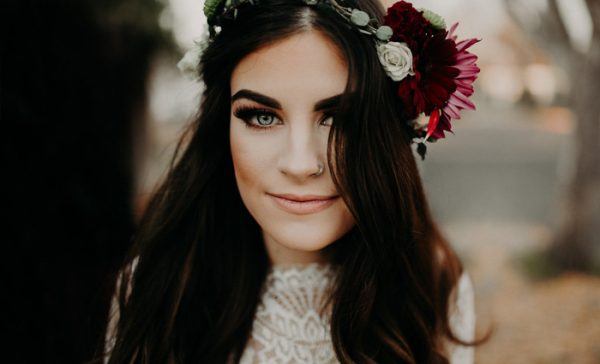 My fiancé, Nate, wore a cranberry colored suite. He was able to tailor it and make it however he wanted to on the site Indochino. It stood out and pulled all of our colors and style together.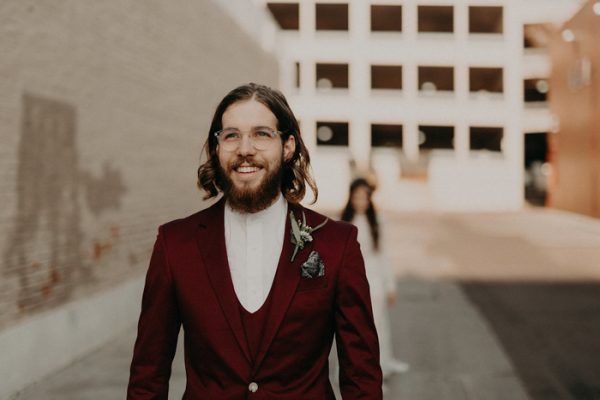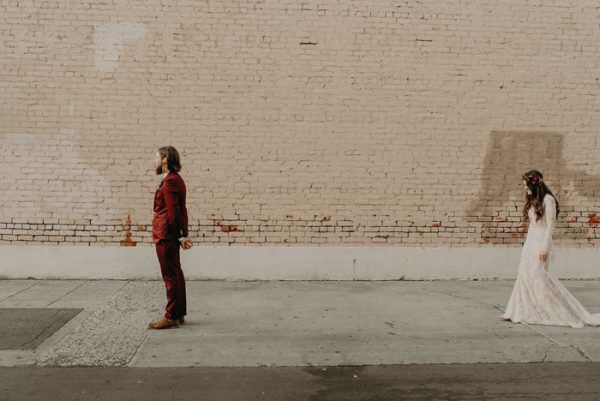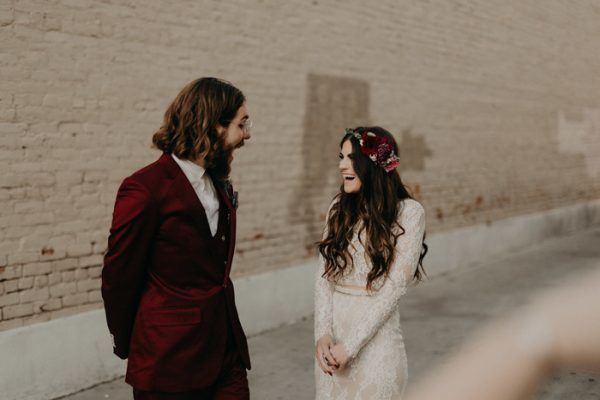 My husband and I can both agree that our favorite part about our wedding was our first look. Weddings are nerve wracking and when you aren't able to see you fiancé at all during the day it can be even more nerve wracking. Once we had our first look though, my nerves were definitely calmed. We were able to get excited together that we were finally going to get married in just a few hours!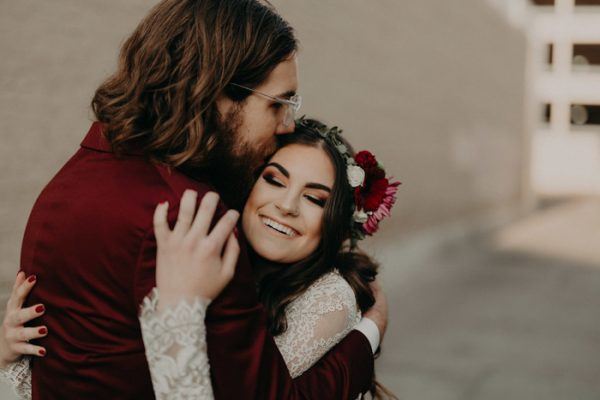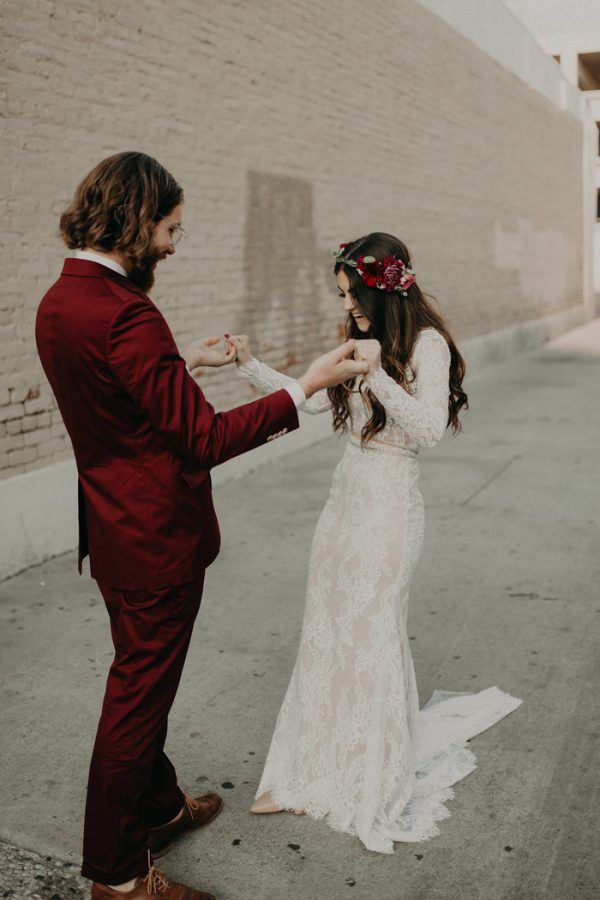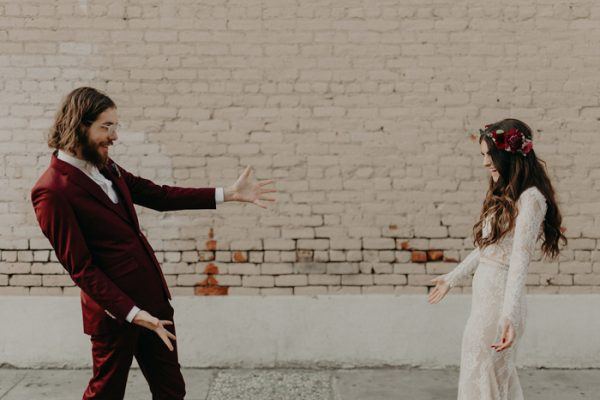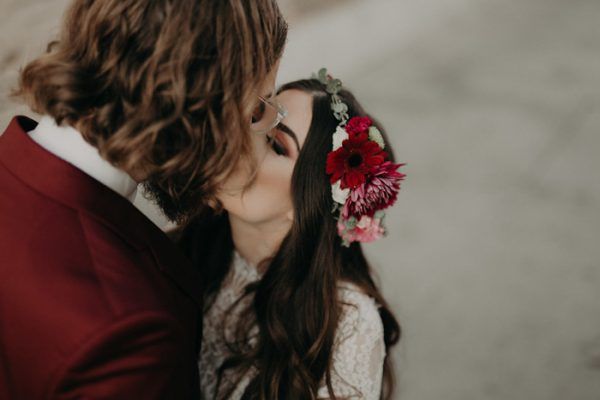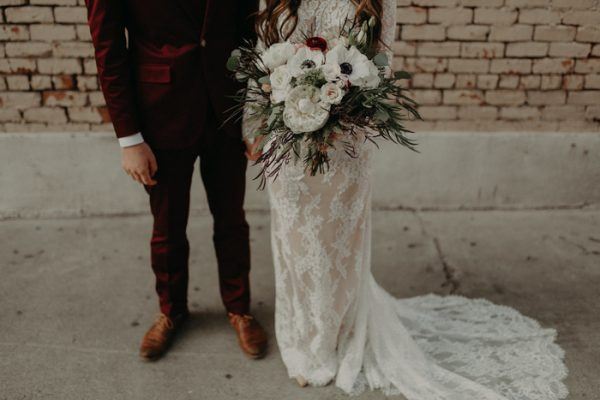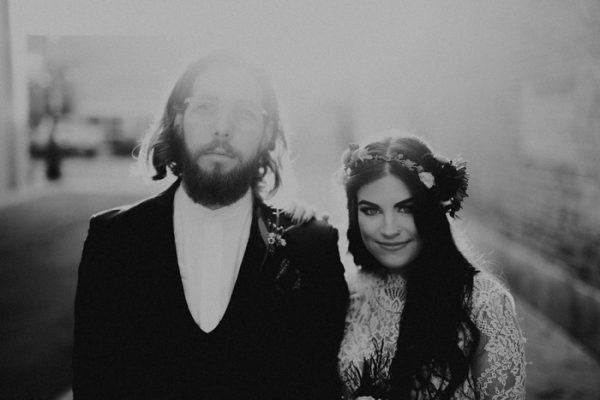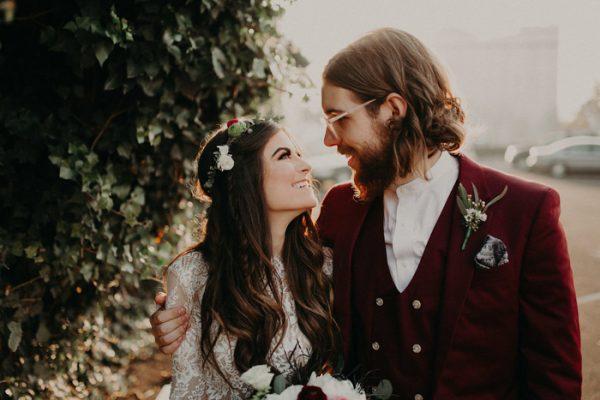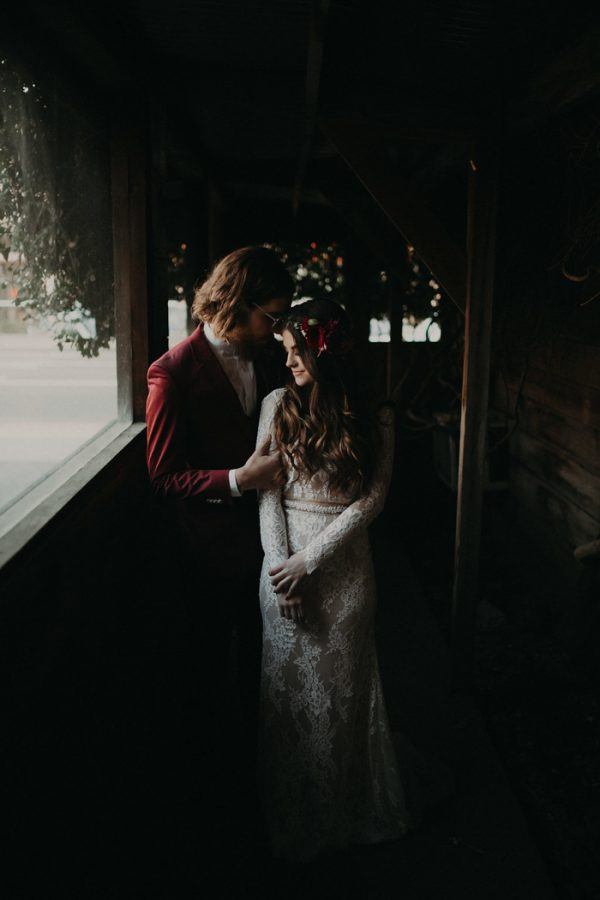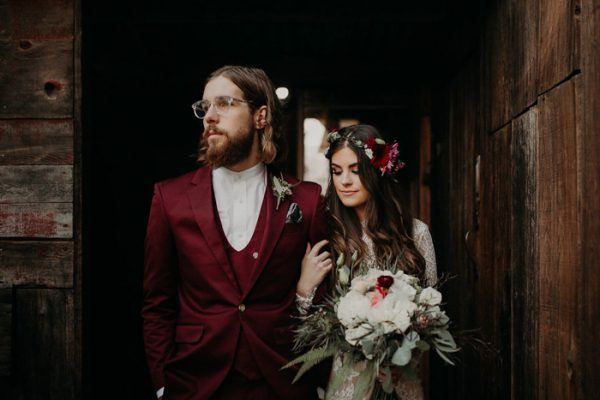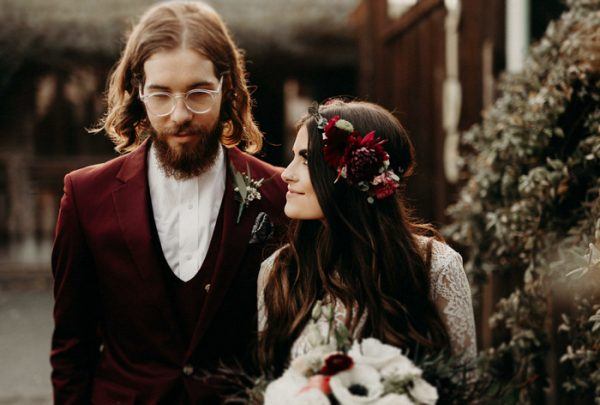 About a month after I got engaged I was walking in my hometown with my mom, grandma, aunts, and cousin. We were planning and dreaming of what my wedding should look like. We passed by The Century in downtown Modesto and decided to pop in to see what it looked like. As soon as I walked in I knew that was where I was going to get married. It sounds strange but I knew right then. It was beautiful and everything I wanted in my dream wedding. It had open brick everywhere, had fantastic light fixtures, and they handled every little detail that needed to be done in a wedding.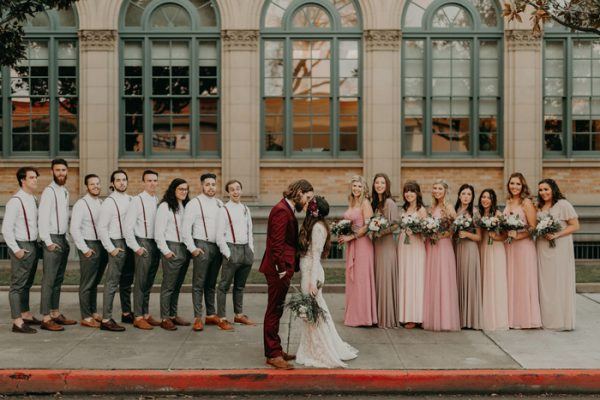 I gave my bridesmaids a different color each and then let them choose their dresses. I wanted their uniqueness and style shine through in the dresses that they chose. (Funny thing is I didn't even see all of the dresses together until the day before my wedding, but they all looked great together!)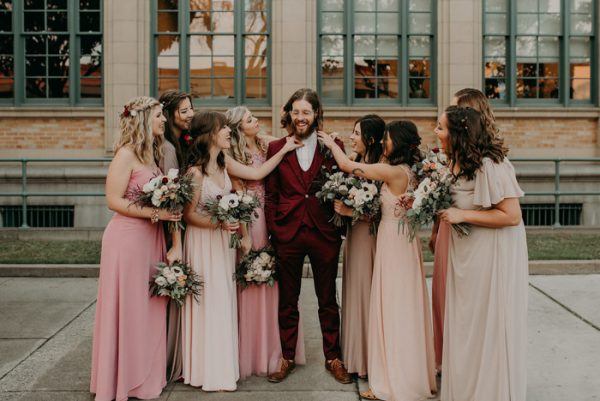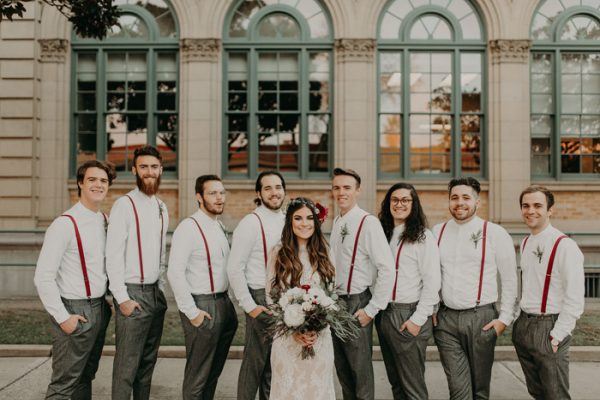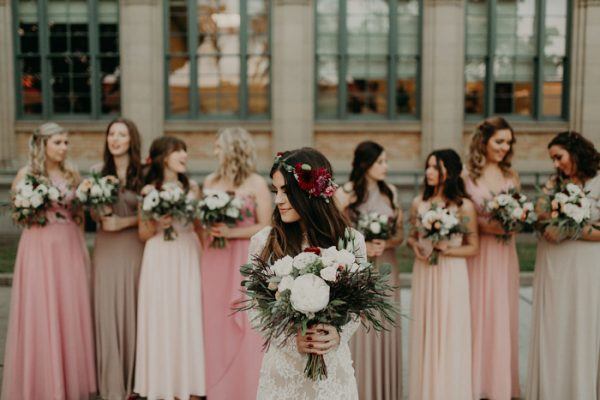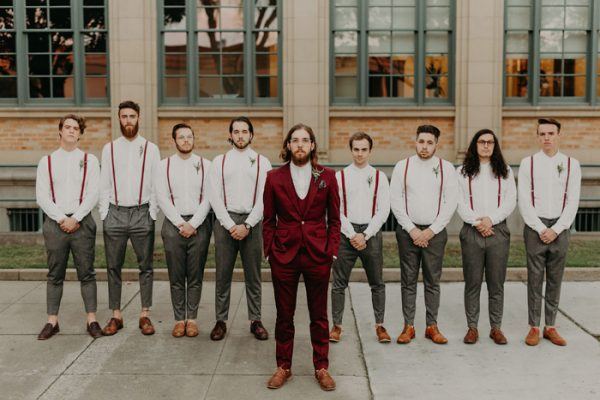 The groomsmen wore grey pants, a mandoin collard white button down, a pair of cranberry colored suspenders, and brown shoes. They didn't wear any ties or socks, it was a funny thing that my husband really wanted to incorporate into their style!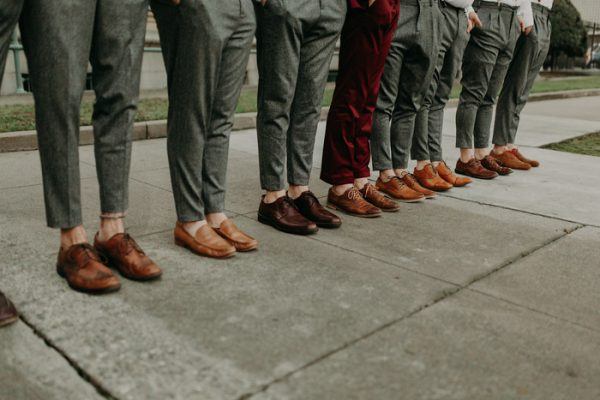 SHOP THIS LOOK: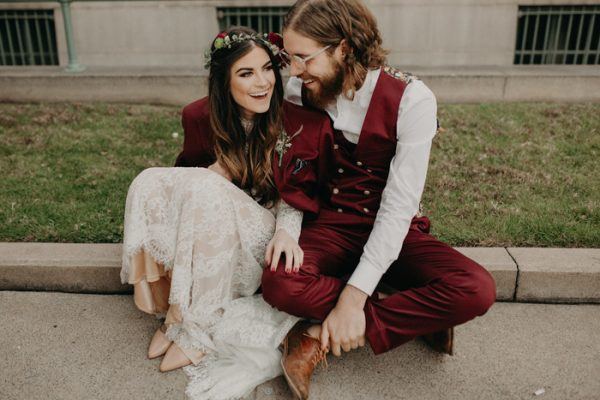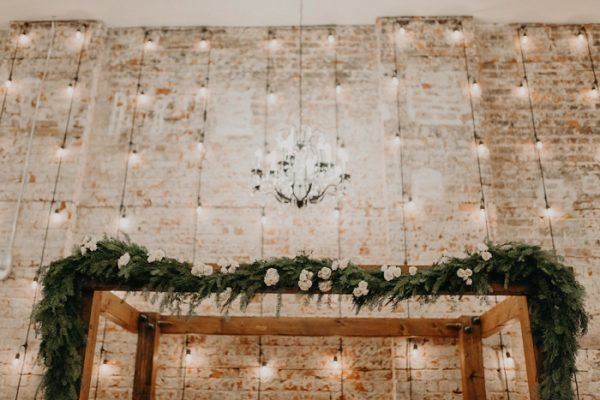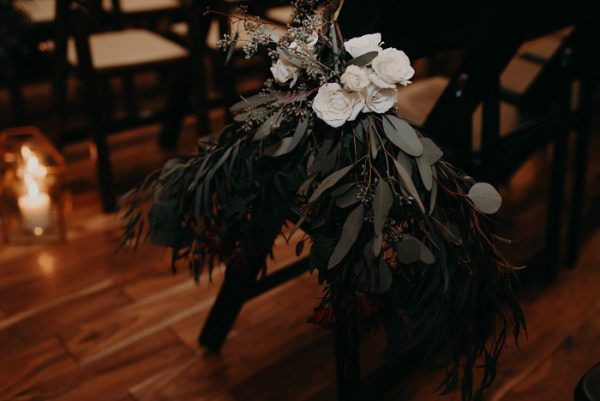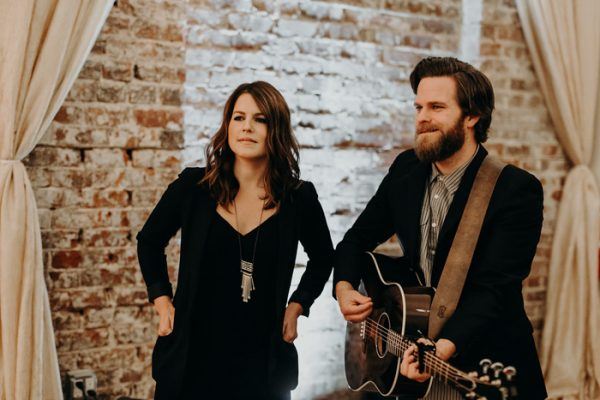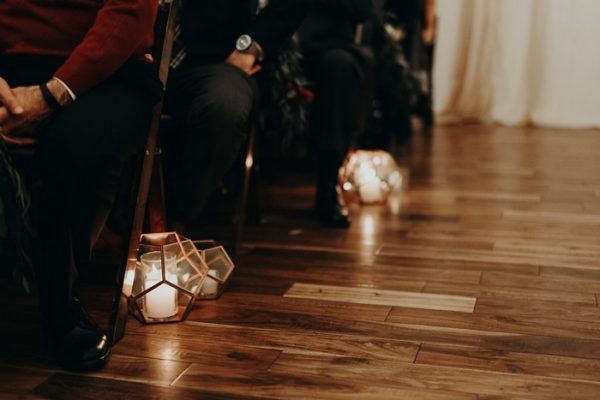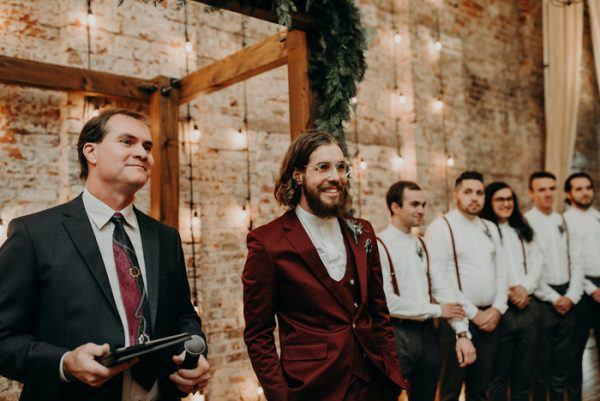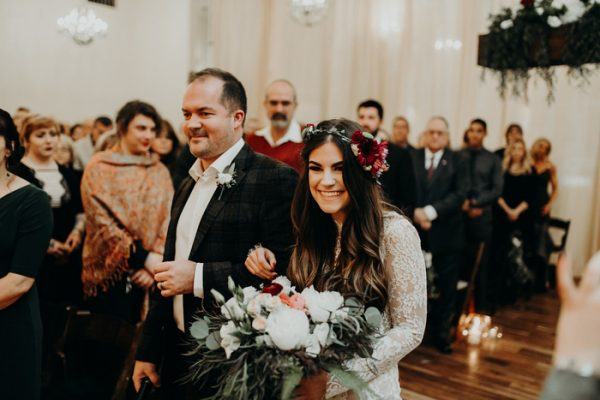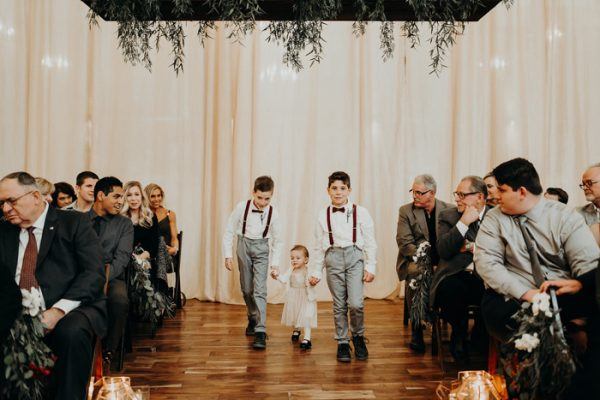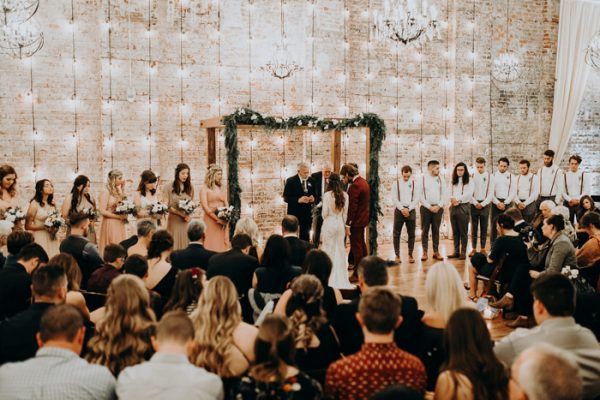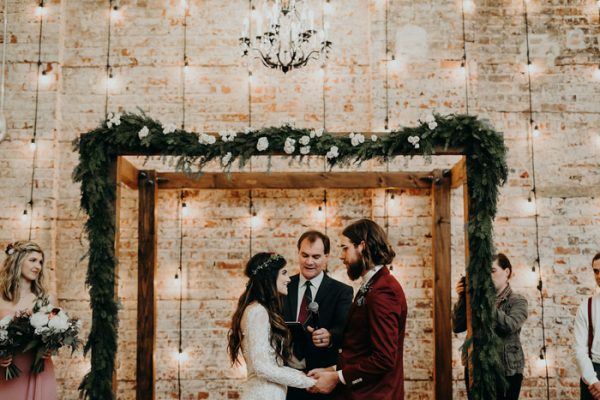 My colors were very light light pink, ivory, champagne, and the accent color was cranberry. Our wedding was right after Christmas so we took advantage of that and used a lot of green pine as the foliage. It smelt just like Christmas in our venue.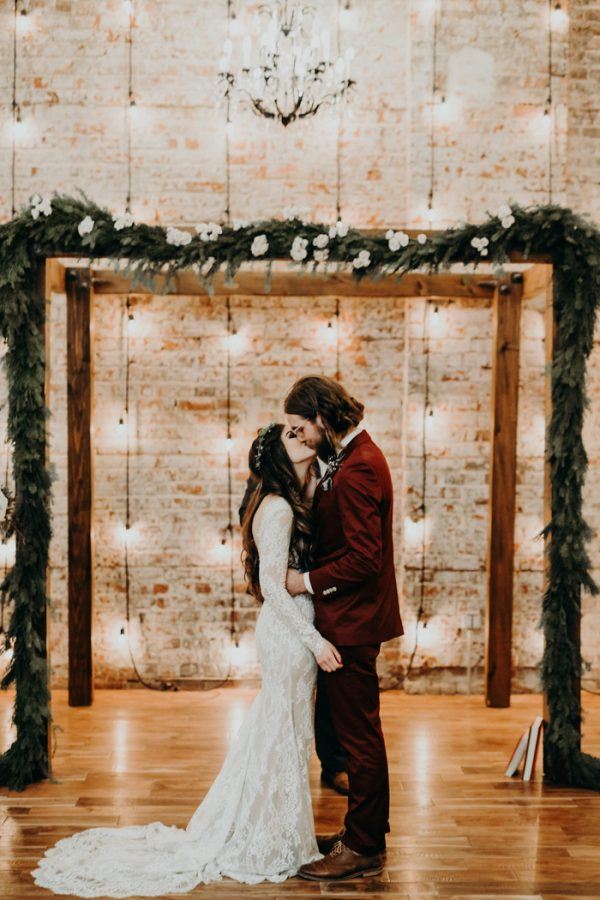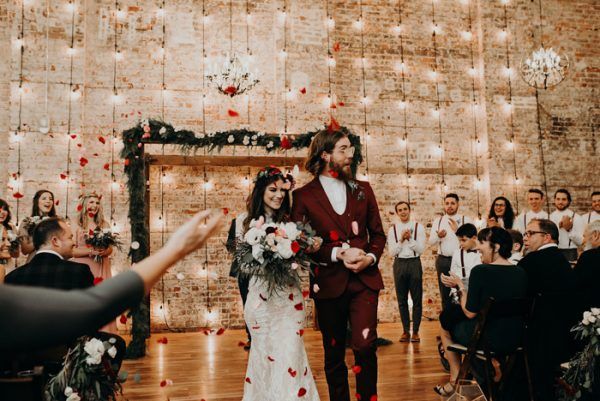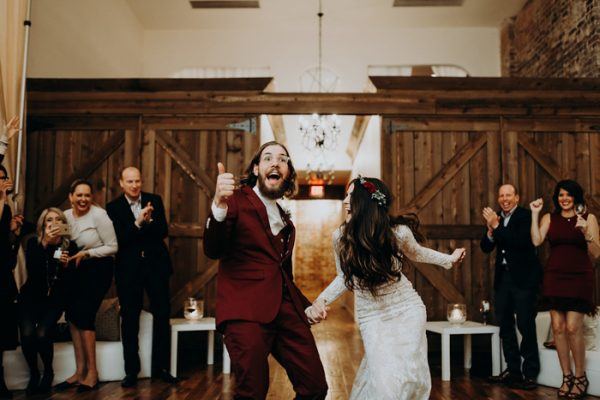 I think the only advice I would give is to don't stress! There is so much to plan for a wedding and if something doesn't go exactly right it could be very stressful. But just remember in the end its not all about the tiny little details its all about you and your best friend getting married!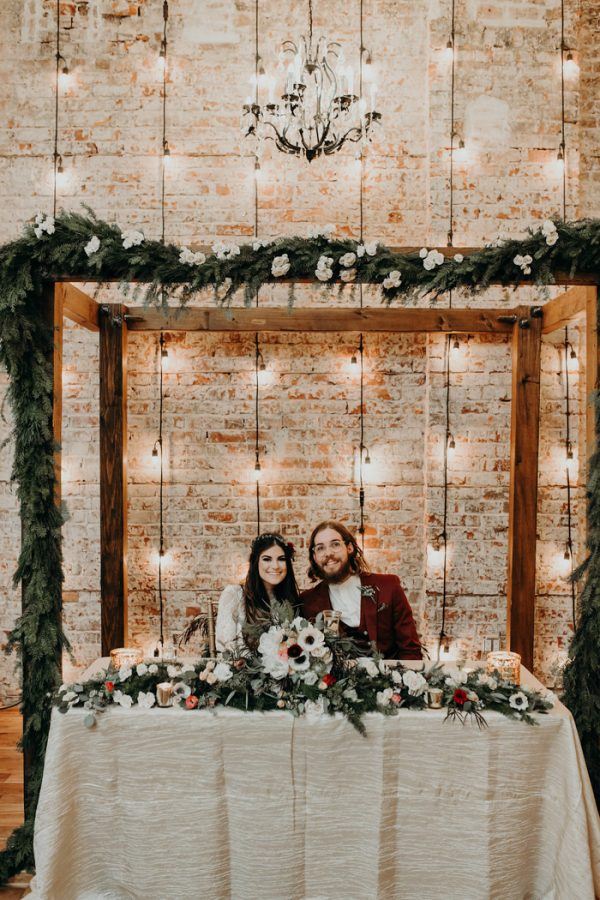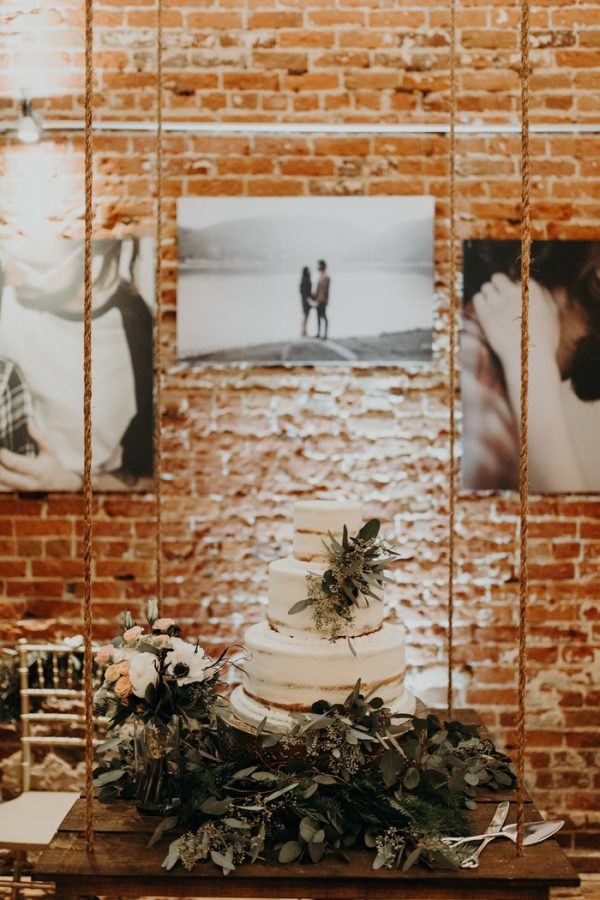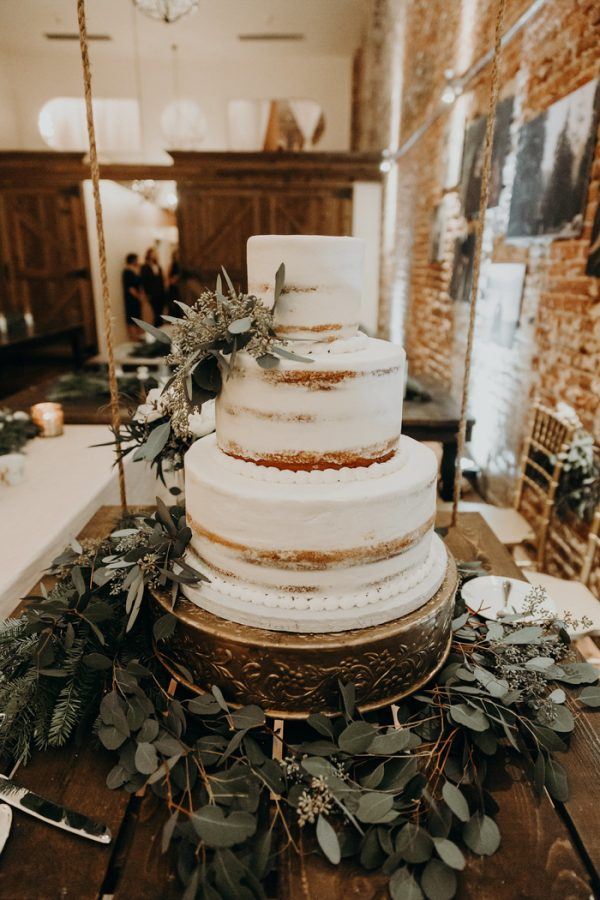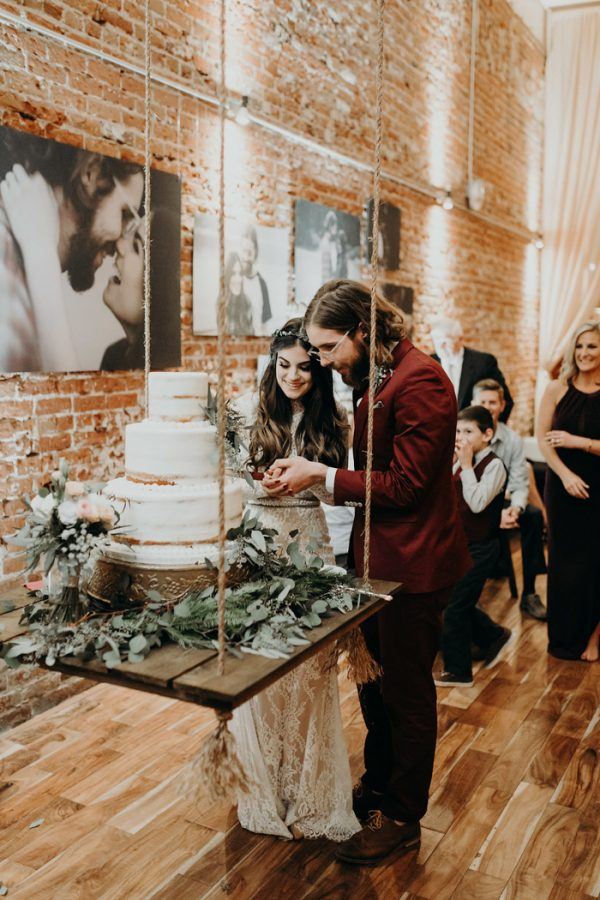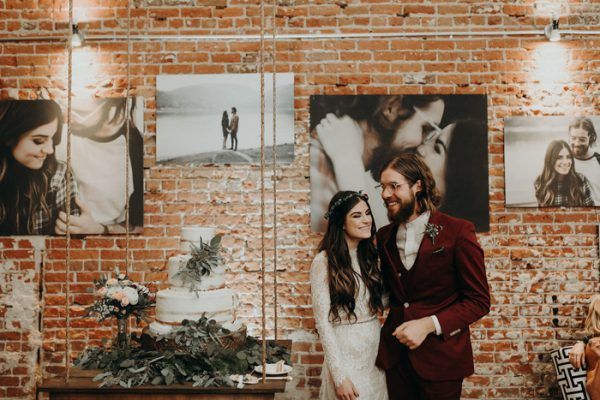 Nate and I both loved working with our photographers and videographers. We are both somewhat awkward and shy in front of a camera but they made us feel completely comfortable. They were all so nice and we really enjoyed taking pictures and videos. I still love looking at our wedding video and pictures because of how amazing they all turned out! I would recommend Greg Petersen and White Raven Productions to anyone and everyone!!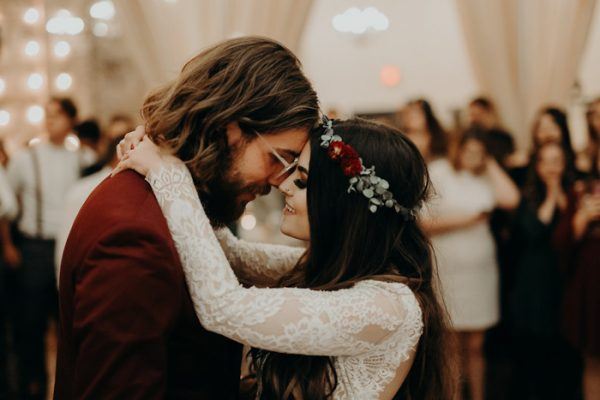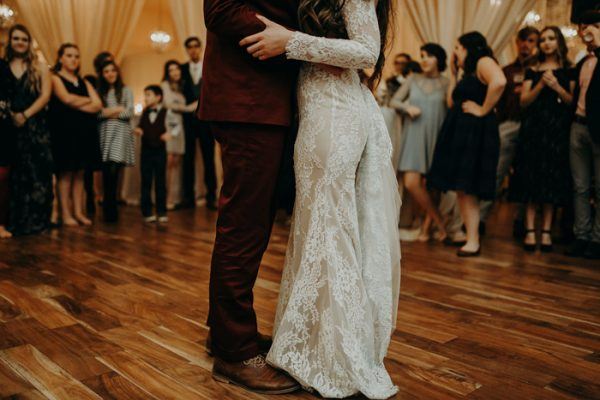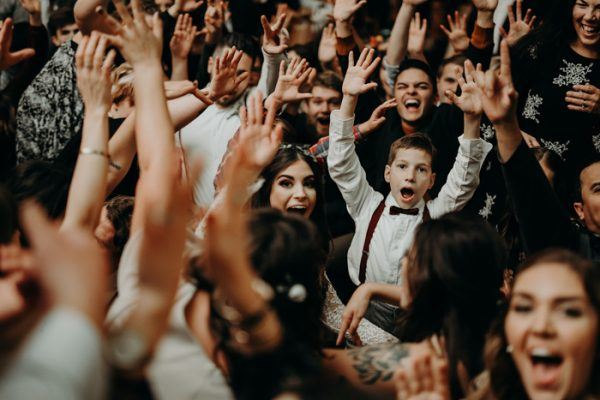 Congratulations to Jayne and Nate, and a special thanks to Junebug member Greg Petersen for sharing their special day with us. Love this wedding's natural burgundy décor? Then you've got to see this intimate Carmel Valley wedding at Folktale Winery, also shot by Greg Petersen!