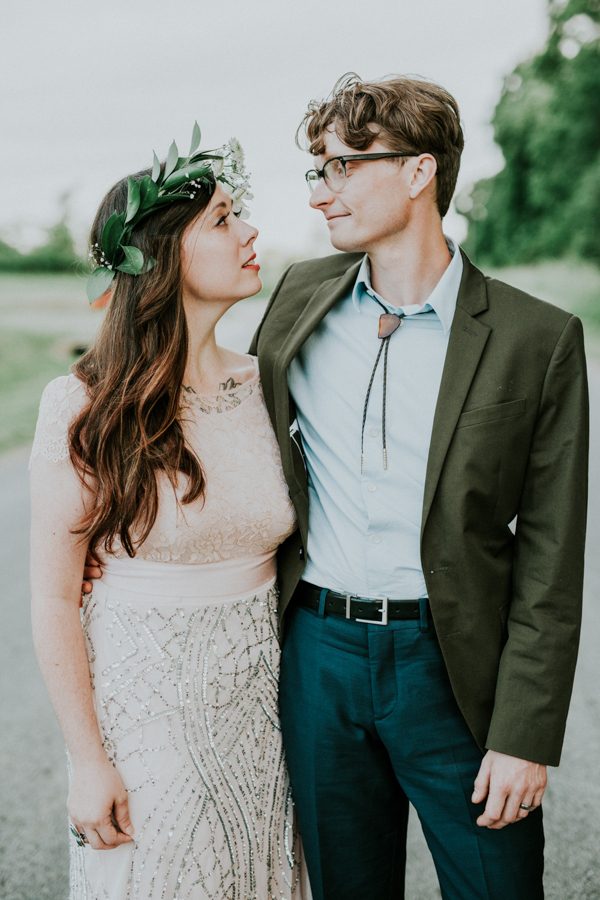 When Ashley and Andrew decided to keep their Ohio wedding intimate, DIY-friendly, and full of their favorite details, they knew that taking it to their grandparents' house was the way to go! The couple kept it small and invited less than 20 of their immediate family members to join them in a personal handfasting ceremony and an incredibly epic dinner party. Ashley's light pink beaded gown from BHLDN paired with turquoise jewelry and a flower crown created a perfectly boho folksy bridal look. We love how Coley & Co Photography captured Ashley and Andrew's entire wedding, including an unique, forest-inspired reception area!
The Couple:
Ashley and Andrew
The Wedding:
Private Residence in Ohio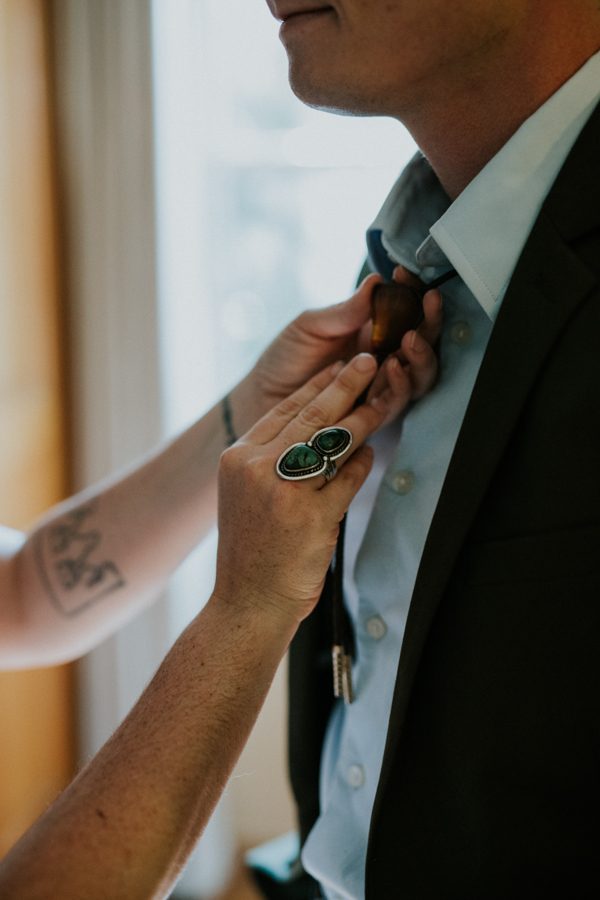 We feel very strongly that a wedding can be whatever you want it to be, so we did the things that made us happy and made sense and left it at that. This is not always easy, particularly when making decisions that may not make sense to others – no one wants to offend or upset people they love. We knew we could not manage the planning or cost of inviting all of our friends and an enormous extended family to the event, so after a lot of difficult consideration we decided to spend our wedding day with immediate family only. Having less than 20 people present opened up a lot of possibilities and allowed us to have the intimate, personal ceremony we wanted. After the fact, we feel confident that it was the right call.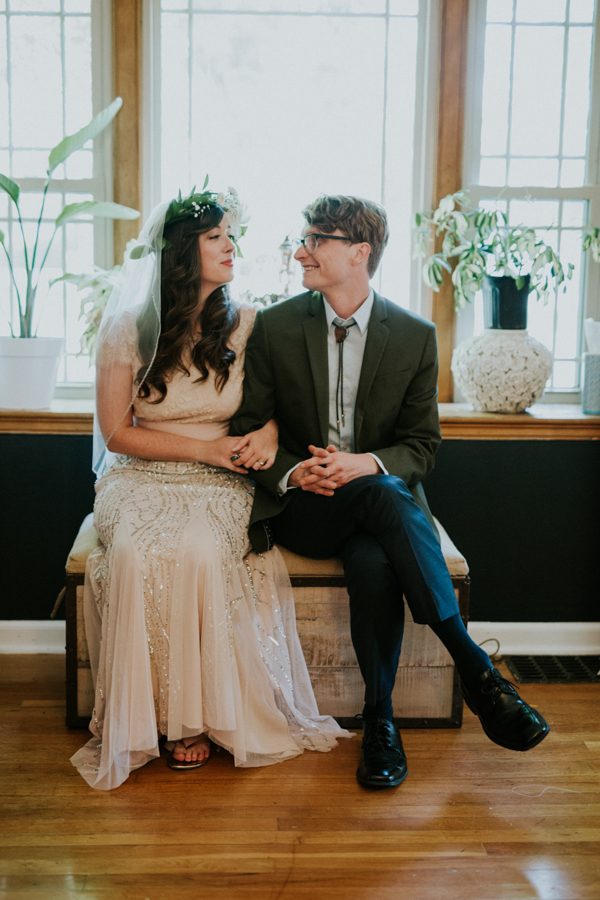 Oddly enough, one of our favorite parts of the day was the time leading up to the ceremony. I love the fact that we got ready at home and drove to the wedding together. Getting super dressed up and cramming into our little, beat-up car to make the 45 minute drive where our closest family members would witness our marriage was weird and wonderful.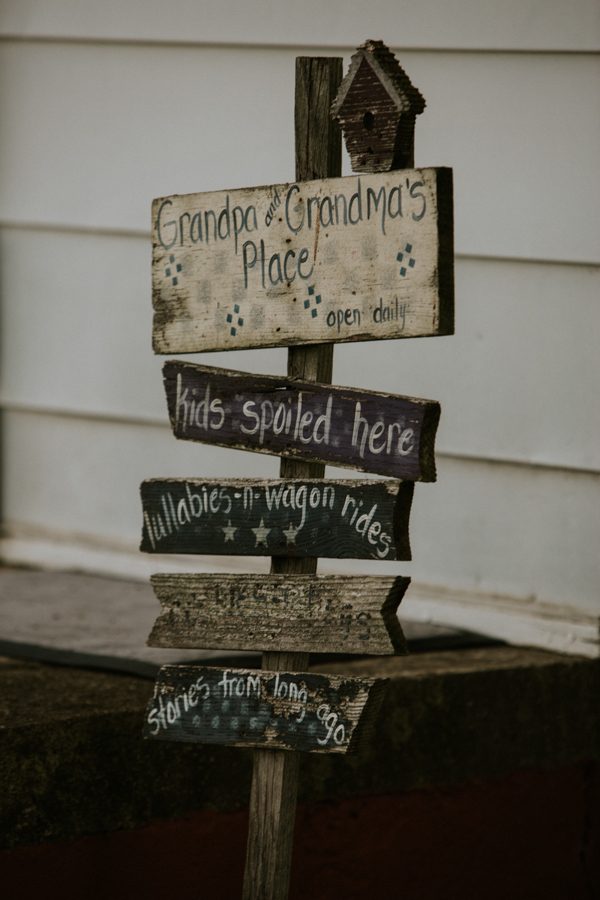 I've always known that I wanted to get married at my grandparents' house, and I am so happy that it ended up working out. My sisters and I spent a lot of time there growing up and my grandparents are very special to me. Walking through the woods with my family and chasing my nephew around the trees brought back wonderful memories. Having bridal photos taken in the house that my dad grew up in made me so happy. We were honored to be able to share the day with our families making new memories in such a beautiful place.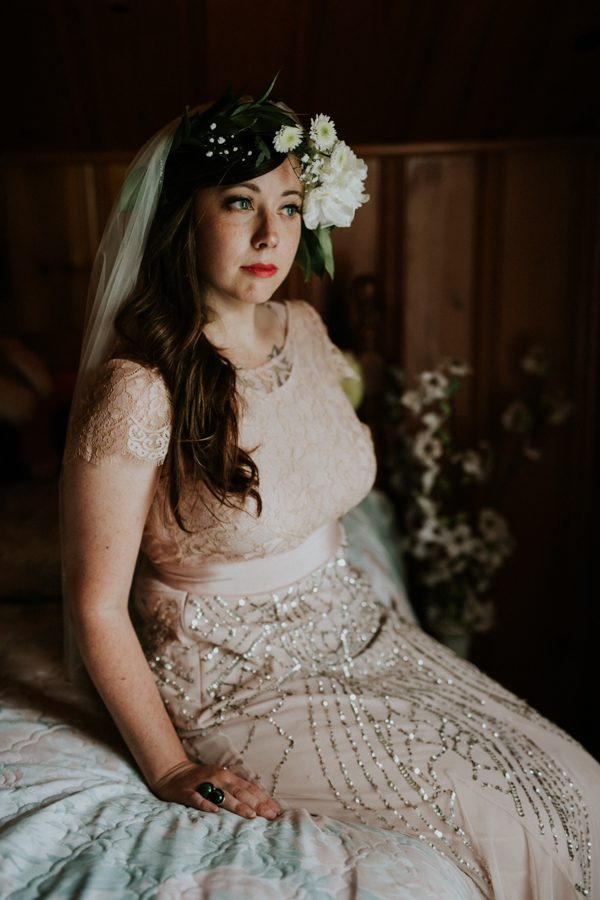 I ordered my dress from BHLDN and it was beautiful but I knew it wasn't exactly what I wanted. The waist hit me at an odd spot, and it was originally draped and had one shoulder. I raised the waistline and removed the sequined drape from the top, leaving the pink lining. I opened up the back of the dress and used the material I removed to create a second shoulder. I then purchased a lace topper in a similar shade and then it was everything that I originally wanted: Pink, sparkly and backless with sleeves and lace. I also made my floral crown the day of the wedding with some leftover floral wire and clearance Kroger flowers.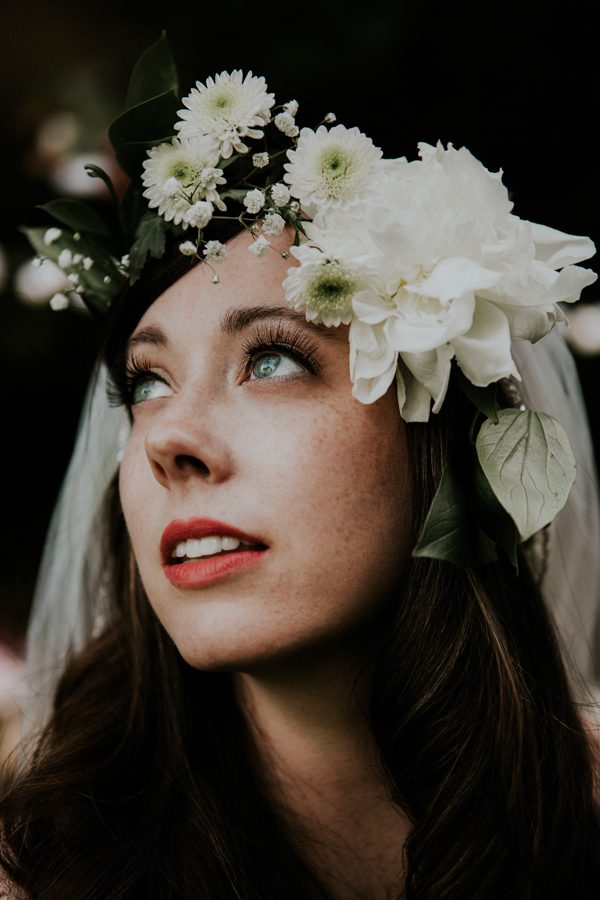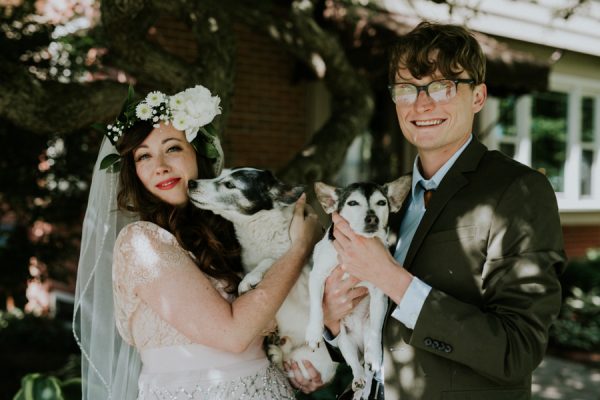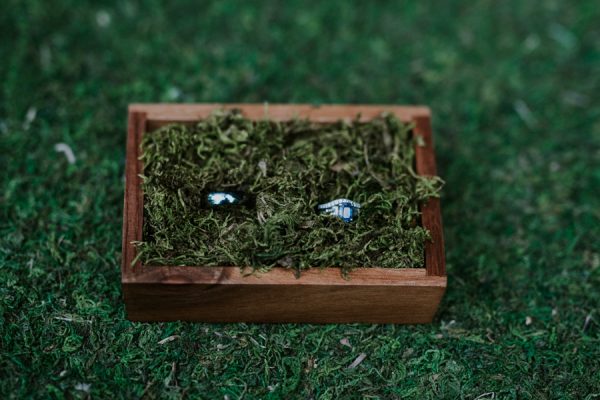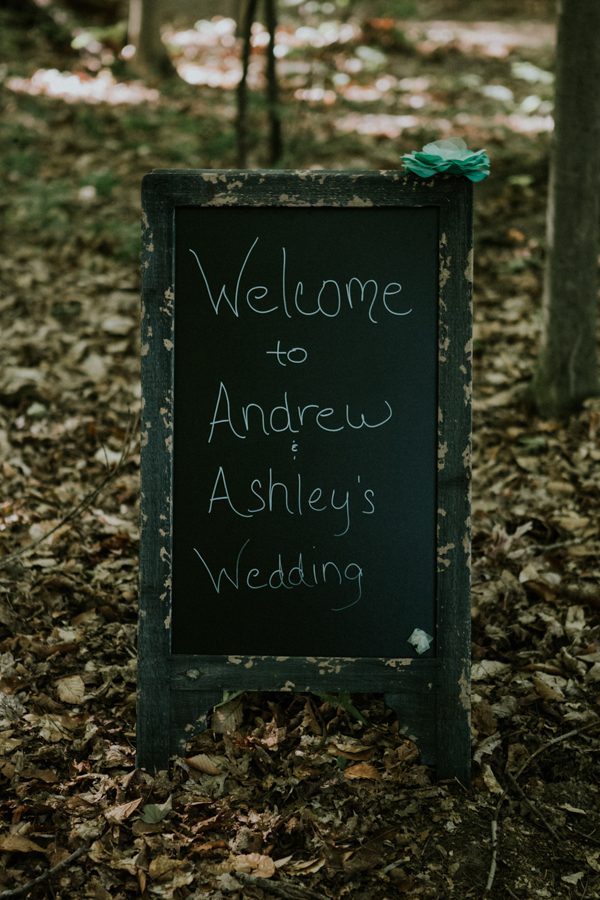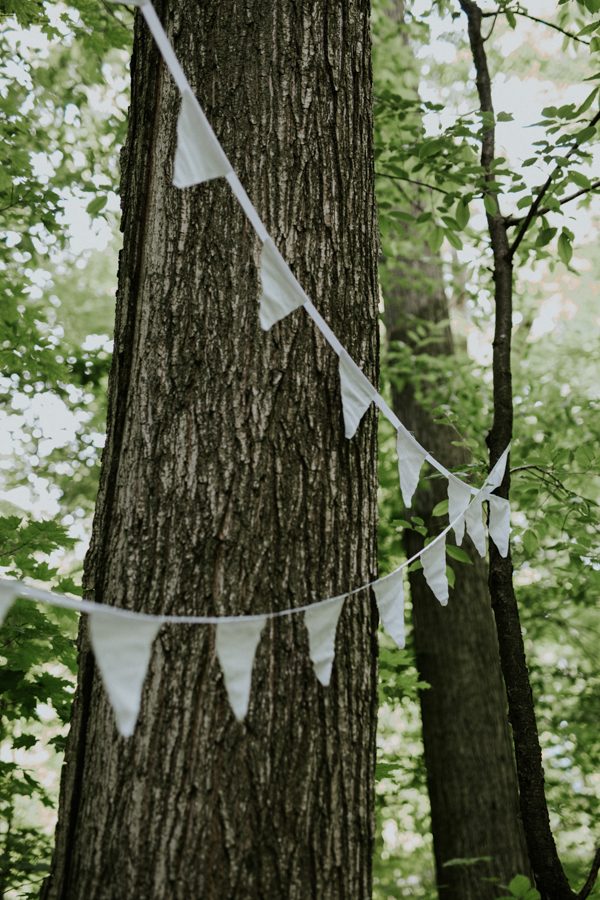 We played John Fahey's 'Requia' album while our family waited for us to arrive and while my dad walked me down the path to the ceremony. Last year, on a visit to Vietnam, Andrew and I took an overnight train down the coast and we share a very special memory of watching the sunrise over the Vietnamese countryside while listening to this album. It was beautiful and very fitting.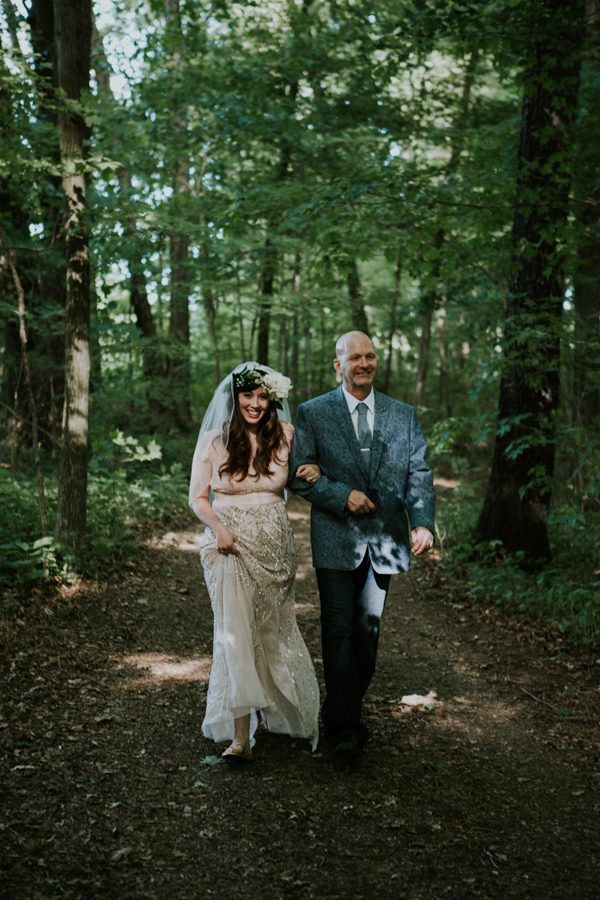 Our dear friend Brad was kind enough to officiate our ceremony, which we completely made up after picking and choosing things off of the internet. The whole thing was (I think) about 10 minutes long and included two beautiful readings, one by each of my (Ashley's) sisters, and a ring exchange.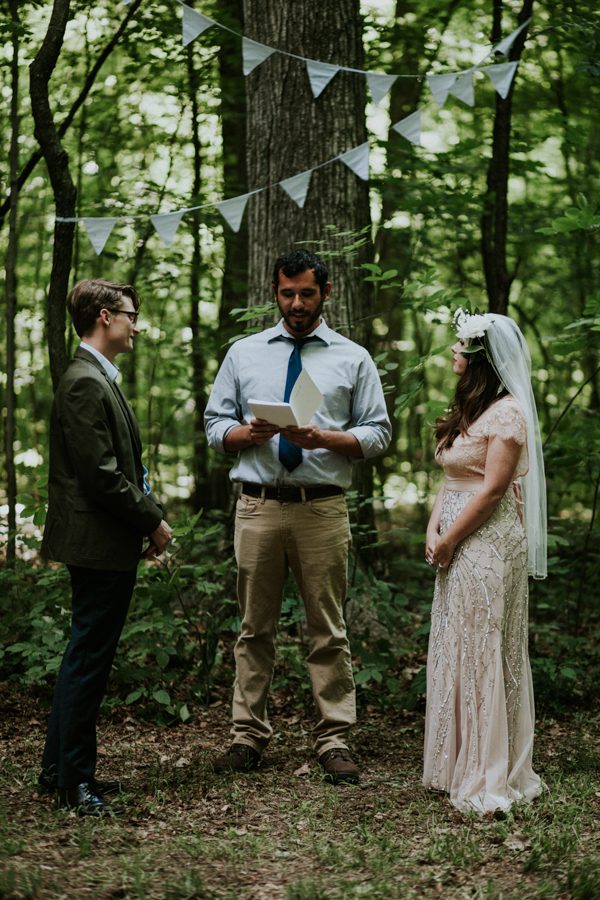 The main portion of the ceremony was a Scottish handfasting of sorts, using the basic idea but incorporating our parents and grandparents by having them each come up with their own cord to make a binding.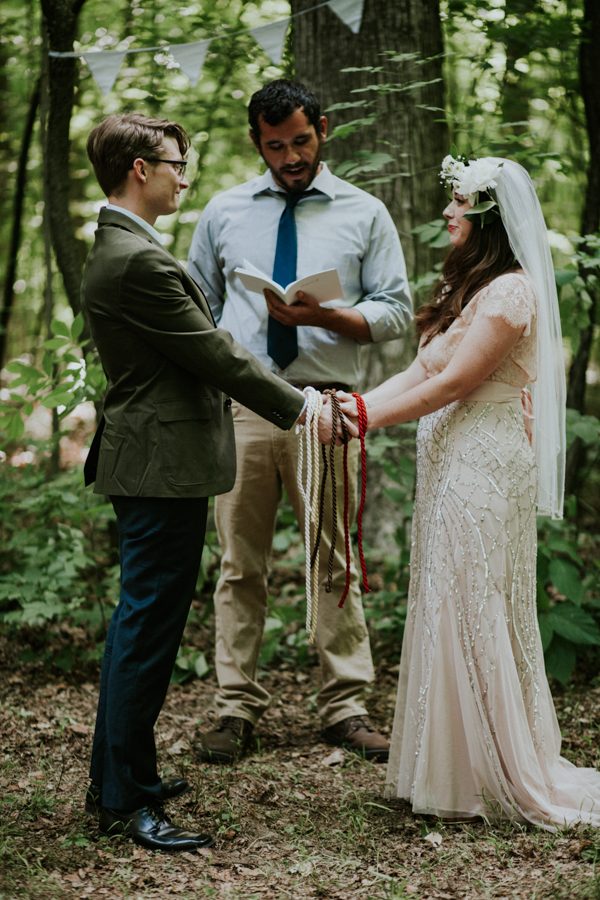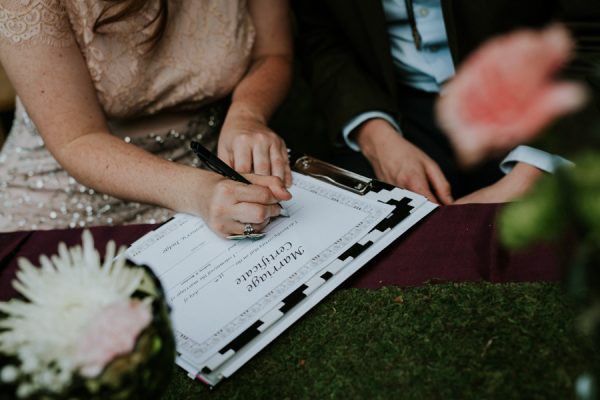 Neither of us wanted to use traditional wedding vows but we also hated the idea of sharing personal vows in front of anyone else, so we tweaked the traditional wording of the handfasting ceremony and those were essentially our only vows. Coming up with a ceremony for two people who do not like being on display is difficult, but doable. I think we found the perfect combination that worked for us, but it took a long time to get there.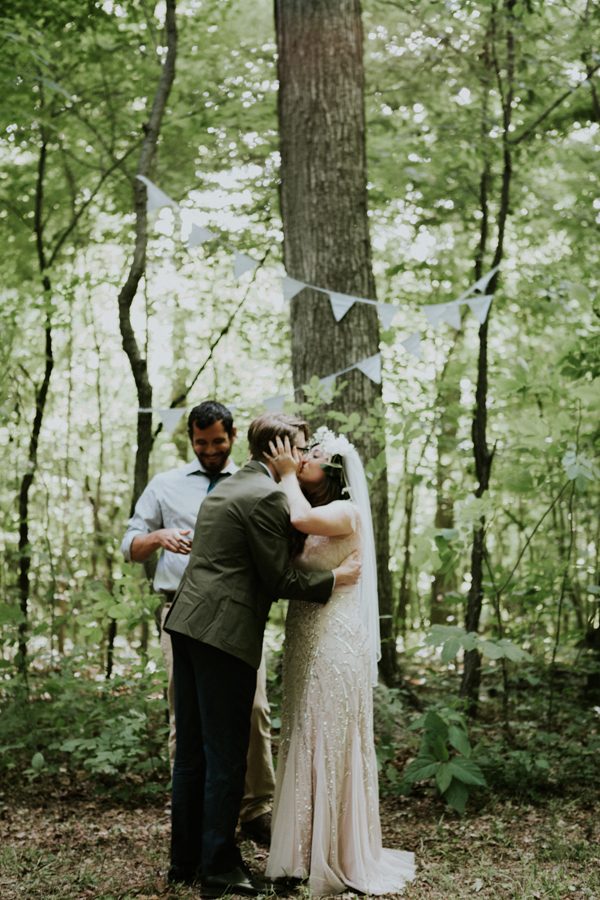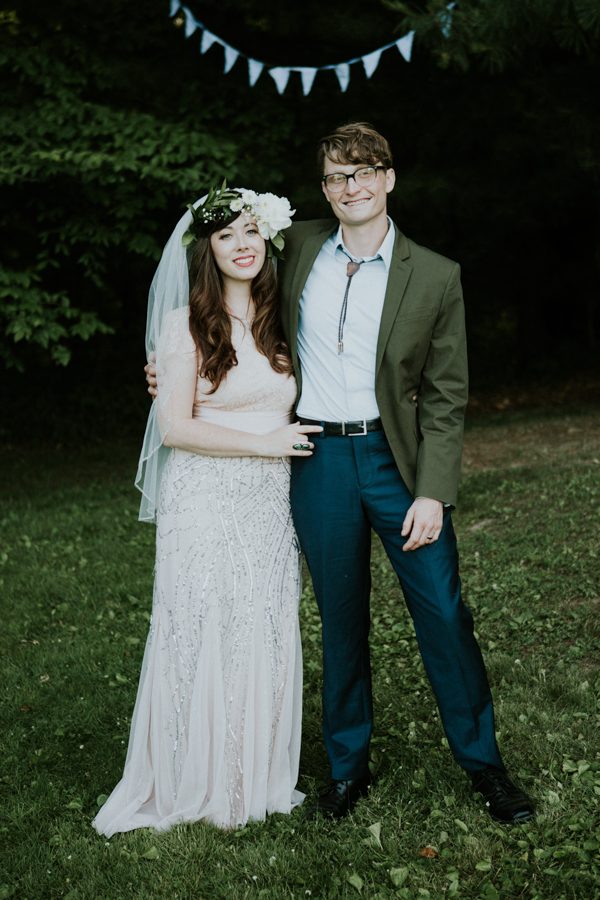 Planning a wedding is stressful at times, there is almost no way around it. I am a control freak who knows what she wants but is generally pretty bad at relaying that information to others. Looking back, I wish I could have let go of some of the control and let people help me more throughout the process. I got a ton of amazing help from my family but it was mostly toward the end when I was so burnt out that I was finally willing to accept it! In the end, it turned out that even the little things that weren't *exactly* what I had in mind didn't matter, not even a little bit.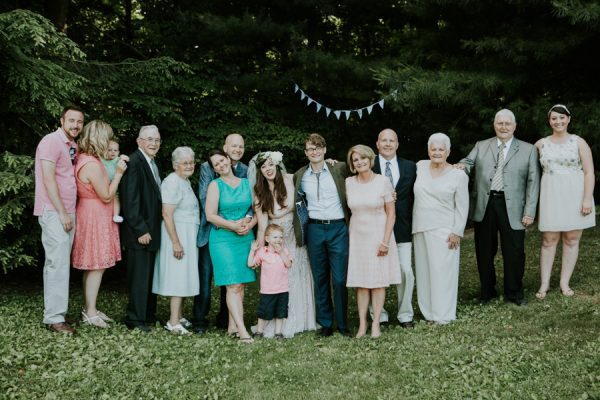 Andy's bolo tie and the ring I wore on my right hand are family heirlooms. His great grandma and grandpa had a huge collection of southwestern jewelry and accessories and we were lucky enough to be able to wear some of their favorite pieces during our wedding.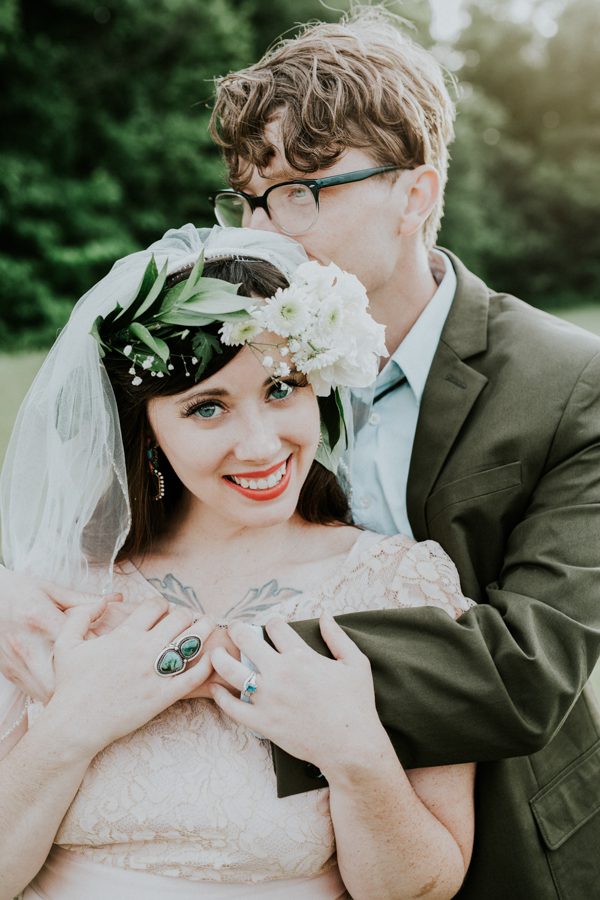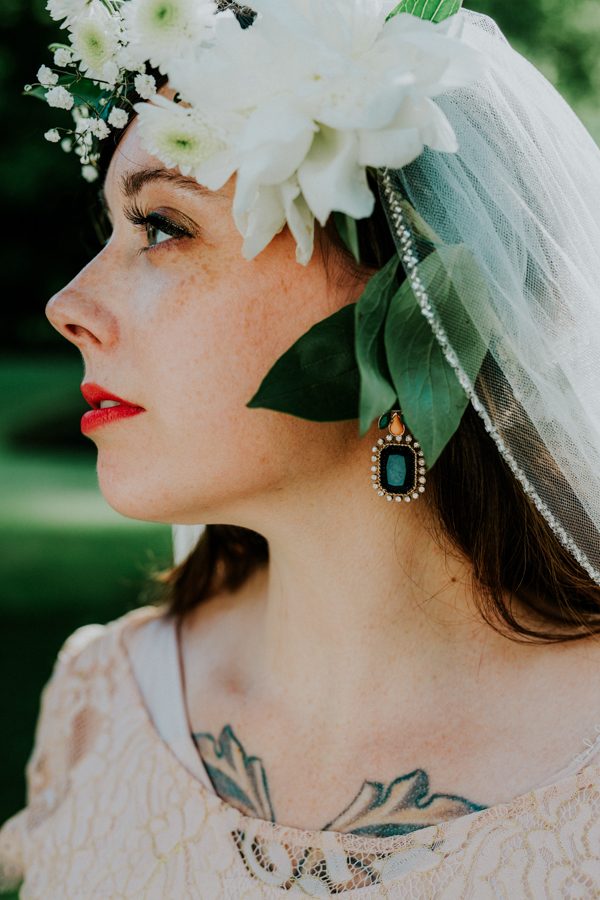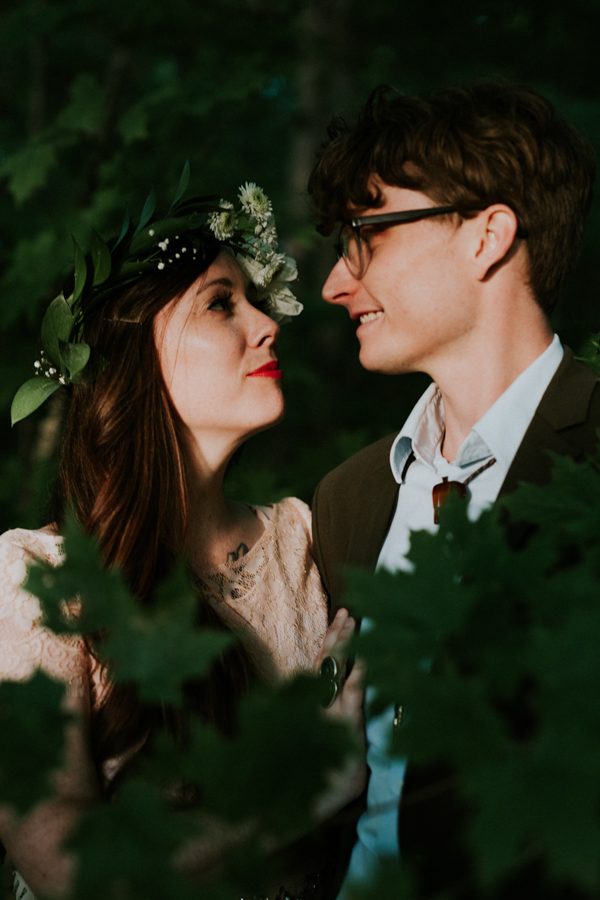 We DIY'd just about everything. It saves money and makes us happy and I have always had a great love of making things, so there was never going to be another option. In the year before the wedding, we gathered plates, glasses, silverware, vases and candlesticks from thrift stores for the reception. My mom picked up the gold & ivory chargers at a craft store a few days before the wedding. All of the flowers were purchased in the Kroger clearance section and arranged the night before or day of.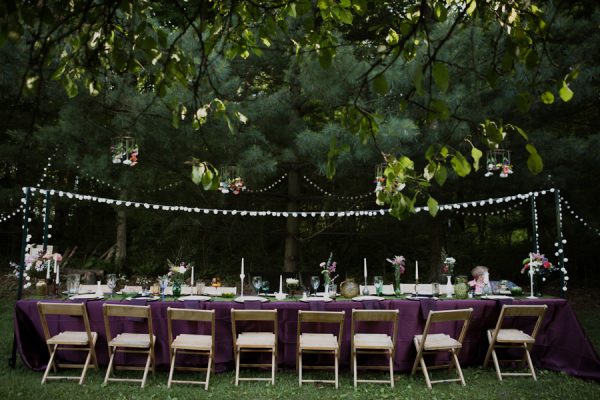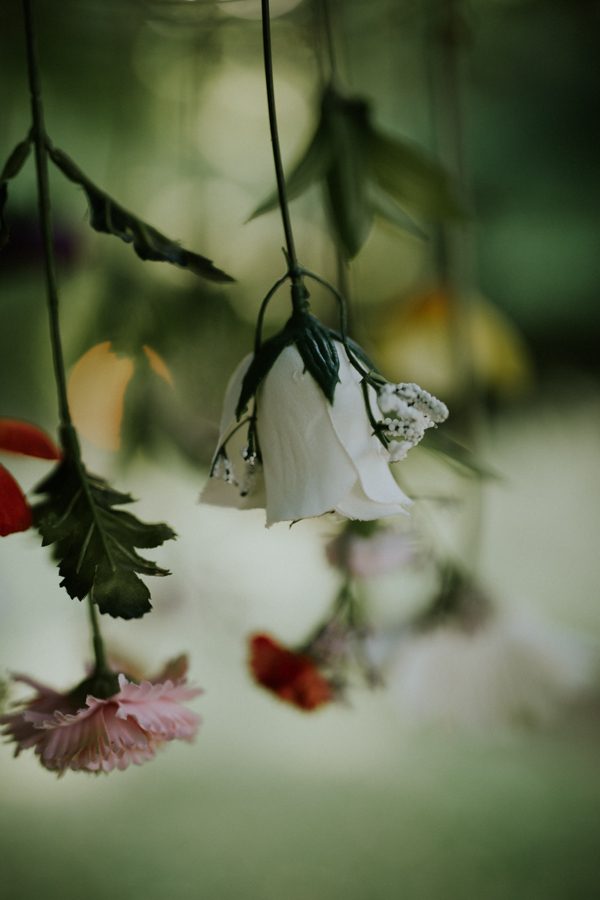 We made all of the lighting from battery-powered Christmas lights, ping pong balls and a couple of t-posts. The flower chandeliers probably took longer than anything but were totally worth it in the end. They were made from silk flowers, embroidery thread and wire wreath frames.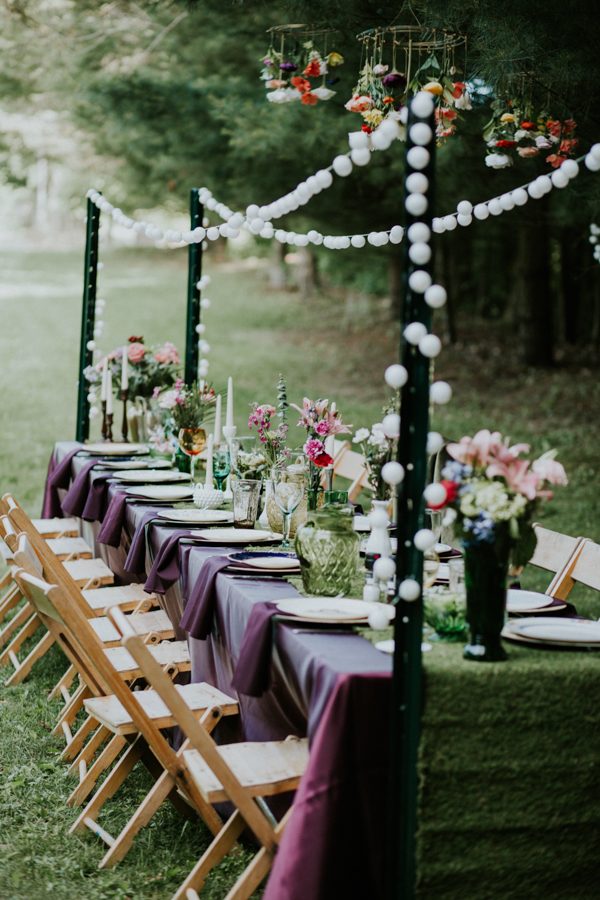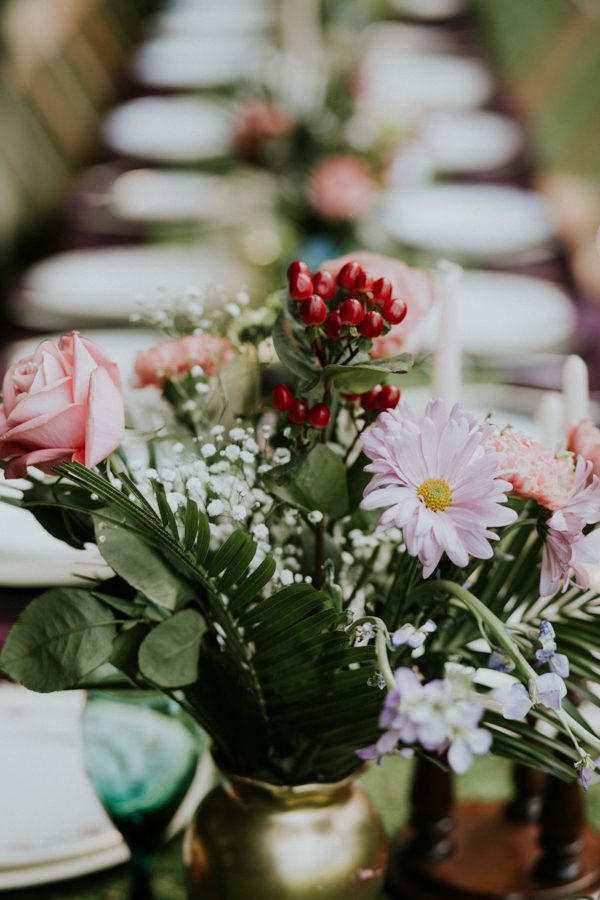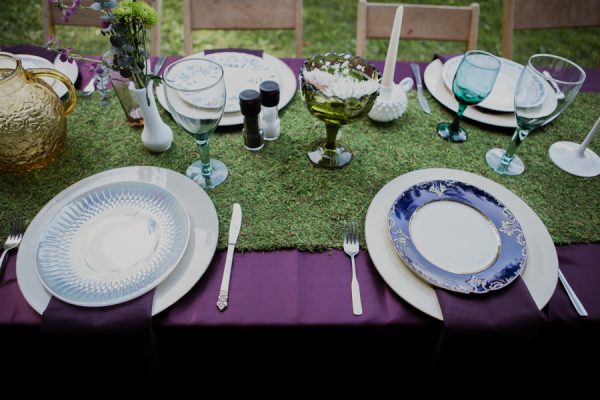 I sewed three tablecloths together to cover the long table and ran one giant roll of decorative moss down the center. The velvet green chairs that Andy and I sat in were from Craigslist.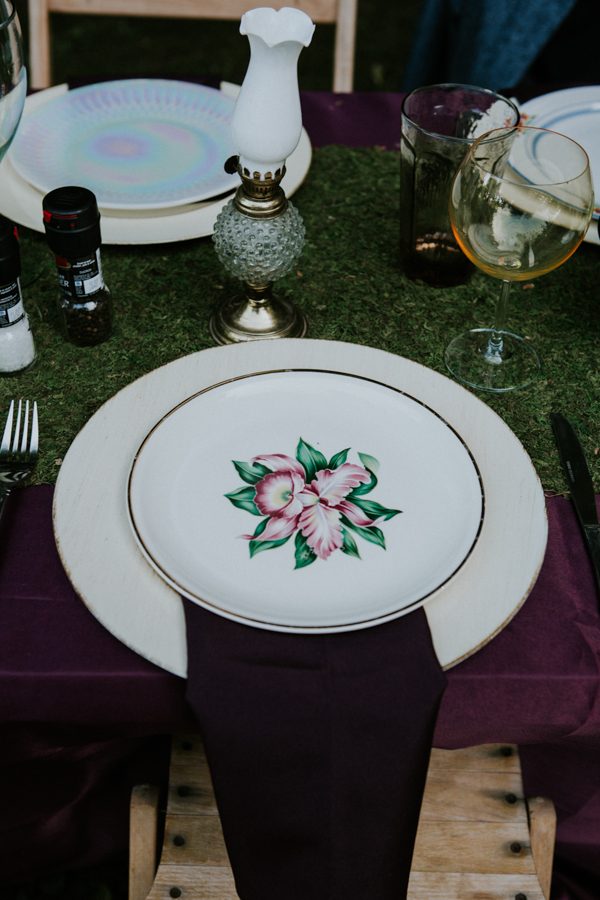 It took a lot of effort from a lot of people to get these projects done and we really had no idea how it was all going to look in the end. When we pulled up to the house on the day of the wedding, though, I could not believe how beautiful it was. I can't speak for everyone else, but I think it made barely getting any sleep the week of the wedding totally worth it.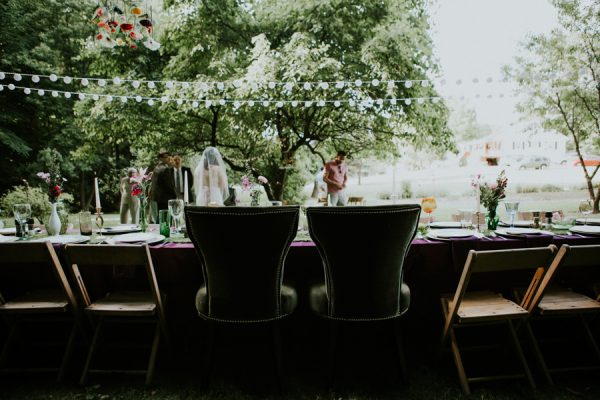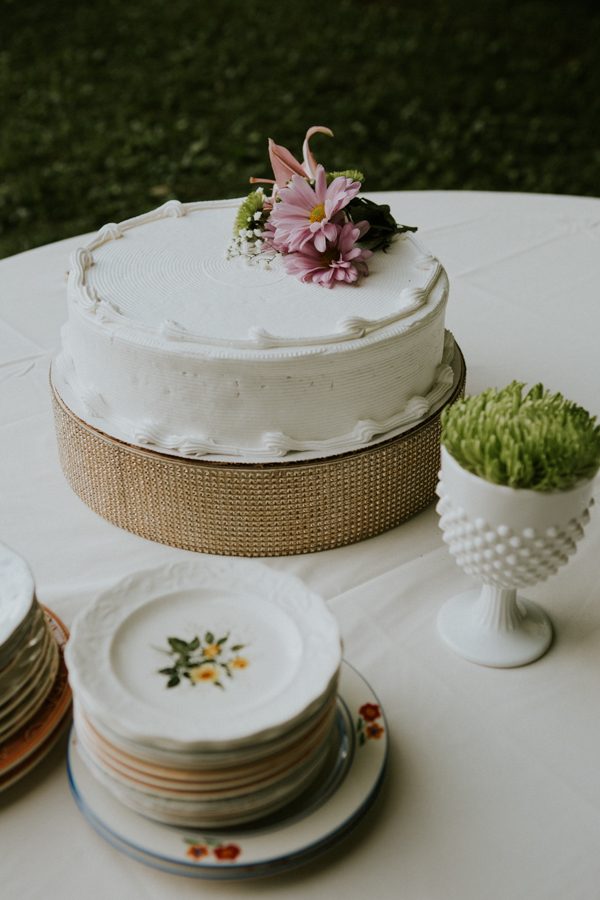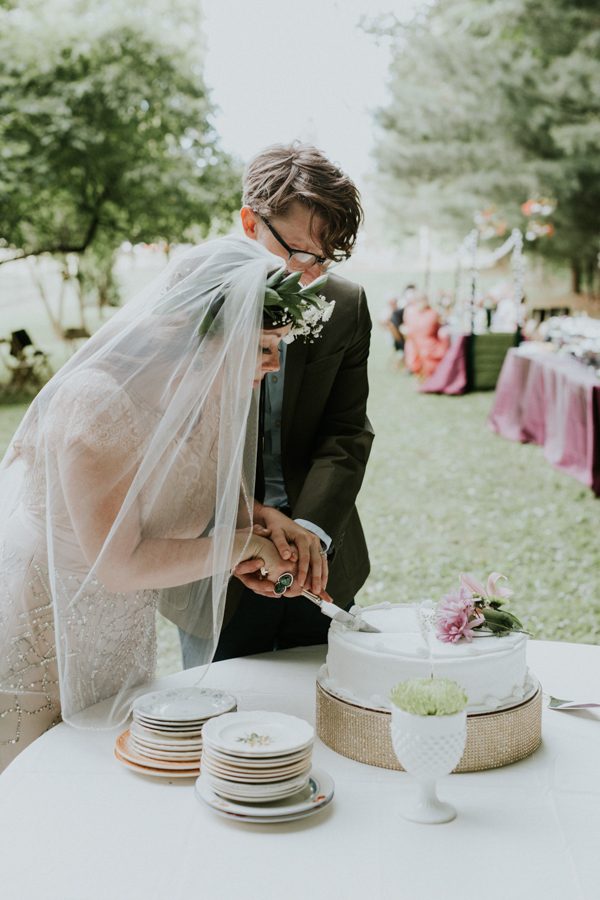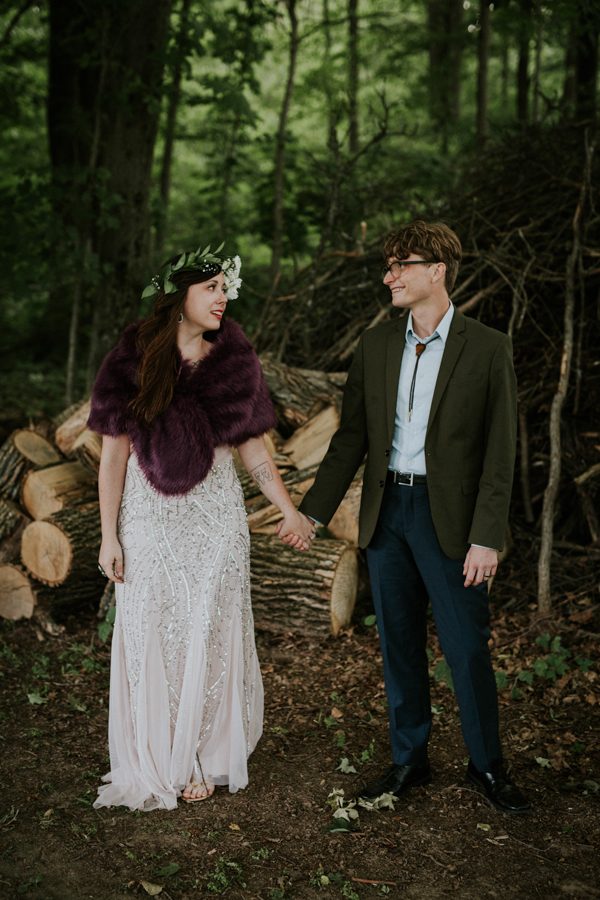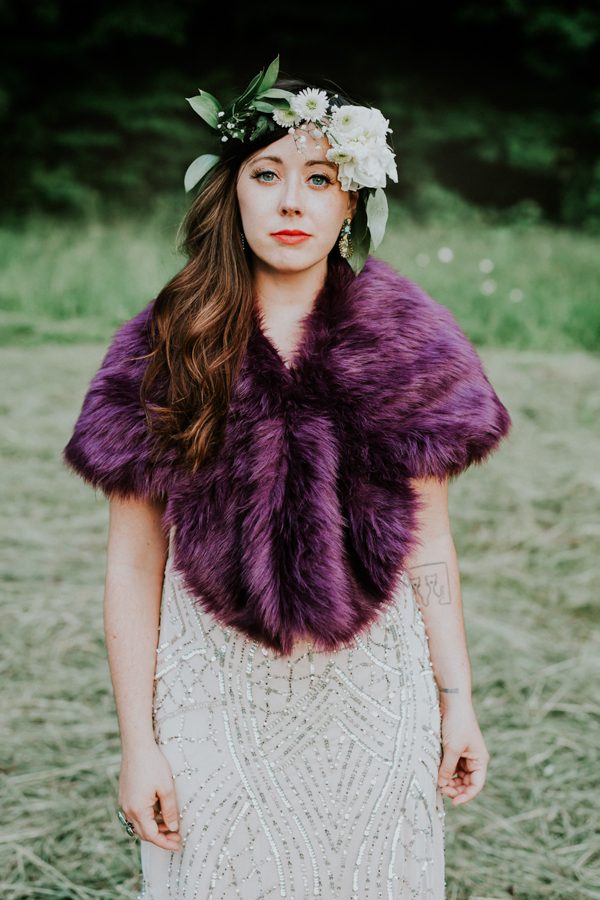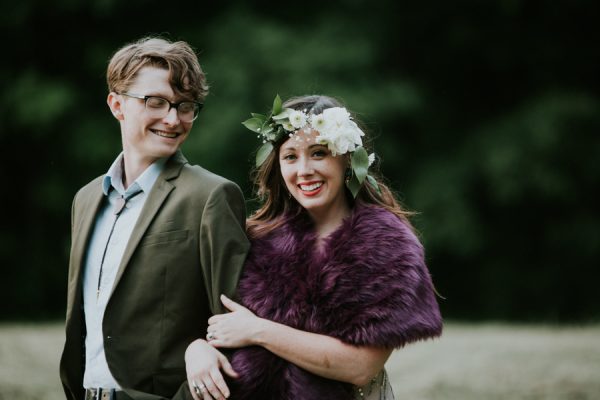 Congratulations to Ashley and Andrew, and a huge thanks to Coley & Co Photography for sharing this wedding with us! Want more perfectly forested wedding inspo? Then you've got to see this fairy tale cabin wedding in Northern Michigan!