From your ceremony setup to your reception tables, you've got a lot of space to fill with wedding decor! To help you style your big day–without having to leave the couch–we're sharing the best places to buy wedding decorations online. You might be surprised to find that your favorite home décor stores are hot spots for wedding decorations–especially items you can re-use around the house after your wedding is done. From table linens to lanterns to macramé backdrops, you can find everything you need to outfit your wedding with the click of your mouse.
Before you start adding items to your cart, be sure to check out the best wedding decorations online from:
Amazon
Anthropologie
Etsy
Minted
Urban Outfitters
World Market
Scroll on to find out which shop has the decor you need and to see a few of our favorite wedding decor items from each retailer.
Best Places To Buy Wedding Decorations Online
Best Place to Buy: Table Linens, Card Holders, Macramé, Sign Decals, Rugs, Furniture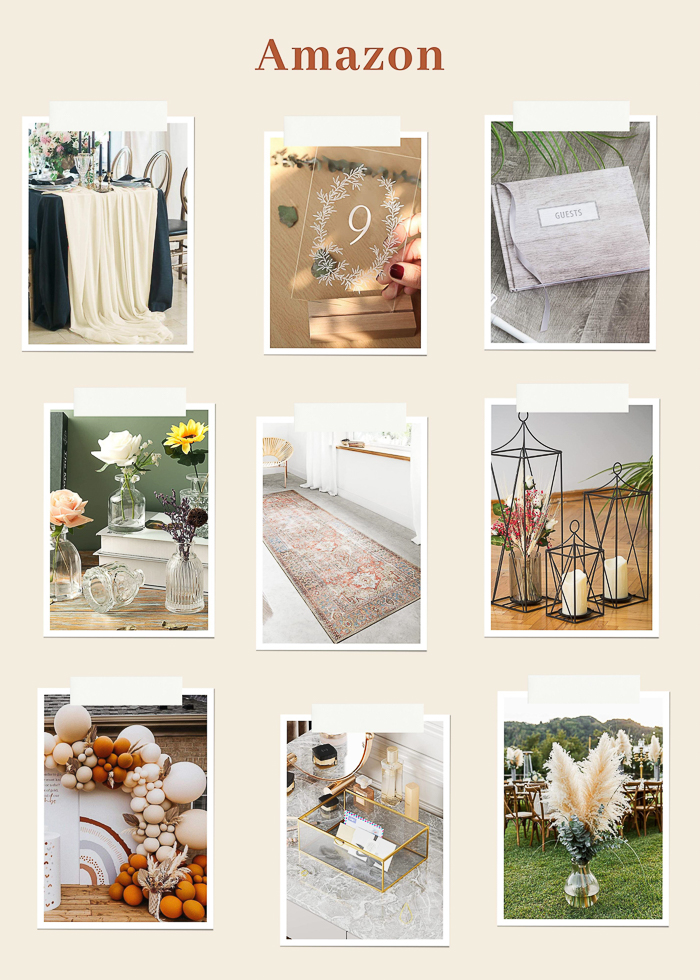 Chiffon Table Runner; 2. Acrylic Wedding Table Numbers 1-20; 3. Wedding Guest Book; 4. Small Glass Bud Vase Set; 5. Loloi II Area Rug; 6. Set of 3 Tall Metal Lanterns; 7. Double Stuffed Orange Cream Peach Apricot Balloons Garland Arch Kit; 8. Glass Box Keepsake Box; 9. Large Pampas Grass Stems
Best Place to Buy: Vases, Frames, Candlesticks, Cake Stands, Serving Pieces, Linens, Accent Decor

Victoria Frame; 2. Carmo Vase; 3. Terra Pillar Candle Holder; 4. Loretta Basket; 5. Nostalgia Cloche; 6. Bleached Scabiosa Bunch; 7. Delaney Candle Holder; 8. Fiorella Flutes; 9. Lithuanian Linen Napkin Set
Best Place to Buy: Signs, Backdrops, Invitations, Menus, Programs, Table Numbers, Escort Cards, Card Holders, Ring Boxes, Cake Toppers

Surname Wedding Neon Sign; 2. Neutral Color Vow Books; 3. Minimalist Wedding Welcome Sign; 4. Trixie Retro Wedding Timeline Welcome Letter; 5. Luggage Tag Wedding Favor; 6. Custom Cake Topper; 7. Custom Pet Cocktail Napkins; 8. Hand Stamped Fork Set; 9. Wedding Arch Circle
Best Place to Buy: Invitations, Menus, Programs, Table Numbers, Escort Cards, Signs, Frames, Card Holders, Favor Packaging, Wedding Party Gifts

Sophisticate Foil-Pressed Wedding Invitation; 2. Blend Seating Chart; 3. Floral Type Arch Save The Date; 4. Kenai Welcome Sign; 5. Sunset by the Sea Cocktail Sign; 6. Timeless Table Numbers; 7. Filigree Paper Cocktail Napkins; 8. Mountainview Wedding Program; 9. Genevieve Wedding Favor Tag
Best Place to Buy: Floor Seating, Rugs, Tapestries, Furniture, Macramé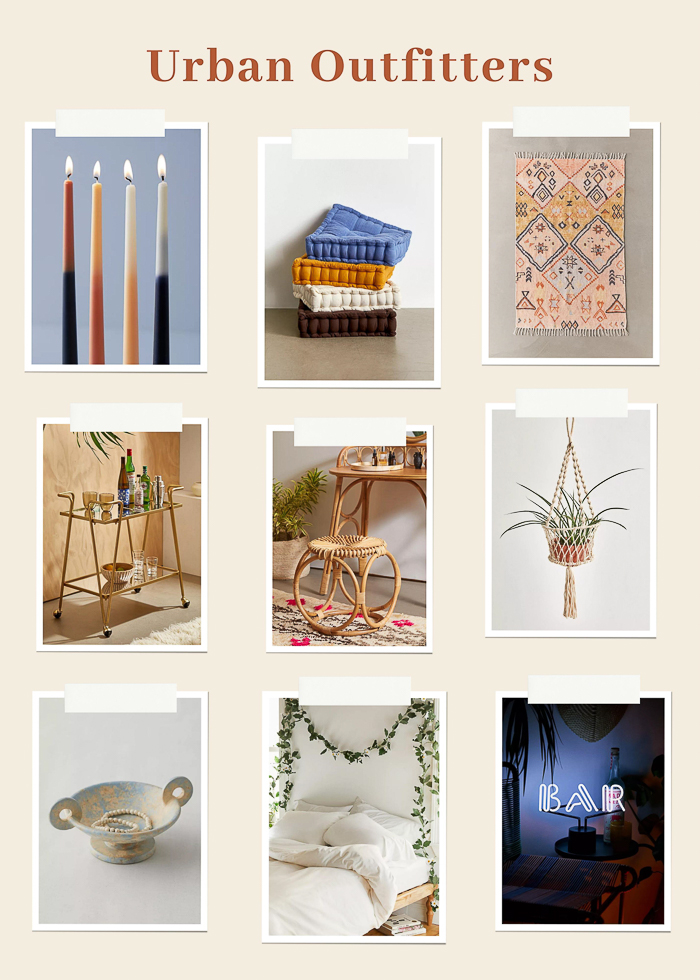 Ombre Taper Candle Set; 2. Double Cloth Jacquard Floor Pillow; 3. Aziza Printed Chenille Rug; 4. Victoria Bar Cart; 5. Caroline Rattan Stool; 6. Twisted Hanging Basket; 7. Lila Catch-All Dish; 8. Ginger Ray Daisy Vine; 9. Neon Bar Sign
Best Place to Buy: Bohemian Accents, Candle Holders, Baskets, Rugs, Fake Plants, Throw Pillows and Blankets, Furniture

Ivory Printed Faux Cowhide Rug; 2. Tapered Asymmetrical Textured Ceramic Vase; 3. Round Pleated Velvet Anniston Stool; 4. Whitewash Wood Geo Taper Candle Holder; 5. Natural Rattan Fallon Cocoon Chair; 6. Art Deco Gable Double Old Fashioned Glasses; 7. Antique Zinc Metal Reese Vertical Wall Frame; 8. Antique Brass Mirrored Cole Bar Tray; 9. Ivory And Orange Kaleidoscope Macrame Wall Hanging
To see more of our picks for wedding decor, be sure to check out our roundup of affordable wedding decor from Amazon!