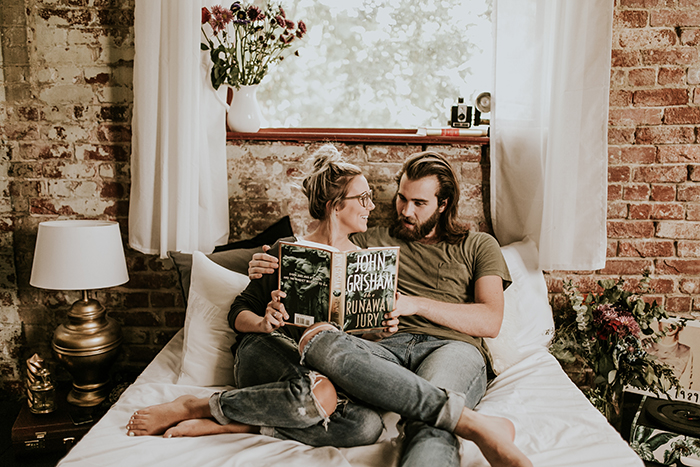 photo by Vic Bonvicini Photography
Is your to-be-read pile getting low during quarantine? We've got just the solution for voracious readers looking for the best wedding planning books for the modern couple! We have compiled a list of our favorite books to help you plan your wedding, your way, complete with expert advice, inspirational imagery, and interactive tools. These reads vary from sharing contemporary wedding rules to tips on how to break them, all intended to guide you through planning a celebration worthy of your love.
Before we dive into why you need to add these reads to your nightstand, here's a list of the best wedding planning books for modern couples:
Read on to find out how each of these books will help you plan the wedding of your dreams!
Why you should read it: This book is considered to be the Holy Grail for couples planning creative weddings that represent them. Meg Keene, also the founder and editor-in-chief of the website by the same name, sets you up with a wedding planning foundation that is both realistic and reflective of what matters most to you as you work through decisions regarding budget, traditions, and style. If you're looking for a read that will walk you through the who, what, when, where, and why of weddings while giving you a healthy dose of managing expectations, this book is for you!
Bonus: Keene also published an interactive workbook called A Practical Wedding Planner: A Step-by-Step Guide to Creating the Wedding You Want with the Budget You've Got (Without Losing Your Mind) as a companion to the book with additional tips and tools for practically planning your day.
2. The Engagement Journal by Season Journals
Why we love it: The Engagement Journal by Season Journals is a guided heirloom journal, written and designed exclusively for engaged couples. It features six unique sections to help couples to plan their wedding with intention, strengthen their relationship through conversation prompts, and document special moments throughout their engagement.
The Engagement Journal was designed differently, on purpose.
It allows the couple to be the author of their story and their wedding planning journey
It's designed to be minimal, modern, and treasured for a lifetime
It's written and designed to be gender-neutral, inclusive, and utilized by both partners
It's structured to align with milestones in an engagement
It's a holistic approach to wedding planning with a focus on planning, journaling, and relationship-building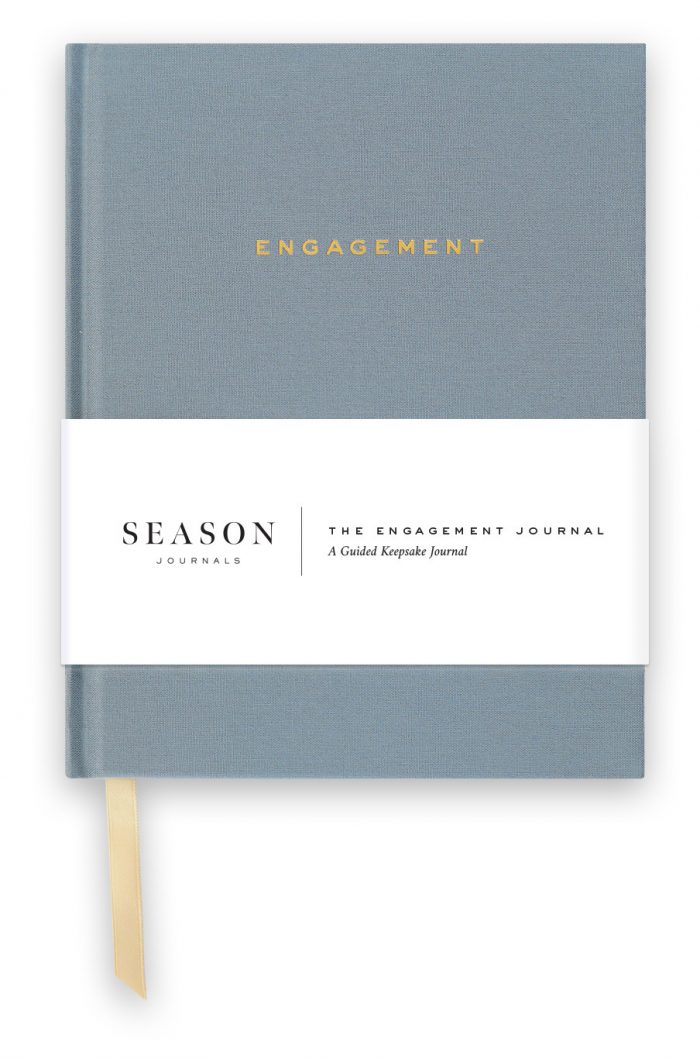 Why you should read it: Wedding planner duo Aleah and Nick Valley's Storied Weddings is your guide to using your day to tell your story. Combining expert insight and beautiful imagery, the Valleys encourage couples to examine every aspect of their relationship — from family history and how-you-met story to style preferences and hobbies — to create a day full of intention and significance. In addition to cocktail recipes, color pairings, and anecdotes from past couples, this book also features interactive planning tools to help you bring your story to life.
Why you should read it: From the queen of indie brides herself, former bridal designer Molly Rosen Guy penned Stone Fox Bride to help modern couples strip away the "Dos" and "Don'ts" of traditional weddings. Written for the "wild at heart," this is your hippie-chic guide to a wedding that rocks and leaves anything frilly, silly, or cliché in the dust.
Why you should read it: With style at its focus, Modern Wedding: Creating a Celebration That Looks & Feels Like You is a book chock-full of visual inspiration for every aspect of your wedding. Author Kelsey McKinnon has compiled over 300 pages of gorgeous imagery from real weddings which serve as "case studies" for readers to see how elements like stationery, cakes, venue ambiance, and color story all come together to create a beautiful celebration of love. McKinnon also shares extensive advice and resources for making your dream wedding a reality.
6. Equally Wed by Kirsten Palladino
Why you should read it: In a world where many wedding planning resources are still strictly heteronormative comes Equally Wed: The Ultimate Guide to Planning Your LGBTQ+ Wedding. Written by Kirsten Palladino, founder and editor-in-chief of the online wedding resource of the same same, Equally Wed serves as a handbook for LGBTQ+ couples navigating the usual stress of wedding planning alongside expert advice for facing specific stressors like finding equally-minded vendors and dealing with unsupportive families.
Why you should read it: When everything is said and done, your wedding photos are what you have to remember your wedding by. Cavin Elizabeth's book A Bride's Guide to a Picture Perfect Wedding is here to guide you through getting the best photos possible (with the help of your skilled photographer, of course!). From getting ready to reception, Cavin Elizabeth walks readers step-by-step through everything they need to know about elevating your wedding photography experience.
Bonus: Planning engagement or boudoir photos? Check this book out for expert advice on nailing those too!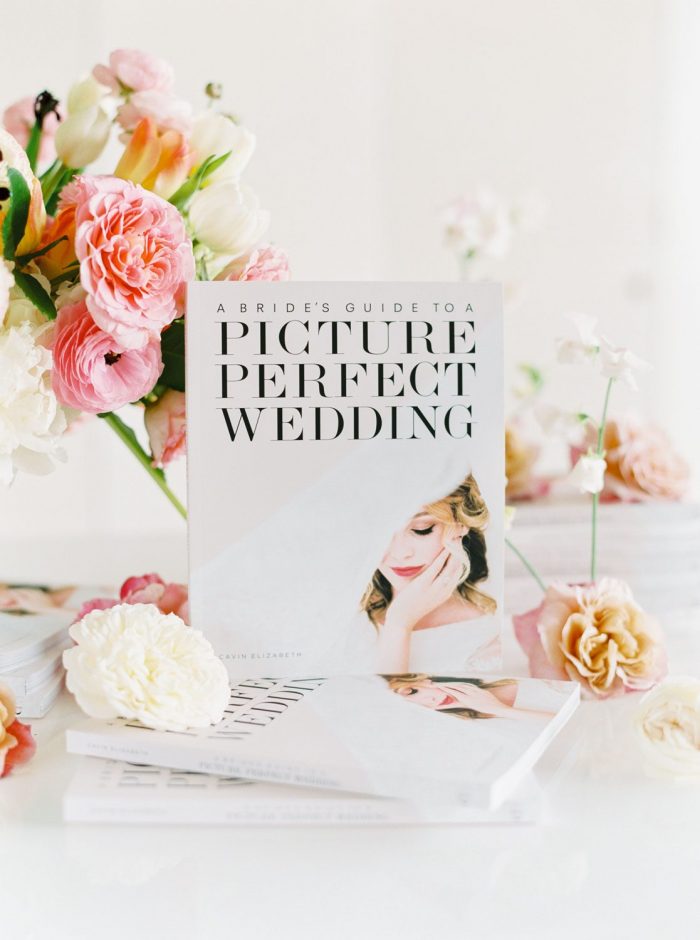 photo via Cavin Elizabeth
Why you should read it: Navigating wedding etiquette in the modern age can be tough. The classic Emily Post's Wedding Etiquette by Anna and Lizzie Post is in its sixth edition and includes comprehensive advice on everything from using technology to your benefit, who to include on your guest list, and handling awkward family situations. If there's one book you'll want to reach for when you don't know the best way to deal with a stressful hiccup in your planning, this is it!
Why you should read it: Seeing yourself in the style choices of your wedding is definitely super important, but don't forget about your ceremony! Best. Ceremony. Ever. by Christopher Shelley is a guide to creating just that — an unforgettable ceremony that tells your story. A certified celebrant himself, Shelley aims to revolutionize the wedding ceremony to make it as enjoyable for you and your guests as the reception.
Bonus: Is a friend of family member officiating your wedding? This book is a must-read thanks to its wedding vow workshop and sample ceremonies!
Why you should read it: At the end of the day, weddings are a celebration, and wedding planning should be fun! Amanda Pendolino's Wedding Planning for the Busy Feminist offers a lighthearted, though still totally useful, guide to wedding planning through the mantra of "you do you." Pendolino dives into everything from budget to fashion plus modern priorities like feminist vows, eco-friendly options, and self-care, all while making you laugh along the way.
Ready to dive into planning? Check out these wedding planning tasks you can tackle from home!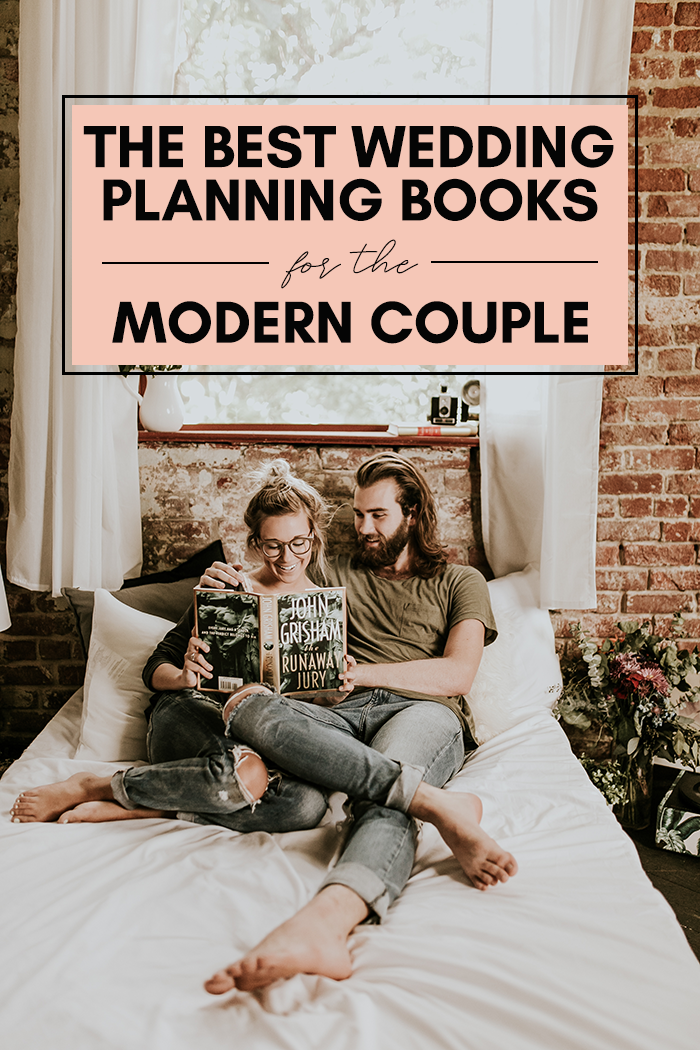 photo by Vic Bonvicini Photography