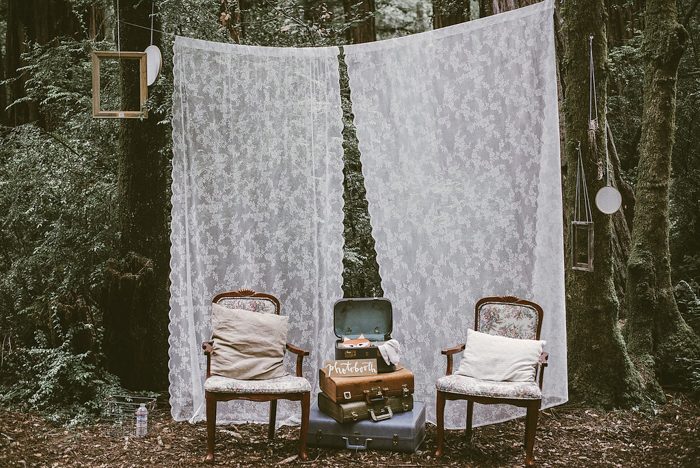 photo by Lena Peterson Photography
When it comes to wedding reception activities, photo booths are still as popular as ever and DIY photo booths, in particular, are perfect for couples looking to save a little money. You don't need fancy equipment or a lot of extra stuff to make the perfect photo booth for your wedding. With these tips, we'll show you how to create a seriously fun DIY photo booth that will encourage your guests to strike a pose and fit in seamlessly with your design aesthetic — all without busting your budget!
1. Get creative with the backdrop

The backdrop is the focal point of your photo booth, so you want to make sure it's eye-catching without being too distracting. Think ribbons, curtains, banners, balloons, or chalkboard walls with cute phrases. You can keep it as simple or get as fancy as you'd like; you just need to give guests a designated area that will look cute in photos — and on its own when guests aren't using it!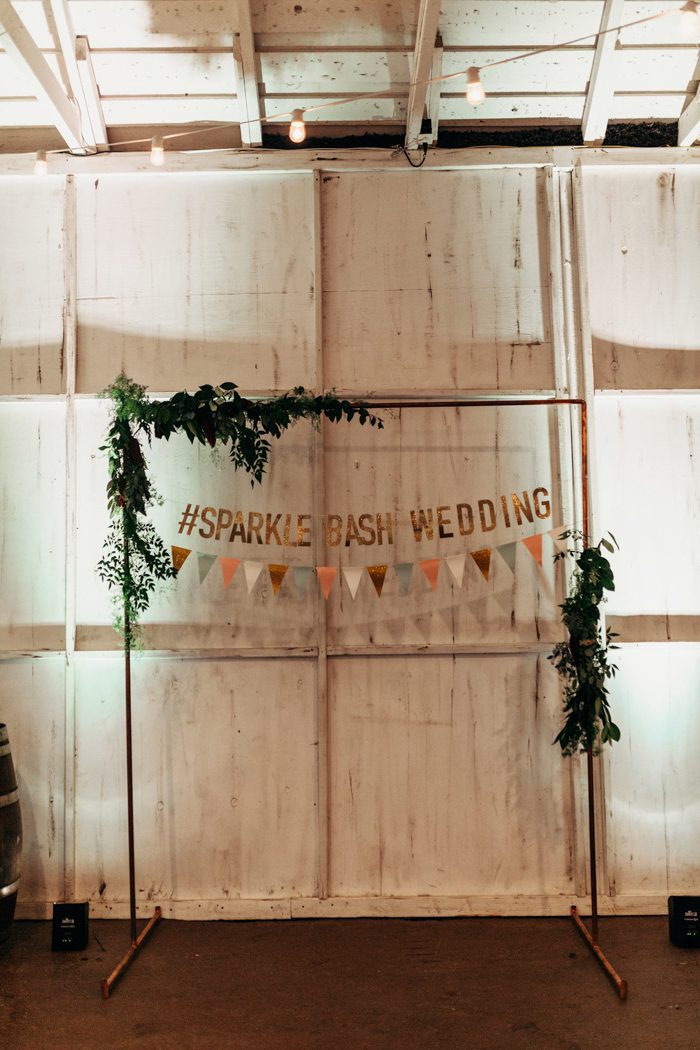 photo by Kristen Soileau Portraits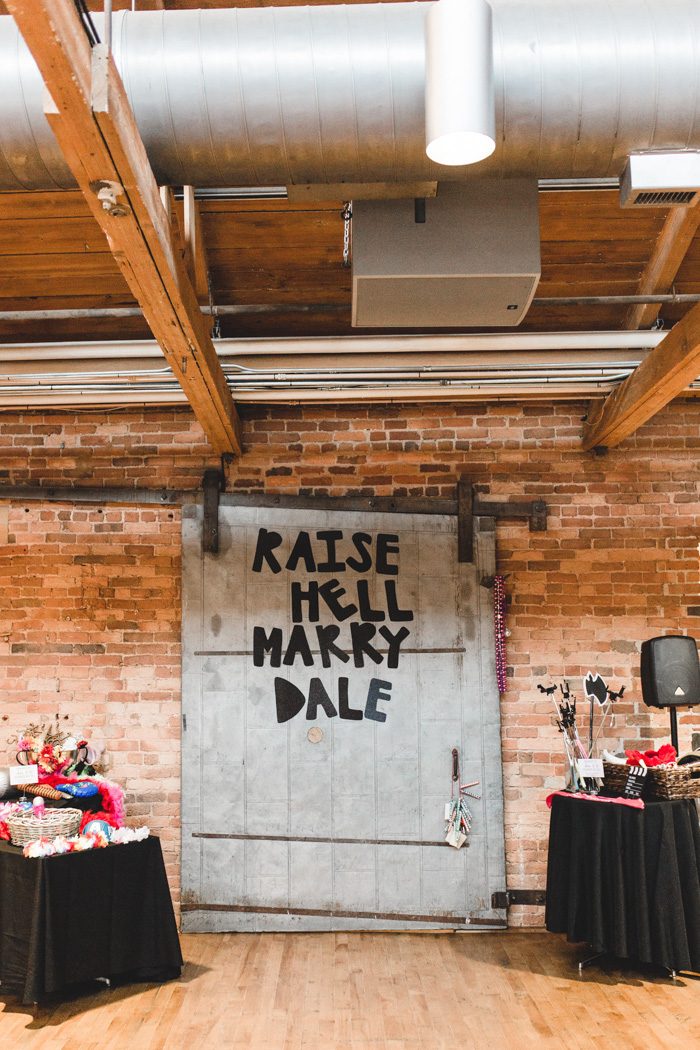 photo by Anna Duncan Photography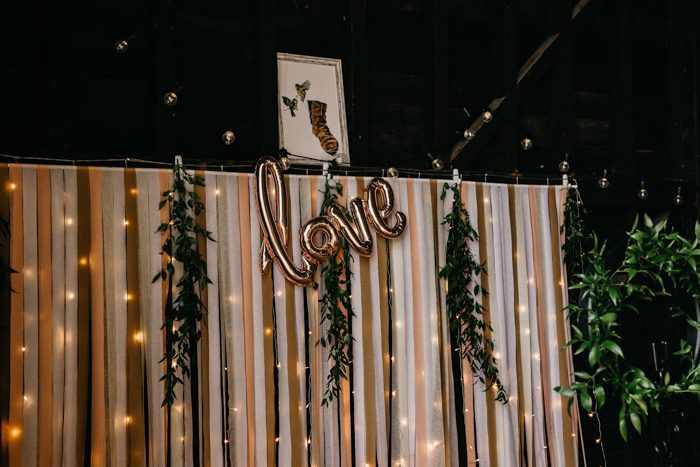 photo by Ed Godden Photography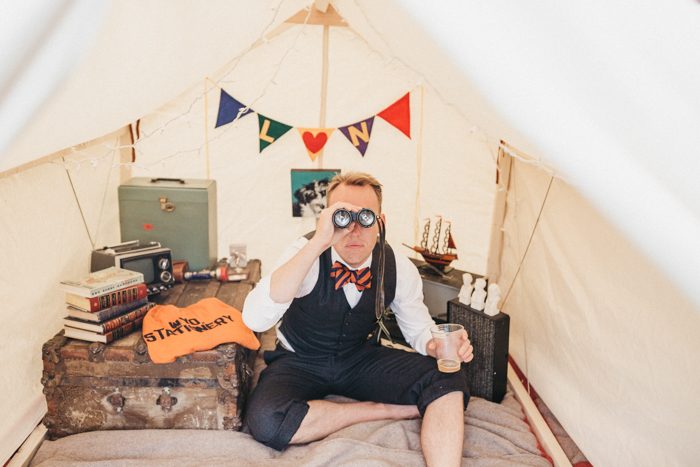 photo by Jason Lucas Photography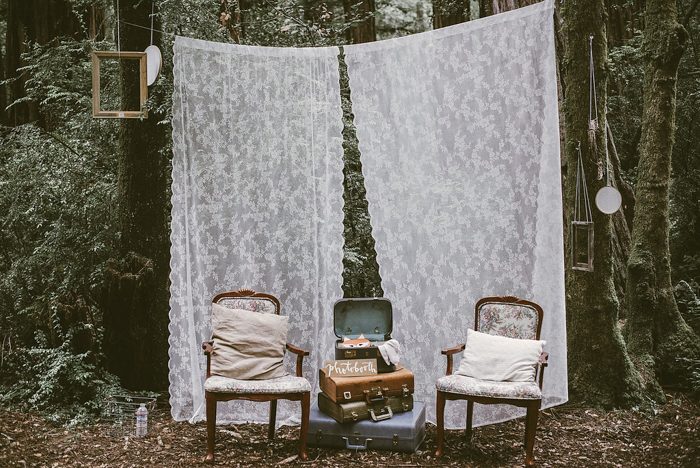 photo by Lena Peterson Photography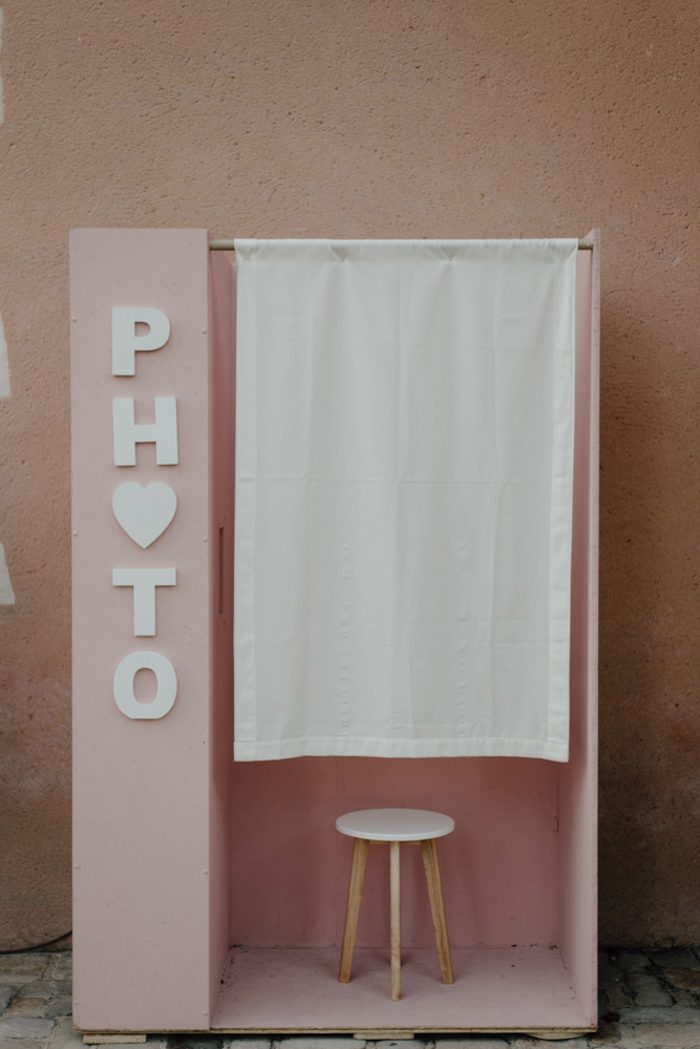 photo by You Made My Day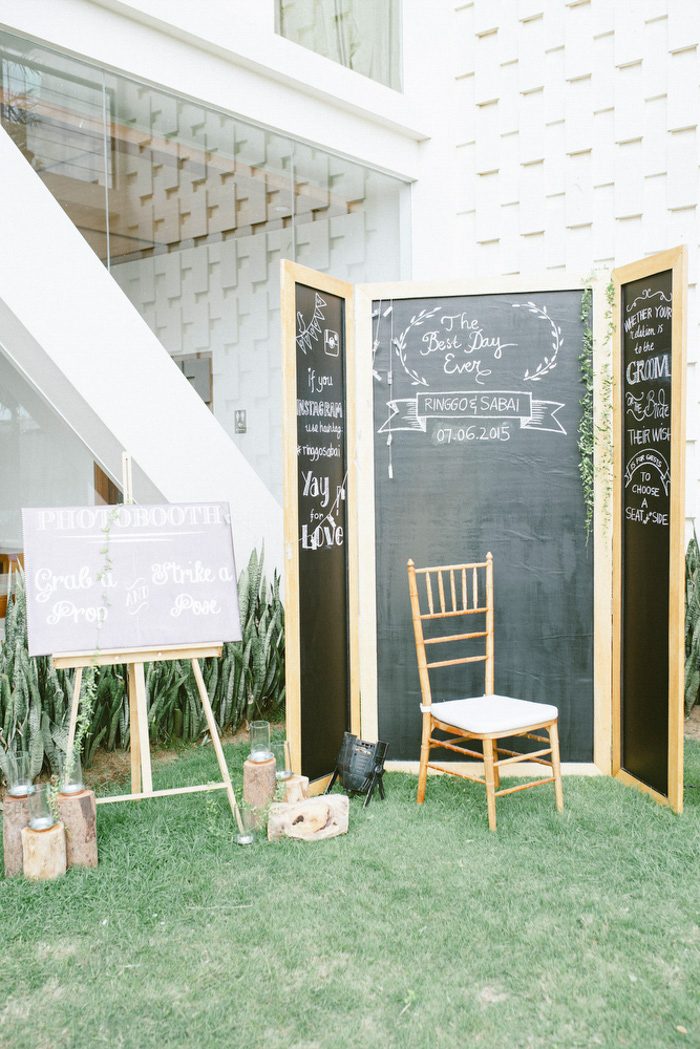 photo by THEUPPERMOST
SIMILAR FIND: This customizable rustic wedding backdrop is perfect for a fun photo booth backdrop!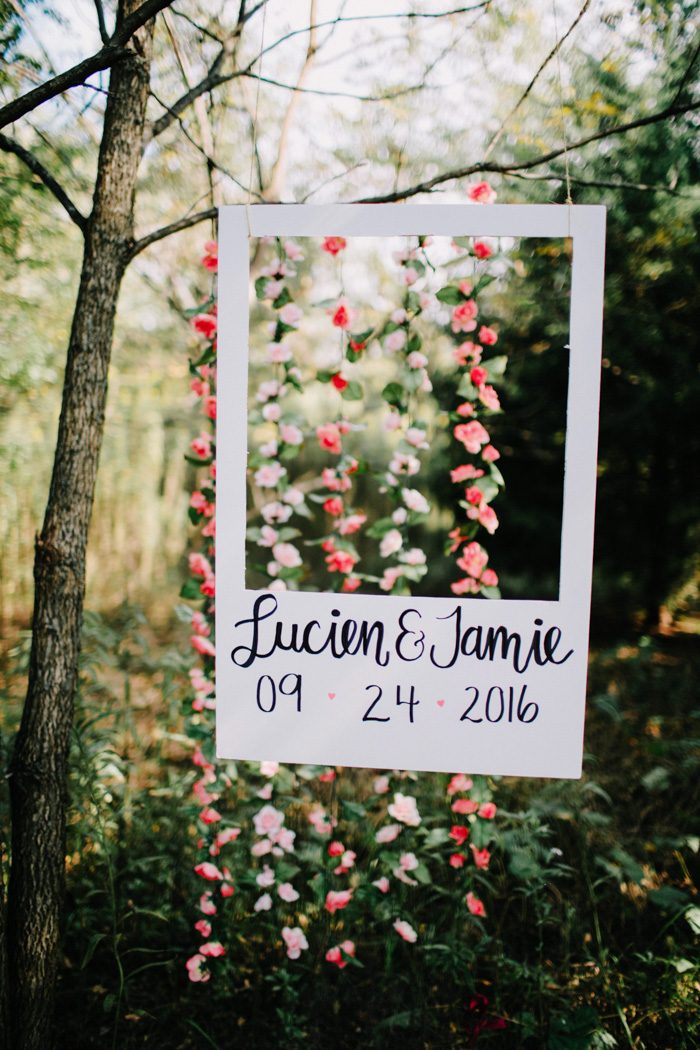 photo by Deidre Lynn Photography
SIMILAR FIND: Add your hashtag or wedding date to this navy and gold wedding photo booth frame!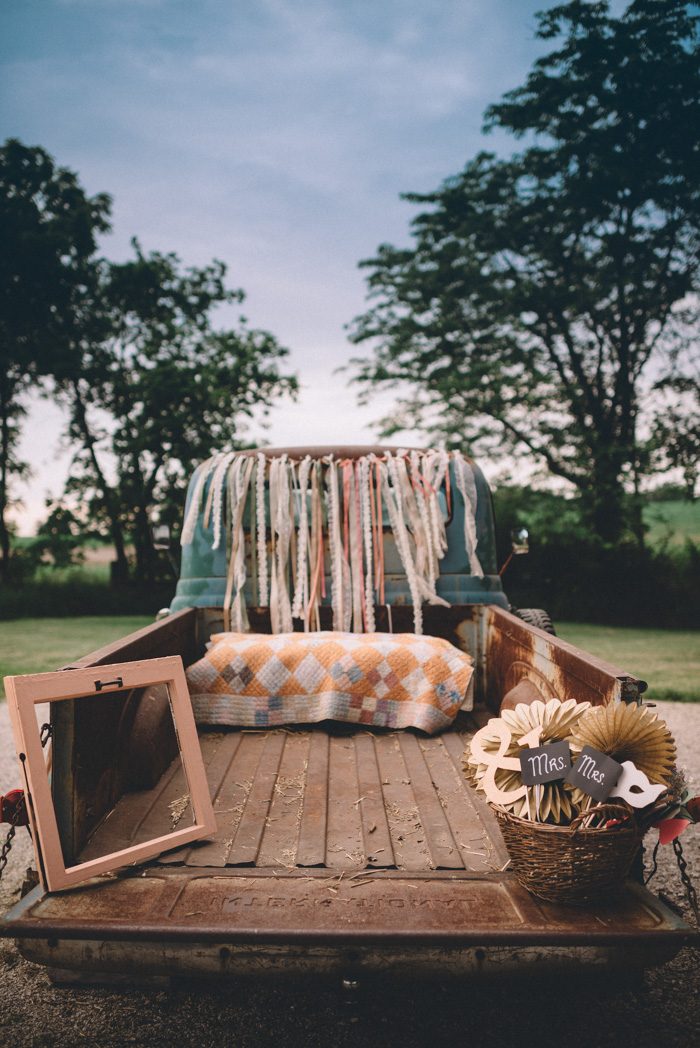 photo by Love and Perry
SIMILAR FIND: We're loving this macrame backdrop from Etsy if you're trying to achieve a similar look!
2. Light it up

When you're putting together the lighting plan for your wedding reception, don't forget to include lighting in and around the photo booth. This can be anything from clever neon signs to curtains lined with twinkle lights. If you're hanging lights in the background, make sure to also place lights in front of the camera — pointed toward the booth, placed at average nose level — so that your guests' faces are completely visible in the photos. A selfie light would be the perfect choice to add direct, high-quality lighting! For all our tips on choosing the correct wedding lighting and a handy checklist, check out our ultimate guide to wedding lighting.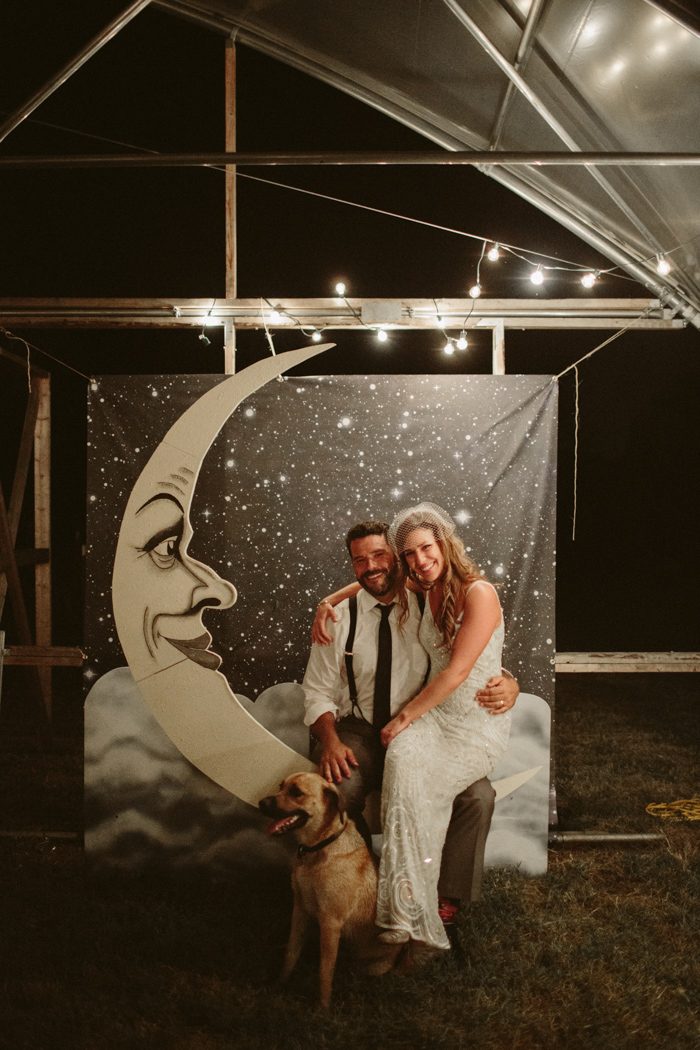 photo by Bek & Addison Photography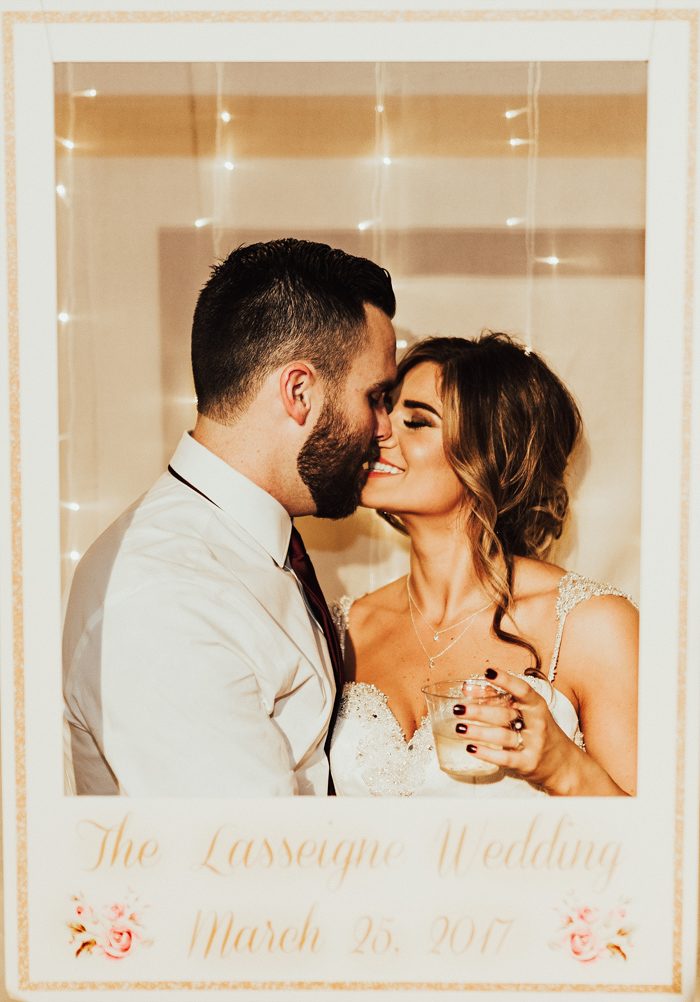 photo by Aperture Photos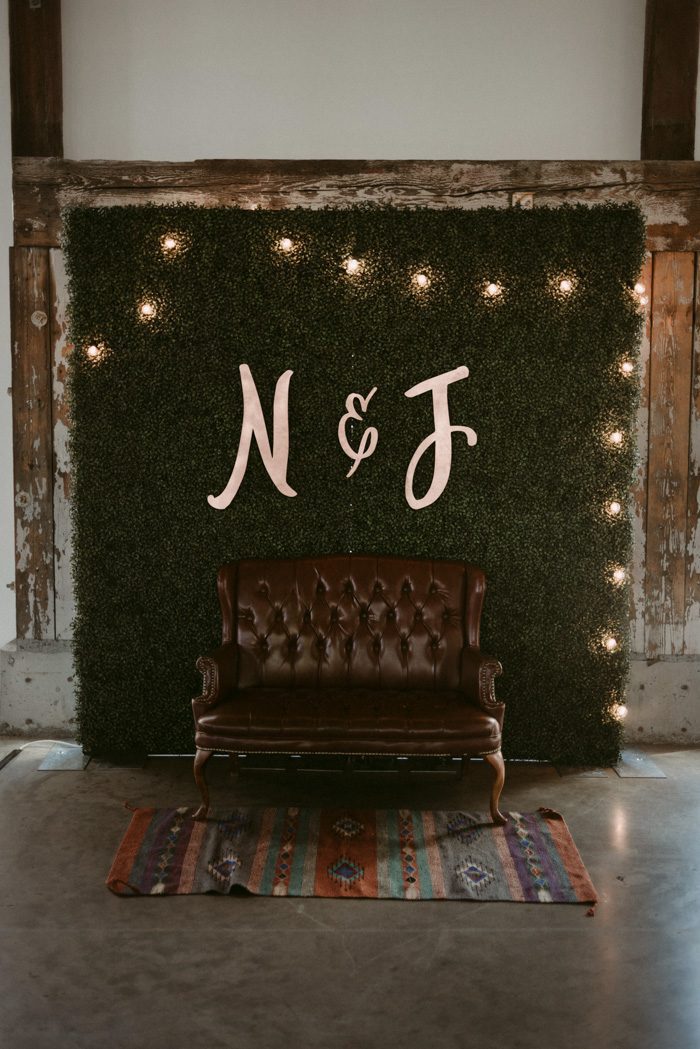 photo by Daring Wanderer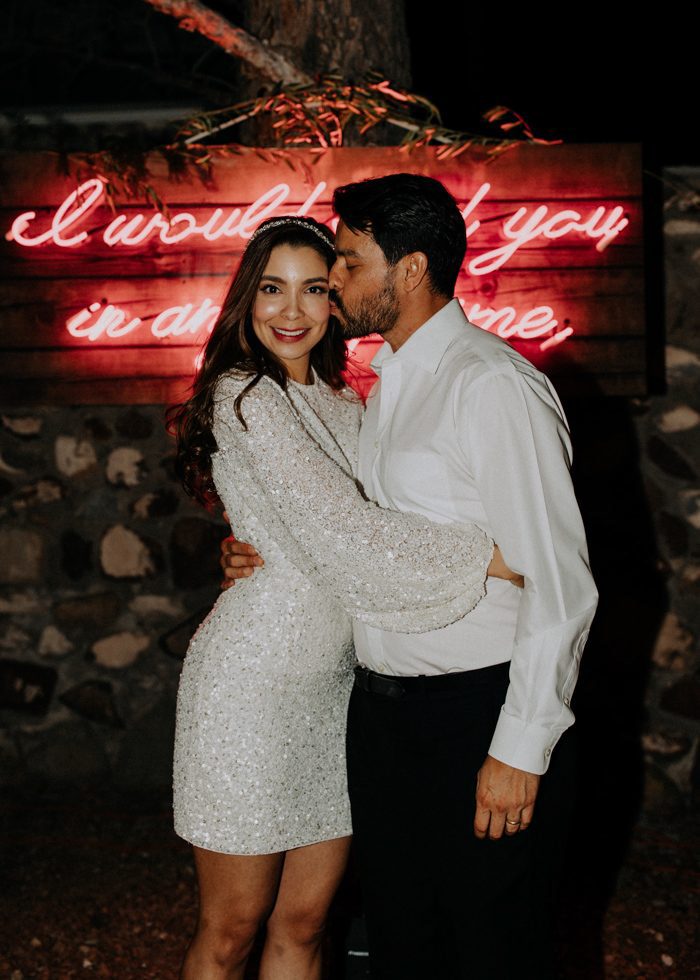 photo by Jordy B Photo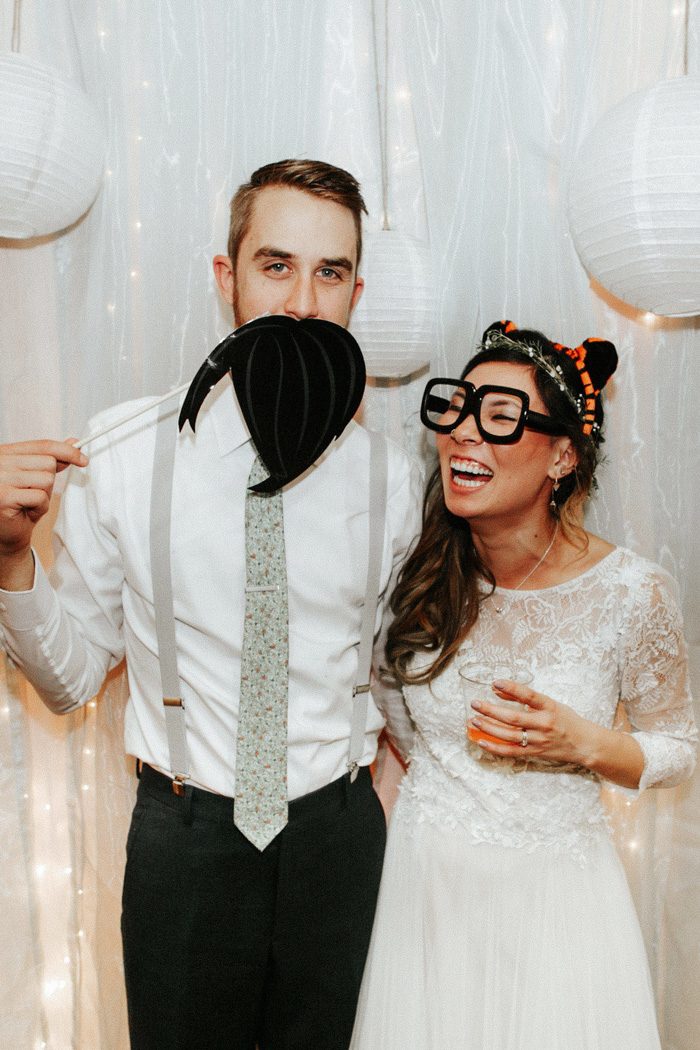 photo by Gloria Goode Photography
SIMILAR FIND: Etsy has all the photo booth lighting you're looking for!
3. Provide plenty of props

The best parts of any photo booth are the props, so make sure to provide as much variety as possible. Etsy is full of shops that provide signs, cutouts, and masks that would be perfect for your DIY photo booth (see our favorites linked below). But, keep in mind, you can also find hats, wigs, glasses, jewelry, and other accessories at thrift stores, second-hand stores, costume shops, or even your own closet. The sillier and more outrageous the better!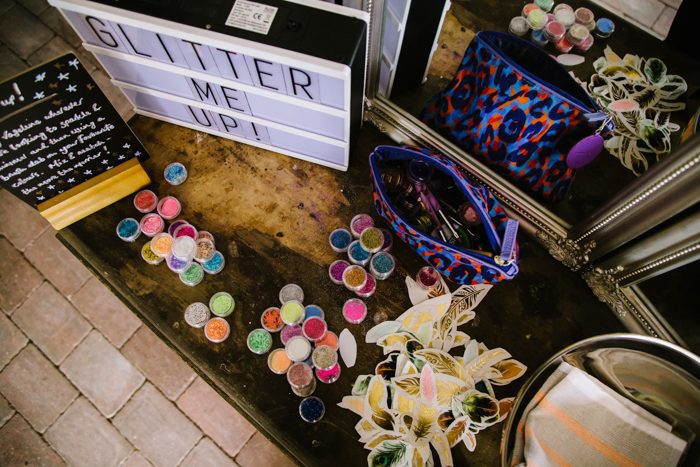 photo by Ed Godden Photography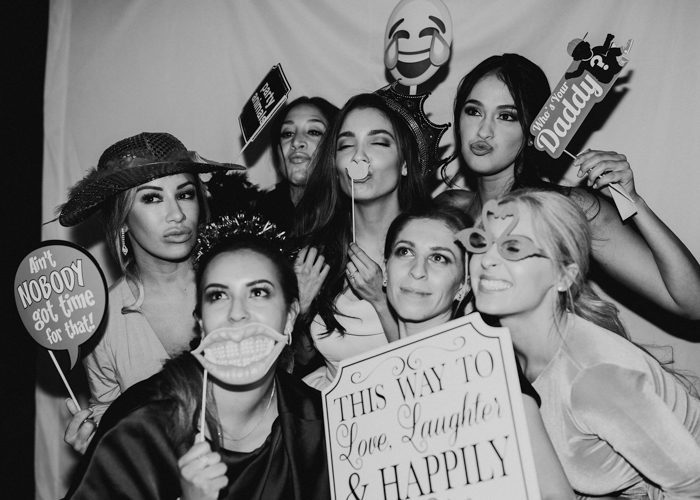 photo by Jordy B Photo
SIMILAR FIND: Check out these super sweet customizable props from Postboxparty!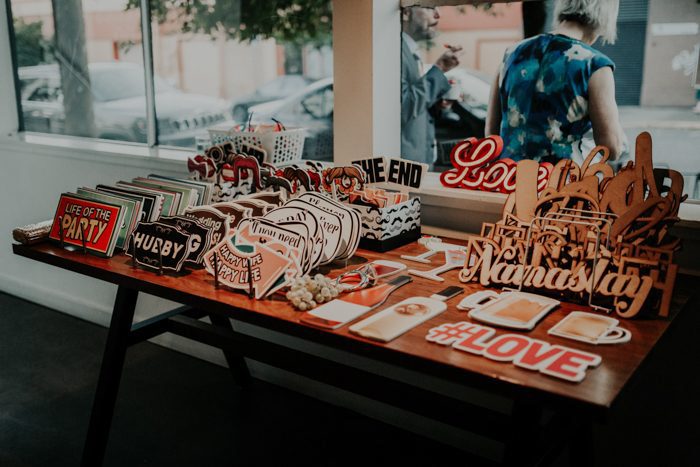 photo by Christy Cassano Meyer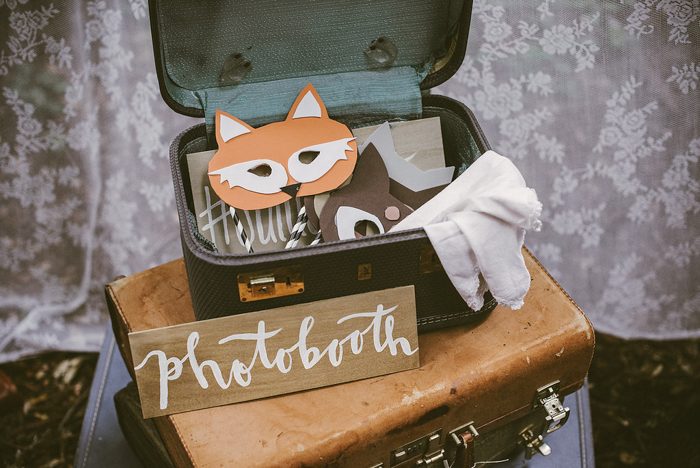 photo by Lena Peterson Photography
Search more photo booth props on Etsy!
4. Set up in a highly visible location

The whole point of a photo booth is to capture all of your guests in a totally informal, seriously fun way, so you'll want to make sure all your guests can see it no matter where they are at the reception. If possible, don't shove your photo booth in a corner or set up in a separate room. There will be so many other things happening at your reception and, if guests don't see it, they'll simply forget about it. Think of this as another focal point for your design and set it up in an area that everyone can see but still gives people plenty of space to take individual, small group, or large group photos. Also, don't forget to set up a directional sign pointing guests straight to the booth!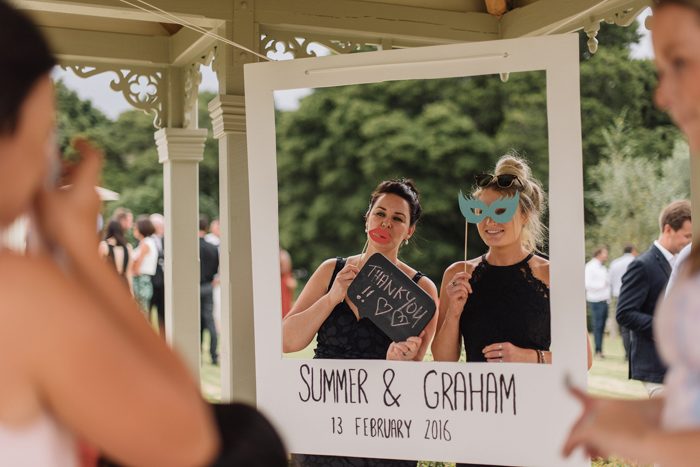 photo by Nisha Ravji Photography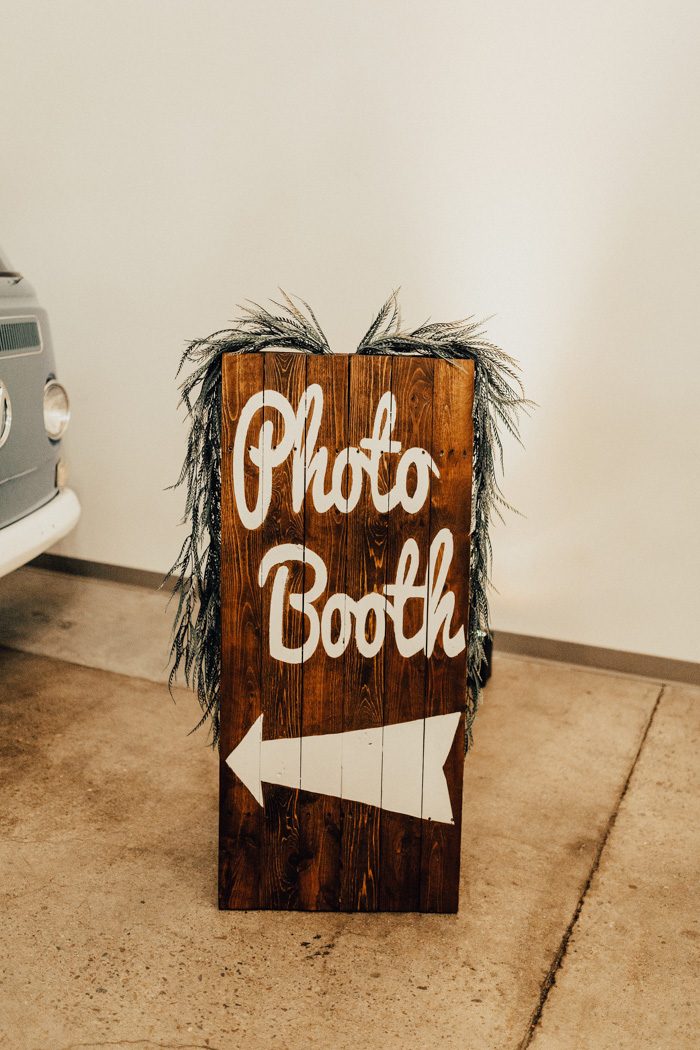 photo by Shepard Visuals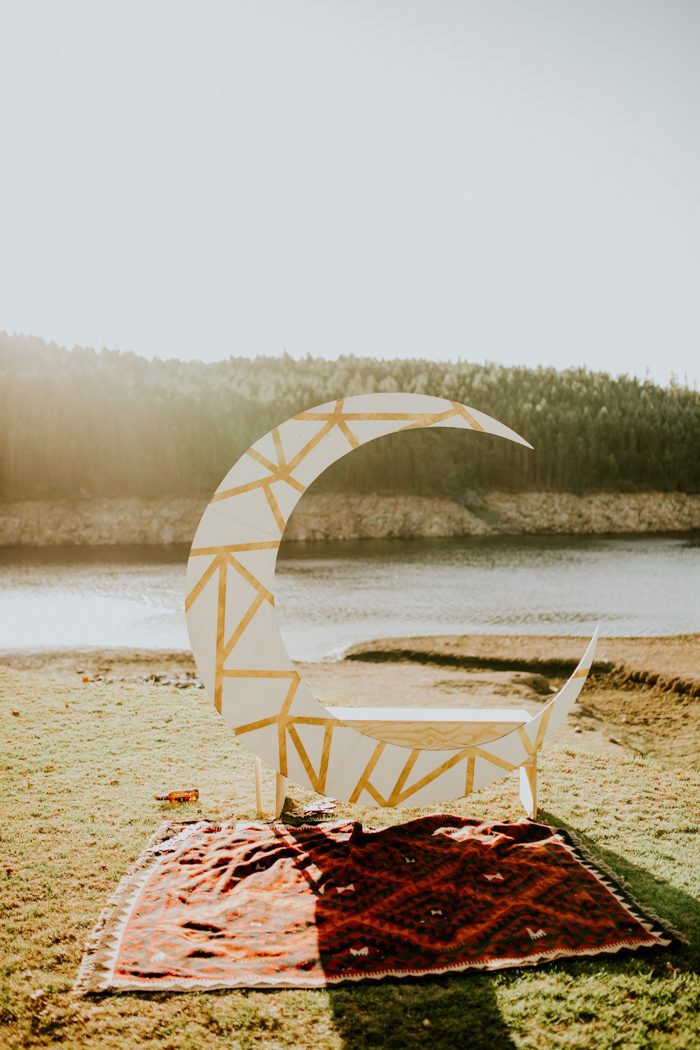 photo by Dearheart Photos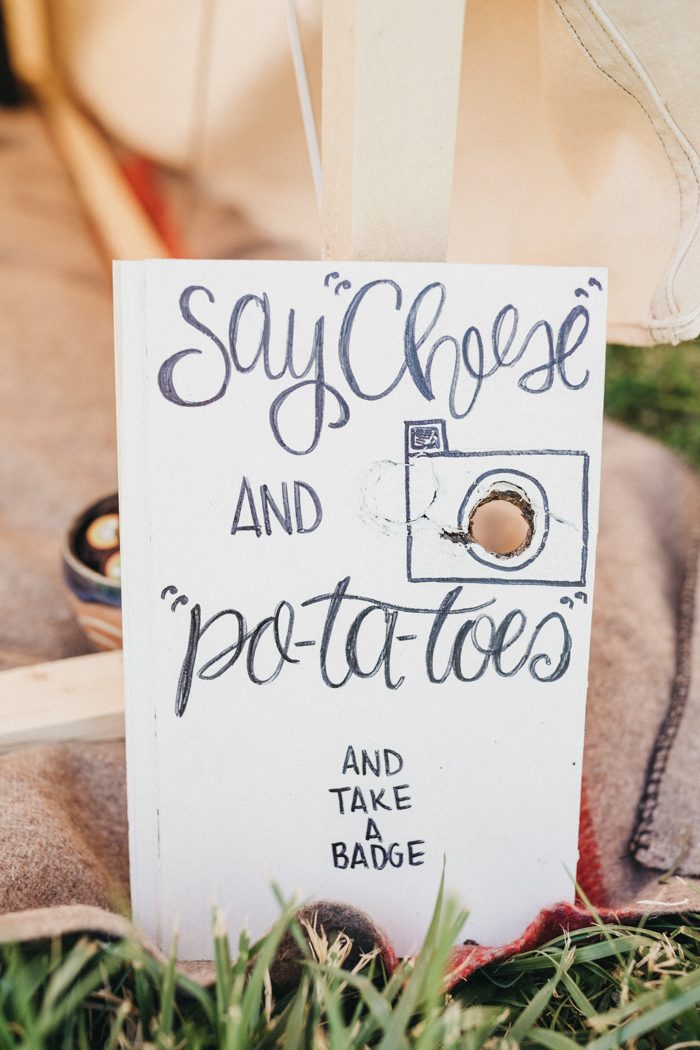 photo by Jason Lucas Photography
RELATED: 37 Etsy Wedding Welcome Signs That Will Help You Greet Your Guests in Style
5. Provide polaroid cameras

If you're looking for a low-tech and easy way to get printouts of your guests' photo booth snaps, Polaroid cameras are the way to go! The best part? All of your guests, no matter how young or old, will know how to use it. Encourage everyone to take a couple of snaps so they can keep one and they can leave one for you in either an album, on a frame, or in a simple box. Just be sure to stock up on extra film to last all night.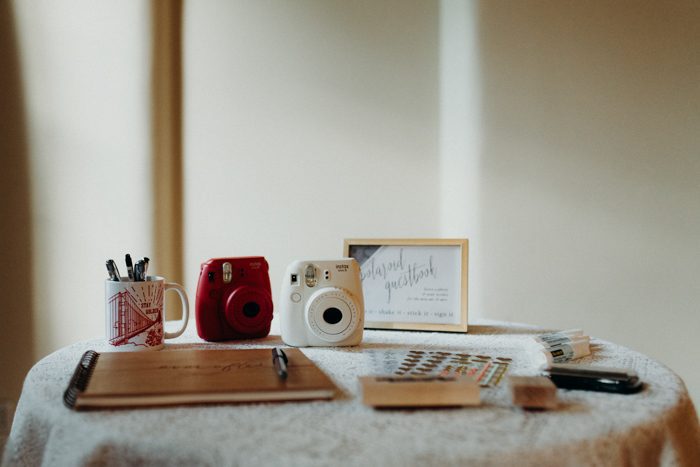 photo by Ryan Chard Smith Photography
SIMILAR FIND: We're obsessed with this adorable baby blue Fujifilm Instax!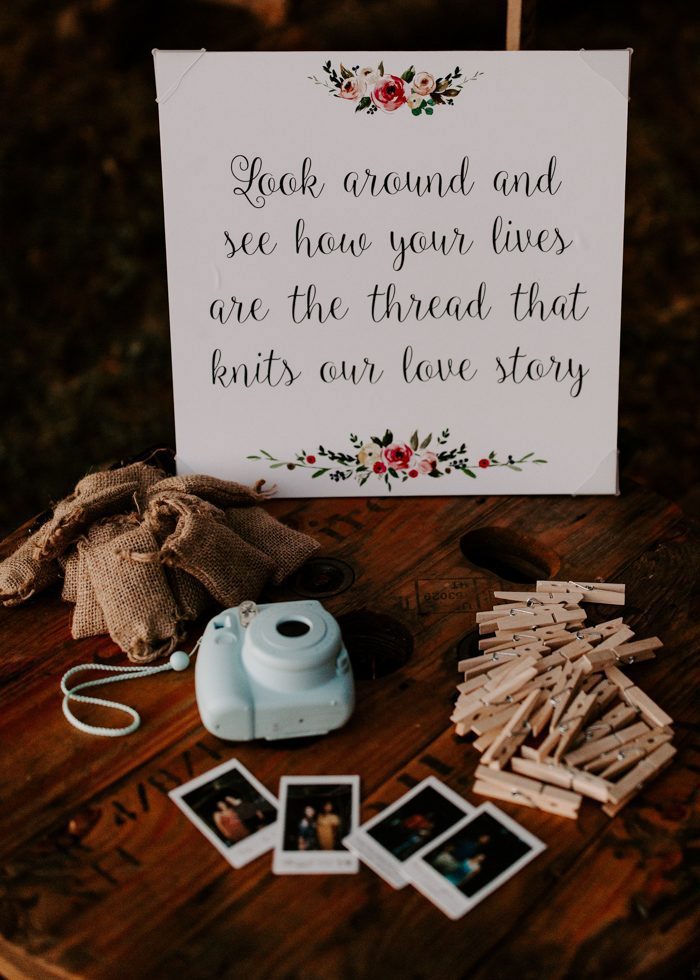 photo by Vera Gayazov Photography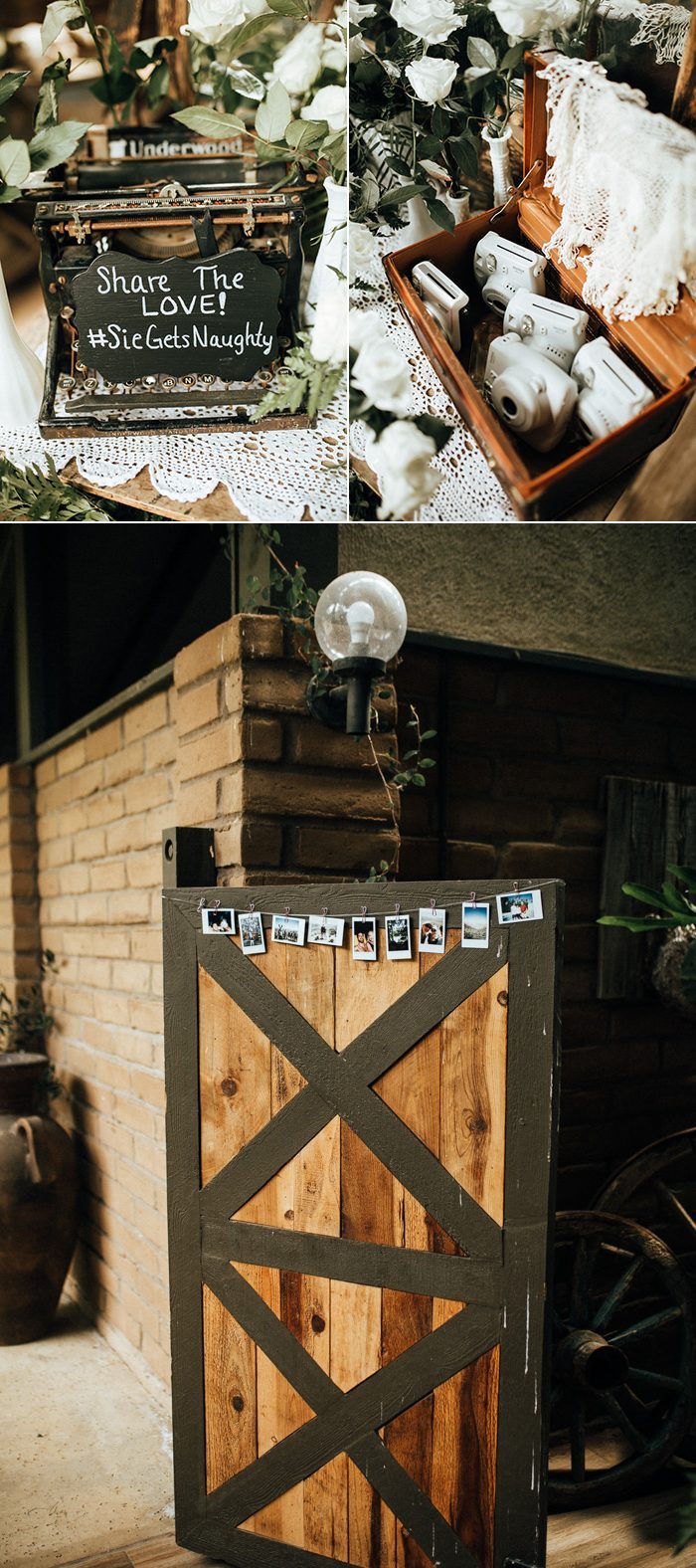 photo by Joelle Julian Photography
6. Or make it a selfie station

To keep your DIY photo booth even more simple, let your guests use their own phones to snap selfies. Guests are going to be taking selfies all night as it is, so they might as well do it with fun props in front of a fab backdrop! We highly recommend providing at least one selfie stick to help capture large group shots. You could even take it one step further with a selfie stick stand to give guests a little more room to play and pose!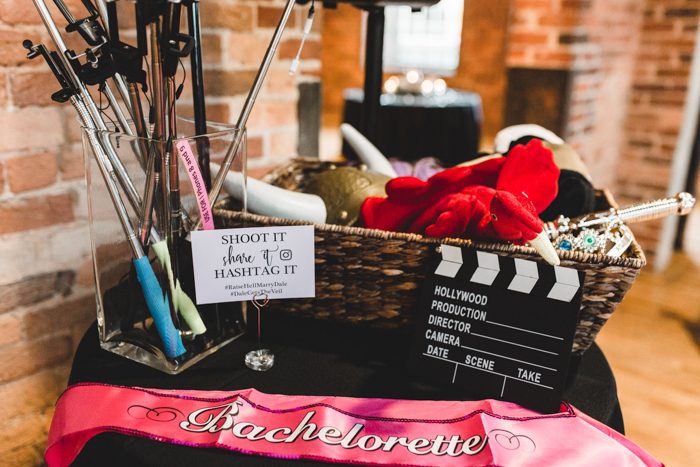 photo by Anna Duncan Photography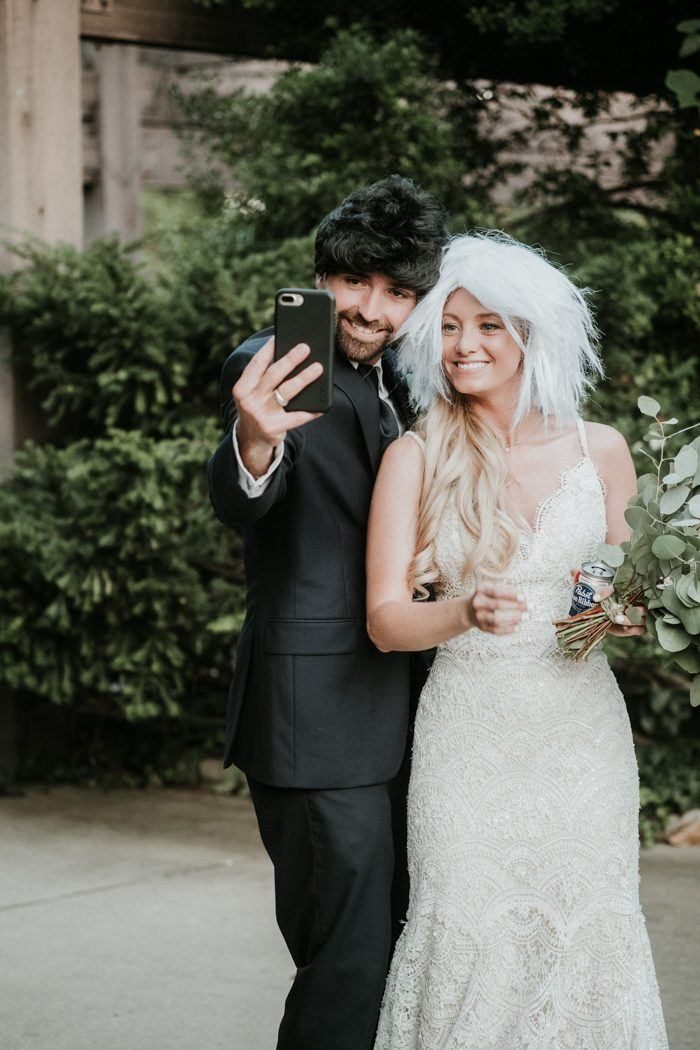 photo by Kay + Bee
photo by Nick + Danée
7. Let everyone know how to share their photos

Whether you decide to provide Polaroid cameras or ask guests to use their phones to snap photos, you're going to want to collect these precious memories to look at after your wedding day! So, be sure to include a sign with clear instructions on how you want guests to share their photos. For a Polaroid photo booth, provide an album, glue sticks, and pens so guests can paste a photo with a personal message or set up a frame and clothespins for guests to hang their photos on. For a selfie station, ask guests to use your wedding hashtag or upload to a shared photostream. Don't be afraid to be thorough with your instructions so you get exactly what you want!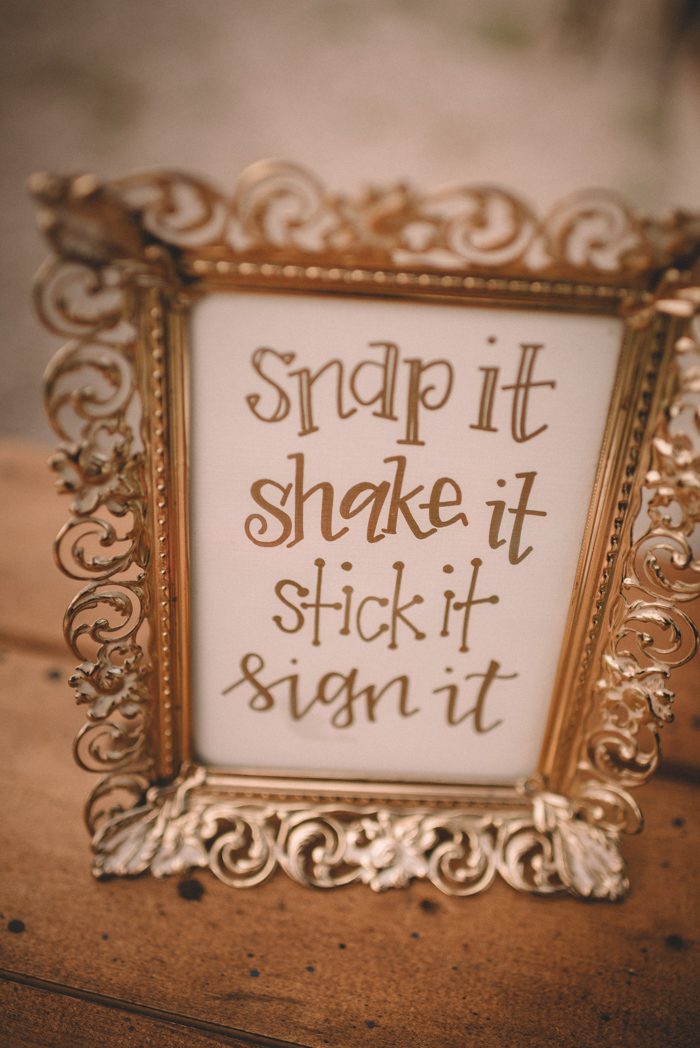 photo by Love and Perry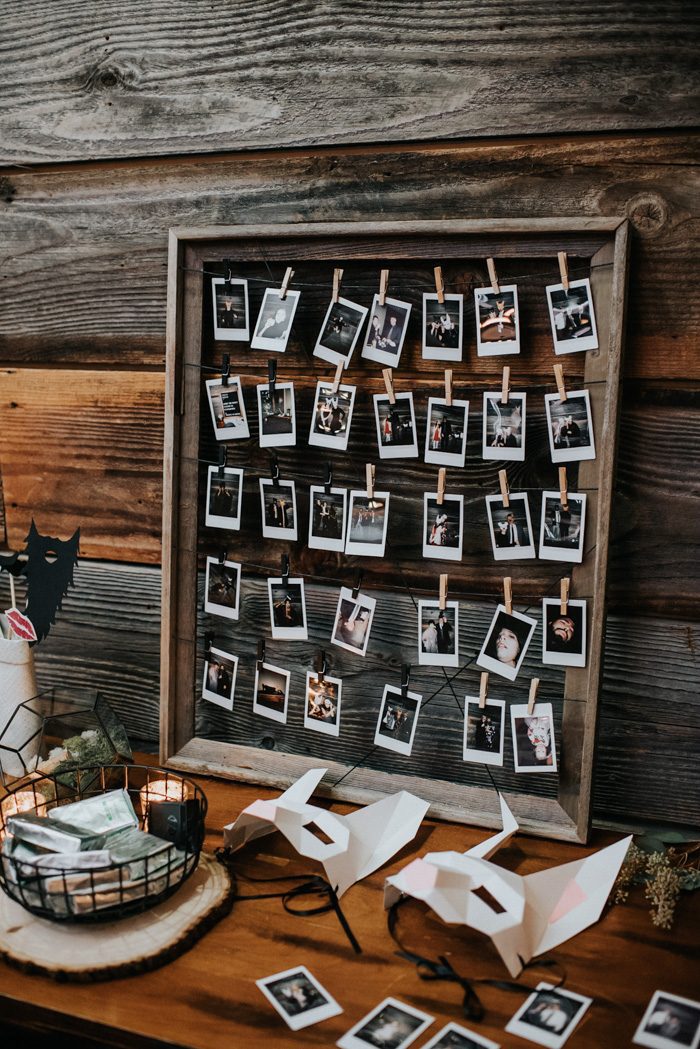 photo by Nick + Danée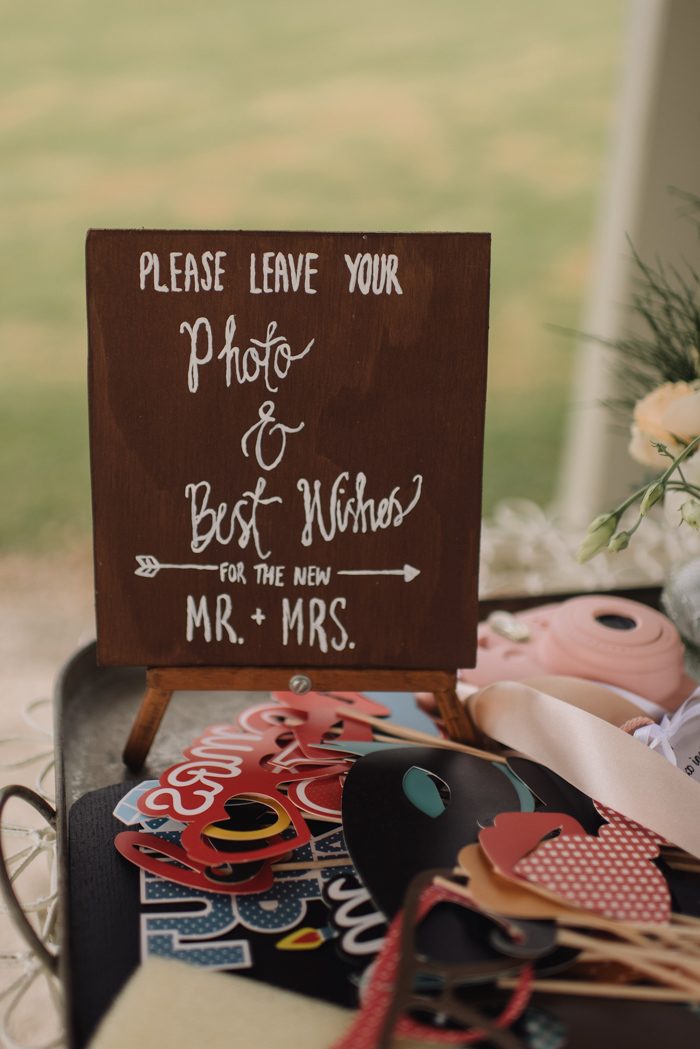 photo by Nisha Ravji Photography
photo by Igloo Photoblog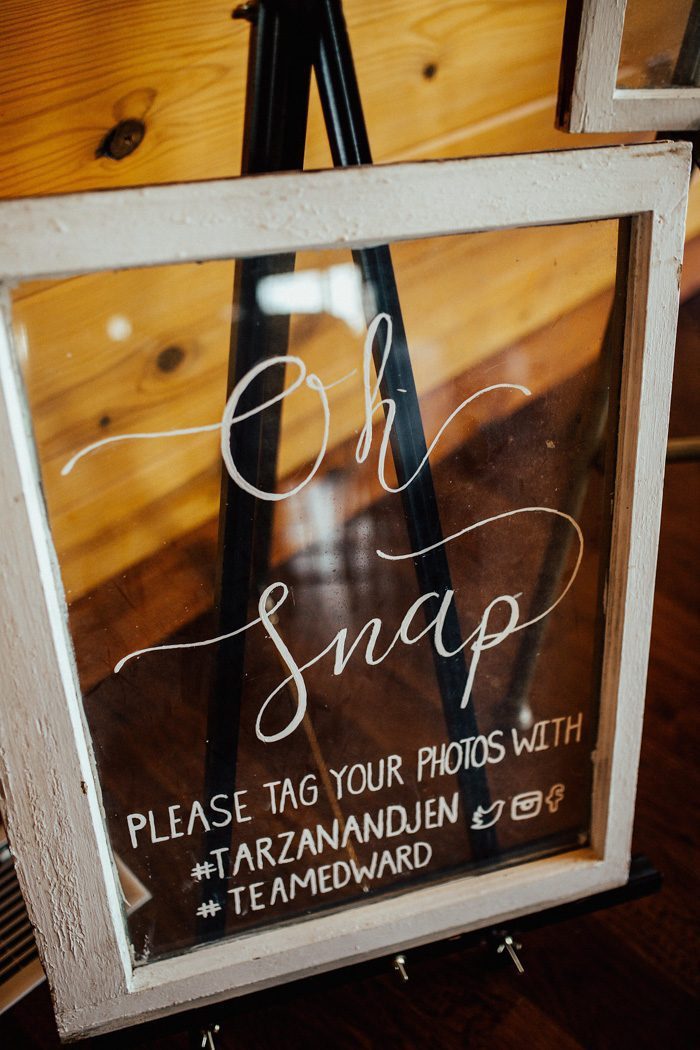 photo by Lindsey Noel Photography
SIMILAR FIND: These printable signs are super cute, can be used for a variety of signage needs, and are under $10!
Looking for more activities to keep your guests entertained during your cocktail hour or reception? Make sure to check out these 8 tips for a killer cocktail hour and these 9 creative reception activities your guests will love!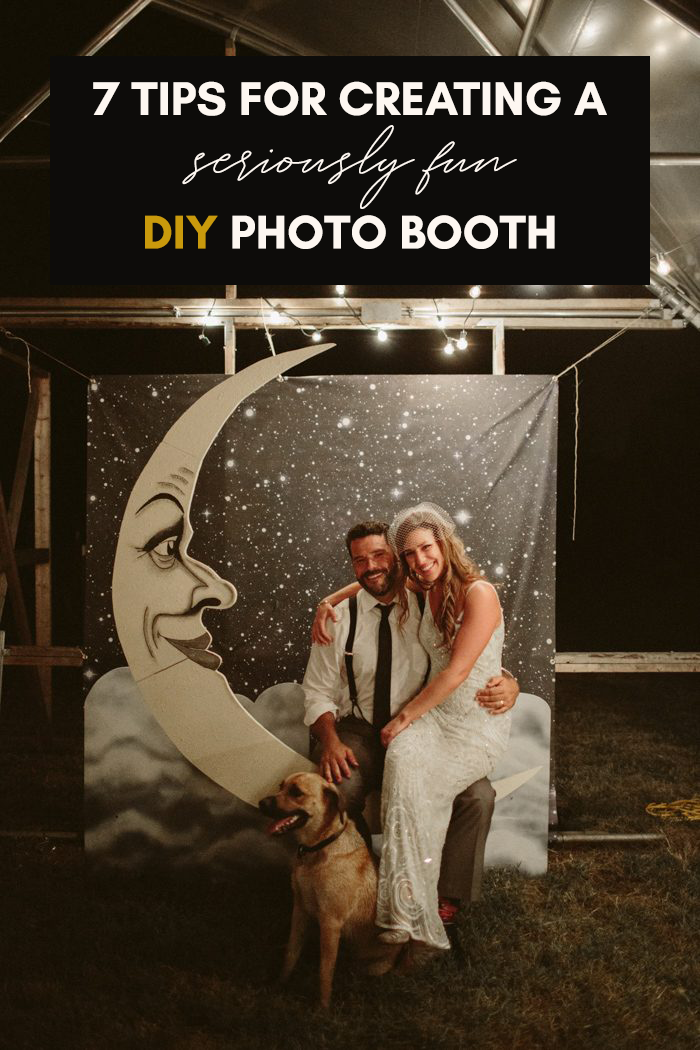 photo by Bek & Addison Photography