Confession time. I pretty much wanted to write this post for my own selfish reasons. Besides pretty fashion and gorgeous flowers, my favorite eye candy to browse around for online is calligraphy. I love the graceful swoops and swirls, whimsical curlicues, and fanciful letters that seem to dance across the paper. I've even tried it myself, but the result of quite a few classes was just even more admiration for the amazing talent owned by the pros!
But there is another reason that I'm sharing my calligraphy love with you today. Each of the talented ladies I'm featuring has an individual style that would bring flair and personality to any wedding invitation or paper product. For your guests, receiving a beautifully lettered envelope in the mail starts off the festivities with the message that this will be the most special of events!

Kelle Anne McCarter of Designs Girl reigns supreme in the land of swoops and curls! I love how her writing is super feminine, but still a little bold and sassy. And while she already offers numerous lettering styles, she frequently creates totally new ones to fit the vision of her clients. Amazing!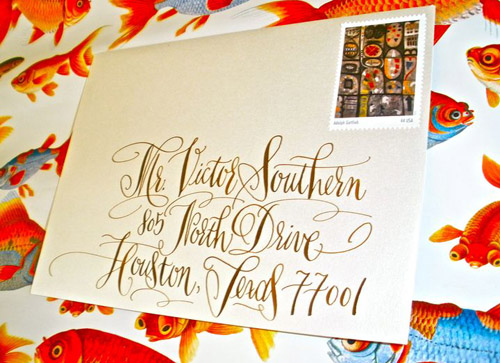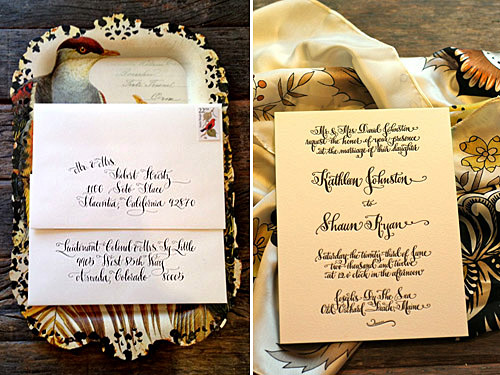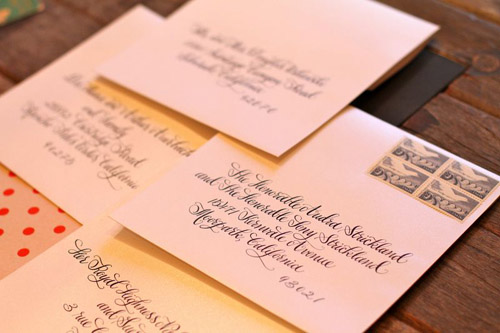 (Calligraphy and photos above by Designs Girl)

Tara Bliven of ephemera liberated letterpress is the queen of quirky! While traditionally trained, she brings so much creativity to her calligraphy, and modern, light-hearted letters flow from her pen. Tara also offers custom calligraphy stamps with gorgeous monograms, return addresses, or anything else you can dream up. I am continually amazed at the creative genius of this girl that I so adore!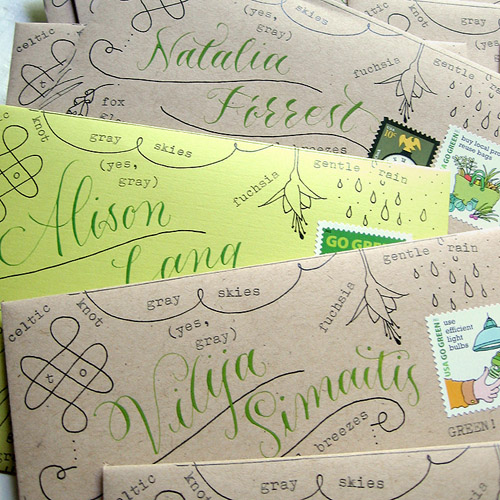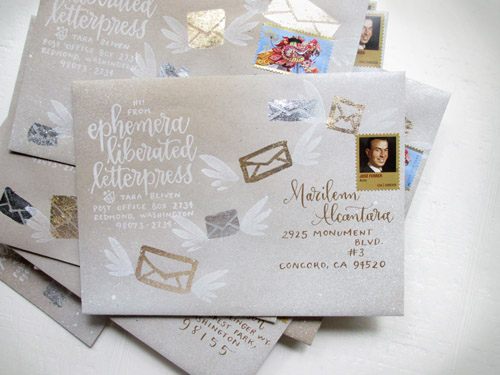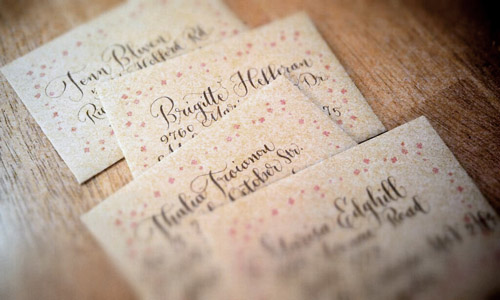 (Calligraphy and photos above by ephemera liberated letterpress)

Holly Hollon is a southern girl whose writing reflects every trait you'd expect…it's sweet, charming, and full of hospitality! Her custom invitation suites featuring her lovely letters are beautifully composed, with every coordinating piece you could need to make your guests feel special and welcome. From save-the-dates, invitations and RSVP cards, to thank you notes, escort cards…the list just goes on! Each piece she creates is unique and individual, yet complements the others perfectly. She'll also do envelope addressing and smaller projects if you're not planning a whole suite. But once you take a look, you might just change your plans!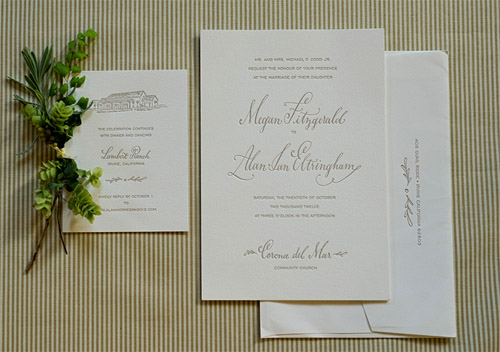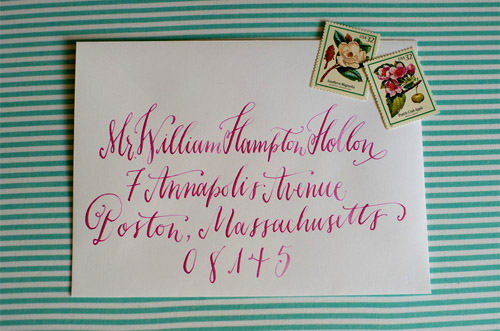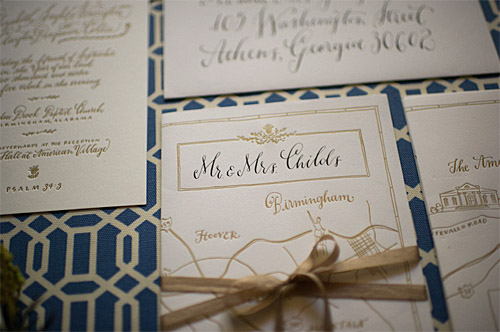 (Calligraphy above by Holly Hollon; photos by Spindle Photography; styling by Ginny Au)

Laura Hooper is ah-mazing! Though Laura has been a front-runner on the calligraphy scene, her writing is young and fresh. She offers a zillion different styles, each more beautiful than the next. But what she is most well-known for (and rightly so) are her quirky, charming maps. She designs darling illustrations of any destination that can serve as your save-the-date or invitation insert (or even the whole invitation! If I was doing a re-do, I know my map loving husband would insist.) She'll even craft a map that tracks you and your sweetie through your relationship…from your first meeting in NYC, your memorable trip to Australia, a move to London, engagement in Hawaii, and wedding in Connecticut. Such a cute way to tell your story!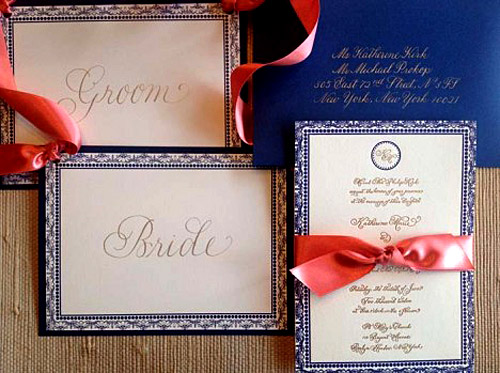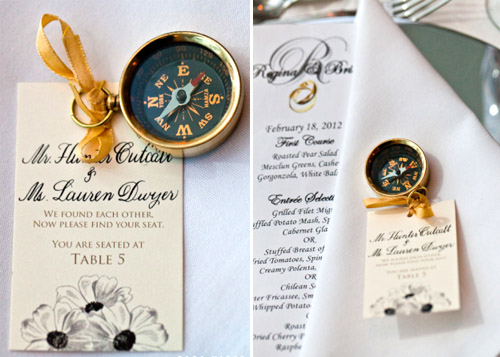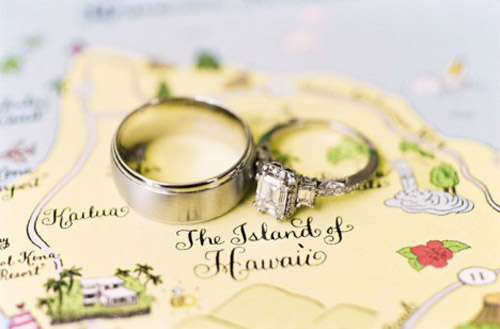 (Calligraphy above by Laura Hooper. Photos, from top, by Laura Hooper, Sara Wight, and Steve Steinhardt)

Patricia Mumau of Primele Studio is a creative force to be reckoned with! Two of her great loves, nature and folk art, frequently star in her creations. Not content to just follow the traditional letter forms, she adds twists and turns, and is never afraid to extend a line for a mile. The result is a seemingly impossible blend of tradition and innovation that is all her own. Her signature, always recognizable work is available through Primele Studio and Bella Figura.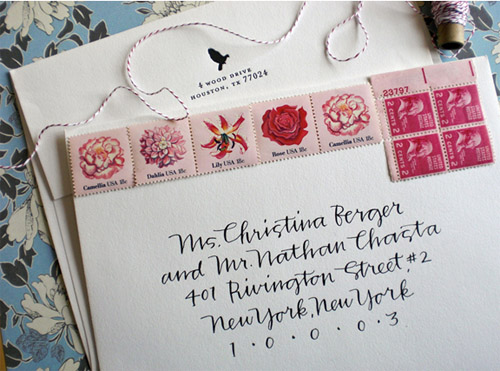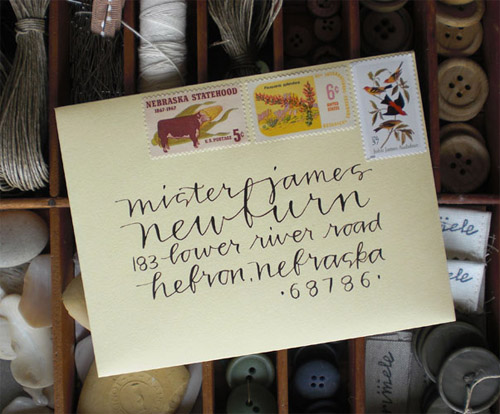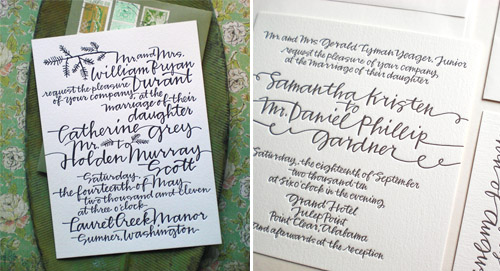 (Calligraphy and photos above by Patricia Mumau)

Have you fallen in love, as I have? The good news is that geography is not an obstacle. All of these talented ladies will work on designs with you over the phone or through email, and will ship their creations to you. But I don't envy you the challenge of selecting just one for your wedding day stationery – I adore them all!