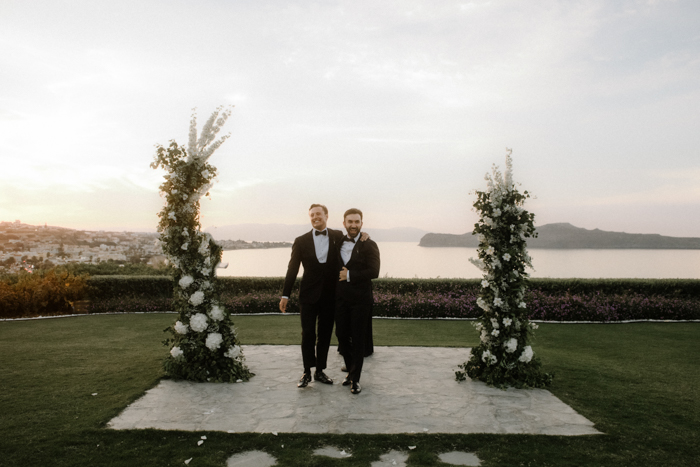 Imagine a fairy-tale-like medieval scene with sleek decor in a classic color palette and two impeccably dressed grooms. That's the magical setting of Garik and Brandon's Spiridakis Estate wedding. Since family and friends came from far and wide to celebrate, they wanted their big day to be extra special. That's why they chose an enchanting venue surrounded by forests and the formal elegance of their black-tie affair, and they pulled it off beautifully!
The couple's chic style set the tone for the day, beginning with their ceremony. They exchanged their "I dos" in a truly picturesque setting with the breathtaking ocean as their backdrop and stunning floral pillars. As the evening progressed to the reception at the historic estate, the atmosphere was nothing short of magical, with the soft glow of string lights overhead. They enjoyed an elegant dining experience at candlelit tables adorned with white flowers and moss, creating a dreamy outdoor affair.
And we can't overlook the wedding fashion—the pair sealed their union in matching tuxedos, and their guests exuded the same chic style with their stylish outfits. For couples in search of a modern and elegant approach to outdoor weddings, this is the inspiration you've been waiting for. Continue scrolling to explore all the stunning details from the beginning to the end, expertly captured by Me & Georgia.
The Couple:
Garik and Brandon
The Wedding:
Spiridakis Estate, Greece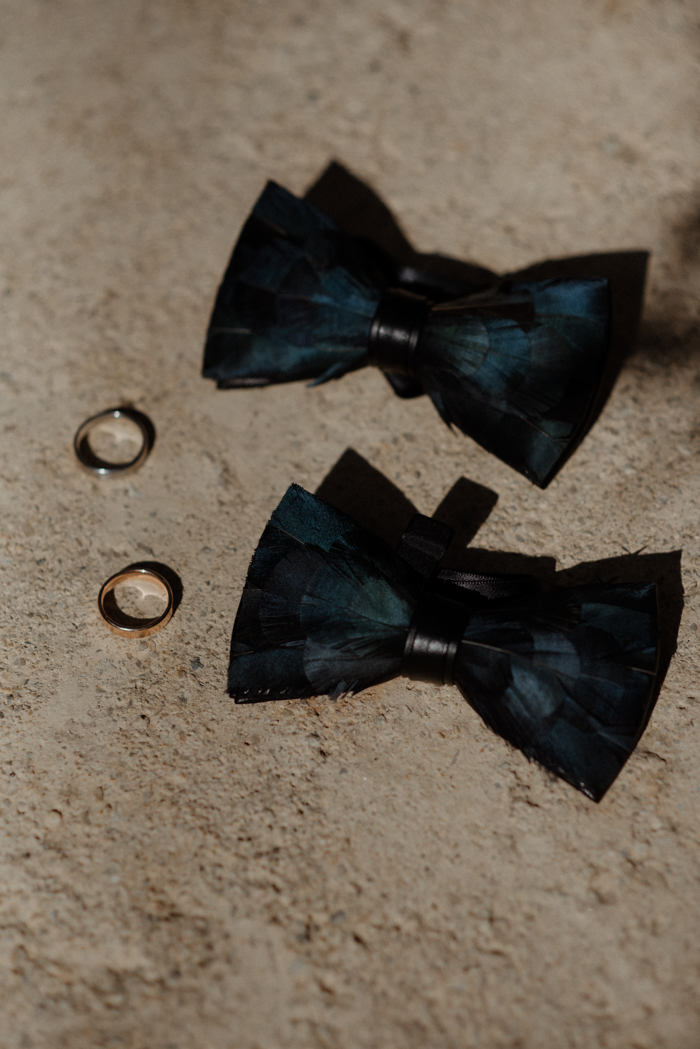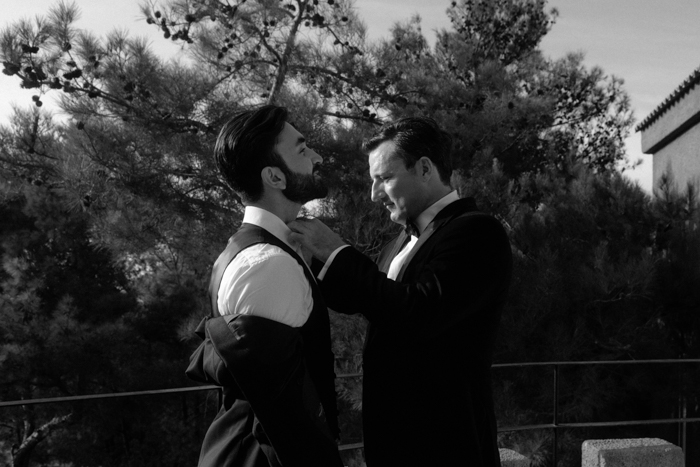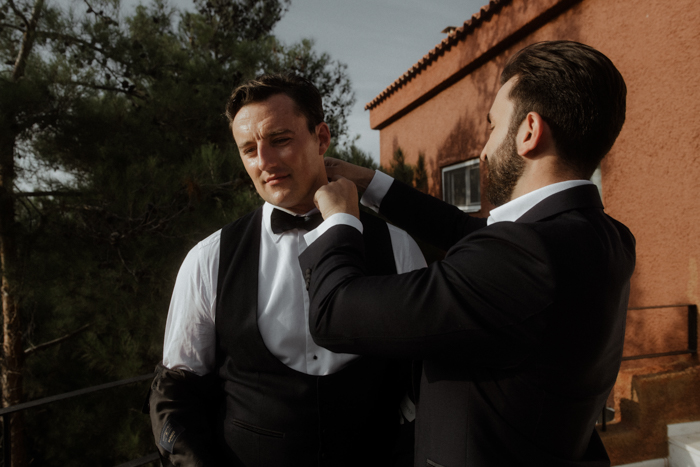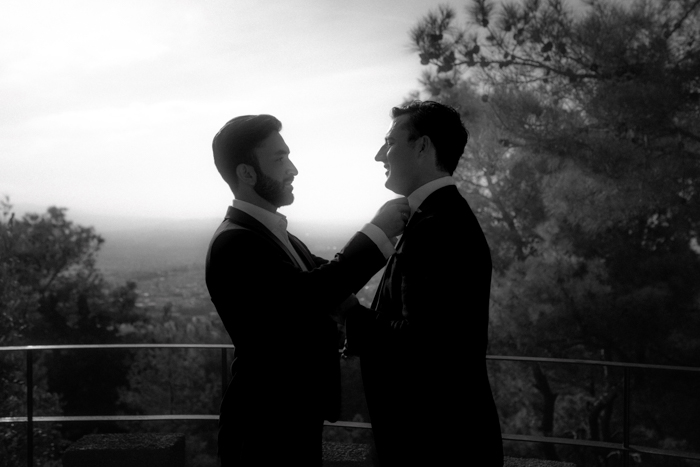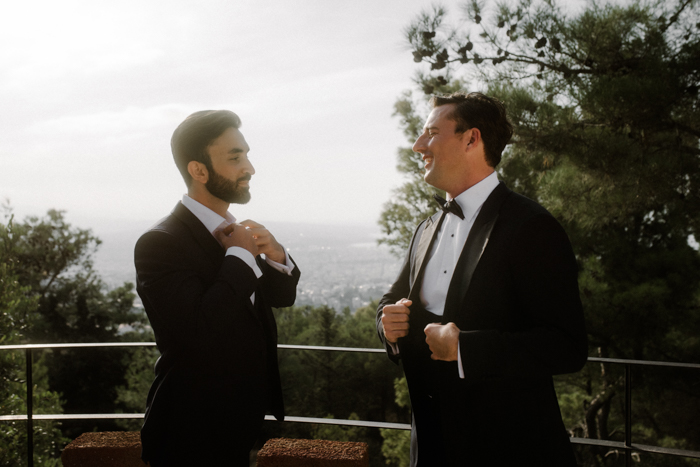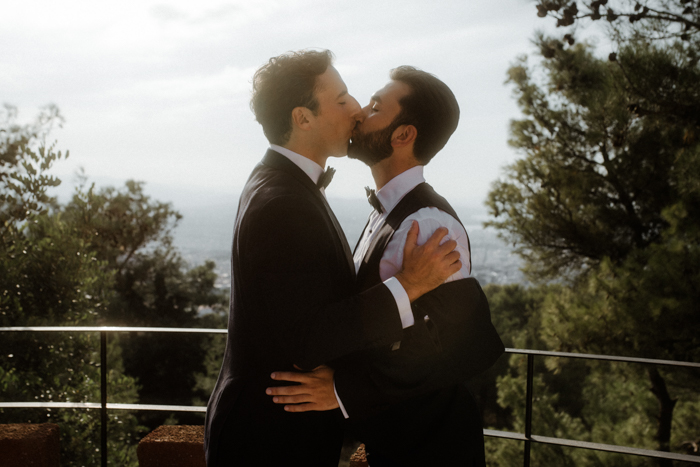 Why They Decided on a Spiridakis Estate Wedding
I honestly could not pick anything specific—the whole day was the most beautiful day in our lives. Our priority was to bring our families and friends together. My family traveled from Armenia to be at the wedding, and we had a lot of guests from the United States. Greece served as a middle ground for our families to meet for the first time.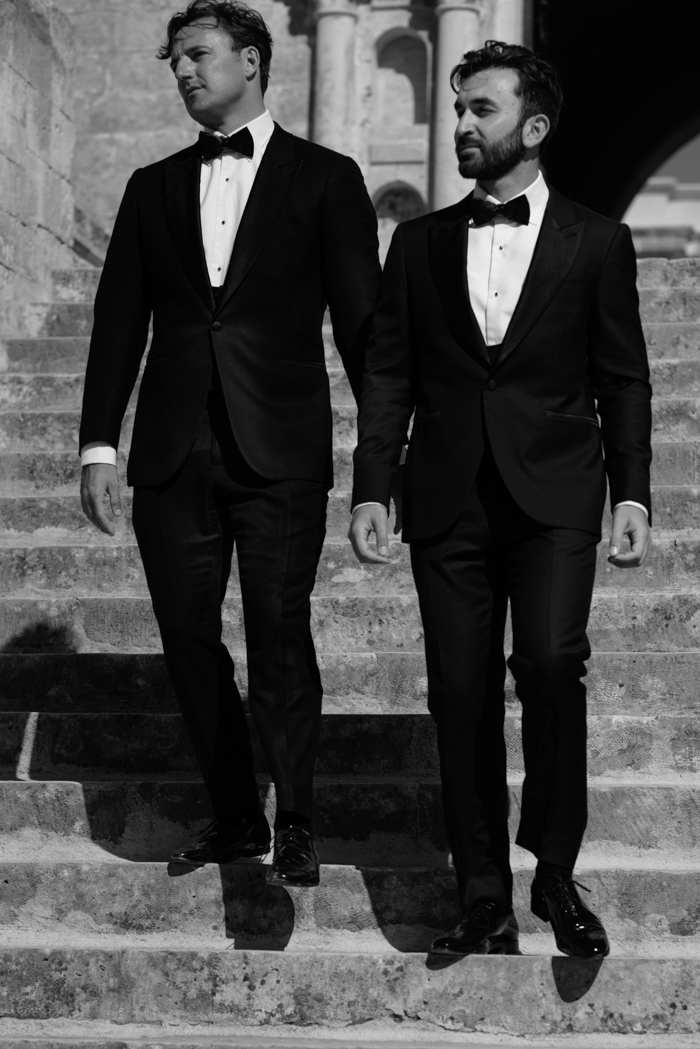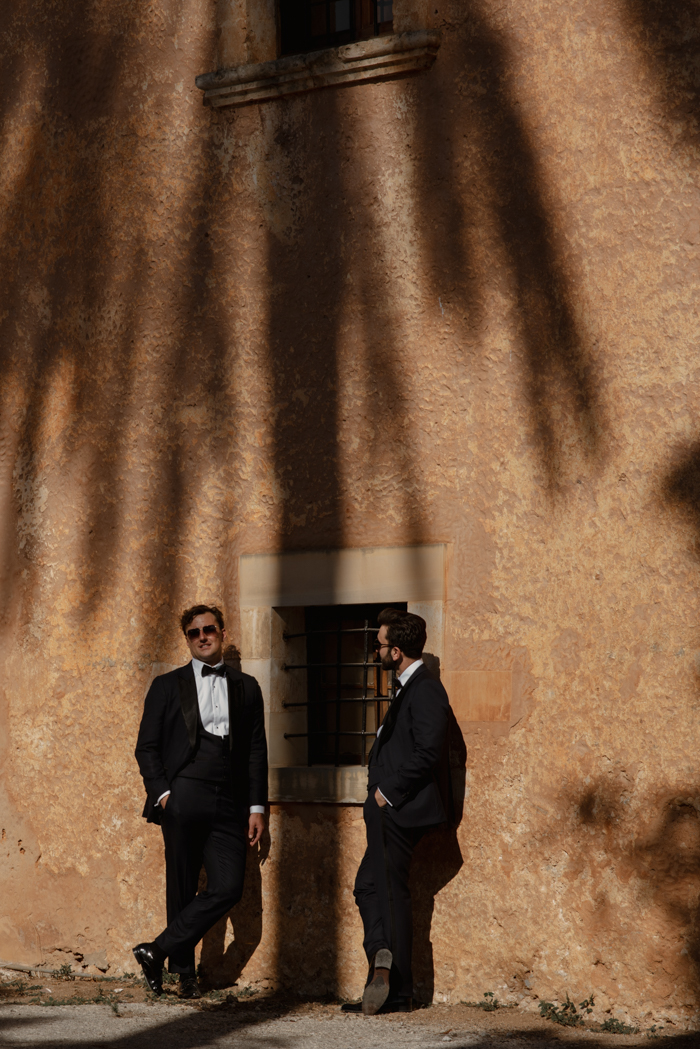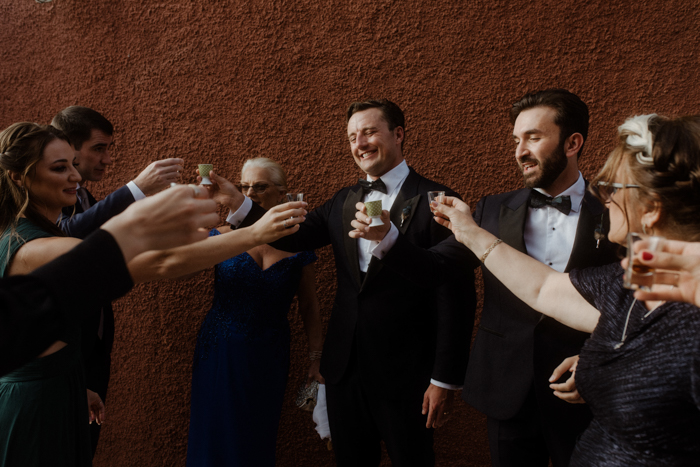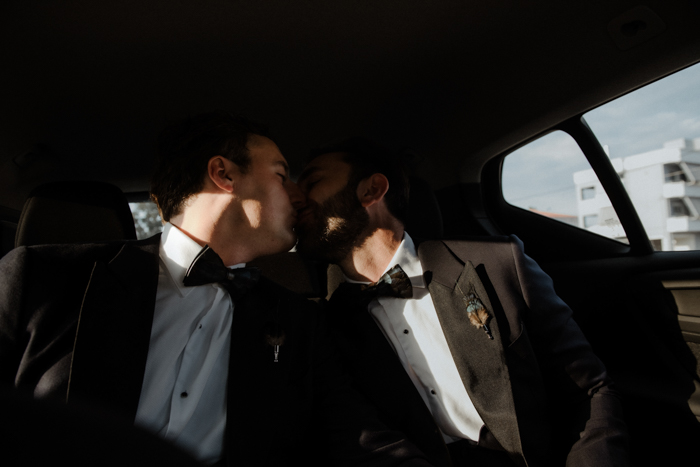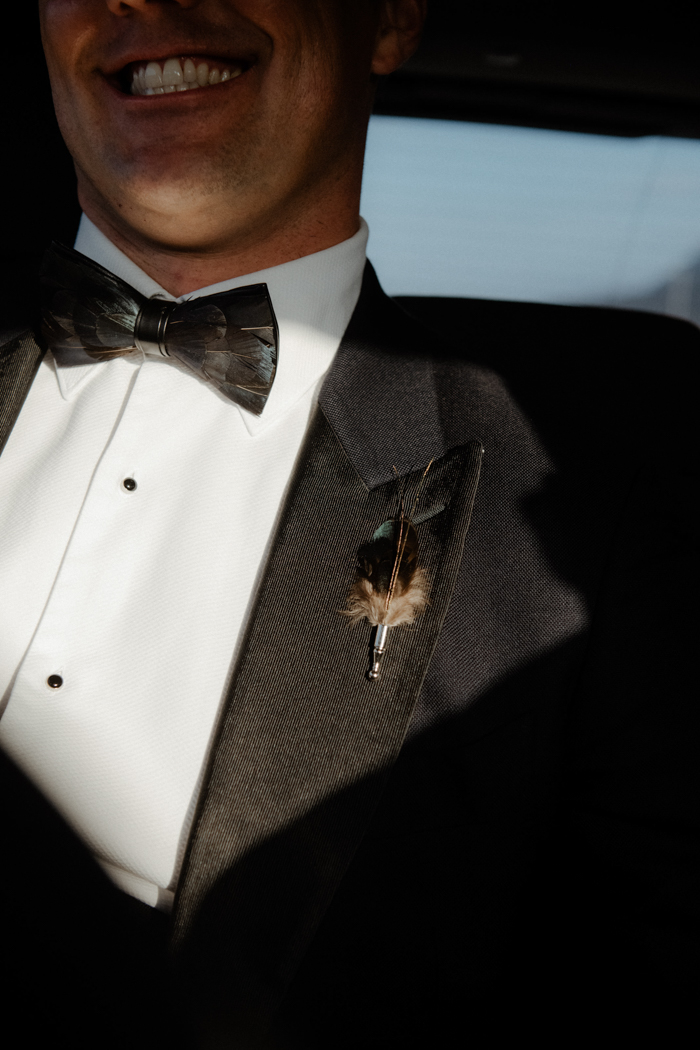 Elegance Meets Nature: Their Spiridakis Estate Wedding's Unique Blend
Blending upscale sophistication with the untamed beauty of nature—became the essence of our big day. The color palette was predominantly white and green, giving a sense of purity, peace, and vibrant life. Strategically placed candlelights twinkled among the foliage, casting a soft glow that played off the white petals and added an enchanting touch to the forest. The raw texture of the wooden elements blended seamlessly with the forest, bringing an earthy touch that complemented the formal elegance of the black-tie attire.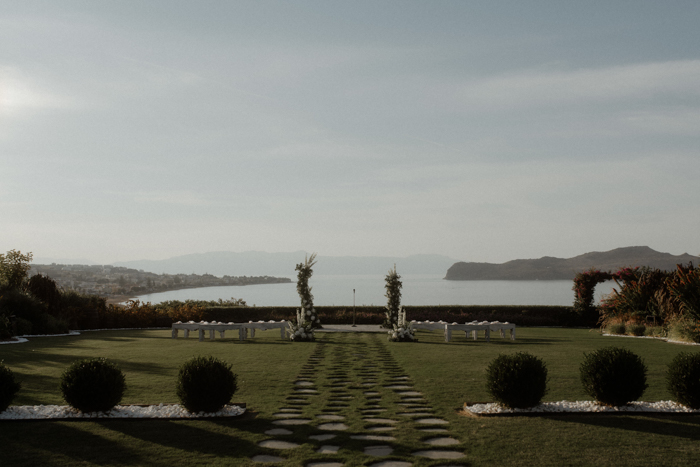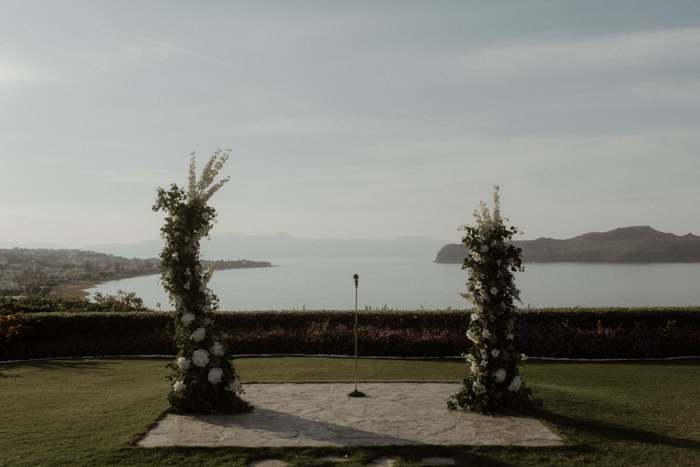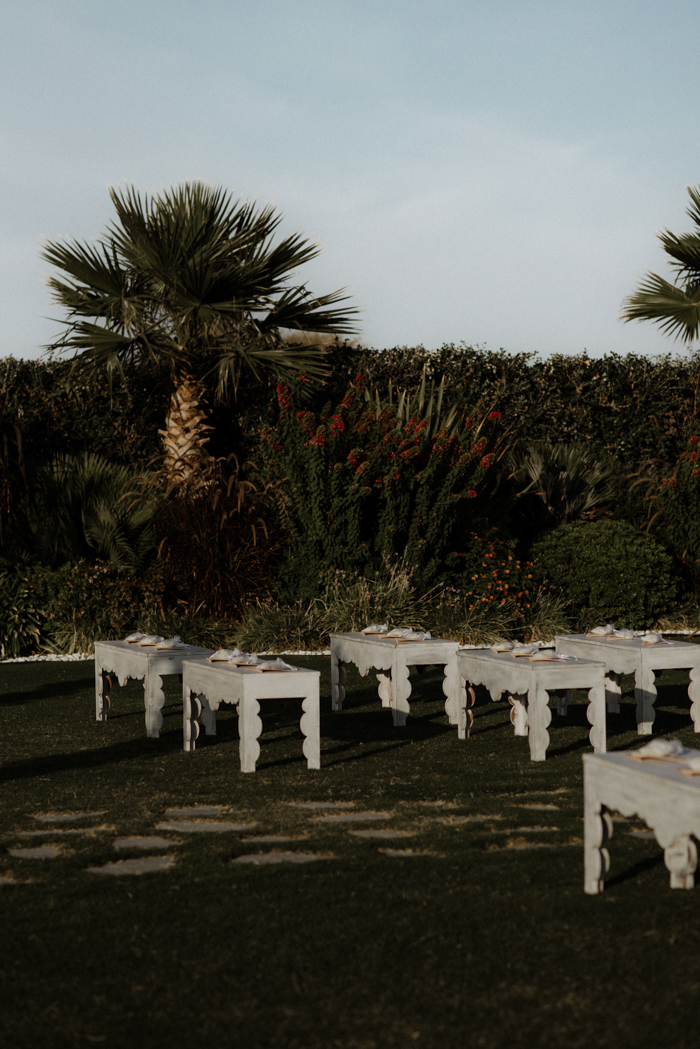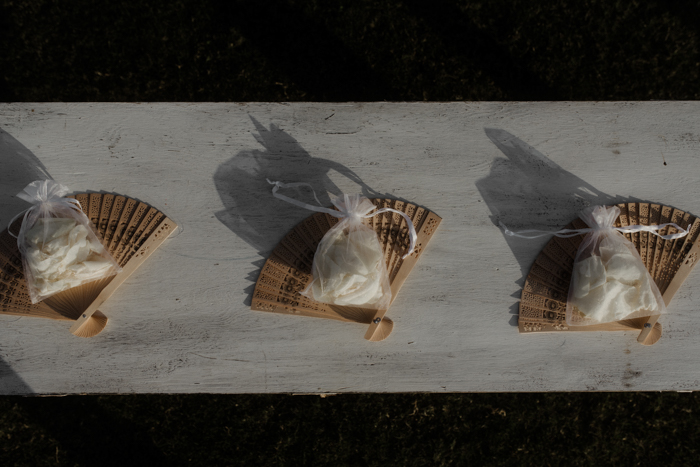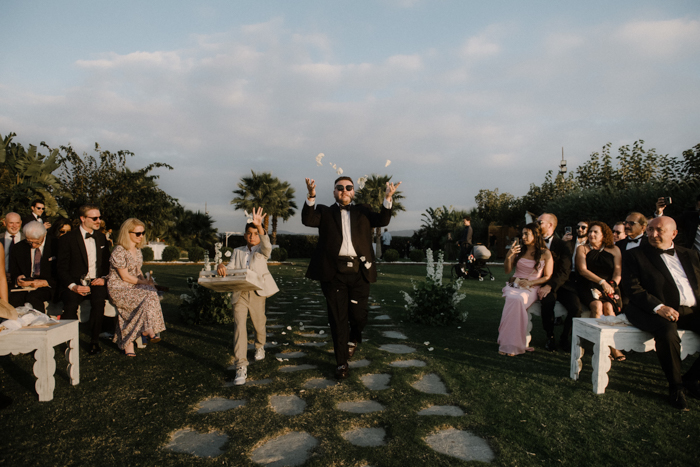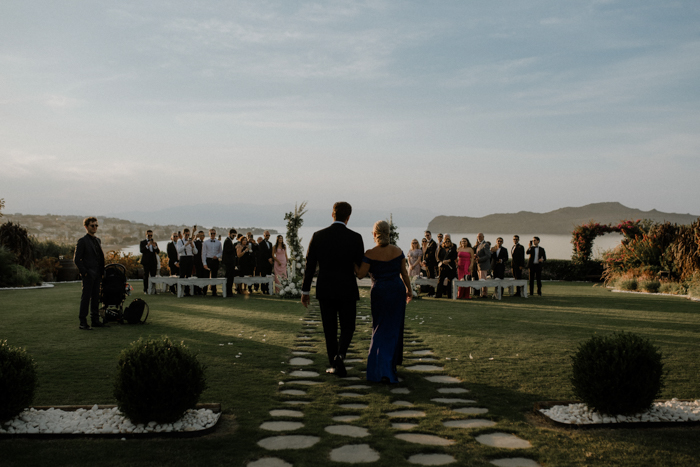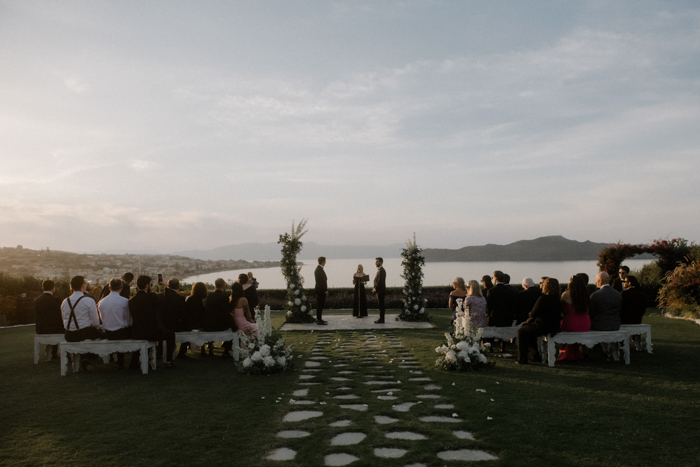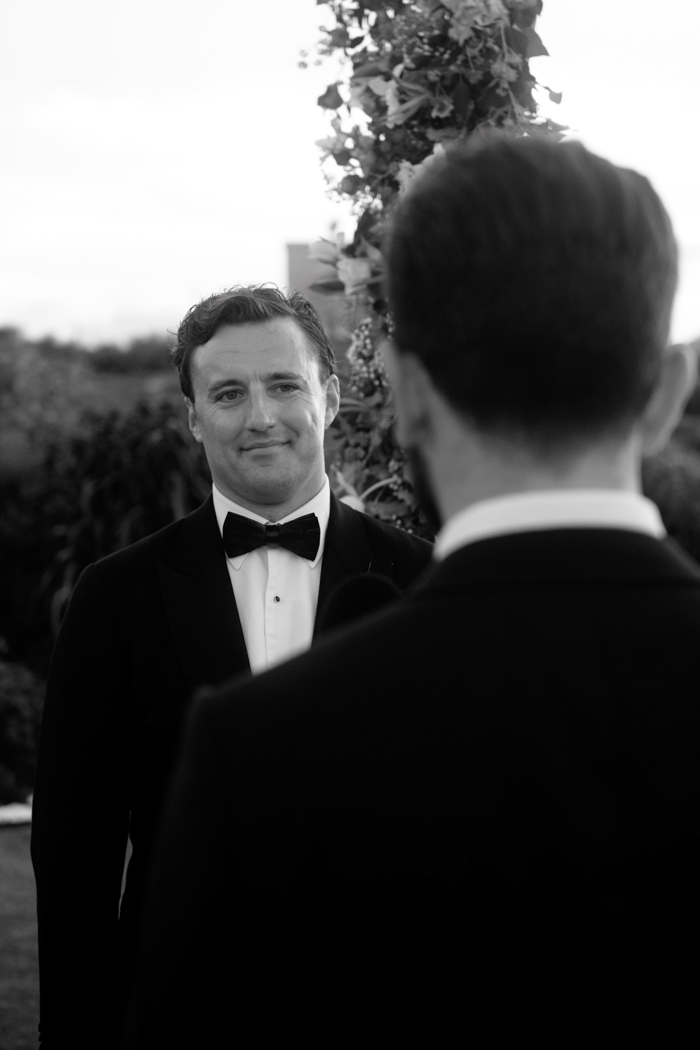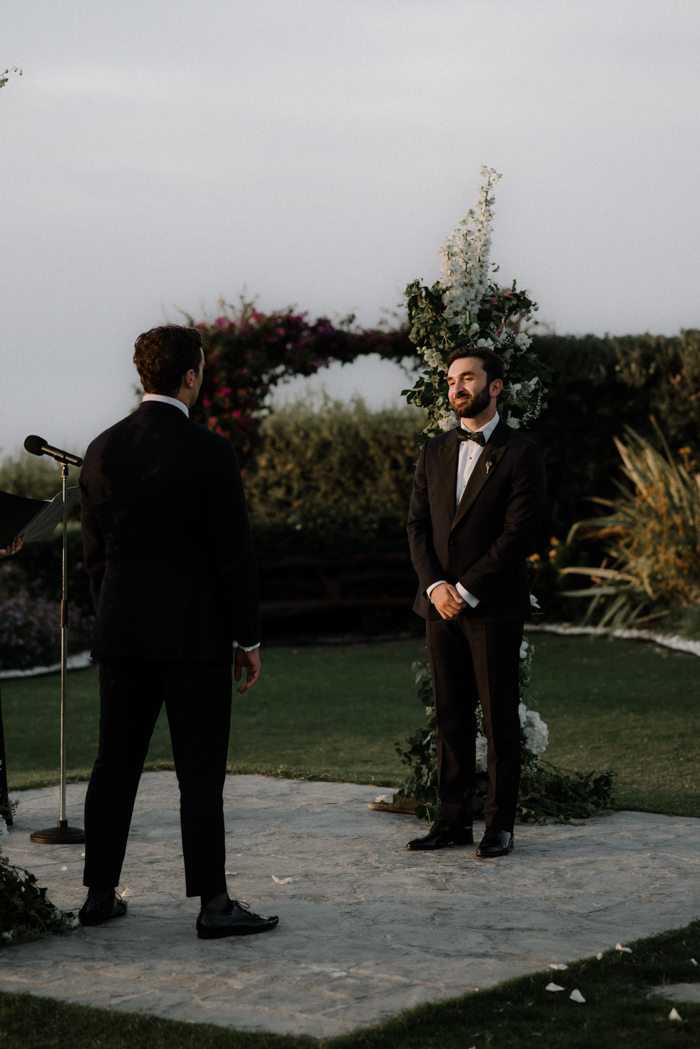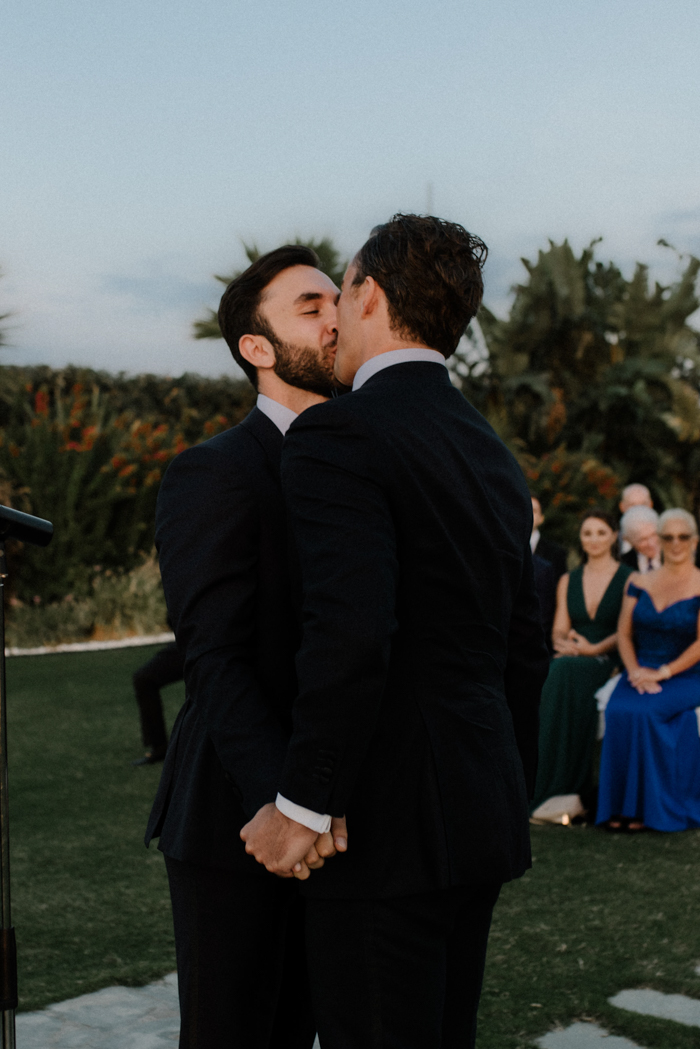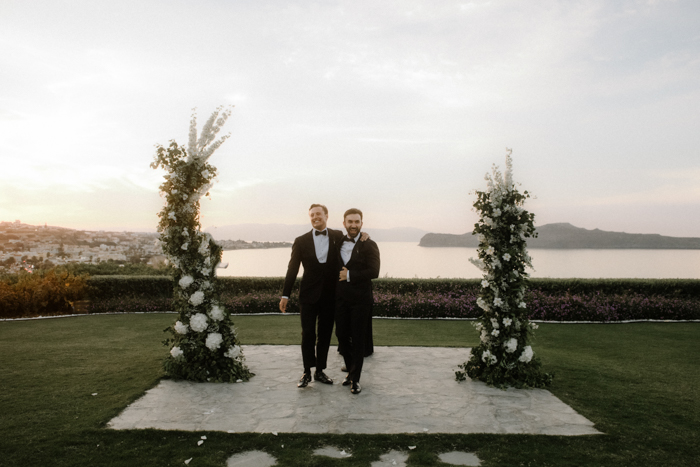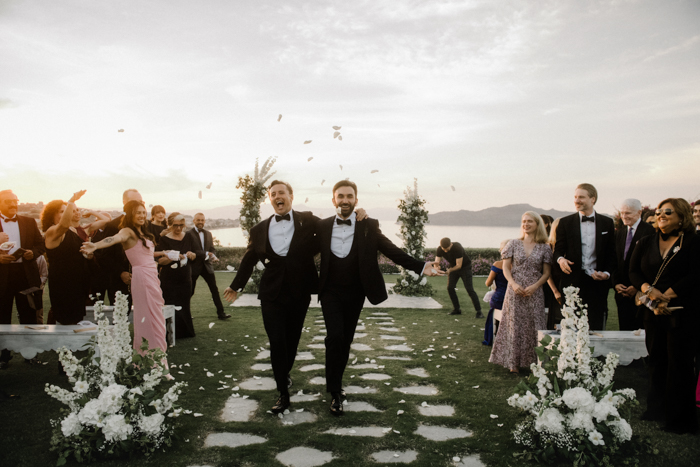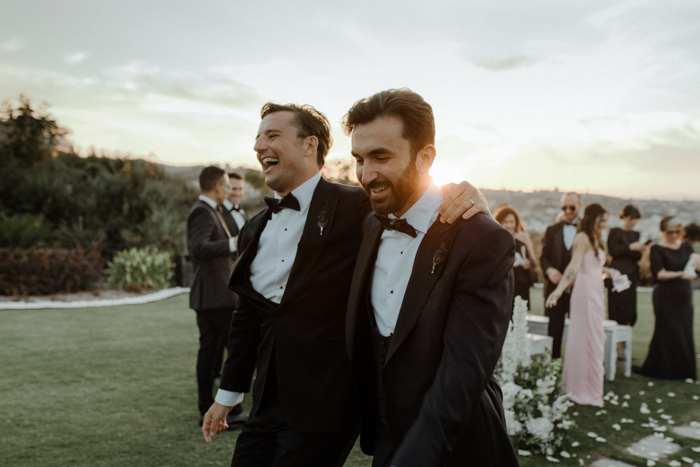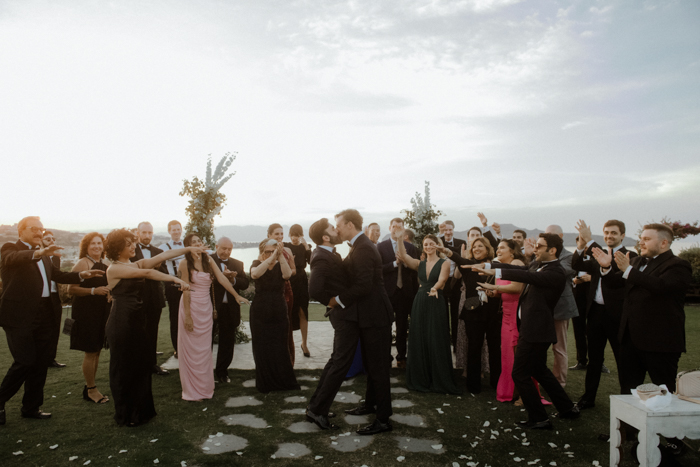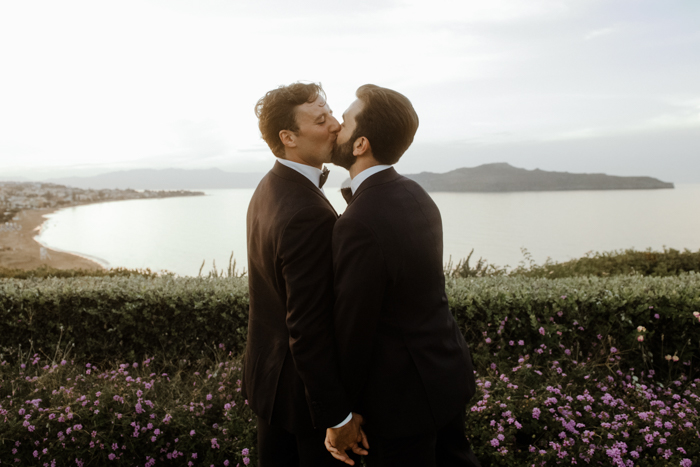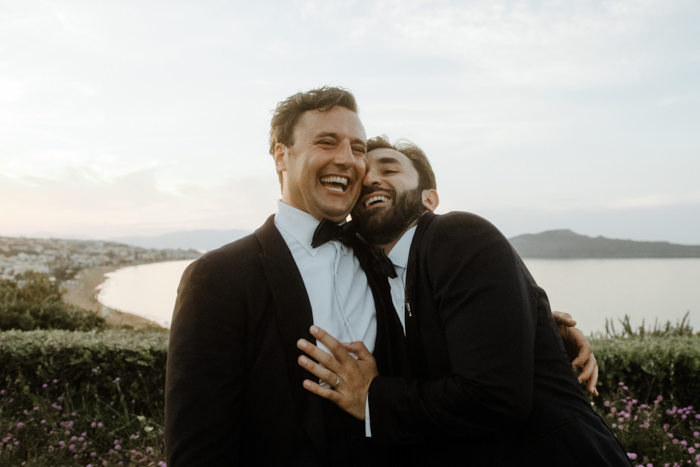 A Modern Twist on a Magical Wedding Moment
As the sun set, the old 14th-century farm transformed into a scene straight out of a dreamy movie. Everywhere you looked, candles and twinkling lights set the place aglow, with fresh foliage adding a touch of nature's elegance. But the real showstopper? Our entrance. Just picture this: We stepped into the scene, and suddenly, our friends and family lined up, lighting sparklers. It was like walking through a starlit path, with sparks lighting our way straight to the champagne stand. With the glimmering lights, shared smiles, and collective cheer, that moment was the highlight of our day—pure magic but with a cool modern twist.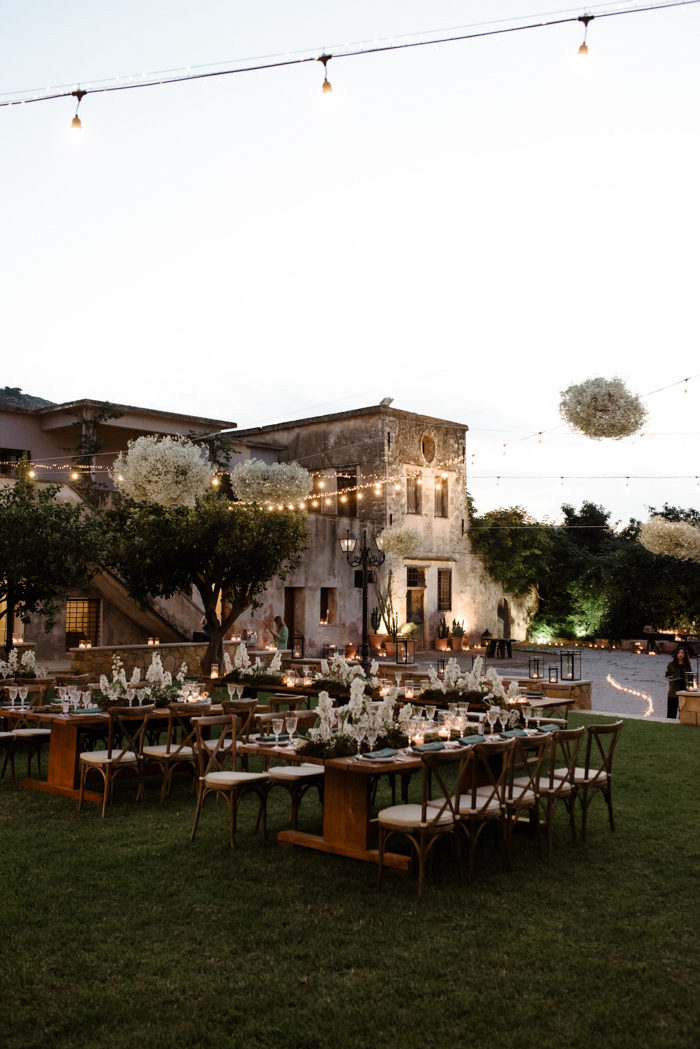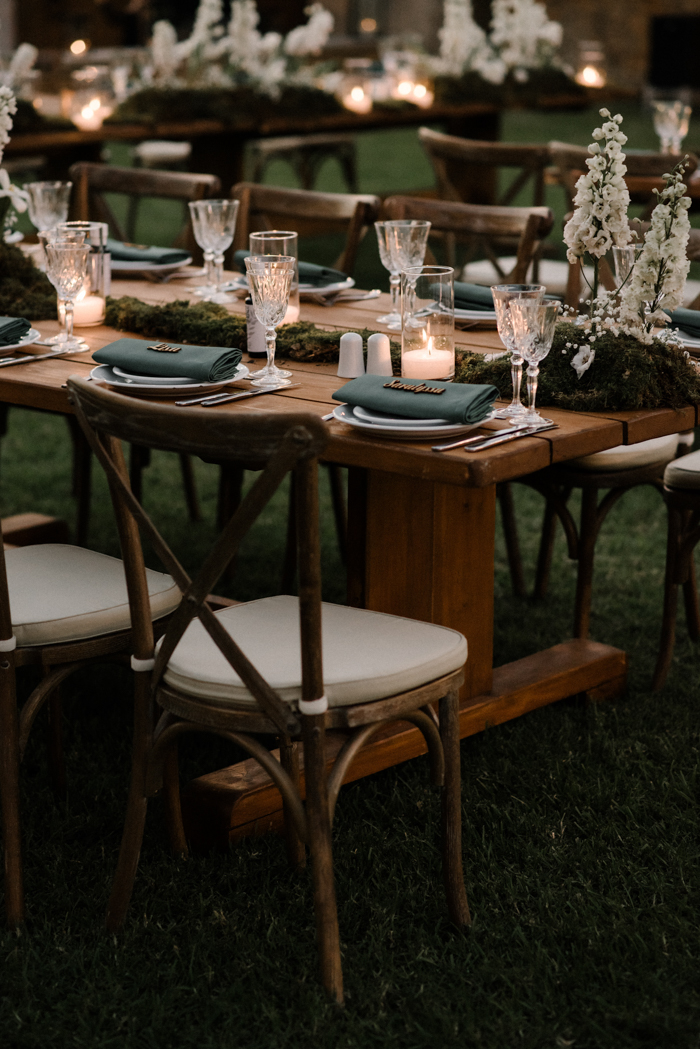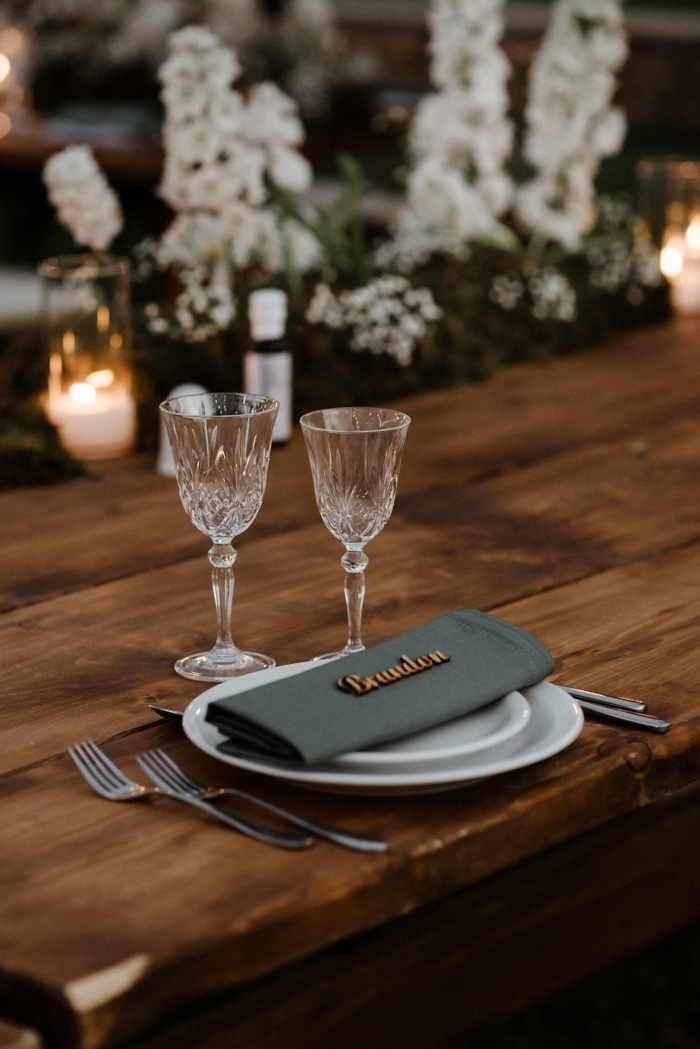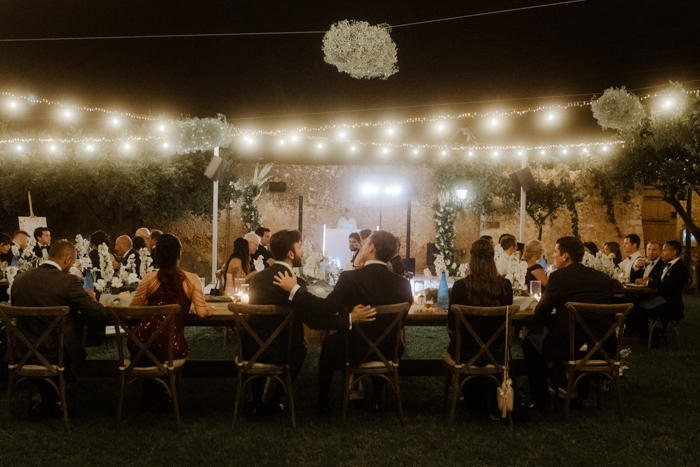 The Importance of Choosing a Trusted Wedding Team
For couples getting ready to tie the knot, here's our top advice: Pick a fantastic wedding team. These professionals will turn your ideas into a beautiful wedding, caring for all the little things. With their know-how and careful work, they'll handle all the nitty-gritty details so you can enjoy your big day.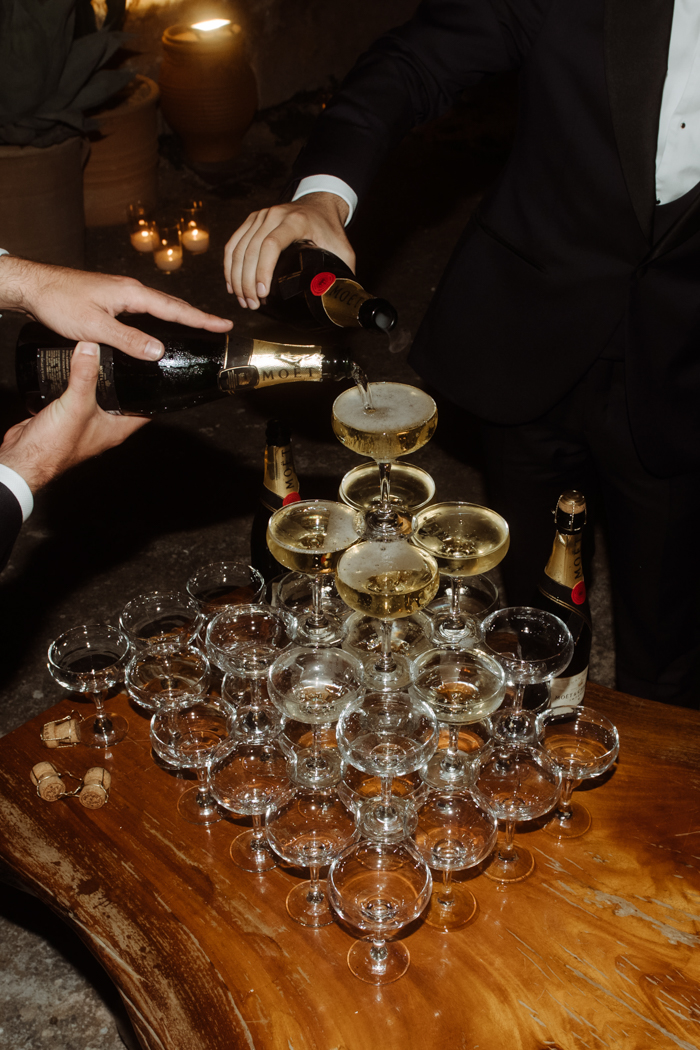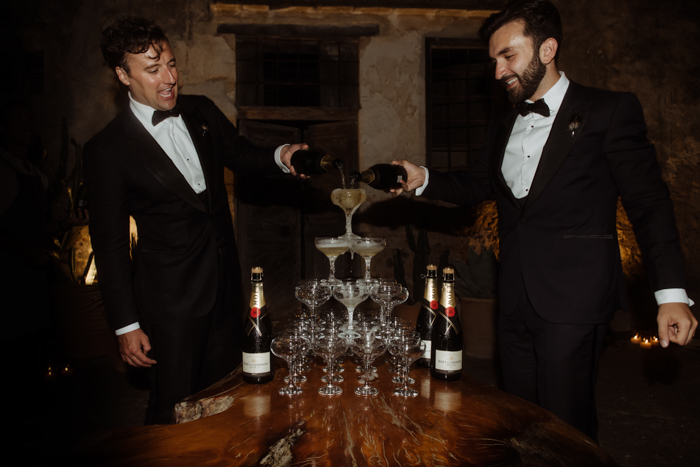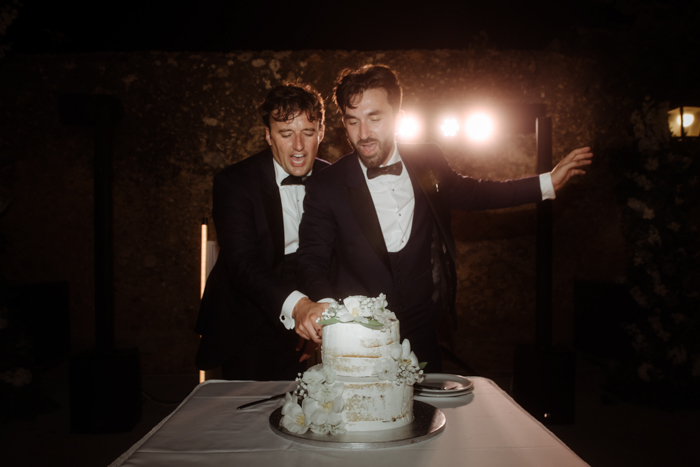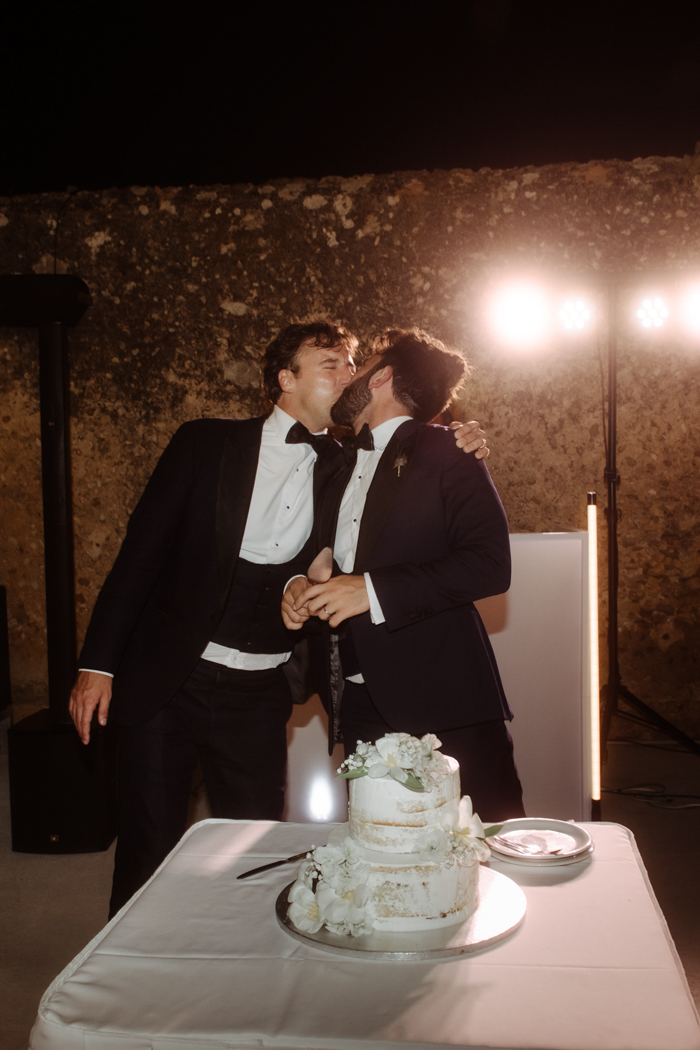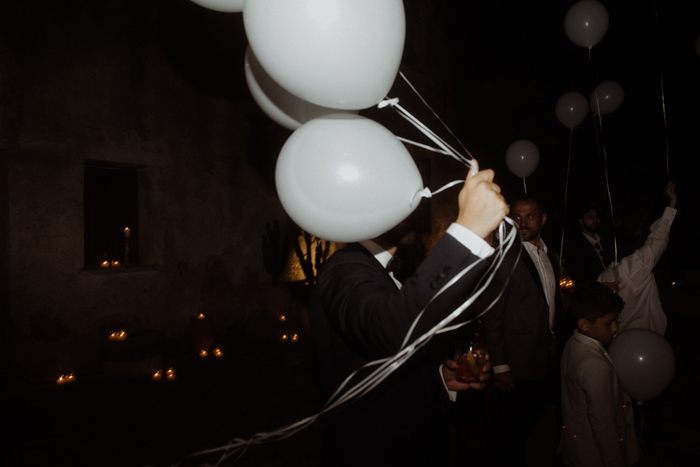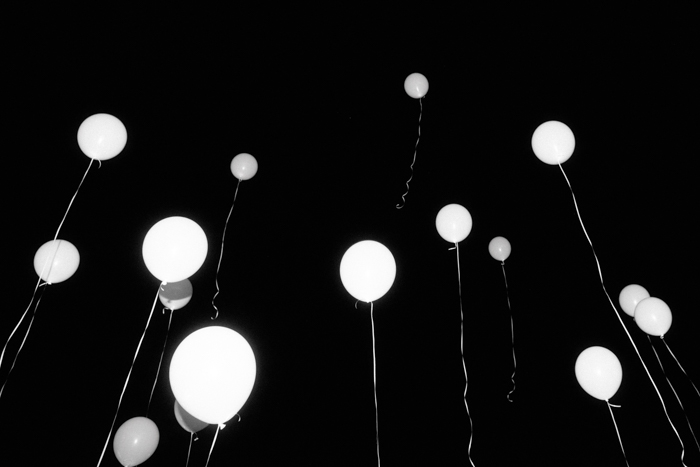 Congratulations to Garik and Brandon on their sophisticated green and white Spiridakis Estate wedding. And a big thank you to Me & Georgia for capturing all the dramatic scenery and fabulous details that made this celebration a memorable one.
A magical location, lush florals, lots of greenery, and extra special personal touches are the time-tested ingredients for a wedding that will always be in style. If you and your partner envision a sophisticated and romantic celebration, look at our planning and budget guides to kickstart your journey!