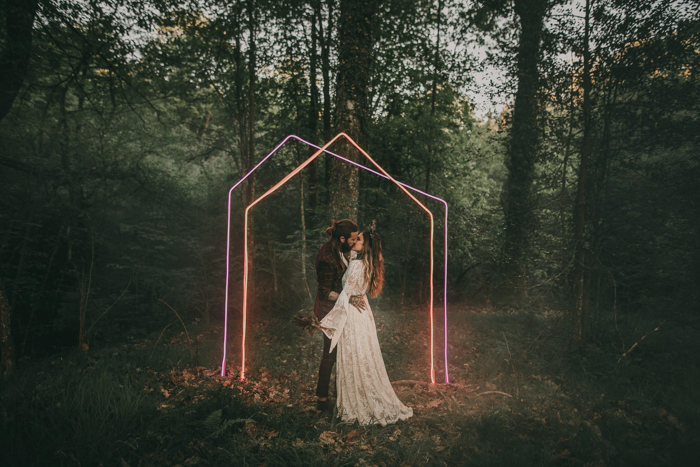 photo by Paloma Cruz Eventos
Tired of the same old wooden arch? We understand! Bringing personality into your ceremony space will help tell your story on an even deeper level. Plus, you'll feel more at home and at ease saying your "I do's" in front of something that inspires you. To help get your brainstorm started, we've put together a roundup of seven creative ceremony backdrops that will totally wow your guests!
Our Favorite Ceremony Backdrop Ideas:
1. Vintage Room Divider
Where are our thrifters at?! A room divider can be the perfect, ready-made ceremony backdrop of your dreams. Add a touch of dried floral to spice up the look and voila! Some of you may even already have a room divider in your home or in your grandma's attic — which would be a budget-friendly move.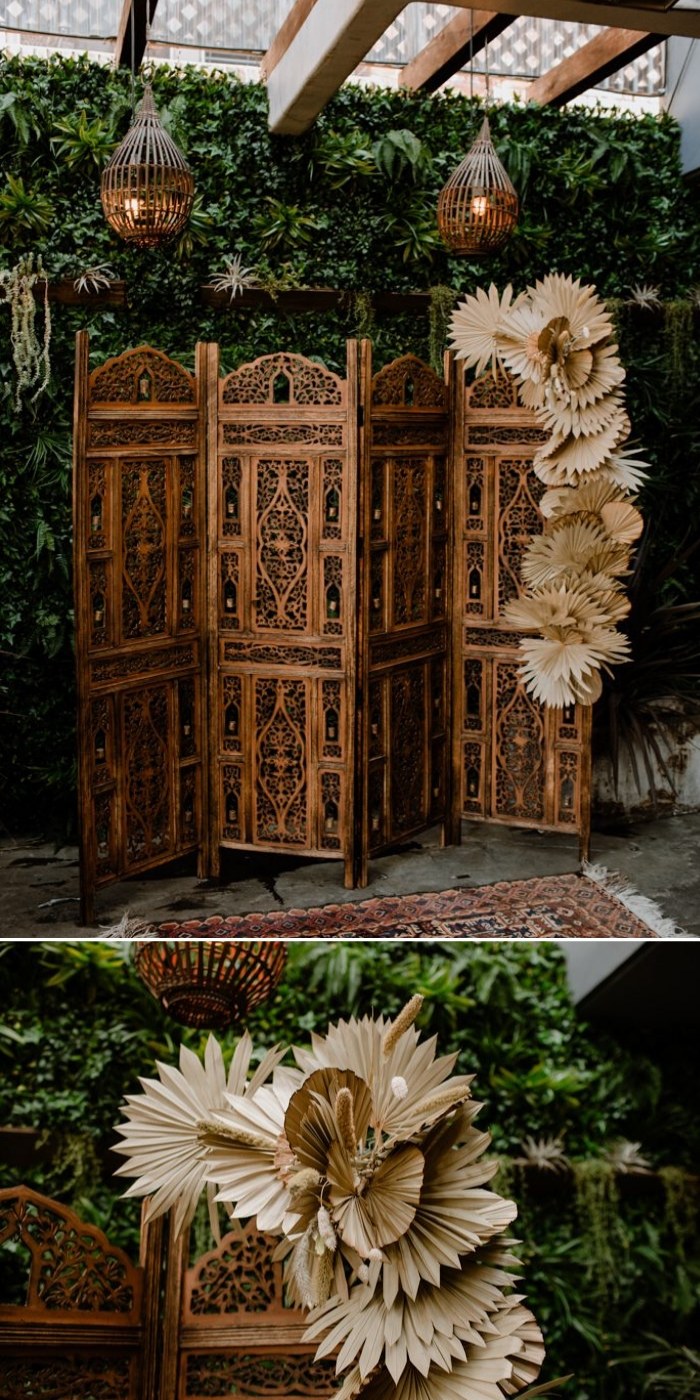 photos by Eve Rox Photography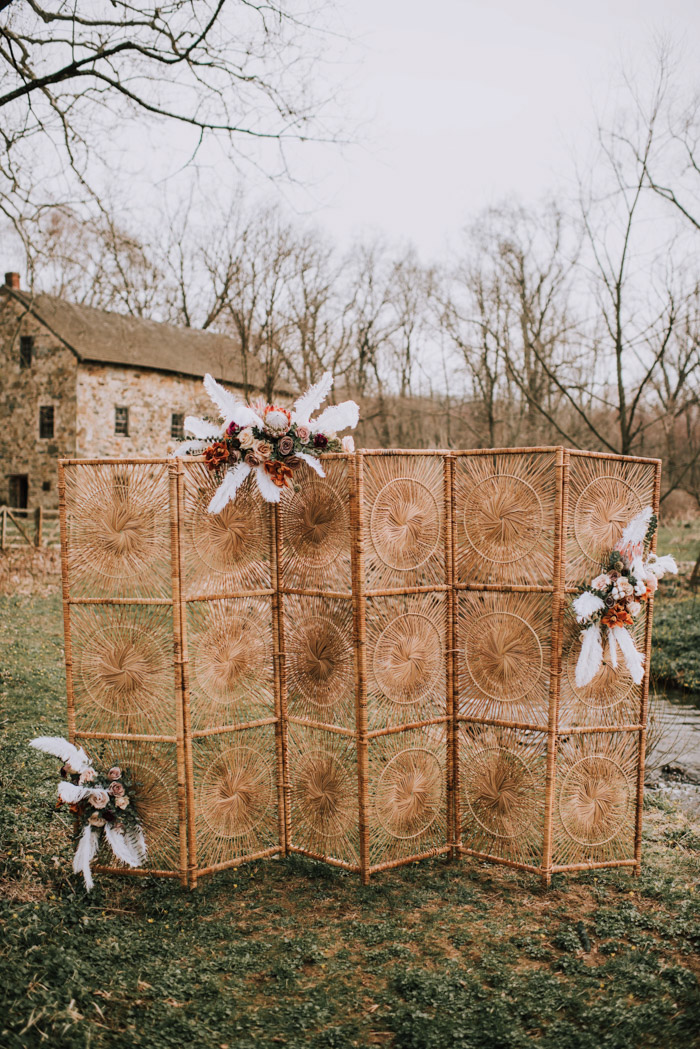 photo by MLE Pictures
2. Color-Block Wood Art
If you've read our 2020 wedding trends to obsess over, you know we're loving color blocking this year. There's no better way to bring in a little bit of color block magic than for your ceremony backdrop! Bonus: If you have something custom created, you can also make it double as a really cool headboard or home art piece after the big day.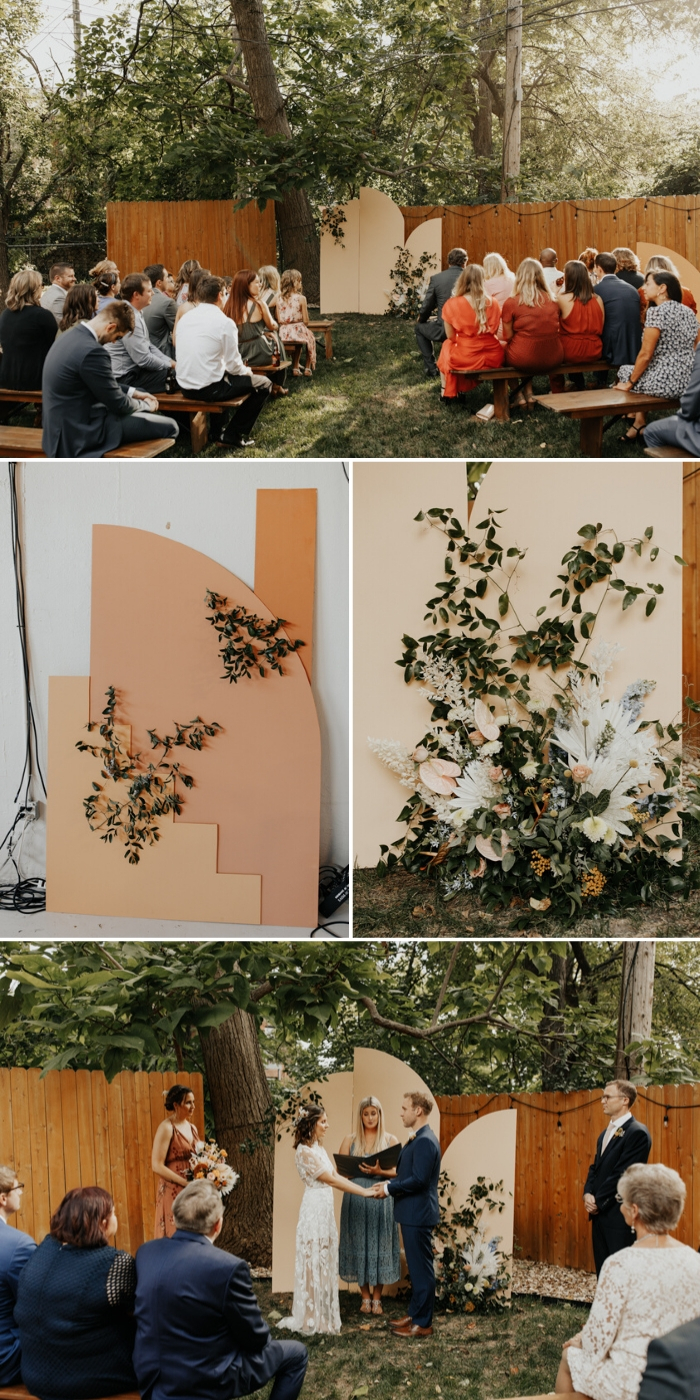 photos by Katie Carlson
3. Banner of Words
If you're like most couples, you probably have your "song" or maybe a special verse of words that you and your partner have claimed as your own. If it's meaningful to you, why not have it beautifully displayed behind you as you vow your endless love to one another. We think your guests will love seeing something that represents who you are as a couple!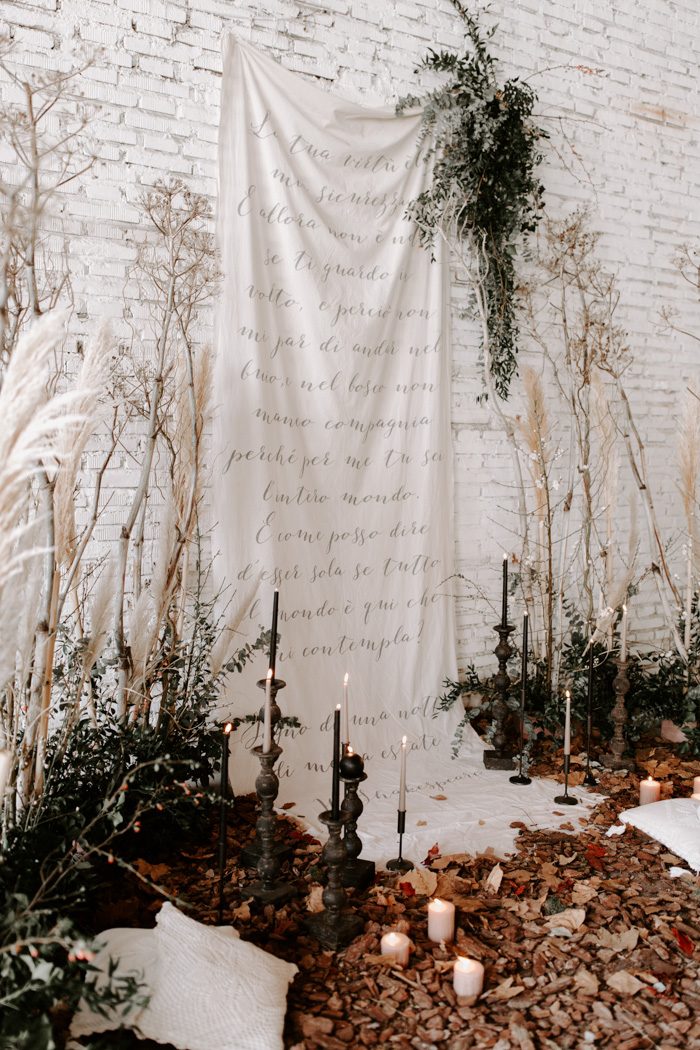 photo by Chelsea Reece
4. A Canoe
Okay, we know this one isn't for everyone, but it's definitely original! If your beach-side ceremony space has the room for some thing big and unique, be bold. Not feeling quite so bold as the canoe? Grab a surfboard in stick it in the ground for something more subtle.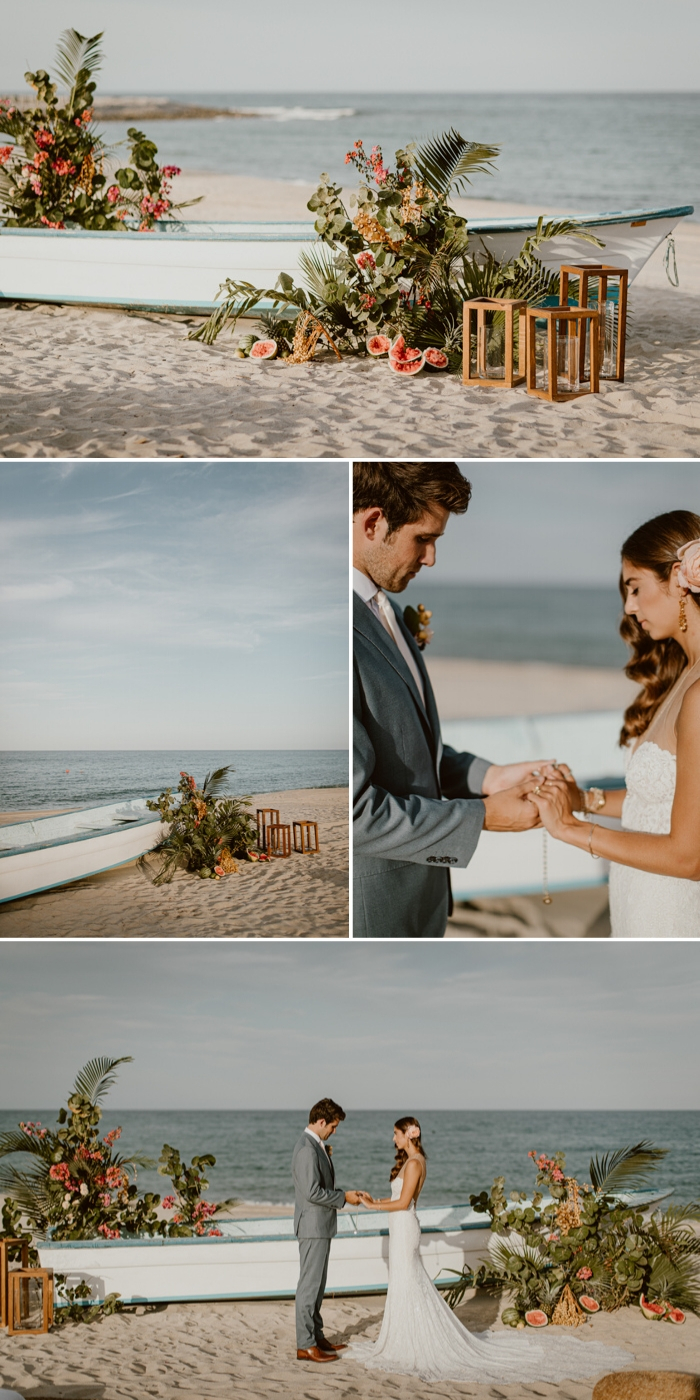 photos by By Julieta Photography
5. DIY Butterfly Wall
Out of all the DIY'd ceremony backdrops we've seen, a DIY butterfly wall has got to be one of our faves! Not into butterflies? Use the same concept! You can DIY a wall of pretty much anything — make your ceremony backdrop represent something that's special to you.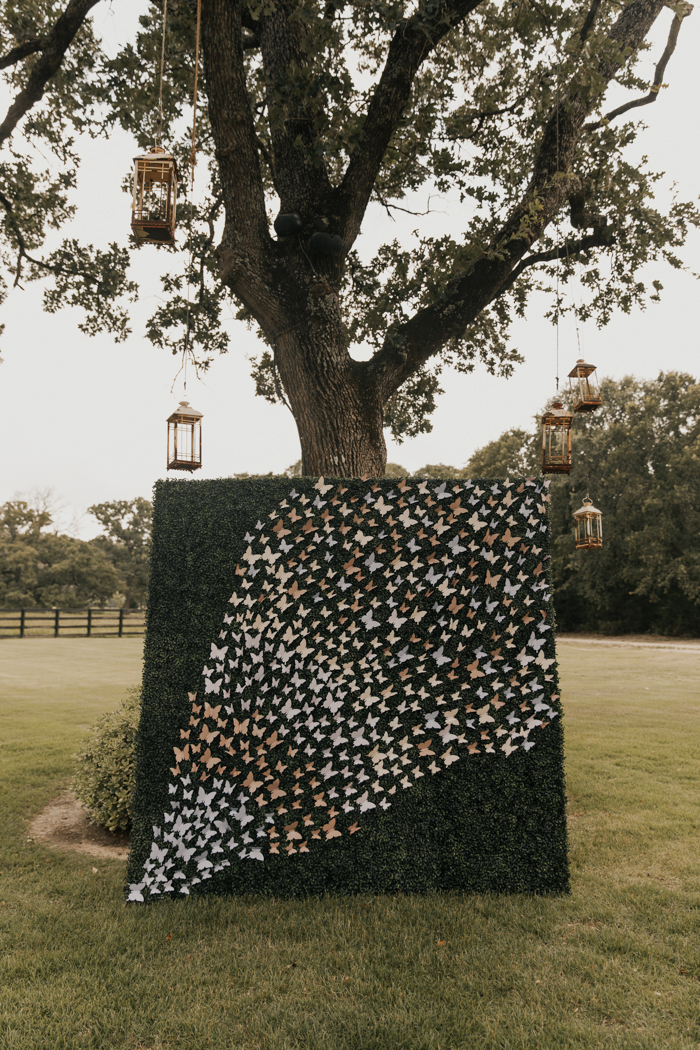 photo by Madison Katlin Photography
6. Dramatic Macrame
Seeing macrame behind the ceremony isn't anything new, but instead of hanging something small — go big! We love to see a full-length handmade backdrop hanging behind couples as they say their "I do's." Plus, your guests will probably want to snag their own photos with a backdrop as heavenly boho as macrame!

photos by Chris and Ruth Photography
7. Hand-Painted Canvas
Know someone who can paint? Or maybe you're crafty yourself! We love the idea of having something custom painted for your ceremony backdrop. Not only will it feel incredibly personal, but it's another item you can keep forever and re-use even after your special day is over.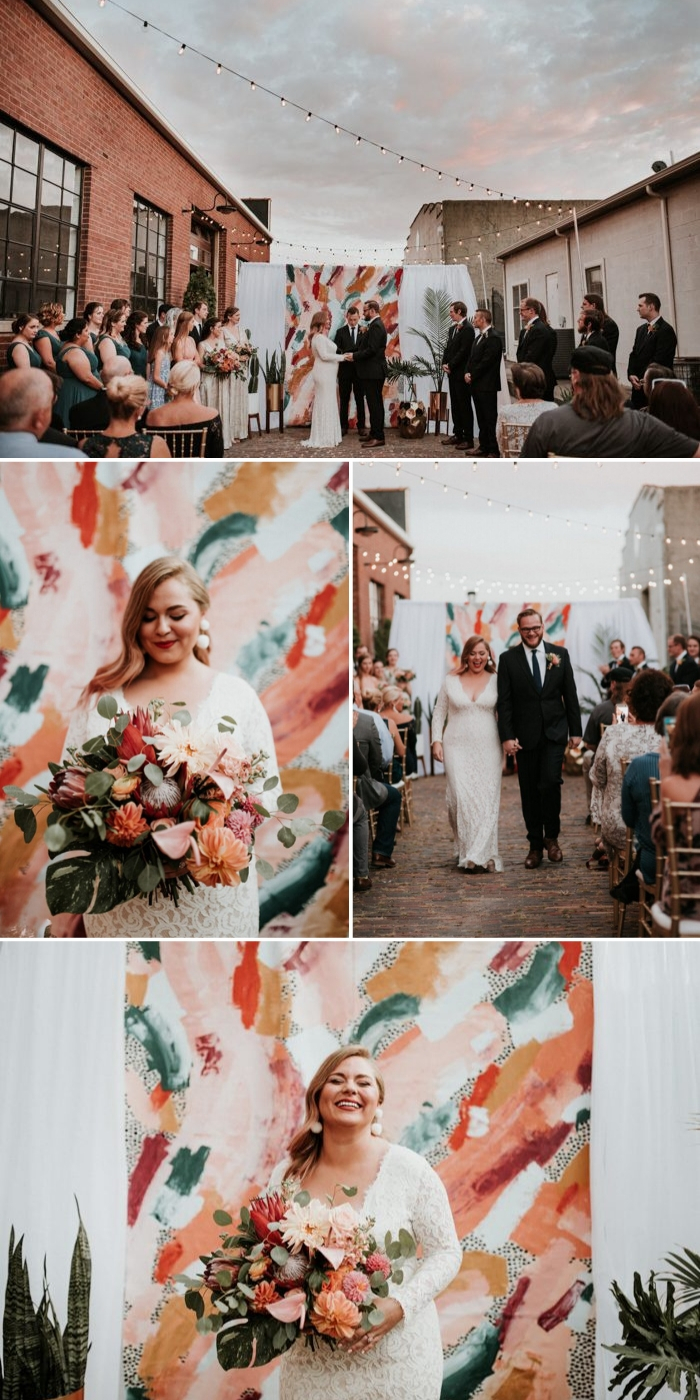 photos by Zach&Rosalie
Feeling inspired by these creative ceremony backdrops? There's more to explore! Check out these helpful wedding planning posts:
Affordable Wedding Decor You Won't Believe Came From Amazon
4 Ways Light Can Affect Your Ceremony Pictures
15 Beautiful Non-Religious Readings for Your Ceremony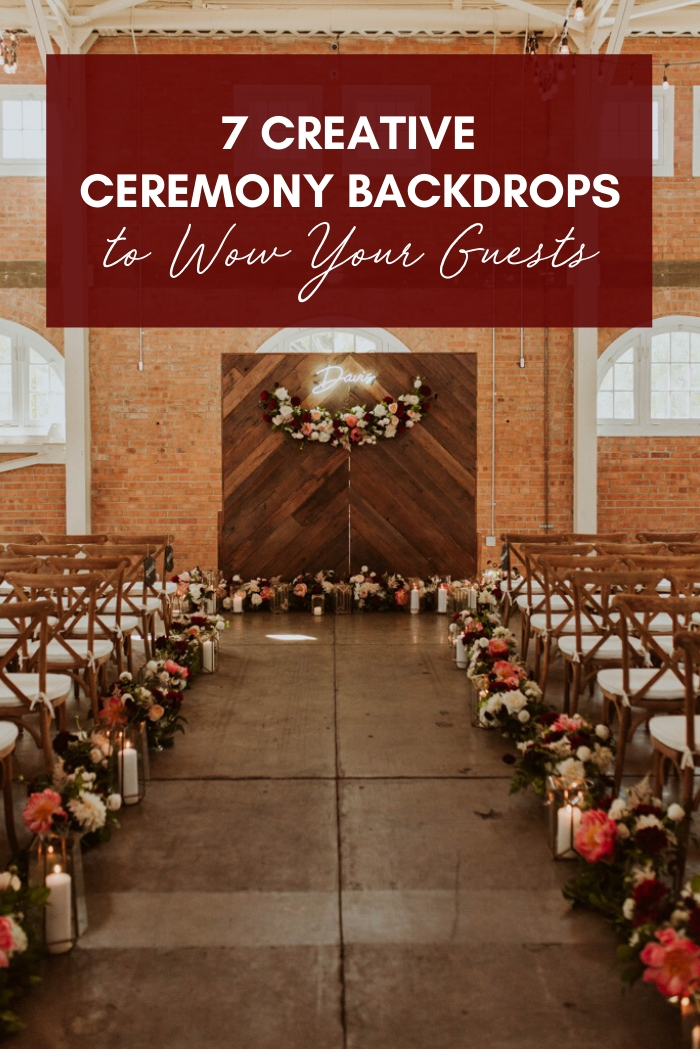 photo by Dani Purington Photography