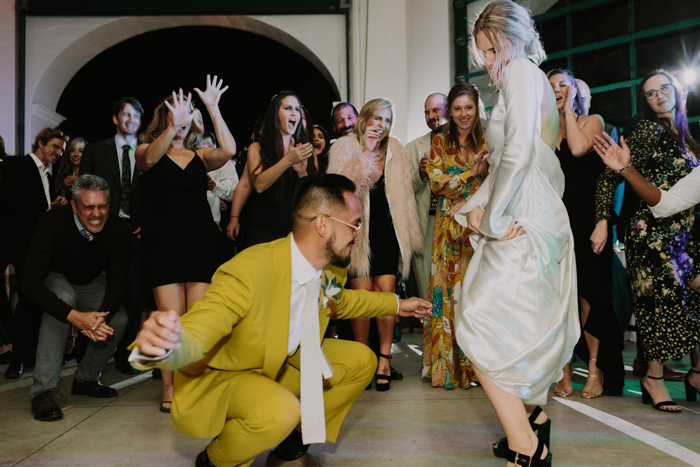 photo by Let's Frolic Together
Tired of the classic wedding jams but love to get down on the dance floor? We hear you! The Junebug team loves a great wedding playlist—especially one that surprises guests with the most unexpected, yet awesome, tunes. We also have access to some of the world's best wedding DJs, so we chatted with them about the most underrated love songs to play at your wedding. From Carly Rae Jepsen to Leon Bridges, we've curated a perfect list that spans genres and generations, so you're sure to find one that speaks to you!
In this post you will find underrated love songs to add to your wedding music including:
Led Zeppelin – "Going to California"
David Bowie – "Heroes"
Zero 7 ft Sia – "Destiny"
Maggie Rogers – "Love You For A Long Time"
The Black Keys – "Howlin' For You"
and more!
Make sure to scroll all the way through for a link to our Junebug Weddings Spotify channel, where you will find this curated list and many more for all your musical wedding planning needs!
James Guzzi (aka DJ Jamie Jams), Ceremony DJs
This is the song our company is named after. It was also the last song we played at our friend's wedding in 2007 and the processional at our first client's wedding in 2014. We get a lot of punk rock clients and this one is an irrefutable classic among a certain set. If that bassline played like a lead doesn't make you cry, I don't know what will.
Talking Heads – "This Must Be The Place"
This one must be our single most requested ceremony song. We even had a wedding where the couple had turned it into a giant neon sign for everyone to take pictures in front of. I get it, it's kind of a real heart breaking, end of a long journey kind of song. And way better than the folks who for some reason request "Once in a Lifetime."
This is my new favorite wedding last song. We actually get a lot of clients that are other DJ's and this one the clients came up with. I had actually never listened all the way to the end of the record to hear it. It's kind of afrobeat and super good in the same way as Talking Heads "This Must Be the Place" only way more energetic and upbeat. James Murphy really knows how to steal from the masters.
In the annals of epic songs that will make you cry, this one's got to be way at the top. We get a lot of clients that pick things like Mazzy Star "Fade Into You" which sort of blend folk elements and 90's indie reverb. I used this one to set up the moment before the processional once and it brought the house down. Not a dry eye in the place.
Led Zeppelin – "Going to California"
We live in California, and so we get a lot of clients that want to riff on that and give their family the real California experience [makes weed emoji motion]. We've done a couple of different takes on the idea including a classic folk wedding, a summer of love wedding, and a couple of Wes Anderson style baroque pop weddings. This one works with all of them.
The Flying Burrito Brothers – "Wild Horses"
We get a lot of country weddings, but more often than not they are more of the hipster alt country 70's variety. And you can't talk about 70's country rock without mentioning Gram Parsons of The Flying Burrito Brothers and The Byrds. We've had more than a few weddings along these lines including one where we literally drove to Joshua Tree to do an all Gram Parson's themed event and stayed in the hotel where he died. "Wild Horses" was originally written by The Flying Burrito Brothers but made famous by The Rolling Stones.
Mark Ronson feat. Boy George – "Somebody to Love Me"
We're slowly accumulating quite a few LGBT clients and this one really killed me. I wish I had more space to talk about a few other contenders we've gotten in this category including Father John Misty "Everyman Needs a Companion" and Sufjan Stevens "Futile Devices" but this one, my gosh. Hopefully, you all remember Boy George from the 80's and this is his colab with Amy Winehouse producer Mark Ronson. If the song doesn't make you cry, the video will, with all sorts of great MTV style outtakes of Boy George in his prime.
Carly Rae Jepsen – "Run Away With Me"
I'll give you guys an easy one with this one. I think people can almost universally agree that Carly Rae Jepsen is the most indie cred of the modern pop divas and acceptable to audiences both hip and square. It's a great song with an epic 80's build up and production style. We had it for at least one recessional, and I think it came off pretty cool.
Lord Huron – "Ends of the Earth"
We get quite a few modern indie folk weddings that range from Avett Brothers and Mumford and Sons, to Sufjan Stevens and Iron and Wine, to Explosions in the Sky and Songs: Ohia. This one sort of bridges the gap between the various flavors of modern indie folk hipsterdom, and works for both the people who like Cat Power and the ones who like Edward Sharp and the Magnetic Zeros. It's got a cool oldies reverb vibe mixed with a bit of a country guitar riff as well, so it easily inhabits the borderland between folk and country, classic and new. We've had this one for processional at least once as well.
Wreckless Eric – "Whole Wide World"
I'll end on kind of a weird one. We get a lot of punk rock clients and have accidentally come to specialize in the early to mid 70's style of British invasion influenced, melodic rock tunes known as power pop. These are the artists that were influenced by The Beatles, The Beach Boys, The Byrds and a range of Phil Spector style 60's girl groups and went on to create banging, romantic, rock anthems for the punk generation. We've had at least three power pop specific clients now, and this one is a must have if you "Knew the Bride When She Used to Rock and Roll" like the Nick Lowe song. It was also my MySpace profile song in 2005 and I just got engaged, so I guess it worked? My girlfriend and now fiancee is also my DJ partner and business partner. Book with us and help us afford to get married as well!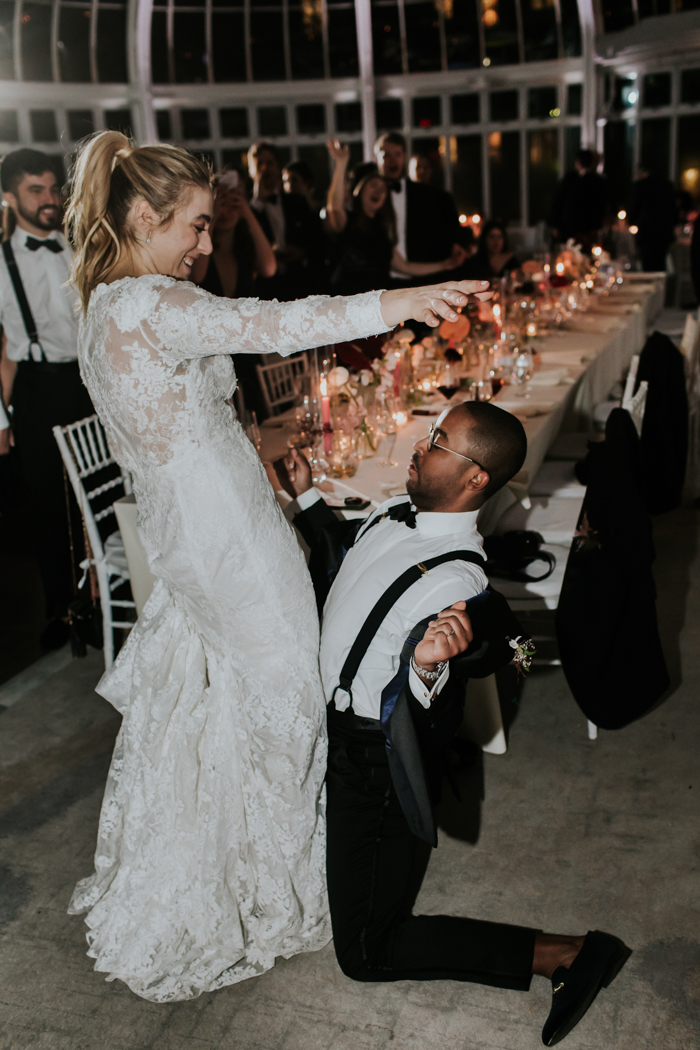 photo by Elvira Kalviste Photography
This song is so romantic and has a nice summer outdoorsy feel to it with the guitar-forward rhythms and melodies. Definitely for those wild hearts, the independent, bohemian souls out there.
Daniel Caesar, H.E.R. "Best Part"
This song DRIPS. It's sultry, intimate, almost haunting, and so tasty sweet. The romance levels border on too hot. I know some couples will want this song and only be focused on each other throughout a slow, close dance together.
This song has an immediately nostalgic, dreamlike feel to it. A pretty waltz with such well-written lyrics.
That repeating guitar riff is so nice. A lovely indie, singer-songwriter tune by which to dance together.
This shuffle has so much soul and good feeling behind its impressive recreation of the past. Sweet and simple.
I Need Your Love So Bad – "Irma Thomas"
A beautiful, sultry song of old that is underrated in that Time may bury musical gems.
Billie Holiday – "I'll Be Seeing You"
There's an awfully nostalgic feeling to this, with the hauntingly beautiful voice of a generation long ago.
A song for the more introspective lovers, with lyrics seemingly disparate and haunting in a way only Radiohead can accomplish.
Chris Cornell – "Nothing Compares 2 U"
Something about the soul and emotion of this live cover enchants me. One of the greatest rock voices of our time, also covered beautifully by another one of the greatest musicians of our time — the inimitable Prince.
Iron & Wine – "Flightless Bird, American Mouth"
Another waltz, with the slightly European café sound of an accordion accompanying the vocals. For indie souls everywhere.
Neutral Milk Hotel – "In the Aeroplane Over the Sea"
This song is quirky and vibrant and with a truly indie quality in its production. It's romantic almost in an ironic manner, but upbeat and fun to sway to.
This song has a very outdoor summertime vibe to it. Very Boho, and incidentally, this song has a unique musical time signature and rhythm amidst the overall list.
Lord Huron – "Ends of the Earth"
I suppose I love indie, singer-songwriter feeling songs, and Lord Huron is no exception. Very much a song of travel and worldly love, for the jet setters and those with a great affair to move.
Peter CottonTale – "Forever Always" (feat. Rex Orange County)
This slow song is quirky and eclectic, almost eccentric. Has a rap section as well. This is a love song for younger lovers.
This song has a world pop quality about it, for the more electronic-oriented lovers to have an upbeat time together.
This song is very much modern romance, as only the voice of Miguel can bring us. And it combines coffee and love together, so therefore it was a no-brainer to make this list.
Frank Ocean – "Thinkin Bout You"
This R&B song is romantic in an early 2000s style, almost like a Justin Timberlake beat. Falsetto voice and ambient waves of the ocean. The Frank Ocean.
A quirky, upbeat waltz with the romantic, soulful whimsy of one of the great crooners from our parents' time. And it's lesser-known versus Into the Mystic.
Ziggy Marley – "Beach in Hawaii"
The Marley family continues a wonderfully eclectic musical legacy, but this track almost feels like Bob Marley reincarnated to write a soulful, sun-drenched reggae tune. The lyrics are simple but powerful, and the overall vibe is more upbeat romantic.
Corinne Bailey Rae – "Is This Love?"
I love this cover of Bob Marley's classic, brought to its knees in a sultry, jazzy iteration for lovers who want Corinne's crooning voice to serenade their intimate close-dance.
This song is so nostalgic and hauntingly beautiful, and one that is perpetually underrated in its beauty. Very 90s.
Cake – "Stickshifts and Safetybelts"
This one is for the quirky, fun-loving couples to party it up in totally ironic country way, with silliness and joie de vivre that may be the cornerstone of their relationship.
This is a lovely, nostalgic, powerful song to celebrate love and building each other up.
Modern English – "I Melt With You"
A nice, timeless, upbeat song that is 80s romantic in the best possible way.
The Temper Trap – "Sweet Disposition"
An incredibly moving, building, inspirational, beautiful piece that means the world to so many lovers.
Barry White – "My First, My Last, My Everything"
It's all in the title. To be someone's "first, last, and everything" says you are pretty much their universe. That's not an easy position to earn, so congrats!
Zero 7 ft Sia – "Destiny"
It is difficult to put this band in a category. Their songs merge multiple genres including indie, folk, hip hop, and electronica. This particular track includes Sia who is not only a brilliant writer but has a sultry voice that brings this love song to life.
Michael Jackson – "I Can't Help It"
I'm not sure who wrote this for Michael, but somebody was head over heels for the love interest in this song. Every line in this song includes serenade, chivalry, and smooth talking.
Marc Anthony – "My Baby You"
I've played this for a client as their first dance song. However, because Marc Anthony wrote this for his daughter, it could also be called an underrated Father-Daughter song as well!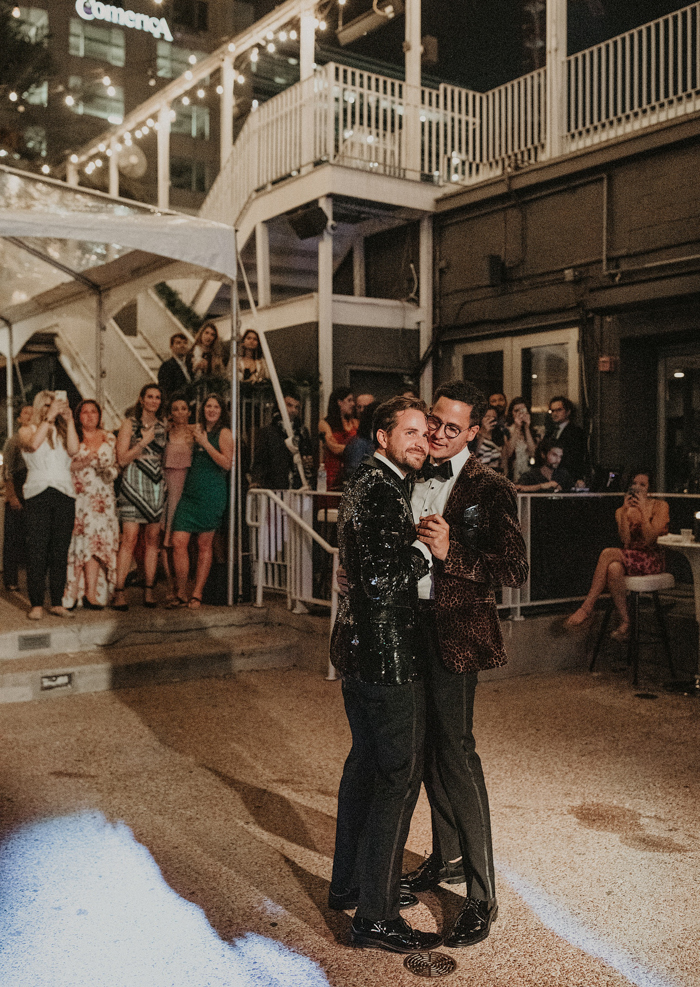 photo by Nikk Nguyen Photo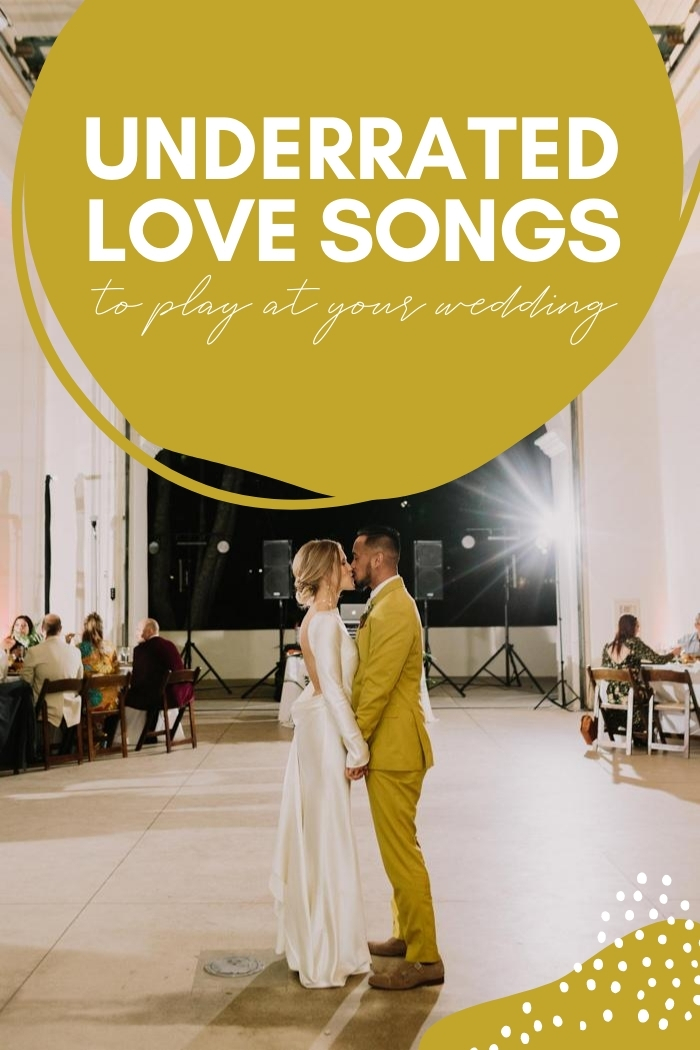 photo by
Let's Frolic Together