In recent years, more couples have embraced the idea of hosting a weekend of wedding celebrations. Attending a wedding can cost guests a lot of time and money, so why not make the most of the experience for your loved ones? This is where a wedding welcome party comes into play. It's like the kickoff to the big celebration, getting everyone in the mood for the big day.
Think of the welcome party as the first chance to say hello to all your guests before the wedding. The best part is you can be creative with it. Some couples host this instead of the traditional rehearsal dinner, while others add it as an extra celebration after the rehearsal. You can even spread the festivities over a few days, with a rehearsal dinner on Thursday, a welcome party on Friday, and the actual wedding on Saturday.
With so many possibilities, it's no wonder that welcome parties have become a regular part of wedding weekends. If you're considering having one, you're in the right place. Here, you'll find tips and ideas on how to make your wedding welcome party a fantastic addition to your special weekend festivities.
FAQs to Planning A Wedding Welcome Party
What is a Wedding Welcome Party?
A welcome party is like the exciting opening act of a grand wedding weekend. It's a special celebration before the wedding itself, meant to kick off the festivities with a bang. The primary purpose of a welcome party is to give your family and guests a chance to meet and mingle before the main event. This gathering is typically more relaxed and informal than other wedding activities, creating an excellent opportunity for the couple to connect with their loved ones in a casual setting.
Who's on the Guest List for the Welcome Party?
One important thing to note is that everyone invited to the wedding is usually welcome at the welcome party. In contrast, the rehearsal dinner is generally reserved for close family members and those directly involved in the ceremony. Sometimes, couples choose to have a formal rehearsal dinner followed by a more laid-back welcome party to include everyone else. If you have lots of out-of-town guests or you're having a destination wedding, a welcome party becomes even more meaningful as it offers a chance to entertain those who've traveled to be part of your special day.
How to Let People Know About the Welcome Party?
You don't need a whole new fancy invitation. Instead, you can include a little card inside your wedding invitations that mentions any extra wedding events, like a cool welcome cocktail party or a chill post-wedding brunch. This way, your guests will know there's more to look forward to. You can also share the details on your wedding website.
Who Pays for the Welcome Party?
While the couple can cover the costs, it's common for parents to share the expenses or for the side of the family that isn't funding the wedding to take care of the welcome party. The budgeting details can vary based on your unique circumstances and preferences, so make the best decision for you and your loved ones.
When is the Best Time to Host a Welcome Party?
Usually, it happens the day before the wedding, and sometimes, if you're feeling extra festive, it might even be two days before the big day. But here's the deal: the timing of your welcome party depends on a couple of essential factors.
First, you've got to think about when your guests will be rolling into town. You want to ensure they're there and ready to have a good time. Second, consider when you're planning to host your rehearsal dinner. Depending on these factors, you can decide when to slot in your welcome party. It can happen after the rehearsal dinner, or you can use it as a replacement for the rehearsal dinner itself.
Where Should the Welcome Party Be?
That's totally up to you, but it should be close to all the other wedding events. Beyond that, you've got free rein. Some couples like to get creative and choose a place different from their wedding venue, adding a unique twist to the whole experience.
What Food and Drink Should be Served?
You may serve whatever you like, but having something to nibble on is a good idea, even if it's just some tasty appetizers. It's your chance to indulge in your favorite food, maybe even some dishes that didn't make the cut for the wedding menu. Think about your favorite eats, dishes with sentimental value, or the cuisine you and your partner bond over on date nights.
Now, let's talk drinks. You don't have to provide alcohol, and you don't have to foot the entire bar bill. But if you're not covering the drinks, let your guests know in advance, either on the invitations or your website. Some couples start by offering one or two complimentary drinks per guest and then switch to a cash bar. It's all about what fits your budget. Keep in mind that this party complements your reception, so enjoy it without going too wild. It's all about ensuring your guests have a great time without feeling tired or unwell for the main event.
What Themes are Best for a Welcome Party?
There are no strict rules, so you can have fun with your ideas. You get to choose how the party looks and feels. It can be fancy, flashy, or relaxed and easygoing—it's your call. You can let the location inspire how you decorate and set the mood. Feel free to do something completely different from your wedding's style. For example, if your wedding uses a neutral color palette, add some bright and bold colors to shake things up.
Welcome Party Ideas
Pizza and Pasta Welcome
Kick off your wedding festivities with a delicious sunset feast featuring delectable pizzas and mouth-watering pasta dishes.
Lakeside BBQ, Paddleboard, and Games
Embrace the lakeside charm by hosting a barbecue bash, trying out paddleboarding, and engaging in various outdoor games.
A Day at the Carnival
As the sun sets, transform your celebration into a vibrant carnival experience with games, colorful decorations, and sweet treats.
Western Mountain Party
Transport your guests to the Wild West with a mountain-themed party that promises an adventurous and unforgettable evening.
Lawn Games
Create a relaxed and fun atmosphere by setting up entertaining lawn games for your guests.
Pool Party
Dive into excitement with a lively pool party that promises a refreshing and spirited celebration.
Low-Key Diner Dinner
Opt for a low-key dinner featuring delicious hotdogs and sandwiches in a diner-style setting for a delightful contrast to a formal black-tie wedding.
Welcome Party Outfit Ideas
Welcome parties are typically relaxed, so wear smart casual attire like maxi dresses, minis, rompers, or jumpsuits. Consider the location and vibe unless there's a specific dress code. Here are our top picks of wedding party outfits to help you look your best.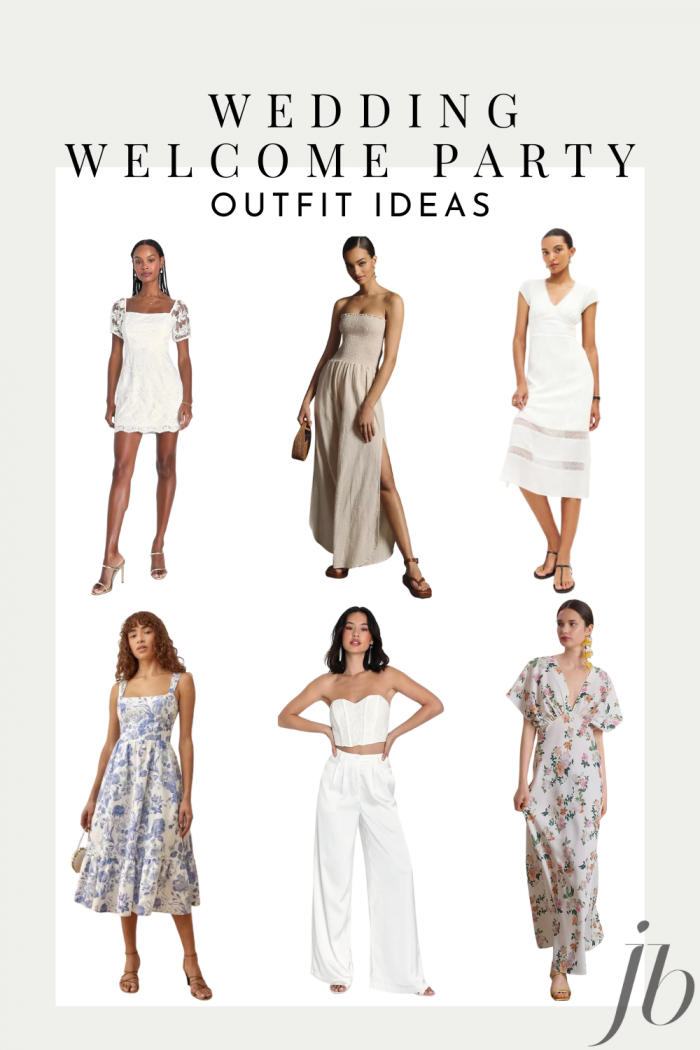 1.Avid Admiration White Embroidered Sequin Puff Sleeve Mini Dress 2. Peixoto Harriet Jumpsuit 3. Bucatini Linen Dress 4. Lewa Dress 5. Incredible Essence White Lace Strapless Two-Piece Jumpsuit 6. BHLDN Leila Deep-V Flutter-Sleeve Satin A-Line Gown
Now that you're all set with the scoop on planning a welcome party, why not dive into our complete guide for crafting an unforgettable wedding weekend? We've got you covered, from entertainment options to reception after-party ideas that will keep the celebration going strong. Your wedding weekend is a once-in-a-lifetime event, and we're here to help you make every moment count.