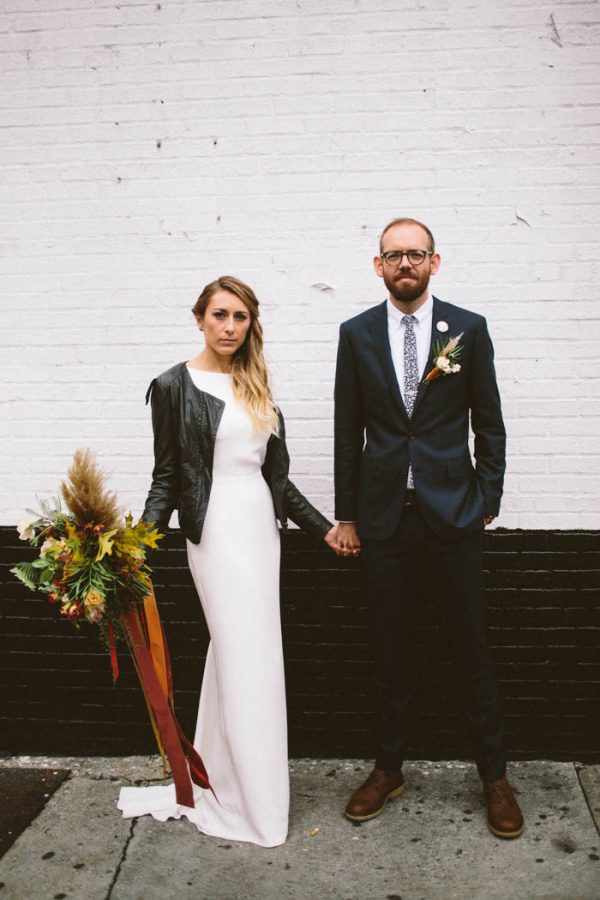 Kristin and Courtney's wedding at The McKittrick Hotel was everything we love about stylish New York weddings and so much more. The couple had one goal in mind: "Above all, we wanted our wedding to feel like a love letter to New York City and to the incredible humans in our lives." They chose one of their favorite places in the city, which offered a cozy rooftop ceremony and an intimate dinner-party style reception. The bride, who is an art therapist and self-proclaimed calligraphy enthusiast, and her groom created nearly every detail – from the hand-painted, personalized invitations to the signs and programs to the memory wall that included a photo of every guest. It was quite an artistic feat, and we're so grateful Alyssa McElheny Photography was there to capture every special detail!
The Couple:
Kristin and Courtney
The Wedding:
The McKittrick Hotel, New York, New York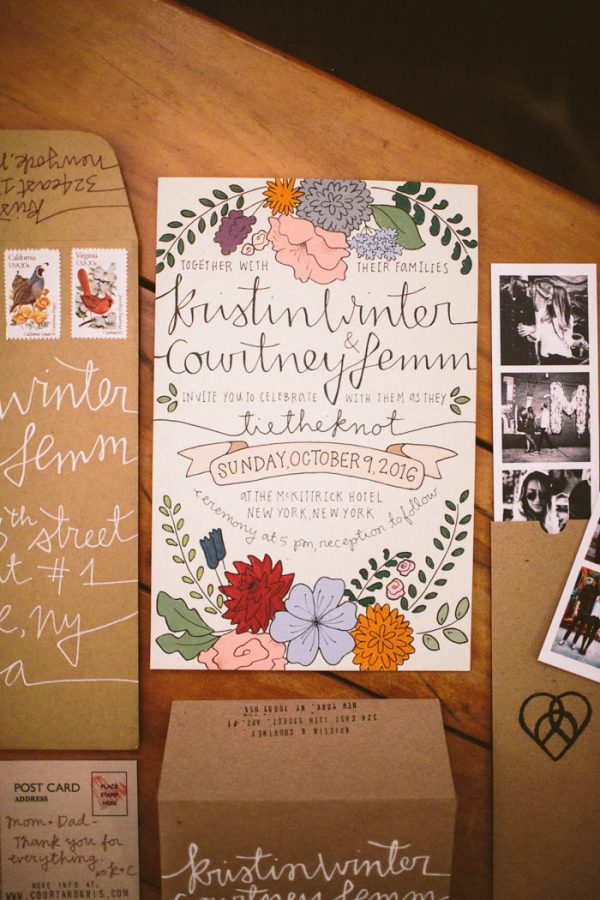 As a southern boy and a west coast girl who met abroad and moved to the Big Apple on a leap of faith, we hold our city close to our hearts not only for its vibrant culture, but as the place we fell in love and began our lives together. As so many of our closest friends and family had yet to visit NYC, we knew that we wanted to give them a glimpse into "our New York" by sharing with them the favorite local hangs and secrets spots that make this concrete jungle so very special to us.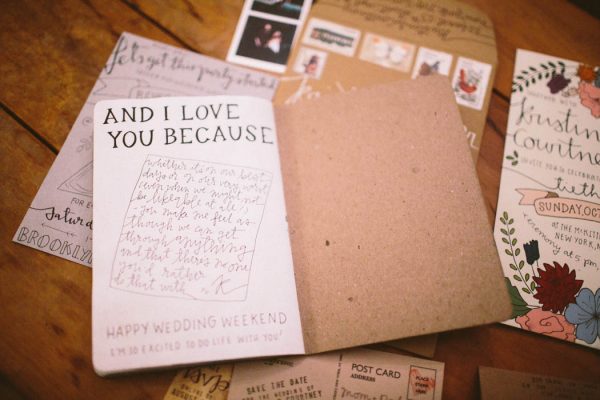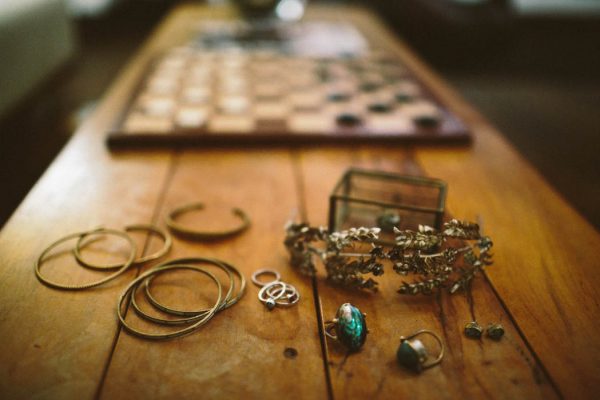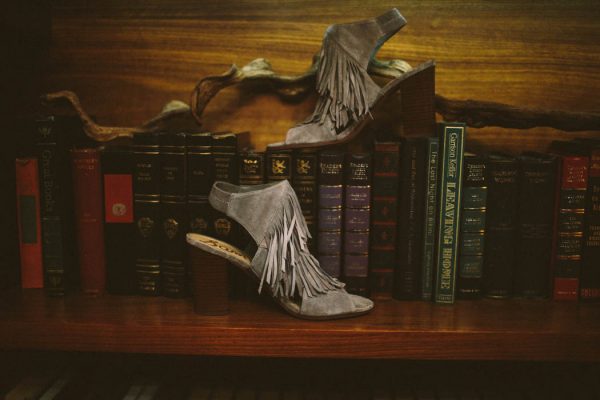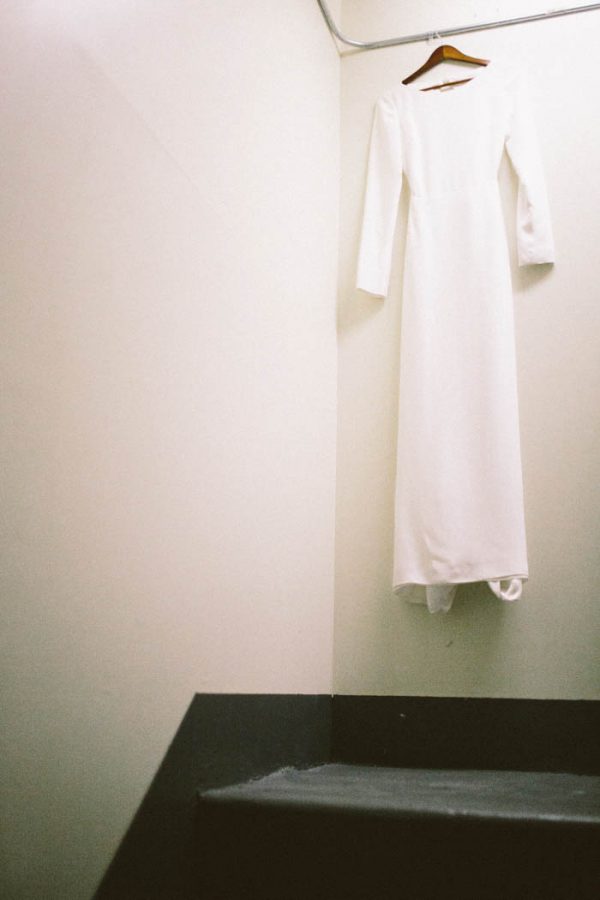 This thought process guided our entire wedding weekend, from the rehearsal dinner at Freemans Restaurant, an old-world tavern hidden at the end of a graffiti-covered alley, to our "Meet and Greet" at the Brooklyn Art Library, home of the traveling Sketchbook Project (a unique crowd-funded sketchbook museum to which I had contributed shortly after meeting Courtney many years ago). There, out-of-town guests received a welcome bag full of NYC staples, including black & white cookies, mini-pretzels, subway-themed tokens, and guides to the city.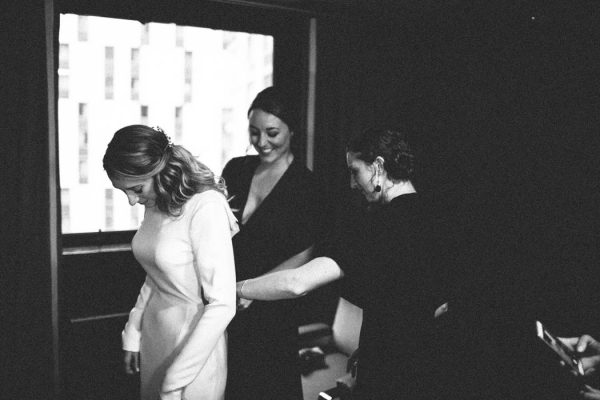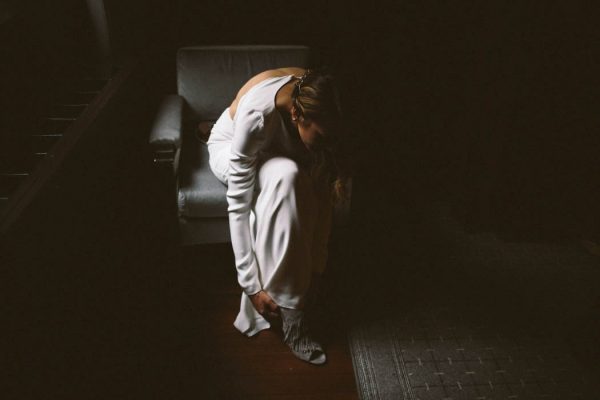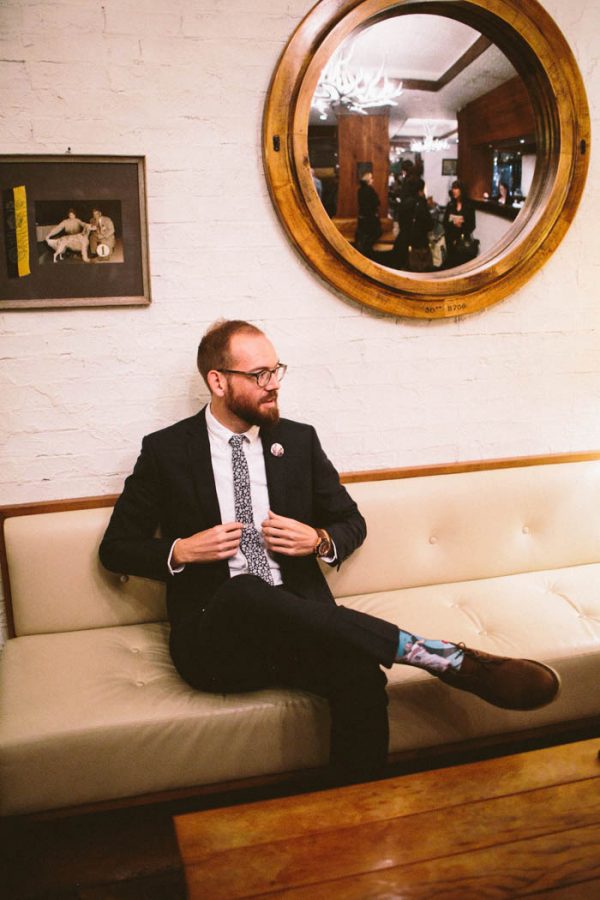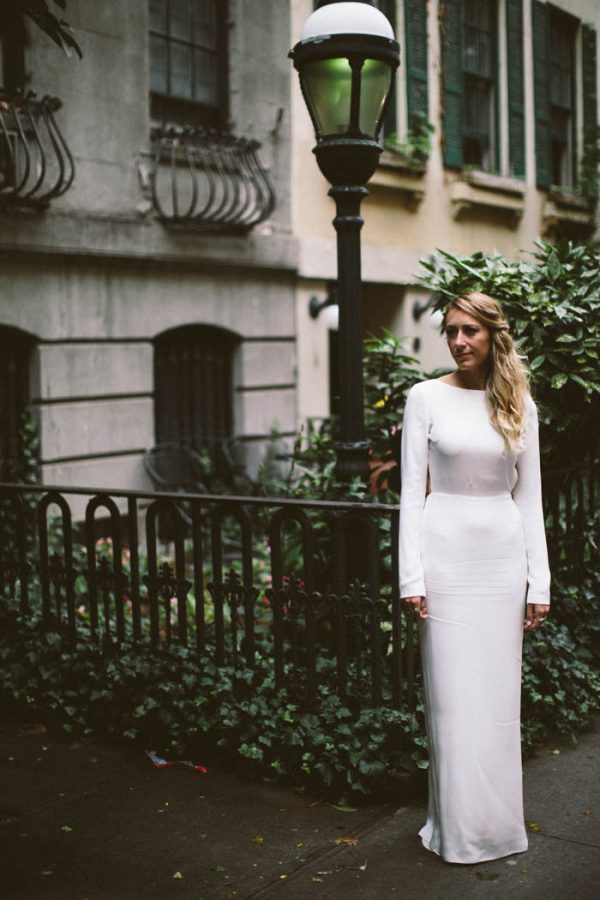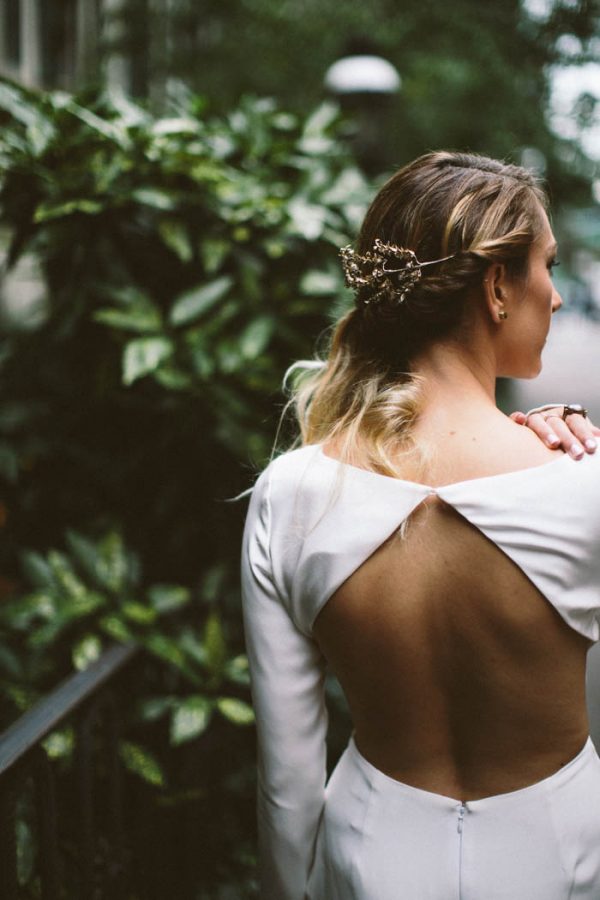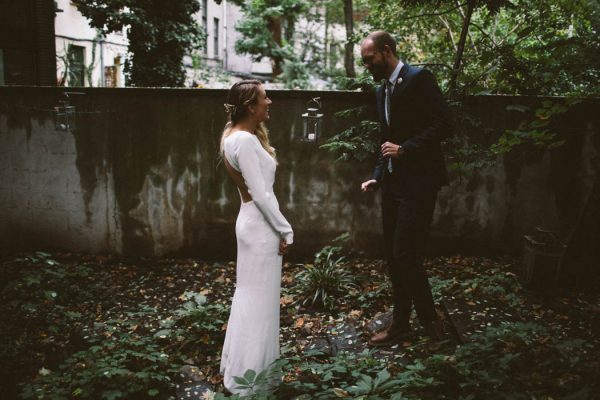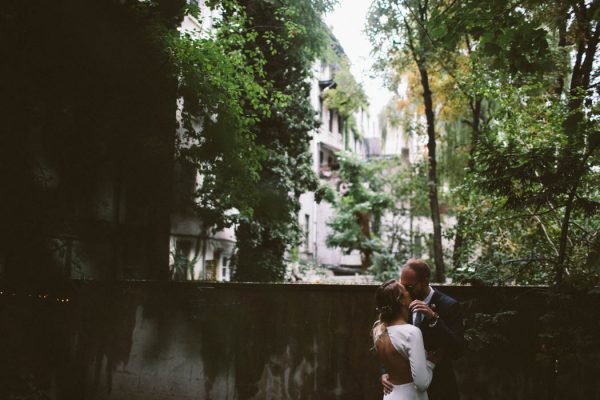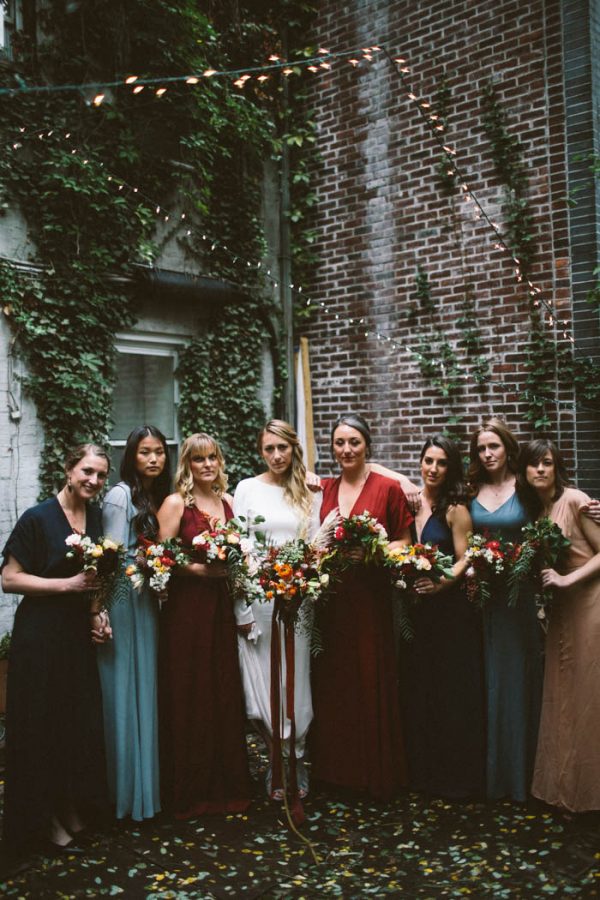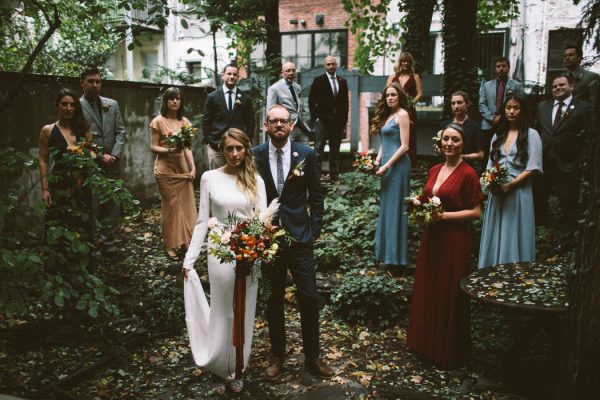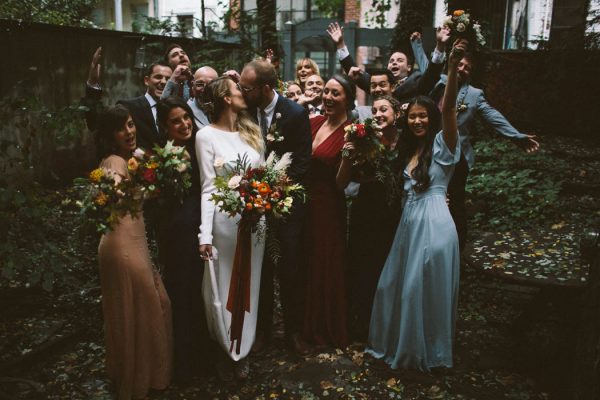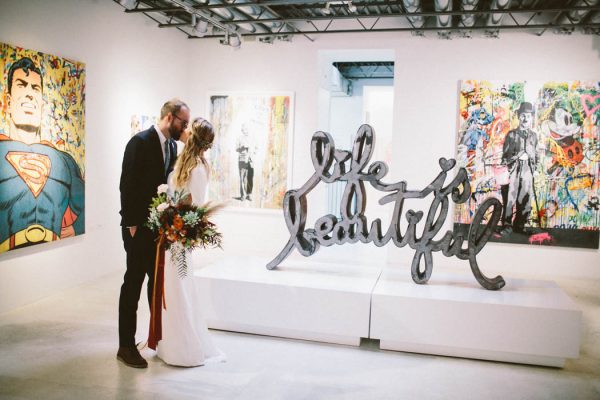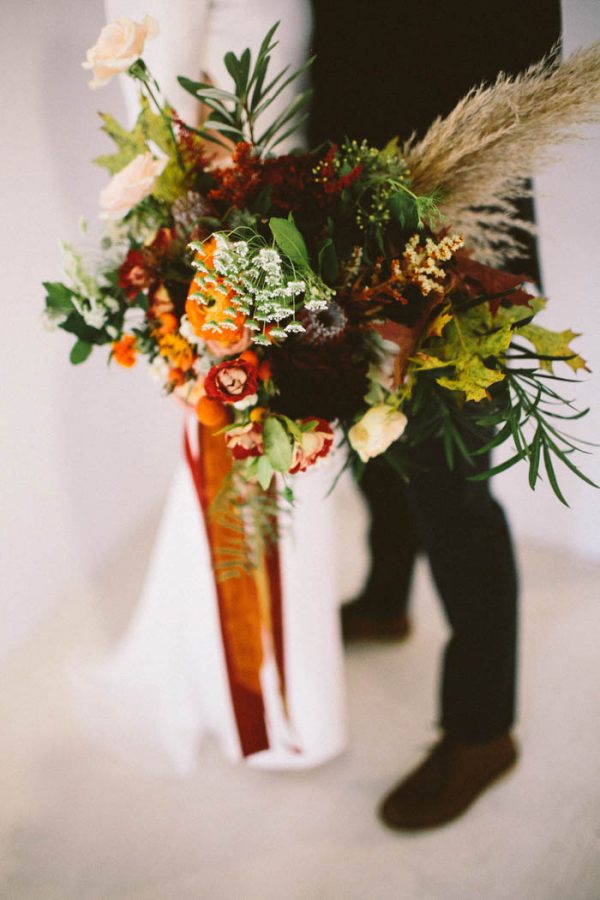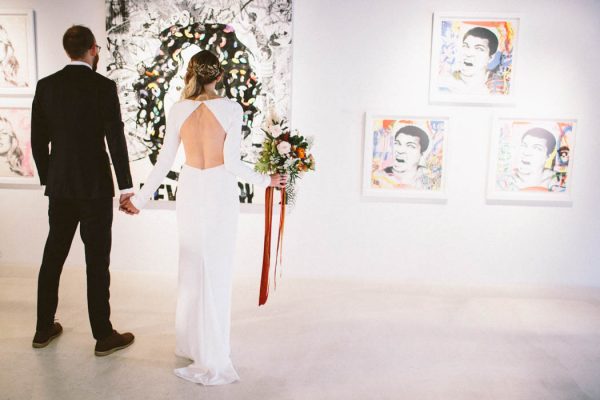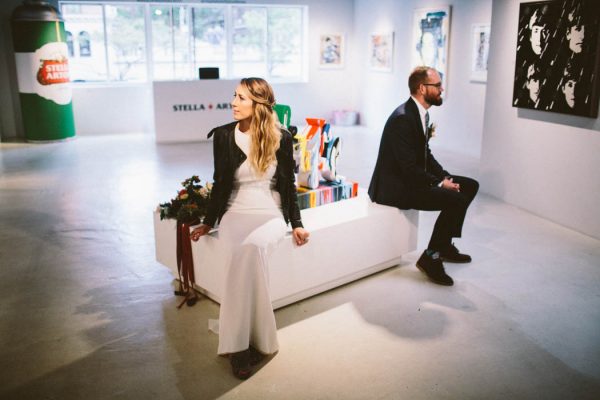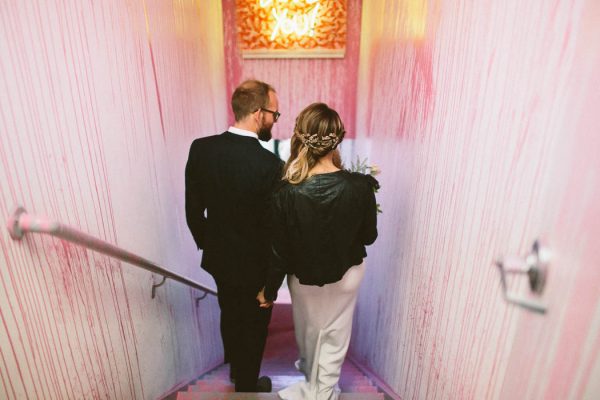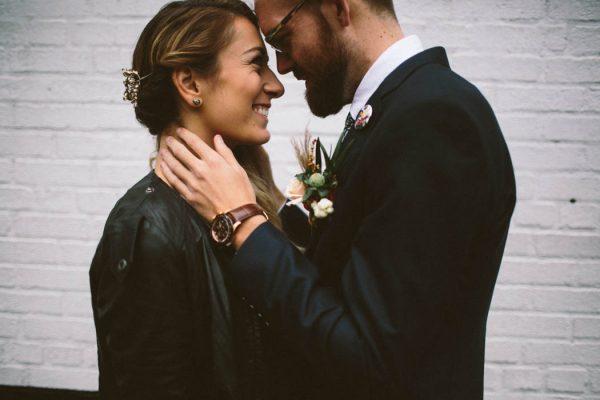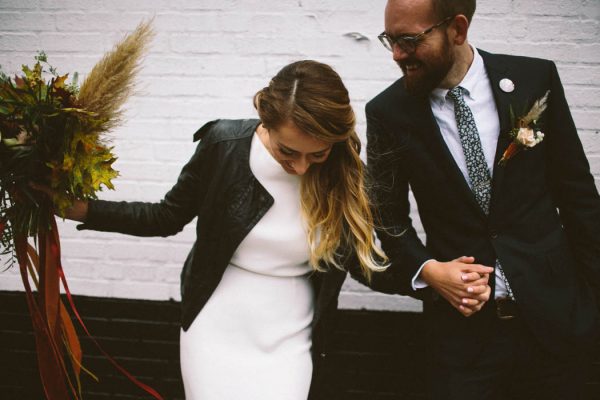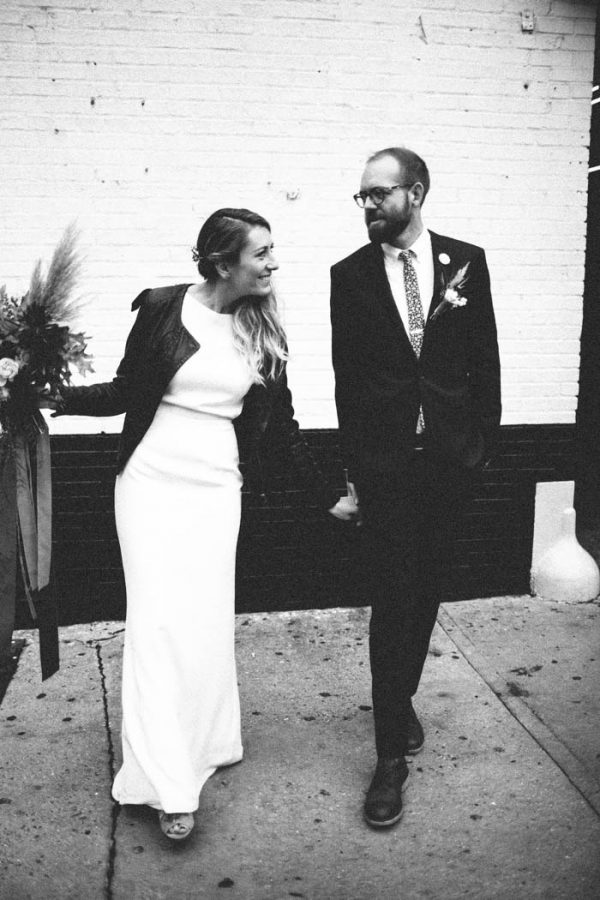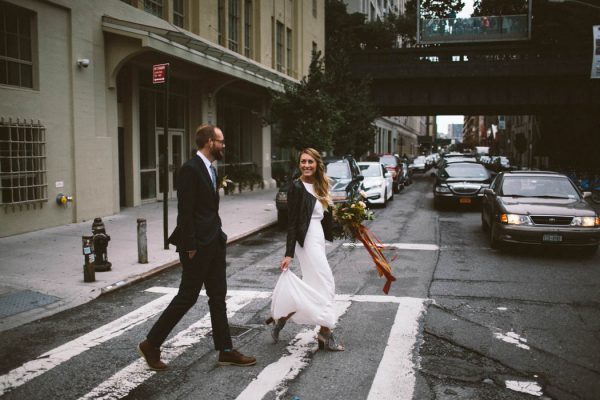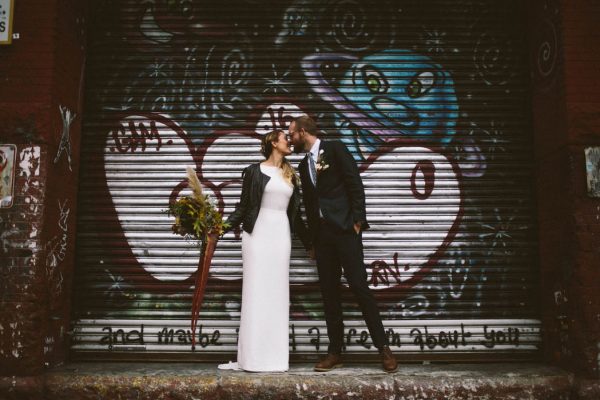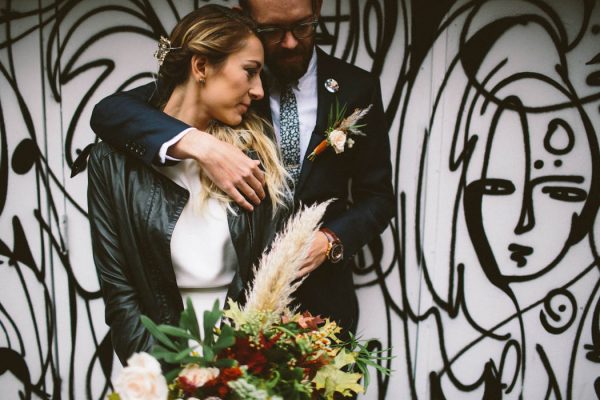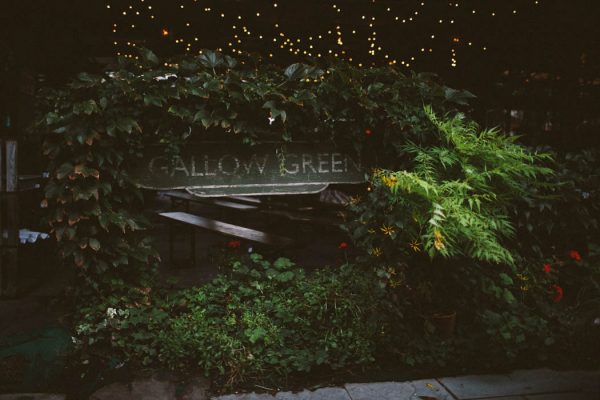 The ceremony turned out to be the most memorable part of the day! After spending most of our planning focused on making the experience special for our guests, I hadn't expected that moment to be quite so meaningful. But standing on that rooftop surrounded by our favorite people, listening to our officiant surprise us with words of love and encouragement from family and friends, hearing Court's beautiful (and hilarious) vows, sharing a champagne toast before walking back down the aisle, and watching the clouds part as the sun finally hit our faces for the first time that day… turns out, it was pretty darn magical.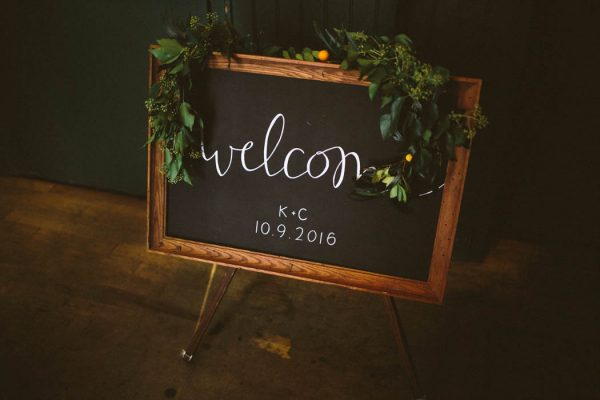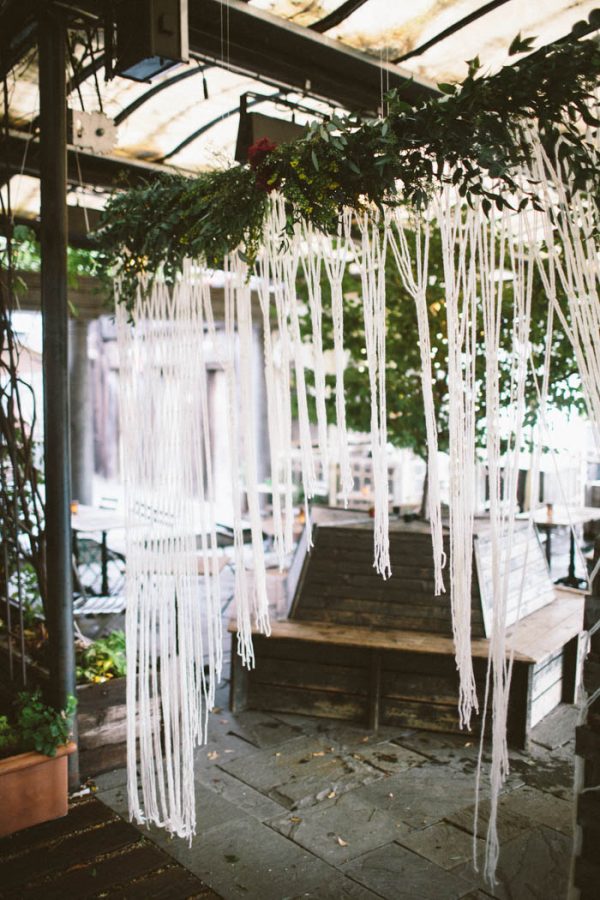 While we wanted as many of our loved ones present, it was also important that the day maintain the intimate feel of a smaller wedding. Therefore, as an art therapist and calligraphy aficionado, I immediately gravitated towards DIY projects that would allow our guests to feel more connected to us and to the day. PHEW – This was truly a labor of love. Along with hand-making the signs, ceremony programs, menus and table numbers, we hand-painted EACH and every wedding invitation, to gift all of our loved ones with a little piece of art; we also hand-dyed and lettered the escort cards with brass stamped table numbers and iron skeleton keys as a tie-in to the "hotel" theme.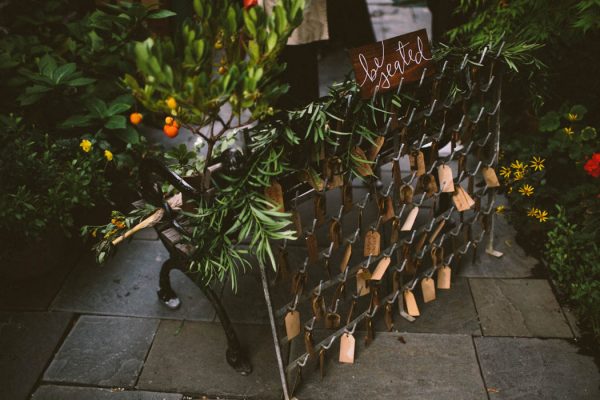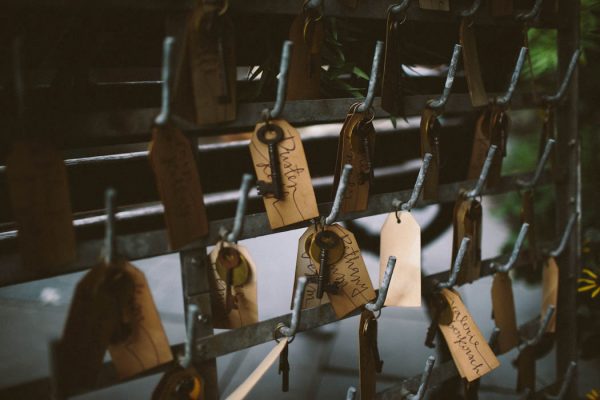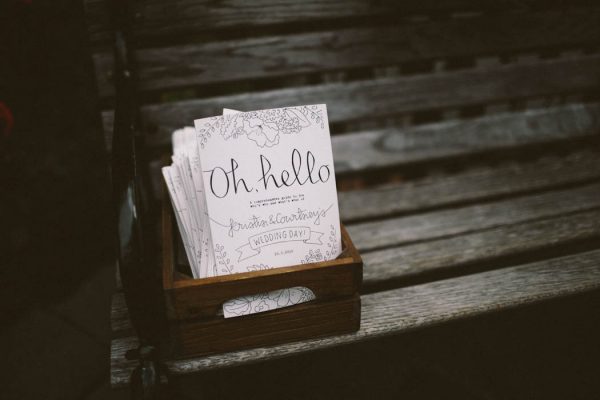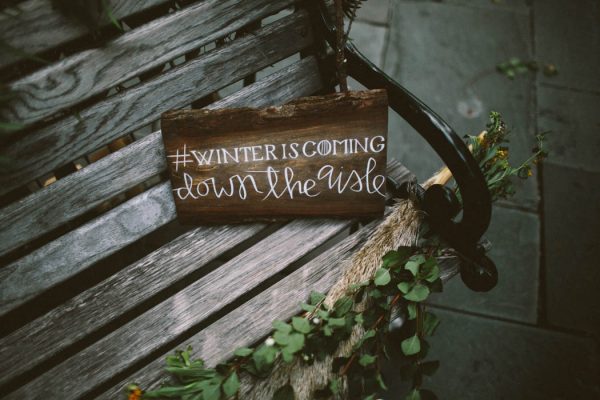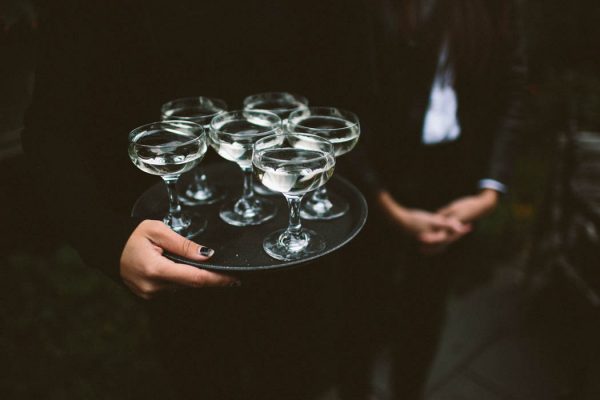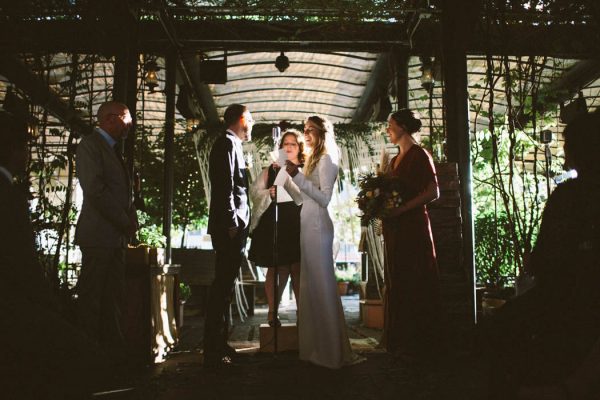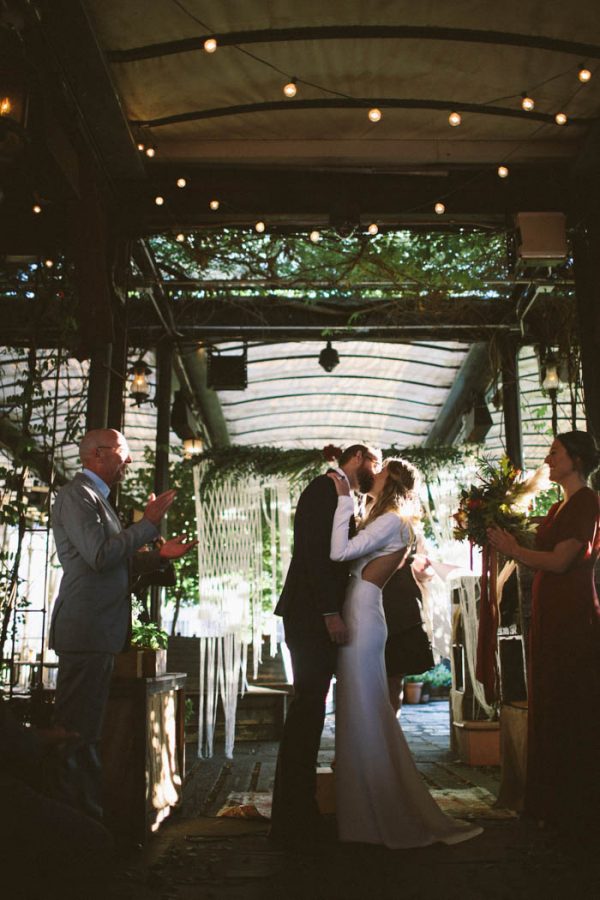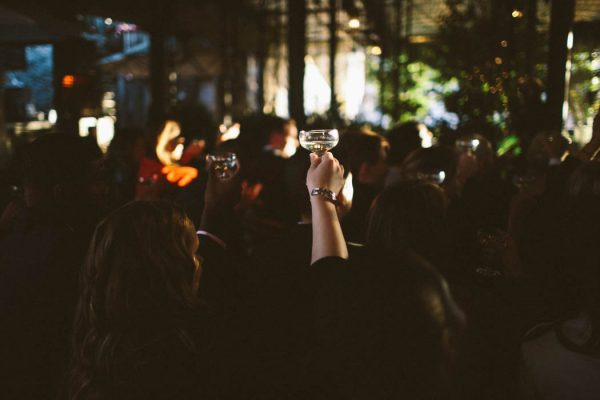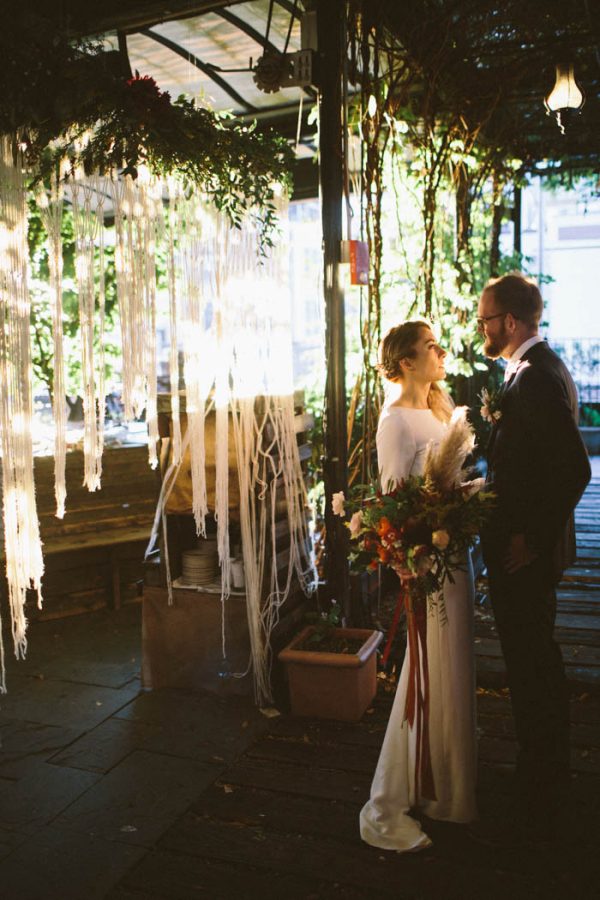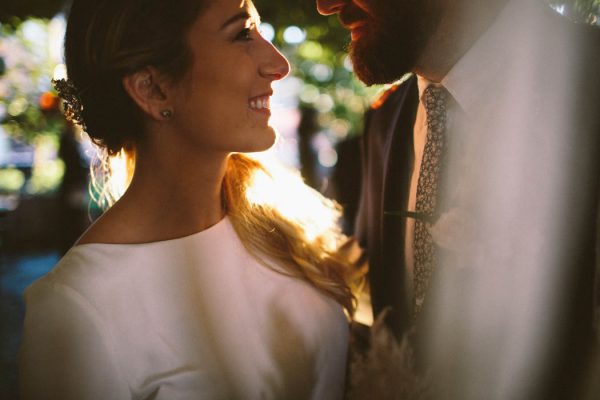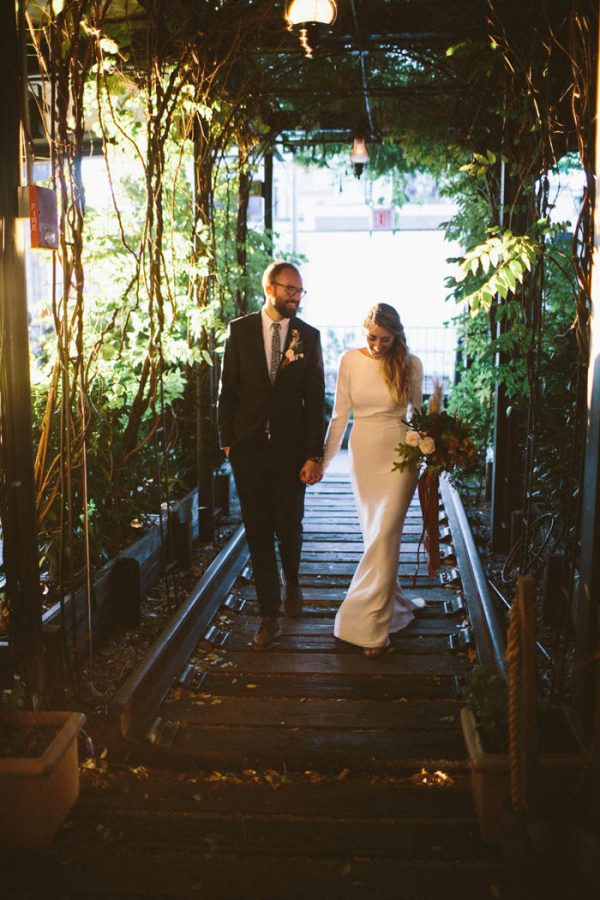 Our desire to connect our favorite people to our favorite places made the wedding venue an obvious choice. Built in the spirit of an abandoned 1930s hotel, the McKittrick is home to multiple restaurants, bars, and, most famously, to the interactive play Sleep No More. Best described as Macbeth-meets-Hitchcock, this immersive theater was our first truly unique New York experience. Since, we have returned time and again for cocktails at Gallow Green, their lush rooftop, dinner at the Heath, their prohibition-era restaurant, and dancing with the Heathens, their mind-blowing house band. When we discovered that they had begun offering wedding packages, we were ALL in (literally).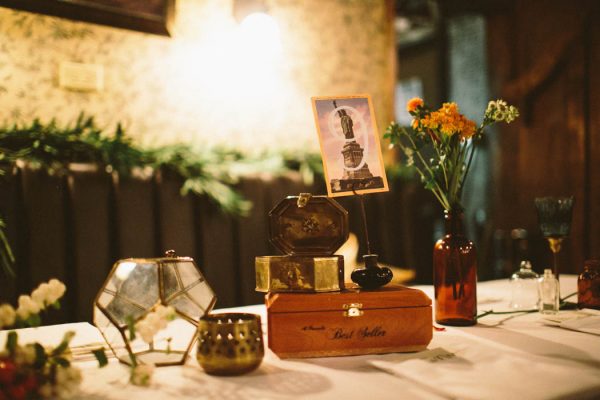 The décor was largely dictated by the vintage aesthetic of the venue with some bohemian touches woven through, like the Mission Fiber Art macramé ceremony backdrop created by a close friend. To offset the cost of the space, we organized much of the decorations ourselves by collecting amber bottles, brass candlesticks, cigar boxes, antique glass cases, and vintage postcards at flea markets and yard sales. Luckily, The McKittrick Hotel is hardly a blank canvas, and is abound with eclectic odds and ends of its own!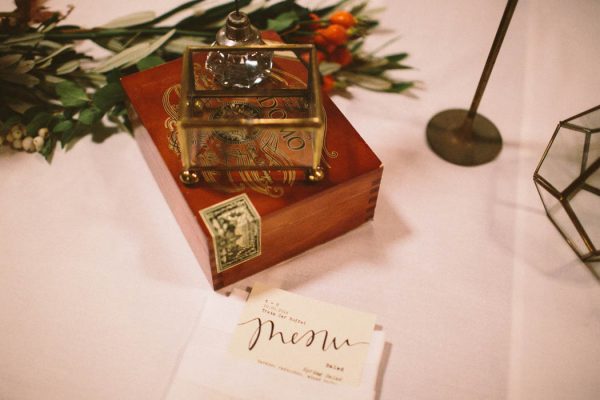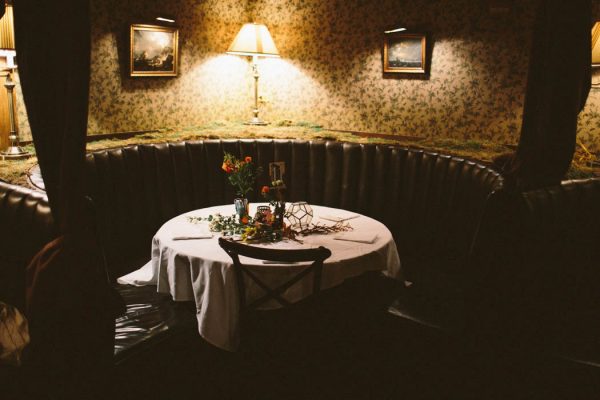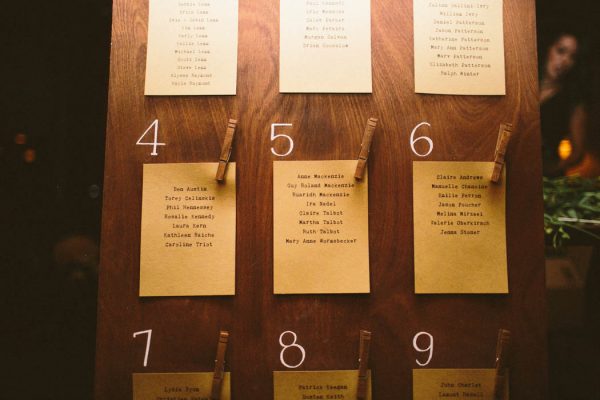 We included "anti-small talk" question cards written by one of our favorite authors, Chuck Klosterman, in the cigar boxes at each of the tables as quirky conversation starters. These were the same question cards that Court brought to our first date!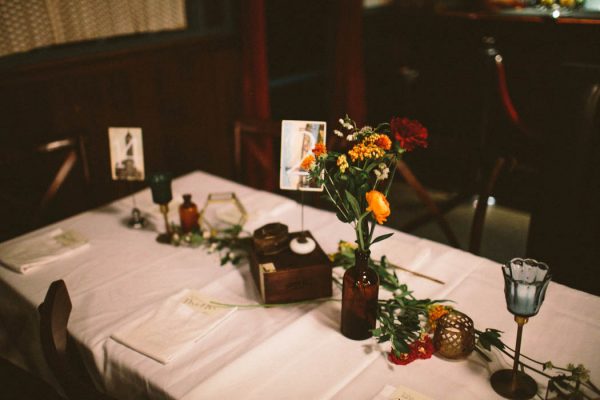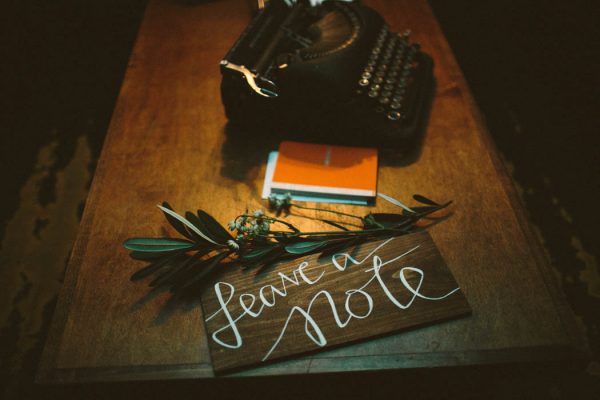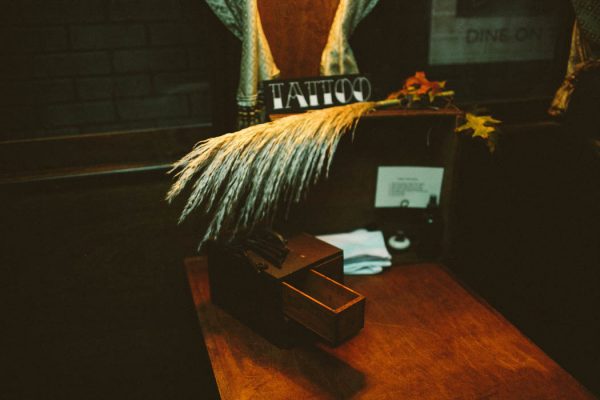 We created a "Memory Wall," which included a Polaroid picture of a moment shared with each of our guests, along with a description of that memory. We asked that our friends and family "trade in a new memory for the old one" and provided Polaroid cameras and props at our DIY photo booth station. Although scouring through social media for photos took some time, it allowed us to truly reflect on the significance of their presence in our lives.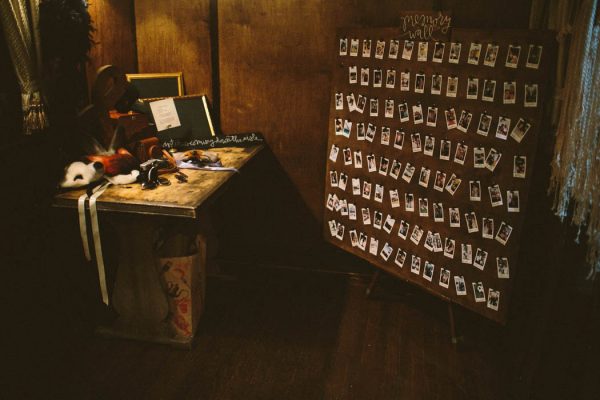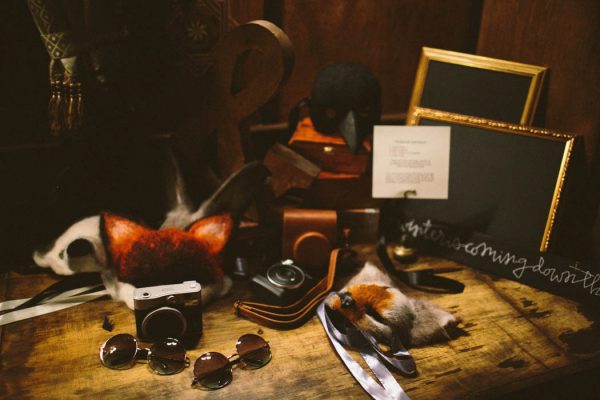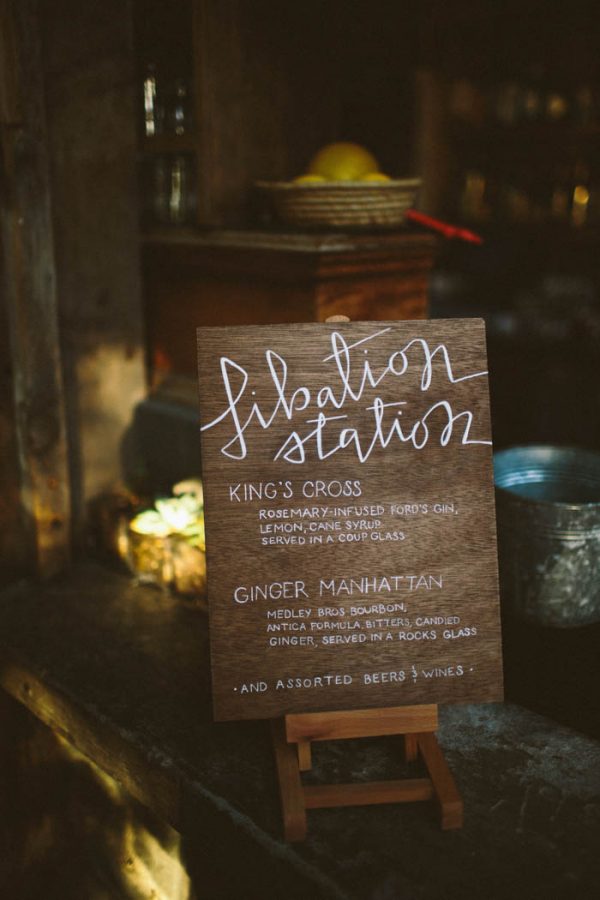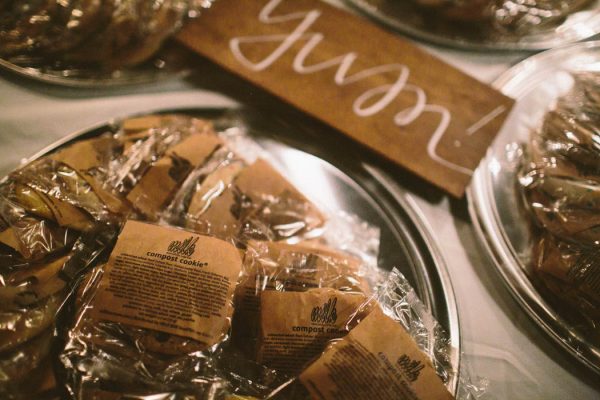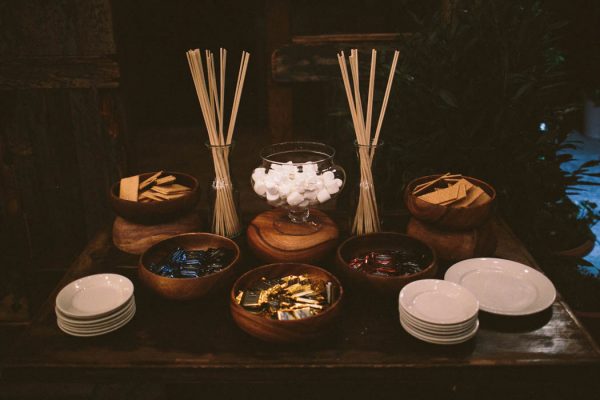 Processional – "This Must Be The Place" by Talking Heads
Bridal Processional – "Life On Mars?" by David Bowie
Recessional – "Come On Eileen" – Dexy's Midnight Runners
First Dance – "I Found You" by Alabama Shakes
Father-Daughter Dance – "What A Wonderful World" by Louis Armstrong
Mother-Son Dance – "Take Your Mama" by Scissor Sisters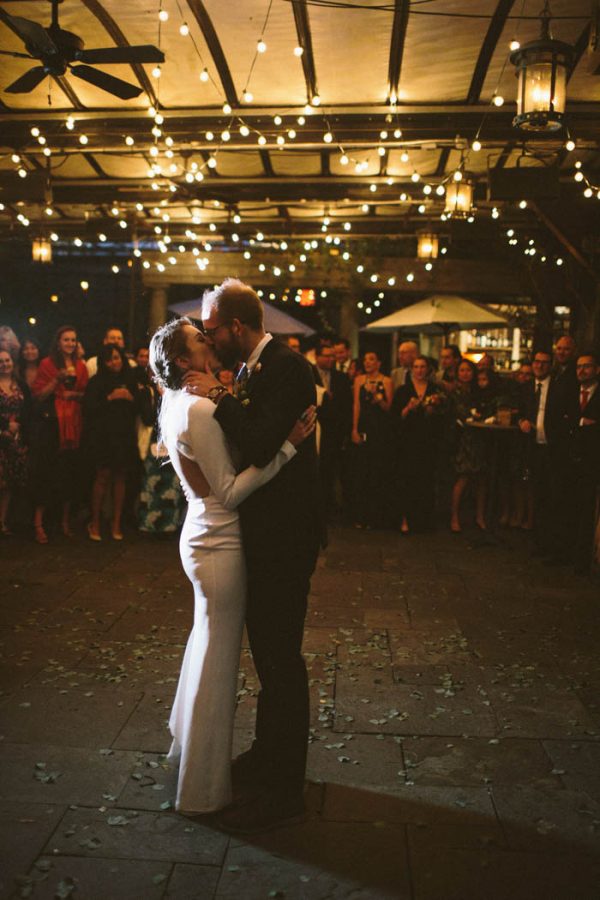 Congratulations to Kristin and Courtney, and a special thanks to Alyssa McElheny Photography for sharing these lovely wedding photos with Junebug! Want more stylish big city wedding inspiration? Check out this urban glam Toronto wedding at the Fermenting Cellar!