Sofia and Adam are all about going big or going home, and when it came to their wedding plans, they aimed for the stars! Their goal was to throw an iconic New Year's Eve extravaganza that was more than just a wedding. It was a grand black-tie gala and a dance party rolled into one, with all their favorite people in the mix. To turn this wild Weylin wedding dream into reality, they assembled a dream team of wedding pros who could make miracles happen. And let's just say calling it a success would be the understatement of the century.
The couple's choice of the former Williamsburg Savings Bank embodied the Gilded Age glamor, featuring towering 80-foot hand-painted ceilings and intricate baroque details. It was the perfect place to exchange their vows. After their ceremony under the ornate dome, a speakeasy-inspired cocktail hour followed. For the reception, the same space was transformed with a mix of long and round tables, vibrant centerpieces, and expert lighting to accentuate the venue's grandeur. Aerialists added a unique touch by pouring champagne, and the night reached its peak as disco balls descended during the New Year's countdown, with cannons shooting gold and silver streamers at midnight. A truly grand way to ring in the New Year!
The couple redefined the idea of "you only get married once, so go all the way." From the 360-degree photo booth and the personalized temporary tattoos to the glittery streamer cannons, they went all out to make sure their guests had an amazing time, and they did it in a truly fabulous way. Keep scrolling to see every aspect of their extravagant celebration, all thoughtfully documented through the lens of Junebug member The Drakes.
The Couple:
Sofia and Adam
The Wedding:
Weylin, Broadway, Brooklyn, New York, United States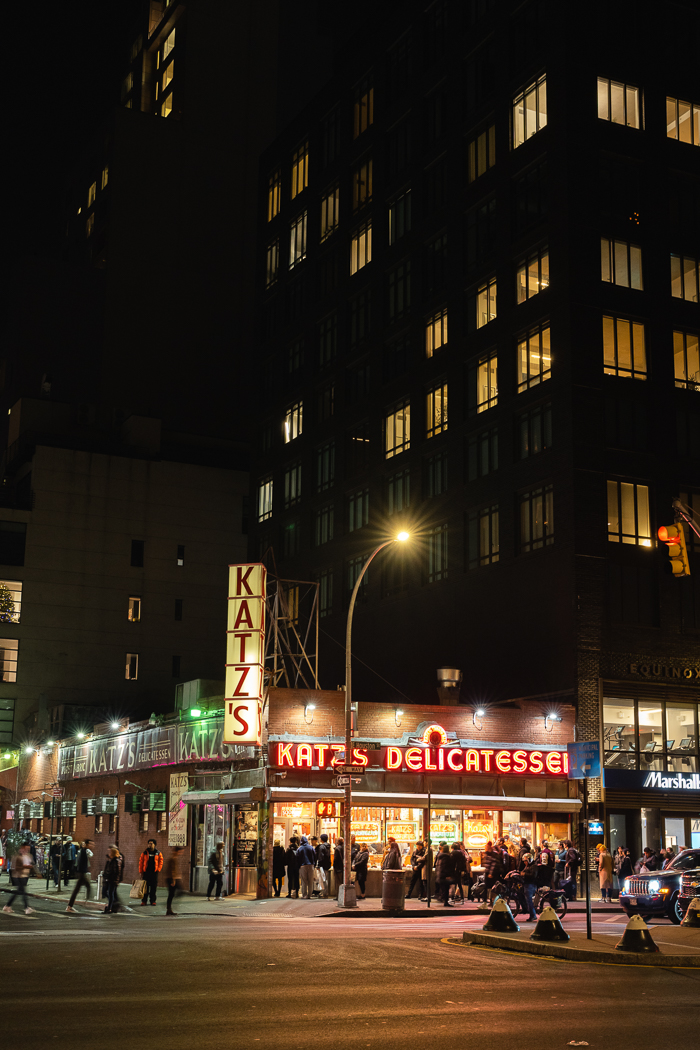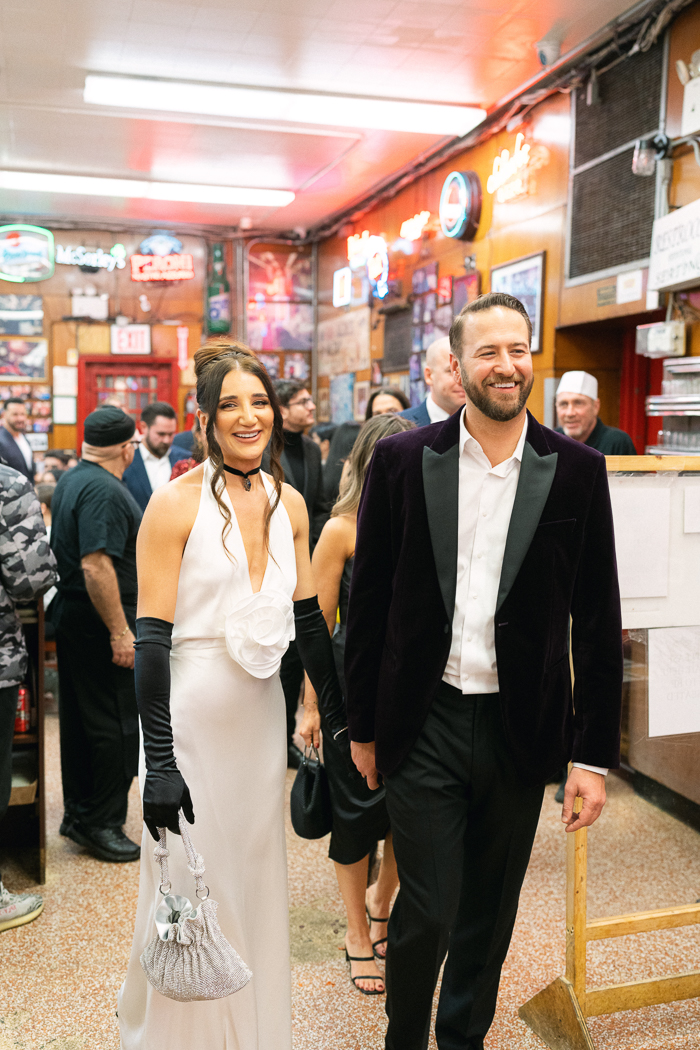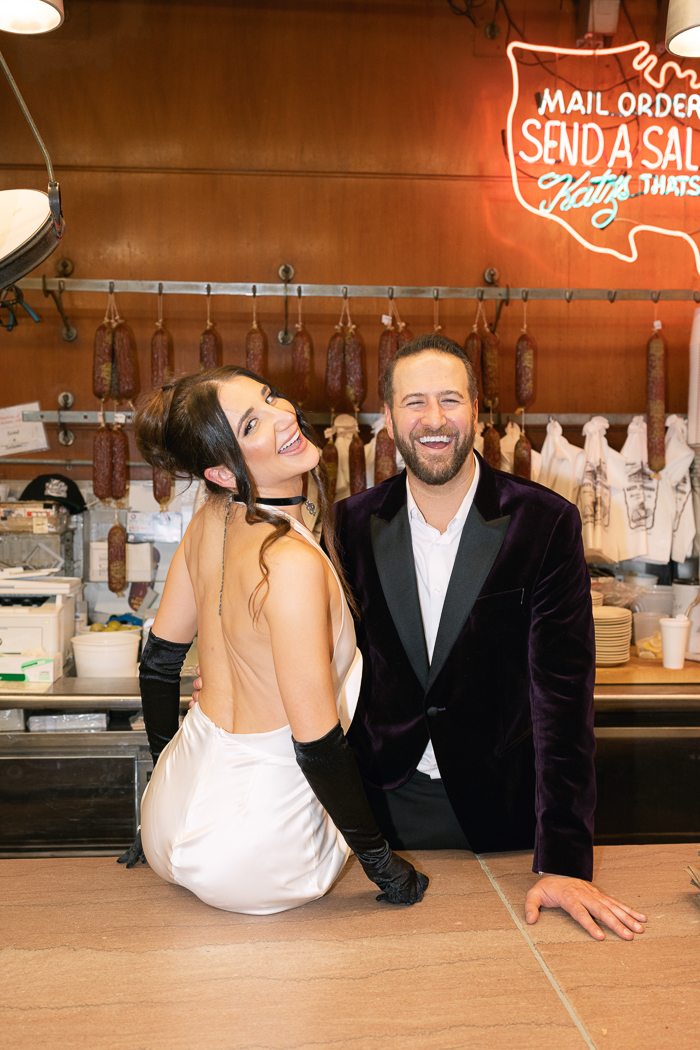 Kicking Off their Weylin Wedding Weekend With a Lowkey Gathering
Our wedding weekend began with a lovely gathering at our penthouse suite in Hotel Indigo, located on the Lower East Side. This massive suite had two floors, high ceilings, three terraces, and oversized windows that let us see the New York City skyline. After the welcome drinks, we walked a short distance to Katz's Delicatessen for our rehearsal dinner. It's a famous place in New York. A super long line was outside, but our guests got special treatment. We went right in, past all the people waiting, which felt amazing. Inside, we saw the floor was covered in sawdust. They gave us paper menus and platters of food like hot dogs, knishes, pickles, and sandwiches. It was a fun contrast to what we planned for the next night—a fancy black-tie event.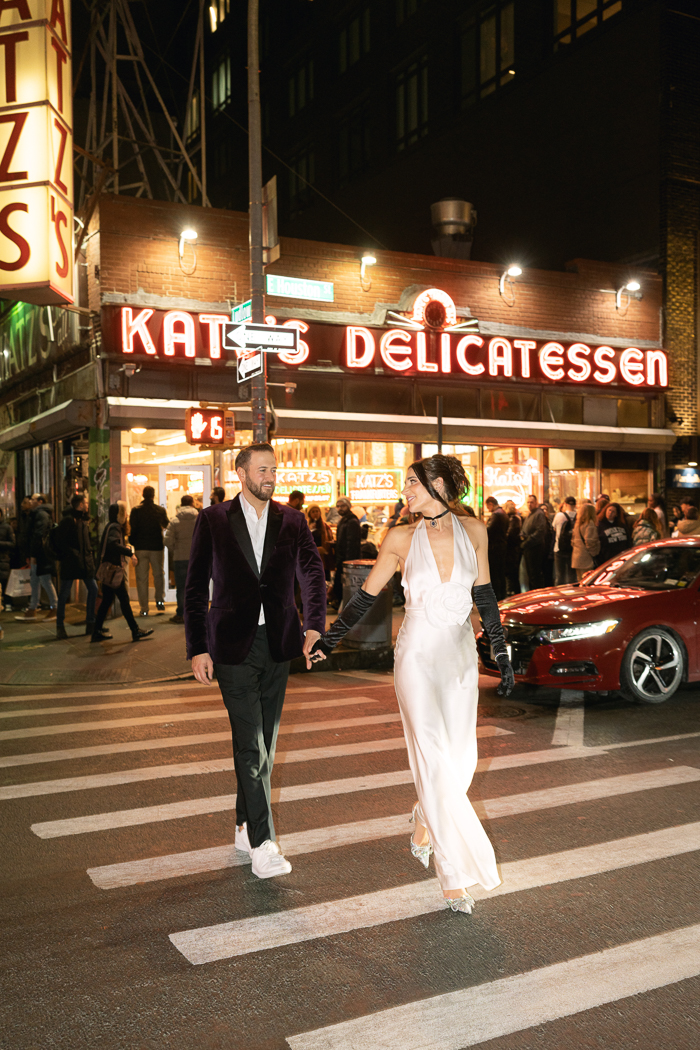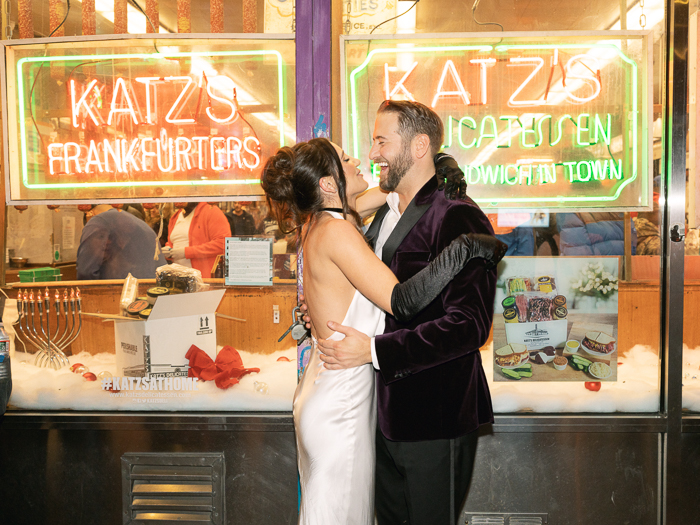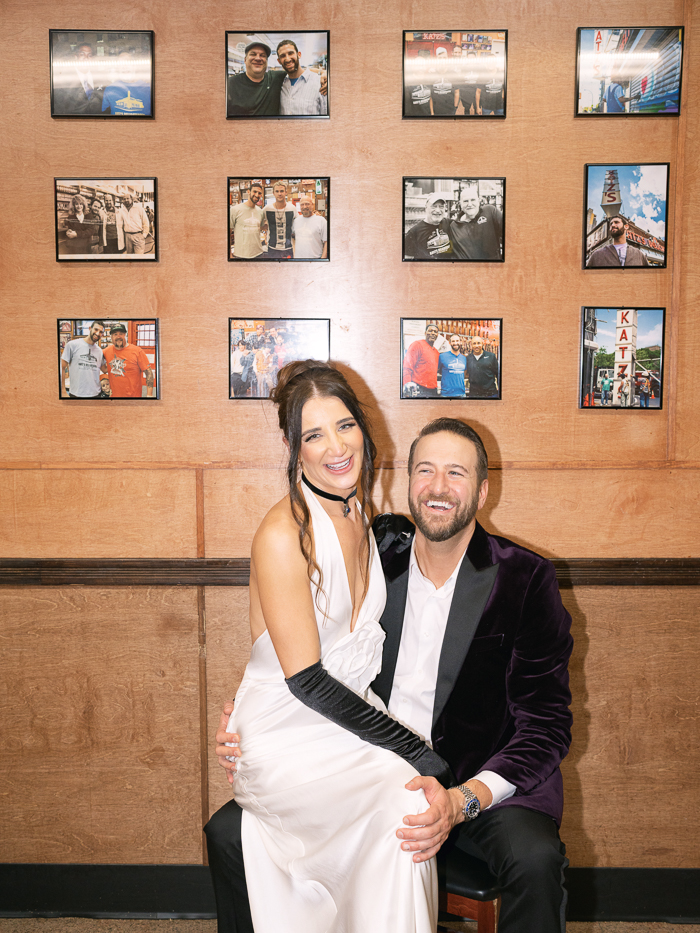 Why They Chose to Get Married at the Weylin
When planning our wedding day, Adam and I decided to celebrate our love at the Weylin in Williamsburg, Brooklyn. This incredible venue, originally established in 1875, used to be the Williamsburg Savings Bank. It's like a time capsule from the Gilded Age, with ceilings that stretch up to 80 feet high, two stunning rotundas adorned with hand-painted ceilings, and more intricate and ornate details than you'd find in a 17th-century French cathedral. Being in this space made us feel like we were part of a rich history that existed long before our love story even began. We knew that, just like the Weylin, our love would stand the test of time. It was the perfect place to celebrate the beginning of our journey together.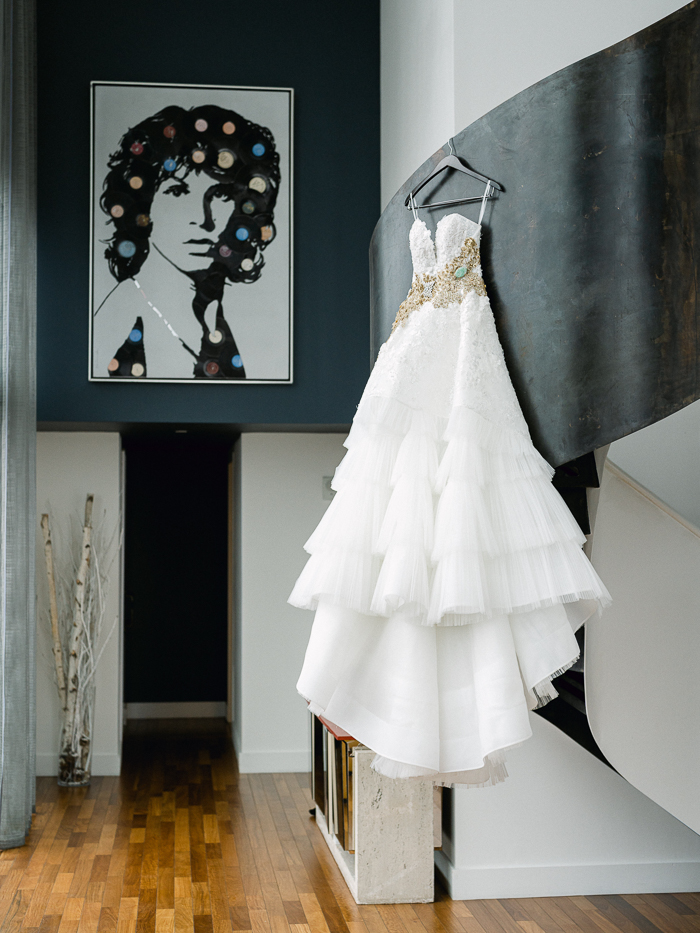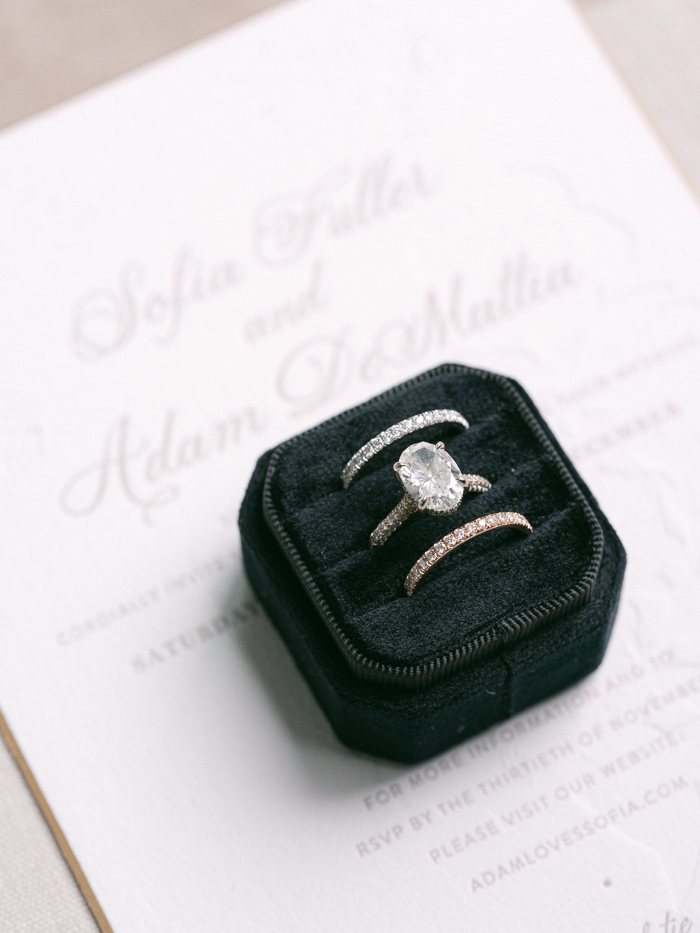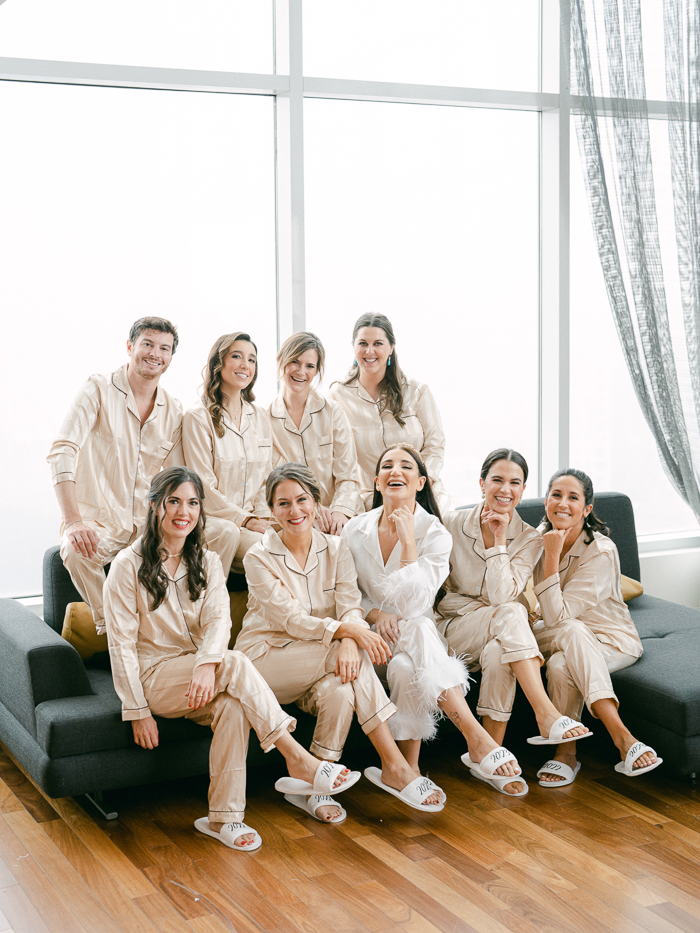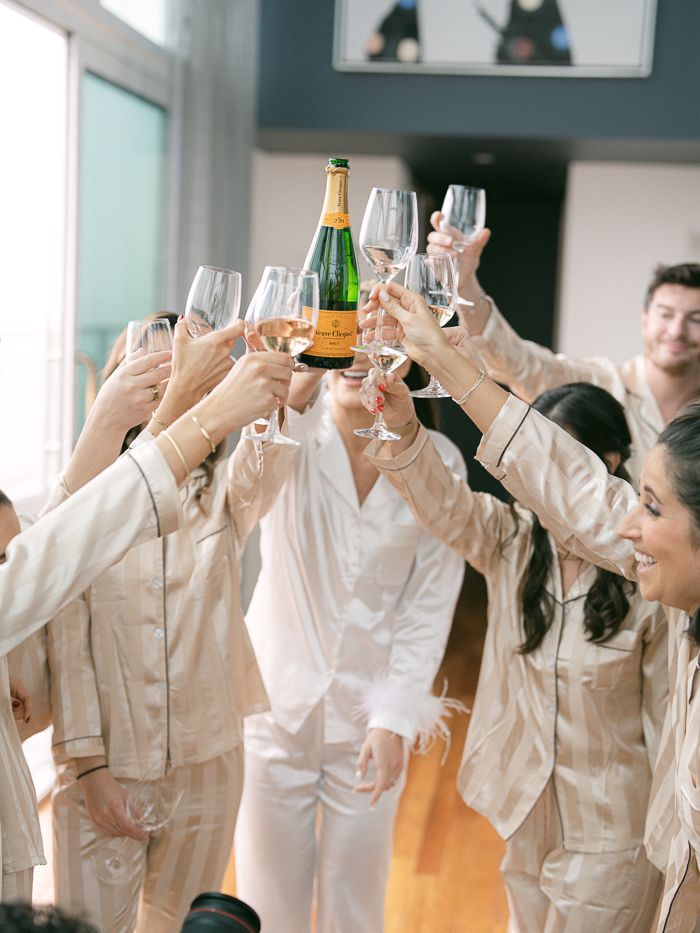 Personalizing Their Weylin Wedding Ceremony by Having Their Best Friends Officiate
We did things a bit differently at our wedding and asked two of our close friends to be in charge instead of a traditional officiant. We had two simple wishes for them. One, to use the traditional wedding vows because we found them very romantic. And two, to say these promises to each other, showing how our lives were coming together. It was a special way to start our marriage journey.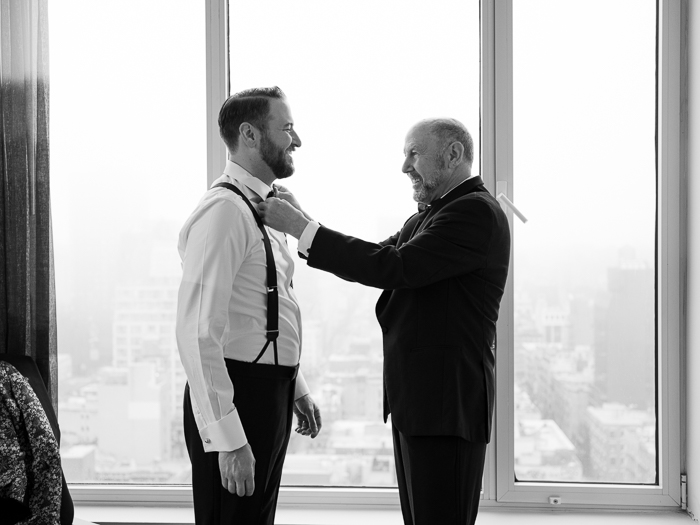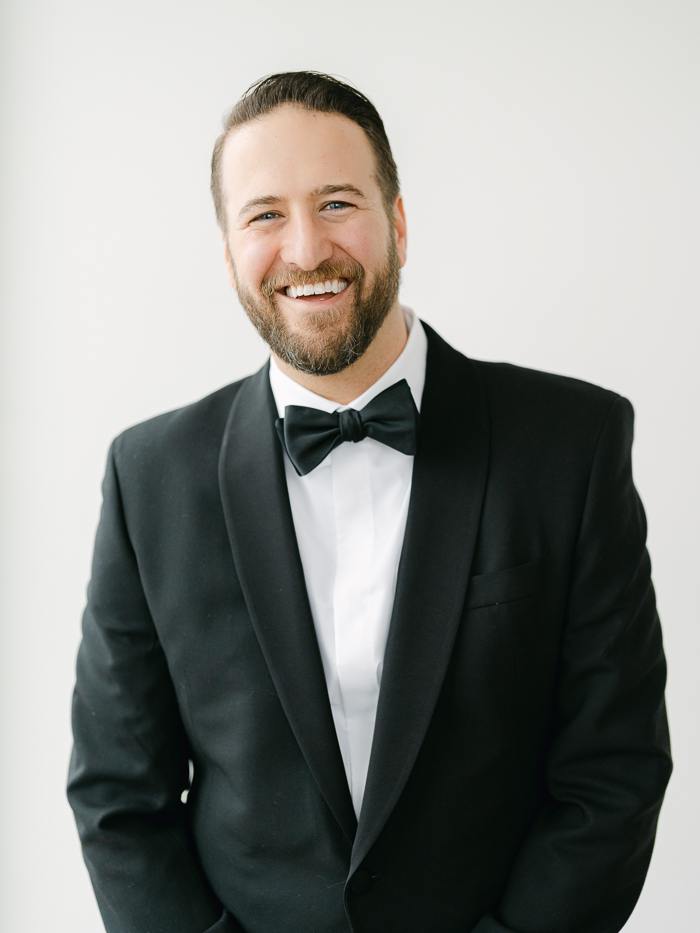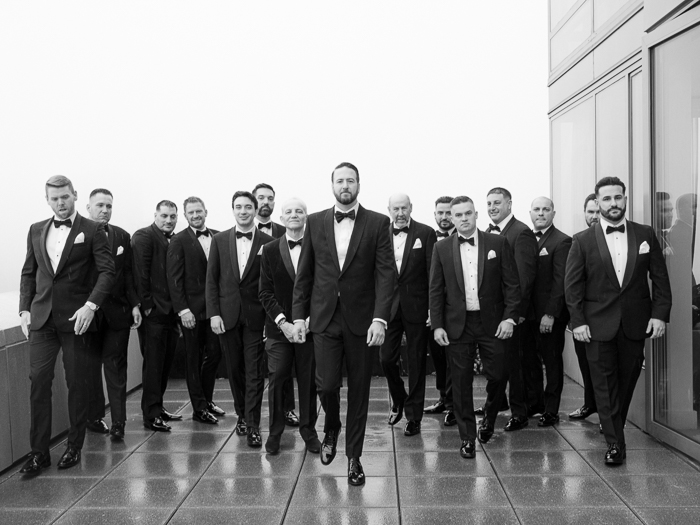 The Bride's Personal Take on a Beloved Tradition
I followed an old tradition for good luck on our wedding day: "Something old, something new, something borrowed, something blue." For my "something old," I used two brooches that belonged to my grandmother, Tanya, and had them incorporated into my beautiful wedding dress. My "something new" was a custom wedding dress created by the talented designer Mark Ingram. I borrowed a tennis bracelet and a pair of diamond stud earrings from the same jeweler who worked with Adam to design my unique engagement ring and our wedding bands. And, to fulfill the "something blue" part, I had the words "I love you!" written in Adam's handwriting sewn into the fabric of my dress, which came from one of his cherished blue chambray shirts.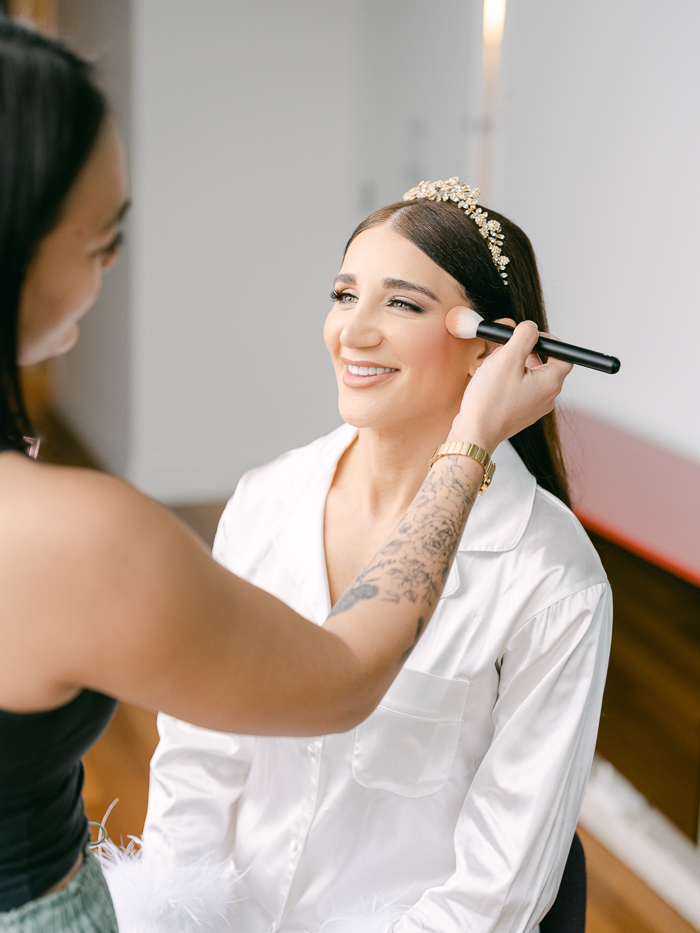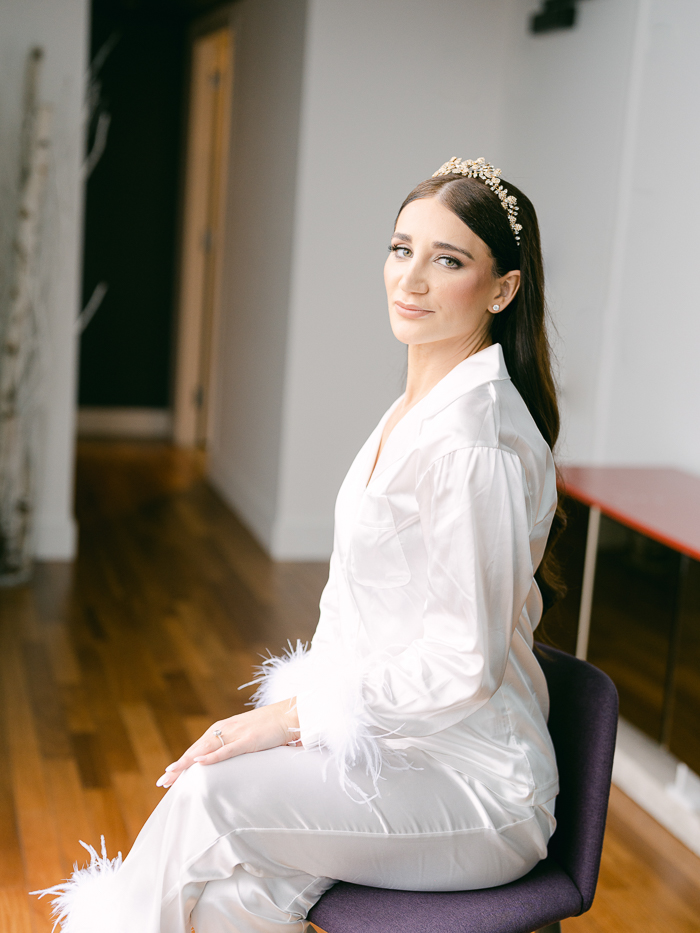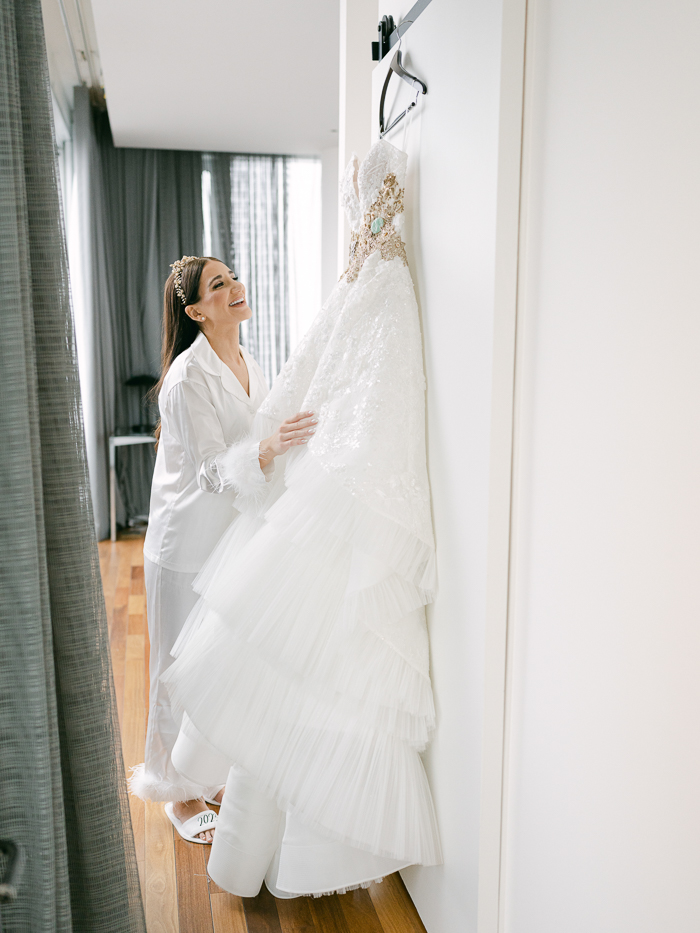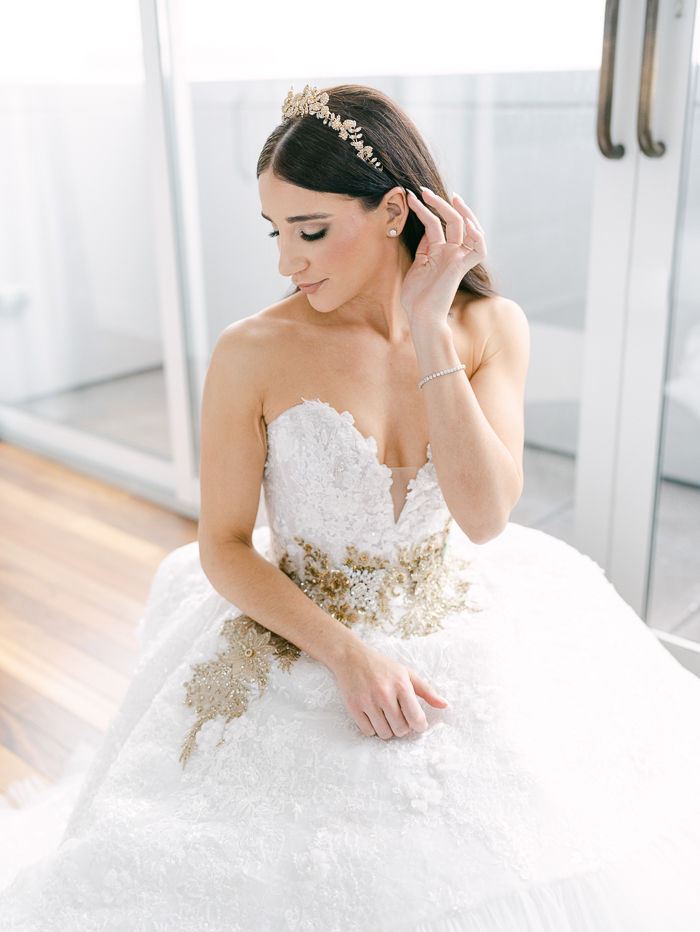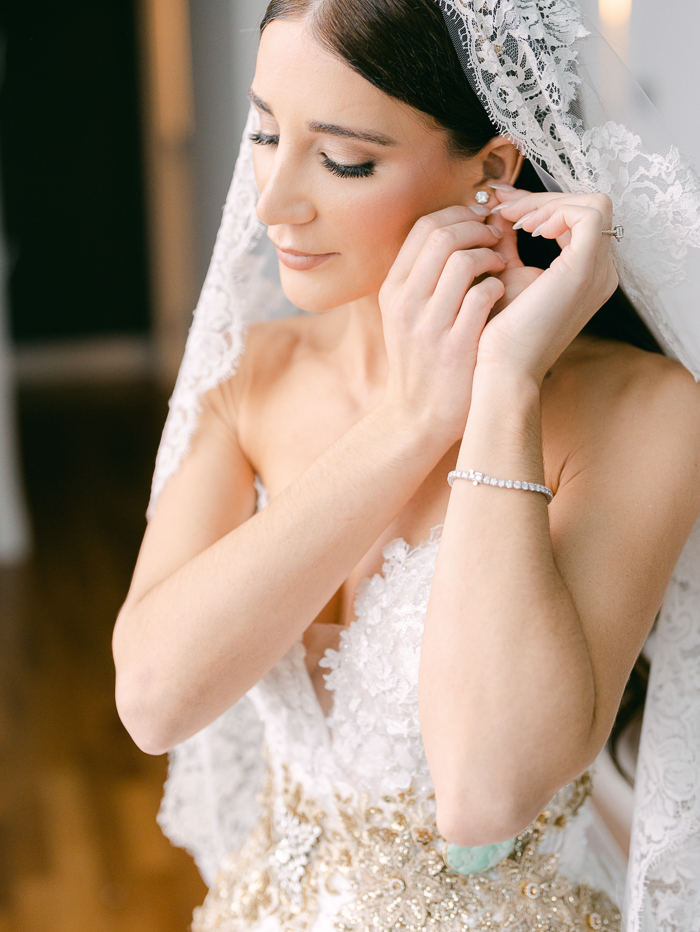 Adding Hollywood Glamor to Their Cocktail Hour by Making It a Red Carpet Event
After a touching ceremony that left everyone emotional, we guided our guests downstairs to a cool, speakeasy-style bar for cocktail hour. There, we rolled out a red carpet and set up a step-and-repeat backdrop. Adding a touch of Hollywood glamor to the event. The bar offered special drinks, like the Fernet and Citrus Old Fashion. And a grapefruit-infused sparkling Paloma, named after our beloved dogs, Old Rumba and Poppy Paloma. It was fun to see the drinks served on black cocktail napkins with cute silver silhouettes of our dogs that said, "Drinks on us!" Everyone had a good laugh.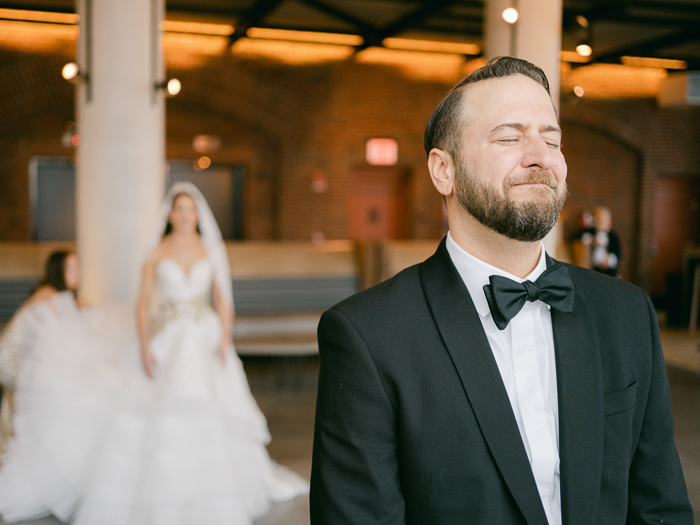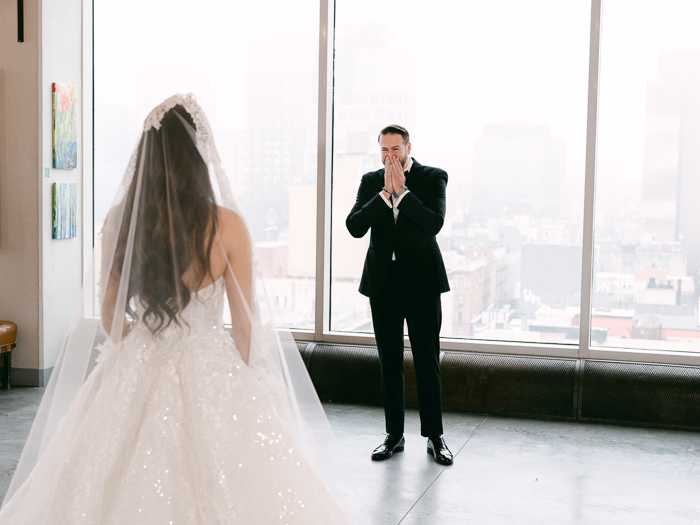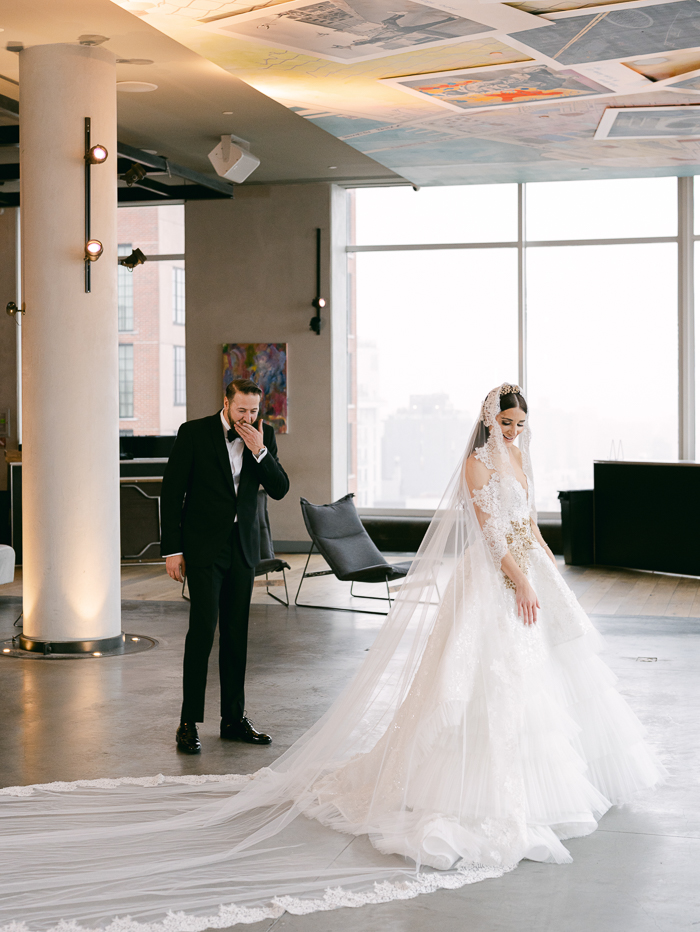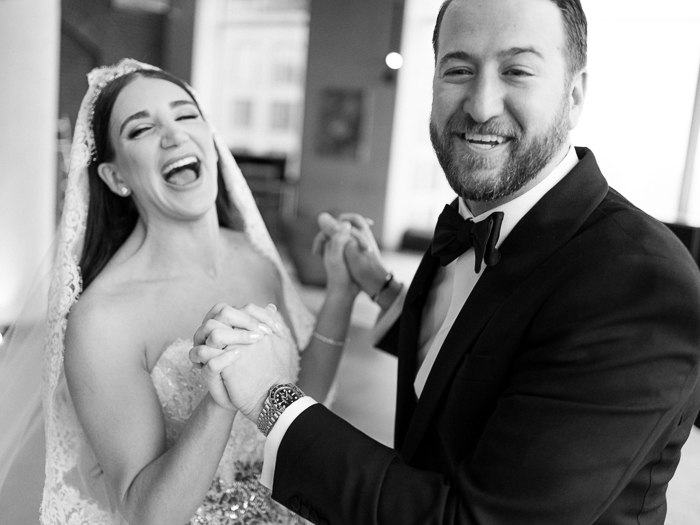 Setting the Party Tone With an Aerialist and a Champagne Wall
We brought our guests back upstairs for our reception, and what a transformation it was! The room had changed entirely, and when they walked in, they were greeted by an aerialist performing to Rihanna's "Diamonds." This performance set the tone for the entire night—the dance party had officially begun. We had a cool champagne wall against one of the stunning bank backdrops. It displayed a collection of vintage glassware, each with a guest's name and table assignment beautifully written in calligraphy. The aerialist reappeared while we were having dinner, impressing our guests again by pouring champagne from above.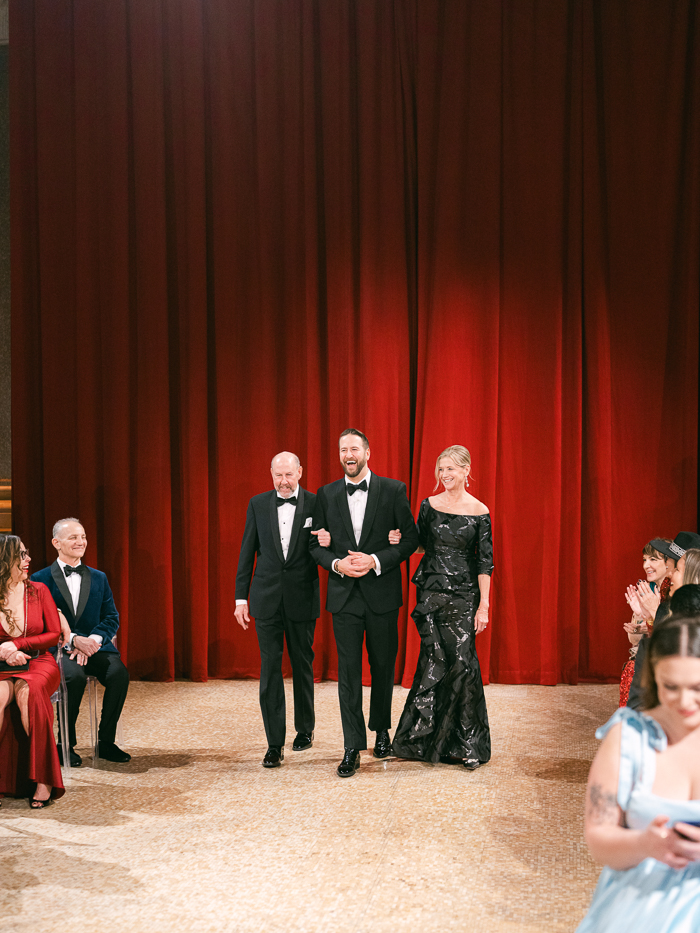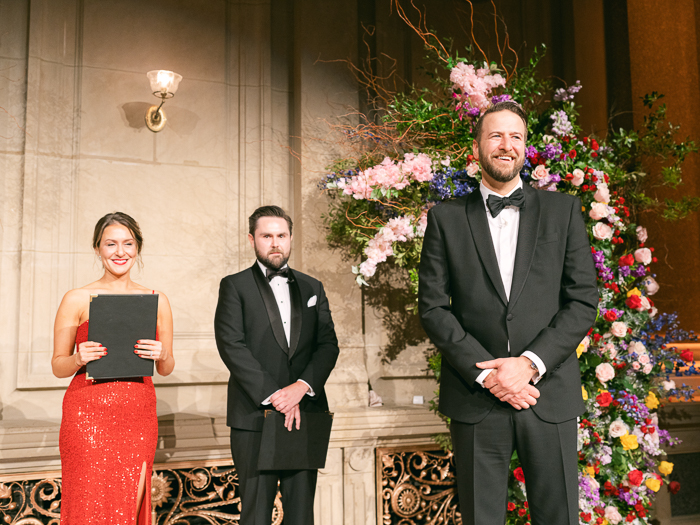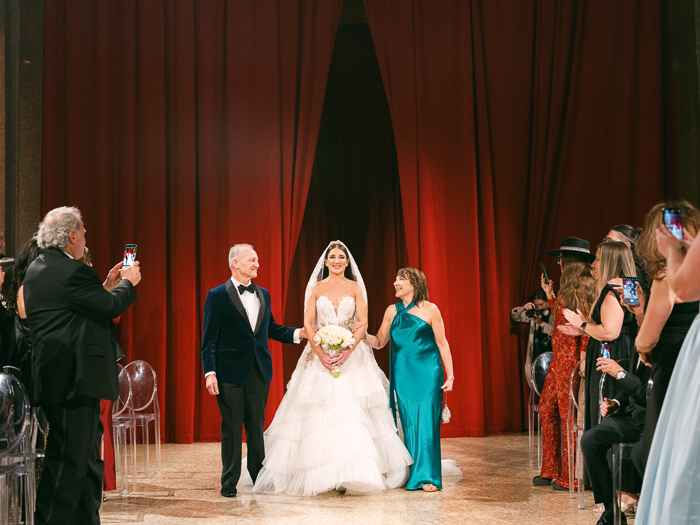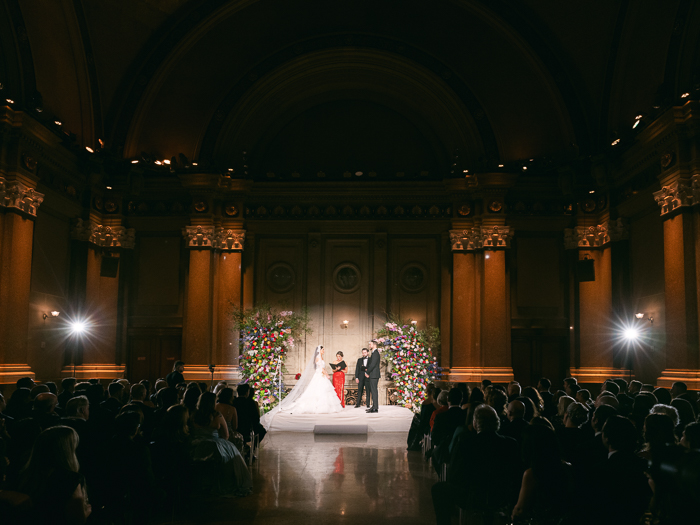 Over-The-Top Weylin Wedding Entertainment Extras to Enhance the Guest Experience
Our commitment to details continued as the night progressed towards midnight. We had some delightful surprises in store for our guests. They had a blast in a 360-degree photo booth, set against the backdrop of a massive 16-foot colorful open arched floral wall. Instead of the usual guest book, we offered an old-fashioned phone where guests could record personalized audio messages for us, which was a perfect match for the building's history. We didn't overlook a single detail. We even arranged for an Italian espresso bar to keep the energy high throughout the evening. Ensuring our guests had their caffeine fix whenever needed.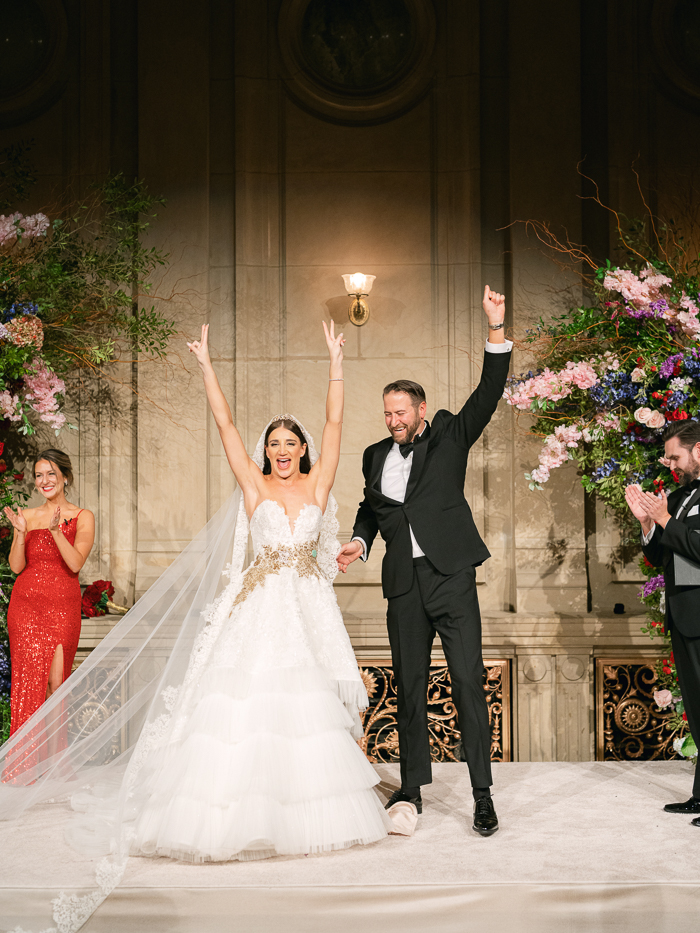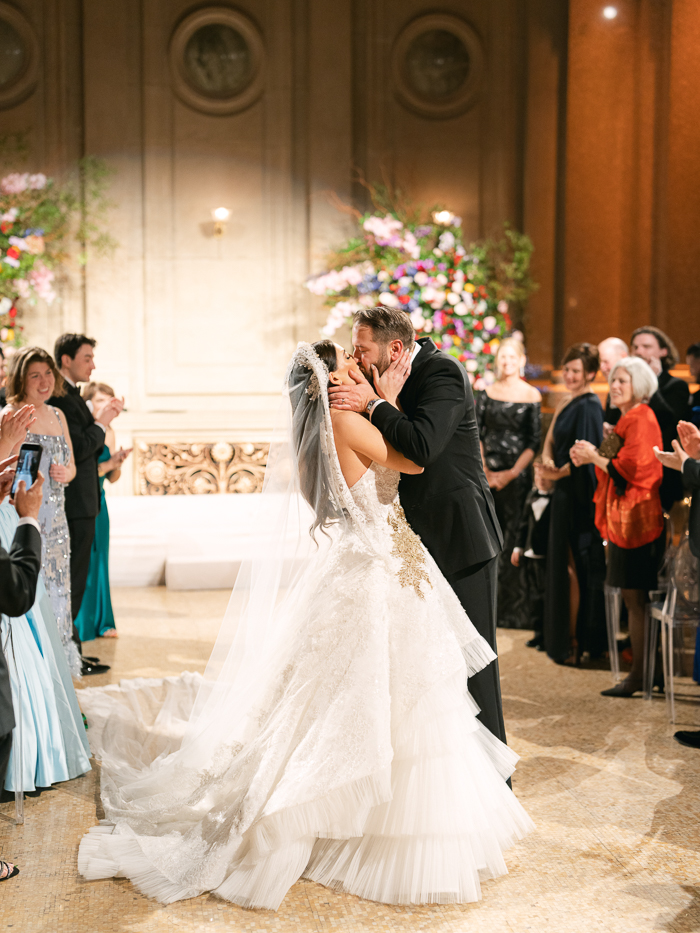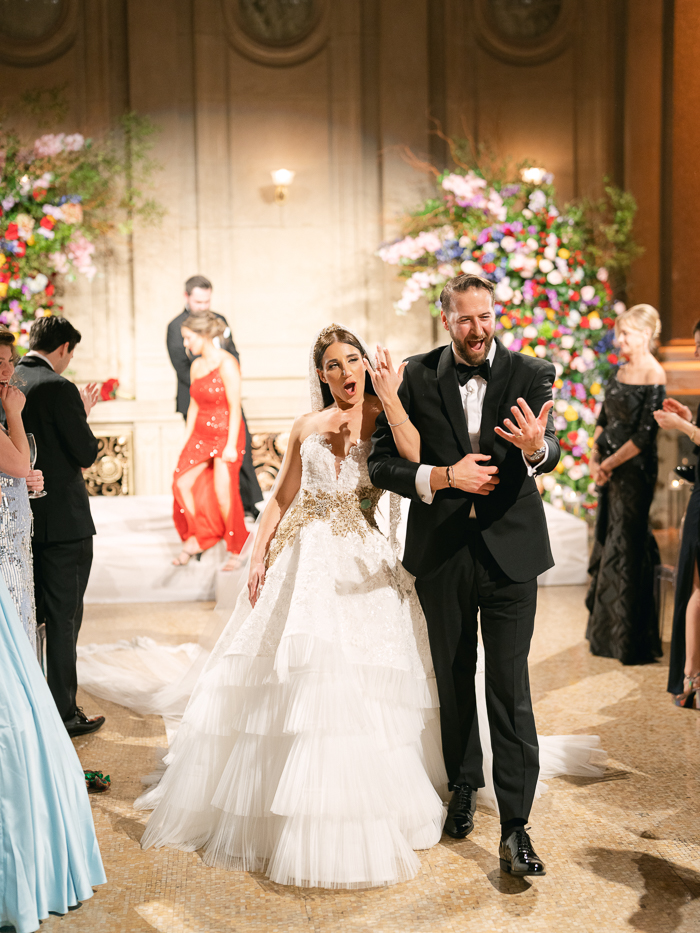 Adding an Extra Layer of Fun Through Personalized Tattoos and Face Gems
Inside the bank's vault, a surprise awaited our guests: a neon tattoo sign inviting them to "get inked! the bride and groom have a special message for you." Before the big day, Adam and I had taken the time to craft personalized messages for each guest. We brought in a skilled calligrapher for the day to temporarily tattoo these secret messages onto our guests. The room filled with excitement and delight as each person uncovered their unique message. For my incredible mother, the renowned editor-in-chief Bonnie Fuller, we chose "matriarch" as her secret tattoo. Another dear friend, a nurse who had bravely faced the challenges of the pandemic, received the word "healer." To keep the party going, we offered face gems to guests while they waited for their tattoos. Adding a touch of extra sparkle to the night.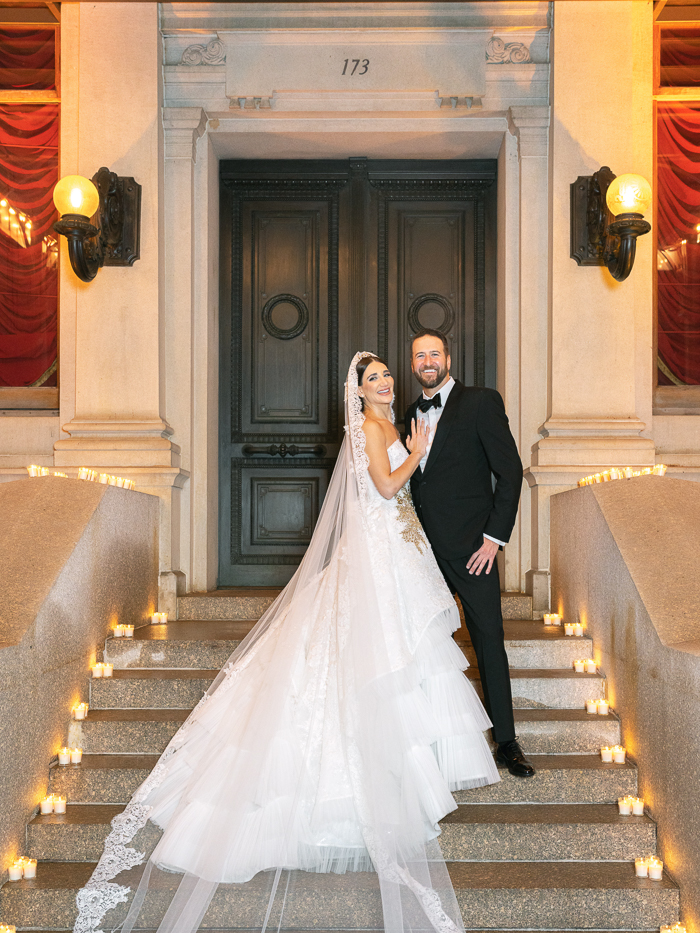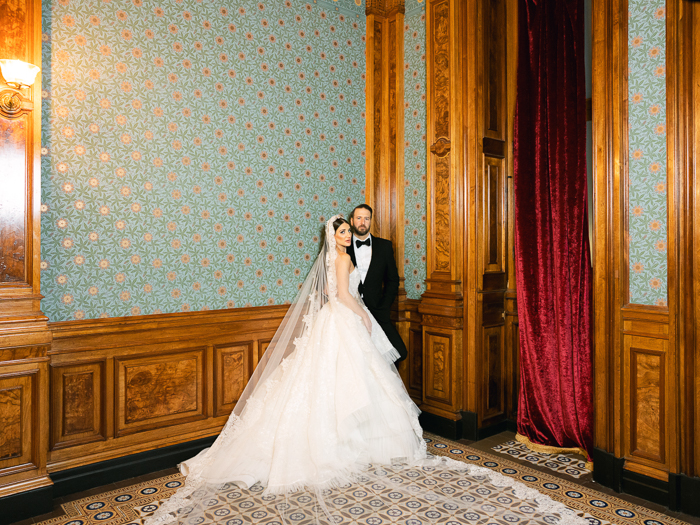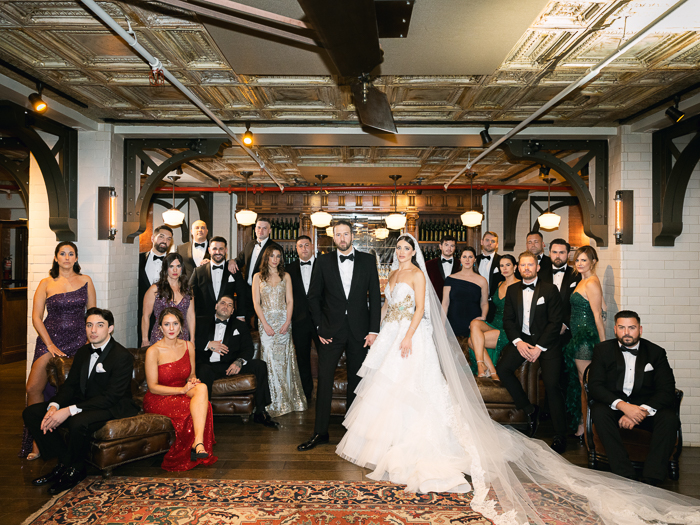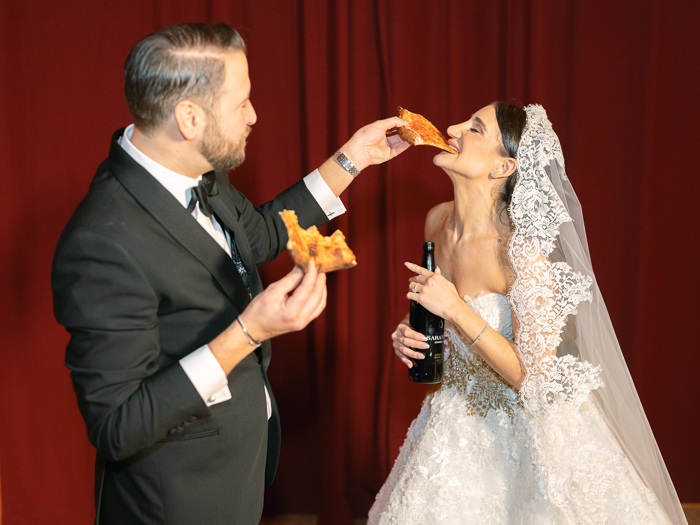 Disco Balls, Lemon Drop Shots, and Streamer Showers: Welcoming the New Year with a Bang
As the countdown began, Adam and I knew this was our moment to make a big impact. We wanted to go all out. The staff handed out the usual New Year's Eve decorations to everyone. And they even served lemon drop shots on the dance floor to get everyone in a festive mood. But the best surprise was when two disco balls descended from above. Two women appeared and held signs with numbers. Like in a boxing match, counting down the last ten seconds of 2022. Then, when the clock struck midnight, cannons shot out a shower of gold and silver confetti, covering the entire scene in a dazzling display. It was a magical way to welcome the new year.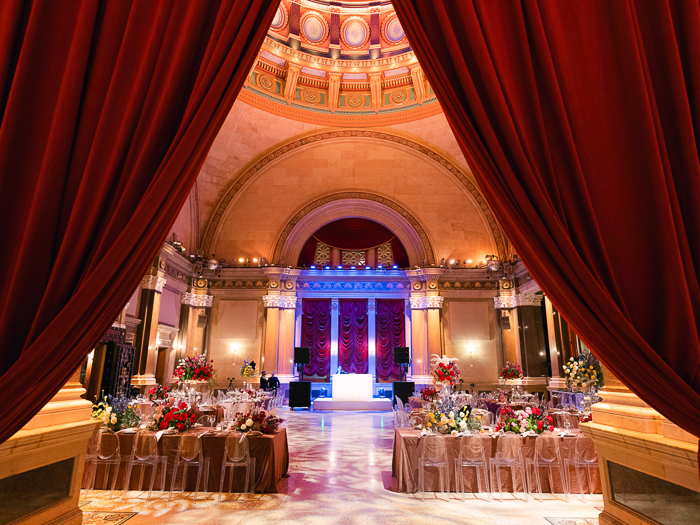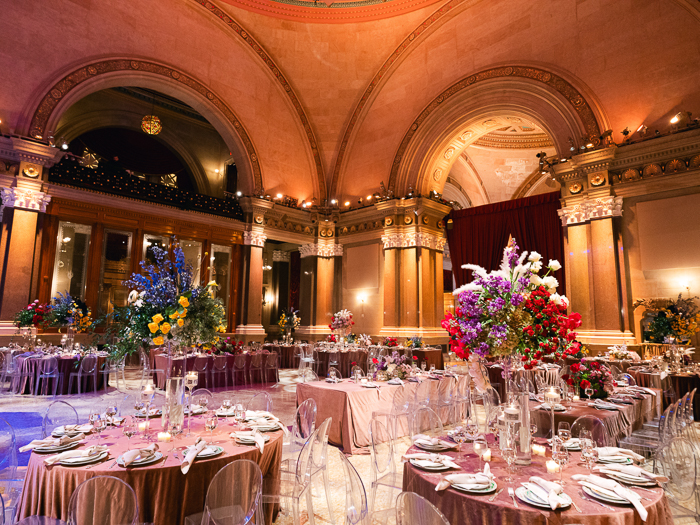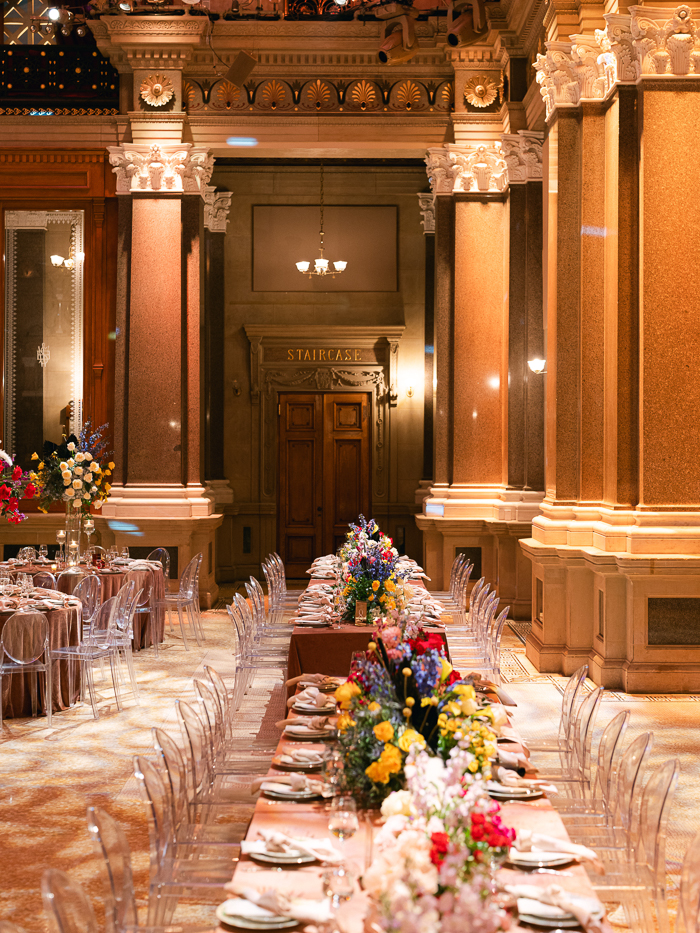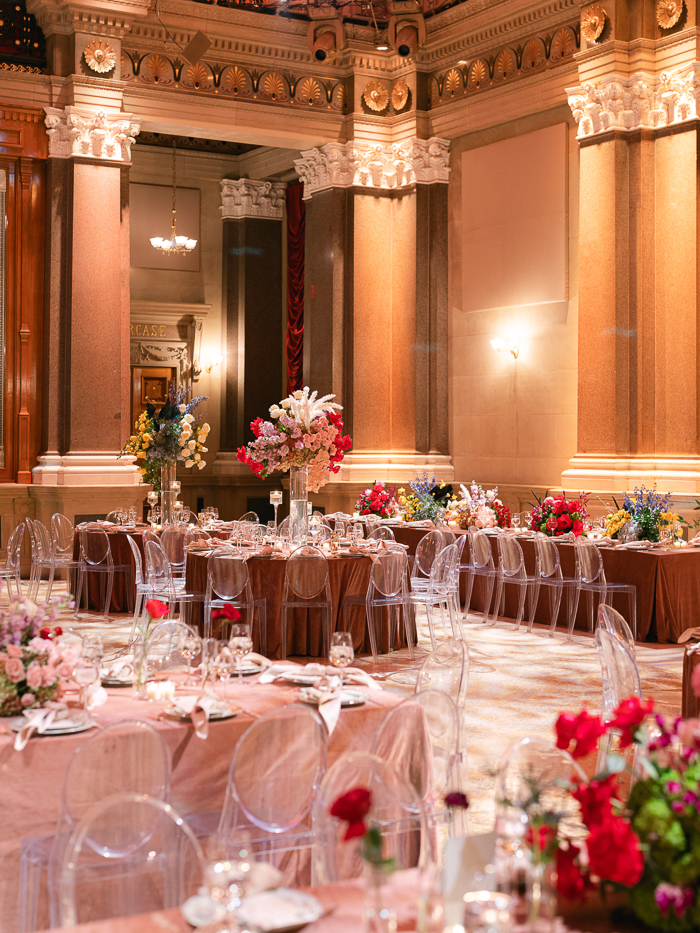 Welcoming the New Year in Classic New York Style at Their Iconic Weylin Wedding
Following Dick Clark's New Year's Eve tradition. "Auld Lang Syne" played as Adam and I shared our first kiss as a married couple. We were all swept up in the moment. It was followed by Frank Sinatra's rendition of "New York, New York." Everyone joined hands and swayed to the music in classic New York style. The energy in the room was electric, with hugs, kisses, high-fives, and cheers exchanged among friends and strangers alike. It truly felt like a quintessential New York New Year's Eve wedding. Then, the lights went wild, and Avicii's "Levels" blasted through the speakers. I had one more surprise in store, revealing a high-low dress perfect for dancing the night away as the celebration continued. Guests of all ages hit the dance floor, and we partied until the early morning hours, creating countless unforgettable moments filled with laughter and joy.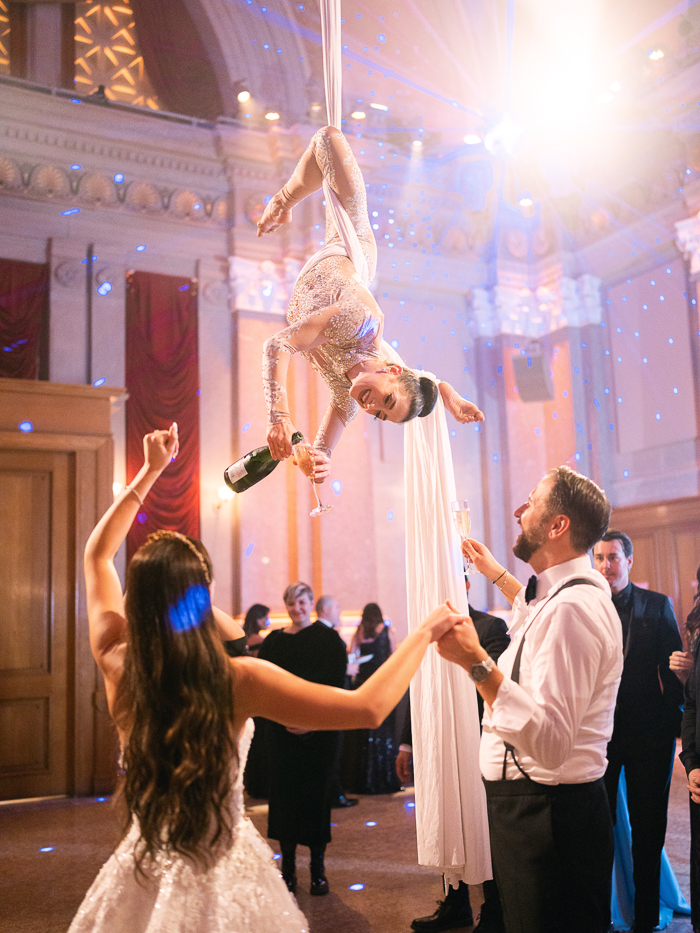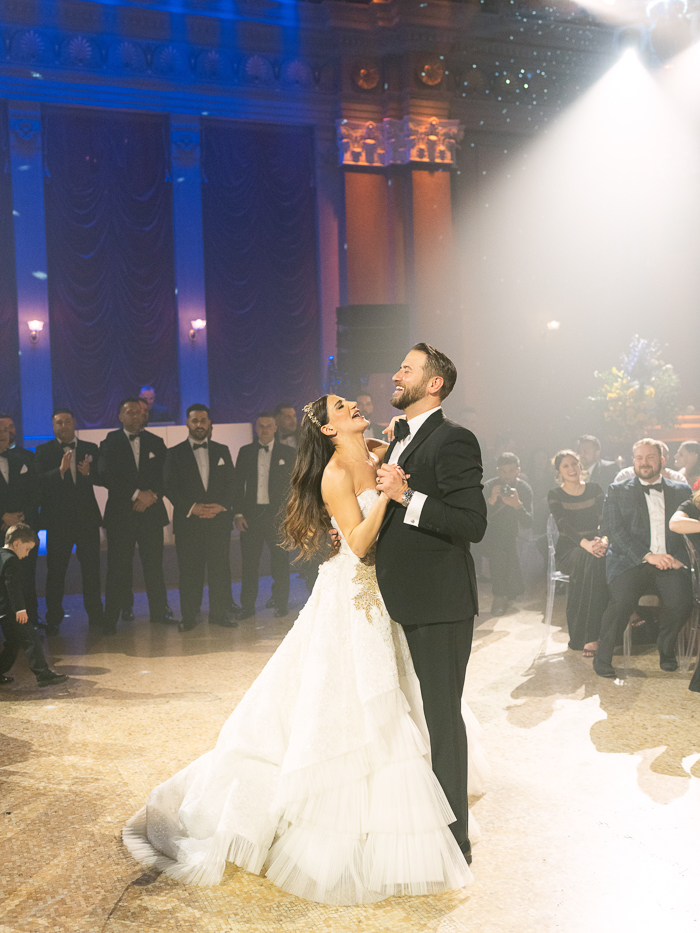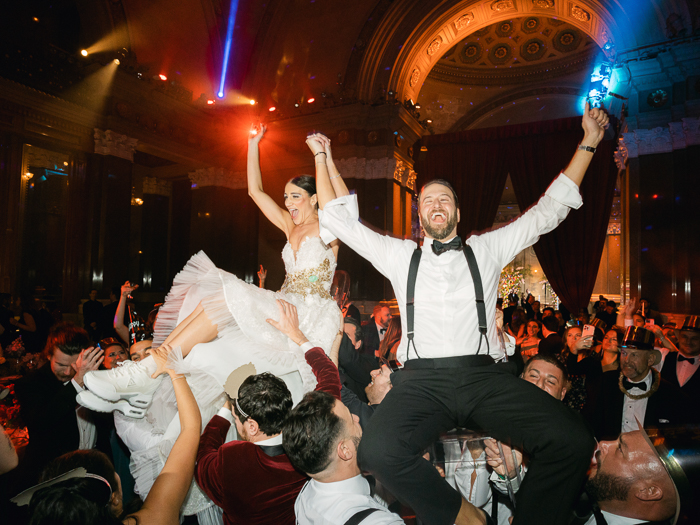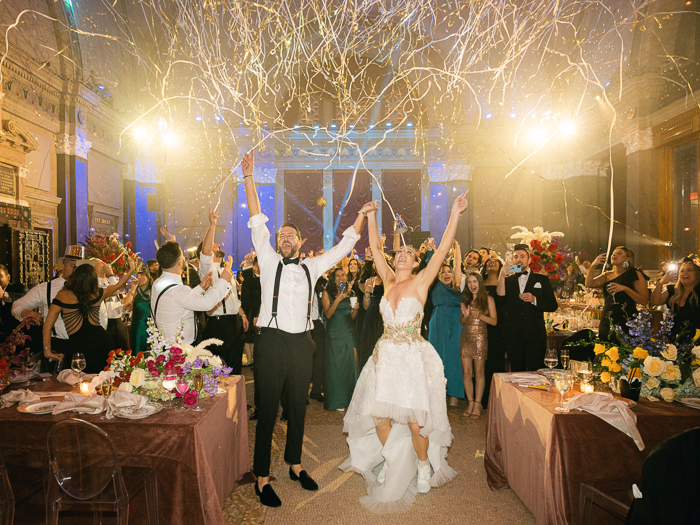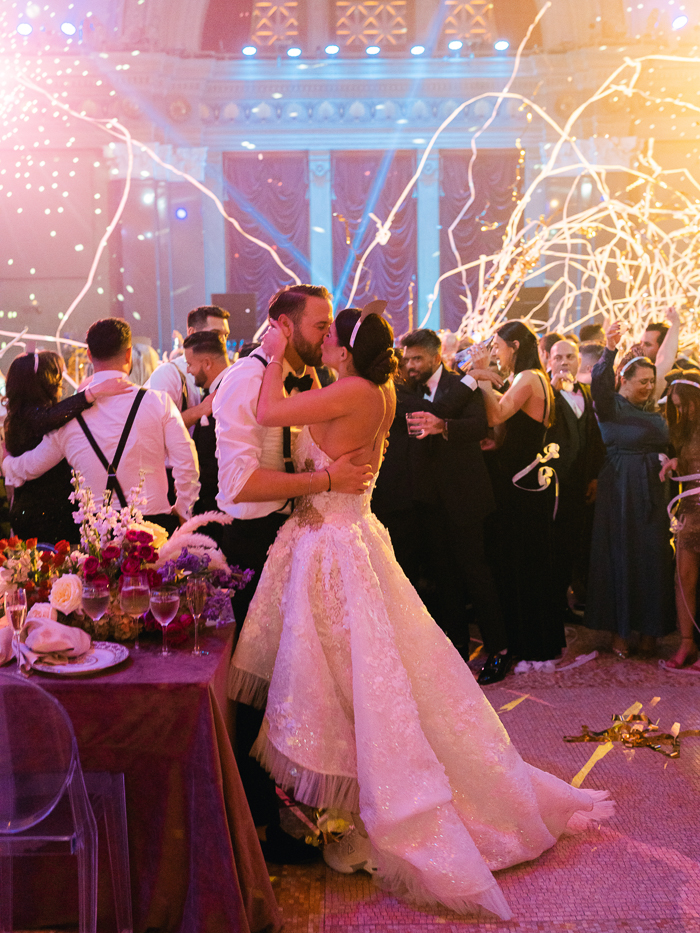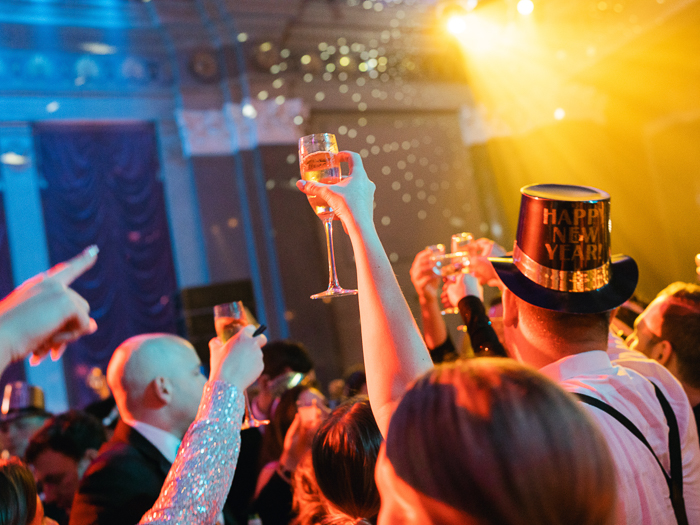 Congratulations to Sofia and Adam on their black-tie New Year's Eve Weylin wedding. And a big thank you to The Drakes for capturing all the well-thought-out details and memorable moments on film. Check out their profile for more grand celebrations like this one in our directory of the world's best wedding photographers.
Deciding to have your wedding on a holiday isn't easy. It means thinking about your budget, who's coming, and if your preferred vendors are available. To ensure everything goes off without a hitch, having an experienced team is absolutely essential. So, if you're planning a holiday soiree as intricate as Sofia and Adam's, consider assembling your dream team by exploring our directory of skilled wedding professionals from all over the world.