Your wedding is a day you'll want to remember. That's why hiring a professional photographer typically takes first place on any wedding planning to-do list. They'll capture all the moments and emotions you'll cherish and look back on for years to come. But why stop there? Entertain your guests and capture some downright hilarious, in-the-moment photos with a creative photo booth.
While it may seem straightforward, a lot goes into creating a unique photo spot for you and your guests. From props to backdrops and signage—here's everything you need to know for setting up a photo booth that'll have you saying cheese in style.
1. Aura Photo Booth
If you're looking to take a different approach to the traditional photo booth, consider hiring an aura photographer. This style of photography captures people's radiant energy on Polaroid film. Not only is it an unexpected addition to any reception, but it's also a wedding day keepsake that your guests can take home that day.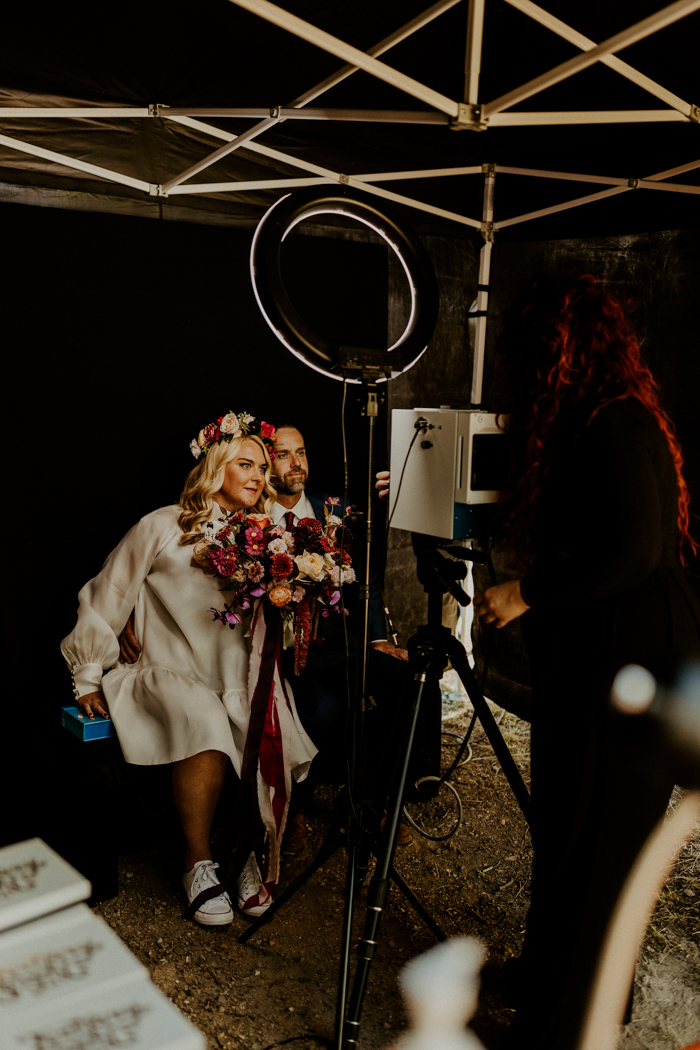 2. Colorful Streamer Wall
We've seen streamer walls being used as a unique ceremony backdrop, but why stop there? These pop-of-color decor elements can be reused to add movement and color to any reception space. If you're planning a DIY celebration, this can make for a fun project. If you don't want to hand-make this photo booth backdrop, don't fret. There are a variety of rental companies that take care of it for you.
3. Old Fashioned Photo Booth
The old-fashioned photo booth will always hold a special place in our hearts. We're talking about trying to fit as many people into the booth as you can, smiling for the photo, and then immediately having it printed out. This style photo booth makes for the perfect keepsake for both you and your wedding guests. Plus, you'll get major bonus points if you have a "keep one, leave one" policy, much like this couple did.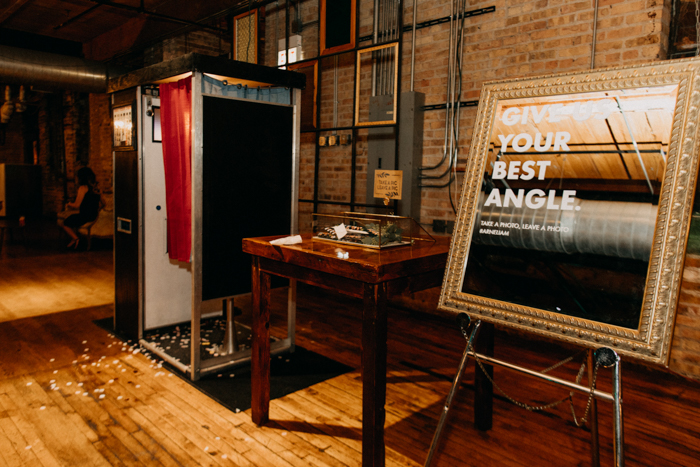 4. Balloon Photo Wall
If you're in search of a budget-friendly and fully customizable option, a balloon wall is calling your name. With a variety of balloon colors, shapes, and sizes, this photo booth style might just be one of the most customizable options you have. No matter what your wedding theme or color palette is, you'll be able to create a unique photo booth backdrop that'll turn your guests' heads.
5. Paper Flower Photo Booth Backdrop
Maybe you're hosting a spring celebration. Maybe you're having a romantic outdoor garden wedding. Maybe you're dreaming of a celebration where florals are the main event. If any of these sounds like you, a paper flower backdrop is for you. It's a soft, whimsical addition to any reception space.
6. Mirrored Wall
Make your reception space sparkle by adding a textured, mirror-tiled wall as your photo booth backdrop. Though it may seem like a simple addition to your reception space, you can easily dress up the mirrored tiles with drapery that matches your color palette, and even a custom neon sign like this team of vendors did.
7. Classic Volkswagon Photo Booth
Wheeling in a classic Volkswagon will not only make a staple decor element, but it'll also serve as unforgettable entertainment for your guests.
There are so many components you'll need to consider when transforming your reception space. We're talking about creating a cozy lounge area, stocking your reception bar, making an epic dance floor playlist, and so much more. And now that you have your photo booth sorted, you can continue checking these details off your wedding planning checklist.