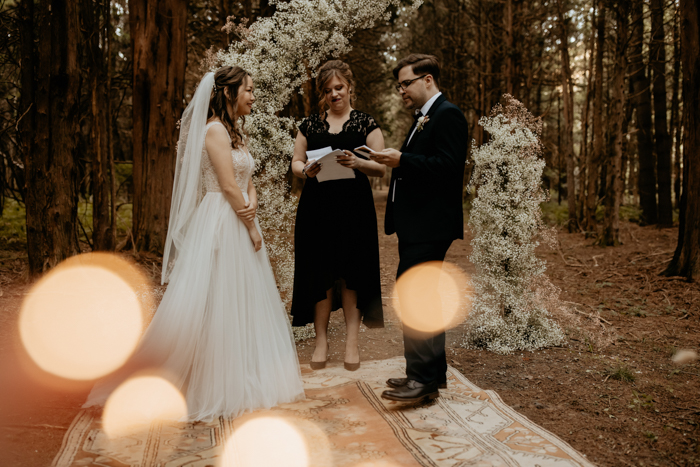 Looking forward to life after lockdown, Joanna and Chris decided to create a wedding weekend experience unlike any other, spent with their closest loved ones. And with the help of Junebug members Luna & Charlie Events, that's precisely what they did. With the estate's natural beauty as the perfect backdrop and–more importantly–great food as the highlight, the couple brought a Lundy Farm wedding filled with stunning details and thoughtful touches to life.
In the middle of the cedar forest, the couple said their "I dos" with a dreamy asymmetrical open arch framing the sweet moment. After their woodland ceremony, the pair being self-proclaimed foodies (they even referenced this in their vows), they decided that a nine-course dinner reception would be the best way to express their love of food. On top of the incredible culinary experience, they dined on long family-style tables filled with lush low arrangements and candles set beneath a canopy of fairy lights.
The intimate and well-thought-out details combined with the picturesque landscape truly elevated and brought this wedding together. If you and your partner have dreamed of a nature, family, and food-focused celebration, this is the perfect inspo for you. Keep scrolling to see every beautiful detail and memorable moment, beautifully captured by Brea Warren.
The Couple:
Joanna and Chris
The Wedding:
Lundy Farm, New York, United States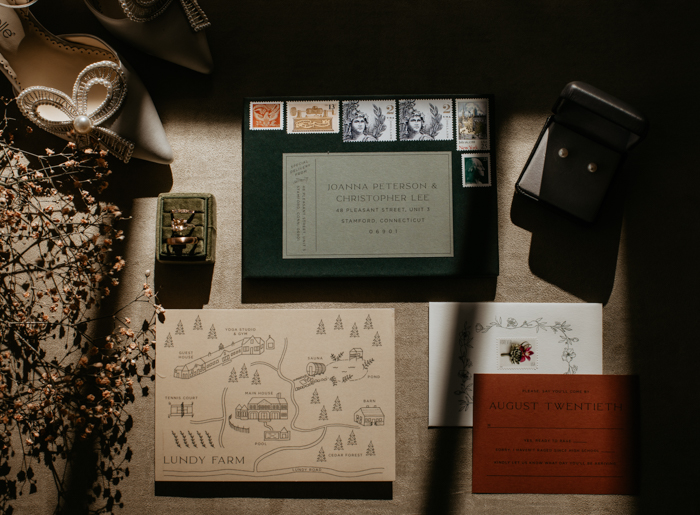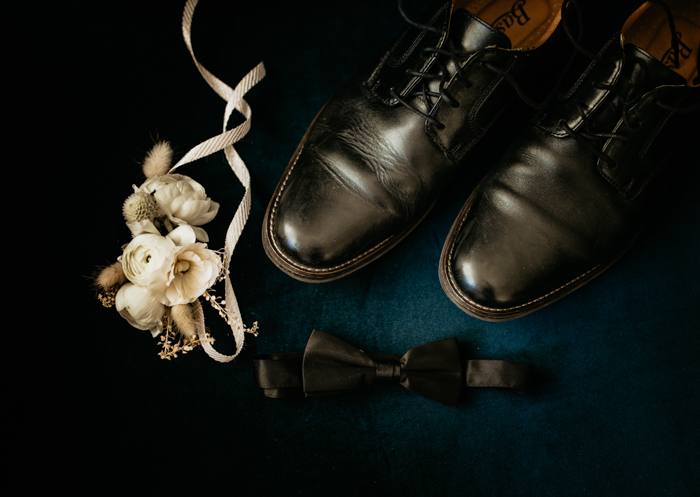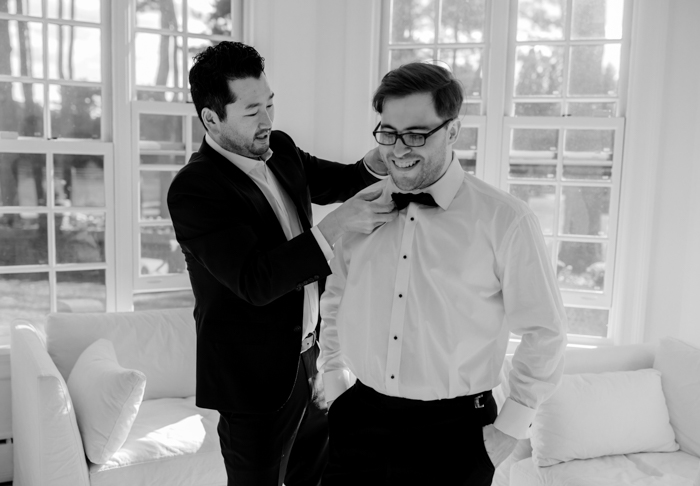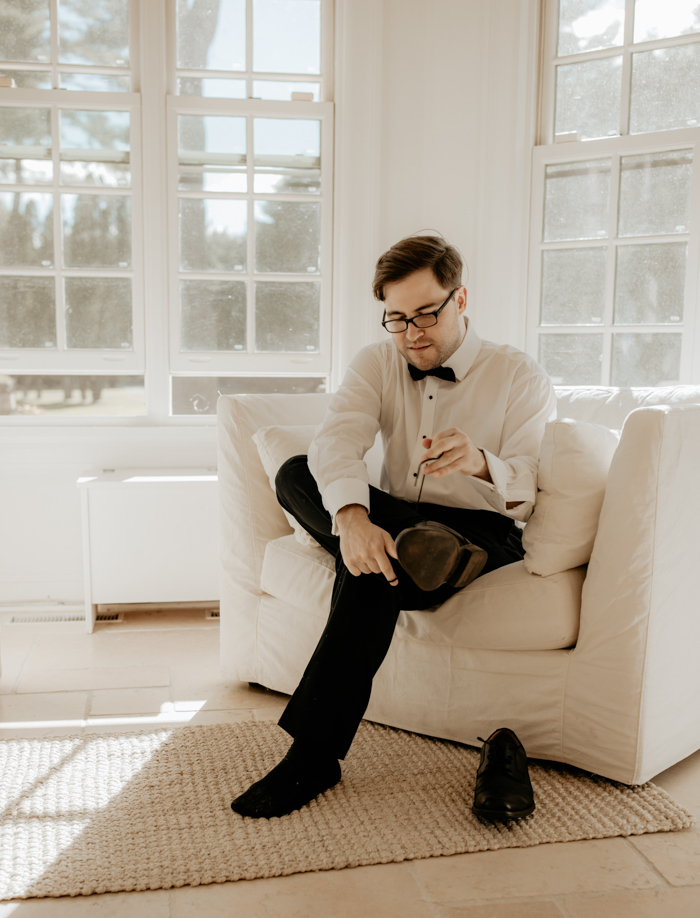 Advice From The Newlyweds On Creating An Intentional And Authentic Wedding Experience
Chris and I left our wedding weekend with a similar feeling. We were so proud of ourselves for not sticking to the typical wedding traditions and genuinely being authentic to ourselves. Our advice to anyone planning a wedding is to trust the process, trust yourself, and do what truly reflects your personality and love story.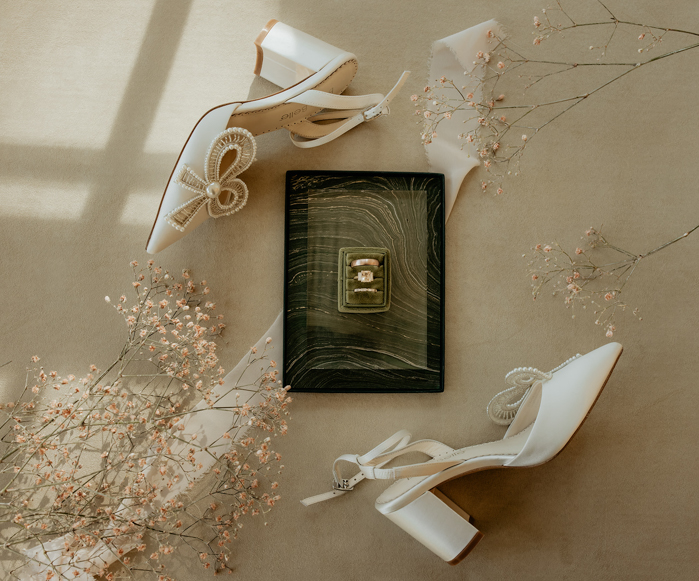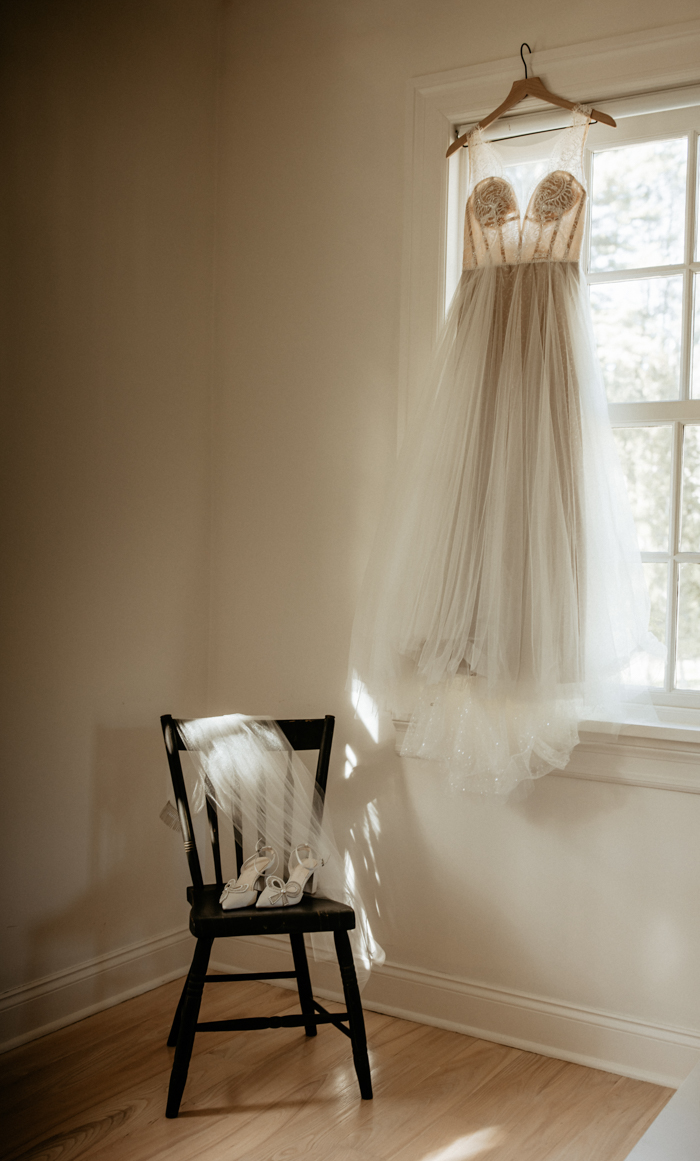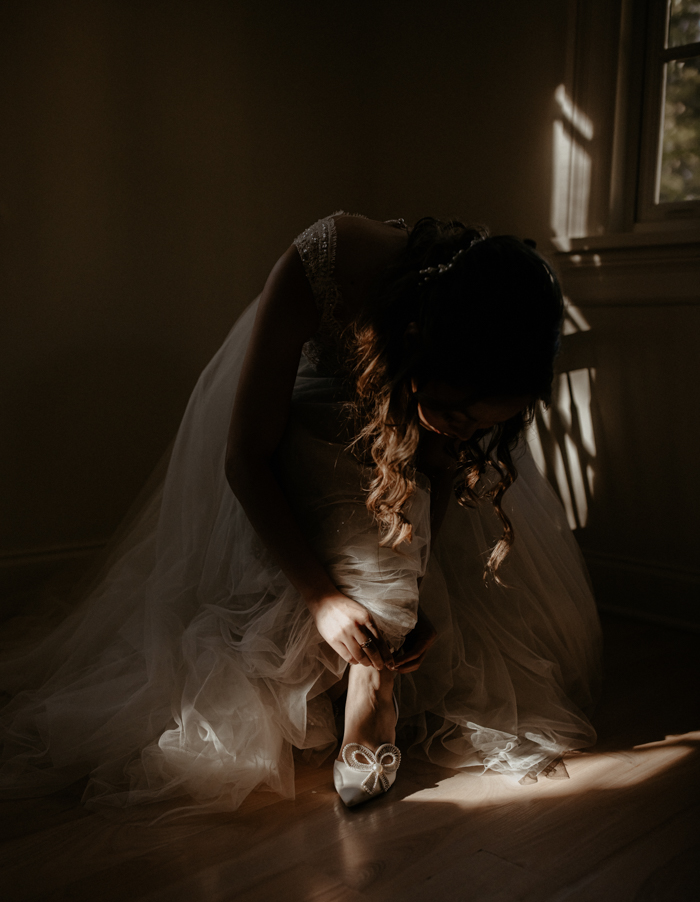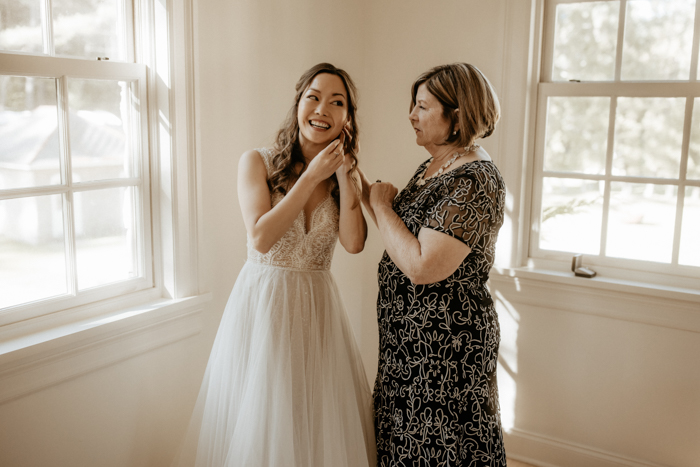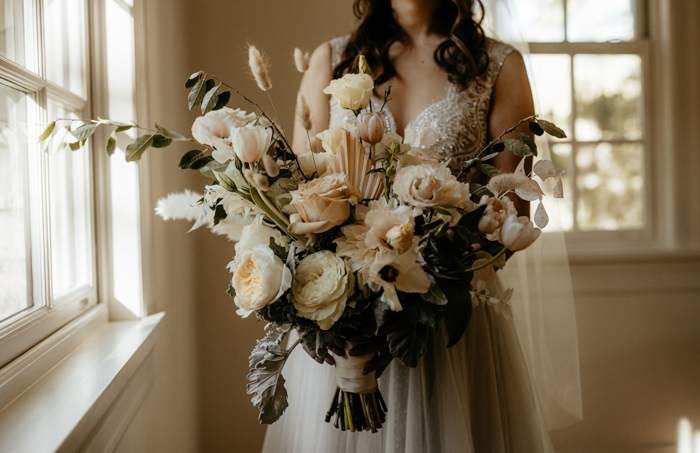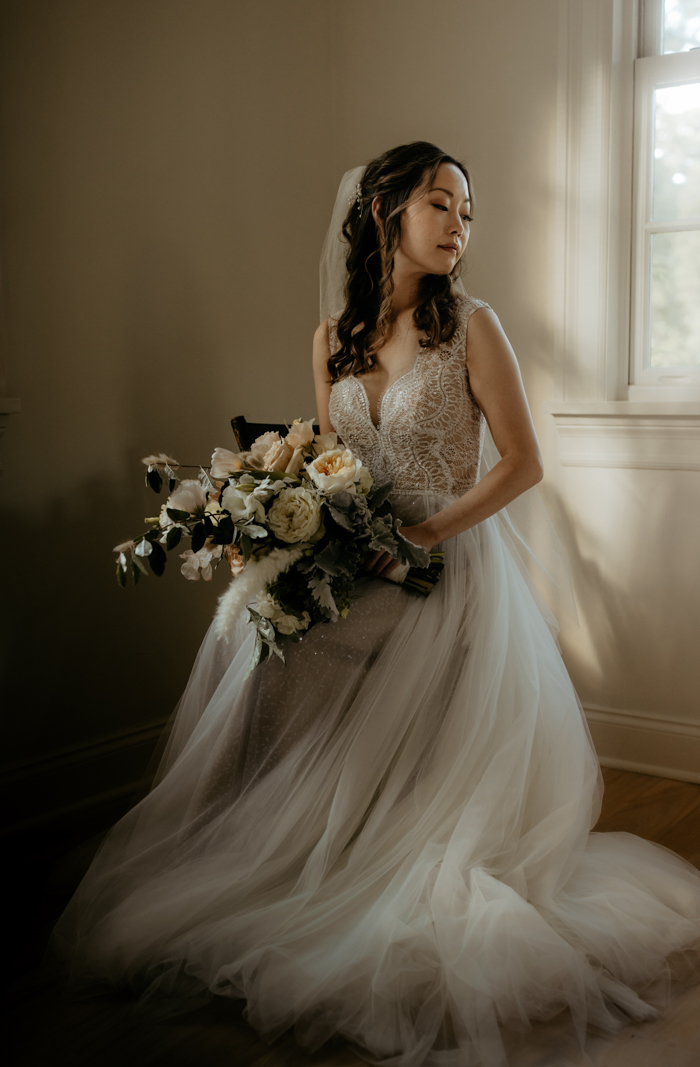 How Their Lundy Farm Wedding Came To Be
At the beginning of our wedding planning process, Chris and I had a mood board full of ideas with zero ideas of how they would actually come to life. The overall vibe we hoped for was an enchanted dreamland full of intentional details true to our love story. Along came Luna and Charlie, who made our dreams come true. Our main focus was to create an intimate and intentional experience for our guests. We knew that the venue would be critical in achieving that goal. It all came together when we visited Lundy Farm. The property was stunning and was perfect for a wedding weekend unlike any of our guests have ever experienced. The landscape's natural beauty influenced everything from florals to the stationery. We trusted the process and leaned into the feeling we had at Lundy Farm and how we wanted our guests to experience it.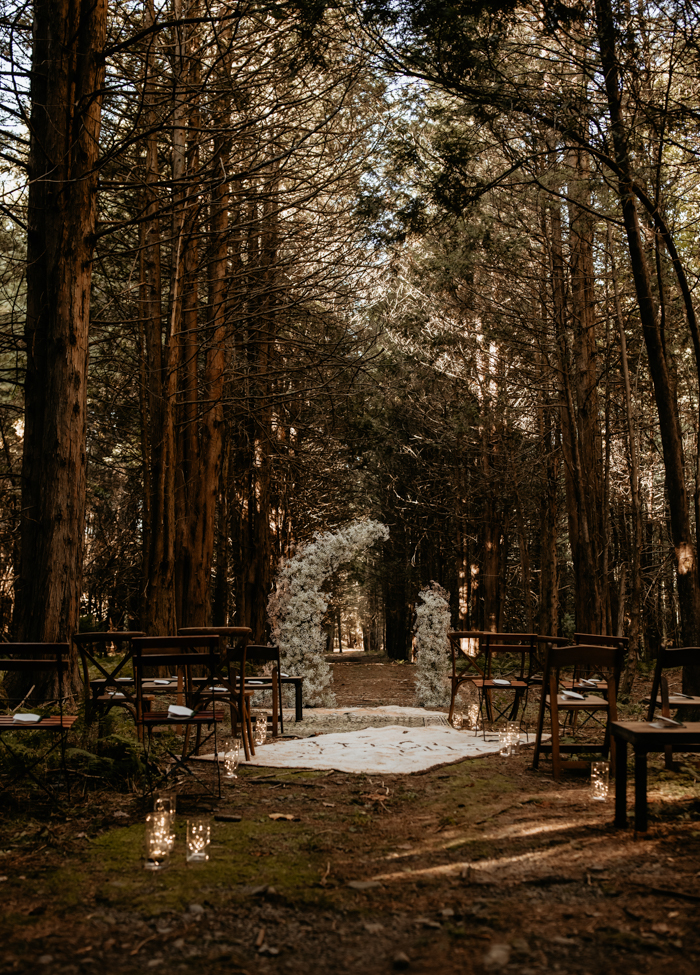 Bringing Loved Ones Closer Together With Bonding Activities At Their Lundy Farm Wedding Weekend
Our wedding was more than just a celebration of our marriage but was also the first time our families had met. Creating moments for the two families to connect and bond throughout the weekend was the true highlight of our lives. But we also wanted them to choose their own adventure as the property was selected based on the opportunities to explore. To welcome our families, we had a movie night beneath the stars with popcorn and candy (watching "Princess Bride," of course). We also had a "Hug and Hike" at the local goat sanctuary. Our guests also had the option to use the yoga studio and sauna or do outdoor activities like biking, hiking, trekking, or swimming. To round out the weekend, we had s'mores by the fire pit.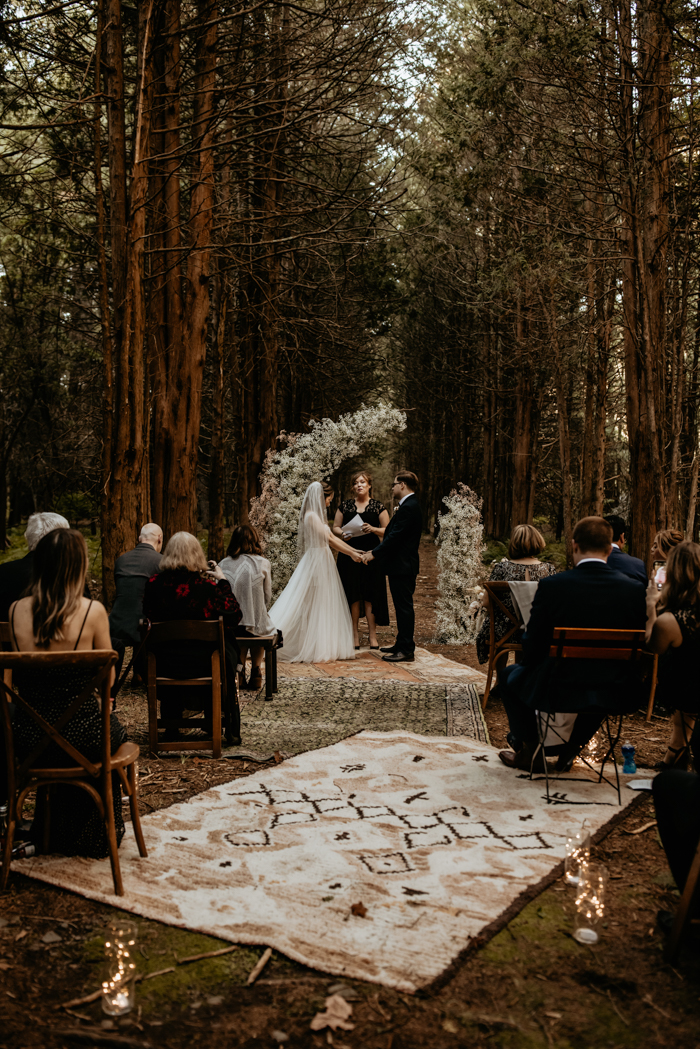 Personalizing Their Lundy Farm Wedding Ceremony
The spot we chose on the property has never been used for a ceremony before, so we were immediately excited to utilize the space in a new way. Our ceremony took place in the middle of the cedar forest, and guests were shuttled in by a golf cart. Being the non-traditional couple we are and our desire to create a unique and intentional weekend, we had a dear friend of ours officiate, and our nephew was our flower boy (and stole the show). My processional song was the soundtrack to my favorite video game, and we recessed to Park Rock Anthem. Making these decisions for our ceremony was so much fun and felt authentic to us, which is exactly what we wanted.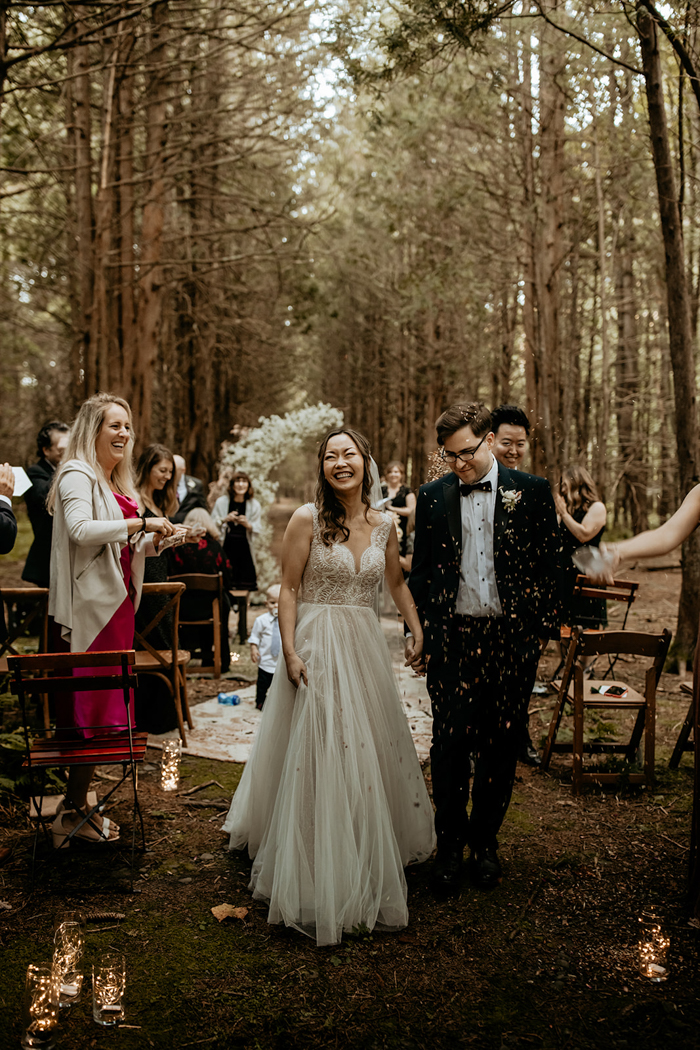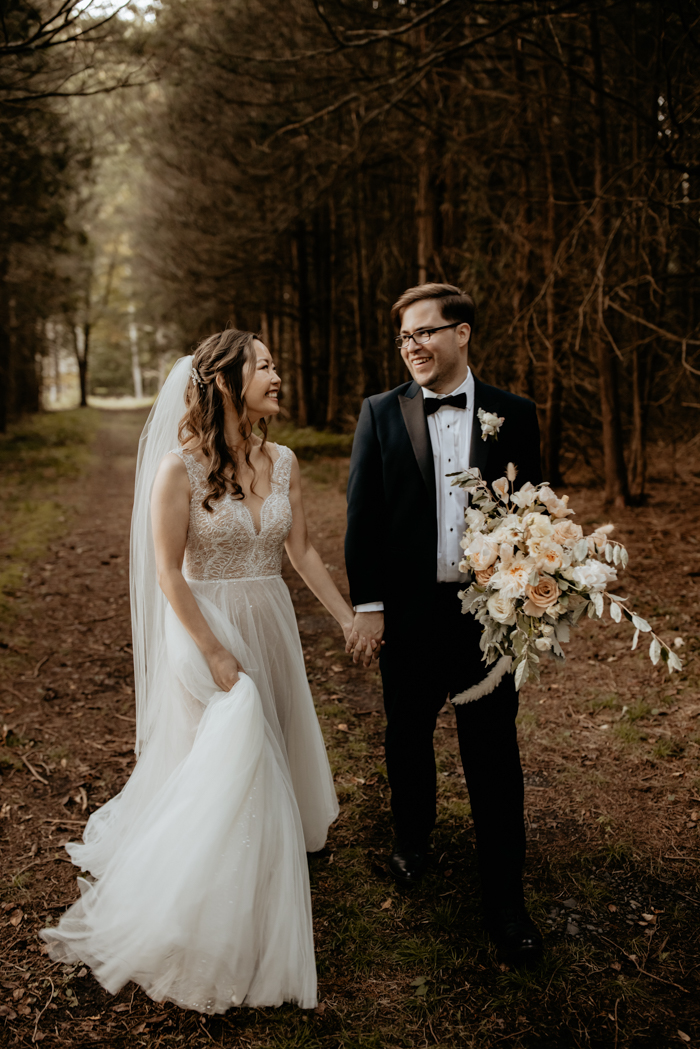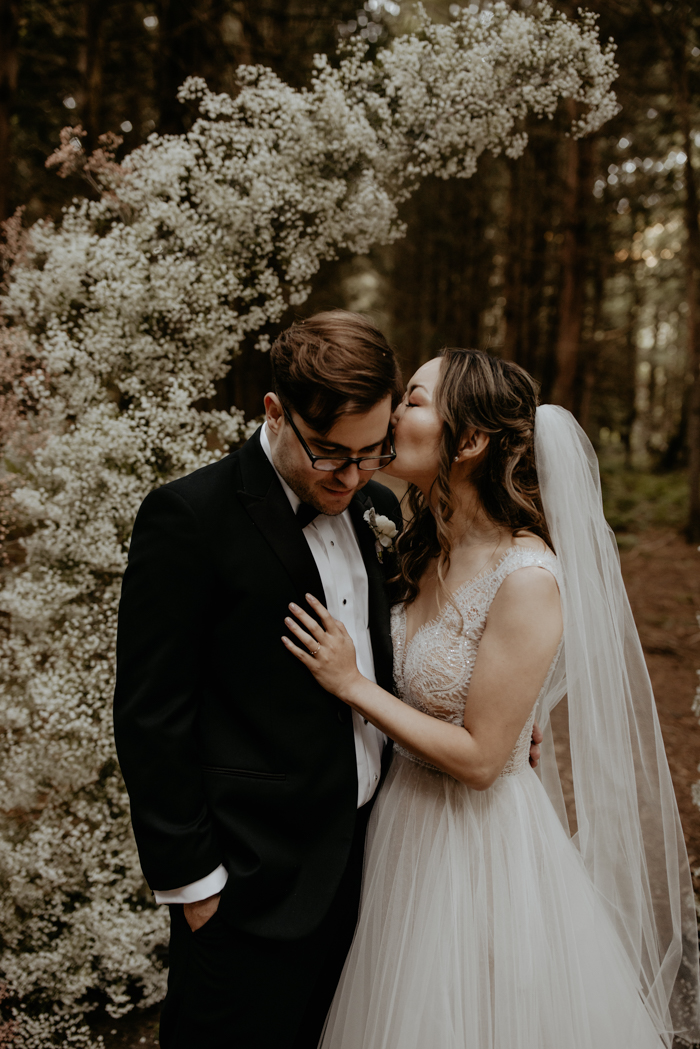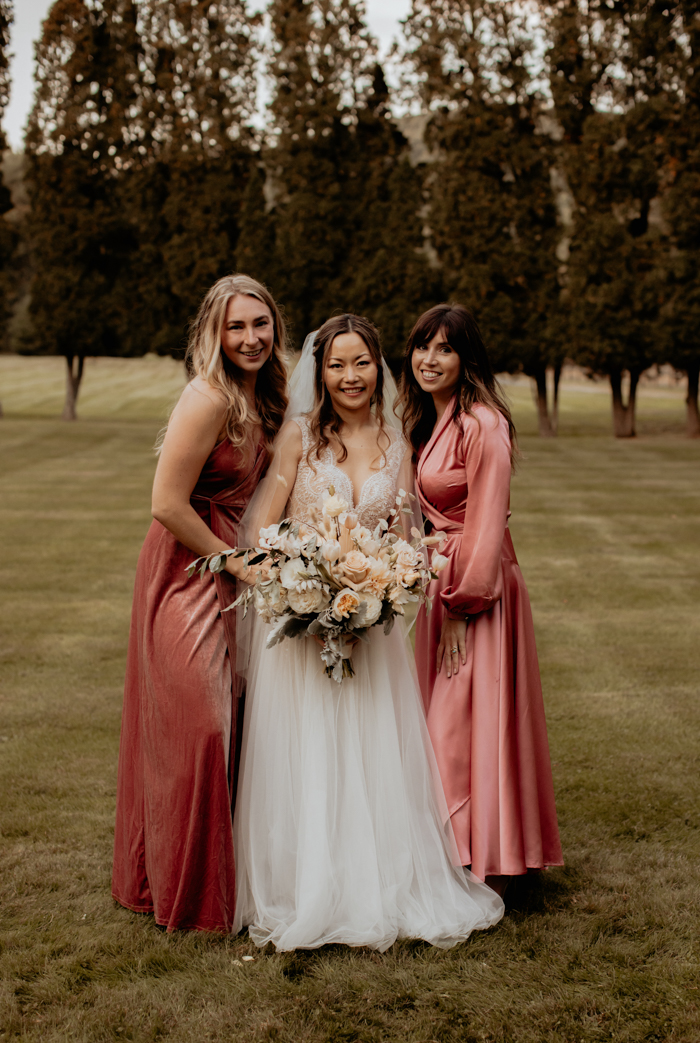 Setting The Tone With Their DIY Stationery and Welcome Bags
We created an invitation suite to set the tone for our wedding weekend. It was an acrylic card in a forest green box layered with hand-marbled paper. We carried that design throughout our wedding stationery and created welcome bags for each guest. These were placed in each guest's room, so they were greeted with them upon arrival. I am most proud of this because this was something Chris and I put together ourselves. It was important to have our hands on some of these projects, especially because gift-giving is our love language, and we knew our guests would appreciate it.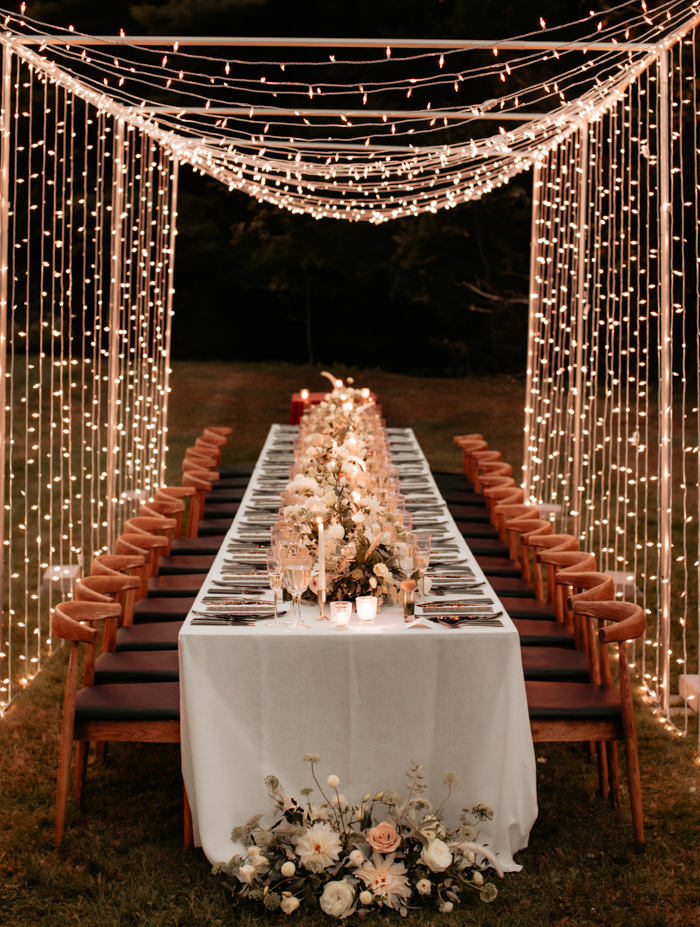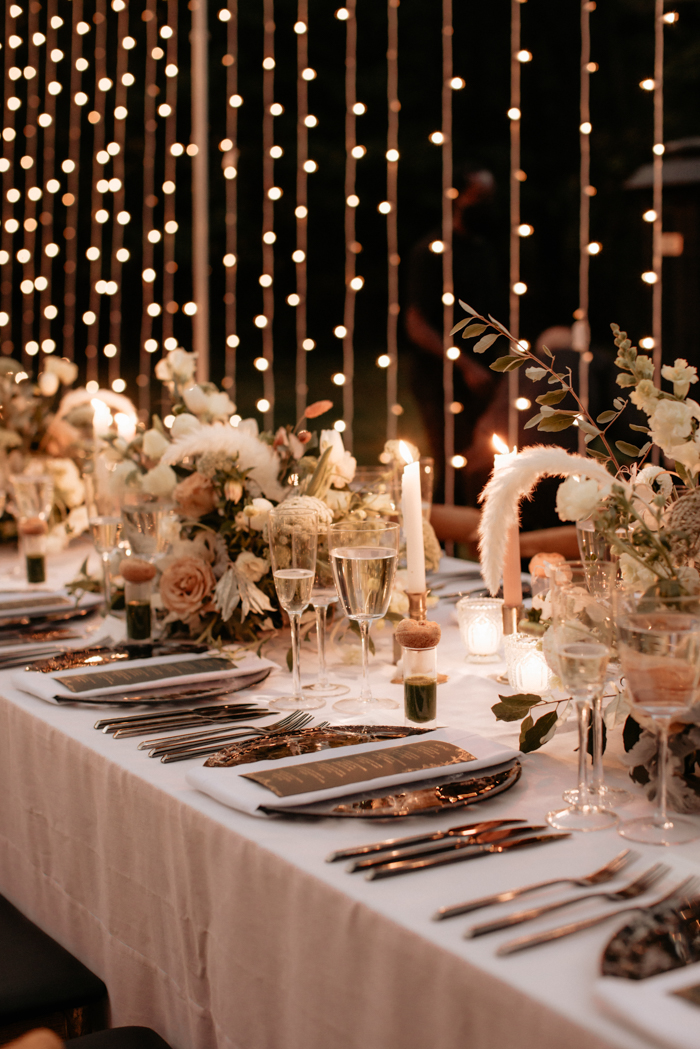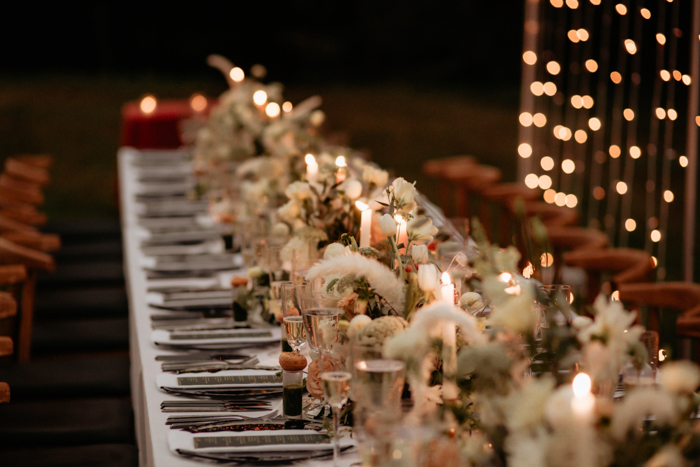 Having A Private Chef To Accommodate Their Guests' Dietary Preferences Throughout The Weekend
Once we had decided on the meals for the main celebrations, we wanted to go a bit further to push the "family reunion" feel. We brought in a private chef to cook breakfast and lunch for our guests throughout the weekend. It was always set up family style with special items to accommodate everyone's dietary preferences. This was such a special touch that everyone truly appreciated.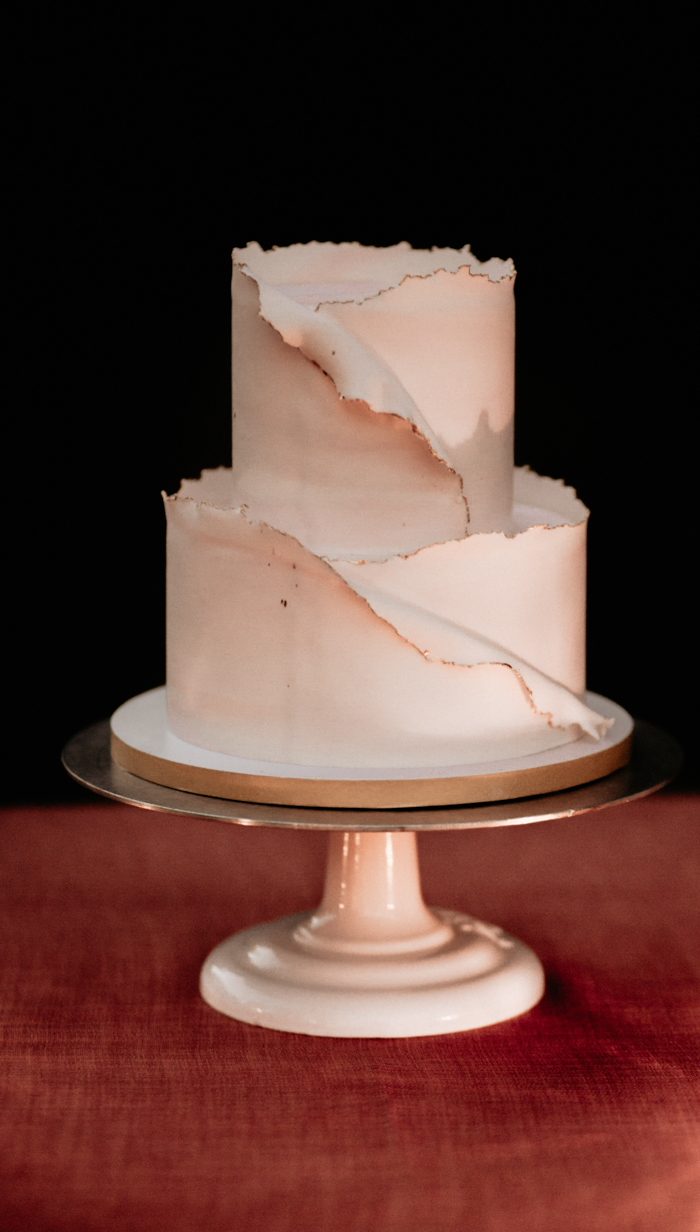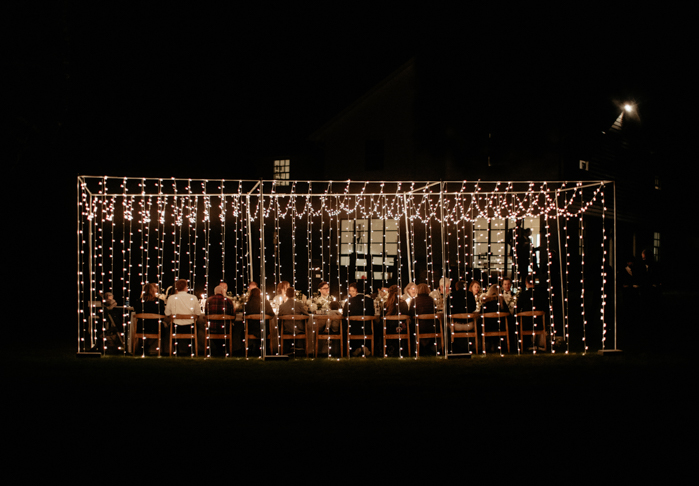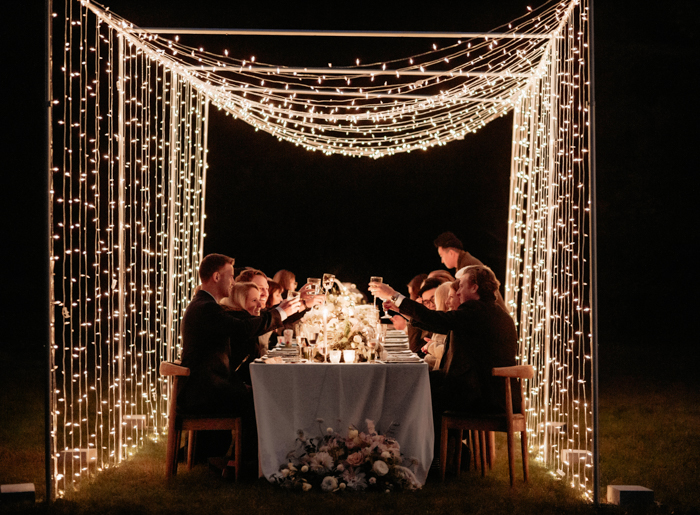 Treating Their Guests With A Thoughtful Wedding Weekend Dining Experience
Food is always at the center of celebrations for the two of us, so we just knew that we had to design an edible journey for our guests throughout the weekend. When guests arrived, we kicked off the weekend with a barbecue movie night for comfort food. We knew that a traditional three-course dinner would not suffice, so our incredible catering team, Pinch Food Design, created a nine-course tasting dinner that was truly perfection. Chris and I vividly remember sitting at our table, surrounded by our families, and watching them receive each course and be blown away each time. They asked questions, took pictures, and some even asked for seconds of certain courses. We finished this food journey with an authentic Mediterranean lamb roast.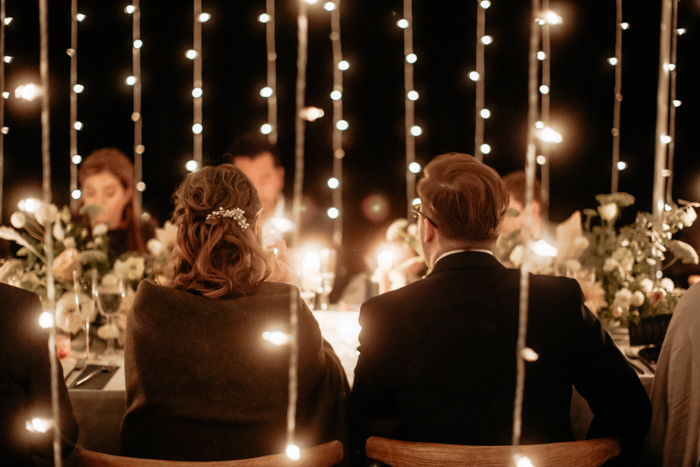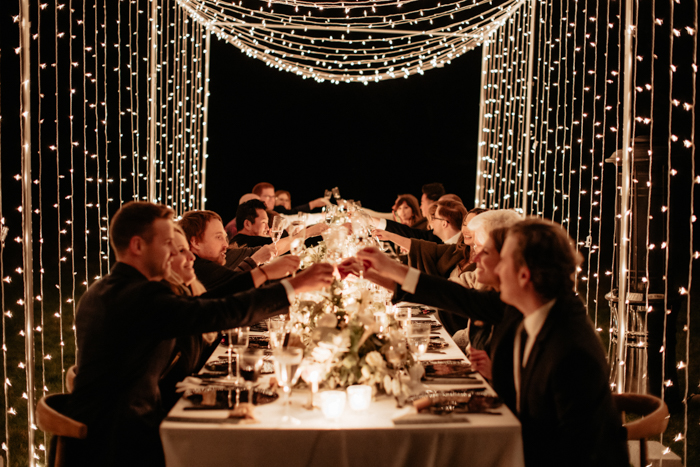 Congratulations to Joanna and Chris on their enchanted Forest Lundy Farm wedding. Many thanks to Brea Warren for capturing the magic of their celebration. And, of course, a special shout out to Junebug members Luna & Charlie Events for planning the whole thing. To see more dreamy weddings like this, check out their profile in our directory of talented planners from around the world.
Just as your chosen venue can make a significant impact on the atmosphere of your wedding, so does your wedding menu. Whether you and your partner are obsessed with a certain cuisine or want to incorporate nods to your love of food with an incredible spread, check out our guide for wedding catering options to bring your food-focused dream wedding to life.