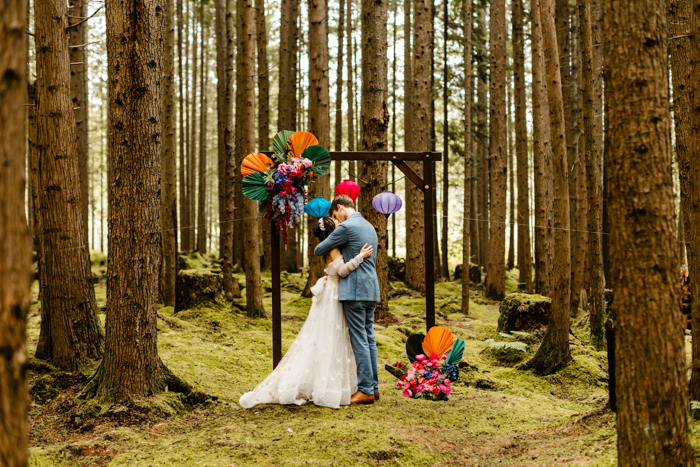 Vivian and Daniel dreamt of crafting a woodland wedding that was truly one-of-a-kind. Pulling inspiration from the whimsical world of Studio Ghibli, their wedding was far from ordinary. It was all about fun, enchantment, and crafting lasting memories. Picture this: tying the knot among towering trees, surrounded by moss-covered rocks, in a secluded, fantasy-like setting. This is the story of how they turned their dream of an Emerald Forest treehouse theater wedding into a beautiful reality.
In the heart of the forest, their ceremony was a fairytale come to life. A wooden arch adorned with colorful florals and lanterns added vibrant flair to the lush surroundings. After the pair exchanged heartfelt vows, bubbles filled the air, creating a whimsical exit. But the enchantment didn't stop there. The reception was equally magical, set in a dreamy movie theater beneath towering trees. Golden string lights and starry skies illuminated the scene, while popcorn, cozy blankets, and a crackling fire pit made the night truly unforgettable.
Their wedding was filled with love, and the beautiful pictures taken by Junebug member TMInspired tell the whole story. Keep scrolling to see every special moment. We're confident that after seeing these photos, you'll want to pin them to your wedding mood board.
The Couple:
Vivian and Daniel
The Wedding:
Emerald Forest Treehouse Theater, Washington, United States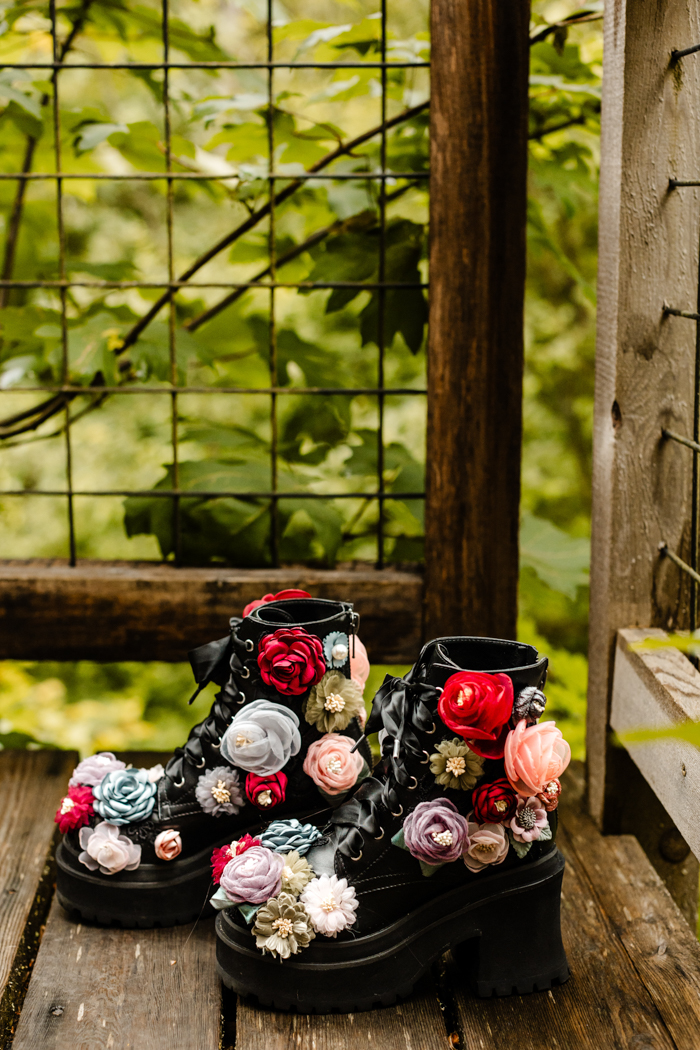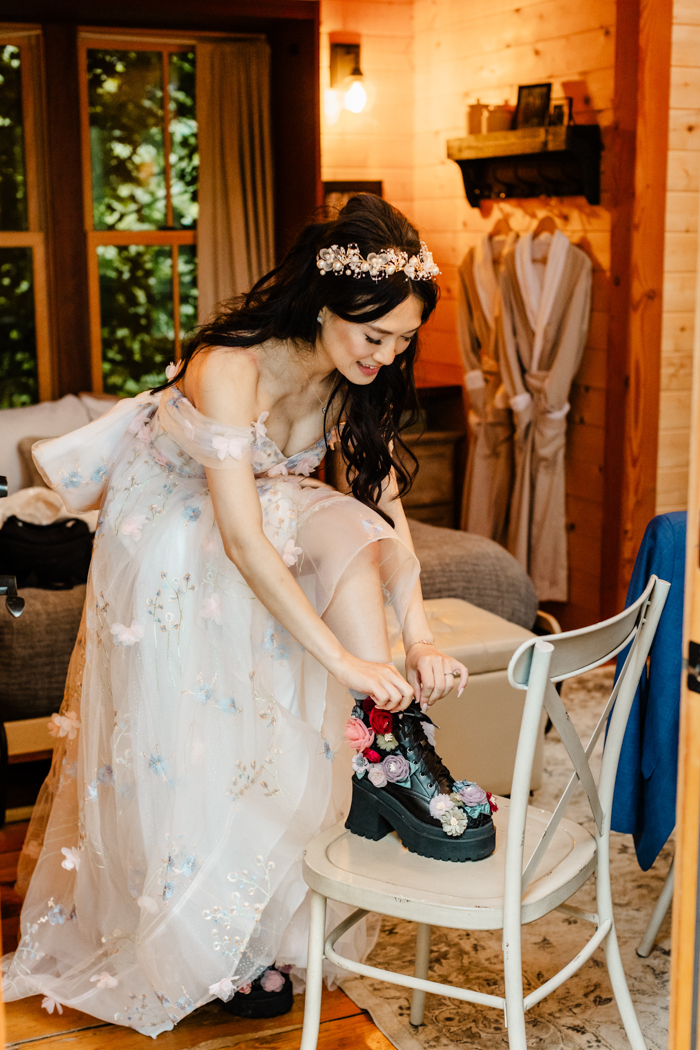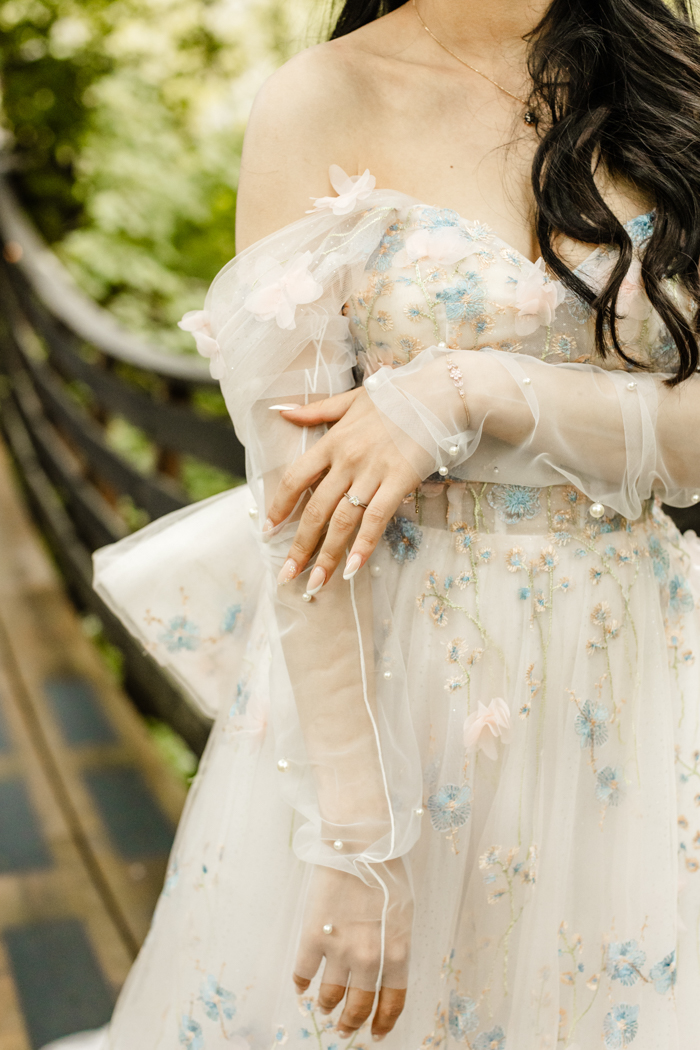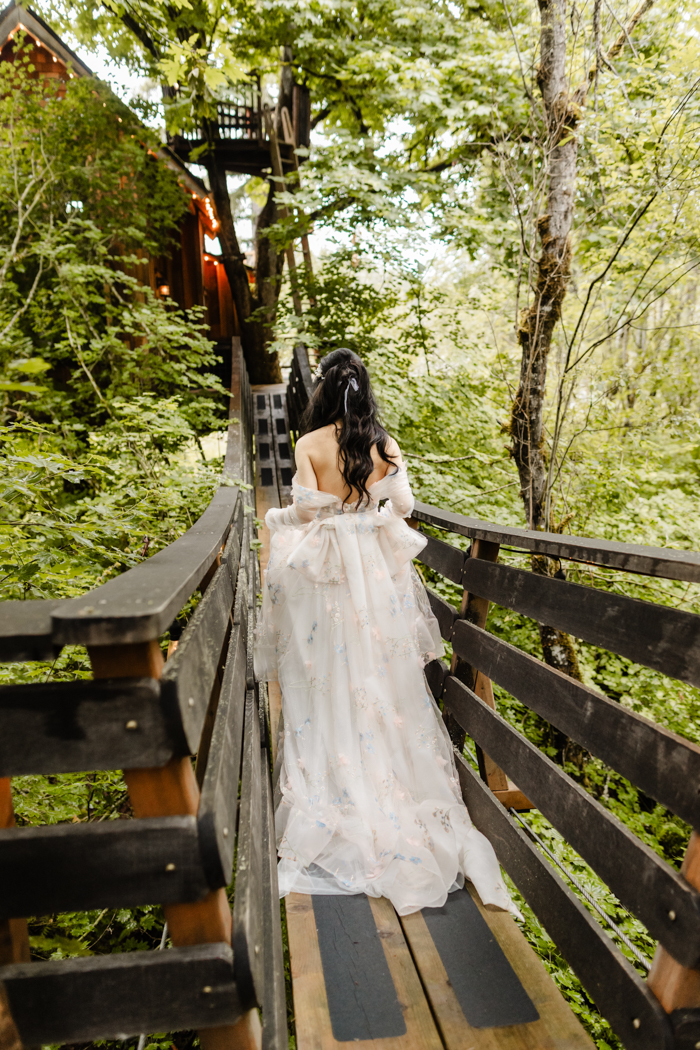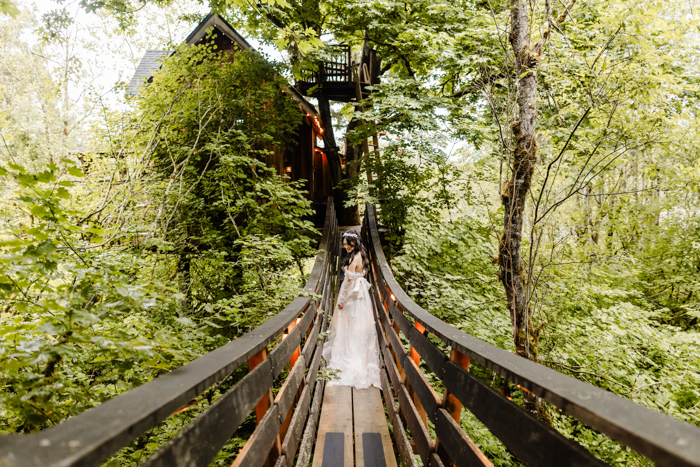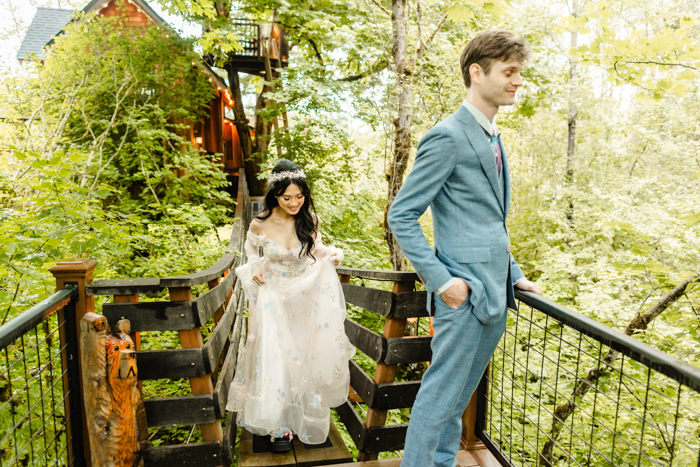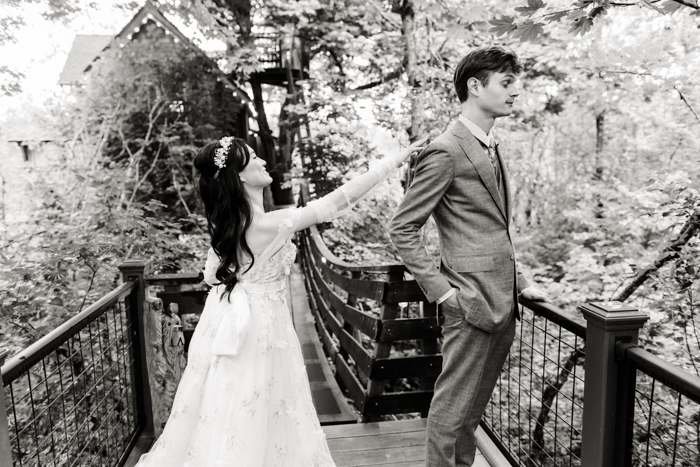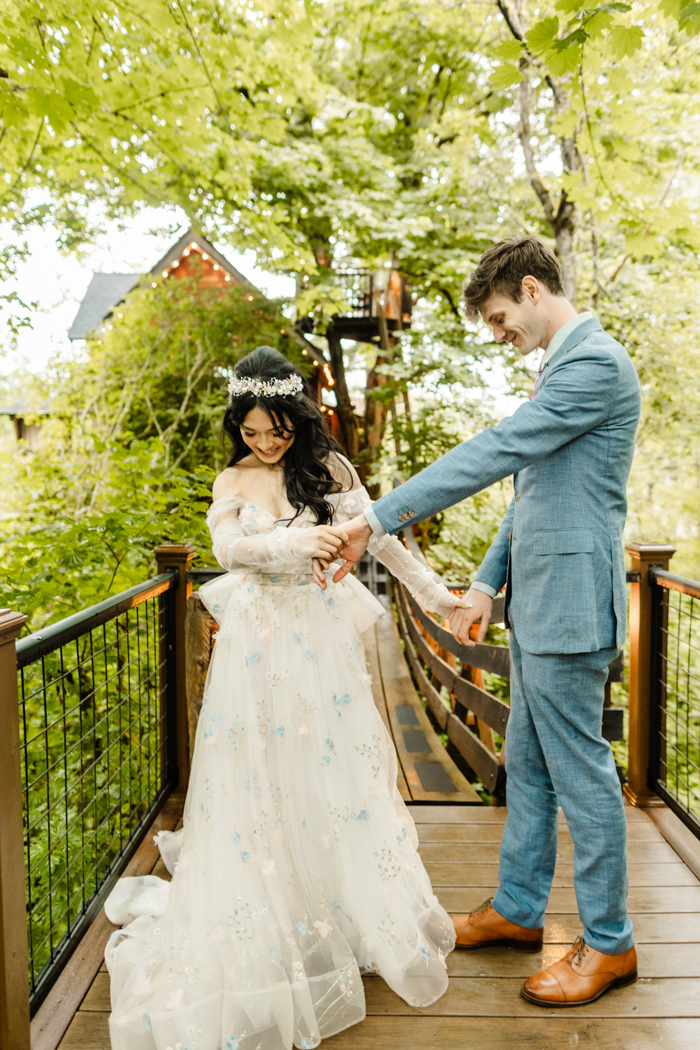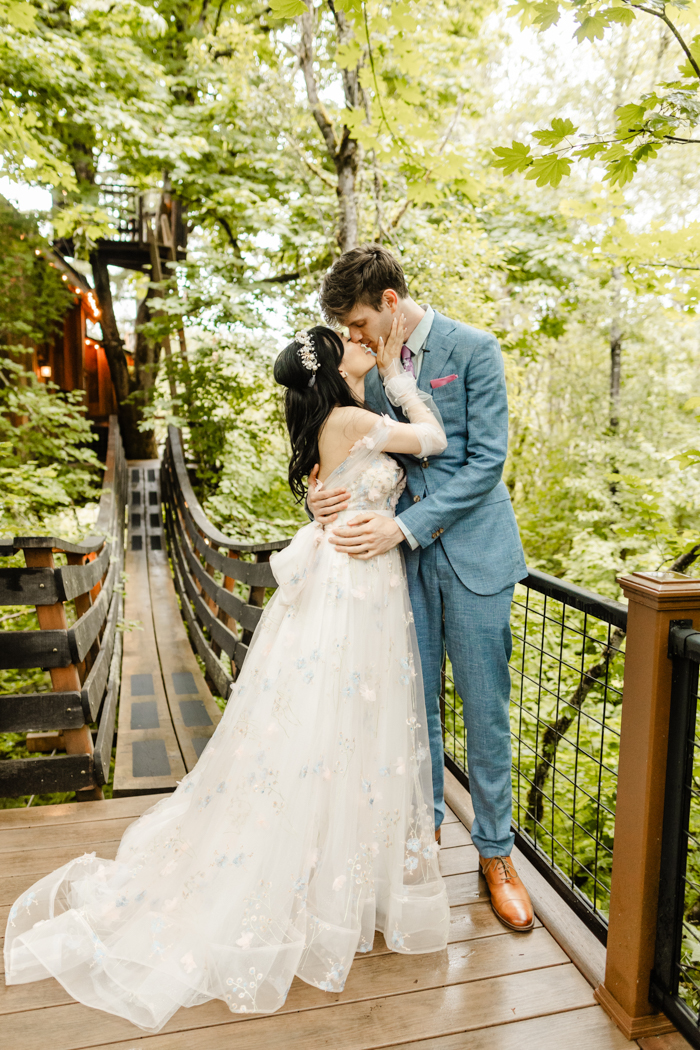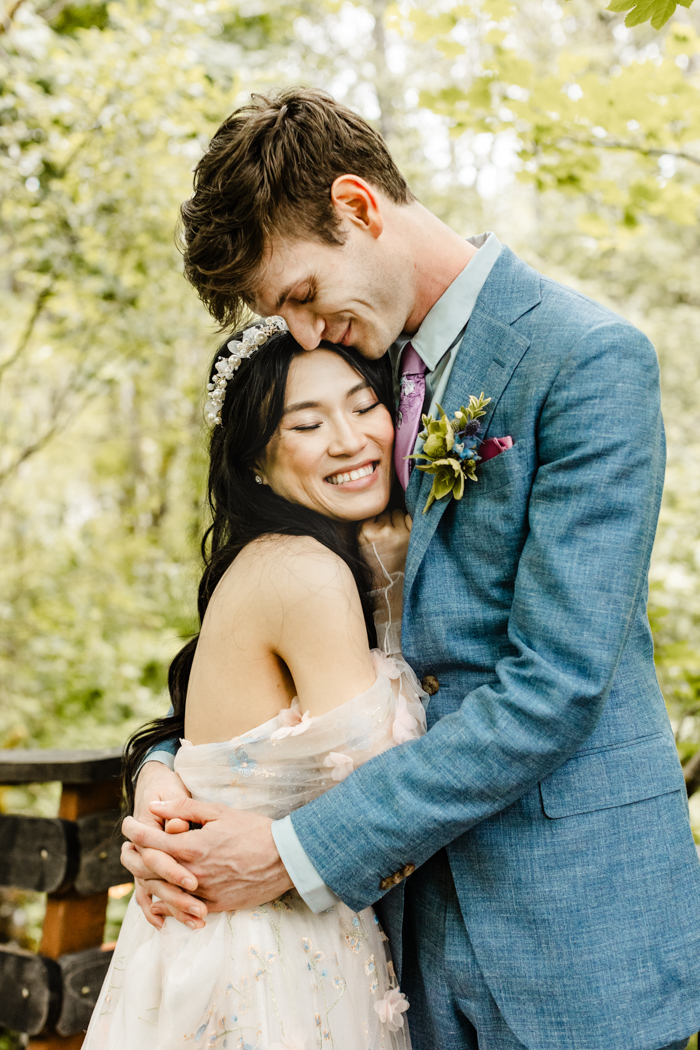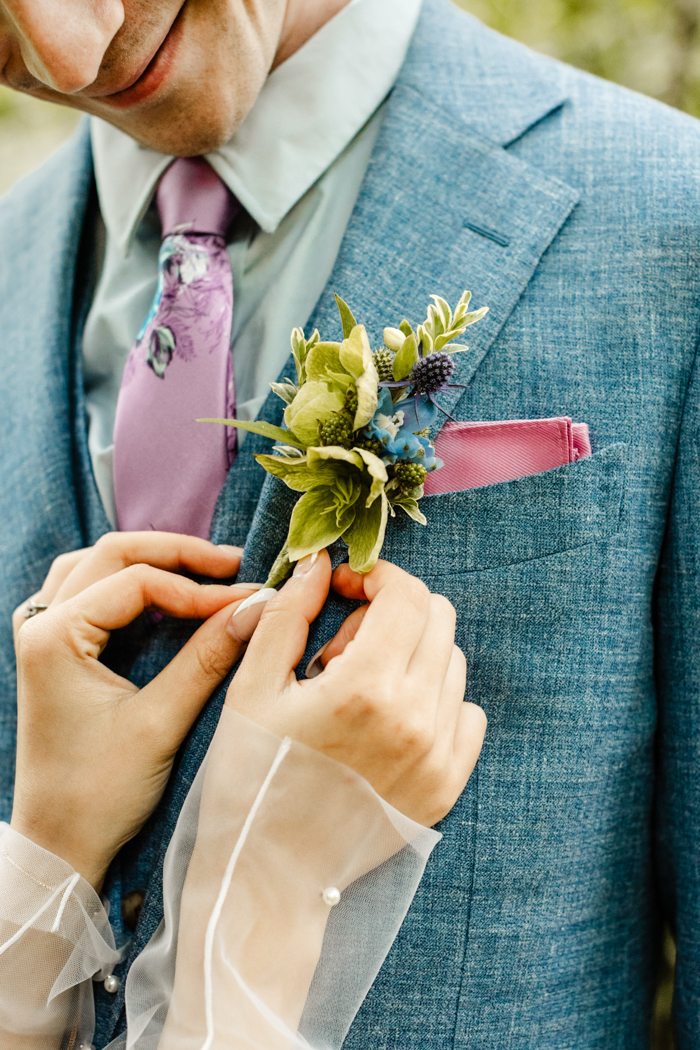 Creating a Whimsical Studio Ghibli-Inspired Emerald Forest Treehouse Theater Wedding
We wanted a forest wedding where I could create a fairytale, whimsical wedding. We also wanted a smaller wedding due to our budget and what we wanted for the wedding. We found the venue by googling unique wedding venues in the US, and it was the first result! We were going for a jewel-toned, colorful, fairytale wedding with a hint of Studio Ghibli. Since we were in nature and the forest, we wanted to have a lot of flowers to create a whimsical feel, which was also in the wedding dress. We focused on making the wedding fun, cozy, and relaxing/chill, with many activities, movies, snacks, a fire pit, a tree house, and cozy blankets. Three things made our venue the most memorable one yet. We ziplined into our wedding! And honestly, it was so fun!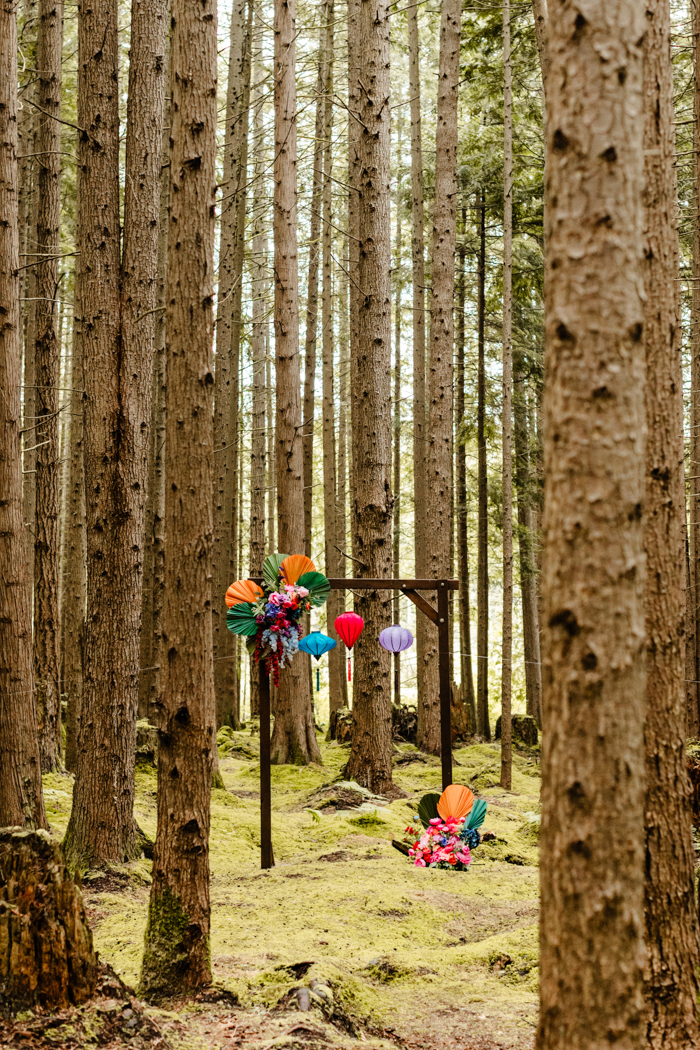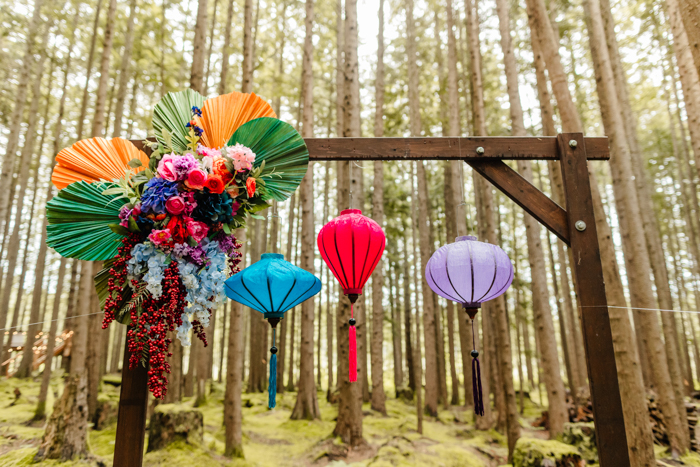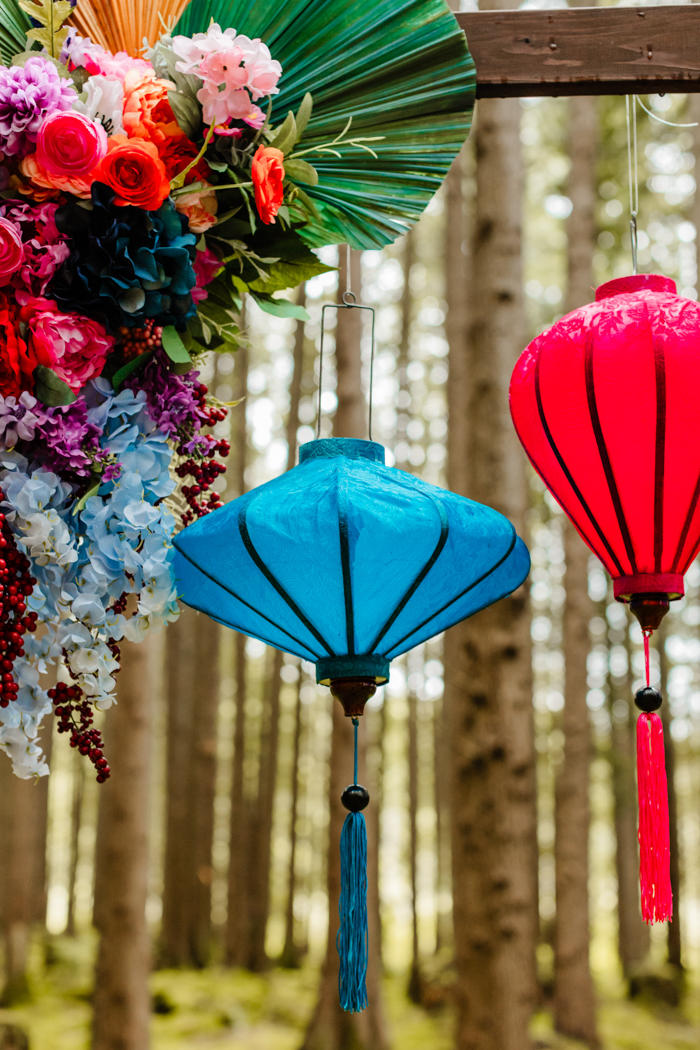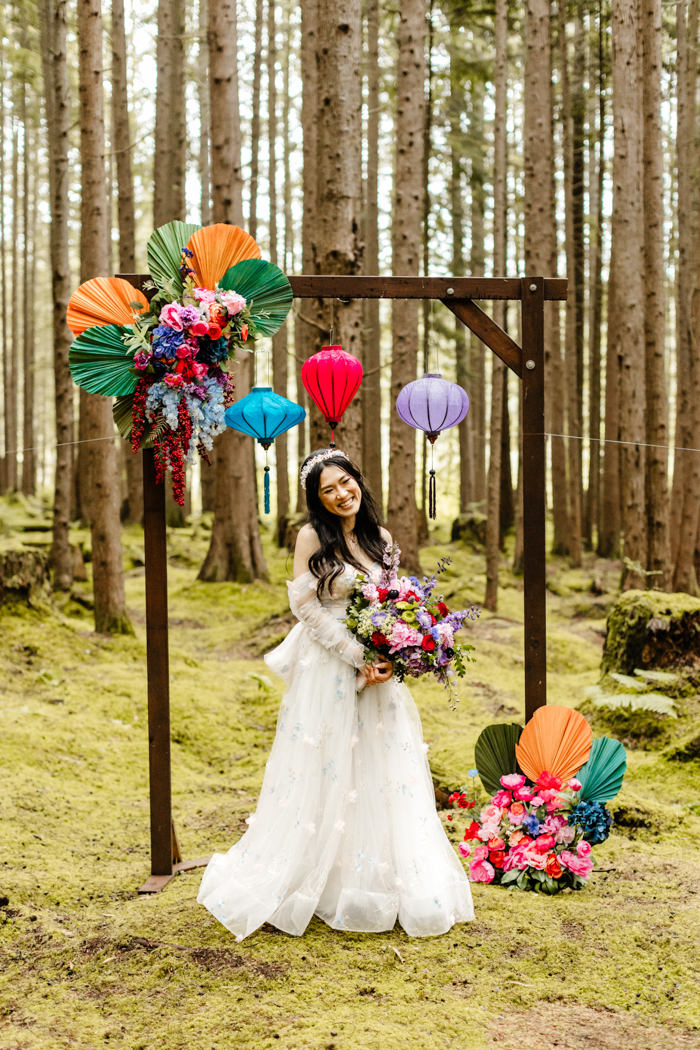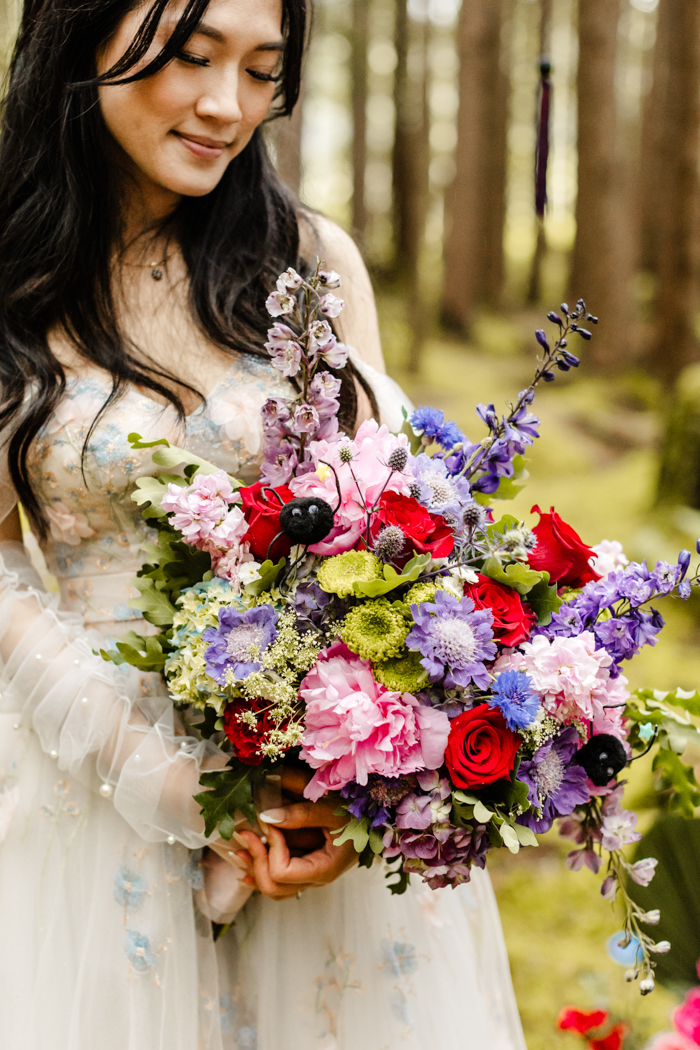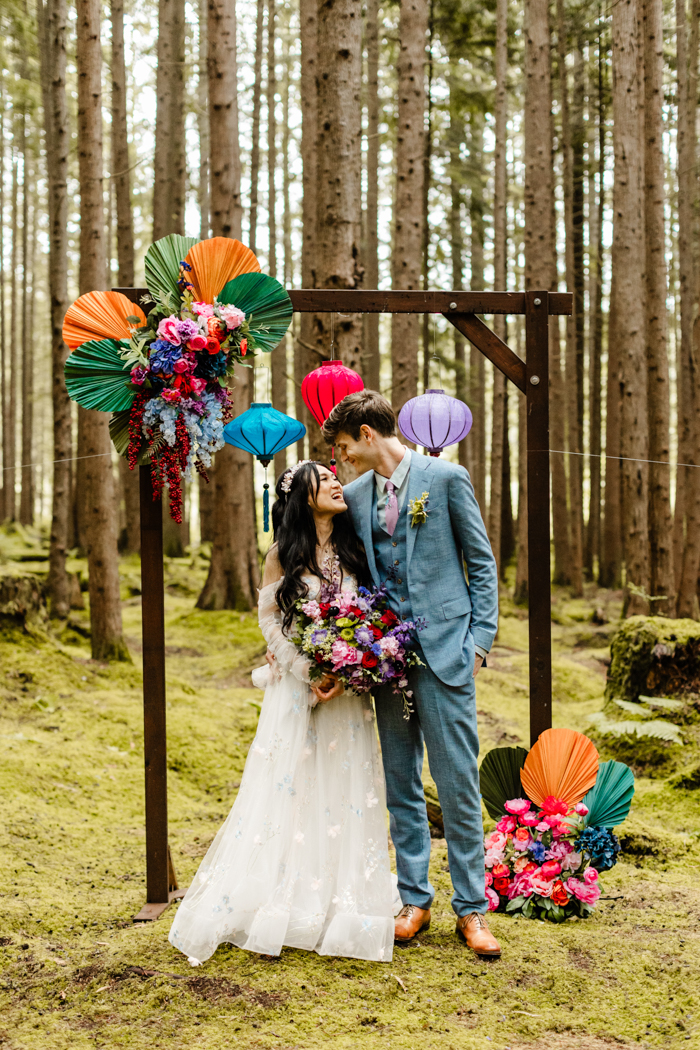 Crafting a Fairytale Wedding Look: Embracing Forest Elegance with Studio Ghibli Flair
From the start, I envisioned our wedding as a fairytale unfolding in a forest, much like the whimsical settings in Studio Ghibli films. With this dream in mind, I carefully selected my dress and shoes to match this magical theme. I aimed for simplicity in jewelry, allowing my dress and shoes to take center stage while maintaining an elegant touch. My goal was to veer away from the traditional wedding look, opting for softer colors in my dress and his suit to contrast the vibrant florals and decor. I chose color-coordinated jewelry to complement the dress, including a Sakura flower bracelet and a blue sapphire necklace, which also served as my something blue. For my overall bridal look, I opted for a natural style, considering the natural surroundings, as a glamorous look wouldn't quite harmonize with the forest setting.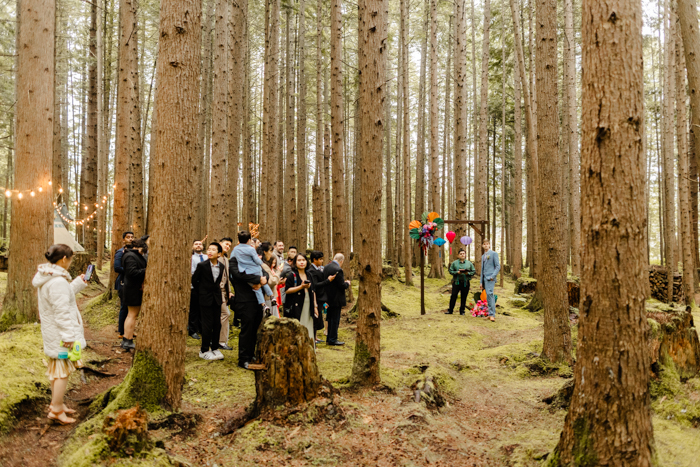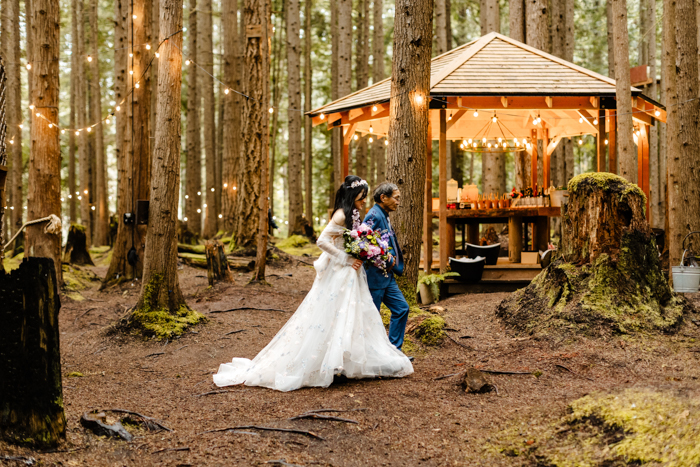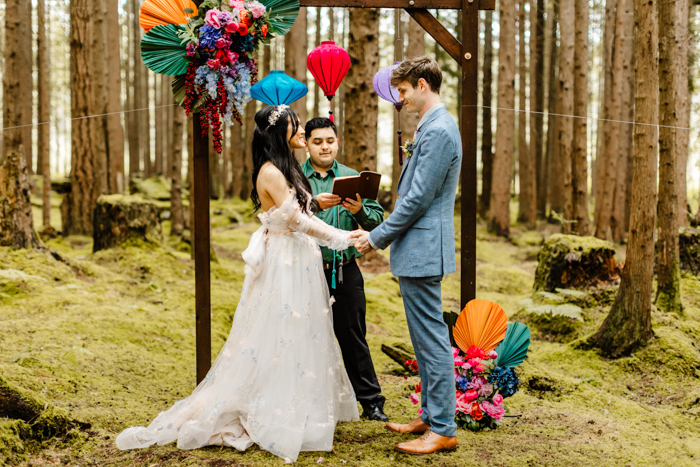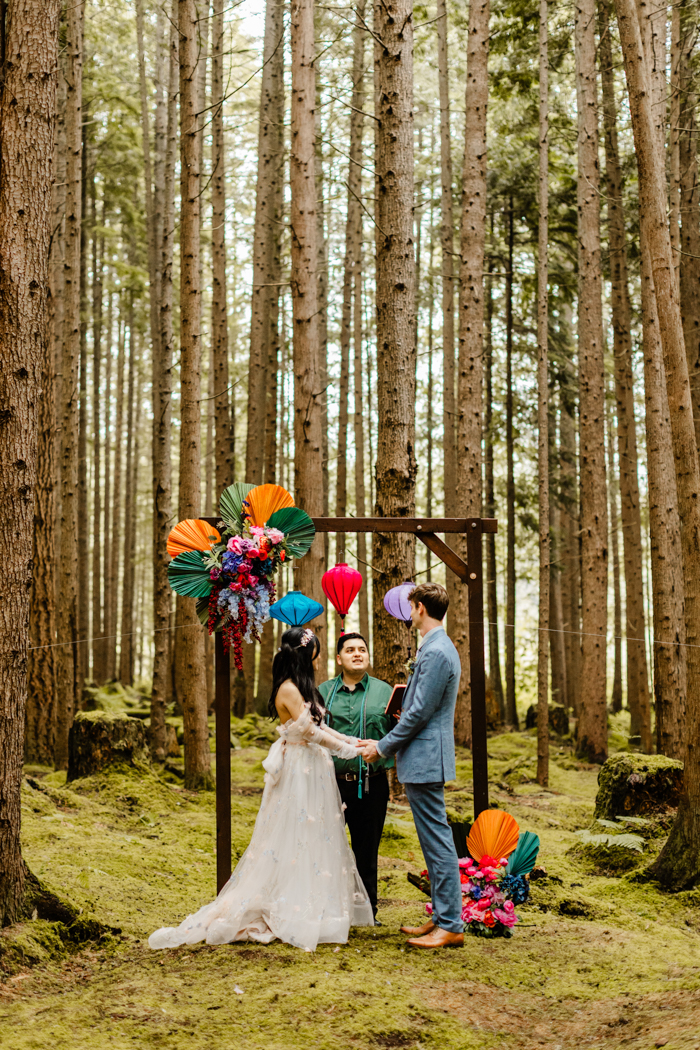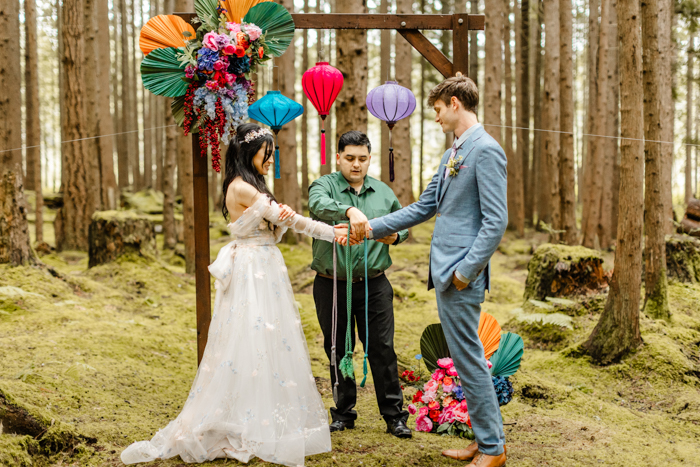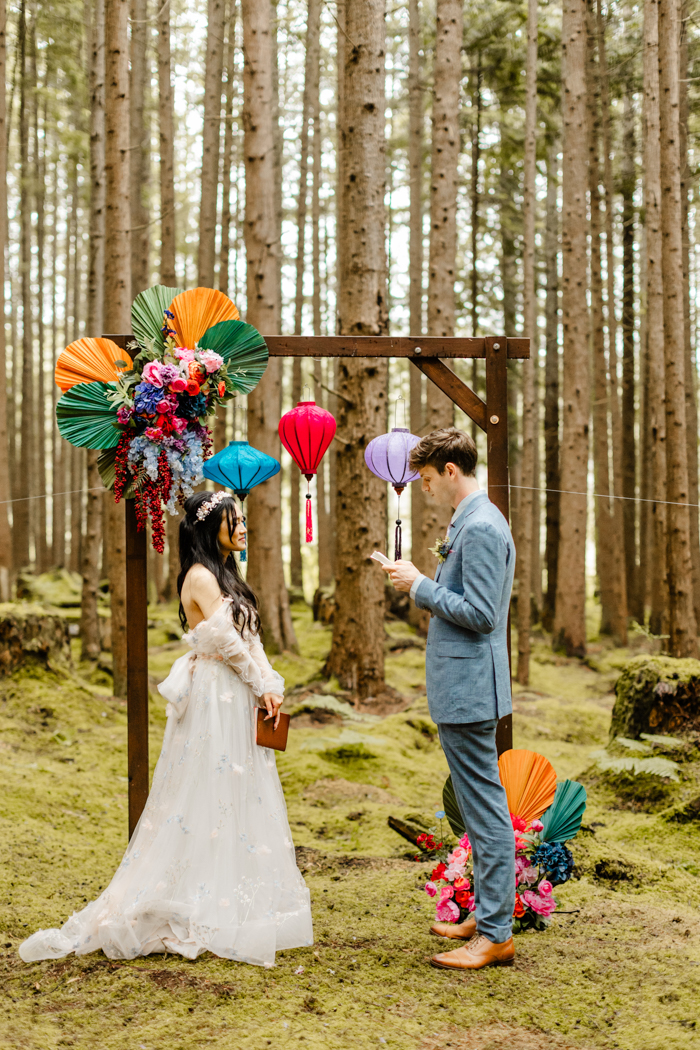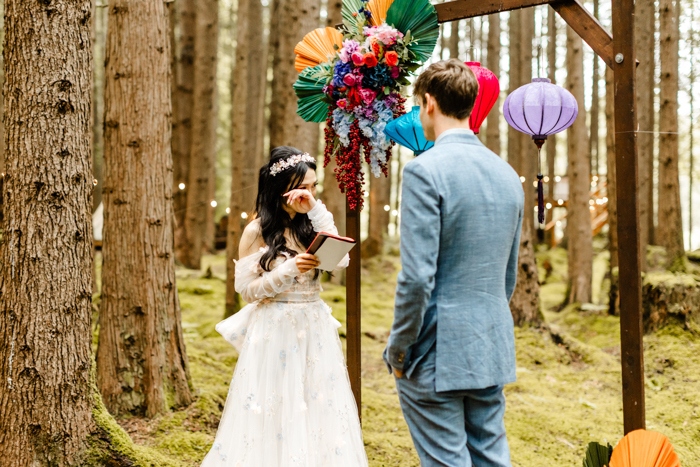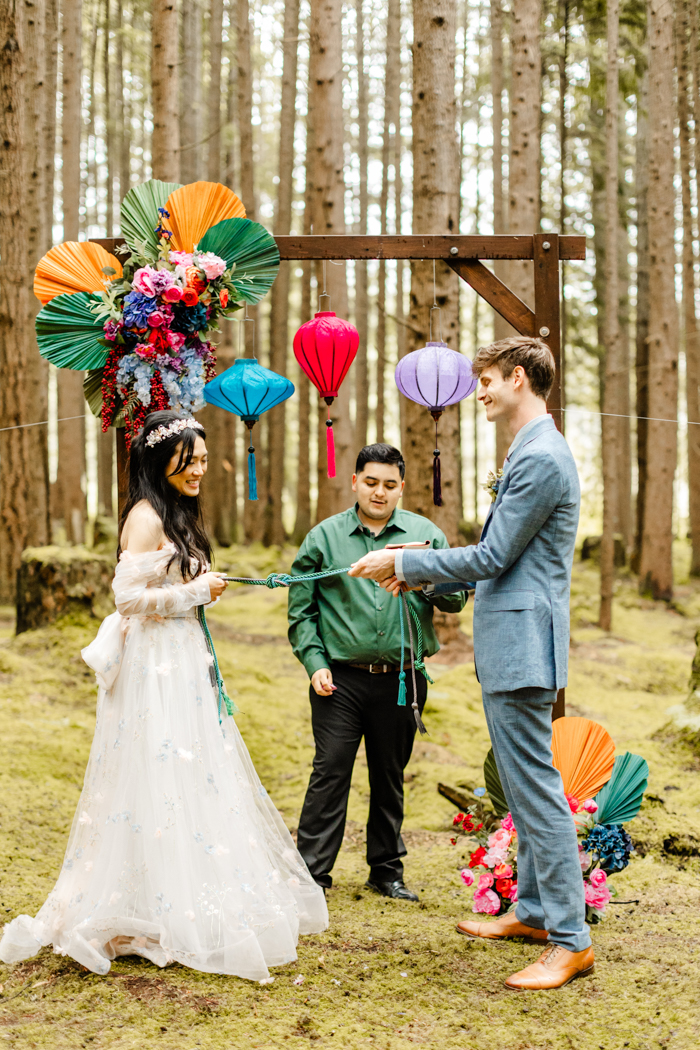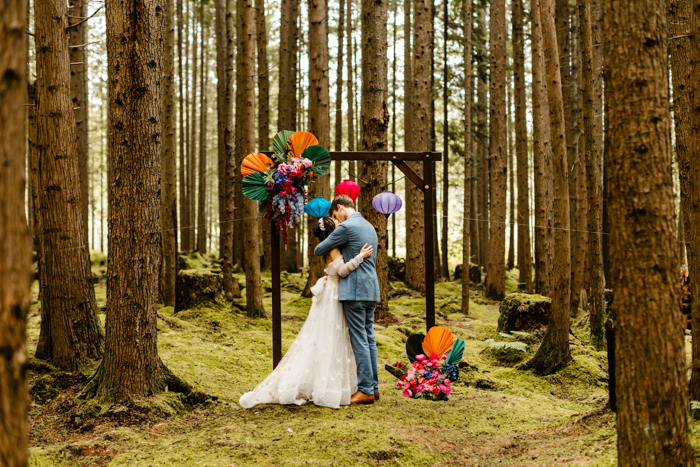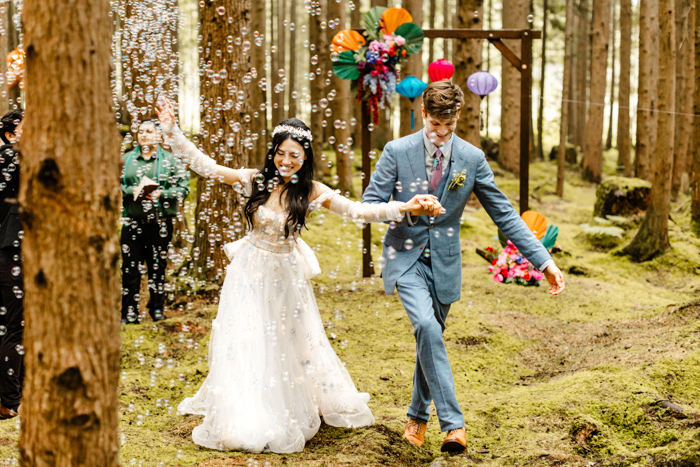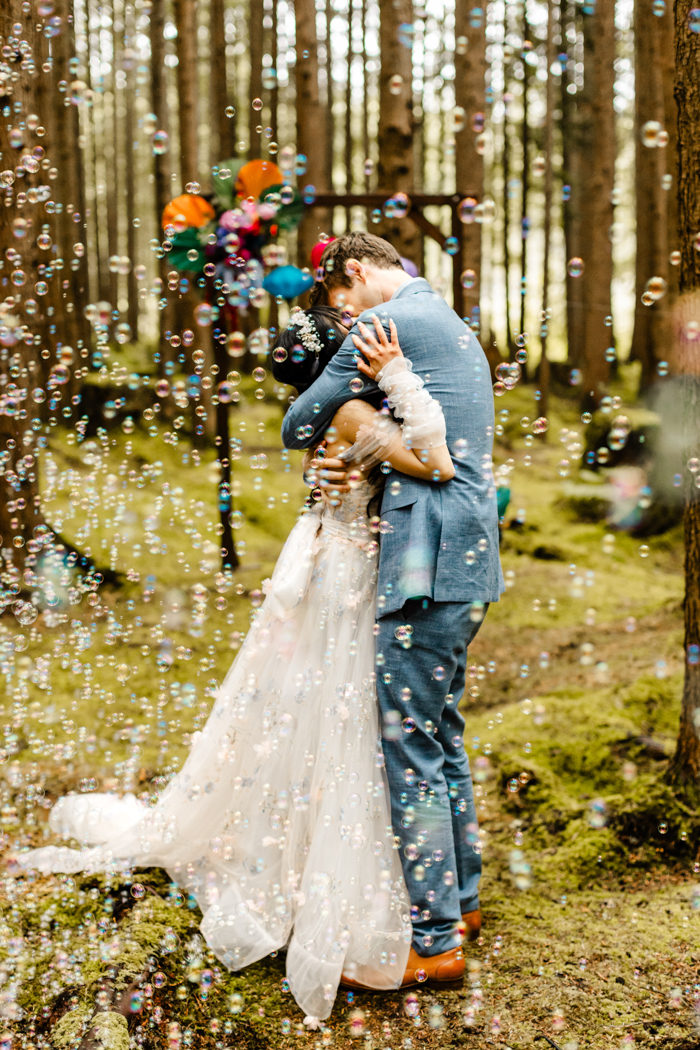 Personalizing Every Aspect of Their Emerald Forest Treehouse Theater Wedding Ceremony
We personalized everything about our ceremony. We had a friend officiate our wedding, and we found old examples of the officiating script that most applied to our forest wedding, edited it, and wrote our stories and our own vows. I built our arch flowers and bought Vietnamese Hoi An lanterns from Vietnam for the arch as a nod to my Vietnamese heritage. We did a rope-tying ceremony to celebrate Daniel's Irish/Scottish roots, where we tied three ropes into an infinity loop.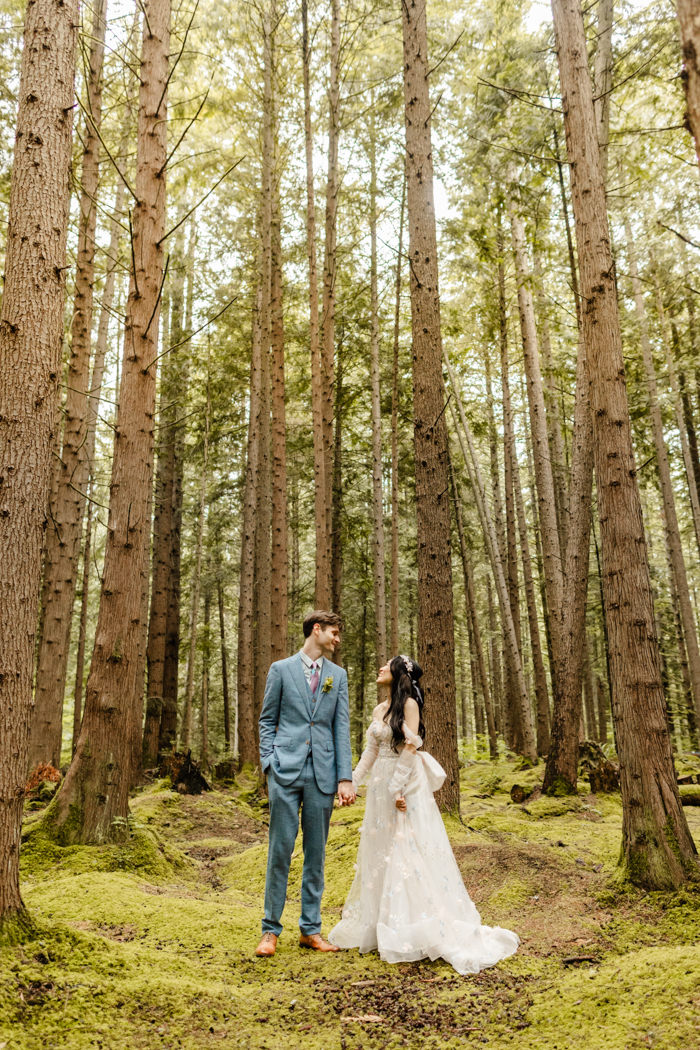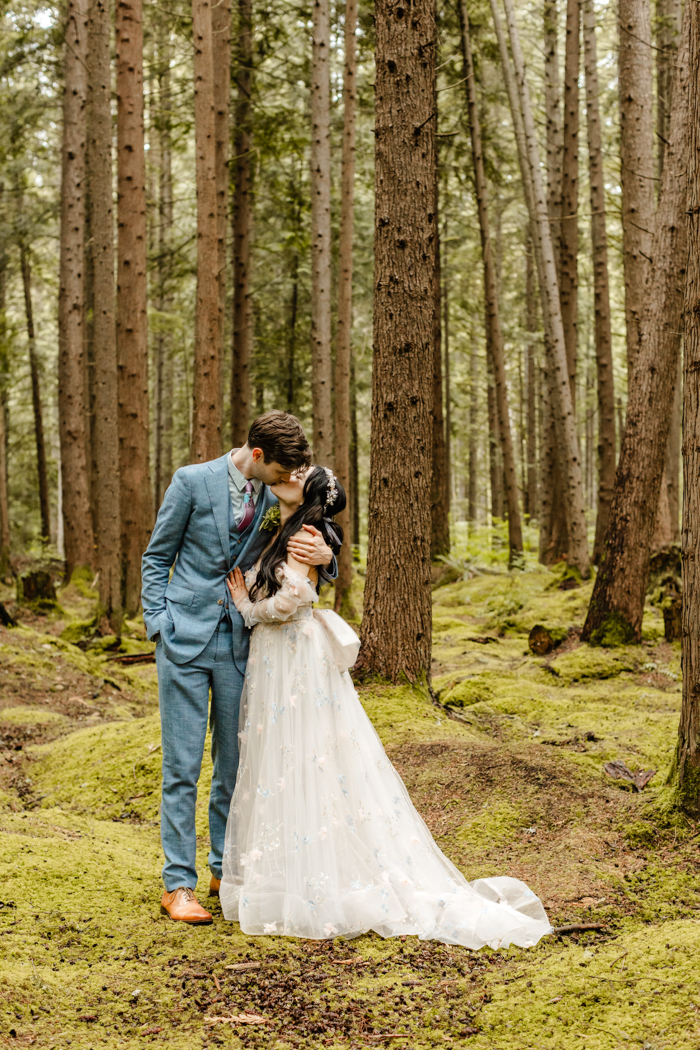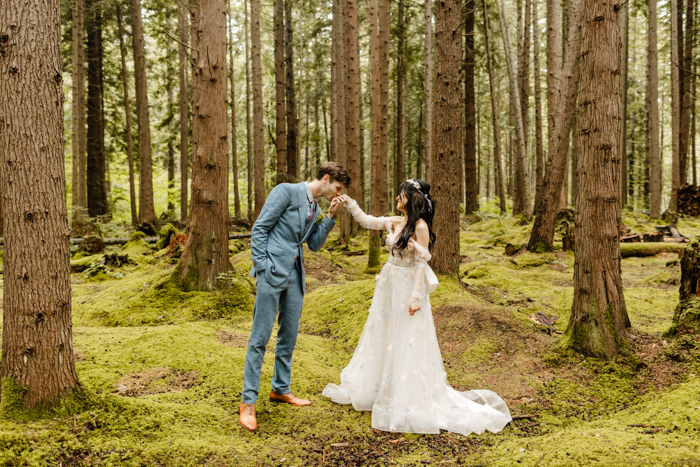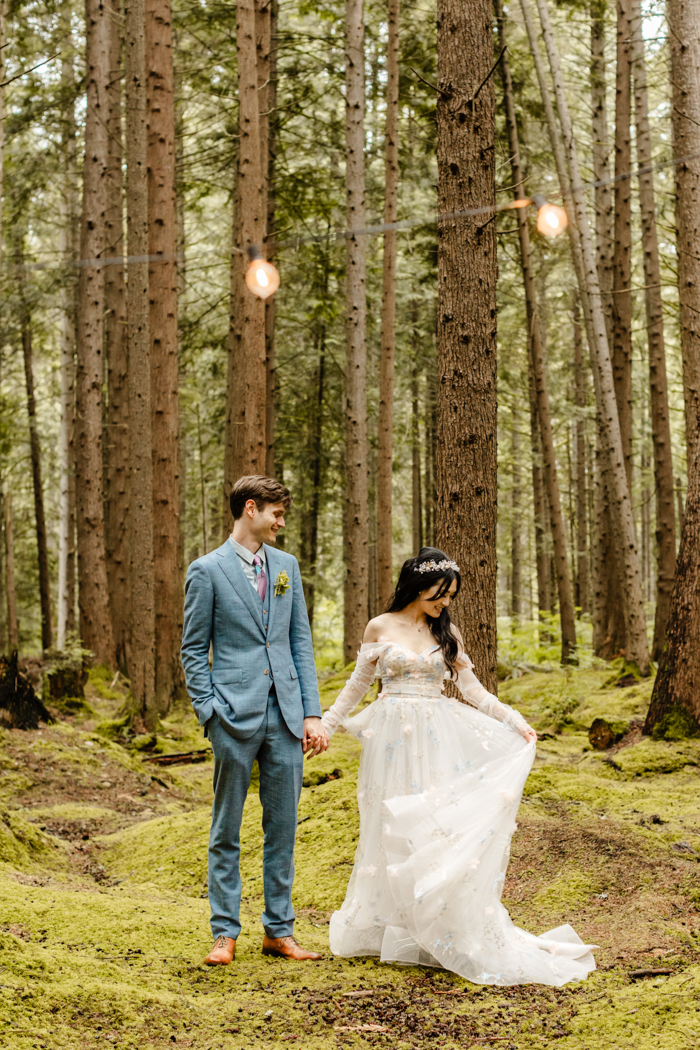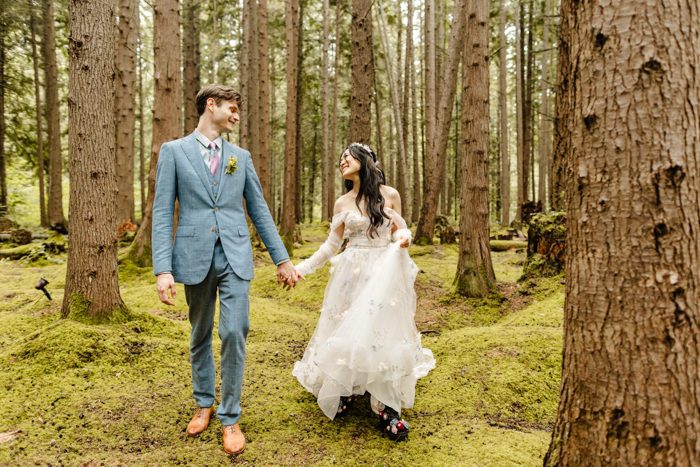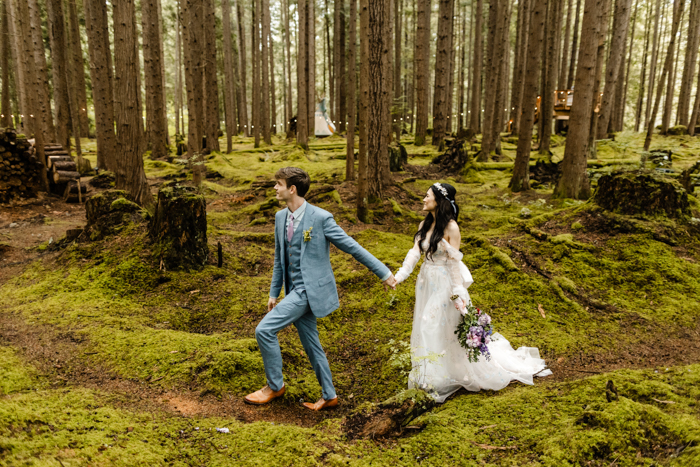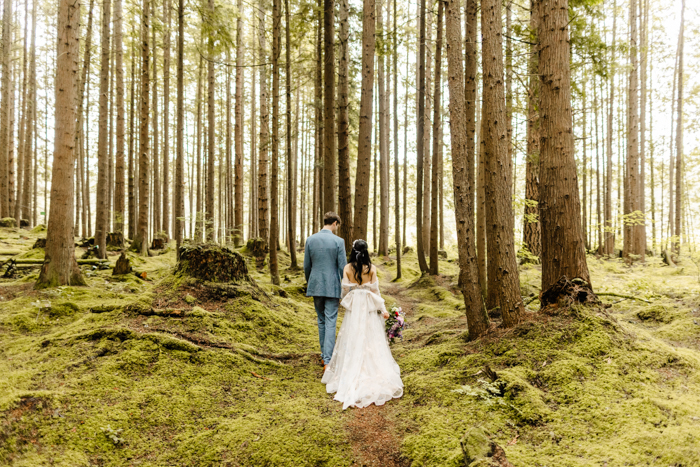 Adding Personalized Touches to Their Emerald Forest Treehouse Theater Wedding
I took on a lot of DIY projects to make our wedding uniquely ours. I handled all the floral arrangements except for my bouquet and the boutonniere. Additionally, I created all our signs using a Cricut machine for the mirror welcome sign and Canva for designing some other signs. To bring these signs to life, I had them printed as pictures at Walgreens (by the way, they always have great discounts on picture printing). For our vow books, I found them at TJ Maxx and used the Cricut to add his and her vows to both books. As a final touch, we personalized charcuterie cups with our initials and filled them with various delicious snacks, including dried fruits, nuts, charcuterie meat, and cheese. We found the brown cups on Amazon.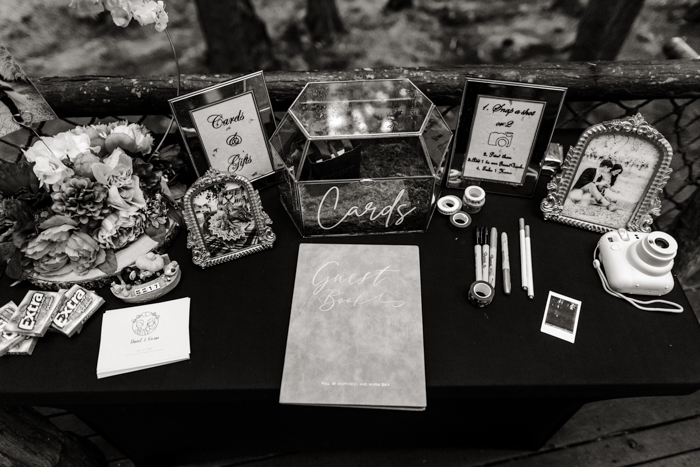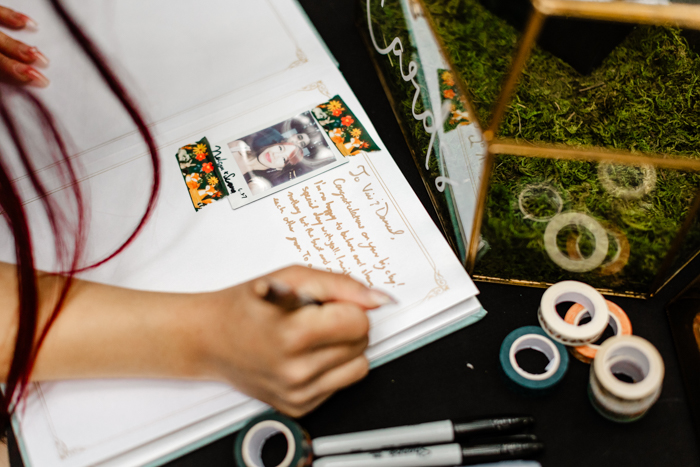 Top Tip For A Stress-Free Wedding Day: Embrace the Moment
As you approach your wedding day, take a deep breath and savor every moment, for the day will pass by in a flash, and you might forget a detail or two as I did with my veil. But what truly matters is that you're marrying the love of your life, which makes the day perfect, no matter what. To ensure you capture all the photos you desire, create a list and share it with your photographer. This will help you get those coveted shots during the most flattering light. Also, plan your day with photography in mind. On the day itself, don't let minor hiccups bother you; instead, relish in the moment's magic. Our wedding day was enchanting, and I still can't believe we made it happen.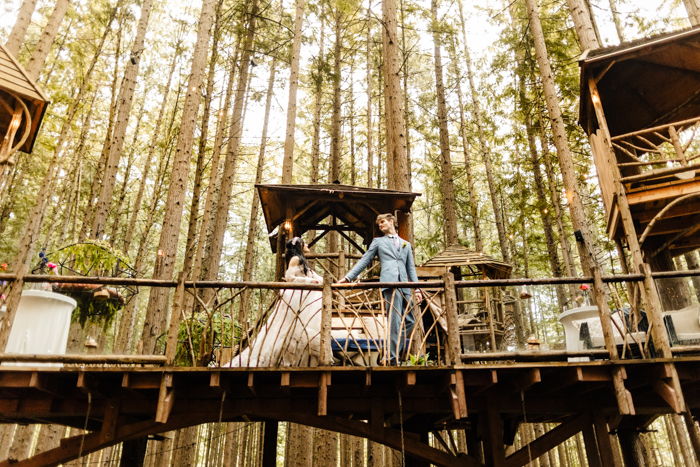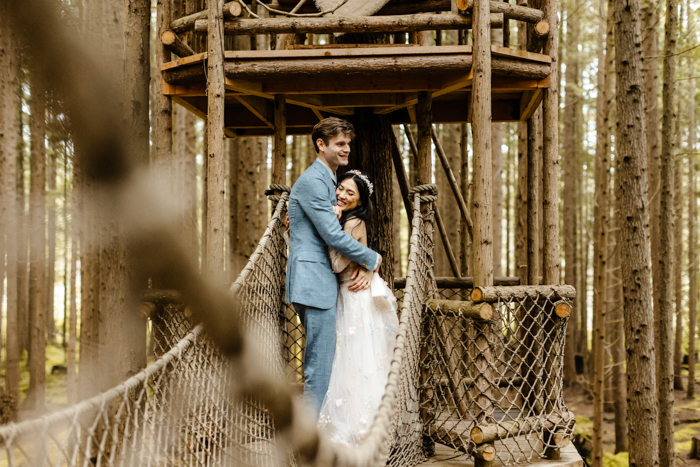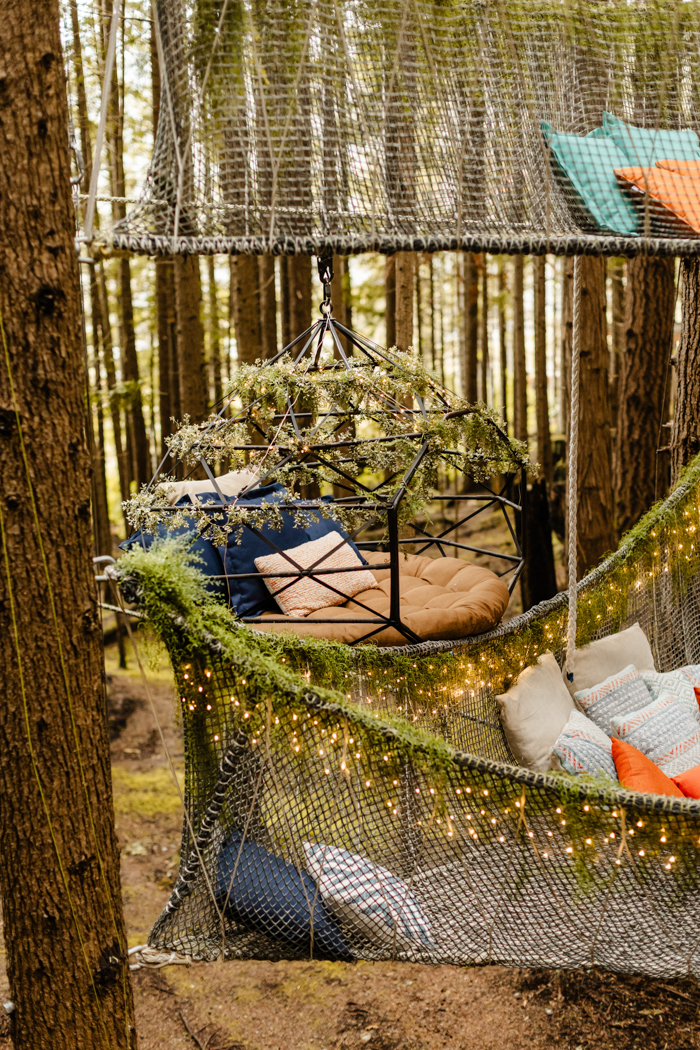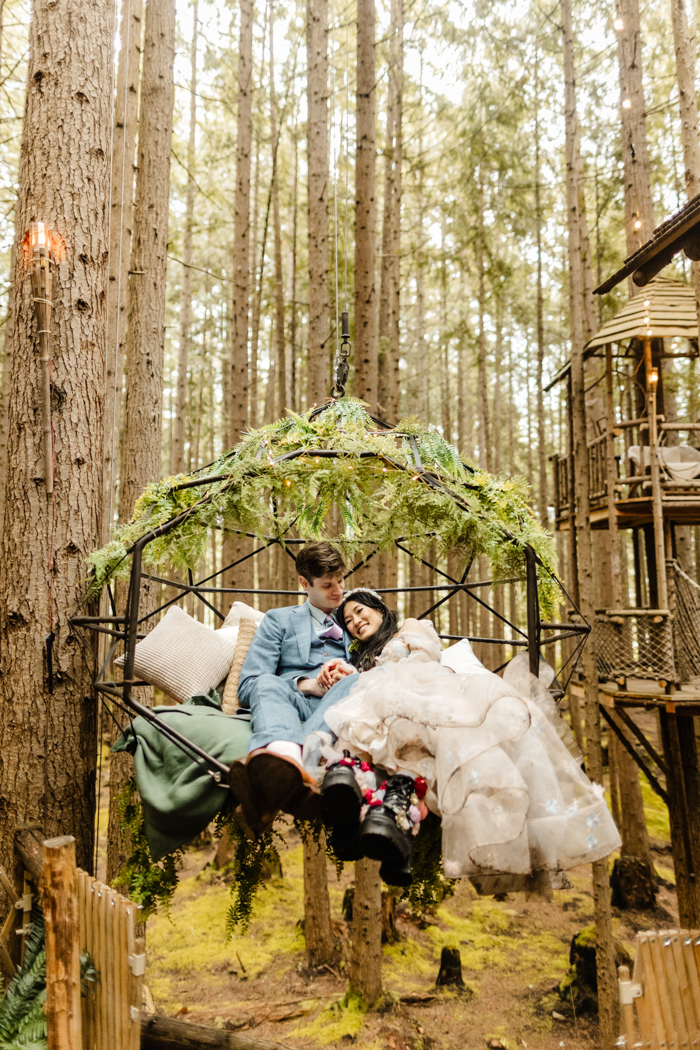 A Unique Wedding Ending: Movie Night, Surprises, and Sweet Treats
Instead of dancing the night away, we chose a different path—we had a movie night that perfectly fit our Spirited Away theme. And let me tell you, the after-dark surprise was the icing on the cake! I won't give away any spoilers for future brides and grooms, but it's an incredible way to cap off your night. If it happens to rain, it adds an extra touch of beauty, especially if you bring a bubble machine along. As a sweet treat for our guests, we gave out Seattle chocolates because we find them delicious and because we wanted our guests to enjoy them and share in the delight. After all, who can resist good chocolate?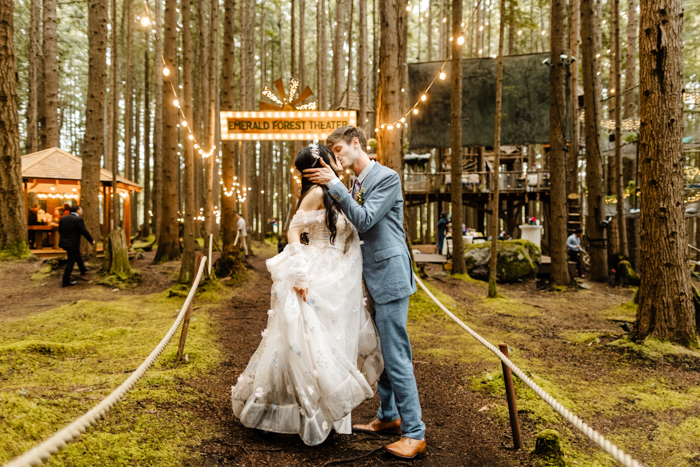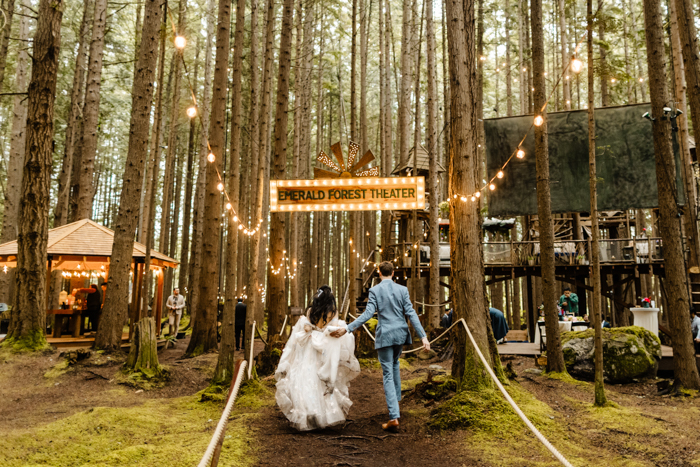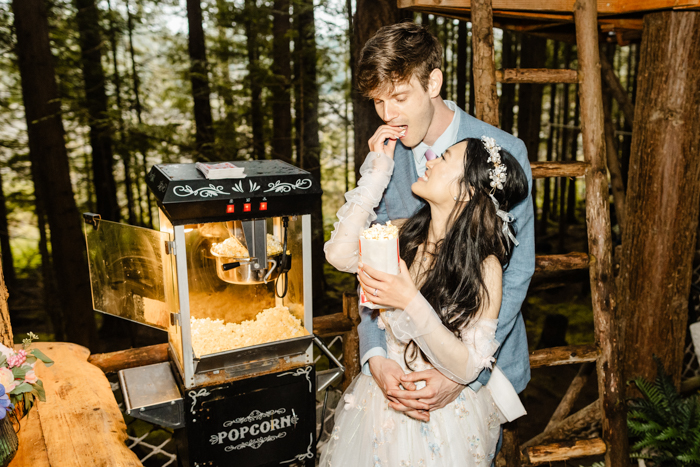 Cheers to Vivian and Daniel on their whimsical Studio Ghibli-inspired Emerald Forest treehouse theater wedding. We also want to thank Junebug member TMInspired for beautifully capturing every moment of this special day. To see more one-of-a-kind celebrations like this one, check out TMInspired's profile in our directory of the world's best wedding photographers.
If you and your partner want your wedding to authentically represent you as a couple, you can make it memorable by being creative with the theme, choosing a unique venue, and adding some surprising touches. For an in-depth guide on planning a wedding that stands out and is personalized to your relationship, be sure to check out our guide on planning a unique wedding.