When most people think of wedding attire, they think of their wedding dress, jumpsuit, or tuxedo–overlooking just how important their accessories are! From veils to jewelry to hats to shoes, your accessories take your wedding look to the next level from head to toe.
Finding the perfect pair of wedding shoes is not only about picking out a pair that best represents your style. Your wedding shoes should also complement your venue, your overall outfit, and most importantly, be comfortable. You are going to be wearing them for hours at a time, after all.
To help narrow down your search in the wide world that is wedding shoes, we've rounded up shoes of every style and color you can imagine.
Tips For Buying Wedding Shoes
Tip 1. Shop Early
Shopping last minute for your shoes will add to your wedding planning stress. If you're doing most of your shopping online, you'll find that sizes run out very quickly–especially if the shoes are specifically designed for weddings.
Shipping can also be delayed for various reasons, including an item being back-ordered or inclement weather. Having your shoes early will also ensure that you have the right measurements for outfit alterations in case you need the length changed.
Tip 2. Consider Your Venue
Rather than worry about the aesthetic of the venue, consider the terrain. High heels may not be practical for a garden or beach wedding where you'll sink into the sand or grass. If you're eloping somewhere adventurous where you'll be doing a lot of hiking, wedding boots are going to be your best bet.
Tip 3. Think About What You Wear Everyday
Do you feel confident about wearing 4-inch heels for eight hours? Or do you typically wear sandals and flats? While your wedding day is one of the few days that you get to wear over-the-top attire, comfort is key. If you do prefer sneakers or sandals in your everyday life, but wearing a heel is important, there are low heel wedding shoe options that are both beautiful and easy to walk in.
Tip 4. Break Them In Before The Big Day
Try them on over and over and over. Wear them while you do everyday activities and chores around the house. Maybe even practice dancing in them with your soon-to-be partner. Whatever you do, try to keep them as clean as possible in case you need to return them.
Tip 5. Have A Backup Pair
Even if you absolutely adore the shoes you've picked, having a backup pair of shoes will save the day if you run into any comfort problems or wardrobe malfunctions. That way, you won't have a last minute shoe emergency if there's a broken strap or problems with the soles. After all, there's room in your wedding day emergency kit for just that reason.
Tip 6. You Can Have More Than One Pair Of Shoes
There's absolutely nothing wrong with having multiple pairs of shoes for your special day, either. If you're set on wearing heels to your ceremony but want to be comfortable while you dance the night away, switch into a pair of sandals or sneakers!
Flat And Sandal Wedding Shoes
Flats and sandals are going to be the most comfortable options out of all of the wedding shoes. They're great for every venue option and style. If you're tying in the knot in the spring or summer, these are the perfect shoes for you. If your special day is in the winter but you still want to wear something with no heel, consider a flat so that your toes remain covered and cozy.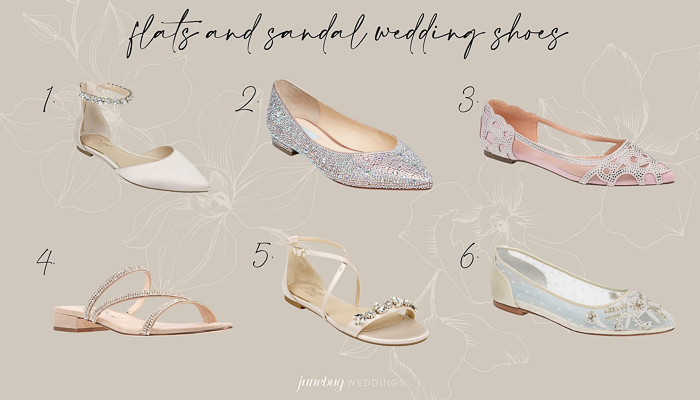 1.Cassidy Evening Flat 2. Jude Evening Flats 3. Batavia Flat 4. Solita Sandal 5. Tessy Embellished Sandal 6. Adora Skimmer Flat
Low Heel Wedding Shoes
If you can't shake the idea of wearing a heel but comfort is most important to you, these low heel shoes are for you. From wedges to kitten heels, these give you a bump in height without the pain.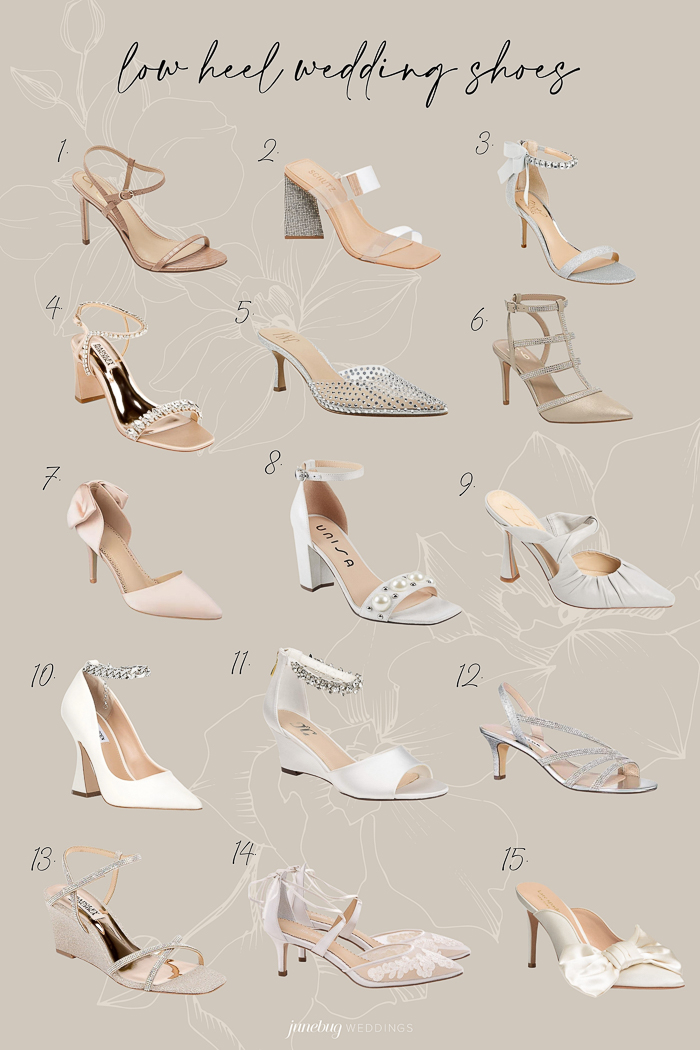 1.Doran Strappy Sandal 2. Ariella Sandal 3. Jayne Sandal 4. Marilee Ankle Strap Sandal 5. Giralda Mid-Heel Mules 6. Liraven Pumps 7. Tanzi Pump 8. Unisa Danai Sandal 9. Tillary Pointed Toe Mule 10. Zippy Pump 11. Connor Wedge Sandal 12. Noura Slingback Sandal 13. Reagan Embellished Wedge 14. Embroidered Lace Pointed Toe Pump 15. Sheela Heels
High Heel Wedding Shoes
If you're one of the brave ones looking to wear high heels on your wedding day, we commend you. While these heels may not be the most comfortable, they sure are stunning. And as we mentioned earlier, there's nothing wrong with rocking these for your ceremony and changing into comfy sandals later in the night!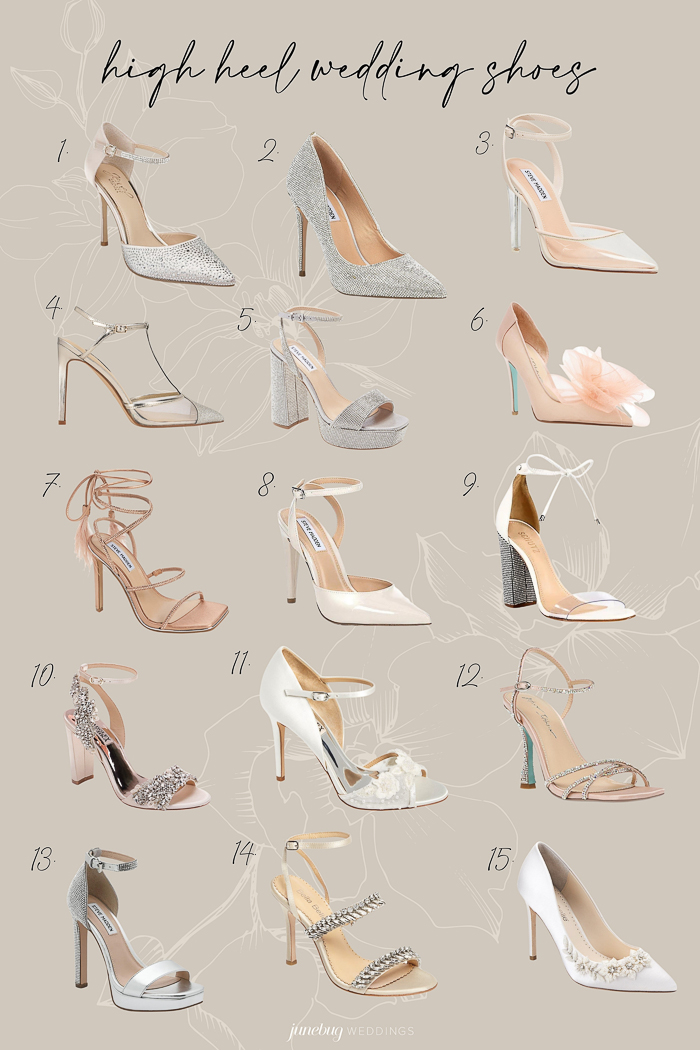 1.Jailene Ankle Strap Pump 2. Daisie Pumps 3. Alessi Vinyl Two-Piece Pumps 4. Terrah T-Strap Dress Pumps 5. Lessa Platform Sandal 6. Susan Pump 7. Upgrade Heeled Sandal 8. Aced Pump 9. Schutz Anahae 10. Badgley Mischka Libby 11. Carter Beaded Pump 12. Piprr Sandal 13. Kisha Platform Sandal 14. Belinda Embellished Sandal 15. Jasmine Embellished Silk Pump
Wedding Booties
Whether you're having a winter wedding surrounded by snow or you're climbing the beautiful mountains of a national park, these wedding booties are sure to keep you warm and comfortable.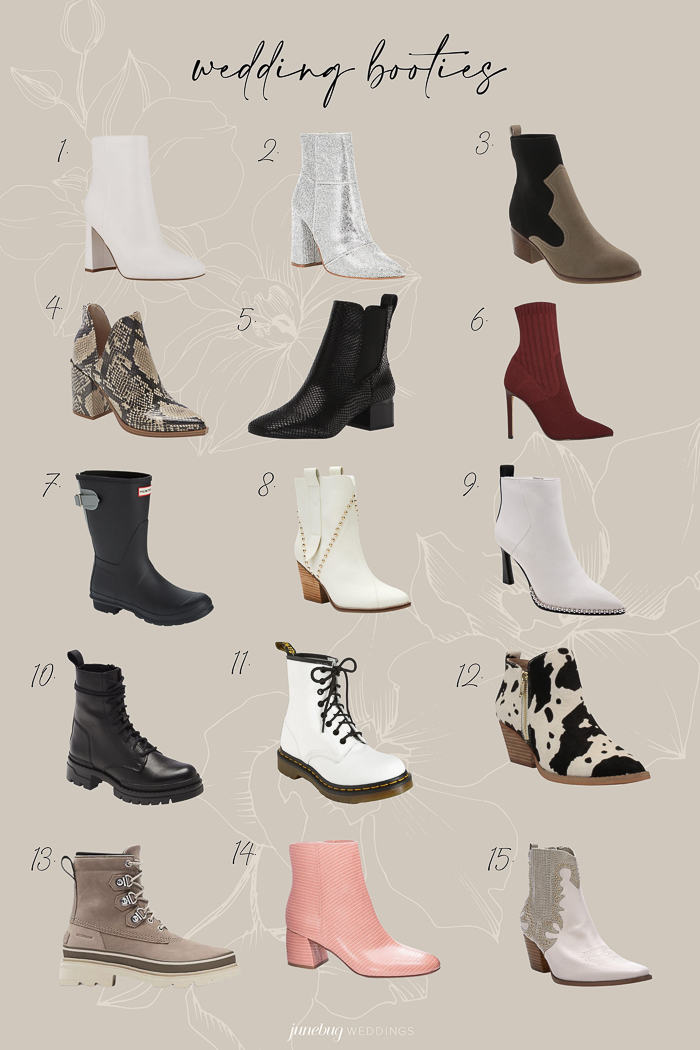 1.Jacinta Bootie 2. Noticed-R Crystal Bootie 3. Drake Nicky Boot 4. Cedar Bootie 5. Waxton Chelsea Boot 6. Discreet Stiletto Bootie 7. Original Short Back Adjustable Waterproof Rain Boot 8. Ace Western Boot 9. Beya Pointed Toe Bootie 10. Jamisyn Lace-Up Boot 11. '1460 W' Boot 12. Gracemont Bootie 13. Lennox Street Boot 14. Davinna Bootie 15. Eliza Western Boot
Oxford And Loafer Wedding Shoes
If you're planning on rocking a jumpsuit, pantsuit, or saying "I do" at the courthouse, these oxfords and loafers make the perfect shoe for anyone looking for something both casual and chic.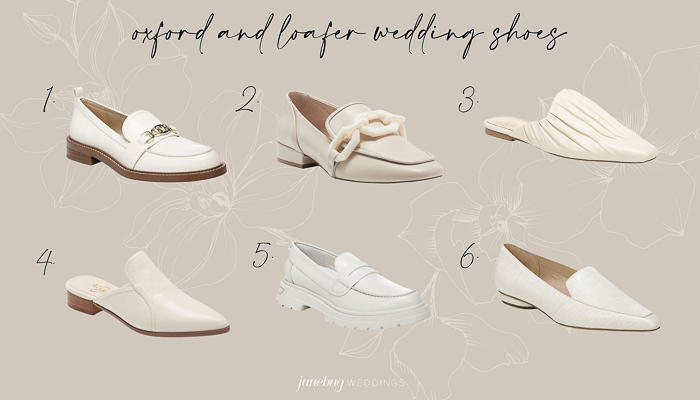 1.Christy Loafer 2. Emlen Chain Loafer 3. Cecilia Mule 4. Rue Loafer Mule 5. Reza Penny Loafer 6. Balica Flat
Now that you've got your ideal wedding shoes picked out, be sure to check out these easy hairstyles and accessories to finalize your look!