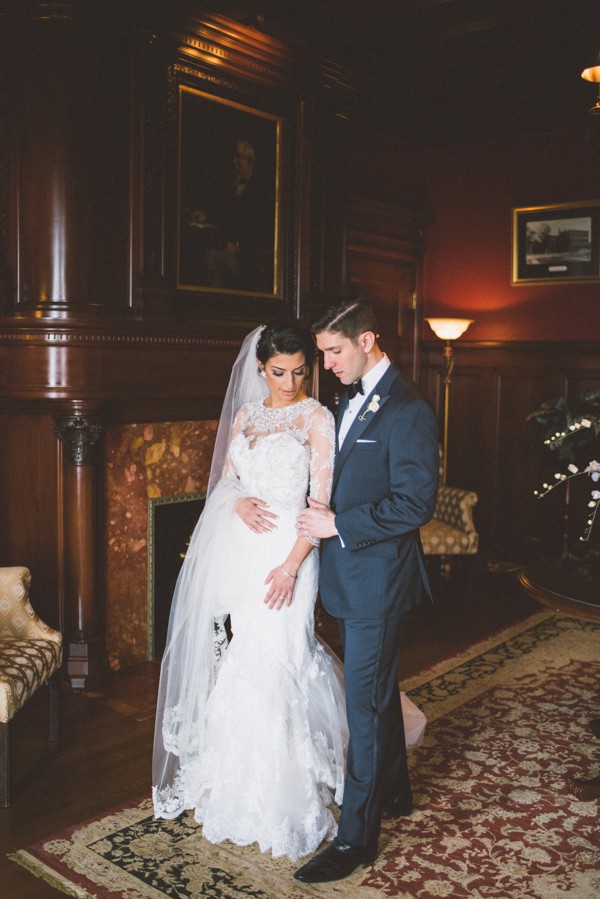 Jessica and Dominic's wedding guests traveled from far and wide to see them tie the knot, so the couple thanked them by treating their guests to an unforgettable blush and gold wedding! Using gold foil, blush rosettes, and white lace as color and texture inspiration, Jessica and Dominic's Ciociaro Club of Windsor wedding was filled with heartfelt moments and luxurious style. Jessica wore a show-stopping gown and handmade lace jacket from Enzoani and donned a cathedral length veil to complete her dramatic bridal look. We love the range of emotion and light that photographer Nikki Mills portrays in her documentation of the couple's day!
The Couple:
Jessica and Dominic
The Wedding:
Canadian Club Brand Centre & Ciociaro Club of Windsor, Ontario, Canada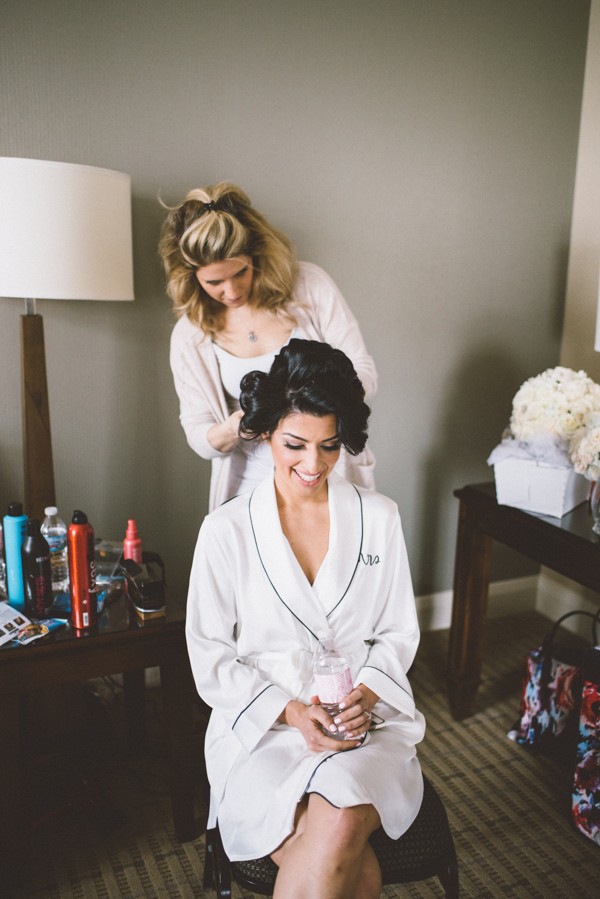 From the moment I became engaged, I instantly had wedding ideas swirling through my brain. My fiance and I had a long distance relationship at the time, with his family being from New York and my family rooted in Michigan so, that posed quite a challenge as far as location for our wedding. In an effort to help, my father brought me to the Ciociaro Club of Windsor, which is an Italian social club that my family belongs to and from that day, the search was over. Not only was the reception hall stunning and majestic in its own right, it held nostalgic value to our families and presented itself as the perfect space for our grand, Italian wedding being that my groom and I our proud of our Italian heritage and wanted to incorporate that into our wedding.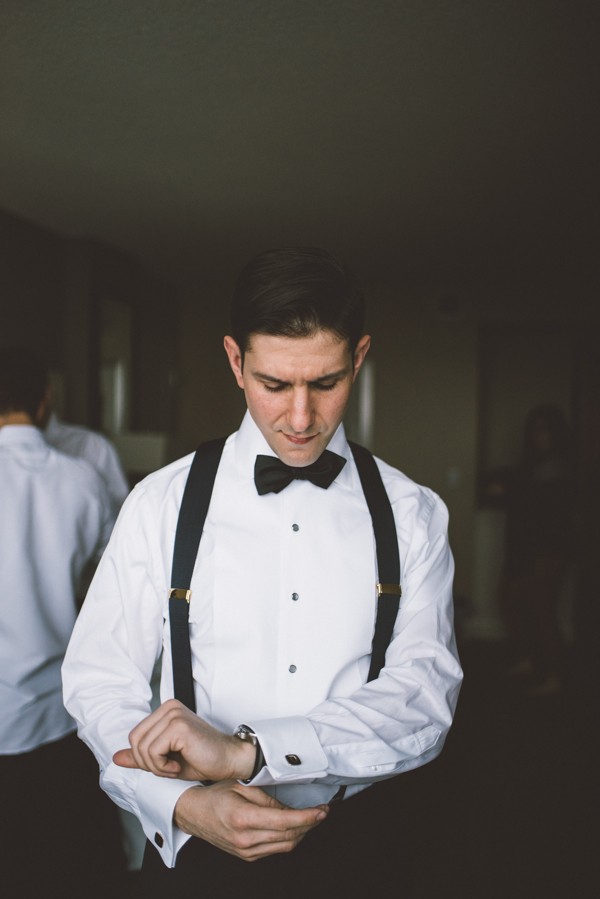 For my wedding day, I wanted to be a classic and elegant bride so when I found my lace Enzoani dress, it was honestly love at first sight. It was the very first dress I tried on and there was no turning back once I did.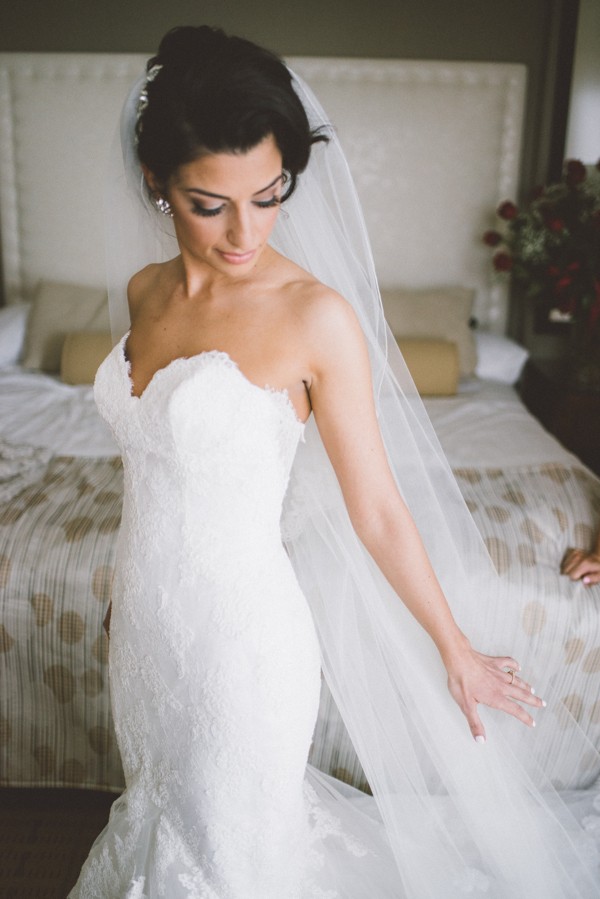 The full lace gown and embroidered lace, double train was the image of perfection but the dress became even more magical when I added the hand-beaded, crystal and lace Enzoani wedding jacket. While the jacket took months to make, the second I put it on, I truly felt like the most beautiful bride.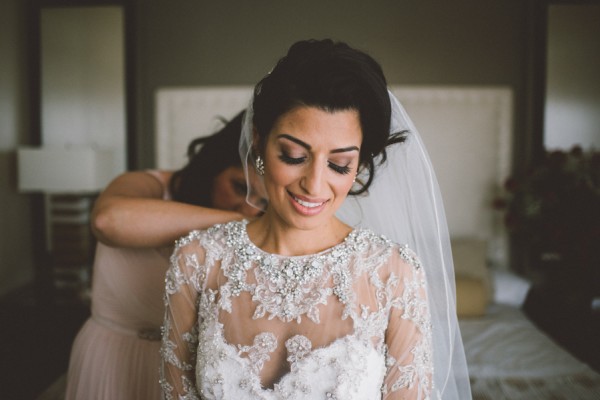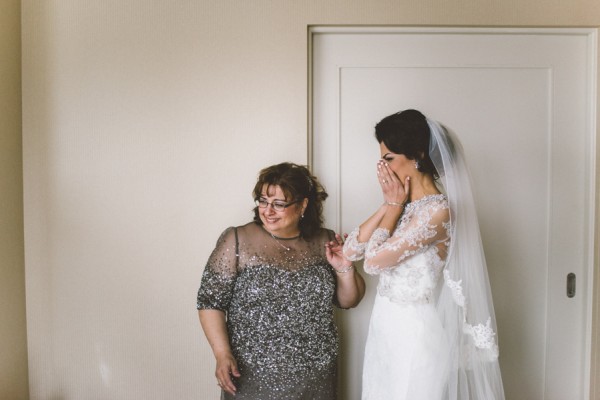 Knowing that both of our families would be crossing country borders into Canada, we wanted to make our wedding extra special and memorable to all those attending. We made it our utmost priority to ensure that not only would our wedding be absolutely beautiful but that our guests would have an amazing experience on the happiest day of our lives.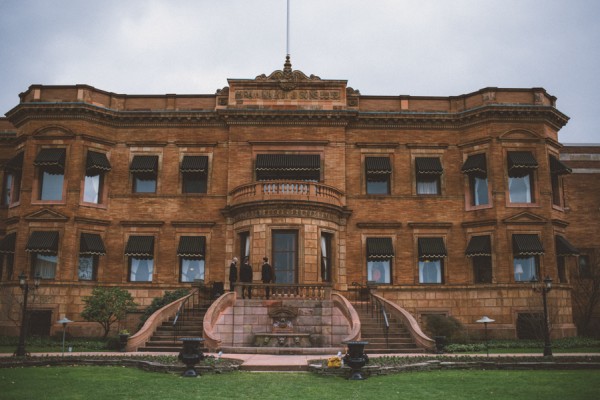 I had a very large group of bridesmaids that consisted of my sisters, cousins, and dearest friends so I wanted them to feel extra beautiful and special too. They wore gorgeous, flowing, blush chiffon dresses with beaded shoulders and made the most for the most stunning bridal party inside and out.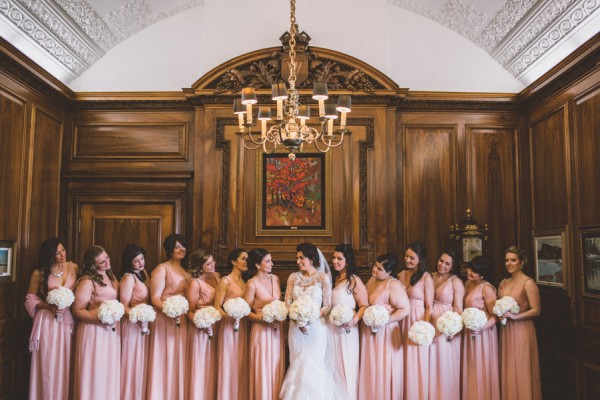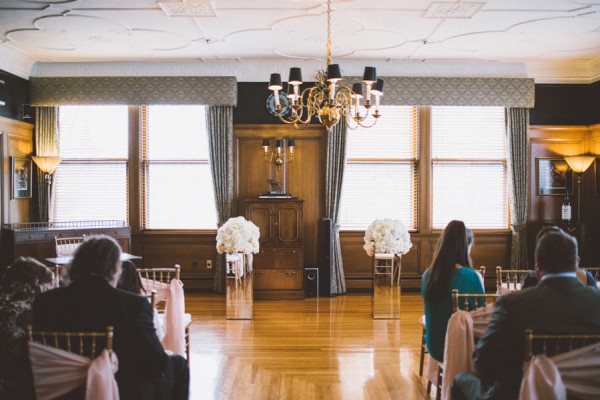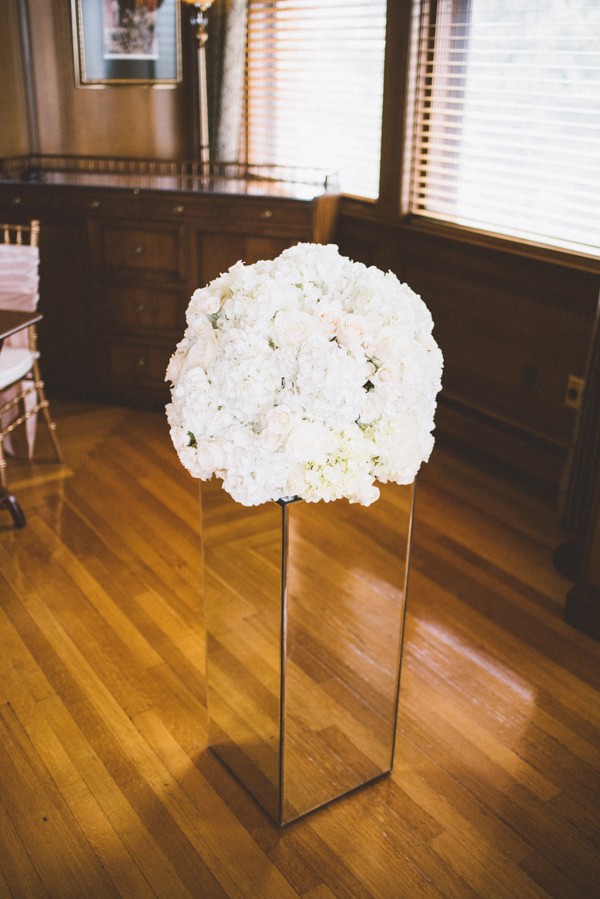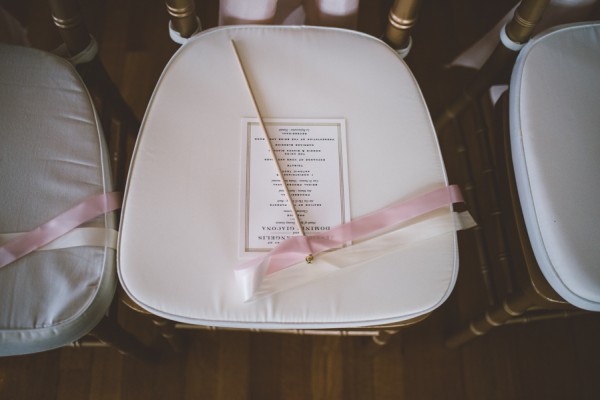 The most memorable moment of the day was the one that defined me as a bride, when I walked down the aisle with my father. I remember this tangible moment when my father and I were standing behind the closed doors, directly outside the ceremony space, when I heard my entry music begin playing. As soon as I heard the instrumental music of Con Te Partiro, the doors opened and crowed gasped as they saw me. My heart instantly sank and everything suddenly became real. After dreaming of this moment for my whole life, it was finally here and I was about to marry the love of my life. Much to my surprise, I held back my tears and started beaming the largest smile just to turn the corner and see my groom crying tears of joy (for the first time!). It was truly a special moment that I will never forget.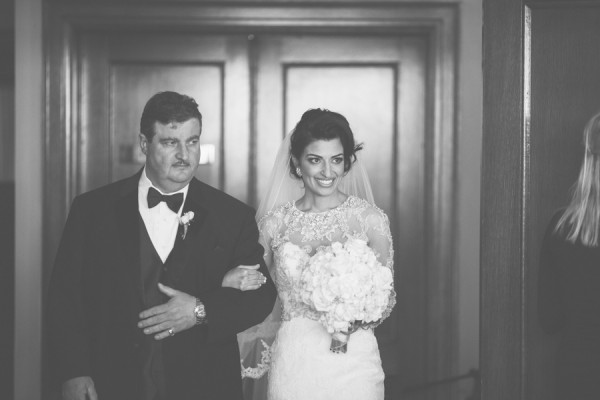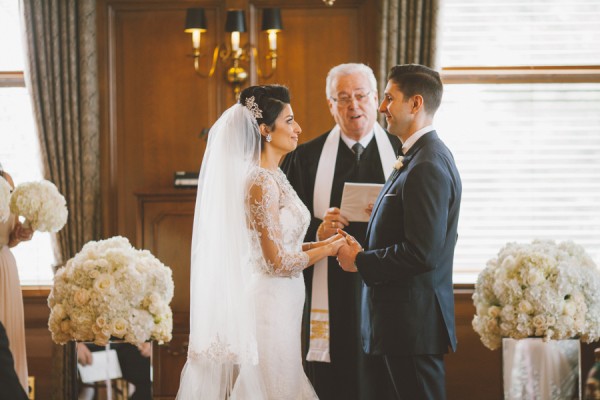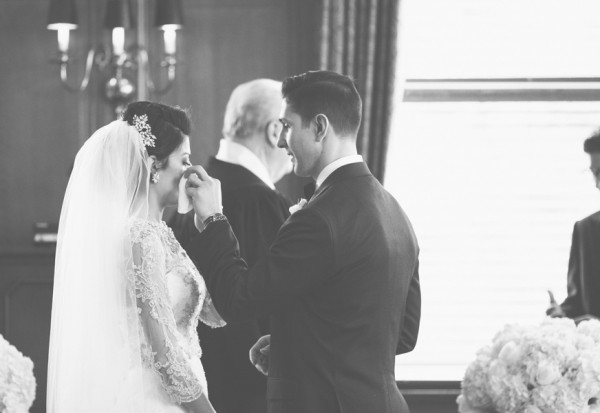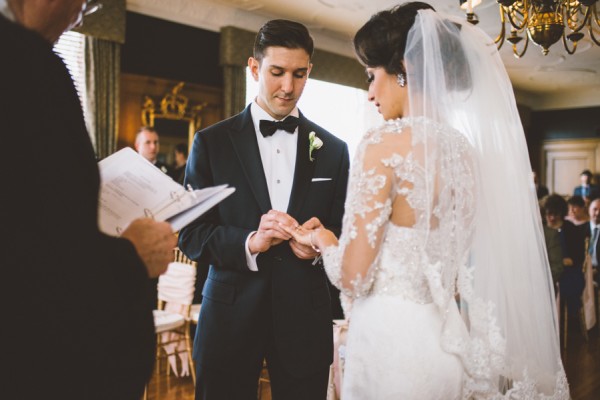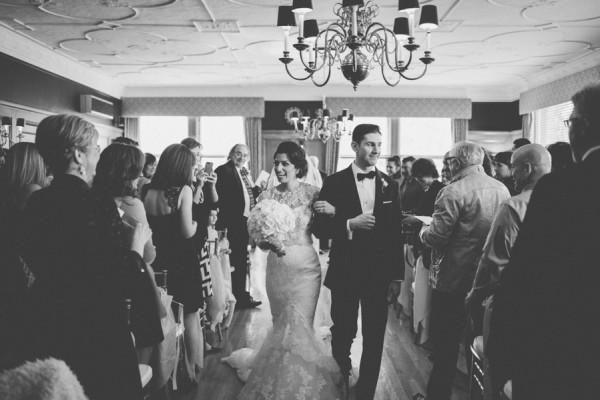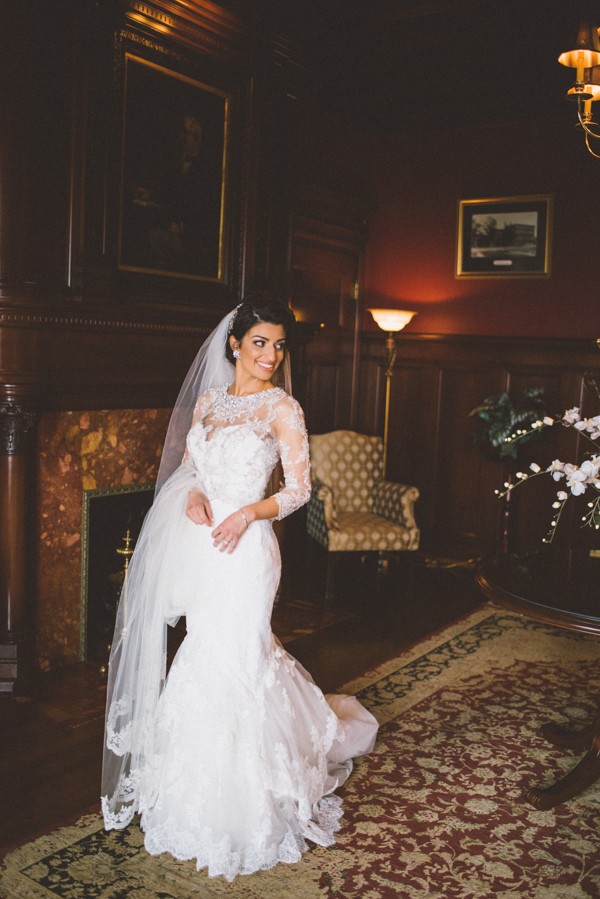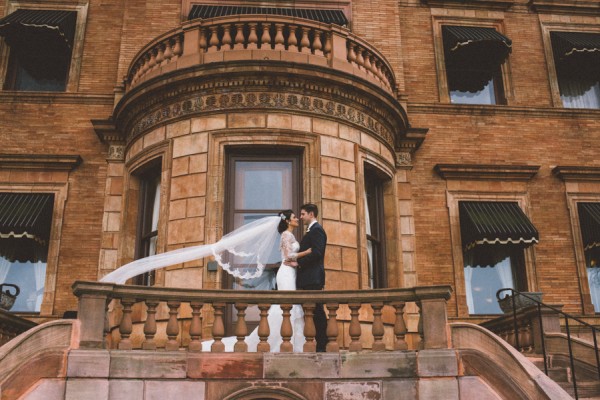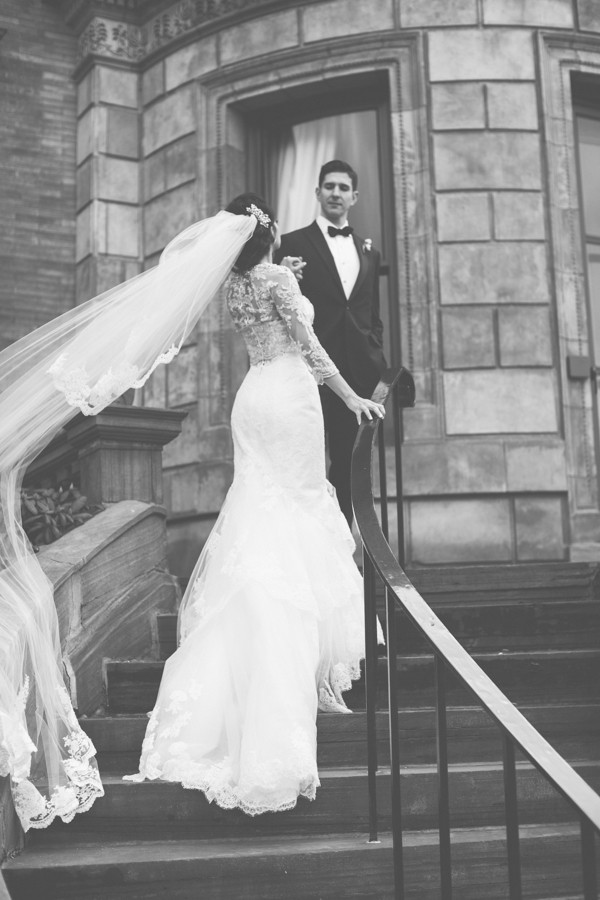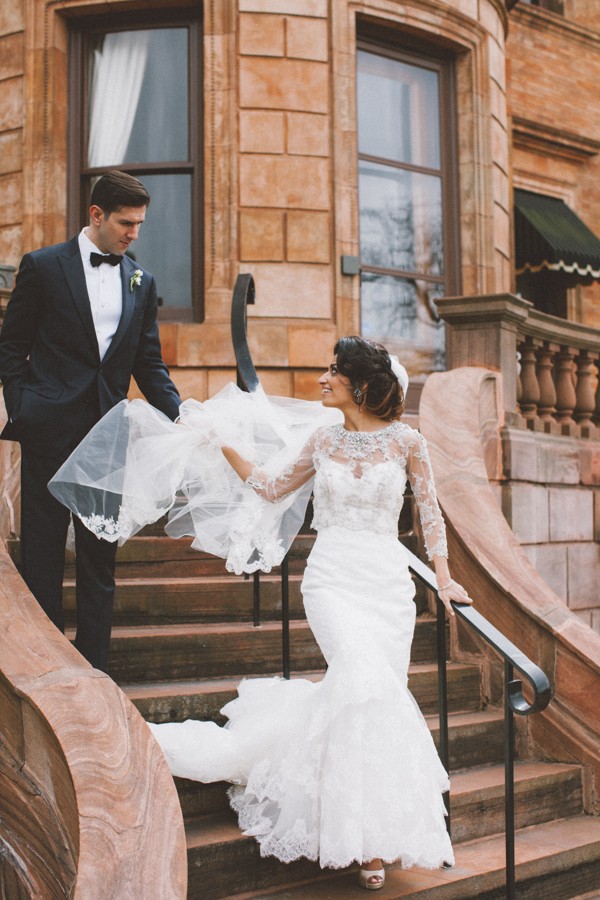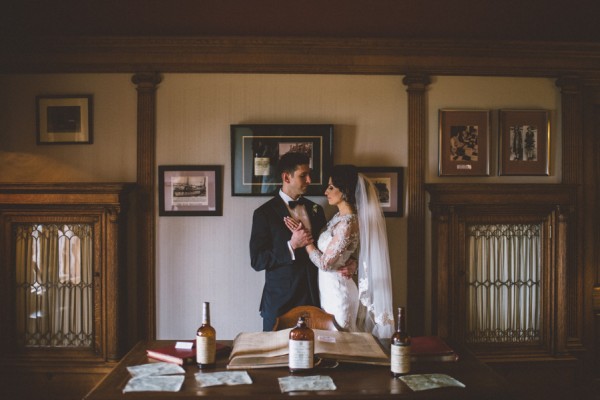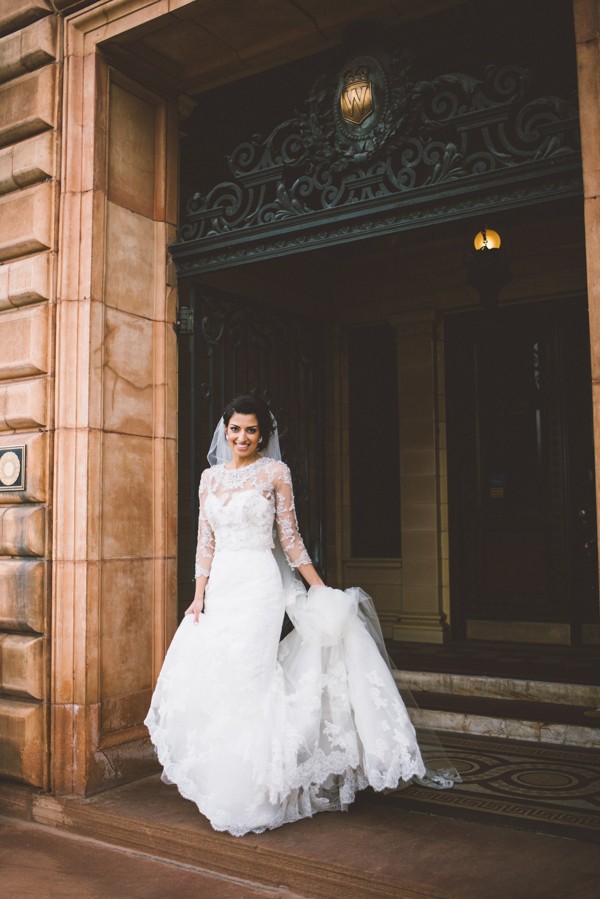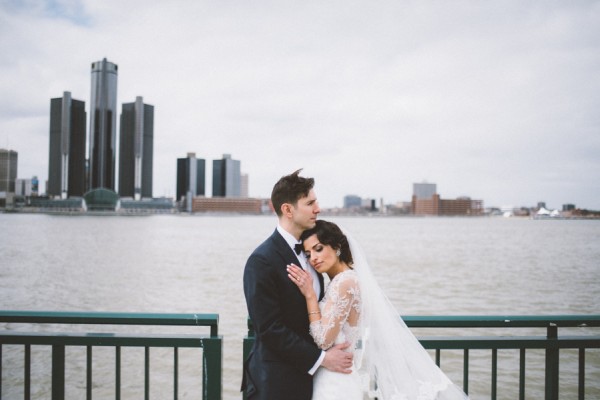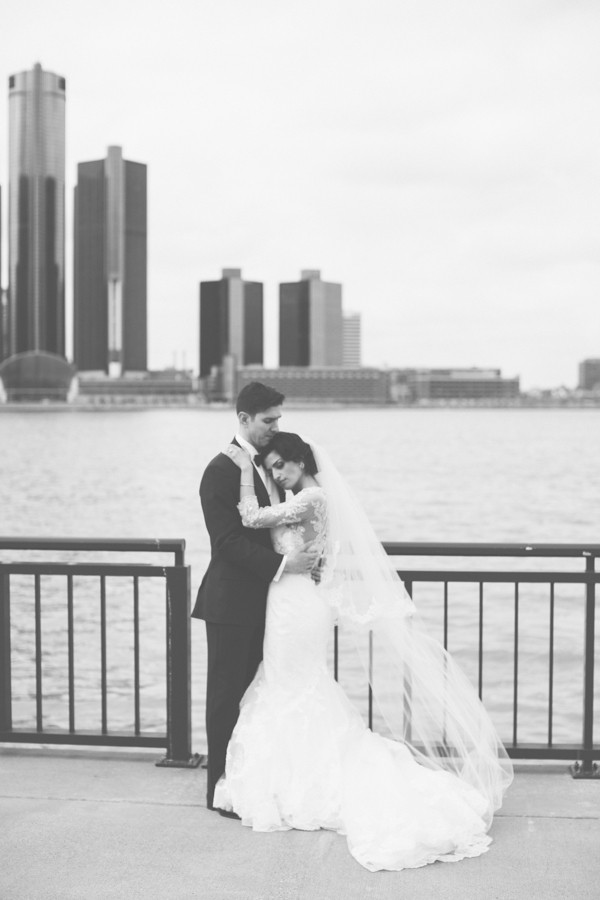 With my wedding reception venue already being quite ornate, I wanted the decor to complete a romantic and glamorous setting. My wedding consisted of a soft palette of blush, ivory and gold hues that were displayed throughout every detail that consumed our wedding.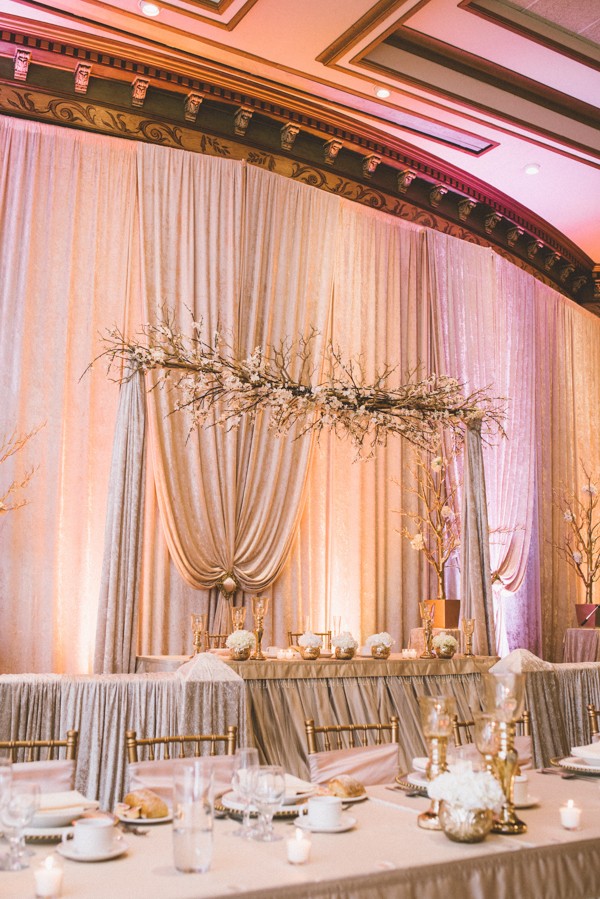 From our gold foil invitations, blush rosette linens, to our ivory draping and rose-filled centerpieces, the mood our venue was a dreamy and soft one. Even though I labored over every detail, I remember the first glimpse I had of our reception and was instantly floored. It was truly a beautiful and embodied everything I had hoped for.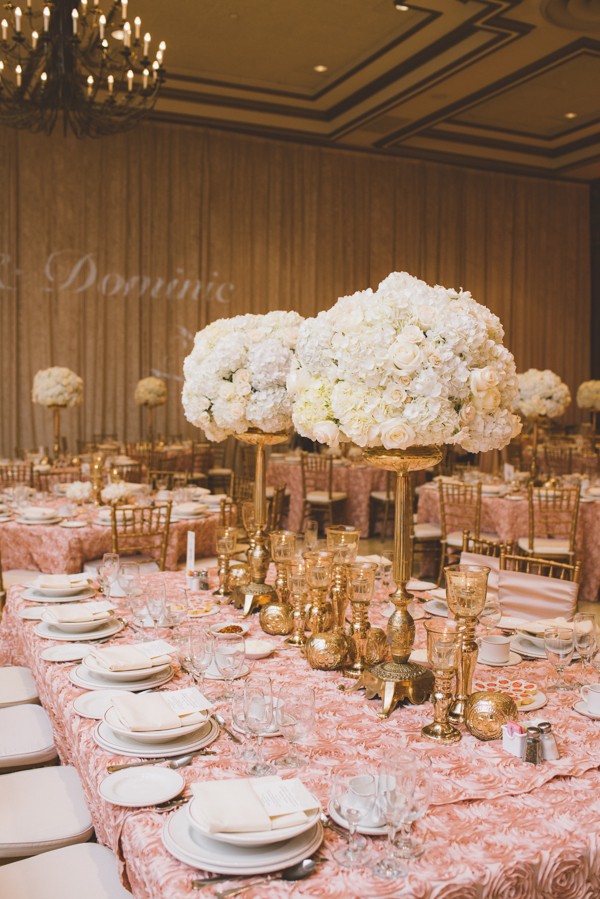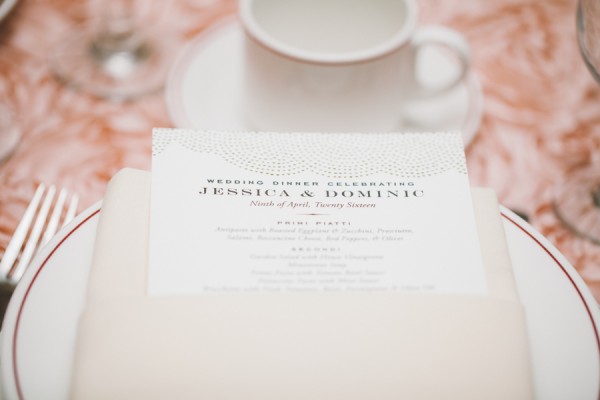 While it may become so easy to get caught up in all of the stress of the wedding details, it is so important to retract and remember that the foundation of this day is about the marriage. The true gift is not about the wedding itself but moving forward with your partner and vowing to continue your lives together. I wish I remembered this when I had sleepless nights thinking about centerpieces and linens!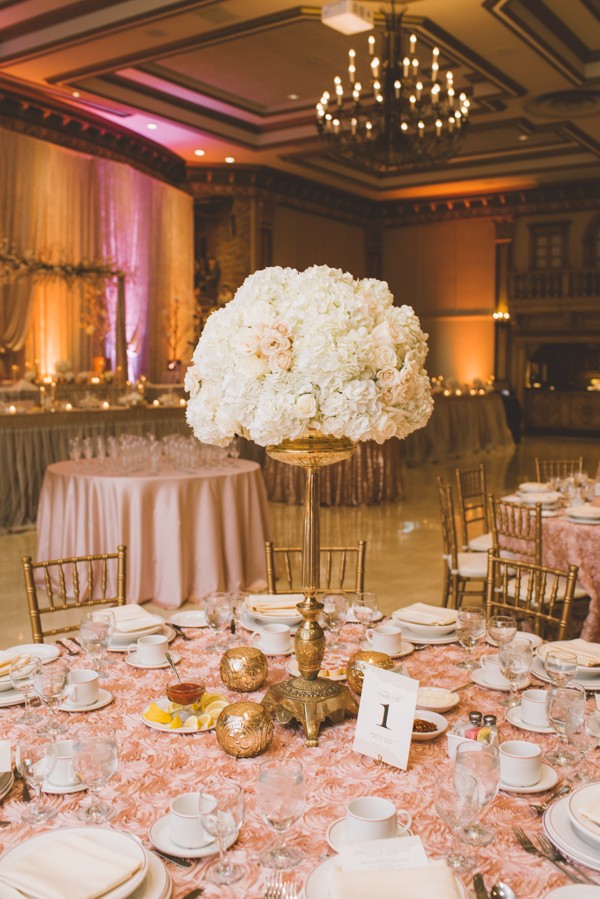 A very special part of our wedding was that my sister-in-law, Maria Giacona, who is a skilled pastry chef created our masterpiece of a display cake. I gave her specific elements to include on the cake that were incorporated themes of our wedding such as the blush rosette linens, lace, and the copied gold foiled art on our wedding invitations. With my input in mind, she slaved away making our cake and when she revealed it to me, I instantly burst into tears because it was just so beautiful and everything that I had hoped it would be.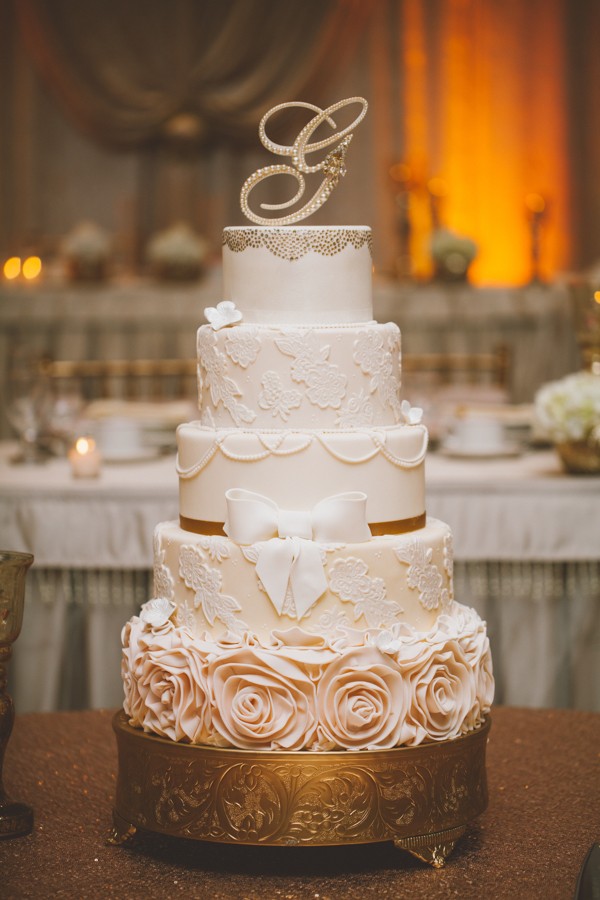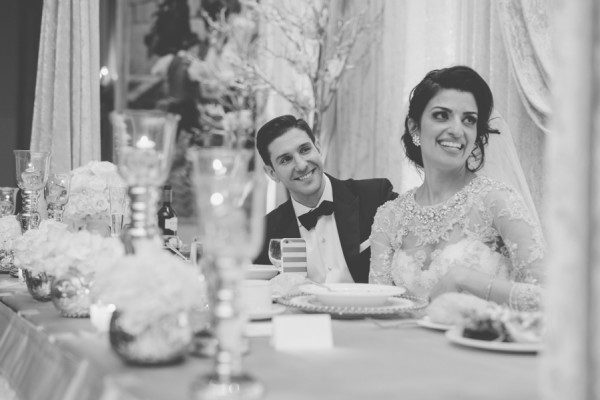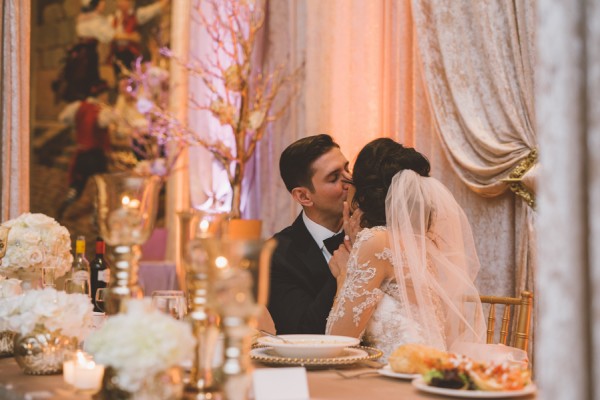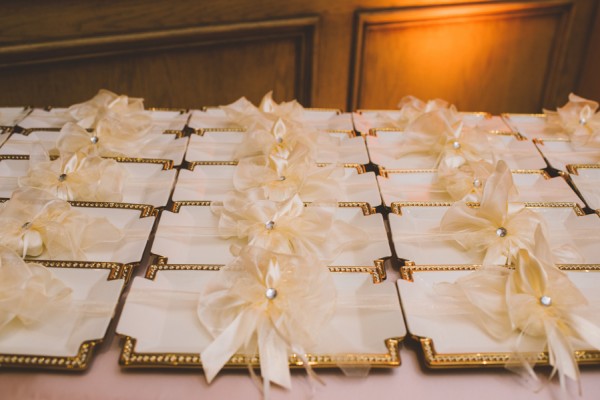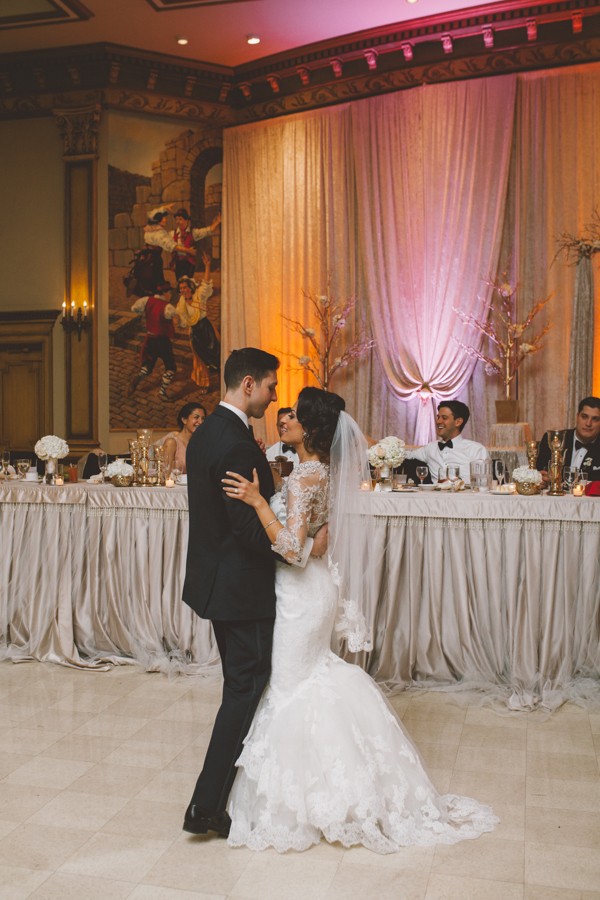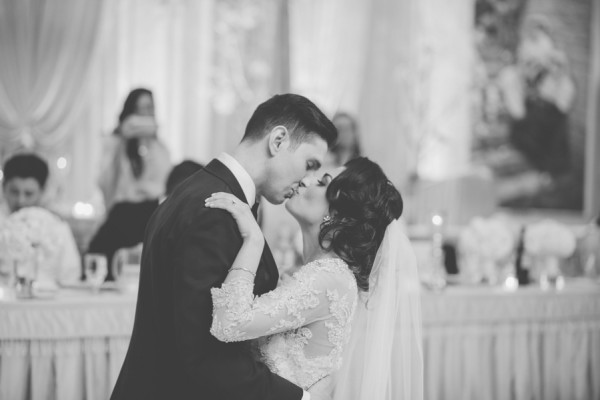 Congratulations to Jessica and Dominic, and a huge thanks to Nikki Mills for sharing this absolutely gorgeous wedding with Junebug! Love this wedding's luxurious style? Then you've got to see this Great Gatsby inspired wedding in Surrey!