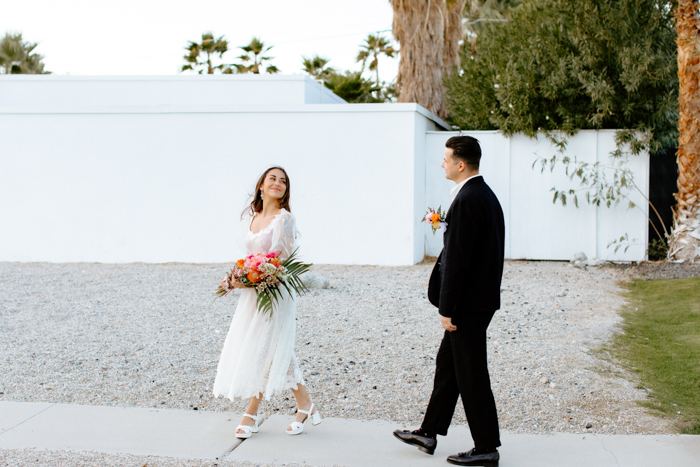 A vintage mid-length dress, a DIY vibrant bouquet, and an Airbnb wedding venue—these were the unique ingredients used to bring Annelise and Joel's mid-century modern elopement to life. This Palm Springs loving couple wanted a simple wedding day that was achievable but still show-stopping. A nuptial that was infused with their personalities, without breaking the bank.
From the bride's DIY bouquet—which she created the day before her wedding—to the fully vintage attire, no detail Junebug member Carmen Lopez Photography captured was short of amazing. Whether you're looking for budget-friendly wedding ideas or creative ways to incorporate loved ones in your elopement, this Southern California celebration is the perfect place to draw inspiration from.
Carmen Lopez's Thoughts On This Mid Century Modern Elopement
Annelise and Joel put so much work into the details behind their big day. Though it was super important to keep this intimate day about their love for each other, they wanted to incorporate their loved ones. Her best friend made their cake, his best friend officiated the ceremony, and hand-made them all dinner after the celebration. It was truly a team effort!
The Couple:
Annelise & Joel
The Wedding:
Palm Springs, California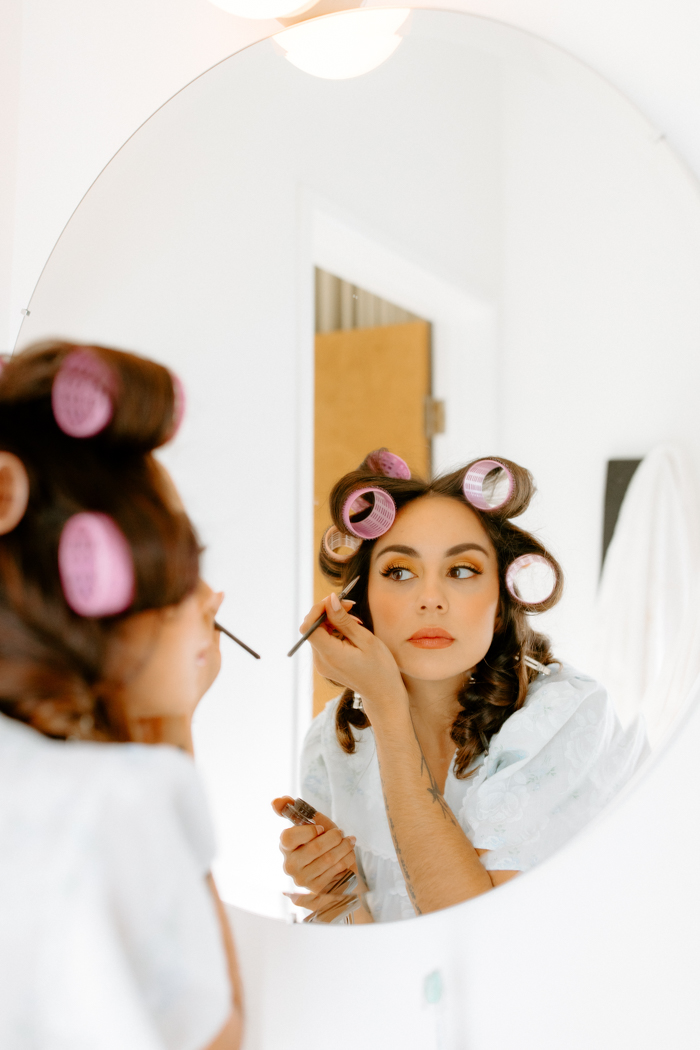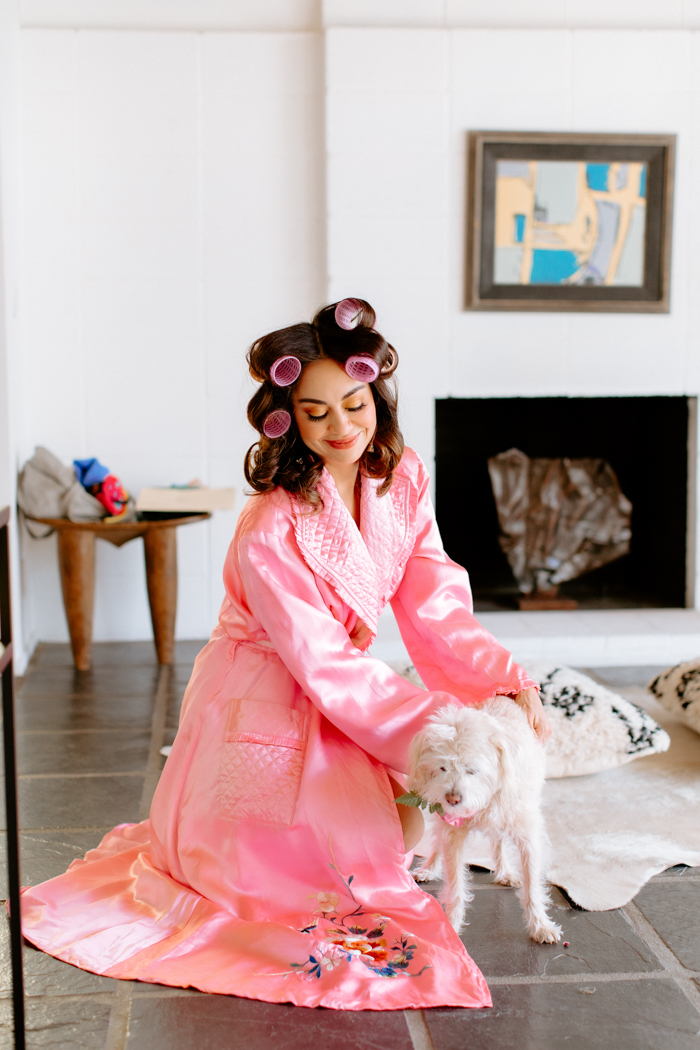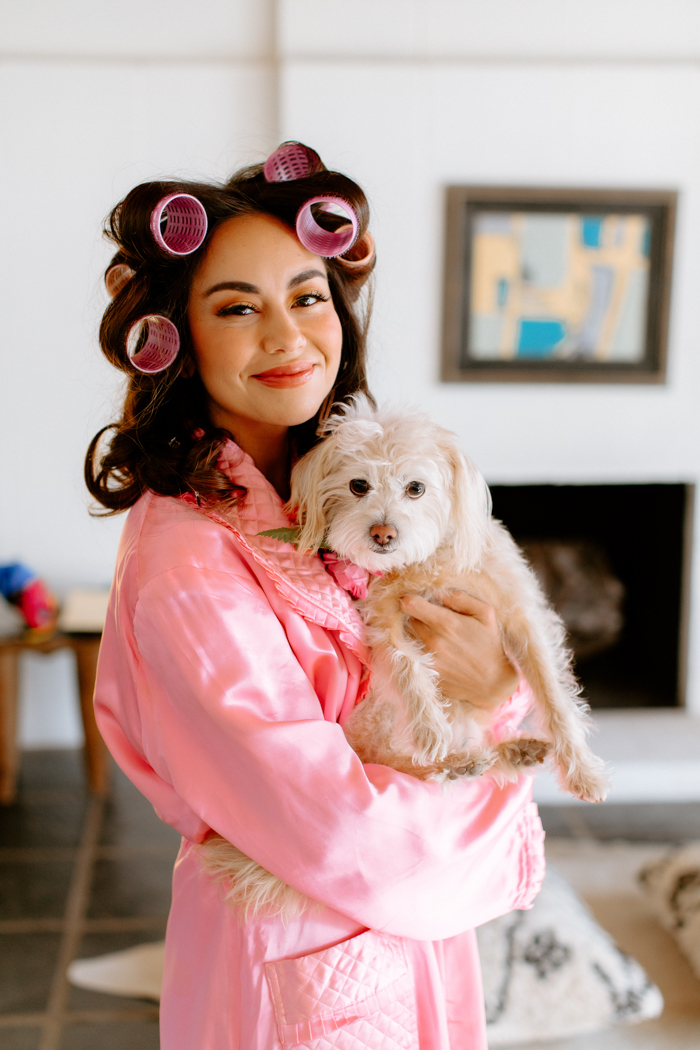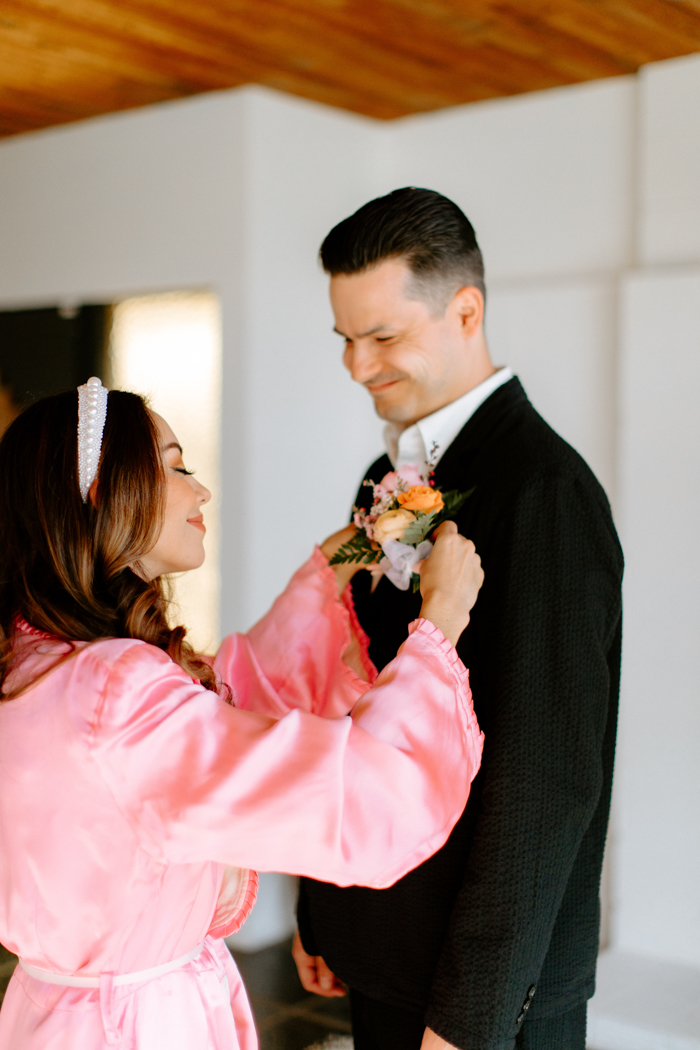 Don't Stress Over Small Details
It's easy to get overwhelmed by options or Pinterest ideas. It's completely understandable to want a beautiful perfect day but once it comes at the expense of your sanity it's time to just pick one and push forward. Most of the time your initial instinct is the right one anyway. At the end of the day none of those factors are going to be important in your everyday marriage.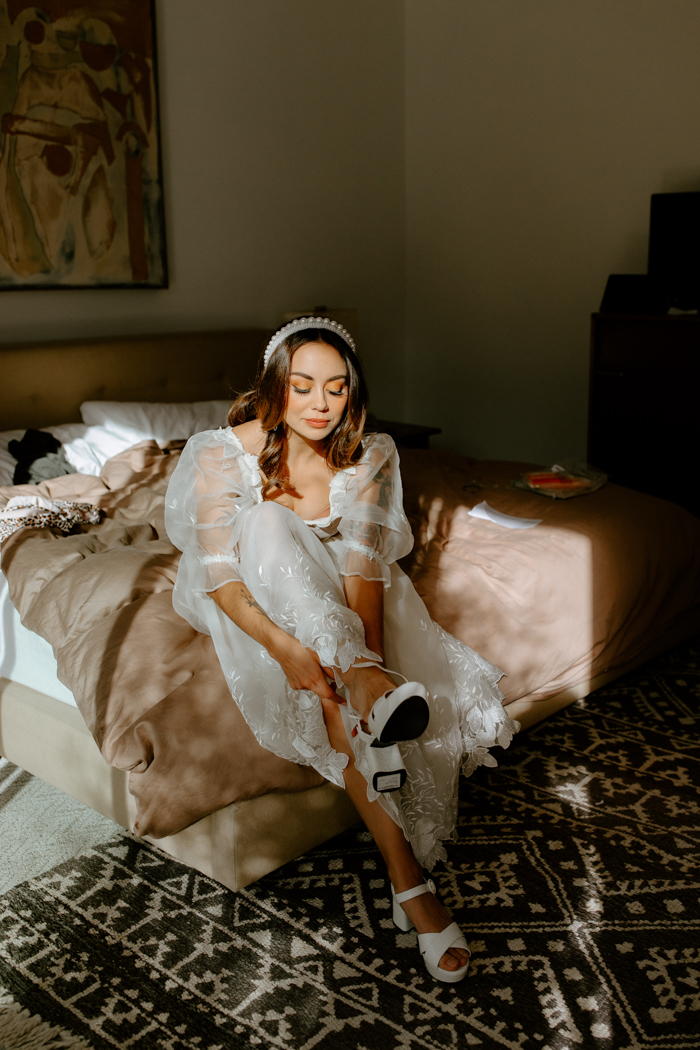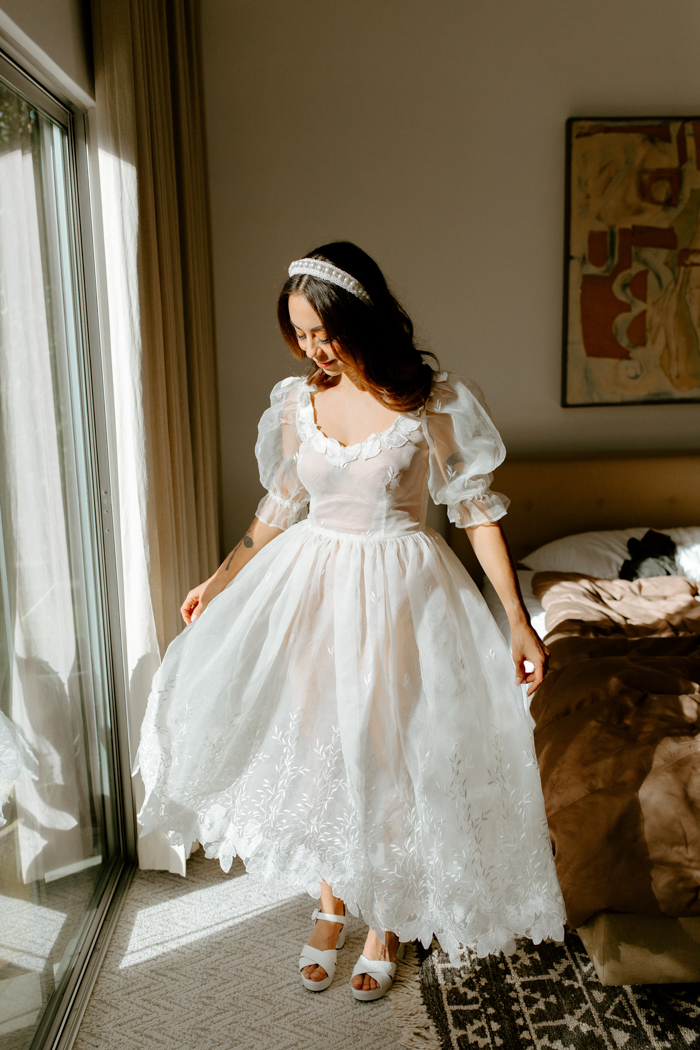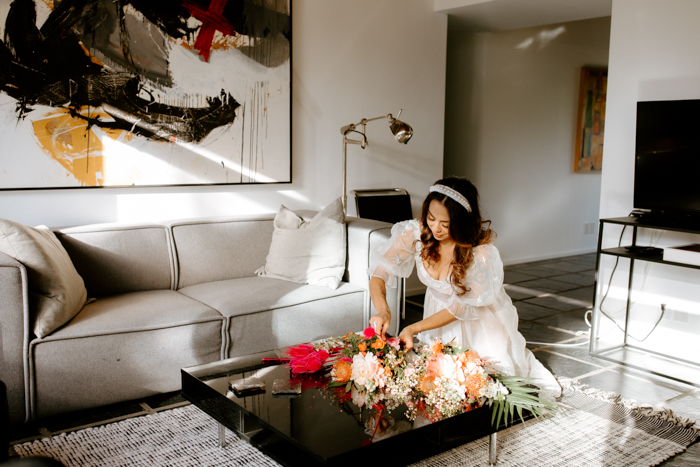 Saving Money With A DIY Bridal Bouquet
We wanted our wedding planning process to be achievable and budget-friendly. Not wanting to spend too much on flowers, Annelise and a friend hit the Los Angeles Flower Mart the Wednesday before the wedding. We had a few inspiration photos but mostly decided to wing it, following how-to-assemble-a-bouquet guides on the internet. Annelise did the assembling the night before the ceremony surrounded by a group of loved ones. It was fun, laid-back, and meaningful. Something that would not be possible with the chaos of a larger wedding celebration.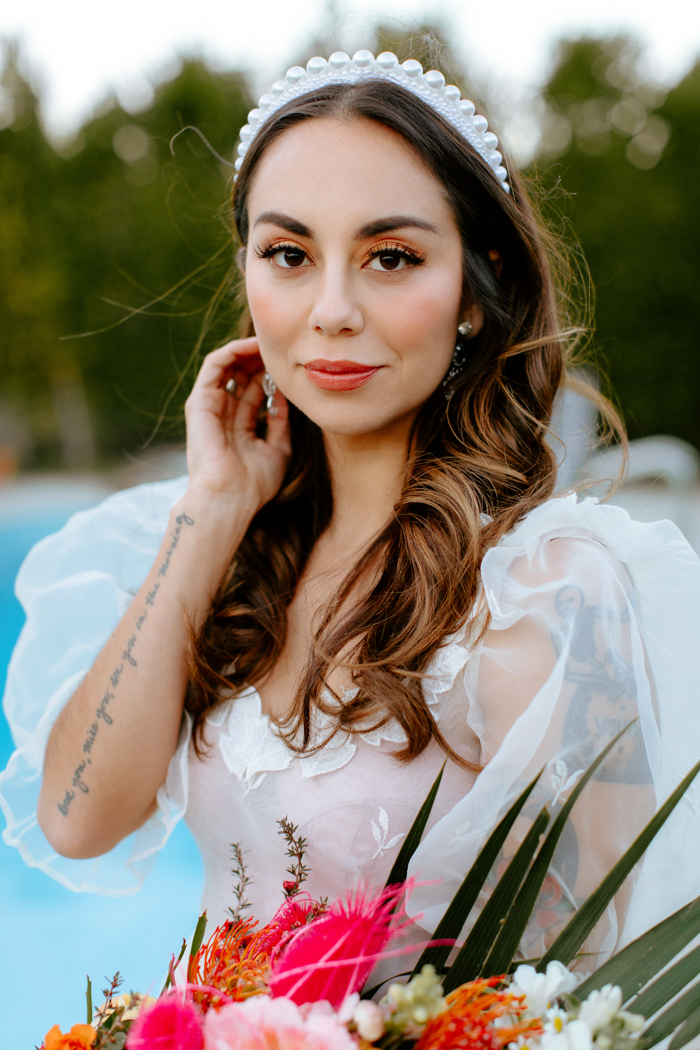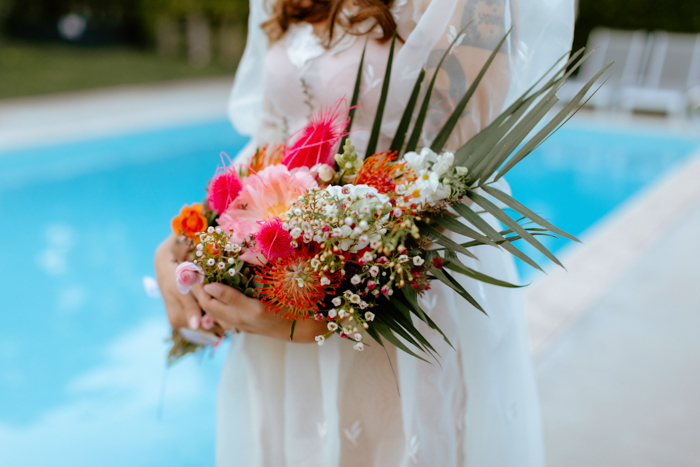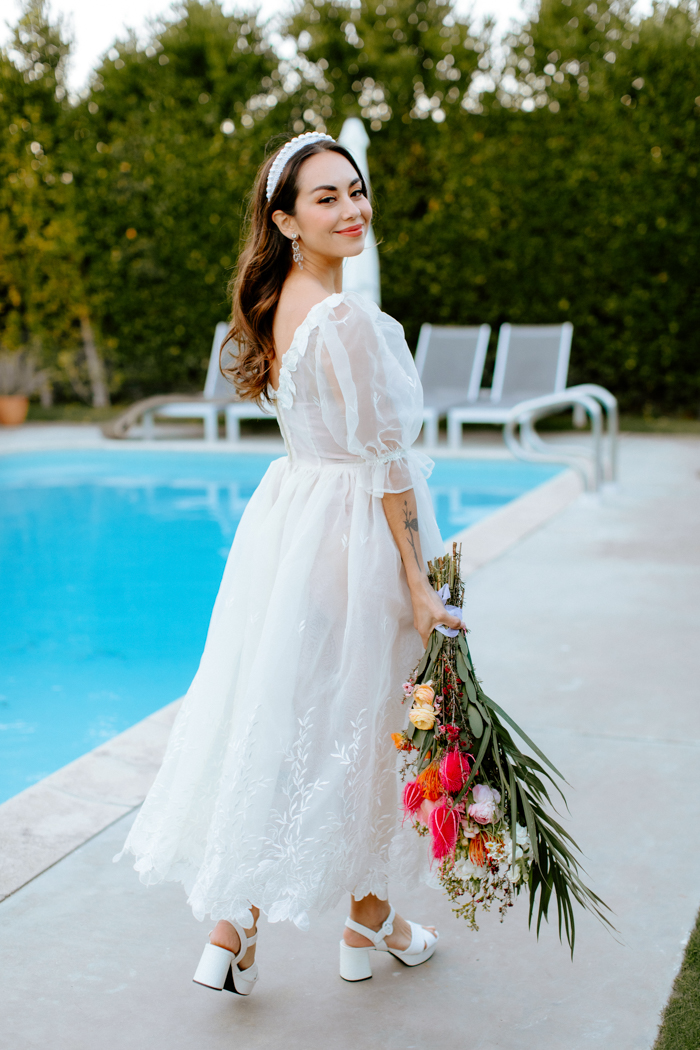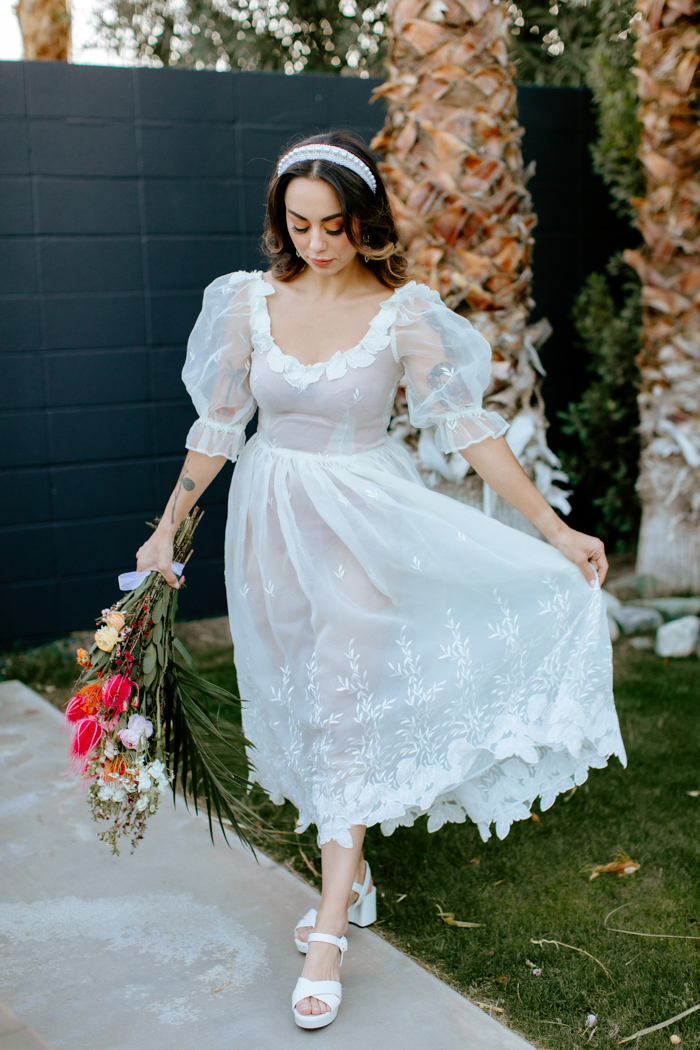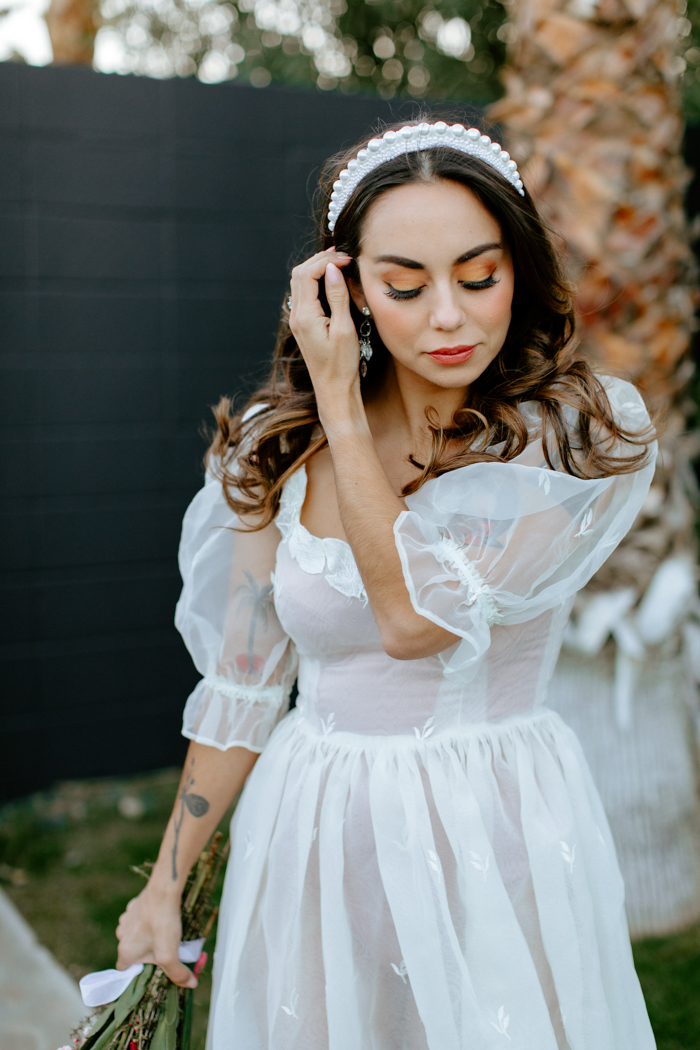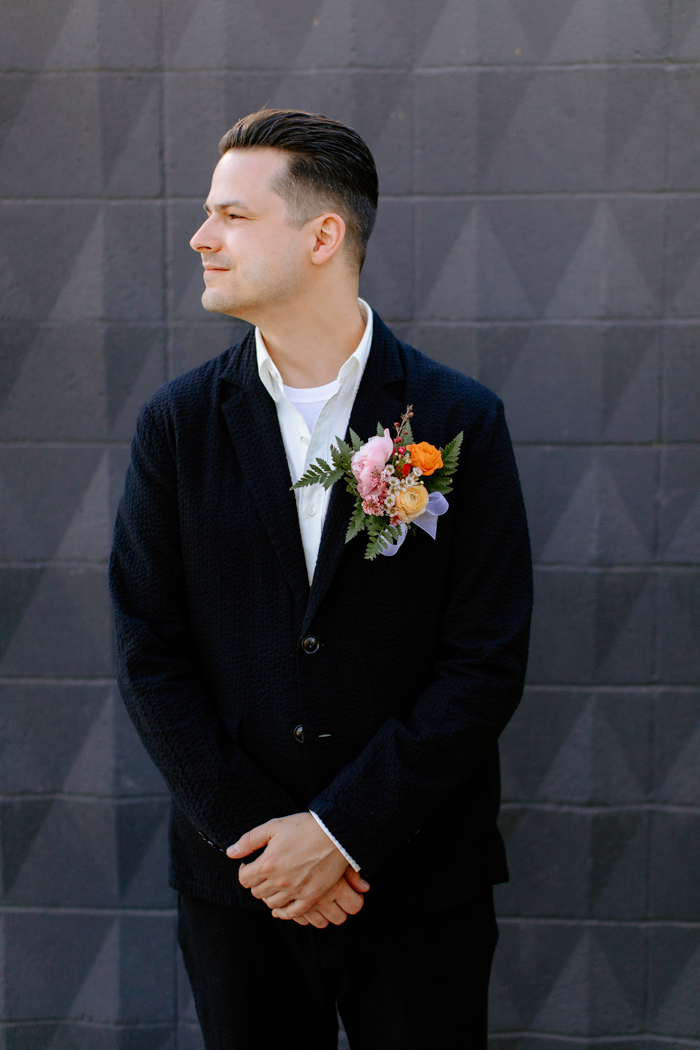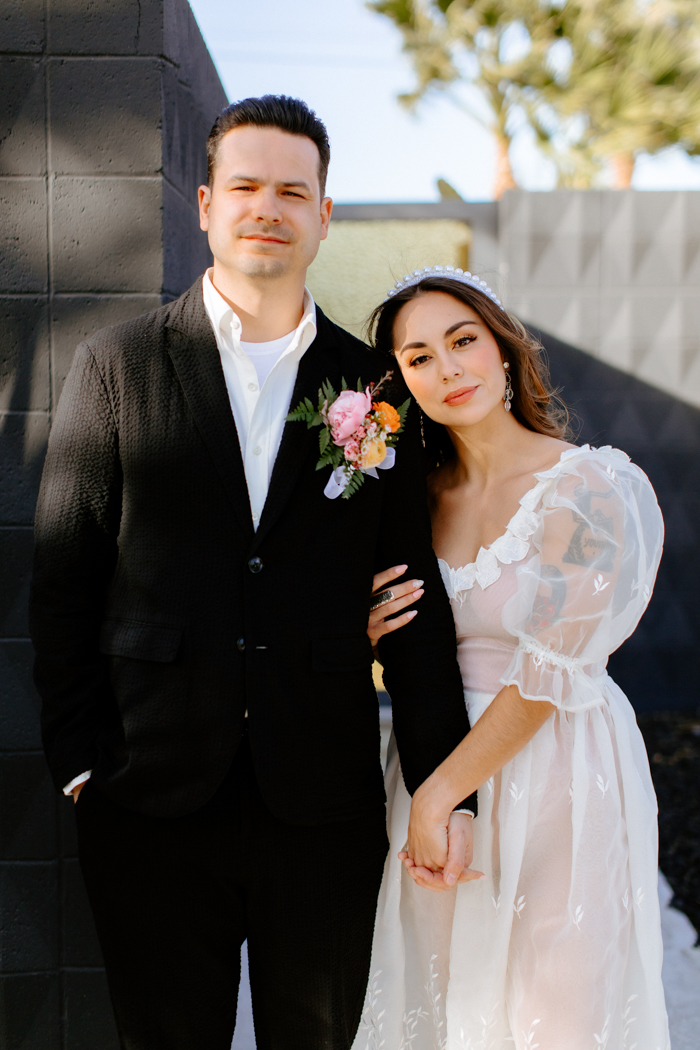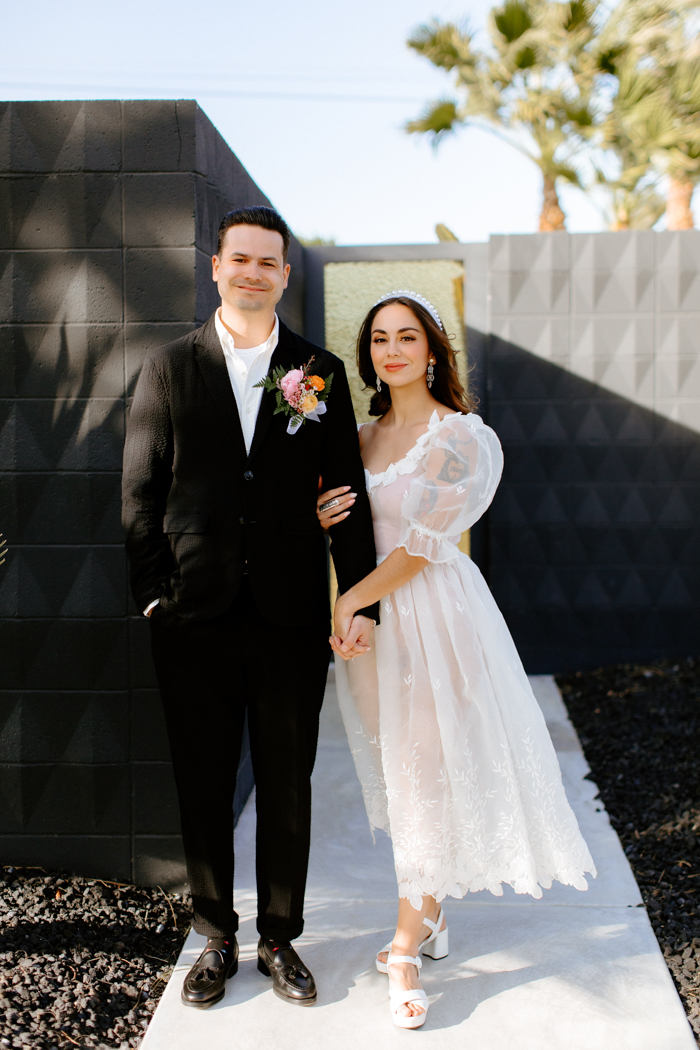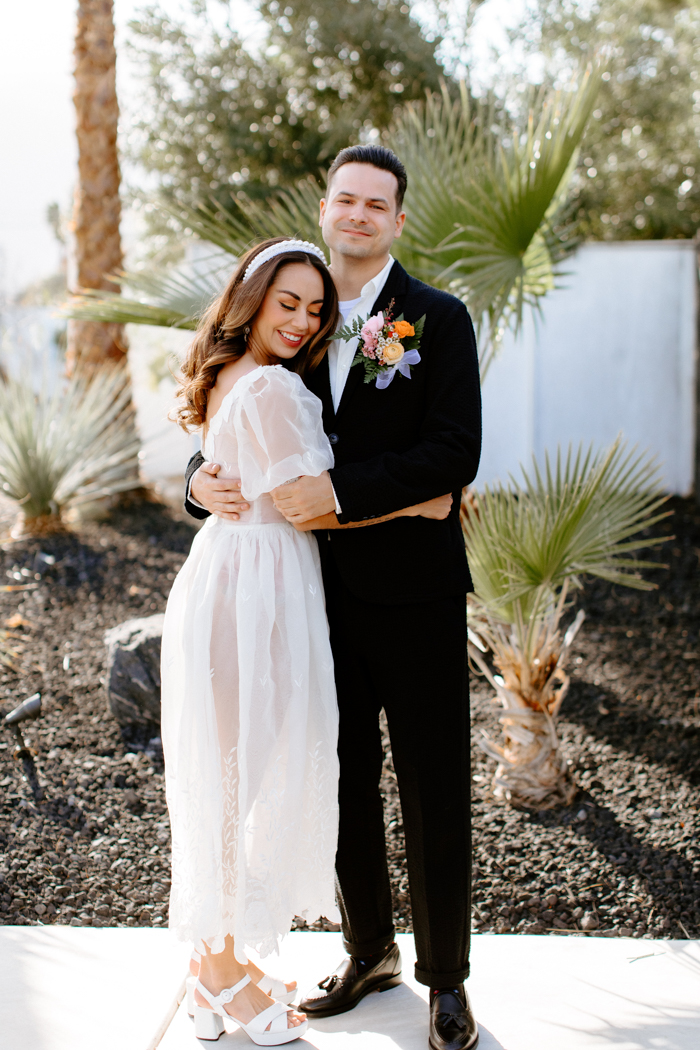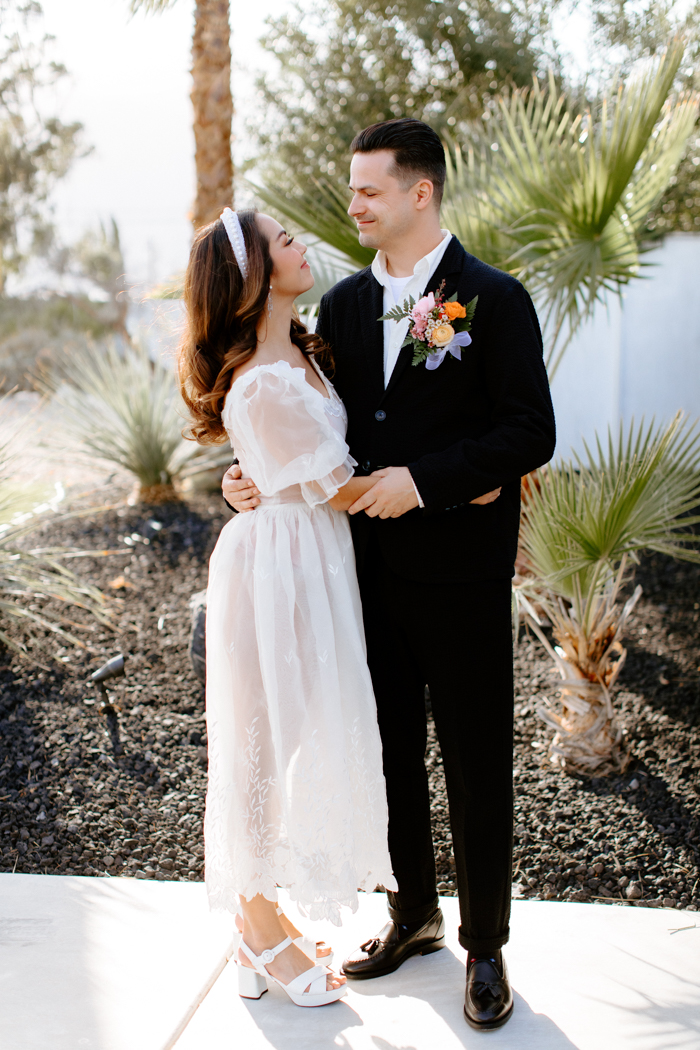 Advice For Narrowing Down Vendors
It obviously varies greatly depending on the scale of your wedding, but larger weddings can really overwhelm you with the amount of choices. When it comes to wedding vendors, our biggest piece of advice is to sit down with your significant other and take turns sharing your top vendors. This will save you from having to look at 100 different options.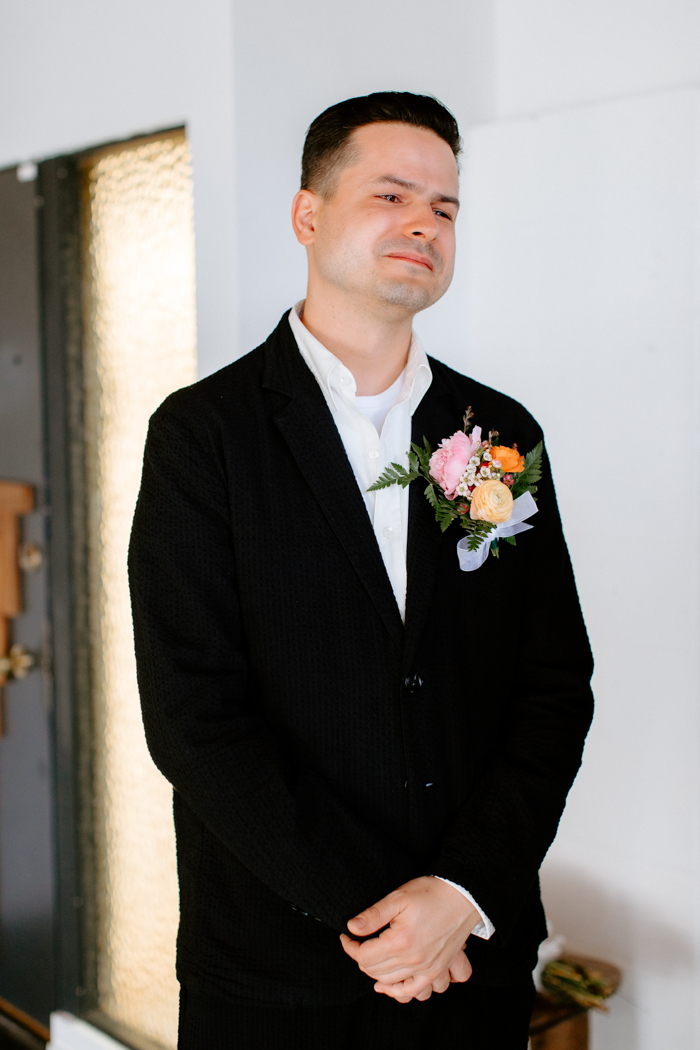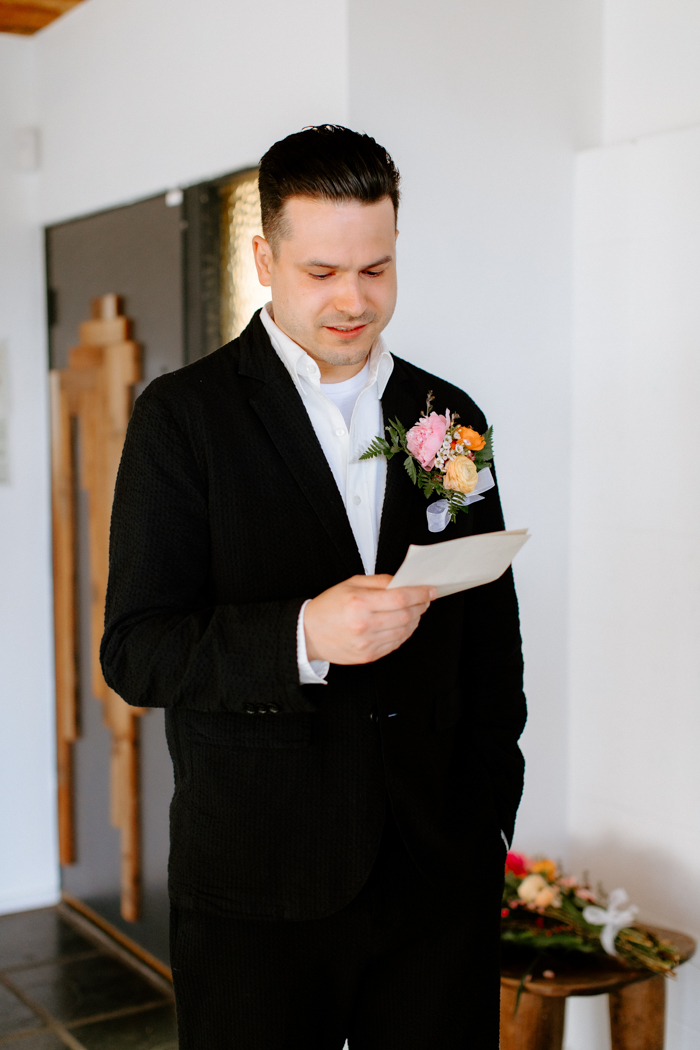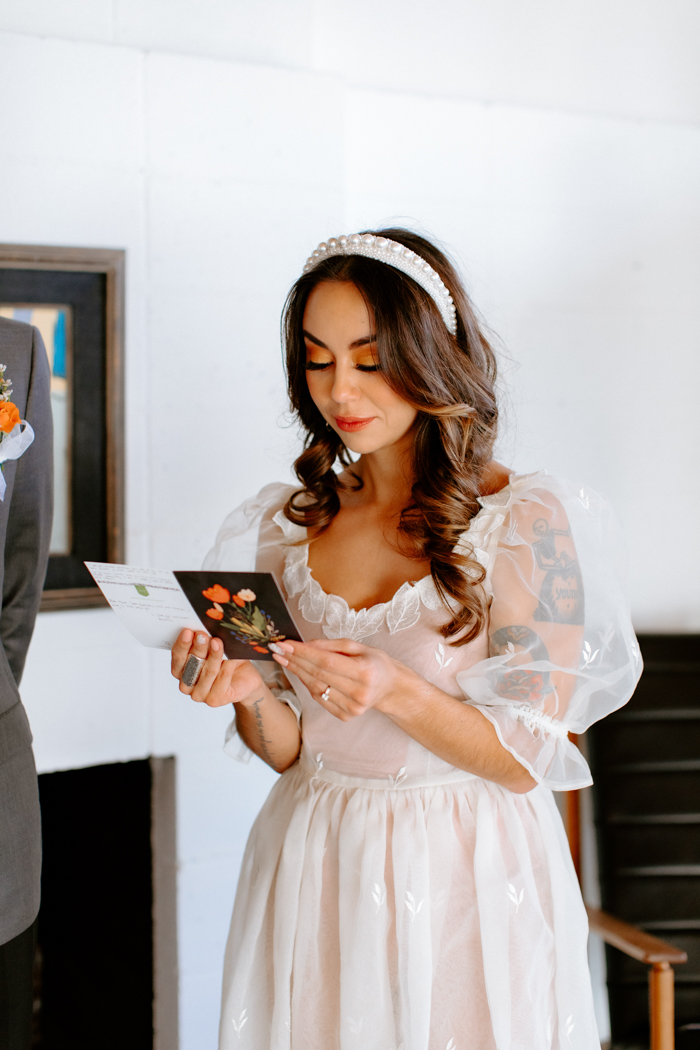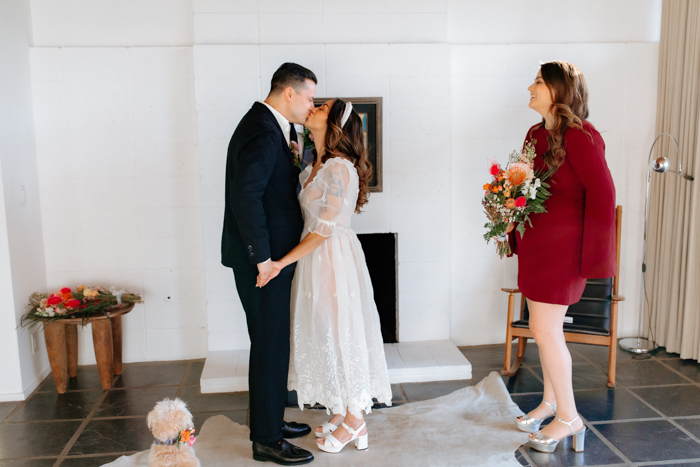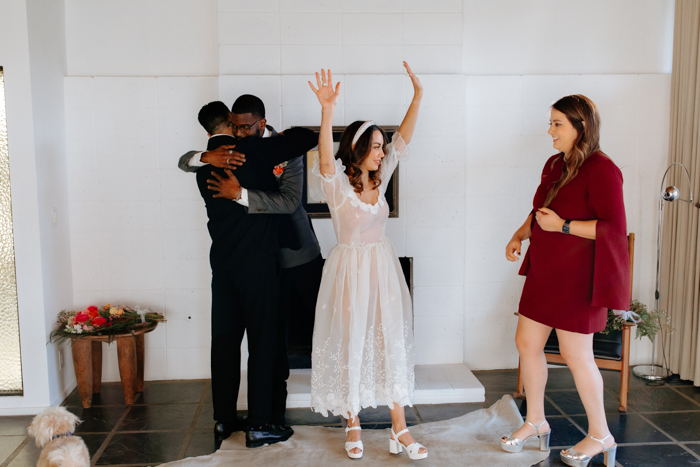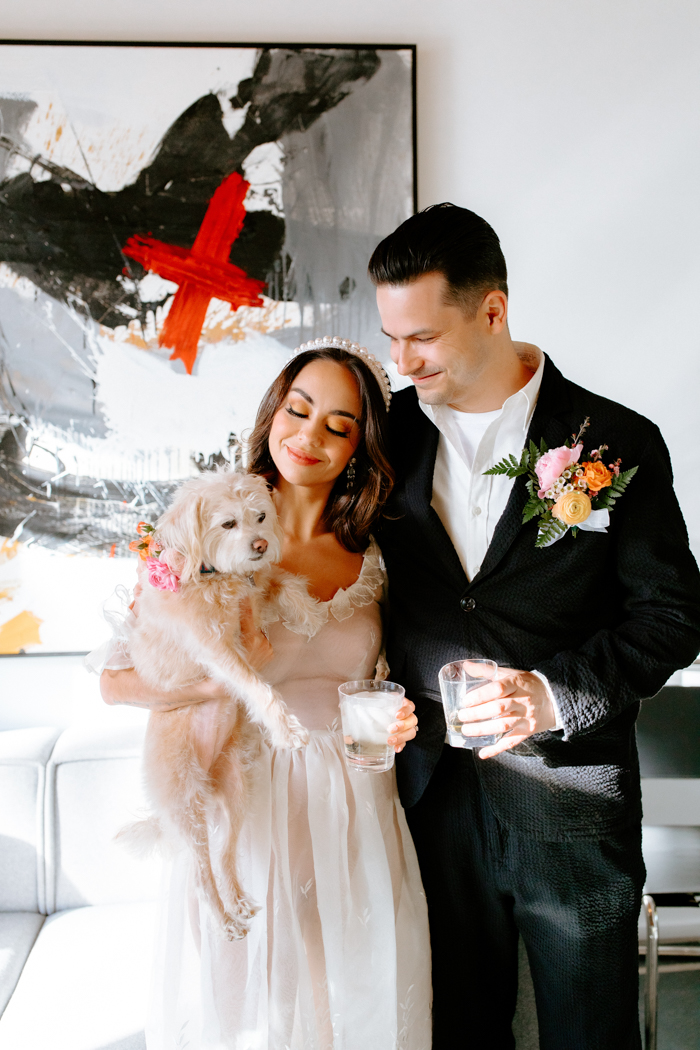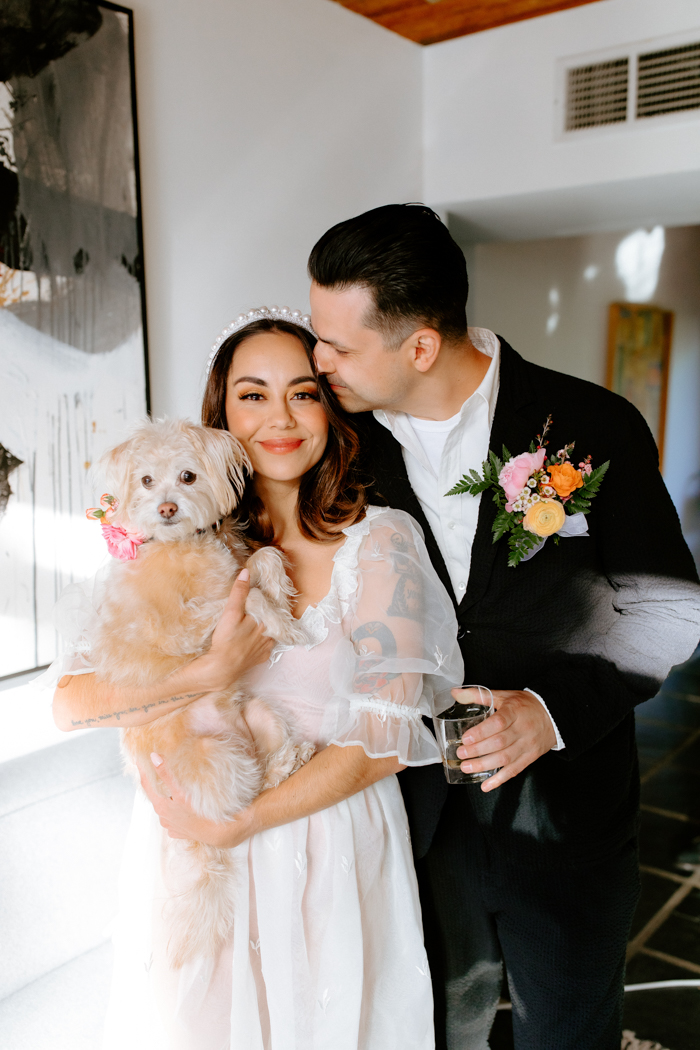 A Short, Sweet, And Personalized Ceremony
The actual ceremony, though short, was very much tailored to us. Rather than traditional vows, we both spoke about our relationship, our future, and what we loved and cherished about our relationship. Our friends spoke about our individual friendships and how they have seen our relationship with each other grow. Our small terrier Bindle was our special guest who delighted everyone with her floral corsage.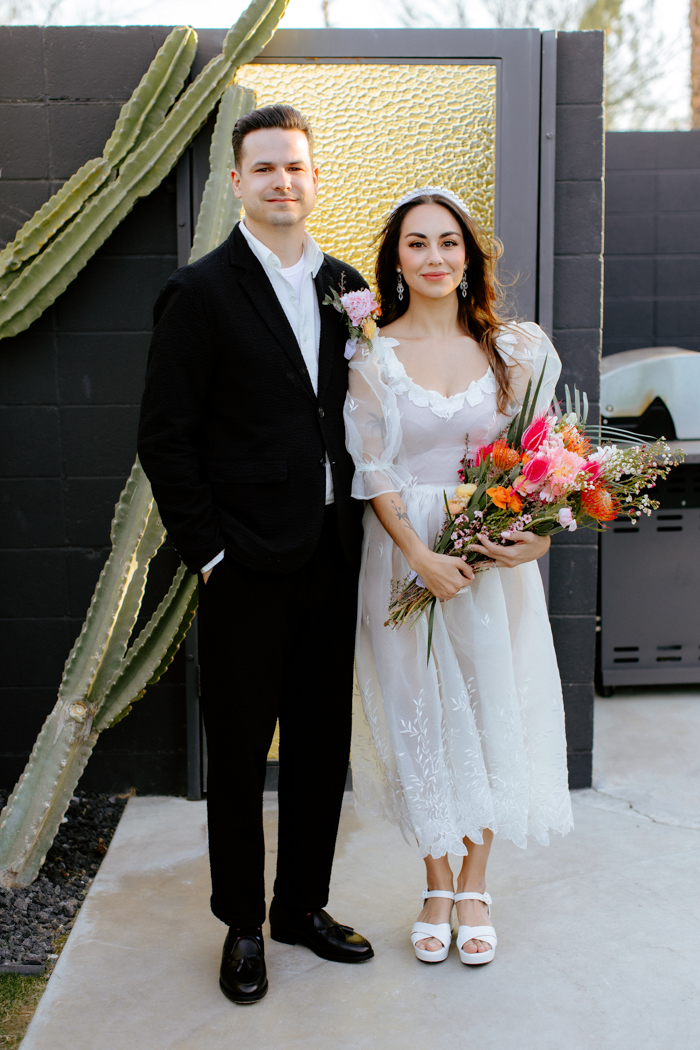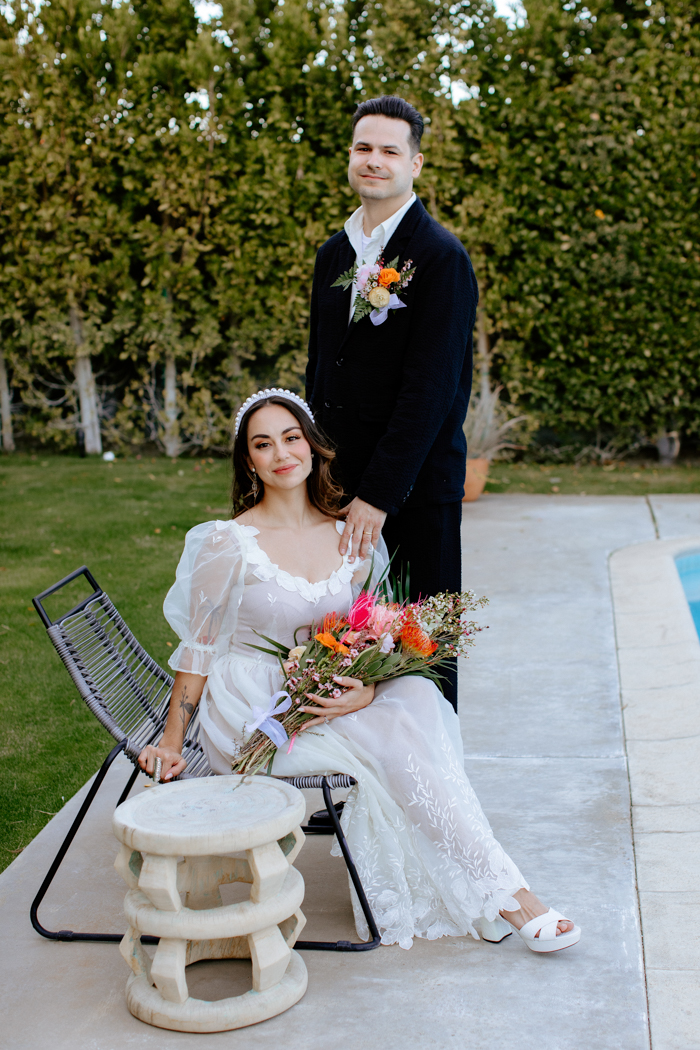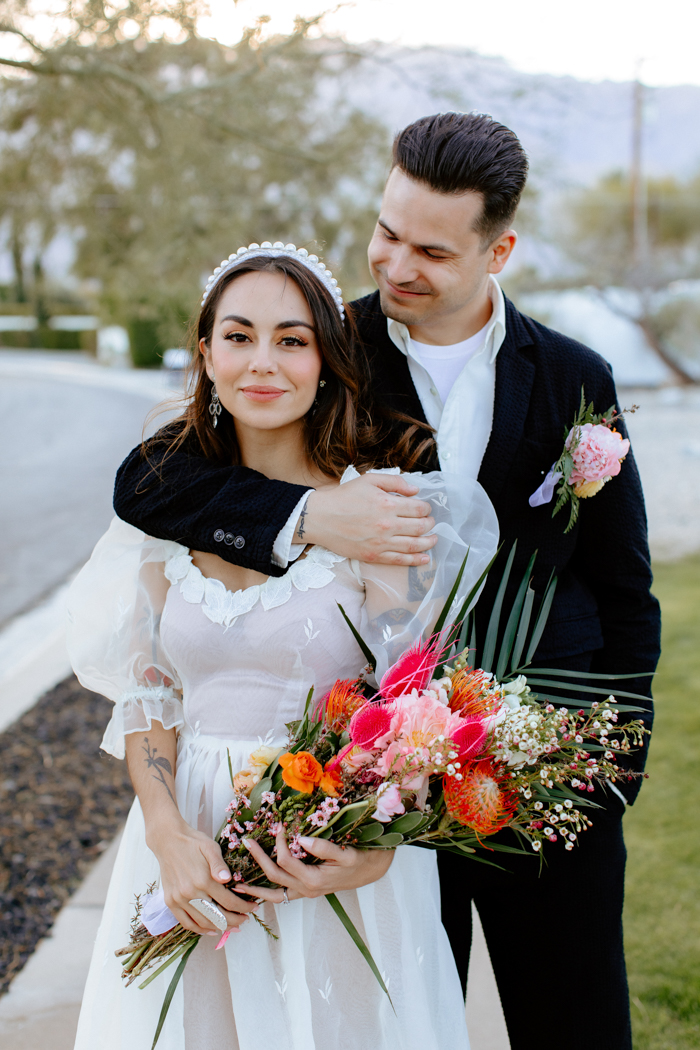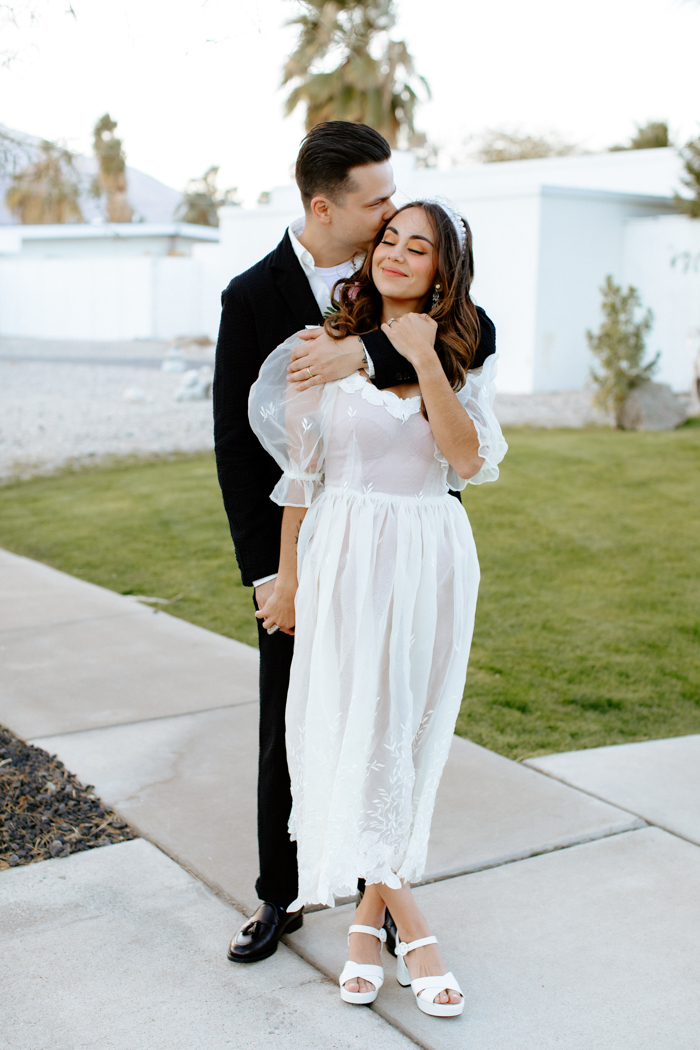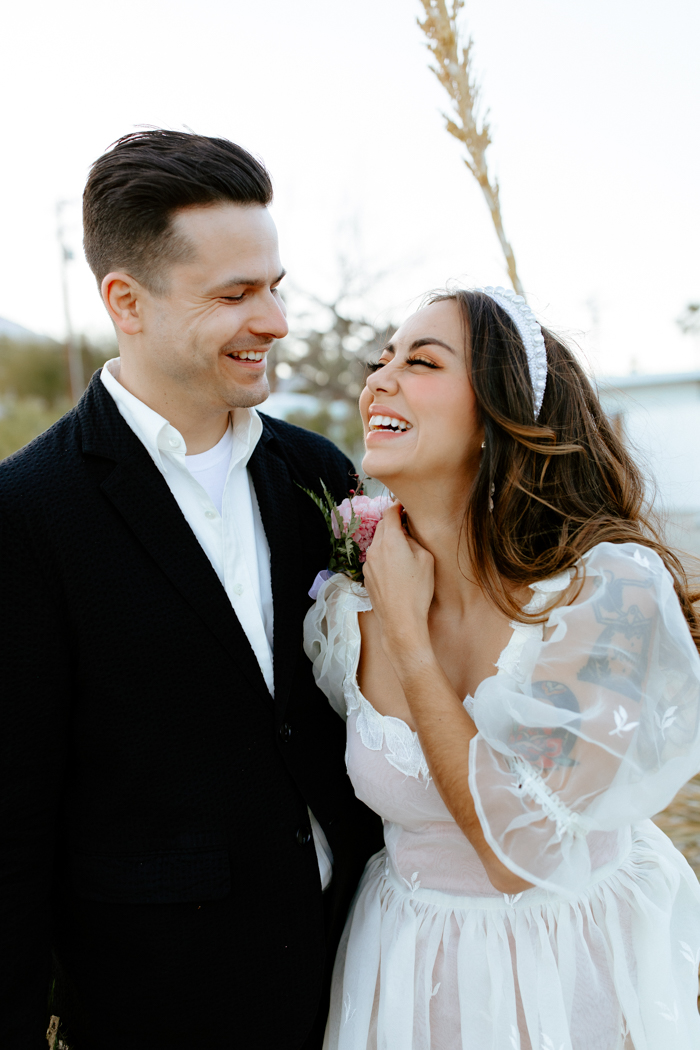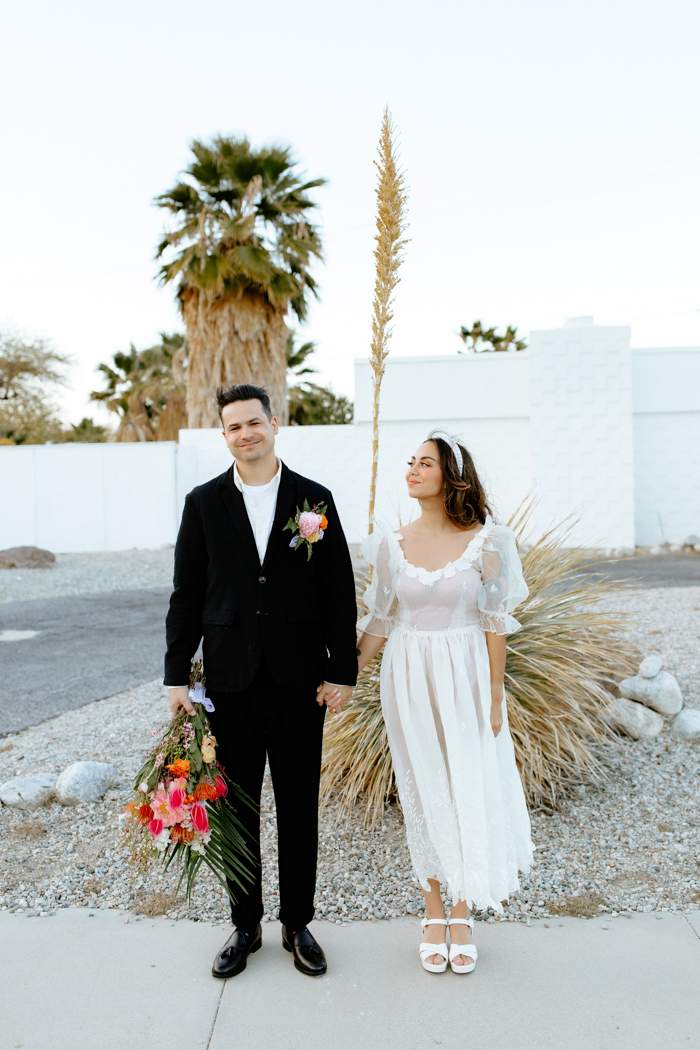 Involving Loved Ones In Your Elopement
We involved our guests as much as possible. Our witness—Annelise's best friend Kat—made the wedding cake and brought a Day of the Dead cake topper. We all like a little touch of spookiness and we love the slightly off quality these little totems have. Our witness' mom also made us some last-minute tablescape textiles. Even though we didn't DIY those ourselves it was a really sweet contribution to our celebration.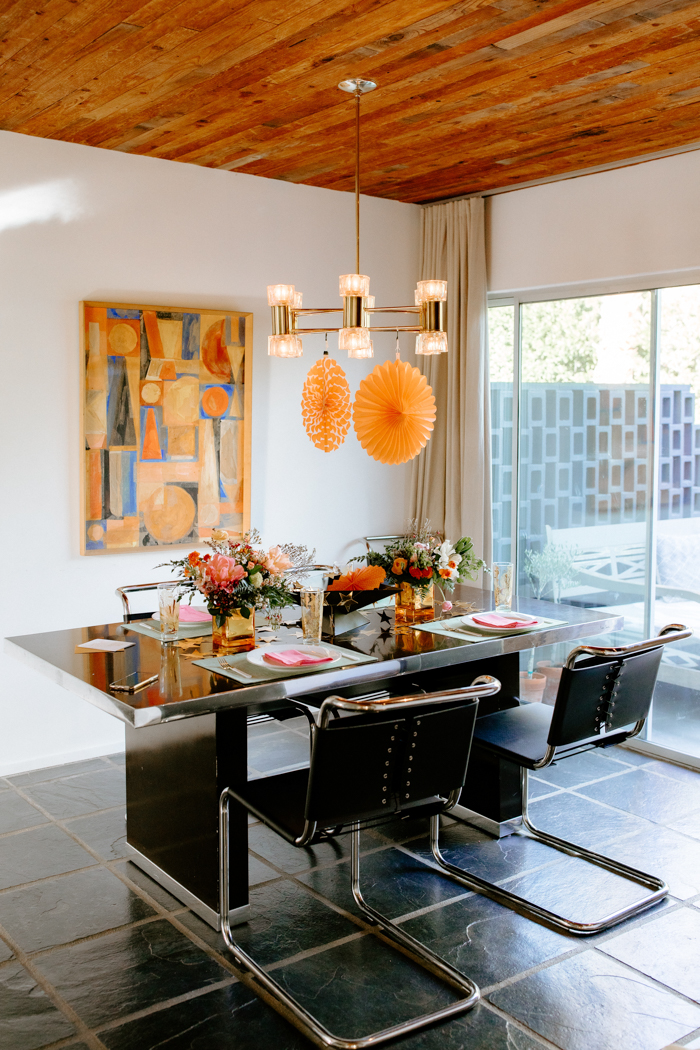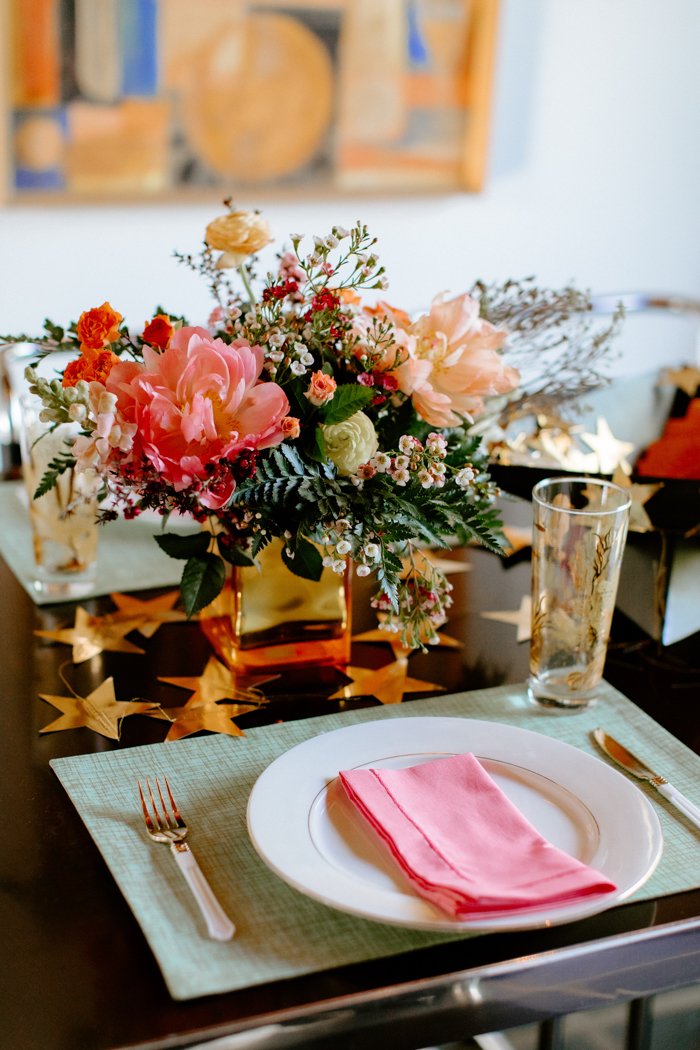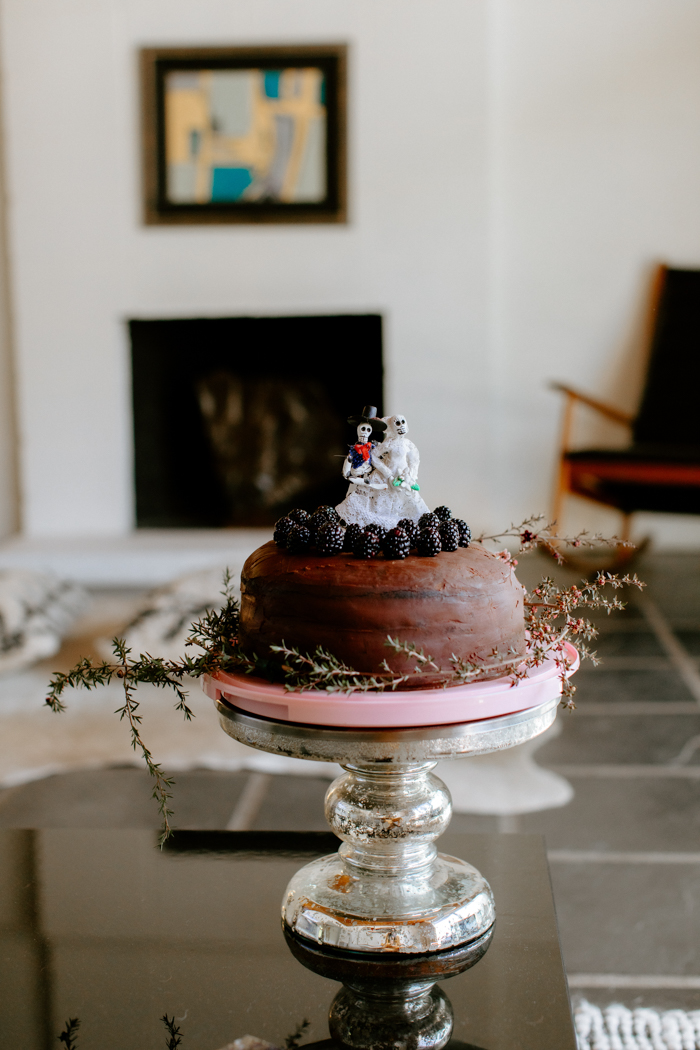 After reviewing probably sixty wedding photographer's websites, we finally came across Carmen Lopez Photography. We were limited because our date was last minute and we're so lucky to have found her. When she showed up ready to party in a coverall jumpsuit we knew we had made the right choice. While taking photos the desert wind picked up and Carmen was such a pro at moving us around, shifting, and relocating to get amazing pictures. We're both pretty awkward in front of a camera and are so happy with how Carmen's photos turned out.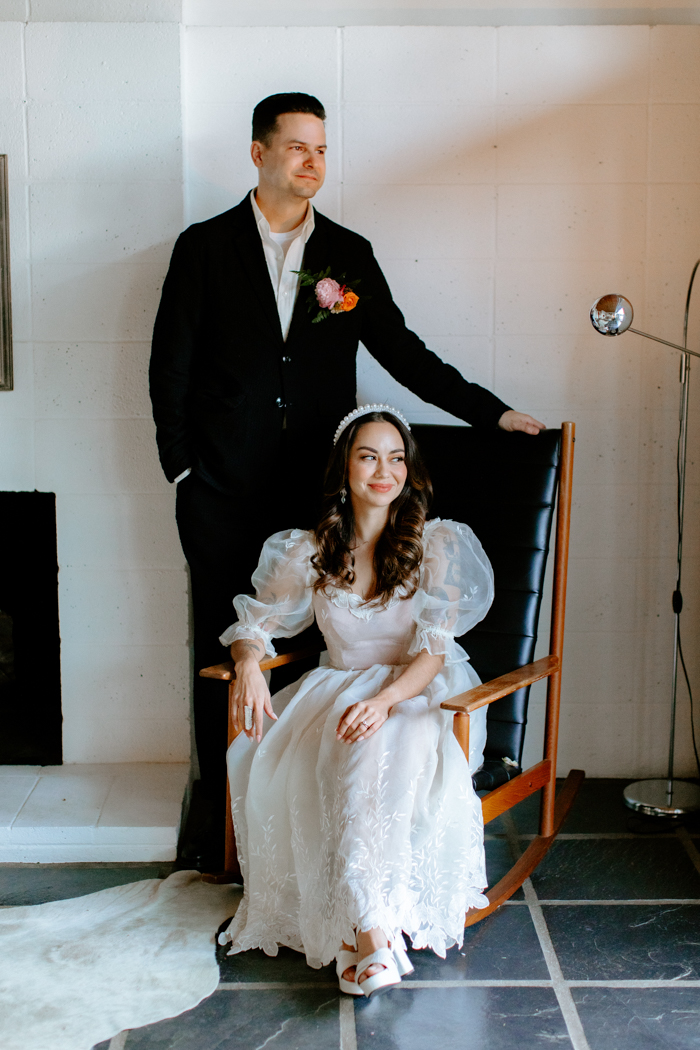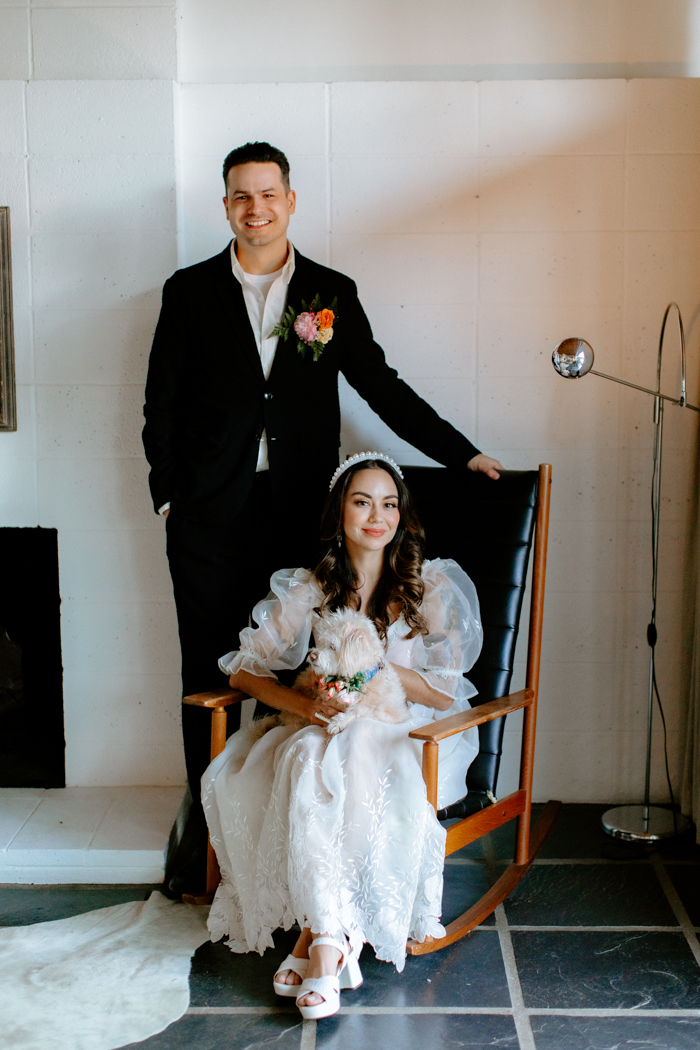 Congratulations to Annelise and Joel on their mid-century modern Palm Springs elopement. And big thanks to Junebug member Carmen Lopez Photography for capturing photos proving a large budget isn't necessary to host a meaningful, show-stopping nuptial. To see more of Carmen's work, check out her profile in our directory of wedding photographers from around the world!
Whether you're dreaming of a destination wedding or a close-to-home celebration, your first wedding planning priorities should be finalizing your guest list and budget. If you're not sure where to start, we've got you covered. Check out our guide for creating the best wedding budget for your celebration.