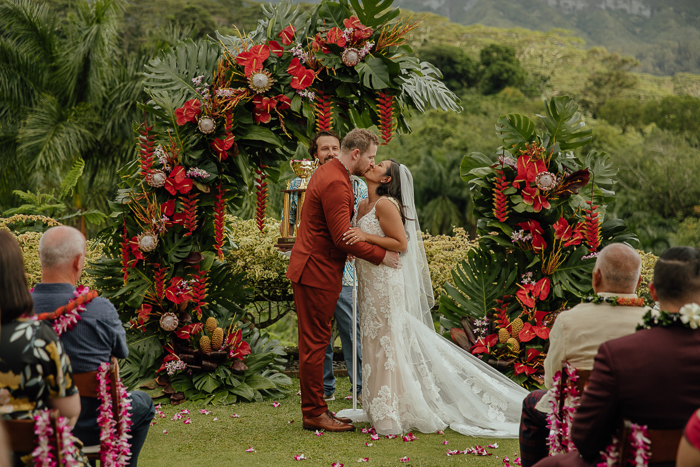 Gloriani and Luke had a big dream for their wedding—a gathering that would be more than just ordinary. They wanted to bring together their loved ones from all over the world and create an unforgettable experience. To showcase the bride's hometown's natural beauty and warm spirit, they decided to decorate their venue using local flowers, natural fabrics, and personal handmade touches. Gloriani took charge of all the planning with love and dedication, while their dear ones came together to help make their Royal Hawaiian Golf Club wedding a reality.
The Royal Hawaiian Golf Club is a hidden gem with stunning views of the Ko'olau mountain range, making it the perfect backdrop for the couple's ceremony. They stood beneath a beautiful arch adorned with tropical flowers and greenery as they exchanged heartfelt vows. The following reception was a joyful celebration, complete with a money dance and an exciting halau performance.
From the moment guests arrived and were greeted with welcome leis to the elegant capiz name cards displaying creative and cultural appreciation for both Hawai'i and the Philippines, the pair's wedding showcased a seamless fusion of two vibrant cultures. Junebug member Sunny Golden expertly captured every exquisite detail, allowing us to witness the beauty of how this couple beautifully blended their heritage together. So, keep scrolling to see this enchanting celebration, put together with plenty of thought and love.
The Couple:
Gloriani and Luke
The Wedding:
Royal Hawaiian Golf Club, Hawaii, United States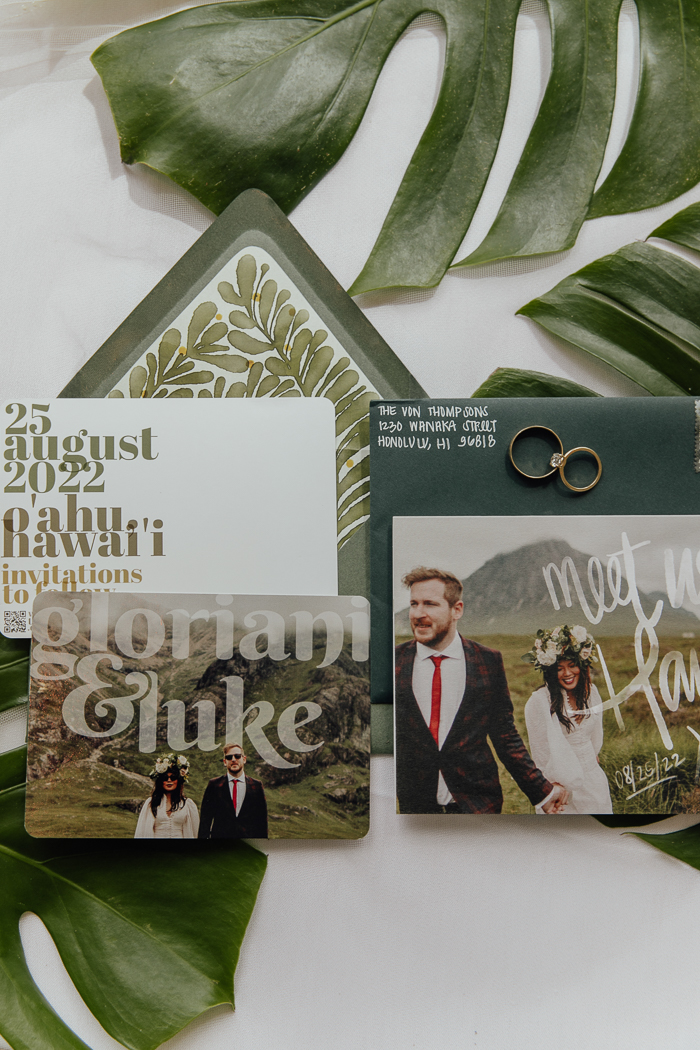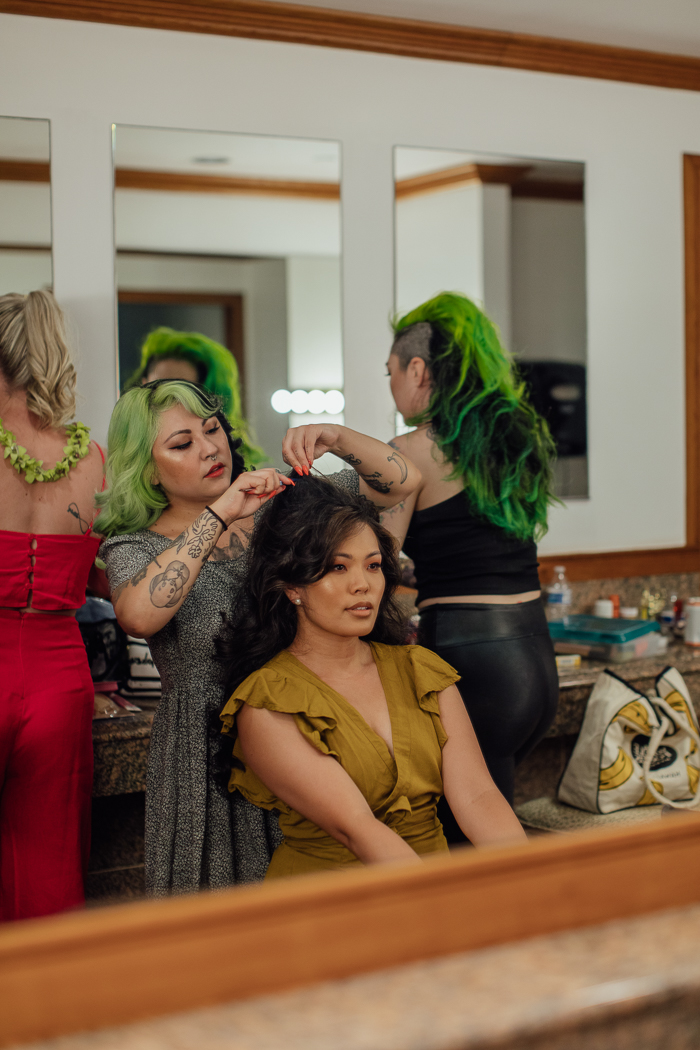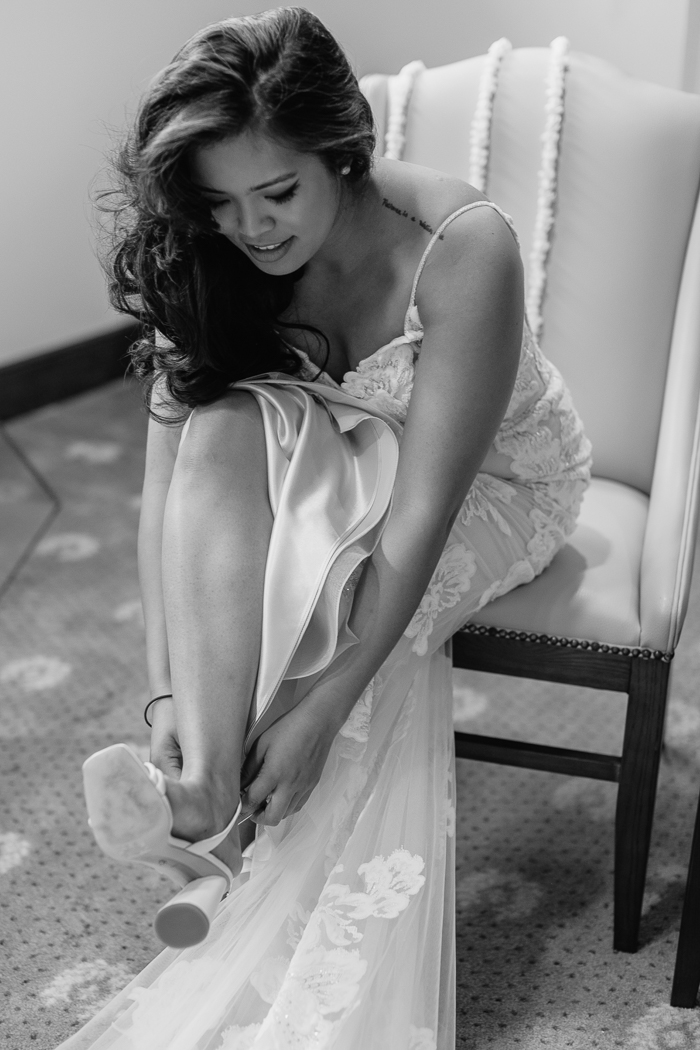 Incorporating Both Hawaiian and Filipino Culture and Traditions
Bold and bright, our wedding aimed to highlight my hometown's natural beauty and aloha spirit. We consciously chose to decorate using native flora, natural textiles, and personalized touches. As many of our guests had never been to Hawai'i before, we wanted to provide them with an unforgettable experience and a warm homecoming welcome. In addition to incorporating iconic Hawaiian elements like shaved ice, energetic cheehooo shouts during dancing, and leis for each guest, we also included Filipino traditions and details such as the money dance, capiz shells, and rattan fans. It was a true collaboration of cultures as my family played a significant role in sharing our traditions with Luke's family and our dear friends who traveled from near and far to celebrate with us.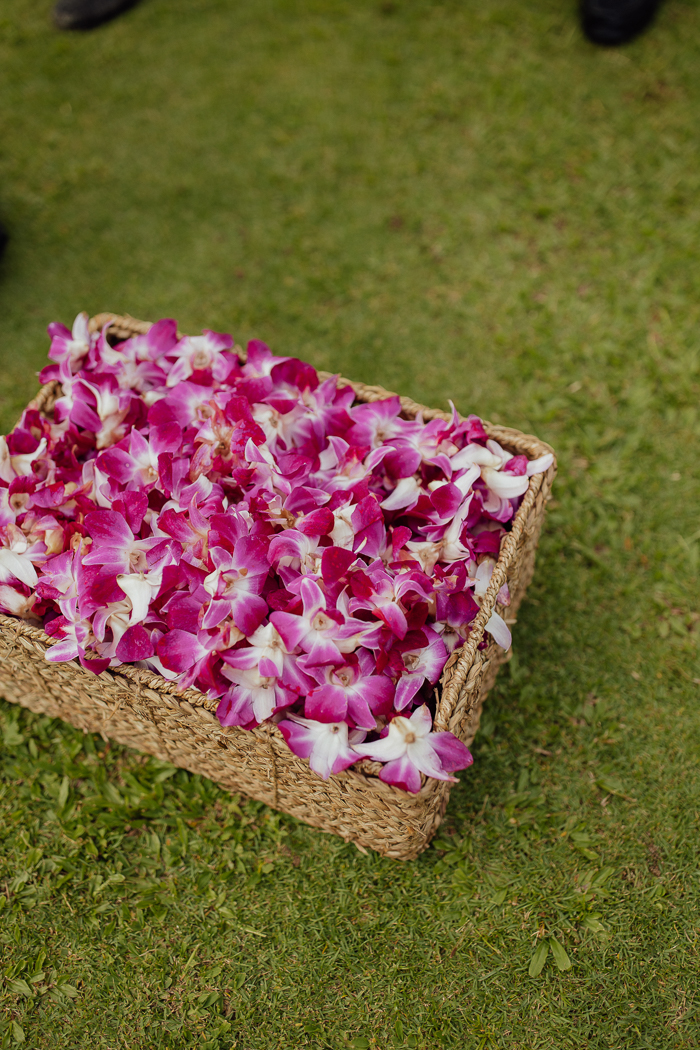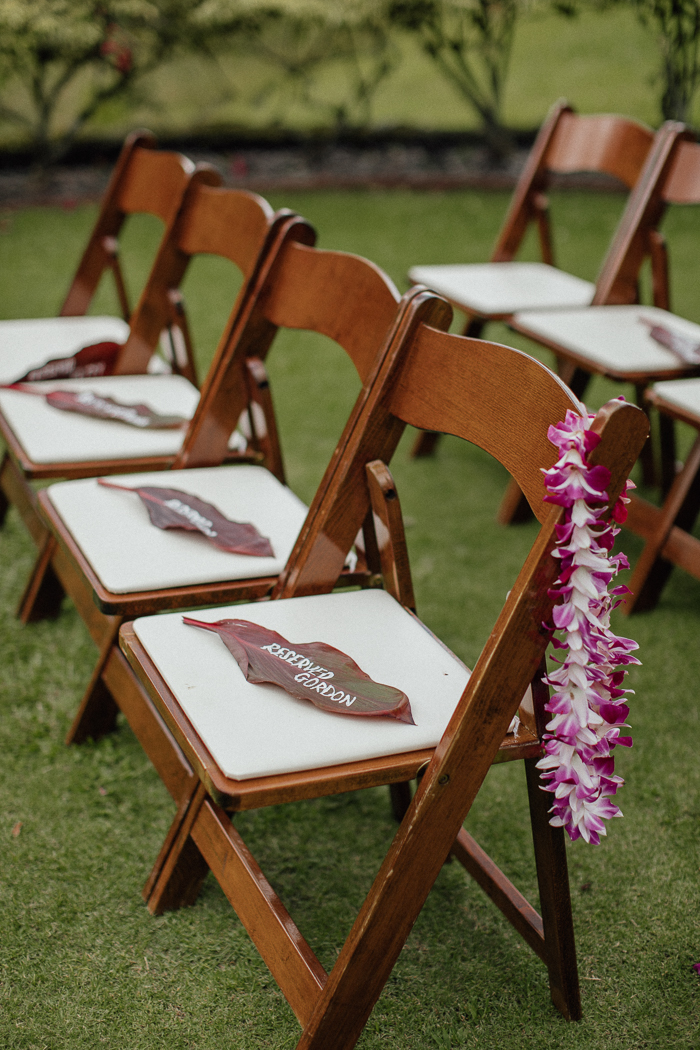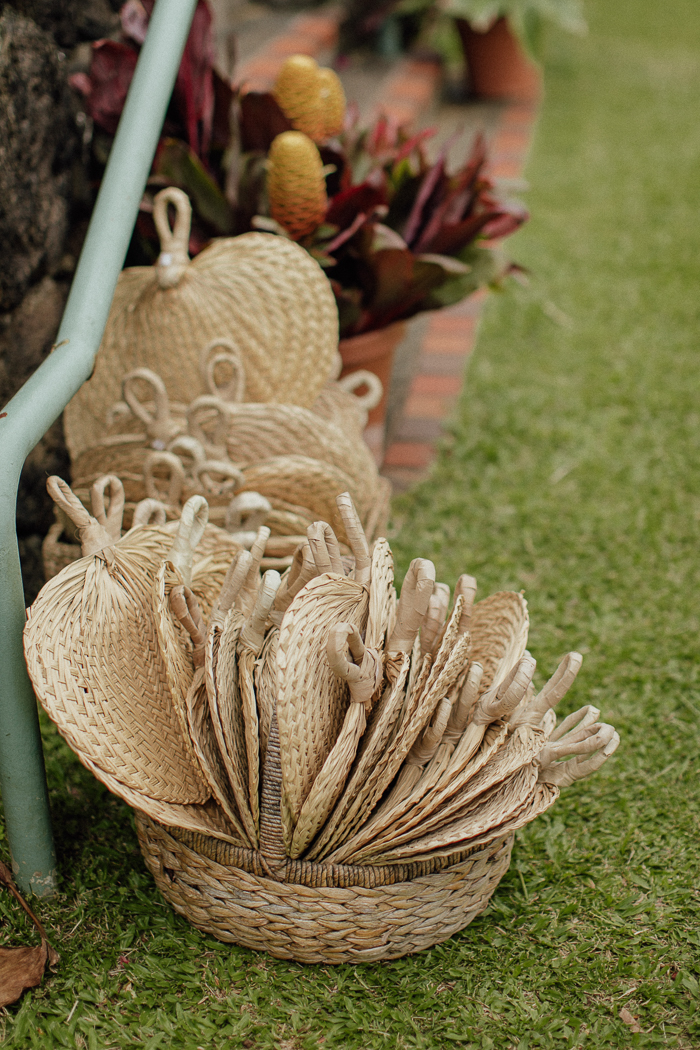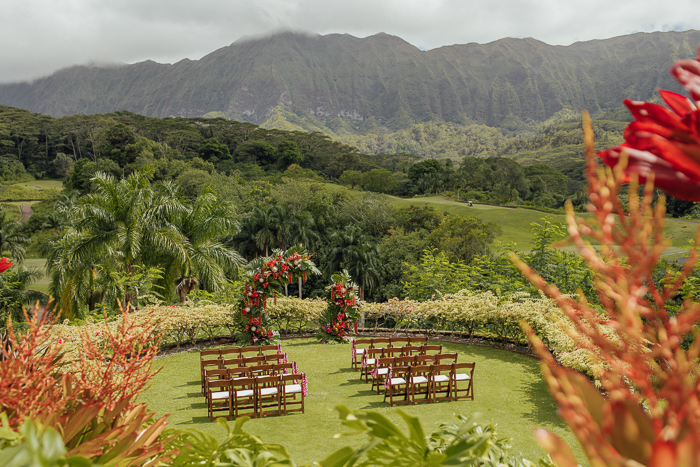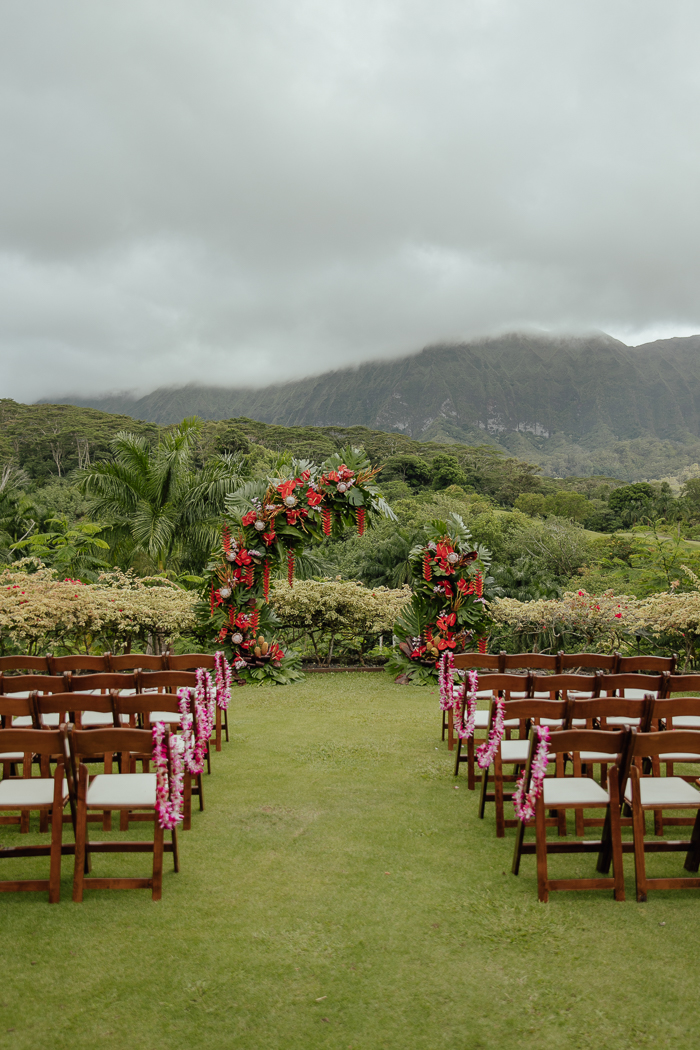 Why A Royal Hawaiian Golf Club Wedding
My mom and dad went to a wedding at the Royal Hawaiian Golf Club and kept it a secret until I got engaged. I couldn't believe I had never heard of it before, considering I grew up in Oahu. It was a hidden gem that not many knew about, even most of my vendors! It was a delightful surprise to discover such a special place for our own wedding, and I knew it would create unforgettable memories.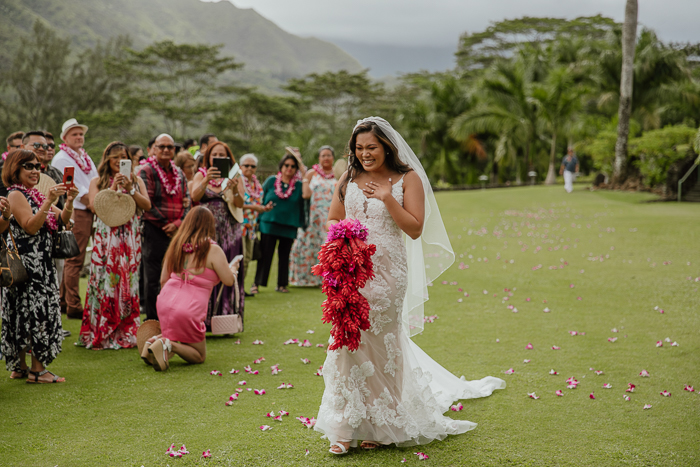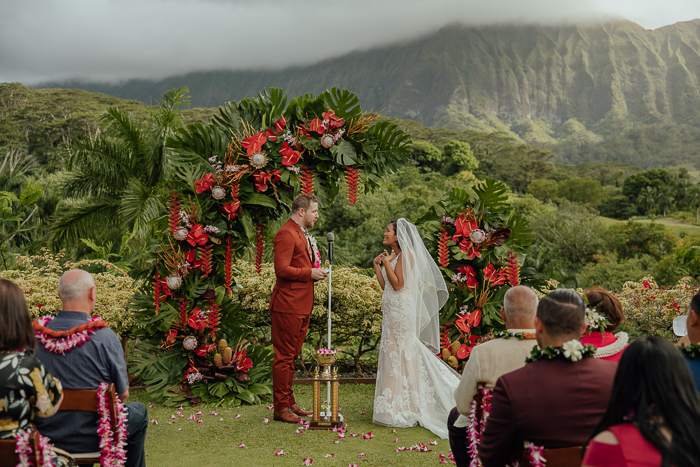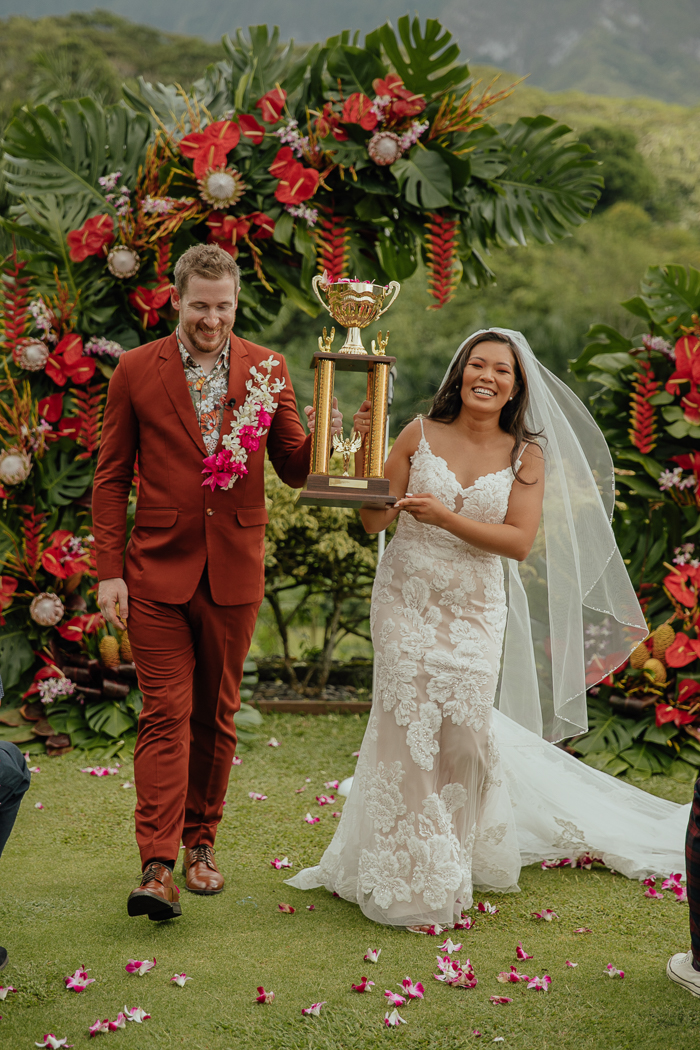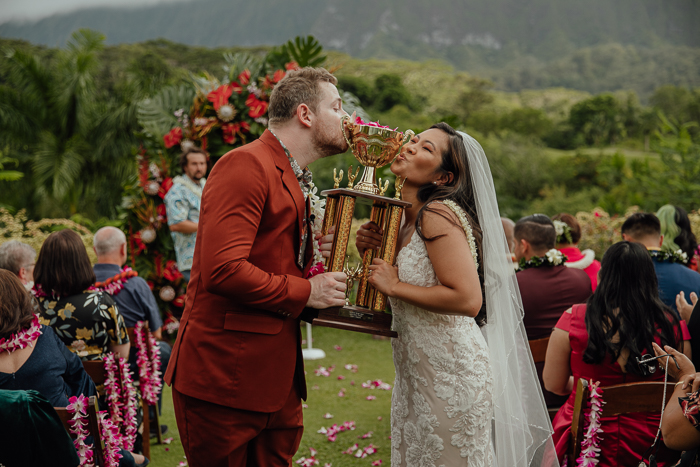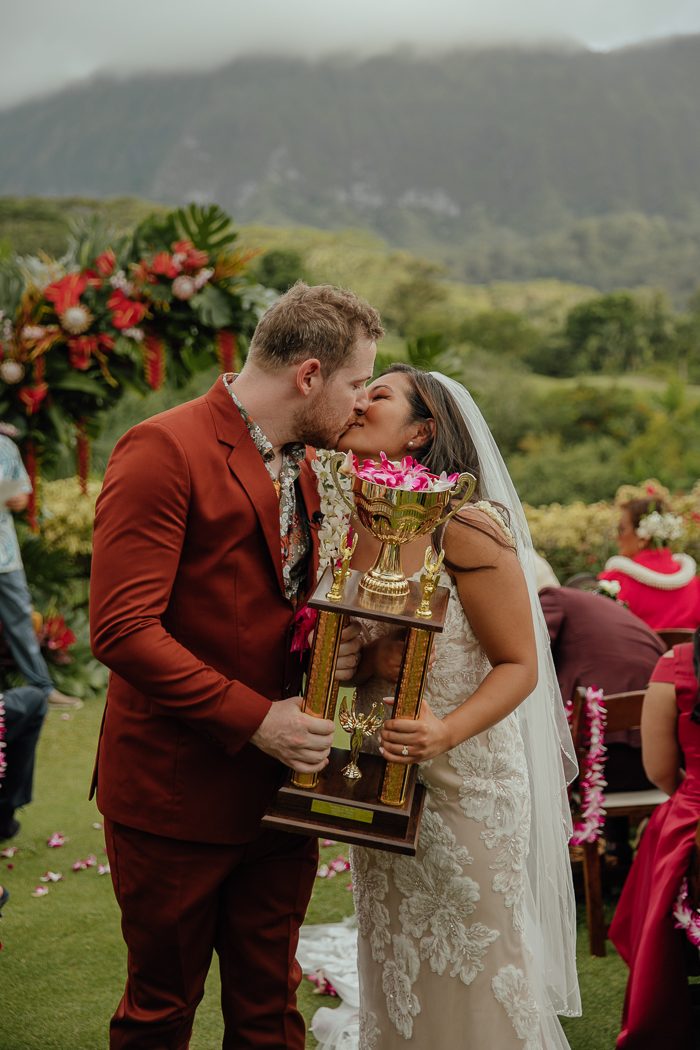 Personalizing Their Ceremony With a Handmade Arch & Wedding Trophy
For our ceremony, we had a custom-built arch that framed the beautiful moment, thanks to the combined efforts of my dad, uncle, and our talented florist. Additionally, we included a unique touch by presenting the trophy from our initial marriage. When we had our civil wedding in the UK, our rings didn't arrive on time, so we improvised and hastily created a trophy instead. We wanted to make light of the situation and not consider that wedding as our official one since our beloved family and friends couldn't attend. The trophy humorously bears the inscription "International Marriage League Champions, 2021," and to add a playful touch, we've been attaching small ribbons to it ever since. It has become a cherished symbol of our journey together and the unexpected twists that make our love story uniquely ours.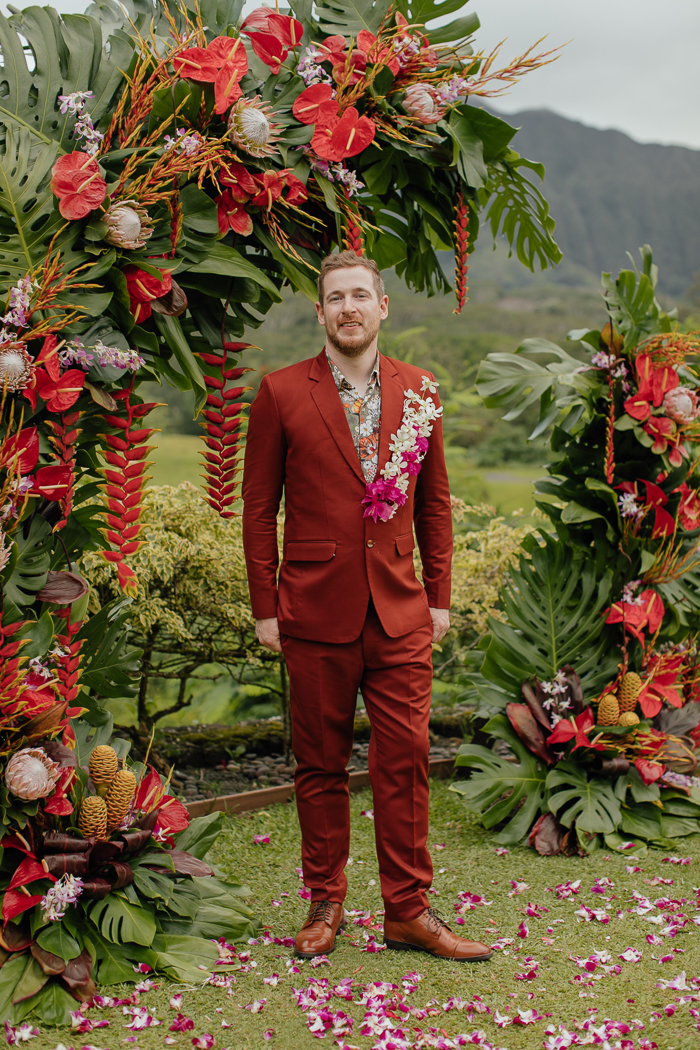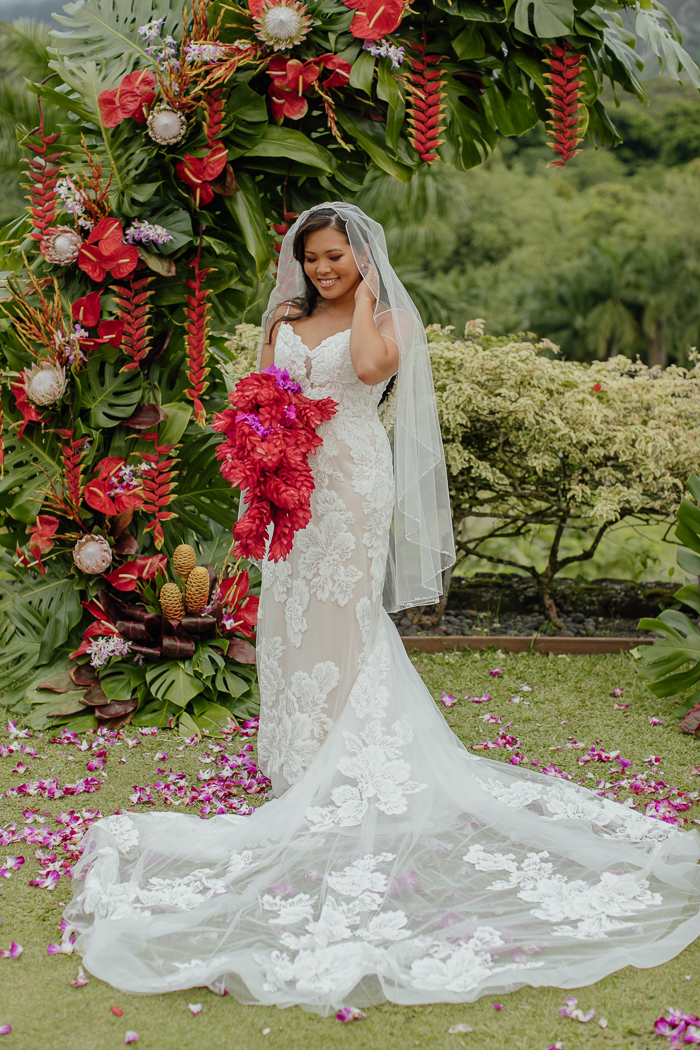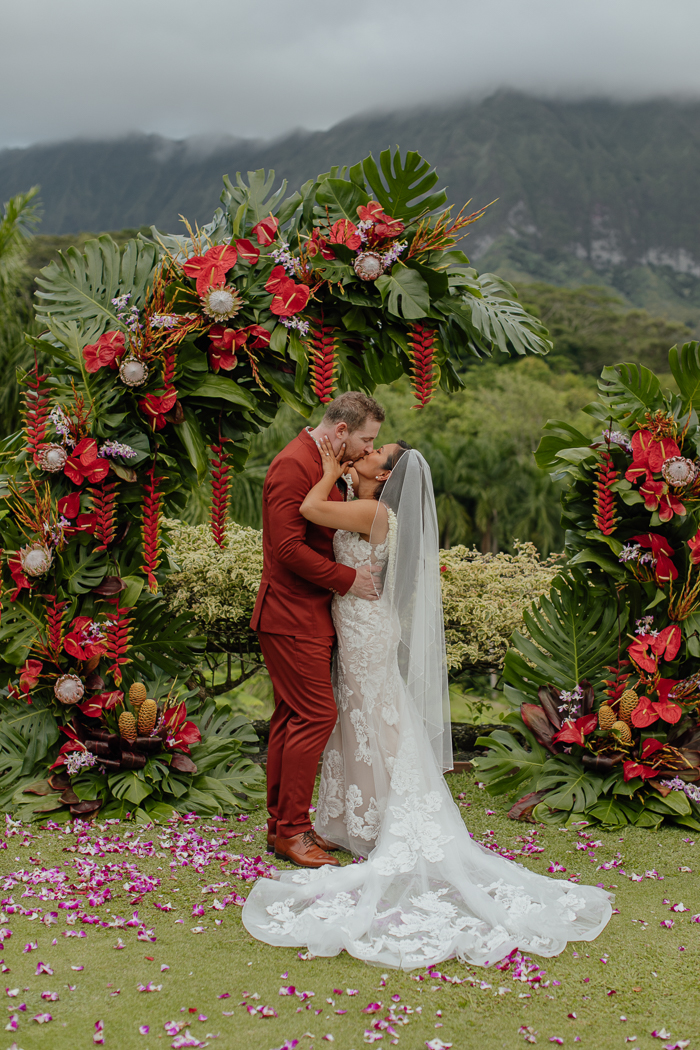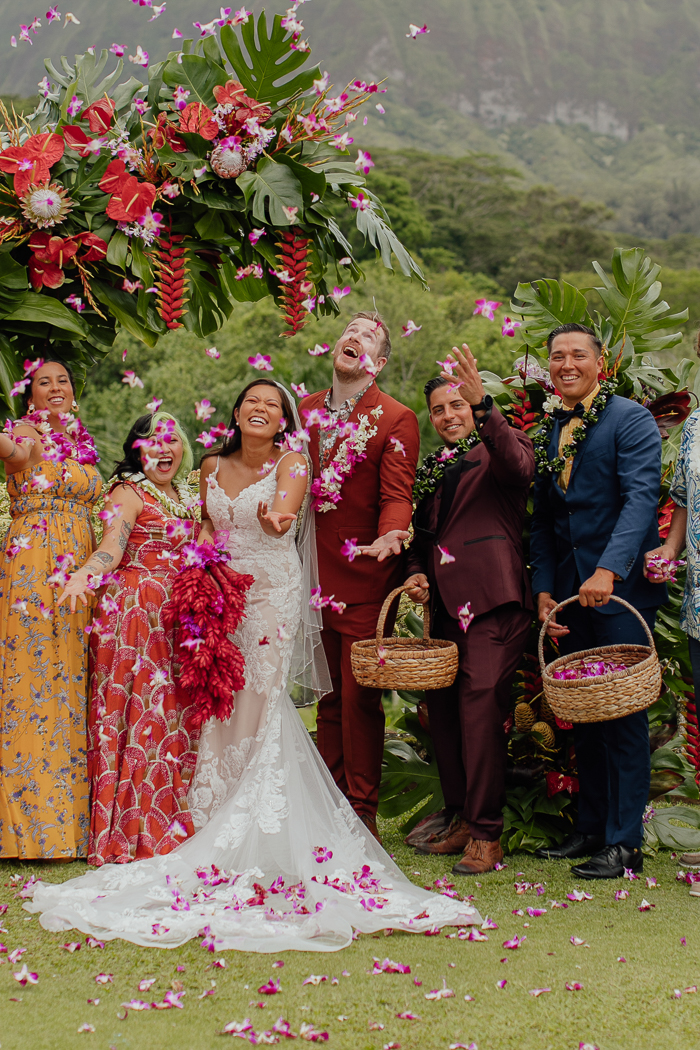 Wedding Planning Advice: Get A Day-Of Wedding Coordinator
Something happened within our budget where we had to forgo a day-of coordinator, and my mom, an experienced event coordinator (a protocol officer, so big events are her jam), was adamant that she could handle everything. However, I didn't want her to work on the wedding day. Planning and coordinating leading up to the big day can be manageable if you have a type A personality, love spreadsheets, enjoy talking to people, and excel at PowerPoint presentations. But on the actual day? You deserve to be pampered and showered with love, not stress. The things that matter to you will always matter, so don't let anyone convince you otherwise. I'm glad I didn't splurge on favors, accessories (shoes, hair, jewelry), a fancy send-off, or a photo booth. It freed up more of our budget for incredible entertainment, delicious food, and amazing vendors.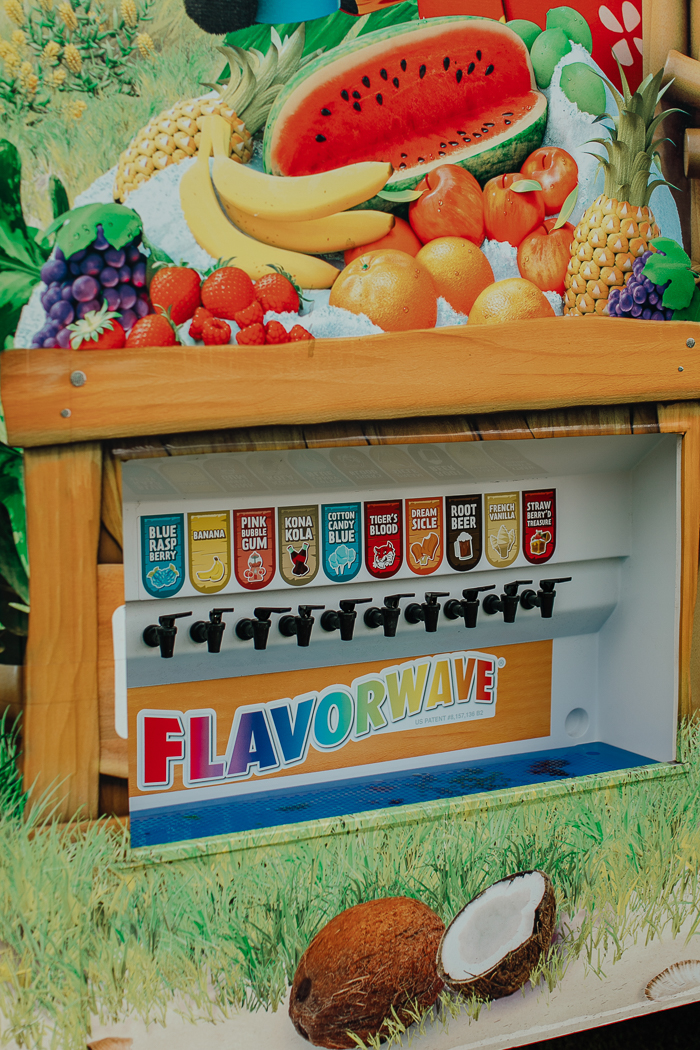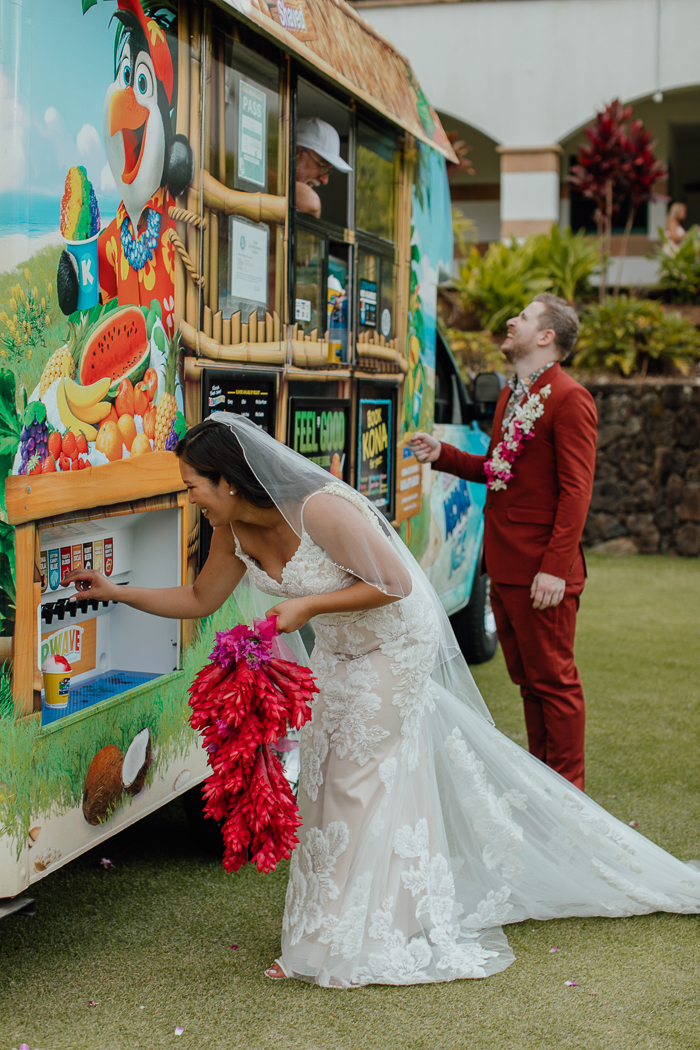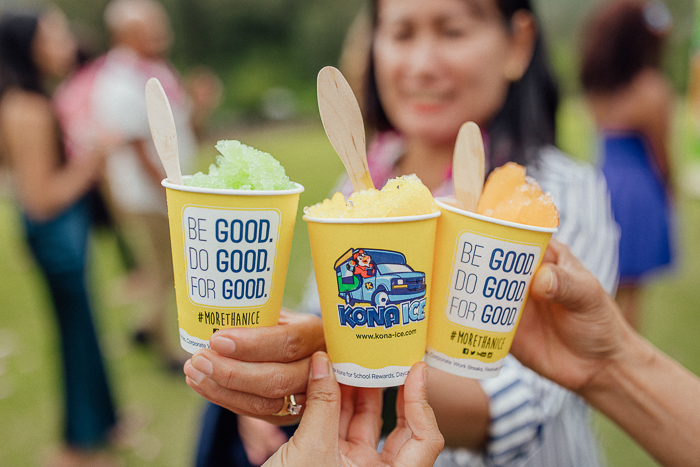 Taking Charge of the Wedding Planning Reigns
I took charge of all the planning! Luke patiently sat through countless PowerPoint and spreadsheet presentations as we went through each detail together. Having been a bridesmaid multiple times, I gained valuable experience knowing what I did and didn't want for our wedding. Getting married before the actual wedding day turned out to be a brilliant decision. As it relieved a lot of pressure and allowed us to truly focus on our friends and family. I cherished the opportunity to express my creativity by designing invitations and crafting our wedding website. It was incredible to celebrate with the people who had known us since we were babies. And had witnessed every stage of our lives.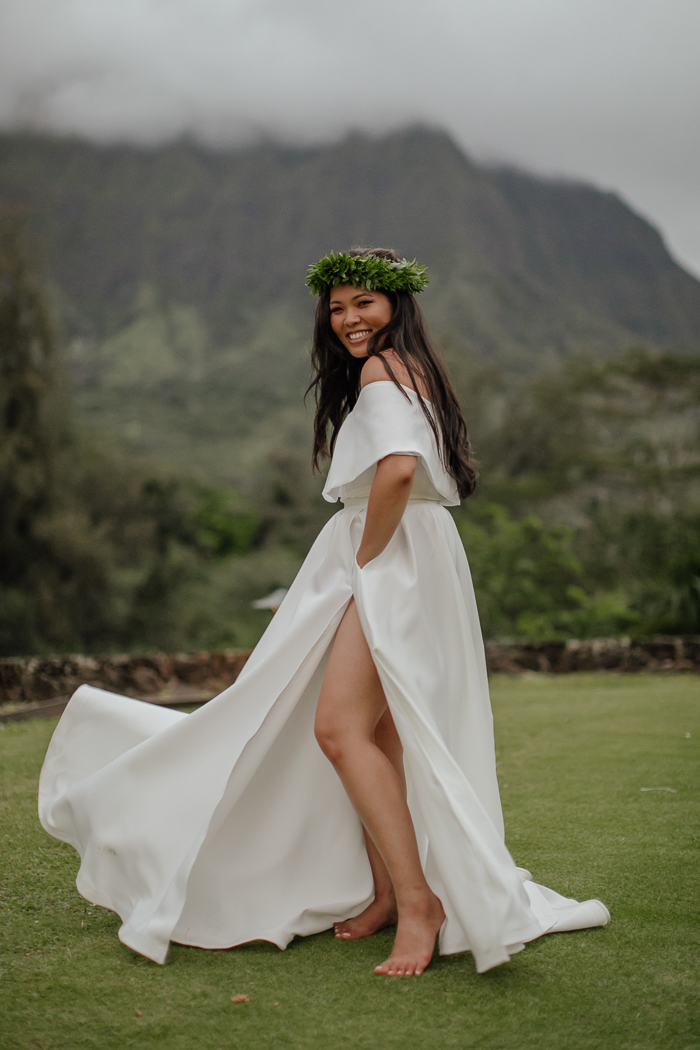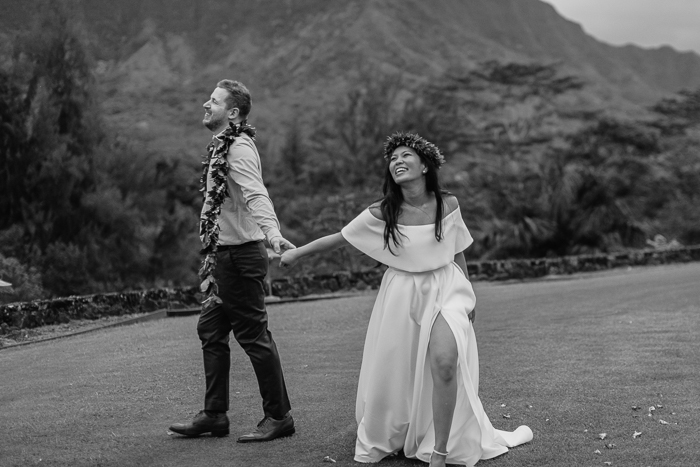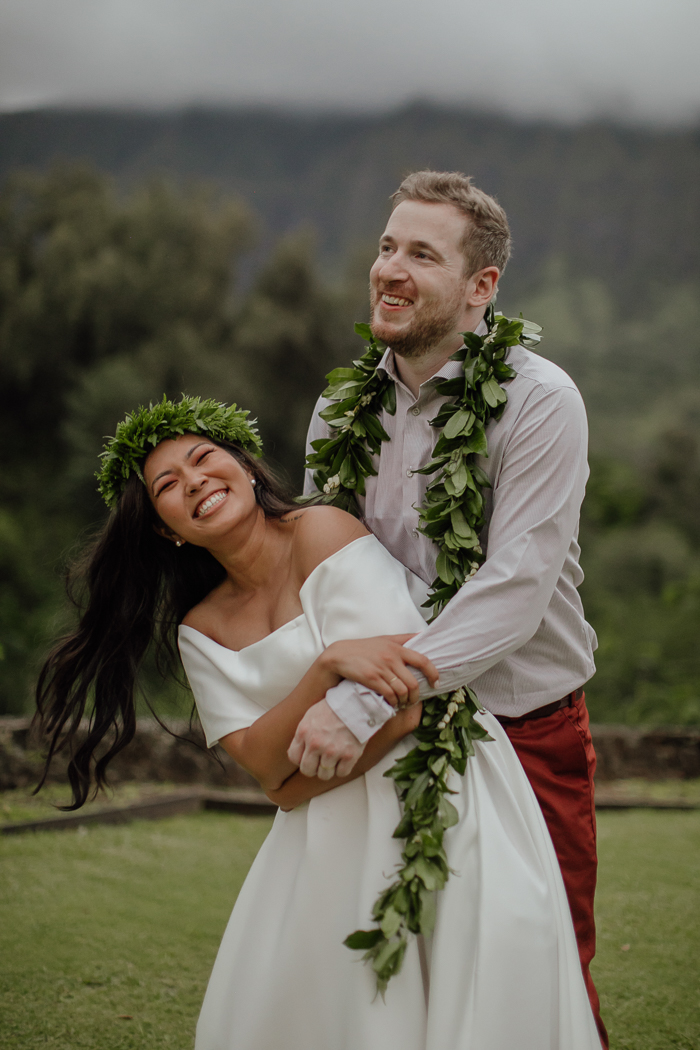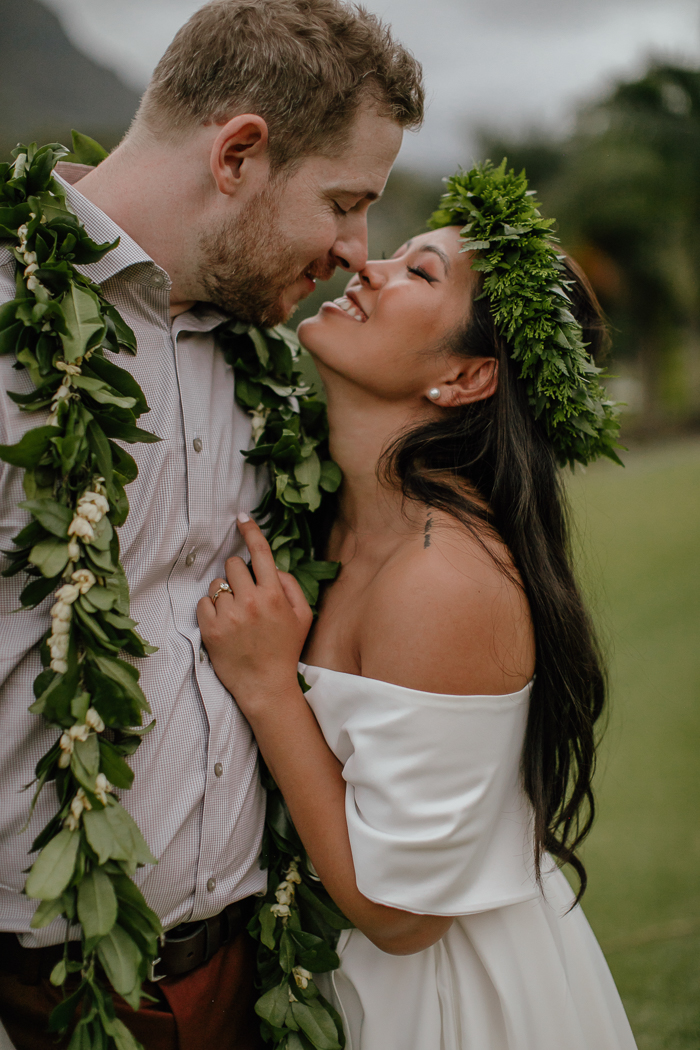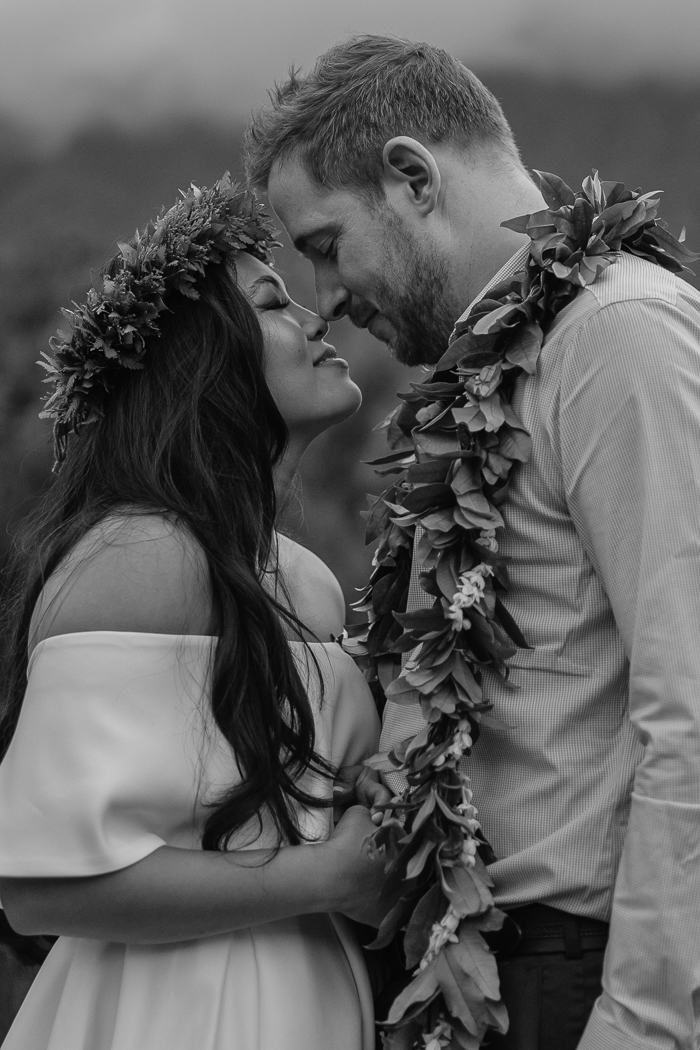 Their Royal Hawaiian Golf Club Wedding Came to Life Because of Their Families
I take immense pride in my family and their unwavering love that manifested in every wedding detail. It was heartwarming to see uncles and aunties stepping forward to offer their assistance. Some, if not most, of the stunning greenery was cut from my uncle's yards. While my family worked tirelessly to set up the entire venue. The logistical work, running back and forth, was expertly handled by my dad's Freemason brothers. Incredibly, my generous aunties donated over 800 orchid leis, and another auntie went out of her way to purchase and provide rattan chargers for each plate. My best friends stayed up late into the night. Lending their hands in arranging flowers and diligently steaming chair covers on the wedding day.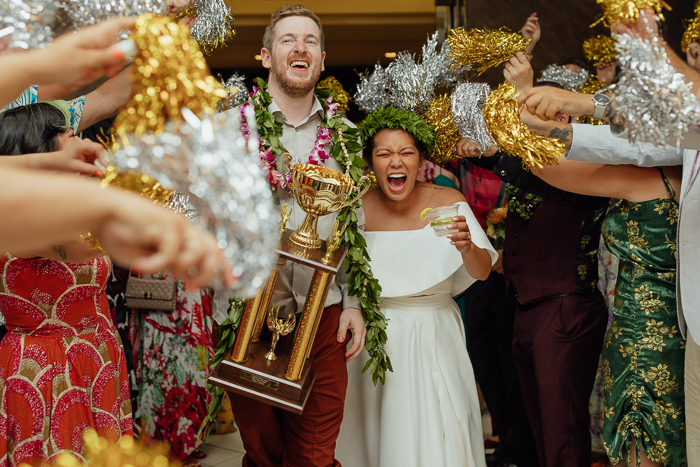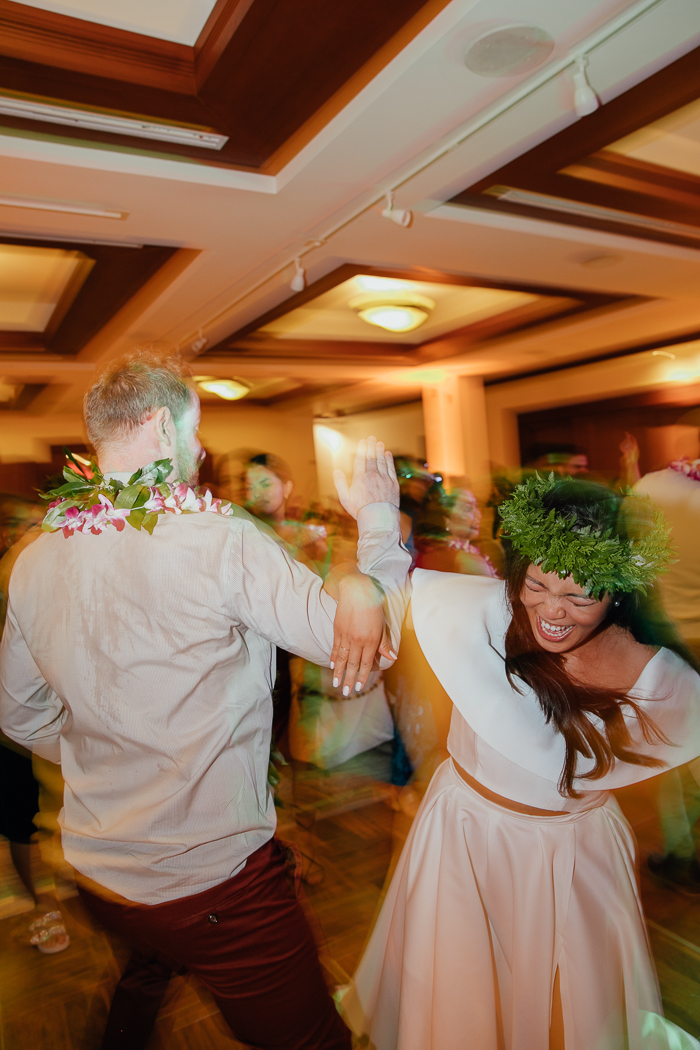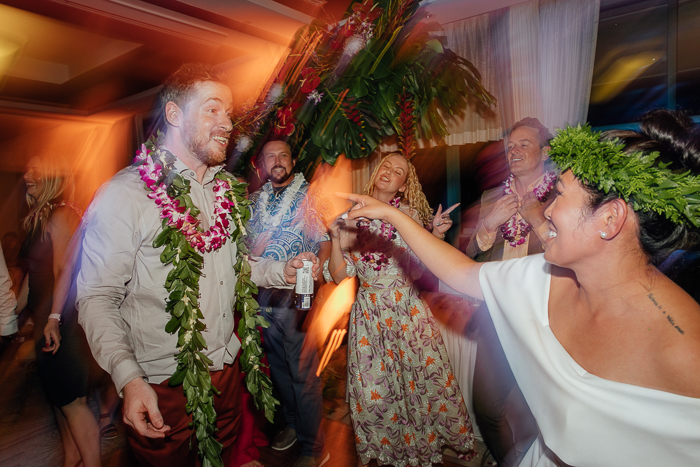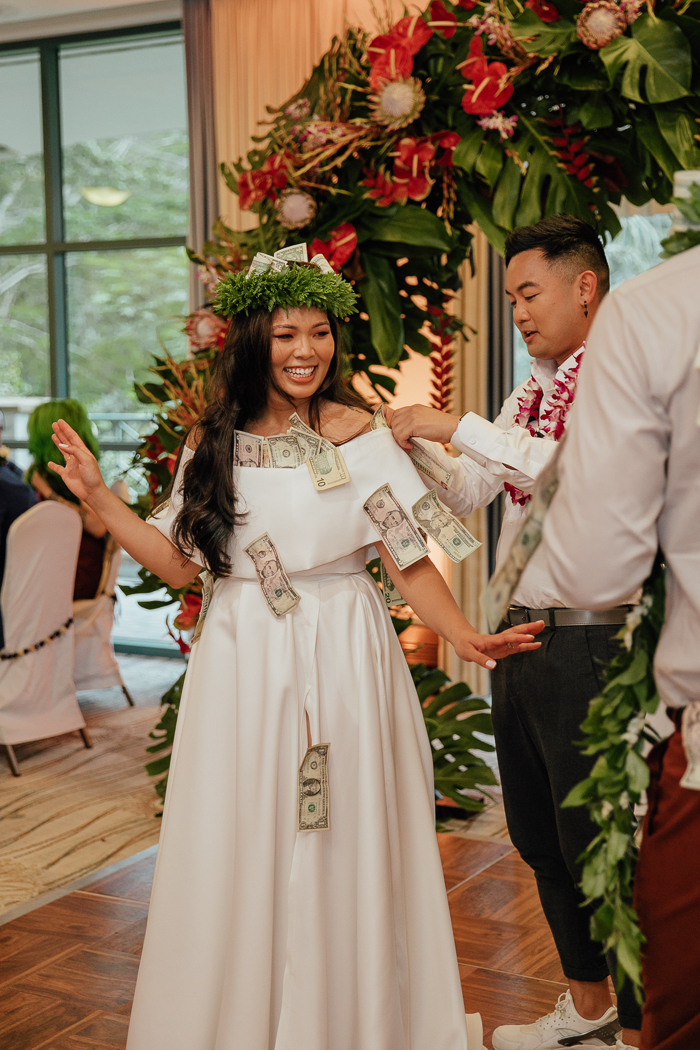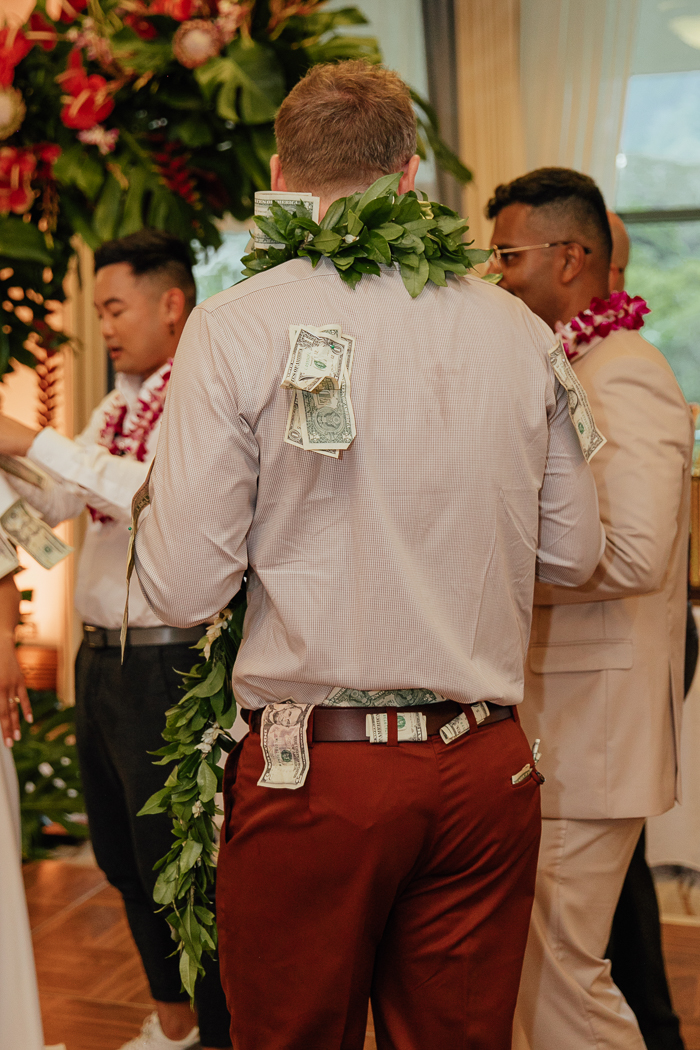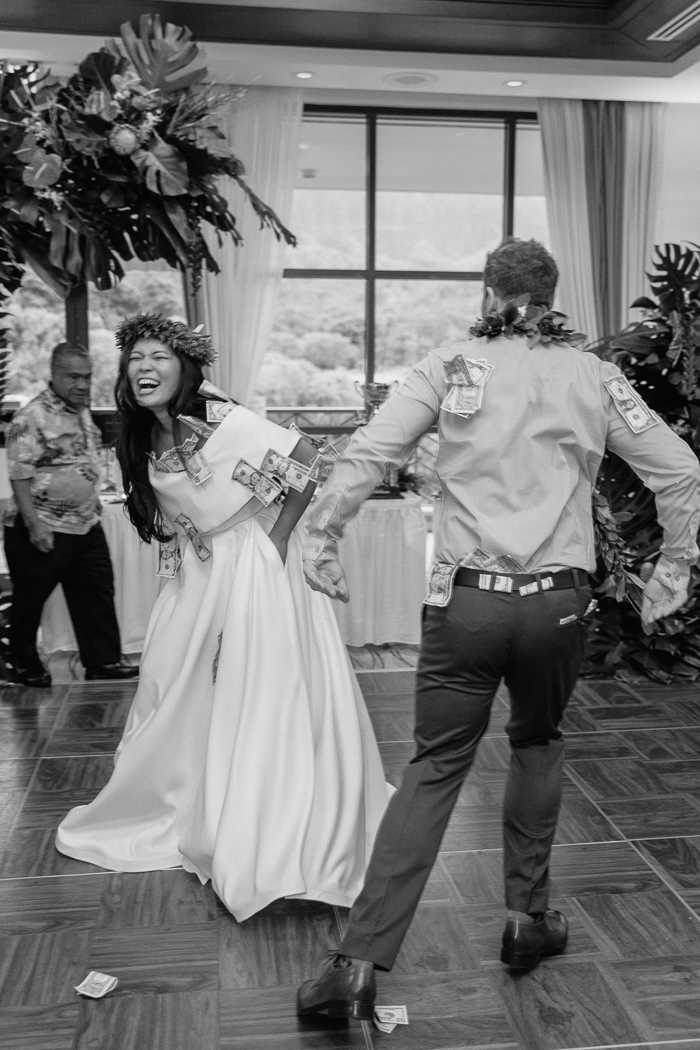 Infusing Personalized Details And Cultural Delights Into Their Royal Hawaiian Golf Club Wedding
To add a personal touch to our wedding, I collected delicate capiz shells from the Philippines and inscribed each guest's name for their table seating. Not only were these shells a unique and beautiful addition to the decor, but our guests could also use them to wrap around their champagne flutes or as keychains, serving as a lovely keepsake from the celebration. Instead of traditional wedding favors, we encouraged them to fill their suitcases with souvenirs and mementos from their stay. With family and friends traveling from various corners of the United States and the world. We wanted to ensure their trip felt like a true vacation. We included special elements like leis for each guest, a refreshing shaved ice truck during cocktail hour, and a halau performance where guests could learn and dance Polynesian dances.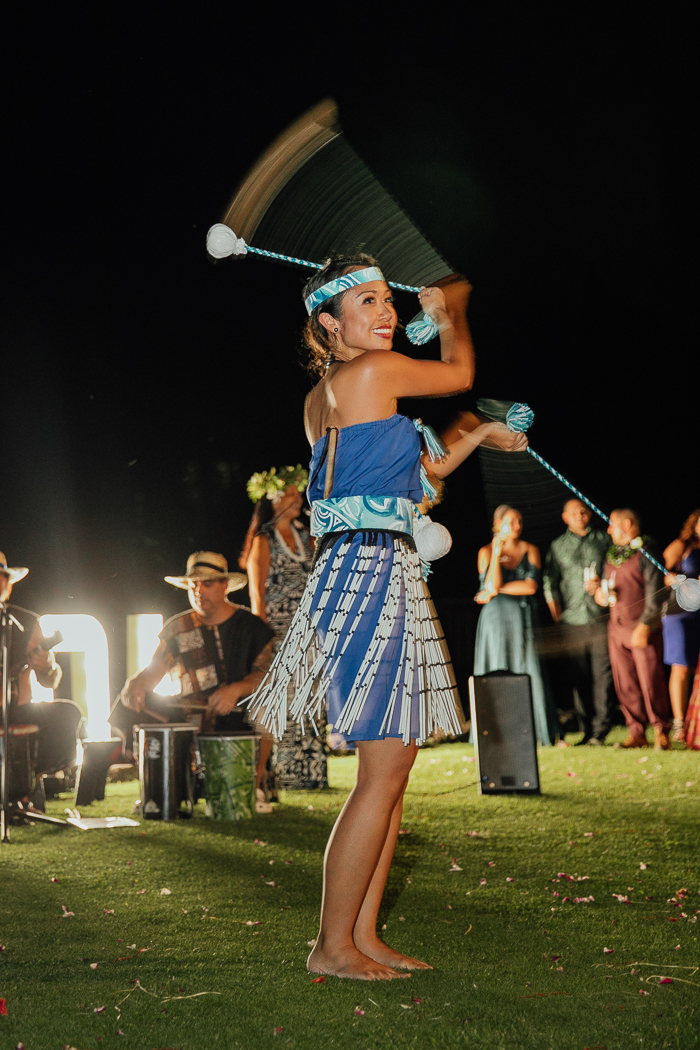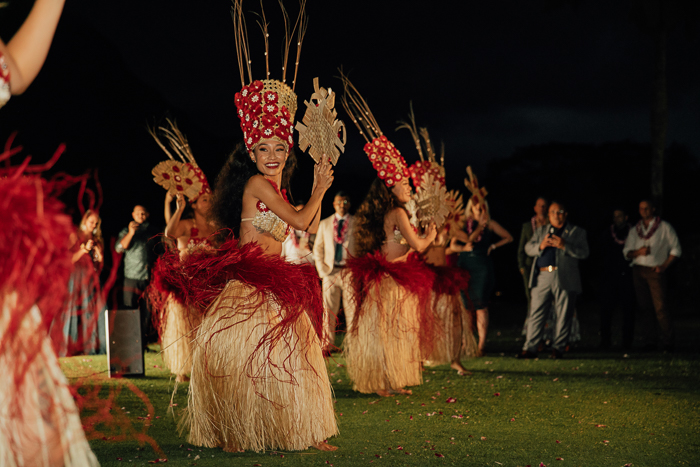 Recommended Reading: From DJs to Fireworks: The Best Wedding Entertainment Ideas to Consider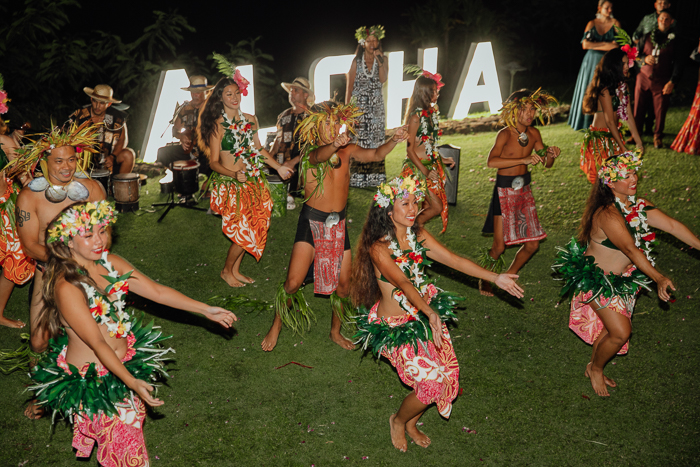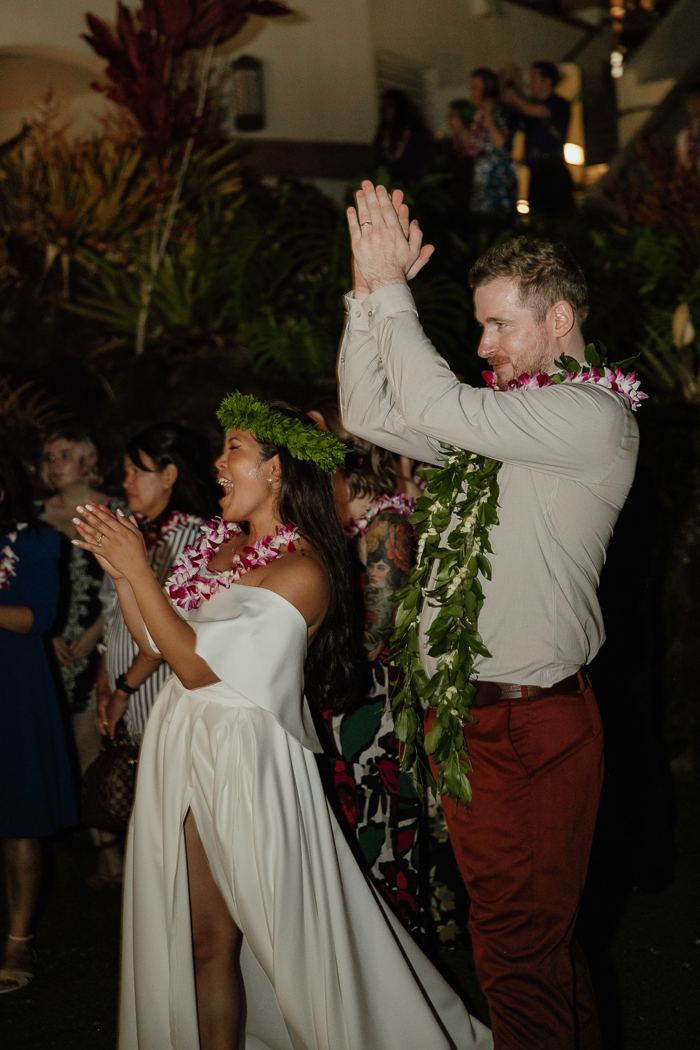 Personal Touches And DIY Creations
Most aspects of our wedding were a labor of love and a testament to our family's creativity and thoughtfulness. Save the dates and invitations were hand-drawn and designed by me. While I also took charge of creating and curating our wedding website. The ceremony arch was a custom creation by my dad and uncle, beautifully adorned by our family friend Iris and her husband, Sean. Another impressive DIY project was the Aloha marquee, which my dad built. Adding to the fun, he also crafted a cornhole/bean bag toss game, which I enjoyed painting. I handled the calligraphy for the guest seat placement, and my best friend Justine showcased her talent by providing calligraphy for the seat placement board, styled by my mom. All the signs at the venue, including the order of events, instructions for the video booth, and custom shaved ice orders, were hand-painted by me.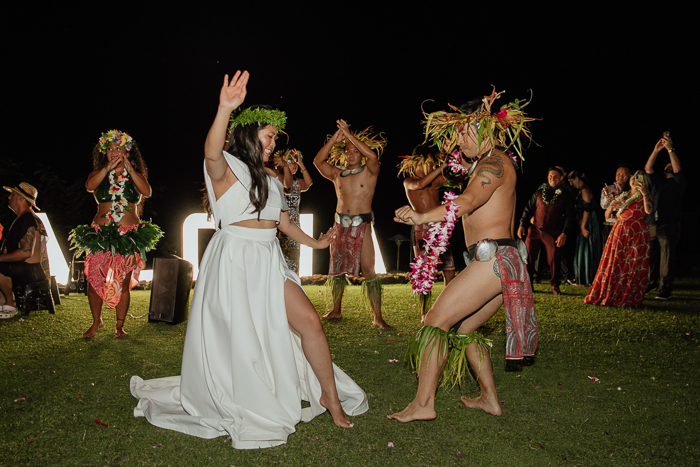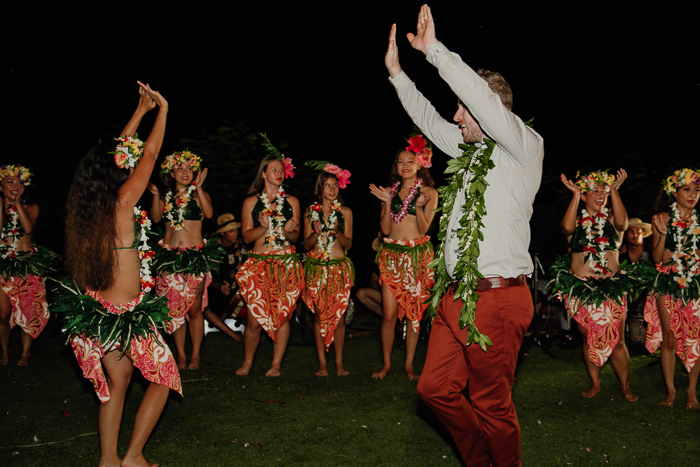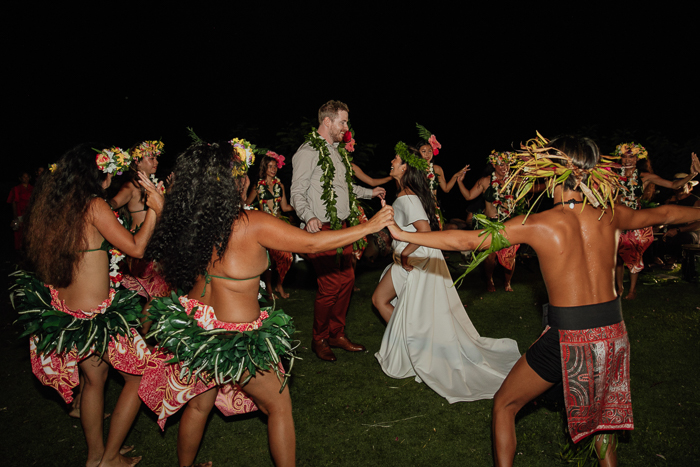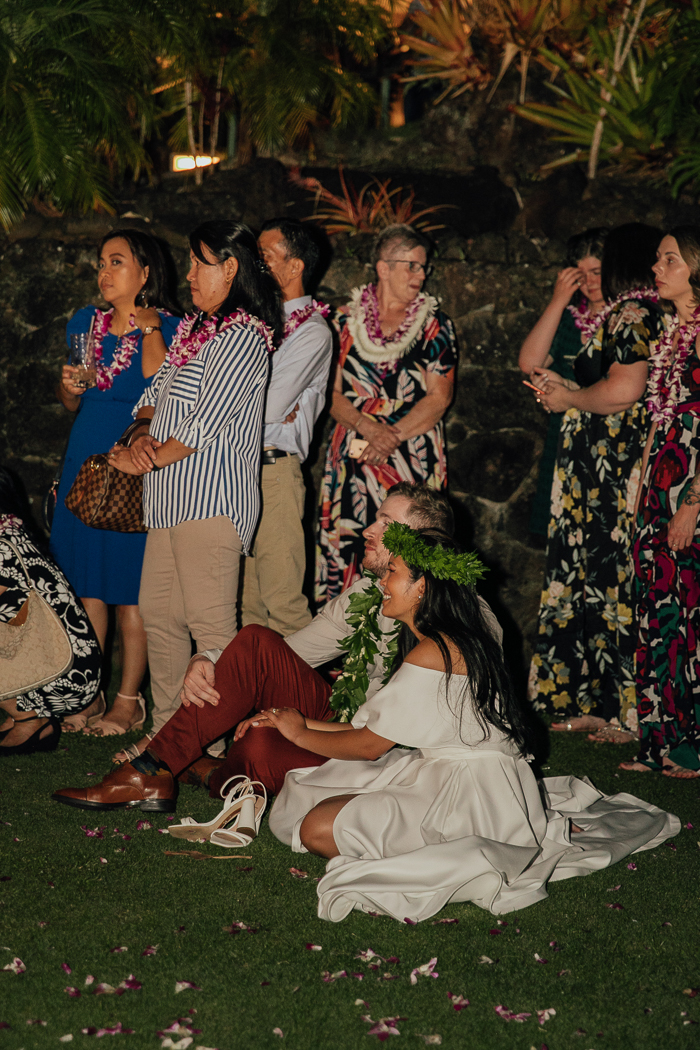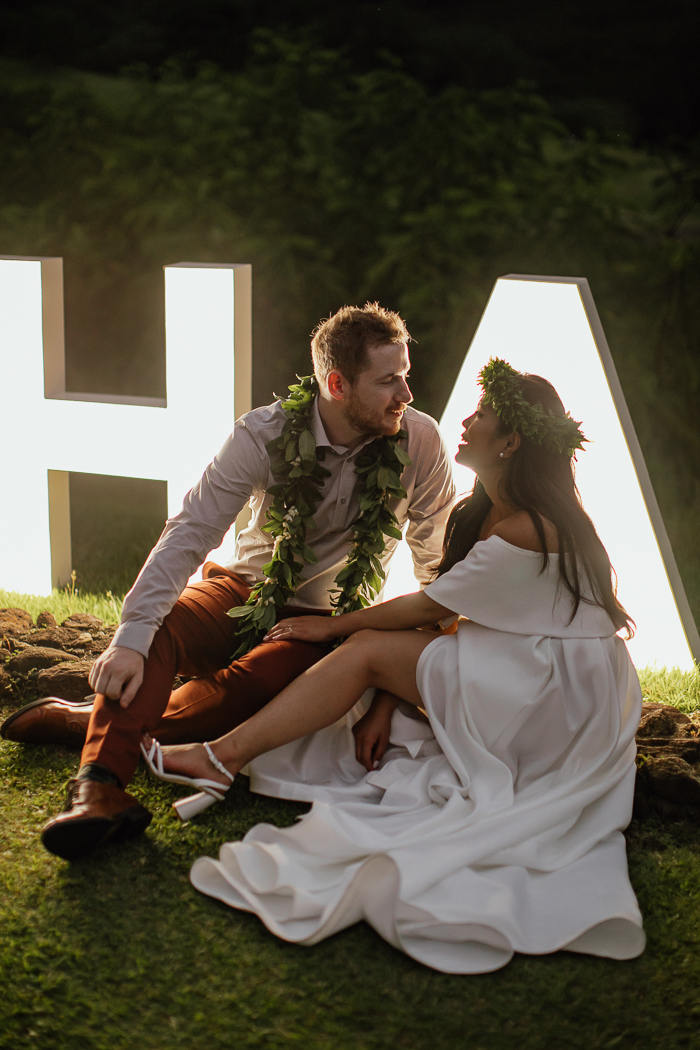 Congratulations to Gloriani and Luke on their bold and bright Royal Hawaiian Golf Club wedding. And a special thank you to Sunny Golden for capturing every moment that showcases how they beautifully blended traditions with their love story and created an event that's uniquely theirs. To see more stunning and inspiring celebrations like this one, check out Sunny's profile in our directory of the world's best wedding photographers.
Make special memories and relationships stronger by focusing on the guest experience and including your loved ones in the wedding planning. Let your creativity show as you tell your own love story through the wedding details. Just like what Gloriani and Luke did. To make all of this happen, take a look at our guide filled with practical tips to create a truly personalized celebration.