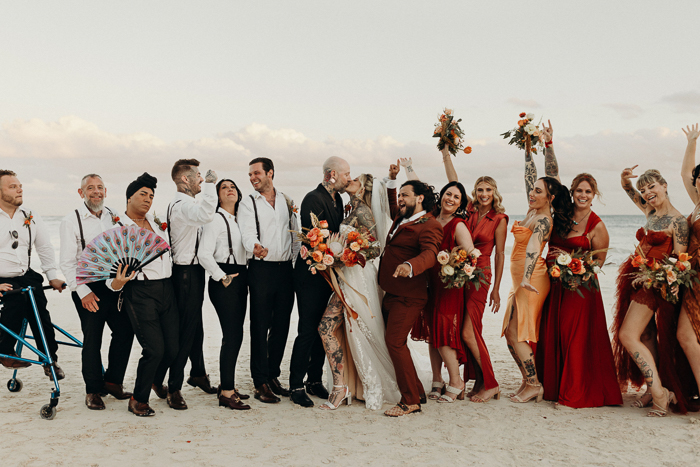 As a couple from two different countries, Robyn and Mike decided to "meet halfway" with their loved ones for their big day. And what better way to bring them all together than by turning their Tulum destination wedding into a getaway vacation! Boasting a deep rich sunset-inspired color palette, show-stopping floral arrangements, and a boho luxe aesthetic, the couple–along with their talented vendor team–created a stunning celebration at one of the best spots in the Mexican Caribbean.
With an aisle of layered rugs leading to a unique crescent arch, the ceremony was set on the beautiful shores of Akiin Beach. For the reception, candles and lush florals lined the staircase and greeted guests as they made their way to the thatch-roofed palapa. Abundant blooms, tropical foliage, and feathery pampas filled the tablescapes. And we can't forget about the gorgeous overhead disco ball installation. After the evening festivities, the celebration continued with an epic after-party complete with samba dancers, stilt walkers, and drum beaters!
The romantic atmosphere and festive vibe truly embodied what Robyn and Mike envisioned. From the stylish lounges and dreamy dance floor set up at the beach to the lit party accessories, you need to see all the spectacular details up close. Looking for beach wedding inspiration that's equal parts laid-back luxury and fiery romance? Then you need to see these incredible images captured by Andre Gouin Photography.
The Couple:
Robyn and Mike
The Wedding:
Akiin, Tulum Beach, Mexico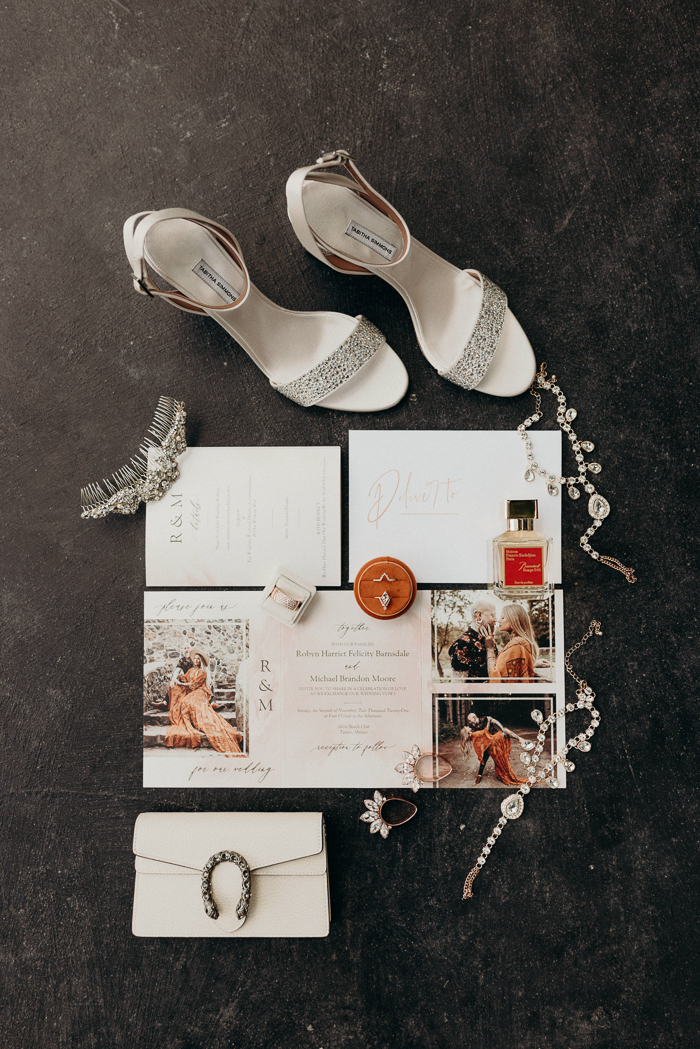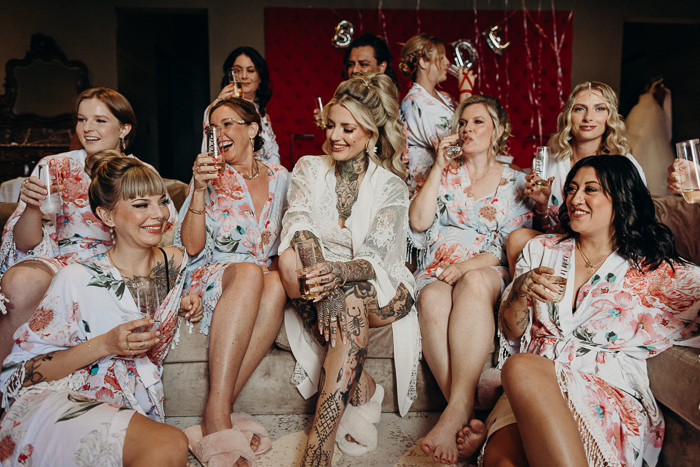 Shop Similar Floral Tassel Robe: 1. Bridesmaid Robes Floral 2. Bridesmaid Floral Robes 3. Floral Tassel Robes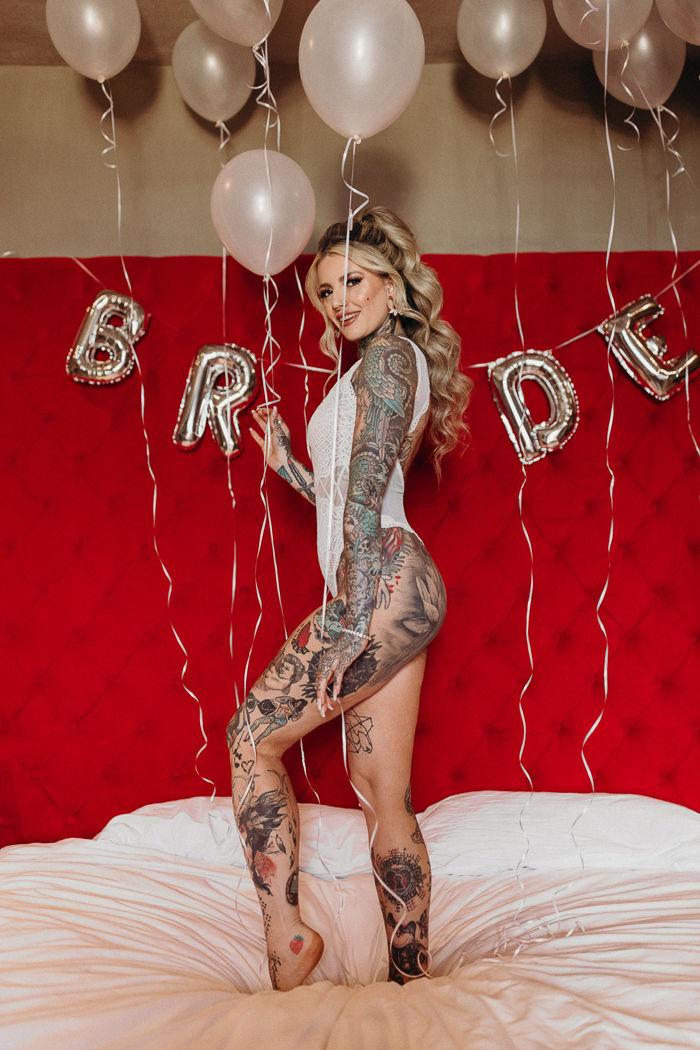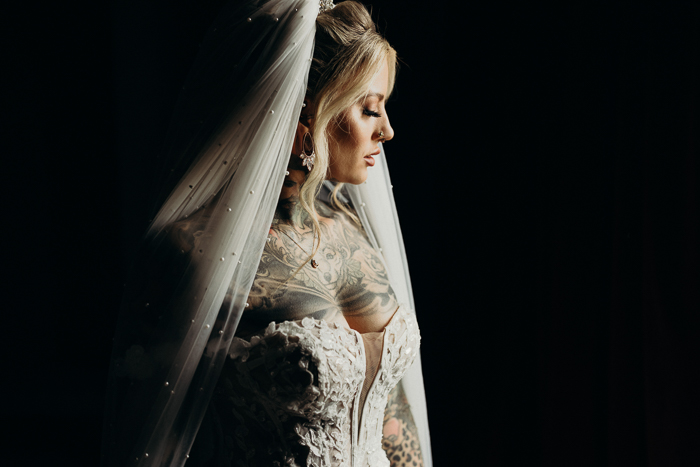 Bringing Their Loved Ones Together For Their Tulum Destination Wedding
I'm from England, and Mike is from the U.S. We knew we wanted a destination wedding and for all our loved ones to meet in one place where we could all have a wonderful vacation. We fell in love with Tulum a few years prior and knew it would be the perfect place to share with our friends and family. Akiin proved itself to be the perfect venue in Tulum for us. We were able to customize the entire venue along with Fresa Weddings and Magnolia Events. Akiin also holds a large guest capacity–more than many venues in Tulum. We were able to have our large wedding of 80 guests without sacrificing the destination of our dreams.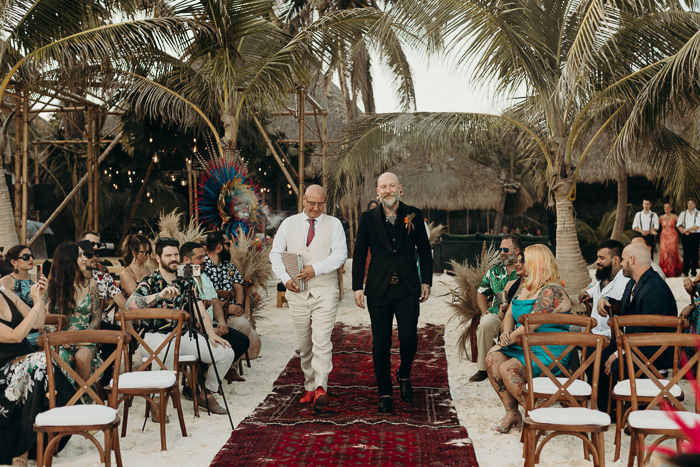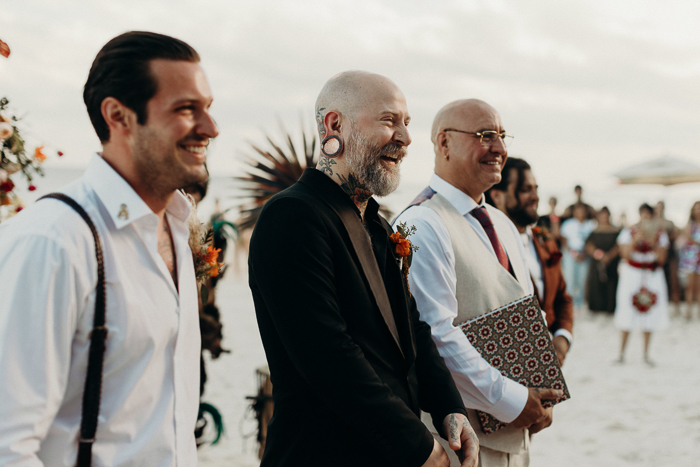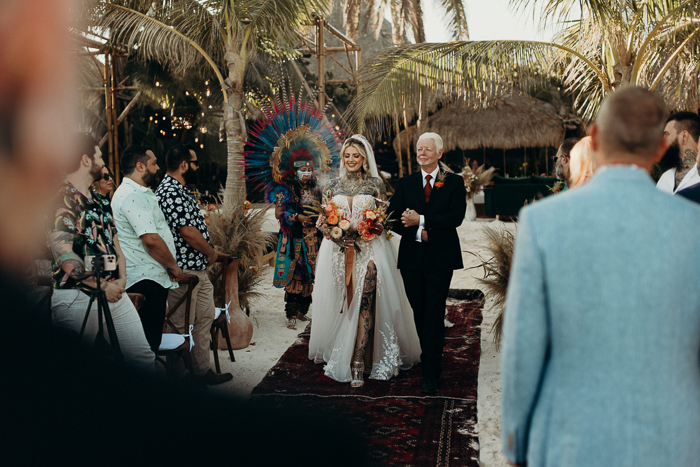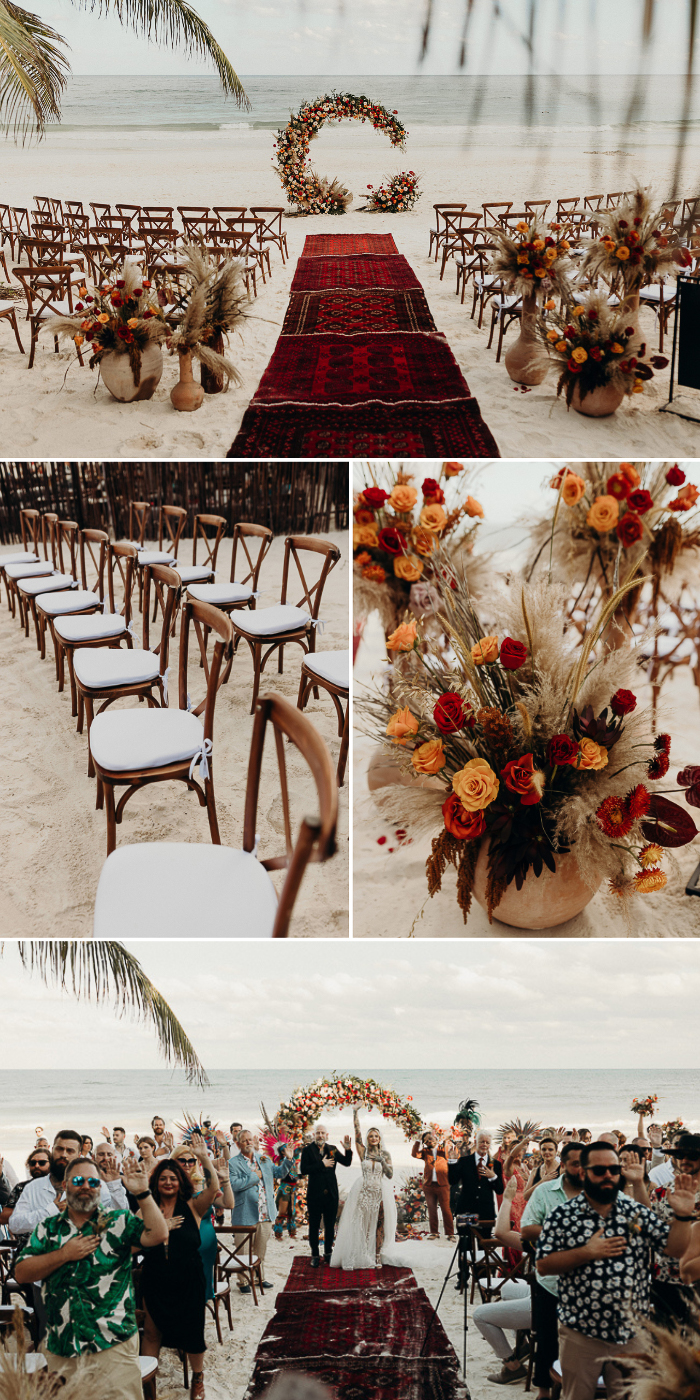 Personalizing Their Day With A Private Vow Exchange And A Special Mayan Ceremony
We shared our first looks and read our vows to each other in front of our family and wedding party in the stunning entryway of Casa Malca. It was a private moment we could cherish with our loved ones. The ceremony that followed at Akiin was unbelievably special. We felt it necessary to honor the sacred ground we celebrated on. So, just after our dear friend Nick greeted our guests, Spirituality Riviera Maya gave us an incredible Prehispanic Mayan ceremony that drenched the evening in plumes of copal and united us forever with words of healing, wisdom, and love. Letting the elements of nature—Mother Earth and the "heart of the sky"—know of our commitment through different rituals and offerings.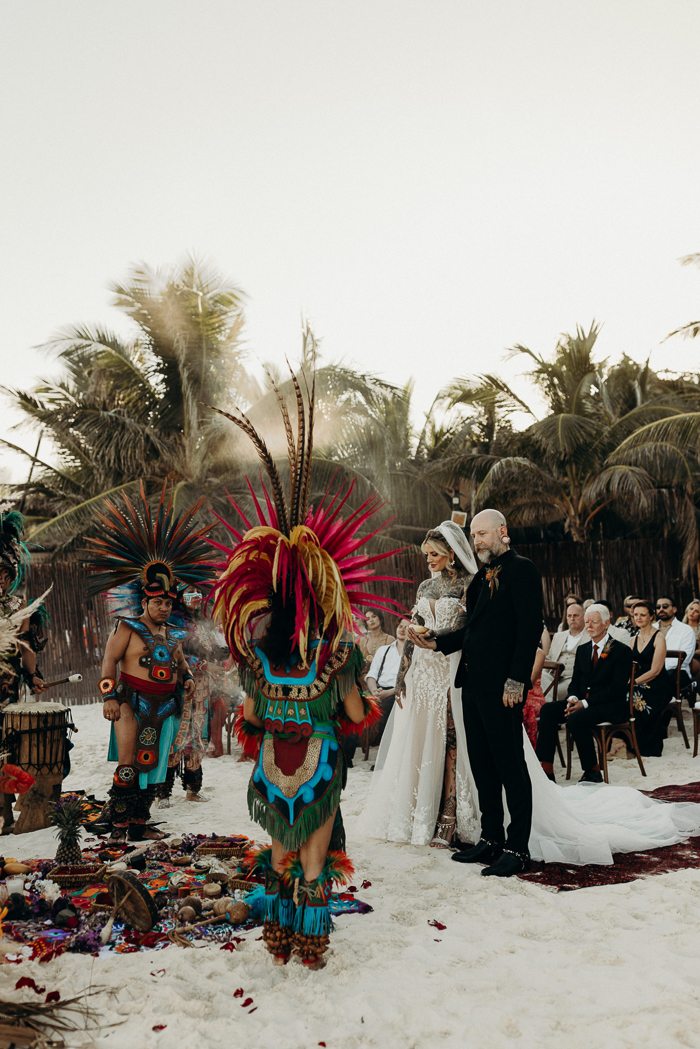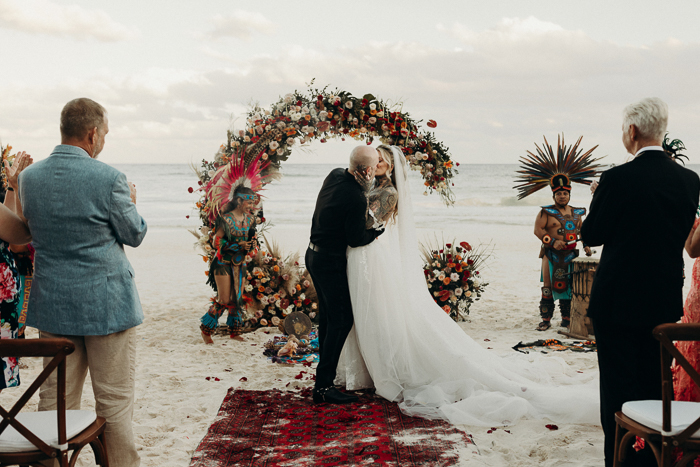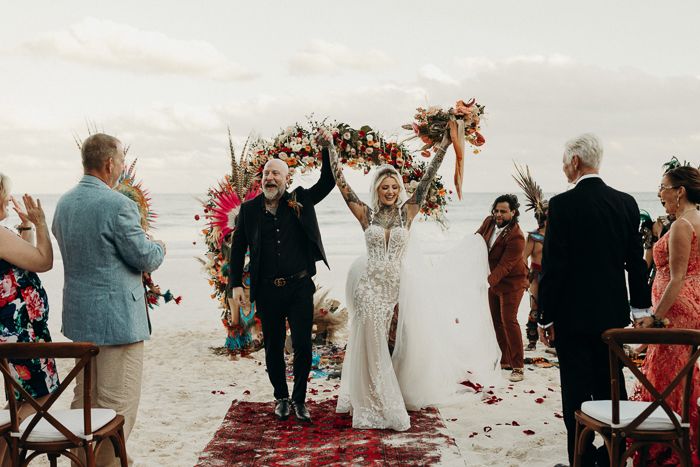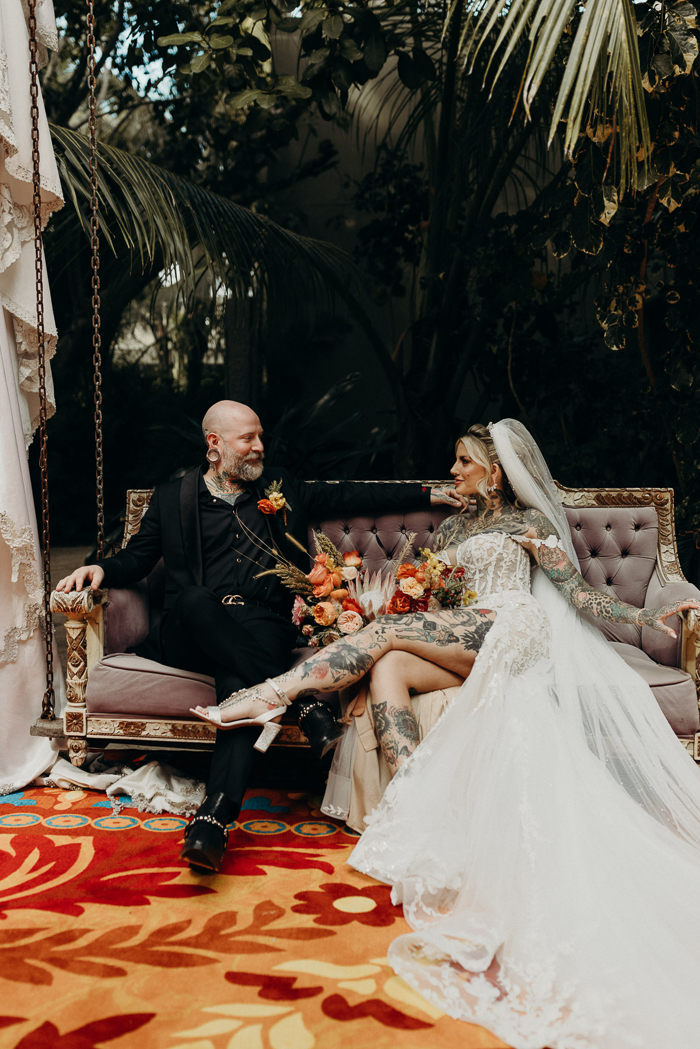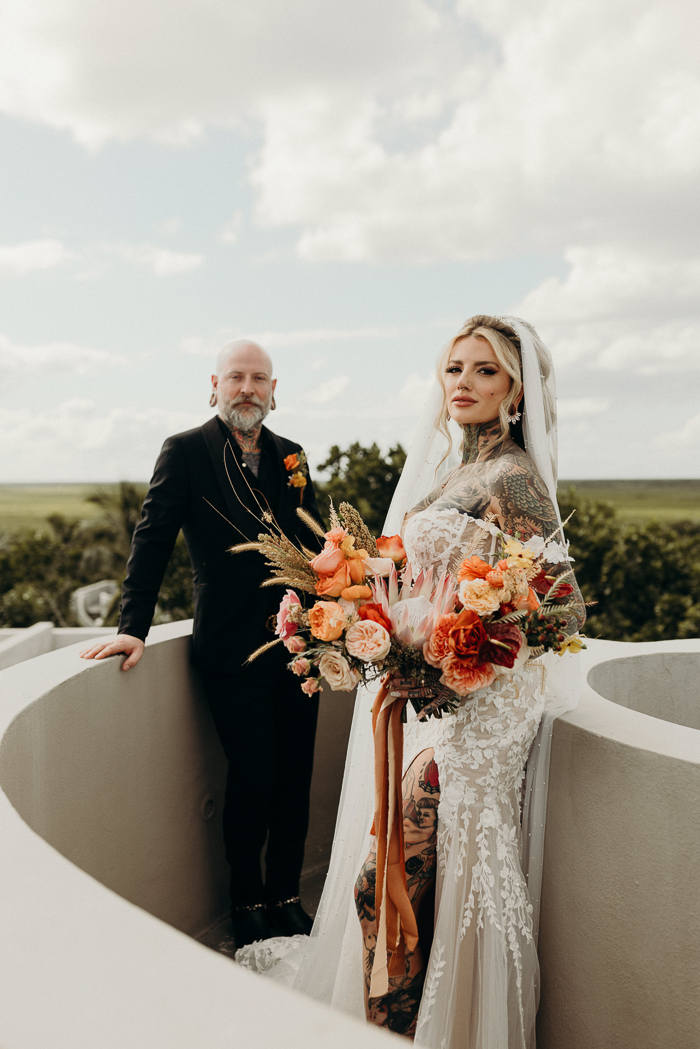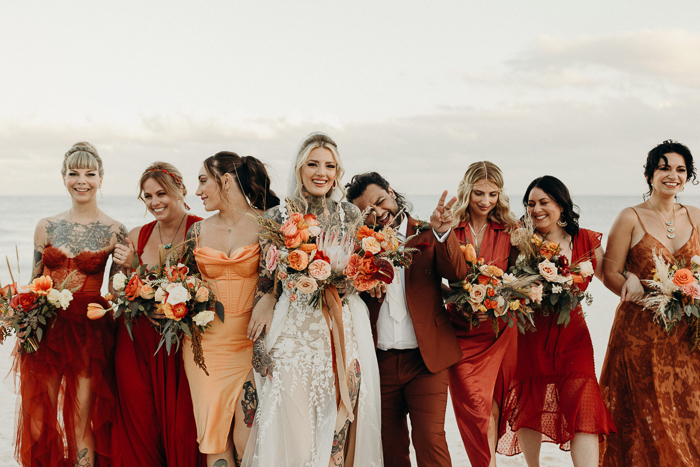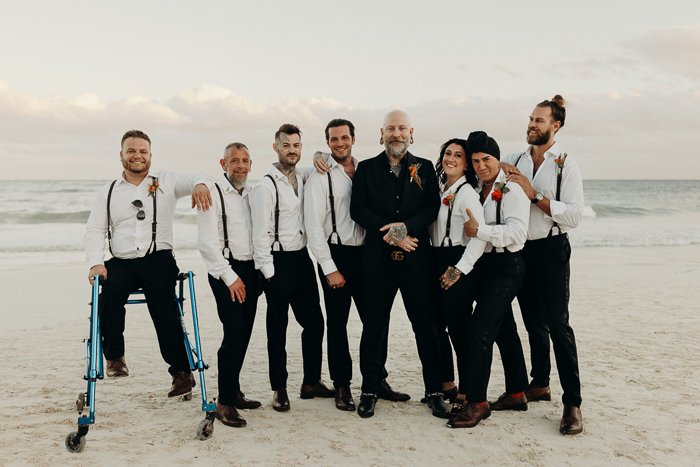 Creating A Wedding Day That Truly Embodied Their Personalities And Love Story
The most important part of planning our wedding was ensuring that our day reflected us as a couple and was as unique as we were. We wanted our guests to be able to feel that every part of the wedding embodied us—how much fun we like to have, the abundance of love we share, and how spiritual the sacred Mayan ground was. Lastly, we also wanted to feel like "the main characters," and truly every moving piece of the day went so perfectly that it didn't seem real, just like a dream.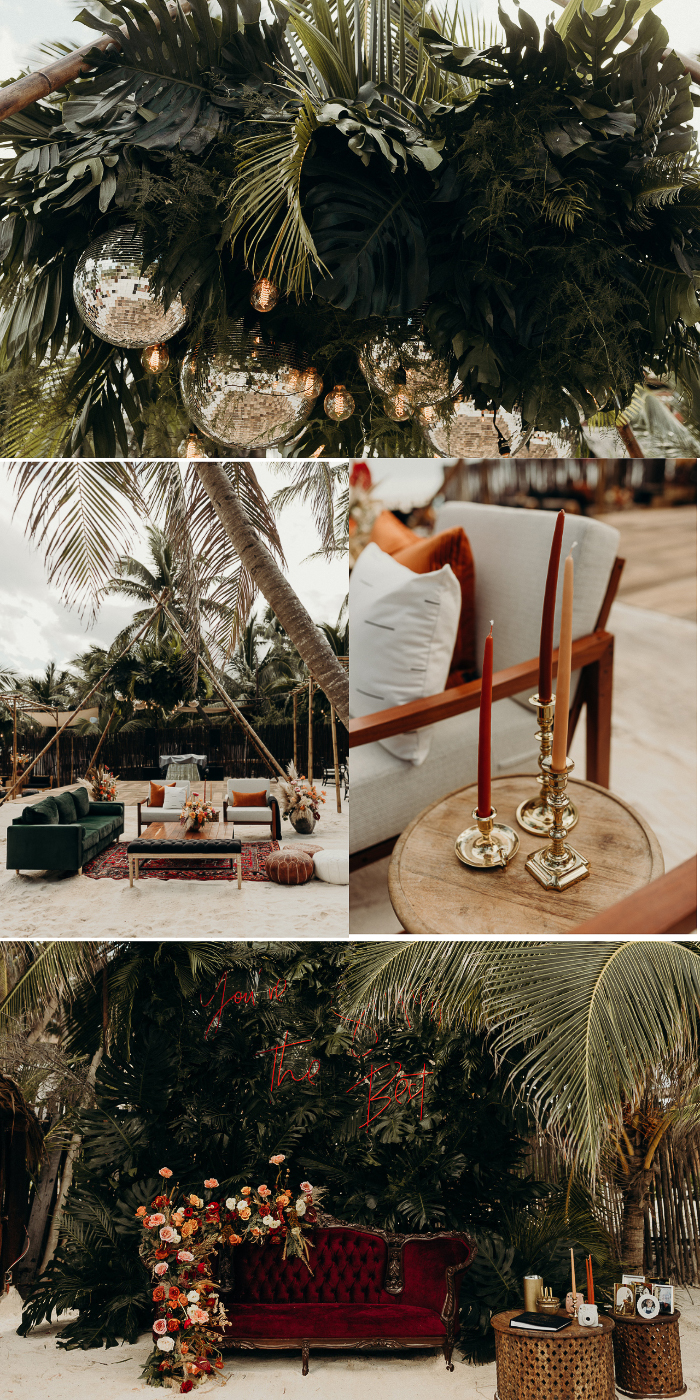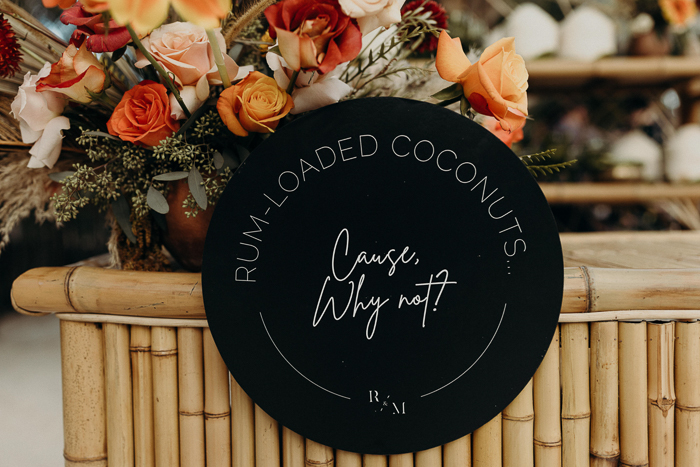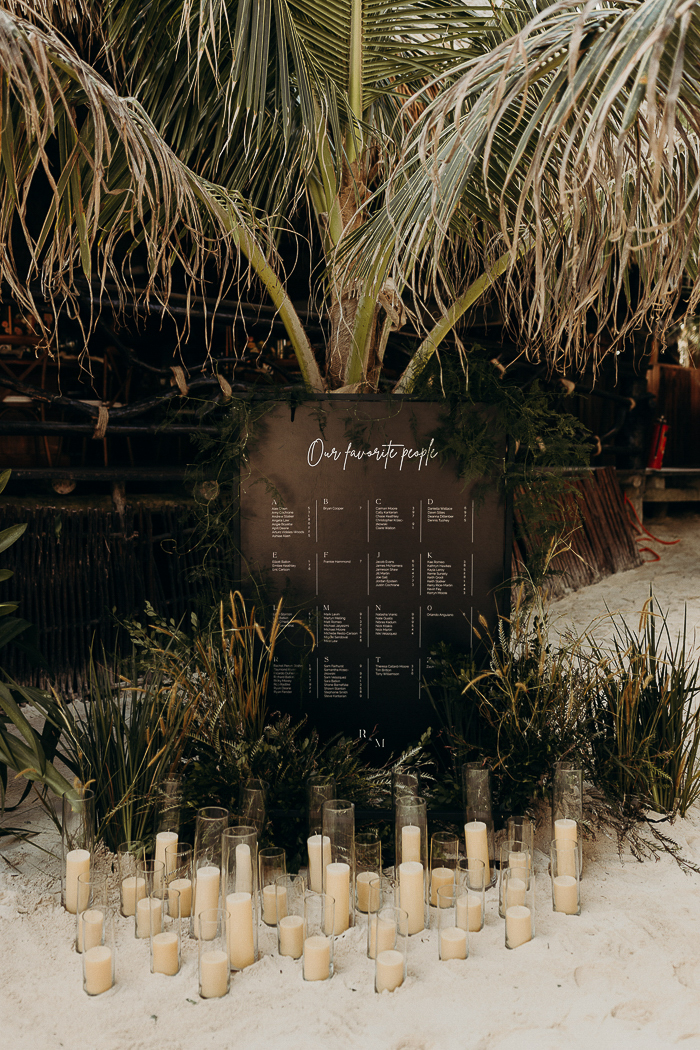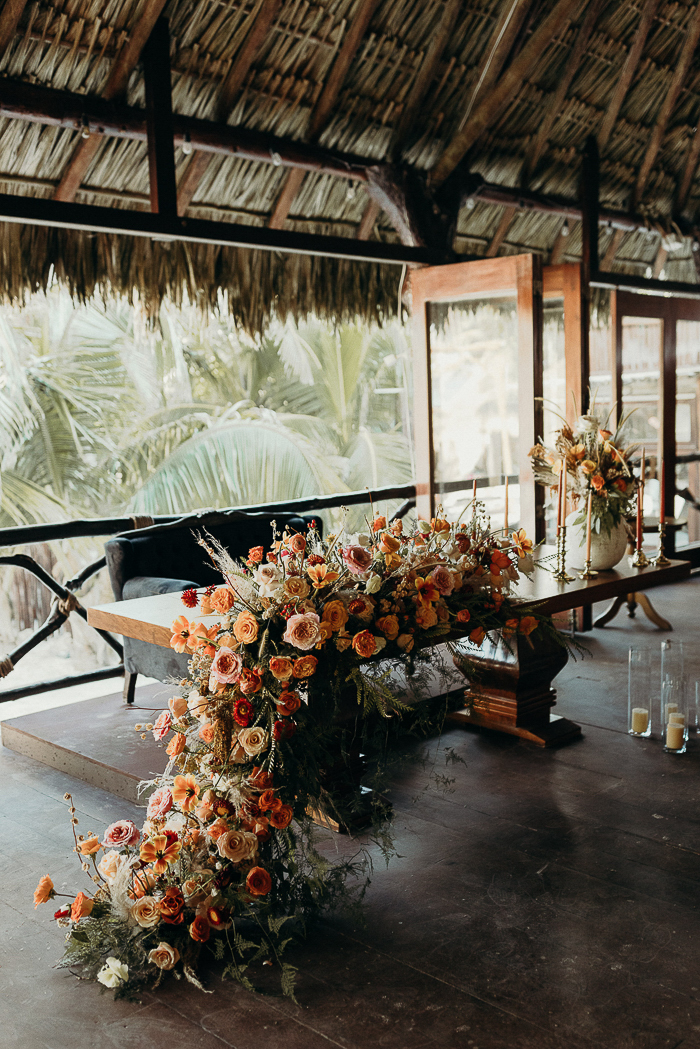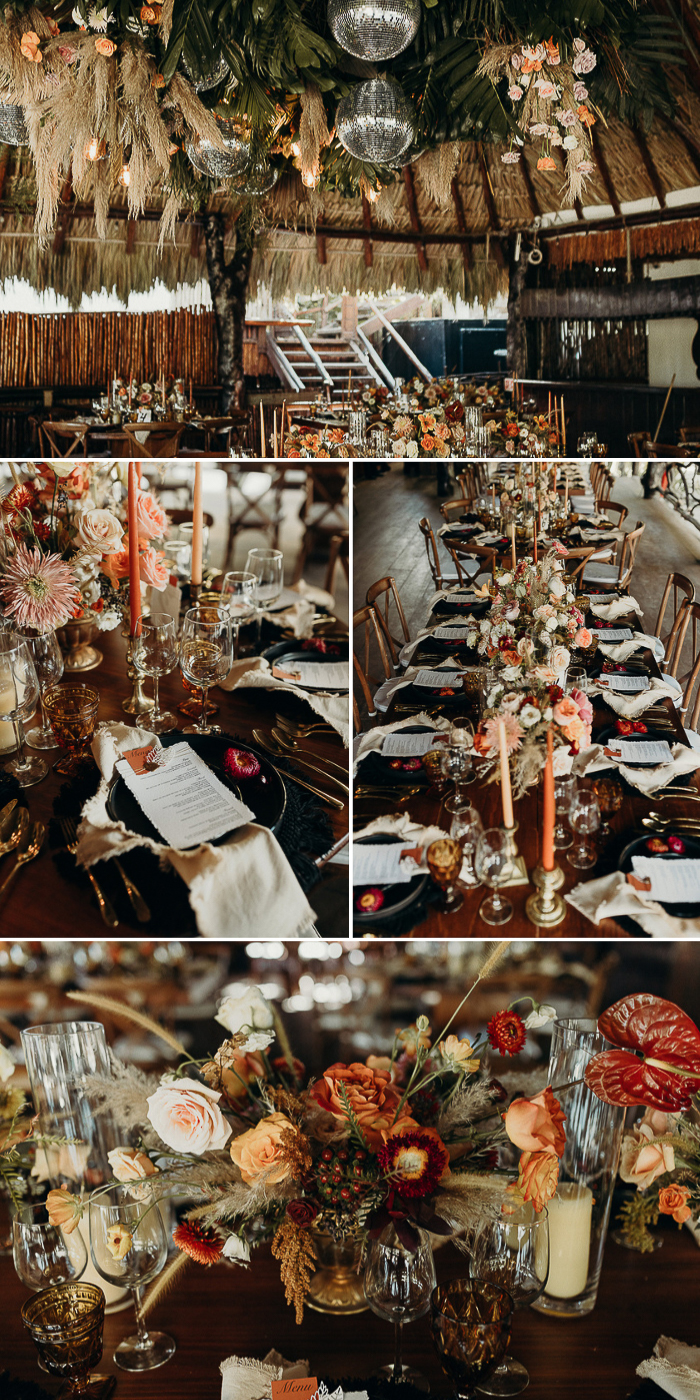 Hiring A Local Planner Was Essential To The Success Of Their Destination Wedding
We wouldn't have been able to do it without Sofía of Magnolia Events helping us with all the details for our wedding. We'd tell her and our wedding designer Kristee of Fresa Weddings what we liked, not knowing a single thing about planning a wedding, and they would find us exactly what we wanted, often finding multiple options for us. From helping us choose and contact our vendors to helping us make decisions about what color the taper candles should be, they absolutely crafted the wedding of our dreams.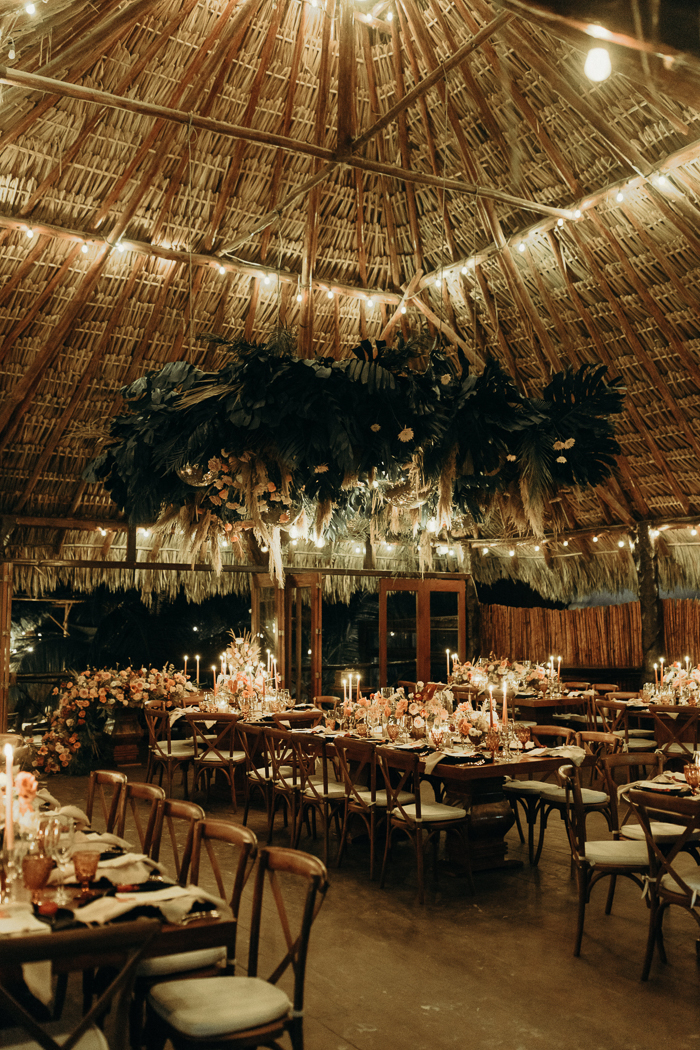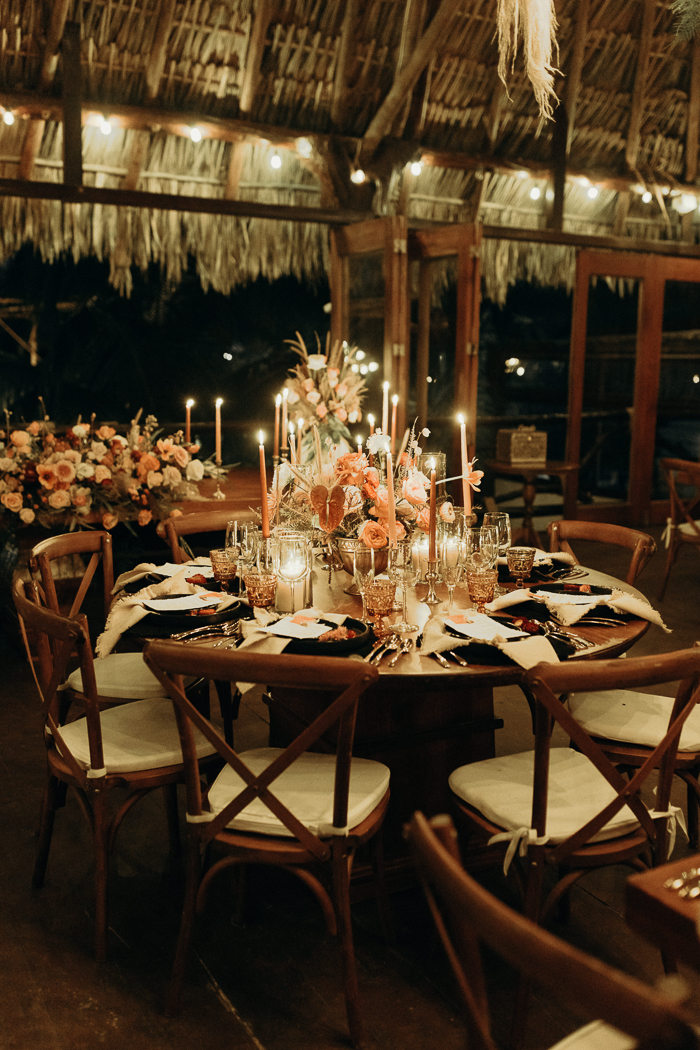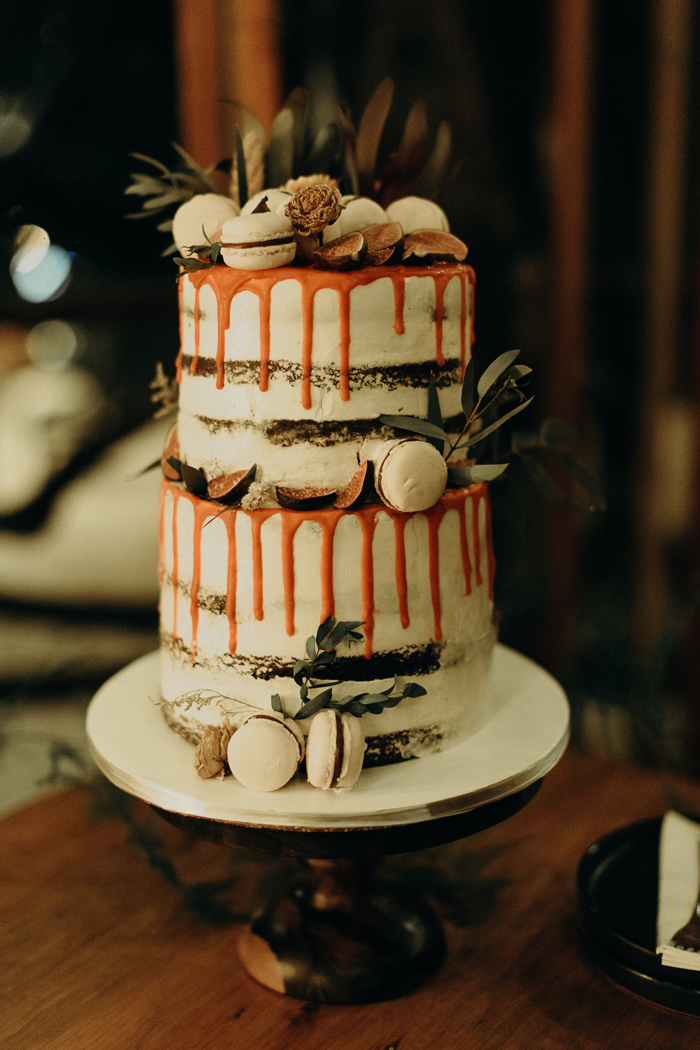 Surprising Their Guests With An After-Party Complete With Exciting Performances
Our evening reception took place in the beautiful palapa. Filled with love and laughter and just buzzing with conversation and pure happiness, shared by all of us as the sun went down. The venue was filled with florals, lit beautifully by candles whose soft light danced across the disco balls and created the most romantic setting for an intimate dinner. We love a good party and never wanted a moment of downtime for our guests. As soon as dinner ended, we took to the dance floor to share our first dance and then surprised our guests with an unforgettable performance by samba dancers, percussionists, stilt walkers, and water drums. All to get the party started. DJ Dulce Rullan played the perfect music to set the mood for us all to dance the night away.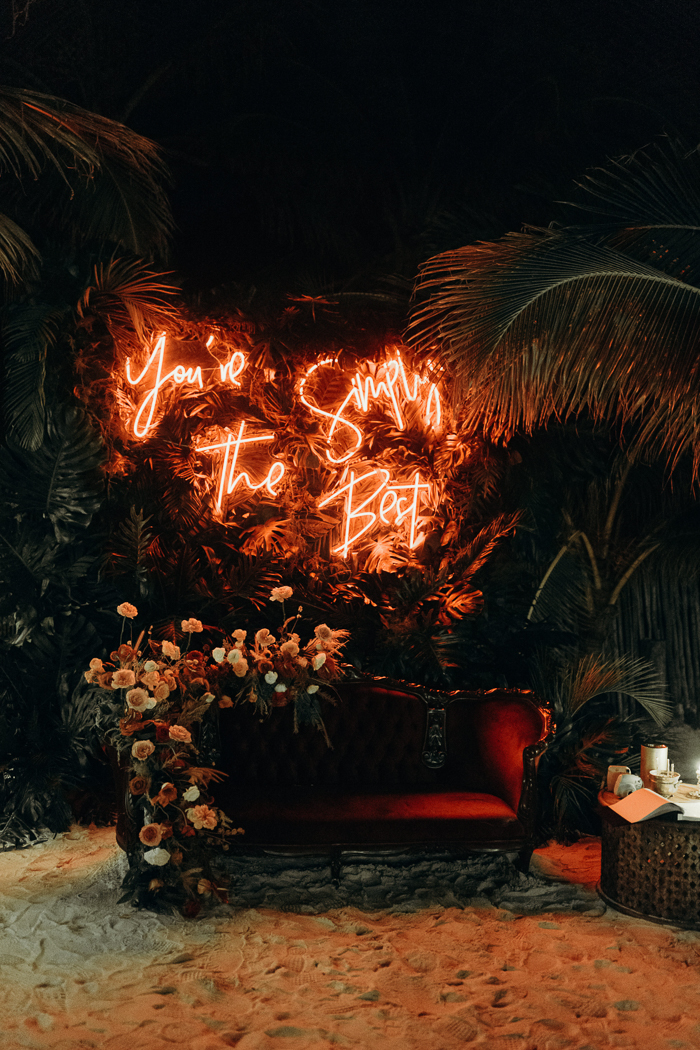 Shop Similar Custom Neon Sign: 1. Custom Neon Sign Wedding Decor 2. LED Neon Sign 3. Custom Neon Wedding Sign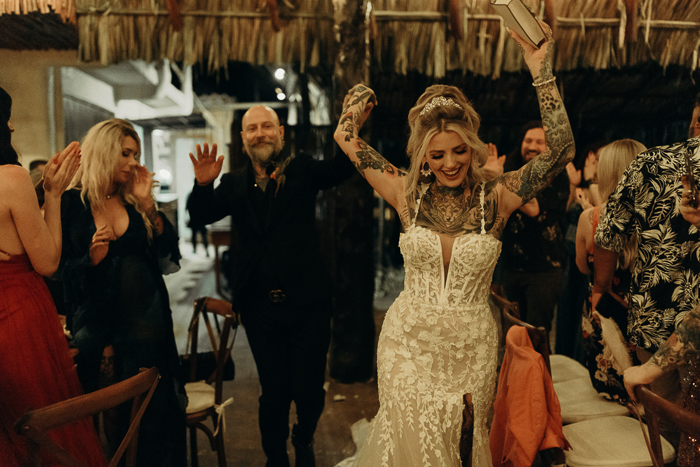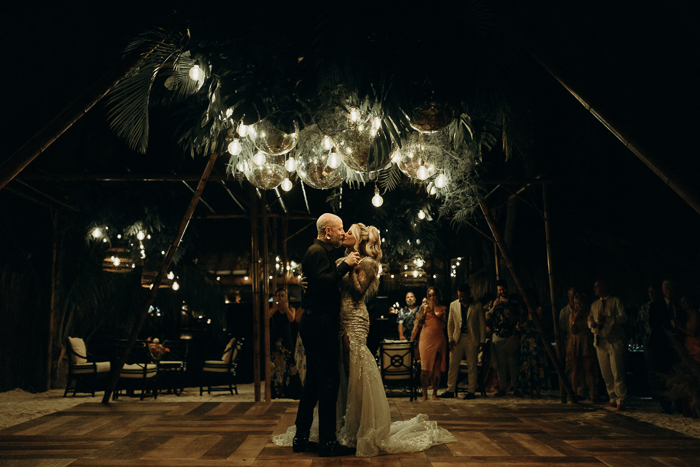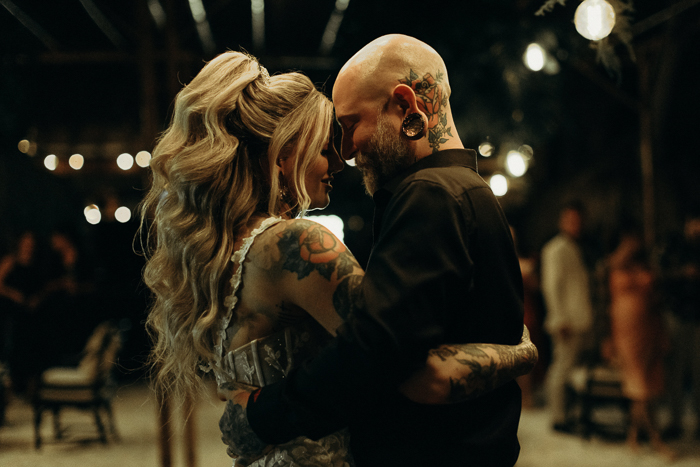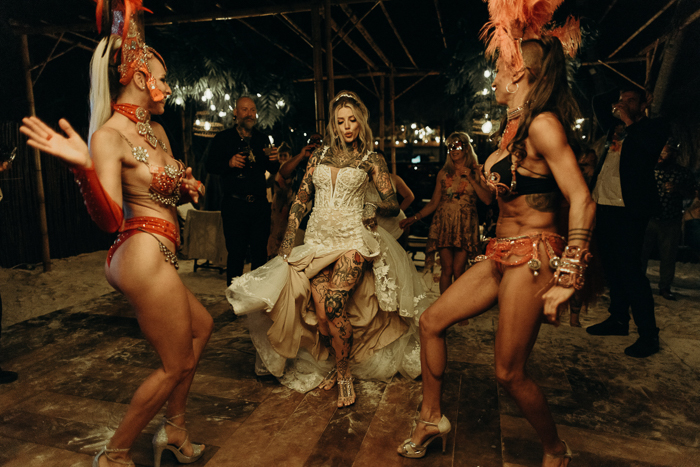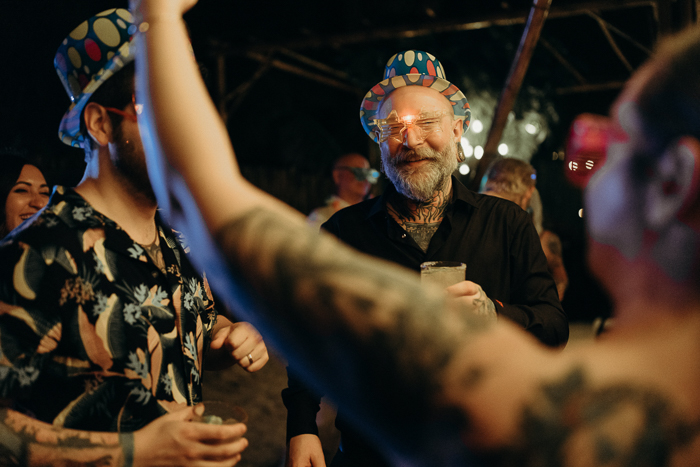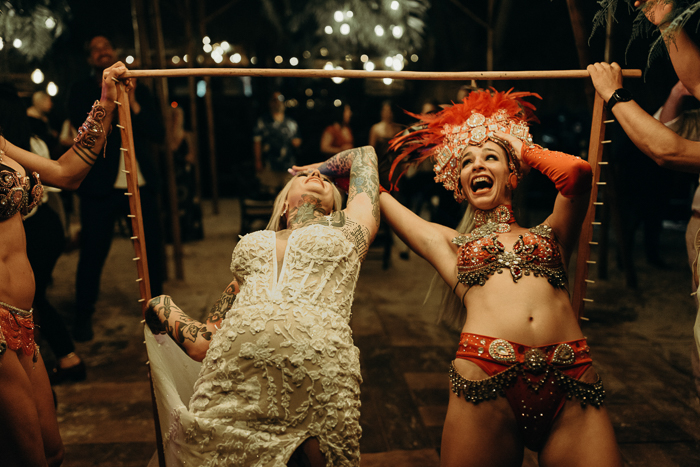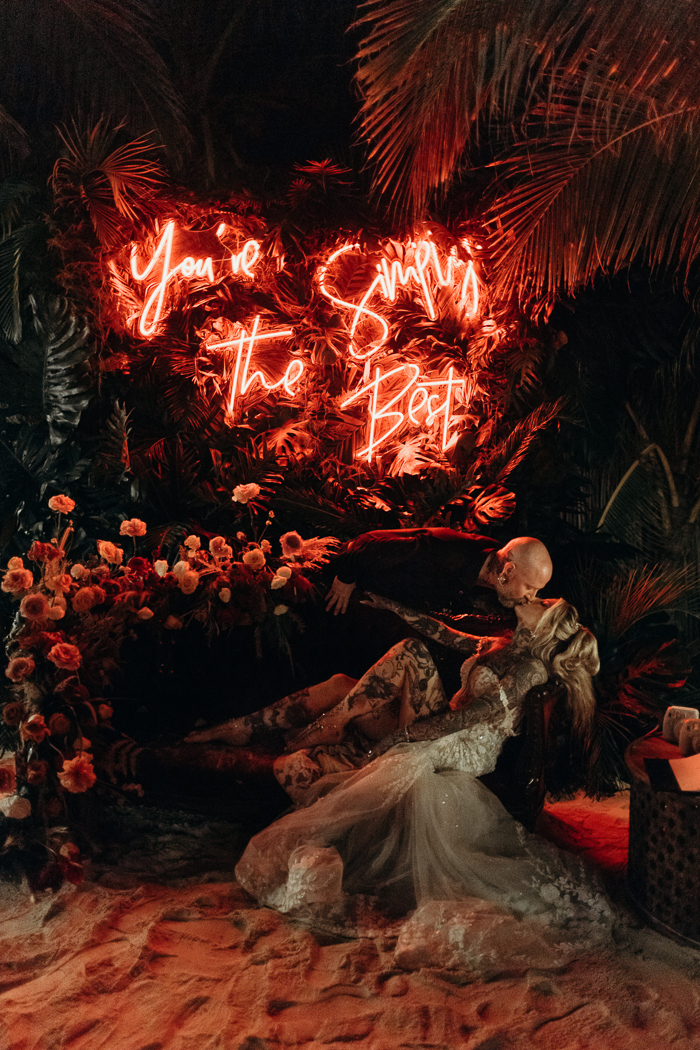 Congratulations to Robyn and Mike on their luxuriously boho Akiin Tulum destination wedding. A big thank you to Andre Gouin Photography for beautifully capturing all the details and special memories of their big day. And a special thank you to Junebug members Sea Love Wedding Films for sharing. Be inspired by more weddings like this by checking out their portfolio in our directory of talented videographers from around the world.
A destination wedding gives you and your partner the perfect opportunity to escape to an amazing faraway location. Best of all, you can turn your big day into an extended holiday and spend more quality time with the people you love. If tying the knot in a beautiful faraway setting feels right for you and your partner, then check out our ultimate guide to planning a destination wedding for top tips and ideas to make your own dream destination wedding come true.