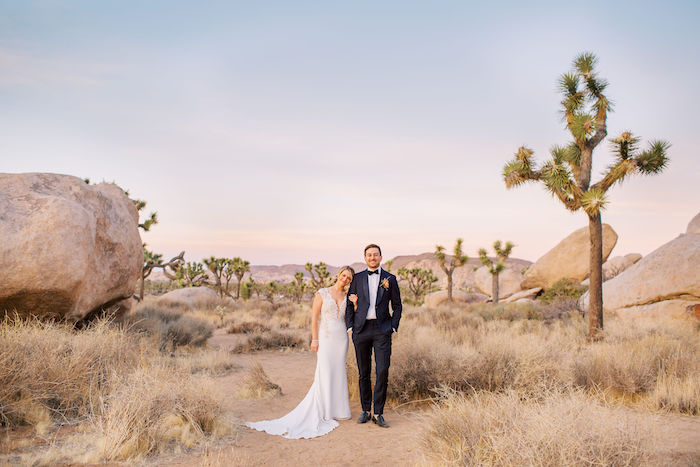 An otherworldly landscape with distinctly spiny trees and spectacular rock formations—there's just something so magical about tying the knot in the heart of Joshua Tree. While the pandemic may have affected Rachel and Dean's original destination wedding plans, the pair decided to have a special weekend celebration instead with just their immediate family. And with the help of planner and Junebug member The Walk Down The Aisle, the pair pulled off an epic sunset micro wedding that's one for the books!
With the magical desert oasis and golden sunset as a backdrop, the couple bared their hearts to each other with heartfelt vows. Following their intimate ceremony, their small group made their way to Villa Carmelita for the courtyard reception. Candlelight in hanging glass orbs illuminated the entire villa while the tablescape of lush pastel florals created by Vaso Bello, blush accents, and gilded details made for a timeless and romantic setting under the stars.
From their enchanting sunset desert ceremony to the gorgeous reception at an iconic luxury estate—this sunset micro wedding is serving up some major inspiration and will definitely take your breath away. Scroll through these beautiful photos captured by Mirelle Carmichael Photography to see exactly what we're talking about.
The Couple:
Rachel and Dean
The Wedding:
Joshua Tree National Park, California, United States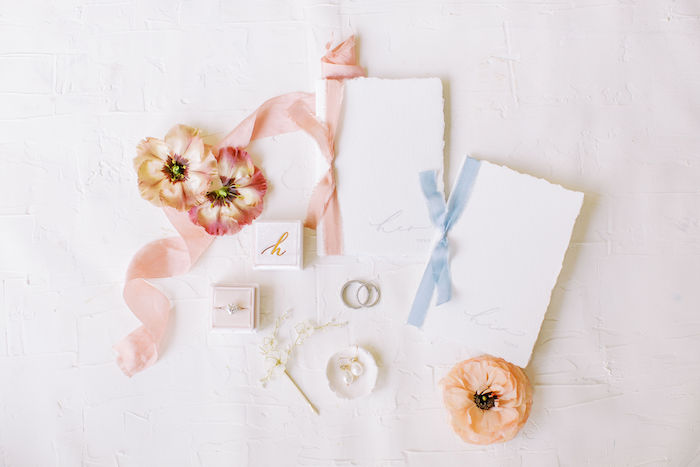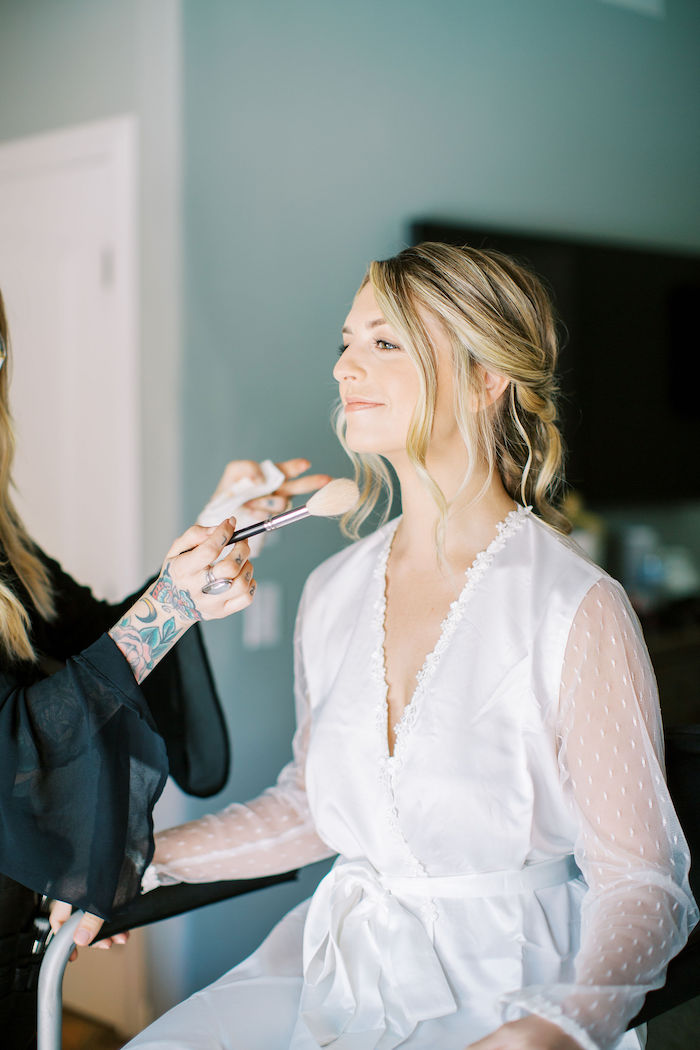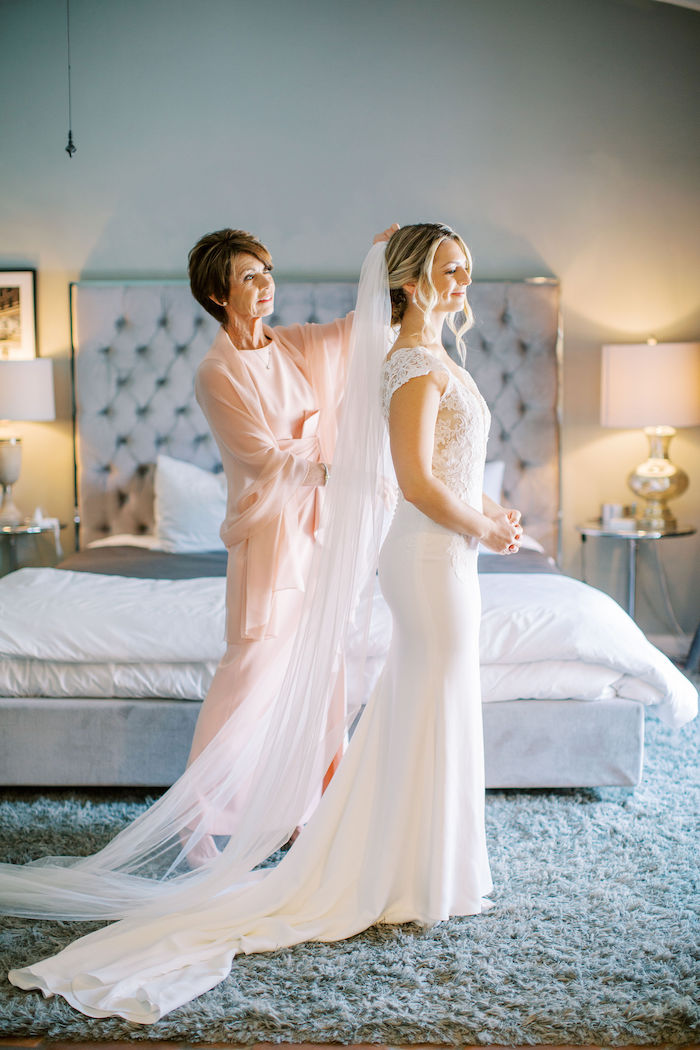 How Their Sunset Micro Wedding Came To Be
Before getting into tactical wedding planning, I started designing the guest experience. When we pivoted to a micro wedding with our immediate family, we scrapped all the ideas we had for our larger wedding in Mexico. We thought about what our family would appreciate, and went from there. I'm proud of our positive outlook when facing less-than-ideal-wedding planning circumstances. We both like to see the silver lining, and saw this as a unique opportunity to have an incredibly memorable experience for our family. We made the weekend feel special by pulling in traditional wedding elements like florals and curated decor. But we got ample quality time with our family, and were present in every moment. To this day, our parents still say it was one of the most special days of their lives.





Why They Chose To Get Married In Joshua Tree
We rented Villa Carmelita in Palm Springs—Sunny and Cher's old home—where we got ready and had our first look. We then took a limo to Joshua Tree, where we had our ceremony. Since we were spending the entire weekend together, we wanted to stay in Palm Springs to access the town's restaurants and attractions. However we wanted our ceremony to be somewhere special, someplace sacred. Joshua Tree was the perfect setting. When you have the joshua trees and the striking landscape as your background, you can't help but feel grounded. It was an incredibly powerful place to make our commitments.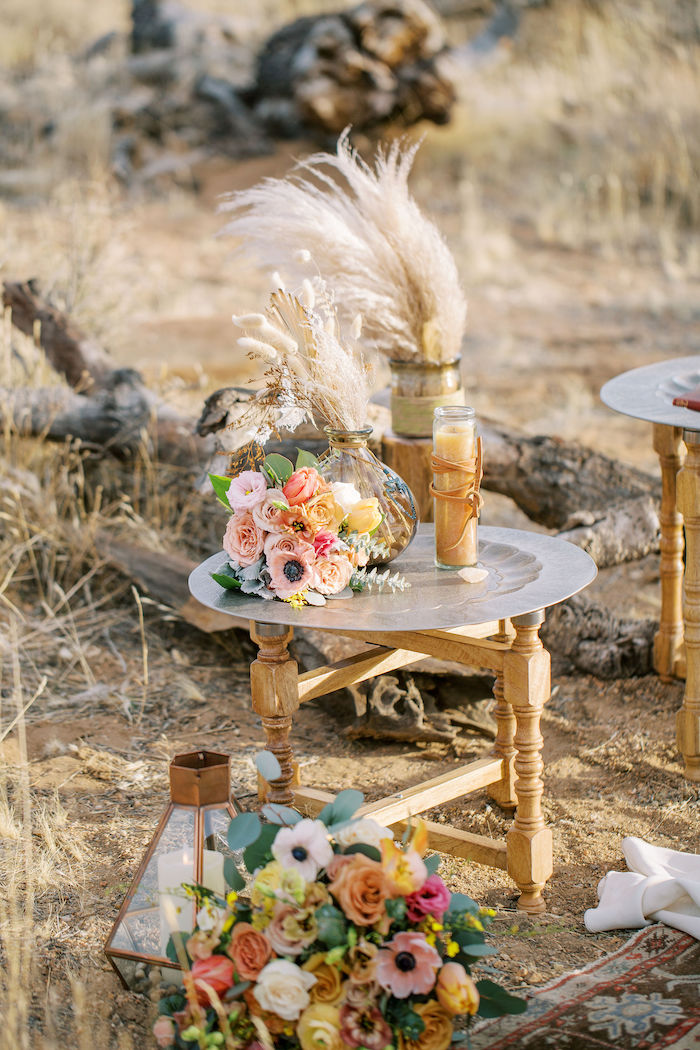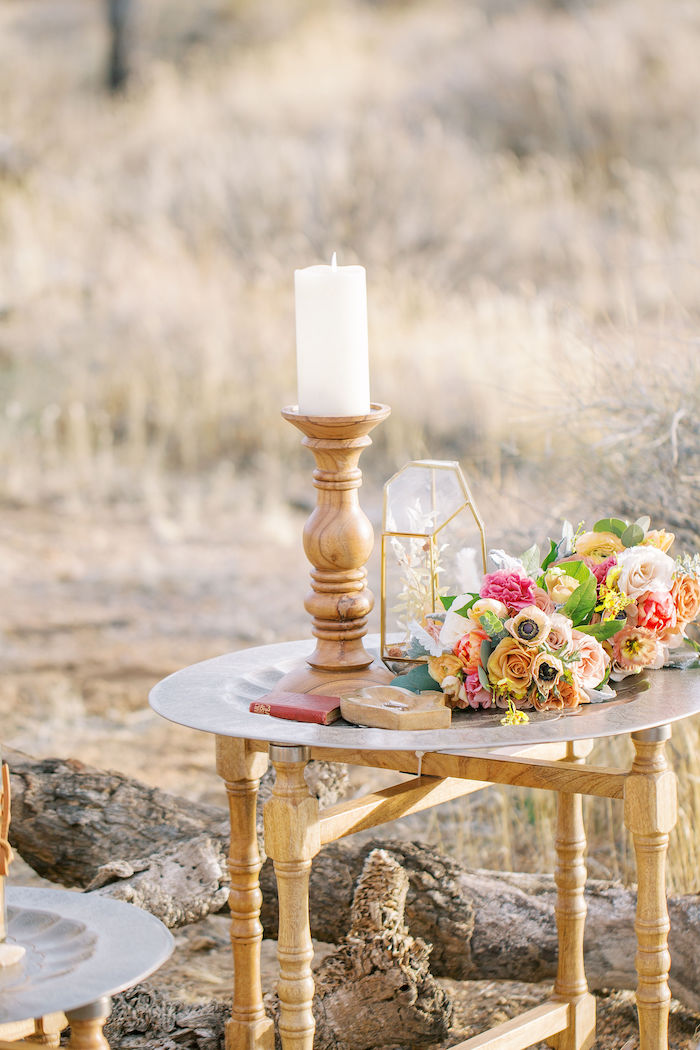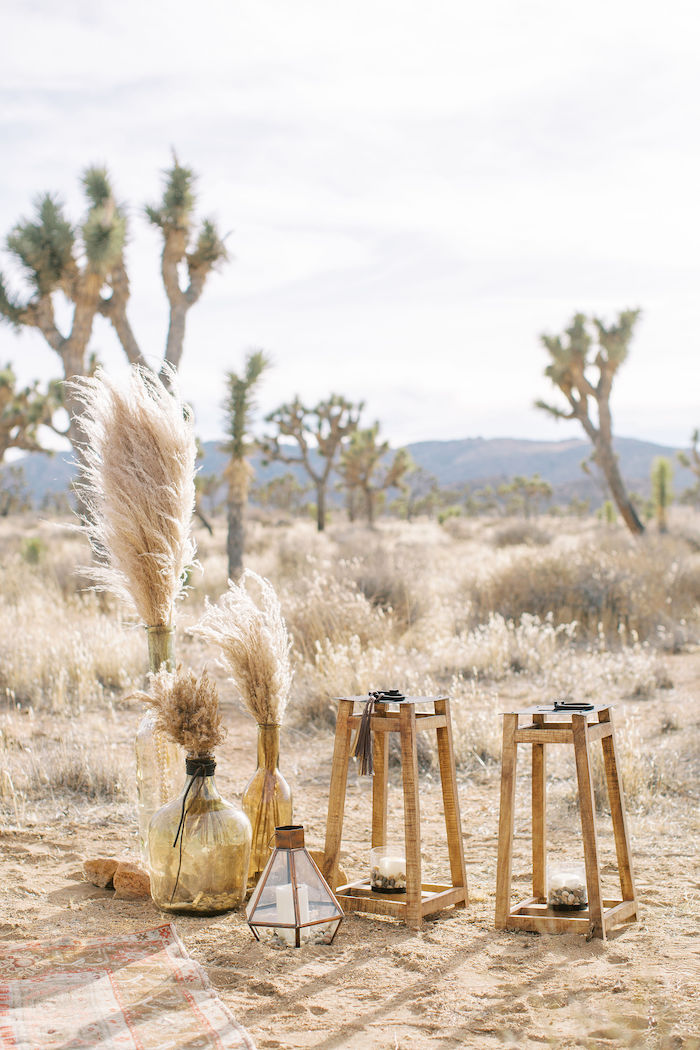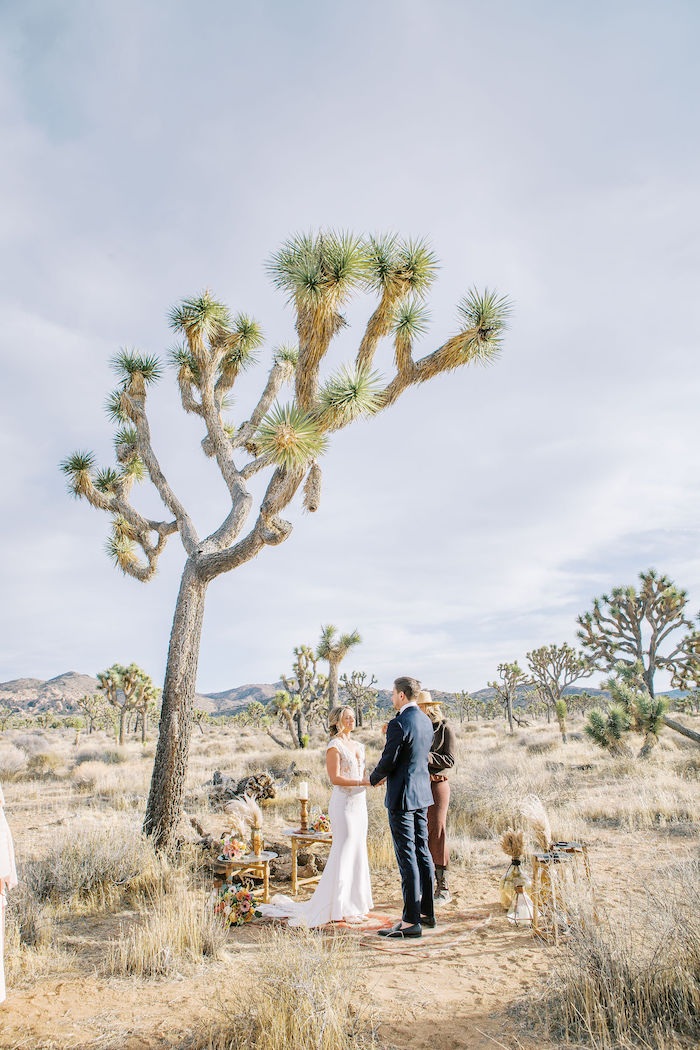 Baring Their Hearts To Each Other With Personal And Meaningful Vows
My love language is words of affirmation, so naturally my favorite moment was when we shared vows. We wrote personal vows and since we had a limited audience, we really went for it and made our vows the centerpiece of the ceremony. My vows were exceptionally long—over ten minutes, but I loved the opportunity to express to Dean how much he means to me. Dean's vows were incredibly thoughtful. He knows my favorite song is "All Too Well" by Taylor Swift, so he weaved in select lyrics from the song, "This thing is a masterpiece, I'll never tear it all up". It was so creative, thoughtful, and custom-tailored for me—it was such a wonderful surprise.



Planner And Junebug Member The Walk Down The Aisle Was Vital To The Success Of Their Joshua Tree Sunset Micro Wedding
Planning a wedding in Joshua Tree can be intimidating. With the wide, expansive grounds, and limited cell service—it can be hard picking the right spot and coordinating with vendors. Luckily, I found Trish at The Walk Down the Aisle. She'd planned so many weddings in the park, I had every confidence in her ability to coordinate our wedding day. She nailed every logistic, down to the tree that became our "altar".



The Perfect Wedding Weekend Experience By Doing Themed Nights
We wanted to create an entire weekend experience for our family to celebrate, culminating with our wedding, so we created a theme each night. Friday was karaoke night. Saturday was trivia night. Sunday was the wedding. And Monday was a murder mystery. Our family had a blast throughout the entire weekend.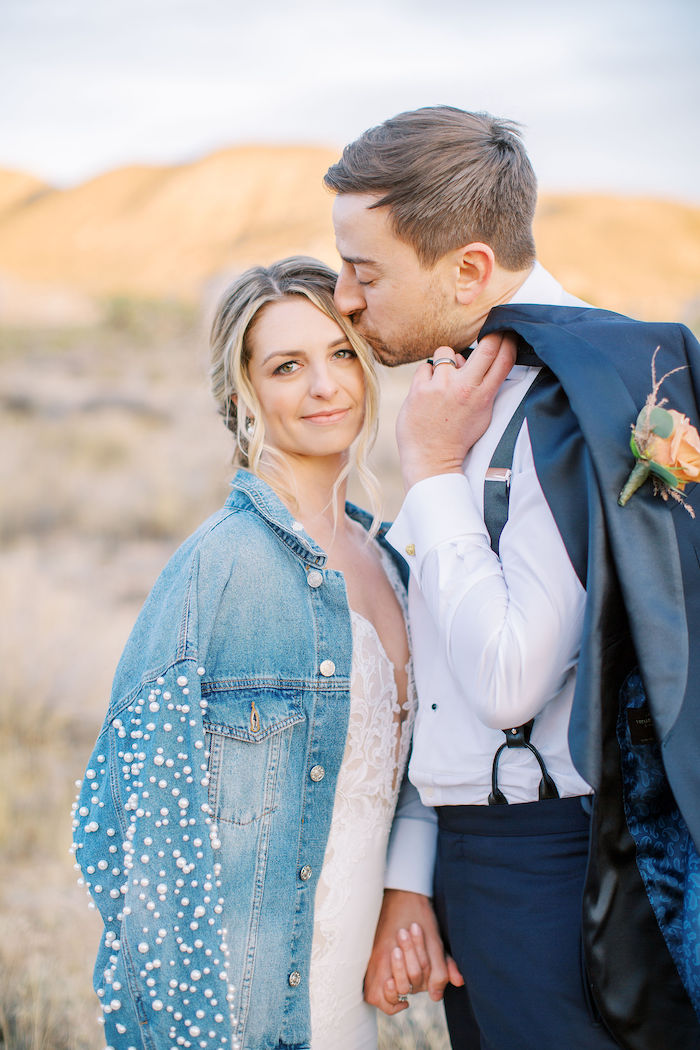 They Hosted A Fun Trivia Night Using Materials They Made Themselves
The night before our wedding, we had a trivia night. We were inspired by the episode of Friends ("The One With the Embryos"), and made the trivia about our lives with categories like: Faves, People, Events, and Numbers. Dean and I DIY'd a trivia board using a black tri-fold board, neon-colored envelopes, and index cards. Dean and Rachel's parents competed against Rachel and Dean's mom and sister. We forget who won, but we all had a great time reminiscing on our past.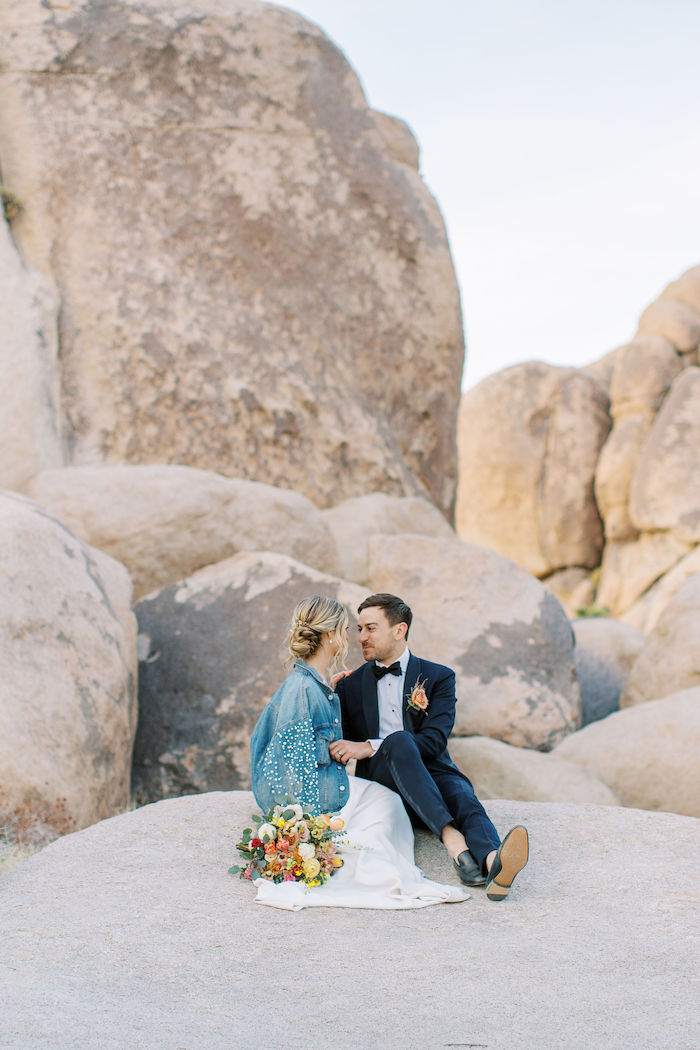 Meaningful Ways They Honored The Memory Of The Groom's Father By Reserving Him A Seat At Their Celebration
We used every moment of the day to personalize the experience and honor those we love most. Dean's father unexpectedly passed away a year and half before our wedding. We wanted to bring him into the weekend as much as possible. When we set the table, we created a place for him and added a placard on the back of his chair that read: "In loving memory of Mark Henley who is celebrating with us in heaven." We gave the placard to Dean's mother after the weekend as a keepsake.



They Included Their Family To Help Decide On Their Wedding Menu
One benefit of a micro wedding was designing a custom menu with a private chef. We had four hors d'oeuvres and a four course menu catered by Fusion Flair. We also brought our family into the process for a collaborative menu design. We gave everyone Fusion Flair's large catalog, and asked them to pick a few options for each course. We tallied up the votes, added our own preferences and customizations, and made sure we had a good balance for the entire meal. Everyone loved it!


Planning A Follow Up Celebration For Friends In Mexico
Next, we have a make-up destination celebration in Sayulita, Mexico. We're calling it our one year wedding anniversary celebration, and we get to throw a three-day party for our friends. We never would've designed two different experiences without the pandemic, but we're so glad it worked out this way.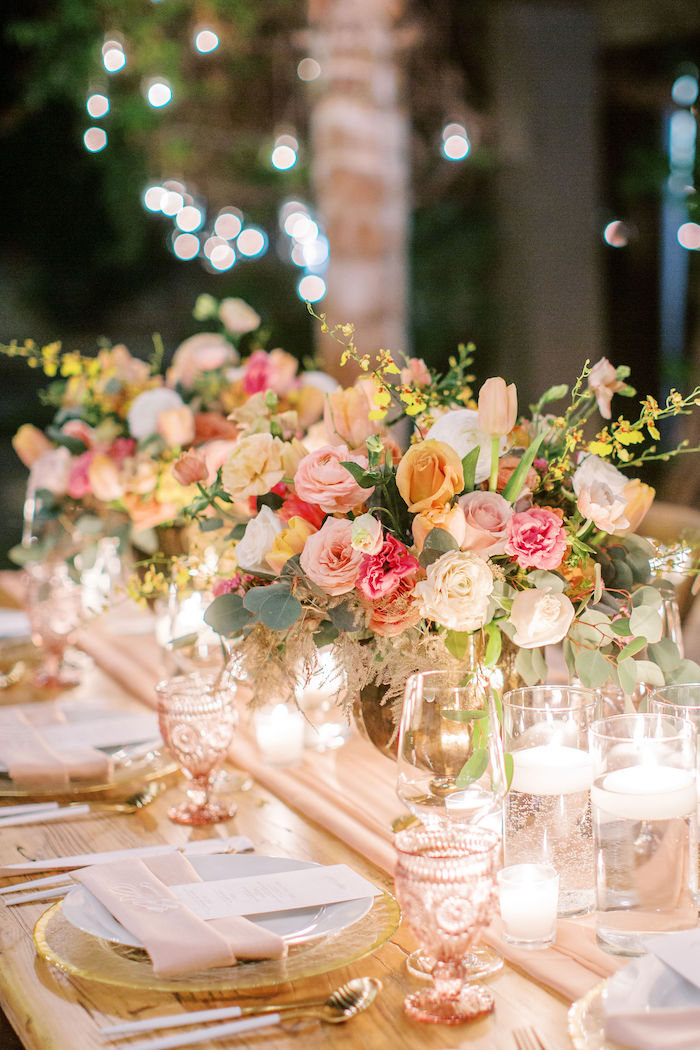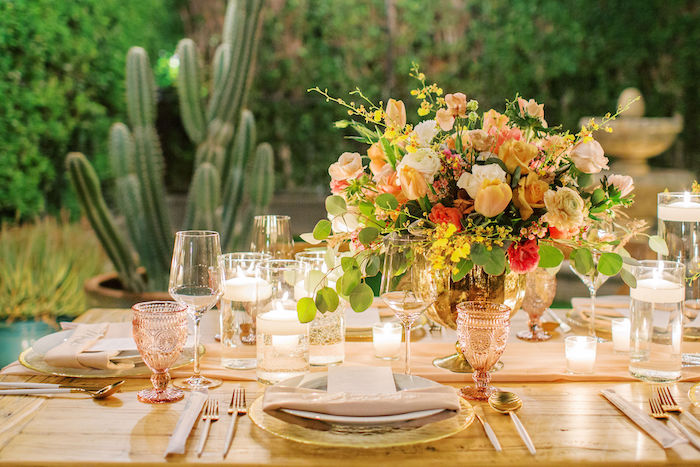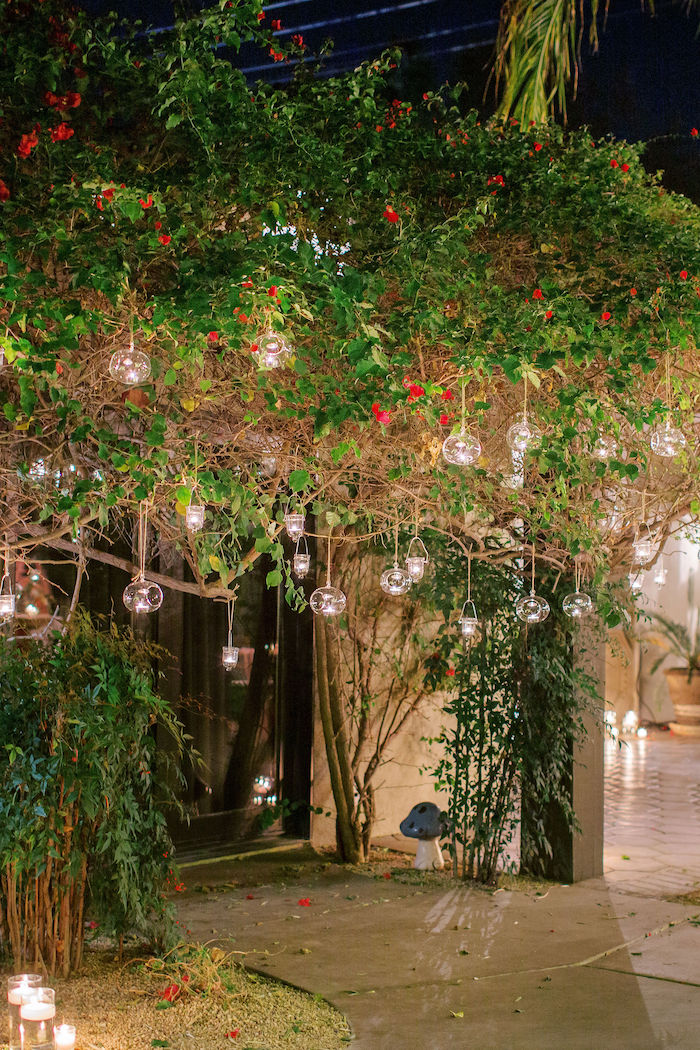 Congratulations to Rachel and Dean on their gorgeous Joshua Tree sunset micro wedding. Big thanks to Mirelle Carmichael Photography for capturing every moment and detail that made this celebration so special. And of course, a special thank you to Junebug member The Walk Down The Aisle for sharing this beautiful wedding with us. To see more of their talent, check out their profile in our directory of expert planners from around the world.
Just like this wedding, the easiest way to make sure your big day is creative, personalized, memorable, and fun is by drawing inspiration from your own love story. Not sure where to start? Check out our guide to planning a unique wedding to help you and your partner come up with original ideas as you plan a special day that's uniquely yours.