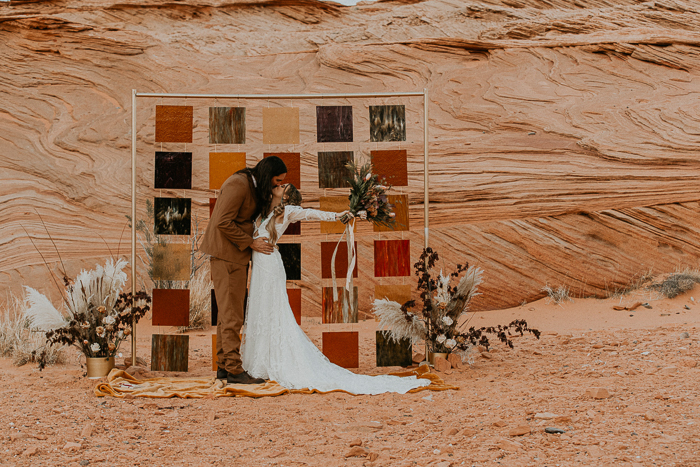 Amanda and David have been together for nine years and spent most of their time traveling across the United States. So the pair naturally wanted their love for travel, adventure, and each other to be the focus of their big day. With sunrise coffee at the cliff sides, a surprise helicopter ride, and the best panoramic desert views—they pulled off their Horseshoe Bend vow renewal in the most spectacular and unforgettable way.
The couple kicked off their day of adventure in the sweetest way possible—sipping coffee and cuddling while watching the sunrise. After exploring the canyon for epic portraits amid the red rock formations, the pair were taken on a surprise helicopter tour! They then wrapped up their day of excitement with a sunset vow renewal and a romantic desert picnic.
From the unique stained glass backdrop and boho-luxe set up for two to the stunning wedding fashion—their intimate celebration was filled with gorgeous scenery and beautiful details. If spending the day together, taking in epic views, and snuggling with each other sounds like your dream big day, then look no further than this Horseshoe Bend vow renewal. Scroll through these incredible images captured by Junebug member Shutterfreek for some of the most magical and epic desert elopement inspo.
The Couple:
Amanda and David
The Wedding:
Horseshoe Bend, Arizona, United States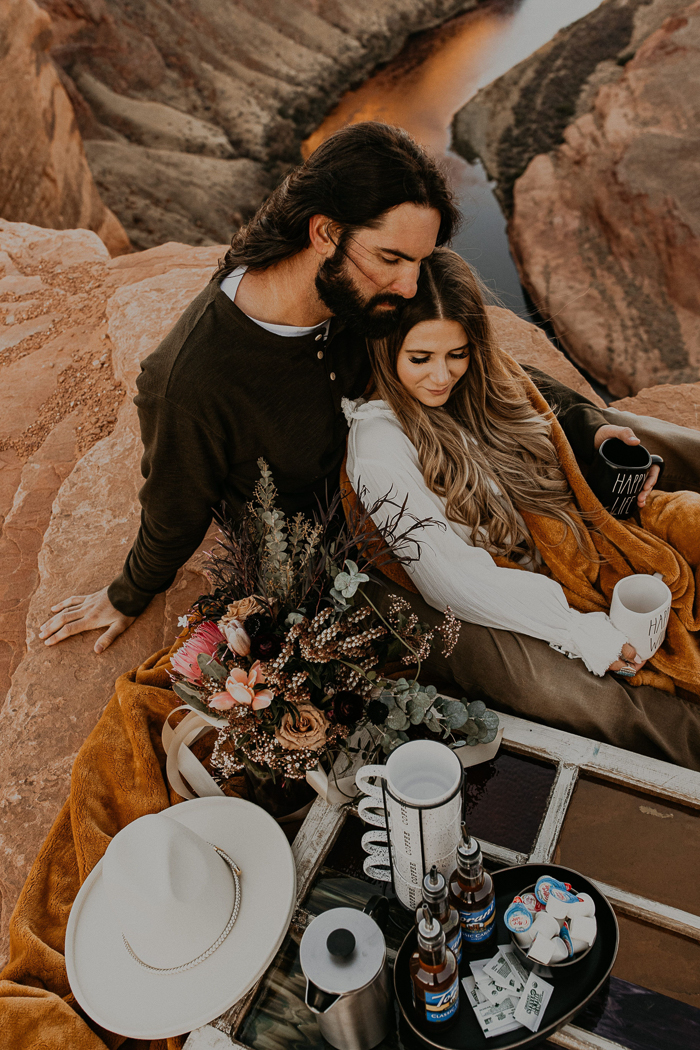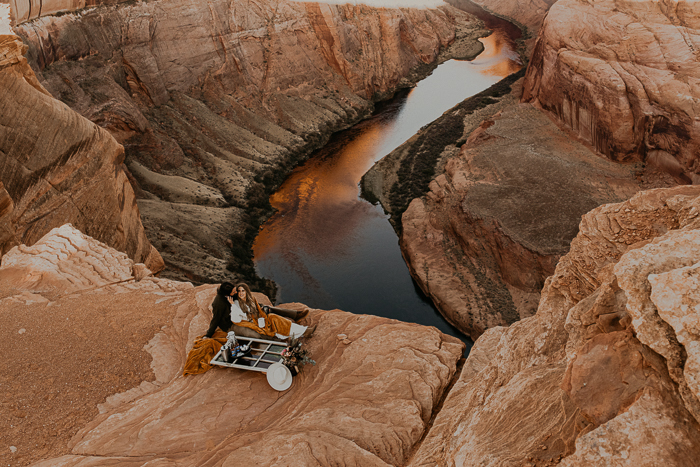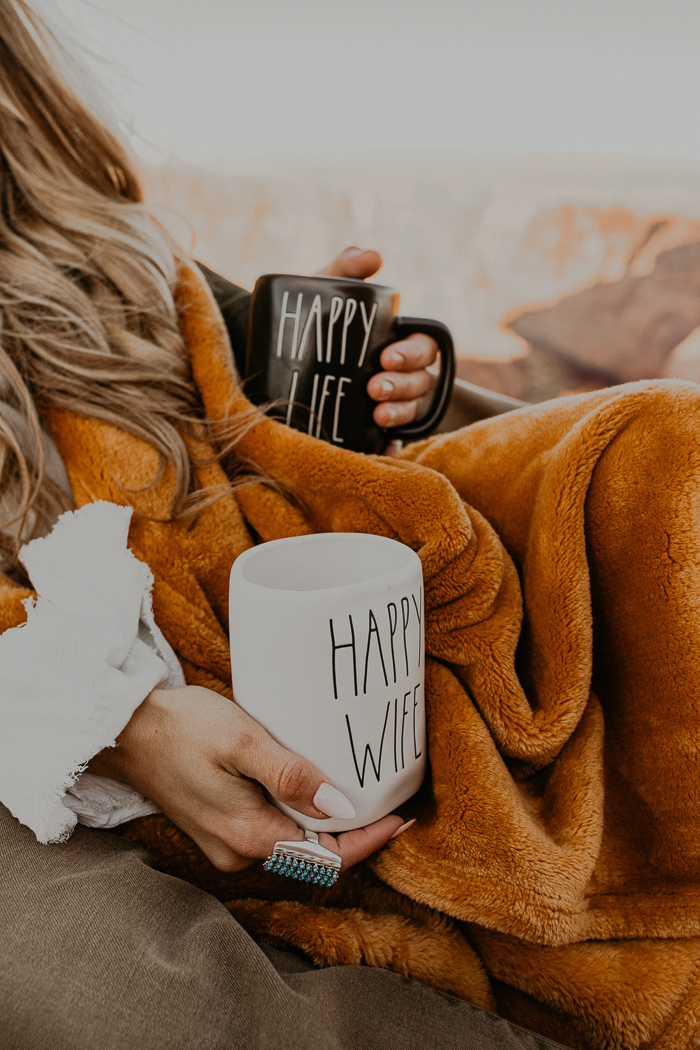 Shop Exact Mug Set: Rae Dunn By Magenta "Happy Wife, Happy Life" Black and White Coffee Mug Gift Pack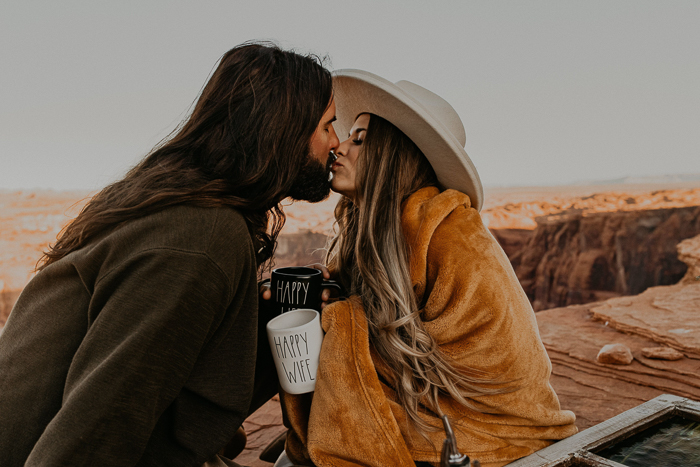 Why An Adventure-Filled Horseshoe Bend Vow Renewal
We've seen so much more of the country since we married nine years ago. We've been fortunate enough to travel and see so much of the awe-inspiring beauty and grandeur the American Southwest offers. So we wanted to incorporate that into our love for each other. An experience-packed adventure that was perfectly representative of who we are and that focused on us and our love, unlike our original wedding. We envisioned spending a whole day together in one of the most diverse and magical places we've been. Since in nature is where we connect with each other most and where we make the most special moments together.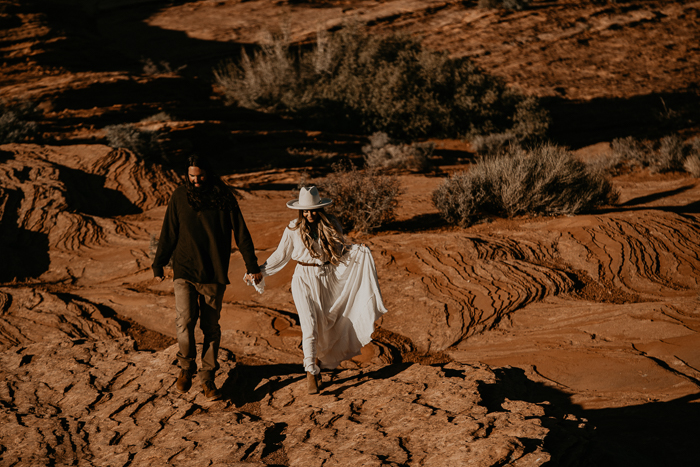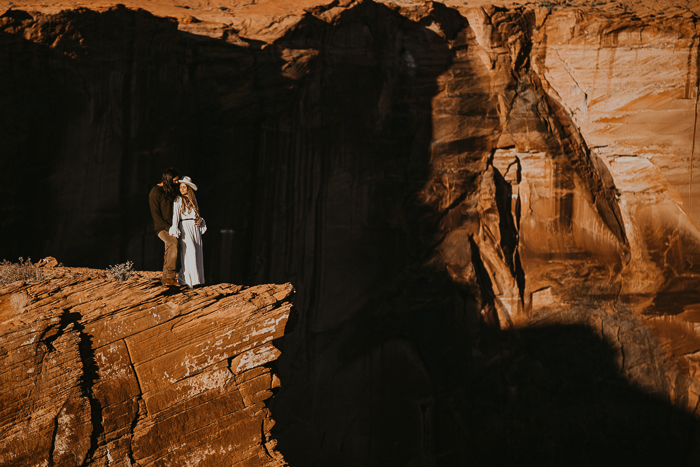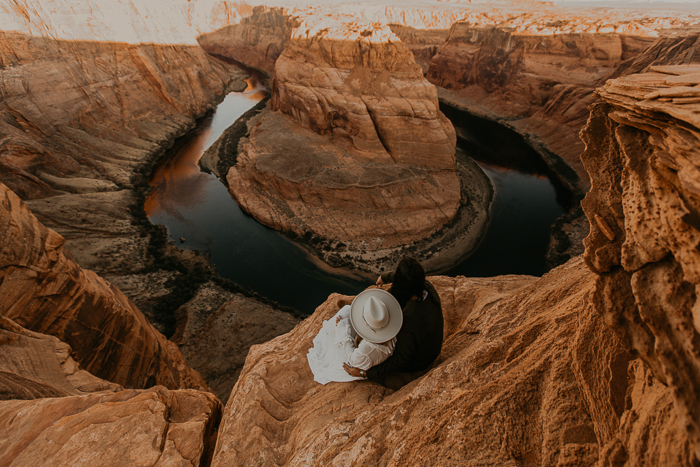 Trusting Junebug Member Shutterfreek And Wild in Wonder Events + Design To Make Their Vision A Reality
After some conversations with Paul at Shutterfreek and Rose with Wild in Wonder about the things we love that are important to us, we knew we were capable hands and let them take over the planning from there. On the morning of our vow renewal, we were greeted by Paul and Rose at the Horseshoe Bend trailhead and began our hike to the Overlook. They had created the perfect cuddle set up for us to enjoy as we watched the sunrise over Horseshoe Bend. It was such a beautiful and intimate moment to kick off an epic day and was followed by a hike to a magical slot canyon. Paul did a beautiful job capturing the romantic time as we explored the canyon together. In the end, the experience and the images perfectly captured our love story and who we are as a couple. When we look back on the pictures of our day, they feel like they couldn't have been created for anyone but us and that everything we did had special meaning.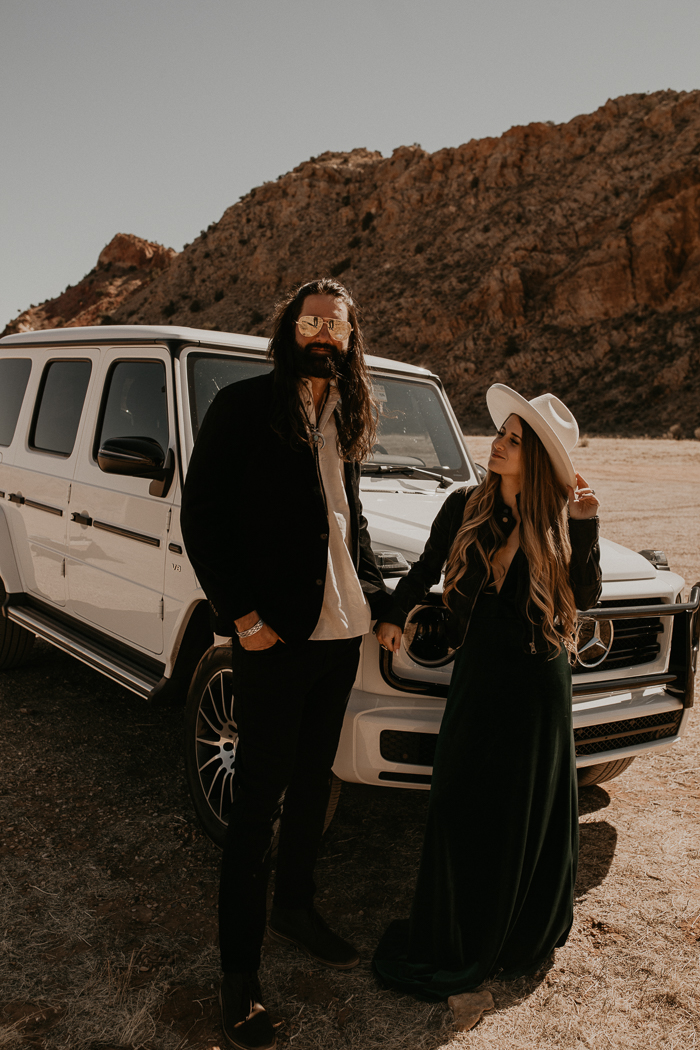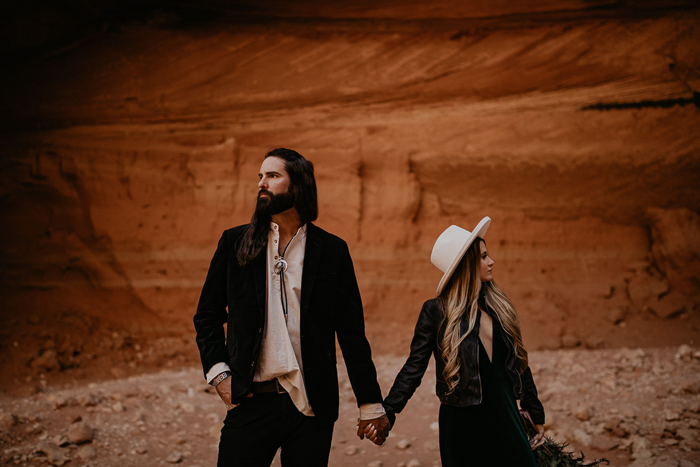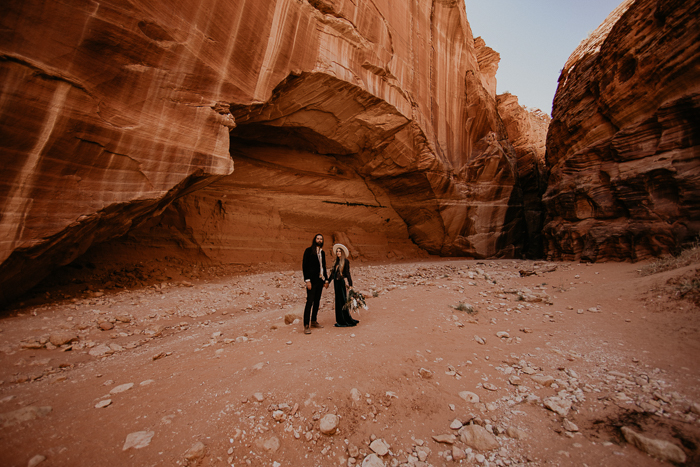 Advice From The Couple: Work With Like-Minded Vendors
Book vendors whose personalities and styles you connect with and love. Look for the ones who create art that excites you when you see it. We are so glad that we had a team who not only truly got us and shared our vision and priorities. They were also people we loved getting to know and sharing our special moments with along the way. Don't just book vendors based on pricing alone, book vendors that want to live in the same kind of world you do.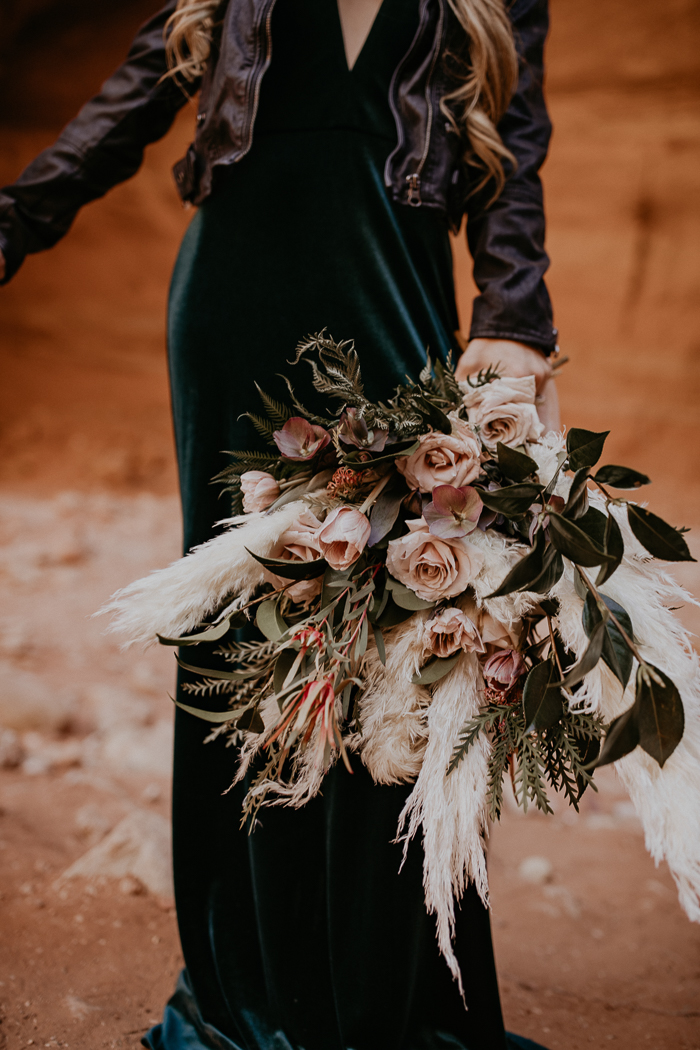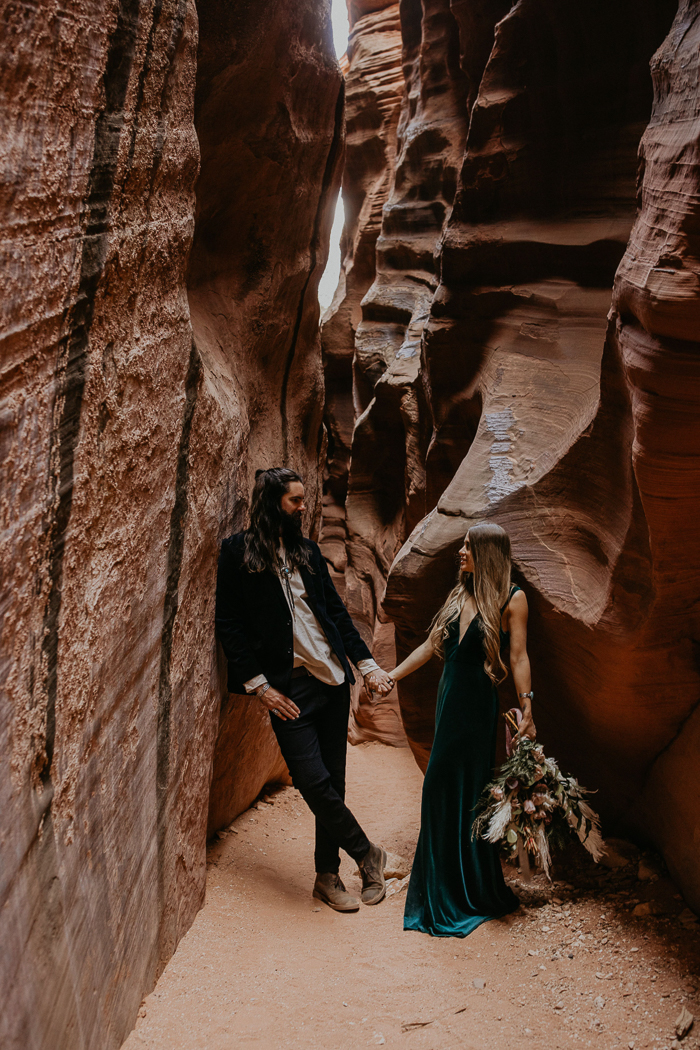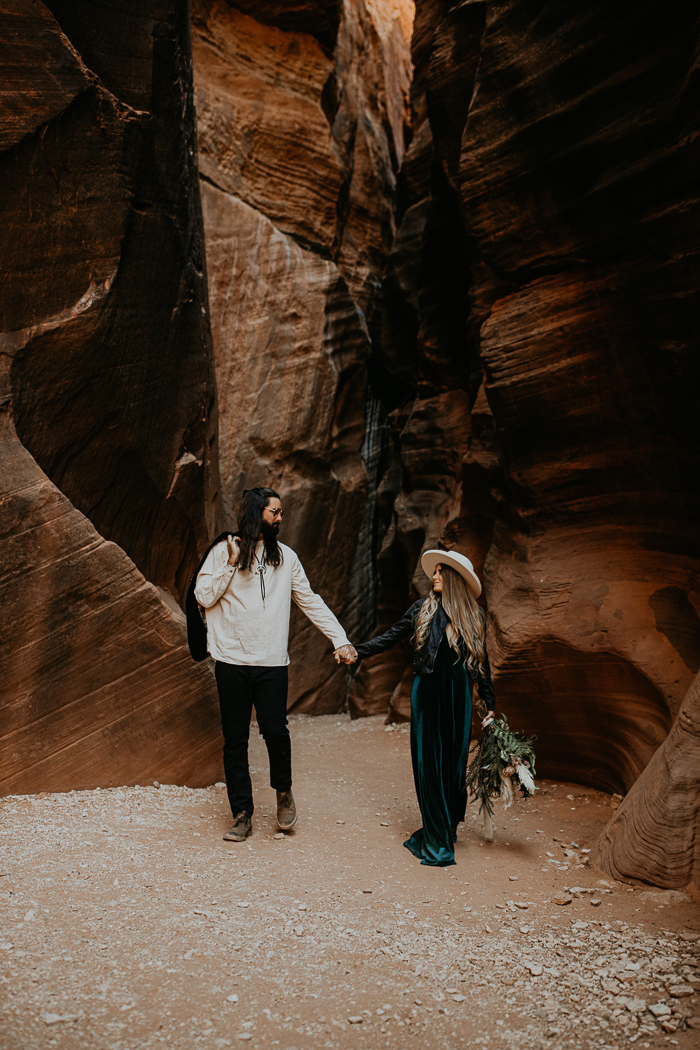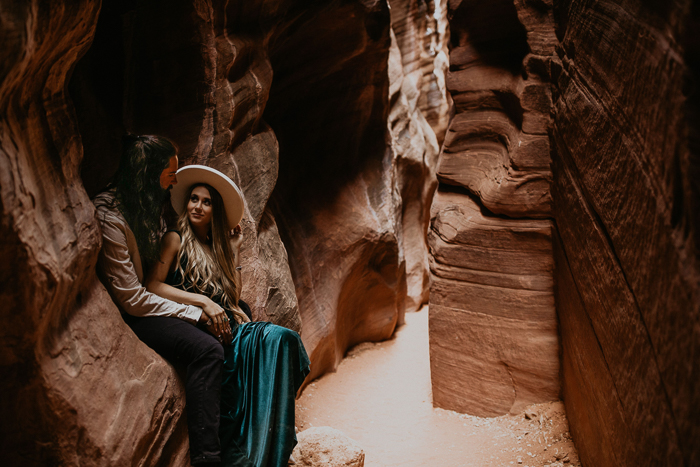 Their Vendor Team Surprised Them With Helicopter Tour
After our hike to the slot canyon, we had some time to relax, refresh, and grab a bite to eat. And we talked about what an amazing day we'd had so far. The next stop of the day was a complete surprise for us both. As we pulled up to the Page Regional Airport, we were excited to find that our vendor team had organized a surprise helicopter tour of Lake Powell and Horseshoe Bend. What an incredible and once-in-a-lifetime experience that was. Neither of us had been in a helicopter, and we got the thrill of experiencing it together. After the excitement of the helicopter ride, we were on cloud nine and ready to have our vow renewal ceremony. It was definitely one of the highlights of our day.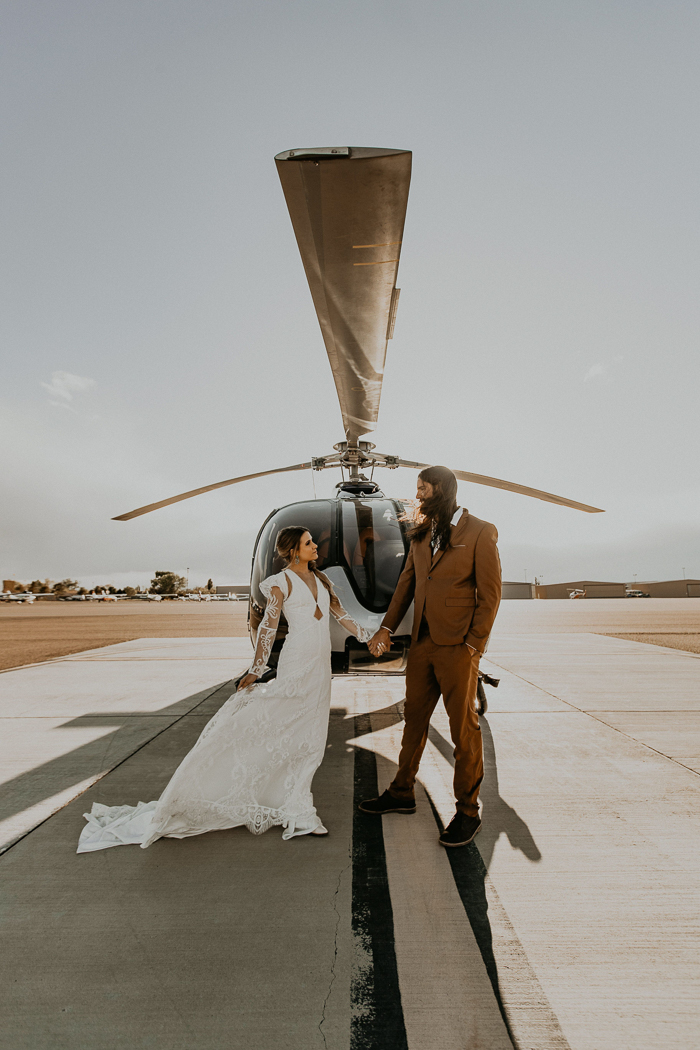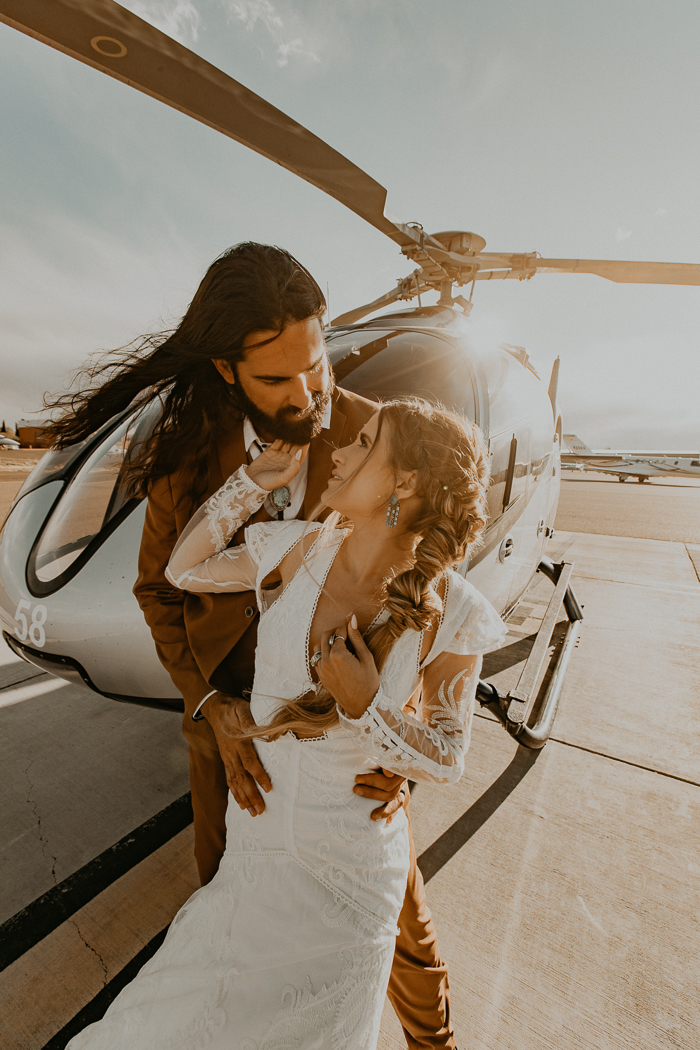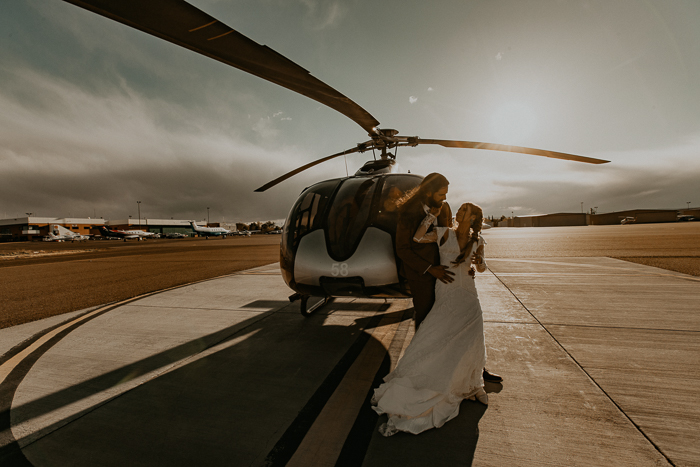 Personalizing Their Horseshoe Bend Vow Renewal With The Help Of Their Vendor Team
We wanted our ceremony to be something unique. Wild in Wonder dreamed up and created a beautiful altar backdrop and picnic setup that tied all of the elements of the day together. Shutterfreek scouted the most mind-blowing location for us to set things up. The ceremony was really the place where all of the little pieces of the day—from the florals and fashion to the breathtaking landscapes. All seemed to come together and complete the story.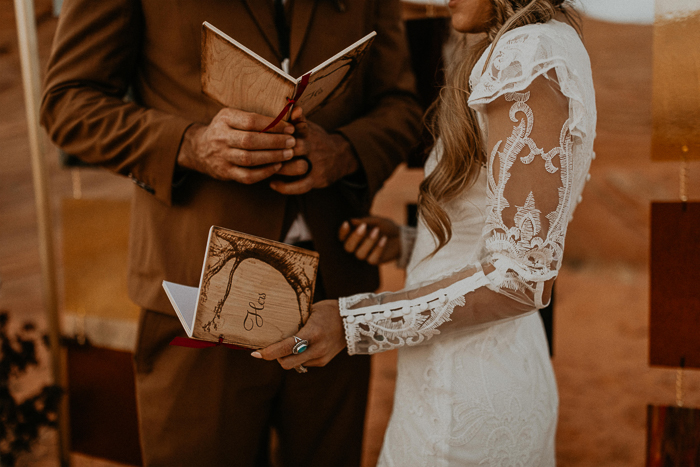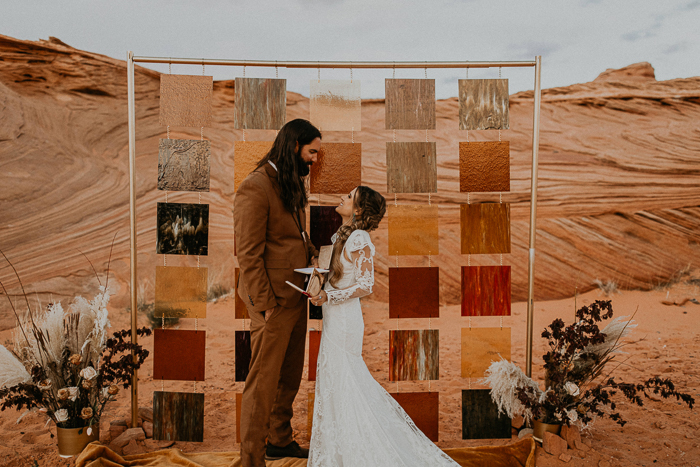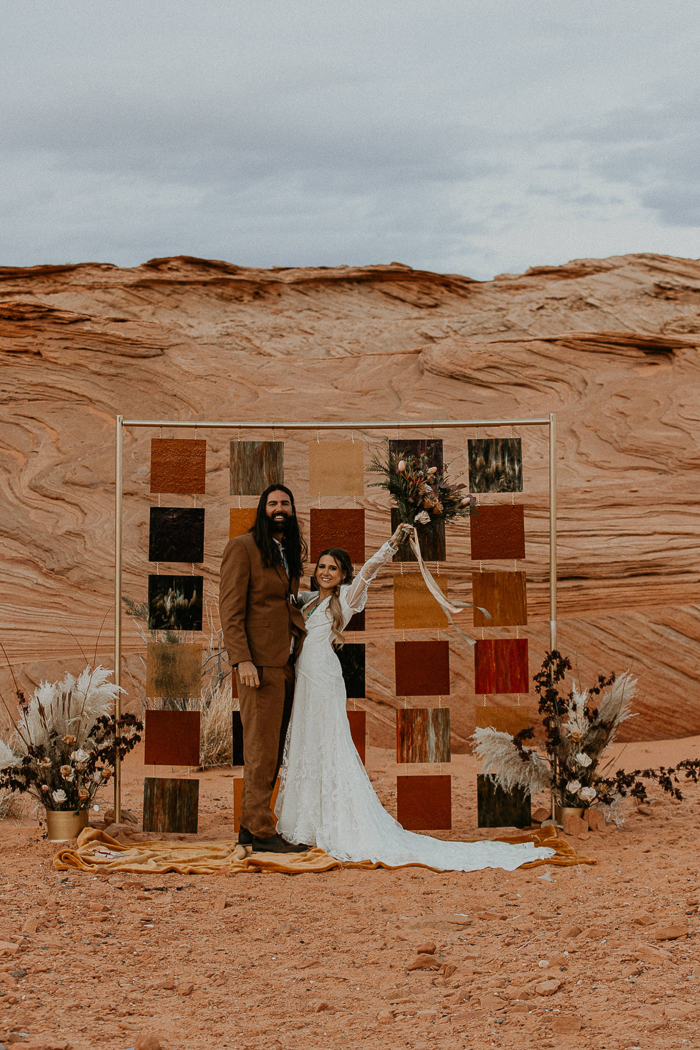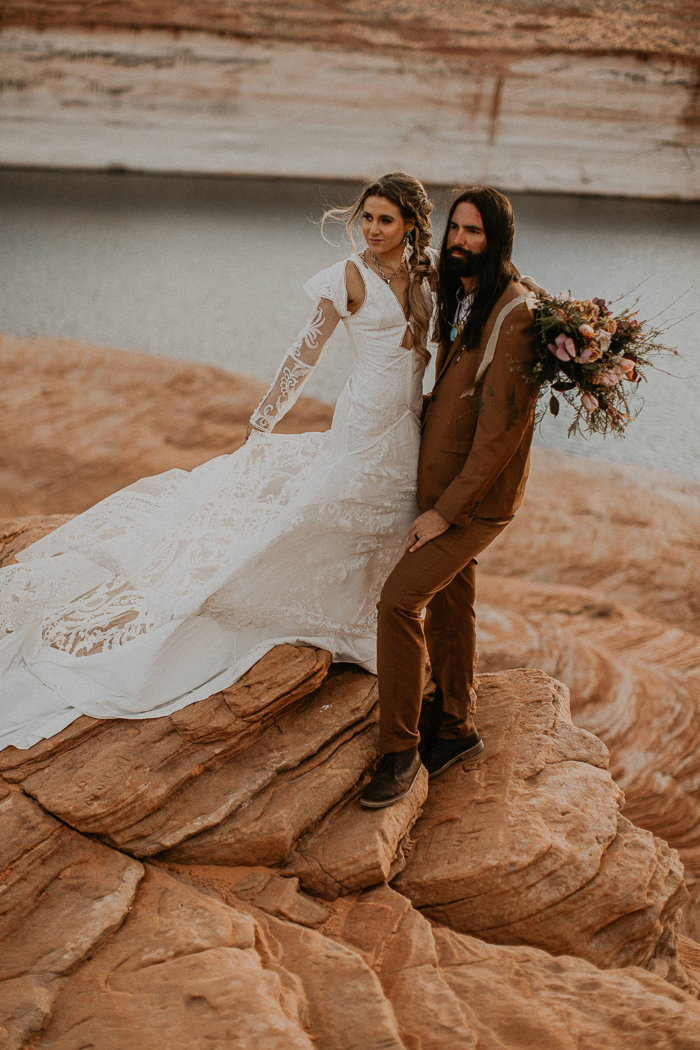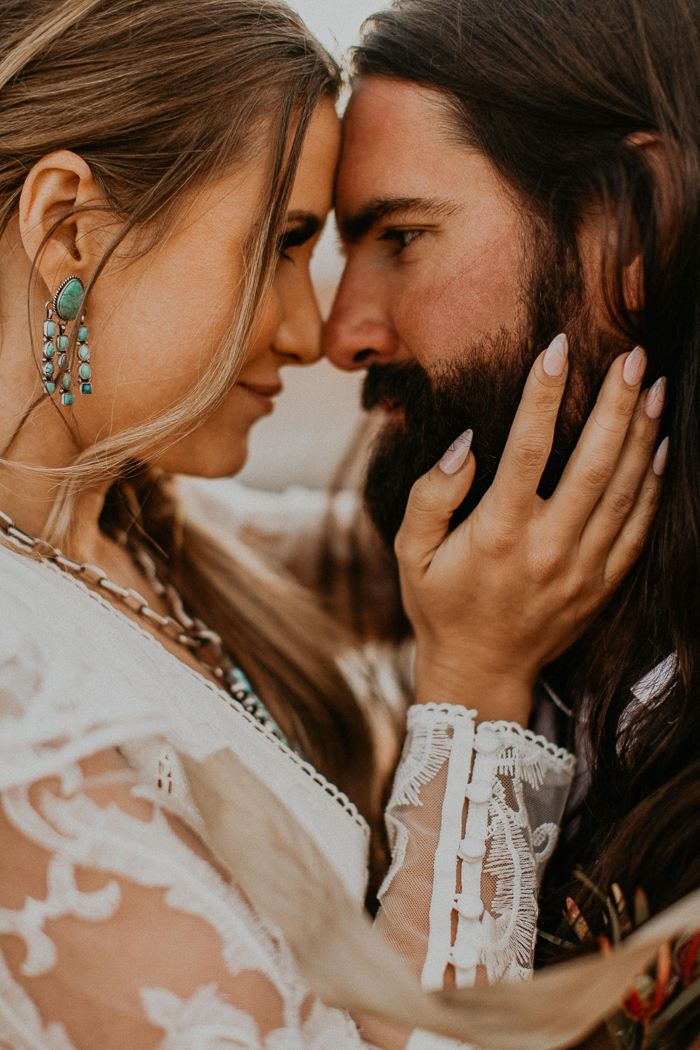 A Picnic With A Breathtaking View To End The Day
Shutterfreek took us to a magical wavy red rock formation on Lake Powell. Wild in Wonder and Petal and Stem Florals had set up a beautiful custom stained-glass backdrop for our vow renewal and an entire picnic area with snacks and cake ready for us to enjoy afterward. It was the most magical and romantic end to an incredible day that will stay close to our hearts and memories for the rest of our lives. Our spirit for adventure and love for one another, which we have fostered for the past nine years, was honored fully and completely.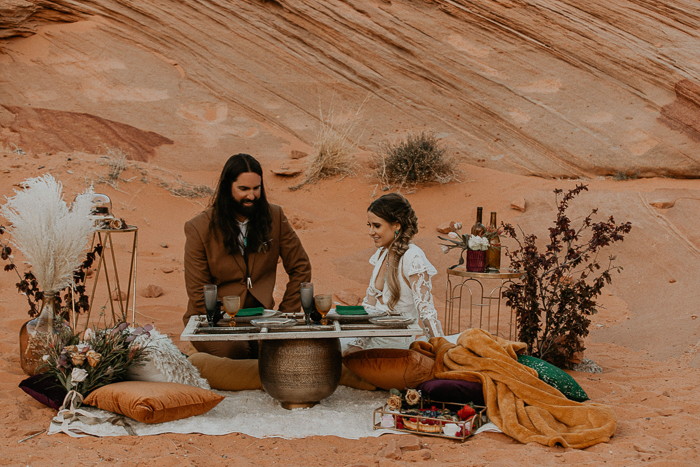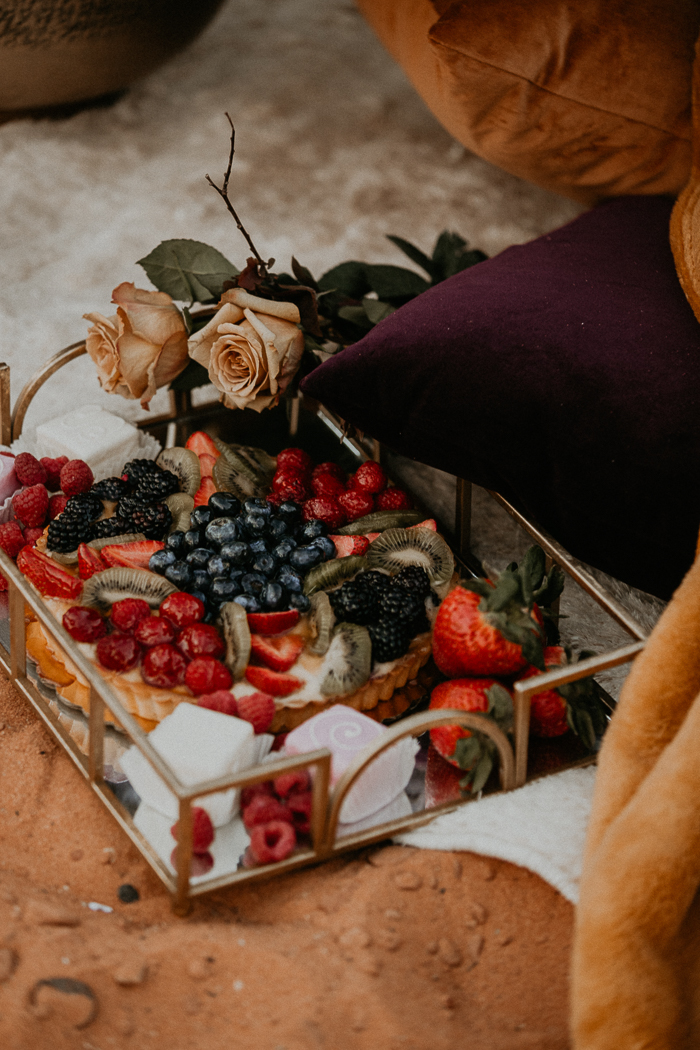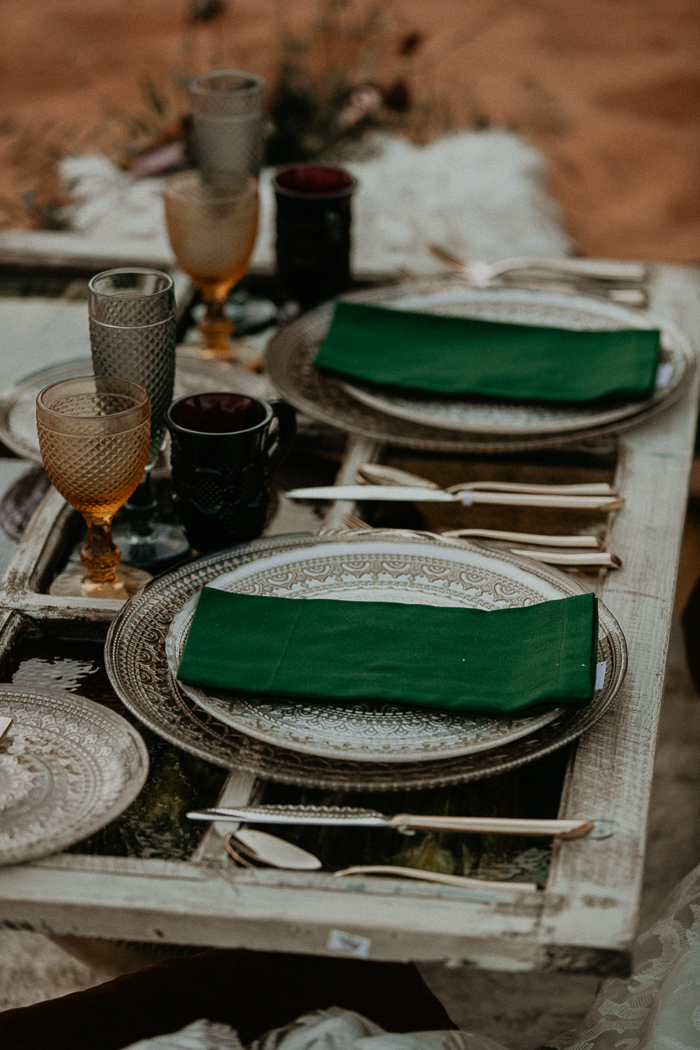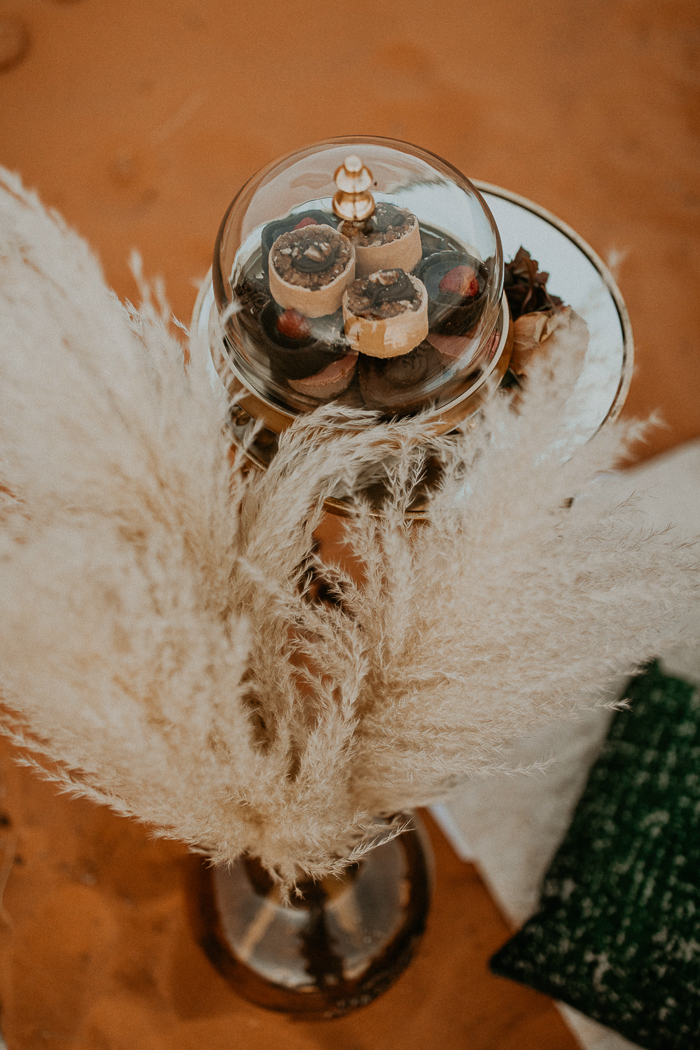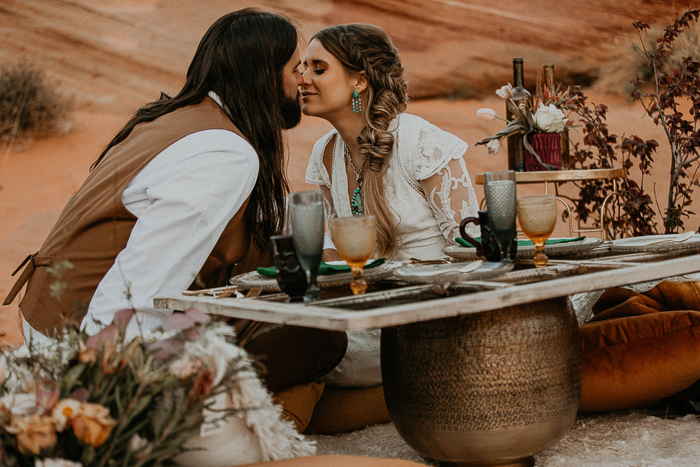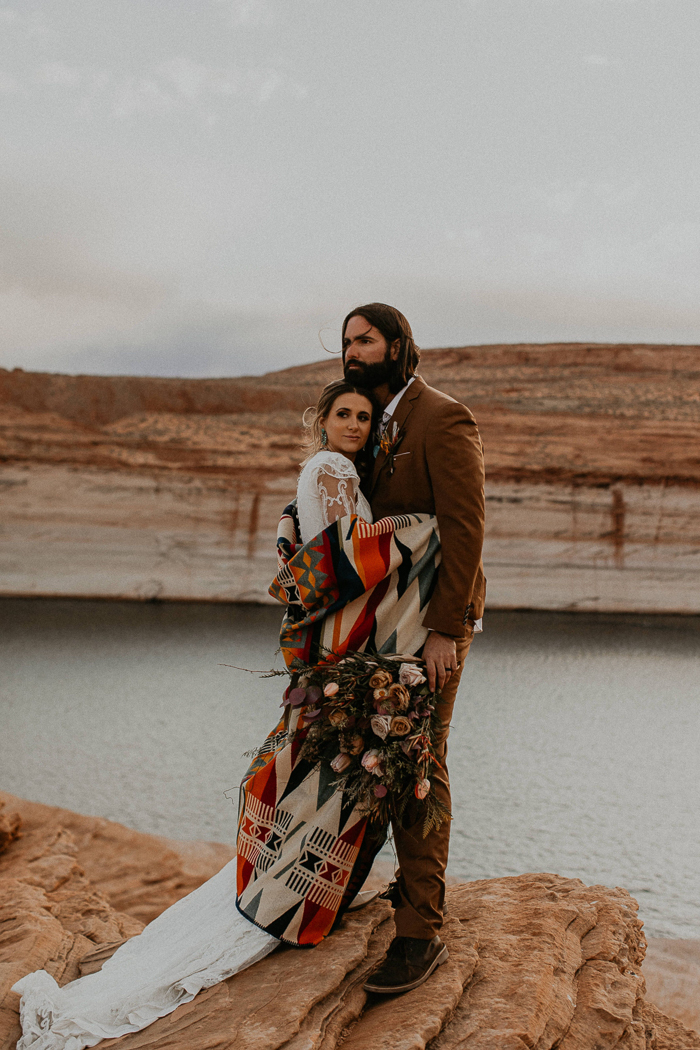 Congratulations to Amanda and David on their adventure-filled Horseshoe Bend vow renewal. And a big thank you to Junebug member Shutterfreek for capturing and bringing this once-in-a-lifetime experience to life. To see more intimate adventures like this one, be sure to check out their profile in our directory of talented photographers from around the world.
An adventure elopement is such a wonderful way to skip the big wedding traditions and do something that feels right for you two. Plus, the stunning backdrop makes for some of the most incredible views and photos. Want to incorporate the outdoors into your special day in a big way? Narrow down a location by checking out our list of prettiest national parks!