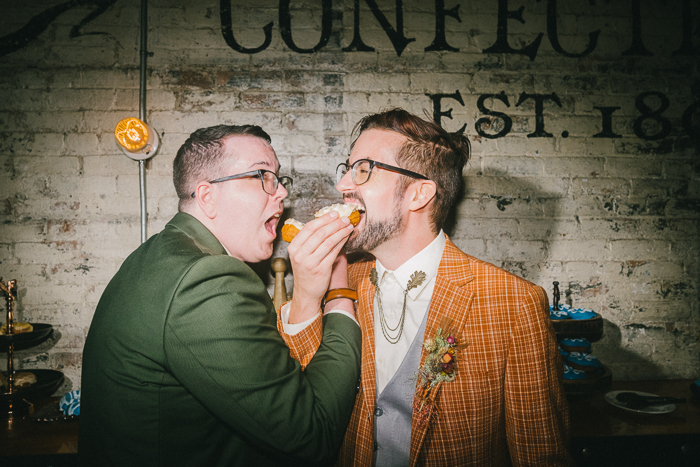 With everything from a 1940s-style confectionery venue and rustic autumn decor to fantastic fall fashion and meaningful handmade details—Brian and Brian's Lucas Confectionery wedding had it all. Sharing a deep love of nature and the magical ambiance of the season, the pair brought their dream autumnal theme to life by setting a stunning scene using warm tones and rich textures.
Playing off the exposed brick and industrial features of the space, an eye-catching chuppah covered in overgrown fall foliage and fresh blooms was the statement piece of the ceremony. For the reception that followed, long wooden tables were adorned with moody centerpieces, moss table numbers, and candles for a moody woodland feel. Meanwhile, overhead string lights gave a warm glow to the cozy affair.
With the help of their fantastic team of vendors, the couple pulled off a gorgeous and relaxed celebration, allowing them to enjoy every moment with their loved ones and each other. To see how the two grooms infused their big day with their own unique styles and combined it with the spectacular details of fall, scroll through these images captured by Natasha Shapiro.
The Couple:
Brian and Brian
The Wedding:
Lucas Confectionery, Troy, New York, United States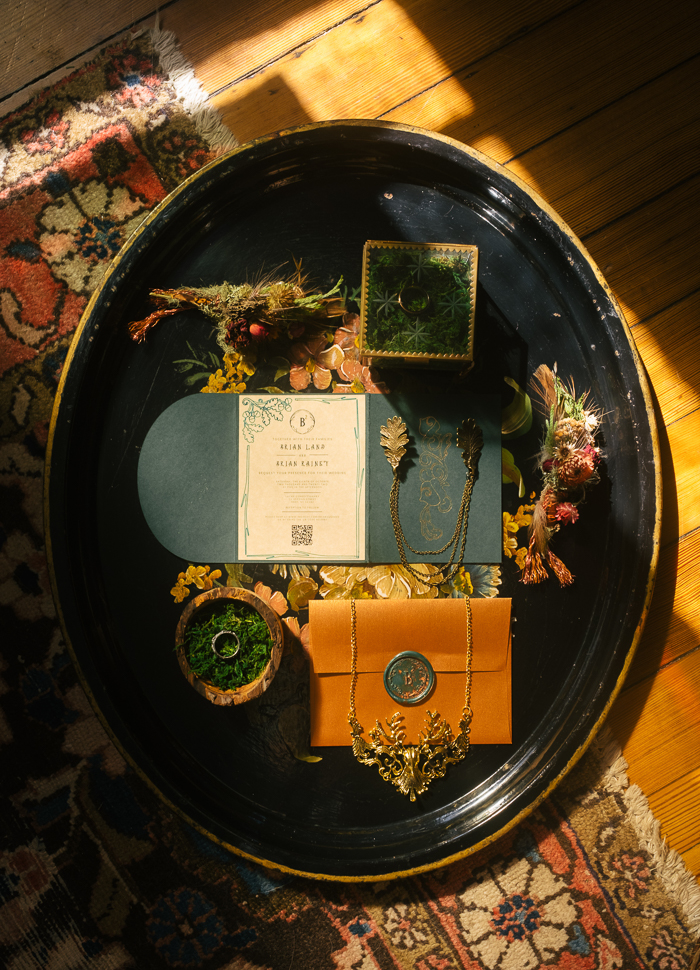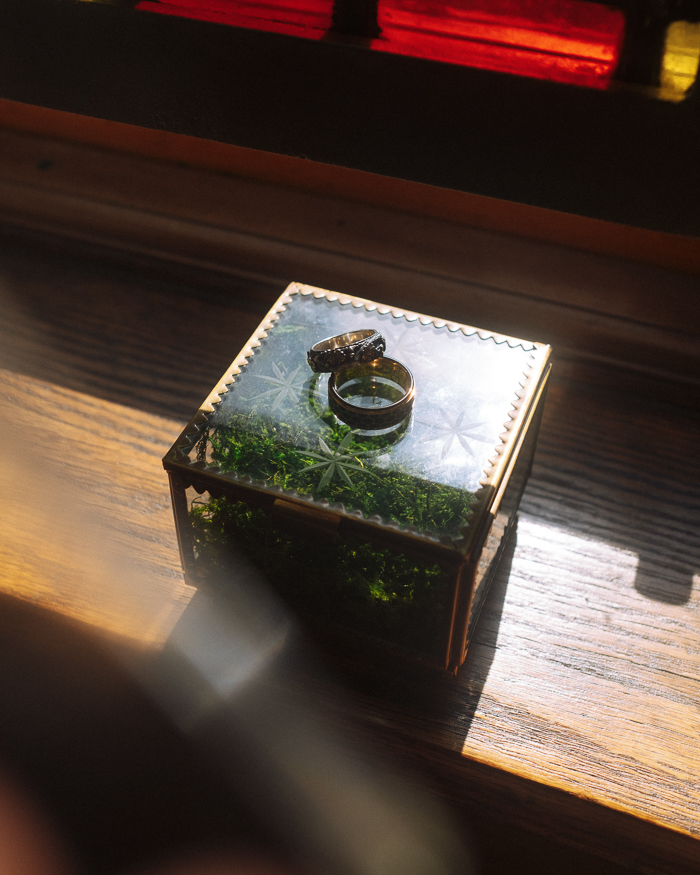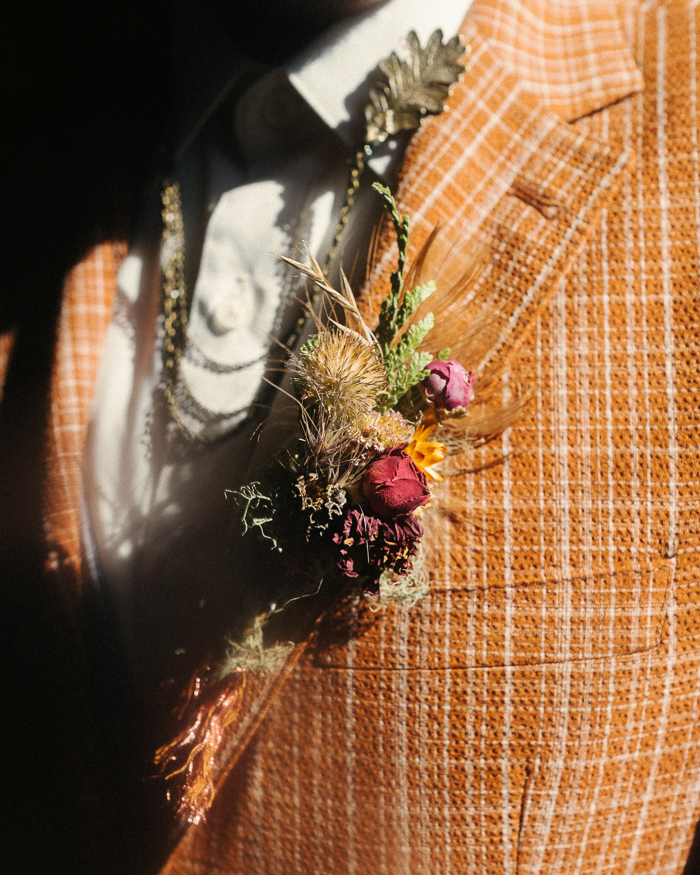 Why They Wanted A Fall Inspired Lucas Confectionery Wedding
There was no question that our wedding would have an autumnal forest vibe, as we're both autumn and nature lovers. We went for a color palette with various tones of green, burgundy, burnt orange, and pops of metallic copper to give a tasteful but not overly themed feel. Our chuppah and table arrangements were where the forest vibe shone through with an explosion of fall foliage, stunning florals, velvet mushrooms, and candle-lit lanterns with a tree branch motif to give a moody, magical ambiance to our venue. It can be challenging to see the big picture when all the bits and pieces come from different vendors, websites, and stores. But everything worked together beautifully to create the vision that we had in our heads.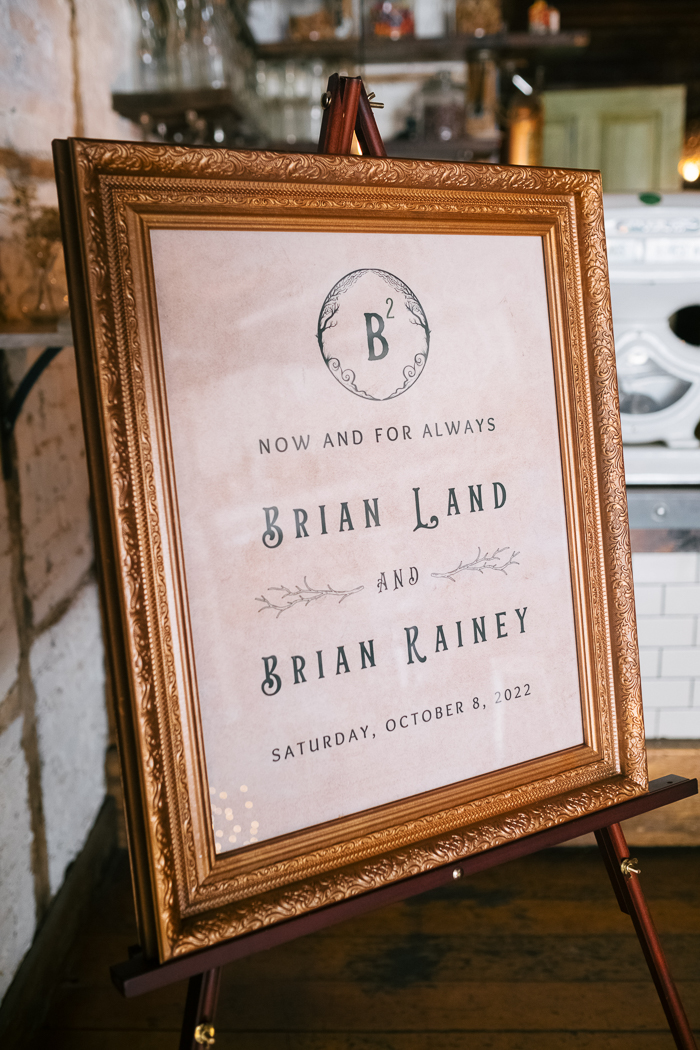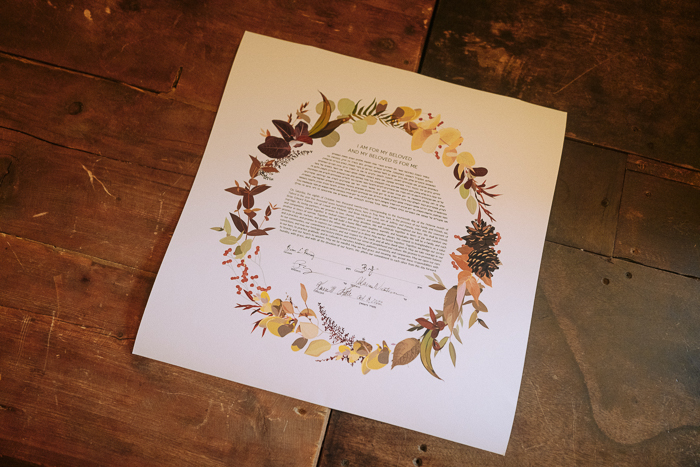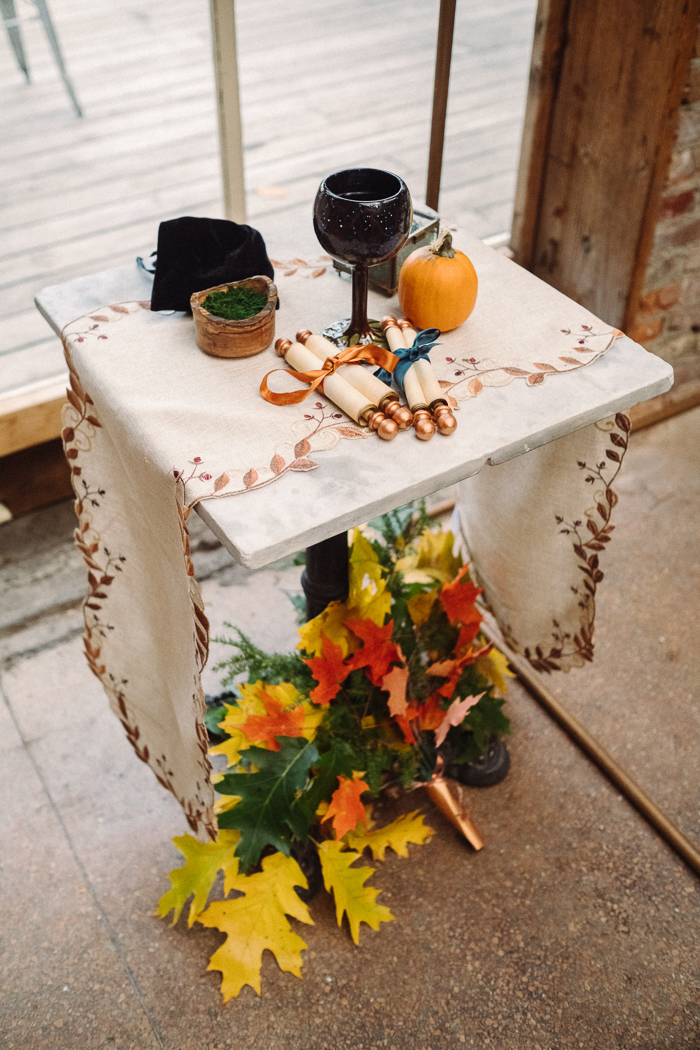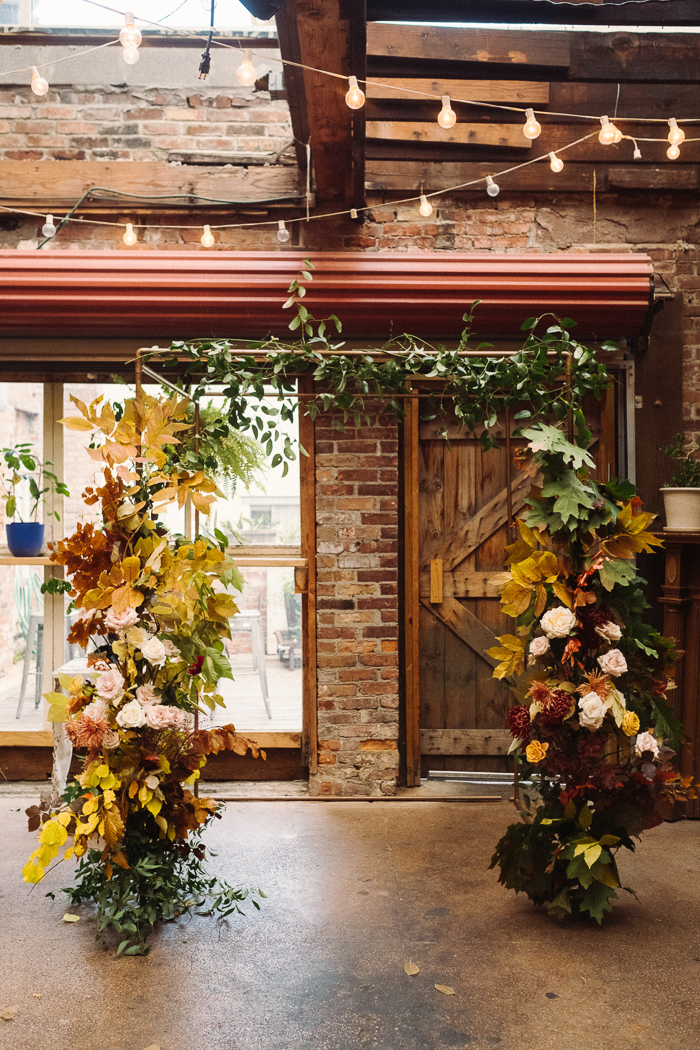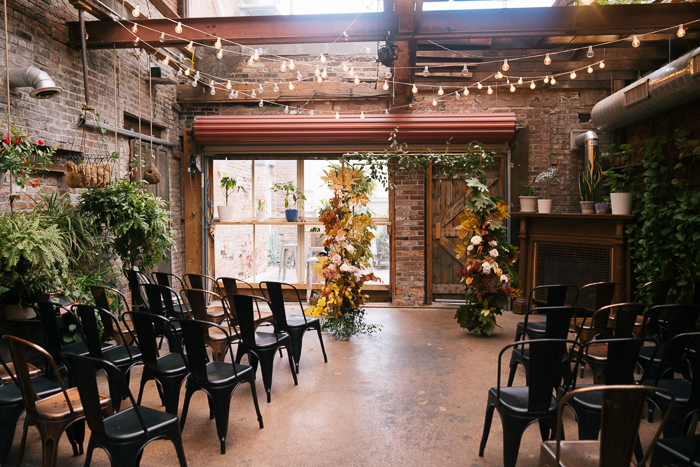 Choosing Wedding Attire That Reflected Their Individual Style But Kept With The Theme
For our outfits, we went with suits that fit our vibe and personal aesthetics. I wore a forest green suit with a stag's head neck piece in place of a bowtie. Brian L. wore a fitted burnt orange plaid suit with an oak leaf collar chain in place of a bowtie. We also had an incredible dried floral artist from Etsy create two unique boutonnieres that tied the whole look together. Topping it off were two matching white kippahs with a tree branch and leaf motif. For our wedding party, we continued the theme with velvet dresses in varied shades of fall foliage for the ladies and ginger-colored pants with coordinating leather suspenders and velvet bowties for the gentlemen.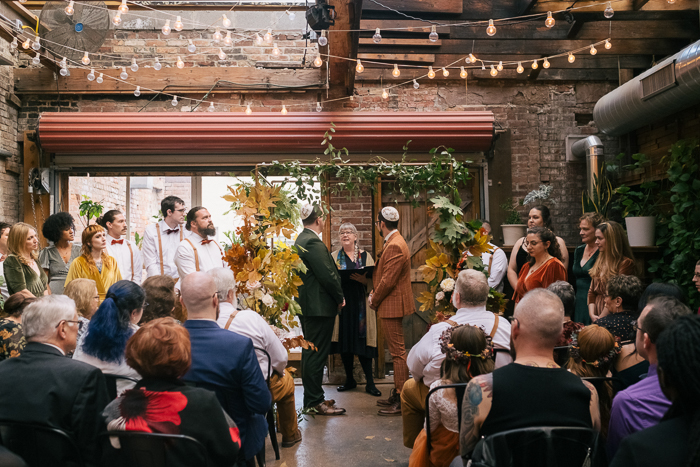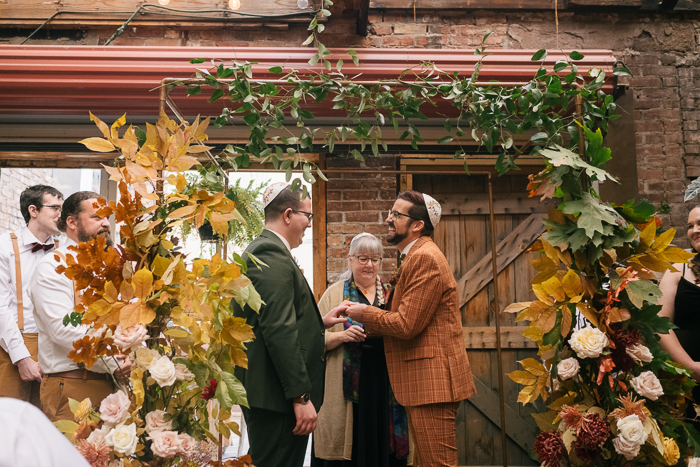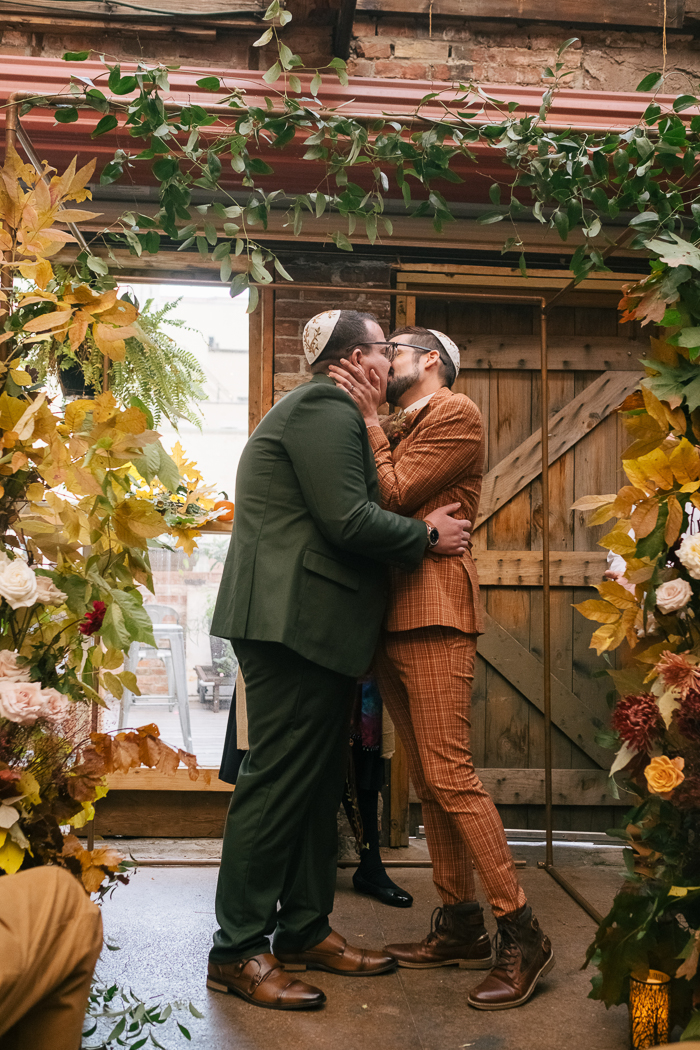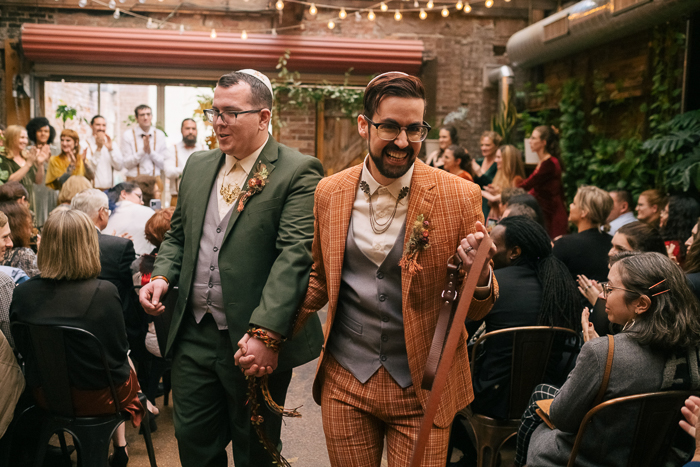 Mixing Jewish And Irish Traditions To Create A Blended Lucas Confectionery Ceremony
For our ceremony, we had our lovely friend, Karen, officiate. We worked with her for two months, crafting our dream ceremony. I am Jewish, so we wanted to have many Jewish wedding elements in the ceremony. These included a ketubah, a chuppah, a wine blessing, and smashing the glass at the end of the ceremony. Brian L. is Irish, so we also wanted to include many elements from his heritage. These included the tree of life and other symbols and doing a handfasting portion in our ceremony. We each wrote our vows, and rather than doing the typical Seven Blessings, common in Jewish weddings, we had eight of our friends and family write their blessings for us and our new lives together. And lastly, we had our corgi, Merlin, as one of our attendants.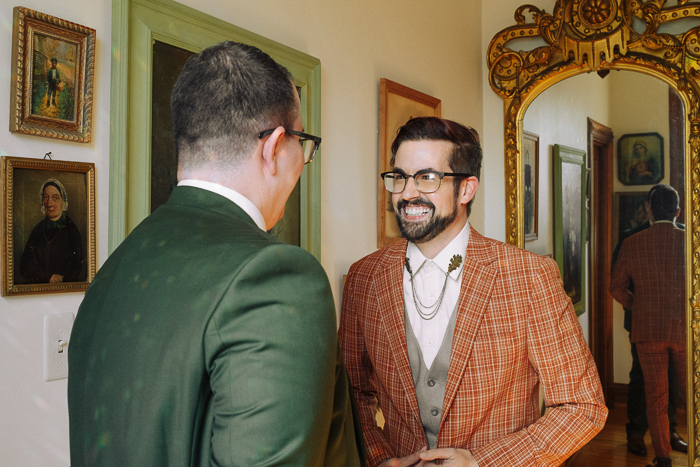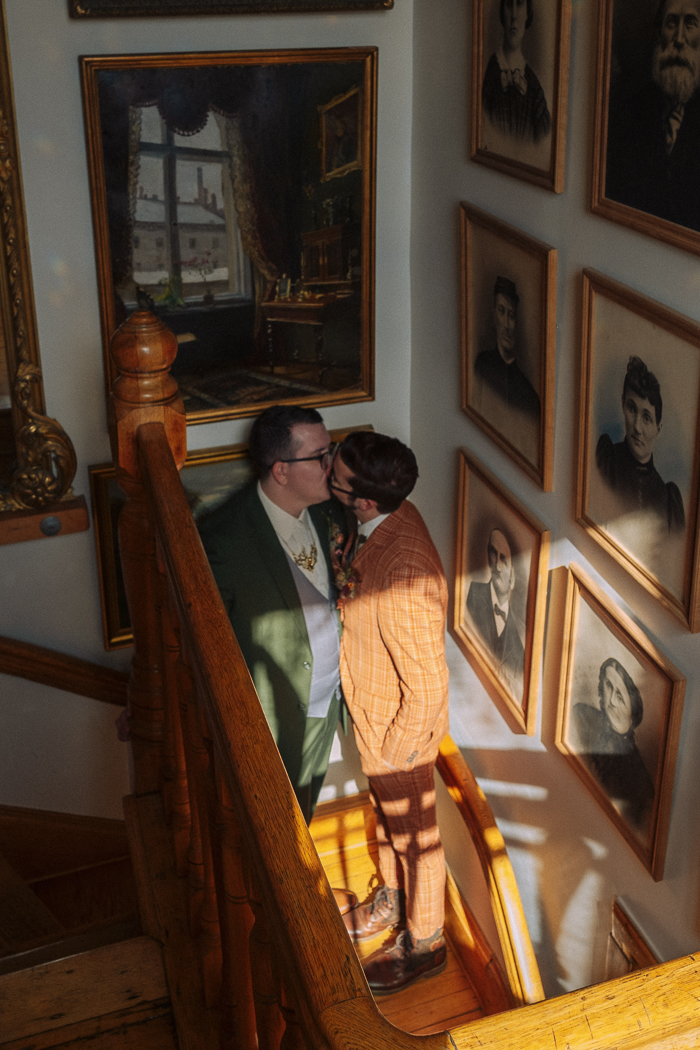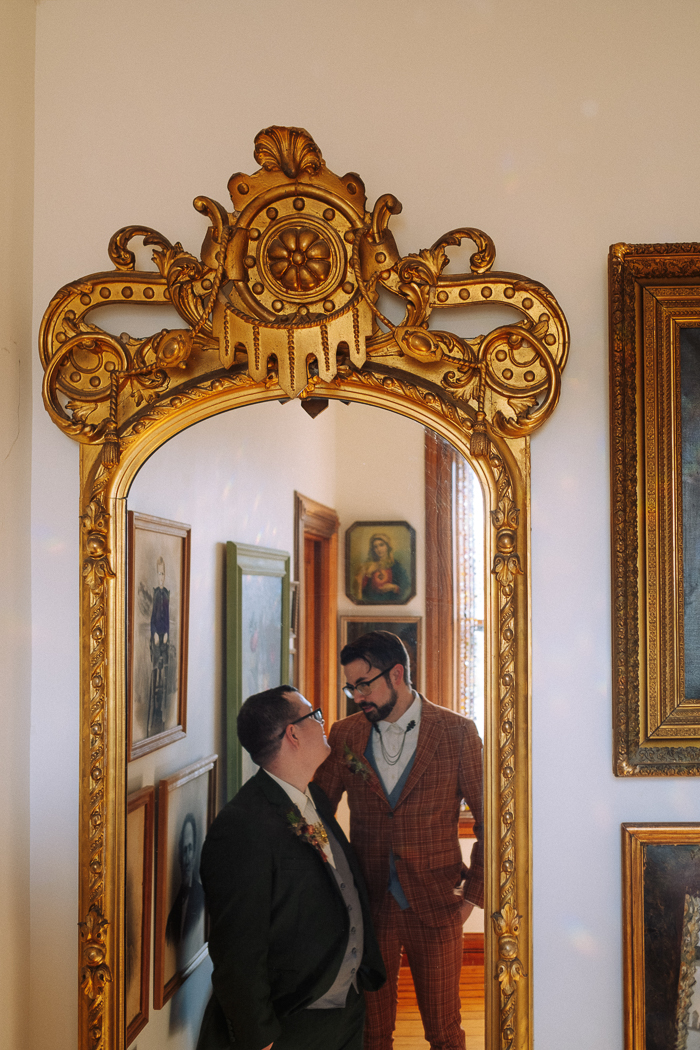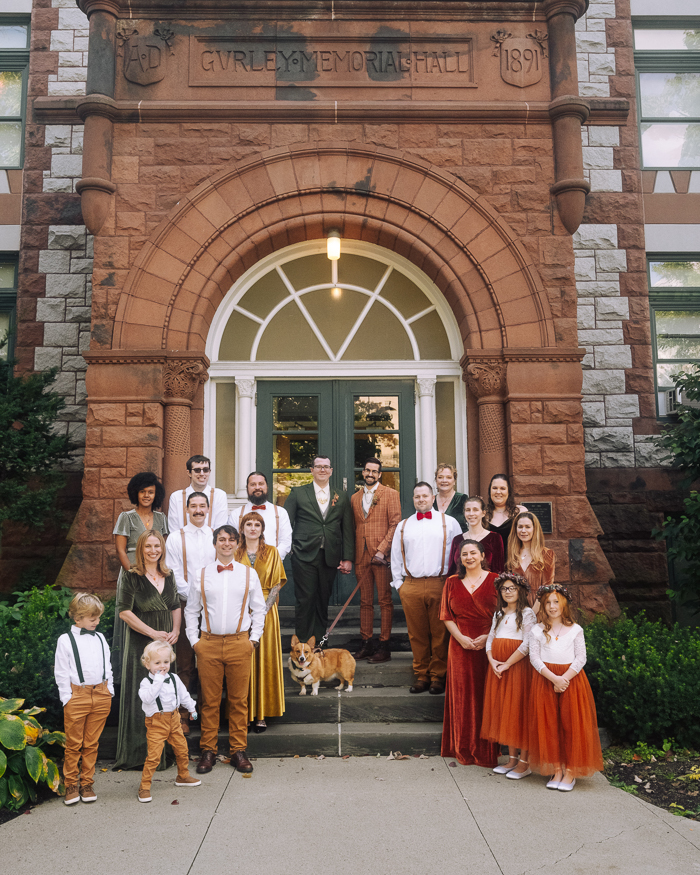 Having An Intentional Moment Alone To Take It All In
The most memorable part of the day was right after the ceremony. In Jewish weddings, couples often have a yichud, which stems from the Hebrew word for "together." This is when the couple comes together and spends time alone before the reception. We enjoyed doing this because it allowed us to take a moment alone to breathe and enjoy each other's company as a newly married couple.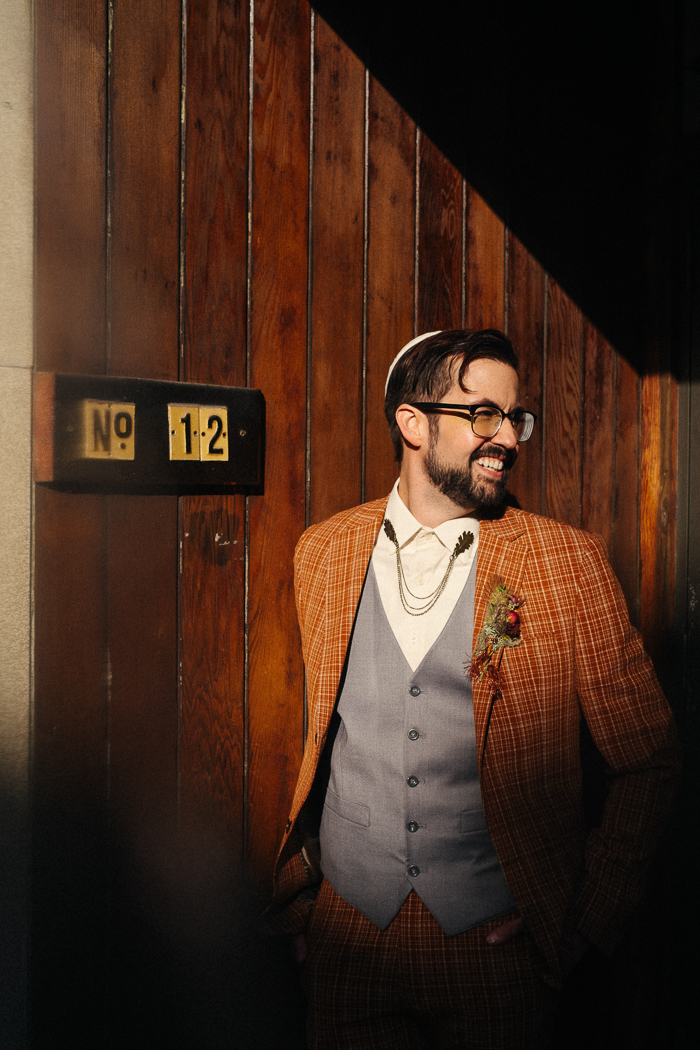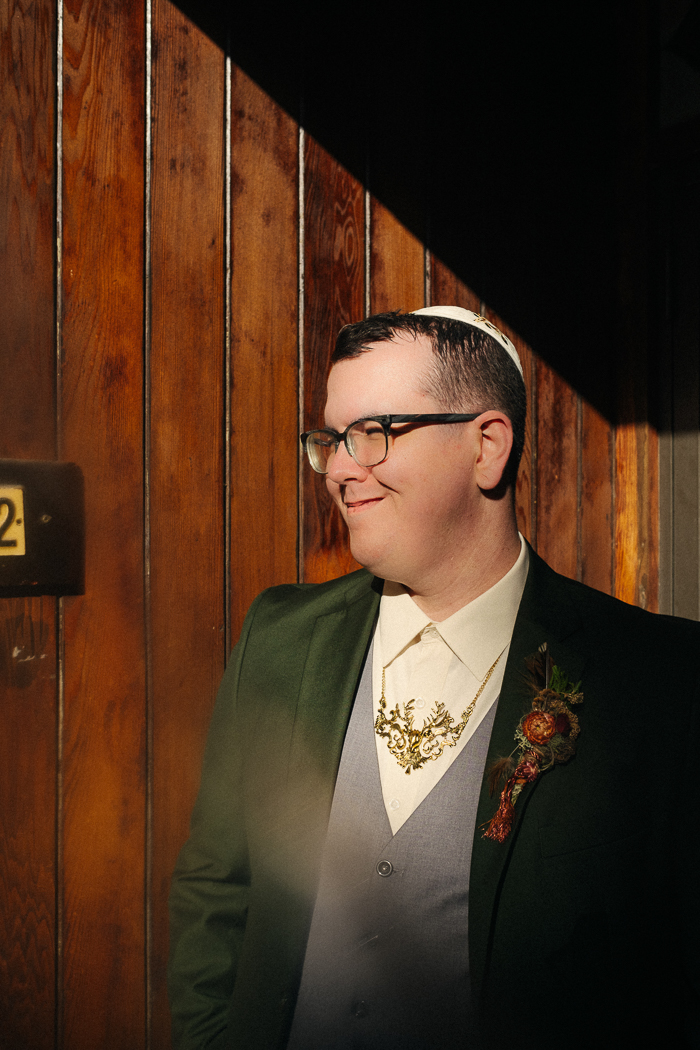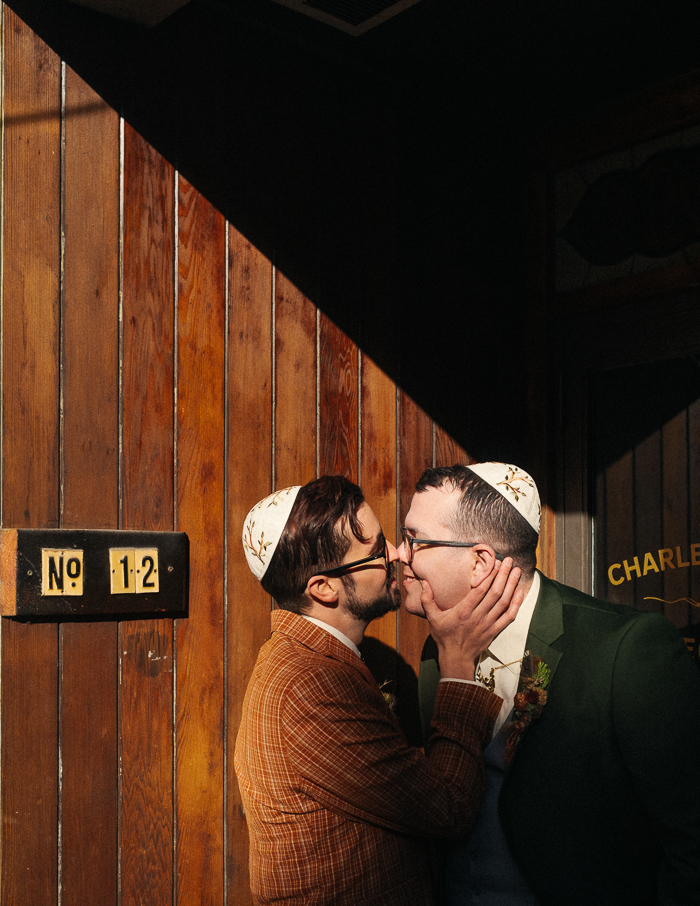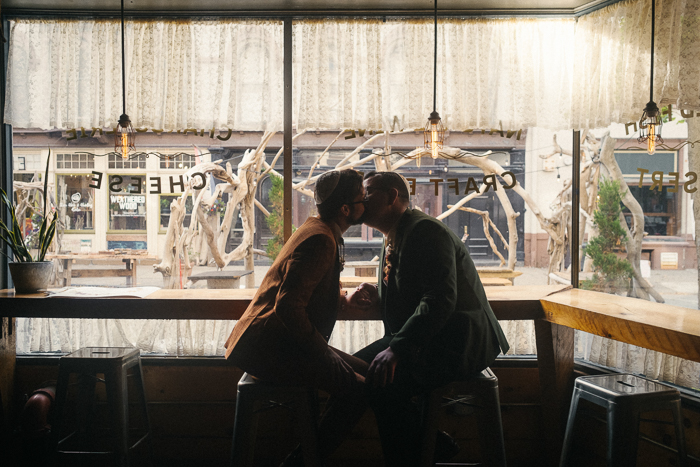 Autumn-Inspired Personalized Lucas ConfectioneryWedding Favors
Brian L. owns a candle company called Puck's Offending Shadows, so we gifted each of our guests with an 8-ounce candle. We worked together to design the unique scent, which featured notes of black amber, plum, apple, cinnamon, and cedarwood. Each candle was in a matte green jar with a copper lid and a label we designed ourselves. The end product was simply stunning.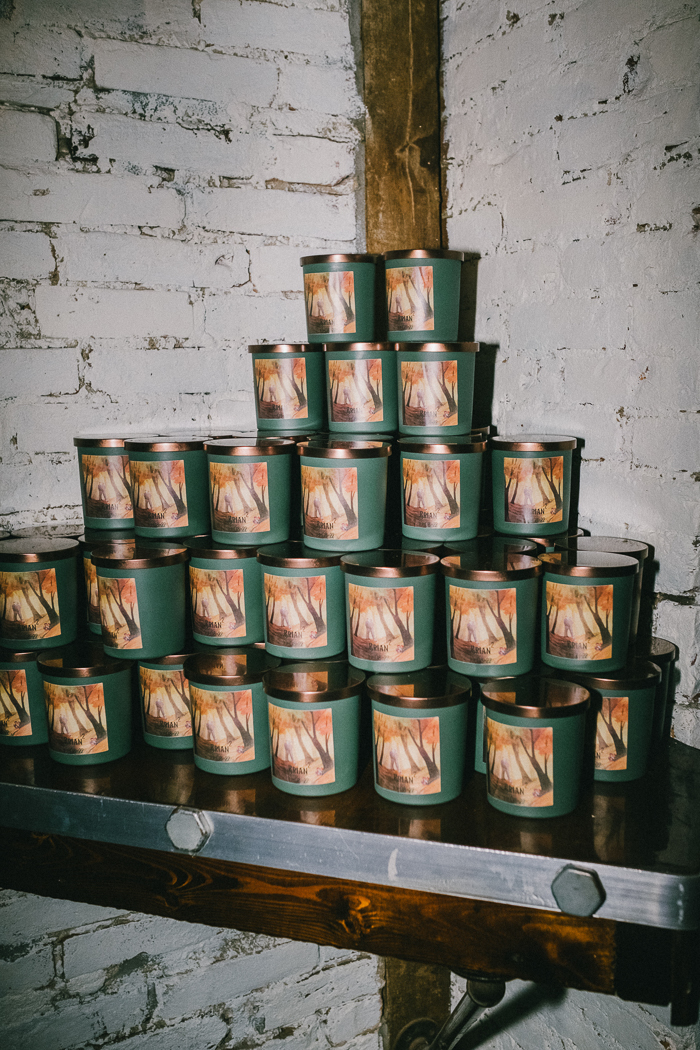 Personalized DIY Autumn-Themed Lucas Confectionery Wedding Details
We created several decor and accessory pieces to enhance the autumnal forest vibe, including flower girl mossy birch bark baskets, complete with metallic copper skeleton leaves. We also designed and crafted several signs for our donut flavors, signature cocktails, gift area, and guestbook. These signs were enhanced with pressed floral stickers to give them an antique botanical print look. Our guestbook was also DIY'd. Our guests wrote their well wishes on large river rocks with a copper pen. We laid these in a hammered copper bowl on a bed of moss. It was really quite beautiful.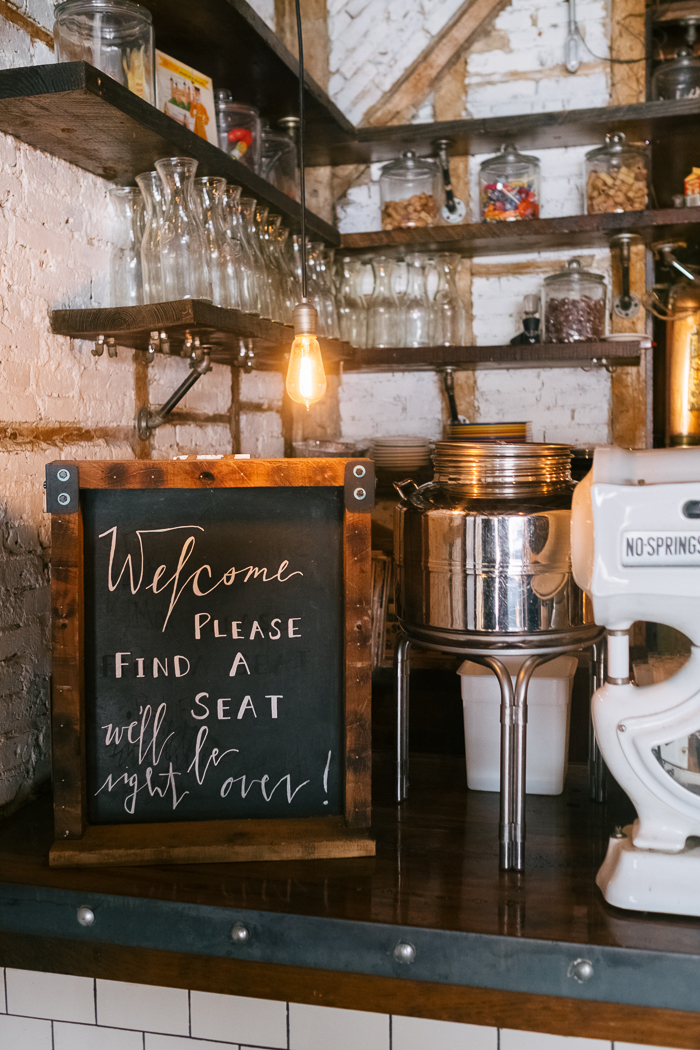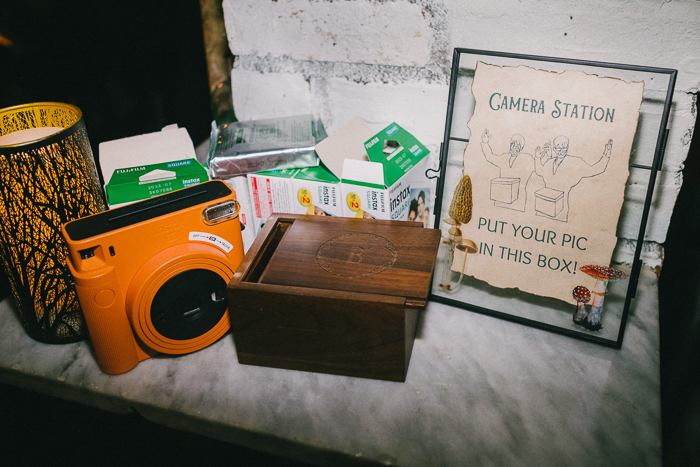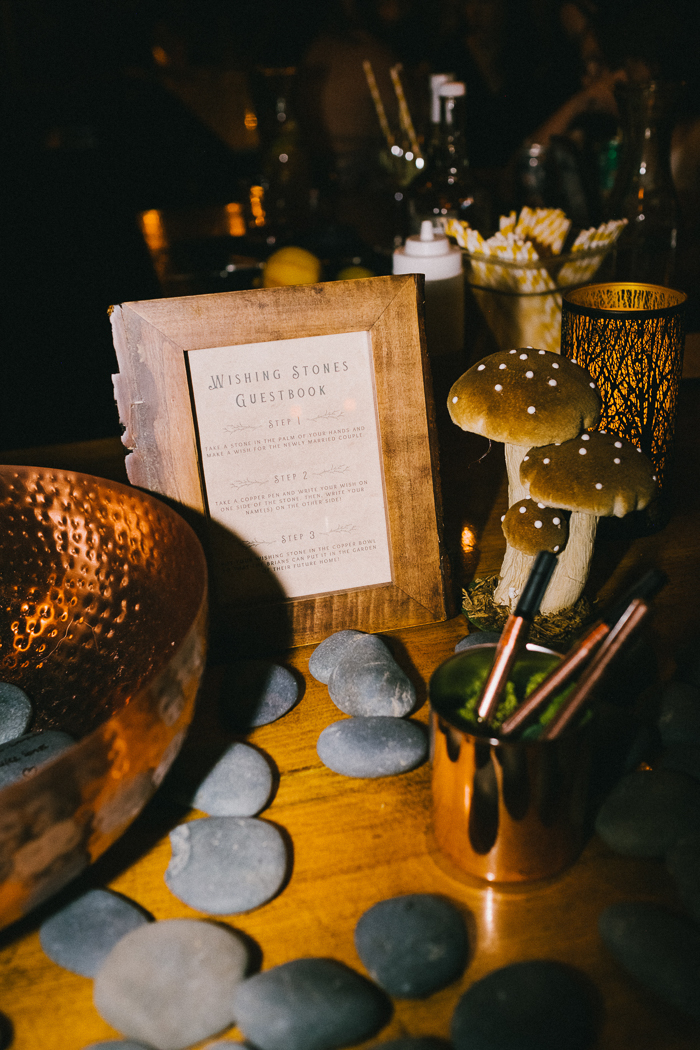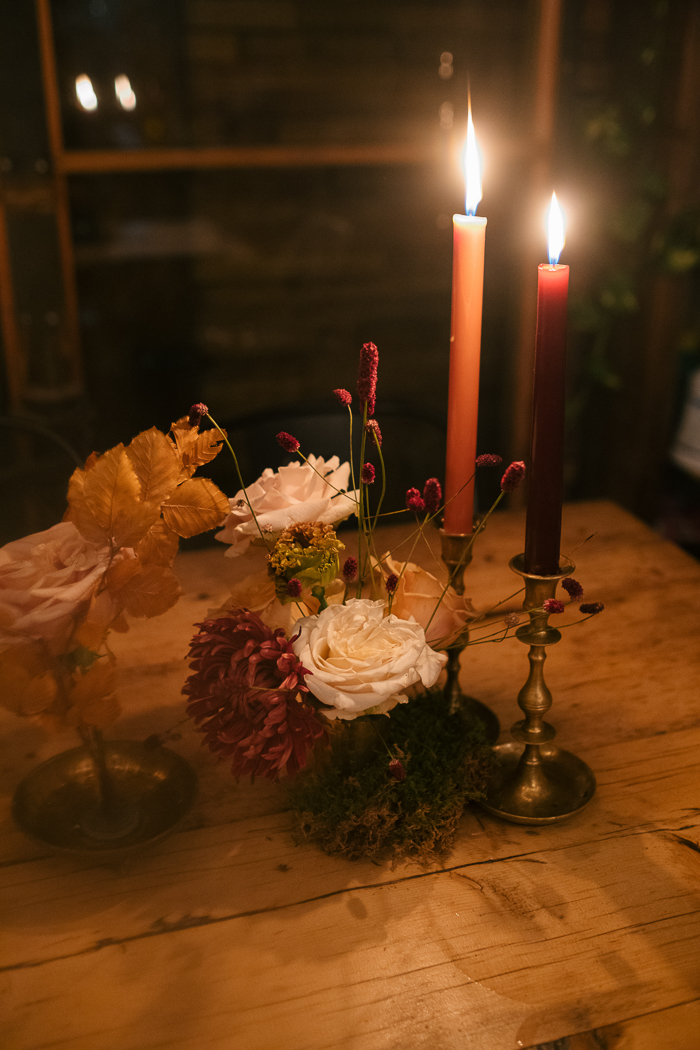 Advice From The Couple: Carve Some Time To Relax Before The Wedding
As simple (or unrealistic) as it may sound: relax. With all of the stressful planning and work that goes into the wedding process, it's essential to take a step back and appreciate everything that's going on. To help us relax for the big day, we did a spa day a few days before the wedding. It really helped us chill out and enjoy each other's company before our guests came to town.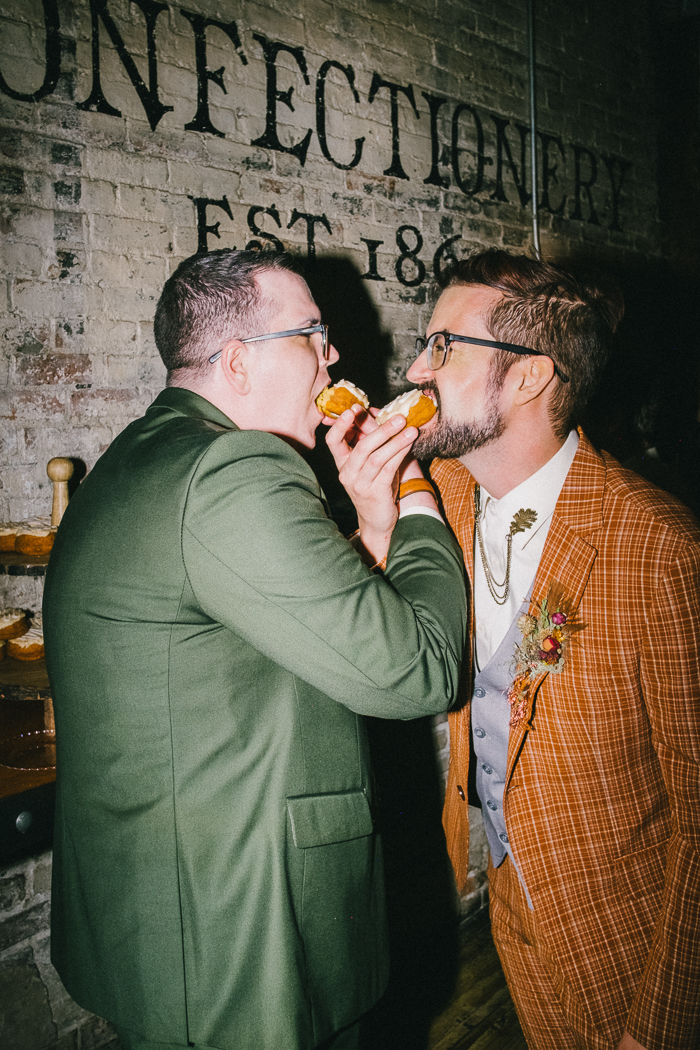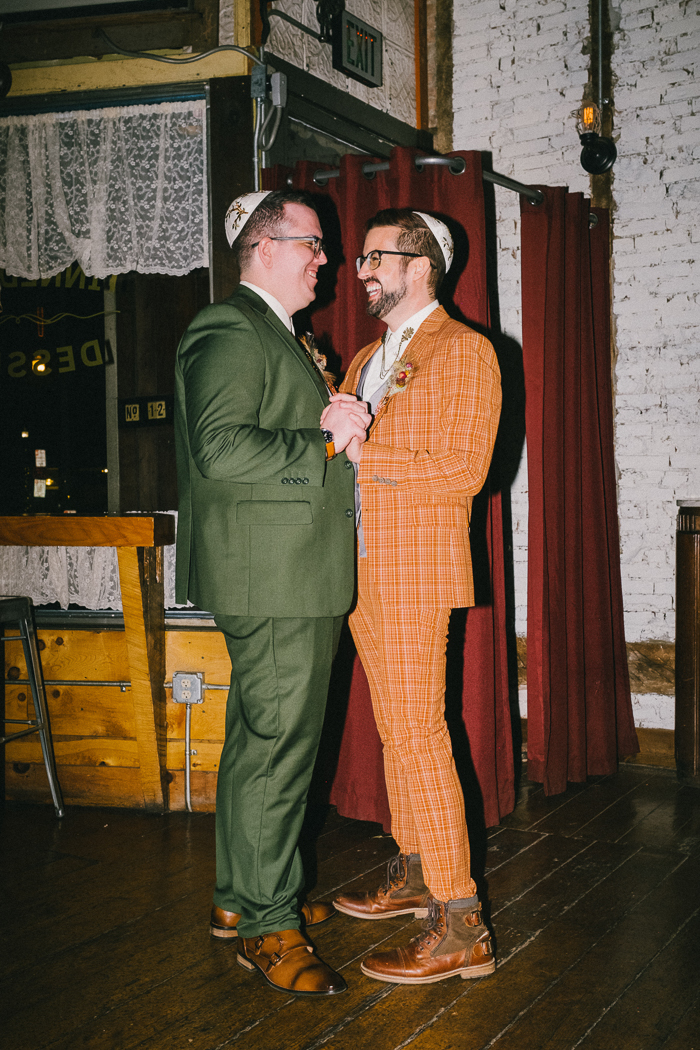 Congratulations to Brian and Brian on their cozy and rustic Lucas Confectionery wedding. And, of course, a special shout out to Natasha Shapiro for capturing the magic of their special day.
If you and your partner are drawn to the rich hues, falling leaves, and magical transformation that autumn brings, elevate your own big day with these ideas for a stunning fall affair.