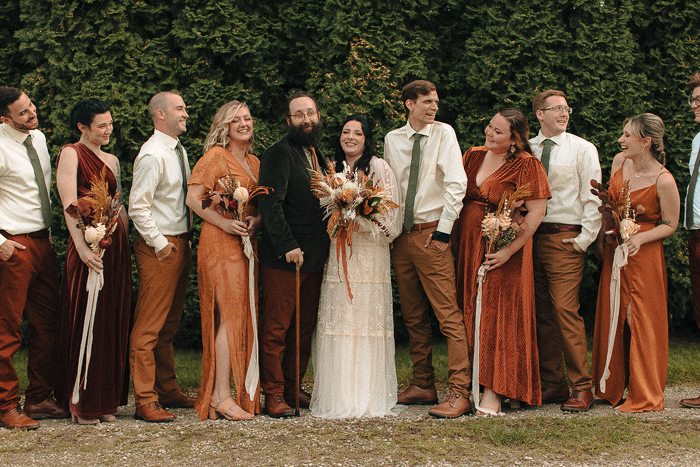 Drawing inspiration from the Victorian fashion revival during the 1970s, Megan and Andrew were set on creating an event that oozed with old-world charm, a groovy color palette, and a Wes Anderson-level attention to detail. And the result was as stunning as it was eclectic. Their Gardens Wedding Center wedding was loaded with authentic vintage elements, which were all integral in setting the vibe they envisioned—from the stationery and decor down to their fashion.
For their garden ceremony, they transformed the space with vintage aisle rugs leading to an altar with a carved teak room divider adorned with dried blooms and Victorian chairs. For the marquee reception that followed, the standout features were the lace-covered tablescapes with vintage books, oil lamps, amber glassware, and gilded mirrors that served as centerpieces.
The couple put a lot of love into how they wanted their wedding to look and feel, and it all turned out beautifully. Junebug member Simply Finn captured every last fabulous and well-thought-out detail. If you're an unconventional couple looking for something quirky and unique, this wedding is the perfect inspo for you.
The Couple:
Megan and Andrew
The Wedding:
Gardens Wedding Center, Allenton, Wisconsin, United States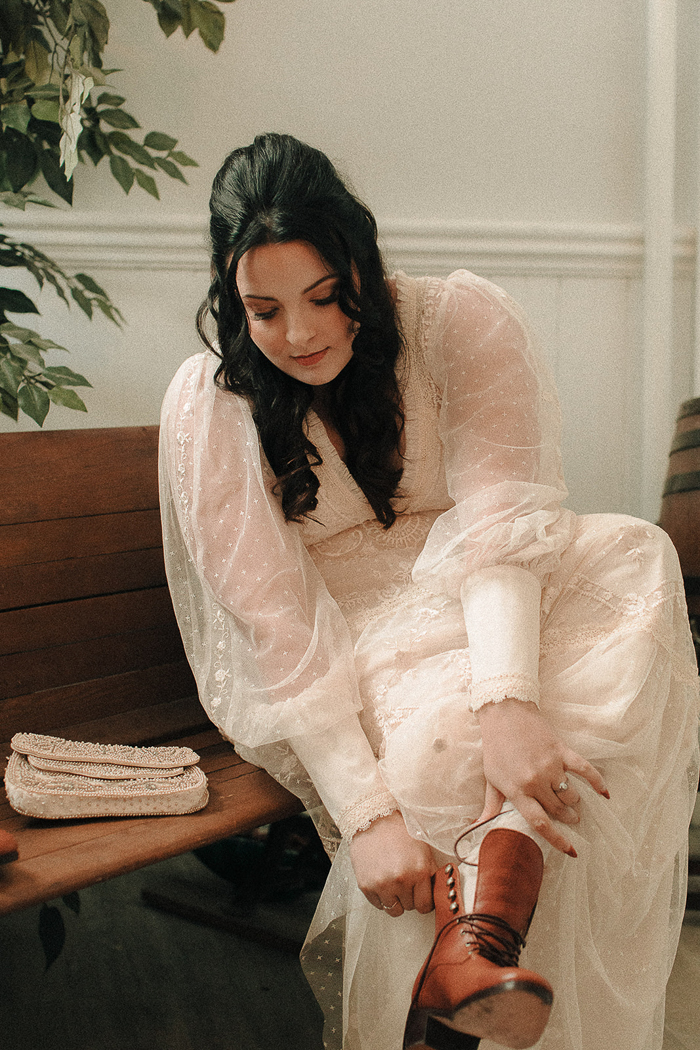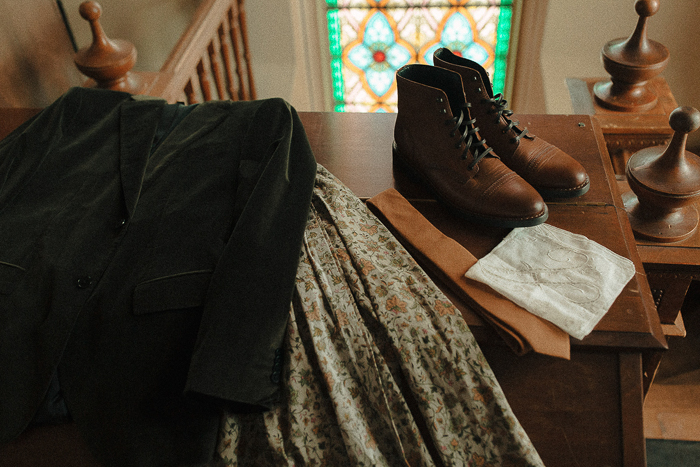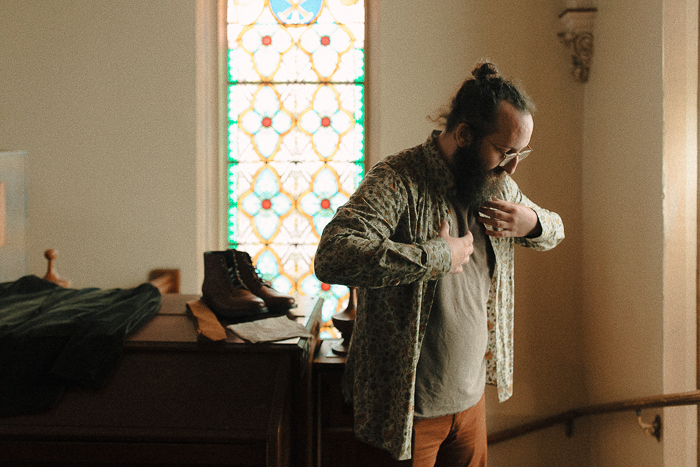 Junebug Member Simply Finn's Thoughts On This 70s Gardens Wedding Center Wedding
Megan and Andrew's wedding day was the culmination of two years of planning, endless hours of DIY'ing, and an obsession with curating the perfect, most "Megan and Andrew" vibe the couple could have within their budget. The bride works as an interior designer and sells vintage goods on the side. So collecting all these elements was a process that came naturally. Many of the items integrated into the wedding design were already a part of the couple's home. It was a testament to how true their big day was to their style. All their signage included classic rock lyrics, an homage to their shared love of the classics. They had such a joy-filled, incredible day thanks to the help of talented vendors and a team of genuinely unmatched family and friends.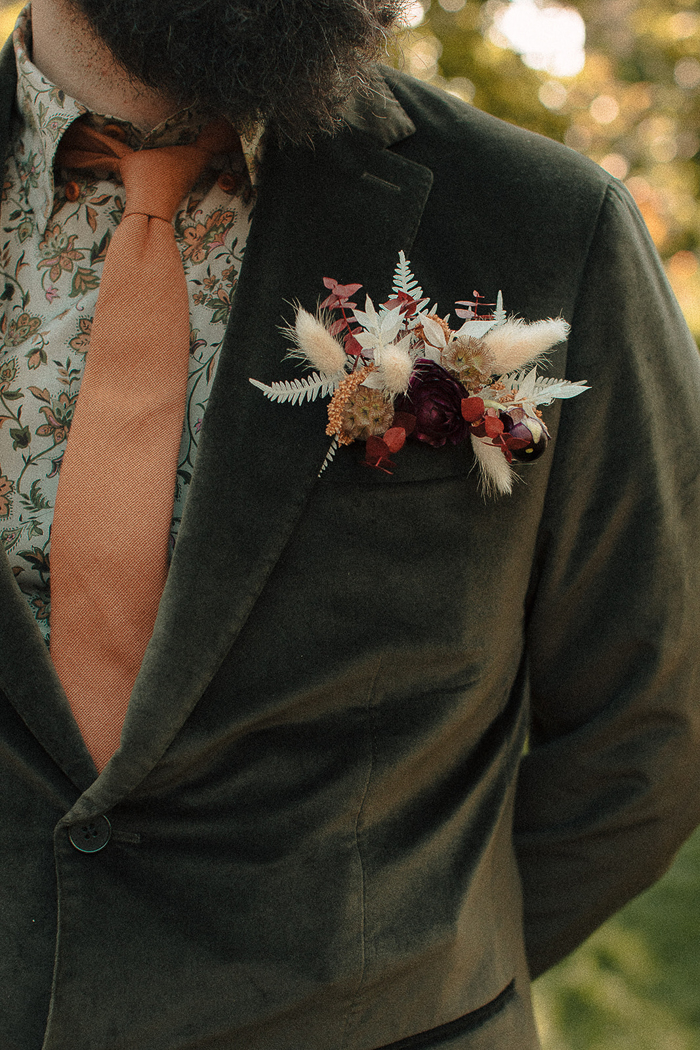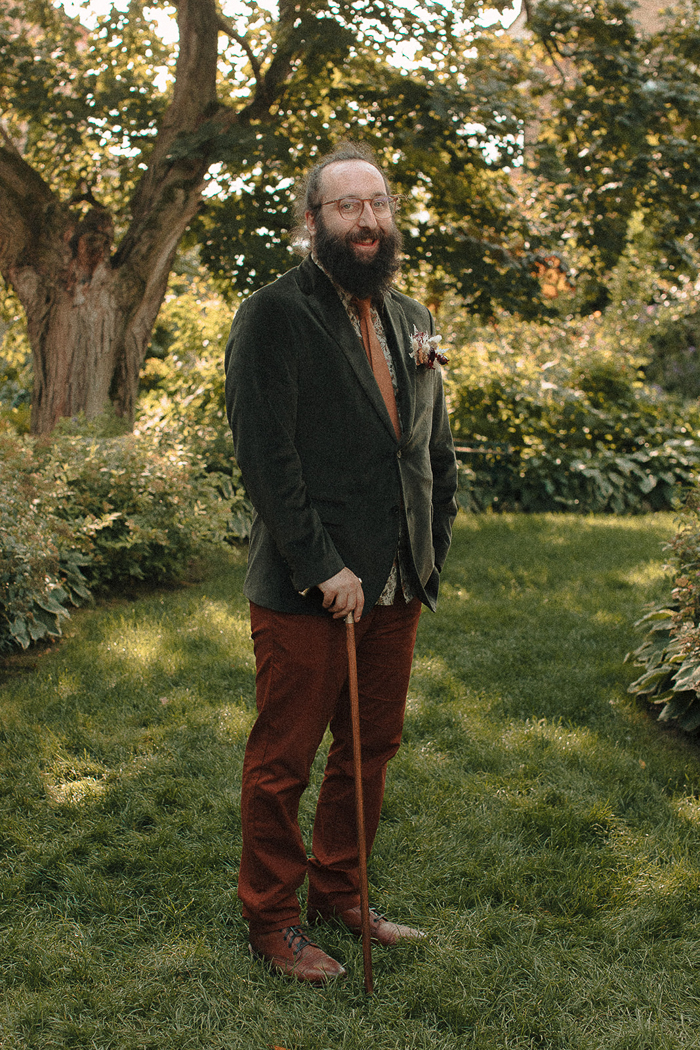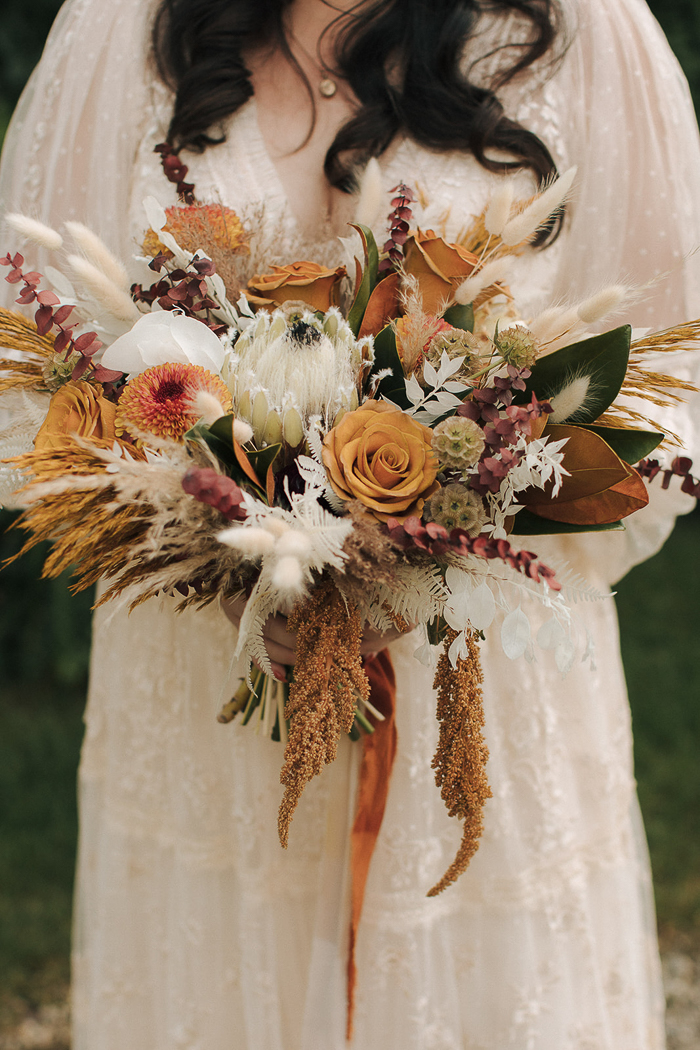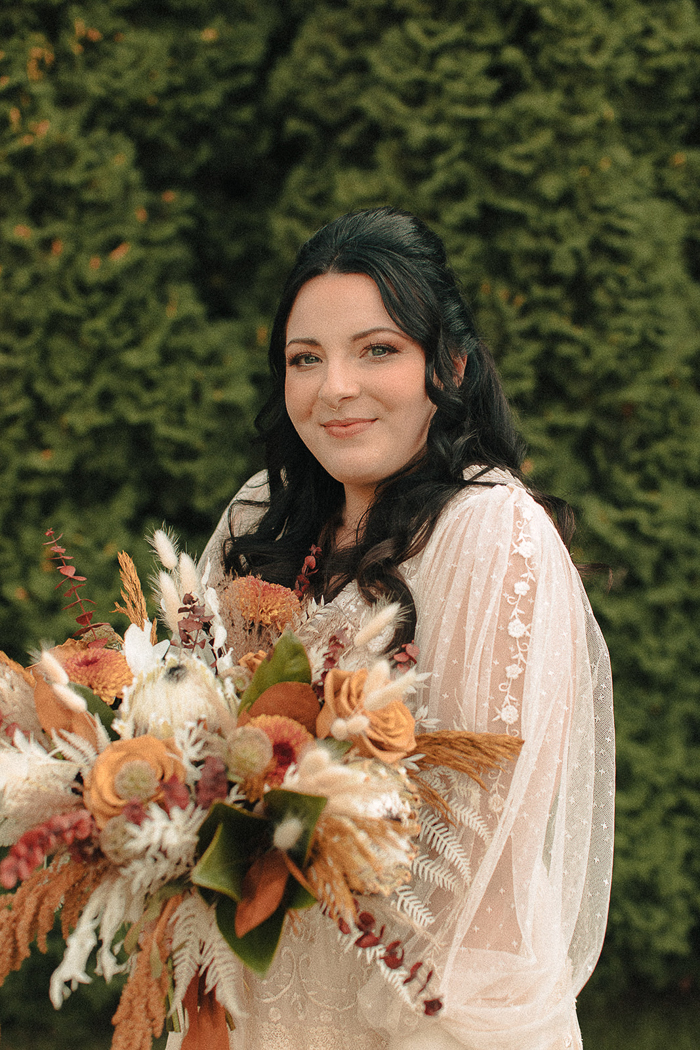 How Their Long Engagement Allowed Them To Bring Their 70s Gardens Wedding Center Wedding To Life
Our long engagement allowed for some grace periods where we could completely forget about wedding planning for certain periods and come back refreshed and ready to get more done. We had plenty of time to procure many vintage items. From antique mirrors and 70s amber glassware to brass incense holders and an aisle's worth of vintage rugs. Our vision came together beautifully, and everything felt so "us," which was exactly what we were hoping for. This meant hyper-focusing on details and not settling for things that didn't feel perfect for our day. And our day far surpassed our expectations. We are lucky to have a great support system and incredible vendors. We are also proud that we planned the whole thing ourselves and DIY'd all of the decor.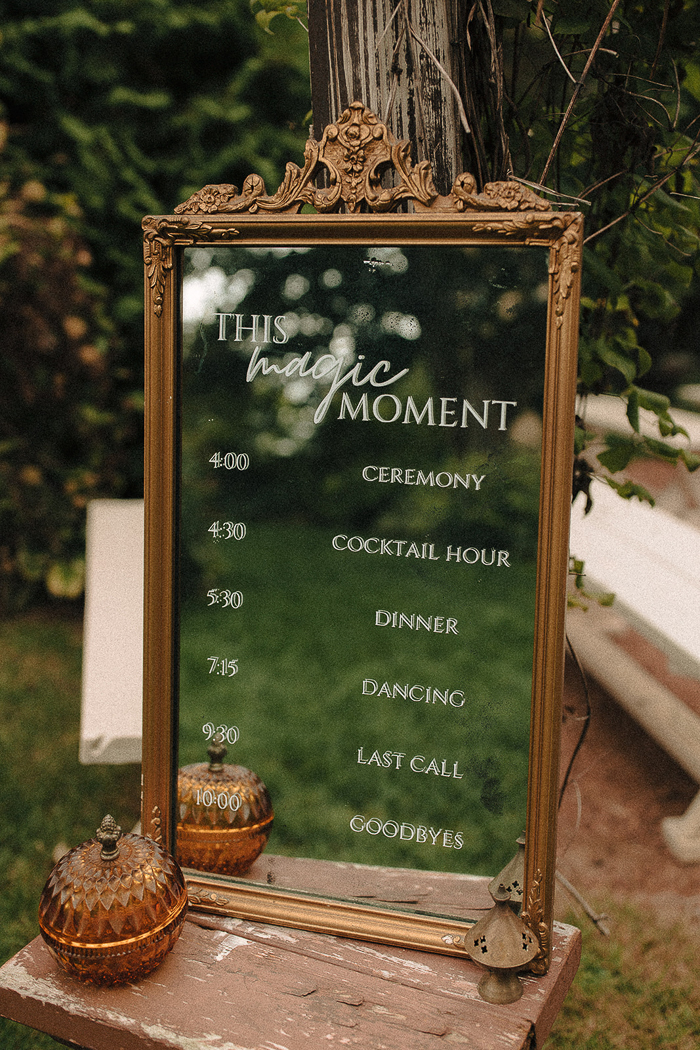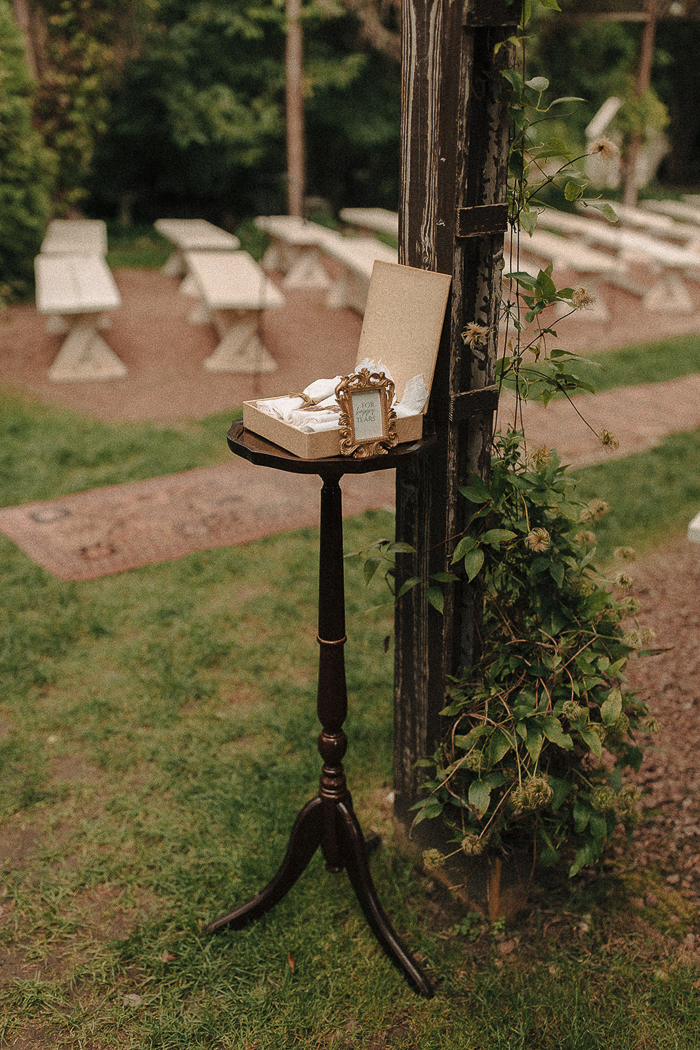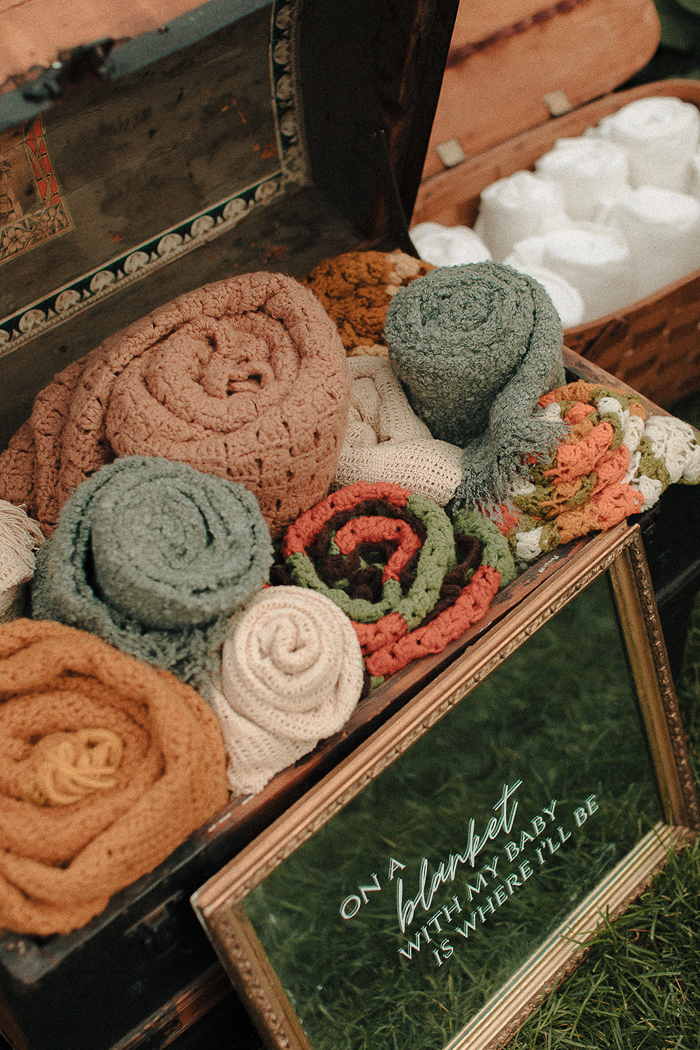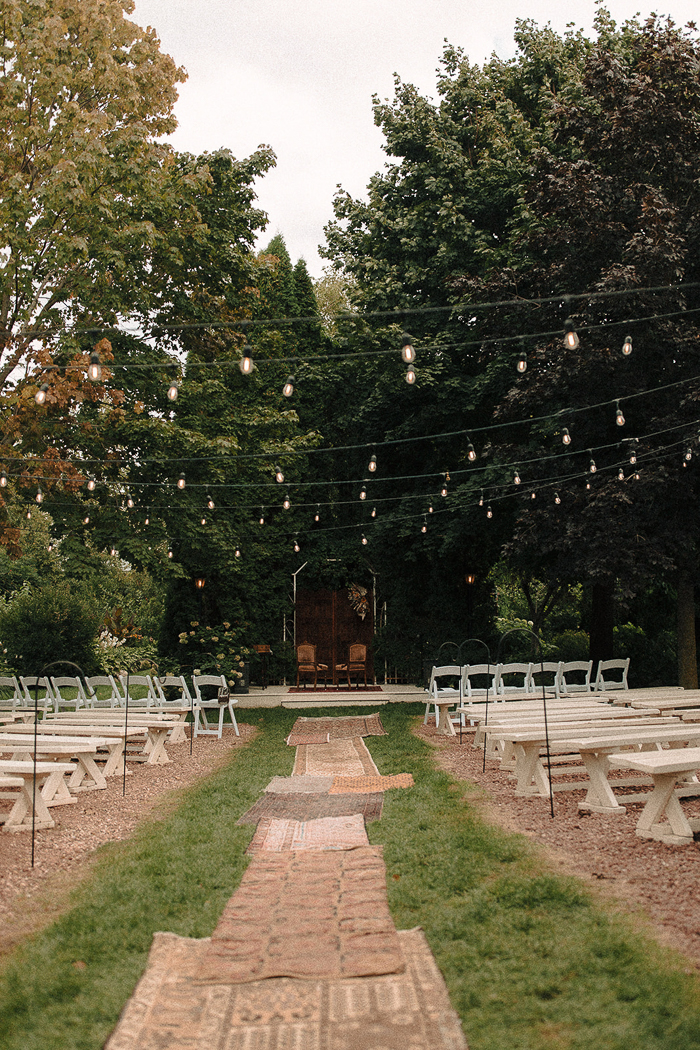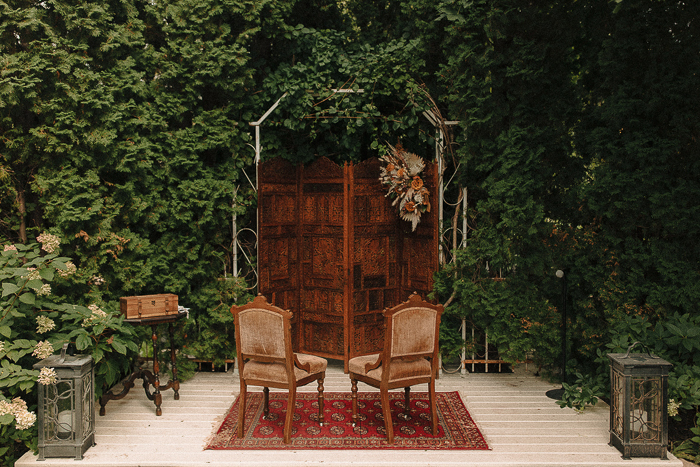 Adding A Special Time Capsule Ceremony As A Personal Touch
During the ceremony, we asked our parents to the altar to partake in a special time capsule ceremony. Both sets of our parents have been married for over 40 years. So we asked them to place marriage advice in a box with a bottle of wine. We all took turns nailing the box shut. We will open this box on an anniversary to relive all the joy of our wedding day. After our kiss, we walked up the aisle, arms linked, to "The Man in Me" by Bob Dylan. A song Andrew covered and recorded for me as an anniversary present.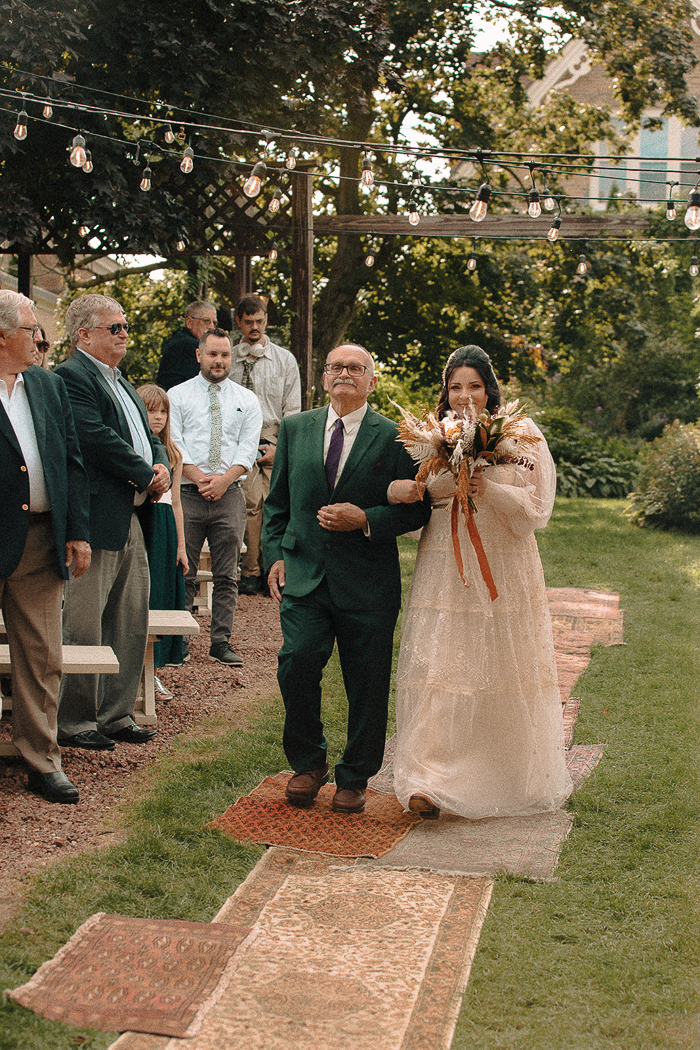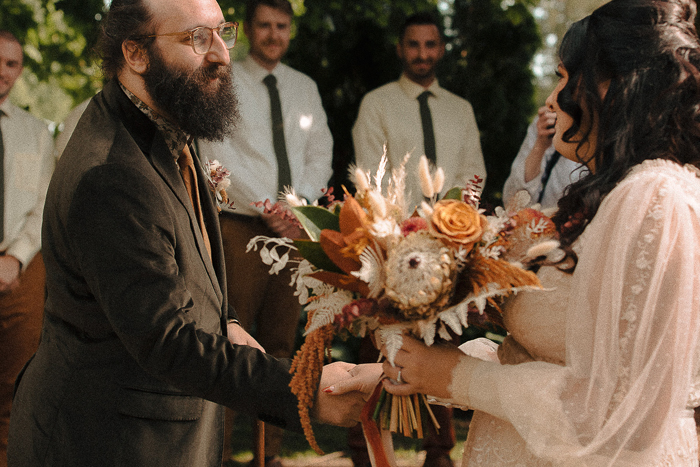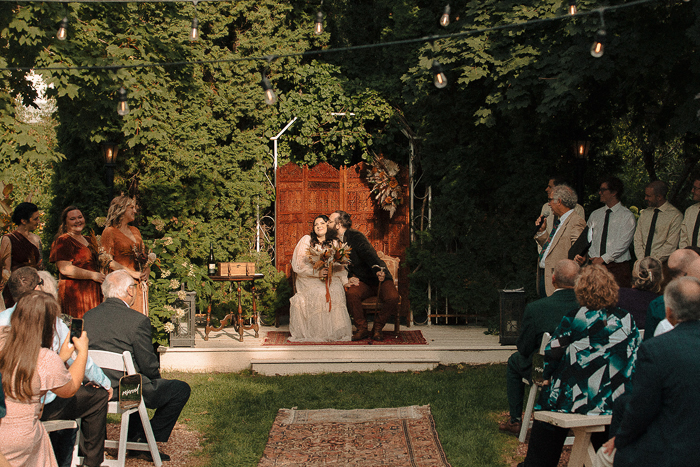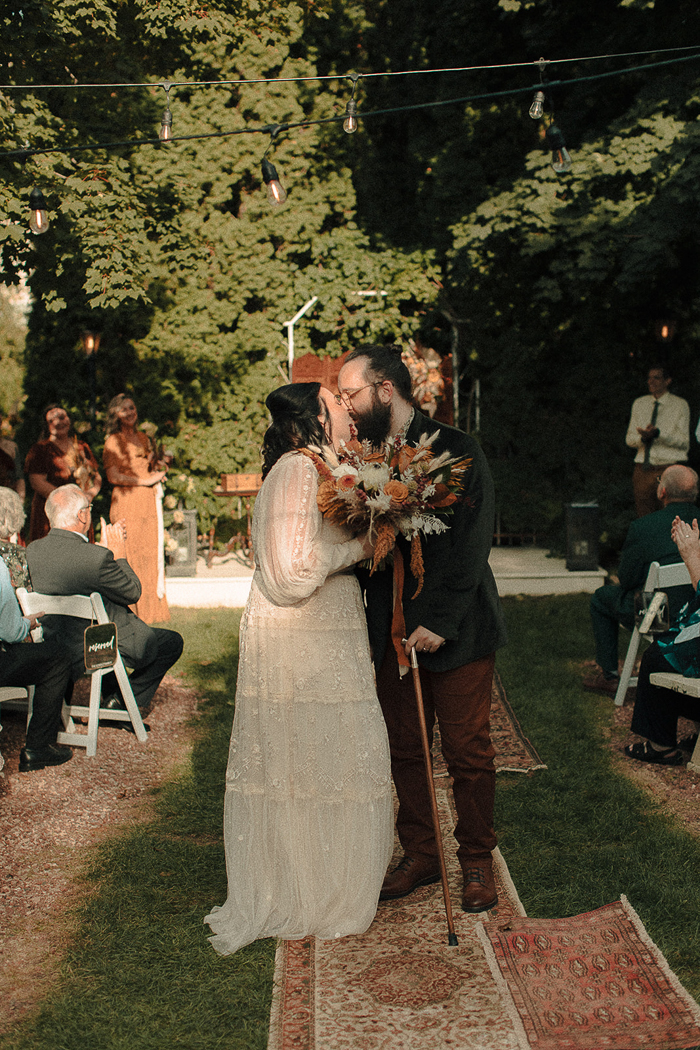 70s Themed Wedding Fashion That Included A Dress That Paid Homage To The Bride's Mom
We were incredibly inspired by the 1970s, specifically the Victorian revival. I wore an all-lace gown from Needle & Thread that was altered by my sister to include billowy bishop sleeves, an homage to our mother's 1970s wedding dress. Andrew wore a 70s-inspired floral shirt and a velvet blazer with caramel-colored chinos. We both opted to wear lace-up leather boots instead of traditional wedding shoes.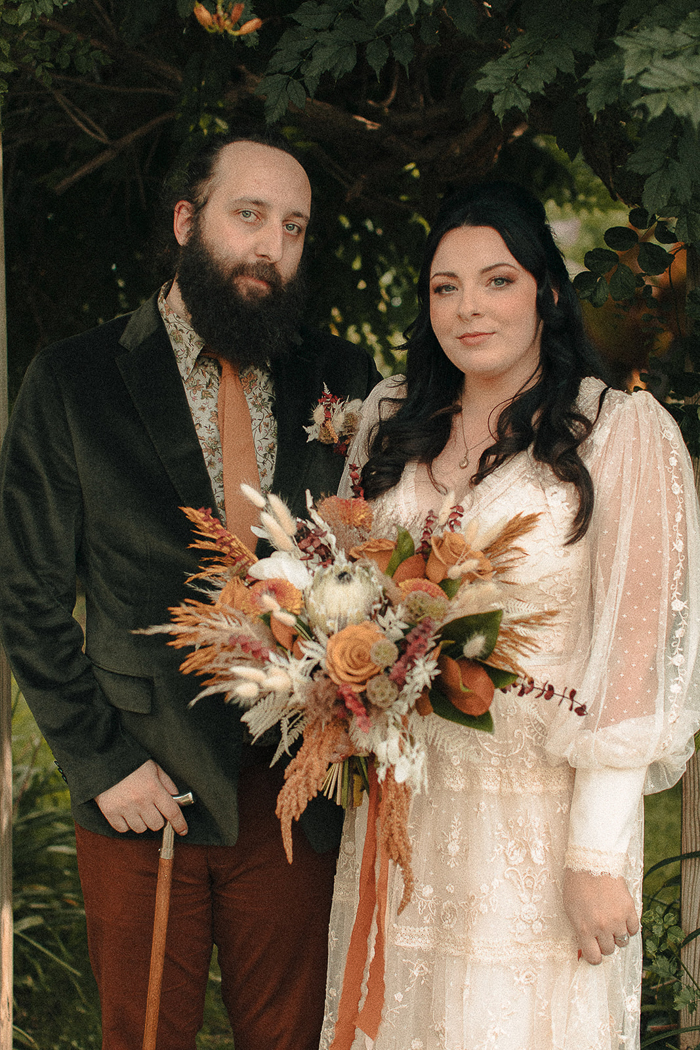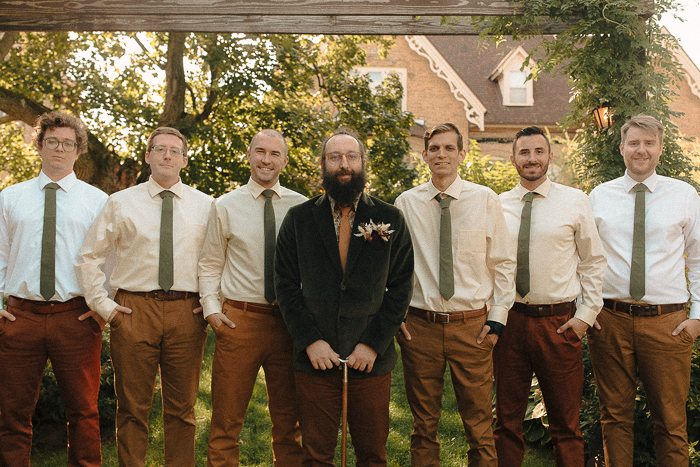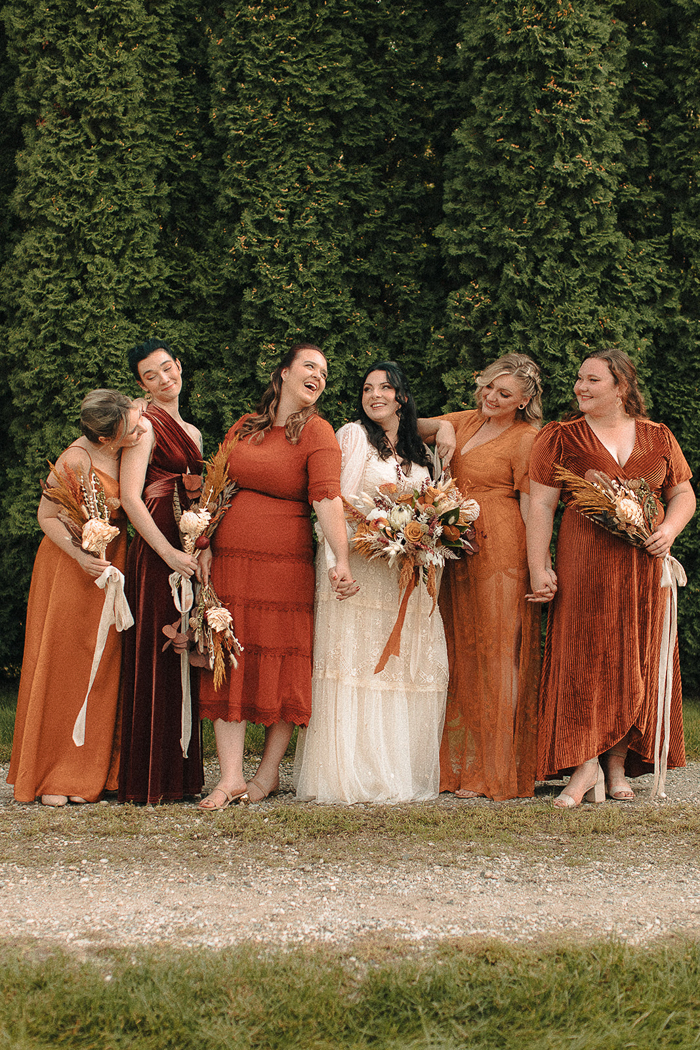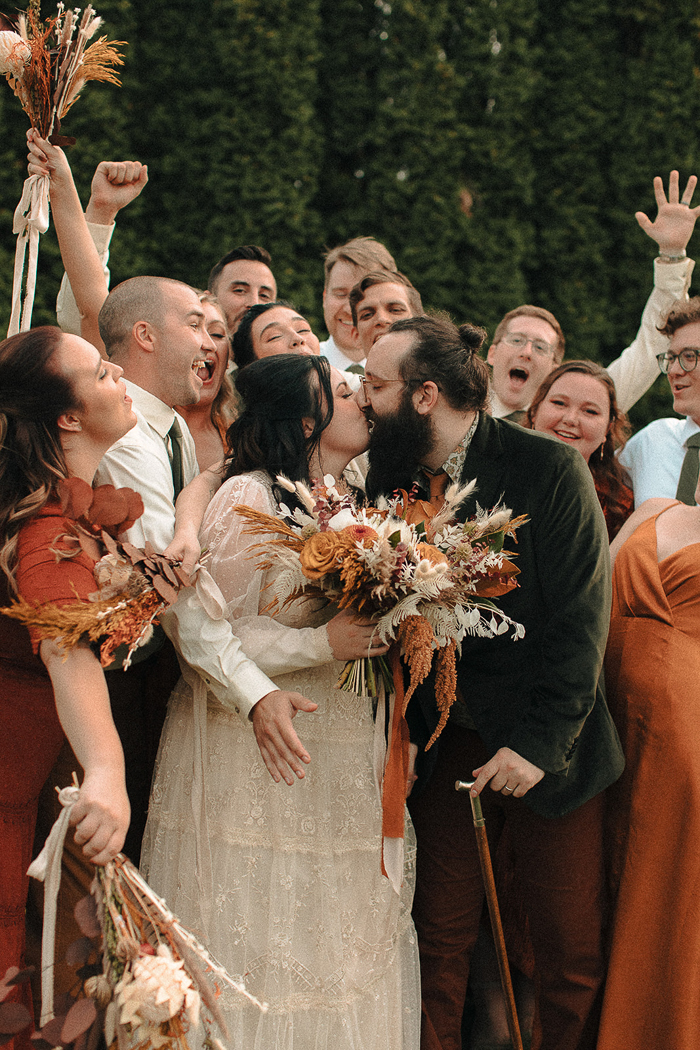 A Cocktail Hour Inspired By The Bar Where They Began Dating
We designed our cocktail hour to feel like a hang sesh at our favorite bar, Shaker's Cigar Bar, where we became "official." Vintage brass incense burners billowed with the sweet aroma of bourbon and brown sugar as guests filled their glasses and lit their cigars. We had Shaker's house band, Professor Pinkerton's Irrelevant Orchestra, kick off the cocktail hour with their six-piece jazz band. Also a cigar bar and some incredible signature cocktails—Fig Gin & Jams and Spiced Pear Moscow Mules. We had to be dragged away from the band and cigar bar because we were having so much fun.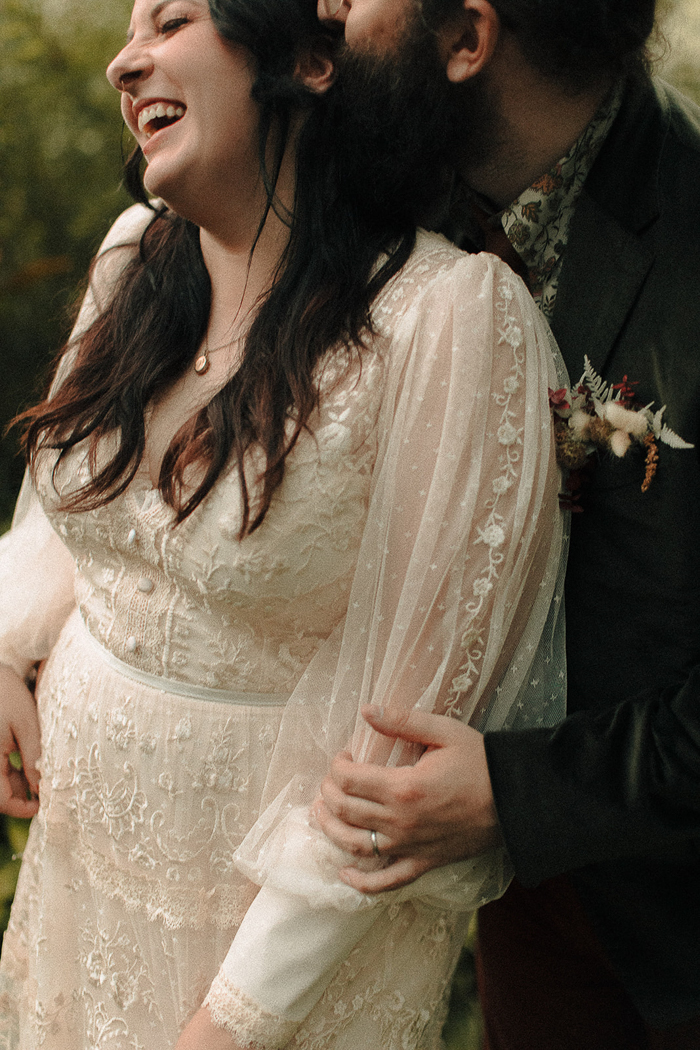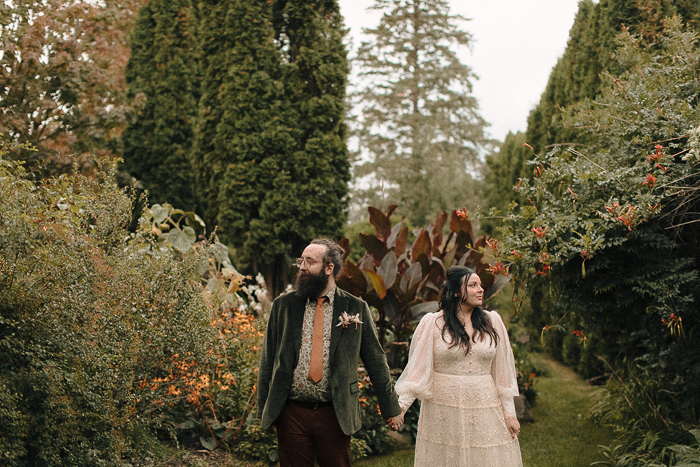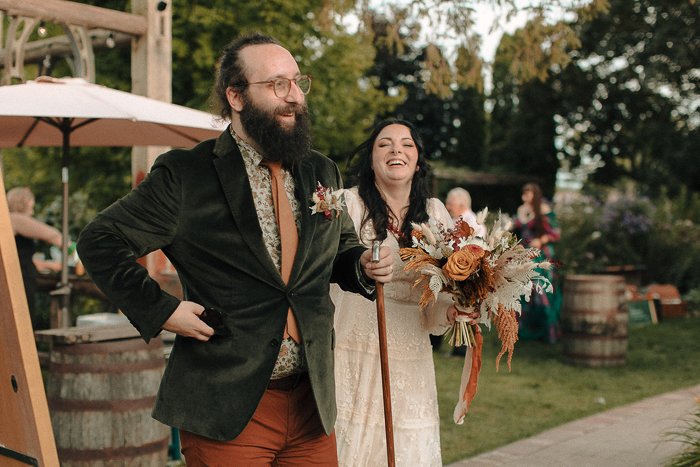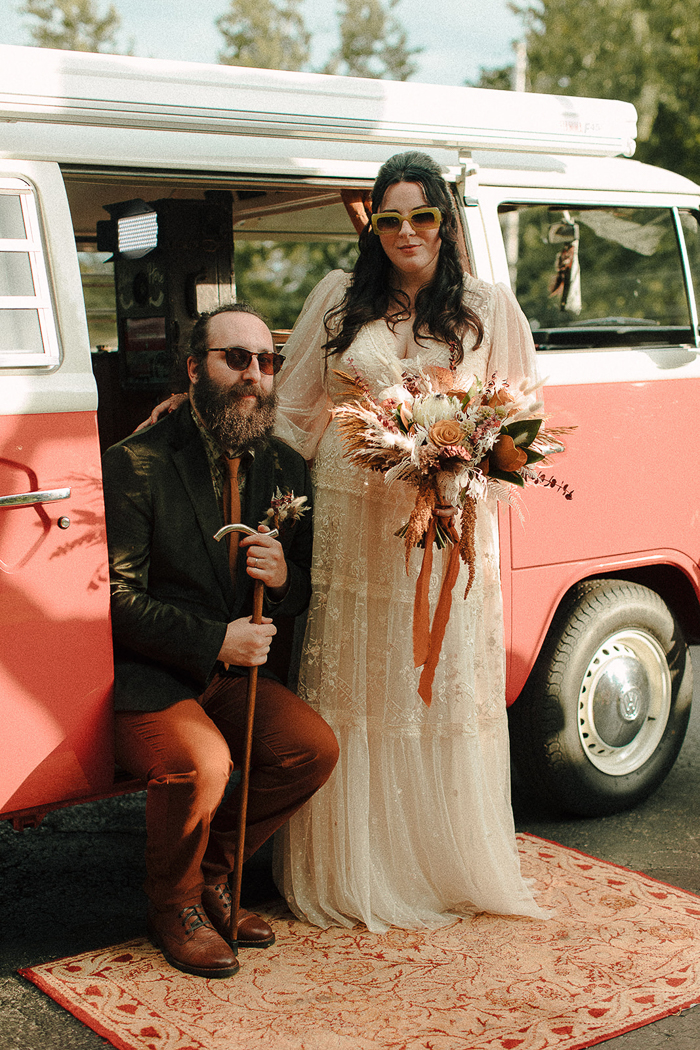 Why They Chose The Gardens Wedding Center As Their Venue
We always envisioned an outdoor wedding, so when we came across a venue with several outdoor spaces available for use and the backdrop of an 1800s church and schoolhouse in Milwaukee's famous Cream City Brick, we were sold. We loved that even with a plan for an outdoor wedding, The Gardens had a built-in rain plan through the chapel. Luckily, we had a gorgeous day, 75° and sunny. So we were able to have an entirely outdoor wedding as planned.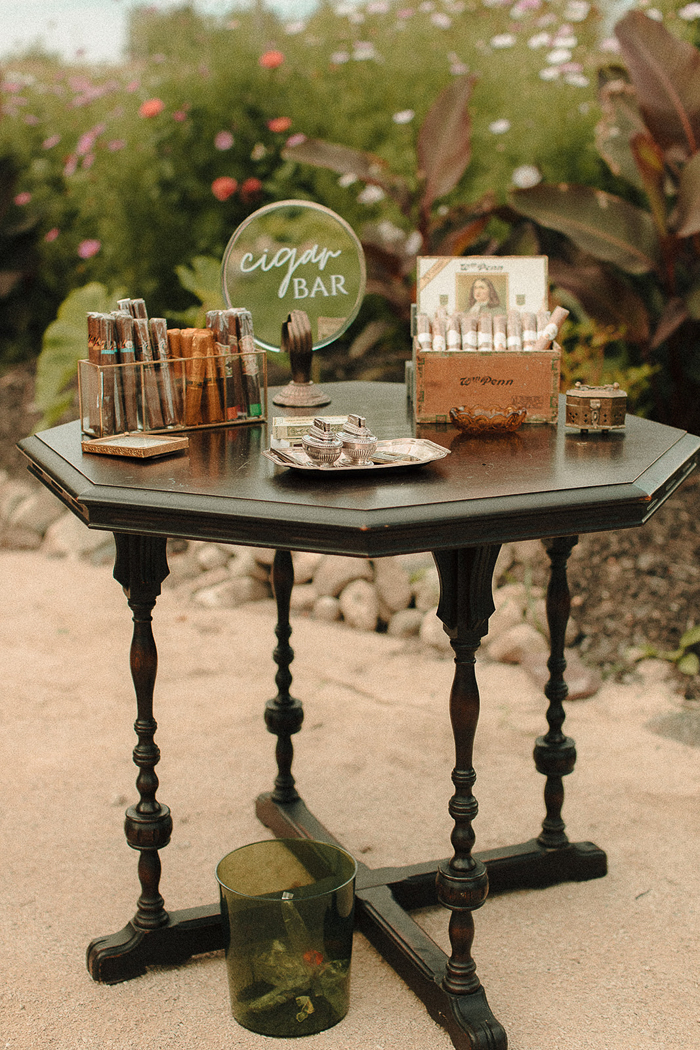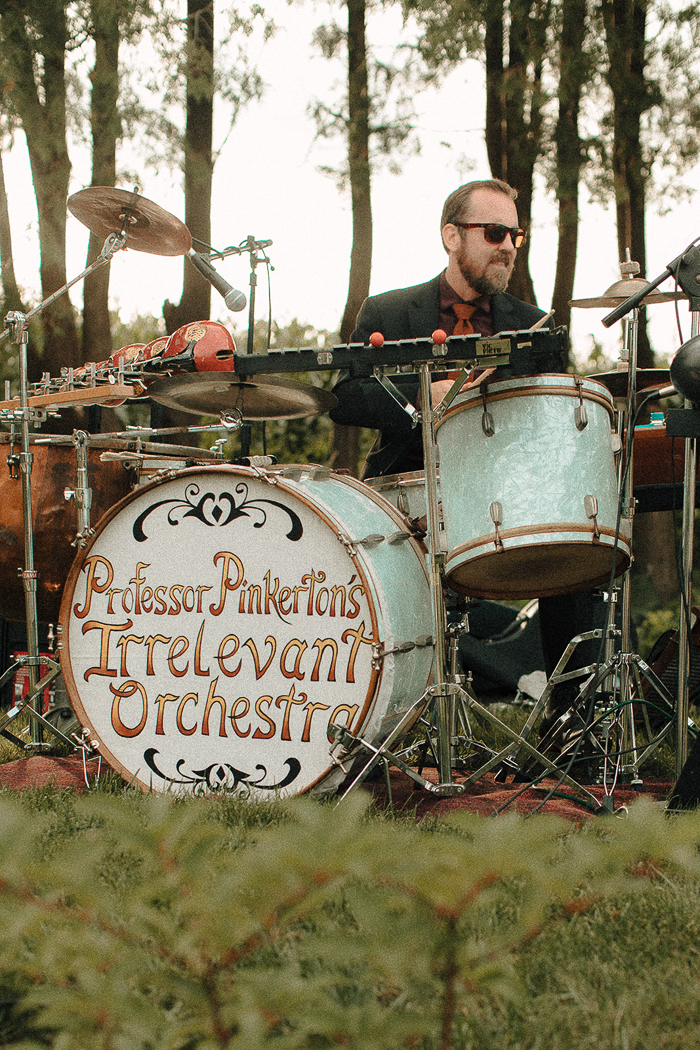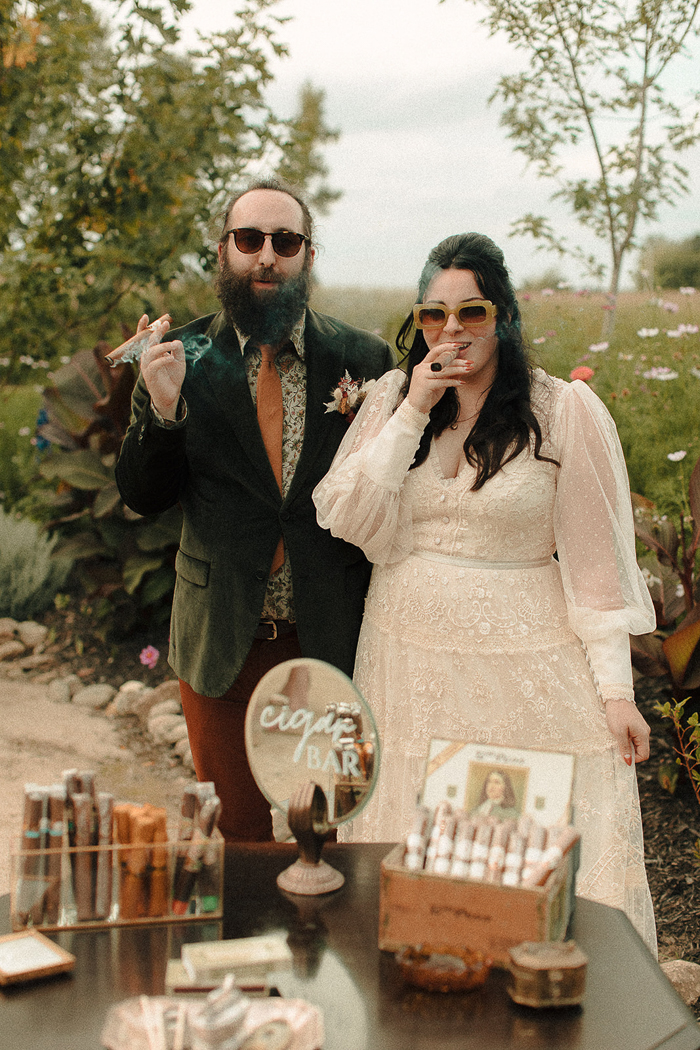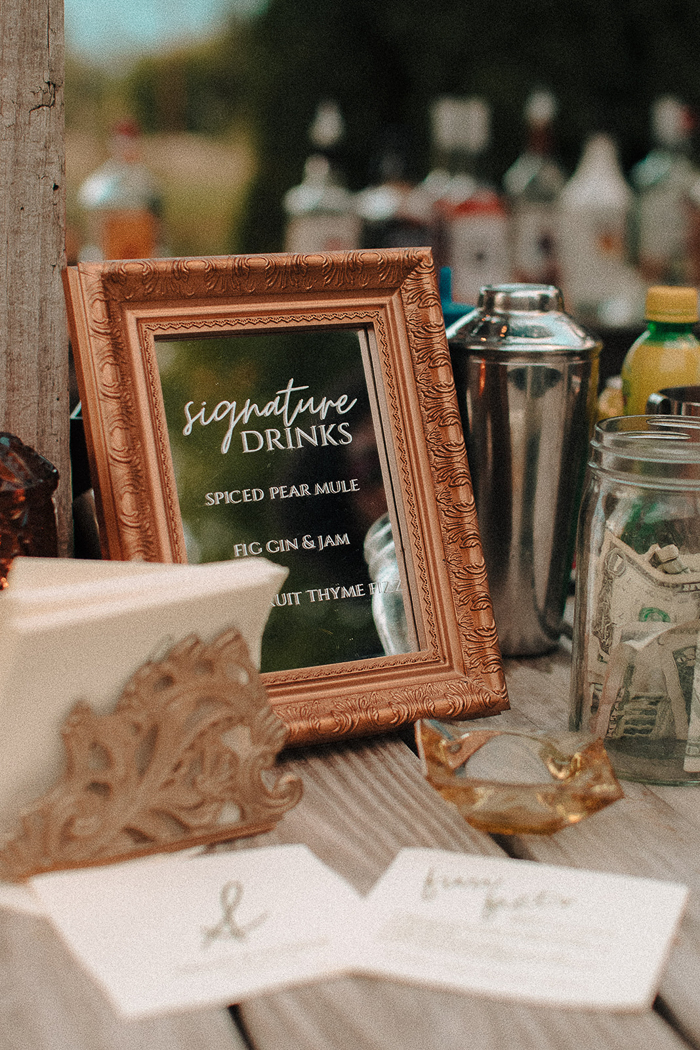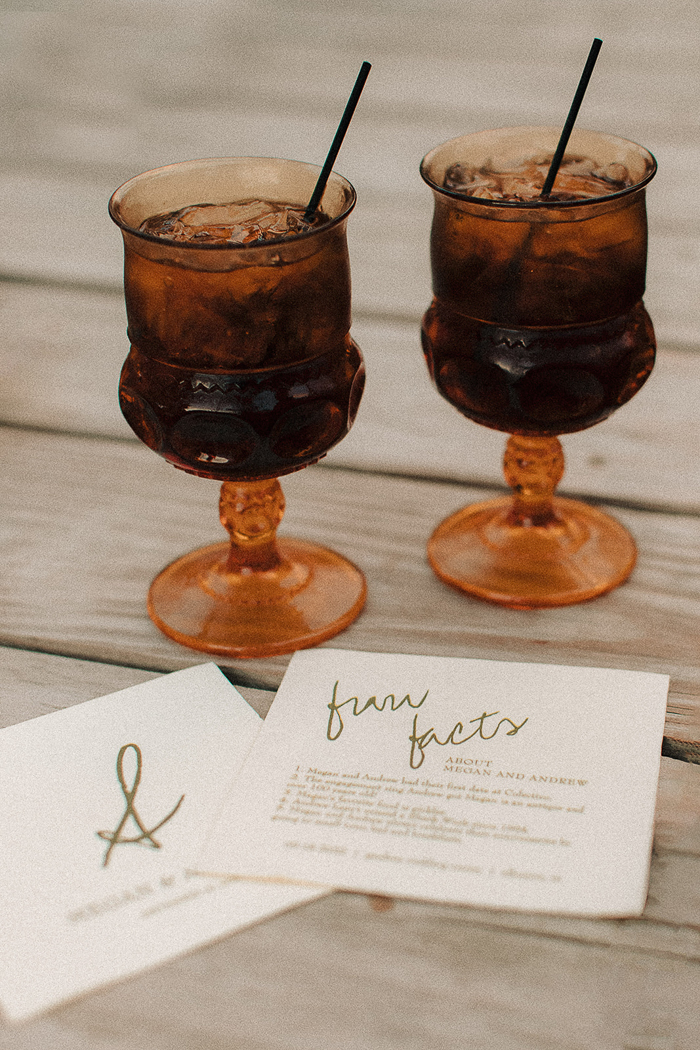 Wedding Planning Advice: Write Down Your Priorities & Ask For Help
We started the wedding planning by each writing down our top three priorities and seeing where the overlap was. We focused our energy on those common priorities. Returning to those priorities in times when we were freaking out was very helpful. Communication throughout the whole process is also key. There was a time when Andrew thought everything was totally fine and under control. Until I came to him and said, "Hey, I am really stressed out! Can you take on some tasks?" Your partner won't know what you need help with unless you communicate. So save yourself some stress and do regular check-ins.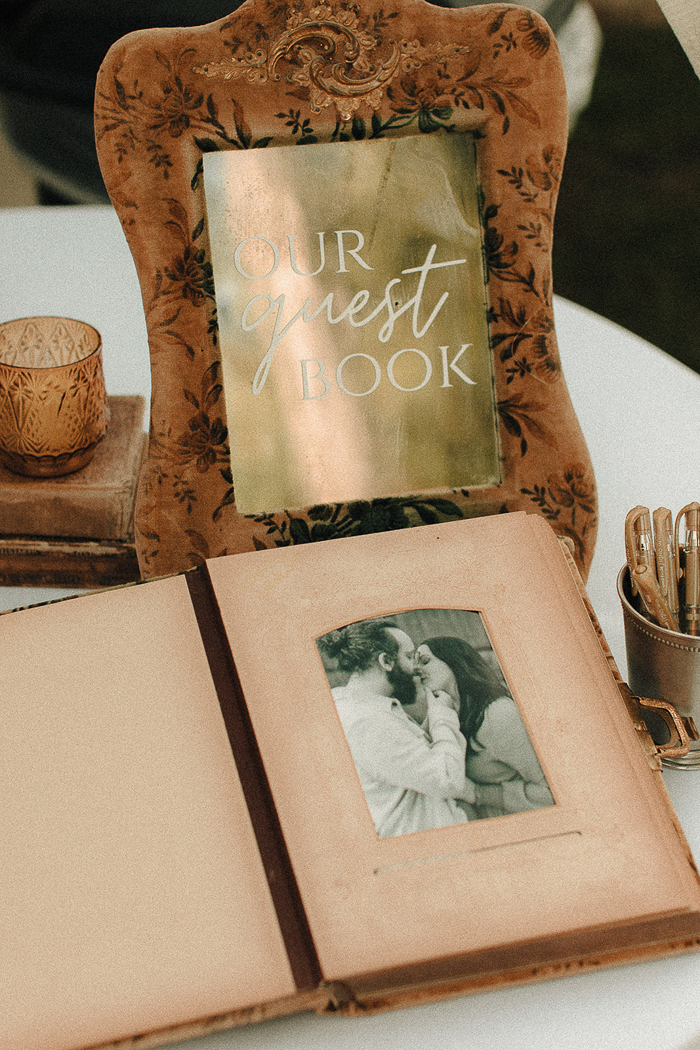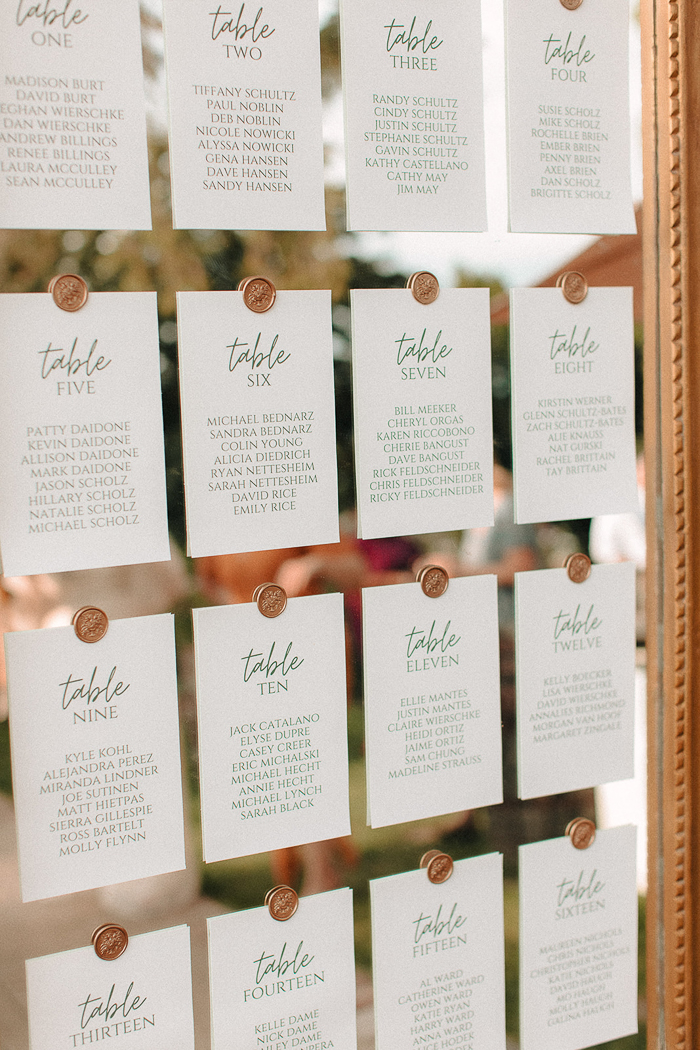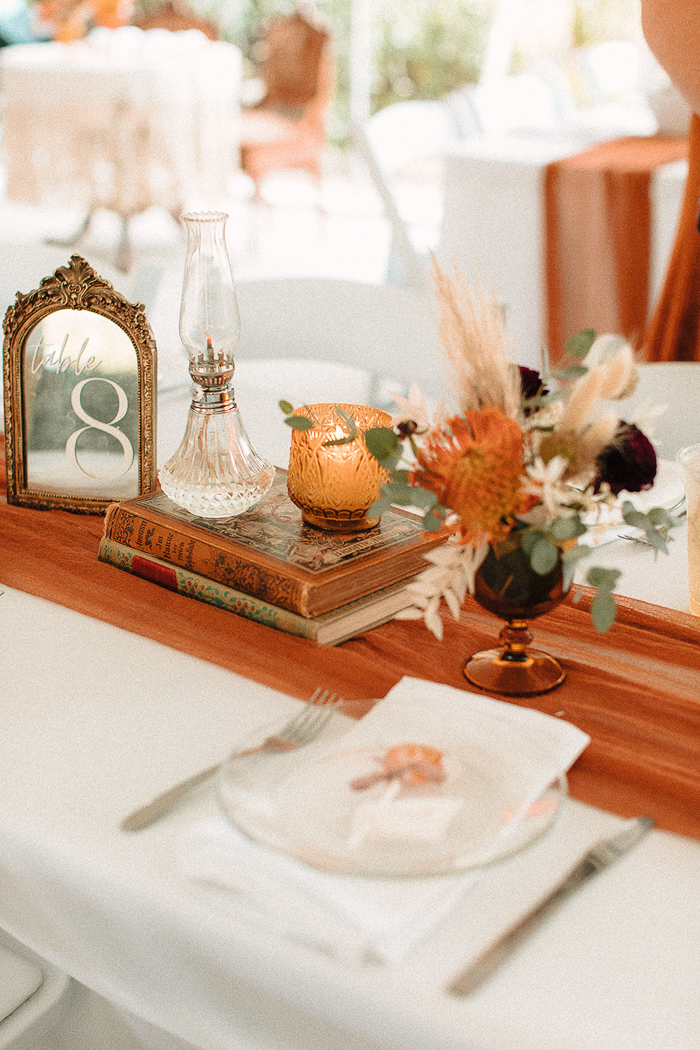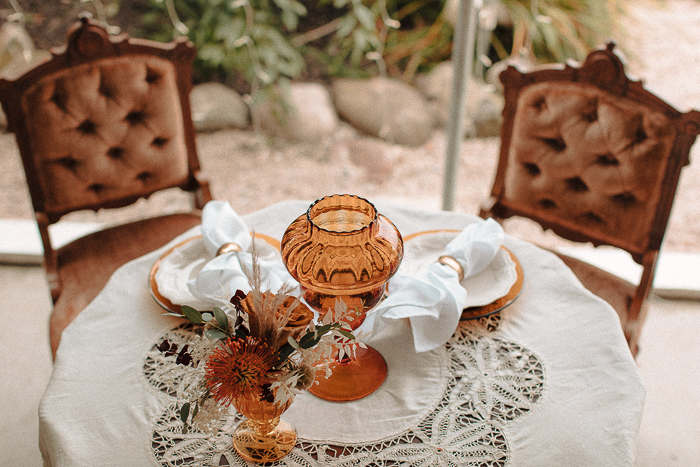 How They Handled Going Over Their Wedding Budget
In the words of Andrew, "Write down what you feel comfortable spending, then double that number." We did end up spending more than we initially thought we would, but no more than we could realistically afford. We didn't want to go into debt for our wedding day, so we spent our two-year engagement saving up. Paying things off over those two years was extremely helpful.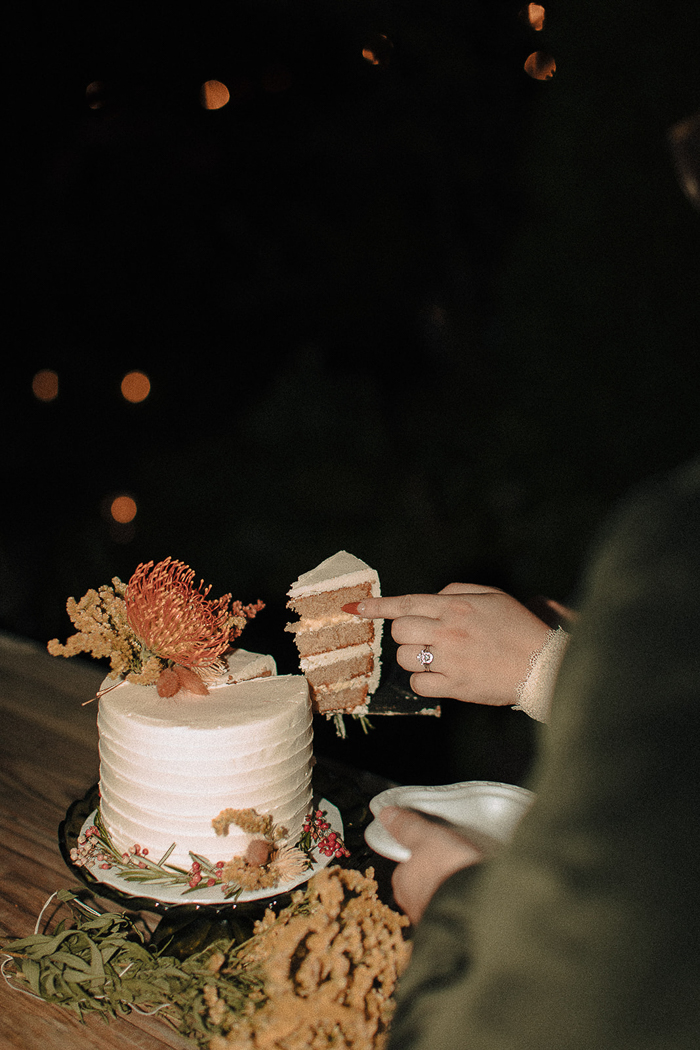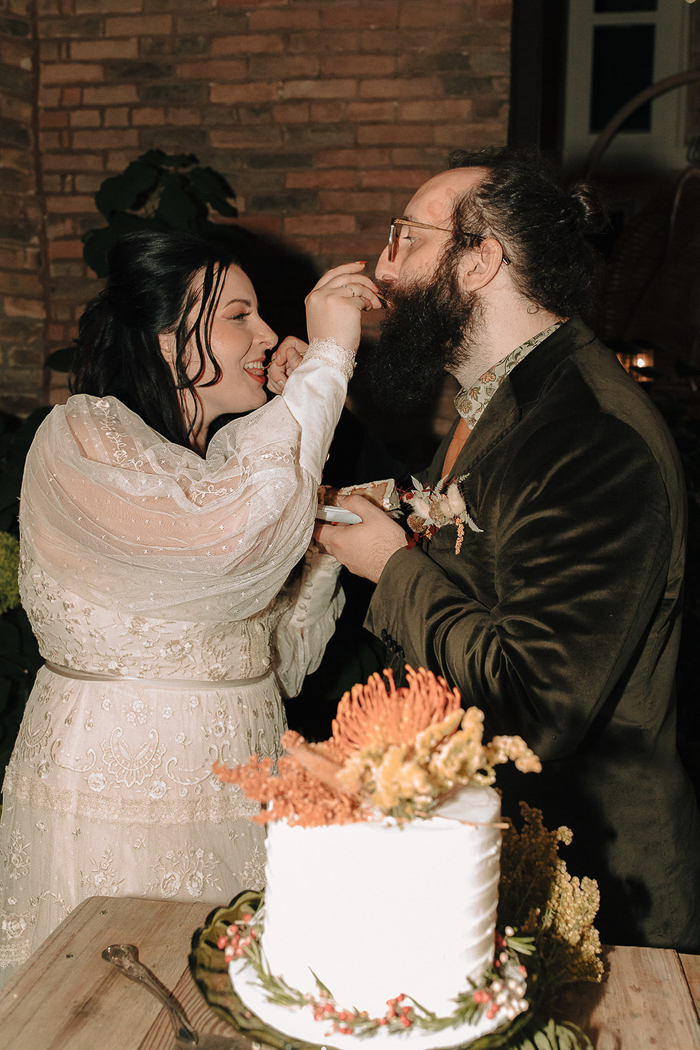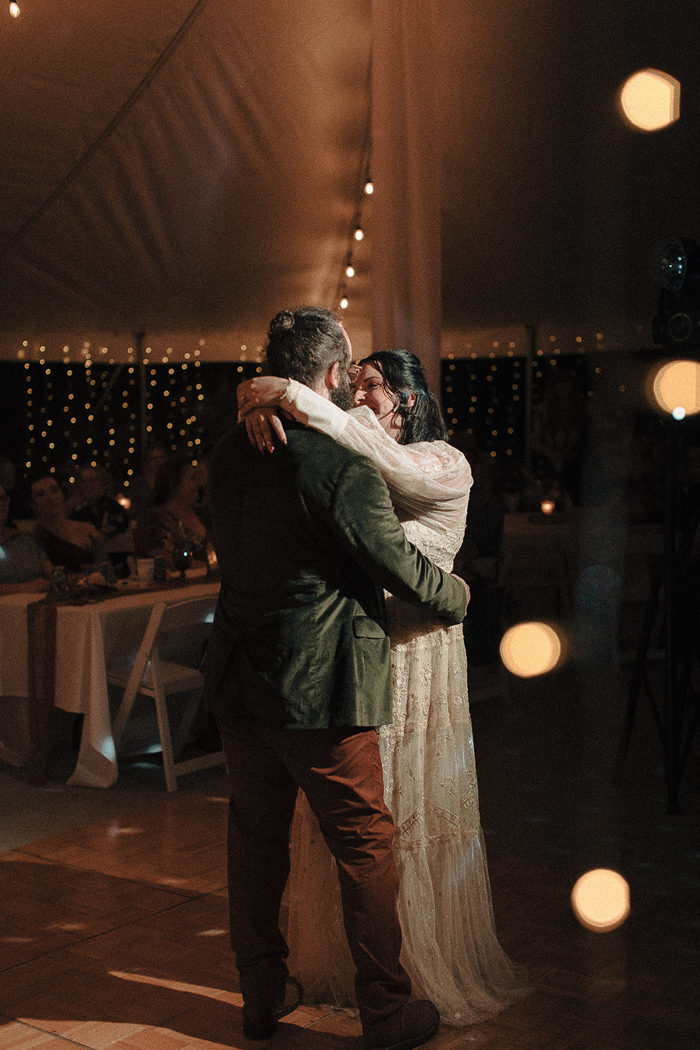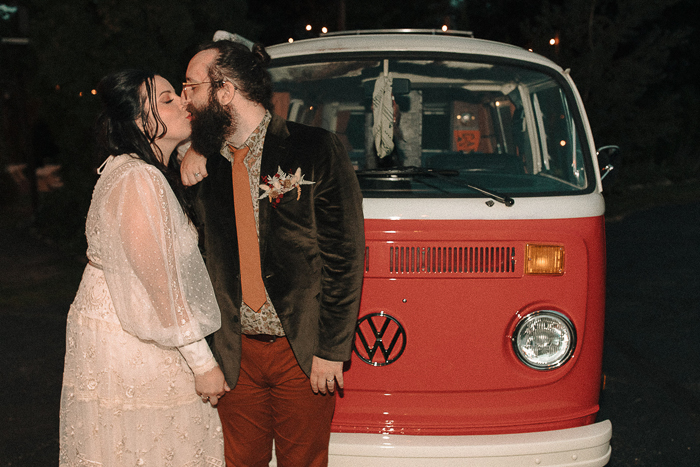 Congratulations to Megan and Andrew on their groovy 70s Gardens Wedding Center wedding. And a special thank you to Junebug member Simply Finn for capturing every gorgeous detail and heartfelt moment throughout their special day. To see more unique celebrations like this, be sure to check out their profile in our directory of the world's best wedding photographers.
If the vision you and your partner have is far from cookie-cutter, start with an unconventional theme–like this wedding–or an unexpected venue. However you decide to put your own stamp on your big day, choose a style you love. And the rest will fall into place.