When it comes to styling your wedding party, bridesmaids tend to get all the attention. But we're here to set the record straight–groomsmen can be stylish showstoppers too. There is a multitude of options for the guys, from classic tuxedos to colorful groomsmen suits to patterned jackets. Each option has the potential to elevate your wedding party's style as a whole, making your crew look polished and trendy.
Groomsmen Suit and Style Ideas
With the help of Brooklyn Brigade, we're bringing you a quick and easy guide to styling your groomsmen. Their new wedding line–sold exclusively on their website–provides the essentials for dressing your groomsmen to the nines. Simply start by identifying your wedding's dress code. From there, explore the different style choices that correspond with your wedding theme and location.
Dress Code: Casual Attire
If you've chosen a casual dress code for your wedding, that doesn't mean fashion is taking a back seat. You likely just want your wedding party and guests to feel comfortable. Instead of fretting about what to wear, you want them focused on the celebration.
The rules around casual attire are definitely the most relaxed, so the options for your groomsmen are plentiful. We suggest choosing a look that corresponds with your theme or location.
Boho or Rustic Wedding
If your wedding has a boho theme, you can be more playful with the menswear. You can destructure a typical suit and add unique accessories. Think textured vests, fun ties, or suspenders. You'll be comforted to know that all of Brooklyn Brigade's accessories are stain-resistant–ideal for even the most accident-prone groomsman. When it comes to colors, earth tones–like sage or terracotta–are perfect to incorporate into boho groomsmen style.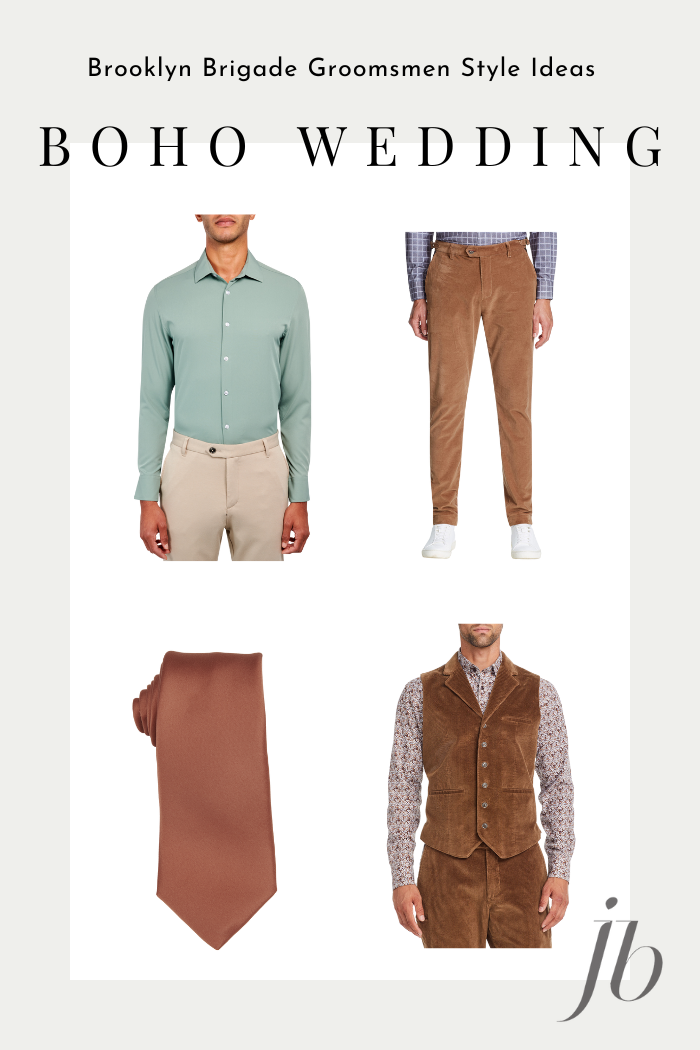 Beach Wedding
If you're having a beach wedding, opt for lighter tones, like tan, dusty blue, or blush. And feel free to ditch the jackets and ties and stick to Brooklyn Brigade's performance stretch dress shirts. They're enhanced with moisture-wicking and cooling technology to help keep your guys comfortable and dry on even the hottest day. Complete the look with slacks and voilà! You have groomsmen ready for a tropical paradise.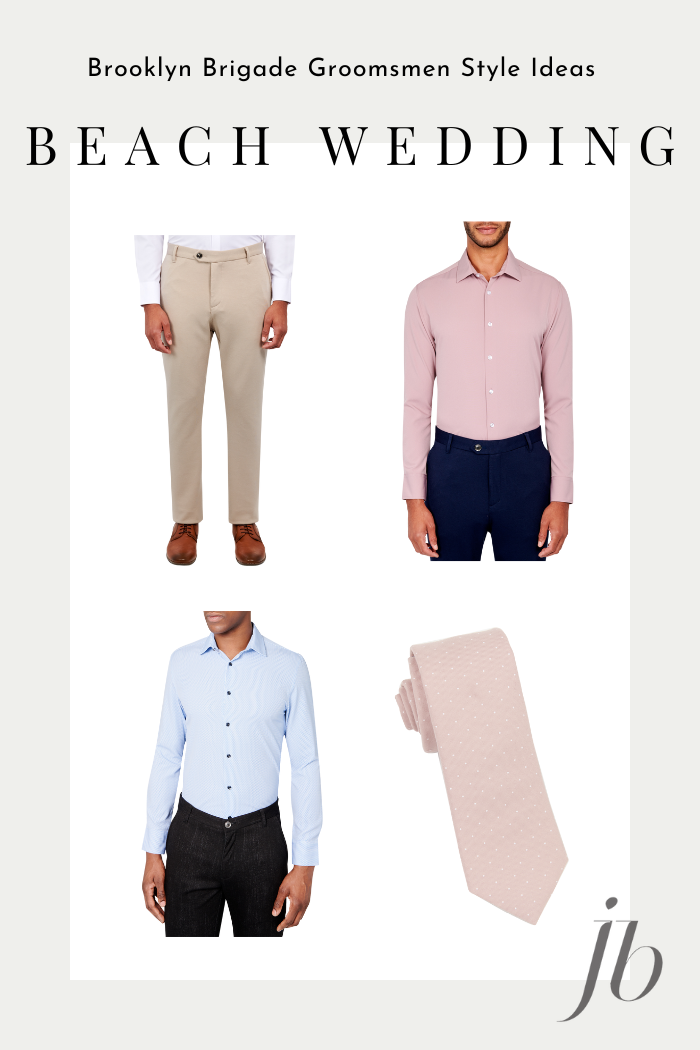 Dress Code: Formal or Cocktail Attire
Now is a great time to explain that wedding dress codes exist on a spectrum. If you're not envisioning casual attire but also don't want to require tuxedos and floor-length gowns, a formal or cocktail dress code might be perfect for you.
Formal is a step below black-tie but a step above cocktail. For a formal wedding, you don't have to choose a tuxedo for your groomsmen. But you'll still want to pick a dark color with a simple tie. Cocktail attire, on the other hand, allows for a little more leeway. This could look like a tailored suit in a fun color, with or without a tie.
Downtown or Industrial Wedding
Downtown weddings are modern, sleek, and fashion-forward. Groomsmen would look great in fresh, tailored suits in darker jewel tones like emerald or navy. While traditionally thought of for black-tie affairs, bow ties would make for a great sophisticated touch to your groomsmen suits.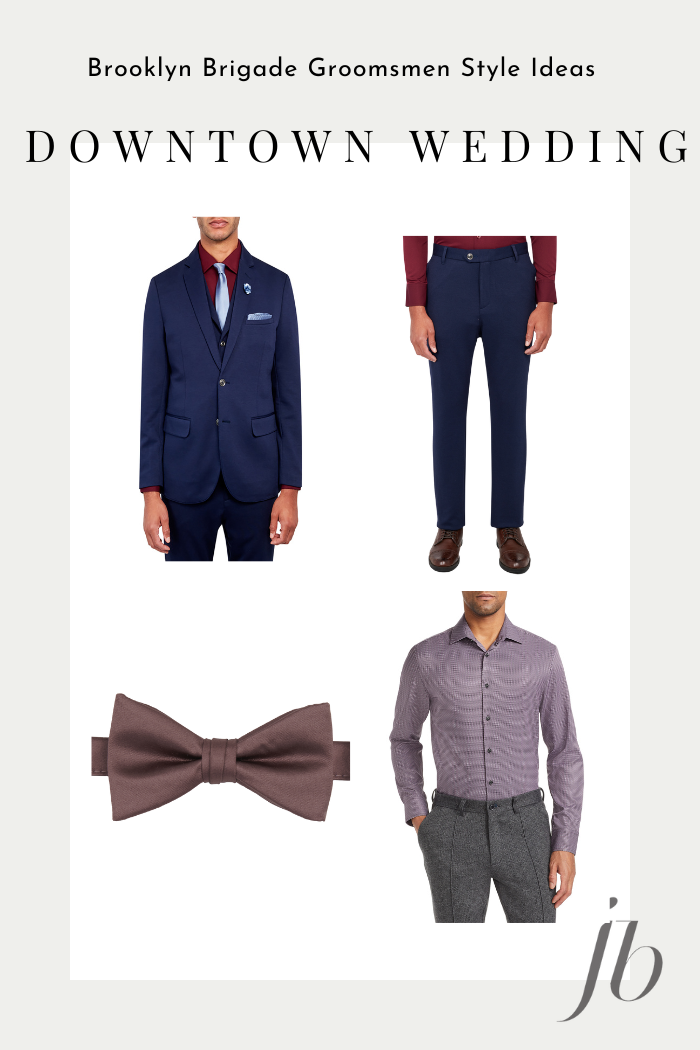 Garden Wedding
For garden weddings, playfulness is more than welcome. Consider alternative fabrics for the groomsmen suits, such as lightweight tweed, linen, or Brooklyn Brigade's knit separates. Their blazers and pants are soft, super stretchy, and made with quick-drying and odor-protection technologies.
And nothing says garden wedding quite like classic patterns–like plaid or polka dots. Add a patterned dress shirt to your groomsmen looks for an extra pop of personality.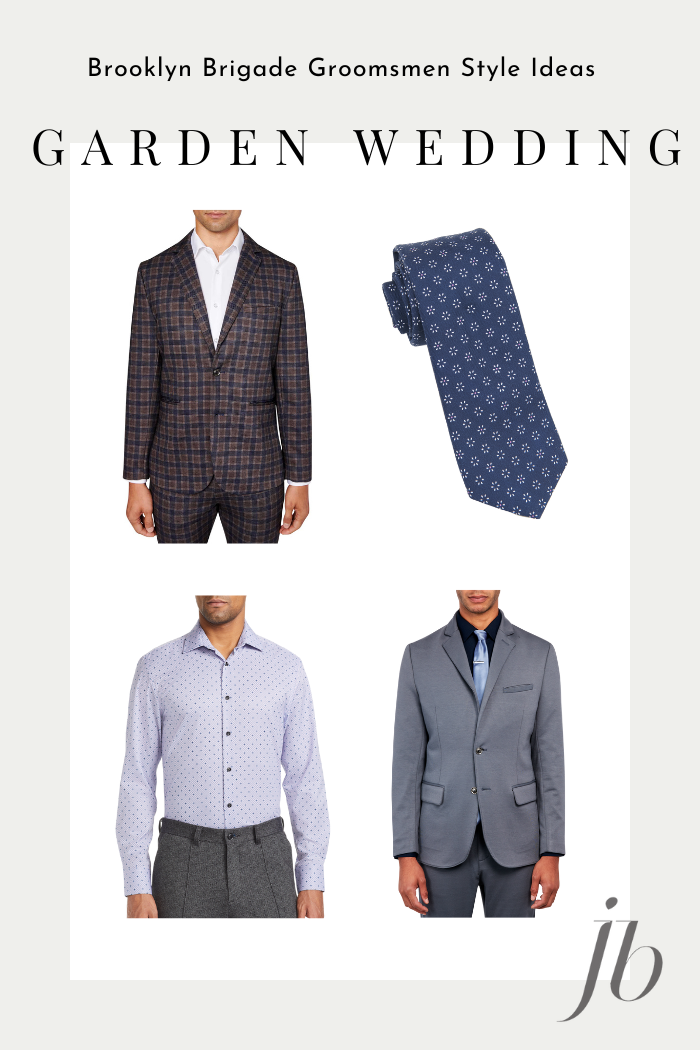 Dress Code: Black-Tie
The black-tie dress code is the strictest out of all the dress codes you will come across. It's all about sophistication and uniformity. But that doesn't mean you can't incorporate some modern-day updates.
For the groomsmen, you should choose either a tuxedo or suit in a dark, solid color, a pleated white shirt, a bow tie, and black formal shoes. A cumberbund, waistcoat or vest are all optional. Just remember to choose only one of these additional pieces if you do decide to add more layers.
Ballroom or Traditional Wedding
No matter the season or venue, a black tie wedding will require a very defined look for your groomsmen. Elegant and timeless are your goals, so stay away from patterns or light colors.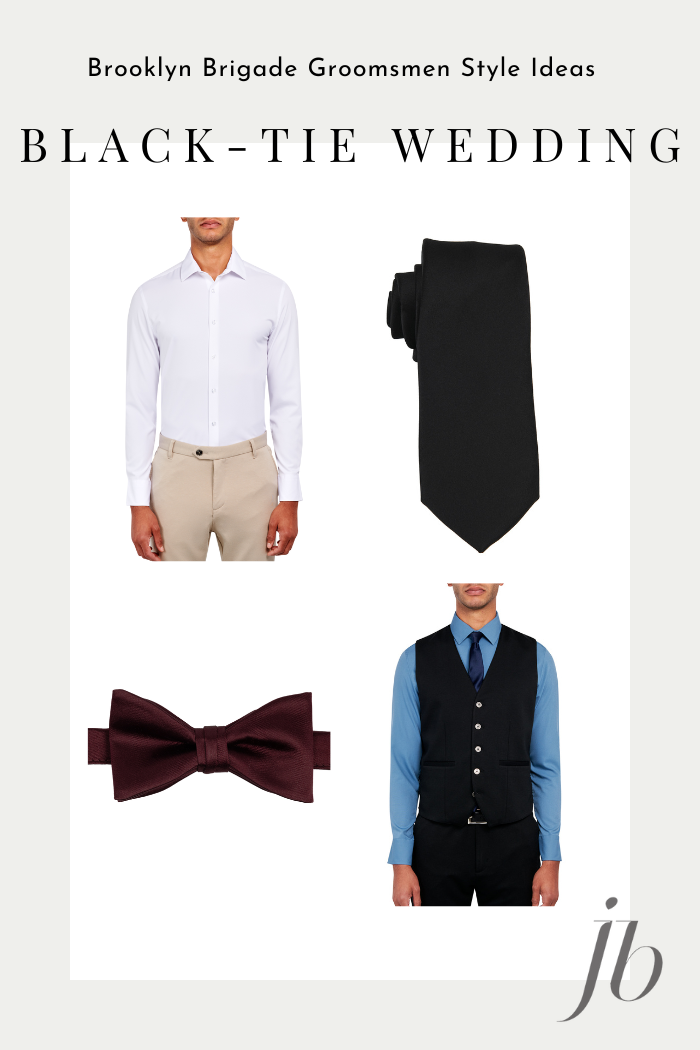 There you have it–our simple guide to styling your groomsmen. Make sure to check out Brooklyn Brigade's wedding edit and use the code JBWEDDINGS for 15% off sitewide until November 10, 2022.