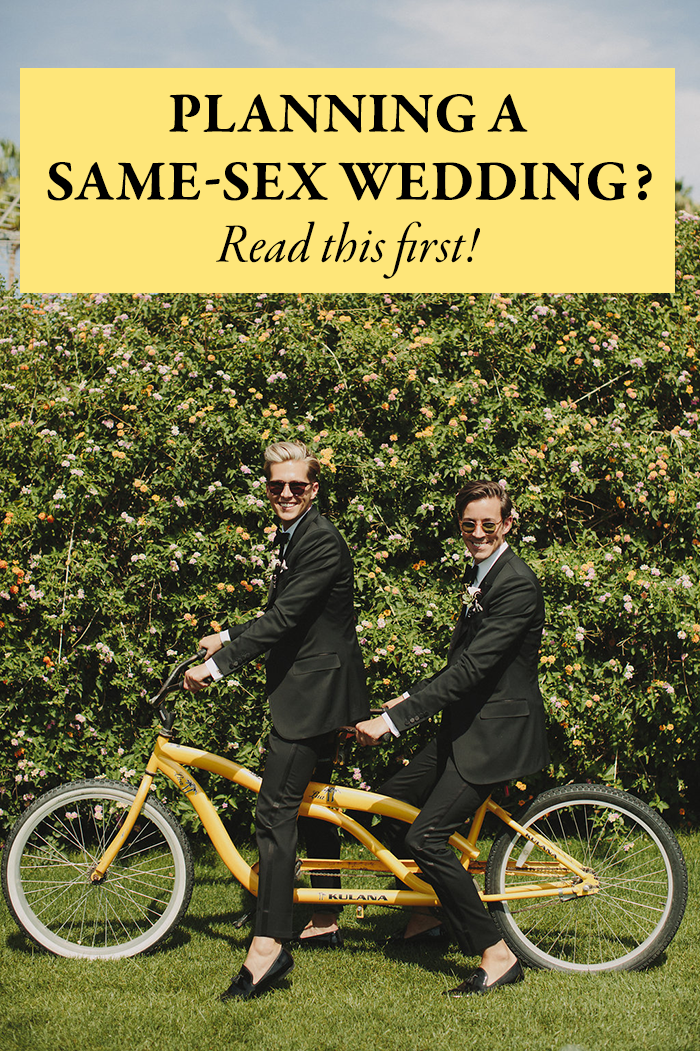 photo by Rouxby
Wedding planning can be dizzying to navigate for any couple, but we realize there are a few unique circumstances when it comes to planning a same-sex wedding. Do you wear matching outfits? Who's walking whom down the aisle? Do you get to have a bachelor or bachelorette party? If you've asked yourself any of these questions since getting engaged (congrats, by the way!), then today's post is for you!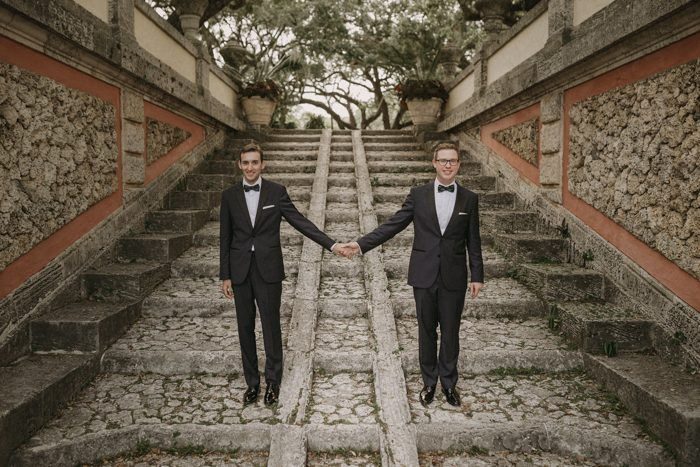 photo by Pablo Laguia Wedding Photography
The Expectations of Others
Gay, straight, or otherwise, all weddings come with a certain amount of expectations from friends, family, and on-lookers. Tough as it may be, we really encourage you to try to silence that noise and focus on what matters most to you as a couple. Whether you're faced with the unfortunate judgment of relatives who are unsupportive of your marriage or your family just wants to be too involved in the decision making, remember that this is your love being honored in your wedding. Getting married is the first step in being married, so don't let anyone's opinion dictate the planning process who wouldn't also have a say in your marriage.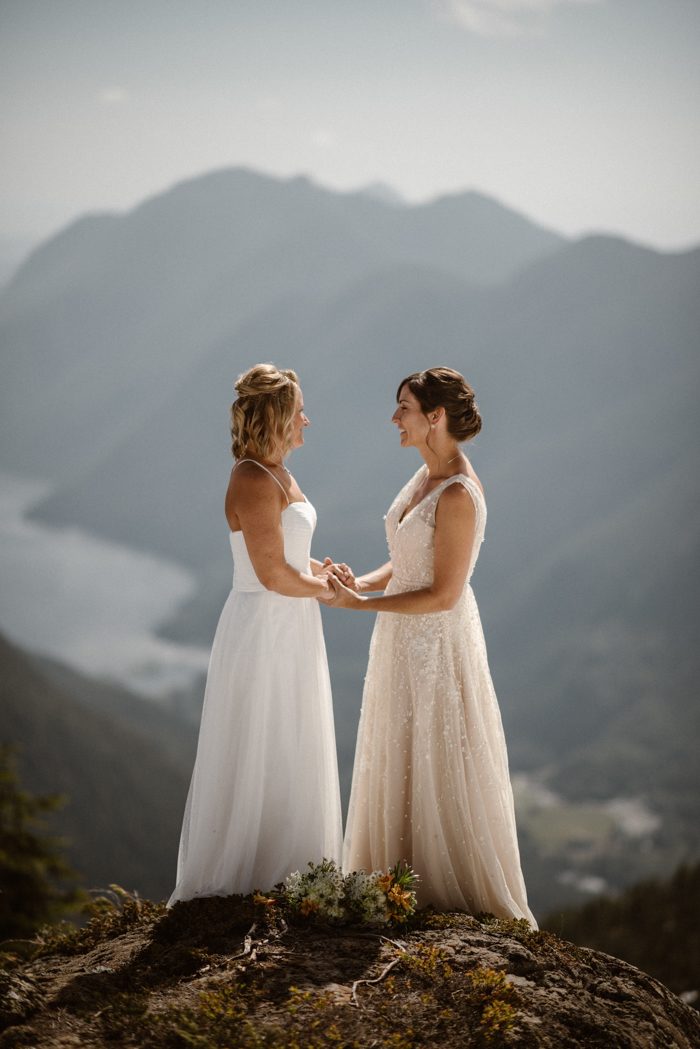 photo by Maddie Mae Photo
Your Wedding Vendors
We'd be lying if we said we hadn't heard horror stories from same-sex couples who were refused service by wedding vendors. As a vendor directory resource, we aim to promote professionals who are inclusive in their business practices. Beyond our own directory, a safe option is to search for professionals in your area who showcase diversity in their portfolio. However, we also know plenty of photographers and other wedding vendors who haven't had the great opportunity to work with same-sex couples yet, but would be honored to do so. If you reach out to a wedding vendor whose portfolio doesn't necessarily represent you as a couple, but whose work you enjoy, here are a few things to keep in mind:
You hold the power here, so don't let anyone make you feel less-than. Simply put, you're the one with the money and if a business owner feels it's in their best interest to refuse you service, they are not only not running a savvy business but they are also not the kind of vendor you want to work with anyway. That is their problem and not yours.
Finding the right vendors for you is a little like finding your soulmate. Set your expectations high and you may have to meet a few before you find that spark with "the one." You deserve to hire wedding professionals who make you excited about your day, make you feel comfortable, and who can make your vision a reality – not just someone who is willing to work with you!
If you do have an experience inquiring with a vendor that makes you feel uncomfortable or unwanted, we encourage you to leave them a public review. Other couples, same-sex or otherwise, need to know about someone's poor customer service, or worse. By leaving an honest review of what happened, you can help keep other couples from going through the same thing.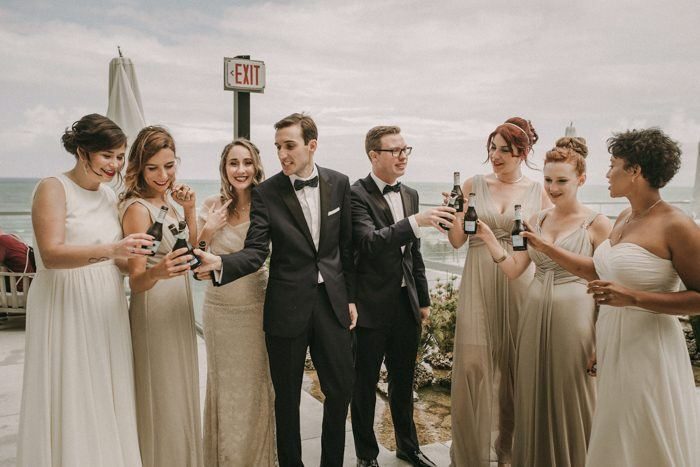 photo by Pablo Laguia Wedding Photography
Your Wedding Party
We're big fans of mixed-gender wedding parties, so don't fret over separating your besties by gender on either side of the altar at your ceremony. Think about who has supported you in your life and relationship up to this point and you'll know who's meant to stand by your side as you tie the knot. Do "bridesmaids" and "groomsmen" not fit your wedding party? You've probably heard of "bridesmen" and "groomsmaids," but a recent gender-neutral turn of phrase we're totally obsessed with is "Babes of Honor!" Not into the idea of a wedding party at all? Wedding planning isn't about following rules – it's about making your own; feel free to ditch the wedding party altogether and keep the focus on the two of you up there saying "I do!"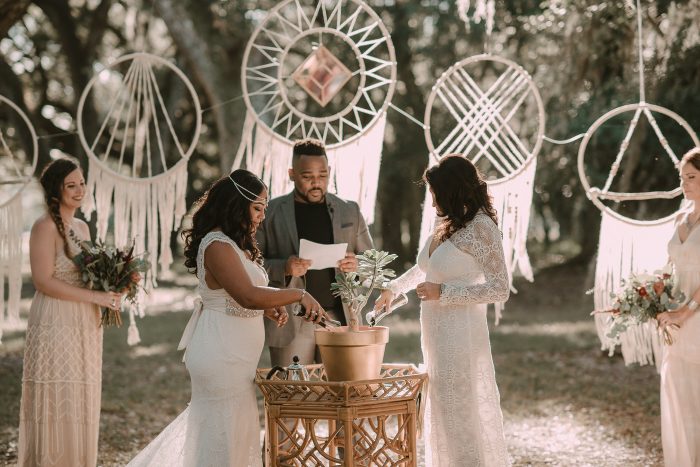 photo by Regina as the Photographer
Wedding Day Traditions
Aside from your wedding party, there are a few other wedding traditions you may want to rethink or do away with altogether. Here are a few considerations for your wedding planning:
Who's walking whom down the aisle – While the groom typically waits at the altar while the bride is walked down the aisle by her father, this construct may not exactly fit with your vision of your day. The idea of being "given away" by one's father is rather old school, so don't be afraid to shake things up. We love seeing couples walk down the aisle together, so try that idea on for size and see how you feel about it. You might also decide you both want to walk down the aisle with someone special, whether it be your father, mother, brother, mentor, or friend. Who walks first and who walks with whom is entirely up to you!
Waiting until the altar to see each other – Doing a first look is something we highly recommend to all couples! Having that intimate one-on-one time before you get whisked away to the rest of your wedding day can be incredibly special. If you're on the fence about it, check out this post on deciding whether or not to do a first look and these tips for making time for yourselves in your wedding day timeline.
Your ceremony readings and proceedings – Speaking of old school, many of the customary wedding ceremony readings may not apply to your relationship, and not just because you're a same-sex couple. Personalize your ceremony with readings and music that are significant to you rather than relying on words that don't represent your love or the marriage you're starting. Check out these sweet and sentimental unity ceremony ideas for more inspiration on making your ceremony unique to you!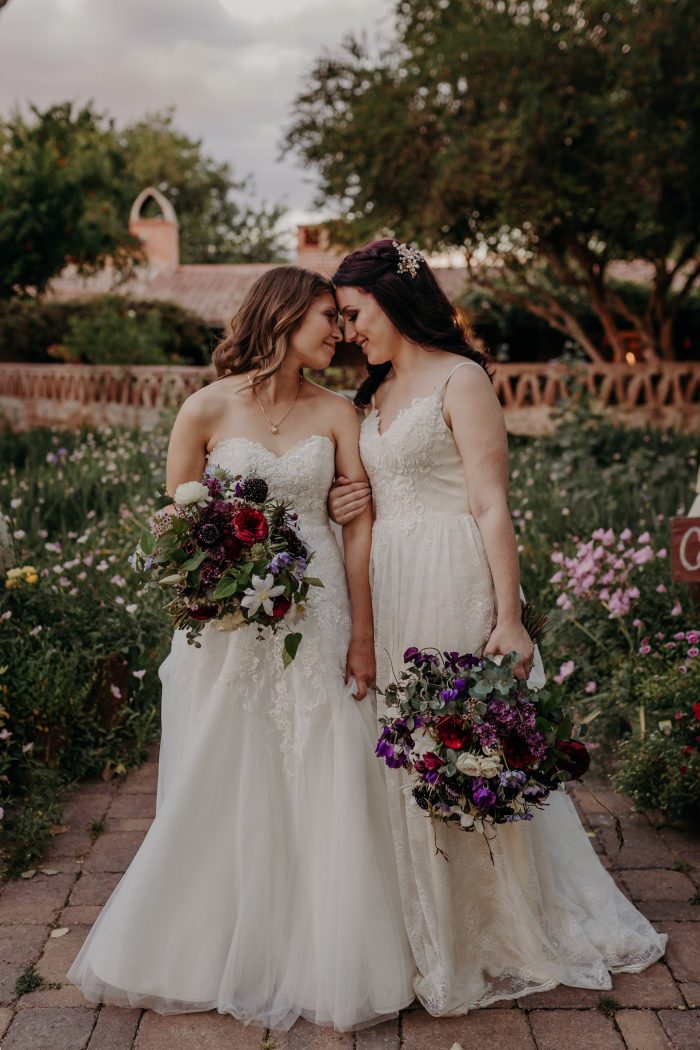 photo by Suzy Goodrick Photography
What to Wear
You should feel like a million bucks on your wedding day, so it's important that your wedding outfits are something you're comfortable in and not just something you feel like you should be wearing. If you feel most comfortable in a suit as a bride, that's what you should wear on your wedding day! Both brides want to wear dresses? Don't worry about upstaging each other and say "yes" to each of your dream dresses. (You can keep them a secret until the big day, or not!) For two brides or grooms in suits, consider what colors would complement each other and coordinate your tie or shirt patterns for a cohesive look. Ask your florist to create boutonnieres that match without being identical. Get inspired by these stylish same-sex couples below!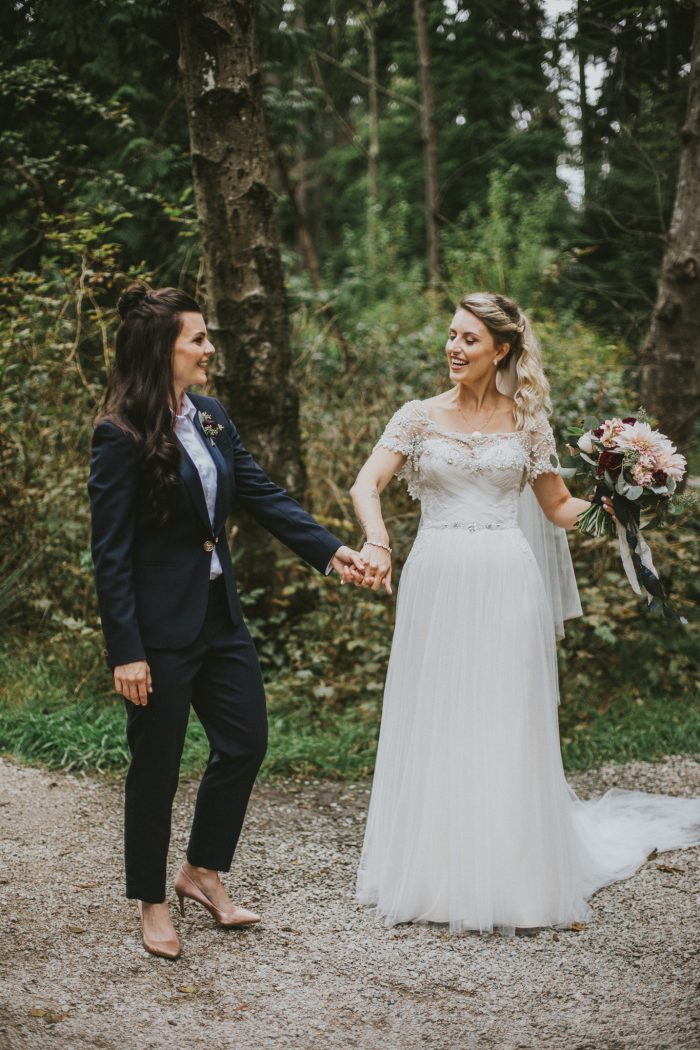 photo by Sara Rogers Photography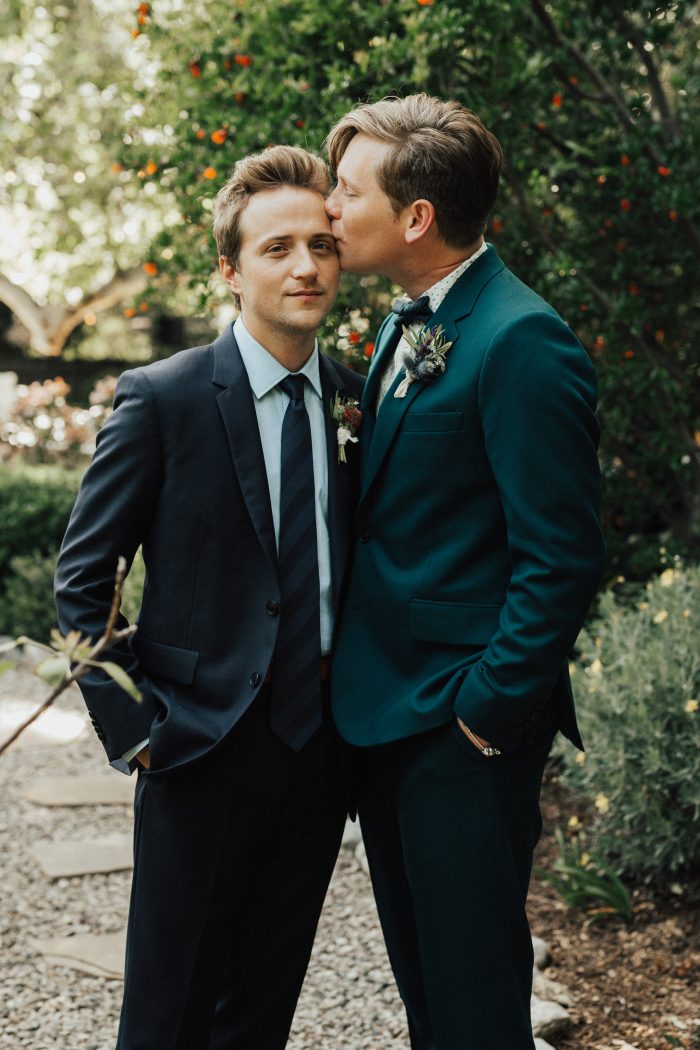 photo by Heirlume Photography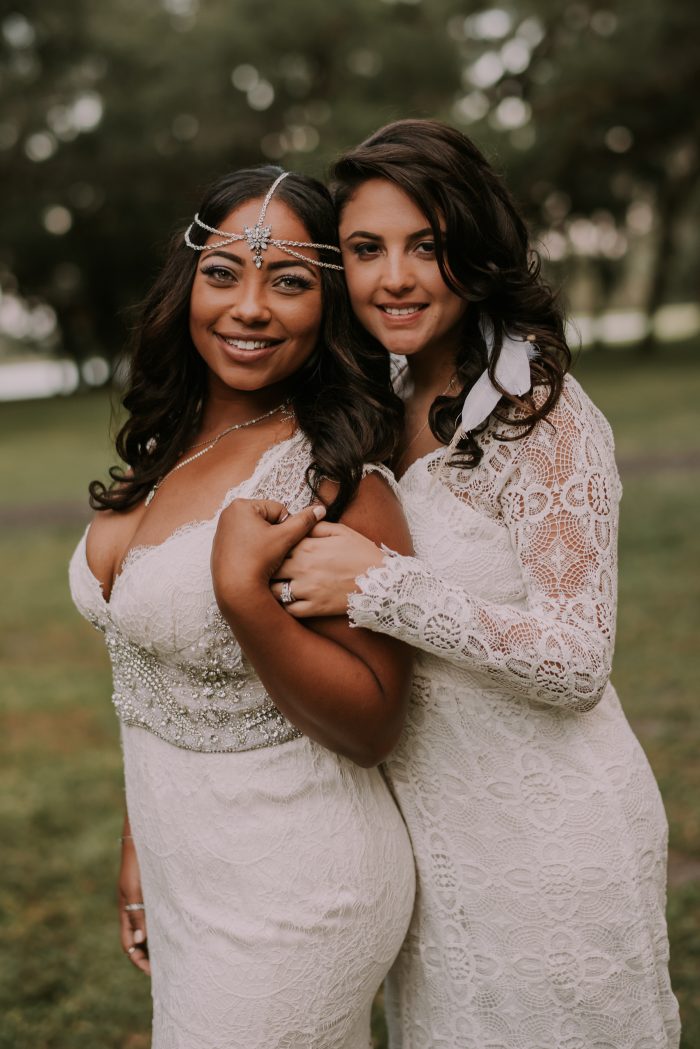 photo by Regina as the Photographer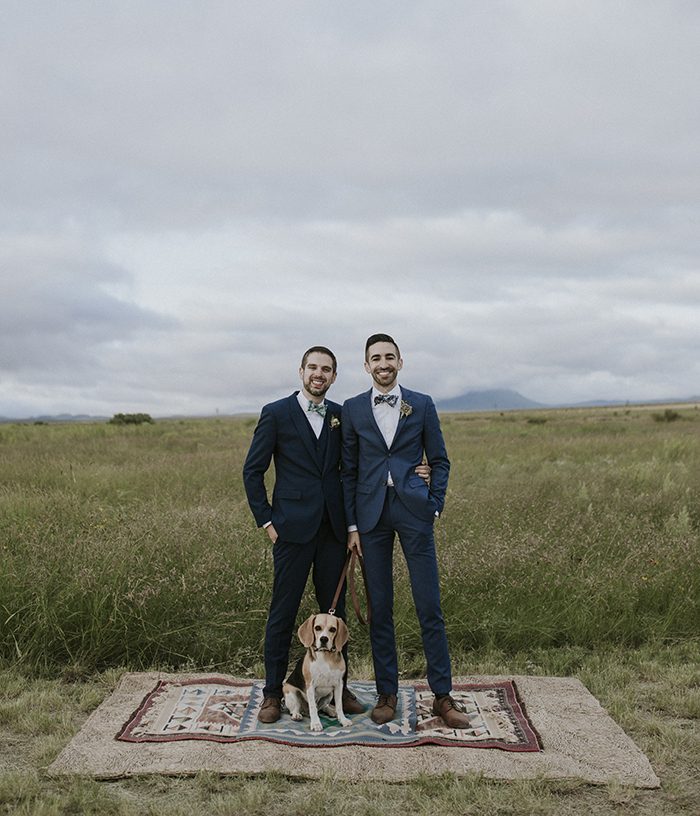 photo by John David Weddings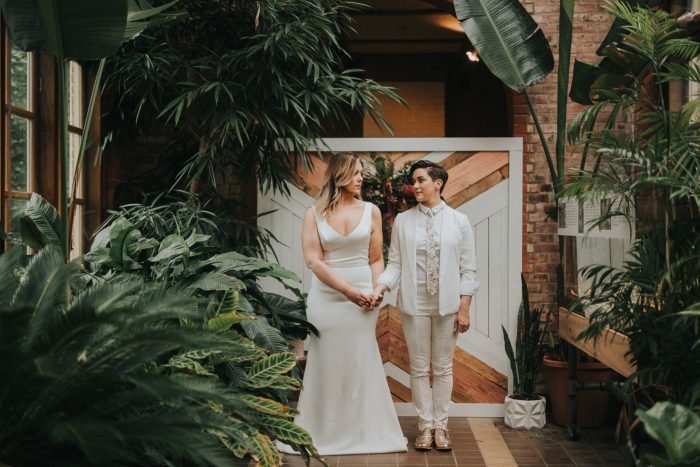 photo by Mann & Wife – Visual Storytellers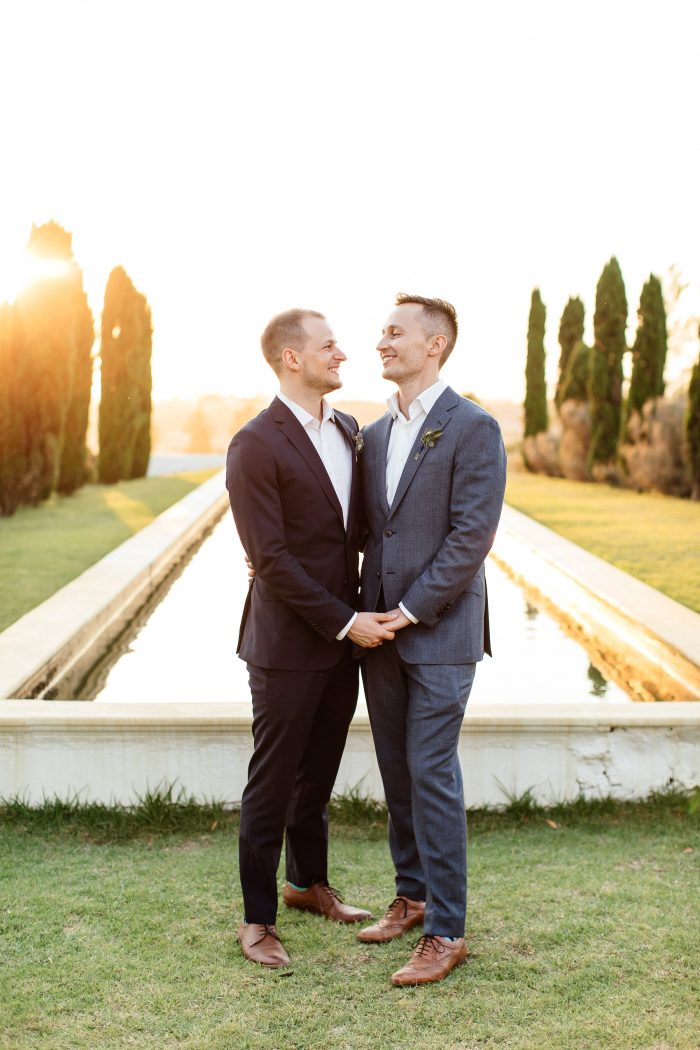 photo by Wesley Vorster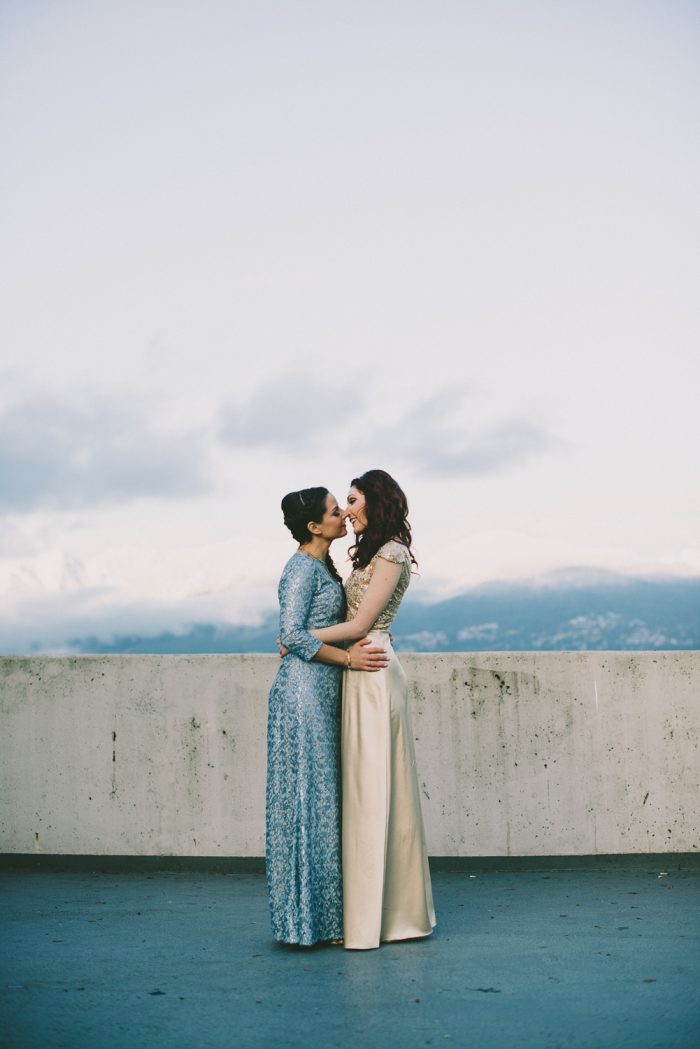 photo by Sara Rogers Photography
photo by Rouxby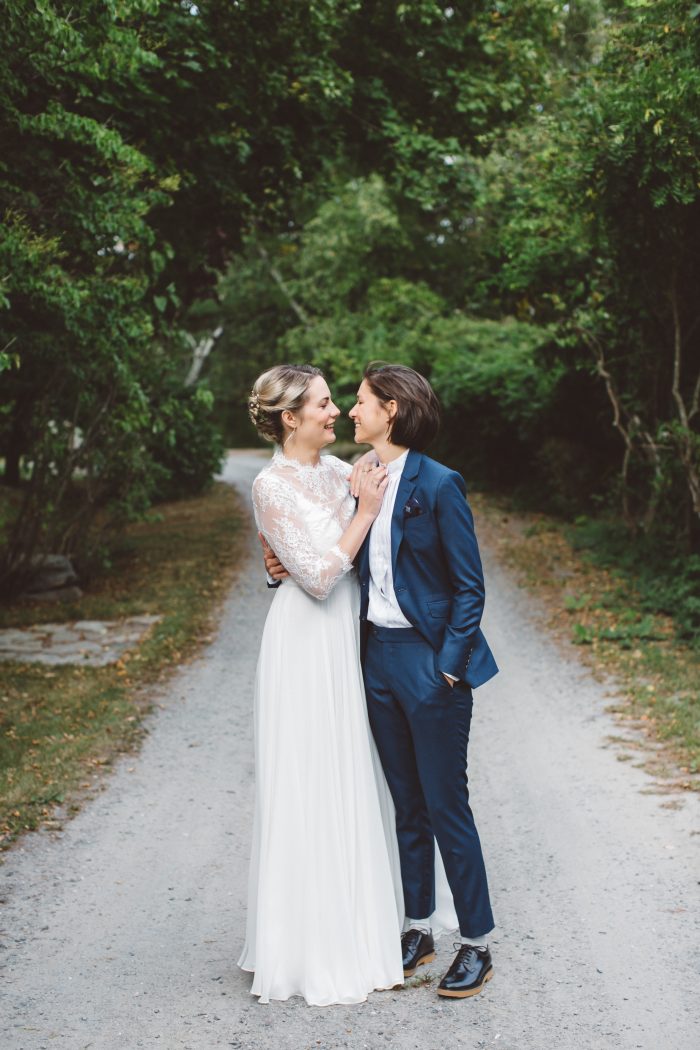 photo by Alisha Siegel Photography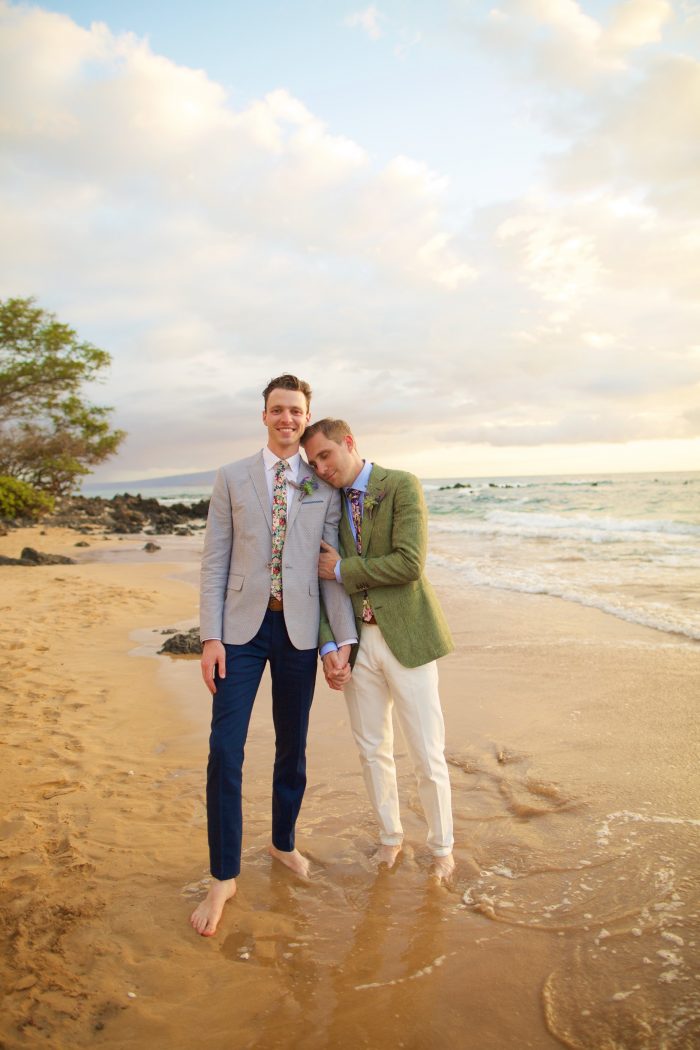 photo by Anna Kim Photography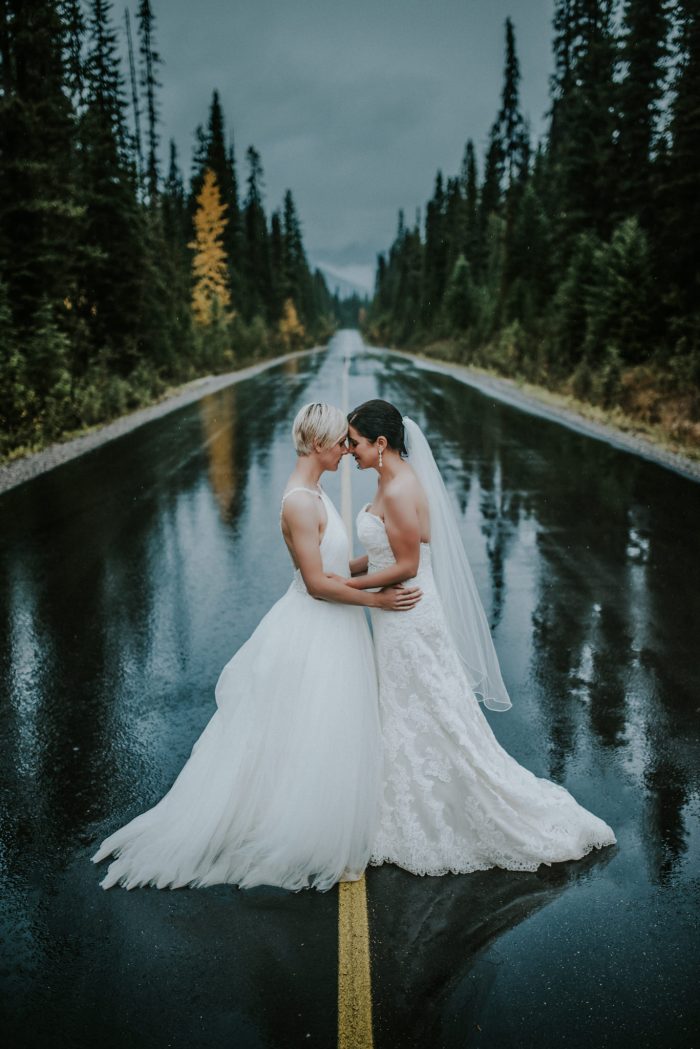 photo by Carey Nash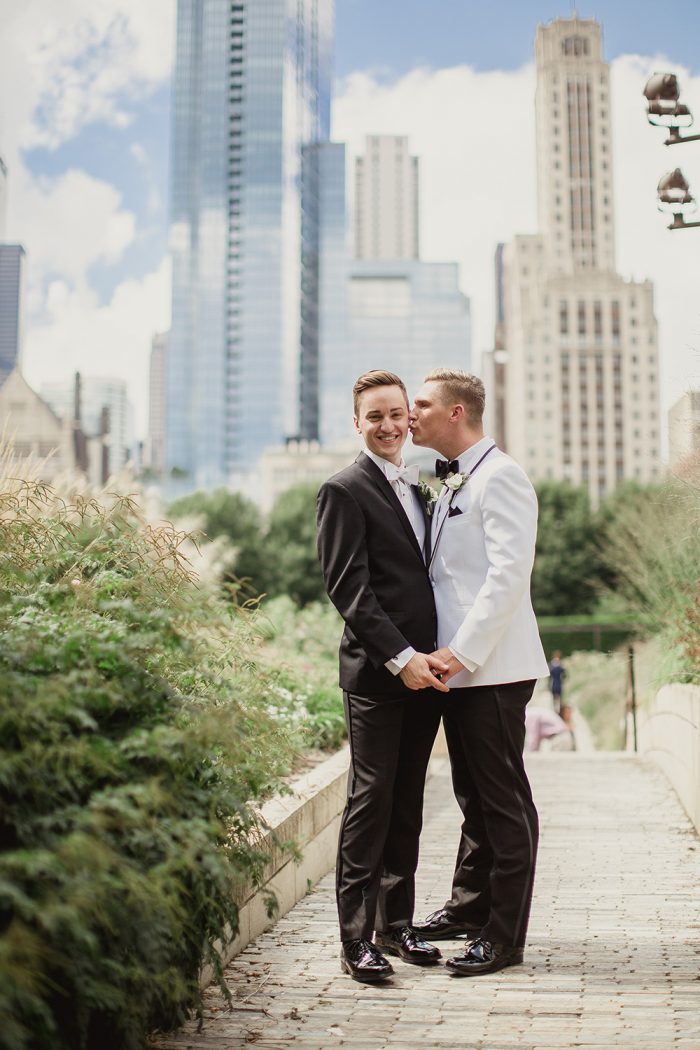 photo by Shaun Menary Photography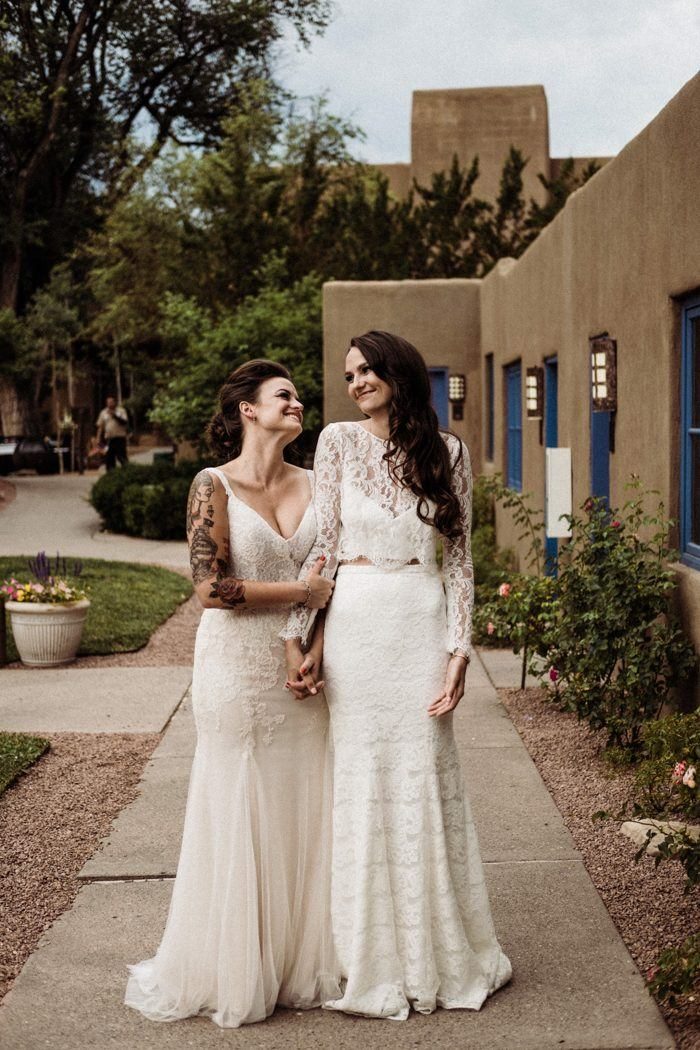 photo by A Fist Full of Bolts
Bachelor/Bachelorette Parties
One question you may be asking yourself is how to navigate your bachelor or bachelorette parties as a same-sex couple. Like with any other aspect of wedding planning, it's completely up to what feels best to you! You can absolutely decide that you still want to celebrate separately and throw individual parties where your future spouse isn't invited, but you may also want to do your "last" hurrah before the wedding together as one big party.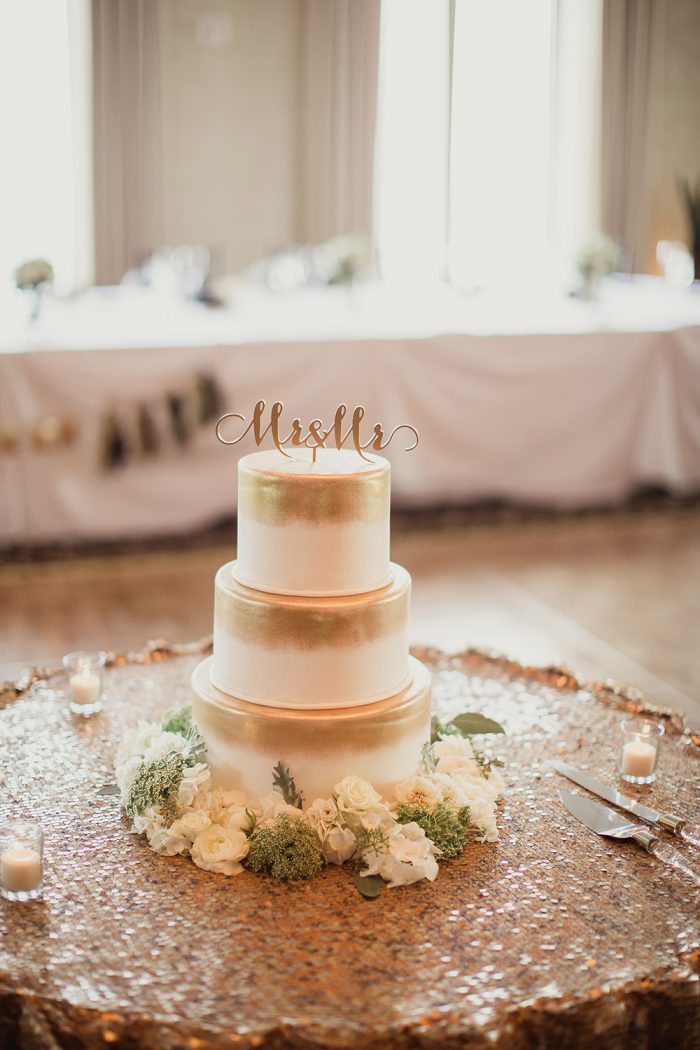 photo by Shaun Menary Photography
Same-Sex Wedding Decor + Gifts
Looking for details for your day that don't say Mr. and Mrs.? We've rounded up our favorite same-sex wedding decor and gift items below!
Looking for more same-sex wedding inspiration? Check out these 37 adorable photos of same-sex couples that prove love is love!