Wedding planning is already stressful as it is. Between picking out the perfect venue and choosing the right attire to show off your personalities, there are so many moving parts to planning your big day. And it doesn't just stop there. After tying the knot, you have to think about the honeymoon and the lengthy process of changing your last name. If you have no idea where to begin, don't fret. Easy Name Change is here to make the experience quick and painless so you can spend more time sipping on a pina colada on your tropical vacation and less time stressing out.
How Easy Name Change Came To Be
With 78% of couples married in 2022 intending to change their last name, it's no wonder that Easy Name Change was created. Launched in 2008, the company was founded to help make the name change process as easy as possible. All you have to do is use one of their kits, sign the pre-filled forms, and ship them off.
How To Legally Change Your Last Name After Marriage

Get Your Marriage License
In order to change your last name, you need to get your marriage license (certificate). The best way to do so is to head to your local county clerk's office with the required documents. This can include your birth certificate, license, or passport. Before heading down there, we highly recommend looking up what is needed, as every state is different. In fact, in some states, you may even need a witness, and the last thing you want to do is show up empty-handed.
Change Your Social Security Card
The next step in the name-changing process is getting a new social security card. Don't fret. Your social security number stays the same, so you don't have to stress about memorizing a new one. You can go through this process online by visiting the Social Security Administration website and requesting a new card.
You'll fill out a couple of forms that you'll then mail in along with your current social security card, proof of name change (i.e., a copy of your marriage license), proof of citizenship, and a photo ID. Once the documents are received, you should receive your new card within ten days or so.
While this is an easier option, we recommend that you do so in person in order to keep your original important documents in your possession so you don't run the risk of them getting lost in the mail.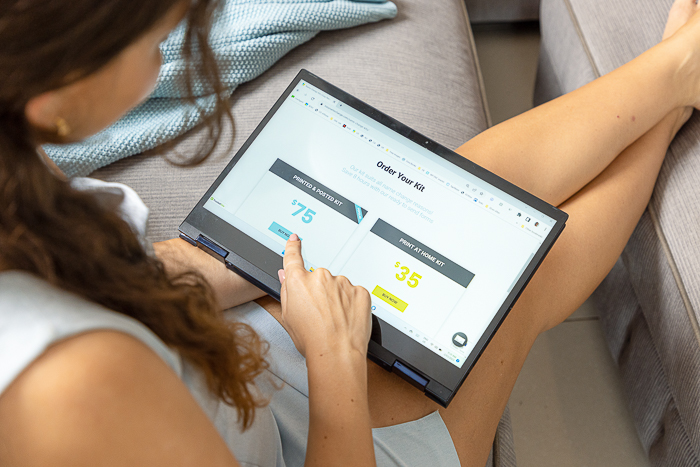 Change Your Driver's License
Now that you've got your marriage license and new social security card, it's time to let Easy Name Change help. While all DMVs require you to visit a branch in person, Easy Name Change makes it easier by giving you the necessary paperwork before you even step foot inside. Simply start checking off which places you need to notify of your new married name from their list of countless organizations (with everything from the SSA and DMV to your bank and health insurance companies) and receive the necessary paperwork.
They offer two different kit options–one print-at-home kit and another printed and posted kit that includes all of the paperwork you need, as well as envelopes, folders, a personalized checklist, and more.
No matter if you use a name change kit or not, you'll still need to attend your state DMV and most banks in person. Staff want to see your original identification, witness your signature, and may take a photo.
When Should I Change My Last Name?
Name changing is a time-sensitive process that should take place once you receive your marriage certificate. Though it varies by state and there is no technical "deadline," waiting longer can be costly and time-consuming. Ideally, this is best done within a month or two of the wedding because it helps you prove your identity once the switch is made. If your preferred married name is not on your marriage certificate, you can choose from any of the standard married name options.
Ready To Change Your Name?
If you're ready to get started and take on your new last name, head over to Easy Name Change and let them guide you through the process with minimal effort on your part! And with the code JUNEBUG15, you can get 15% off any kit now through June. So what are you waiting for?