Springtime! You bring sunshine, blue skies, open windows, and longer days, and then you go and outdo yourself by sending up bright blooms of ranunculus and tulips from brown bulbs. By waking sleeping violets and lily of the valley to perfume the air. You give us little beauties full of romance and new beginnings, just perfect for wedding day flowers. Oh, thank you dear spring for all that you do!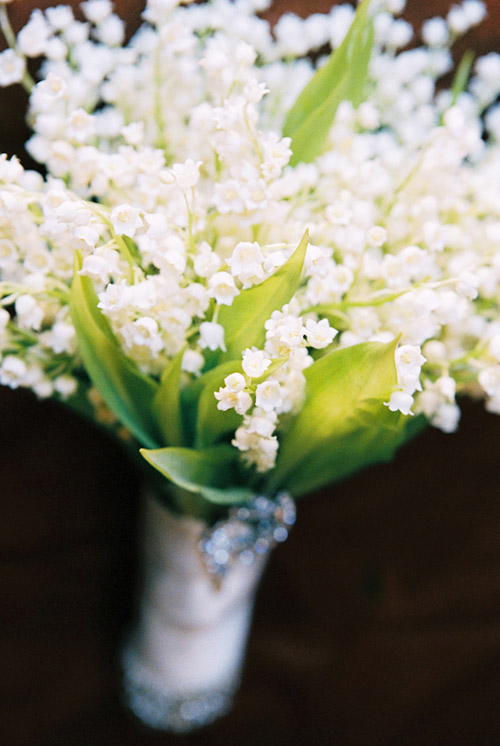 Petite, delicate, and over-the-top fragrant lily of the valley has a very royal endorsement. Both Grace Kelly and Kate Middleton carried these beautiful blooms that mean "returning happiness". What a perfect wedding day sentiment! Lily of the valley bridal bouquet photo by Yvette Roman Photography, from the Junebug Wedding Inspiration Gallery.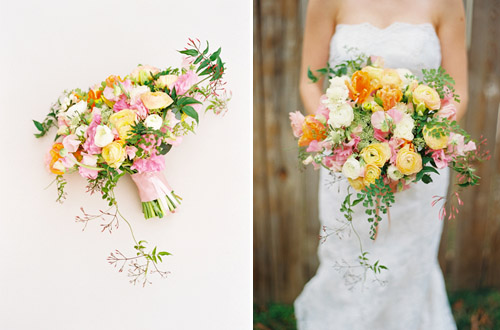 Delicate, trailing spring blossoms and a bright color palette make this bridal bouquet as sunny as the first warm days of the year! Bouquet by Janie Medley Flora Design, photos by Amelia Johnson.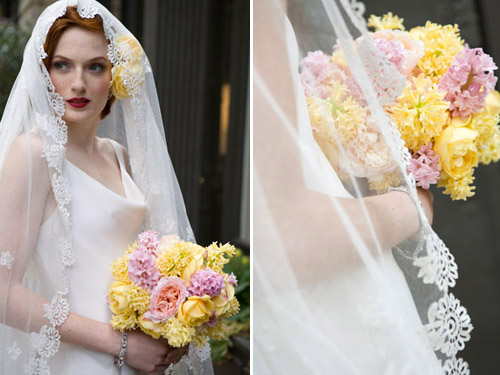 Light and lovely lemon yellow hyacinth, with a little pink tucked in for romance! Spring bridal bouquet by Bella Rugosa, photos by Cheri Pearl Photography from the Junebug Weddings Vintage Fashion for a Modern Bride Fashion Report.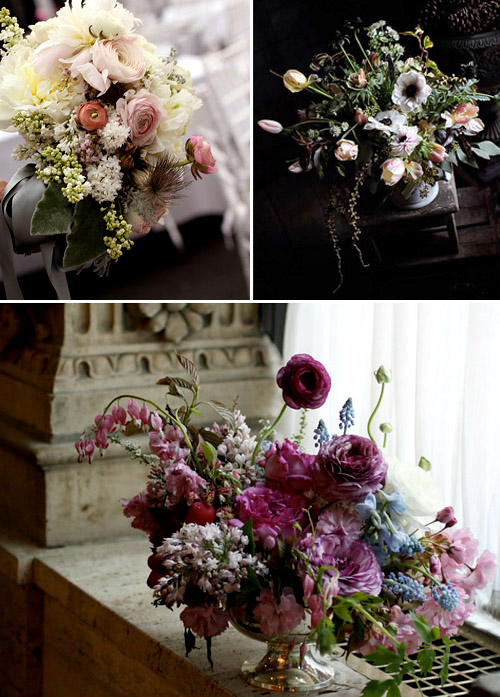 Moody, luscious wedding floral arrangements by Brooklyn's Saipua, featuring ranunculus, lilacs, tulips, grape hyacinth, and bleeding heart. Photos by Saipua.

Romance! Bliss! These flowers make me smile! Tulips, ranunculus, and lilac artfully arranged by Flower Wild, and photographed by Jose Villa for the lovely Mag Rouge.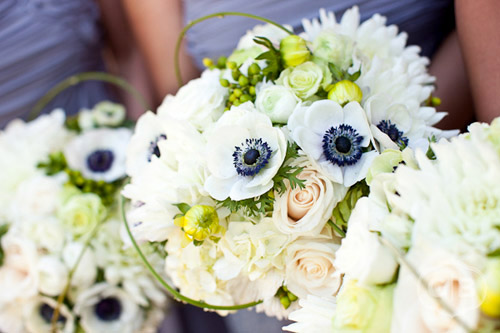 The contrast of the inky black centers and snow-white petals of Anemones is dramatic, striking, and always fresh! Lily grass loops with seasonal blooms and berries add texture and structure to these beautiful bridesmaid bouquets by Flora Nova. Photo by Gabriel Boone.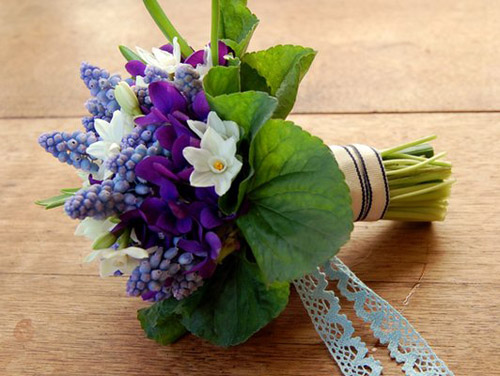 Sweet violets and tiny grape hyacinths are the epitome of early woodland blooms. Their delicate beauty is understated and classic! Petite hand-tied posy by Studio Choo.
Looking for more wedding floral inspiration? Head on over to our Wedding Photo Gallery!