Newsflash: when it comes to planning the fall wedding of your dreams, you're not limited to only traditional warm colors. Though the classic reds and emerald greens will always hold a special place in our hearts, there are a variety of stunning colors that represent fall in an unconventional way–colors that have reimagined the idea of the "typical" fall wedding palettes.
To get inspired, take a peek at these unique fall wedding colors that can be combined to create a fully customized wedding color scheme that'll leave you awe-struck.
1. Black
Many people associate weddings with soft, romantic colors. However, these color palettes aren't for everyone—especially nontraditional couples planning a day as bold as their love. If this sounds like you, don't shy away from using black in your color scheme. Incorporate this dark, sophisticated color subtly with a bridal bouquet or sleek signage. If you really want to make a statement, rock an all-black wedding day outfit for an edgy monochromatic celebration.
2. Neutrals
When you picture fall wedding colors, odds are the first ones that come to mind are dark and moody. While we'll never get tired of those darker shades, we still want to let neutrals have their moment this season. And with vibrant changing leaves as your backdrop, neutrals perfectly contrast the natural fall foliage. Try incorporating colors like champagne, beige, and tan.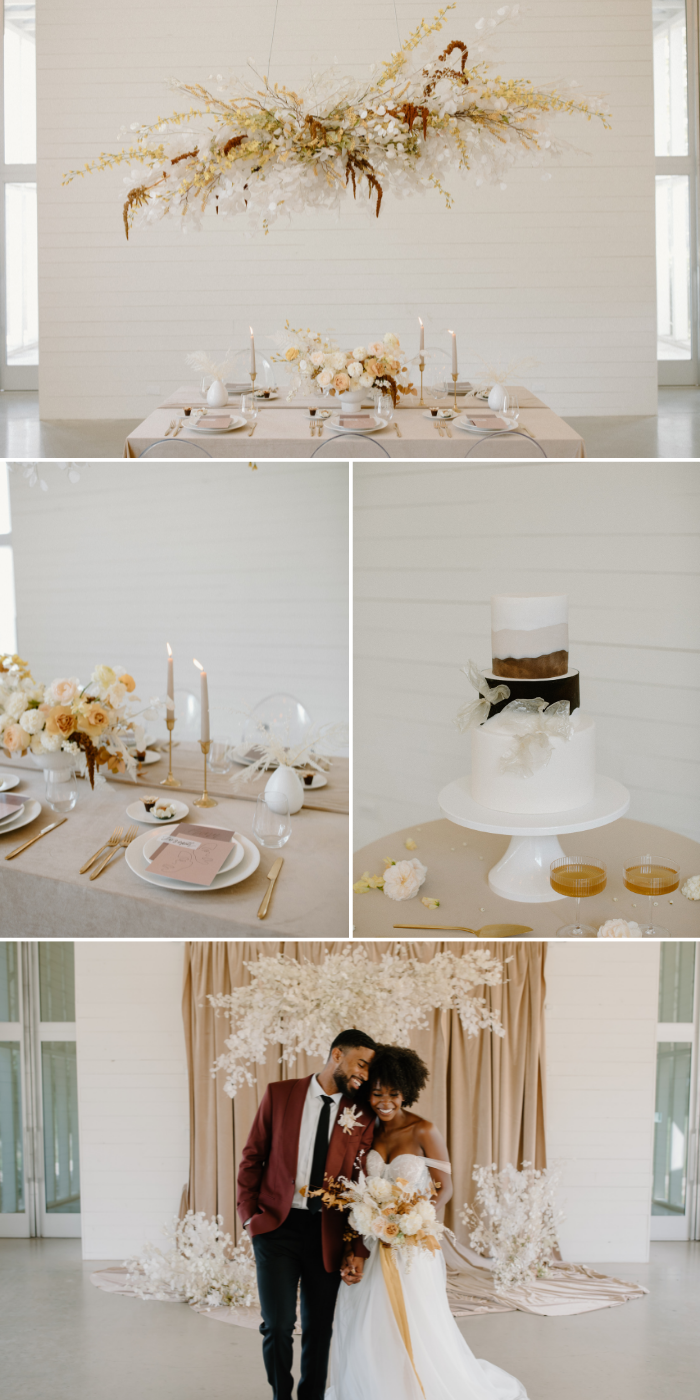 Images by Aurelia Baca Photography. See more of this styled shoot here.
3. Terracotta
Trade the predictable oranges for terracotta—a color typically used in warmer celebrations that's being carried into cooler weather. Whether you're planning an intimate national park celebration or a large forest wedding, terracotta is sure to turn on the autumn charm. Acting as a subtle pop of color, this shade is stunning for bridesmaid dresses, florals, and covering your reception tables in the form of linens or chargers.
4. Spring Into Fall
Bright and bold are two words that perfectly describe the natural landscapes that make fall an ideal time to tie the knot. But why can't the color palettes be just as vibrant? With more couples infusing their day with personality, we expect to see a shift in those "typical" fall wedding colors. And you know what that means–spring shades are making their way into the cooler months.
When it comes to creating your mood board, try incorporating spring colors like peach, lavender, and really any pastel hues.
5. Eucalyptus Green
Sage green, emerald green, forest green—at Junebug Weddings we've seen it all. But, eucalyptus green is new to the wedding scene and represents fall in a unique way. This shade is the best of both worlds, being colorful in a subtle, muted way. Ditch the traditional deep greens and make a vibrant statement with muted bridesmaid dresses, floral arrangements, or boutonnieres.
Between the cooler weather, changing leaves, and the unique color palettes, fall is undoubtedly one of the most enchanting wedding seasons. And now that you have your colors selected, the real planning begins. To create an unforgettably warm and fuzzy autumnal celebration, check out these delightfully cozy fall wedding ideas.