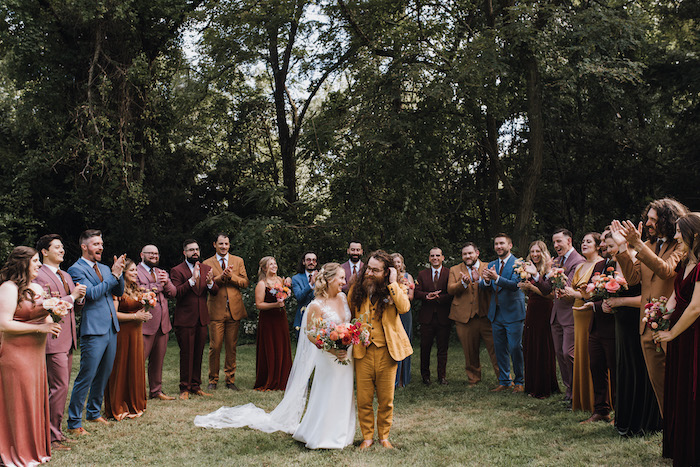 When two creatives tie the knot, magic happens! Colleen, a flower farmer and floral designer, and Christopher, a graphic designer and musician, beautifully combined their artistic talents for a colorful celebration that showcased their personalities in every element. With the help of their team of pros and loved ones, their Zimmermann Farm wedding truly reflected their vision—from the homegrown flowers and handcrafted signs to the original music and homemade pickled vegetable favors.
Surrounded by forest, waterfalls, and gardens, the historic farm estate provided an idyllic setting for their dream outdoor celebration. Embracing the groom's love for vibrant rainbow colors, the couple curated a muted rainbow color palette with their decor. The ceremony was adorned with ground florals, framing the heartfelt exchange of vows. For their reception, they gathered around a long dinner table for a delightful family-style meal. Under twinkling string lights and stars, they dined and danced the night away.
Their big day was a magical and intimate affair, with every detail thoughtfully considered to complement the picturesque landscape. The pair truly brought this colorful Zimmermann Farm wedding to life, making it a perfect source of inspiration. Follow their wedding journey and explore the beautifully captured details and moments through the lens of Lauren Wysocki.
The Couple:
Colleen and Christopher
The Wedding:
Zimmermann Farm, Pike County, Pennsylvania, United States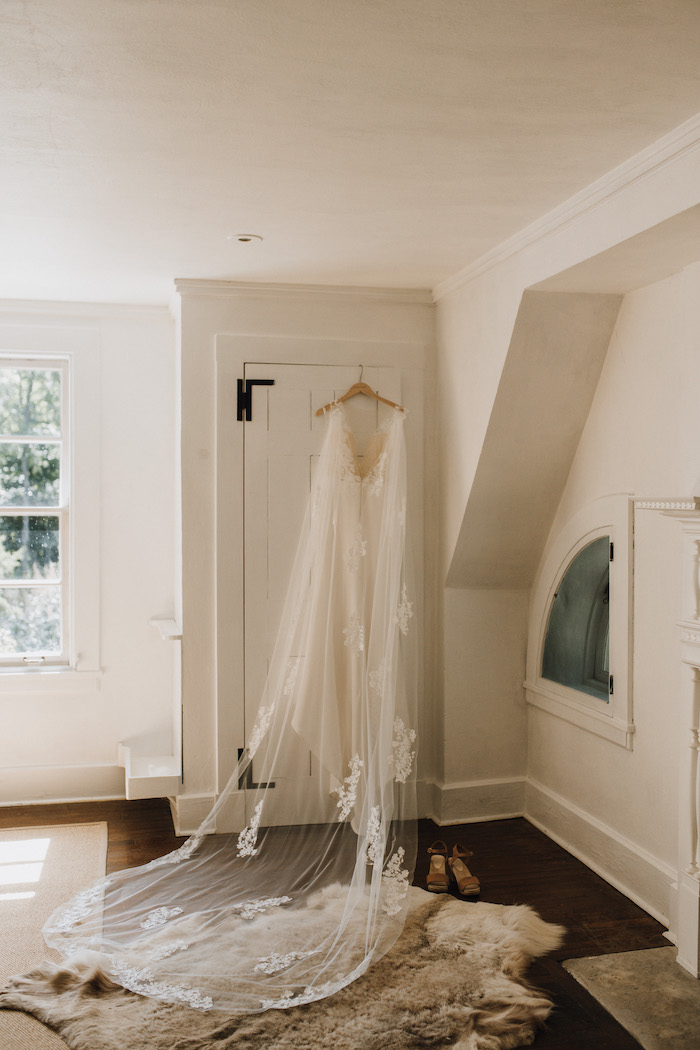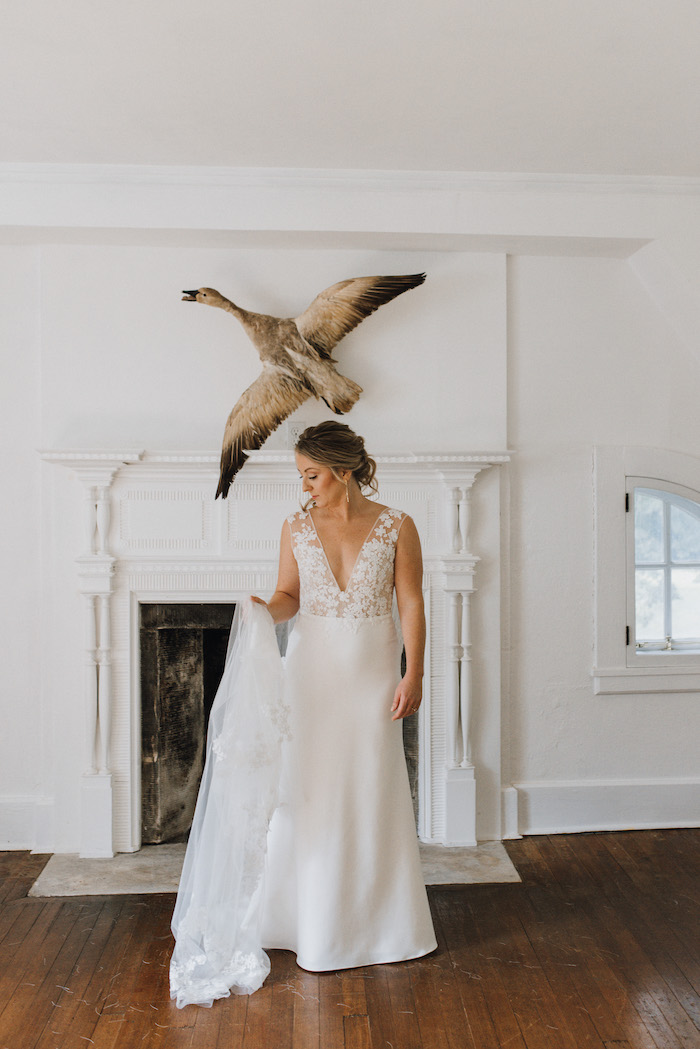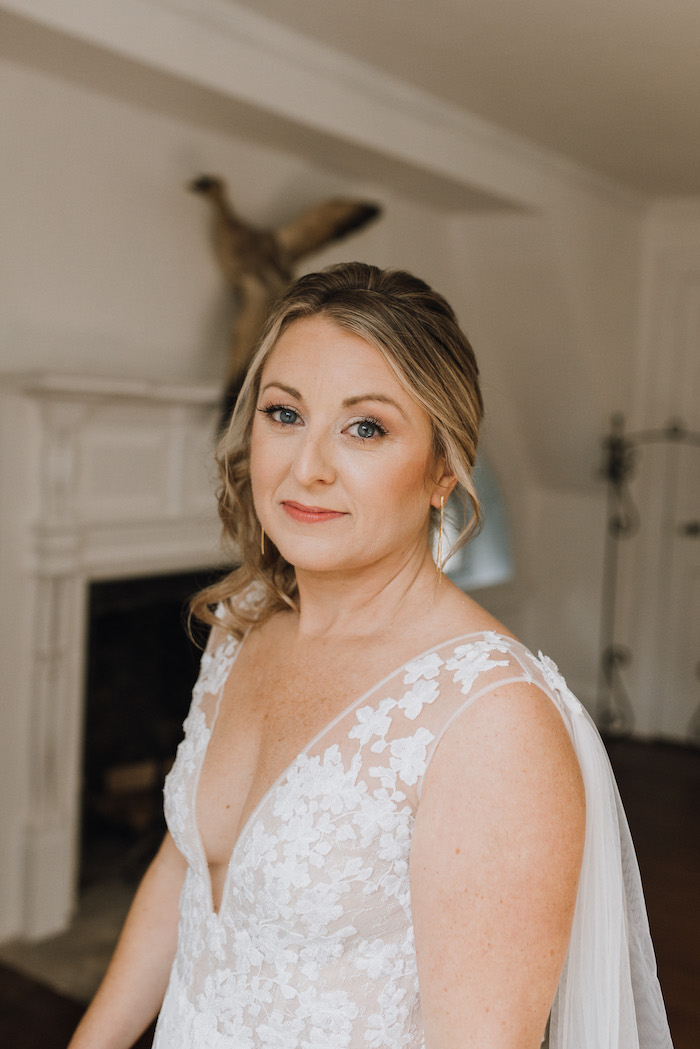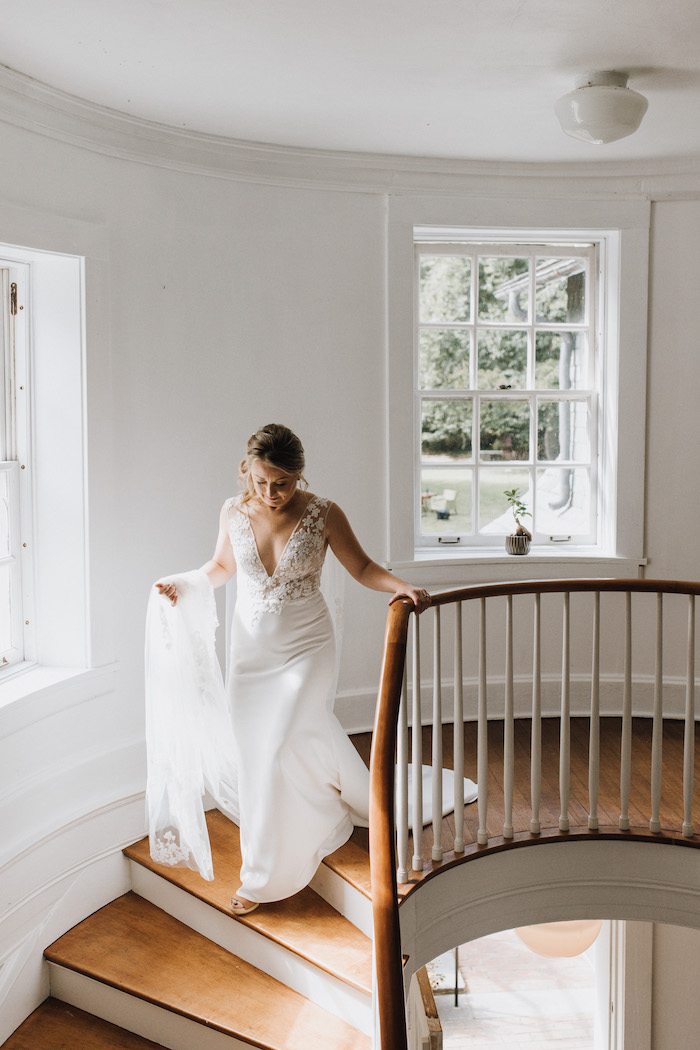 How Their Colorful Zimmermann Farm Wedding Came To Be
I am a flower farmer and floral designer, and my husband, Christopher, is a graphic designer and musician, so we had strong opinions about our wedding's design and style. We wanted an outdoor wedding in September. Our date was on the day of the Full Harvest Moon, which felt perfect. With summer crops peaking and fall crops starting, we aimed to reflect the abundant meeting of these two seasons in early September. Christopher's favorite color is "rainbow," so we embraced that idea with an elevated and tasteful rainbow color palette for the flowers, decor, and attire.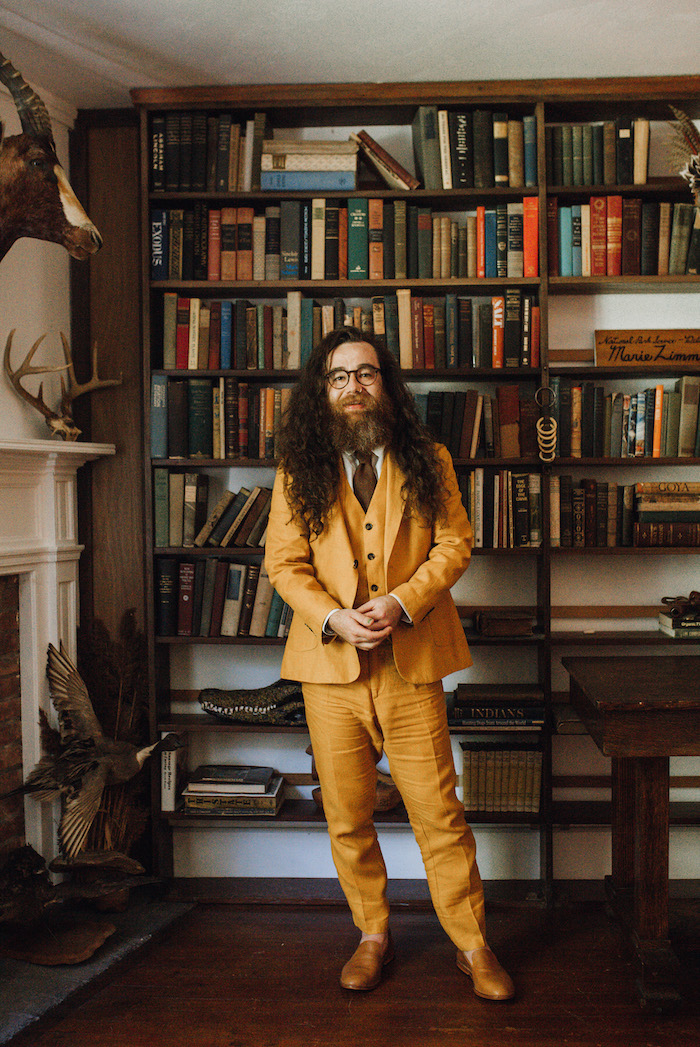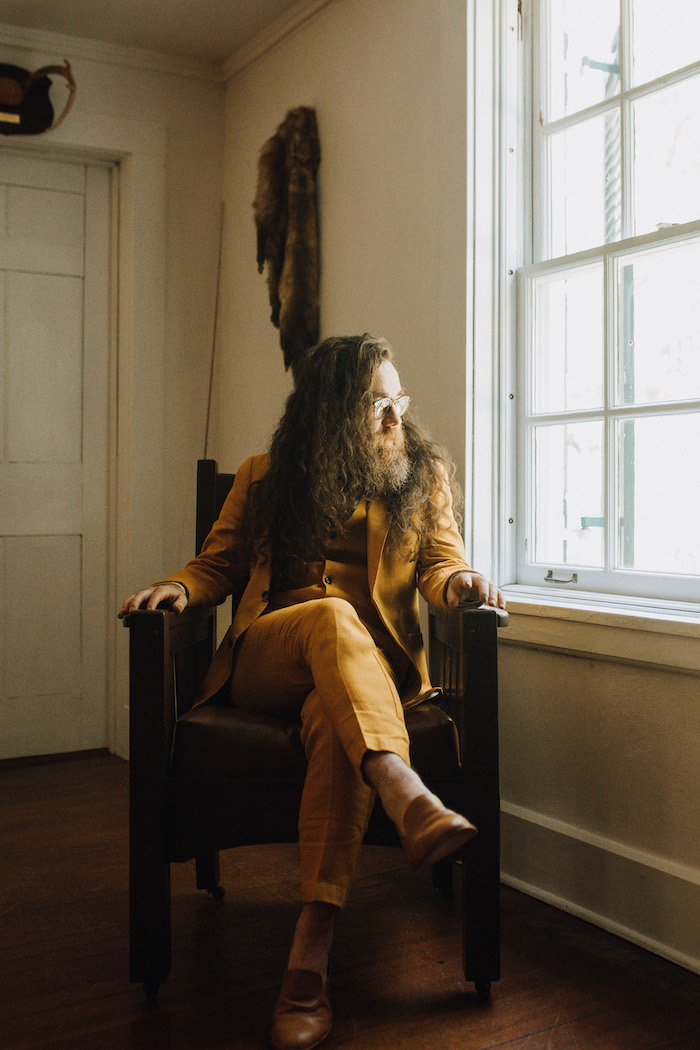 Creating A Unique Zimmermann Farm Wedding Ceremony With Personal Touches and Including Their Loved Ones
Chris' close childhood friend, Seth, served as our officiant, and he personalized the ceremony beautifully. Walking down the aisle with my mom, Chris' song "In Circles," played acoustically by his best man, filled the air. Our dearest friends did readings, Chris' friend reading "Mouthful of Forevers" and my friend reading Chris' poem titled "What Do You Give The Girl That Has Her Own Flower Farm." We wrote our own vows. Inspired by the peak flower season in September, the ceremony flowers created a wild garden design. We exchanged vows under a weeping birch tree at Zimmermann Farm, surrounded by ferns and foliage with moss used by Strange Vine Studio to enhance the natural setting. It felt extraordinary to be in a lush semi-circle of flowers, some grown by friends, making it a beautiful collaboration of floral design friends.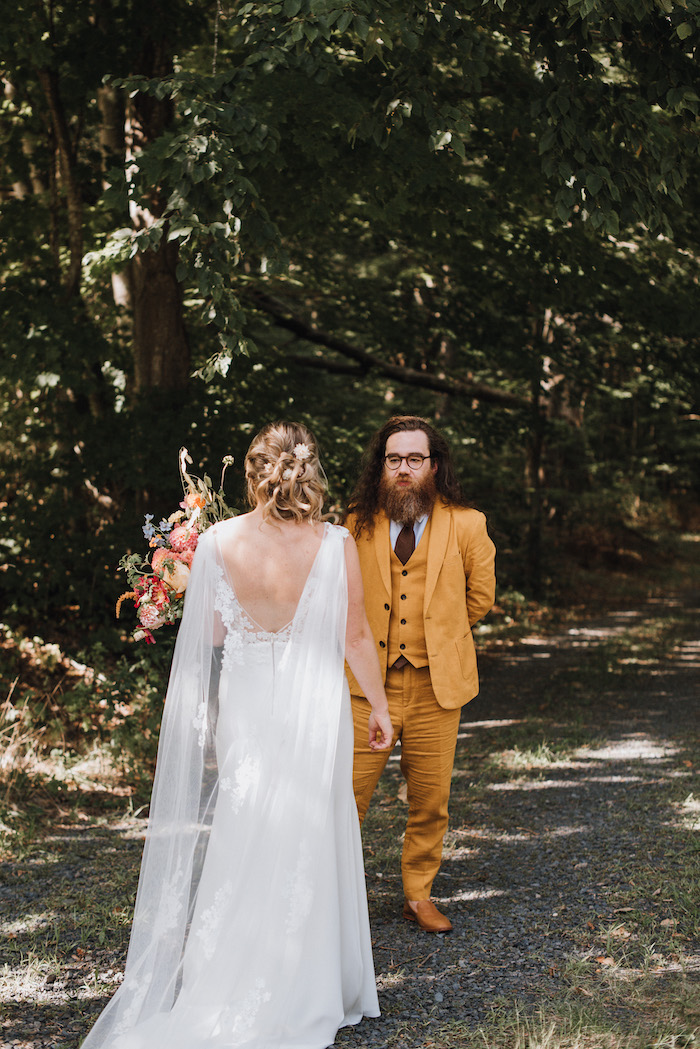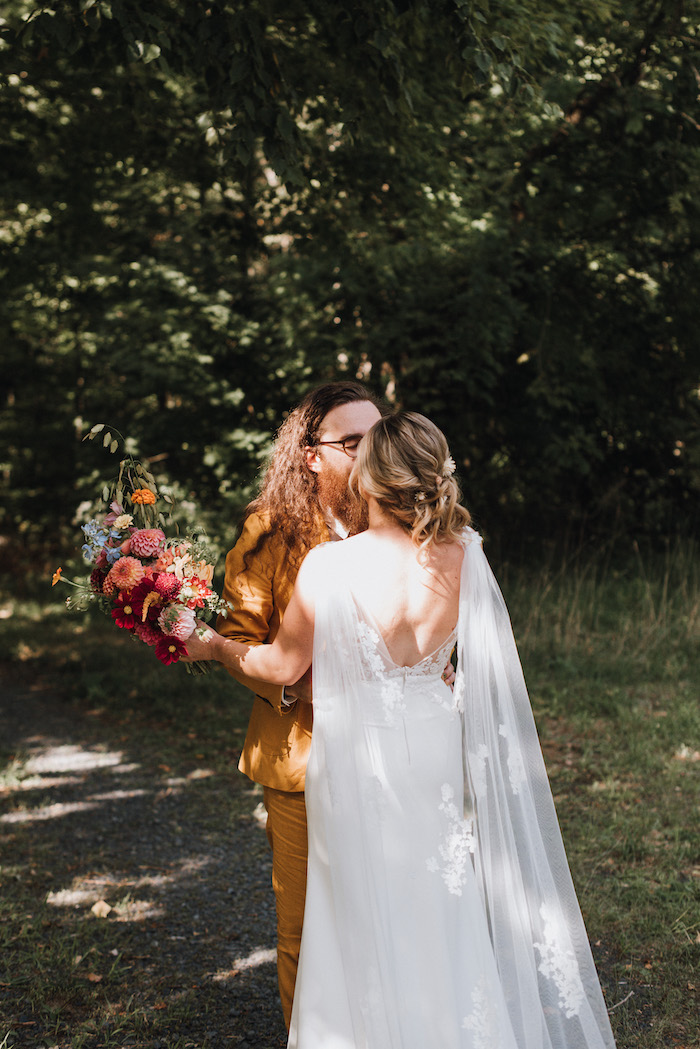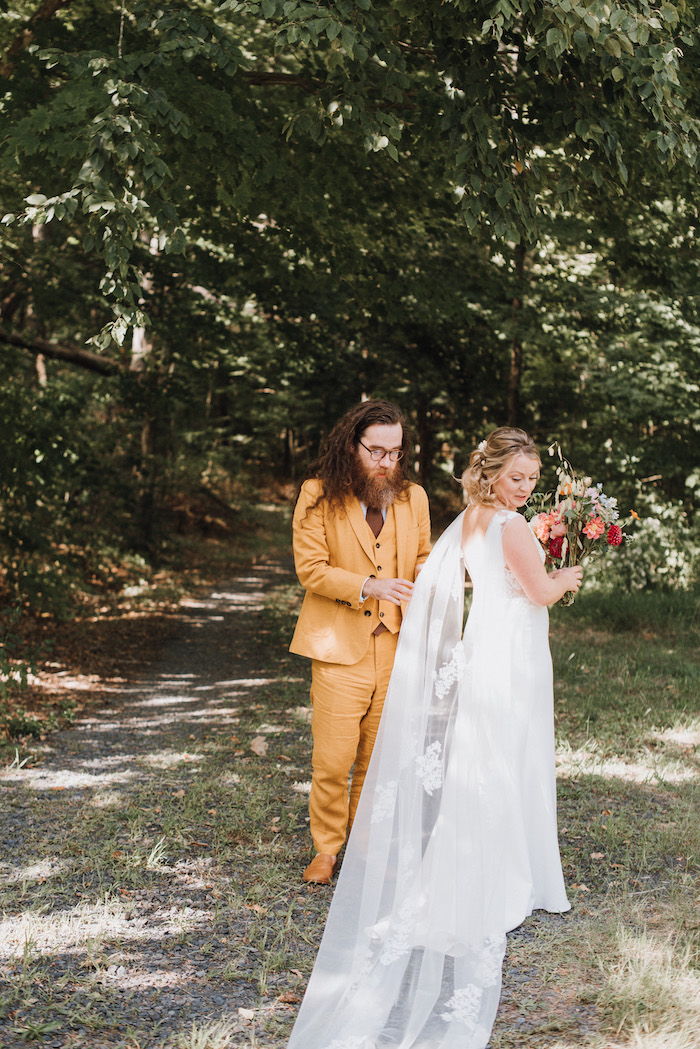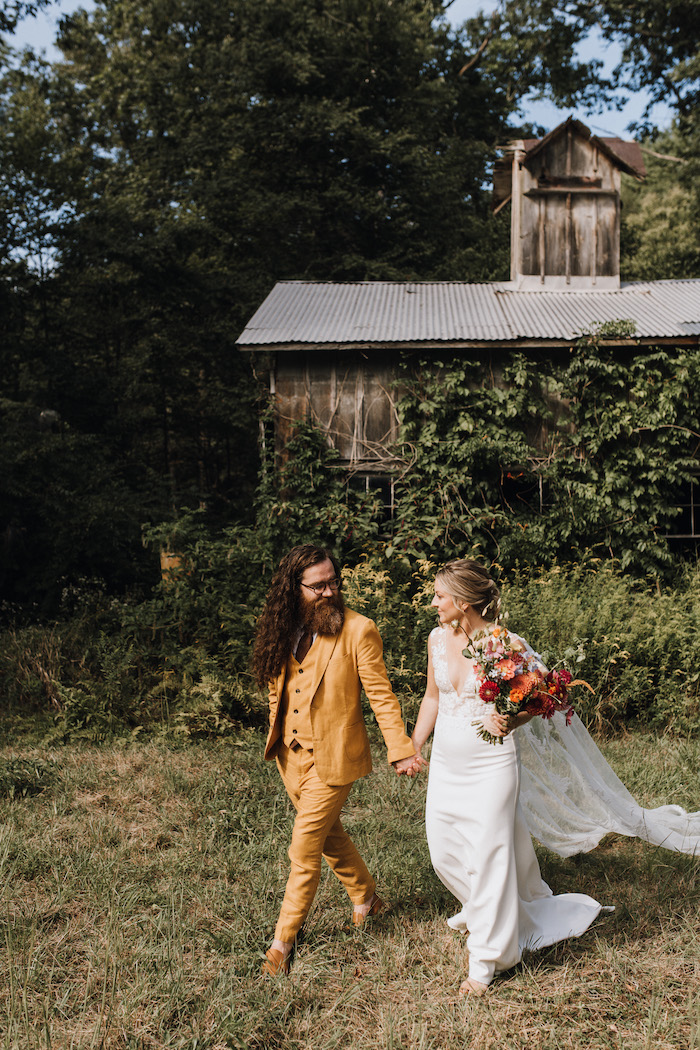 Why They Chose Zimmermann Farm As Their Venue
Our wedding at Zimmermann Farm was a unique experience for us, our bridal party, and our guests. It was the perfect choice because it allowed us to customize our wedding and be one of the first couples to get married there. Jenni and Christine, the women behind our venue, were incredibly accommodating, promising to bring our dreams to life. We fell in love with the venue the moment we saw it, surrounded by the beauty of Delaware Water Gap National Recreation Area, and the historic house added a sense of charm and history. The venue's flexibility for an all-outdoor wedding with tented options in case of rain, in-house catering, and convenient on-site accommodations for guests within 30 minutes made it the ideal choice after considering three other venues. We couldn't have been happier with our decision.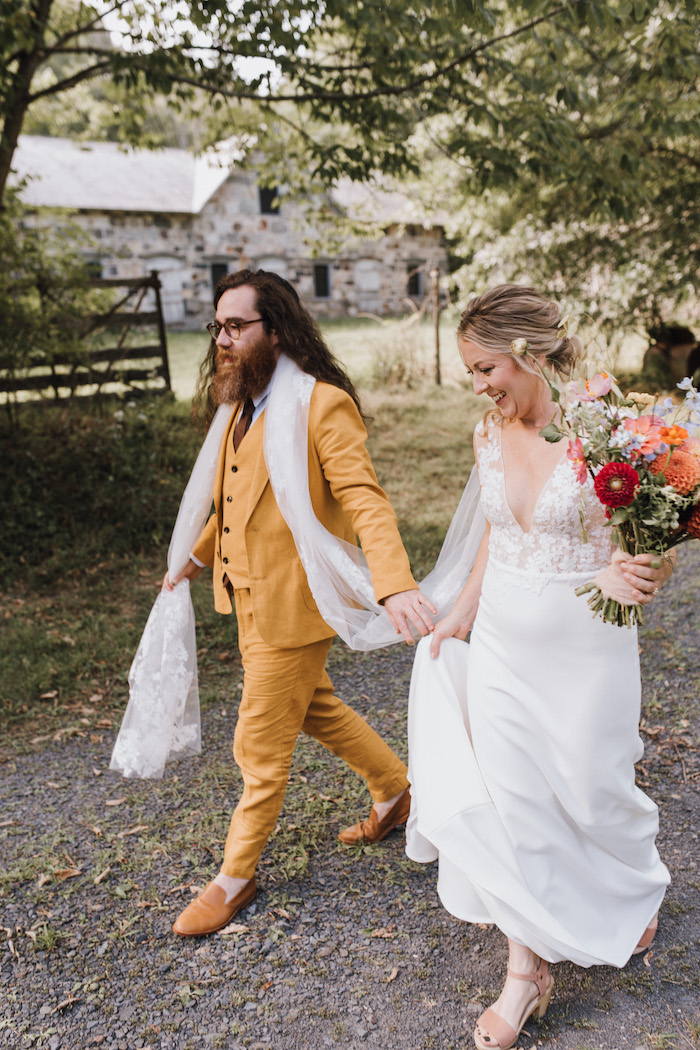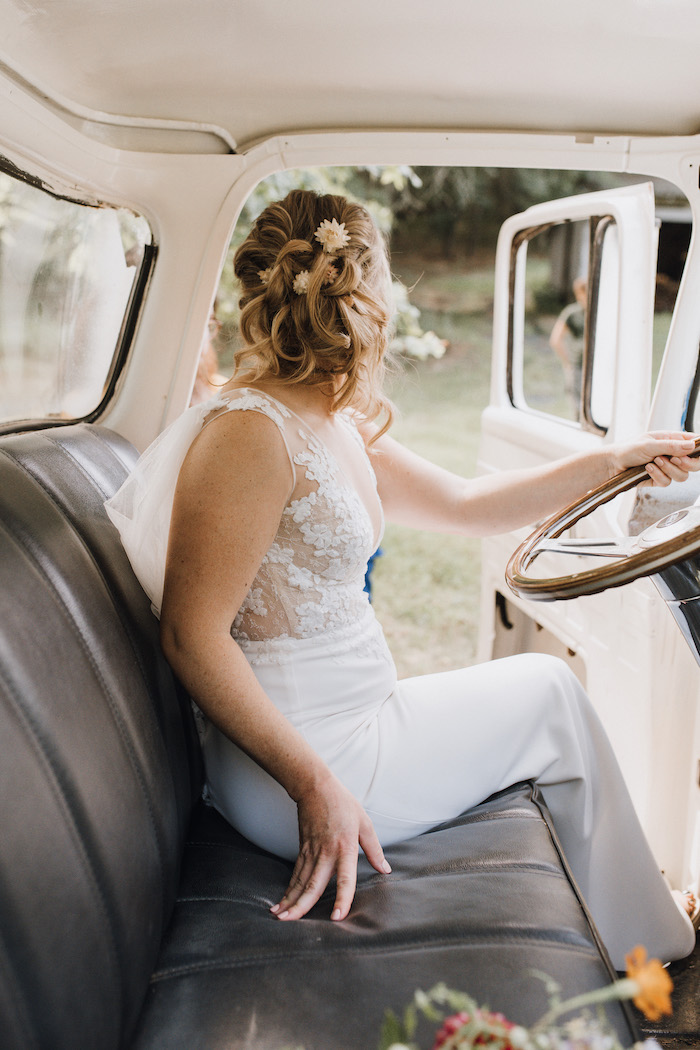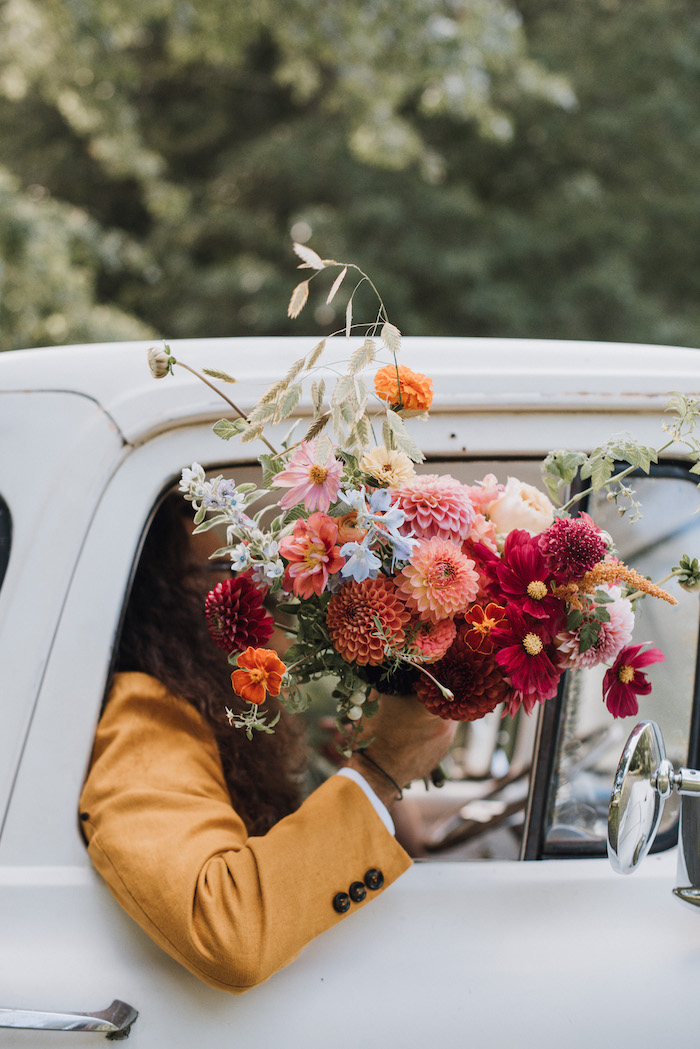 A Nature-Immersed Dinner Zimmermann Farm Wedding Reception in the Forest
Our dinner reception–held along a long table for 160 guests–was a magical experience, with the tree-lined driveway creating an epic and unforgettable dinner party. Our guests still rave about how special and unique it felt. The team at Zimmermann Farm did an exceptional job, creating an elevated but approachable restaurant-style dinner that exceeded our expectations.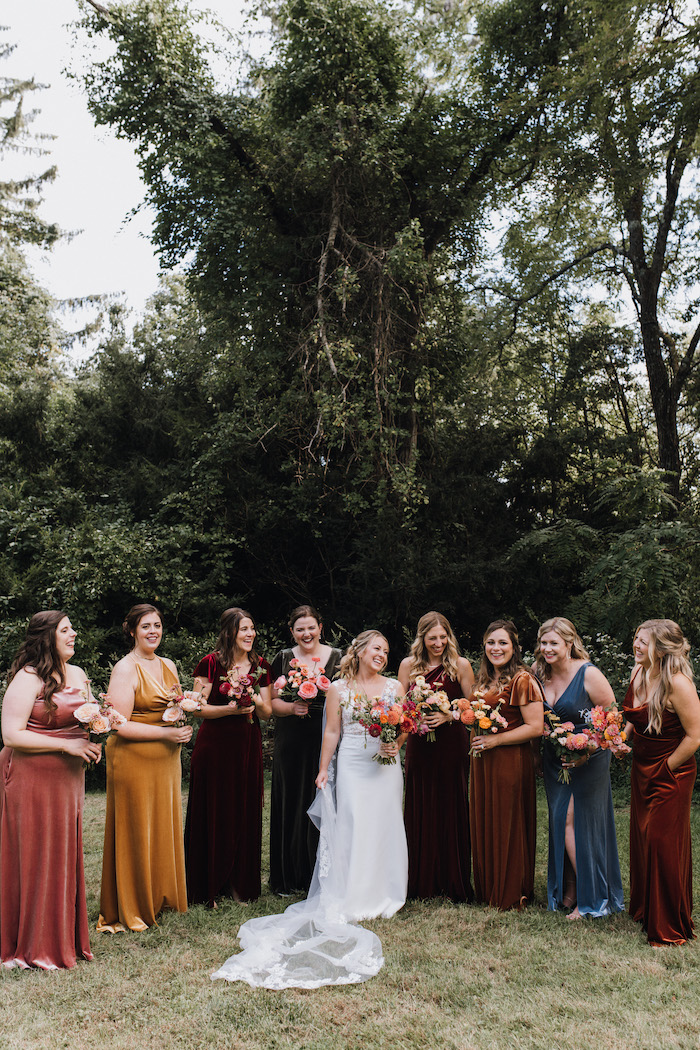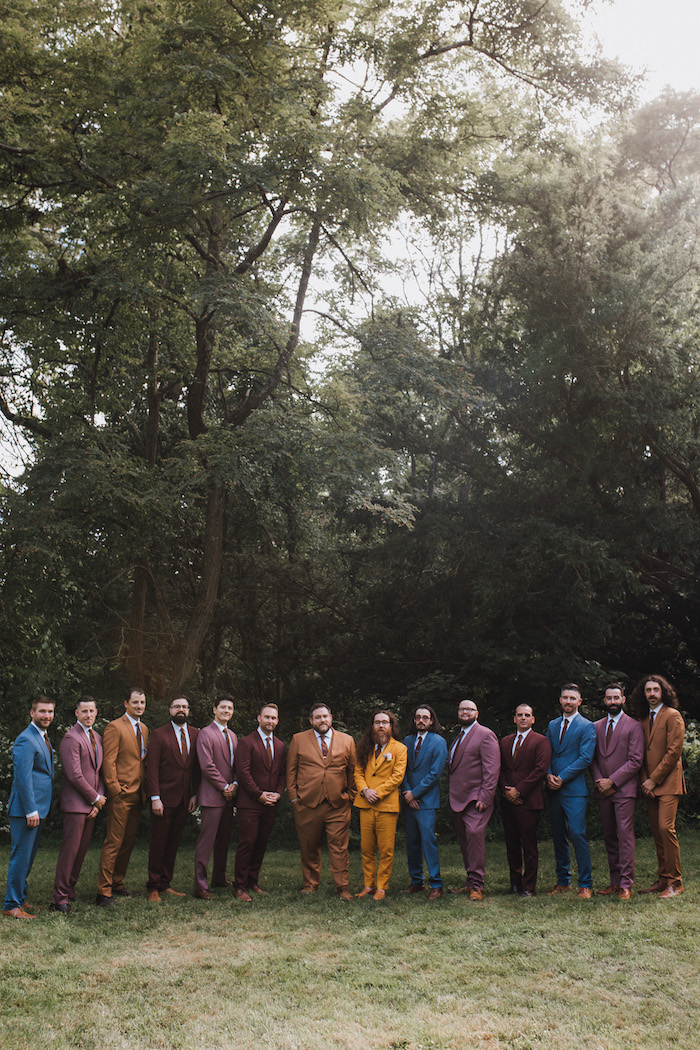 Meaningful and Colorful Zimmermann Farm Wedding Fashion
Pursuing nature-inspired elegance, I found the perfect Anna Kara dress with an open back and a custom-made cape veil by Abby's Sew Right, paying tribute to my dad. With minimal accessories like dried flower hairpins, Bryr Studio custom clogs completed my look. Chris chose a distinctive mustard yellow linen suit from Mantaikotai with linen ties and custom shoes from Adelante. Our bridal party embraced a "muted rainbow" theme with velvet bridesmaid dresses and suits in various shades for the groomsmen.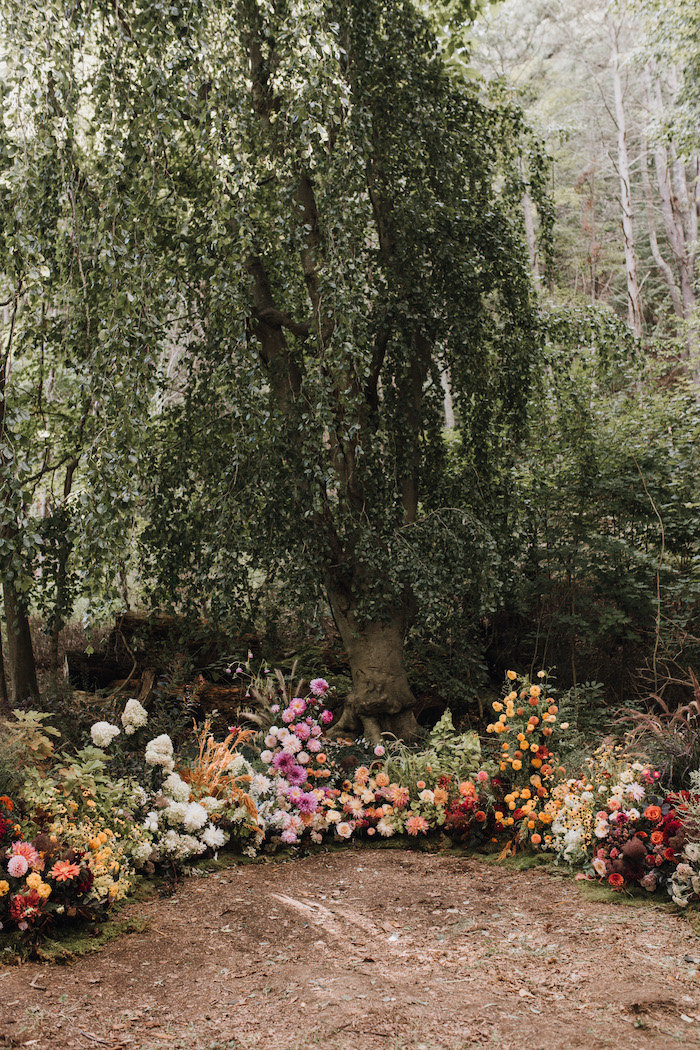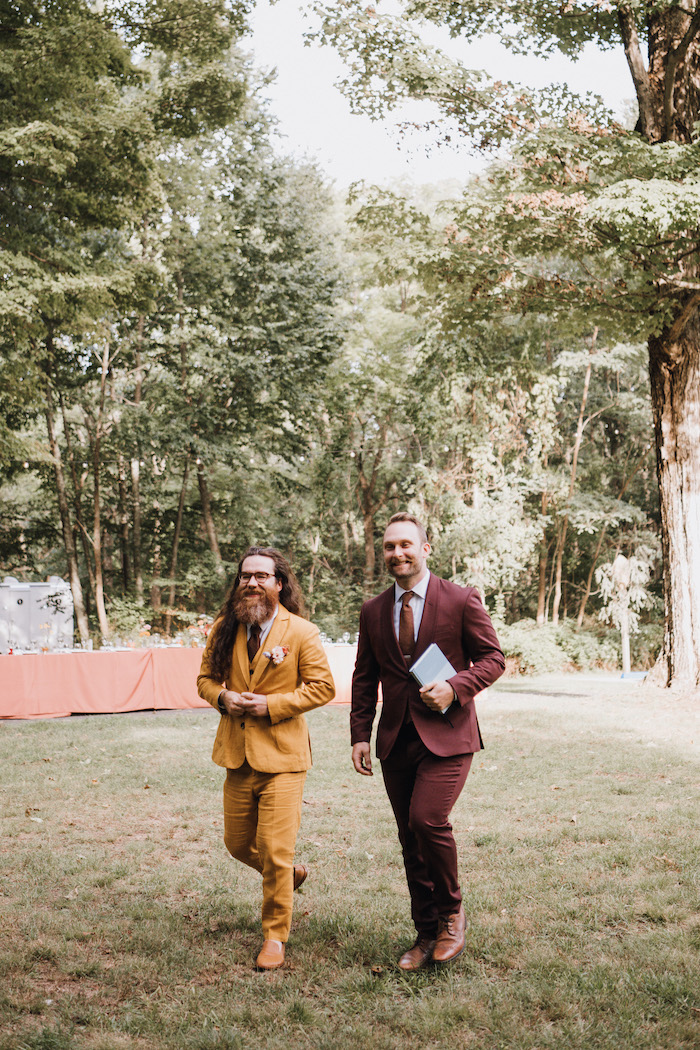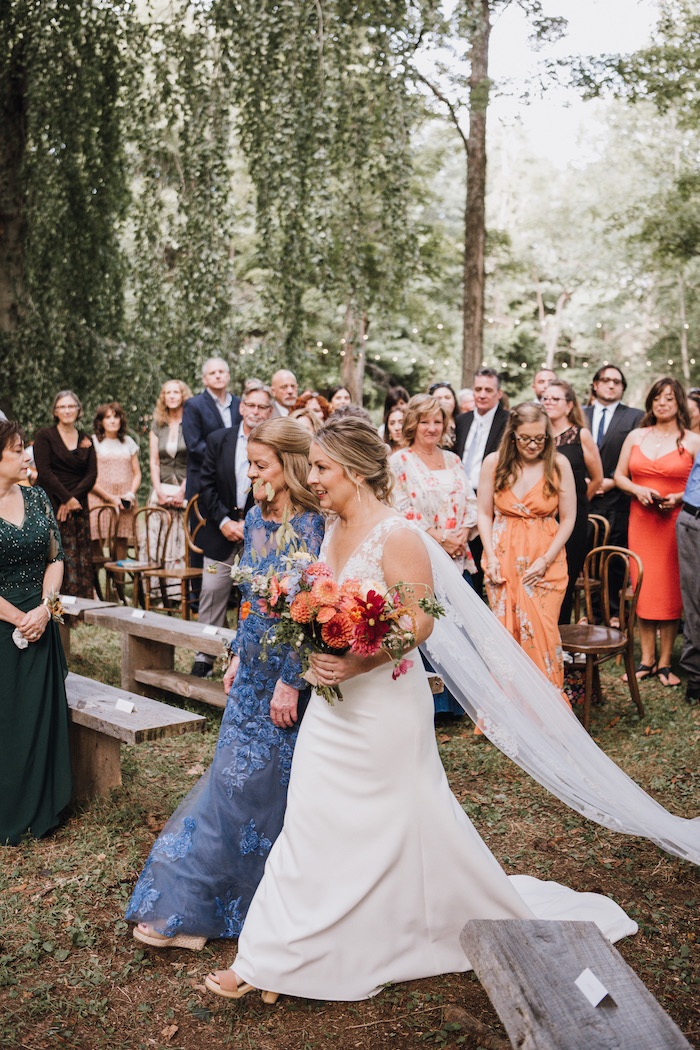 Dancing to the Music Performed by Talented Friends
The first dance at our wedding was an unforgettable moment made even more special by our musician friends, Emily Jeanne Brown and Eric "Doc" Mendelsohn, who performed for us. Choosing "Harvest Moon" by Neil Young–fitting for our Full Harvest Moon wedding–made it even more meaningful. Their live performance brought tears to our eyes as our friends and family gathered around the dance floor, singing along. To add to the magic, Chris surprised everyone by letting his long hair down in the middle of the dance, earning enthusiastic applause and cheers from the crowd. It was a genuinely touching and unforgettable moment for us.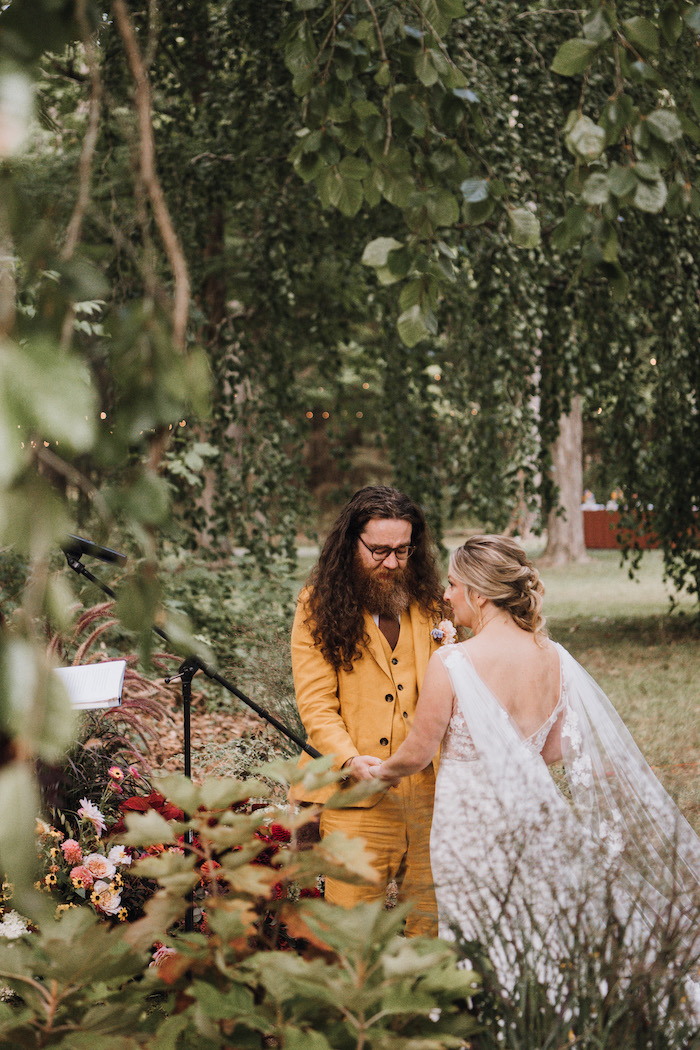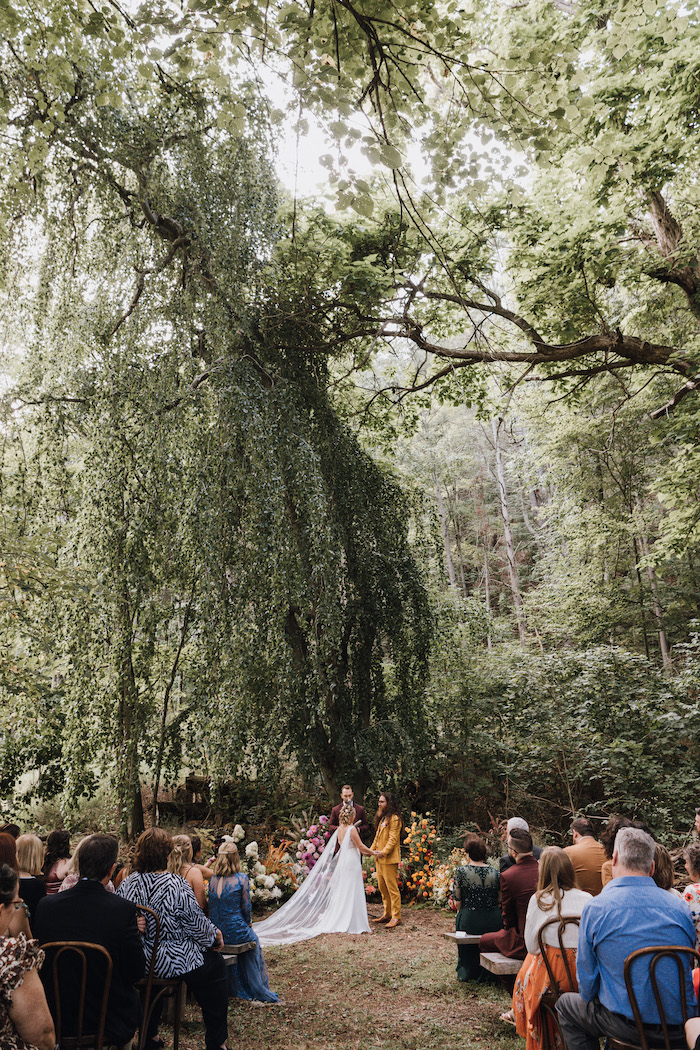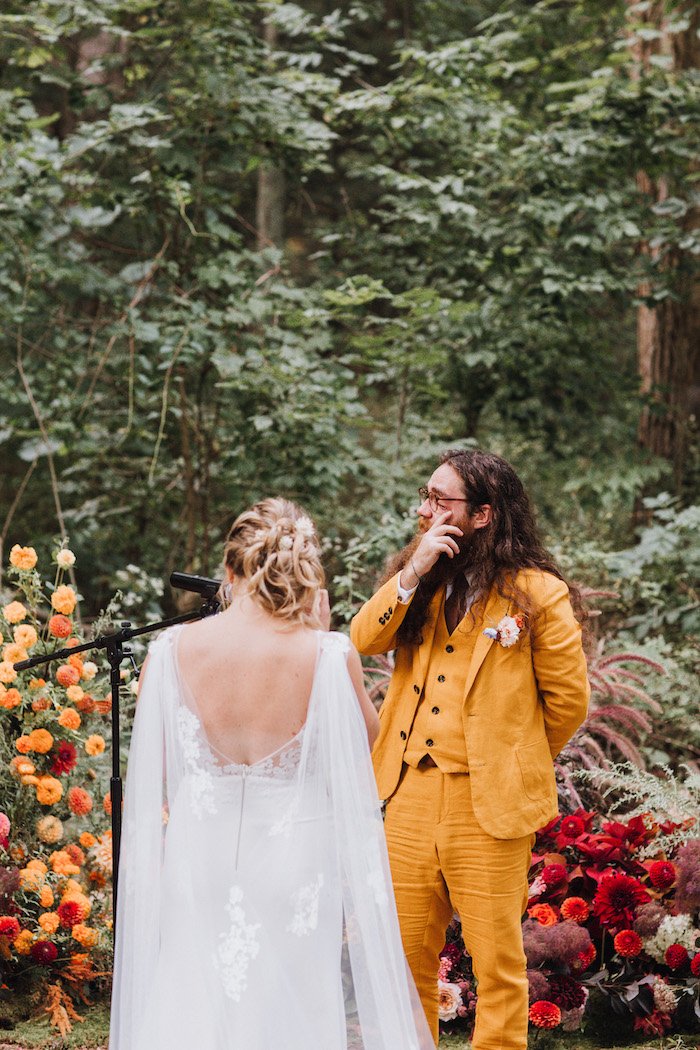 Wedding Planning Lessons Learned: Prioritize, Pace, and Seek Support
Planning our wedding was a labor of love, with us deeply invested in every element. However, compromises were inevitable, especially with budget constraints. Decision fatigue is real, so we learned to take realistic timeframes for making choices. Taking breaks between major decisions helped us avoid feeling overwhelmed. We discovered the value of seeking help from friends and family who graciously supported us. Though asking for assistance wasn't natural for us, it proved essential in creating a special day. We recommend not leaving things to the last minute to reduce stress, particularly for significant aspects like outfits, as customizations may take longer than expected. DIY'ing elements like signage, decor, and favors was rewarding, but we wish we had started earlier to allow room for unexpected challenges. Planning ahead and allowing for potential hiccups can make the journey smoother and more enjoyable.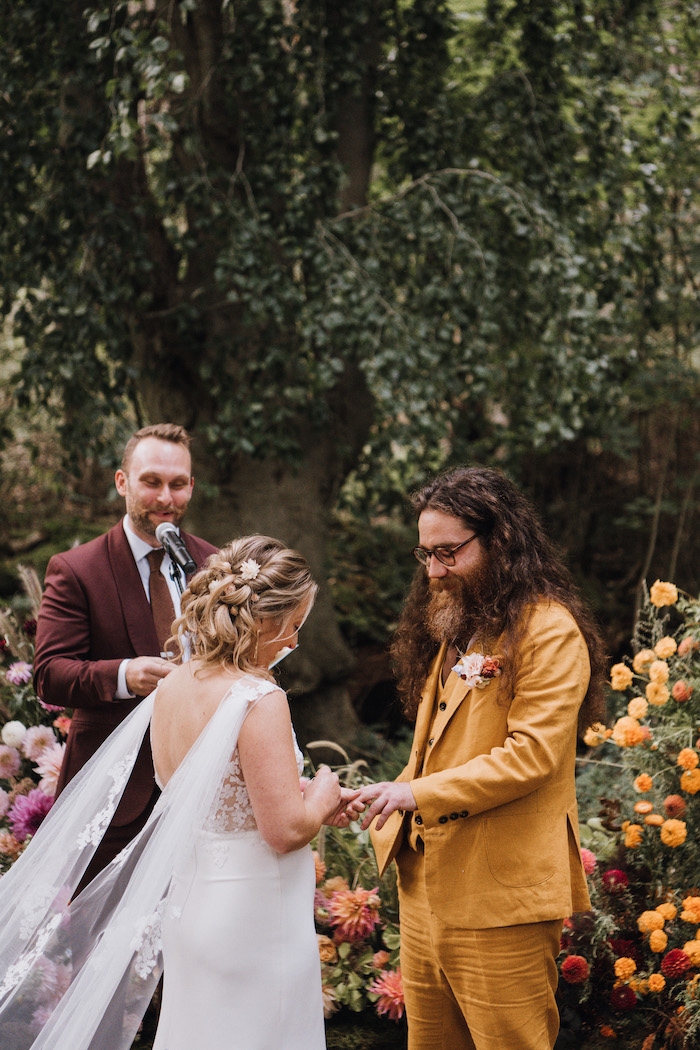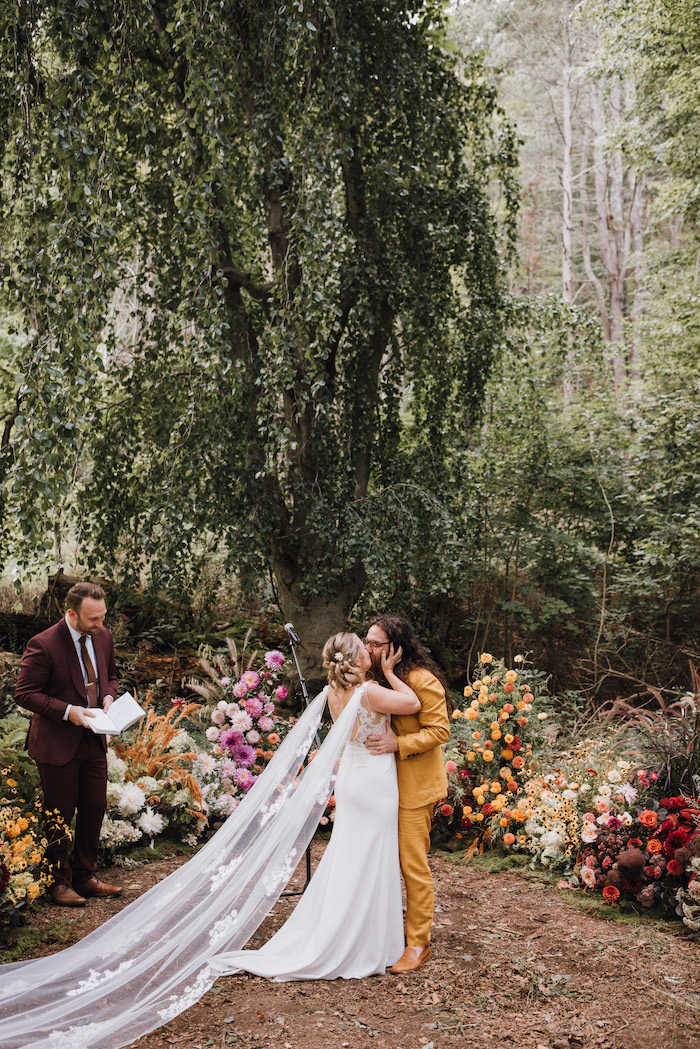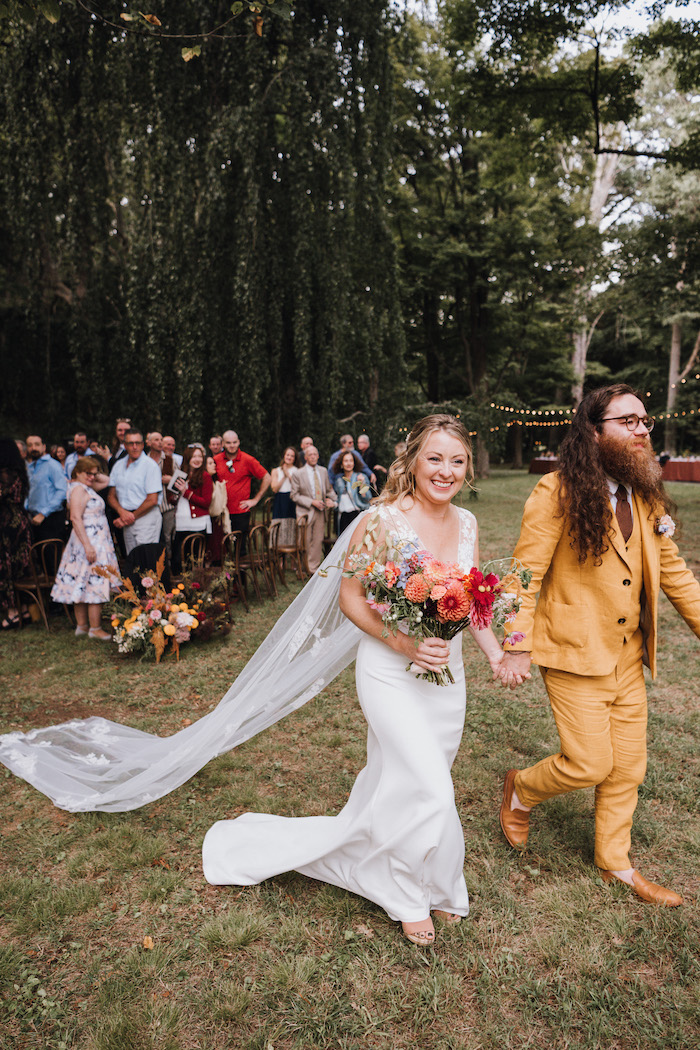 Honoring a Beloved Father: How They Found Joy Amidst Loss on Their Zimmermann Farm Wedding Day
Our wedding day became a bittersweet journey as we unexpectedly lost my dad months before the event. Emotions were raw as we navigated joy and sorrow simultaneously. Despite the challenges, we knew he would want us to have the wedding of our dreams. And his hard work made it possible. We felt his presence in various ways throughout the day, celebrating his life and our special bond. Earlier, during preparations, my mom, a close friend, and I gathered privately to honor him and sprinkle his ashes around the ceremony area, ensuring he could be with us during that poignant moment. It was a heartfelt tribute that brought comfort and made our wedding day meaningful.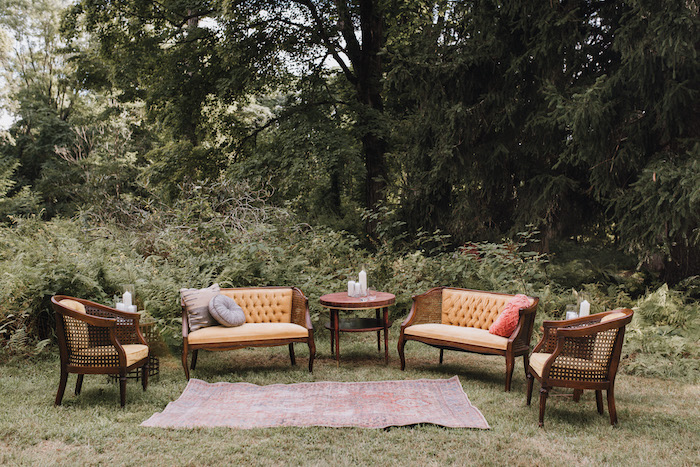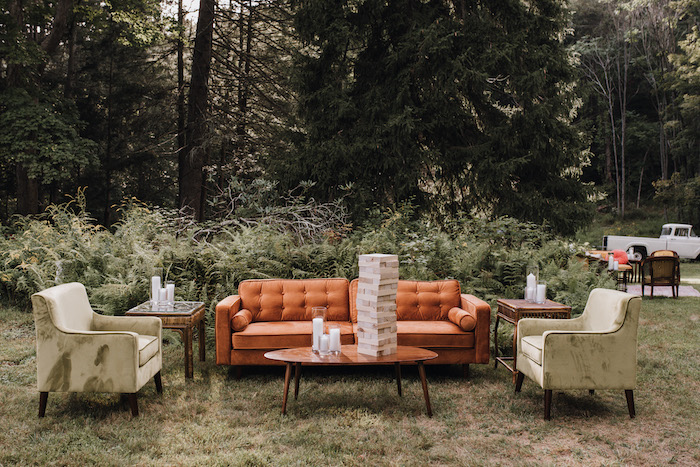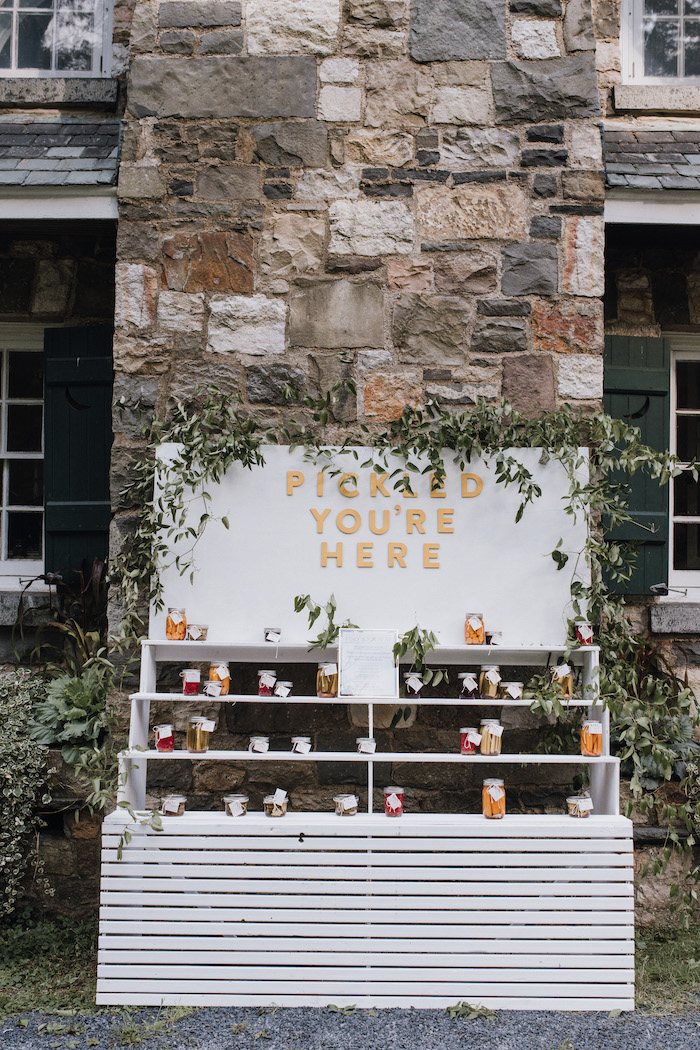 Dancing to Dad's Favorite Song and Signature Dance Move
My dad's absence on our wedding day was especially felt during the father/daughter dance. Music had always been a shared passion, and "Landslide" by Fleetwood Mac had been our chosen song. After he passed away, we discovered a list of songs he wanted played at the wedding. As the day approached, I tried to find a way to honor him that felt like a celebration rather than overwhelming grief. So, we decided to dance to his favorite song, "Sugar Magnolia" by the Grateful Dead. To add a personal touch, we even did his signature dance move called "The Worm." A hilarious and lighthearted moment that made our friends and family laugh. Halfway through the song, we invited everyone to join us on the dance floor. Celebrating my dad's memory with joy and laughter. It became a beautiful and uplifting tribute that made the dance even more special.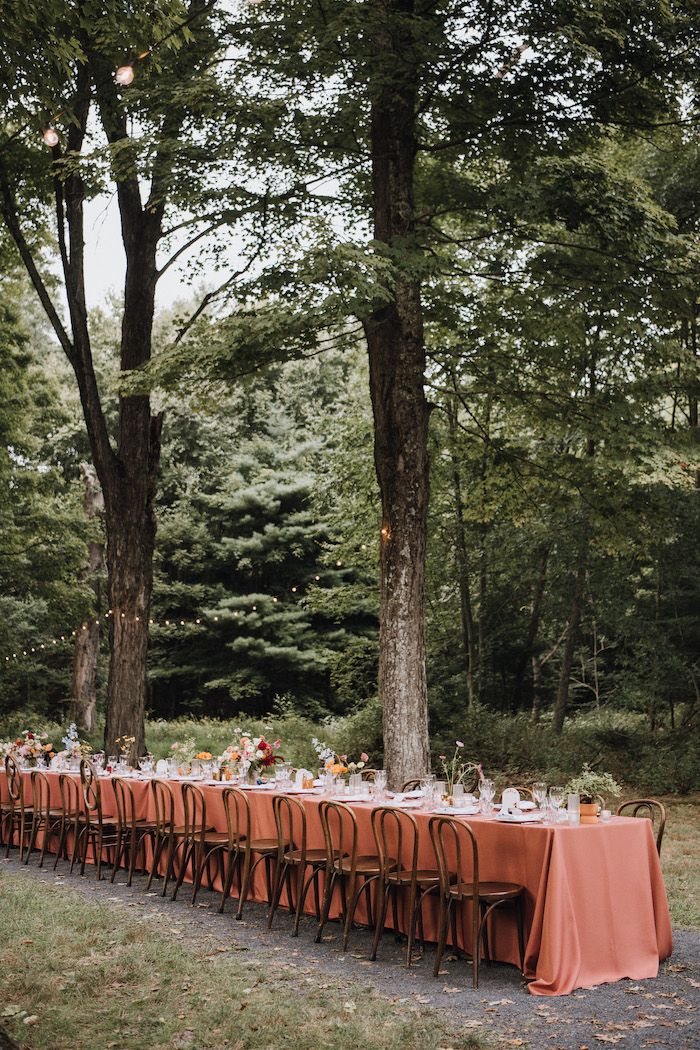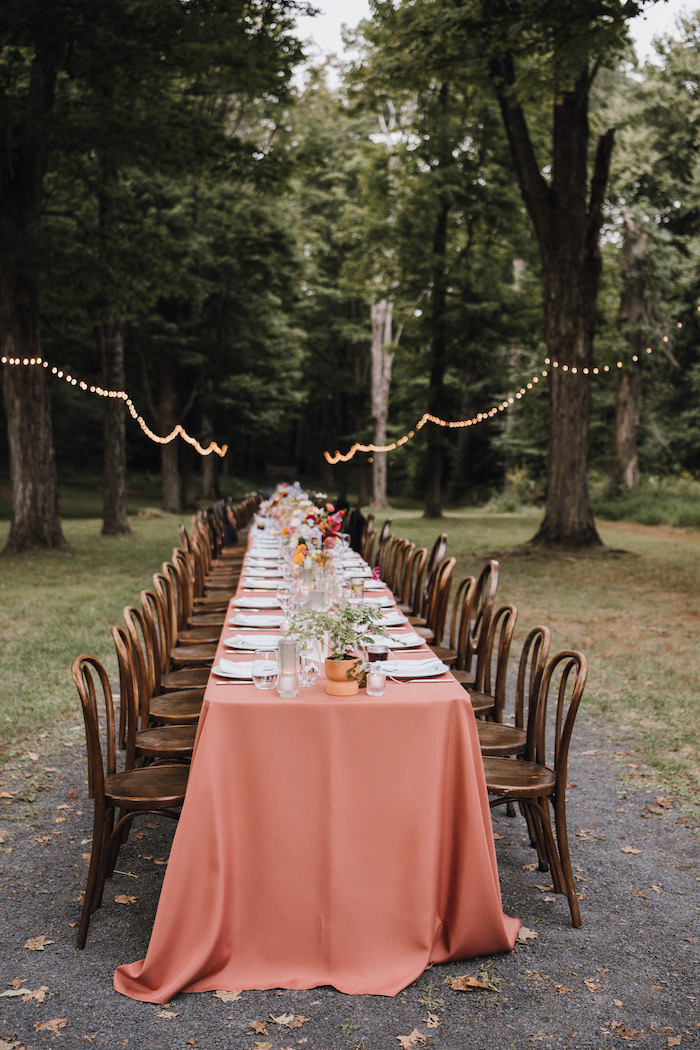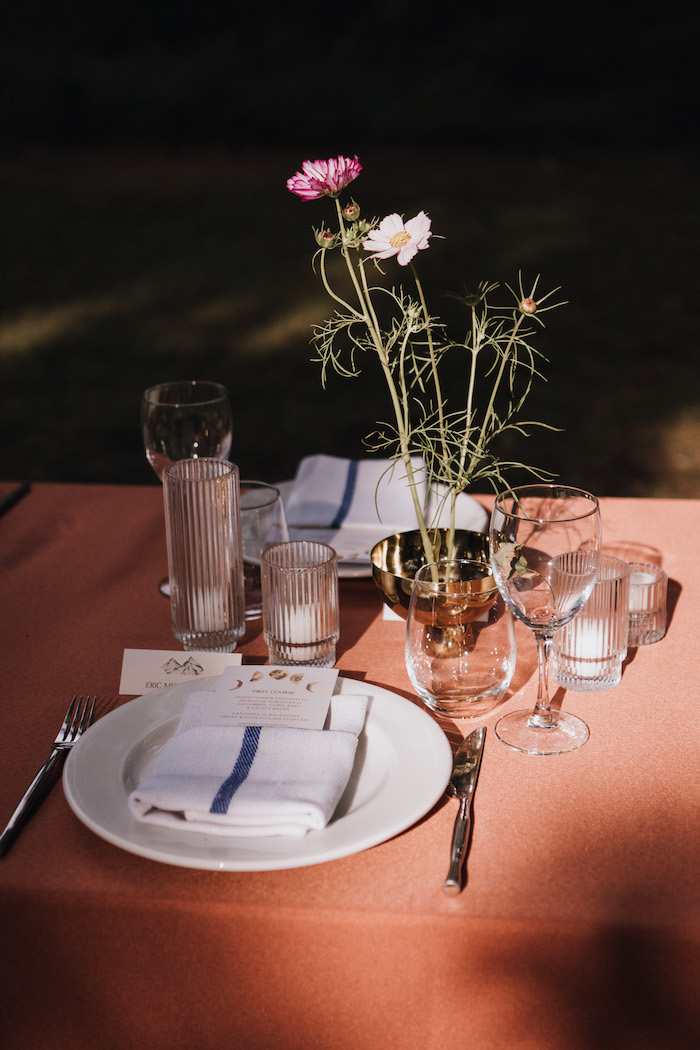 Homemade Pickled Vegetable Favors
Inspired by early September's abundant food and flowers, we wanted to share our love for pickling with our guests. Before my flower farming days, I worked on vegetable farms. And Chris and I spent time on an organic farm, sparking my passion for canning. A bridesmaid's idea of "Pickled You're Here" favors excited us. Despite procrastinating, I was determined to make it happen, crafting 120 jars of pickled vegetables and jam in the week leading up to the wedding was quite a challenge! Friends helped chop vegetables and tie labels, and with Chris' contributions, we set up a lovely stand. Guests adored the jars, but a few went missing, adding a touch of humor to our special day.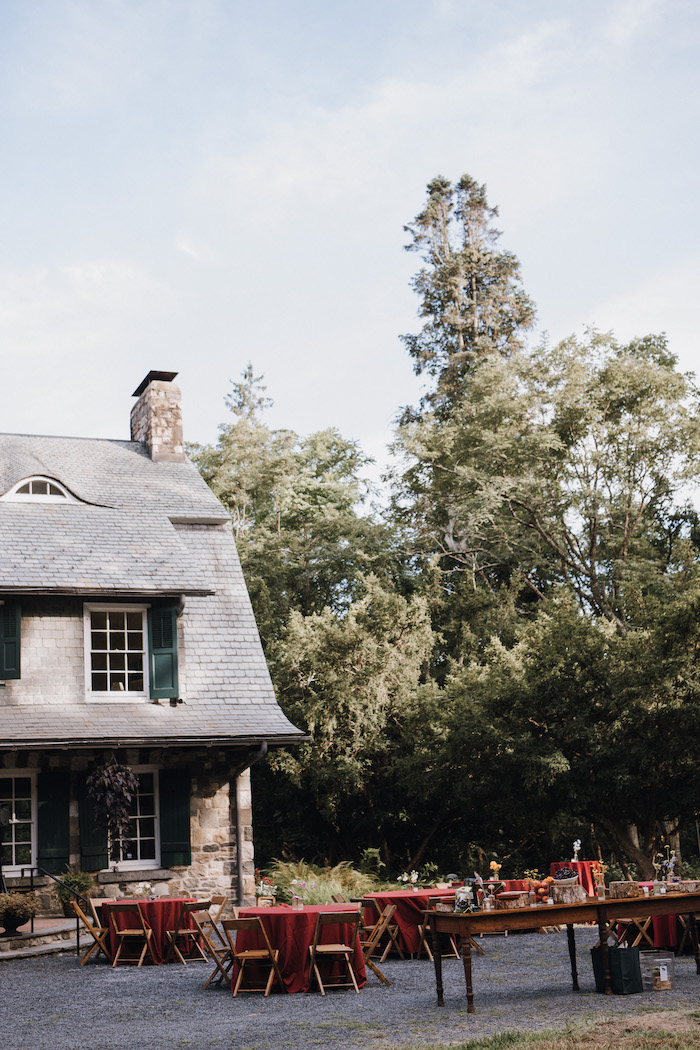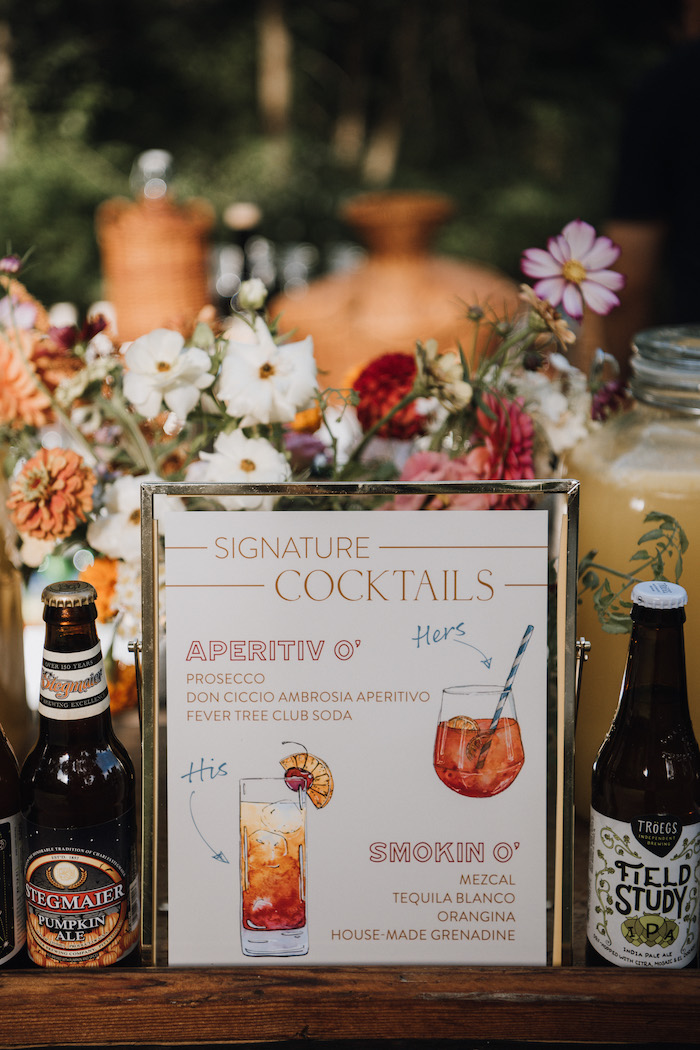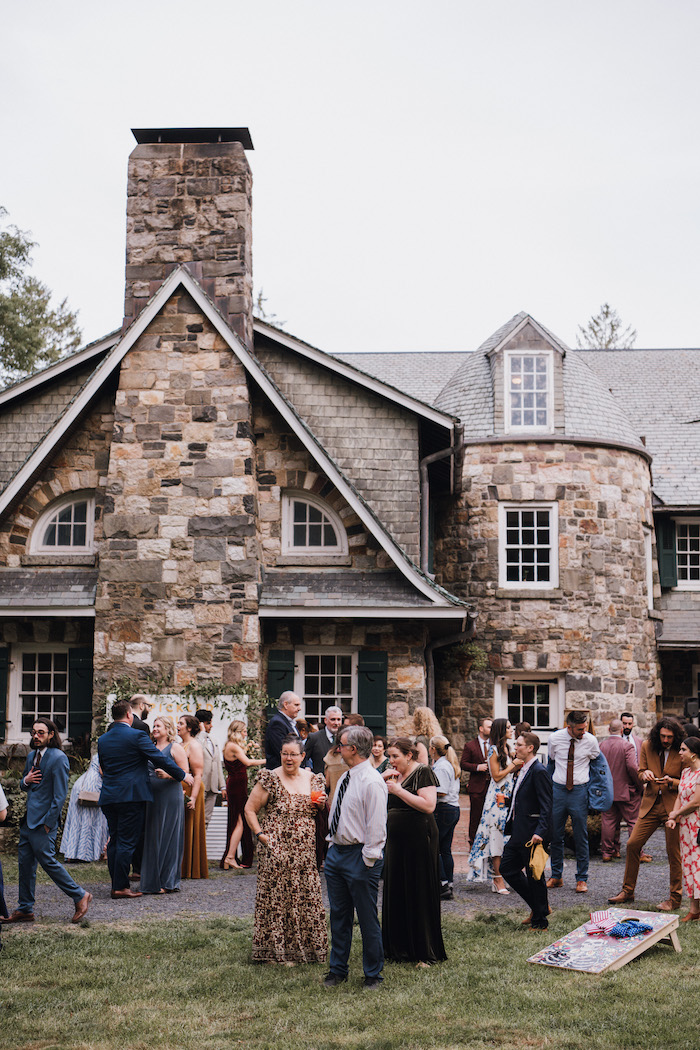 DIY Signage with Personal Touches
For our wedding, we wanted everything to reflect our love for the seasons, the Full Harvest Moon, and our beautiful venue. Erin Fox at The Moxie Fox created custom illustrations for our invitations to achieve this. Drawing inspiration from these illustrations, Chris designed all the wedding collateral, including our invitations, food and bar menus, escort cards, and place cards. With a personal touch in every detail, our DIY signage added a unique and sentimental touch to our special day.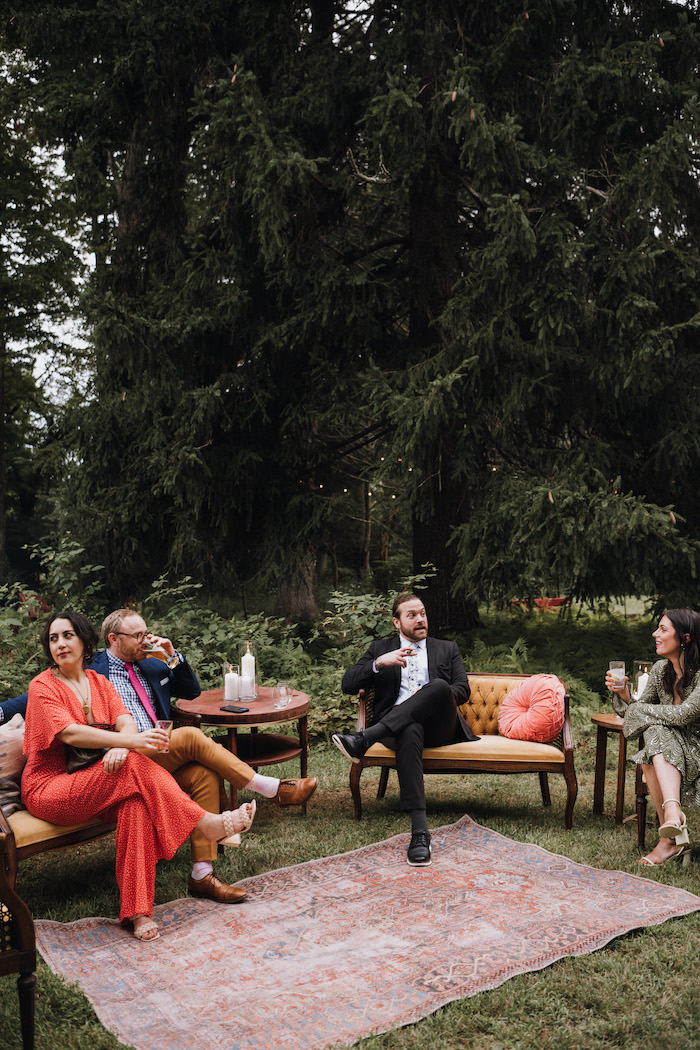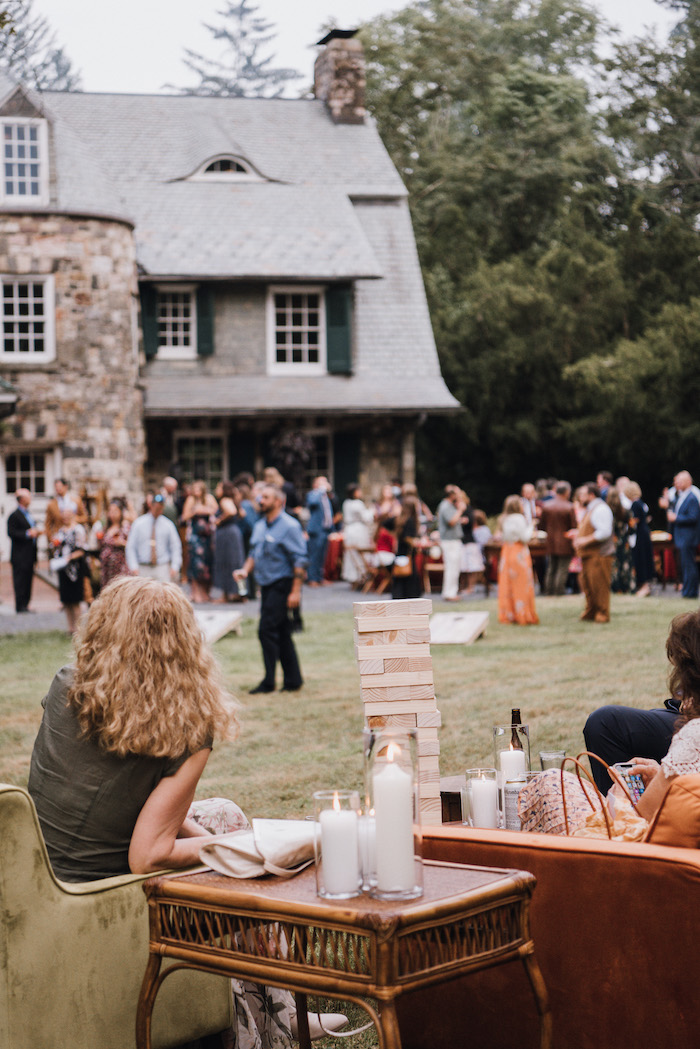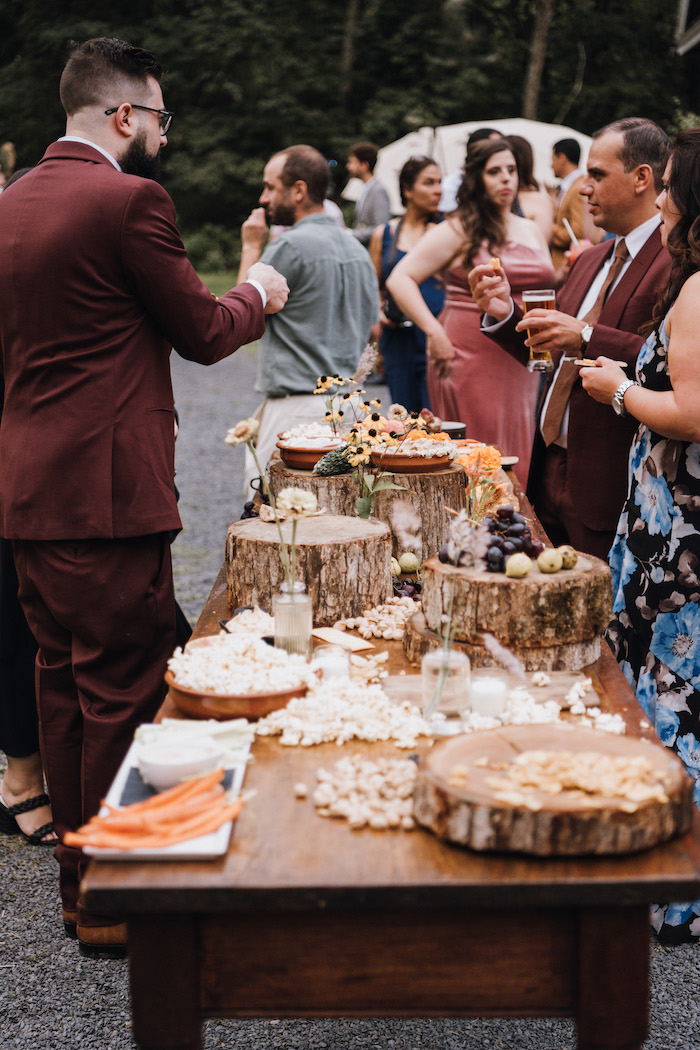 Homegrown Blooms and a Collaborative Effort to Support Local Growers
While I preferred to avoid handling flowers on our big day (except for my bouquet), I teamed up with my close friend and bridesmaid, Kori from Colly Flowers, to bring our floral vision to life. I grew some of the flowers. But the majority were sourced from local flower farmers in New Jersey and Pennsylvania through the Garden State Flower Cooperative. Our talented flower friends, Lilly and Hope from Strange Vine Studio, worked their magic to execute our flower vision flawlessly. In addition to flowers, we decided to purchase tablecloths and napkins instead of renting them, making it a more cost-effective option. My incredible mom took on the task of ironing and folding each one. Making her invaluable contribution to our collaborative and heartfelt wedding setup.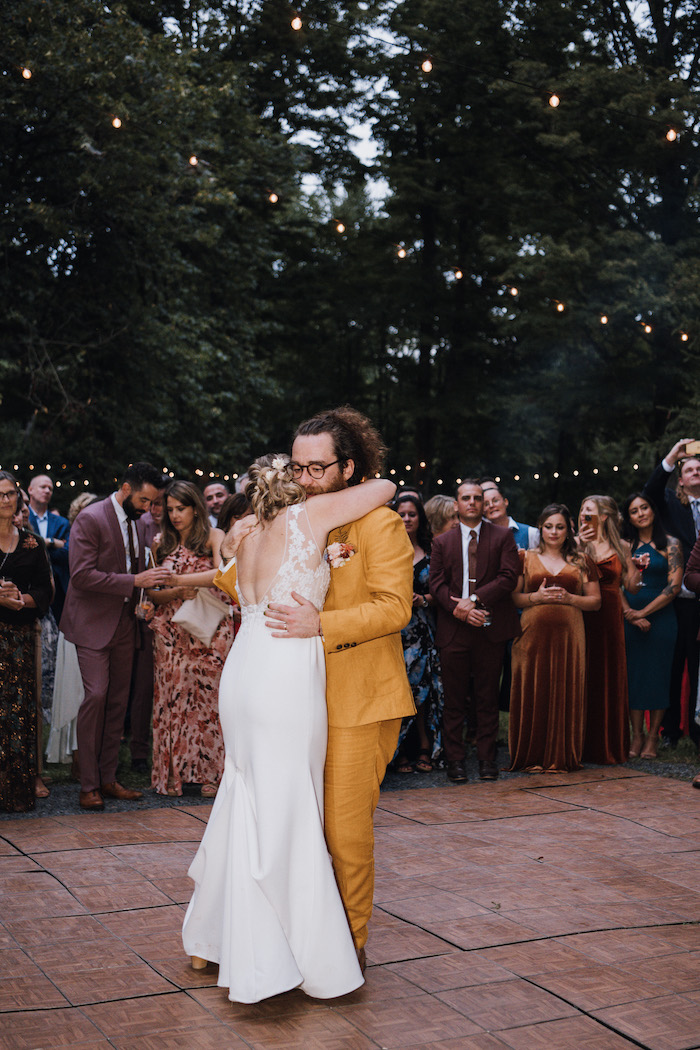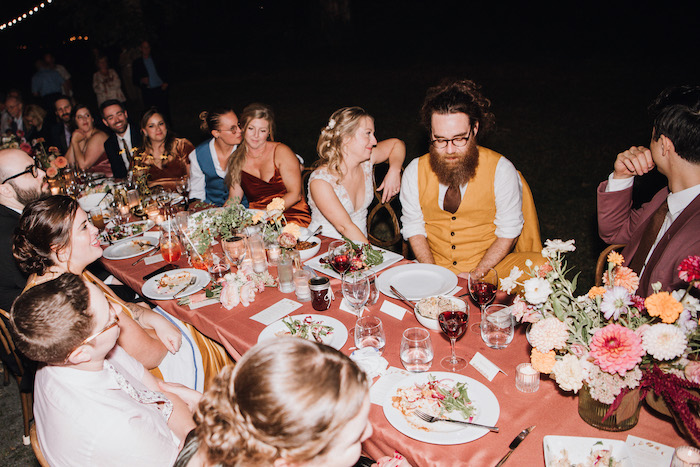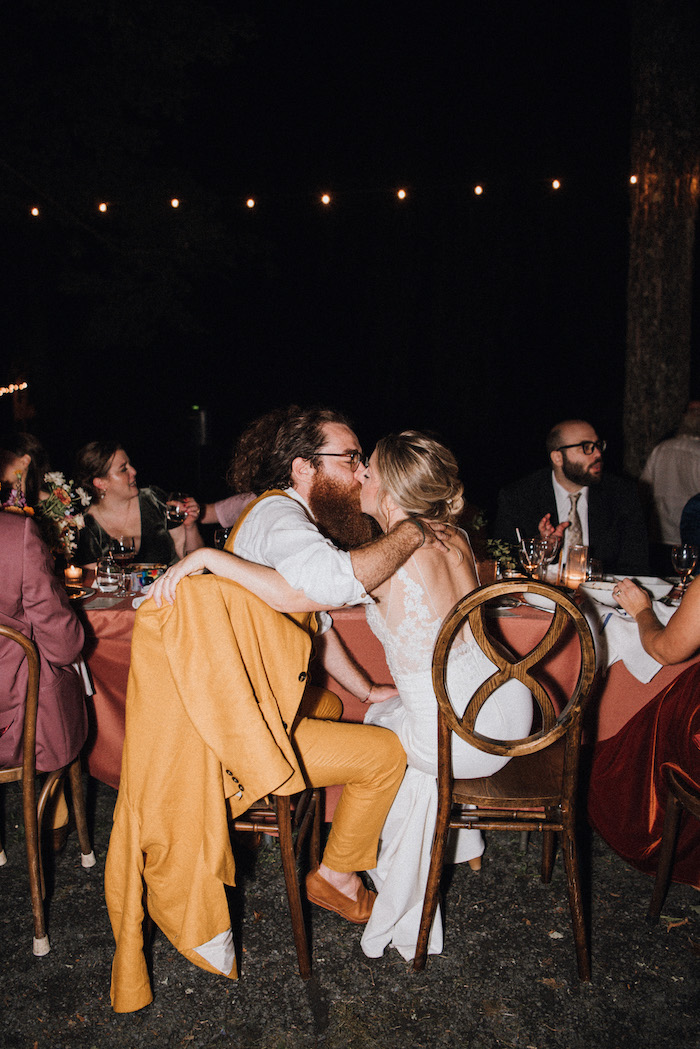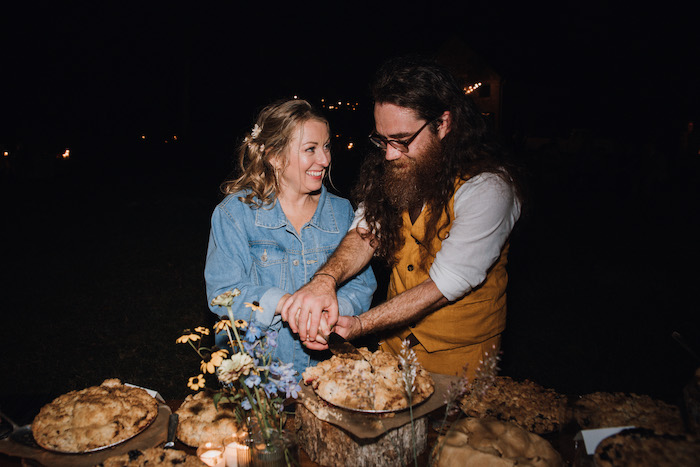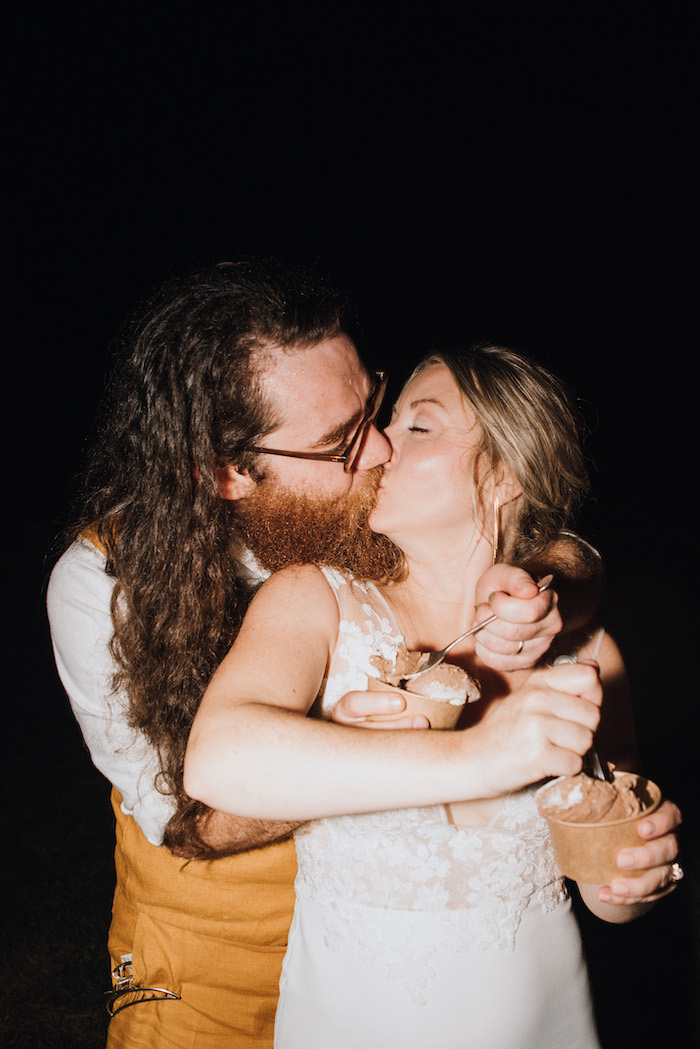 Congratulations to Colleen and Christopher on their vibrant and unique wedding at Zimmermann Farm. We are grateful to Lauren Wysocki for capturing all the beautiful details that showcase their love story.
Remember to embrace your personalities and vision as you plan your special day. Dare to choose unexpected locations or put a twist on traditional wedding elements to create an event as distinct as your love. Be inspired by our guide full of creative ideas to make your wedding truly one-of-a-kind.